Apes Hill Golf Club Hole by Hole
Barbados in not generally considered a golf destination in and of itself. Most people come here for the sun, sand, sea and the incredible Bajan culture and the legendary welcoming attitude. On this website you'll find thirteen different posts on various must do and see things in Barbados including this one on how to get the most out a visit to the island. However, if you are a golfer and find yourself in Barbados then you owe it to yourself to play Apes Hill Golf Club. It is simply one of the best courses in the Caribbean and has a unique combination of historical landmarks, sugar plantations and true Barbadian highland forests complete with the famous green monkeys. Here's why, on a hole-by-hole basis, that you need to play this course.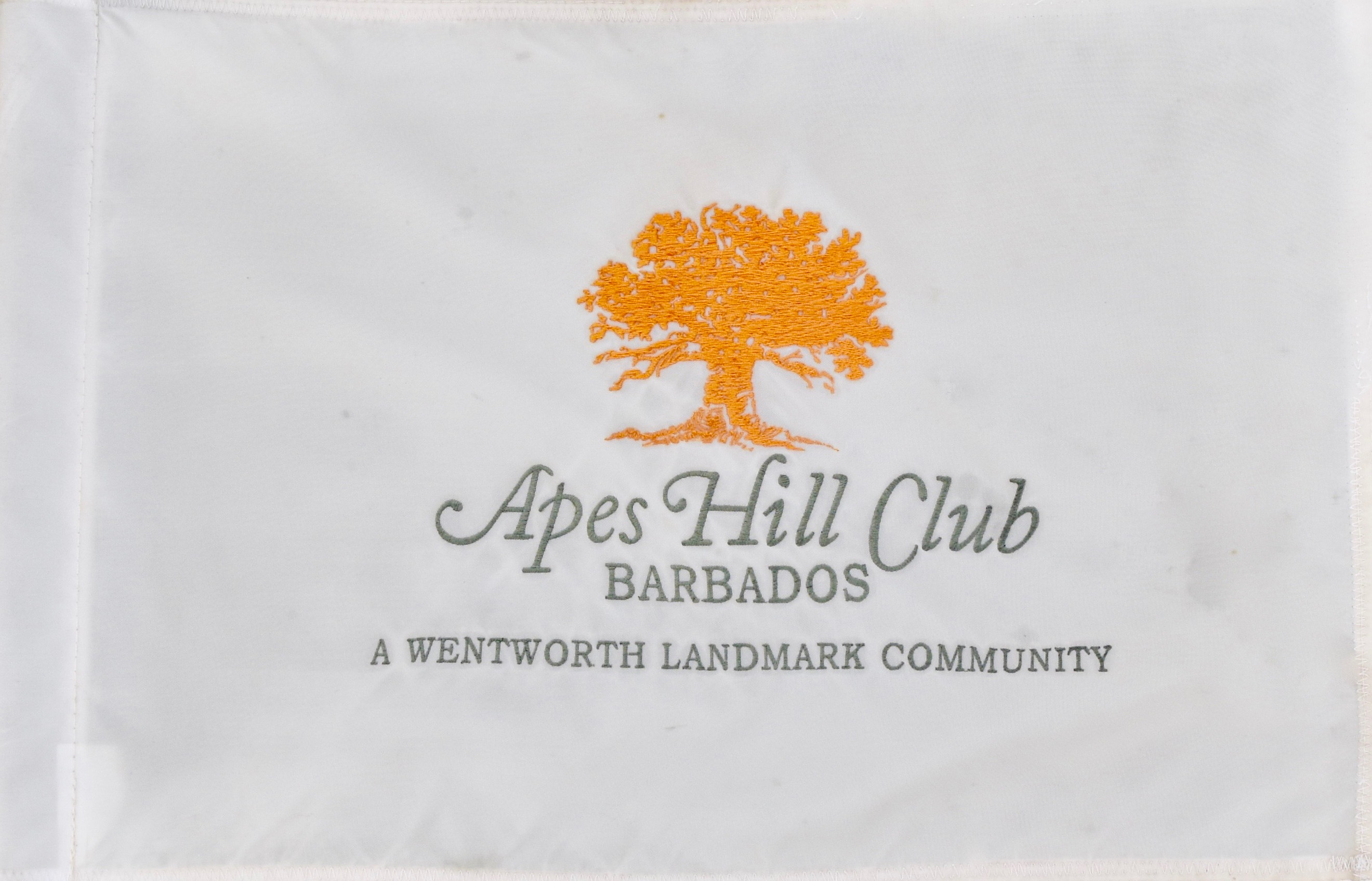 History of Apes Hill
The golf course is part of the Apes Hill Club which features golf, tennis and somewhat remarkably, polo. It is the brainchild of Sir Charles Williams,a self-made Barbadian multi-millionaire who also happens to be the world's oldest polo player as recognized by the Guiness Book of Records. It is located at an elevation of 1,000 feet (304 metres) above the Platinum Coast overlooking the Caribbean Sea. While the ultimate purpose of the Apes Hill Club is to create an ultra exclusive and consequently, expensive residential community, right now the number of McMansions is quite limited and the course in no way could be described as a typical residential golf development.
Opened only in 2009, Apes Hill Golf Club is an Audubon Certified course, which is the gold standard of environmentally responsible golf development.  Sir Charles elected not to retain the services of a superstar golf designer like Pete Dye or Jack Nicklaus and opted to let Chris Cole and Jeff Potts collaborate on the design. Turns out that was a great decision.
Apes Hill has a relatively modest club house by the standards of these mega-developments, with views of the Caribbean from the verandah. The pro shop is also modest and somewhat surprisingly I was unable to purchase a right-handed glove (for lefties).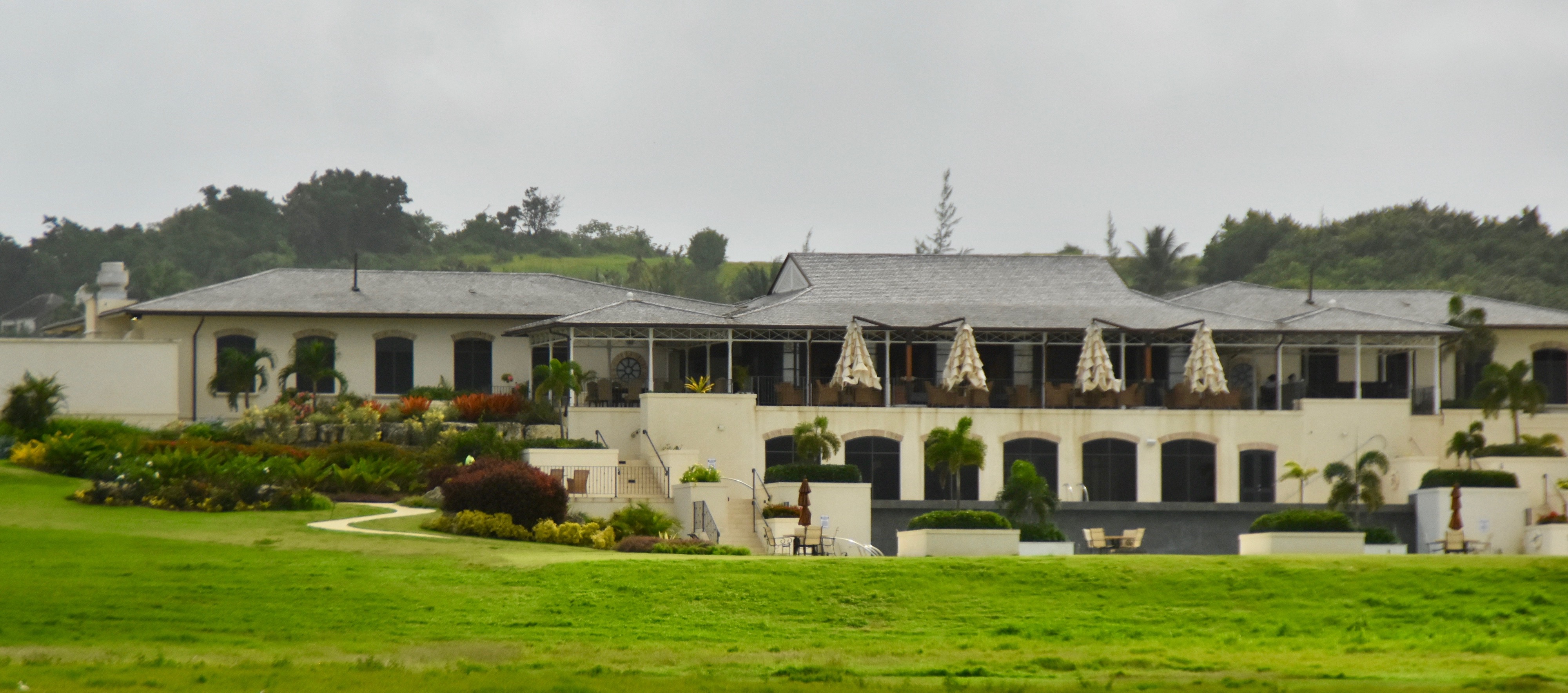 Apes Hill is not a walking course and given its substantial elevation changes that's not surprising. In the tropical heat of Barbados you'll get enough of a workout even with a cart. There is a decent practice area with range balls included in the fee. The rental clubs were high quality Titleists with a Scotty Cameron putter and four wedges, so the usual excuse of blaming poor play on the rental clubs won't fly here. Although the carts aren't GPS equipped, each cart has a handheld GPS unit that is essential because there are no yardage markers on the course.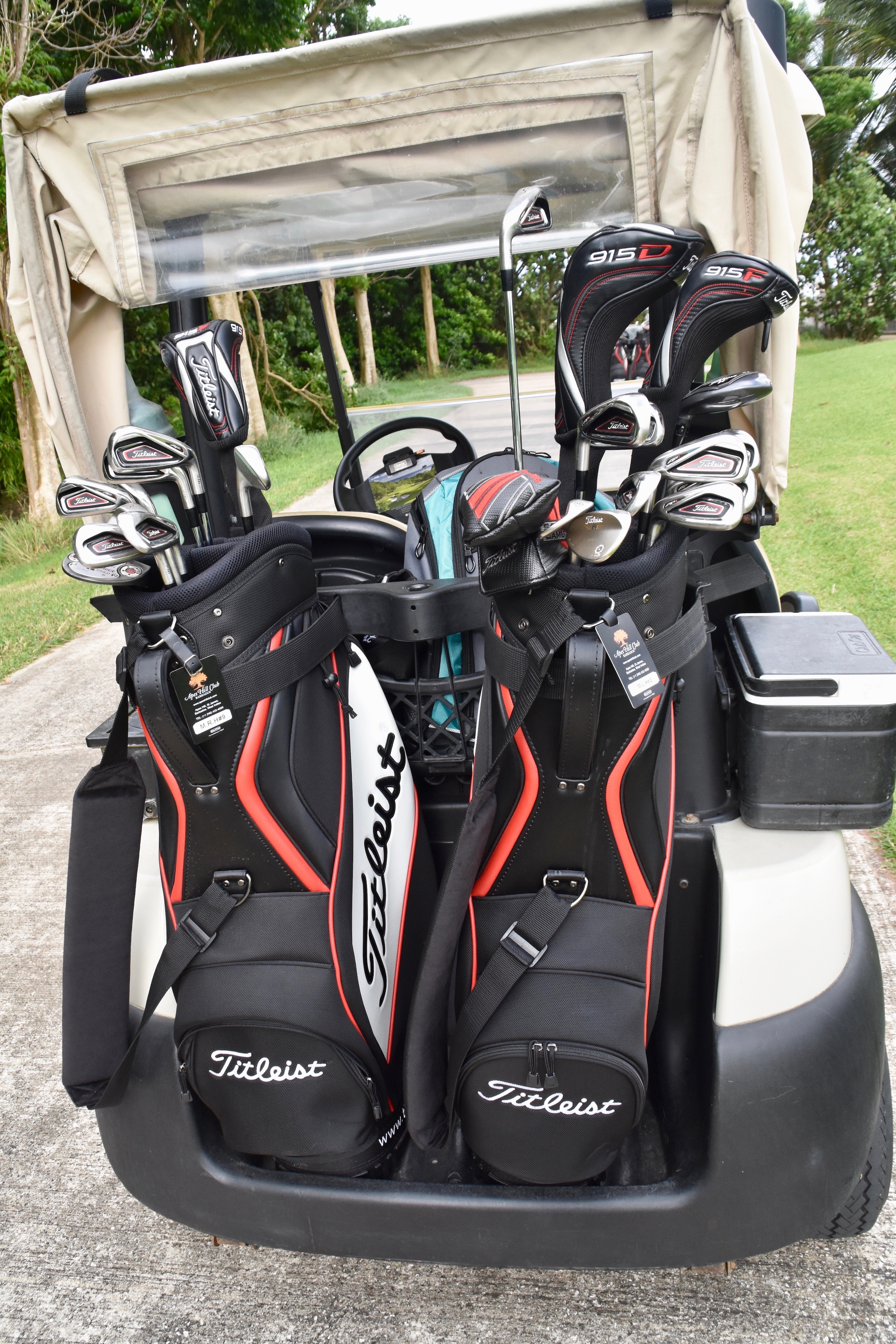 Apes Hill has five tee boxes ranging from 7150 yards for the true masochists to 5090 from the ladies tee. Today I will be playing the forward tees at 5560 yards and most of the photos are from that tee box. One thing I really liked about the course was the distribution the holes – there's five par 3's and 5's and eight par 4's. I don't know why, but this type of configuration seems to make for a more enjoyable game as there is a lot a designer can do to make par three's memorable as well as par 5's. So let's play some golf.
Apes Hill #1 – 435 Yards, Par 5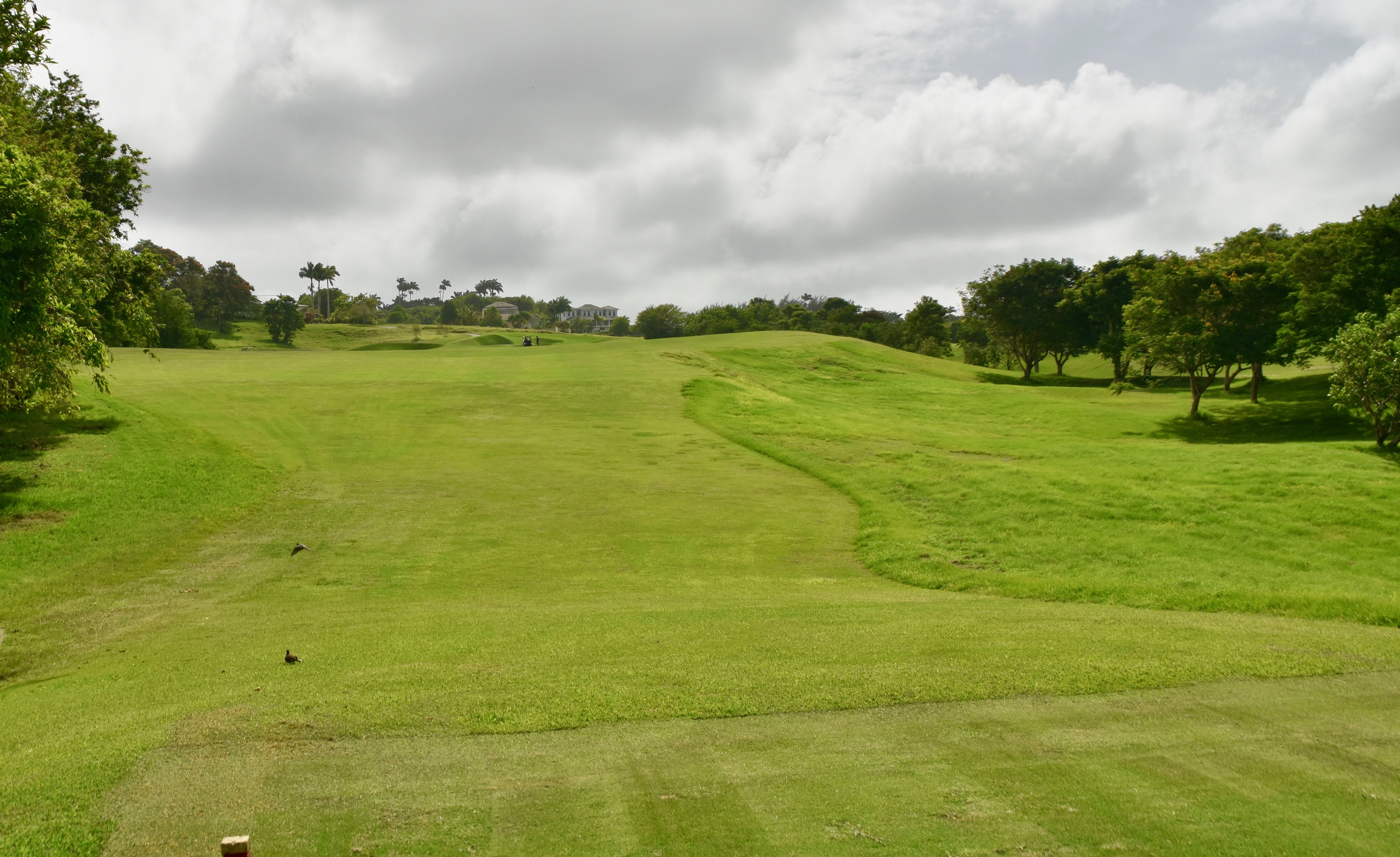 As you can see from this photo, we first played Apes Hill on an overcast day which doesn't make for great pictures, but hopefully these will give the reader some idea of what each hole has to offer. The prevailing winds are from the southeast and the designers very much took this into account as the shorter par 5's play uphill into it, like #1. We returned to play Apes Hill the next day and although it was still overcast, the winds were directly opposite, out of the northwest and it made for a completely different experience, however, for the purposes of this post I will describe the holes as played with the prevailing winds.
The primary defences of Apes Hill are the wind, bunkers, horrible rough and large undulating greens. There is only water on one hole and what a hole that is. Because it is almost always windy at this elevation in Barbados, the fairways are very generous and the average to better golfer should be able to avoid the rough. God help you if you don't, because this is what it looks like. Over the two days we played Apes Hill I would say over 80% of the balls hit in the rough were lost. Unless you literally step on the ball it is nigh impossible to find in this six inch mass of ball devouring terror.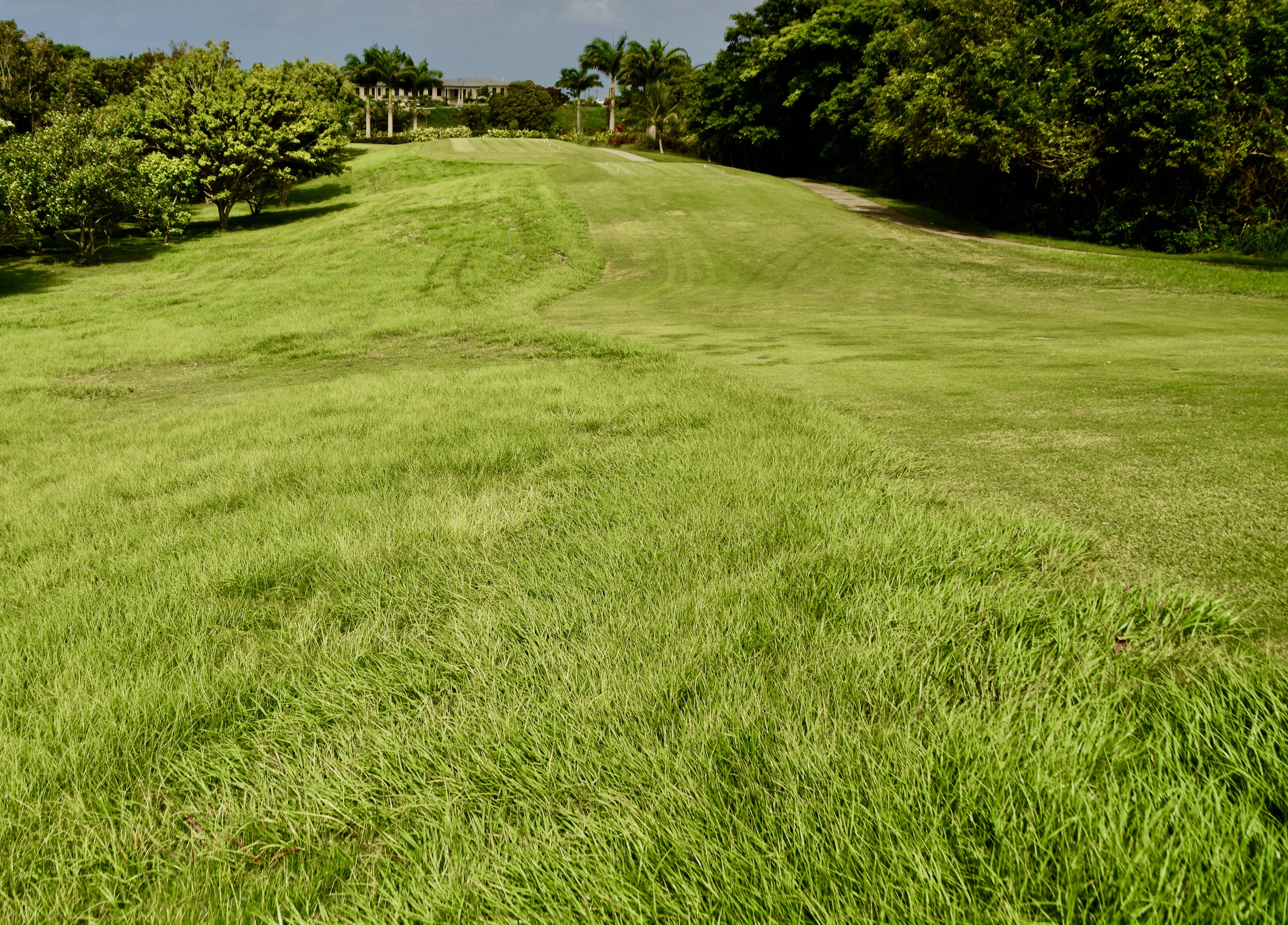 So the smart play off the tee on #1 is to hit something you can keep fairly straight, because even though this hole is short for a par 5, playing uphill into the wind, it's three shots to the green. This likely what you'll face on the third shot – not so hard with a wedge that will get knocked down by the wind, but as you can see the bunkers have pretty steep walls if you mishit it.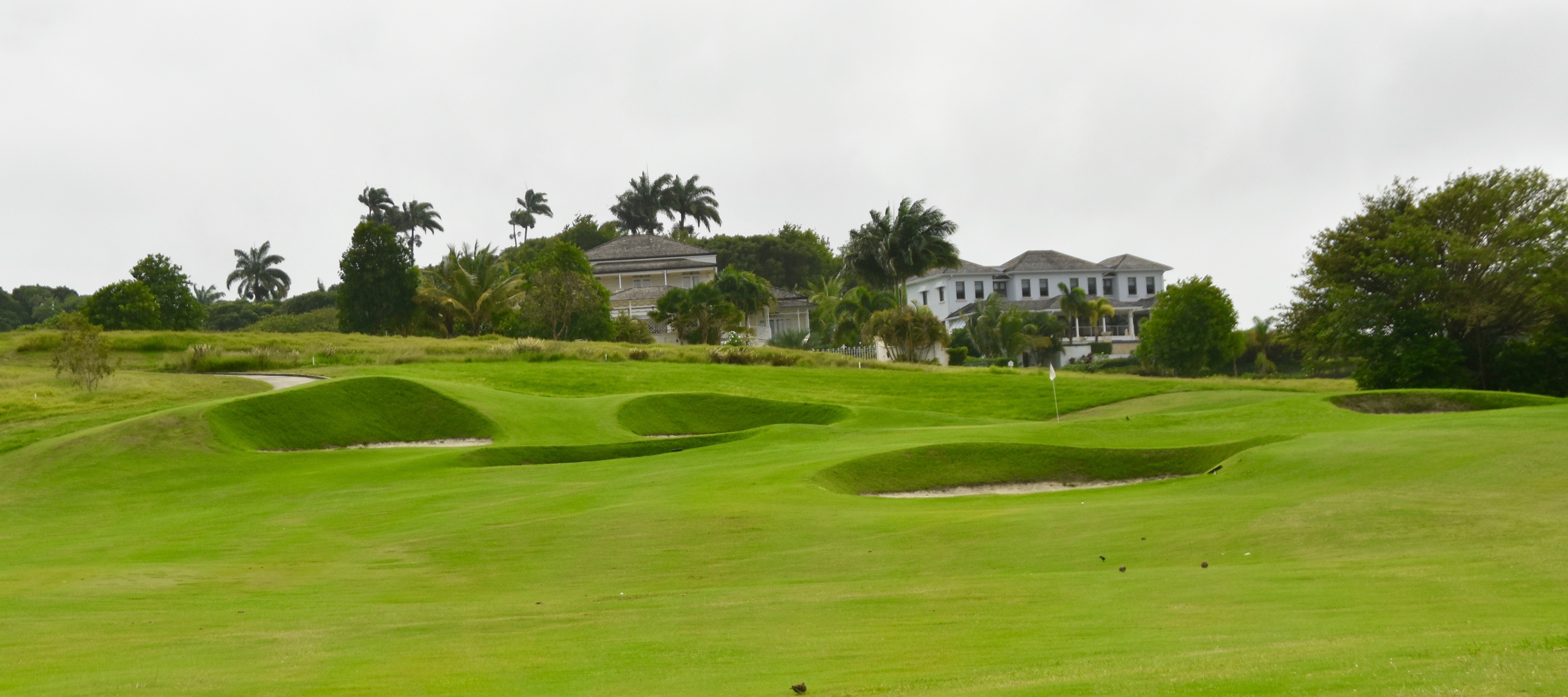 I don't know why #1 is rated the third hardest hole at Apes Hill, because if played strategically i.e. not trying to get there in two, it's not that hard and is a very good starting hole.
#2 – 110 Yards, Par 3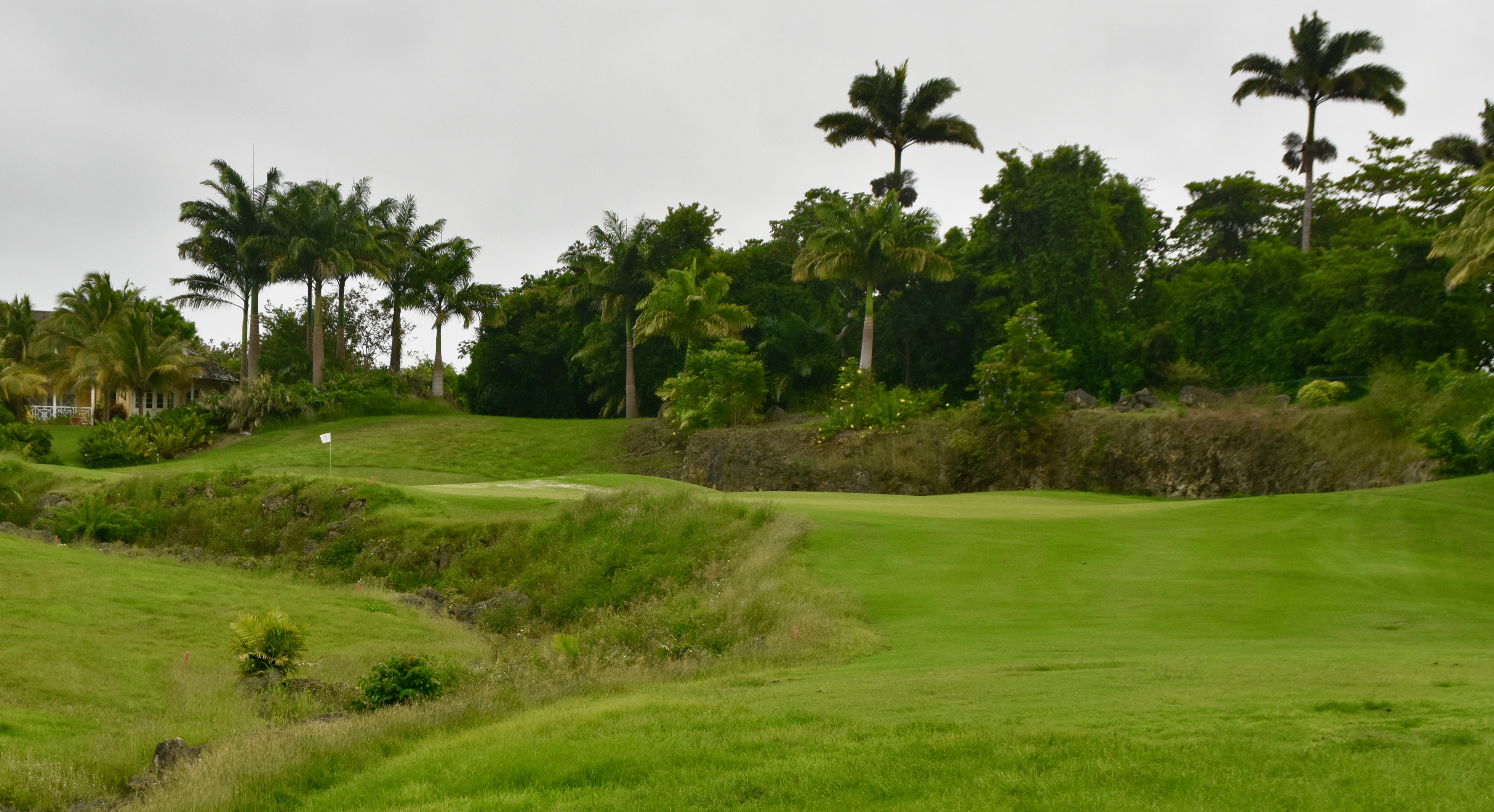 This is the first of five exceptional par 3's at Apes Hill. Don't be fooled by the short yardage as this is also the first of a number of holes that seem to be optical illusions. From the blue tees this looked to be about 150 yards, not 110. This green is immense and that pin placement is at the back so it's really playing at least 130 into the wind. This is a very intimidating tee shot as anything to the left is dead and if you bail out to the right you could find yourself up against that limestone wall. This is all about club selection if you go for the pin or just chickening out and hitting an easy iron to the right side of the green and hope you can two putt from 100 feet. Neither strategy worked for me in the two times I played this hole, with bogeys each time.
Now a word about the greens at Apes Hill. Here is #2 green. You can see that it's huge and has plenty of undulation, but also that it's got sandy spots and is not in very good shape. We played in late September which in Barbados is when the greens are generally in their worst condition and when work starts to get them prepped for the winter tourist season. I do not fault the course for this as every course goes through this cycle with their greens. It would have been preferable to play when the greens were at their best, but then I'd have to be here in the busy season. We were literally the only golfers on Apes Hill the days we played and we did have the course all to ourselves, which is a wonderful way to play. Not being held up is more important to me than tiptop greens. What makes Apes Hill so enjoyable is the terrain and changes in elevation and scenery, not the greens.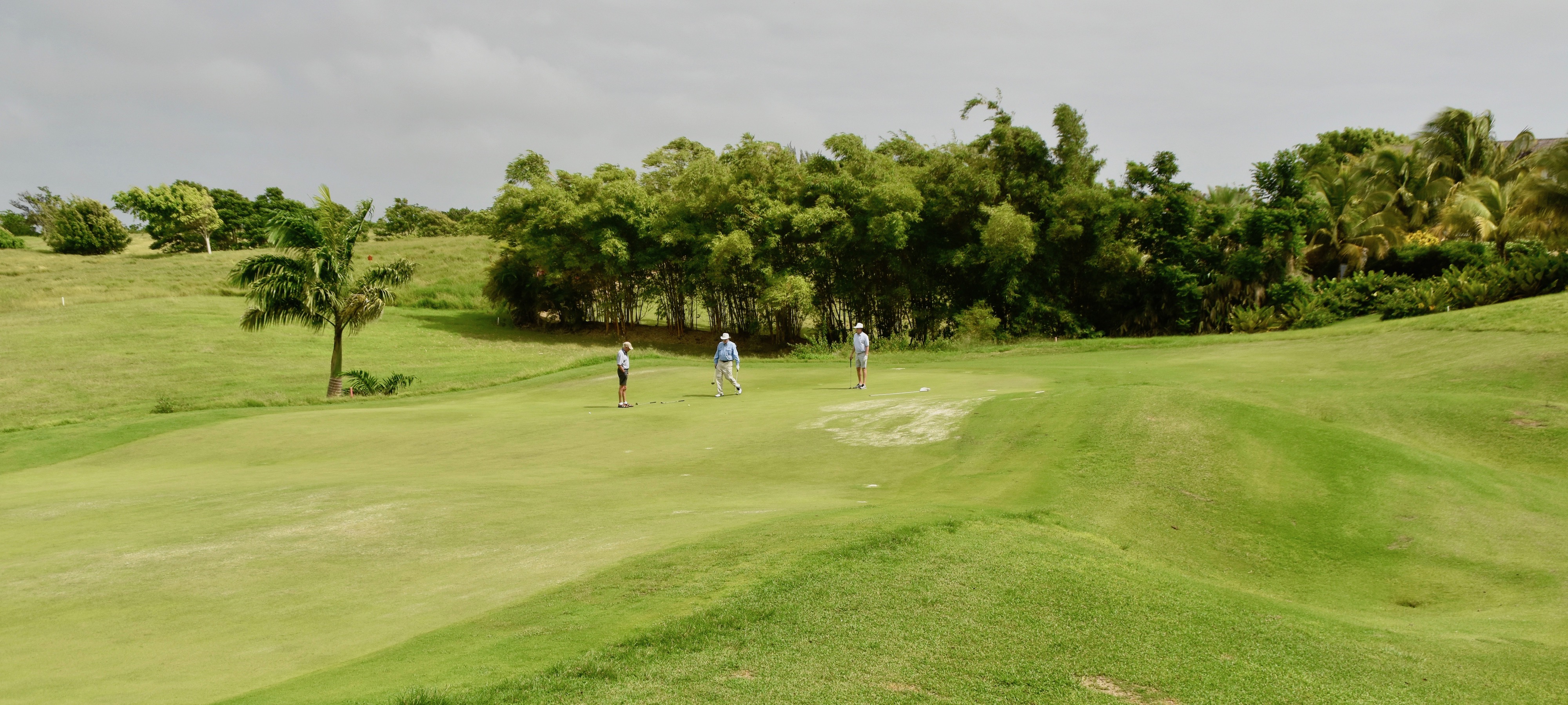 Speaking of scenery, that limestone wall on #2 is festooned with flowers including these clematis like vines that I believe are called adenium.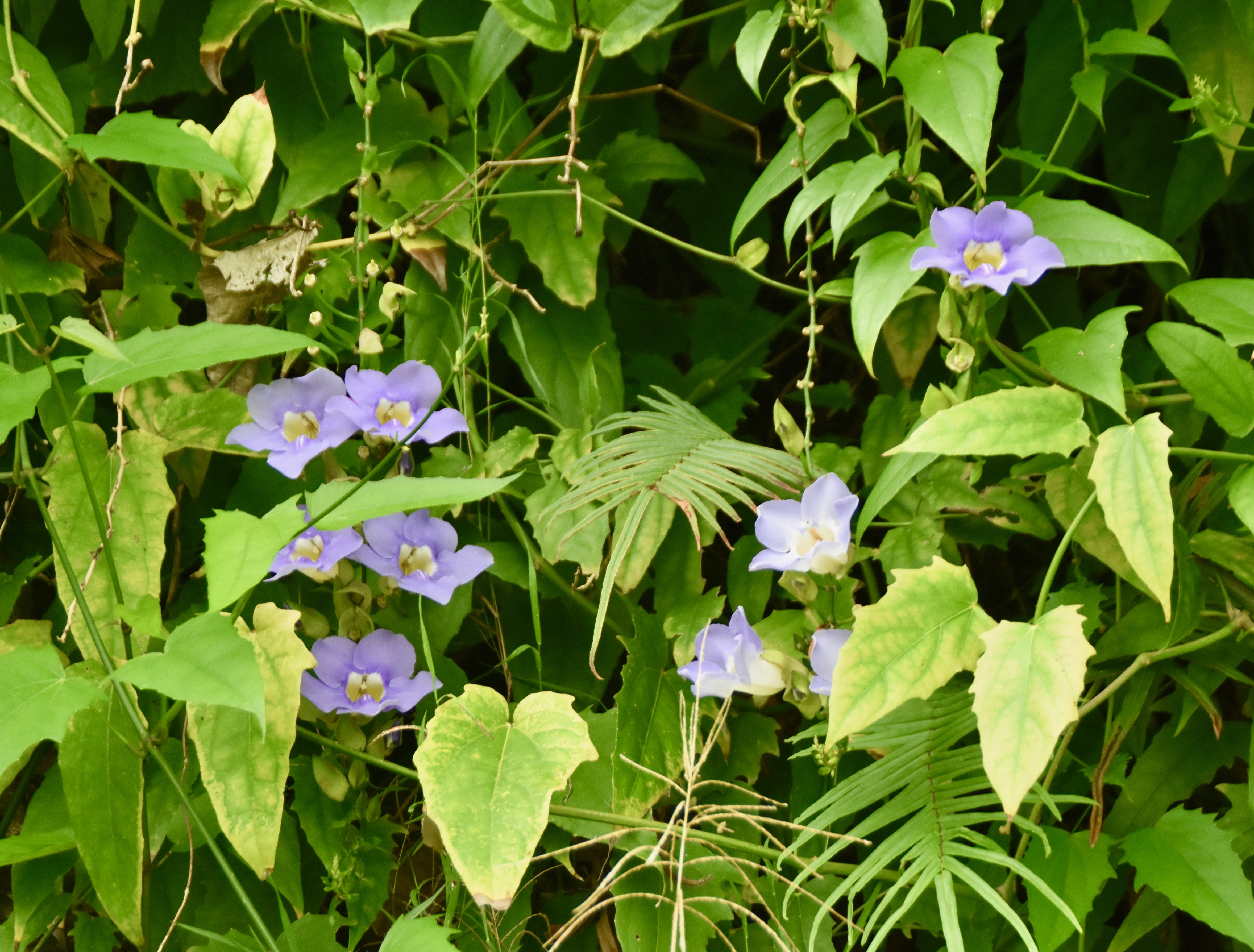 OK, time to pick up the pace.
Apes Hill #3 – 300 Yards, Par 4

The first par 4 on the course is also one of the easiest and does not require a driver. There is no reason to miss this fairway and if you just hit a 5 wood you'll have this type of approach shot. That's SATW member John Hamilton showing his form.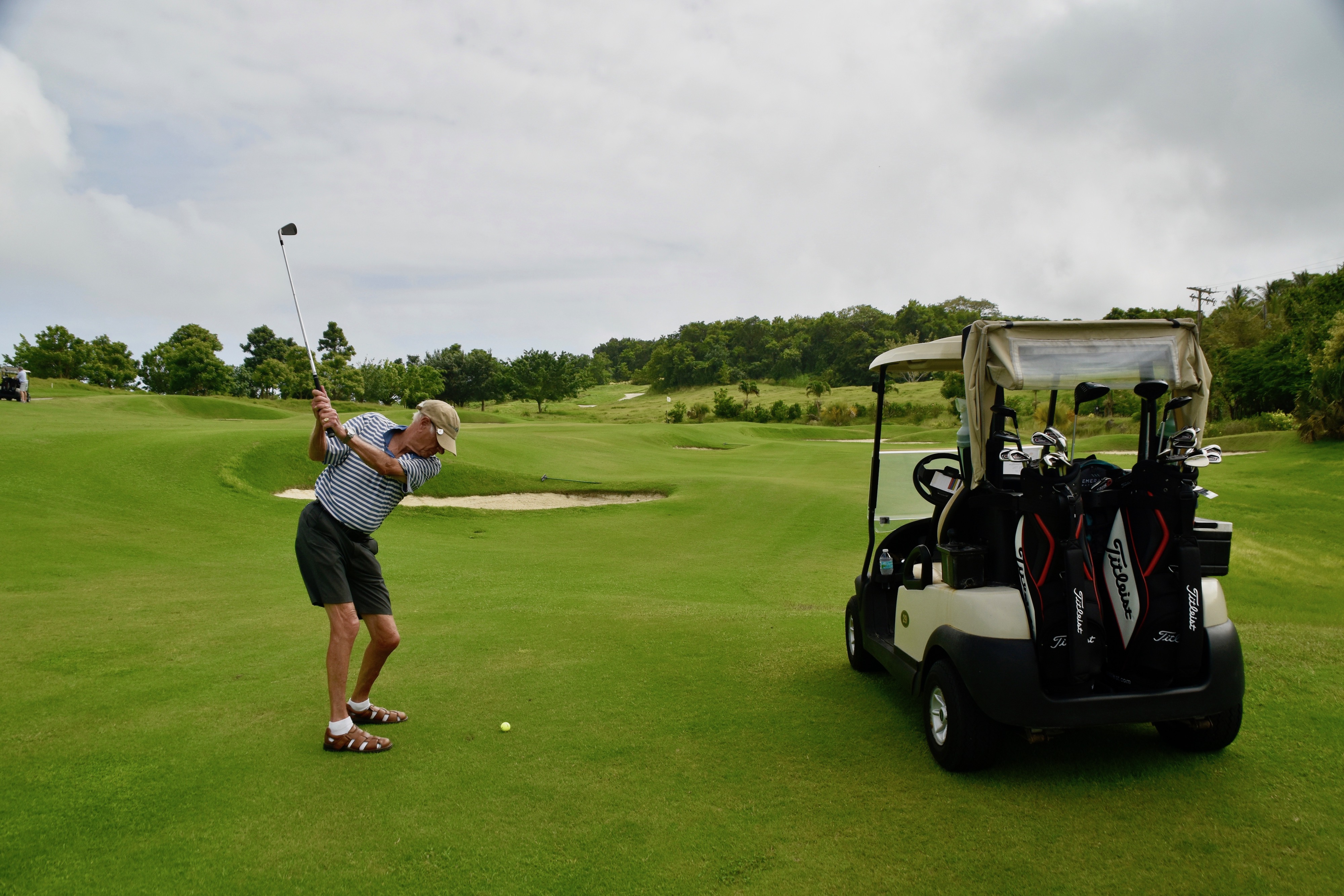 #4 – 320 Yards, Par 4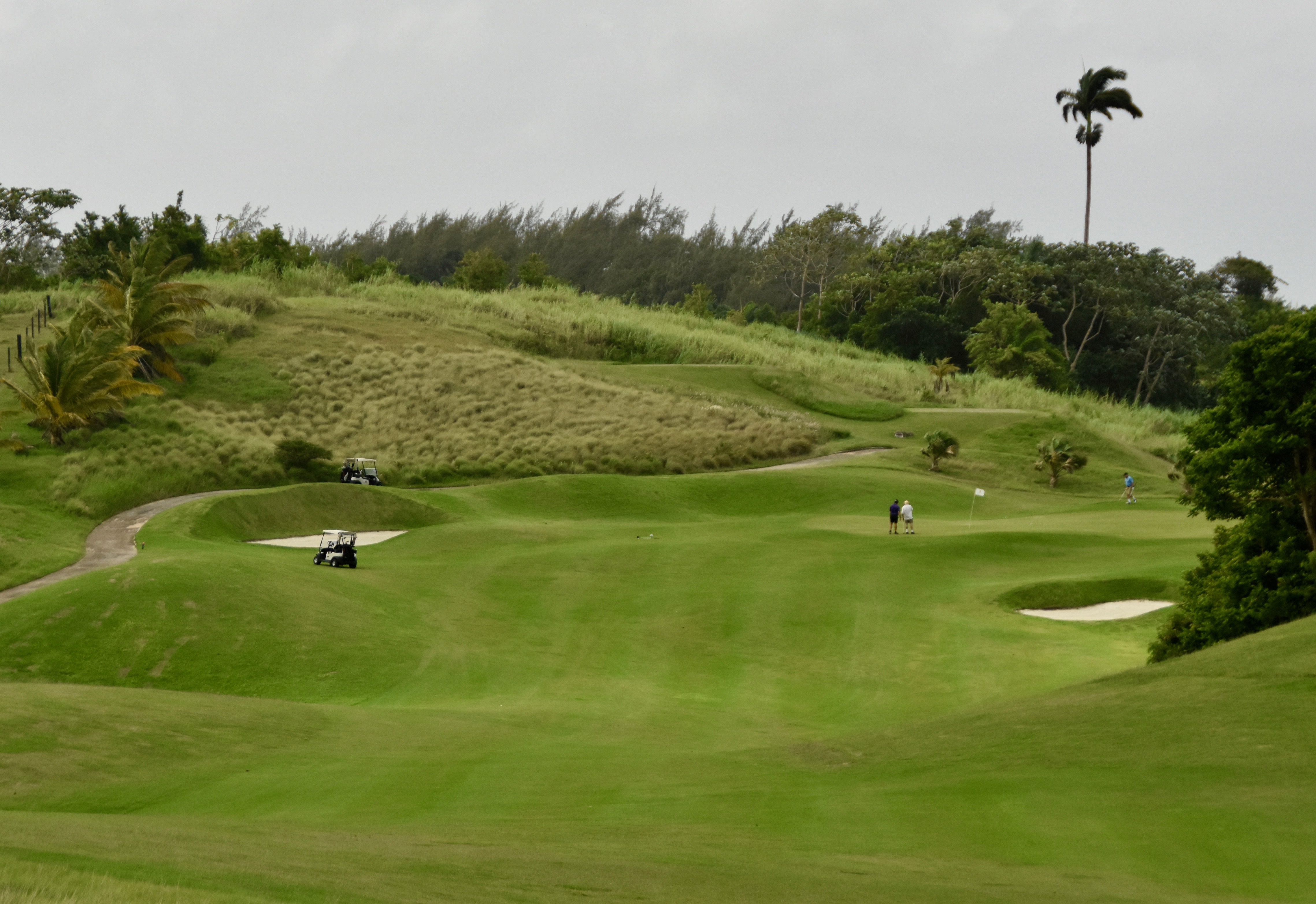 #4 is an absolutely gorgeous looking par 4 that plays steeply downhill and then up to an elevated green for the second shot. Along the left hand side of the fairway is a pasture where the polo ponies (horses actually, but polo ponies sounds better) are kept and you can get a chance to get a nice photo of them if you want – these are the types of things you can do when there's nobody but your groups on the course.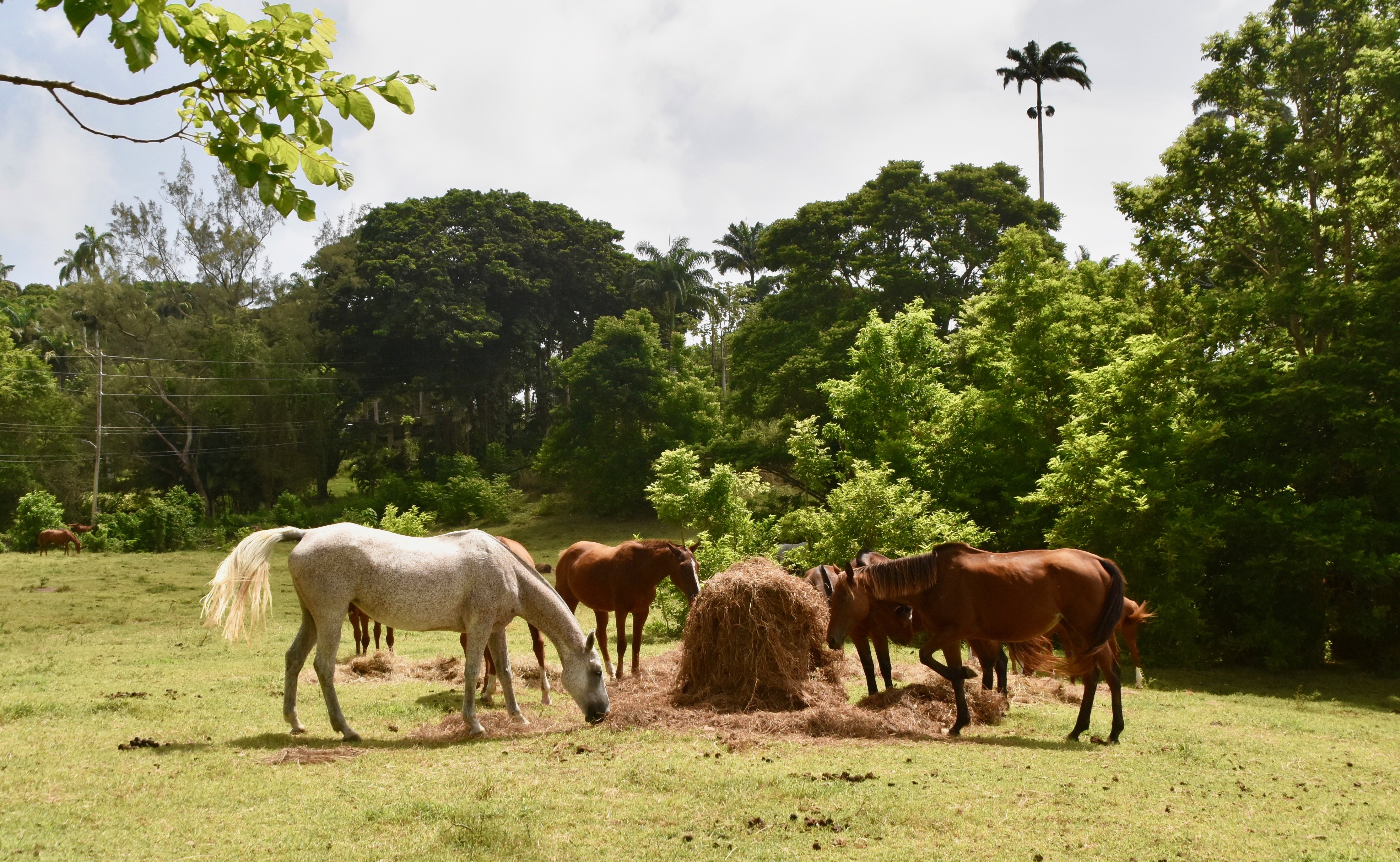 Between #4 and #5 is this bridge, below which there are the remains of some type structure dating from the time when this was a sugar plantation. Tell me this doesn't make you feel like you are playing golf in the jungle tropics.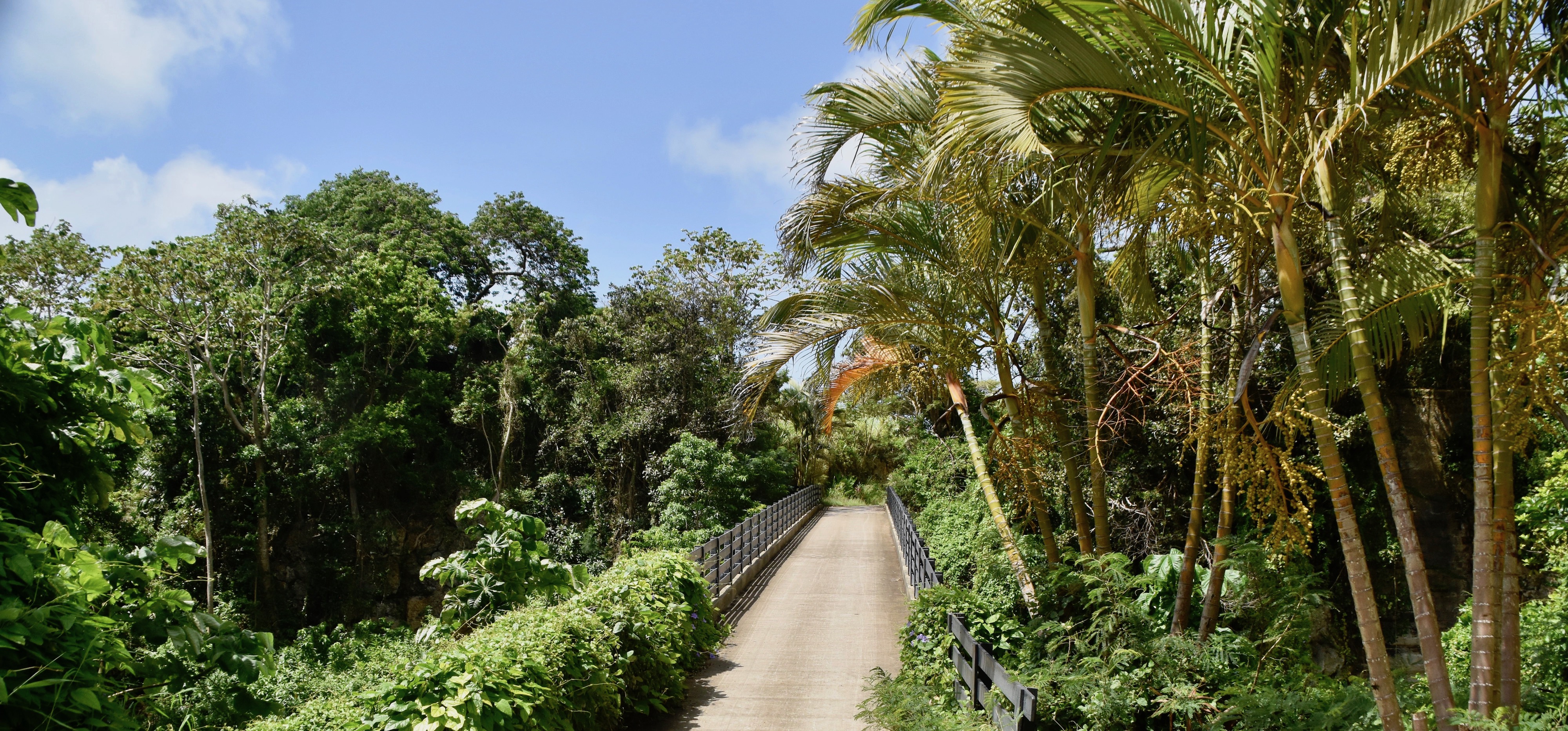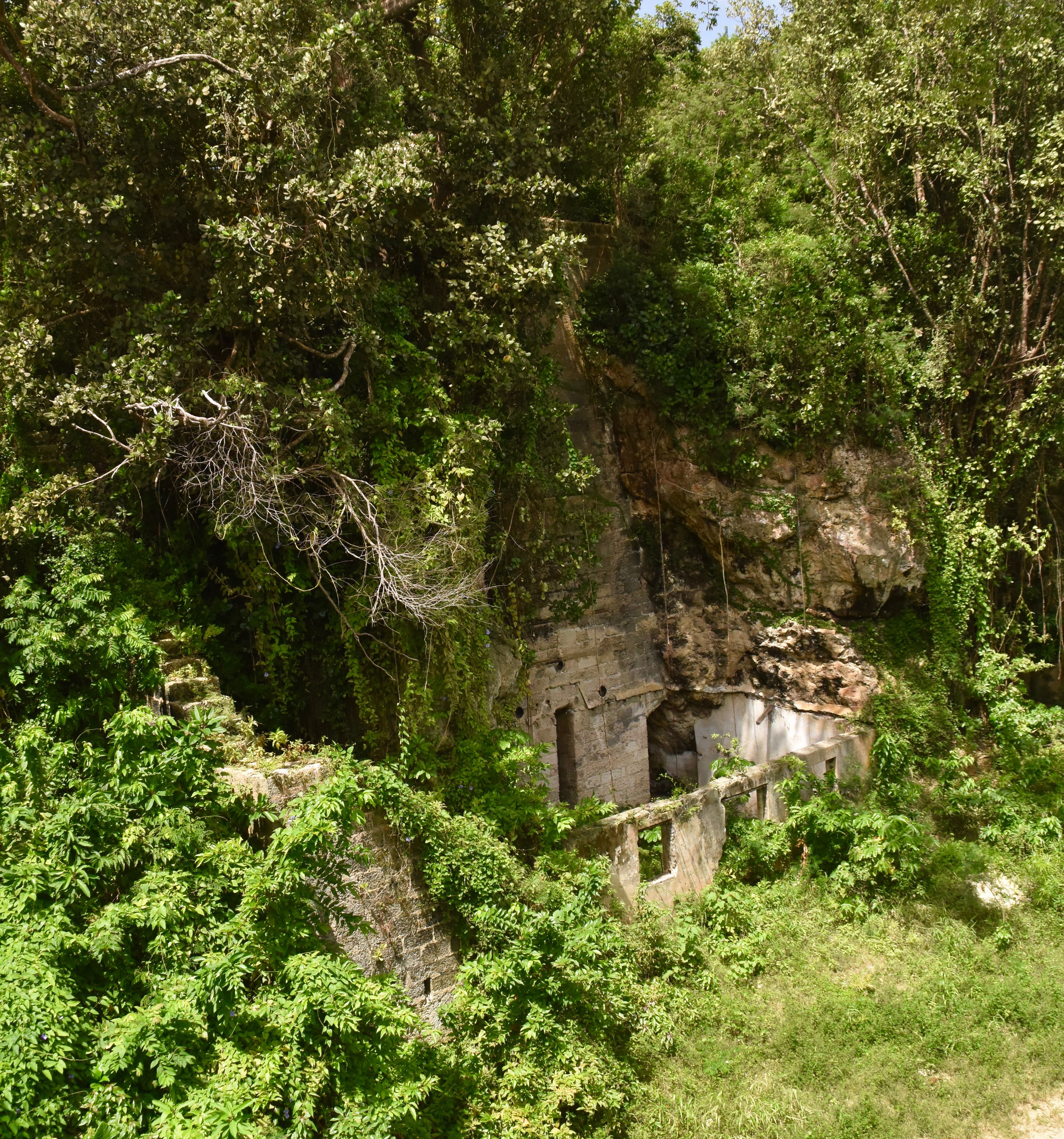 Apes Hill #5 – 125 Yards, Par 3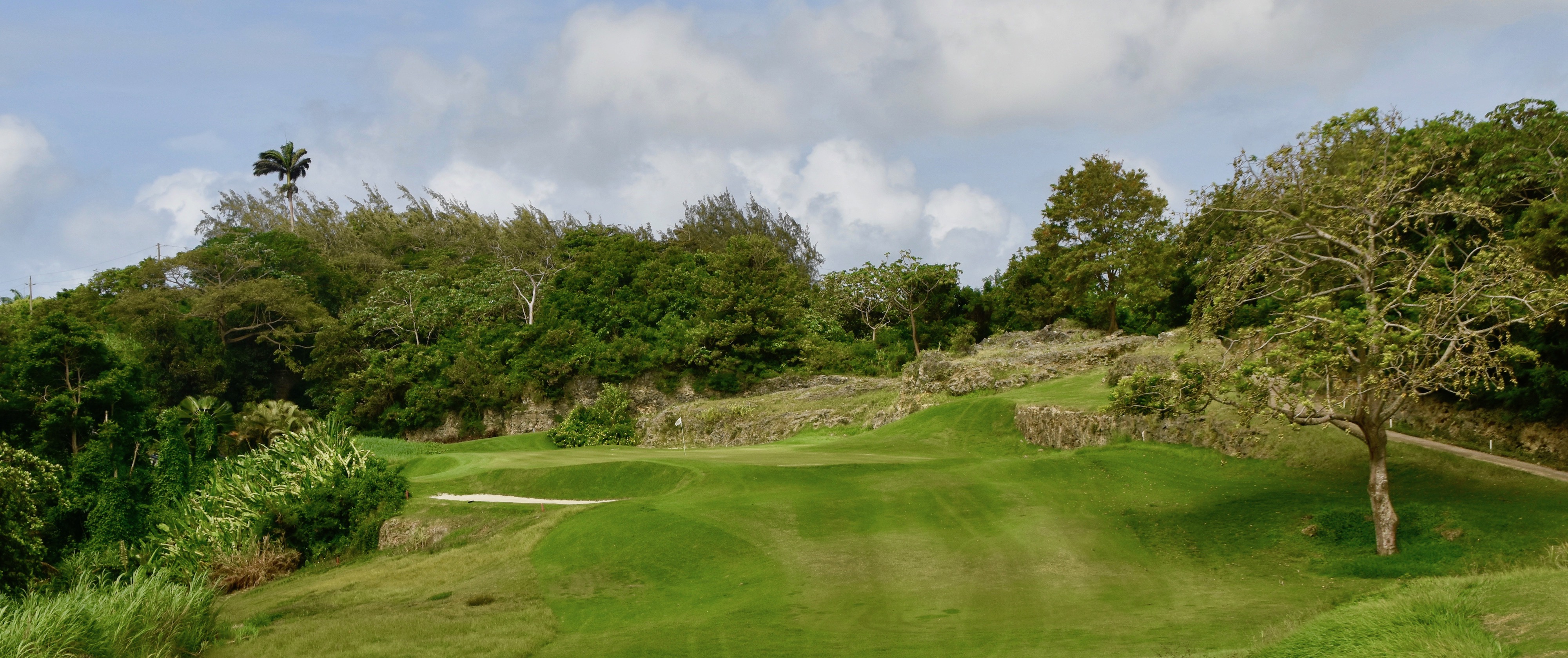 This par three is built around the remains of an old lime kiln and plays substantially more uphill than this photo would indicate. The wind pushes every shot towards the jungle on the left so the smart play is to stay well right, but that's easier said than done. Almost everyone in my group both days came up short on this hole and about half ended up in the bunker so taking more club is the real answer.
 #6 – 520 Yards, Par 5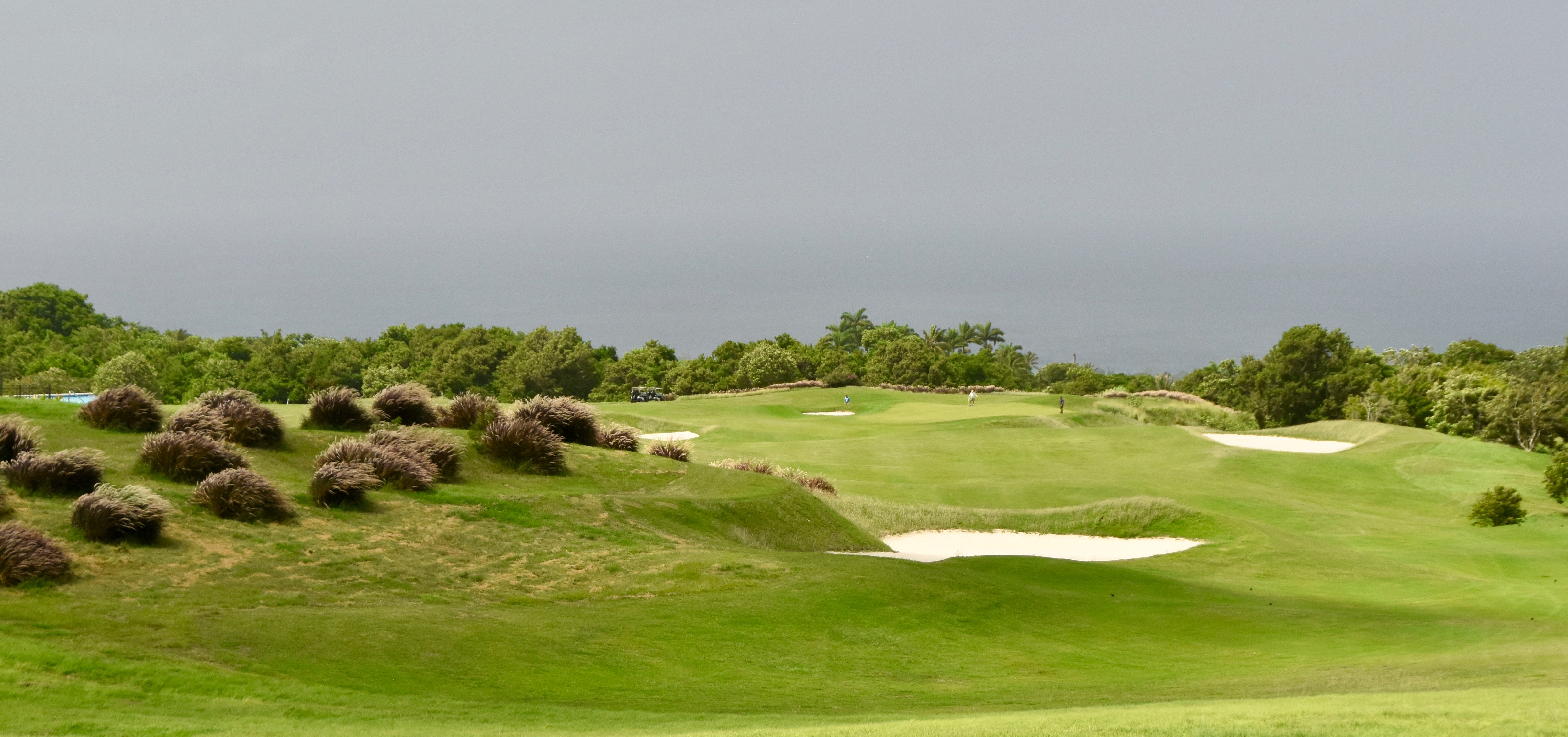 This hole is an insane 645 yards from the tips, but for old timers like yours truly it's quite manageable at 520 yards because it usually plays downwind and downhill. The fairways are wide and those huge bunkers are not that hard to avoid. Just stay calm with the second shot and you should get on in three with a great chance for par.
Apes Hill #7 – 345 Yards, Par 4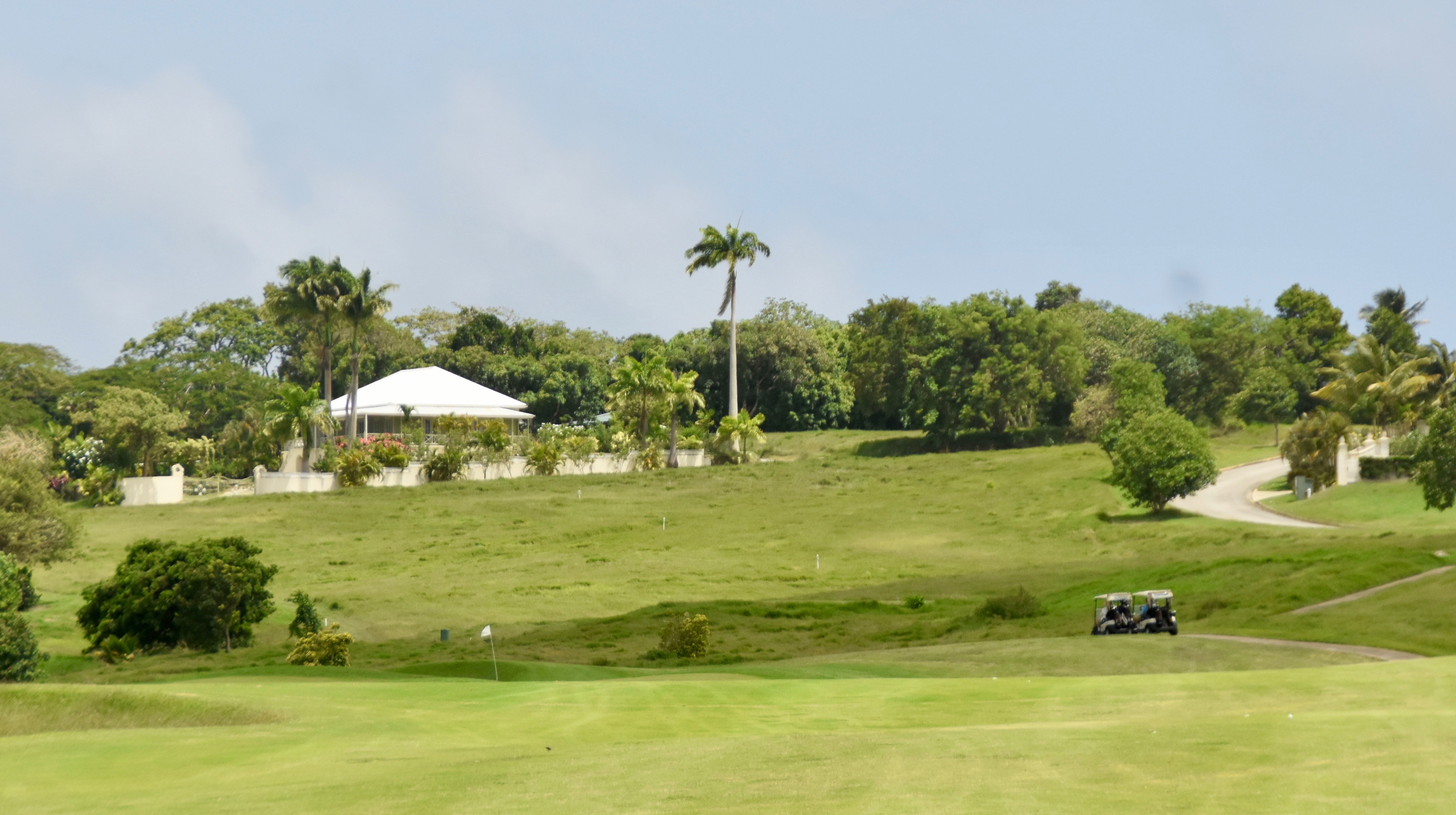 This is the #1 rated hole at Apes Hill, and for good reason. Although you can't see it from this photo there is a huge chasm and a bunker that protect this elevated green. This really requires a high second shot not only to clear the trouble, but to hold the green. That in turns means you need a long drive and trying to hit it long is usually a formula for disaster. Bogey is a good score here.
 #8 – 140 Yards, Par Three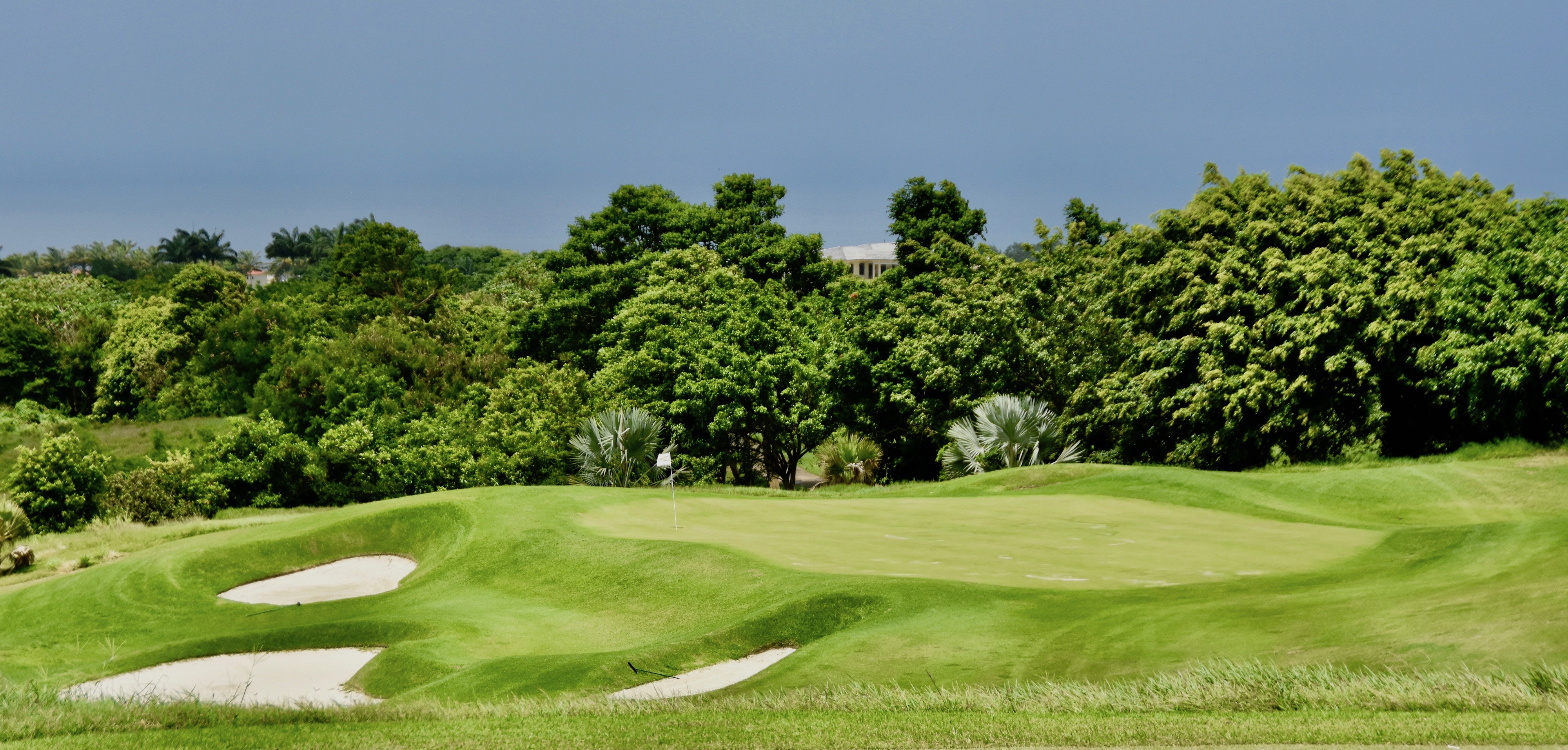 #8 is the longest of the par threes at Apes Hill with the prevailing wind pushing everything towards those bunkers on the left. That's a sucker pin placement in this photo. The smart play here is to start well right and let the wind do all the work. If you do that this is not a hard hole. If you go for the pin you will almost certainly land in one of the bunkers and be short-sided to boot. At that point the only appropriate word is "Doh!"
Apes Hill #9 – 485 Yards, Par 5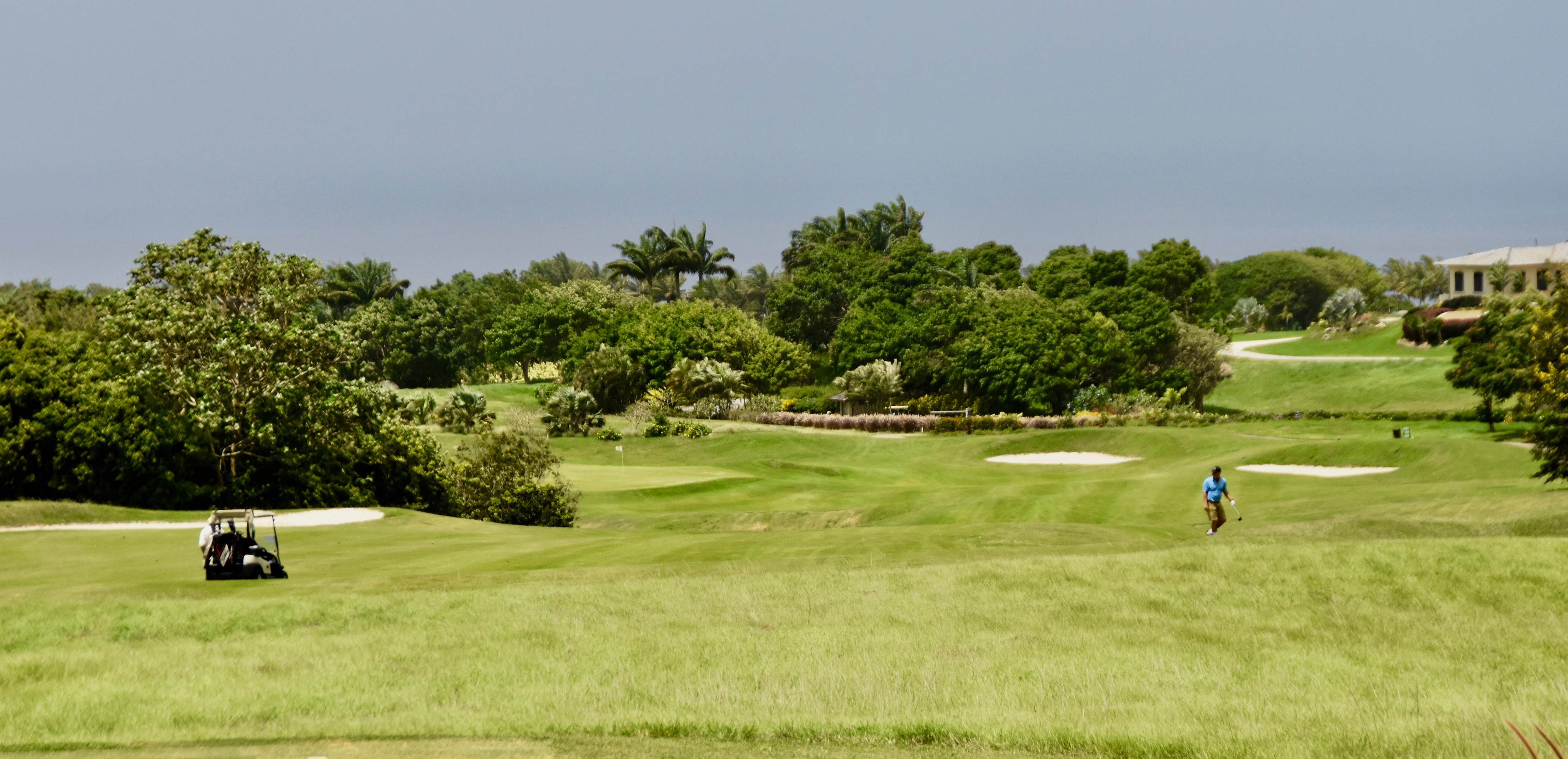 The third par five on the front is intended to be a risk-reward hole for big hitters who can go for it in two, but for the ordinary golfer it's all about keeping par in mind with a chance for birdie. The fairway is not as wide as this photo would make it seem with unfindable grass on both sides and the fairway slanting off steeply to the right. On the second day I hit what I thought was a perfect drive and never found the ball. The smart play is two woods followed by a short iron, but I only know that in retrospect. This photo gives an idea of why the second shot should be aimed between the two far bunkers and not right at the pin. Nice view of the clubhouse from #9 as well.

I have to say that as much as I like the front nine, particularly the par three's, the back nine is the real star of Apes Hill.
#10 – 425 Yards, Par 5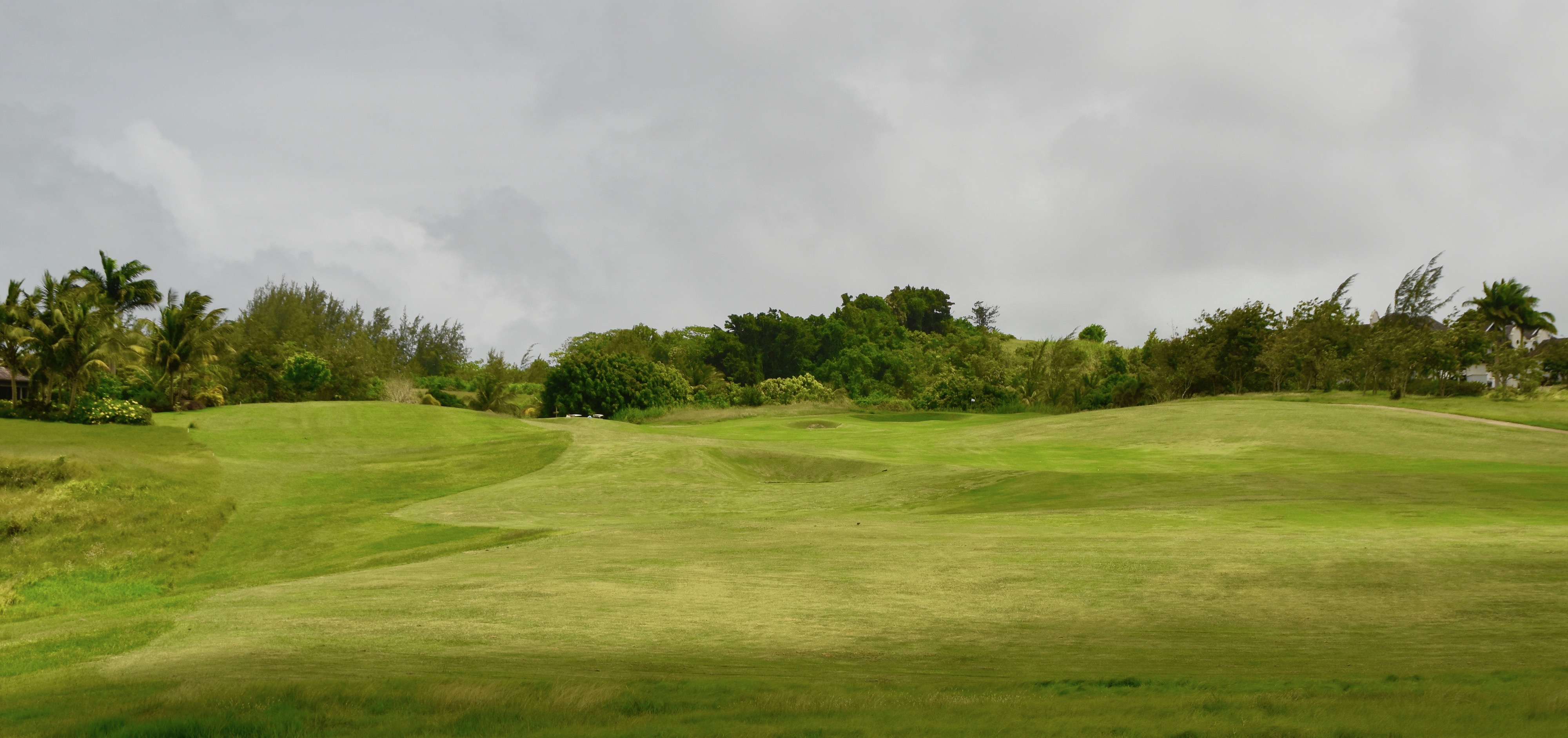 This hole is almost a duplicate of #1, both playing uphill into the wind, but with a hugely wide fairway. If you learned anything from playing #1, use it here for a good chance at par and even birdie.
Apes Hill #11 – 285 Yards, Par 4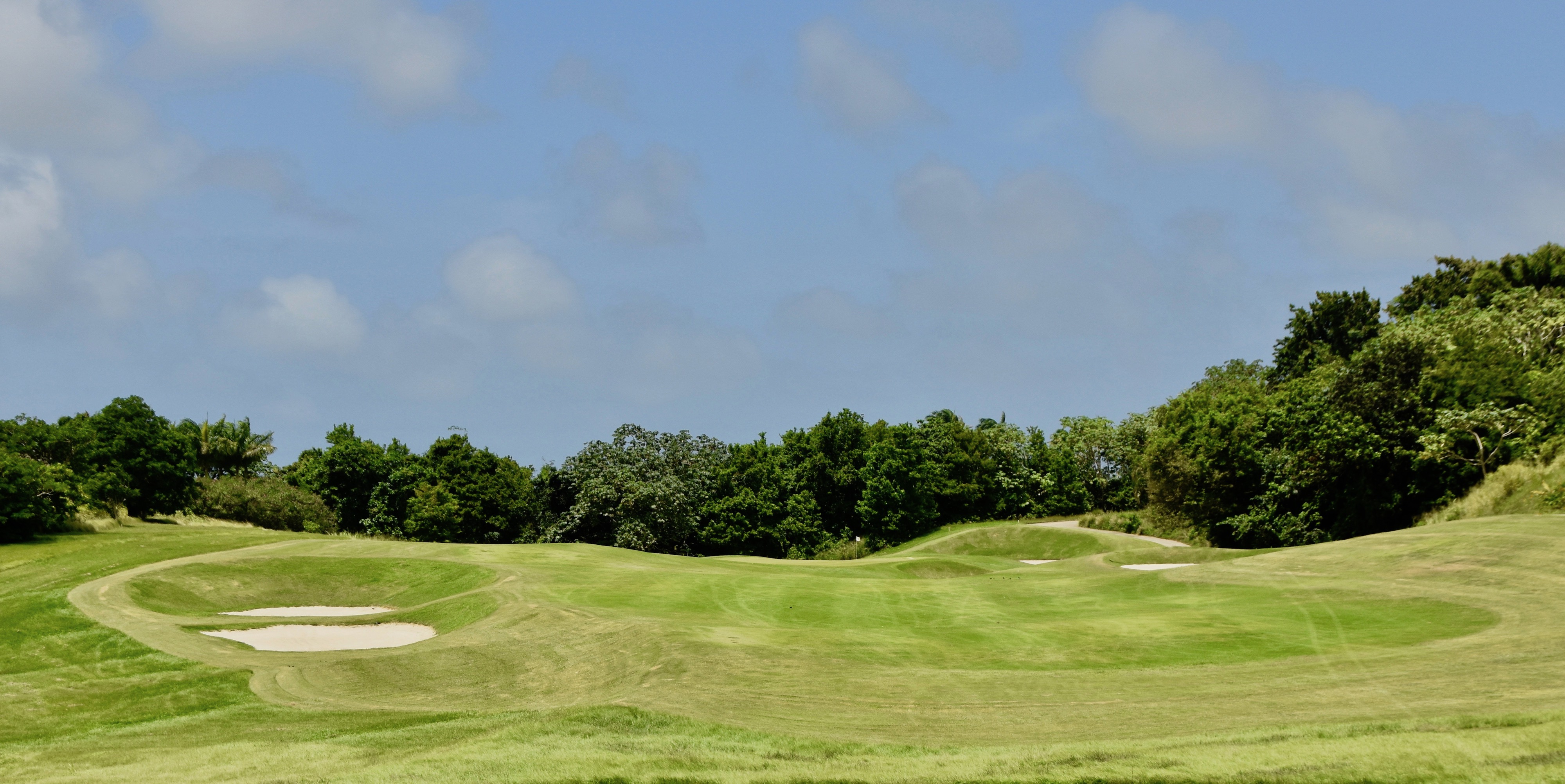 This might seem like a ridiculously short par four, but it plays much longer than that. It's on this hole that you really start to feel that you are entering the jungle once you leave the green and the Atlantic Ocean comes into view.
 #12 – 135 Yards, Par 3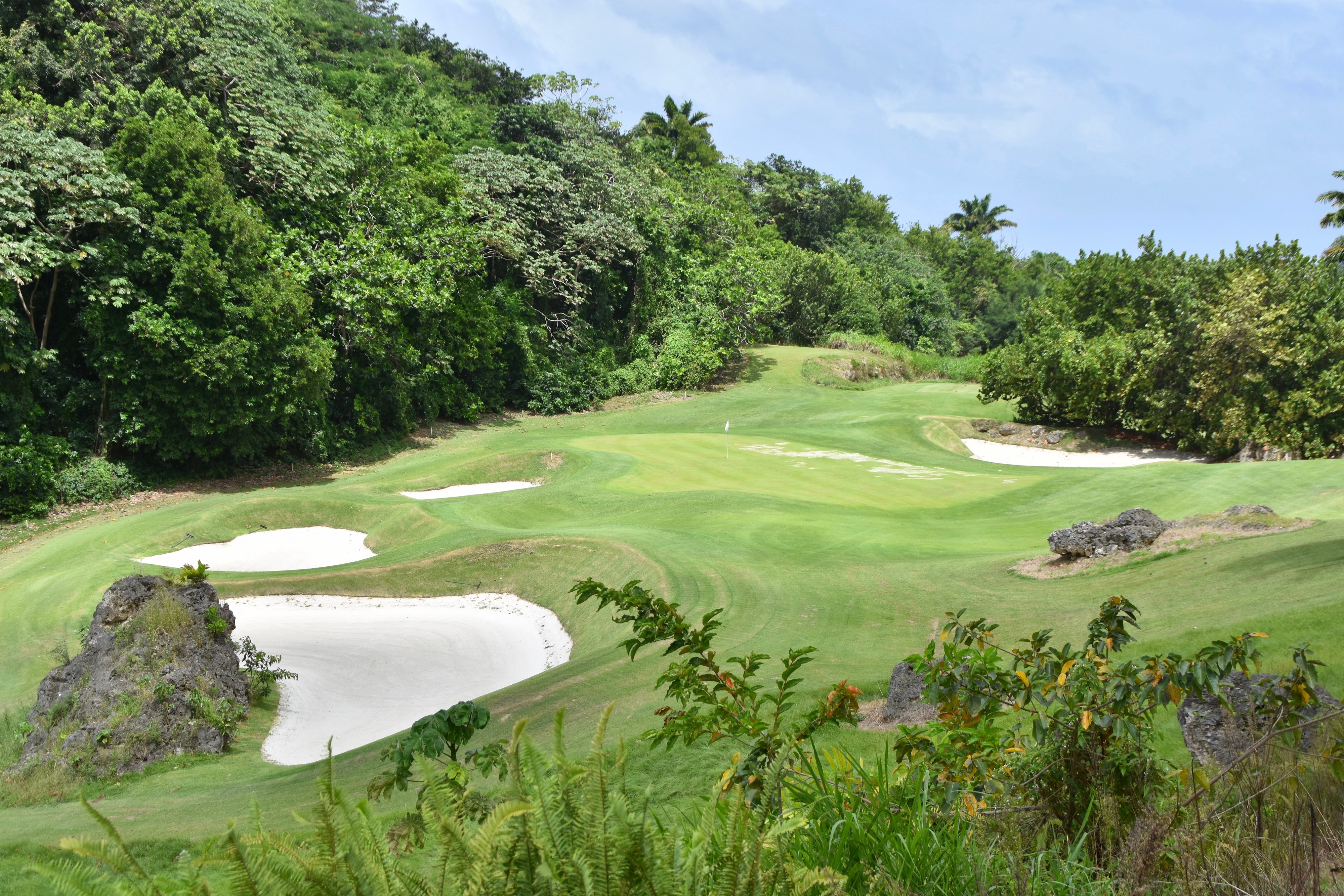 This is my favourite par three at Apes Hill. The limestone outcroppings and the sandy bunkers almost give it a Japanese garden effect. Visually this is a great hole, but it also is fun trying to guess which club you need for the sharp descent to the hole. For some reason almost everybody came up short and in two days nobody was past the hole so I guess the lesson is – take more club than you think you need.
Apes Hill #13 – 355 Yards, Par 4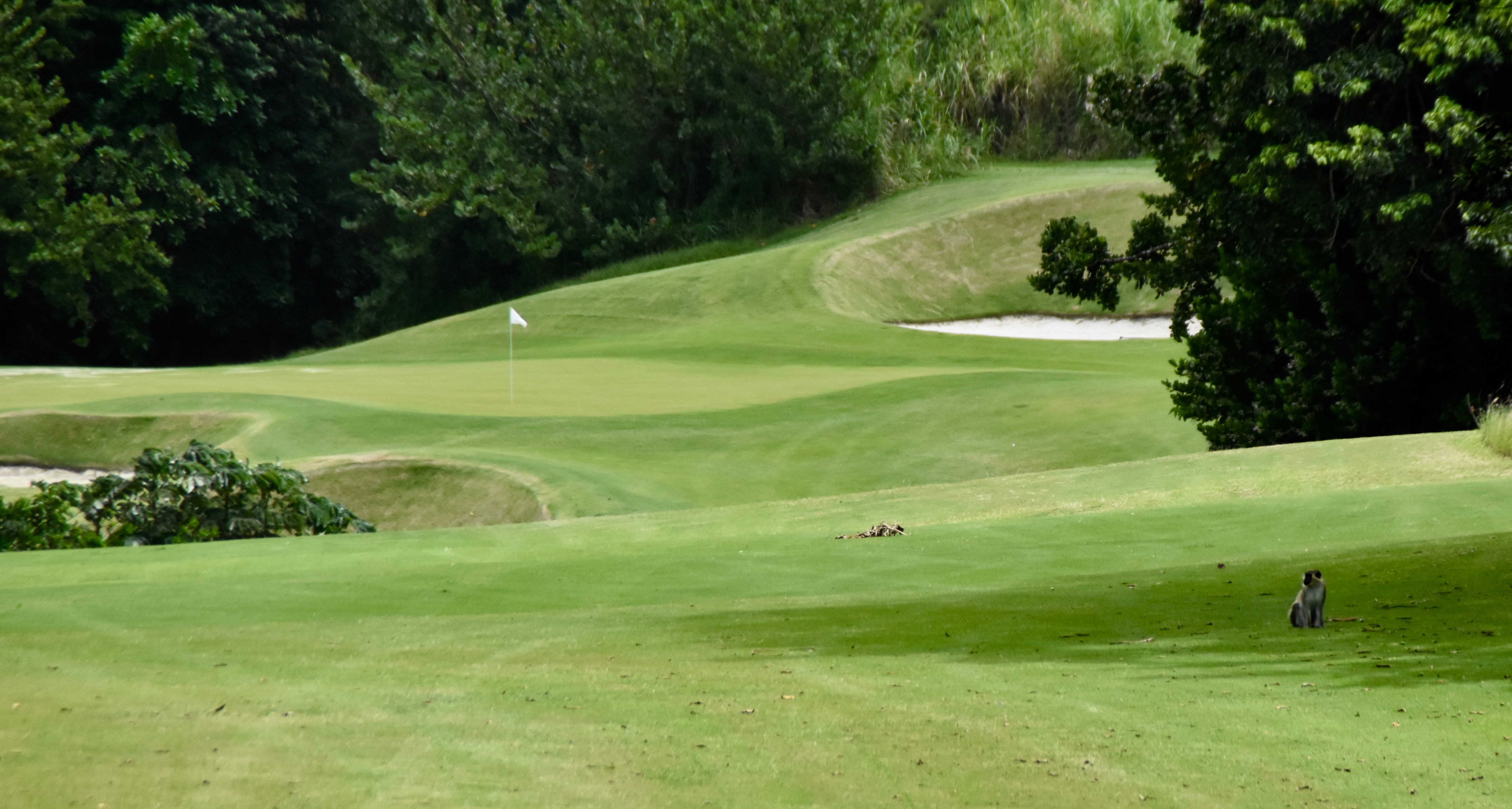 I think this should be the signature hole at Apes Hill – It's beautiful to look at, damned difficult to play, has ocean views and monkeys to boot. This is certainly the signature photo from my two days at Apes Hill with the green monkey nonchalantly sitting on the sideline. Unless you absolutely crush a drive here you won't be able to clear the gulf between the fairway and green. Almost certainly you will have to lay up, but that leaves you with a downhill lie. This hole destroyed me both days, but I didn't care, because like I said – there's monkeys and they are fun to watch.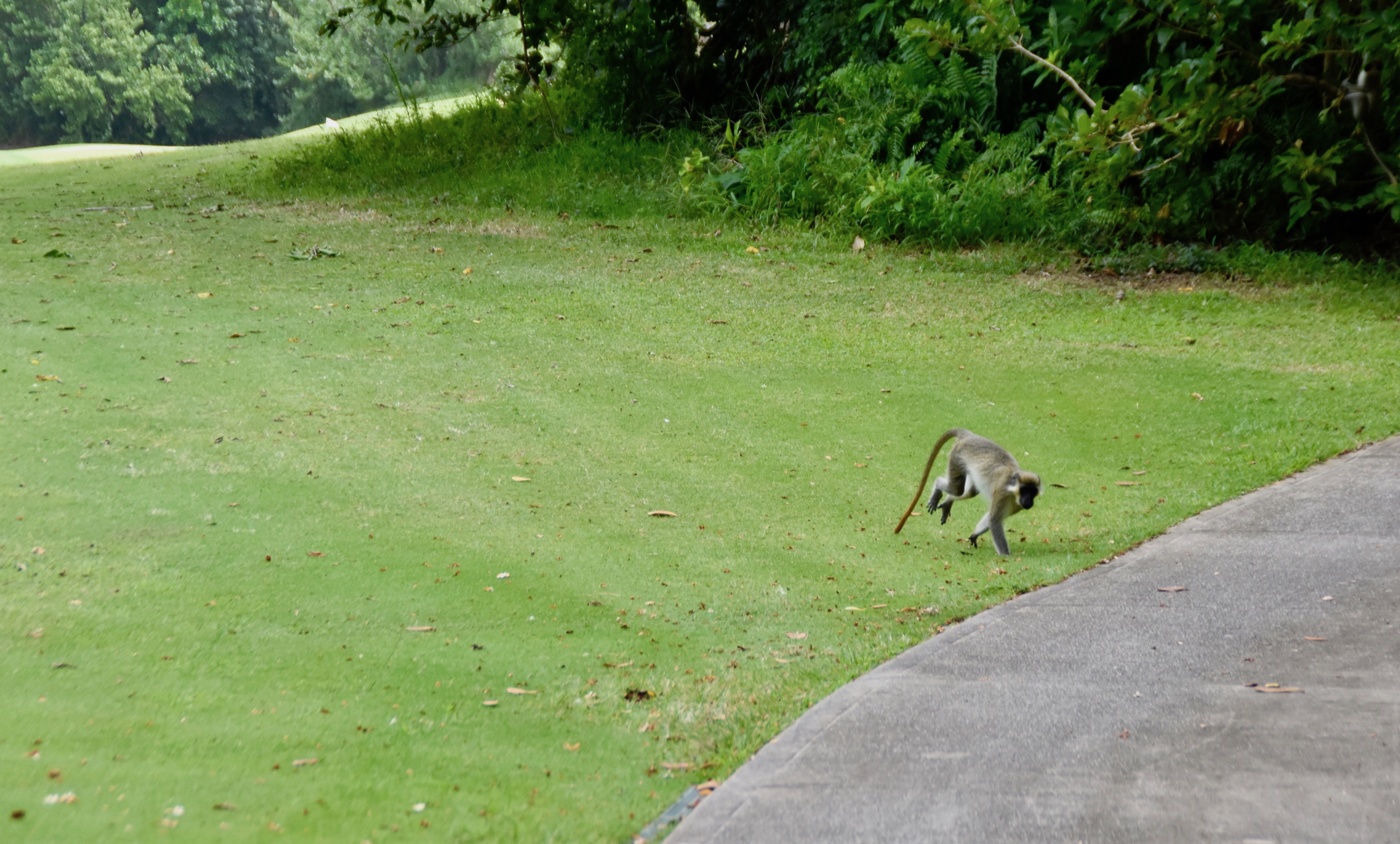 After observing our lousy drives the monkey decided he'd seen enough and returned to his buddies who were sitting eating nuts or other things that had fallen from the trees onto the cart path.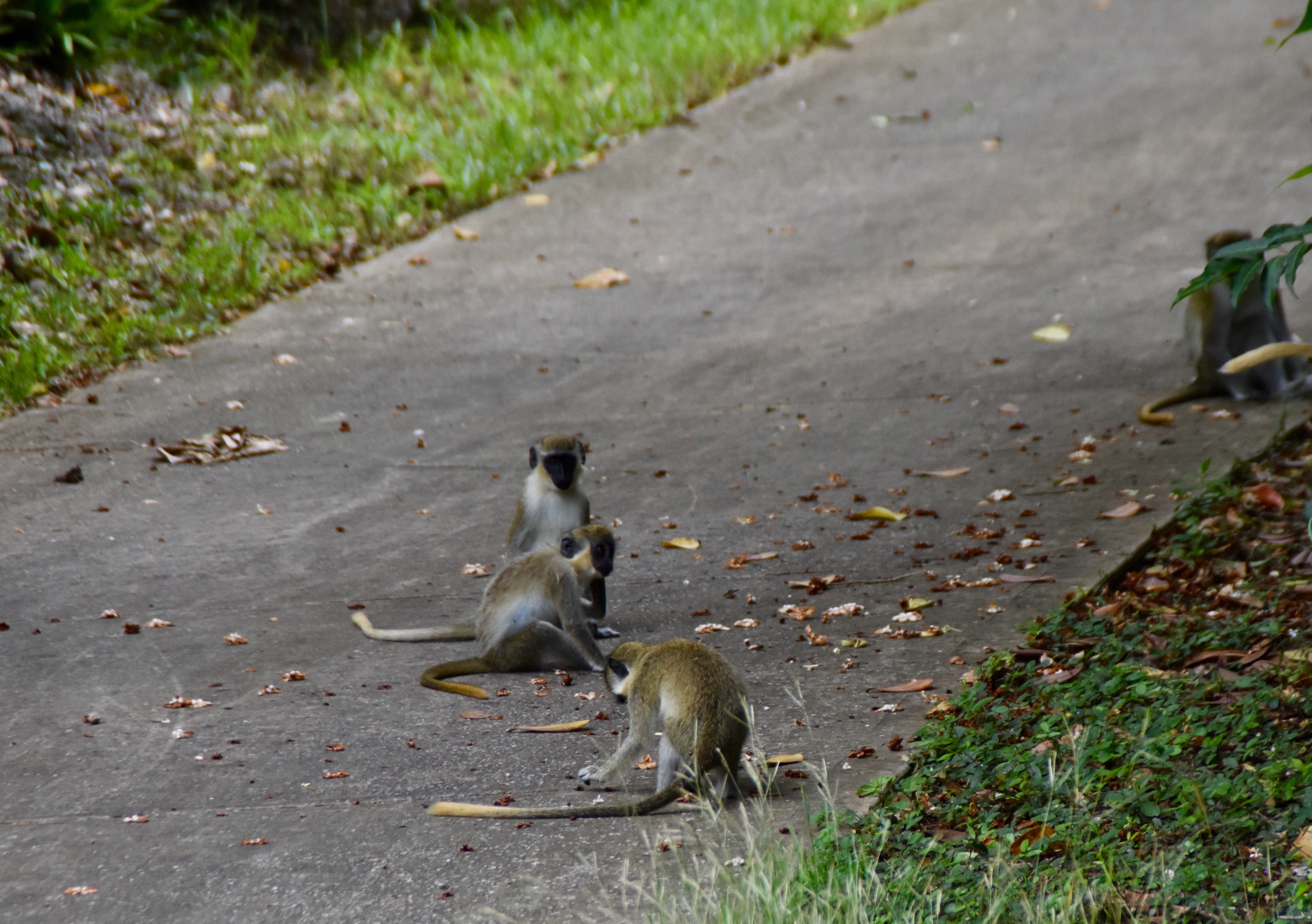 Apes Hill is of course a reference to the green monkeys that are common in the area. Originally imported from West Africa over 350 years ago they are now an almost completely different species. We saw a large number on #13 the first day and only a solitary male the second day, but whether you see one or a dozen, it adds a little something extra to the experience of playing Apes Hill.
 #14 – 290 Yards, Par 4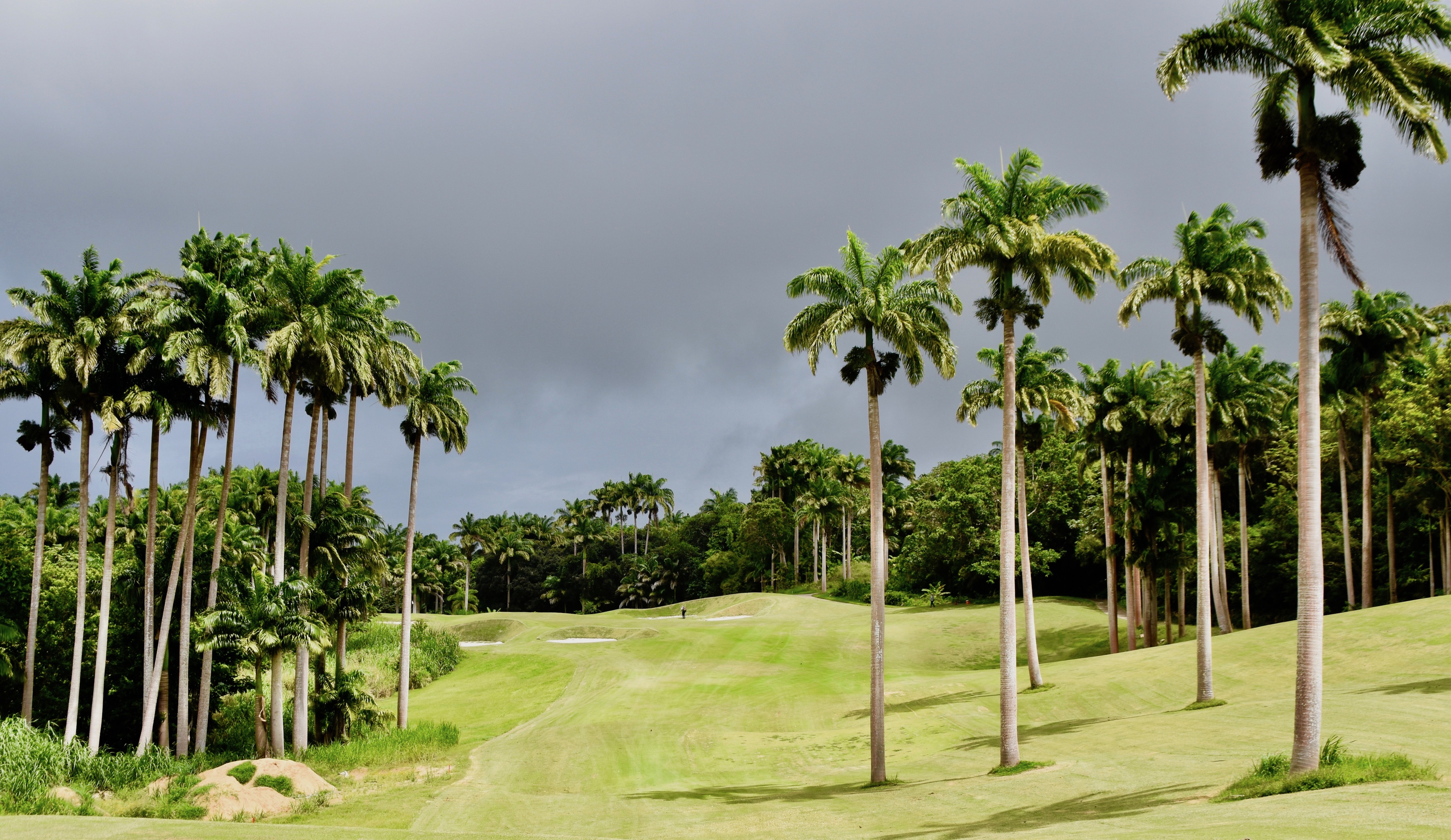 The second stunning looking par four in a row has a look that is unlike any other on the course with the palm trees creating the look of a really narrow fairway. If you keep it right here and avoid hitting a palm tree this is not a hard hole.
Apes Hill #15 – 495 Yards, Par 5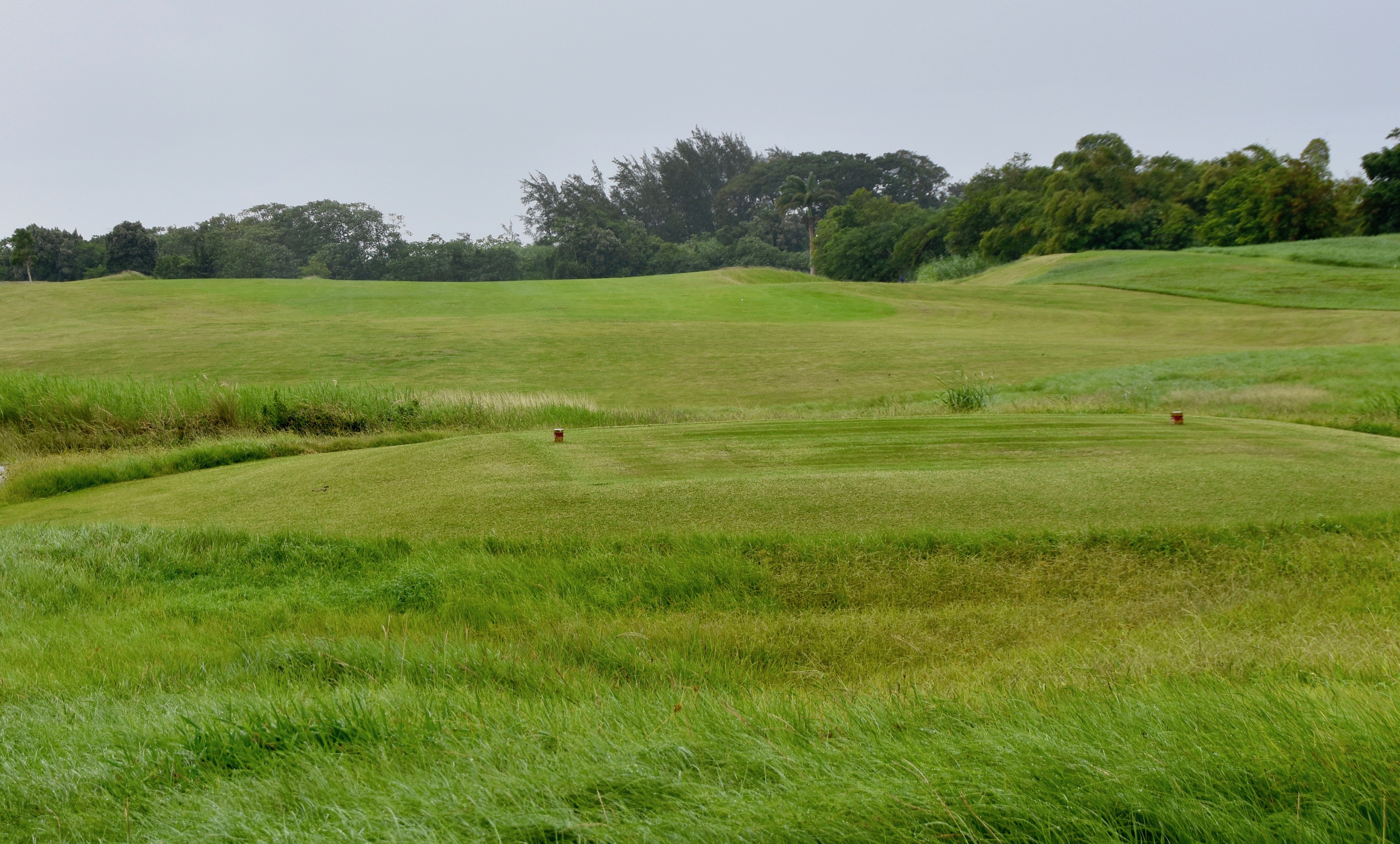 This is not intended to be a photo of #15, but rather to give the reader an idea of one thing you can't get away with at Apes Hill – hit a worm burner that rolls for 200 yards. If you don't elevate your ball immediately it won't even get to the next tee box and you probably won't even find it.
This final par five is another one the does not require power and length but strategic positioning. The third shot is to a sunken green that doglegs right from the fairway. Just like #12 which is also a downhill shot to the green, everyone seemed to under club on this approach shot.
 #16 – 130 Yards, Par 3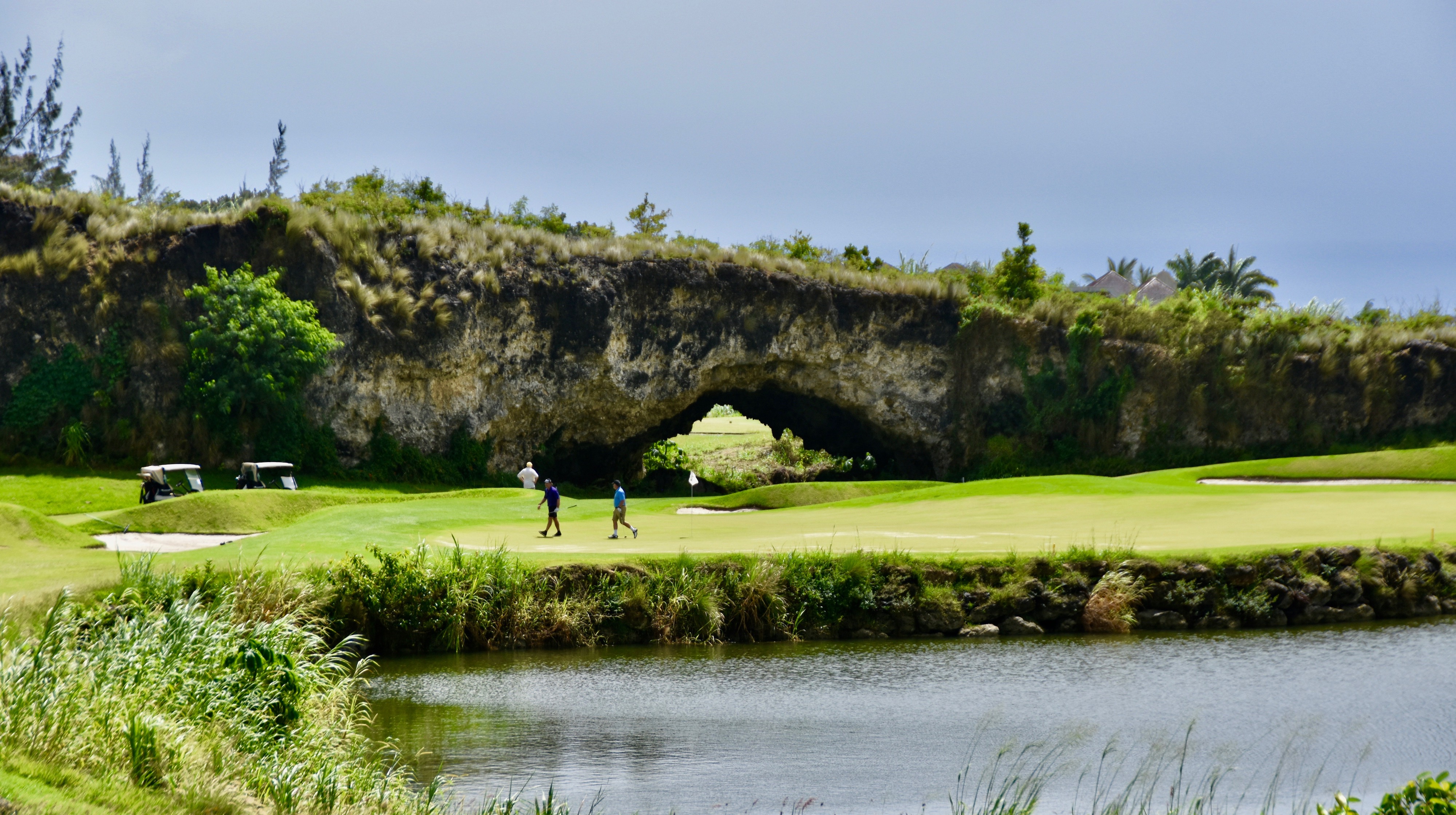 This is the signature hole at Apes Hill and it certainly is distinct with a natural arch through the limestone as a backdrop to the hole. The only water hole requires taking enough club to reach the green which is easier said than done. Because this hole is in a bit of a hollow in an old coral quarry, the winds swirl and can change from one minute to another. Between the time you pick a club and hit it, the wind might have gone from helping to hurting and before you know it, you're in the drink. Ask me how I know this. Still it's another beautiful hole on this course.
This is a closer look at the arch.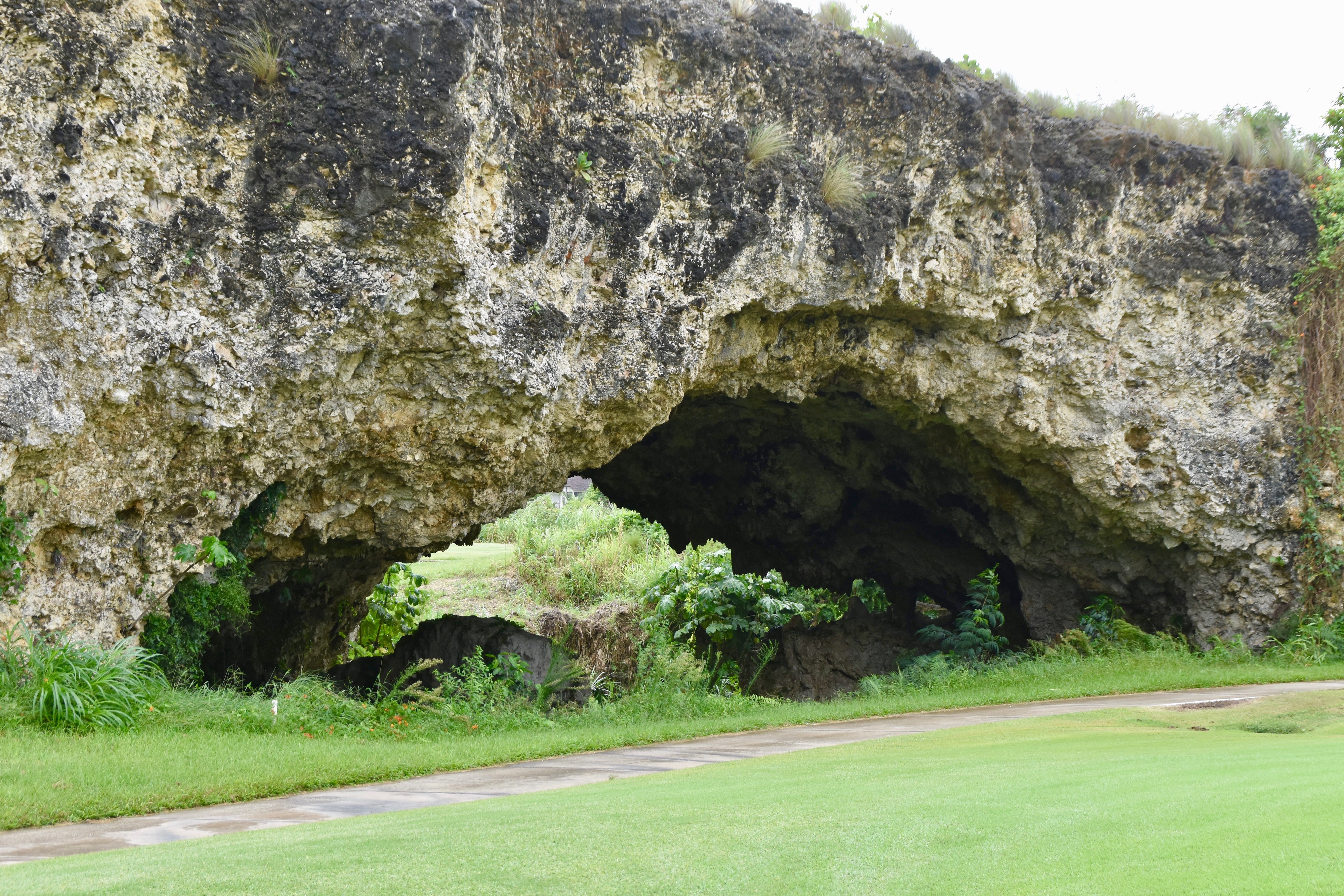 This hole is worth poaching a shot from the Apes Hill website just to show what it could be like in sunny weather.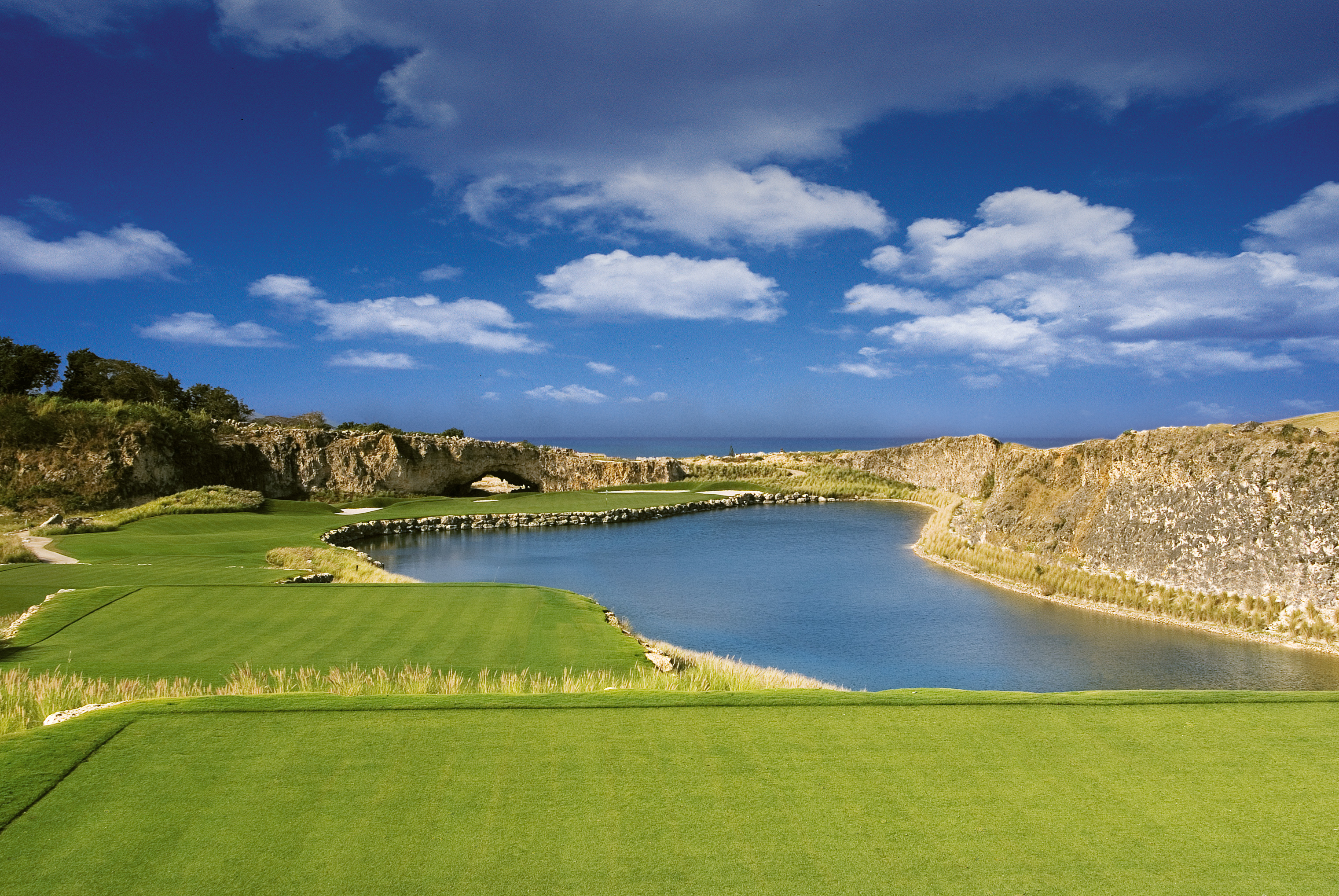 Apes Hill #17 – 265 Yards, Par 4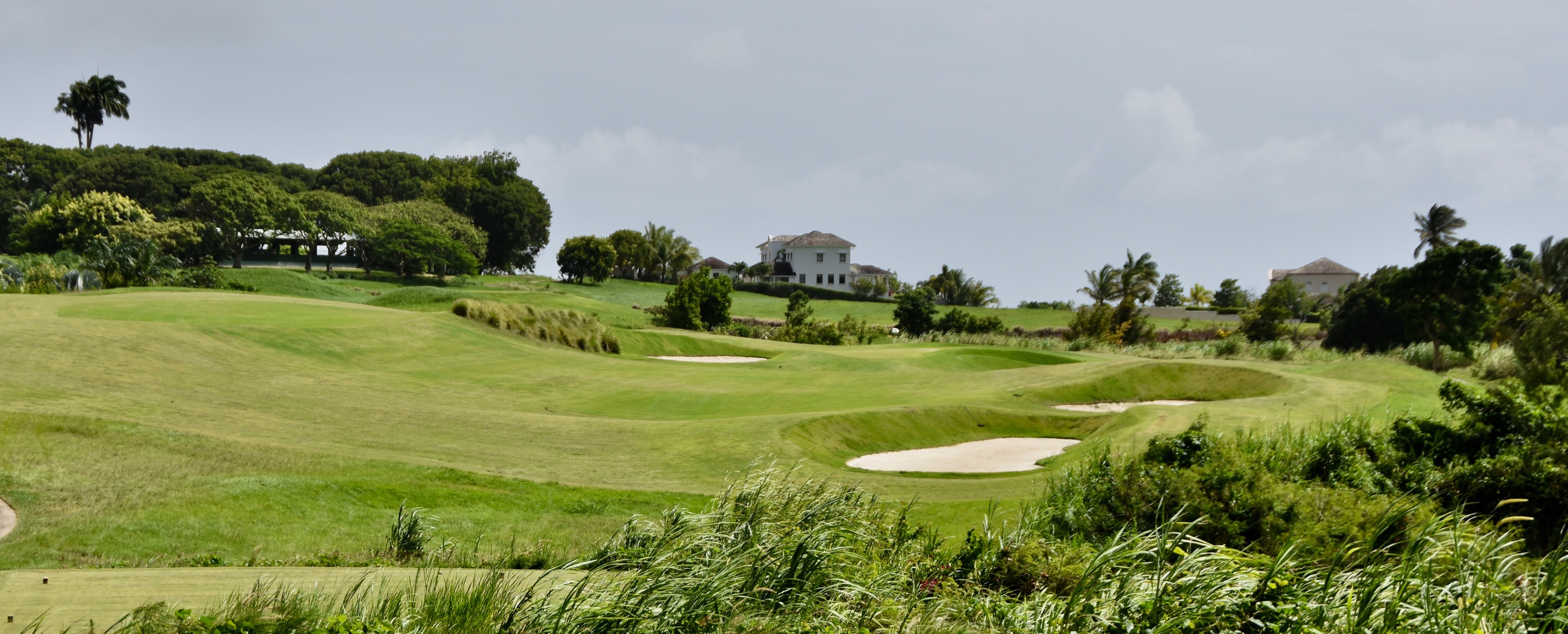 This is the easiest ranked hole on the course and deservedly so. All you need is any club you can hit straight for 170 yards and this becomes a birdie hole – about time, you'll probably be thinking.
#18 – 400 Yards, Par 4

#18 is a nice finishing hole because it plays far shorter than its 400 yard length being downhill and downwind making the average golfer feel like they've accomplished something by reaching it in two. After that it's time to head for the clubhouse for a Banks beer and the very generous flying fish cutter sandwich they make here. No matter how you scored, I can guarantee that you will feel like you had a great round of golf at Apes Hill. I'll come back in a heartbeat.
Next we are heading for a week in Curacao, but only after a stop at the legendary Asa Wright Nature Centre in Trinidad. If you like birds you have to come along.