Ardglass -The Greatest Course You've Never Heard Of
It's with a twinge of sadness I'm writing this post, because it is the last on my long anticipated Irish golf odyssey. These trips are like watching a speeding car come at you down a long flat highway – it seems to take forever to get there, but once it does it roars past in a split second and then it's gone. However, we have one last course to play, Ardglass Golf Club in Ardglass, which our driver and guide Barry McGuigan assures us will not disappoint.
Ardglass is actually an ancient fishing village located on the Irish sea north of Newcastle, that is older than Belfast. William the Conqueror and King John were reputed visitors. Even though we are only a few miles away from Newcastle as the crow flies, the landscape is totally different. The beaches and dunes of the Royal County Down area where we played yesterday have been replaced by a rocky coastline that would not be out of place in my native Nova Scotia. Fishing boats have replaced sailboats.
Ardglass Golf Course
The clubhouse is certainly different – it appears to be part of an old castle and Barry confirms that it is. The website claims that it is the oldest clubhouse in the world dating back to 1405. On the side is a large banner congratulating local member Cormac Sharvin on making the 2015 Walker Cup. It is apparent that like Rory McIlroy's home course Holywood, which we played a few days ago, you don't need to belong to a big name club to become a great golfer.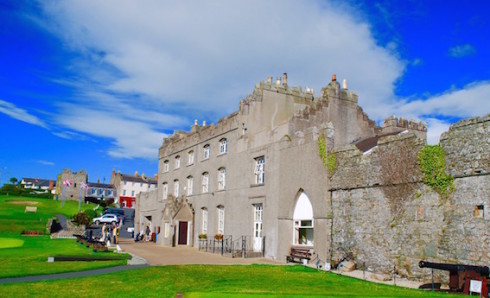 We have some time to kill before our tee times so we explore the ramparts of this old castle. That's Rob, David and Barry looking like the arrogant Frenchmen on the castle walls in Monty Python's Holy Grail.
The view in all directions from the 1st tee at Ardglass is truly stunning. The sky and sea are blue, the rocks are highlighted gray and brown which makes for a great contrast with the green of the course. This is looking backward.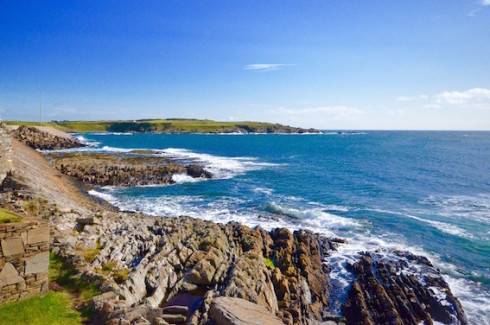 And this is looking at the course.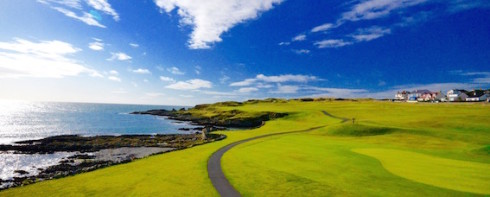 There will only be myself, Brian, Mitch and Chuck today as the other four are headed to the Titanic exhibit in Belfast.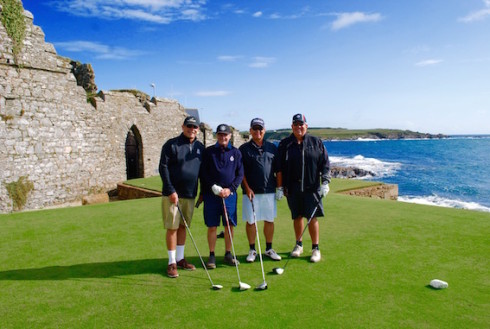 Unlike any other course we have played in Ireland, the sea is actually very much in play on a lot of holes at Ardglass. It is certainly in view on every hole. This may very well be the most scenic course we have played. How's this for a little carry over water?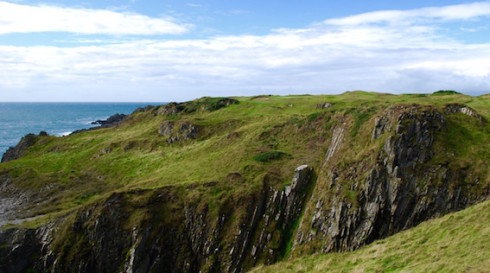 After letting a singleton play through on the 3rd we pretty well have the course to ourselves and play at a good pace. The wind is fairly strong, but by now we are getting pretty used to it. On the 7th hole you play down to this old white cottage that sits alone on the rocky shore. I can only imagine what life was like living in it hundreds of years ago.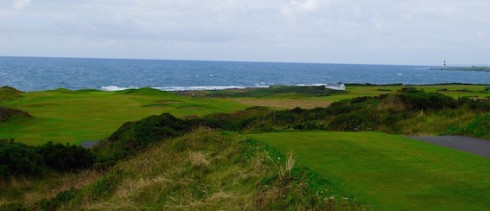 This is the view from #9 where there is a cobble beach and another small community.

The 10-12 stretch has to be on of the prettiest you will find anywhere. This is the long par three 10th.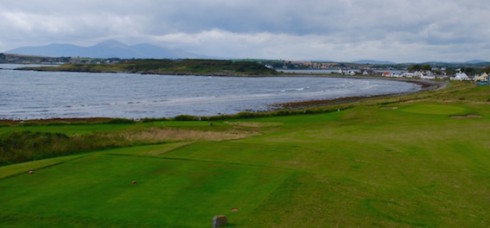 No 11 plays entirely along the water with no real bailout area to the left and a burn to cross halfway down. There were some ugly scores on this hole, but it is such a beauty to play, who cares?

#12 is another par three, but with a tee shot from a very elevated tee. Guessing the right club here is difficult enough without being distracted by the beauty of the hole.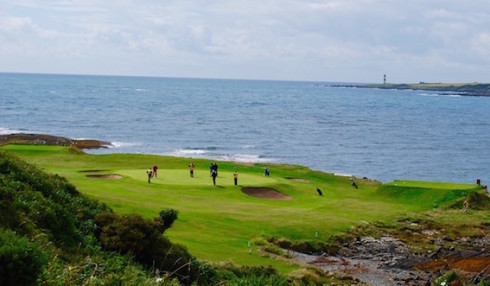 I was able to witness firsthand at Ardglass a weather phenomenon we had been told about by the caddies at Royal County Down. Before playing there yesterday I looked at the weather forecast for Newcastle and it was for intermittent rain showers while Ardglass, just a few miles away, was listed as sunny all day. Here today at Ardglass it is sunny, but looking back towards the Mourne Mountains I can see that it is raining hard. Here is a view with Slieve Donard in the background, covered in clouds. That's St. John's Point lighthouse on the left.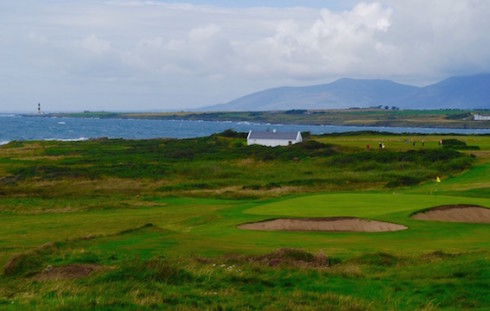 Here's another viewpoint.

Here's a great view of #18, the 144th and final golf hole on our the Ireland golf tour. I can think of no better hole to finish on.
We had a final dinner that night at the excellent Vanilla restaurant in Newcastle which alas is now gone. More than one toast to a great trip was proposed.
Beannacht from Ireland.  We'll see you in Scotland next where will play Open venues at Muirfield, Carnoustie, Troon and Turnberry among other great courses in the home of golf.