Yamaska National Park with a Stop at Beautiful Montebello
It's the third day of the RV trip to the Outaouais region of Quebec with my adult son Dale. We've had a blast at the Chutes du Coulonge adventure park  and the lovely Gatineau hills town of Wakefield. But already I'm having regrets – regrets that is about having to leave Plaisance National Park after only one night. This place is truly awesome and I regret not having the time to get out on the backwaters of the Ottawa River in a kayak or canoe or being able to hike the Zizanie-des-Marais trail that looks really interesting with its floating boardwalk. My sadness at leaving is only heightened by seeing this trio of wood ducks as we leave the park, but I know my spirits will improve as I take Dale on a tour of the magnificent Fairmont Chateau Montebello and then head to the Eastern Townships and Yamaska National Park for the night. Please join us.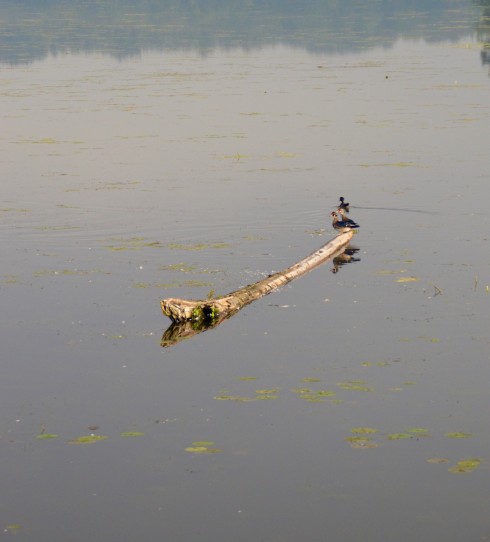 Montebello
Today we are not just leaving Plaisance National Park, but also the Outaouais Region of Quebec on our way to the Eastern Townships. However, we have one more stop in the Outaouais and it's another one of my favourite Canadian small towns – Montebello. It is one of Quebec's Villages Relais, which is a collection of  towns and villages that adhere to certain standards set by the Quebec Ministry of Transport that make them tourist destinations – bottom line, if you see the Villages Relais sign, check the place out.
Montebello, the name says it all – beautiful mountain, but don't go looking for it because the name actually comes from the French Duke of Montebello and not because there's a beautiful mountain nearby. No worries though, there's still plenty to see and do starting with the world's largest log cabin. That doesn't sound that interesting you might think, but we are talking about not just big, but enormous, huge, vast; any word you can use to describe a Guiness record holder. If you are in Montebello and you see this entrance, don't pass it by.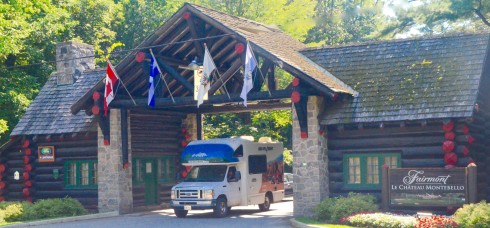 It's the Fairmont Chateau Montebello and it's a tourist attraction in it's own right. Parking is not that easy, because the guest parking lots all have gates accessible only with room keys, but we do find a suitable spot on a side road and start to wander around. Inside and out this structure is amazing and unfortunately this picture does not do it justice because it captures only a portion of this giant building, the largest log built structure on earth.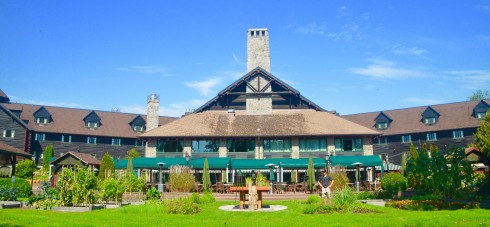 The grounds of this place are immaculately manicured and out back there is this great vegetable and herb garden. An elderly Italian lady requested that I take a picture of her by these lovely looking tomatoes, lamenting that hers did not grow this well. Here are the tomatoes, sans the Italian lady.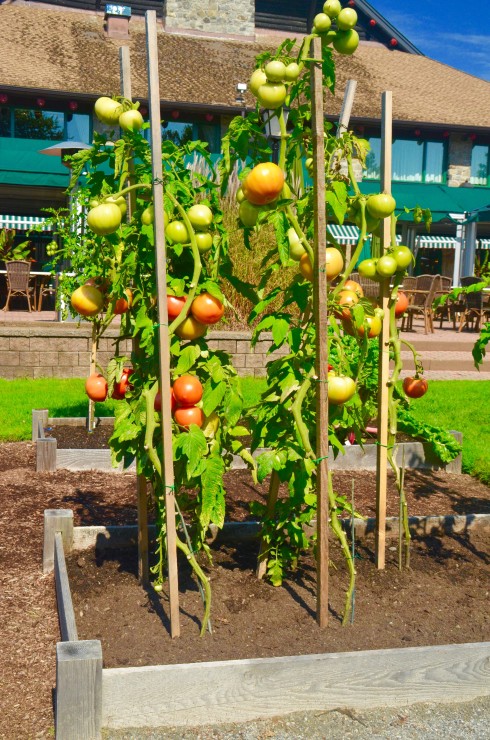 And here is the biggest and healthiest Swiss chard I've ever seen.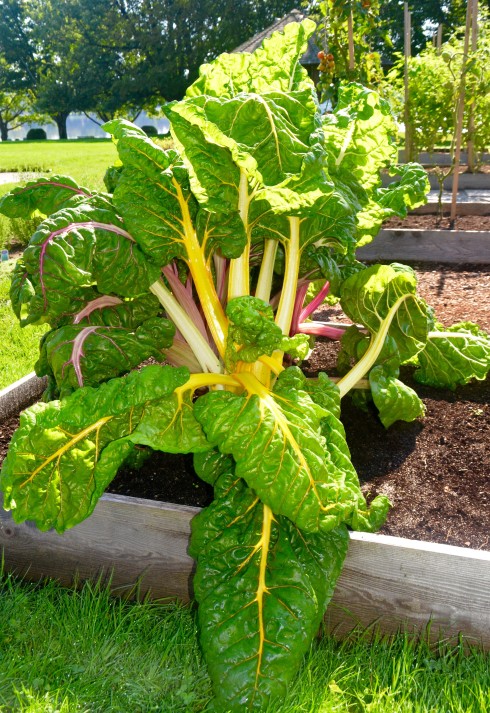 Looking at all this potential food has made us hungry so we look for a place to grab lunch and find Delice Champetre nearby. Although it doesn't look like much from the outside, what makes me want to stop is the fact that it is advertising that it uses only local products for what it sells.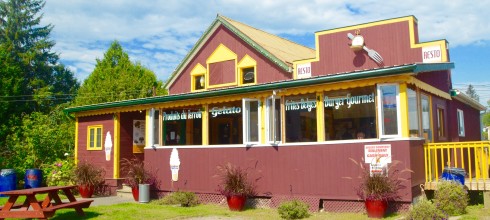 Inside we order at a window where the guy tells us that their burgers use Quebec beef, cheese from the fromagerie down the road and that the buns are baked on site. Good enough for us – two Blue Rebellion 1837 burgers with fries coming up. The burger is delicious, but the fries are out of this world good – best I've had in years. Cooked right through, not soggy, but perfectly crisp.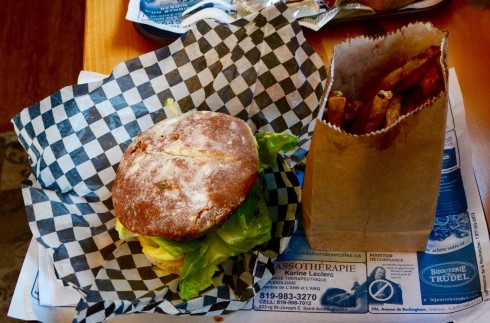 Moving across the street we drop in at the old train station where locomotives have been replaced by Chocomotive. Two girls are making chocolates and truffles while another one is selling them and we are willing customers. Nothing like dessert to go with those fries – won't need a big meal tonight.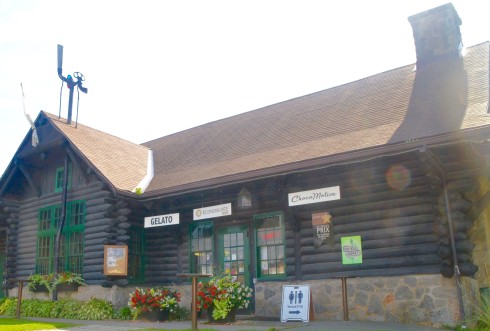 Just down the road we make our fourth stop in Montebello at the Fromagerie Montebello where I hope to buy some of the blue cheese we just had in the burgers, but they are sold out. No problem – we are given samples of what is available and settle on a chunk of firm Manchebello and a chunk of softer Tete à Papineau. The latter reminds me that famous Canadian, Louis-Joseph Papineau lived most of his life in Montebello, but why you would want to name a cheese after his head is beyond me.
The Eastern Townships
No more dawdling, time to leave the Outaouais region for good. On to Yamaska National Park in the Eastern Townships. As I wrote in my first post on this trip, the intention in planning this trip was to create an itinerary that would make RVers from Ontario and elsewhere who were skeptical about visiting Quebec because of perceived language difficulties, comfortable. We spent the first three days in the Outaouais Region where pretty well everyone is bilingual. Now we are headed to what the English call the Eastern Townships and the French the Cantons de l'Est. From many previous visits to the area I know the situation is a little different here from Outaouais. While almost all the towns have English names, the residents are overwhelmingly French and English is not as widely understood here as in Outaouais. Still, even if the only French word you know is tabernac, you won't have any difficulty getting by in this area.
By way of history, the area centred around the city of Sherbrooke and along the United States border was first settled by English speaking settlers from Europe and the states, but after a hundred years or so many moved on to the Canadian west after which the Quebecois began moving into the area. There are still pockets of English speakers in places like Knowlton, but by and large you have the unusual combination of English names with French speaking residents. Only in Canada you say.
Yamaska National Park
Getting to the townships involves passing through the outskirts of Montreal which is easier said than done and we don't arrive at our destination, Yamaska National Park, until mid-afternoon. On the way I point out to Dale the numerous monadnocks that rise abruptly from the even plain of the St. Lawrence valley. These are unique looking mountains that make for excellent ski hills and other outdoor activities.
After being assigned our camp site for the next two nights we return to the visitor centre at Yamaska which is on the shores of a man made reservoir created by damming the North Yamaska River near the city of Granby. There is a 19.4 kilometre bike trail that circumnavigates the lake and we are going to ride it today. The centre rents excellent Norco hybrid bikes with comfortable seats and soon we are off in a clockwise direction around the lake on Le Grand-Tour de Yamaska.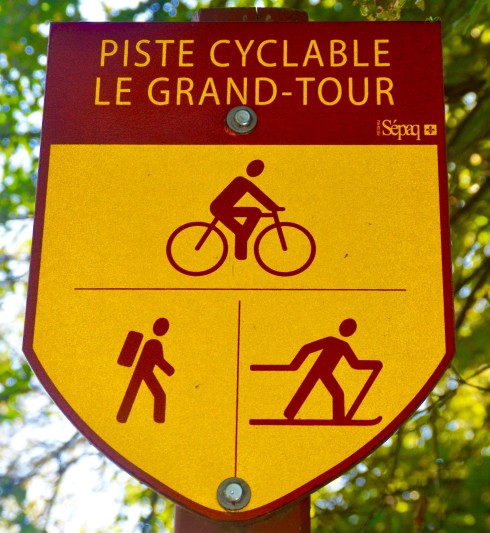 The trip takes us just under two hours with frequent stops. Most of it is under a canopied trail with crusher dust that makes for easy riding. There are no substantial elevation changes and no discernible wind – in other words perfect cycling conditions.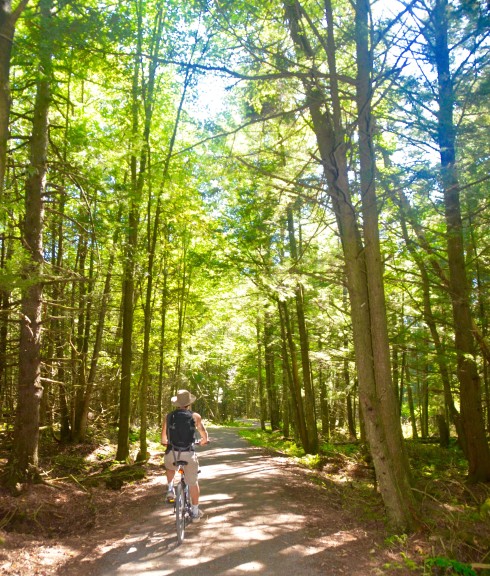 Near the end of the ride the trail crosses the dam that creates the Yamaska reservoir.

Not far after that we are back at the visitor centre where a lot of people are enjoying the rays on this very hot September afternoon. I head back to the RV while Dale enjoys a swim. When he gets back we crack open a bottle of wine and the two slabs of cheese we bought earlier today and celebrate the sunset with a wine and cheese tasting.
Another great day in Quebec comes to a close. Tomorrow we've got some real exciting things on tap – biking down Mount Bromont followed by a visit to the world famous Granby Zoo. Please join us.