The Marjan Peninisula – Split's Beautiful Adriatic Green Space
We finished up our walk through Diocletian's Palace with our guide Dino Ivancic about 12:30 and said goodbye to him until tomorrow when we will go on a full day excursion to Sibenik and  Krka National Park. It was too early for lunch after the big breakfast so we decided that a good walk was in order. We had asked Dino about the Marjan Peninsula which is a wooded hilly peninsula that abuts the city of Split and he thought it was a good idea as long as we knew it was about a 10 km. hike. OK by us. Here is the standard map of the area handed out to every tourist which shows the Marjan Peninsula as well as the city. Dino had advised us to follow the road along the south coast and eventually it would become non-motorized after a while.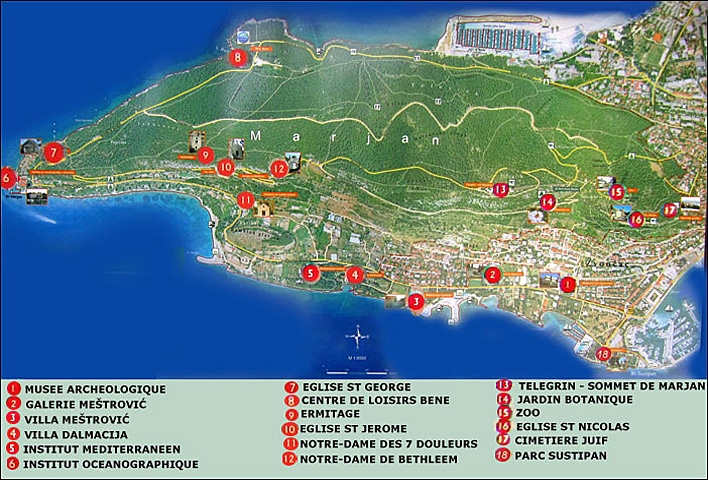 As we were leaving the old city I noticed for the first time the immense tower which was one of the originals to Diocletian's Palace – a classic case of not seeing the forest for trees. How do you miss this?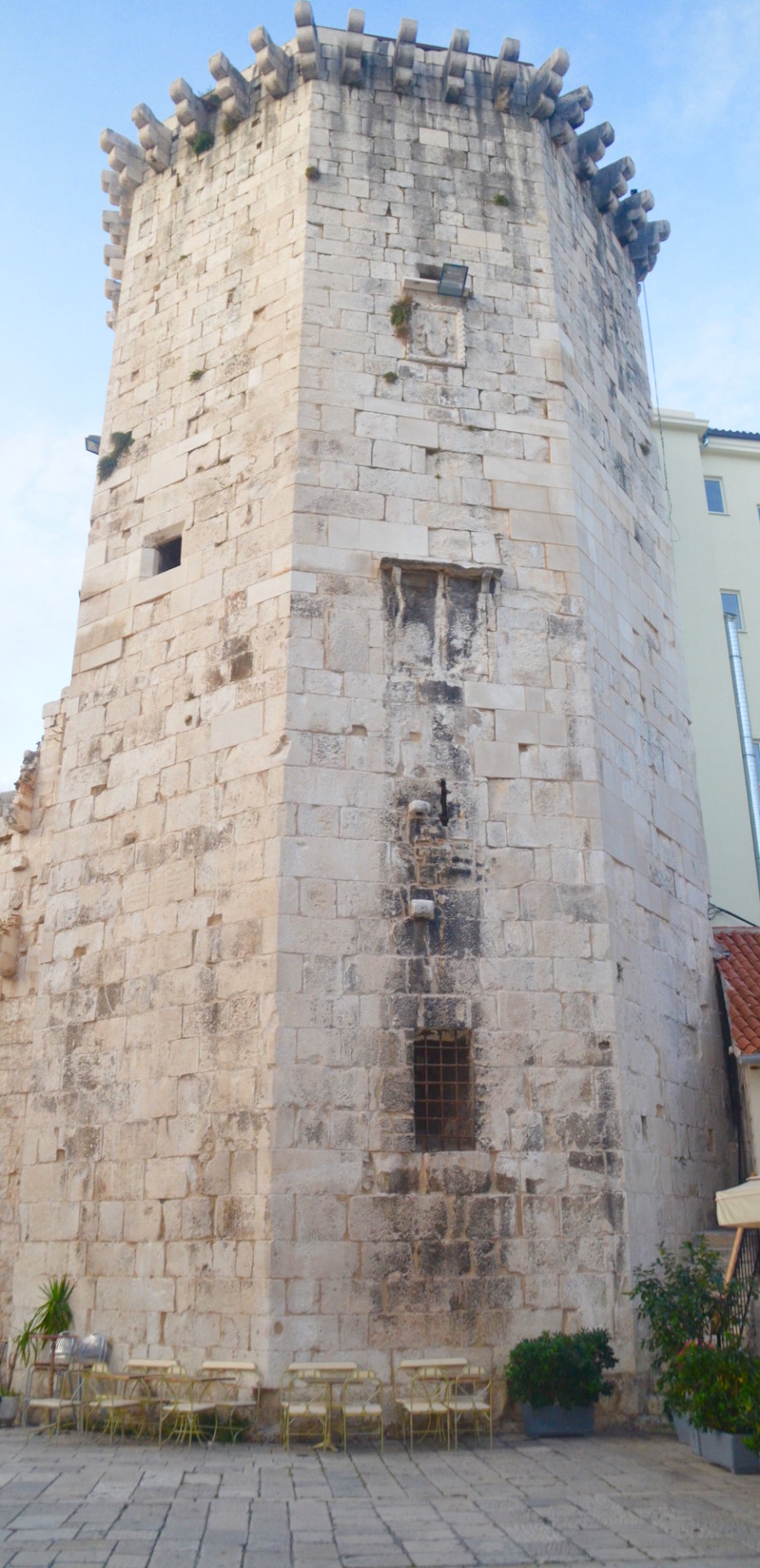 Looking at the remains of the palace from the outside it was apparent that people were still living in walk up tenements just as they did during the heyday of classical Rome when hundreds of thousands of 'the masses' lived in squalor and were kept from rioting and revolt only by the promise of 'bread and circuses'. I wonder what keeps these tenants quiet.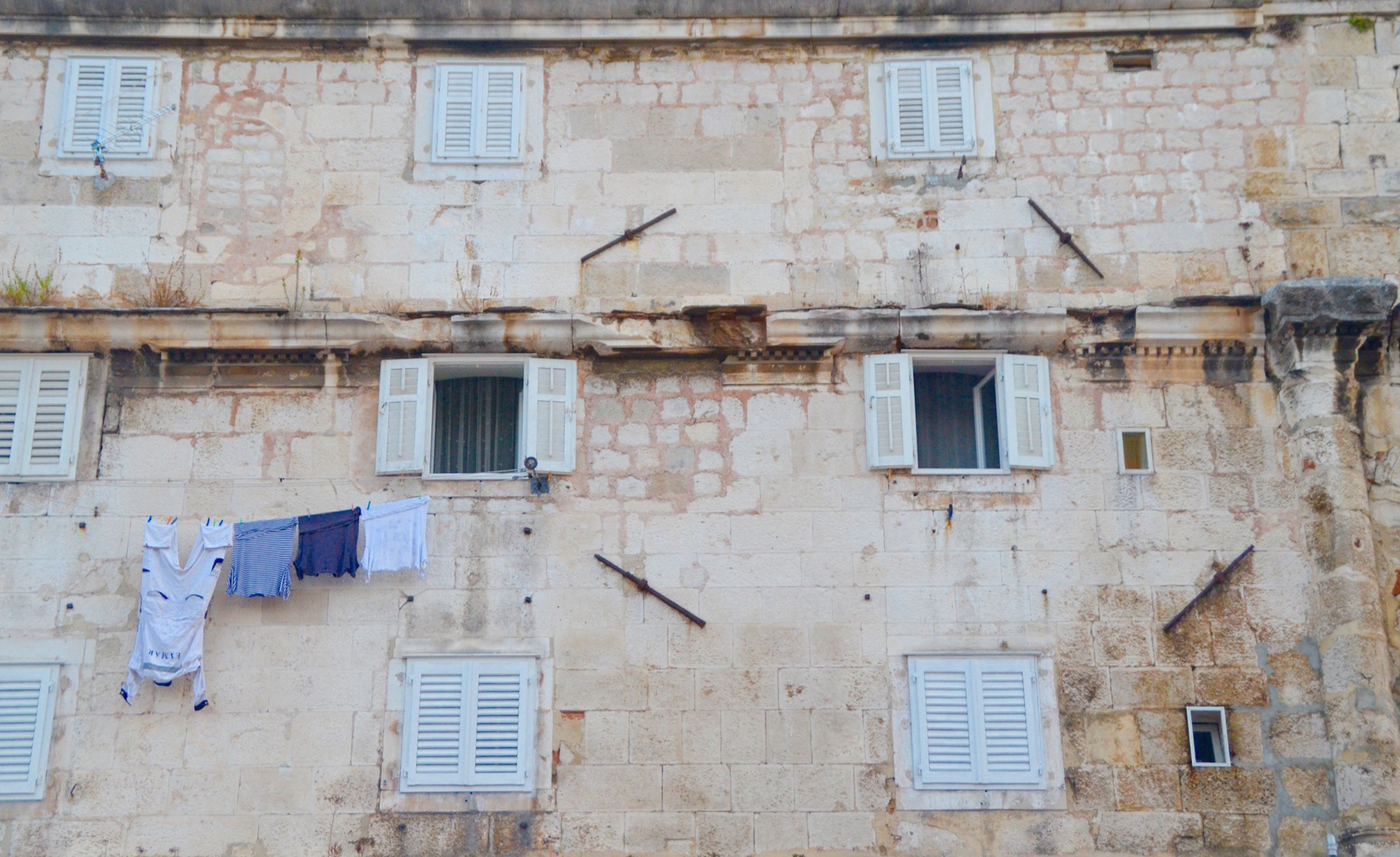 Walking west toward the waterfront towards the Marjan Peninsula you find souvenir vendors with their line of stalls selling such things as these desirable fridge magnets.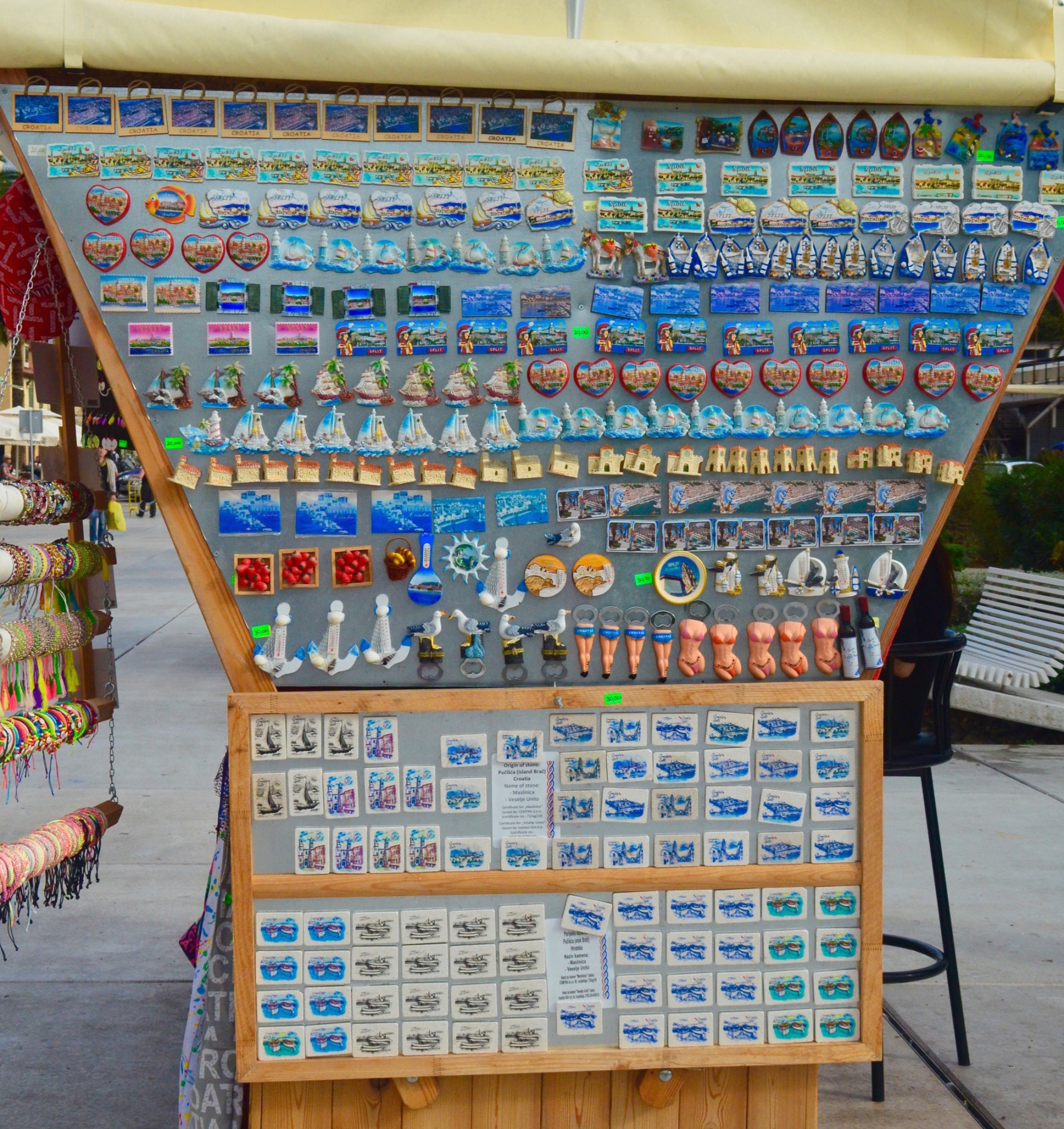 Just past the old city we come upon Republik Square which is surrounded on three sides by a large building called the Prokurative . It is definitely reminiscent of Venice and was in fact designed after St. Mark's square. Not a bad resemblance although it's missing St. Mark's cathedral and the horrible pigeons.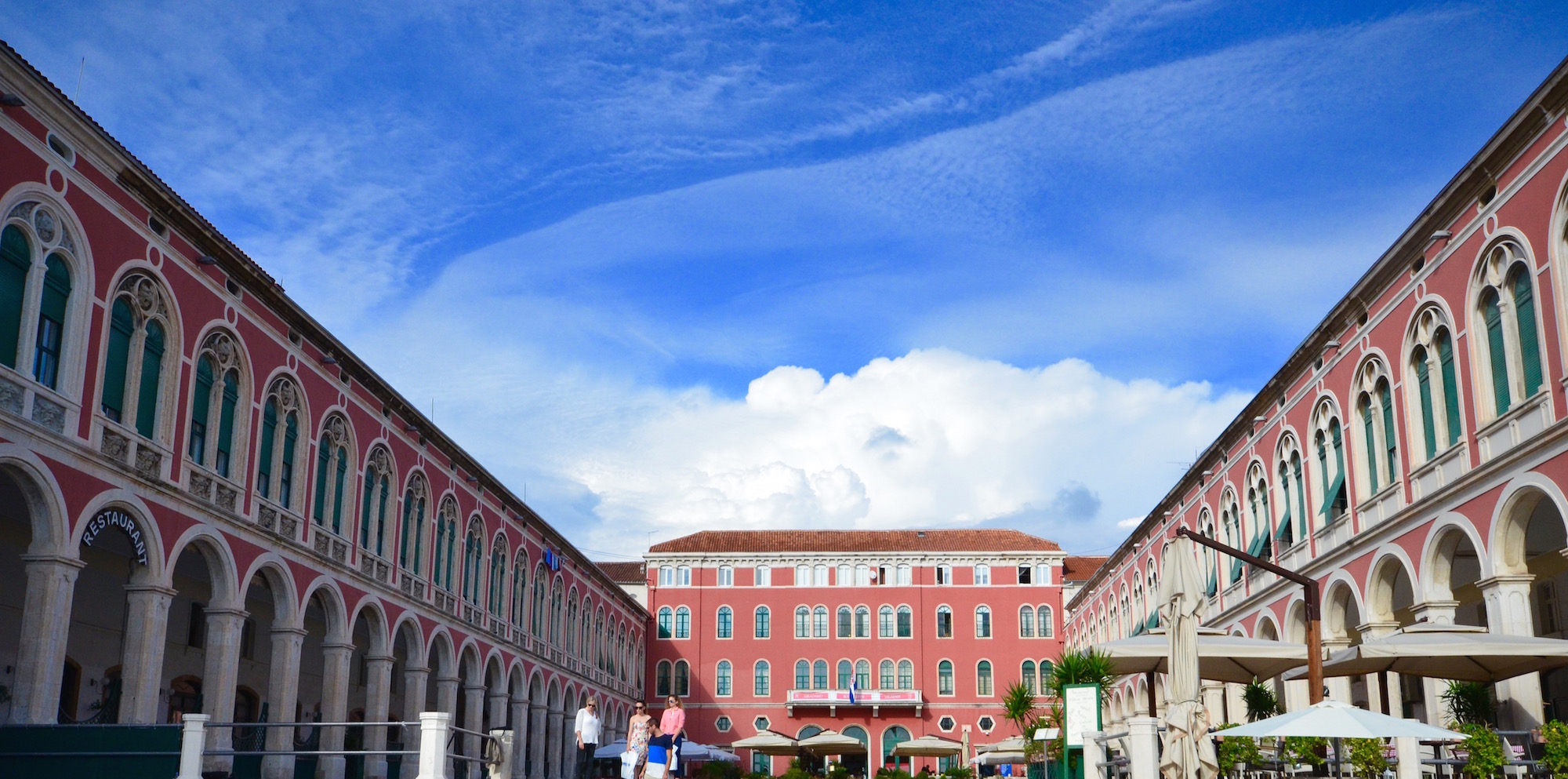 Walking the Marjan Peninsula
The next kilometre or so is along the waterfront and the marina that makes up the western end of Split harbour. There are numerous interesting looking cafes and restaurants that seem well patronized by the yachting set and then the road starts to climb into a wonderfully scented pine forest. We pass the Oceanographic Institute and the Institute Mediterranean and continue to climb until we see this lovely beach far below. These are the wonderful waters of the Dalmatian coast we have come to see.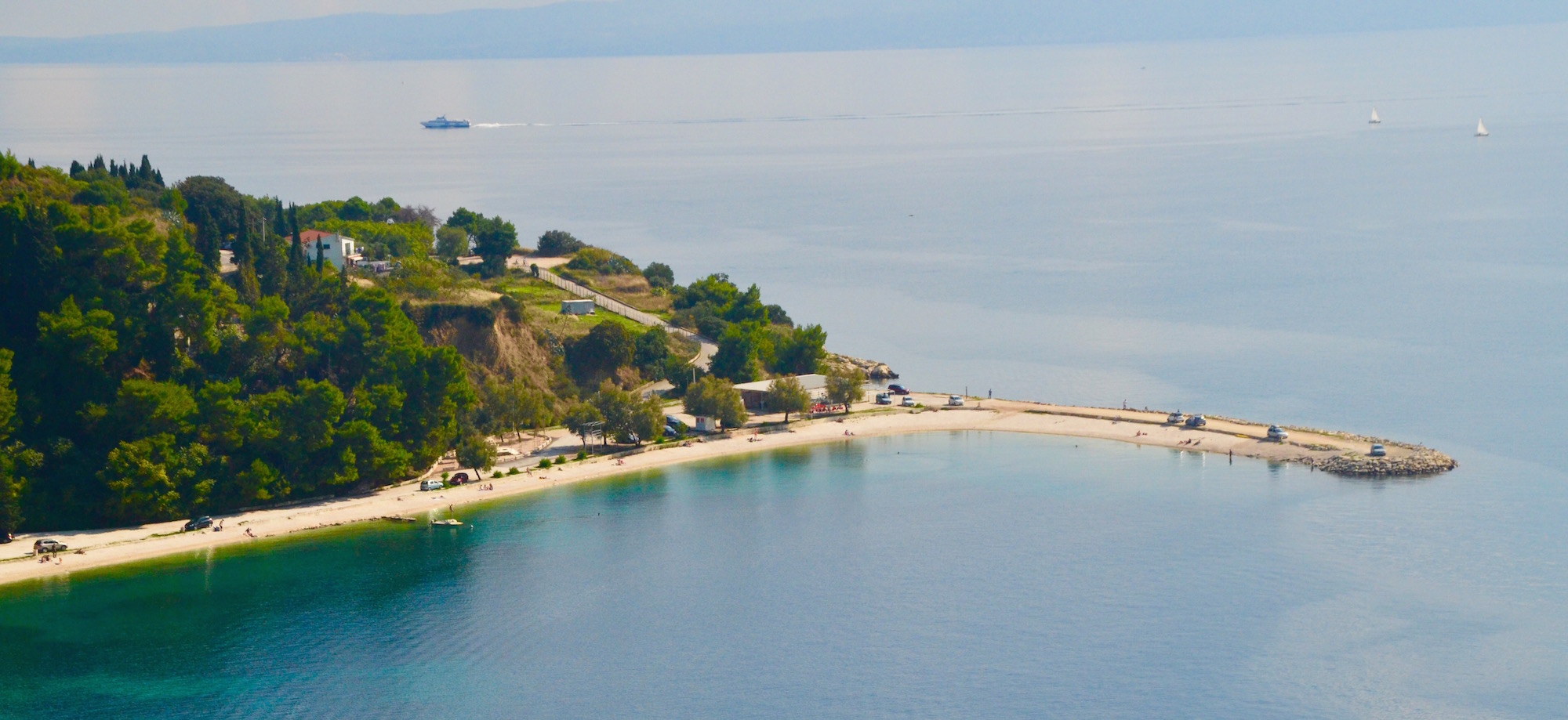 Looking up the hill we can see this lookout tower far above.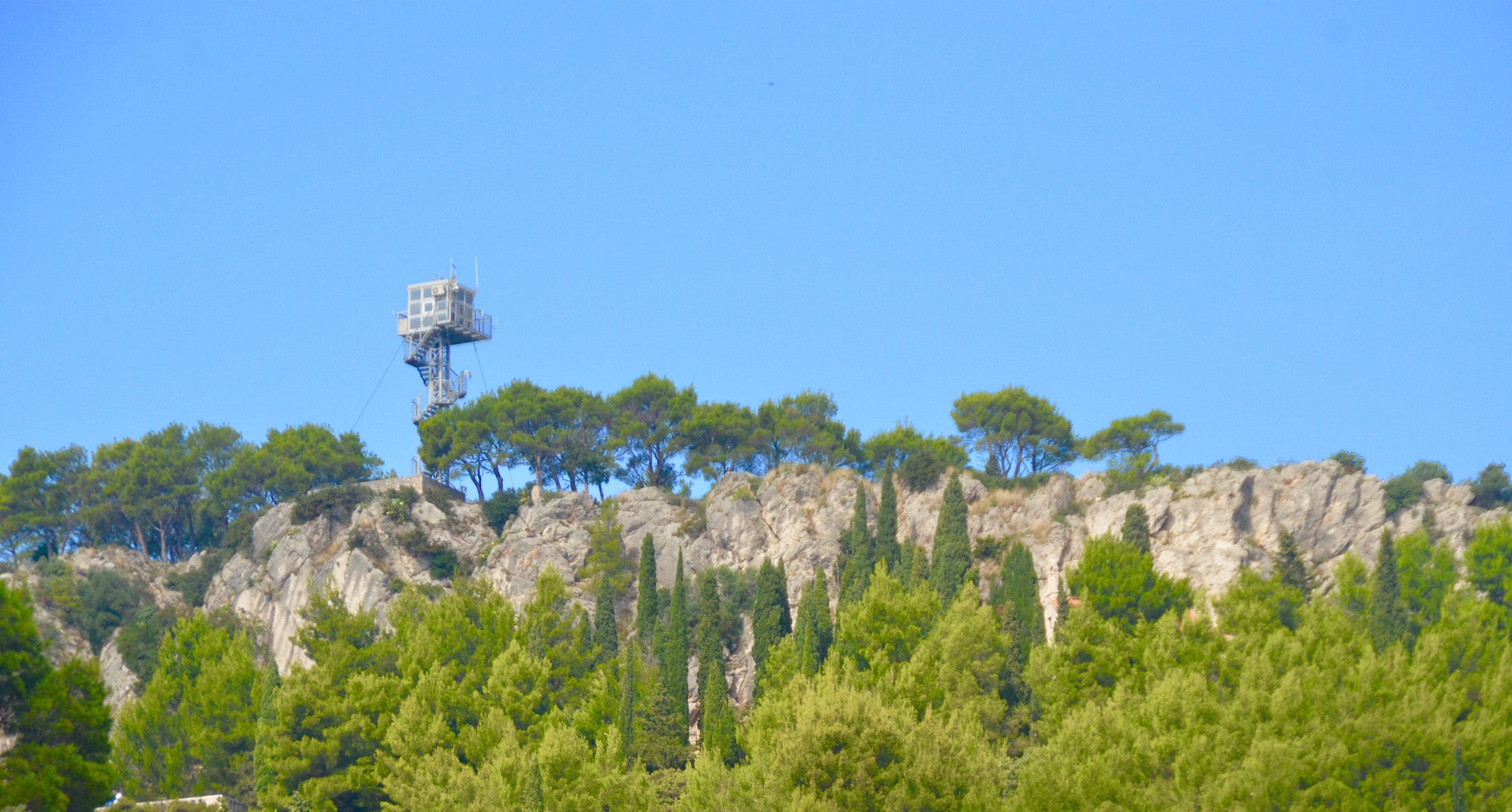 Until I saw this I wasn't sure if we should follow the shore route around the peninsula or take the return inland route that climbed the spine of the hill. Never being able to resist a lookout tower the decision was made for us. At the end of the peninsula the road was gated and you could continue only by foot or bike or as we saw, a lot of families doing so on foot pushing a baby stroller or two. The road was paved and the climb quite gradual so despite the heat of mid-afternoon it was bearable. Frankly, I had been expecting that there would be cafes along the route, but after leaving the marina area there was nada. Not even a place to buy water.
The sides of the Marjan peninsula became cliffs, although not particularly high ones. Still a cliff is a cliff as this fellow who was attempting a climb was finding out. He had friends shouting at him, from above and below as to what to do next and seemed frozen in indecision or fear. I didn't offer to trade places with him.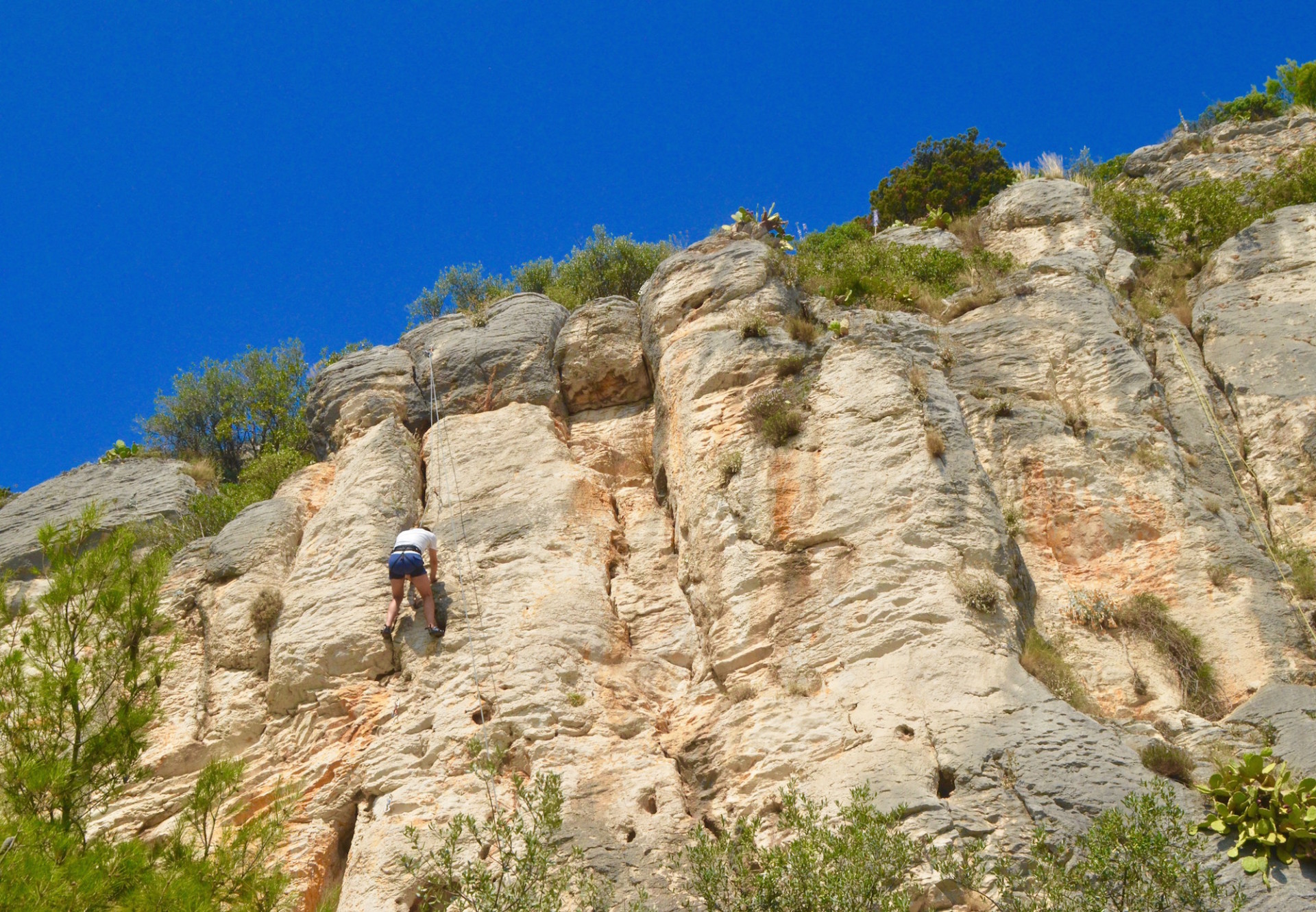 From previous experience in regions that have cliffs made out of porous rocks like limestone I know that some religious nuts will try to live in them, usually starting out in simple caves. But then the keep up with the Jones' mentality sets in and you get things like this.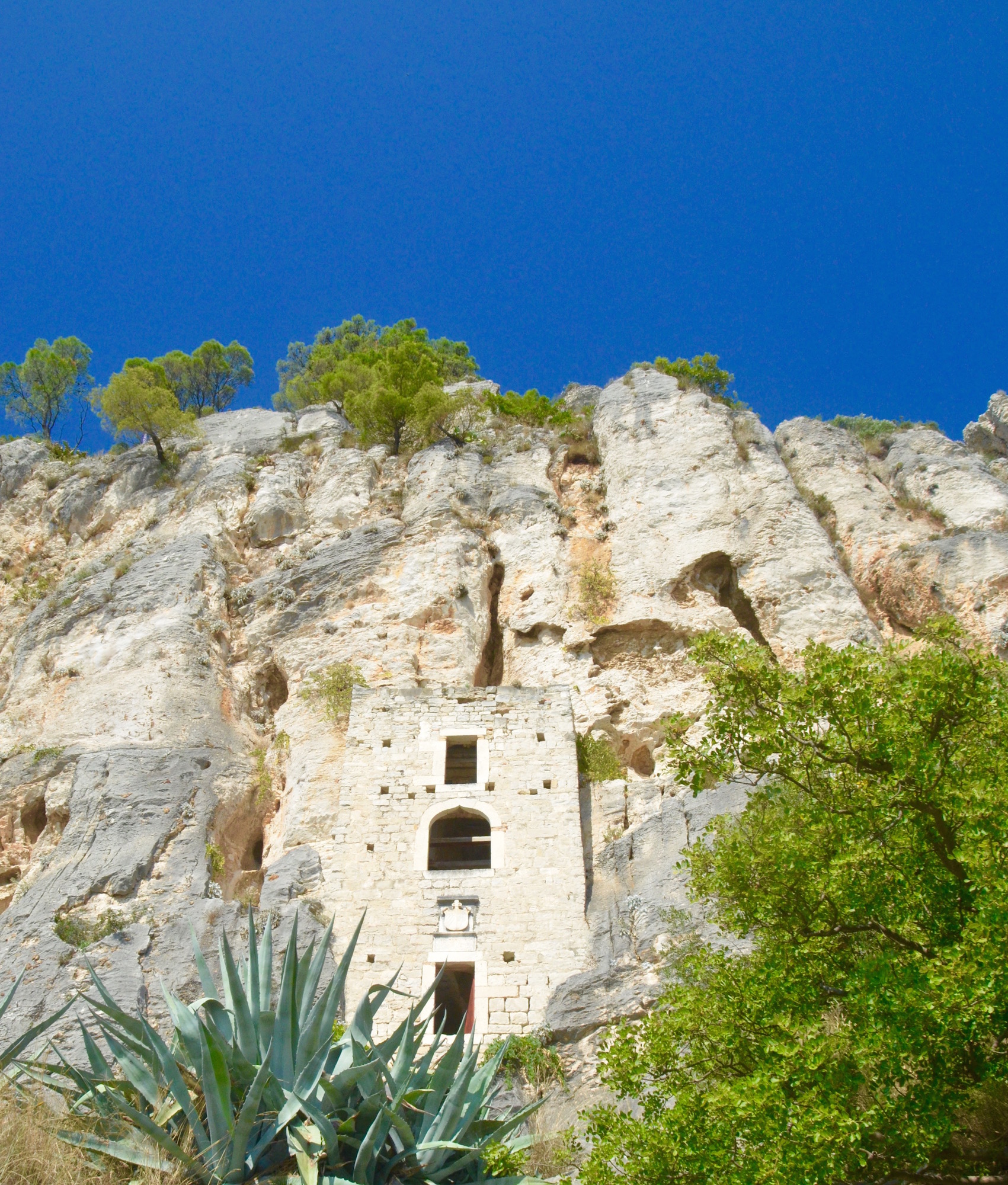 Now I've read the travel guides, checked the internet etc. and I can't say for sure who built this or why. It is a classic case of one guide/website repeating verbatim what they've read/seen without any independent attempt to find the truth. It's a dirty little secret in travel writing that the guidebook writers often don't visit the places they are commissioned to write about and simply repeat what someone's written before. There is nothing at the site to help either. So, after great deliberation and research I'm going with St. Hieronymus, only because I love Hieronymous Bosch the painter and the fictional L.A.P.D. detective created by Michael Connolly. If you've got better info, please let me know.
After this we run into a couple of tiny churches, another staple of Mediterranean hillsides. They are locked and have no information about them either, but they are nice. They must be nicer inside because it is a hell of a walk up this hill from Split to get here for Mass.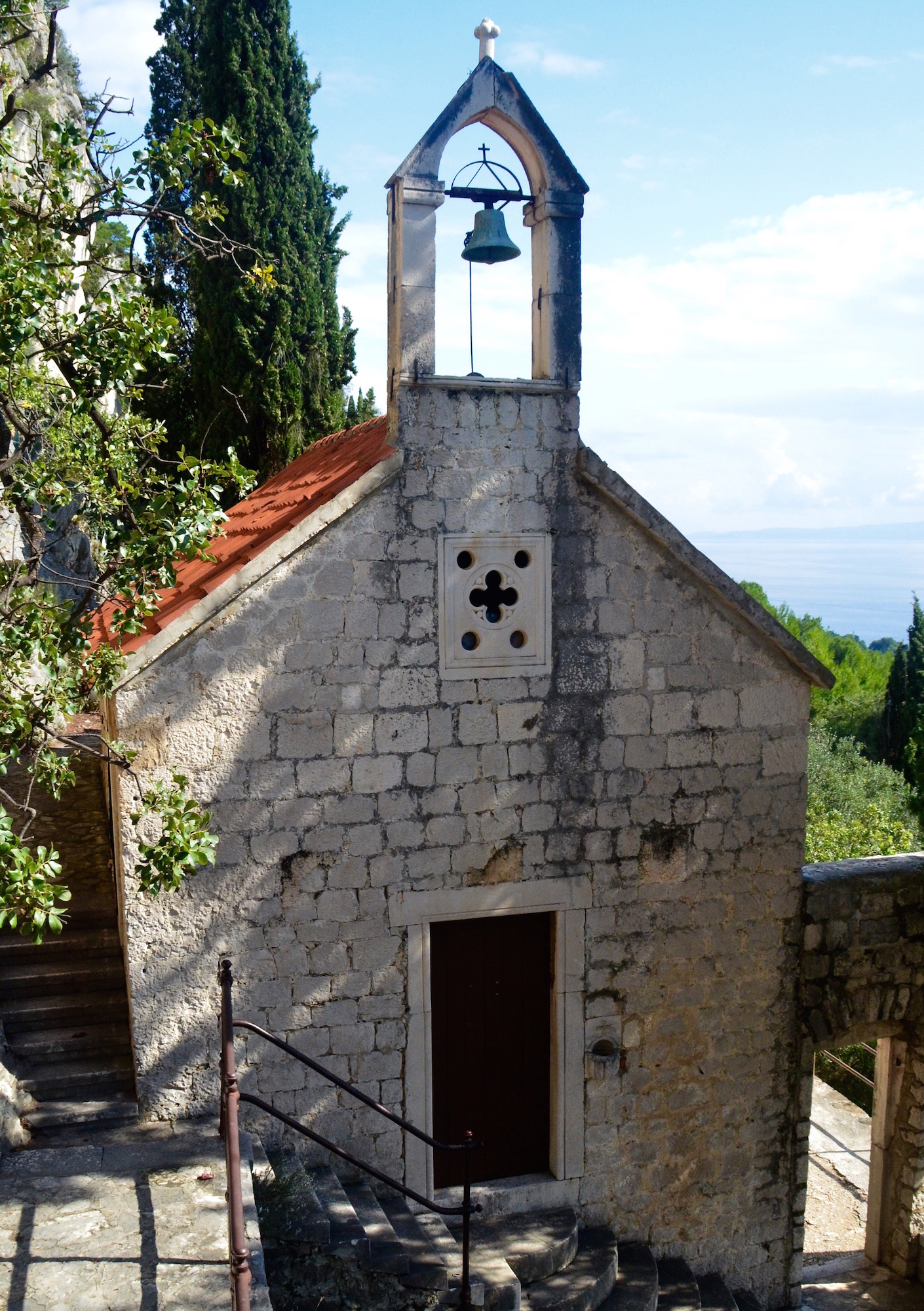 At last we reach the small pathway to the tower that has been our pilgrimage site for this walk. There is a family picnicking at its base and I can't wait to see the view from the top until I round the corner and the f***ing thing is locked! It's not a lookout tower, but some type of communications/defence structure. If the family hadn't been here I might have tried to sneak in somehow, but that's not an option now. Well at least I got a nice picture of Alison at the top of the Marjan peninsula.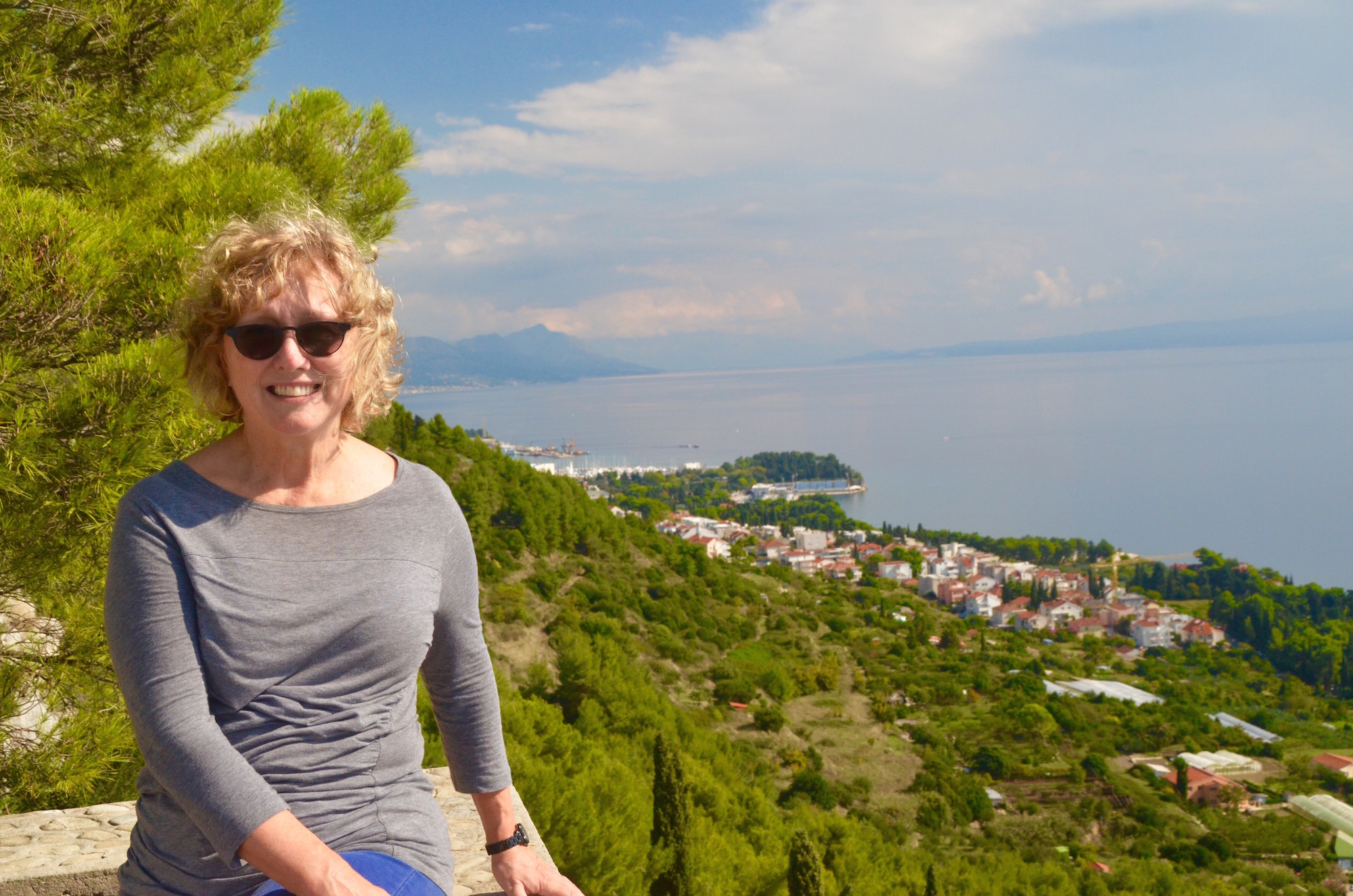 Views of Split from the Marjan Peninsula
By now I am seriously P.O'd. No cafes, no tower, no water, not even any fridge magnet vendors – fortunately it's all downhill from here and it's a very pleasant walk until at last we come to a lovely terrace high over Split where there is an oasis – Vidilica cafe. The view of Split from here is outstanding.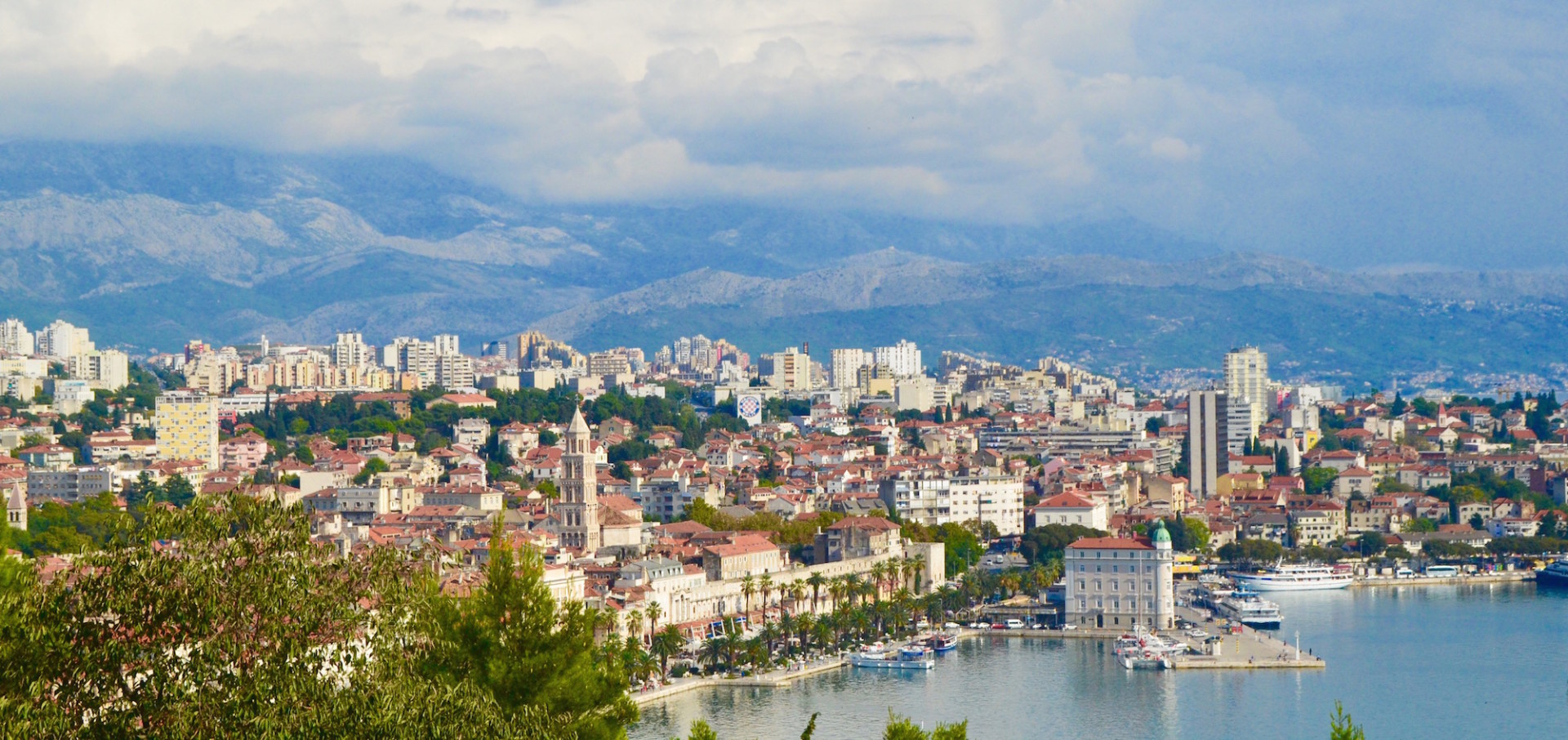 Also outstanding is the Ozujsko beer, a lager made in Zagreb by a brewer dating back over 150 years and now owned by – wait for it – Molson's, the Canadian conglomerate whose products I usually avoid like the plague.  Today is a Croatian holiday so there are lots of families at the cafe which has Hebrew writing over the entranceway. According to The Rough Guide to Croatia there is a Jewish cemetery in the back, but we didn't see it.
By now it's more than time for lunch and Vidilica delivers with a very simple Caprese salad with lovely tomatoes and buffalo mozzarella for me and a more complex octopus salad for Alison which is also delicious. Usually places with a great view either charge extra for it or if they don't, the food's an afterthought. Not so here. I'm embarrassed to say how ridiculously cheap this lunch was. It certainly made the 10 km. walk to get here more than worth it.
After Vidilica we took a series of staircases down into the city proper and were back at the hotel in less than twenty minutes.
We returned to the Marjan Peninsula a week later and cycled around it which was a completely different experience. You read about it here.
Bokeria Restaurant, Split
That evening we had another excellent dining experience at Bokeria restaurant which was less than 100 yards from the Vestibul Palace the excellent hotel where we were staying. All of the regular tables were reserved, but there were places at what the host called 'the bar', but in reality was a long table with seats on both sides. Quarters were a bit close, but not uncomfortably so. The place has high ceilings with ham hocks, garlic and peppers hanging from the roof as well as racks of wine on the walls. This seemed like our type of place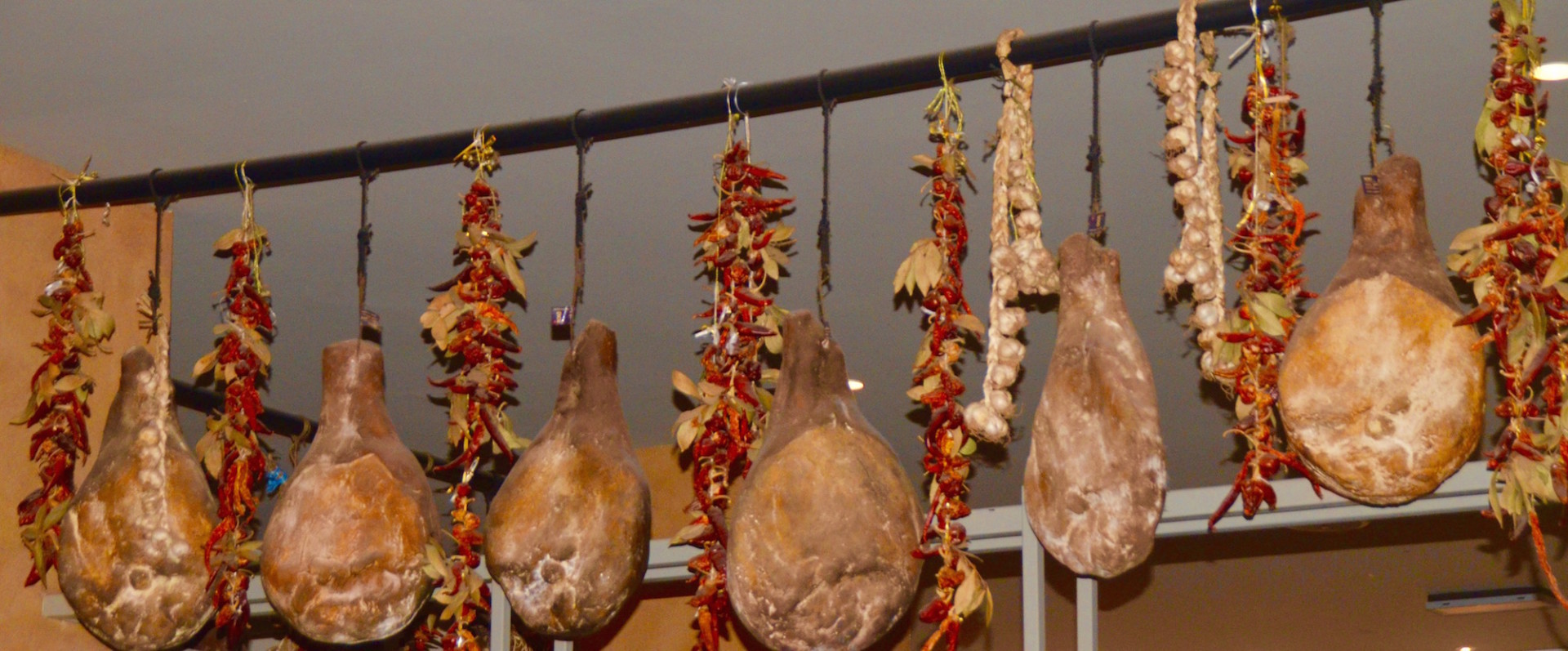 The waiter was a young man who recommended an excellent white Posip wine from Korcula, an island we will be visiting in a few days. Posip is a variety of grape indigenous to the Dalmatian islands and produces a very dry aromatic white that is perfect for sipping or with seafood. You'd never find it in Canada, which provides reason # 324 for expanding you mind and palate by travelling.
For starters we shared the carpaccio which is a house specialty and after tasting it we knew why. Razor thin slices of lightly cured meat covered with pickled onion and then smothered in arugula and cheese. Wow!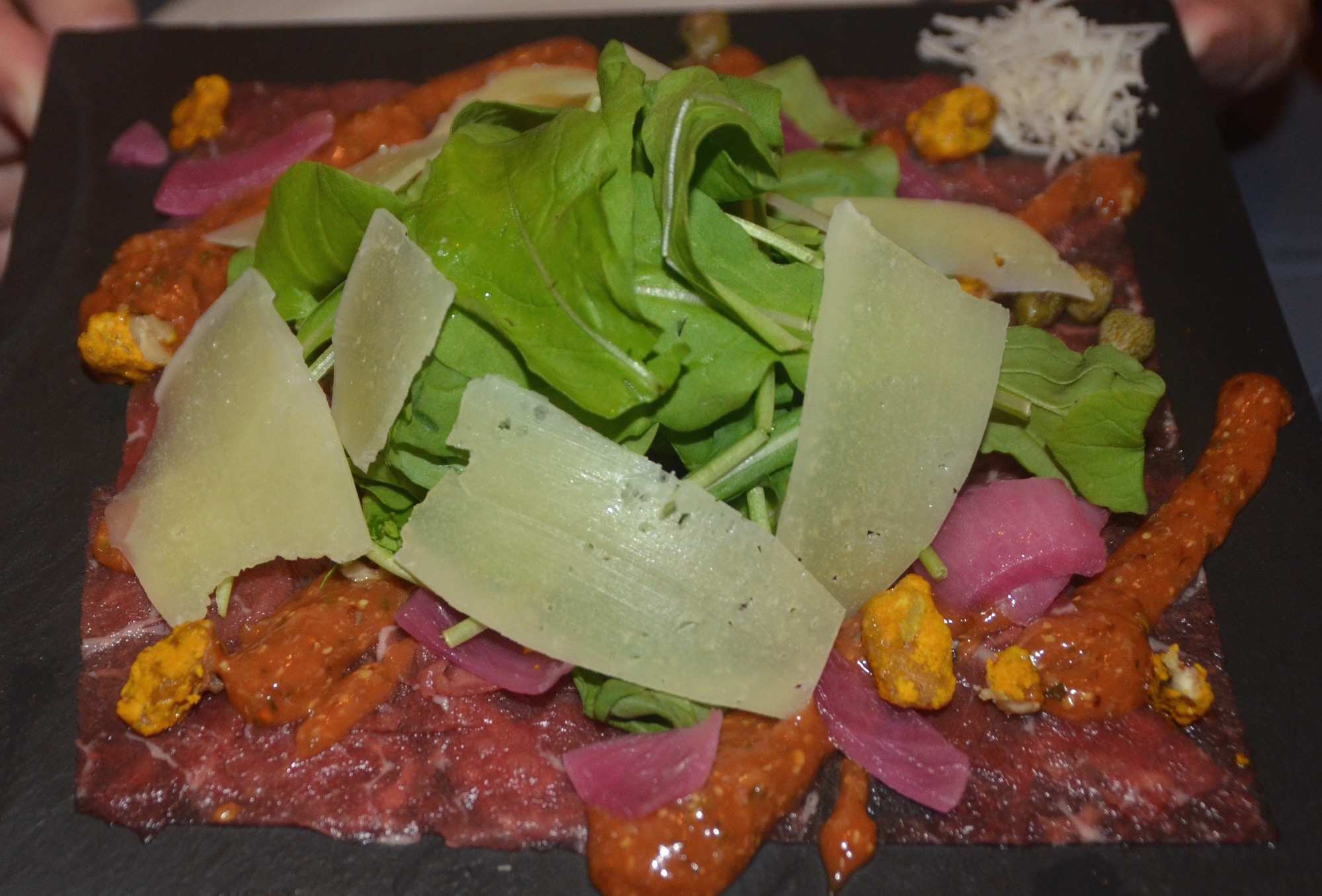 Our waiter highly recommended the sea bass which Alison had and loved, while I went for the pasta with black truffles. Also a wow.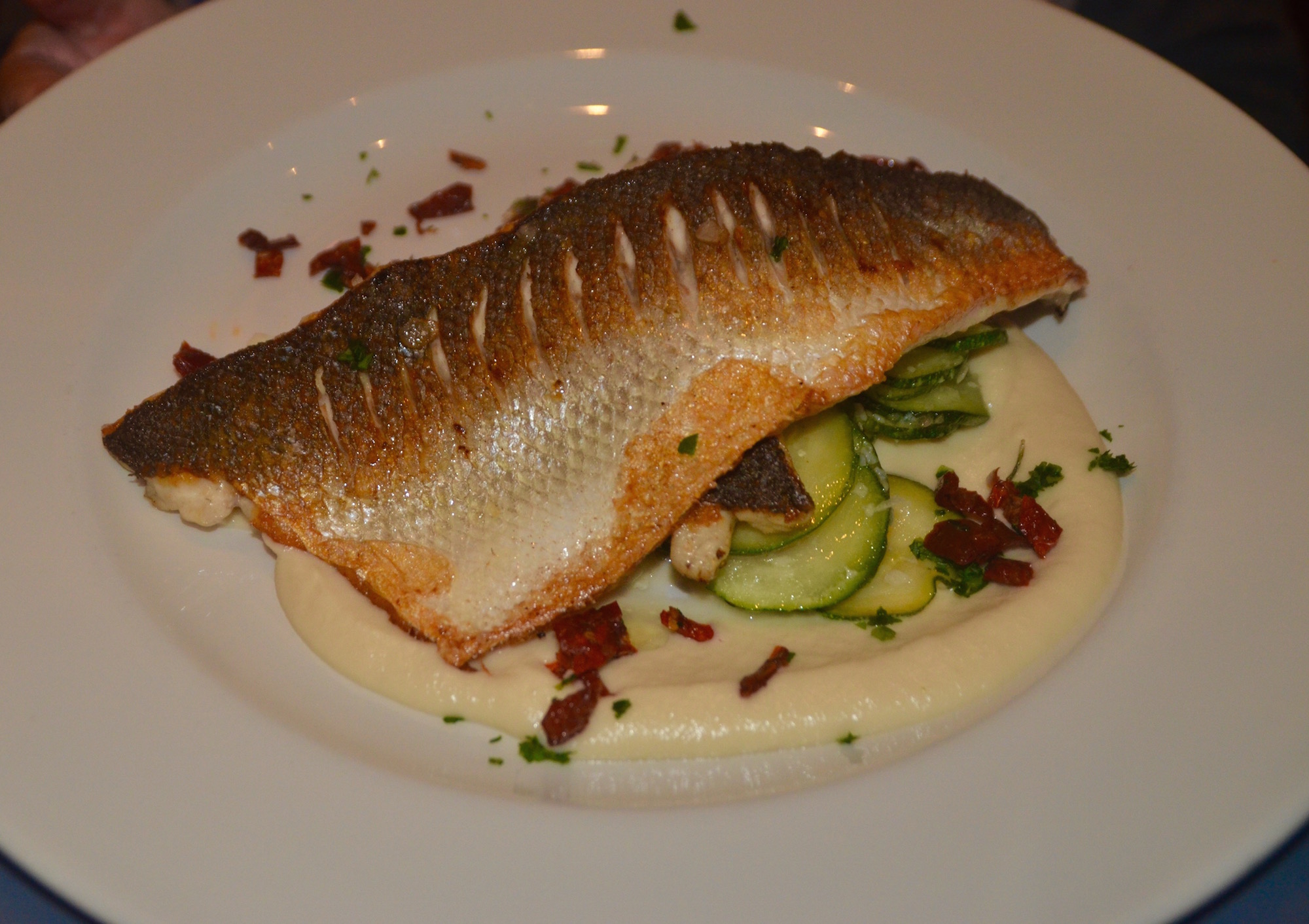 We have yet to have a meal in Split that was not above average and for prices that, for a tourist destination, are below average. Now that's a good thing.
Join us tomorrow as we head to Krka National Park with Dino.
Here is a link to the Croatia photo gallery with pics from Split to Dubrovnik and all places in between.