Hvar Island Croatia – Cycling Through an Ancient Landscape
We've just spent our first night on board the Azimut in the small village of Milna on one of the Dalmatian islands, Brac at the beginning of a week long cycling trip through the Dalmatian islands with Pedal and Sea Adventures. As I wrote in the last post there is only Alison and me and one other couple on this final voyage of the season. Yesterday the weather was terrible and necessitated a change in plans as far as the usual itinerary for this trip goes. Instead of starting on the island of Solta we are instead going to start on Hvar island , which means we have a very early morning motor from Milna to Stari Grad, our starting point on Hvar island. In the tourist literature Hvar island styles itself as the "Queen of the Dalmatian islands", largely because of its great weather. It sure couldn't be any worse than yesterday and in fact it looks like a beautiful day is dawning as we approach Hvar island.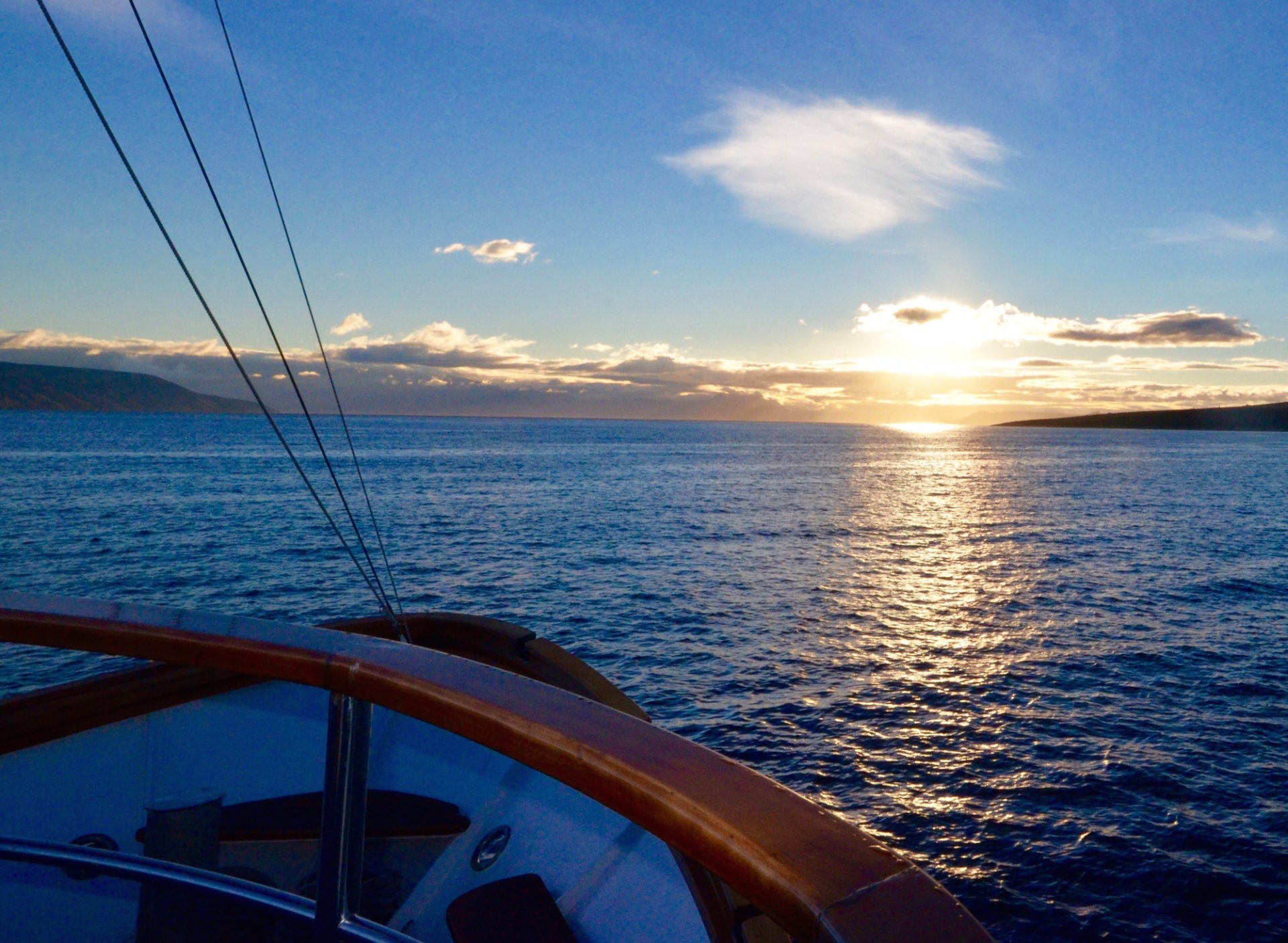 The coast starts to look golden as we get closer. I wonder how high those hills are? Doesn't look too bad from this vantage point.

Our destination, Stari Grad, which sounds like some kind of name left over from the Soviet era, is in fact the oldest town in Croatia and the name literally means 'old city'. It was founded as Pharos by the Greeks from the island of Paros in 384 B.C. Coming into the harbour it looks pretty good for a place that old, but notice those damned clouds forming.

Mario, our guide, has briefed us on cycling conditions on Hvar island and selected our bikes from a wide selection on the back deck. On the advice of owner Dana Gallant back in Nova Scotia,  Alison and I have opted for electronic bikes or ebikes as they are usually called. Our riding companions Gary McLaughlin and his wife Cindy Hooper are going with conventional hybrids. We learned last night that they have been in training all summer for this trip (in fact Gary is a marathon runner). Since our training has consisted primarily of walking on the golf course I suspect we made the right choice. Anyway we'll find out in a few minutes.
With the aid of the deckhands Marko and Duje, Mario gets the bikes down from the boat to dry land. Notice how blue the sky is now compared to the last photo even though they were taken not more than a half hour apart. I'm starting to realize that the weather in Dalmatia can change in a matter of minutes.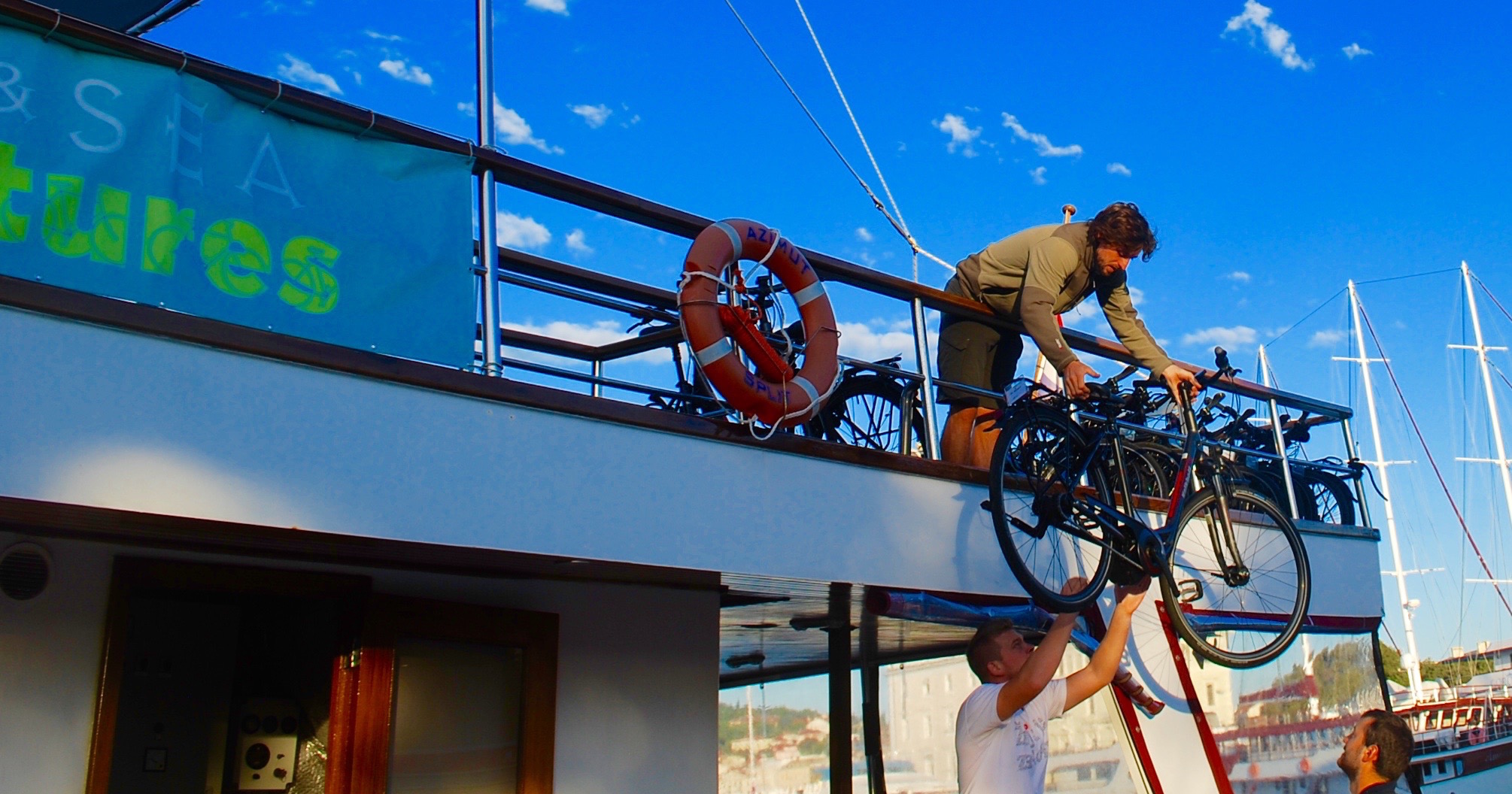 He shows us how the ebikes work – quite simple really. There are no sprockets and eight gears with three types of boost – eco for the least, standard for most roads and high for any steep ascents. Mario assures us that our first ride will be a short circular route with no real hills. If you look closely at this map of Hvar you can see Stari Grad, Jelsa and Vrboska all marked  with large circles. Our ride will take us via back roads up to the village of Vrbanj and then down to the sea at Jelsa, along the seafront to Vrboska and then across something called the Stari Grad fields back to Stari Grad, a total distance of about 28 kms. (17 miles).

Ok, I'm ready. Let's see how it goes. You'll see I have two panniers. One I brought with me and it doubles as a packsack, the other comes with the bike and is waterproof. Back to cloudy again.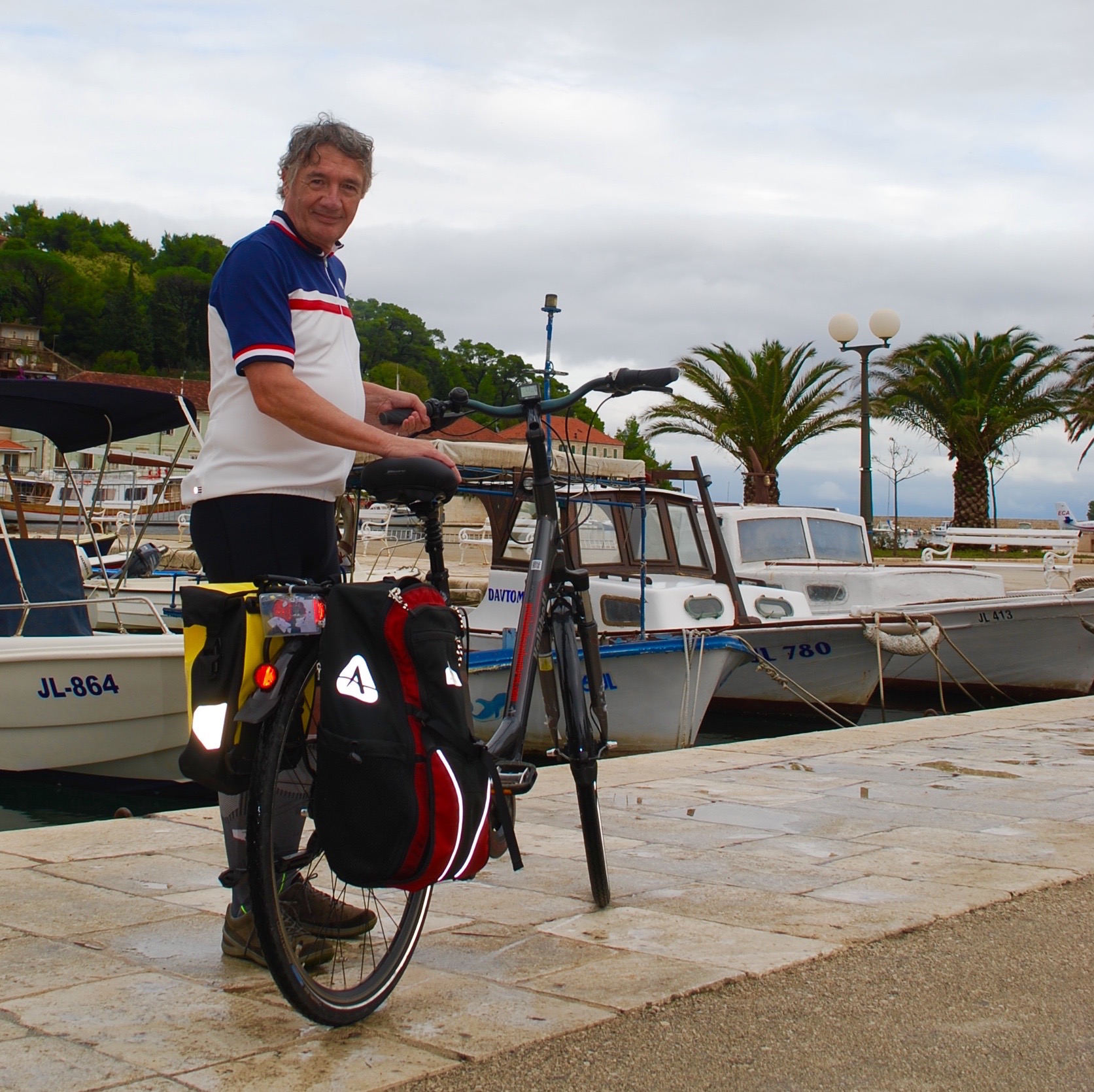 Cycling on Hvar Island
After a short ride along the Stari Grad waterfront we turn inland and in a surprisingly little time are in the midst of olive orchards, grape groves, lavender fields and pomegranate trees. It is a treat both visually and for the nose. You might think of Provence rather than Croatia when it comes to lavender, but Hvar island is almost as well known for its lavender fields. While they are past their prime in terms of colour, the wonderful scent still permeates the country air.

This is exactly what I was hoping for; what comes next, not so much. Obviously Mario's idea of a hill and ours are a little different. We begin a steady ascent through a pine forest up to the village of Vrbanj where I can see a church steeple on what seems to be a ridiculously high hill a few miles away. Mario says to stop when we get to the top of the hill which is just behind the church. This is going to be a killer, but then I remember we have ebikes and putting it into high we begin the ascent. Now you still have to pedal just as much as with an ordinary bike, but the pedals get a gentle assist when needed. Mario warns against pedalling too hard and tells Alison and I to pretend there are kittens between our feet and the pedals. Oh Oh! I think I already crushed a few. Still it's a good analogy that gets us into the proper rhythm to make what would ordinarily be a difficult climb into something actually enjoyable. We are at the top a good ten minutes before Gary who's doing fine and Cindy who's clearly struggling, but she's a trooper and doesn't complain.
On the way up there is a glimpse of the Stari Grad fields which we will be traversing at the end of this ride. From Vrbanj to Jelsa I get the first hint of why people might bust their guts cycling up these steep hills. What goes up must come down and the downhill all the way to the main Hvar island highway outside Jelsa is a real eye opener for me. At over 5 kms. (3 miles) it's the longest continuous downhill ride I've ever been on. The bike handles excellently on the numerous turns and the exhilaration of the speed takes me by surprise. It's all I can do not to yell out "Yahoo!" I suppose I should feel guilty about avoiding the nasty bits on the uphill climb by using an ebike and still getting all the benefits of the downhill run, but I don't.
Jelsa
Jelsa is lovely little town of red-roofed stone houses, tiny fishing boats and visiting sailboats all clustered around a small cove protected by a breakwater. The church has a bell tower in the Venetian style and one could be forgiven for mistaking this for an Italian town.

Cindy has recovered nicely from her exertions getting up the hill to Vrbanj and she and Gary pose for this picture on the Jelsa waterfront.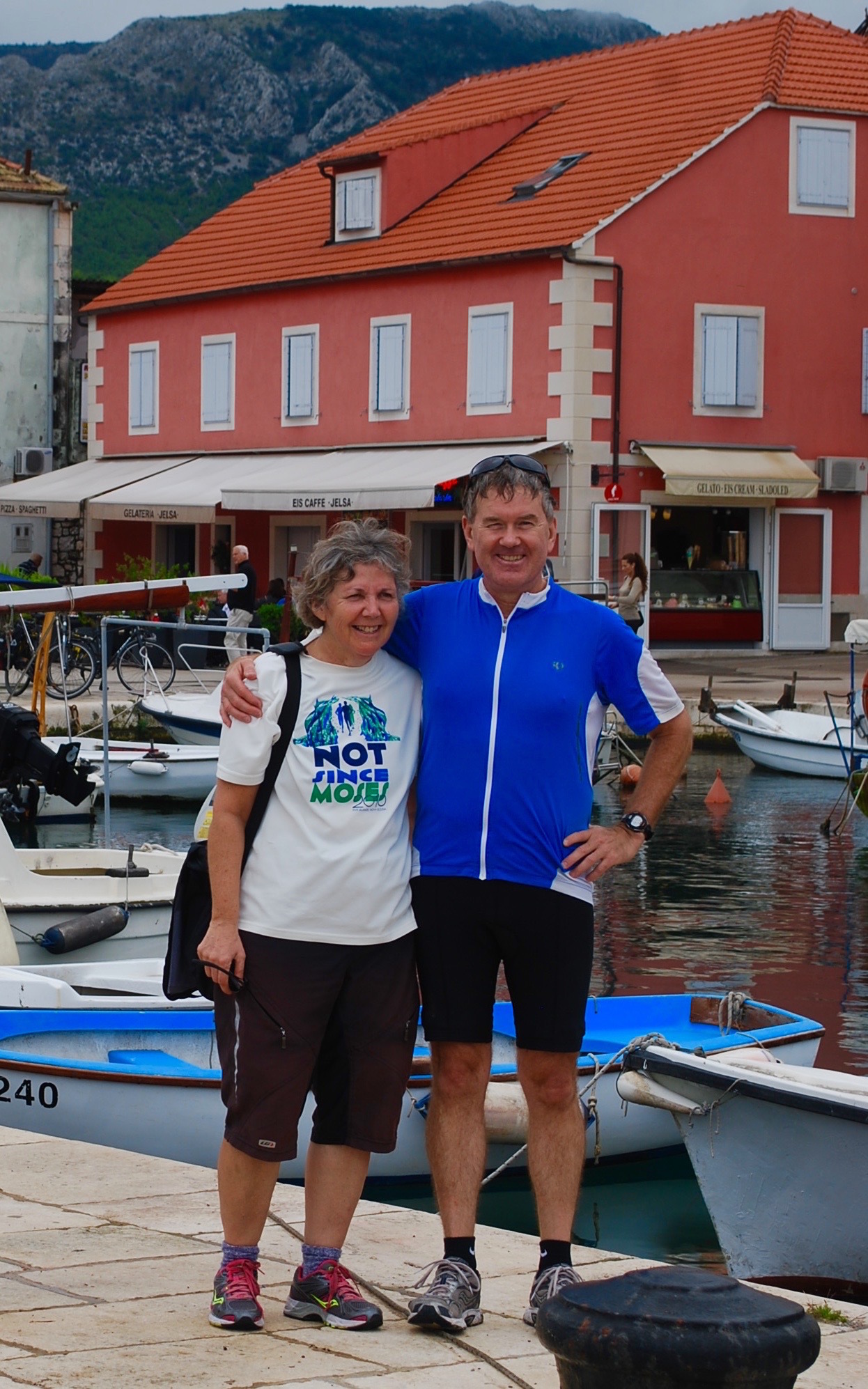 And the ebike cheaters pose as well.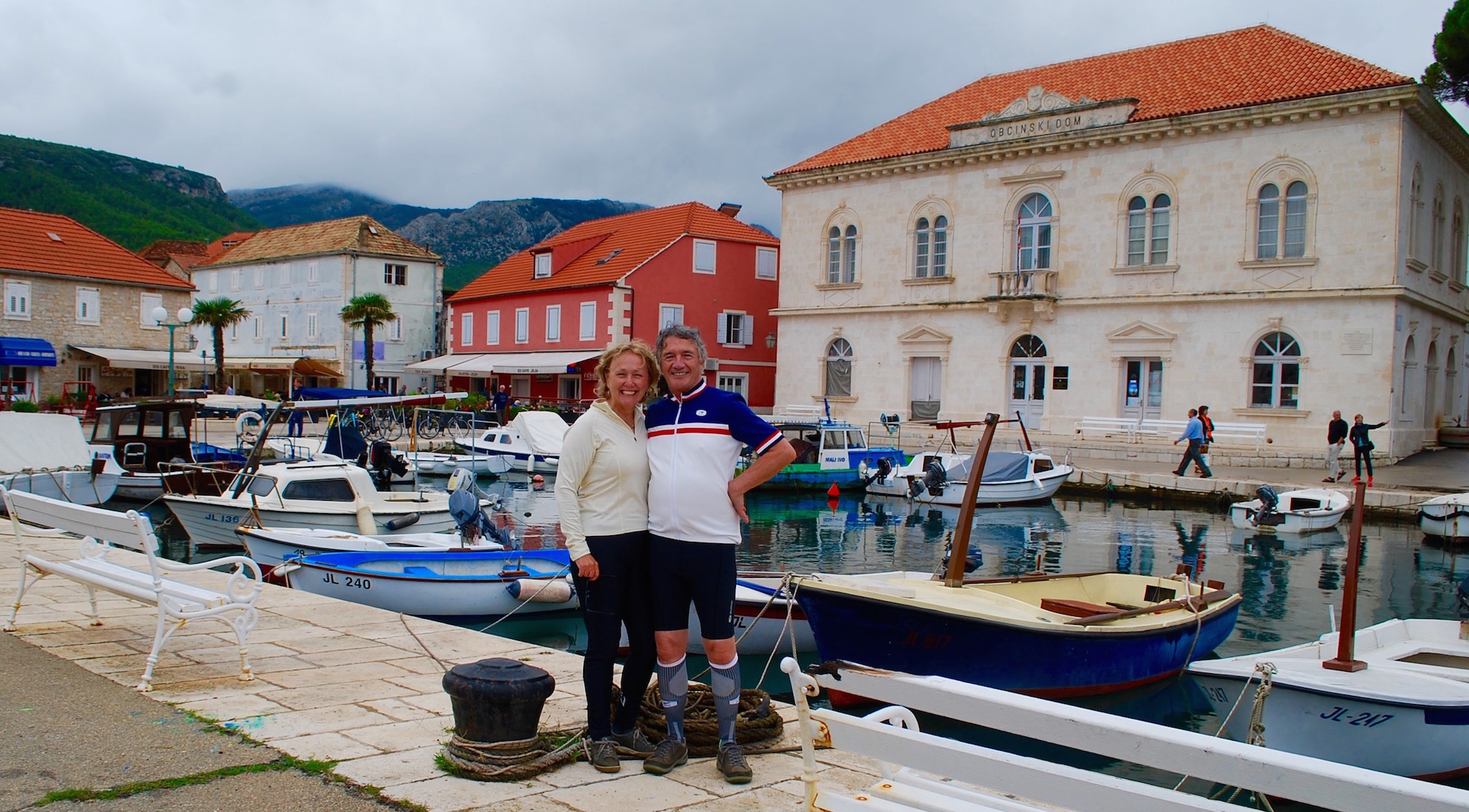 Mario and I have a discussion about those little boats which, as you can see, are not any bigger than what we call dories back home. For countless generations fishermen have gone to the sea in and made a living from these boats and there's plenty of evidence in Jelsa that they still do. Mario is concerned that with Croatia joining the EU, as it has just done, that these fishermen will be forced to comply with EU wide rules on safety, storage and everything else that makes up the modern world of red tape bureaucracy in place of common sense. He thinks a Croatian way of life will end with this last generation of independent inshore fishermen and that the picturesque boats will be nothing but phoney props for tourist photos. I hope he's wrong, but I wouldn't bet on it.
From Jelsa we follow a route right along the coast that is stunningly beautiful with clear Adriatic waters in colours ranging from azure to aqua blue to a green that has to be seen to be believed. It's a perfect contrast to riding through the fields and orchards of Stari Grad. Anyone contemplating riding the short distance between Jelsa and Vrboska should seriously think about taking a GoPro because this ride is perfect for it. I actually have one on this trip, but haven't learned how to use it well enough to trust getting this ride down pat on it.
Vrboska
Vrboska is smaller than Jelsa and I think prettier which is saying a lot. It has a castle and a very pretty church and looks pretty much like this. You be the judge.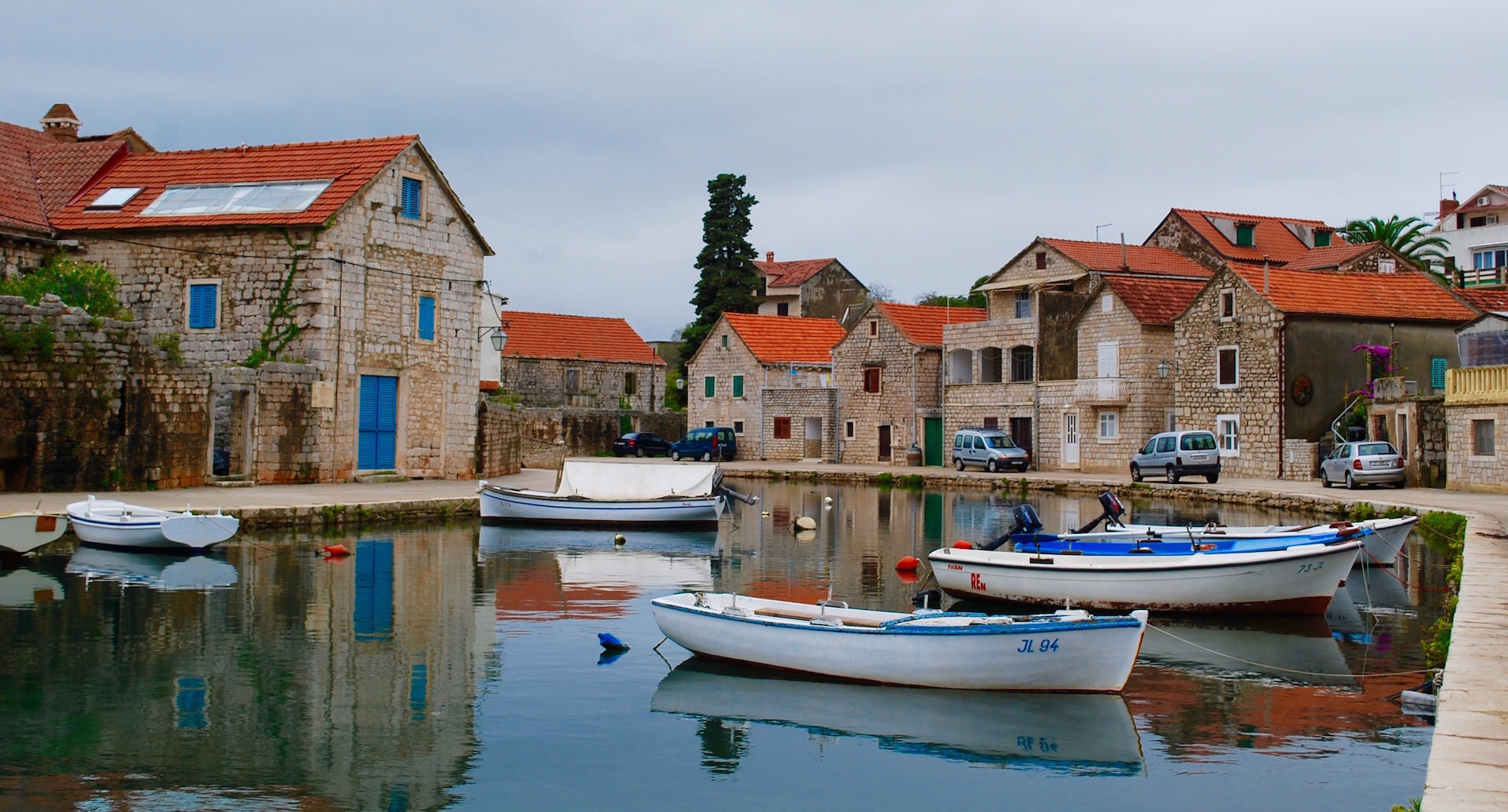 It's also known as Little Venice because the harbour does eventually become a canal traversed by numerous bridges. Here's the view from one of them. Still cloudy.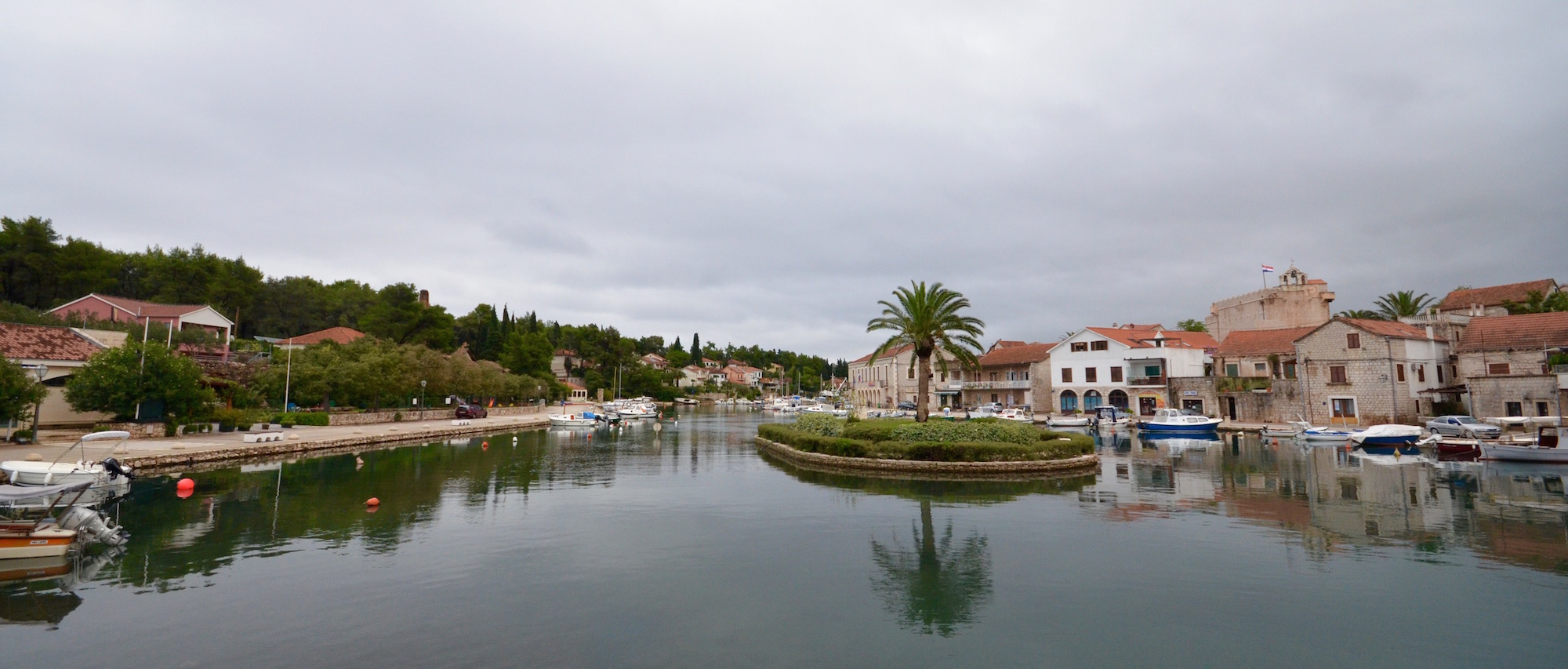 In Vrboska we meet a much larger group of young cyclists traveling with a British company and a support van. This has the advantage of immediate help if something goes wrong and if you just can't face another bloody hill, a place to take shelter and get driven up. The downside is that you can't get these big vans onto a boat so you have to pack up every day instead of having a floating hotel that you don't need to check out of. You also miss out on the intimacy of a small boat cruise. It never occurred to me that there was such a fundamental difference between the two types of cycling until this morning.
In Vrboska we saw this sign by the waterfront. In Mexico the guy would be wearing a sombrero and poncho clearly having an afternoon siesta, but Croatia? Mario explains that Croatians have a concept they call 'fjaka' (pronounced fee-aka) which is an uncontrollable state of mind that recognizes that living life by letting it just happen is more important than being concerned about necessarily getting things done. He swears it's not like the infamous 'manana' associated with many southern climes, but rather an approach to life as opposed to an excuse for being lazy. It's an interesting concept, but one that's hard for a hyper guy like me to understand. I dearly wish I could be infected by fjaka, as I am sure a lot of my friends and relatives would wish on me, but I don't see it happening. We'll see what happens over the next week.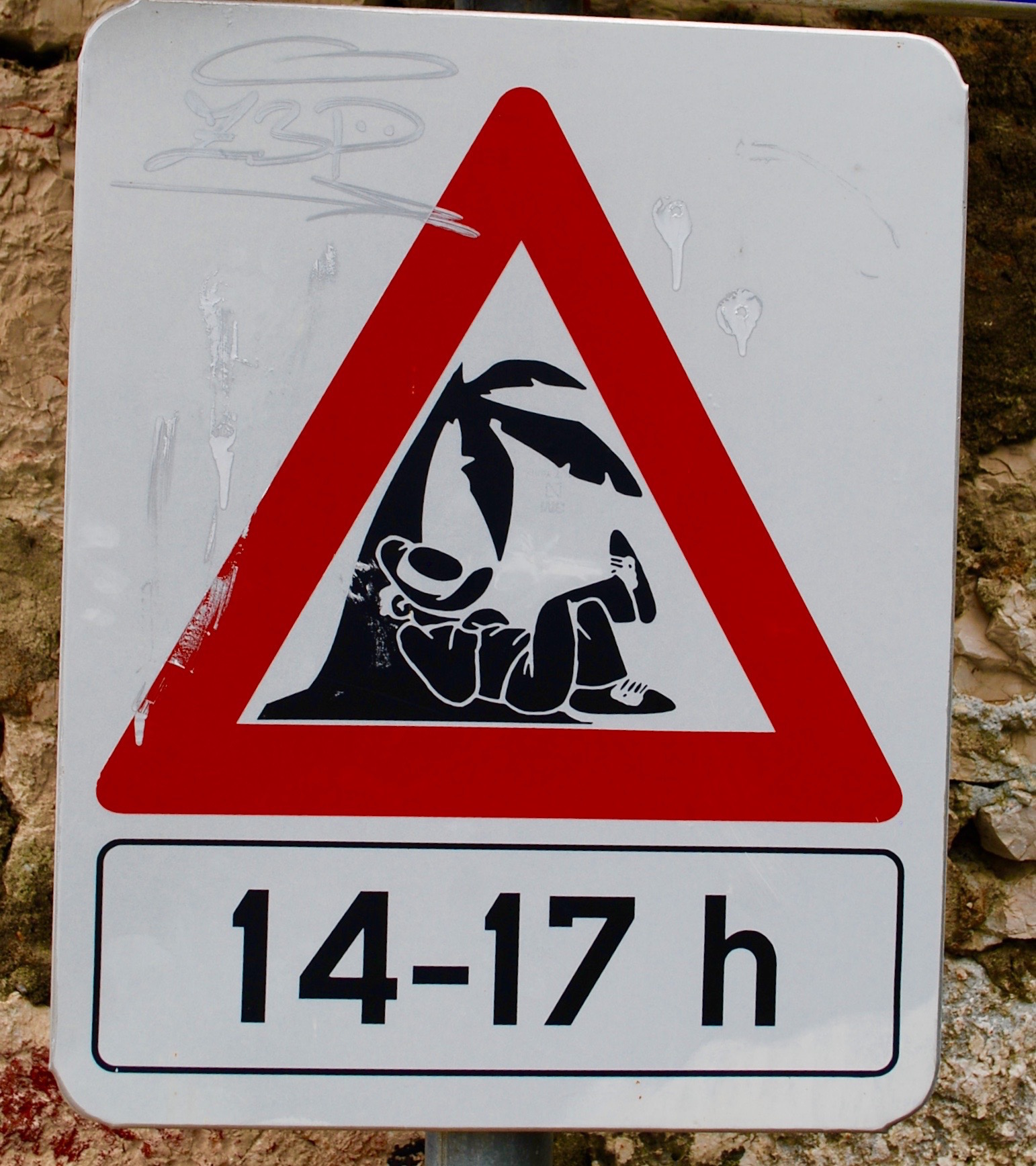 Leaving Vrboska we are soon in a very straight, narrow and flat country lane that bisects what is called Stari Grad Plain. It looks like this.
Stari Grad Plain, Hvar Island
Believe it or not this is a UNESCO World Heritage Site. It's not apparent at first why, but as you pass through it and see the mile after mile of stone fences dividing the land into relatively equal squares it begins to click. How long have they been doing this. Over 2,400 years! Unchanged. Same crops, same agricultural methods. This is how they did it on the plains of Attica and in hundreds of other Greek settlement and colonies. Here on this little Croatian island we can look back over two millenia and understand how the democratic distribution of land influenced western civilization in a profound manner. No barons, no serfs. Just a bunch of guys trying to scratch out a living from soil that modern farmers would scoff at. Sound boring? Not to me. Standing on one of the stone fences I can almost feel the hands that first built them so long ago. Alison likes it too. Those people in the distance are the youngsters we met up with in Vrboska.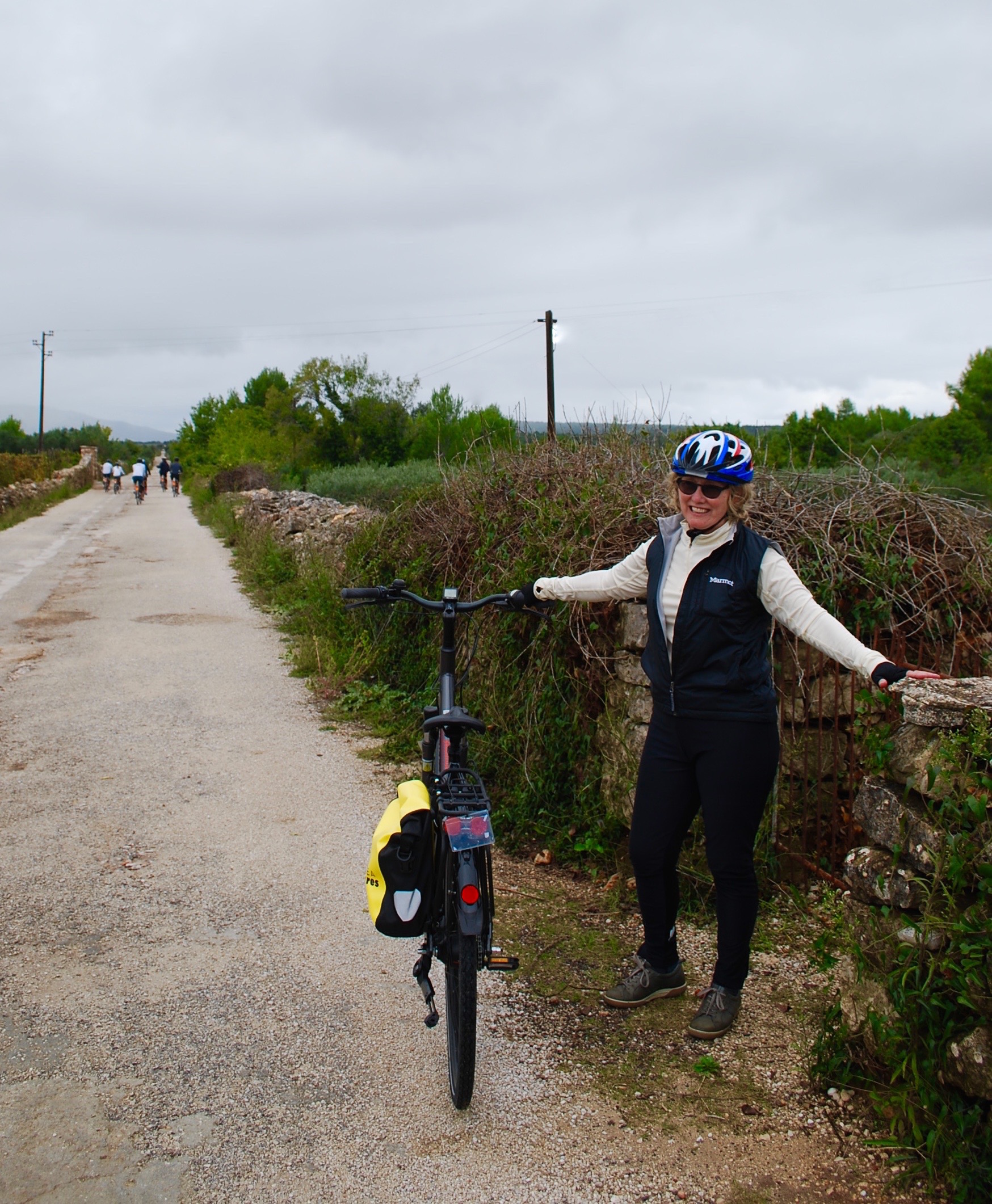 Not far past here, we reentered Stari Grad and boarded the Azimut where it was time for lunch. Seems like we've already done a hell of a lot for one day, but there's a lot more to come. Join us as we continue cycling Hvar island.
Here is a link to the Croatia photo gallery with pics from Split to Dubrovnik and every place in between.