Cetina River White Water Rafting – A Different Side of Croatia
It's day six of our Croatian cycling trip with Pedal and Sea Adventures and Mother Nature has reneged on her previous policy of one nice day followed by one crappy one, weather wise that is. Yesterday the weather was lousy and it is again today – heavy rain. Well, screw you M.N., we've got a perfect rainy day activity on tap – white water rafting on the Cetina River. If we are going to get wet anyway, we might as well get good and wet.  So we are stowing the bikes today and heading to the mainland for a different type of adventure.
It's a fairly short early morning motor from Pucisca on the island of Brac over to the town of Omis on the mainland. It has a very interesting location at the mouth of the Cetina River, which has literally split the coastal mountain range in two to find its way to the Adriatic. Here's what it looks like from above.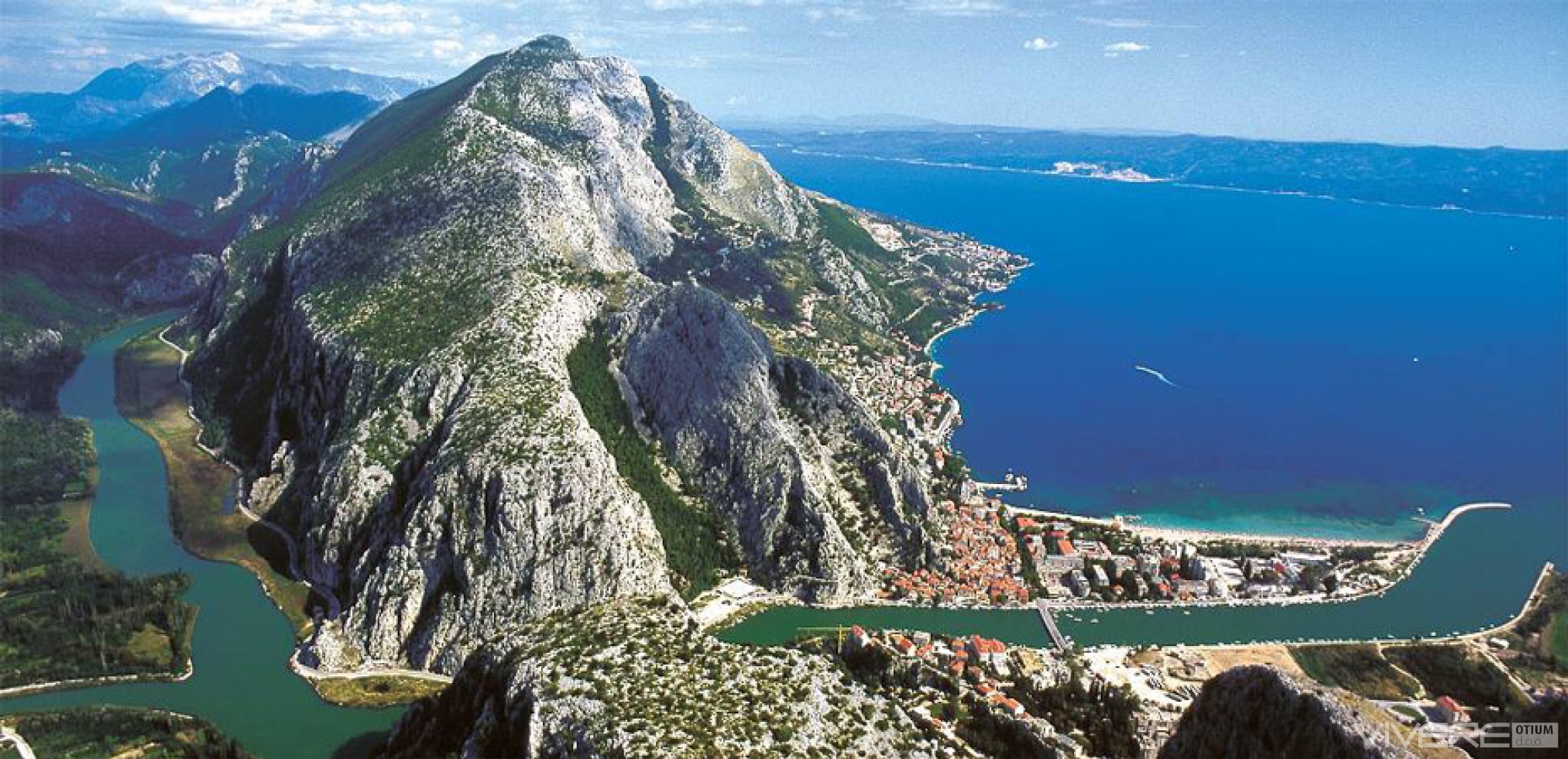 White Water Rafting on the Cetina River
At the dockside in Croatia there is a van waiting with a trailer on which there are three large inflateable rafts. Two guys get out, one of whom is big and the other enormous. The latter is Livo Jaksic, the owner of Rafting Cro Active, the first company to offer white water rafting in Croatia. He's being doing it for eighteen years and apparently hasn't lost anyone yet. I know which raft I'll be getting in.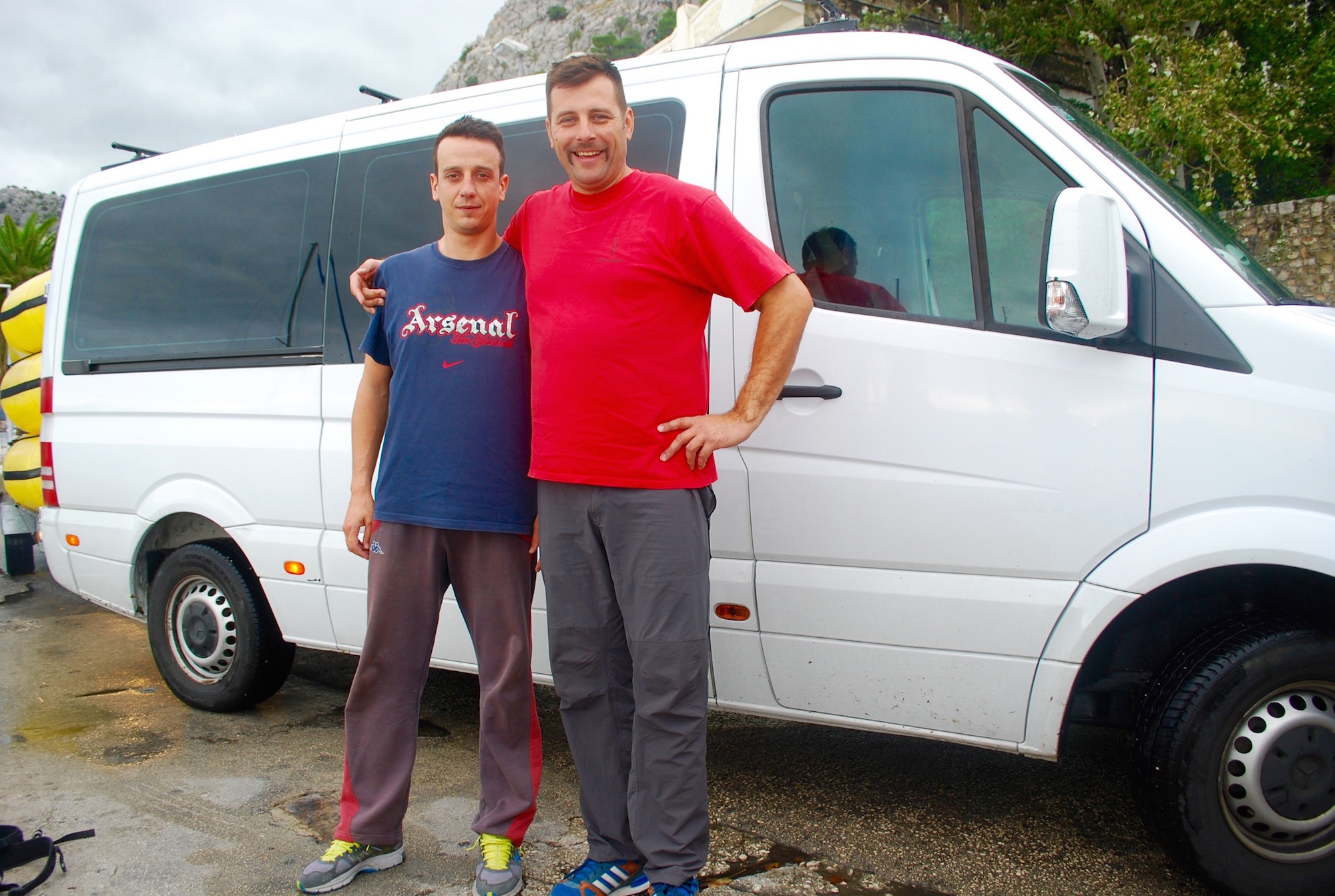 I haven't been paying much attention to the news since we've been here (mainly because there's no English channels on the boat's TV), but I learn that morning from a Facebook posting by friends back home that there has been serious flooding in parts of Croatia.  There is a video clip of the flooding and the question, "Are you guys OK?". I was not hesitant in replying, "Yes, and it's a perfect day for white water rafting Croatia."
I do have enough sense to ask Livo about the floods and he assures me that the waters of the Cetina River are strictly controlled by an upstream dam, but adds somewhat ominously that it can't control the amount of water coming from the karst formations. Karst is a term I first encountered in a geomorphology course at university. Essentially it refers to a landscape sculpted by water dissolving soft rocks like limestone or gypsum and is most notable for the creation of sinkholes and underground rivers. While karst topopgraphy occurs all over the world, the term originated in this area of the world. So what this boils down to is that the dam controls the water already in the river, but it can't control what's flowing into it from karst formations below the dam. Livo does confirm that the water is very high and the rafting conditions are excellent.
So we hop into the van along with Cindy and Gary, our shipboard companions on the Azimut, and head upriver to the starting point. The Cetina River gorge is pretty spectacular where it cleaves the mountain in two at Omis with high cliffs on both sides of the river and a very nice waterfall just outside of the town. My confidence in the safety of this mission is a bit shaken when we come to a detour because the road beside the river has been washed out. I'm not worried about the river, but rather the van I'm in as Livo whips it around hairpin turns as we rise up well over a thousand feet with no guardrails and barely room for two cars to pass each other. Oh well, Que sera sera.
We do make it to the departure point where there is a group of ten Brits already there. Most are young, but a few are middle aged including one huge florid faced woman who must tip the scales at well over 250 lbs. They are on the final day of a week long 'packaged holiday' and are generally in a cheerful, if somewhat tittering mood.
We've been white water rafting before, but I've never seen preparations like this before. We are all required to put on neoprene dry suits that are incredibly tight fitting. I can't believe they manage to get one on the big British lady – she looks like a giant sausage. After that comes neoprene booties, an anorak and a life jacket and helmet. It's been raining steadily and yet I feel as dry as can be in these conditions. Next comes a brief lecture on safety, how to use a paddle and what to do if you do fall in. Livo explains that there are three sections to the river. The first a gentle flow with a few small rapids to get us warmed up, then a stop where we have to portage the rafts around an impassable waterfall to the serious whitewater and a final gentler section downstream to the take out point.
Unfortunately there is no way I can take a camera with me so this is the last photo I have. Alison doesn't look a bit nervous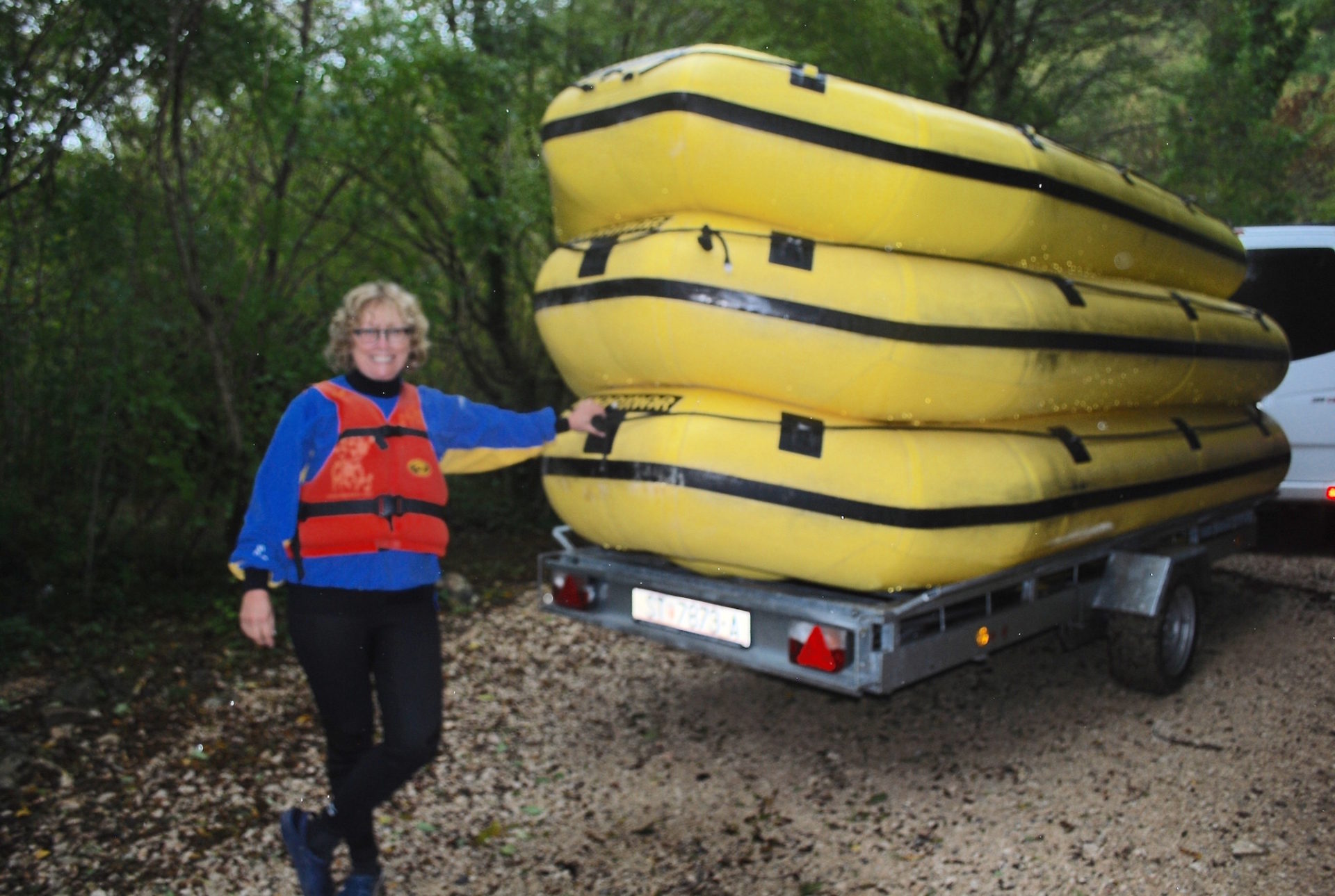 The group is broken into two groups – one of eight which has Livo at the helm which we join and one of six with the smaller guide. The fat lady is put into this group. We carry the rafts to the river and Gary and I volunteer to take the two front positions which I know from experience are more critical than those in the middle. From the conversations the Brits have been having it appears none of them has ever held a paddle before, let alone been in a white water raft. As a Canadian, I am conceited enough to think I was born with the inate knowledge of how to handle myself in these situations.
So we are off and my fears about the Brits' paddling abilities are immediately confirmed. Behind me there is a tiny little guy who could easily be an extra in any movie with hobbitts in it and he is hopeless. He has no clue that he should try to synchronize his paddling with mine and instead hits my paddle with his repeatedly and each time says "Sorry", but does nothing to change things until Livo explains that if everybody paddles at once, we'll do a lot better.
The water is indeed very fast and for about half an hour we try different manoeuvres that Livo says will help us when we get to the real white water. It's clear that he really knows what he's doing and certainly gives the rest of us a measure of confidence that we probably don't deserve. Here's a photo from Rafting Cro Active's web site that gives a pretty good idea of what the warmup is like, although this group is not in dry suits.

We get to the pull out area for the portage where we stop for a snack and then haul the rafts over a very tricky stretch that is well infused with brambles and nettles. For not the last time I'm congratulating myself for sticking with Livo who could carry this thing solo if he had to. Not to be sexist, but I'd be remiss not to mention that the men get to carry the raft and the women, the paddles. At the reentry point some of us risk jumping from slippery rock to slippery rock to see the falls we just portaged around. It's a good thirty feet high and would destroy anyone who tried it in a raft. Livo points out a spot where an experienced kayaker was killed a few years ago. Nice thought as we head into the difficult portion of the descent.
If you've never tried white water rafting before it's difficult to describe the feeling of imminent dread that comes as you approach a serious set of rapids and then the adrenalin rush that comes after successfully making it through. Here's a picture from the website that catches the imminent dread part.

And then the actual rapid shooting.
And then the sense of relief.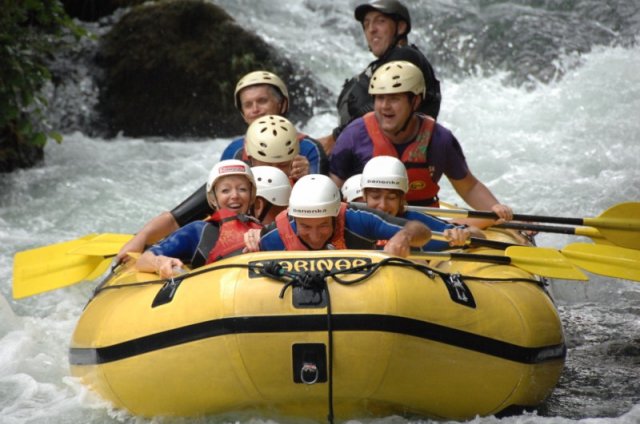 I love it. Of course it goes without saying that the fat lady fell in. Although she made it clear, as they were trying to get a life jacket big enough to fit her, that she couldn't swim and despite bobbing around like a cork in the swirl below one set of rapids, she was roaring with hysterical laughter the whole time. The one person not laughing was the poor guide who needed all the help he could get to haul her back into the raft.
So all told we probably did about fifteen sets of rapids on the Cetina River with one doozy that required us all to hit the deck on the way down. It was a blast.
We pulled out at a private park and restaurant area where we changed back into street clothes, said goodbye to the Brits who were a pretty good bunch of blokes and Livo drove us back to the Azimut where there was a nice surprise waiting for us. Ante, the cook had prepared a famous regional dish and as you can see he was pleased about it.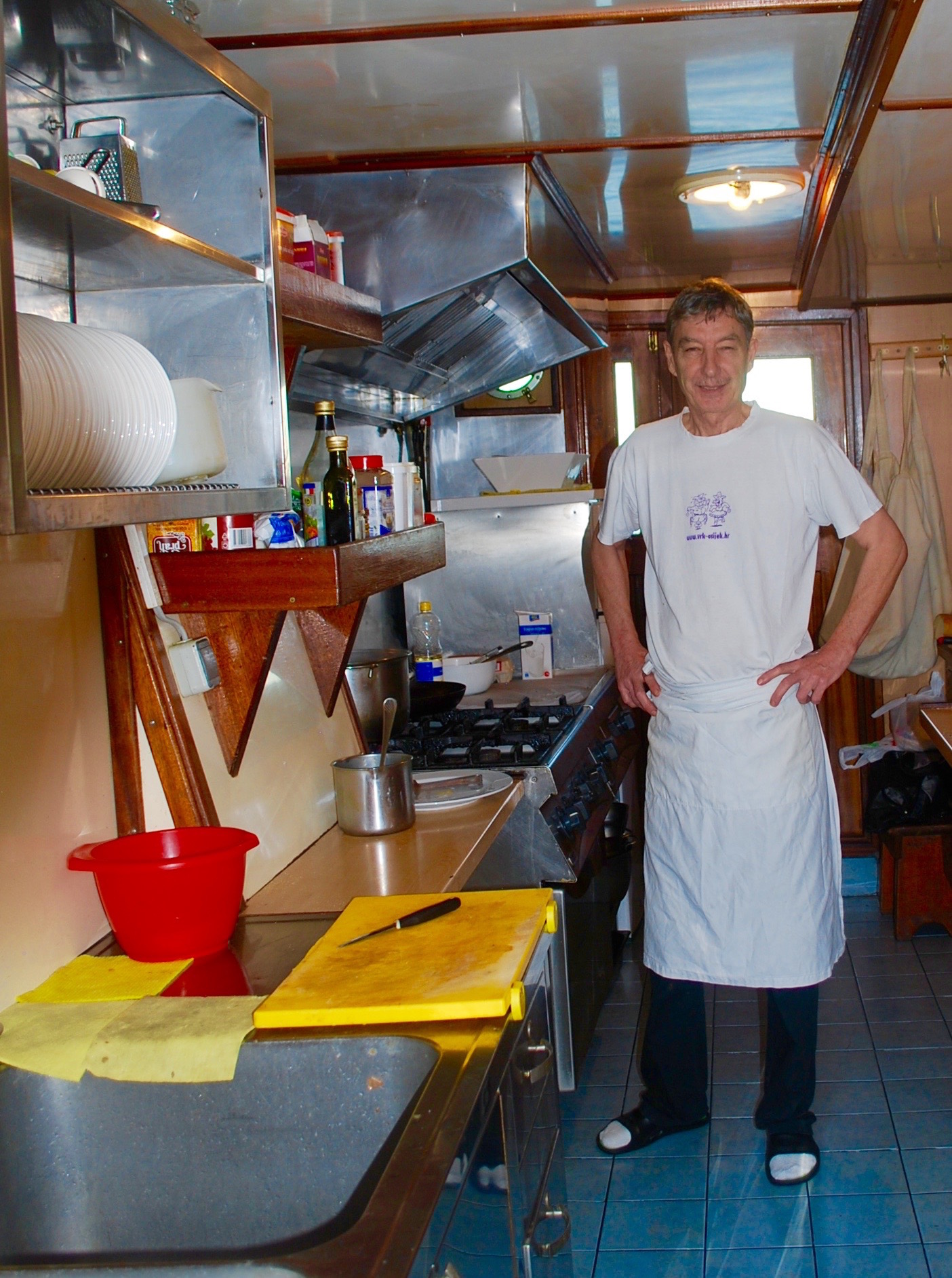 Soparnik is a Croatian specialty and although it looks like a giant pizza, it's actually a vegetarian savoury pie made with either spinach, kale or chard and lots of garlic. It tasted as good as it looks although the garlic fumes were very noticeable which is why Ante presented it out in the open air lounge at the back of the ship. There was also a plate of Pag cheese, the most sought after Croatian cheese from the island of Pag to the north of the Adriatic coast. Break out the posip!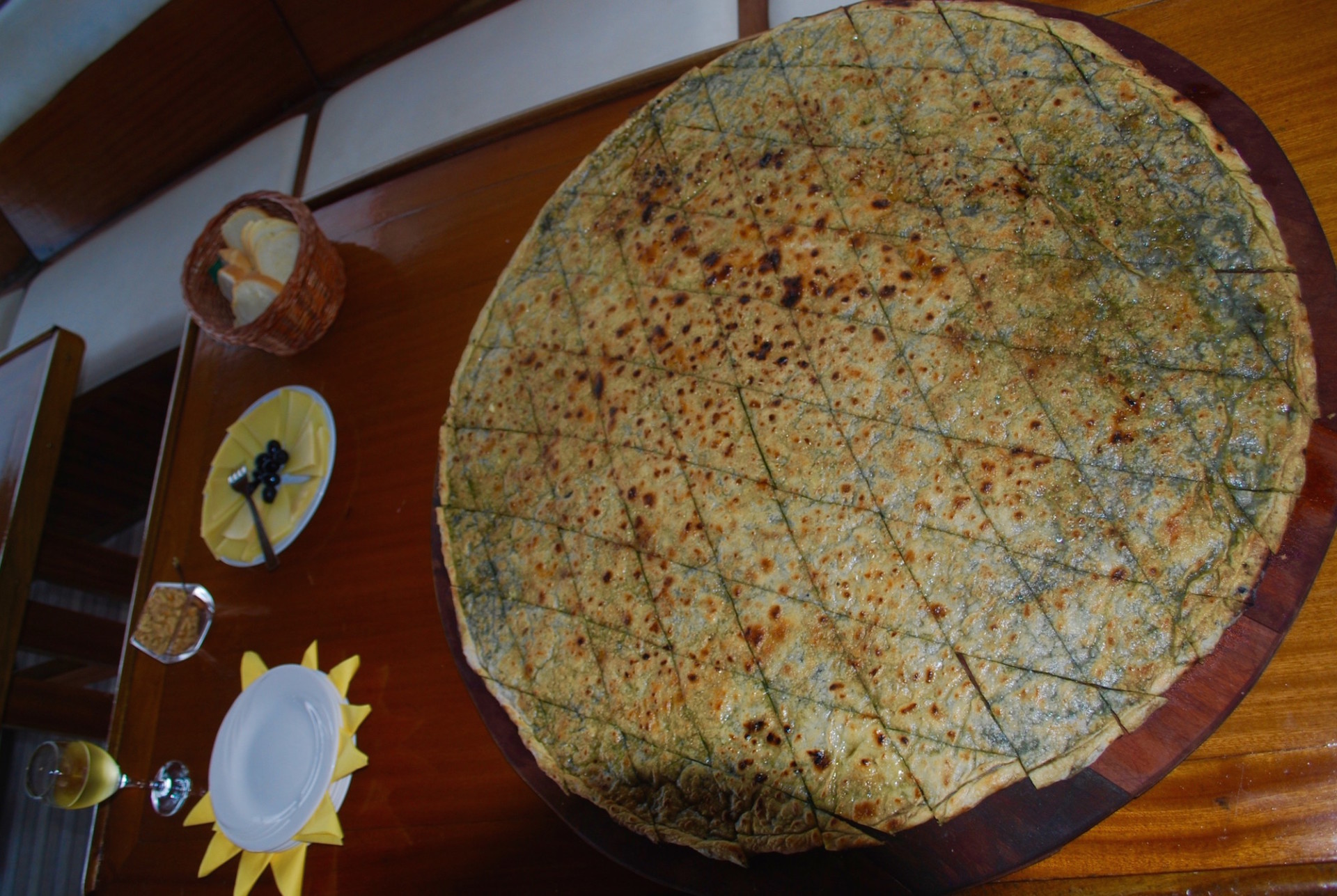 After lunch we motored into Split which was a very pleasant journey as the weather began to turn nice again. That's the old city with Diocletian's Palace in the middle.

Tomorrow we will spend the final day cycling the Marjan peninsula and then one last chance to see some things we missed on the first visit. Won't you join us?
Here is a link to the Croatia photo gallery with pics from every part of the trip from Split to Dubrovnik and back.