Mostar, Bosnia & Herzegovina – A Bridge Over Troubled Water
It is the final morning of our journey with Pedal and Sea Adventures and it starts promisingly enough with this sunrise and will continue as we visit an entirely new county, Bosnia and Herzegovina, not once but twice today. Join Alison and me as we explore the city of Mostar and find that its troubled past is not that far behind it.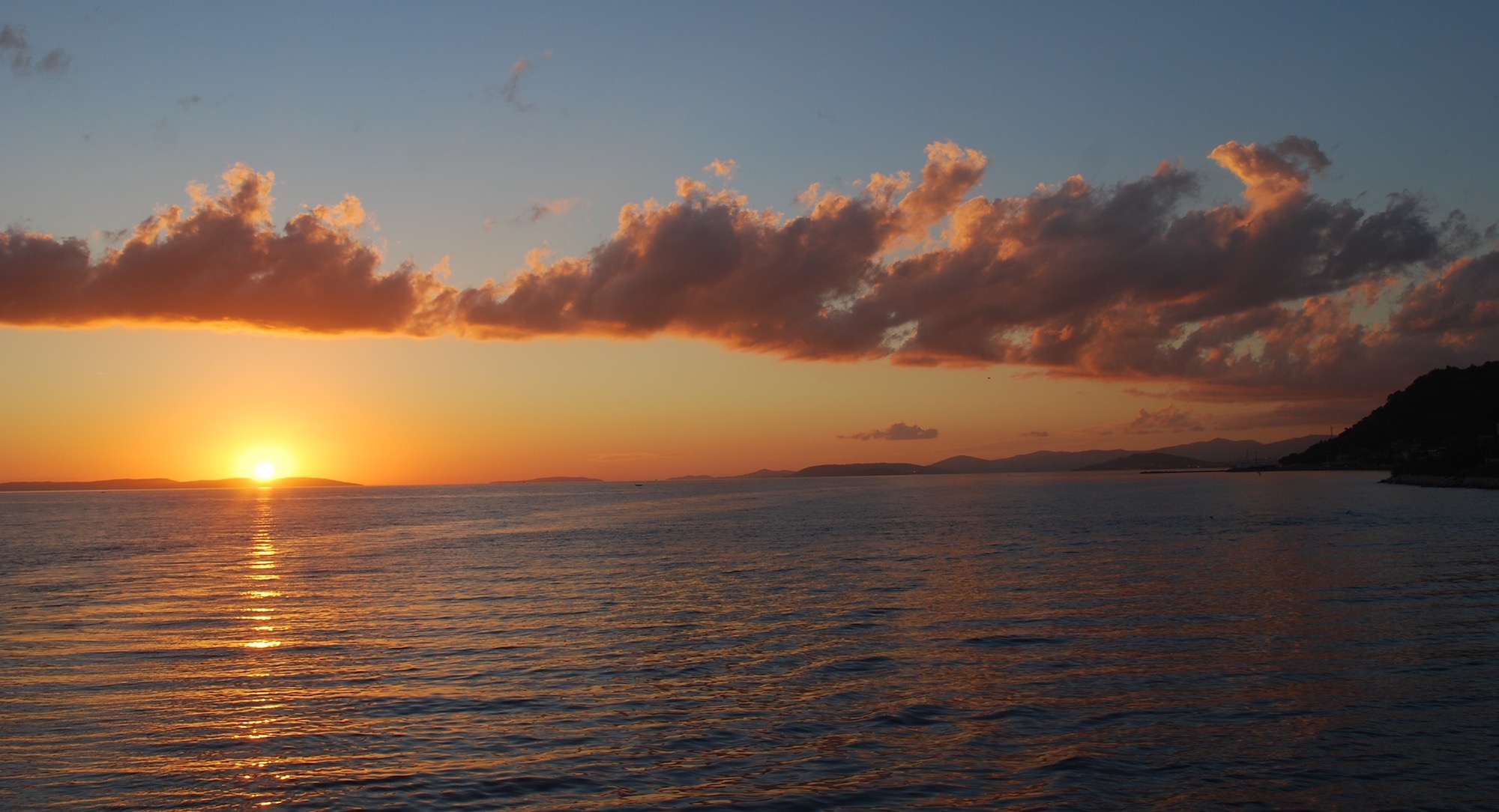 Leaning over the rail I can see what at first I think are a school of mackerel, but then realize they are squid – by the hundreds. The increasing daylight is sending them back to wherever they go to avoid predators.
After breakfast the crew assembles, we pay off our bar bill which is surprisingly modest, distribute gratuities and say our goodbyes. It's been a fantastic week despite less than cooperative weather and seas. For the record, from left to right, that's Mario the guide and philosopher, mates Mark and Duje, Captain Mate, cook Ante, bartender Karla and the owner Josipa.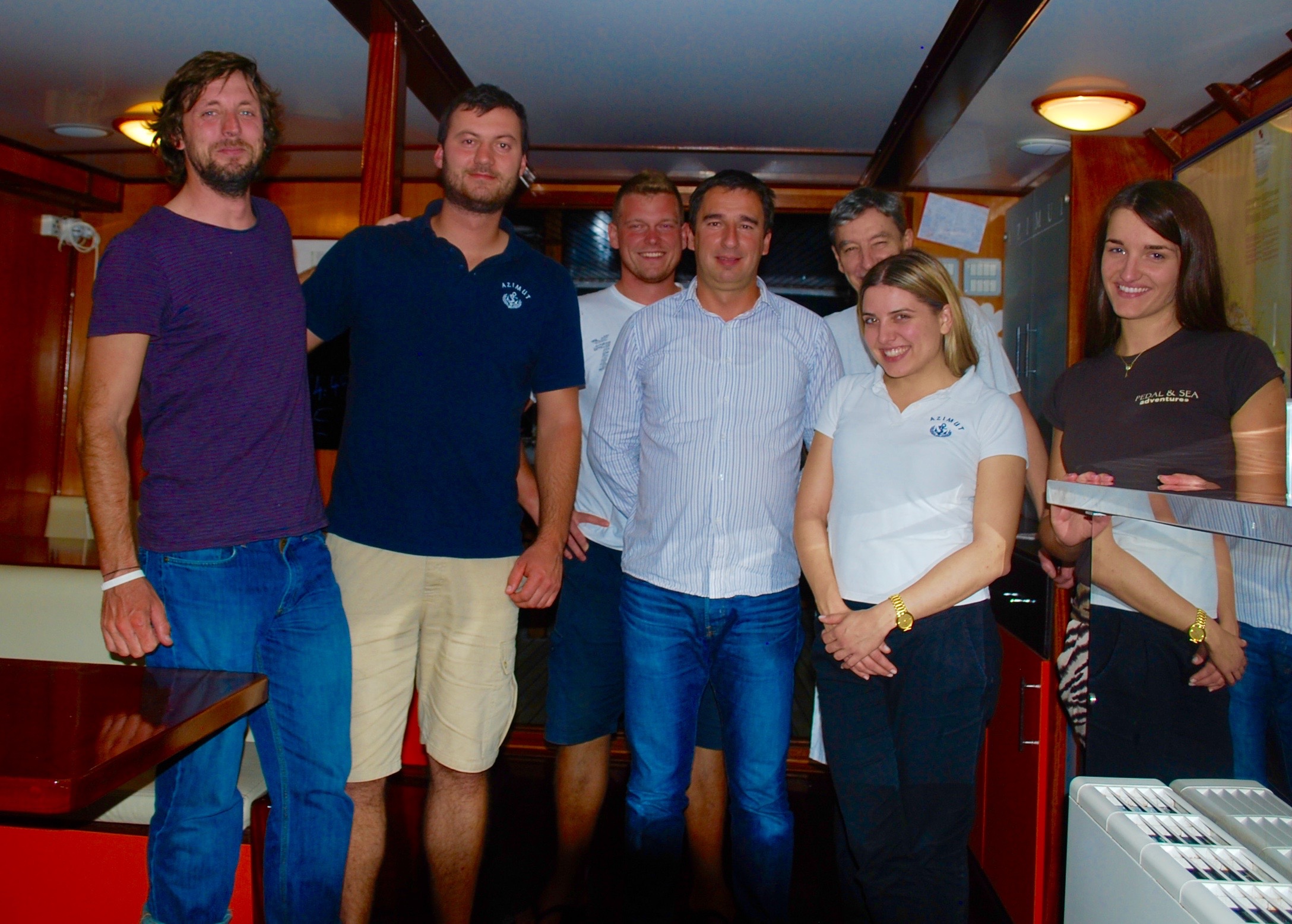 Arrangements have been made to have our tour mates Cindy and Gary taken back to Split and soon the car arrives for them. Then Mario is off in his little car. Finally the Azimut weighs anchor and heads for its winter berth with Karla and Josipa waving goodbye.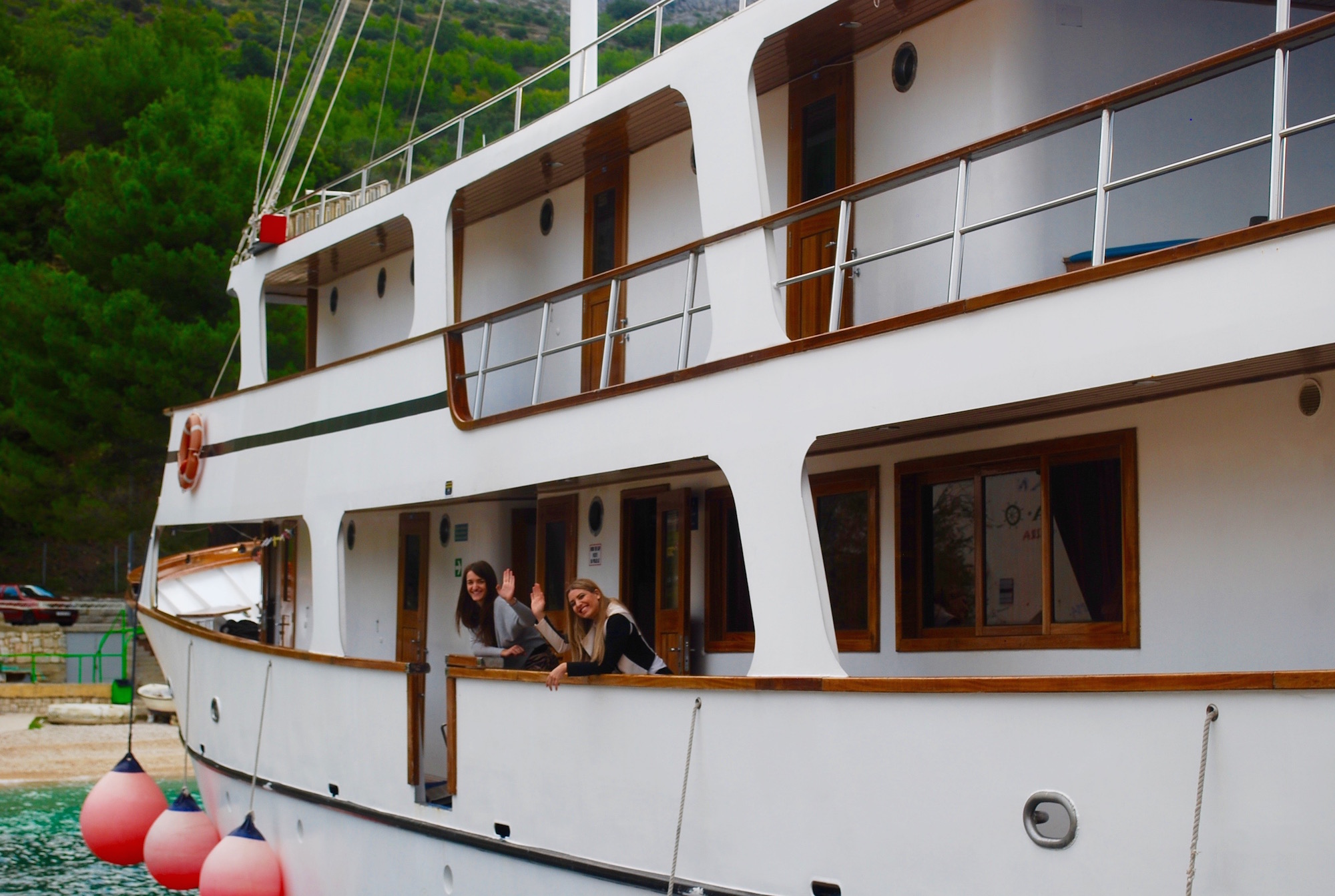 Farewell Azimut, we hope to see you again.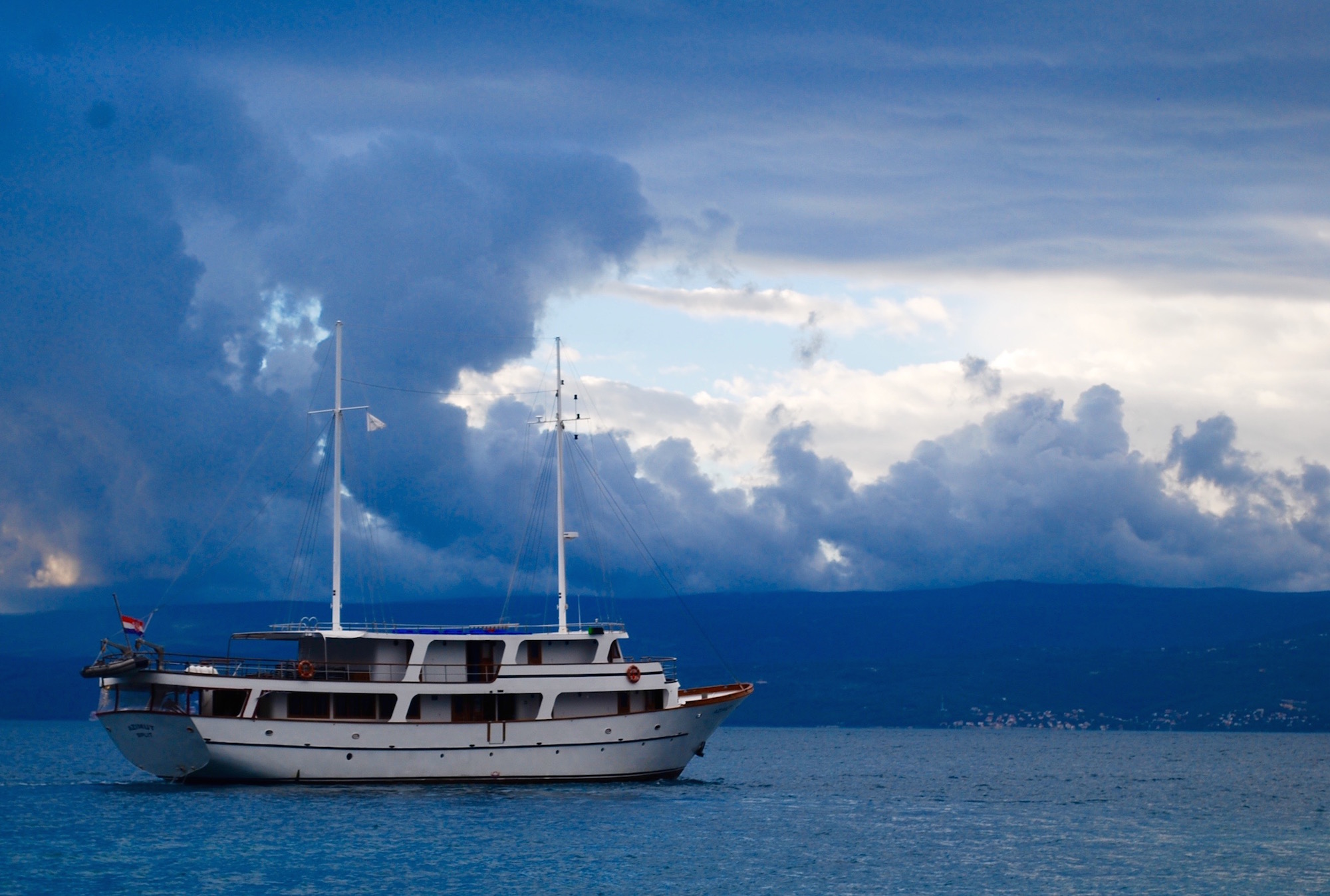 As you can see, the clouds have returned and Alison and I are alone in the drizzle on the wharf at Jesenice. Sounds a bit bleak, but it's not. We have made arrangements for Darius, our indomitable driver from the Vestibul Hotel in Split to pick us up and take us to Dubrovnik with a stop at Mostar in Bosnia and Herzegovina along the way. In about twenty minutes, he arrives and we are on our way in the comfort of the large Mercedes sedan.
Prior to planning this trip I was not aware that Dubrovnik is, in fact, an enclave surrounded by Bosnia and Herzegovina and the separate country of Montenegro. In other words, you can't get there without crossing in and out of a tiny part of Bosnia and Herzegovina along the way. Apparently this sliver of the Adriatic Coast was conceded to the Ottomans by the Republic of Dubrovnik in order to avoid an all out war with them. Smart move at the time, but rather a hindrance now as our journey today will involve no less than four border crossings. Since we are going to Bosnia and Herzegovina whether we want to or not, I have asked Darius to take us by way of the city of Mostar which is famous for its ancient bridge that was destroyed in the Yugoslav civil wars and then rebuilt as a symbol of supposed unity. We'll find out soon enough if this is true.
On the Way to Mostar
The road to the border involves a really steep climb up the mountains at Omis where we went white water rafting only a few days ago. We then get on the E65 which is an excellent divided highway all the way to the border with Bosnia. Technically the country is called Bosnia and Herzegovina and in my naiveté, I had assumed that it was the predominantly Muslim country that had devolved out of the former Yugoslavia. Turns out that while about half the people are Muslims or Bosniaks as they prefer to be called, the rest are Serbians and Croats. As noted in an earlier post, they are all the same people ethnically, but differentiate themselves on the basis of religion. Muslim=Bosnian, Orthodox=Serbian, Catholic=Croat. To complicate matters further, the part of the country we are entering is actually Herzegovina and most of the people here are Croats.
The border crossing goes without a hitch, but I'm disappointed we don't get a Bosnia and Herzegovina stamp on the passports. The landscape looks the same, but there's one immediately identifiable difference.  The road signs are in both the standard alphabet and in cyrillic. However, in almost all cases, the cyrillic writing has been sprayed over in black. That's a bit disconcerting. I thought these people had put their differences behind them. The first place name I recognize is Medjugorje, where the Virgin Mary has been showing up off and on since 1981. I ask Darius about it and he basically says it's a scam perpetrated by the family that started it all. They've become very wealthy from duping innocent Catholics into thinking this is a holy place. I think we'll give it a pass; I'm cynical enough when it comes to religion and I doubt that seeing the 'miracle of Medjugorje', will make it any better.
Pocitelj, Bosnia and Herzegovina
Our first stop in Bosnia and Herzegovina is at a place that is strikingly different from any of the other towns we've visited on this trip. It is the town of Pocitelj and its on the UNESCO World Heritage Sites waiting list. If one were teleported here with a blindfold on, you'd almost certainly guess you were in Turkey because it looks exactly like many Turkish towns I've visited. The houses incorporate a lot of wood and have a distinctive second story overhang.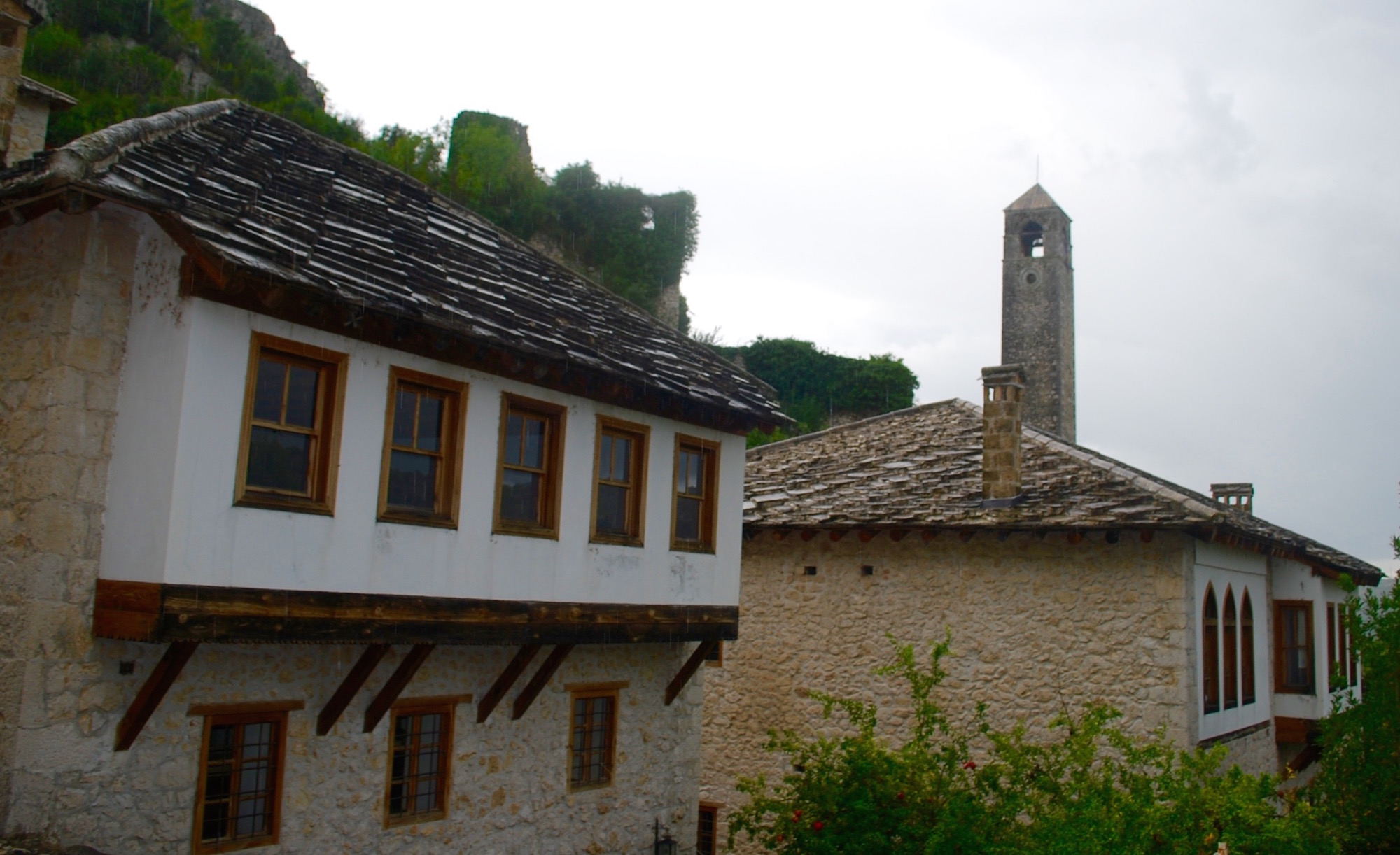 The highest building is the minaret.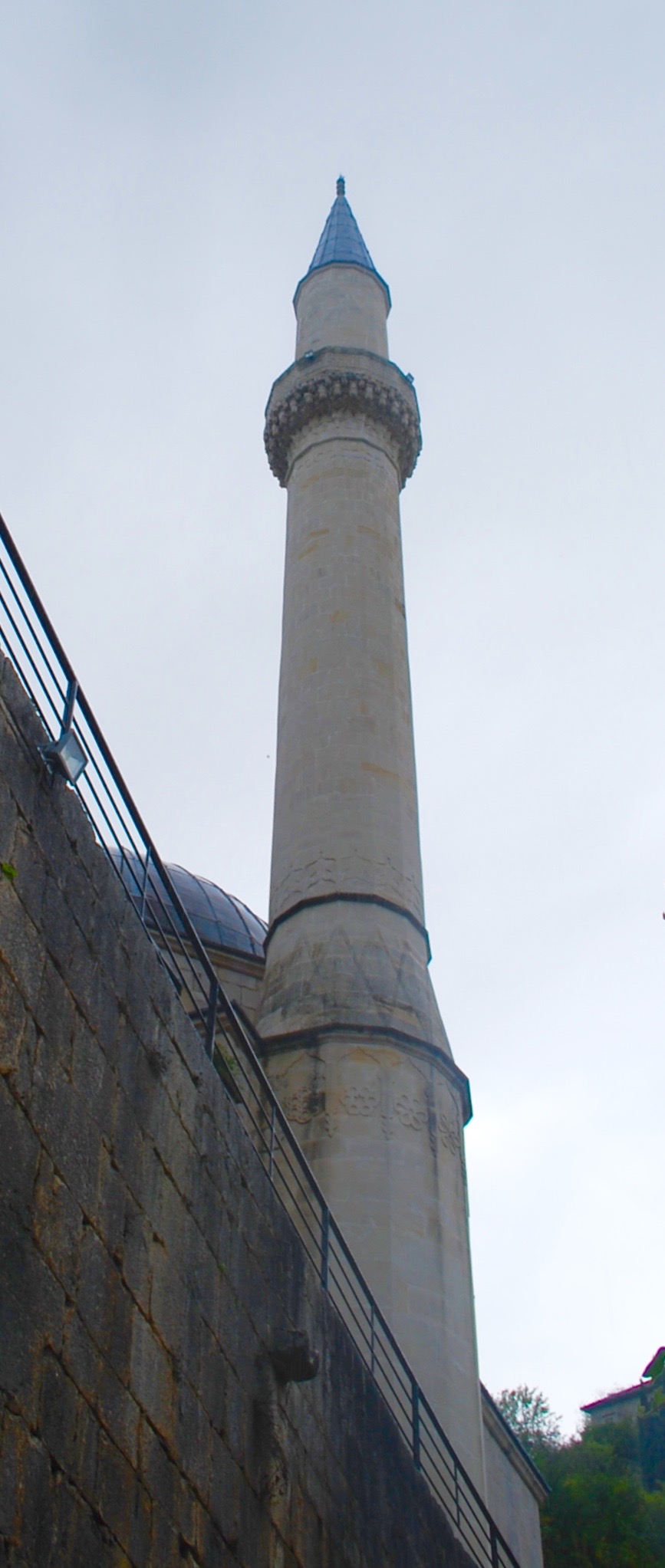 And there's the instantly recognizable shape of the Turkish bath or hammam.
The streets of Pocitelj are very narrow, steep and because of the rain, ultra slippery. I would have liked to visit the ancient fortress here, but not in this weather, so it's on to Mostar.
Mostar, Bosnia and Herzegovina
Mostar's famous bridge and the area around it have been designated as a UNESCO World Heritage Site  which says this about it.
"The Old Bridge area, with its pre-Ottoman, eastern Ottoman, Mediterranean and western European architectural features, is an outstanding example of a multicultural urban settlement. The reconstructed Old Bridge and Old City of Mostar is a symbol of reconciliation, international co-operation and of the coexistence of diverse cultural, ethnic and religious communities."
That may well be the case, but the first thing I notice is that the tallest building in Mostar is an apparently new tower, built in the Venetian style, by the Croats. It's pretty obvious that it is meant to overshadow the many minarets in the city. Doesn't sound like an act of conciliation to me. Also there's a huge cross on the highest point of land overlooking the city. Darius navigates us to the old part of the city which is pedestrian only and we make our way through the streets to the famous Stari Most or literally 'old bridge' from whence the name Mostar derives. Because of the shitty weather there's not many tourists around and most of them are under the canopies of cafes. The bridge is not as large as I expected it to be and quite narrow, but it still must have been quite an engineering feat when it was built by the Ottomans in 1566.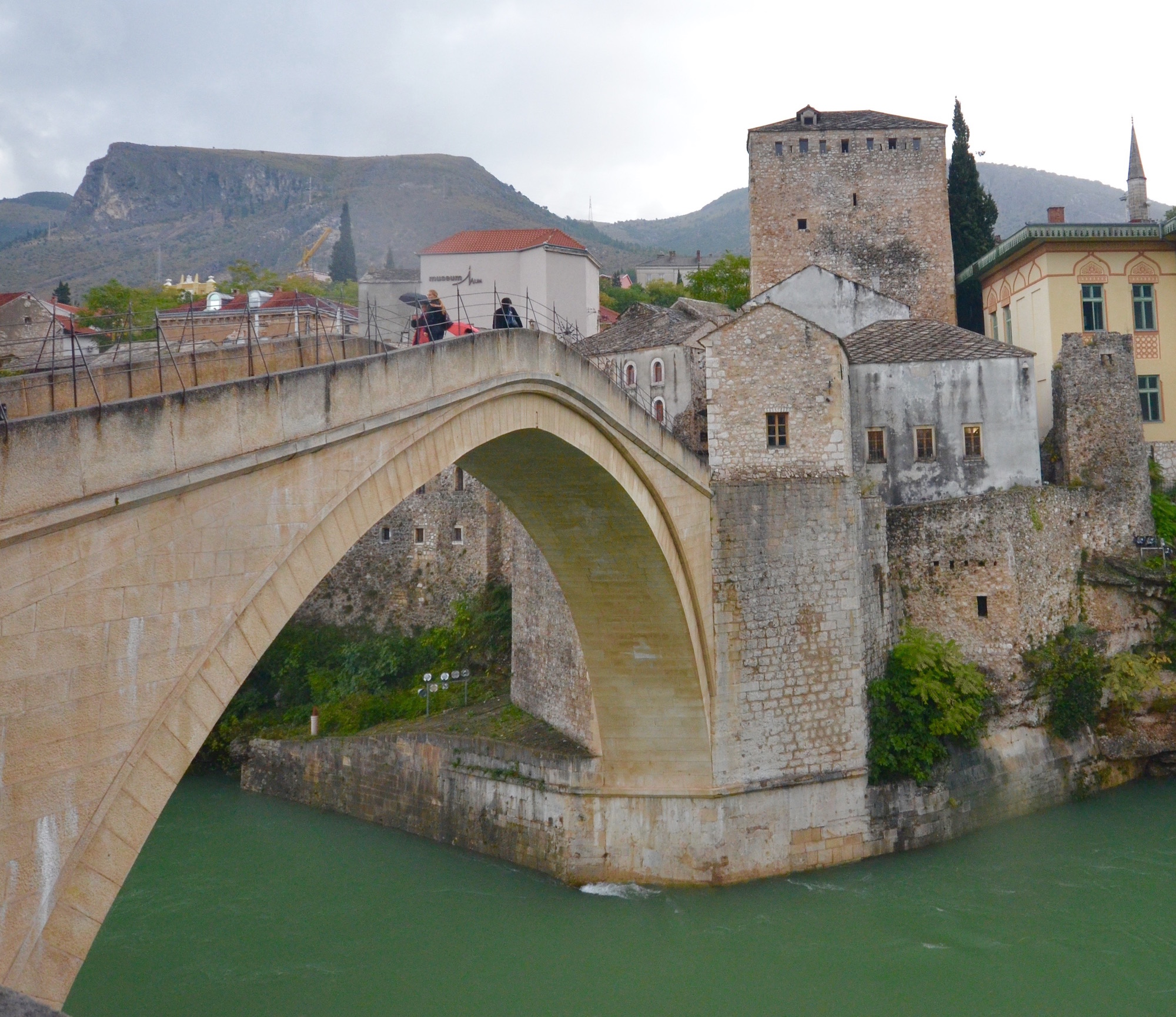 It stood until 1993 when the Croats destroyed it. According to a plaque on the bridge Italy, Holland, Turkey and the World Bank  in that order, contributed funds to rebuild it, although for some reason Prince Charles presided at the re-opening ceremony in 2004. This is the view from the oldest part of Mostar which resembles a bazaar more than a typical market.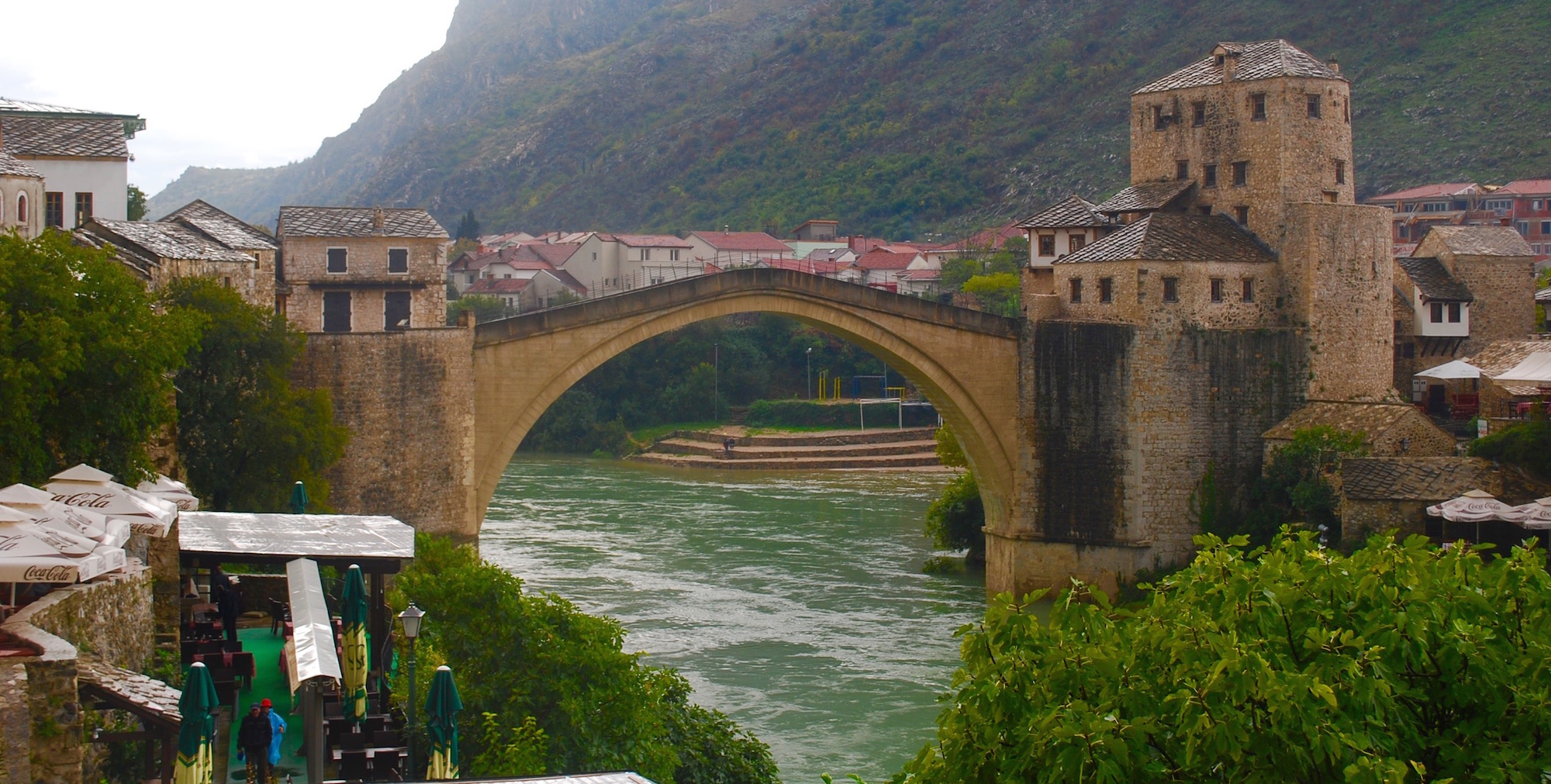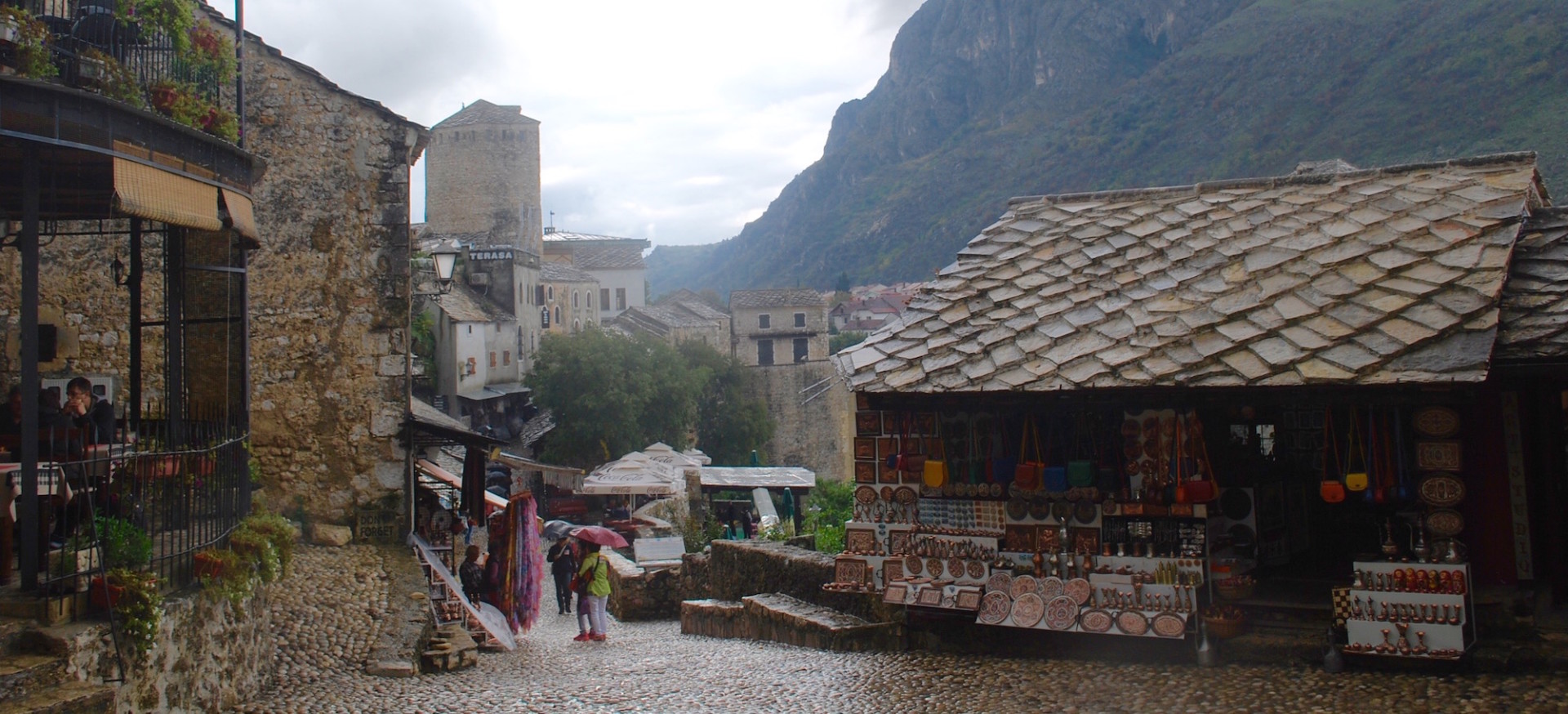 This is the view from the bridge which we pretty well had to ourselves.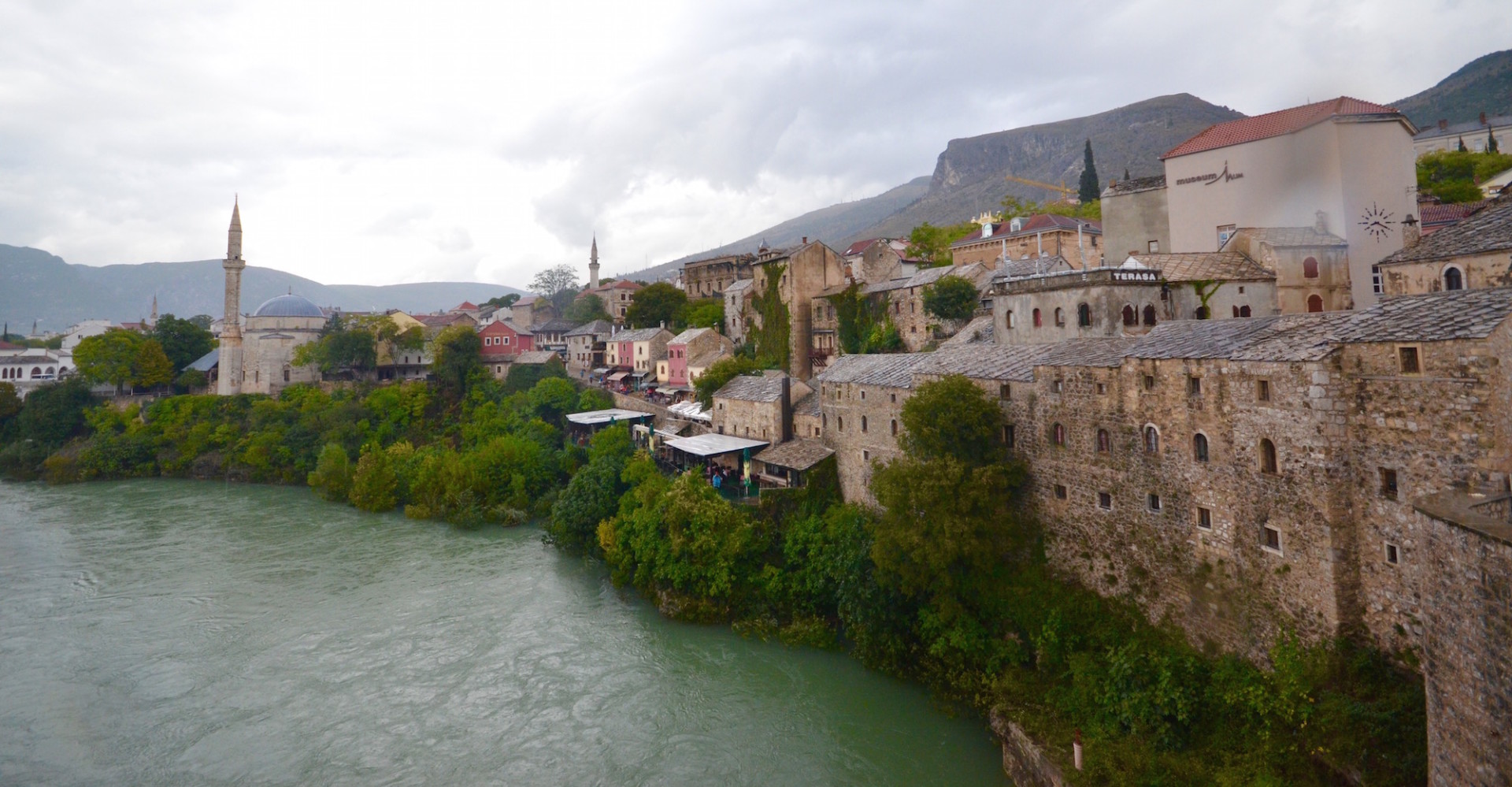 I don't know if it's the weather, but there's something that makes me sad about Mostar. How could these people live together for centuries in relative harmony and then descend into the savagery of the 1990's? There are still holes from shells and bullets almost everywhere you look in Mostar. As we made our way back to the car I couldn't help but notice this.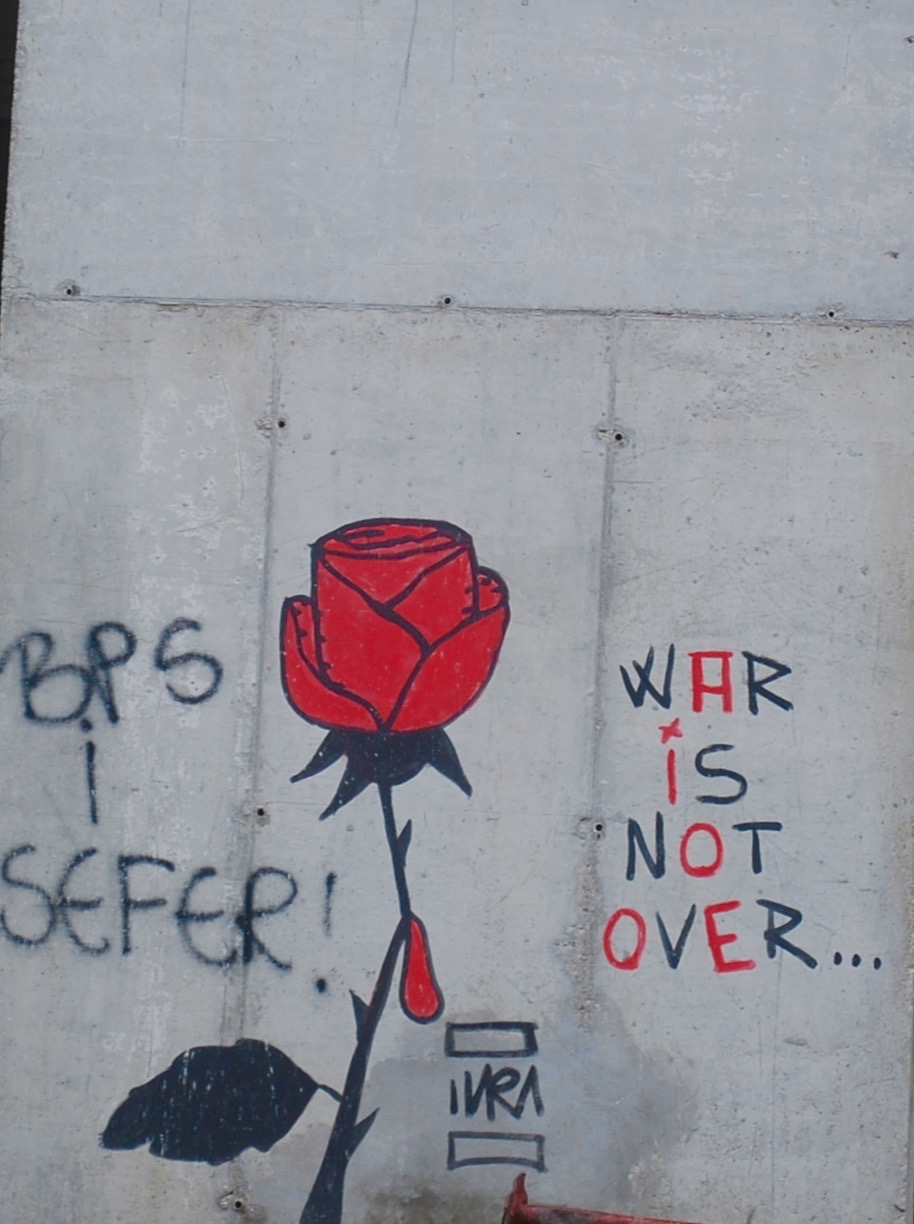 At first sight it's a rose, but when I read the words, it sends a chill up my spine. I can only hope for the sake of everyone in Mostar and Bosnia, that it is not an omen of more to come.
Enough moroseness, let's get on to Dubrovnik.
Here is a link to the Croatia photo gallery with pics from Split to Dubrovnik and all places in between.