Mullin Automotive Museum
The number one attraction in Oxnard, California might also be the most difficult to get to. That's because the Mullin Automotive Museum is only open from 10:00 to 3:00 Friday, Saturday and Sunday, but trust me if you are in the Los Angeles area on one of the days it is open, it's more than worth it. You can buy tickets on line at the museum website.
The Mullin Automotive Museum – What to Expect
Peter Mullin is a super rich guy who made his money in the insurance and finance business. He is a very discerning auto collector who buys only classic French models (or marques) that he believes represent the epitome of auto design. He also has the distinction of owning the world's most expensive car. He paid over $30 million for a 1936 Type 57SC Atlantic Bugatti. It's one of only two still in original condition. Ralph Lauren owns the other one. And they both drive them.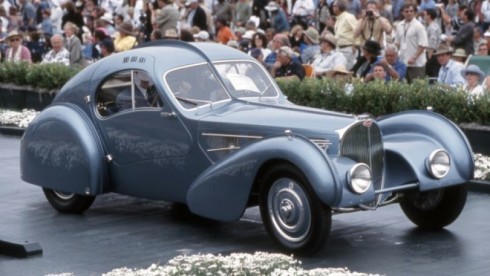 Unfortunately this car is on loan and I won't be seeing it today, but there are still over sixty classic cars on display at the Mullin Automotive Museum, out of a total of a hundred and forty that Mullin owns. The ones on display are rotated regularly.
The museum is tucked away in an industrial park on the outskirts of Oxnard and from the exterior you'd never know what treasures await inside.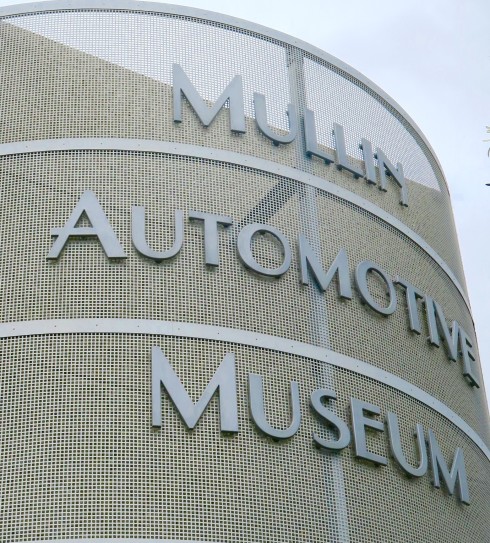 Tickets are $15.00 and active servicemen get in for free. Ticket sales are limited so the place is never crowded. This is what you see as you walk through the doors.

The first question you might ask is "What's that Amish looking buggy doing in a car museum?" Well, if you think about it, before the advent of the automobile, which took place over about three decades before horses were almost completely replaced by horsepower, the way to show off your wealth was with fancy carriages. Many of the these carriage designers went on to design the earliest automobile bodies, including the Labourdette family who designed this 'dog cart'. That does not mean it was pulled by dogs, but rather used as a vehicle to transport hunting dogs to the scene of the action.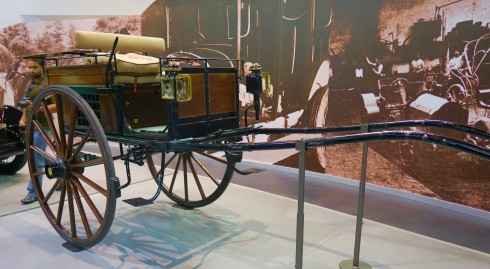 So there were carriage makers transitioning to making automotive bodies and there were also furniture makers like Carlo Bugatti who influenced his son Ettore Bugatti in design ideas. Here is a room full of Bugatti furniture on display at the Mullin Automotive Museum. If you go online looking to buy an original piece of Bugatti furniture be prepared to open your wallet very wide.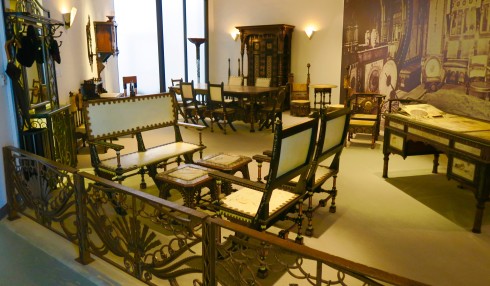 The final touch, in terms of the elegance contributing to the overall beauty of the French automobiles on display in the Mullin Automotive Museum, is the art deco and art nouveau movements that swept Europe from the late 1800's to the 1930's. Here is a display case of art glass and dancing figures that epitomize French style of the time that most of the cars we are about to look at were manufactured or more properly 'crafted'.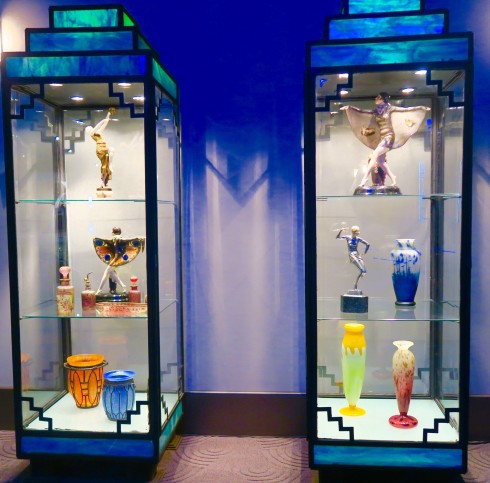 OK. Now I'm going to take you from the oldest to the newest cars in this collection.
This is a 1902 Panhard & Levassor. Never heard of them? Well all they did was design the first automobile with the engine in front and rear wheel drive. It's held up pretty well I'd say. I had no idea there were cars this advanced and sophisticated in 1902. This was six years before Henry Ford came out with the Model T. They made cars up until 1967.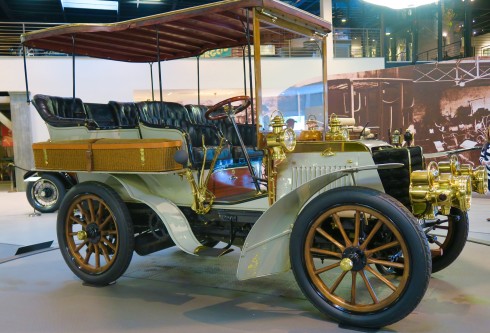 Here's another French auto manufacturer you probably have never heard of. The Richard-Brasier company was not around for long, but it did produce some very good race cars.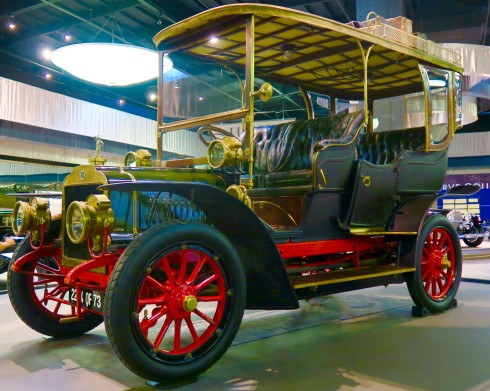 The Renault brothers founded the legendary car company in 1899 and it's still going strong today. This strange looking hybrid between a car and a carriage was specifically designed for the North American market utilizing a body design by the Brewster company of the U.S.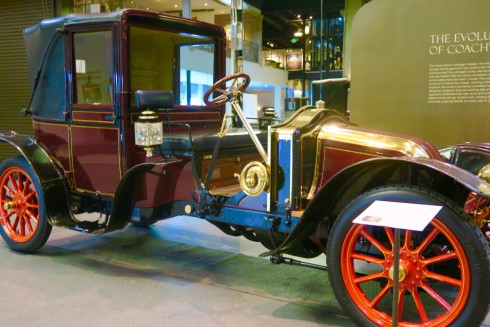 Here's another Panhard & Levessor which looks like it was designed by Louis Vuitton.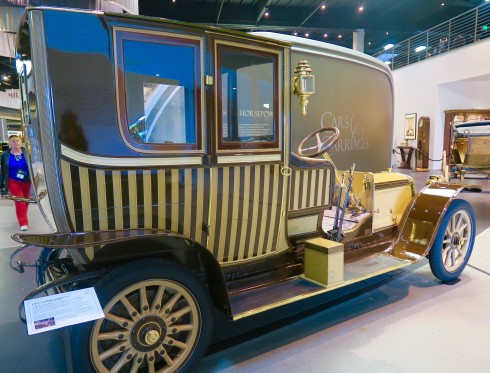 This blue beauty was designed by Ettore Bugatti and outsourced to Peugeot for production.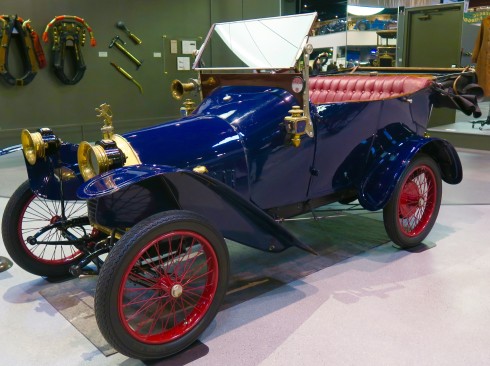 Hispano Suiza was a Spanish auto manufacturer which produced a six-cylinder all aluminum engine for this beautiful wood framed body in France.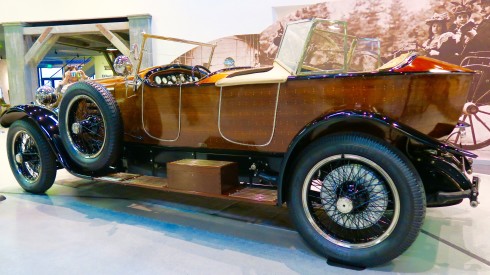 Here's the front view.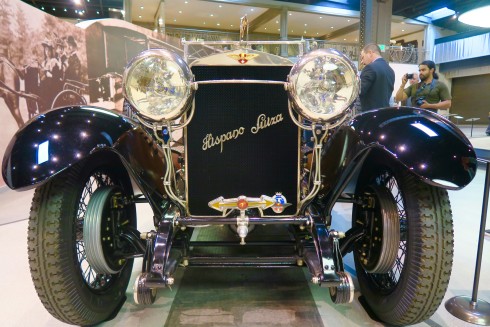 This Renault Phaeton Landaulet was designed to be chauffeur driven and was popular with politicians and other public officials.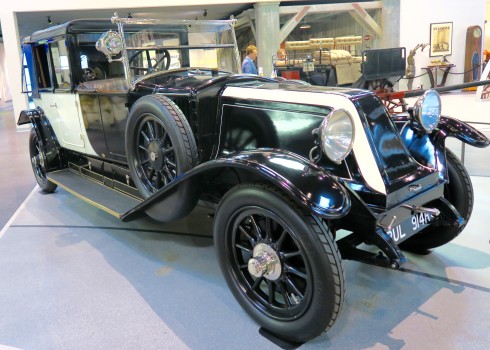 Lorraine-Dietrich was another French car manufacturer that operated from 1896 to 1935. This sport roadster is considered to be their ultimate creation.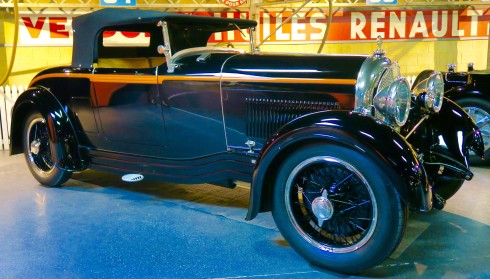 So now we get to our first true Bugatti. I had always wrongly assumed that Bugatti was an Italian car manufacturer, but while the Bugatti's were originally from Italy, their cars were designed and built in France. This one was designed by a very young Jean Bugatti.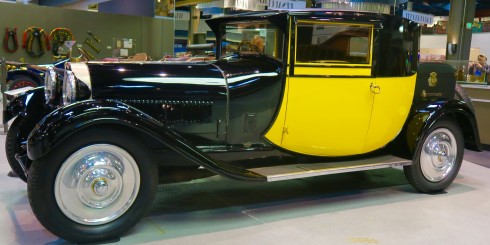 Here's a 1930 Bugatti Cabriolet, once owned by Melina Mercouri. By now it should be obvious that classic French auto makers were anything but staid in their choice of colours.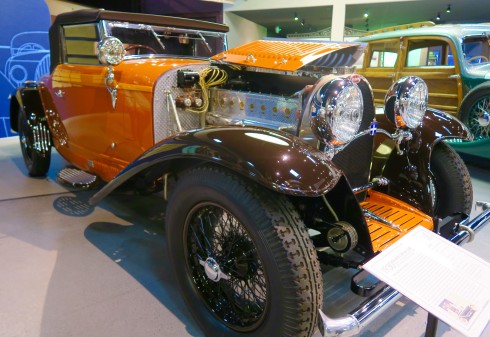 The third Bugatti and third different colour scheme is this 1931 Type 50 which is one of the most sought after cars in the world. Expect to pay in excess of $1 million for your very own.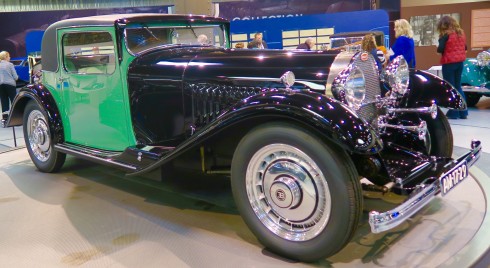 This may well be the most gorgeous car in the museum. This 1935 Hispano Suiza Cabriolet  with a V-12 engine was one of only eight ever produced.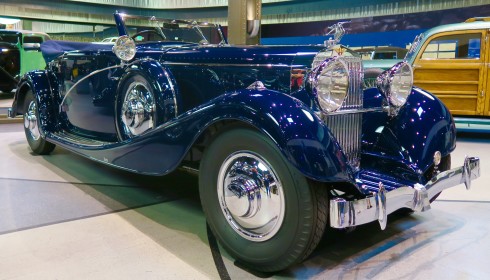 Everything about this car is classic including the hood ornament.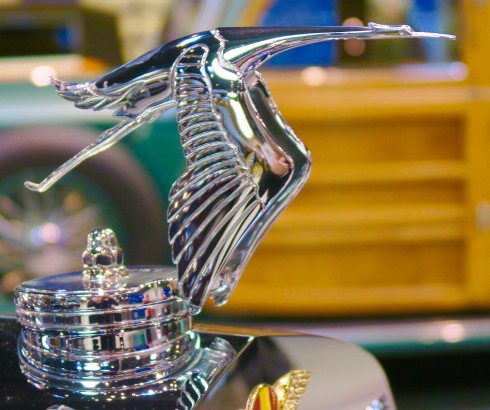 Delahaye is yet another extinct French car maker, operating between 1894 and 1954. This V-12 coupe was one of only a dozen or so manufactured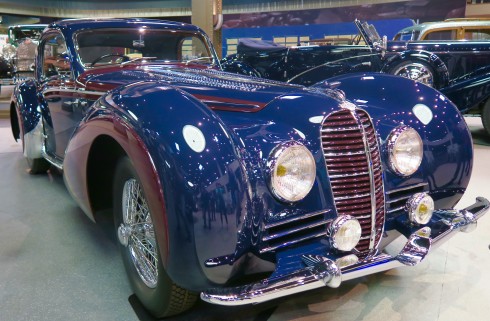 Maybe I spoke to soon about 1935 Hispano Suiza being the most beautiful car in the collection. This 1937 Hispano Suiza must be the ultimate woody wagon.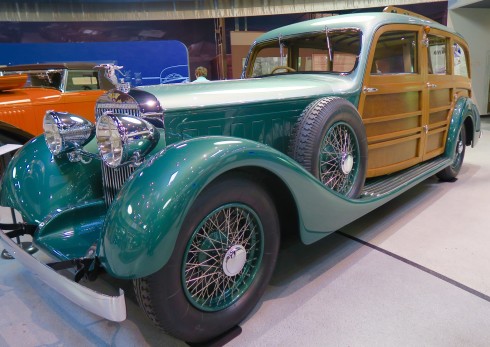 This 1948 Delahaye was made for racing and won more than its fair share. Note the belts that hold the hood in place.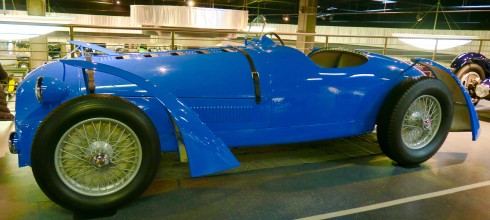 By 1951 Ettore and his son Jean were both dead and the Bugatti company was headed for extinction. But it was certainly going out with a bang and not a whimper.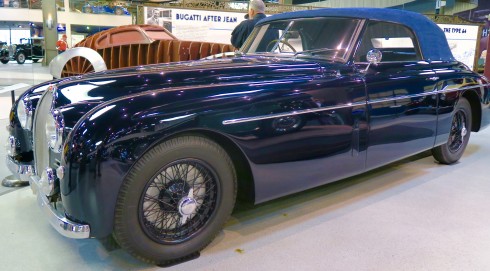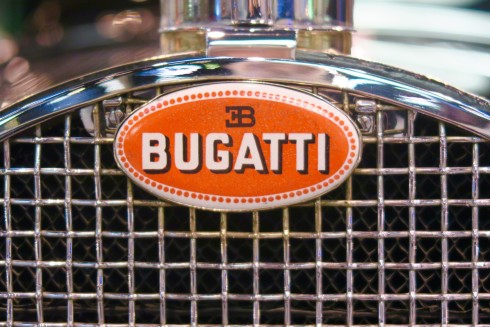 Bugatti did survive into the 1990's producing the EB110, but in Italy not France. It went bust in 1995 and although the glory days of French car manufacturing really ended in the early 1950's, it was one hell of a run of beautiful cars.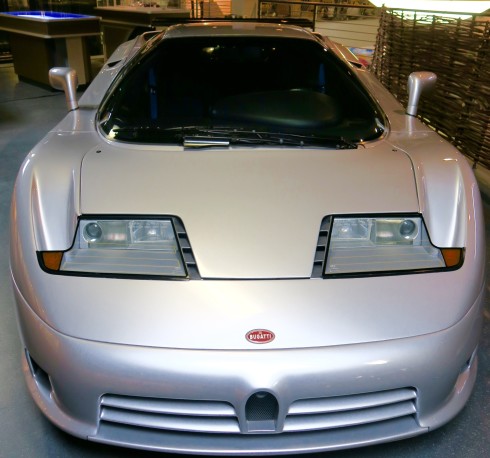 However, like a phoenix Bugatti again rose from the ashes when the Volkswagen group  bought the rights in 1998 and opened a manufacturing plant in Molsheim, Alsace which was the original home of the company. It now manufactures a tiny number of cars that retail for astronomical prices. Check out the website to see and dream about driving some of the most beautiful cars ever made. At a visit to Los Angeles a year later I did spot a number of Bugattis in a city noted for its fabulous motor cars.
Aside from classic cars the Mullin Automotive Museum has a collection of winning vehicles from the 24 hours at Le Mans. They are lined up side by side on the second floor.

There is also a great view looking down at the cars on display below.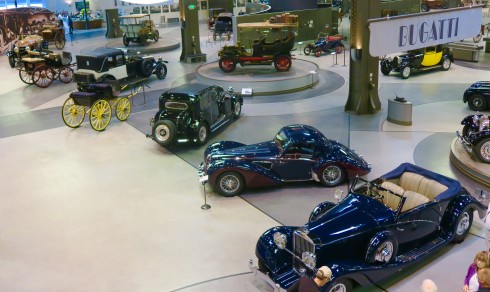 I hope you've enjoyed this tour of the Mullin Automotive Museum and I'll sign off with my favourite picture from the museum. They didn't have to go out of their way to prepare this banner just for my visit.

If you are a lover of exotic cars and are in the Los Angeles area visit the much more famous Peterson Automotive Museum which I did with my grandson Charlie in 2019. It has a super collection of 'celebrity' cars like Magnum P.I.s 1982 Ferrari 308.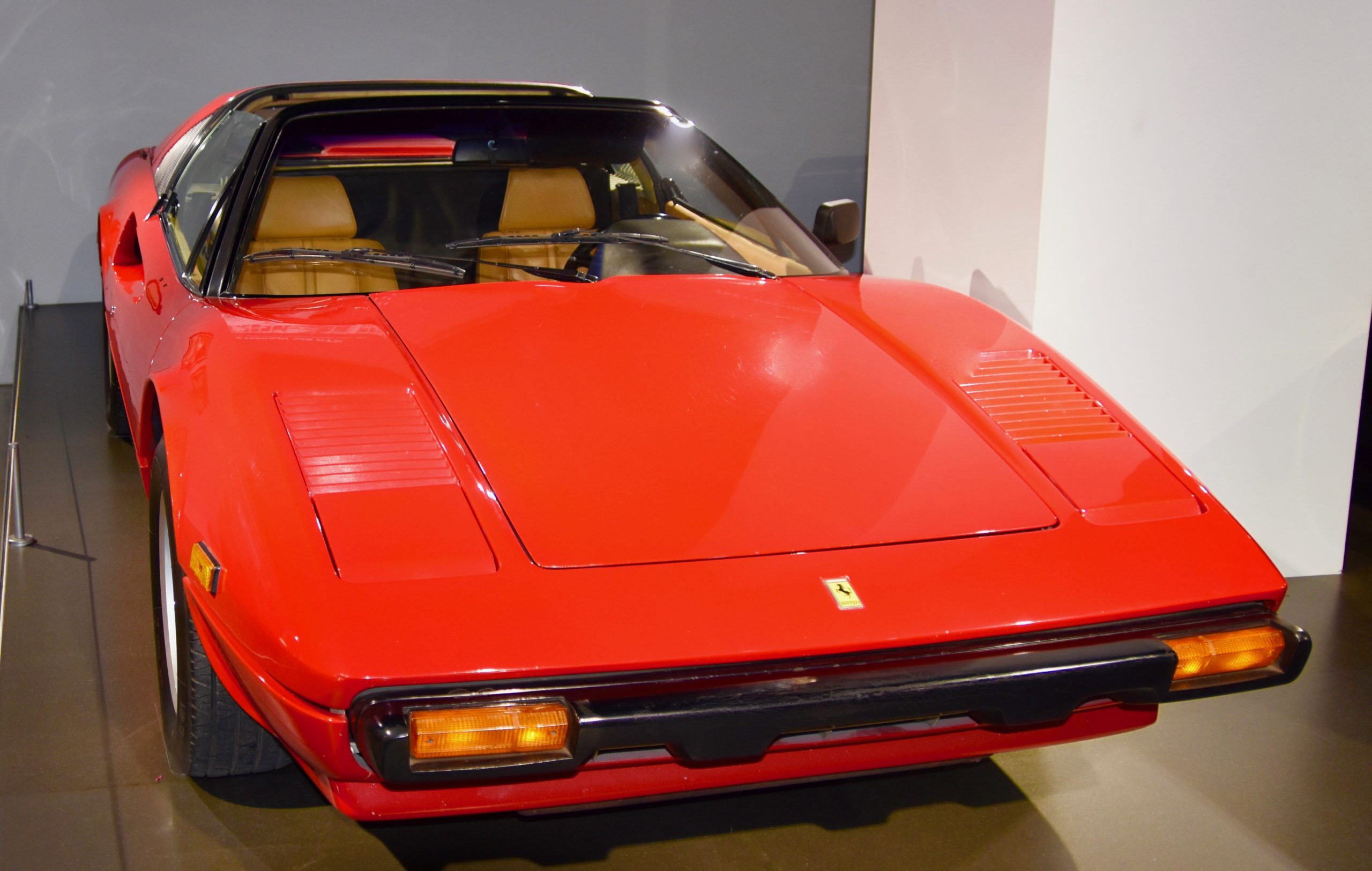 If you are in the Oxnard area make sure to visit its close neighbour city of Ventura which I wrote about in this post.