Caledonia Golf and Fish Club – Hole by Hole
Just finished a nine course visit to South Carolina and this is my first post on the courses we played. I found Caledonia Golf and Fish Club to be exceptional enough to rate a hole-by-hole description with accompanying photographs.
Caledonia Golf and Fish Club is located in the community of Pawley's Island which is just south of Myrtle Beach and would count as one of the 100+ courses you can play in the area. It was an easy drive south from where we were staying on Ocean Drive in south Myrtle Beach. It's a semi-private club that accepts tee times from visitors. By Myrtle Beach standards, it's on the pricier side, but having played the course, it's worth every penny.
Myrtle Beach golf courses offer a wide variety of terrain and layouts, but to my mind, what really makes for great Myrtle Beach golf are the courses that are situated in the classic South Carolina Low Country. The combination of water, marshlands and live oak trees draped with Spanish moss is a magnet for wildlife and photographers. The fact that there is virtually no elevation change makes the transition from land to sea almost seamless and at certain times of day the light is just magical. Getting to play golf in the midst of all this is just an added bonus.
History of Caledonia Golf and Fish Club
Caledonia, which is Latin for Scotland, was not just a name made up to capitalize on the connection to the home of golf, but rather a venerable name that goes back over 200 years to a rice plantation that once stretched over 2,500 acres and produced almost a million pounds of rice a year. The plantation house was burned down in 1931 and developers scooped up most of the acreage. By 1971 it was down to just over 150 acres when a group of sportsmen bought it to use for a fishing and hunting preserve, which it still is. The golf course was added later and opened for public play in 1994.
The course was designed by the late Mike Strantz, who was the antithesis of most of his modern contemporaries – he didn't want to move tons of earth to 'create' a golf course, he wanted to design one from what nature had presented him with. He was a native South Carolinian, quite at home in working with the challenges of designing a course in the Low Country.
Although the plantation house burned, the row of 150 year old live oaks that once led to the house from the old King's Highway, are still there and trust me, it's a beautiful way to drive up to the clubhouse. One of my friends I would be playing with has been to Augusta and marvelled at the similarity of the two approaches, albeit Augusta is magnolias and Caledonia Golf Club is live oaks.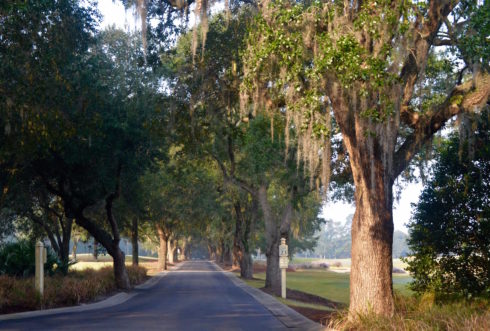 The clubhouse is not ostentatious and fits in very well with surrounding landscape. We had an early tee time and I grabbed a coffee and walked out to the verandah which faces the water and was greeted with this view of the 18th green. As you can see it was dead calm and very pretty. One thing you can't see is houses – there are none on the course. It's a golf course and not a residential development with a golf course attached. To me that makes a lot of difference in selecting which courses to play at Myrtle Beach or anywhere else for that matter. So let's go play the course.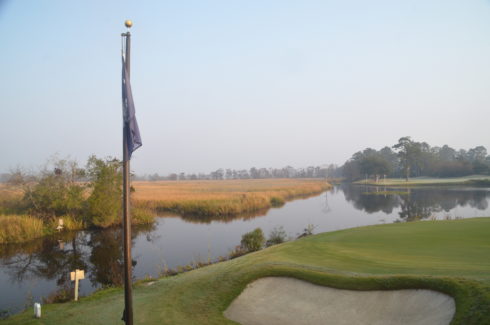 Caledonia Golf and Fish Club #1 – 319 Yard Par Four
The most important decision to be made at the beginning of every round is what set of tees to play from. In my experience most non-scratch golfers, always play from tees that are too long for their game, leaving them with impossibly long second shots that inevitably lead to higher than necessary scores. That leads to frustration, five hour + rounds and often an unfavourable impression of the golf course, even though the mistake was in choosing the wrong tees. Ever since the Play it Forward program was launched, I have been a firm believer. Hey, I like good scores and fast rounds. Who gives a shit if I played from the forward tees?
That being said we still decided to play from the blues at 6121 yards which is at the edge of my comfort zone. However, the starter, a wiser man than us, recommended the white tees at 5,710. He said the course would play longer than this and having completed the round, he was right. It was a perfect distance for us. If you don't like wood ducks you can choose from a pintail, mallard or canvasback on other tee boxes.
I really like the tee box markers at Caledonia Golf Club. They are all duck decoys, something that the Low Country is noted for. This is the wood duck tee marker on #1. He's a bit worse for wear, but most markers were in better shape. I didn't realize that Donald Trump took his hair shape from a duck, but…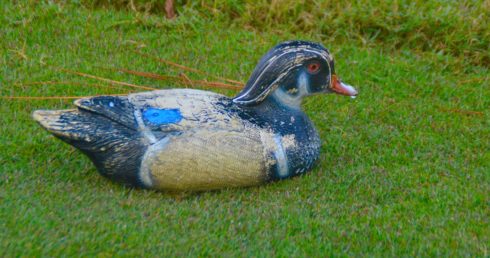 Here is the #1 hole which played into the morning sun so the photo is not great. It runs down the right side of the entrance way and at just over 300 yards is a pretty benign start. I like that – who wants an eight on the opening hole?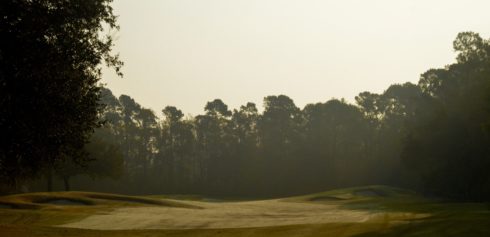 Caledonia is strictly a Bermuda grass course, fairways and greens, which makes for a smooth transition if you like to run the ball up or even putt from well off the green. Conditioning was genuinely excellent. 90° rule on carts. Just a great morning to be playing golf.
#2 – 516 Yard Par Five
The course starts to bare its teeth on #2 which plays over 500 yards and requires three good shots in a row, a semi-miracle for me. This hole is a good example of many of the Myrtle Beach courses that are somewhat inland with the typical Carolina pines  lining the fairway.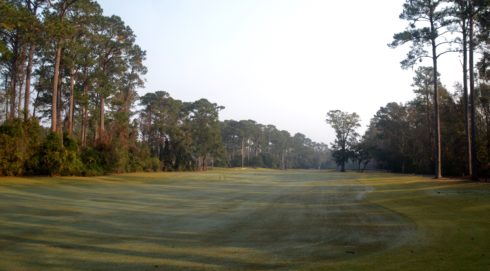 I did hit a good drive and fairway wood and was faced with this shot for my approach. Still a mile away.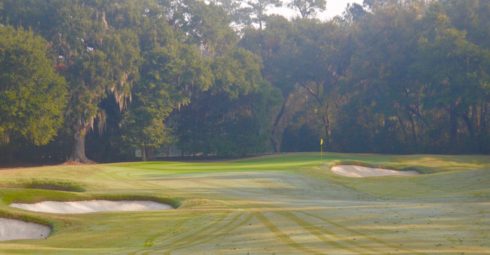 Caledonia Golf & Fish Club #3 – 153 Yard Par Three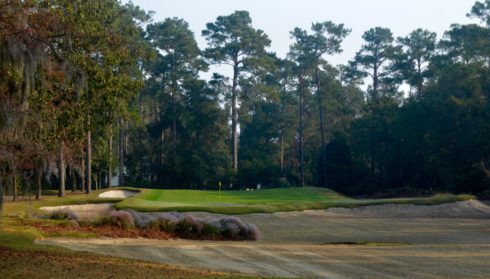 This is where the course really starts to get interesting. This 156 yard par three is all carry with no room on the left and very little on the right. It's a very large green so even if you make the carry, a three putt is not out of the question.
 #4 – 322 Yard Par Four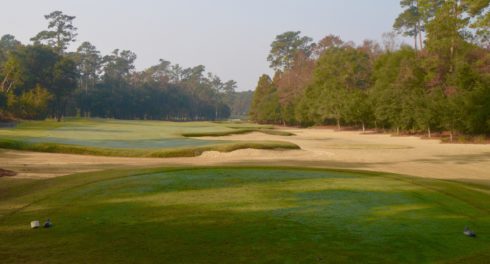 #4 is a short par four dogleg right that plays longer than the yardage. The landing area to make the proper approach shot to a very small green is not that large. A wood off the tee is the sensible play.
 Caledonia Golf and Fish Club #5 – 347 Yard Par Four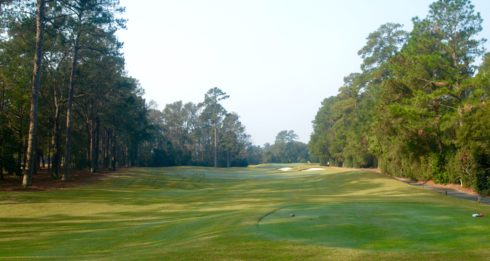 I really like this hole because it's perfect for my left hand fade, (actually slice more often than not). It's the toughest hole on the front nine, but that's because it's a very difficult driving hole for right handed golfers, which is the vast majority. There's an elevated green that's pretty small. Four is a good score here and five should be acceptable for most.
#6 – 120 Yard Par Three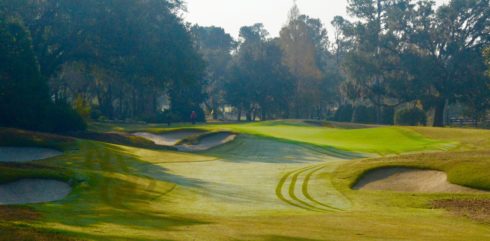 The second par three and another beauty to look at. The biggest problem here is avoiding the branches of the trees that protect the green on both sides. It's not very long so a good high approach will take the branches out of play, but still it's a visually intimidating tee shot.
 Caledonia Golf and Fish Club #7 – 323 Yard Par Three

Mike Strantz gave left handers a break on #5, but now on #7 he's done the opposite. There's nothing but trouble all the way down the left hand side of this hole, from tee to green. To make matters worse, you need to be on the left hand side of the fairway to avoid the huge live oak that perfectly guards the green from a right side approach. Once again, putting away the driver and using a wood off the tee is the only sensible way to play this hole. Off course, I didn't listen to this advice I gave myself and promptly hit my drive in the drink. First double of the round and no doubt not the last. Idiot!
#8 – 477 Yard Par Five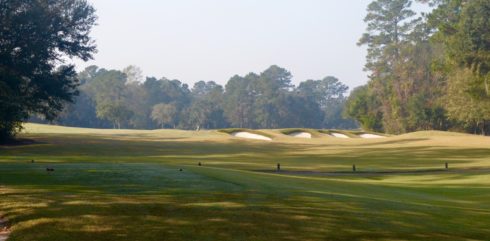 #8 was my favourite hole on the front nine and not just because I parred it, but because I played it the way it was meant to be played, at least by a middle handicapper. At 477 yards it's not the longest par 5 in the world and theoretically I might get close to the green in two with a great drive and three wood. There's only one little problem – there's a quite wide water hazard that would be impossible for all but the longest hitters to clear on their second shot.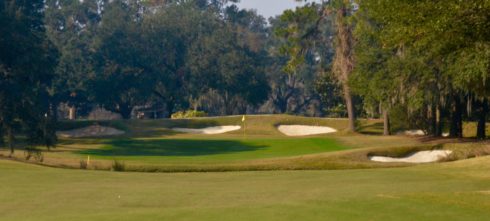 After the idiocy on #7 I did take my advice on this hole, hitting a wood off the tee, using the range finder to get the proper yardage for the layup, actually making the layup, pitching on with a short wedge and two putting for par. Reading that back, there's a lot that could have gone wrong and didn't. The picture shows my position for the third shot at about 90 yards away. #8 is a hole that will reward patience and punish needless bravado. The water hazard must have had a hundred balls in it.
 Caledonia Golf and Fish Club #9 – 92 Yard Par Three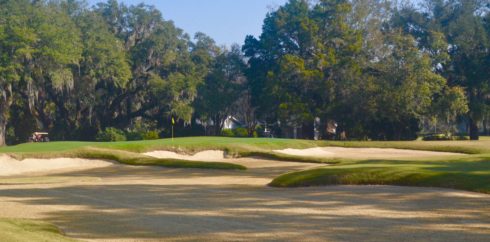 The third par three on the front is a ridiculously short 92 yards. The only problem is that the green has little depth and today the pin is placed at the very front – a sucker's pin for sure. Even though I know that, I'm pumped after playing the last hole properly and decide that I can get close with the right wedge, but which one? I don't have a clue, pick a sand wedge and appropriately enough, get to hit it twice in a row as I come up short. Nice bogey, pinhead.
#10 – 518 Yard Par Five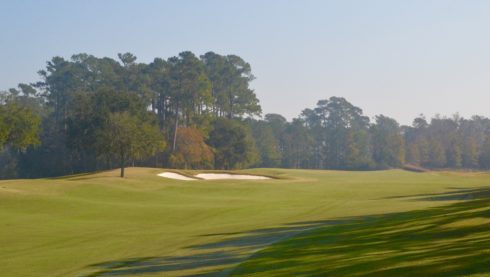 By now my partners and I are completely at home on this golf course. Our pace of play is perfect, the dew has burned off, there are no artificial distractions and it just feels that today is the type of day that is made for playing golf. So let's see how the back nine turns out.
#10 is the only par five on the back and it's mid-distance lengthwise for my handicap, but quite parable if you just keep it in play. There's lots of room to hit a driver, just avoid those bunkers on the left. The second shot is also wide open, and if you're like most golfers, you'll still be at least 150 yards out for the third shot which is to a small green. Like #8, three decent, not necessarily great shots, will reward the patient golfer. Don't ask what I did.
Caledonia Golf and Fish Club #11 – 150 Yard Par Three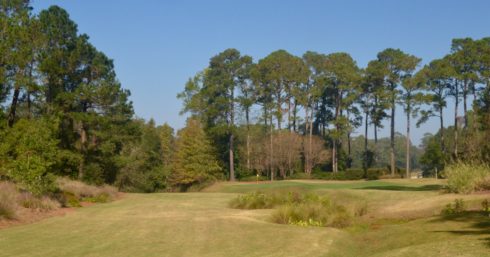 #11 is not rated a hard hole, but believe me, for left handers, it's one tricky little bastard. With a natural fade this should be an easy shot – just take it out to the right and let it drift left into the green which runs in the same direction as that ball flight. It doesn't really show in this picture, the problem is that there are trees on the right hand side that make this type of shot tricky. Avoid the trees and you should have a birdie putt. Hit them like I did and you fight for a bogey. However, it's a very pretty hole to look at and next time I'll choke up on a 5 and go right at the pin.
#12 – 384 Yard Par Four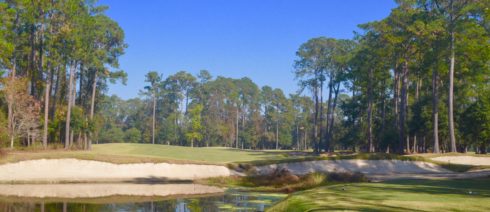 Things start to get real serious starting on #12. This is a 384 yard par four that requires a half decent carry over water and sand and then what, for most, will be either a wood or a hybrid long iron to another green that is protected by a big live oak. I'm starting to think that Mike really had a thing about live oaks because he left enough of them around the greens to make one think about carrying a chain saw for the next round. Seriously though, live oaks are majestic trees that, to me, symbolize the south and I never get tired of seeing them, even if they do have a propensity for getting between me and the pin.
 Caledonia Golf and Fish Club #13 – 354 Yard Part Four

For me, #13 is the absolutely perfect driving hole as the fairway turns right to left and there's lots of room  to take it down the right side and let the ball do its thing. However, you'll notice that there's yet another well placed live oak on the left hand side which will block you if you play it too close to that side. Let's assume you have made that great drive, which is what I have to do, what next? Well, the reward is an absolutely hellacious second shot. The green is elevated with sand on both sides and water on the back. Nothing less than a perfect shot will have you putting for par and how many perfect shots does the average golfer make in one round? Beautiful approach to look at, mind numbing to play.
#14 – 343 Yard Par Four
By now you might have noticed that water is starting to come into play with increasing and annoying frequency. It's all down the left side on the extremely tight #14, but Mike gives you a break by putting bunkers alongside the water to save your poor ball from drowning. The only problem is that, once you are safely ensconced in the bunkers, there's – guess what? A huge live oak growing out of the middle of the last bunker. You can't go over it, under it or around it. Trust me, I tried all three. This hole can reduce a grown man to tears, but today there's a neat distraction once we finally found the green. The turtles are all keeping an eye on the sleeping gator. After adding up my score on this hole I thought about challenging the gator to a wrestling match, but my partners talked me out of it. Thanks guys.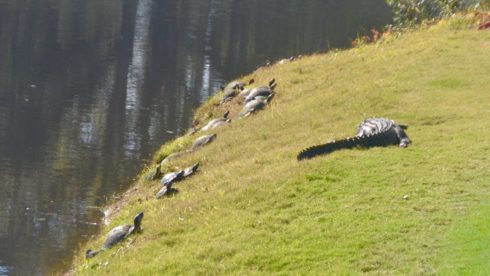 Caledonia Golf and Fish Club #15 – 423 Yard Par Four
#15 is a mere 423 yards. C'mon man! It's another big dogleg left, but making it to the turn is only possible with a huge drive. I simply said to myself, "It's a par 5", played it like one and got my par 5. Just an overpowering hole for all but the best.
#16 – 375 Yard Par Four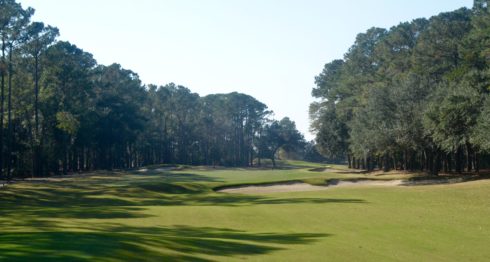 Just when I though things couldn't get any harder they did. #16 is the hardest hole on the course. At 375 yards it's going to require a pretty lengthy second shot into the green. Only problem is that there is a huge pond that almost certainly forces one to go over some portion of it. The sensible play is to forget about getting on in two, unless you've hit a titanic drive. Instead lay up on the left side of the fairway, pitch on and hope for a one putt. No word of a lie, that is the strategy I followed and actually made a putt for par. Yeah!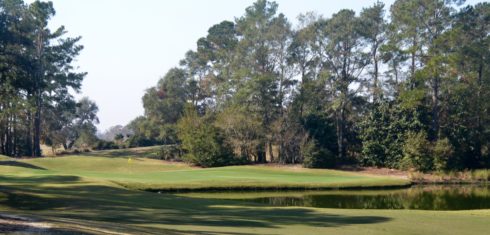 The stretch from 12 through 16 features the ninth, fifth, seventh, third and first hardest holes on the course, in that order. It's pretty brutal, but the holes are all interesting and if you remember that golf's just a game, you might retain your sanity in order to enjoy the two great finishing holes.
Caledonia Golf and Fish Club #17 – 132 Yard Par Three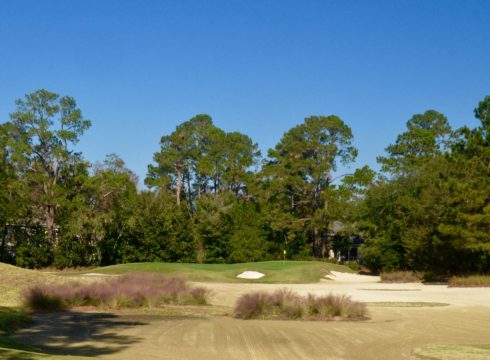 The last par three on the course is certainly no easy par. With an elevated green you can see that today's pin placement is not for the faint hearted or the left handed. The only thing I could do here was fire at the pin, knowing my shot would go left. It did, but not far enough. Hello Mr. Pot Bunker.
#18 – 362 Yard Par Four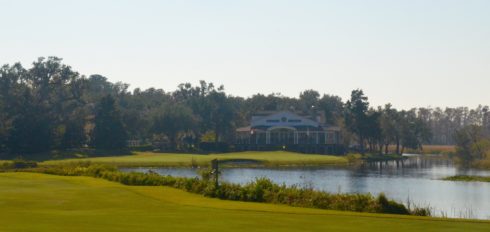 This is the hole that we were looking at from the verandah of the club house and I think it's the prettiest hole on the course. For once, the water is on the right hand side or so I thought at first, until I realized that it cut right across the fairway. No matter what there was going to be a substantial carry on the second shot. I'm sure they've had more than a few balls hit the clubhouse on this hole as nobody is going to under club. This was actually a real fun hole to play as all of us hit well positioned drives and only one caught the drink on the second shot. BTW, it wasn't me for once. Ending with a par made me forget the horror of #14 and put a smile on my face.
We played in under 3 hours and thirty minutes – the way golf should be.
At the beginning of this post I described the green fees as high by Myrtle Beach standards, but on reflection, this course is a bargain. It's the #3 rated public course in South Carolina, behind only the much better known Ocean Course at Kiawah and Harbour Town at Hilton Head which are way more expensive and require at least a forecaddie. I've played both and while they were great experiences, I enjoyed today's round just as much. Caledonia Golf and Fish Club should be on everyone's must play list and the top of the list for any Myrtle Beach golf vacation.
If you have played Caledonia, then you also need to play its sister course True Blue which is nearby and also a Mike Strantz design. Alison and I played it in 2018 and loved it as will any golfer I think.