True Blue Golf Course – A Hole by Hole Description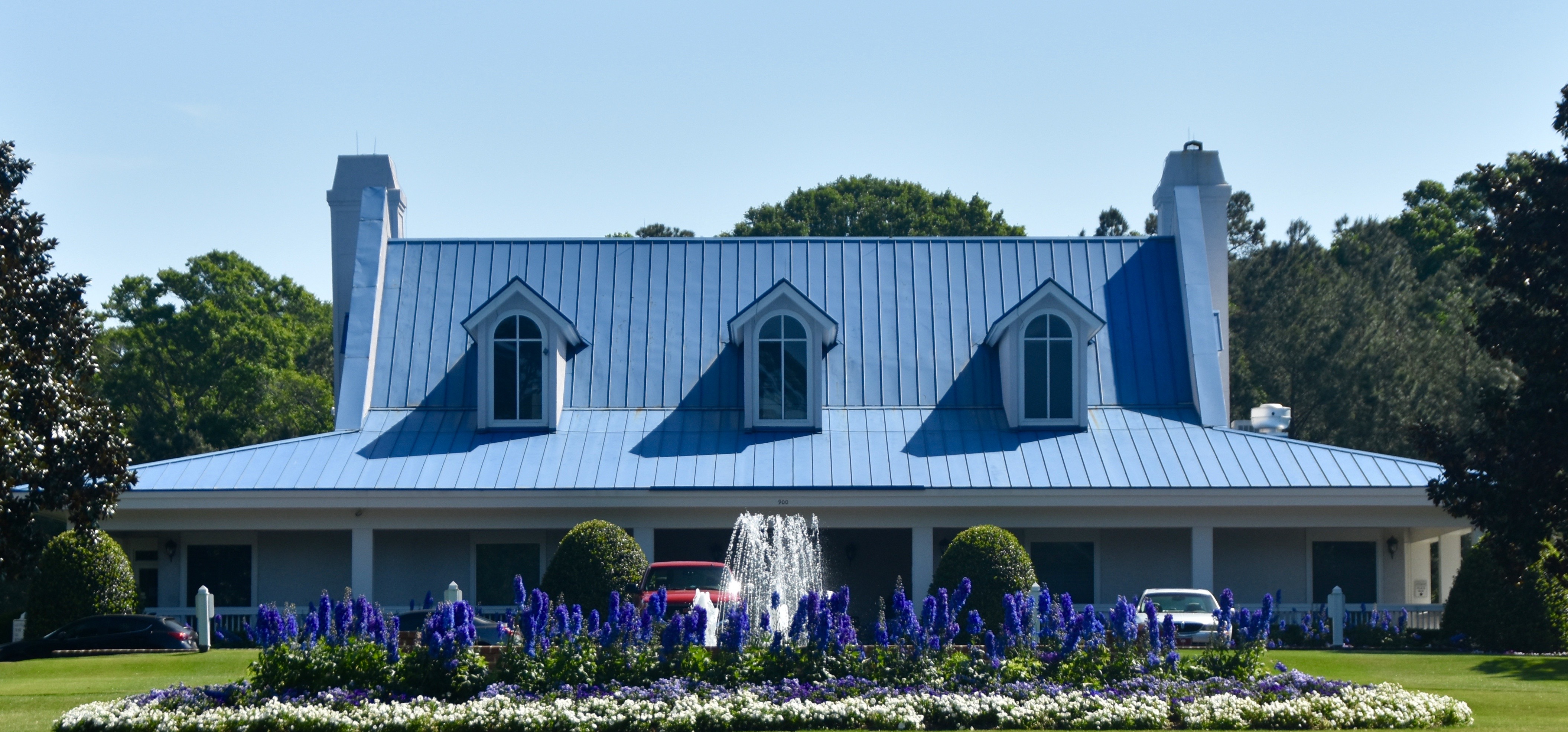 True Blue is the late Mike Strantz' companion course to the wonderful Caledonia Golf and Fish Club which I posted on during my last visit to Myrtle Beach.  While it does not have the natural beauty of Caledonia, True Blue is still a magnificent golf course highlighted by the outstanding hole design by Strantz. It is also one of the top courses on Georgetown County's Waccamaw Golf Trail.
Mike Strantz  was the antithesis of most of his modern contemporaries – he didn't want to move tons of earth to 'create' a golf course, he wanted to design one from what nature had presented him with.  He was a native South Carolinian, quite at home in working with the challenges of designing a course in the Low Country. In True Blue he did not have the tidewater location of Caledonia, but rather a piece of property that features the more typical Carolina pine lands with the occasional creek or stream, but no ocean.
Having just played the course I can attest that he rose to the challenge of creating something distinctly different from many of the inland cookie cutter courses of the Myrtle Beach area. It's not hard to pinpoint how – for me it was the thoughtful and imaginative hole design, particularly on the par fives, plus the extremely strong first six holes which puts one in a good frame of mind. It's not the conditioning which was good but not great – there were some sketchy parts of some greens. Anyway, let's go play True Blue and see if you agree with my assessment that it is a must play at Myrtle Beach.
#1 True Blue
If you've played Caledonia, which is tight, tight, tight, then your first reaction on seeing True Blue might be "What the f***?" Strantz had very little land to work with in Caledonia so he did the same thing Pete Dye did at Hilton Head – if it has to be short, make it narrow. At True Blue he had all the land he needed and it shows. The fairways are beyond generous, but there is a catch – they are often totally lined with waste bunkers. In fact there are no actual sand traps on True Blue – you can drive that cart almost anywhere. The only difference between the fairway bunkers and those closer to the green are that the greenside ones have sand that is less compacted.
True Blue can stretch to 7,126 yards for the truly masochistic, but has four other tees for the more realistic golfers. I'm a great believer in Play it Forward and given my handicap which is aging as fast as I am, I now usually play the senior tees, which in this case are 5,736 yards. The photos are taken from these tees.
We were playing early in the morning and the first few holes were right into the sun so please forgive the quality of the first photos.
#1 is a par five that is the hardest rated hole on the course. This is where the brilliant hole design comes in to play. The above photo shows the landing area if you've hit a decent drive. Note how wide the fairway is with a waste bunker down the left hand side. If you are playing from the appropriate tees for your handicap this is always going to be a three shot hole. I found this out the hard way by smacking a three wood and having it trickle into a small stream that guards the elevated green. There is no way I could ever reach the green in two.
The proper way to play the hole is to lay up to where I took this photo and wedge it on. BTW, the carts do have GPS, but as the first group out our's was not calibrated and I didn't want to wait – what else is new? With the GPS you would know there was a stream in front of the green and I presume make the right play.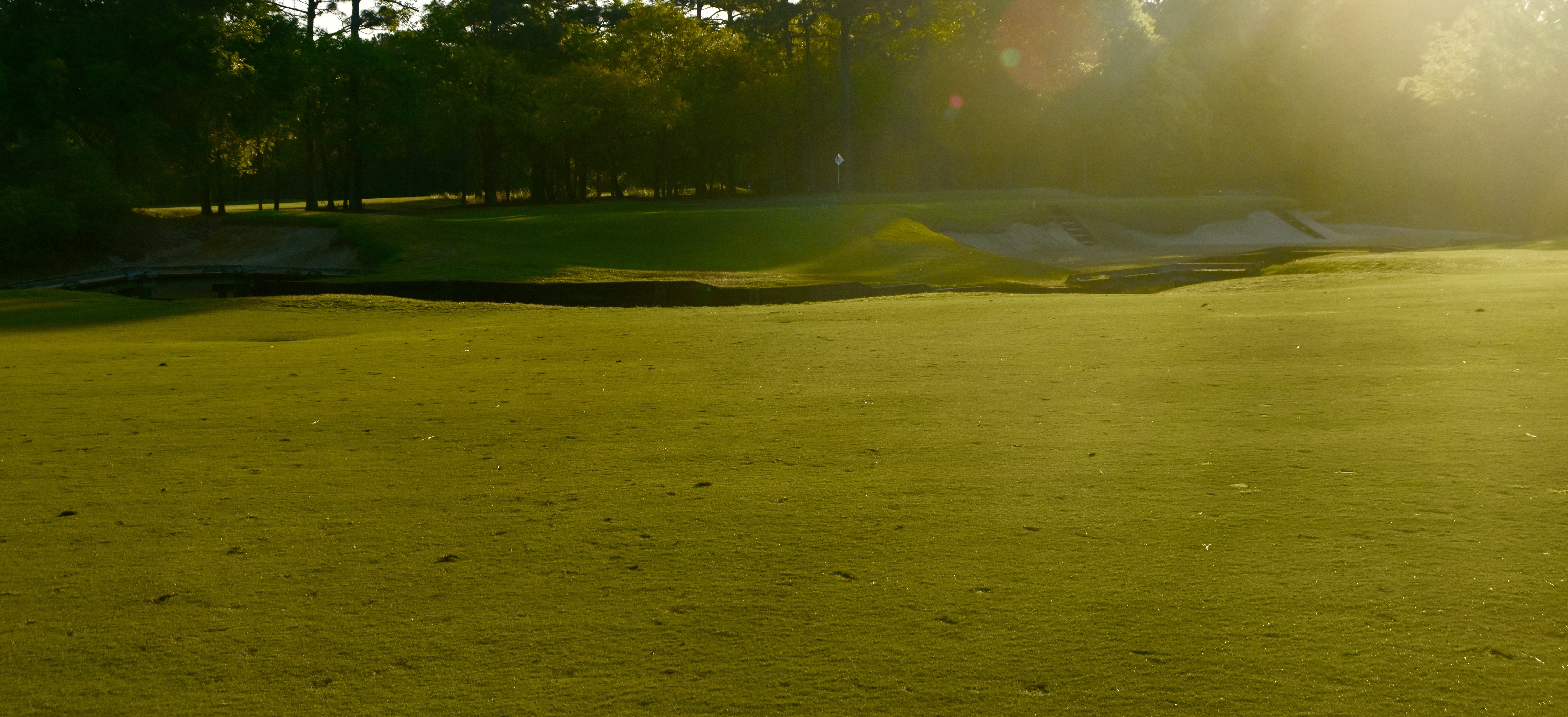 The greens at True Blue are of average size and reasonably fast. Given our early play they were still wet from the sprinklers so I probably didn't get a taste for how fast they actually are. There is also not of undulation in them, but there are subtleties that caused me to misread a lot of puts, usually assuming too much break – maybe another factor of the wetness. In any event, I found them fair and there was no reason to three putt almost every hole as I and others have been known to do on tricked up greens.
#2
Again, sorry for the shitty photo. This is the first of many quite short par fours that call for brains and not brawn. It is a blind tee shot to a dogleg right and the course map will give you a better idea of what you are facing.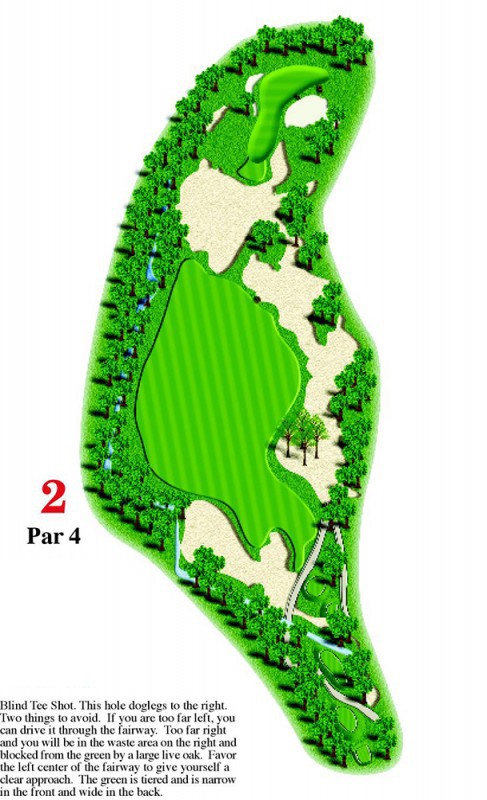 It's only 271 yards so all you need to do is hit a 5 wood to the fat of the fairway. The difficulty is the second shot as the green is long and narrow. The pin was at the very front which made it next to impossible to get close to. Still, I like a hole that does not require a driver, but does demand good control of the short irons for the second shot.
#3 True Blue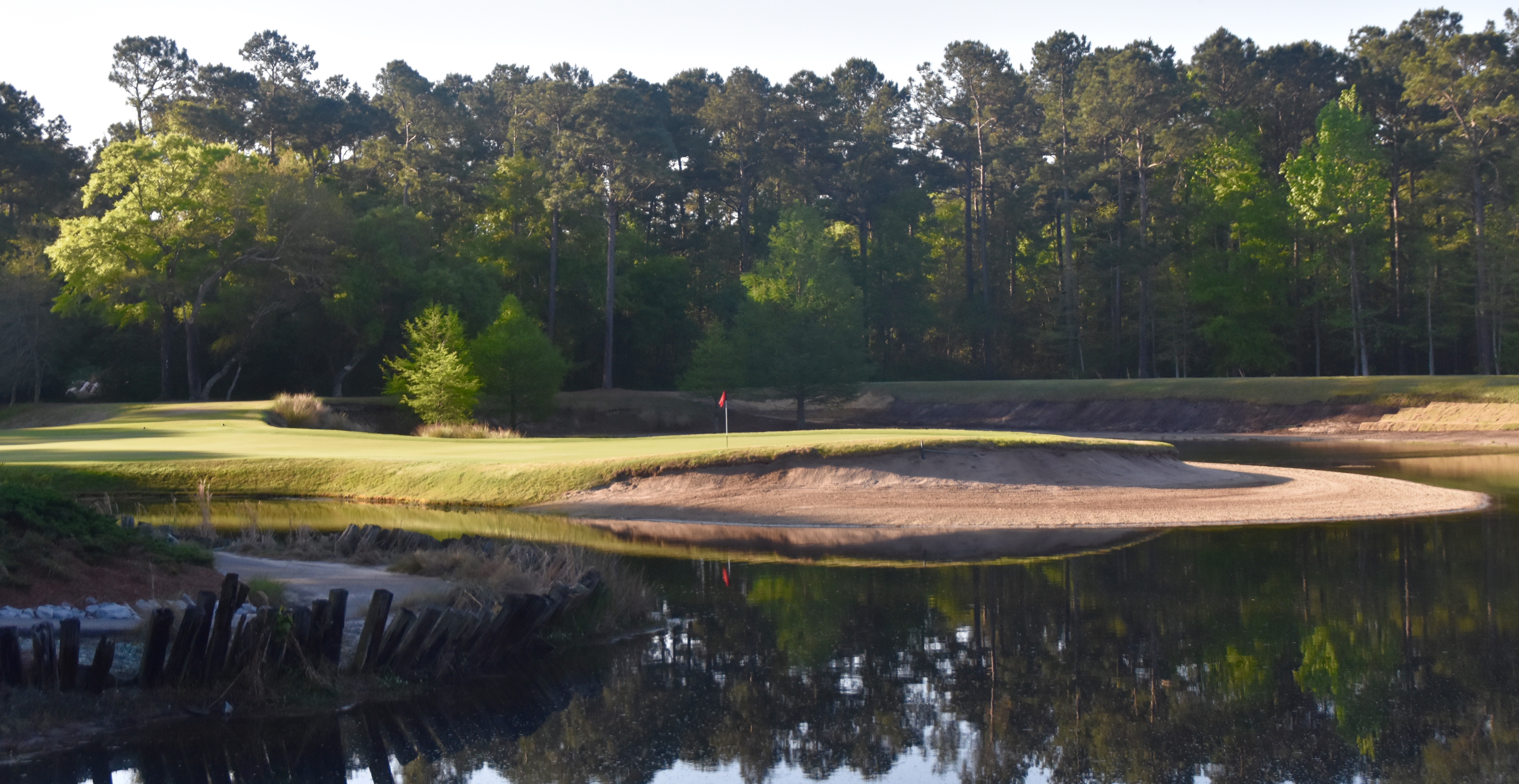 This is the first of  five par threes, most of which are top calibre holes including this one. I've never played a course where so many of the bunkers tapered off to a water hazard. Obviously this is 100% carry so club selection is everything – chose the right club and this is an easy par, chose the wrong one and expect double-bogey.
#4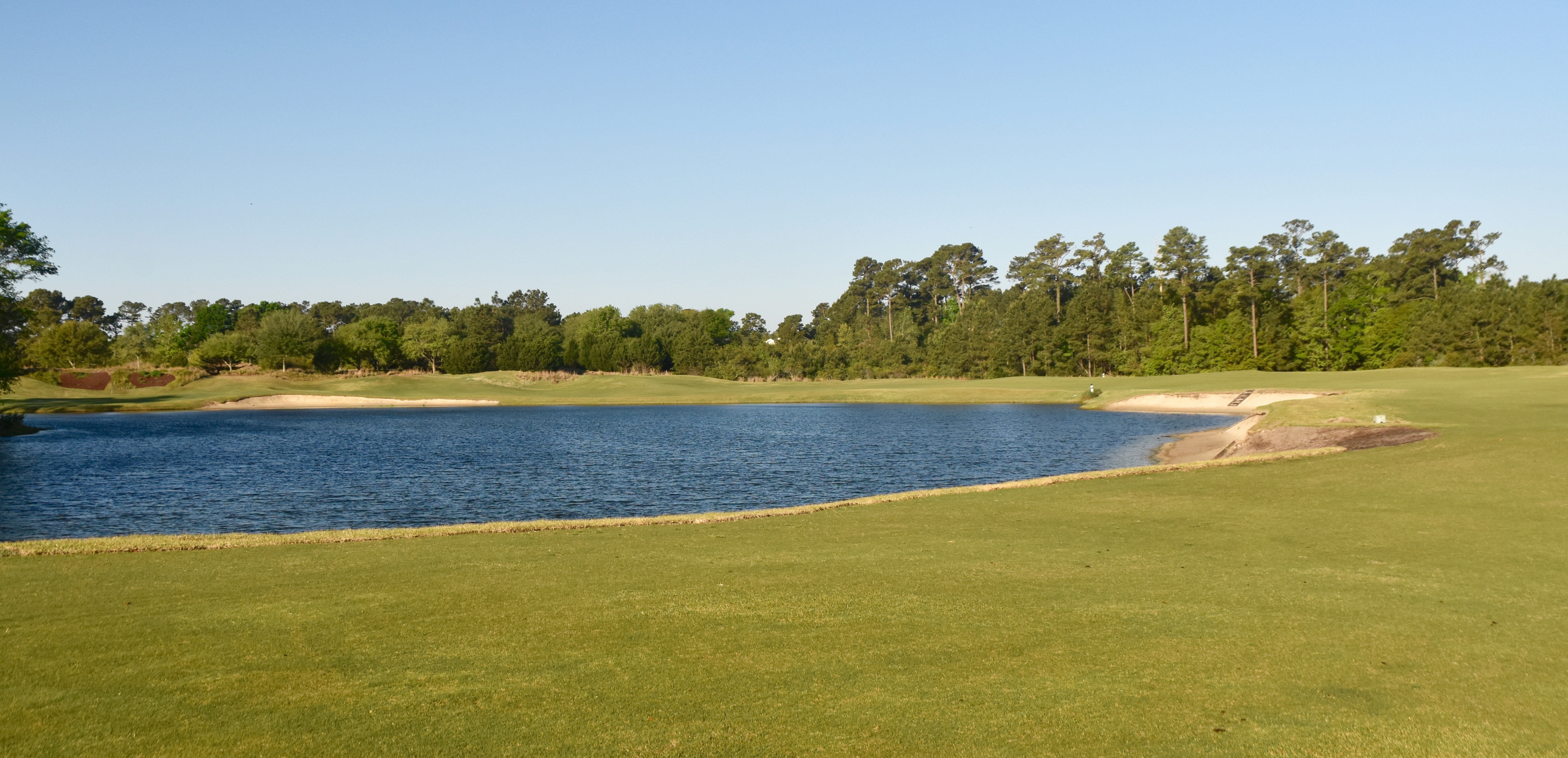 Another strong par five using the classic modern technique of circling a pond and daring the big hitters to go for it in two. Not being John Daly, most people will play this as a three shot hole. Just in case you're tempted, this is what a second shot carry of 210 yards looks like.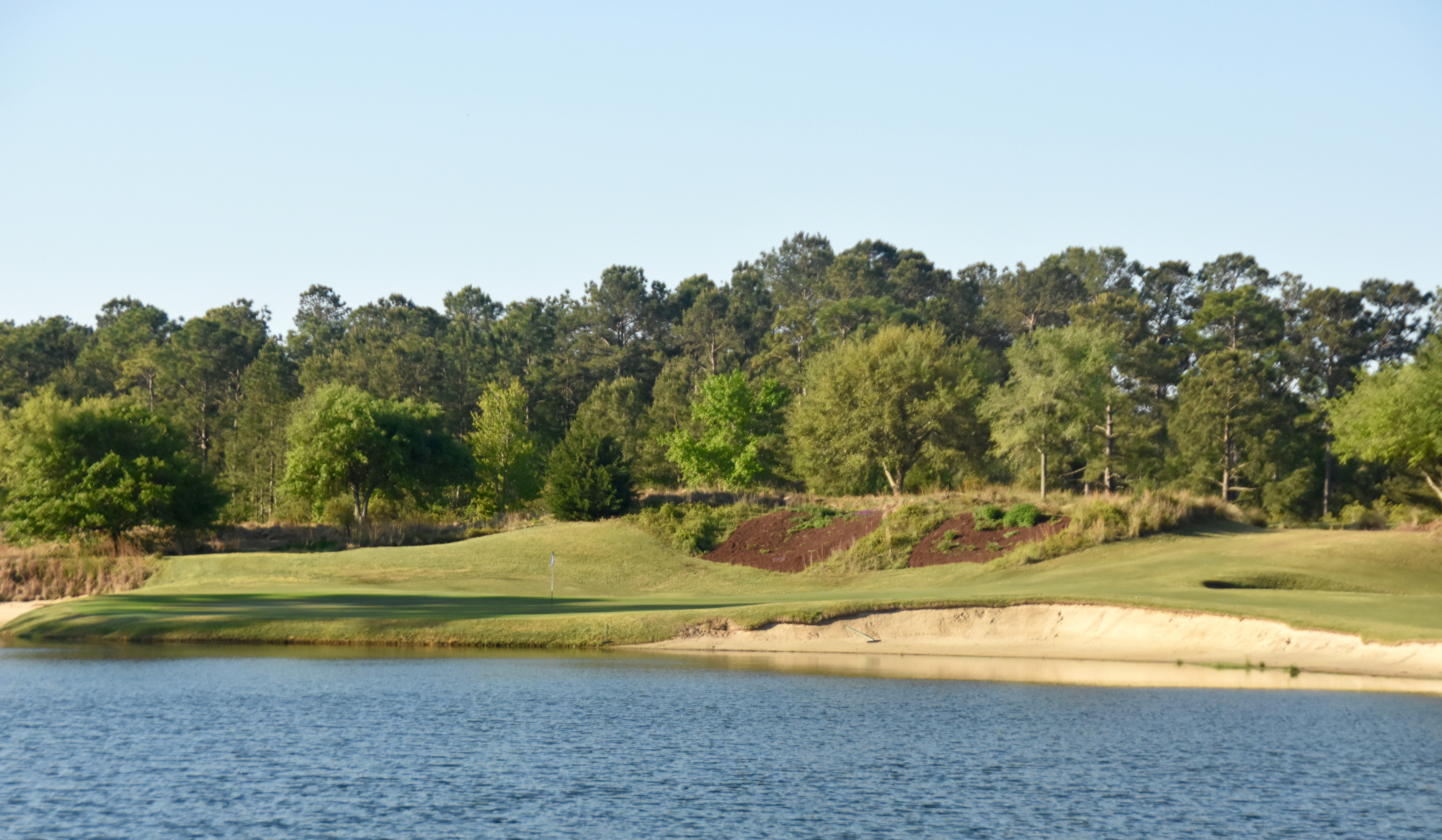 #5 True Blue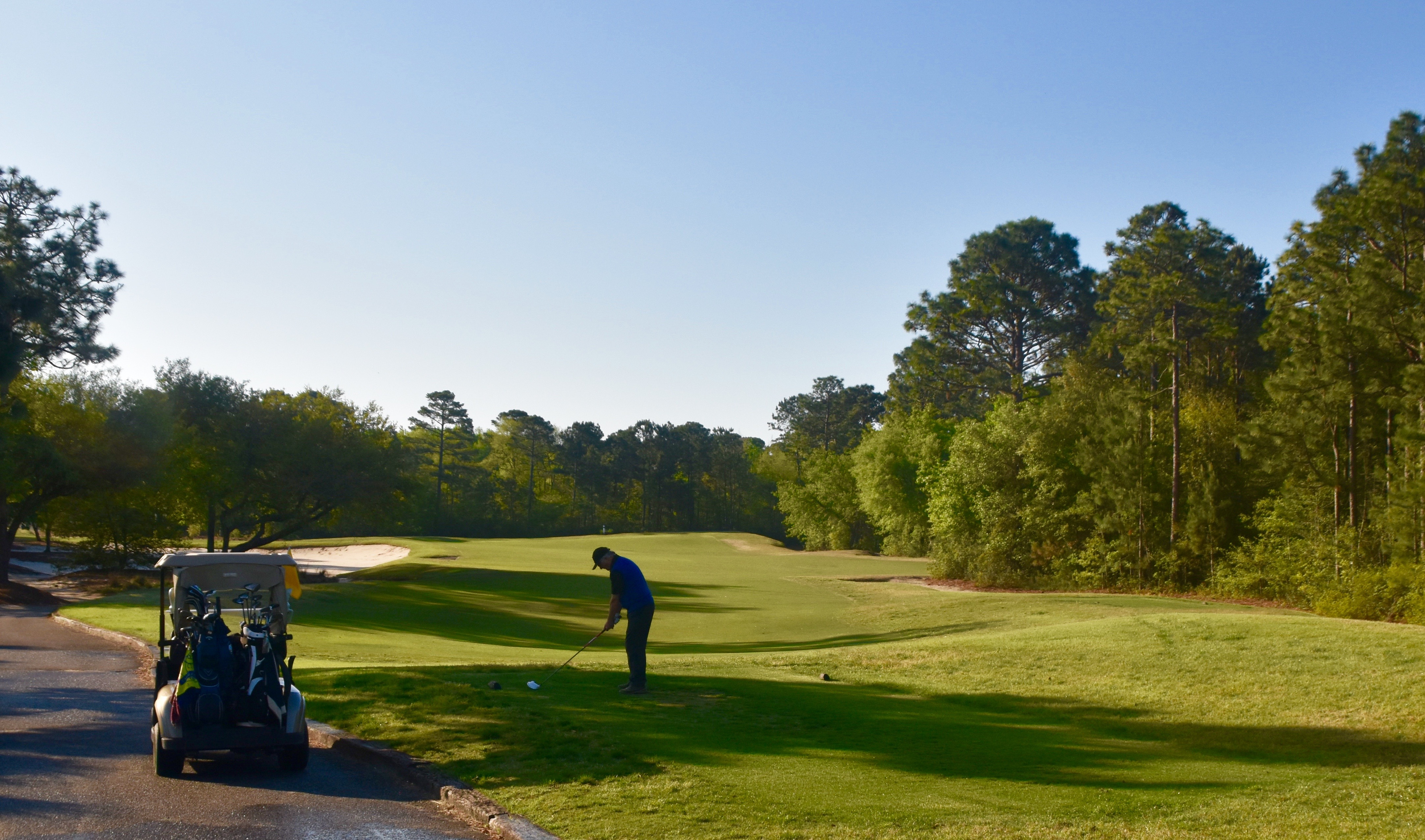 #5 is a dogleg left that requires avoiding all the crap down the left hand side to get a decent chance to reach the green in two. Definitely a driving hole. If you do get that straight drive it's still going to be at least 150 yards in for the shorter hitter. Rated as the #13 hole, I thought #5 played a lot harder than that.
#6
#6 is truly a Mickey Mouse hole. Coming to the tee you see this sign and wonder what it means. Is there a wrong green to play?
Teeing off I had no idea what it meant so I just tried to hit it down the middle. Easier said than done, as I went way left, but the fairway is so wide that I don't think even Phil Mickelson at his wildest, could have missed this fairway.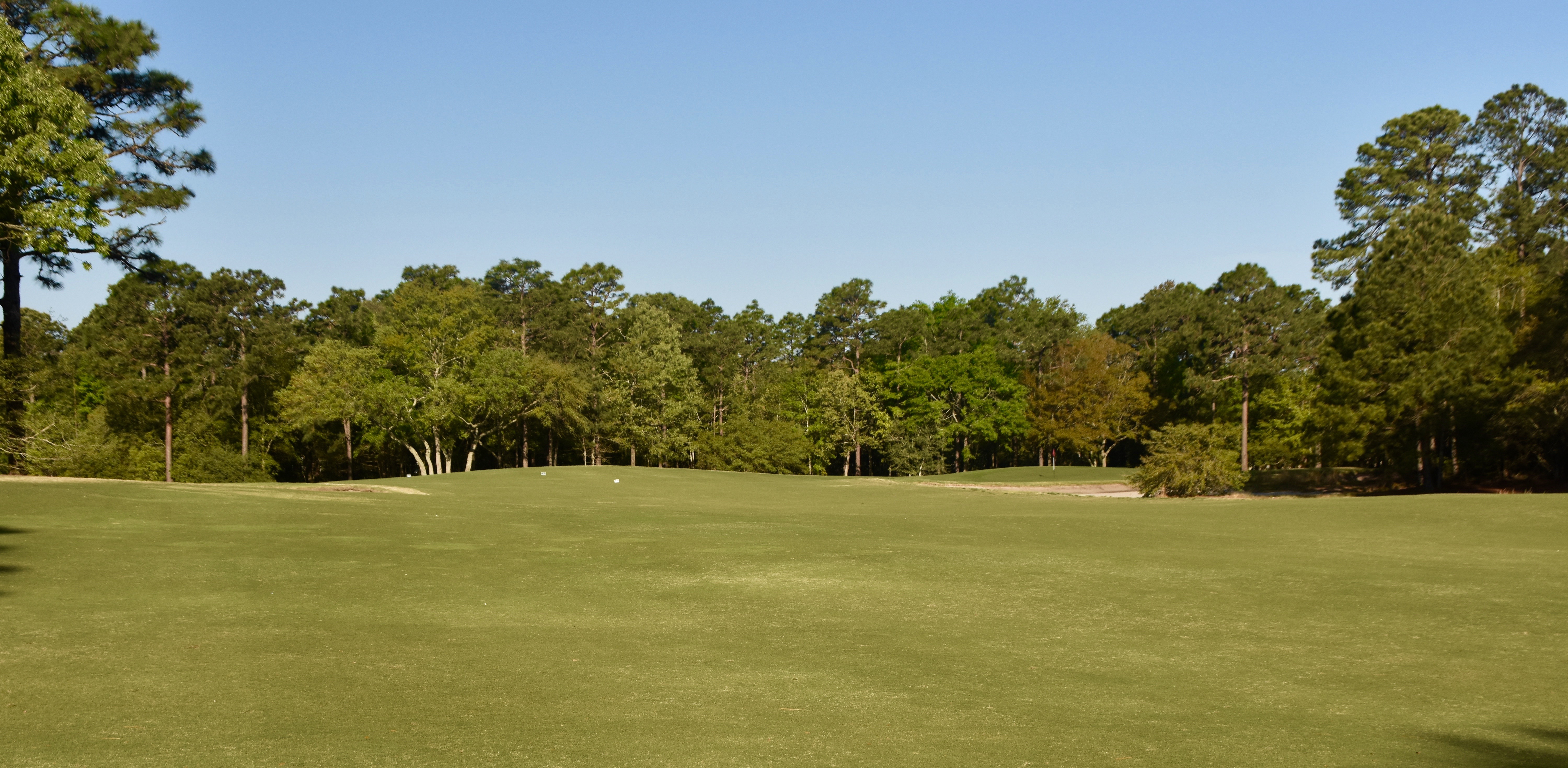 Driving to my ball I then realized that yes there was a right and wrong green. The right green had a pin in it and the wrong green on the left had none.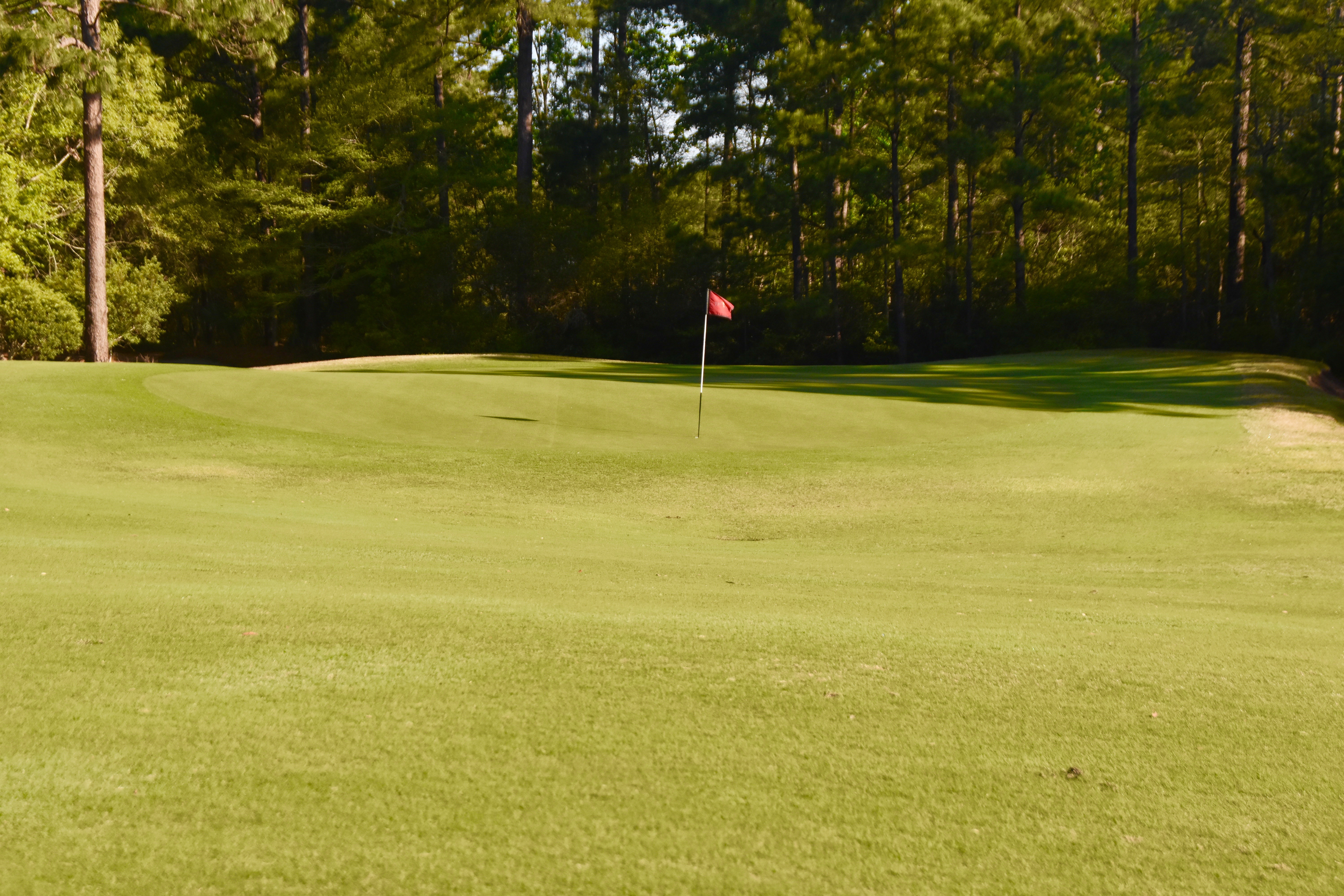 And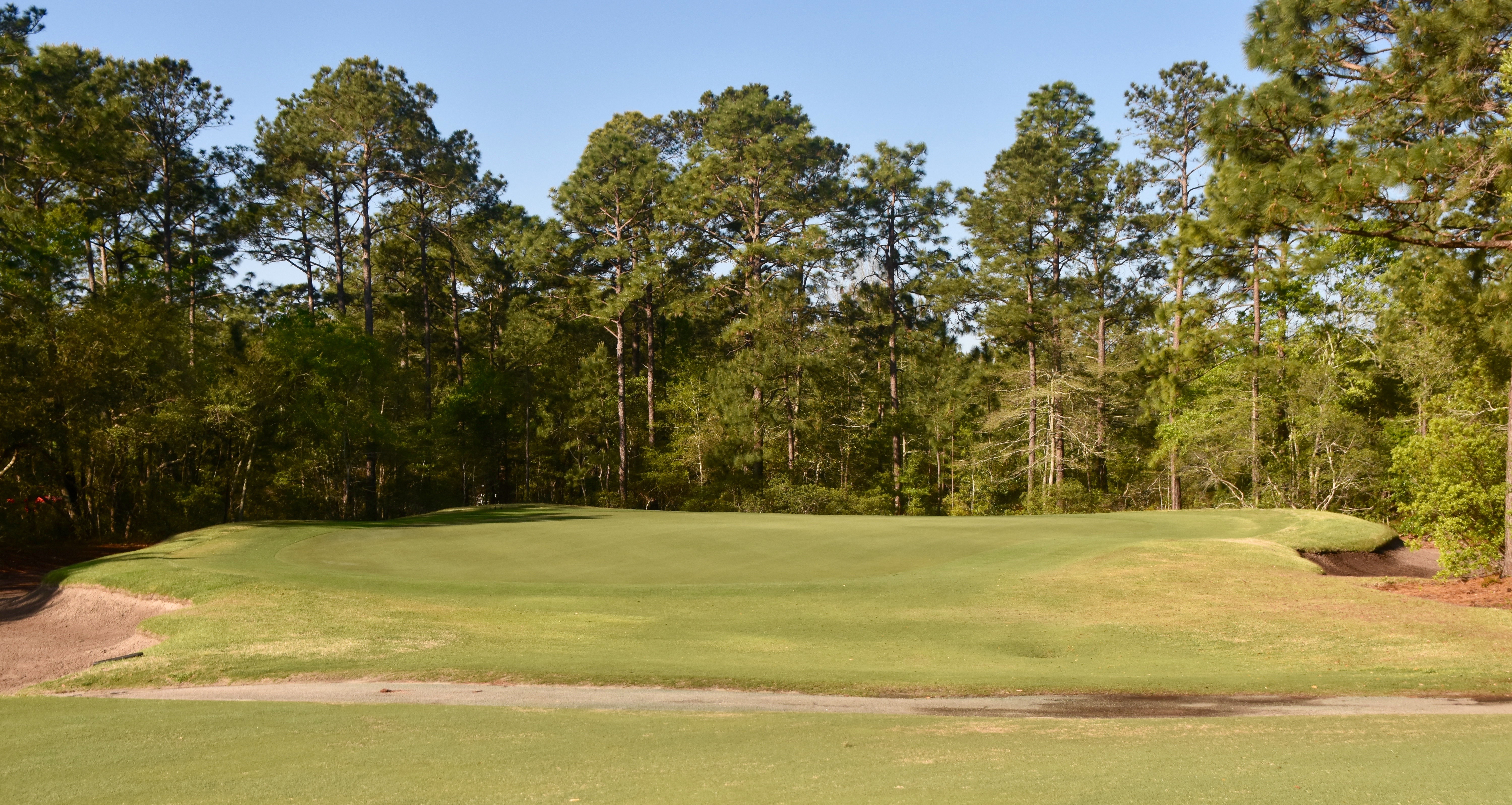 Looking at the map you can see why I called it a Mickey Mouse hole.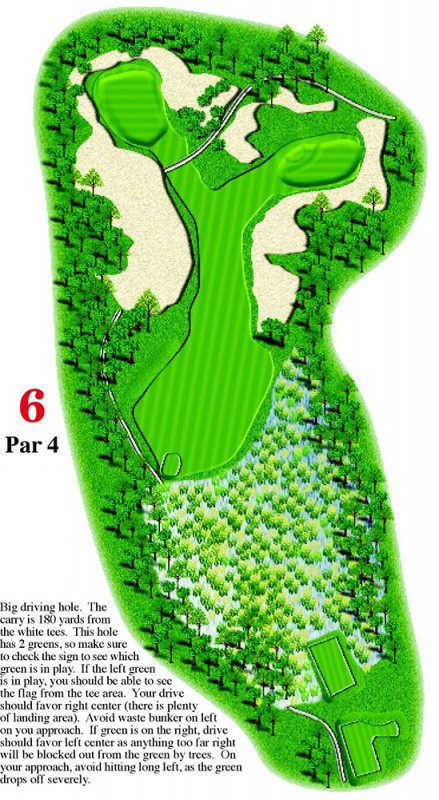 #7 True Blue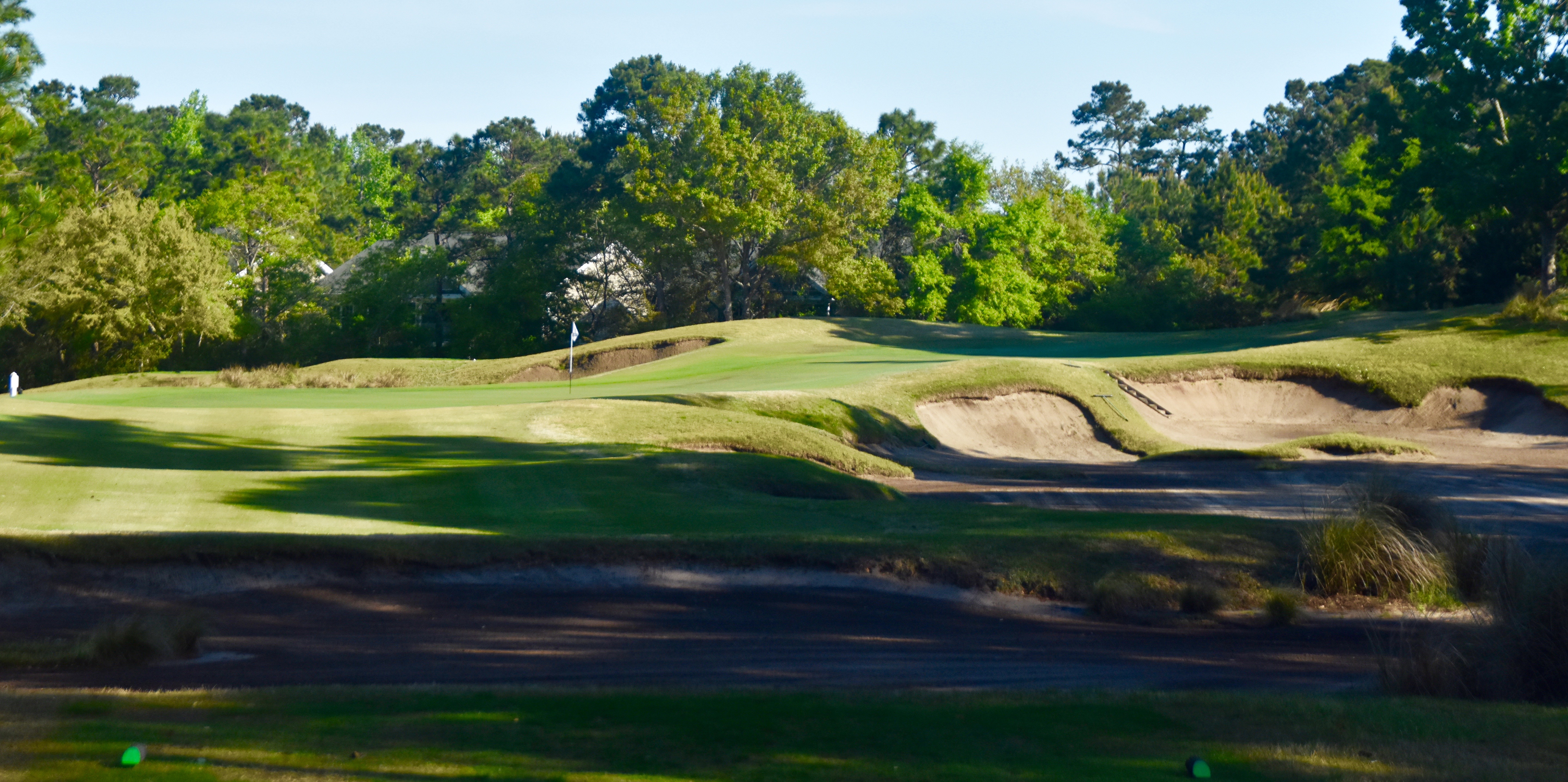 #7 is another good looking par three with a large tiered green. Not a hard hole if you avoid missing right. Otherwise forget trying to get close to the pin from green side bunkers – just as likely to fly the green and land in the bunker on the other side. Don't ask me how I know this.
#8
Beside the tee at #8 there's this sign.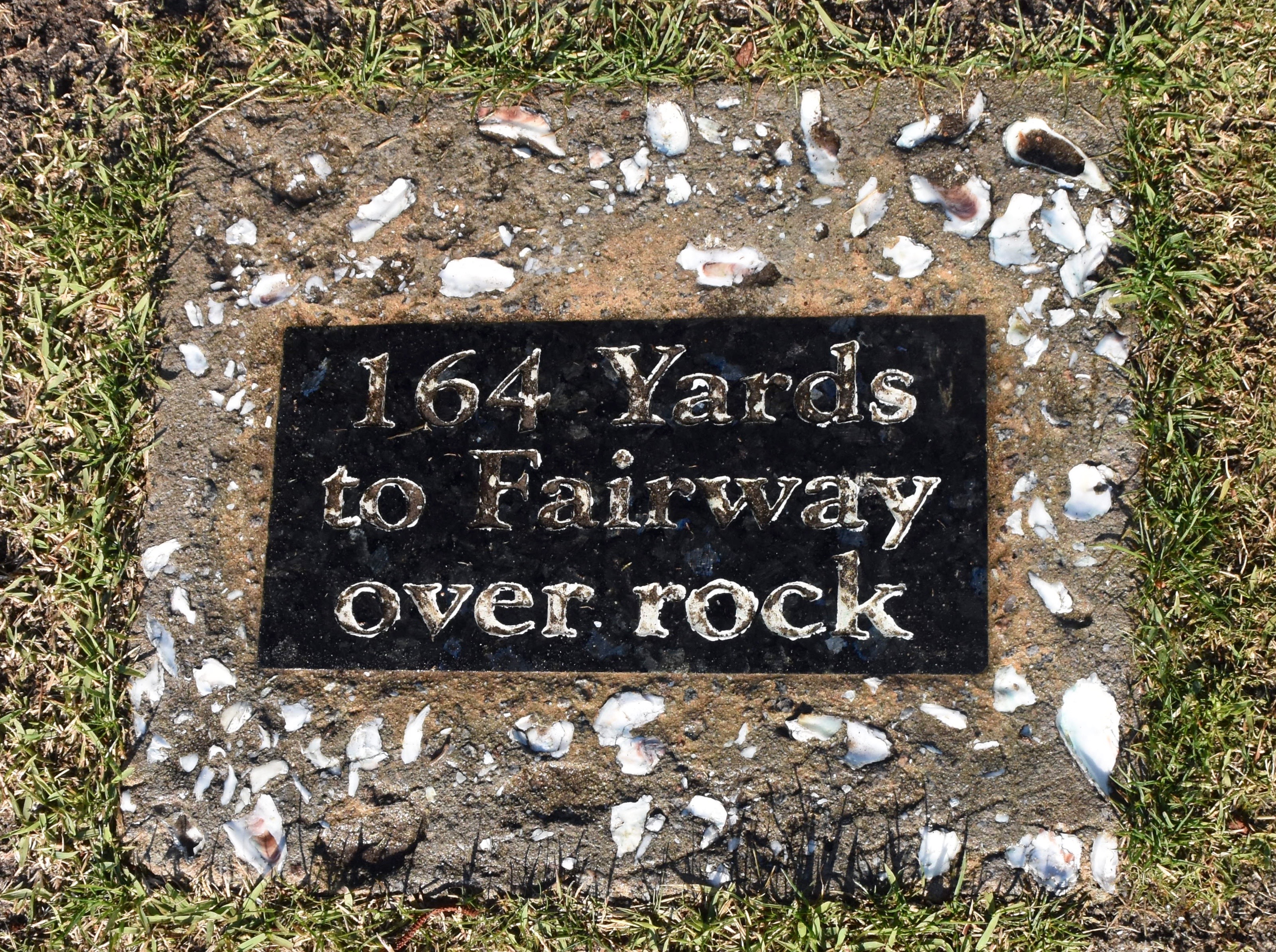 Makes sense until you try to spot the rock from the tee. Hopefully you'll have a pair of binoculars handy.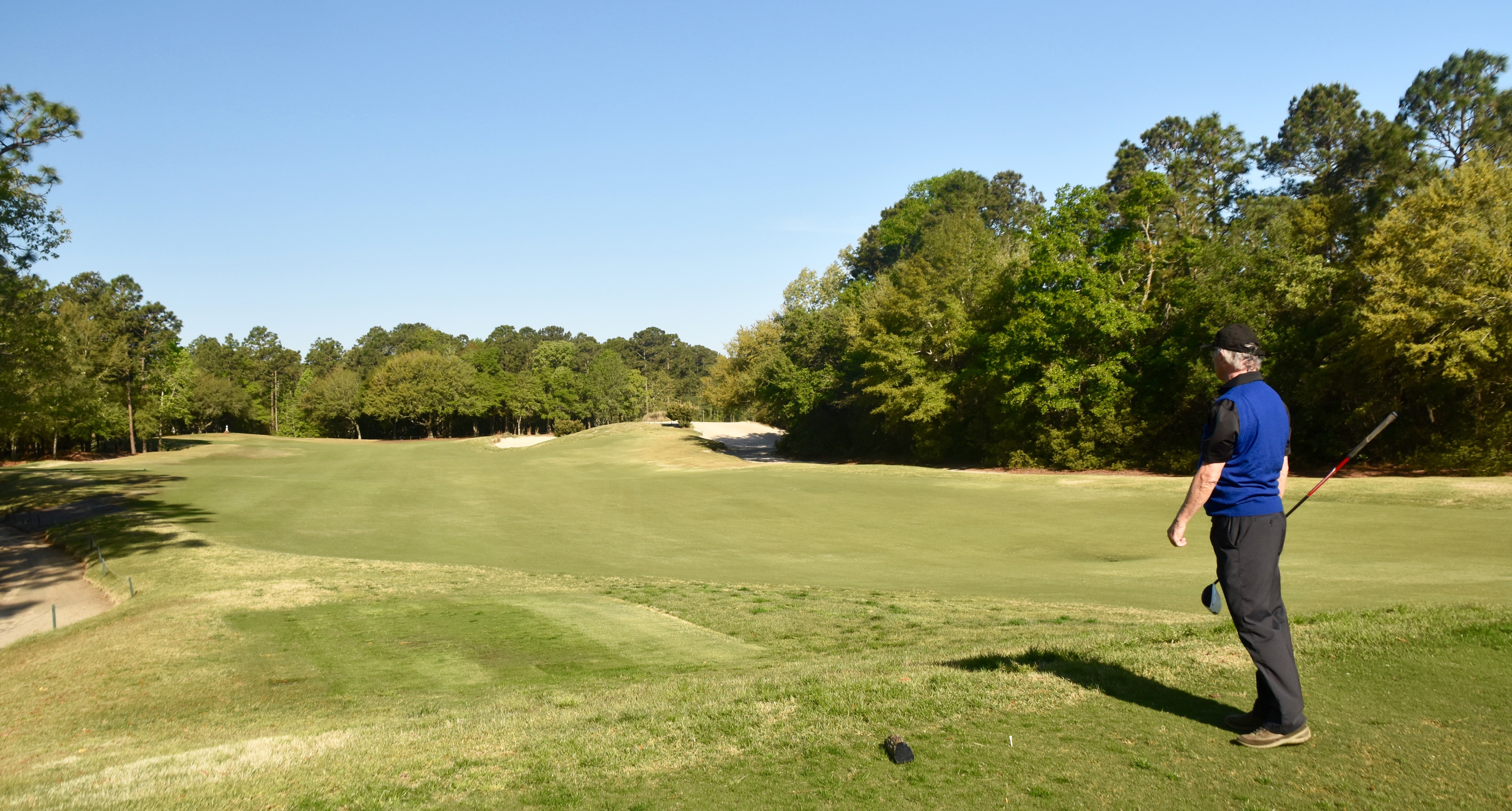 The hole is a severe dogleg right and if you just hit over the right side bunker you'll be find. Once you get up there you'll see the rock hiding behind a clump of grass.
#9 True Blue
The third par 5 on the front is by far the longest and in my opinion, nastiest. The problem is that, despite the optimistic blurb that accompanies the map below, there is no friggin' way that the ordinary golfer is going to get over that mess in the middle of the fairway in two shots. In it, no problem, over it, no way.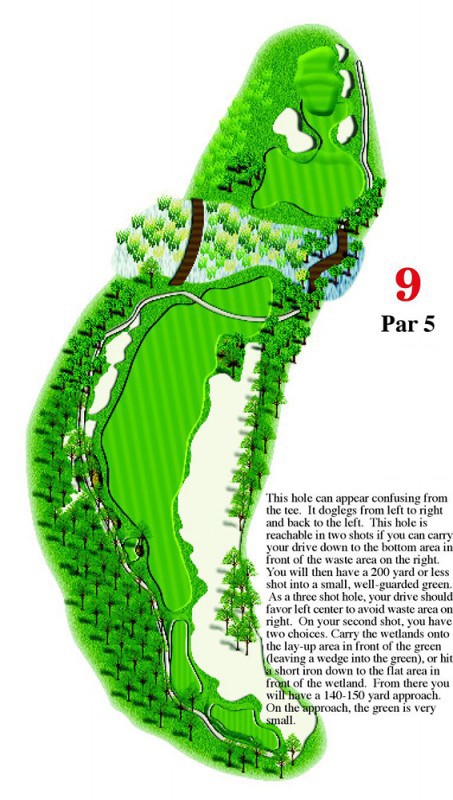 That means that after you hit a smoking drive like I did you are faced with this. Take a look at the white stake on the left to get an idea of how far this carry  is. No choice but to hit a wimpy 9 iron to the edge and then try to hit a decent 150 yard shot over the crap to a tiny green with traps all around it. This should be a par six.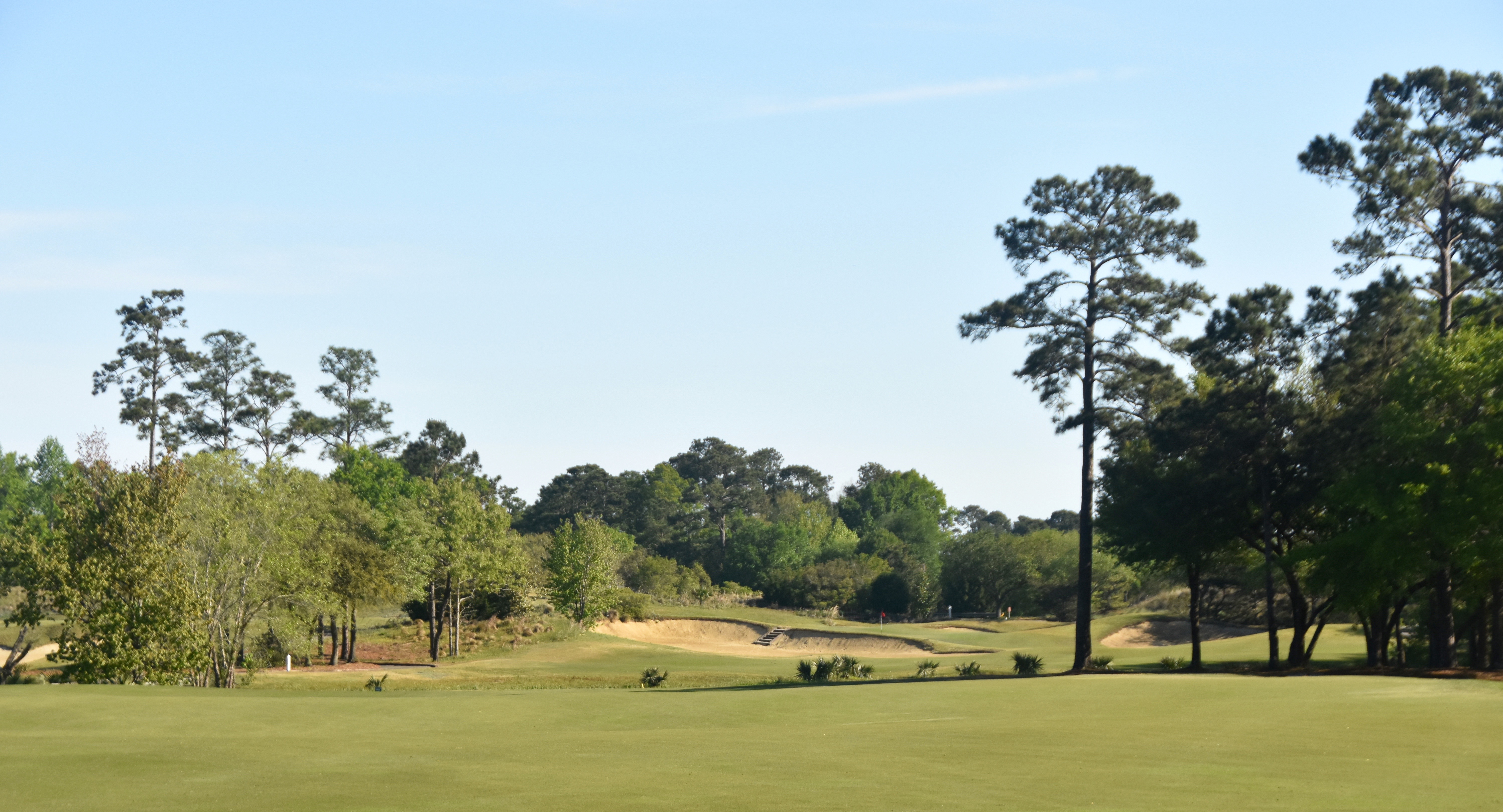 You don't return to the clubhouse after the front nine so make good use of the cart girl.
#10
As I was getting ready to tee off on #10 this fox squirrel with brassy nerve came right up to us demanding something – food I presume. I don't give money to bums on the street or food to bums on the golf course.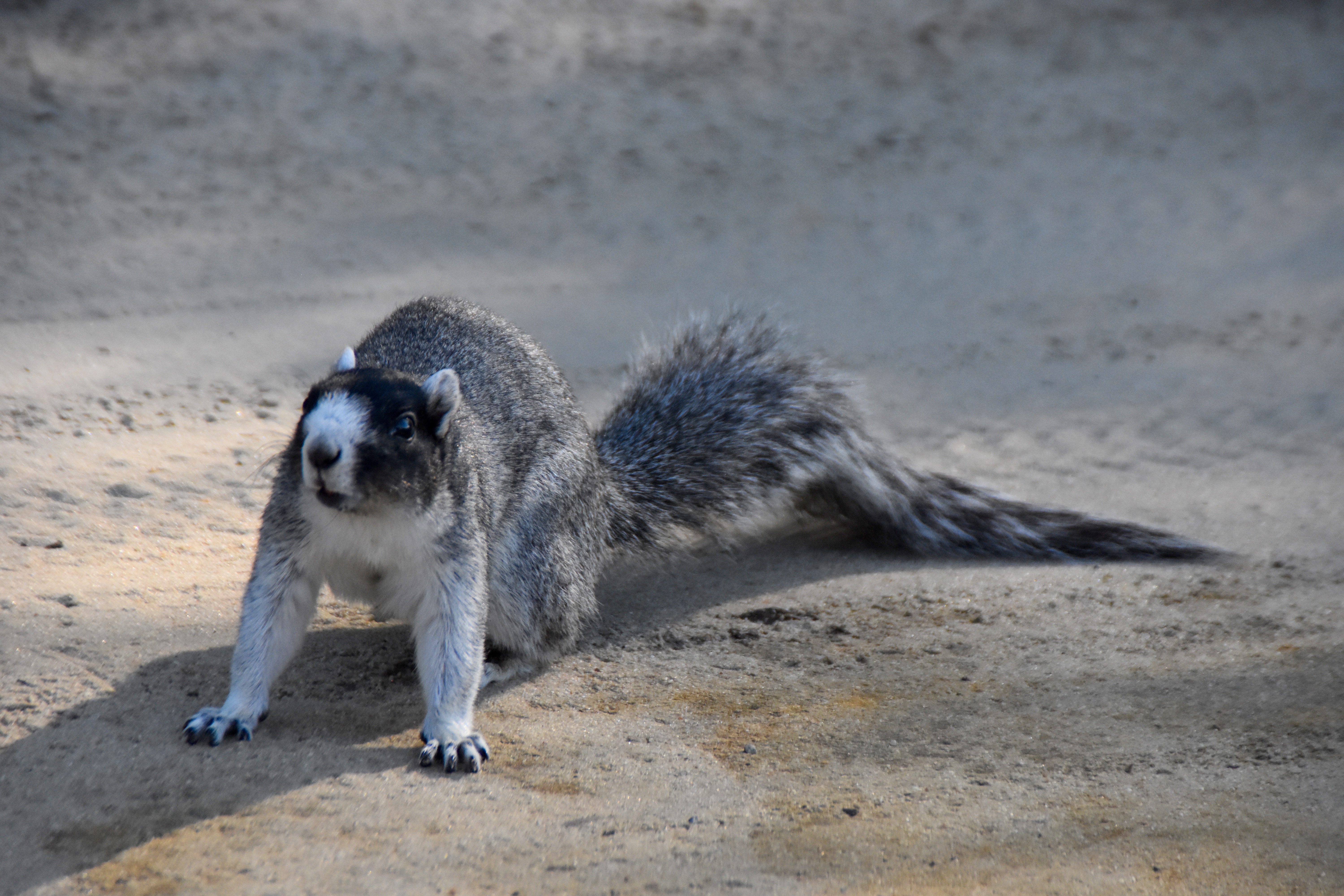 However, I was distracted enough to forget to take a picture of #10. Guess what, it's another gruesome par 5. Not as hard as #9, but right up there. Trust me, it's a lo-o-o-ng way to the end of the first part of the dogleg.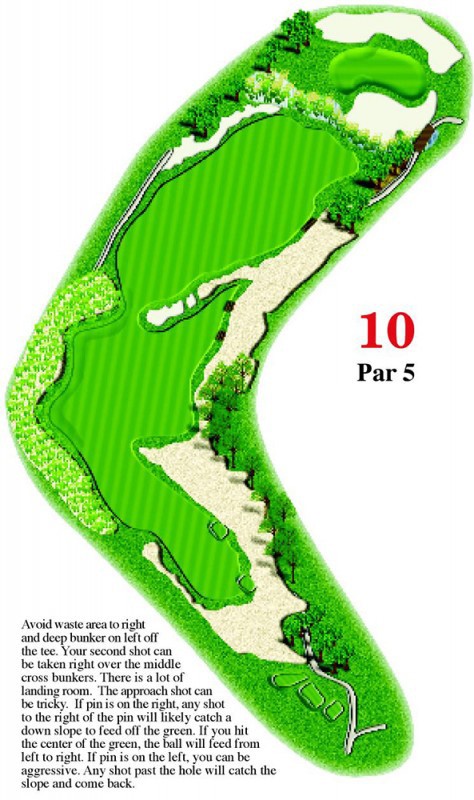 This is as far as I got which meant firing over the waste bunker to get close enough for a decent third. Also, you can see houses on the left. The front nine is virtually free of any distractions which is one of the reasons I really liked it (despite the evil par fives). The back nine has houses on a few holes, but nothing compared to a lot of Myrtle Beach courses.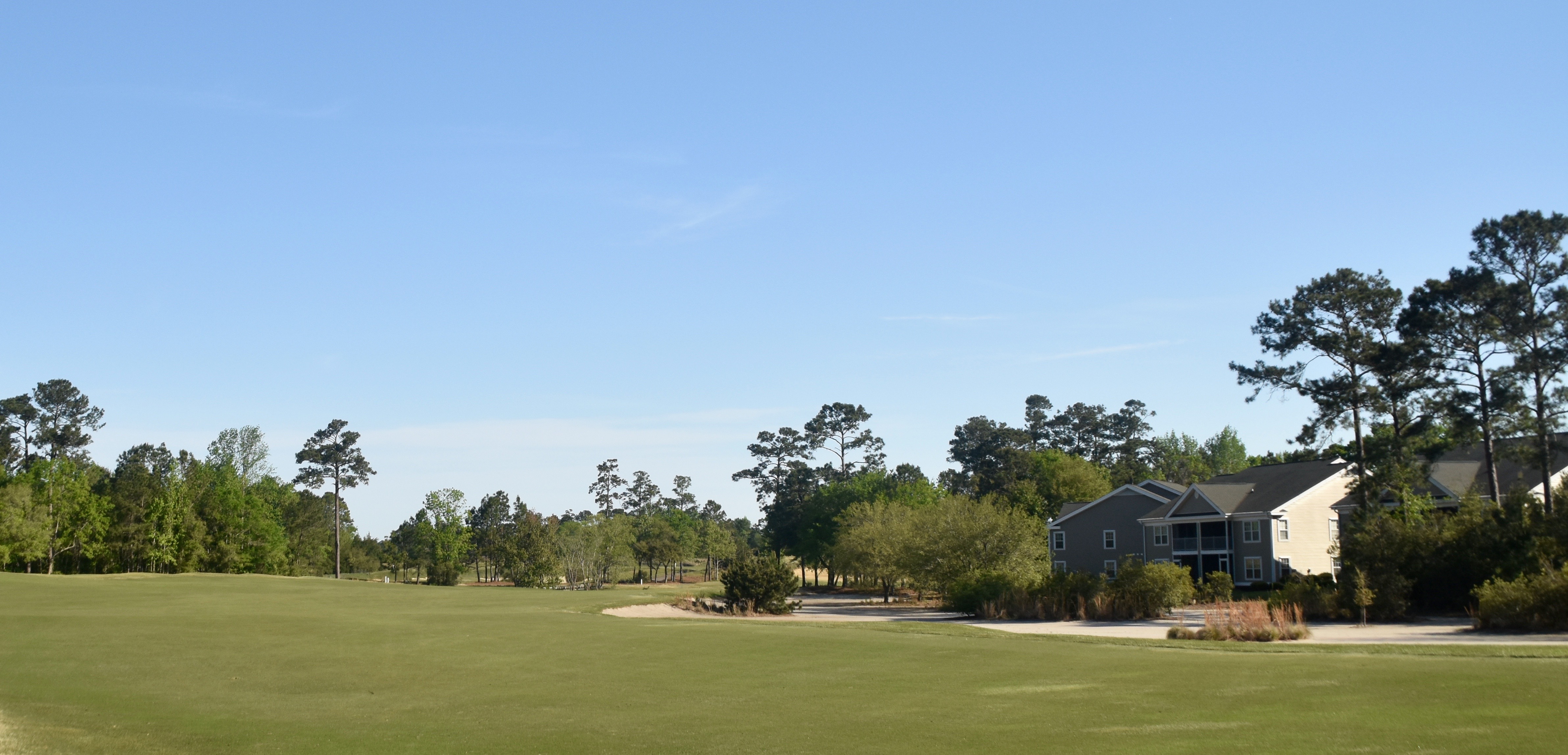 #11 True Blue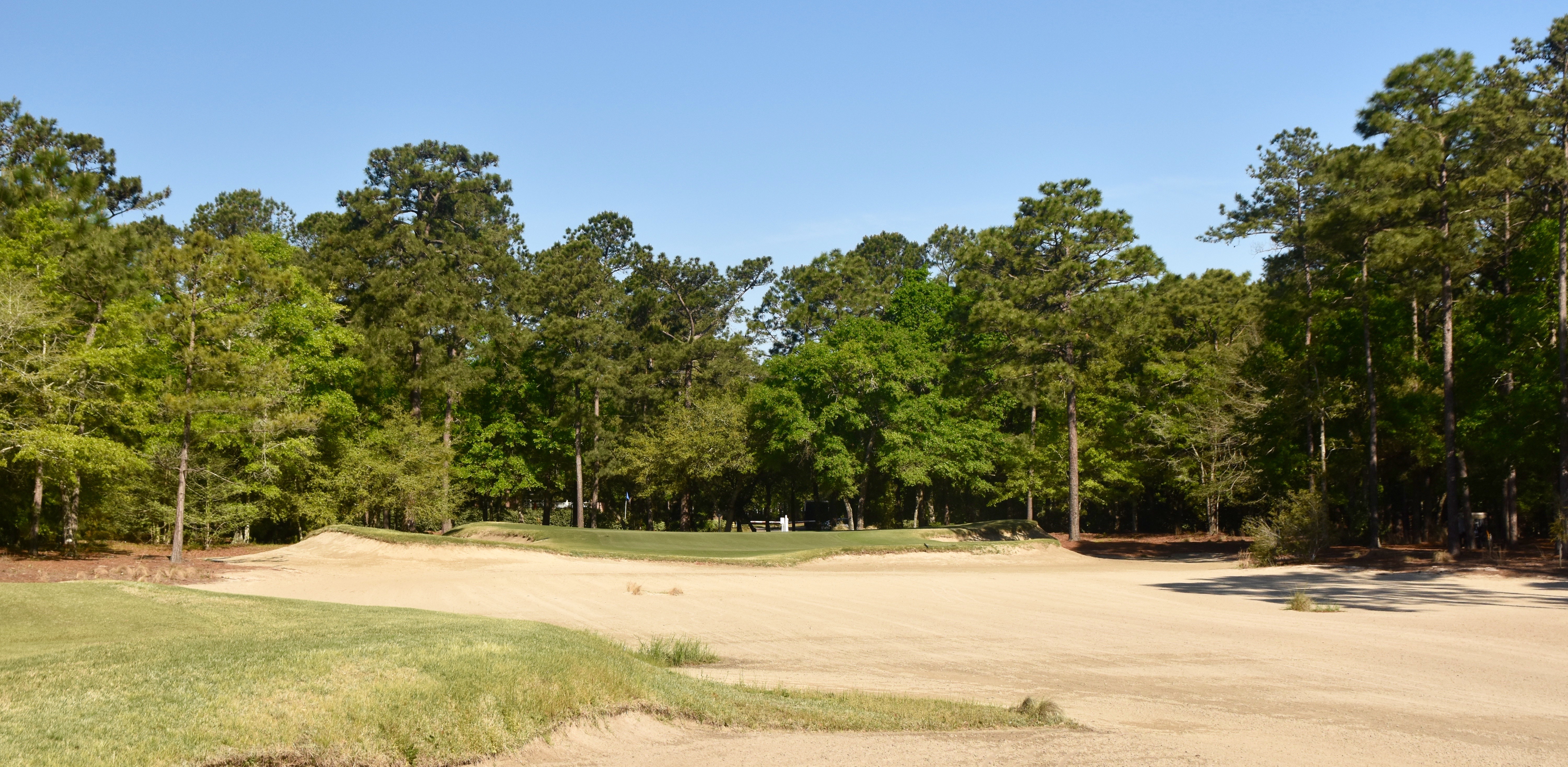 #11 is another all carry par 3, but short enough that it shouldn't be a problem for most golfers. Again, it's the club selection that is everything. By now there is no doubt that most golfers will have had to hit at least a few shots from the hard packed waste bunkers. I wish I had some good tips on how to accomplish these shots, but I can't help other than to say "Don't skull it." That always draws a favourable response from my playing partners – not.
#12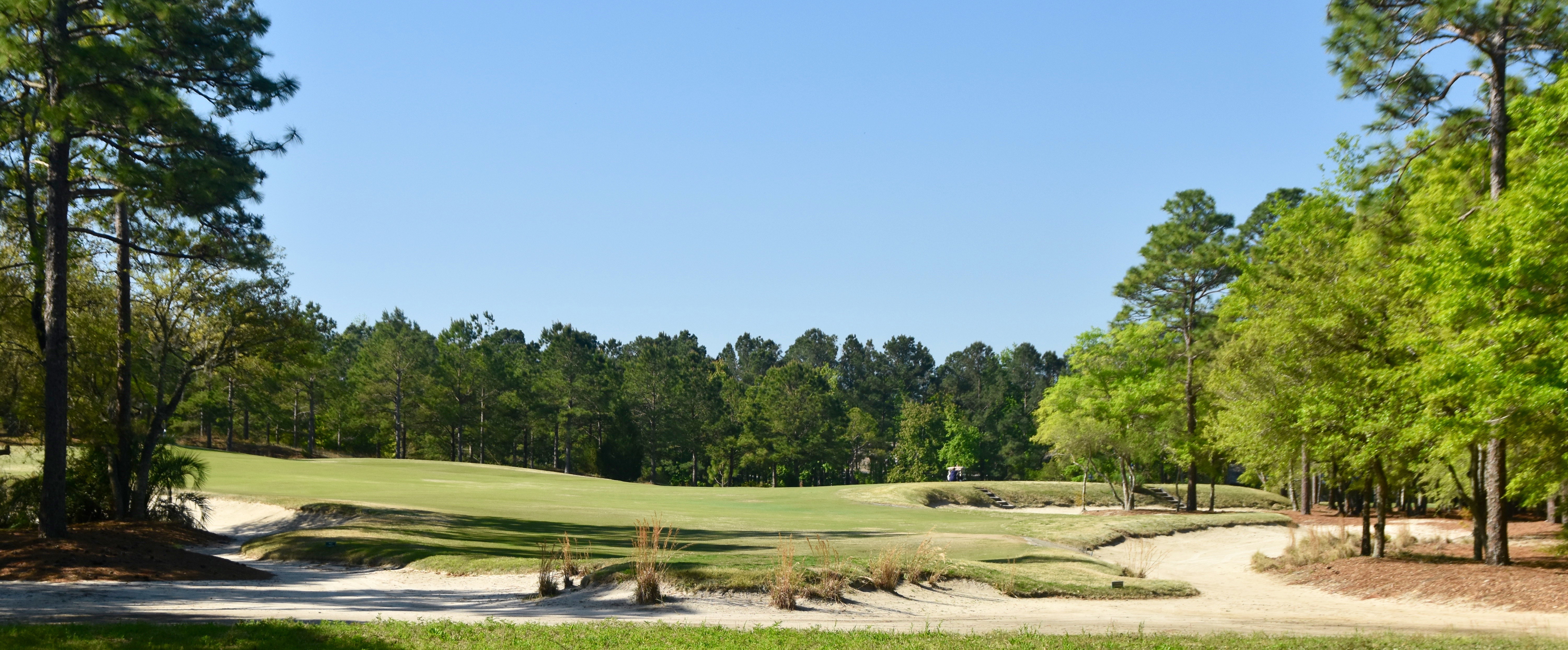 I really enjoyed playing this hole. As you can see a nutsly wide fairway. It's followed by a dogleg right to a small green. Nothing to it.
#13 True Blue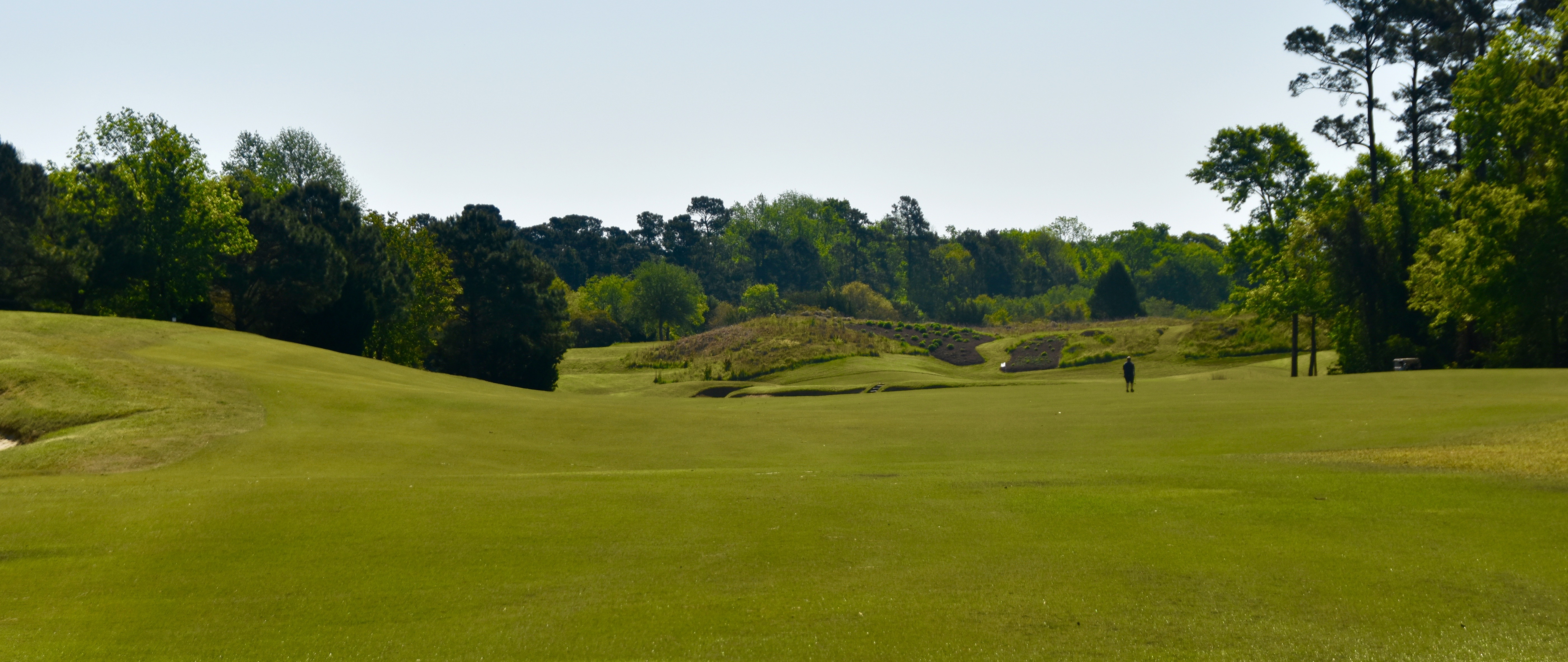 #13 is one of the longer par fours at True Blue and features a bowl shaped green that makes sure if you hit it on your second shot it will probably stay on. The opposite of the dreaded crowned green, the bowl should make at least one appearance on every course.
#14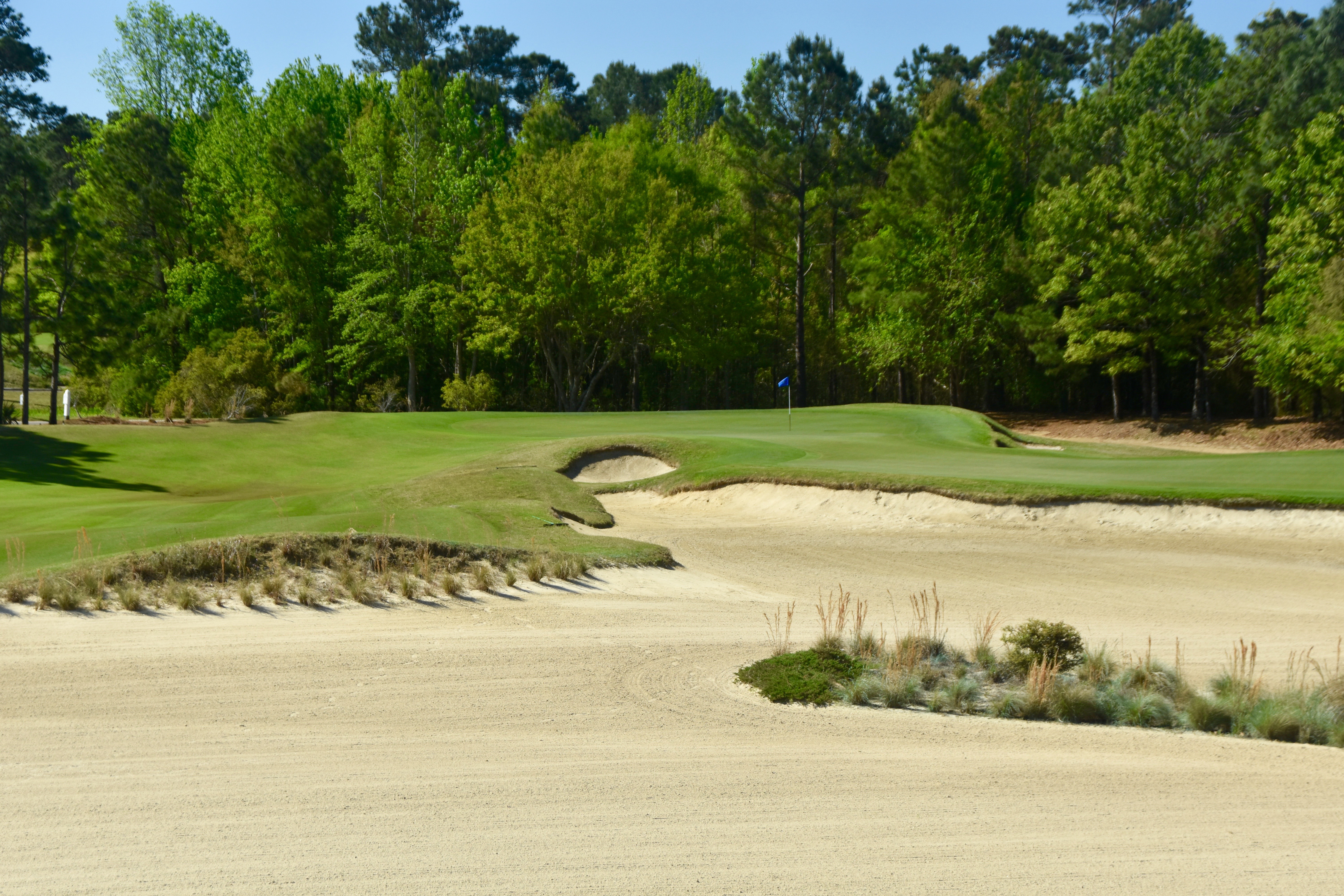 A bit similar to #11, the miss here is obviously to the left. Again, not a hard hole with the proper club. From the photo you can see the flag blowing and on the back nine it was a definite factor, which it tends to be on a lot of Myrtle Beach courses.
#15 True Blue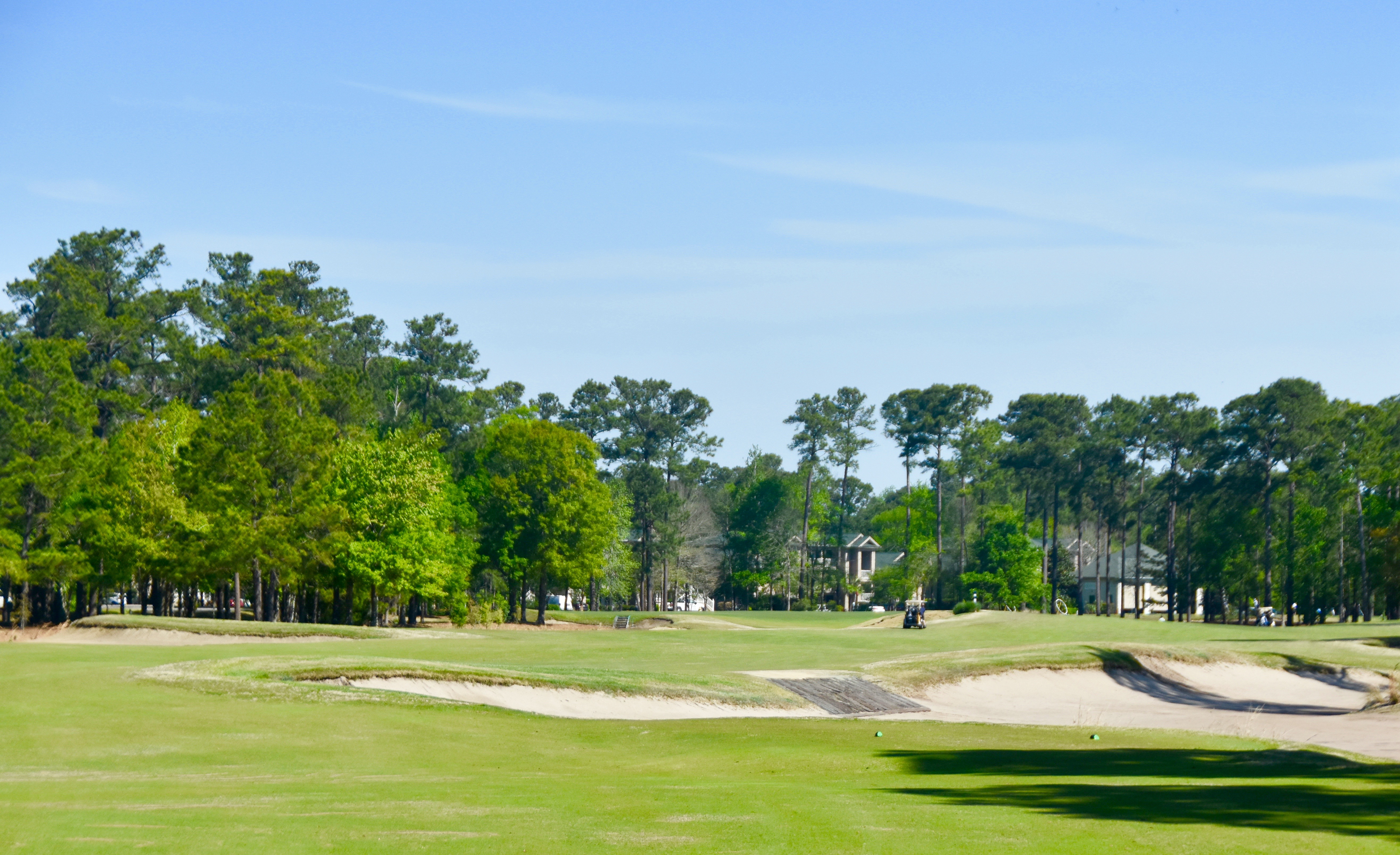 The fifth and final par five on True Blue is a slithery, narrow thing in comparison to all the other par fives with a waste bunker down the entire left side and half of the right. At 522 yards it's a three shot hole for sure. Just in front of the green tee box you can see the wooden ramps that are the typical way of getting in and out of the Mike Strantz waste bunkers.
Since we were the first people out and there was nobody in front of us, I have no idea what that cart is doing there. Ghosts maybe?
#16
At #16 tee you might be dancing a jig knowing the par fives are over, but don't get too elated. The closing three holes are tough, but very pretty including what I think is one of the better par threes on the course. At 165 yards it's long enough to require control of a mid-iron, but the green is more elevated than it looks from this photo, so holding the green is not easy. I suspect most average golfers will come up short because they don't take enough club. Not the worst thing to happen on this hole as long as you avoid the water.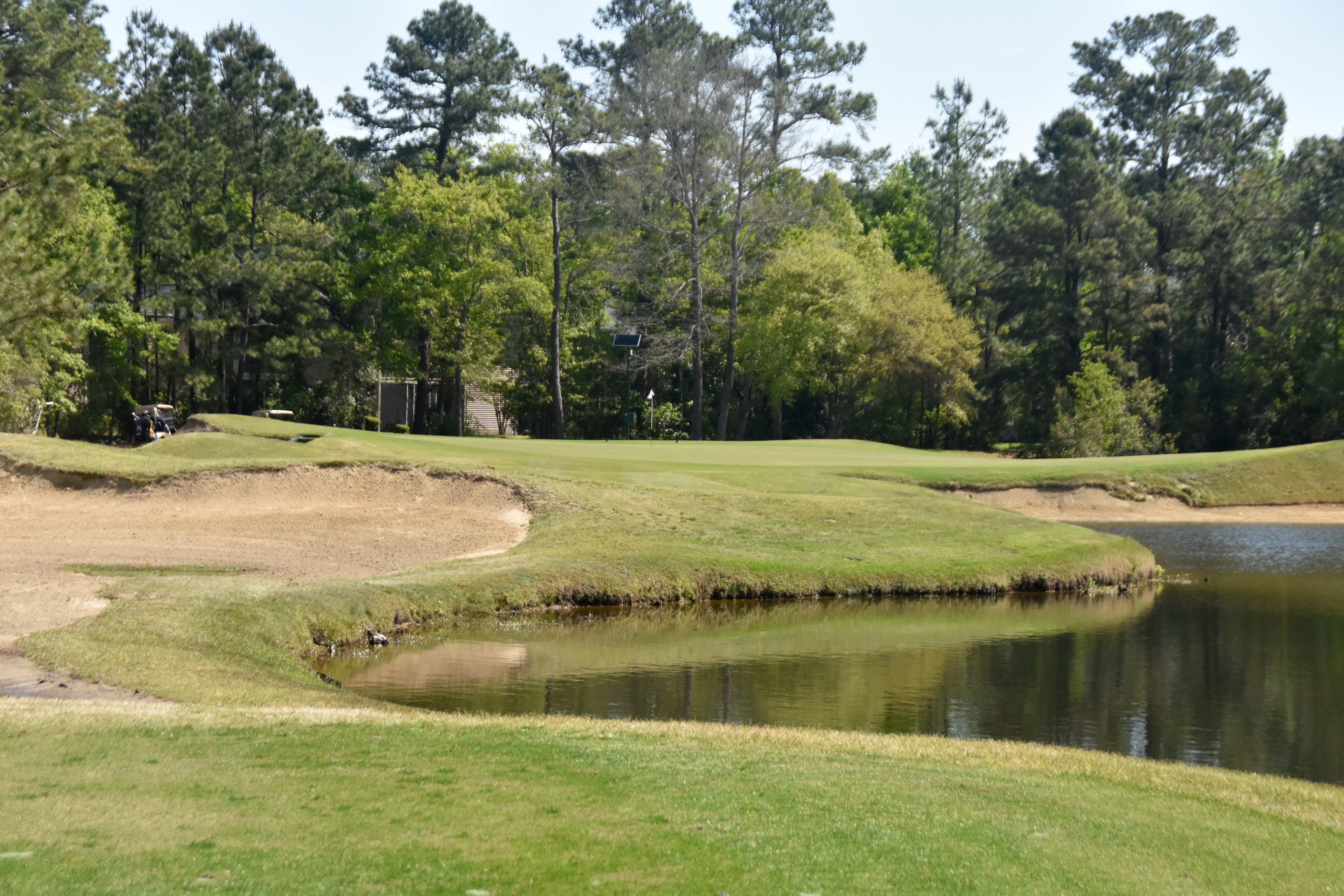 #17 True Blue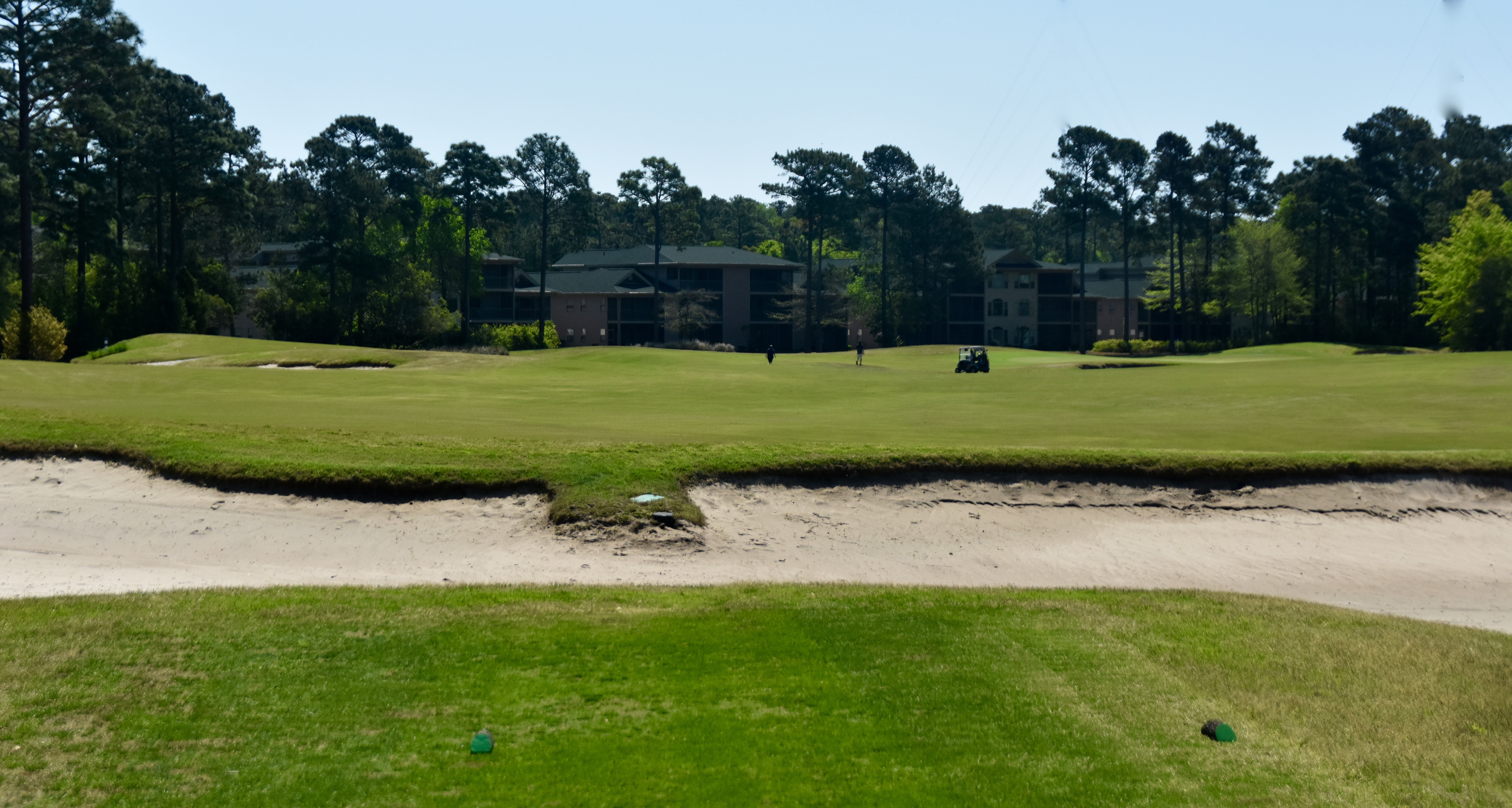 There's those ghosts again – actually by now I figured out they were crossovers who started on #10 and we had caught them.
You need to look at the map to see how vicious this hole really is. I hit what I thought was a really good drive and it somehow took a right turn into the bunkers on the right side of the lake. Now what? Nothing between me and the green but water. Then I hit what I thought was a great bunker shot that cleared the water, landed a good ten feet up the bank and then did a slow death spiral down into the pond. Amazingly, I remained calm, fished out the ball and landed it near the pin and made bogey. There was a time a club might have joined the ball in the water. I am now what is referred to as 'a mature golfer'.
#18 True Blue
#18 is a terrific finishing hole and I say that not just because I parred it, but because, visually and as a test of golf, it is a great hole. There are water carries on both the first and second shots unless you go way right in which case there are waste bunkers and trees to contend with. The proper shot is a driver or three wood over the middle of the bunker and then an easy six or seven iron in to what is a green well below the fairway. As you make that par or even birdie putt, make sure to take your hat off to the folks watching from the clubhouse. If you make triple or worse, throw your hat in the water.
After the round be sure to stop in the restaurant where the prices are uber reasonable. We had two soup and half sandwiches and a beer for $17.00, tax included.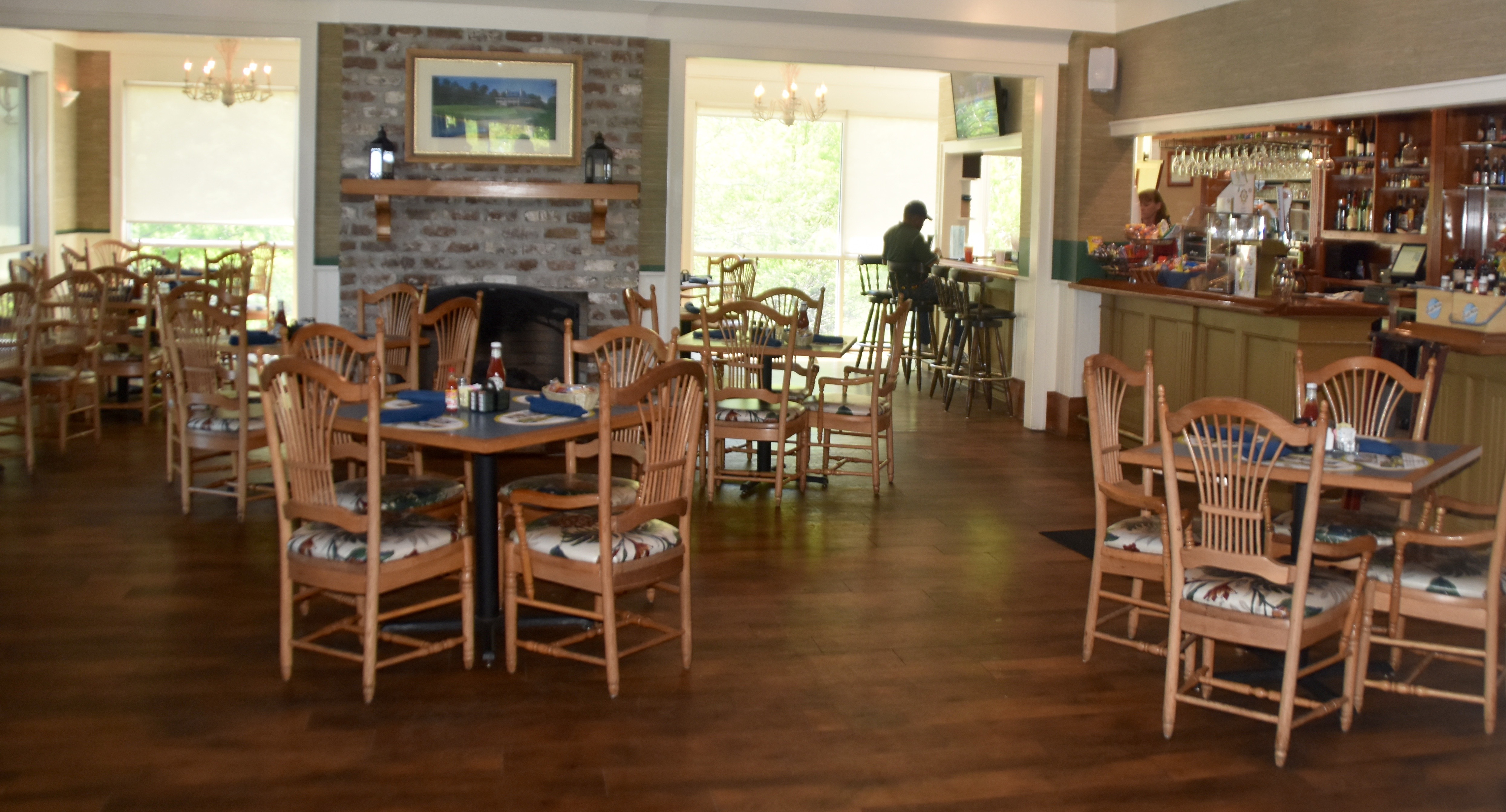 The pro shop is a good one with lots of True Blue merchandise on sale for decent prices.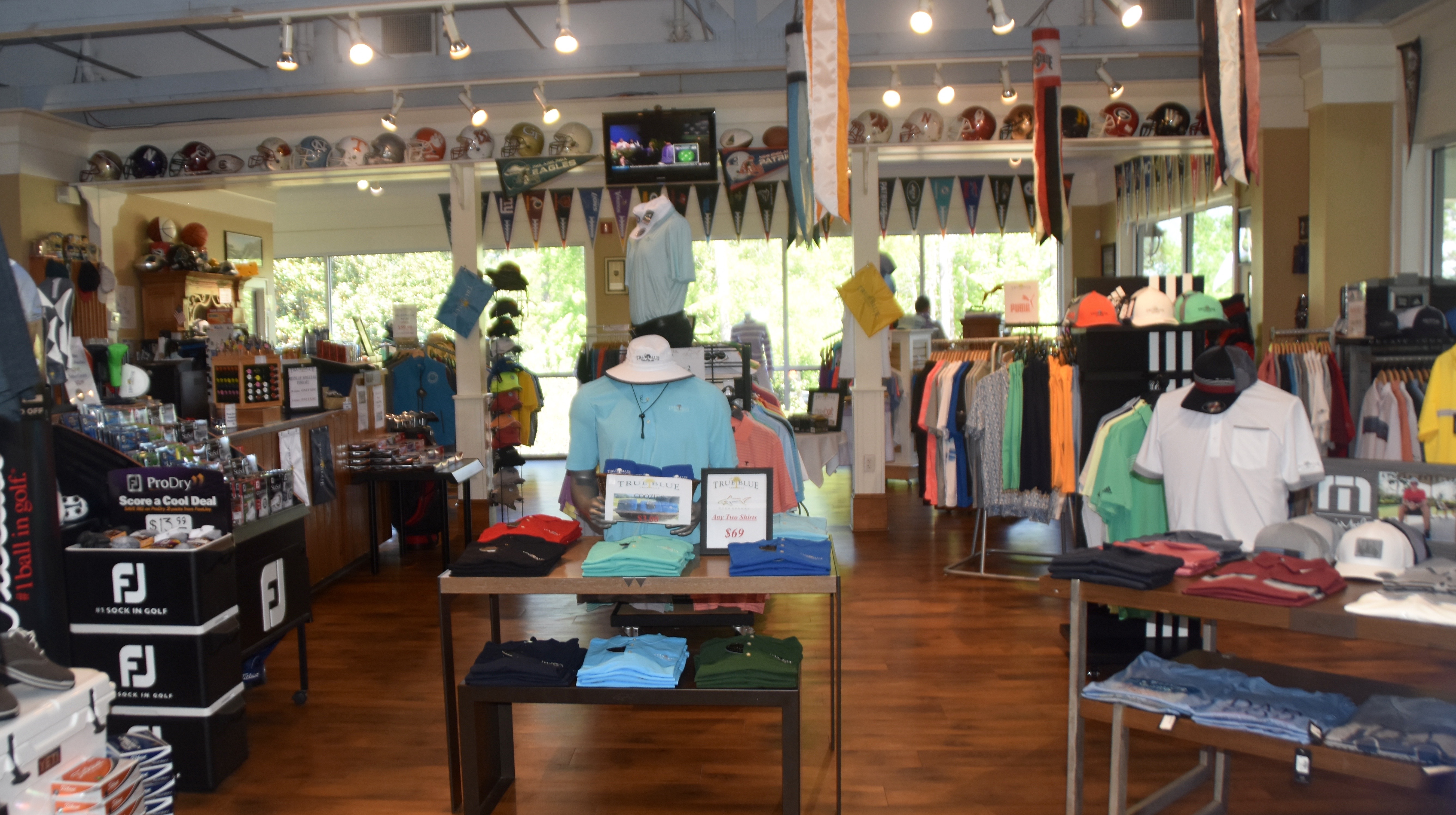 All in all, you definitely get your money's worth at True Blue and a great test of golf as well. I wish Mike Strantz had lived longer to create more courses like this and Caledonia.
For my next golf outing I'll be heading to Orlando to play the Magnolia Course at Disney World, a long time stop on the PGA tour. Come along for a hole by hole description on what is definitely not a Mickey Mouse course.