Florence, Italy with Liberation Tours
This is the final reporting on the fall 2016 Liberation Tours trip to Italy which began in Sicily and progressed northward up the Italian boot with stops along the way in Anzio, Ortona, Montecassino and the Liri Valley. The breaking of the Gustav Line, in which the Canadians played a pivotal role, put the German army in disarray and open to being outflanked. There was a real possibility that the war in Italy could come to an end with the destruction and capture of the German Tenth Army, in the same manner that the German Sixth Army was destroyed at Stalingrad. However, as the late, great John Belushi would say, "But Noooo!". Egos were hard at work and American Commander Mark Clark, who was technically subordinate to British General Harold Alexander, decided that he would not execute Alexander's plan to cut off the German retreat. Instead he wanted the 'glory' of being the liberator of Rome, so he let the Germans get away to fight another day. And fight they did. Retreating to the Gothic Line that ran from Pisa to Rimini, they re-entrenched and put up a resistance that cost Canada 4,000 casualties, 1,000 fatal, in one month of hell. For now, we are going to take a break and enjoy the wonders of one of the greatest cities on earth – Florence.
The Liberation of Florence
Florence lies between Rome and the Gothic Line that was north of the city. Although Florence was declared, like Rome, to be an open city and thus not the target of bombing or destruction, it held a very strategic position on the Arno River. Crossing the Arno would not be an easy task for any army if the bridges were blown and that's exactly what the Germans did, sparing only the Ponte Vecchio which was too old and narrow to be used effectively.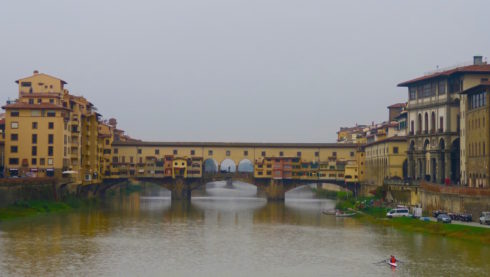 The San Trinita bridge was another matter.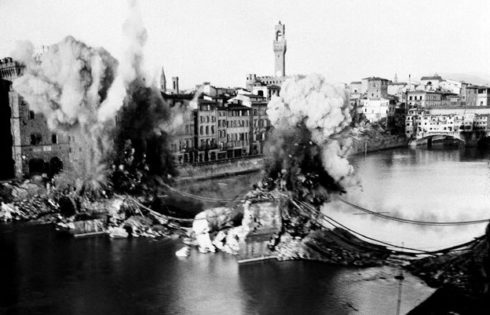 We are gathered at the northern end of the restored San Trinita bridge listening to Canadian military historian Mark Zuehlke describe the fighting that took place in Florence as the Allies and Germans sniped at each other from opposite sides of the Arno.
Eventually the Allies did get a bailey bridge across the Arno and the Germans retreated to the Gothic Line, but they had gained valuable time to shore up the defences there, as the Canadians would soon find out.
This is San Trinita bridge today. It always amazes me how completely the scars of war can be healed. I honestly don't know if that's a good thing or a bad thing. Certainly good that these buildings and other monuments can be so successfully rebuilt, but possibly bad in that it makes it far too easy to forget about the ravages that wars bring to humanity.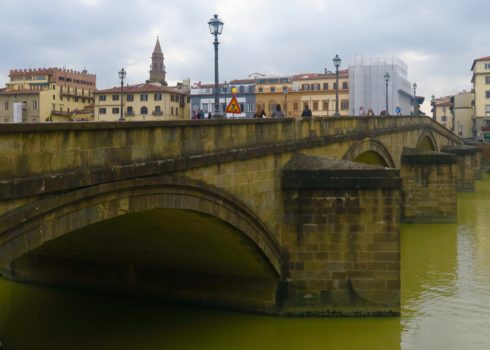 Liberation Tours does a good job of making sure there are enough down days in interesting locations so that the tour is not just about Canadians at war. In this case we have a free day in one of the greatest cities in the world. While most others opt to go on a tour to nearby Siena, Alison and I just decided to seek out some of the lesser known sites of Florence. We've both been to Florence a number of times and know from past experience that 99% of the tourists will either be in the Duomo area or the Piazza della Signoria. And for good reason; these are absolute must see attractions and represent the high point of the Italian renaissance. We do walk past the Duomo and then through the Piazza della Signoria for you never get tired of seeing them, but we keep on going and cross to the other side of the Arno. Here there are very few tourists, but still lots to see, including the Pitti Palace and the wonderful Boboli Gardens, but I have my mind set on a destination I have not visited before, the ancient church of San Miniato and its surrounding cemetery which sit high on a hill overlooking the city.
Piazzale Michaelangelo, Florence
On the way up we get a chance to stop at the most popular spot for getting great views of Florence, the Piazzale Michaelangelo. This is the picture I took and as you can see it was a gray morning.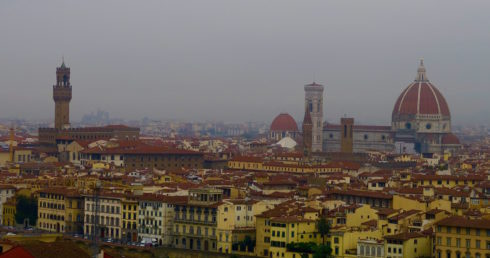 Here's what it looks like on a clear day, which is most of the time in Florence.

Here you can also get a picture of yourself alone with Michaelangelo's David, which you can't do at the Acadèmia where the real one is displayed or in the Piazza della Signoria where the copy will be swarmed with other tourists. This copy is made of bronze and has weathered to a beautiful greenish patina.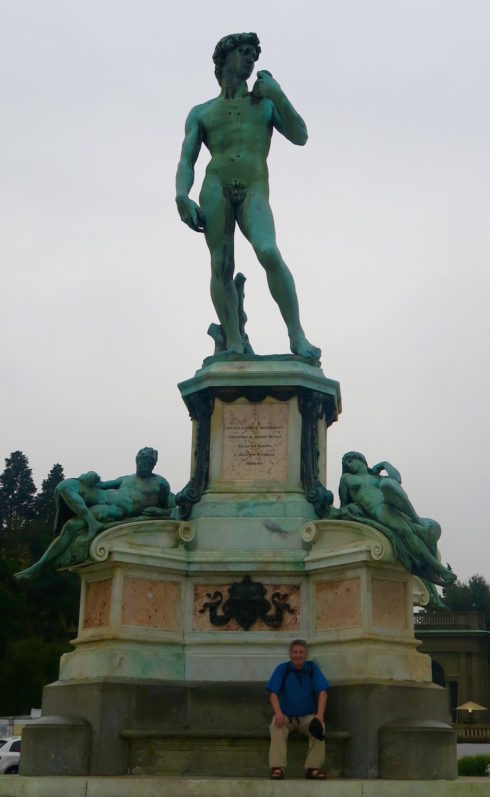 San Miniato Basilica
San Miniato is quite a bit higher up than Piazzale Michaelangelo, but the climb is worth it. It's the oldest church in Florence, dating back to 1018, making it hundreds of years older than the Duomo. It also has a legend associated with it that's strikingly similar to the story of St. Denis in Paris. Last year I wrote a post about St. Denis Basilica which started in Montmartre where the Romans (who else?) cut off Denis' head. Undaunted he picked it up and marched outside the city and dropped it at the future site of St. Denis Basilica. Well, it turns out St. Miniato had a similar ordeal in Florence. Decapitated on the orders of Emperor Decius after wild beasts refused to touch him in the amphitheatre, he picked up his head, crossed the Arno and deposited it on the site of the basilica. You gotta love these early Christian martyrdom tales.
The basilica is a beautiful example of Tuscan Romanesque architecture, particularly the facade, that I believe was the earliest use of the white marble that came to be the trademark of later Tuscan churches in Florence, Pisa, Lucca and elsewhere.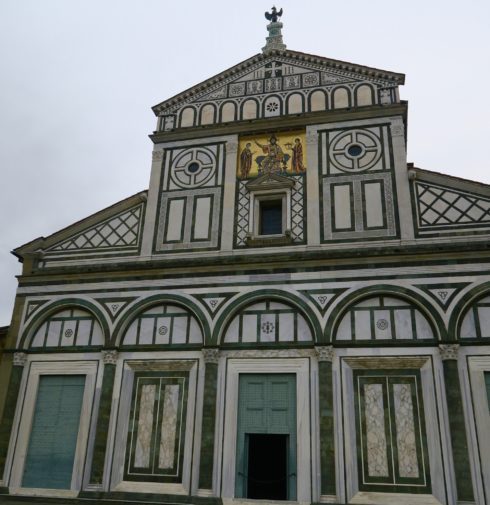 The facade also incorporates what would soon be a dying art in Christian architecture, the mosaic – in this case, Christ enthroned before Mary and St. Miniato. BTW you don't have to be a Christian or a believer in any religion, which I am most definitely not, to enjoy the wonderful art and architecture that has been created in the name of religion. Religion, or more properly religiosity, has been responsible for a lot of bad shit, but I don't include Romanesque and Gothic churches as among those.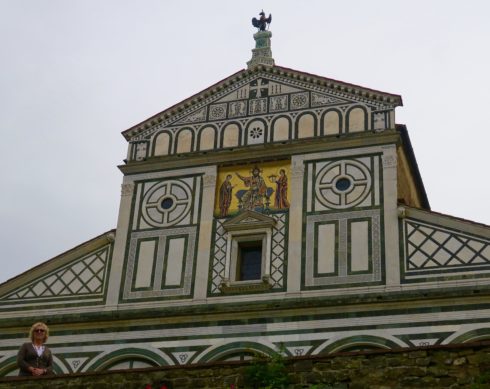 As I half expected, there were no other tourists visiting this church and the interior was deserted but for the usual handful of older ladies who seem to take comfort in making obeisance on a daily basis. It was too dark to get a good photo, so I borrowed this one from the museum website. I think you'll agree that this is a beautiful interior and I have little doubt that those pillars were pilfered from some Roman temples.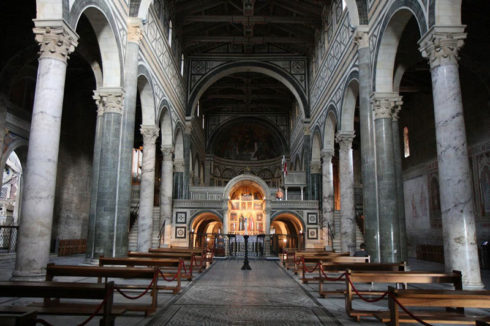 San Miniato Cemetery
You'd think that after visiting Canadian and other war dead for the past ten days or so, that I would want a day off from cemeteries, but not in my case. I love visiting a good cemetery and the Italians, rightly or wrongly known for their histrionics, don't let the mere matter of death stop them from continuing with them. The cemetery surrounds the basilica on all four sides and has some of the best funeral art you will find anywhere. This is a photo of just a tiny fraction of the cemetery.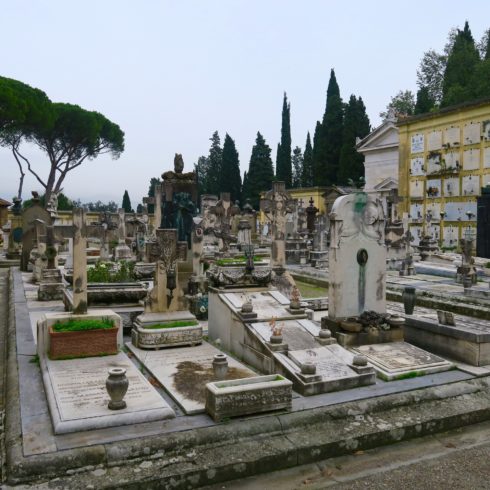 Some of the burial sites are over the top mausoleums that could double as churches in and of themselves.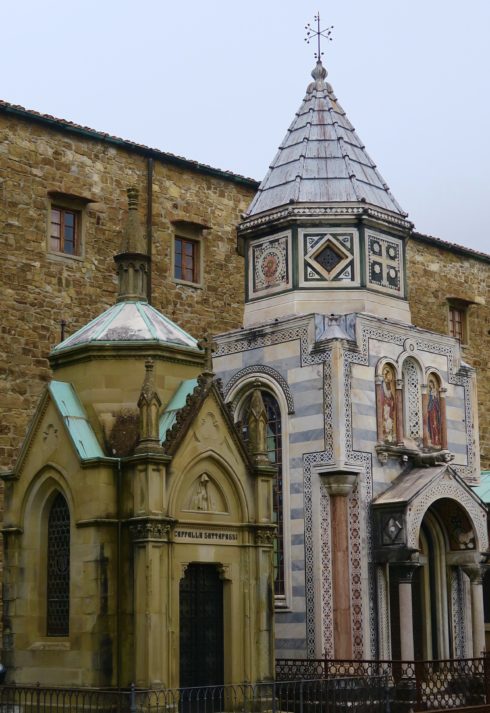 Note the onion dome and patriarchal cross on the crypt on the right.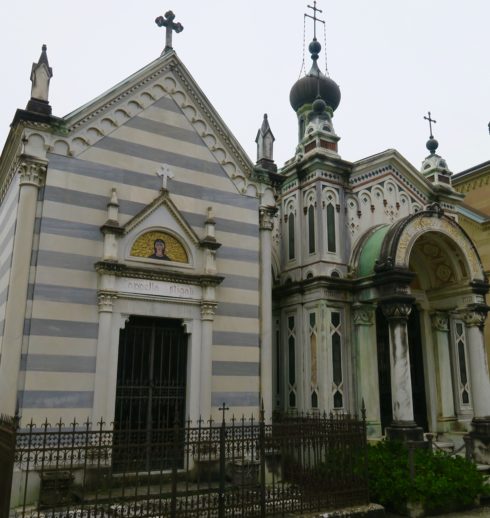 But many others are simpler and I think, more moving, like this man with a hat.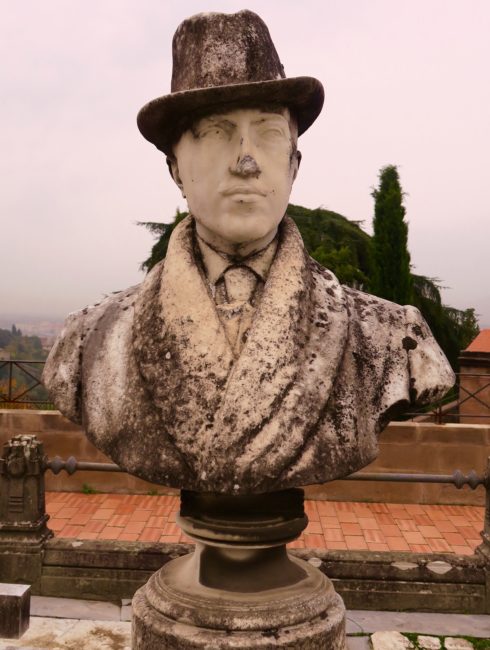 Or this Mary Poppin's like sculpture of Dina Manetti.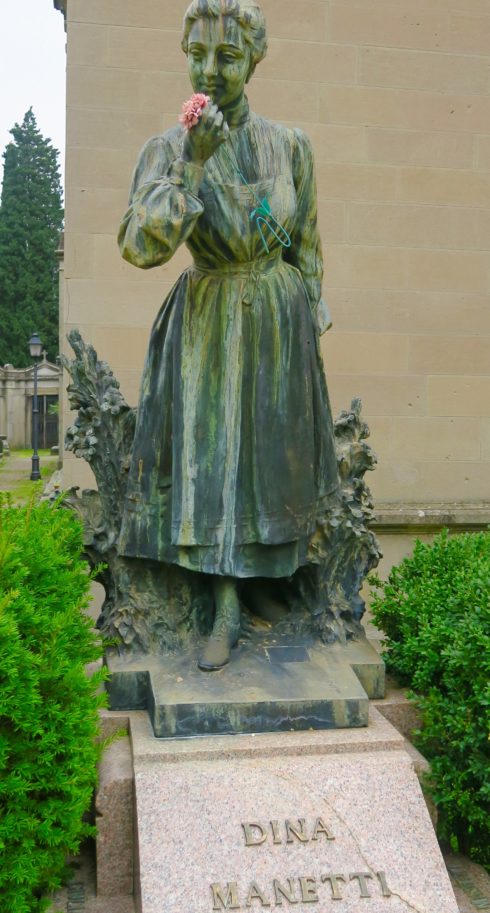 Talk about histrionics, how about this Fallen Man?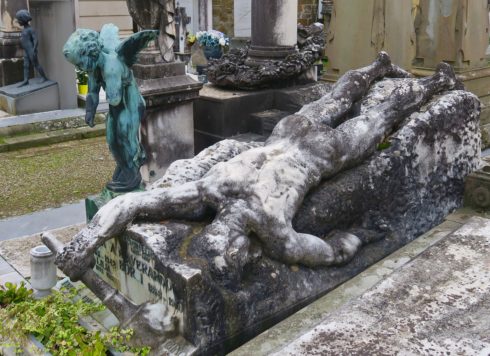 There are some relatively famous people buried here including a former Prime Minister, Giovanni Spavolini. That's no big deal, it seems like every second Italian gets to be prime-minister for a week or two, but I really like his description of himself as just, "Un Italiano".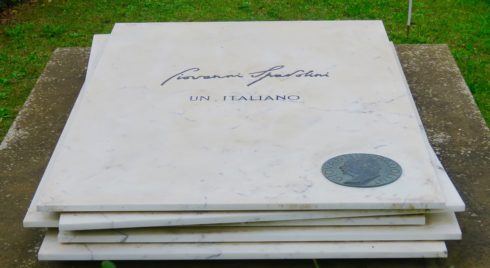 This is Venanzio Ceccherini who as you can guess was a famous Italian aviator.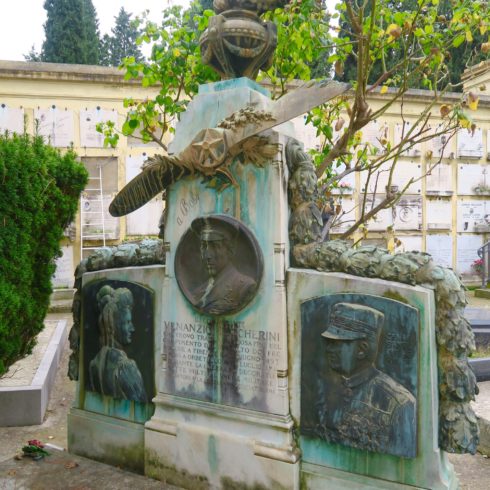 This sculpture of Silvia Marini Nei de Rogati, about whom I can find nothing, has definite saintly overtones.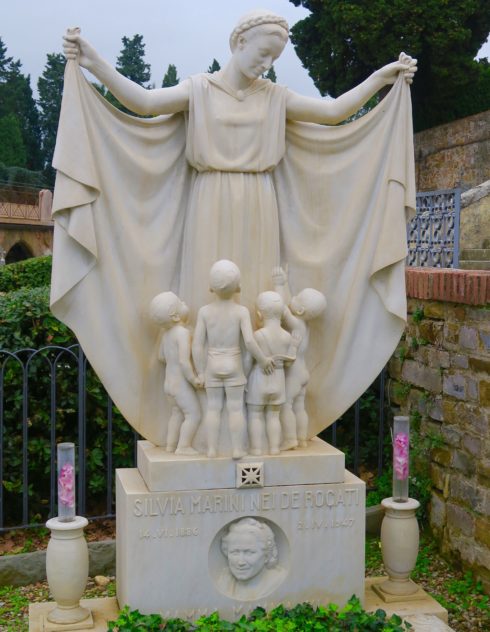 Can you guess who's entombed here?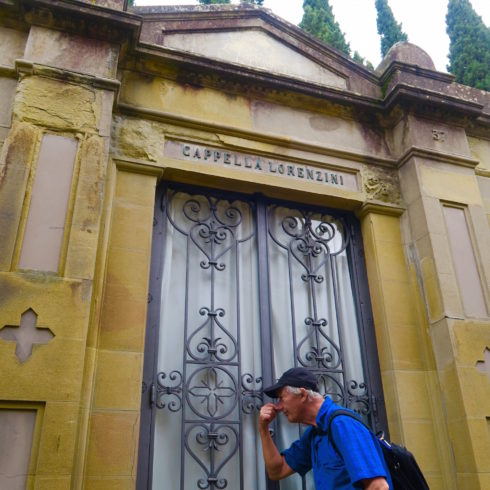 If you guessed Pinocchio you would be in good company. Apparently many tourists come here and ask, "Where is Pinocchio buried?" No shit. It's actually the crypt of Carlo Lorenzini aka Carlo Collodi who wrote the Adventures of Pinocchio. I wonder if Il Grillo Parlante, aka Jiminy Cricket, is in there with him?
This last burial site is one of the best and most moving I've ever seen in any cemetery anywhere. This is Mario and Maria Mazzone and it's not what you think.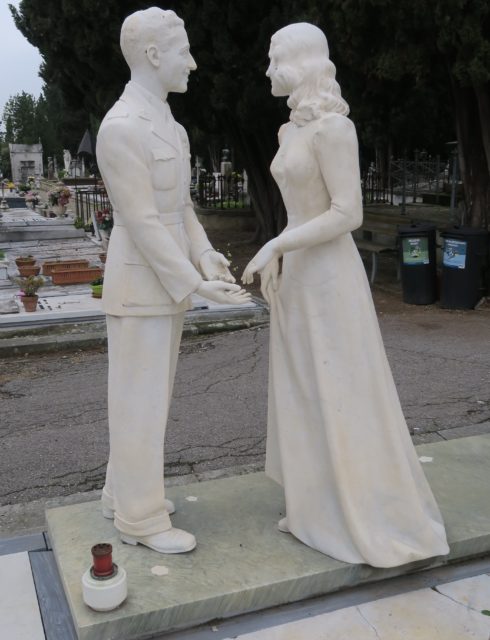 He is dressed in an airman's costume and the inscription reads that he was killed in Hamm, Germany on April 22, 1944, aged 25.  I was able to determine that there was a massive allied air raid on the Hamm marshalling yards on that date, so I presume Mario was either part of the Allied bombing group or one of the Axis defenders. Maria died in May 1945, aged 23. Despite the obvious affection between them, they were not man and wife, but brother and sister. The sculpture was commissioned by their grief stricken mother in 1947.
Leaving the cemetery we made our way back to the Arno by way of back streets and lanes where there was nary a tourist in sight, except for Alison.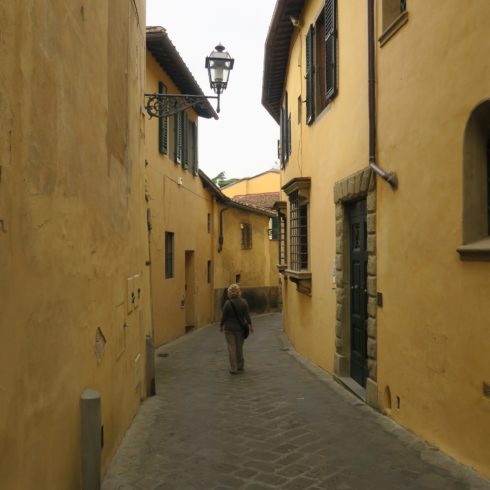 I did a double take when I saw this Florentine traffic sign.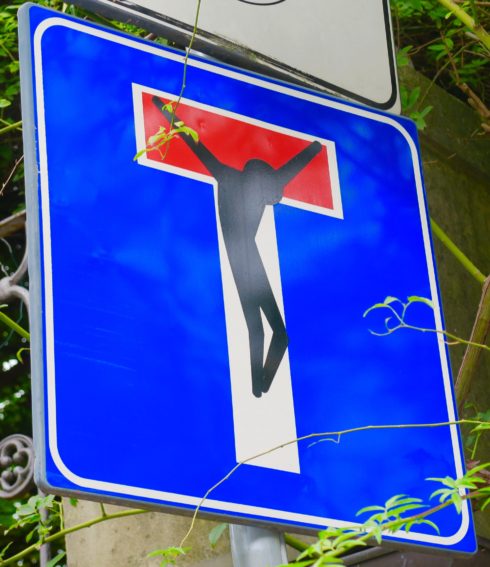 And realized when I saw the next one that someone was playing a joke with them.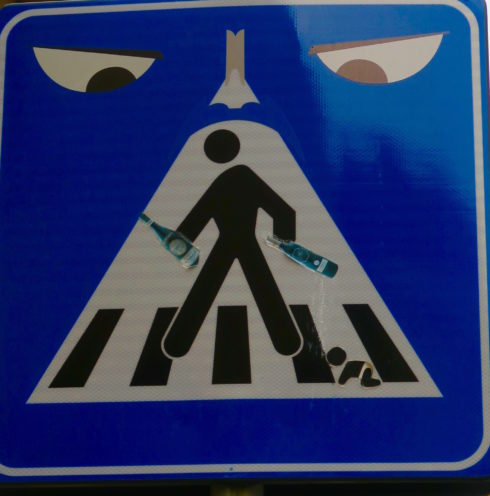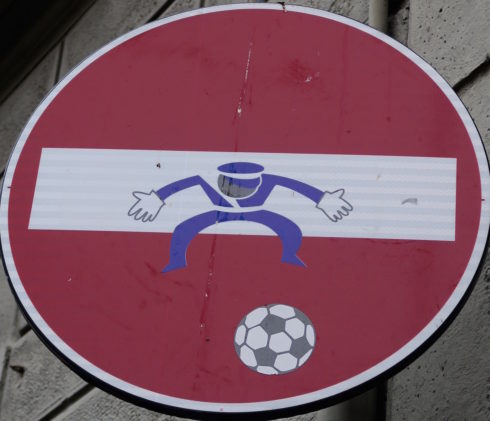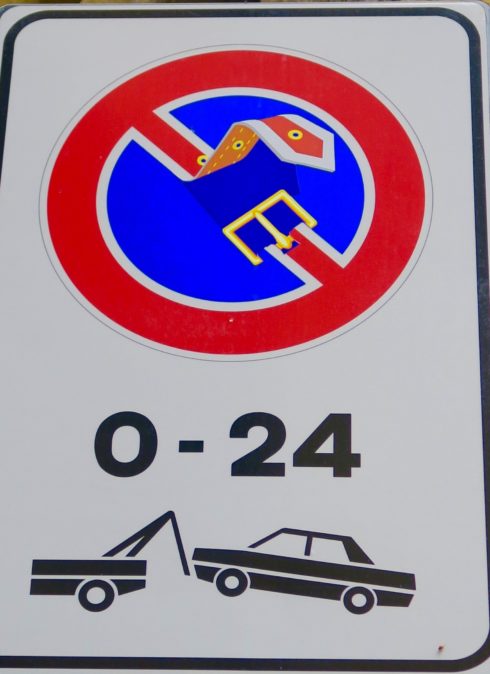 Florentine Steak
That evening we hooked up with my sister Anne, who had been on the Siena day trip, and decided to have a go at a great Tuscan feasting tradition, Florentine steak. After consulting a number of places on the internet we chose Osteria Pastella which was within walking distance and was noted for its Florentine steak. Now Florentine steak is no ordinary piece of meat. It is in fact a gargantuan T-Bone that technically needs to come from the Chianina breed of cattle and a female one at that. However, most restaurants offer a choice, as did Osteria Pastella, chianina or a cut from another, lesser breed of cow. The price for chianina was about double that for the 'other' steak, but in the interests of purity we opted for the real deal. I won't tell you what it cost or you'll think I'm nuts.
Here is our Florentine steak before cooking. Part of the tradition is that you get to choose your steak. This one was big enough for all three of us.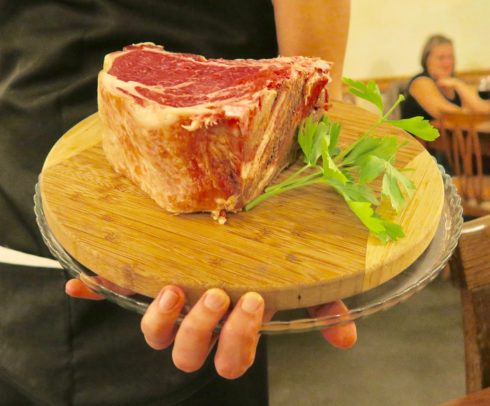 Now if you don't like your steak rare then you can't have Florentine steak because that's the only way they'll cook it. You can see from this photo that I just remembered to take in time before we ate it all, that it is indeed rare.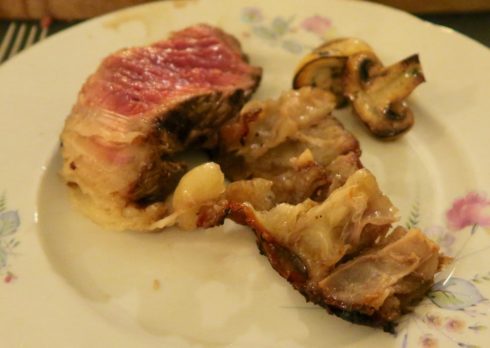 The steak is carved into strips at the table and served with fried field mushrooms and Tuscan beans. A 2012 Berardo Chianti Riserva was the perfect accompaniment. Warning, eating Forentine steak can bring on a feeding frenzy that is unstoppable as you can see from this picture of my sister Anne, who won't thank me for including her in this post.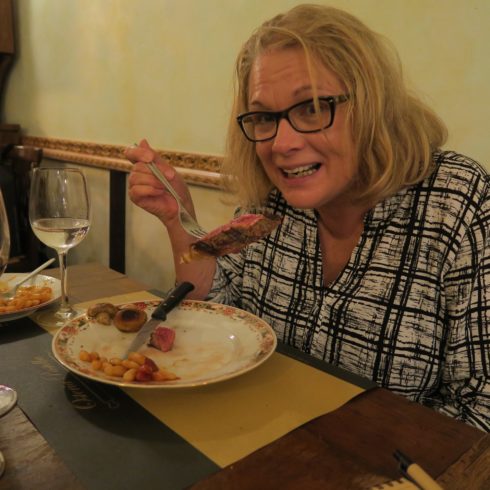 Was it worth it? Absolutely! Every dedicated carnivore should have a genuine Florentine steak at least once in their lives.
I hope you've enjoyed this respite from war, for tomorrow we head north for the Gothic Line and Canada's month of hell.