La Tempete Golf Club Hole by Hole
The people of Quebec have had a love affair with golf since Royal Montreal opened as the first golf course in North America in 1873. Thankfully the days of segregation when the Anglos played at English speaking courses and the Quebecois at French speaking ones are pretty well long gone. Golf is a game that knows no boundaries, whether they be linguistic or literal, and anyone who plays golf in Quebec today will be treated to an experience no different than anywhere else in Canada (except the food will probably be better). The Laurentians have long been known as an international four season tourist destination with resort golf prominent among the attractions. Courses such as Le Géant, Le Diable and Gray Rocks draw people from all over the world. However, I want to describe a wonderful course that I, as a Maritimer, can reach in an easy day's drive from just about anywhere in New Brunswick, PEI or Nova Scotia. It's La Tempete, and it's just outside Quebec City in the community of Lévis on the south side of the St. Lawrence. Won't you join me in a hole by hole trip around this hidden gem?
I recently played two rounds at La Tempete, which is actually properly spelled with a circumflex over the second e, as such, La Tempête. The problem is search engines hate anything out of the ordinary and a lot more readers will find this post without the circumflex than with it. The name, not surprisingly translates as The Tempest and the motto is a blue dragon which in Chinese mythology is associated with water. There is a lot of water on the course and on the two days I played, a fairly gusty wind; hence the name was more than appropriate.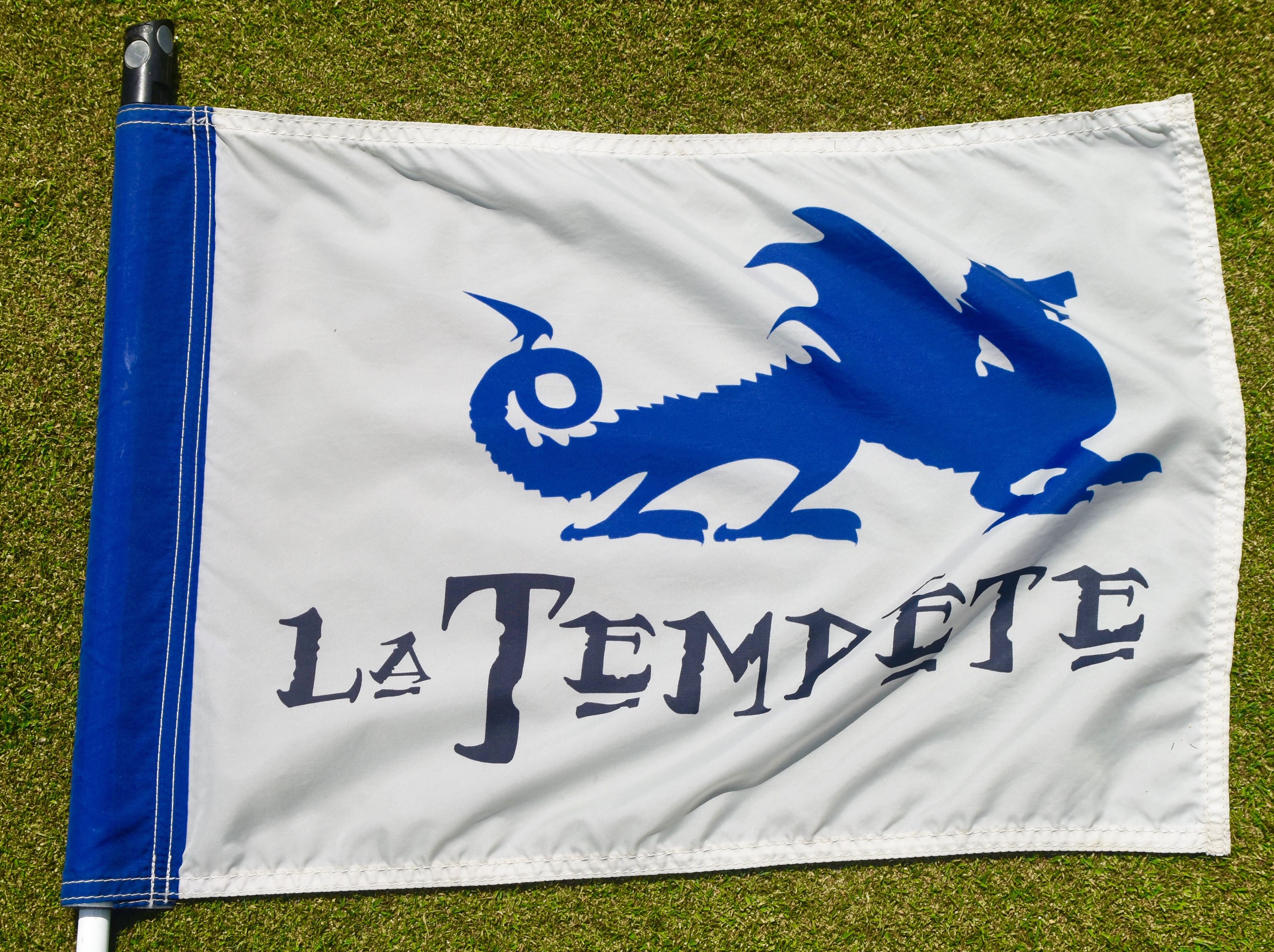 La Tempete is a hybrid type course, with corporate and individual private memberships as well as being open to public play under certain conditions. Guests of Hôtel Le Bonne Entente across the river in Ste. Foy are given preferential tee times and rates. They provide a shuttle service to and from the course and run the excellent restaurant on site. Green fees are a quite reasonable $125.00 for a course of this quality.
Huxham Golf Design
La Tempete was designed by Canadian brothers/golf architects Darrell and Warren Huxham. I was not that familiar with their work until I learned that Warren had plied his trade under the tutelage of legendary Canadian golf architect Graham Cooke.  Warren worked with Cooke on two of the best know modern courses in Nova Scotia – Glen Arbour and Fox Harb'r.  Graham Cooke in turn, is a protégé of the even more illustrious Pete Dye, who was responsible for almost single-handedly reviving the tradition of links style golf courses in modern golf design.  That's a pretty good pedigree.
Recently I got to play another Huxham design in the Maritimes, Fredericton's excellent new West Hills Golf Club.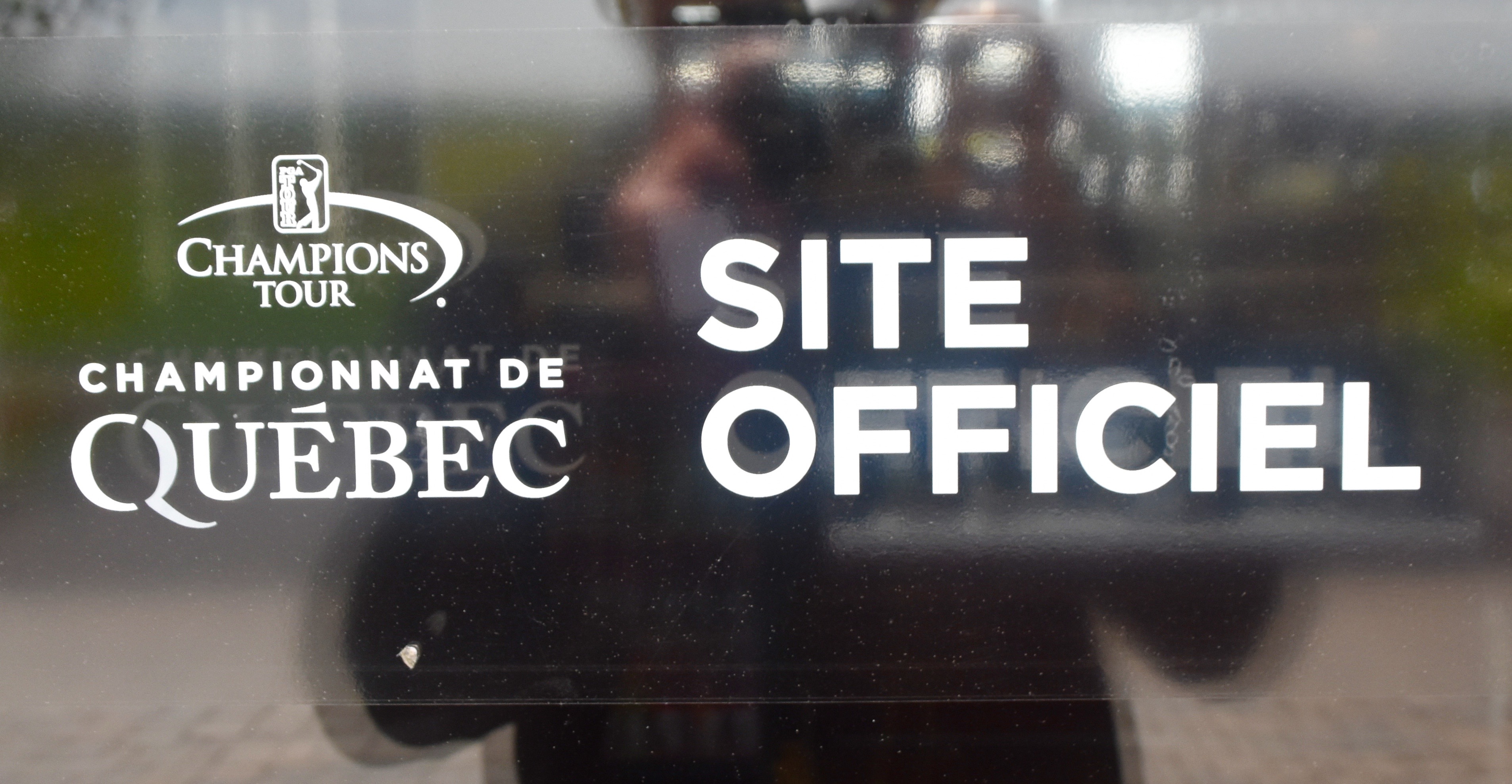 La Tempete opened for play in 2005 to considerable acclaim and in 2009 hosted the Telus World Skins game where Australian Geoff Ogilvy bested a field that include Freddie Couples, Sergio Garcia, Ian Poulter and Canadian Mike Weir. In 2014 it played host to the Champions Tour in the Championnat de Québec, the first time since 1956 that a PGA sponsored event was held in the Quebec City area.
Here's the layout.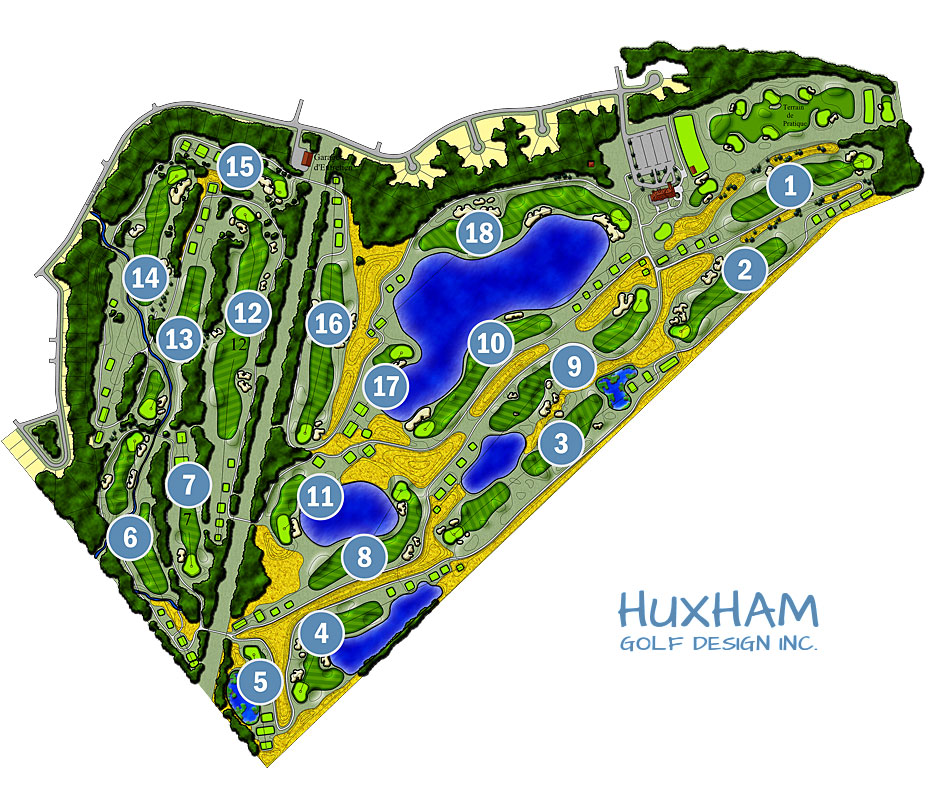 Looking at the map you'll notice that the course is divided into two parts, with a dozen holes laid out in what is called 'stadium' fashion and six tree-lined in both sides. This gives two distinct appearances to the course and two distinct ways to screw up. On the stadium holes it's water, traps and fescue clumps as well as swirling winds; on the other holes it's trees, traps and one very mean gully that wends its way across #6, 13 and 14. From the tips La Tempete is 7,203 yards, which explains why the big boys can play here. I'll be playing from the whites which is still a challenging 6,188 for an old guy like me. OK, let's play.
La Tempete #1 – 370 Yard Par Four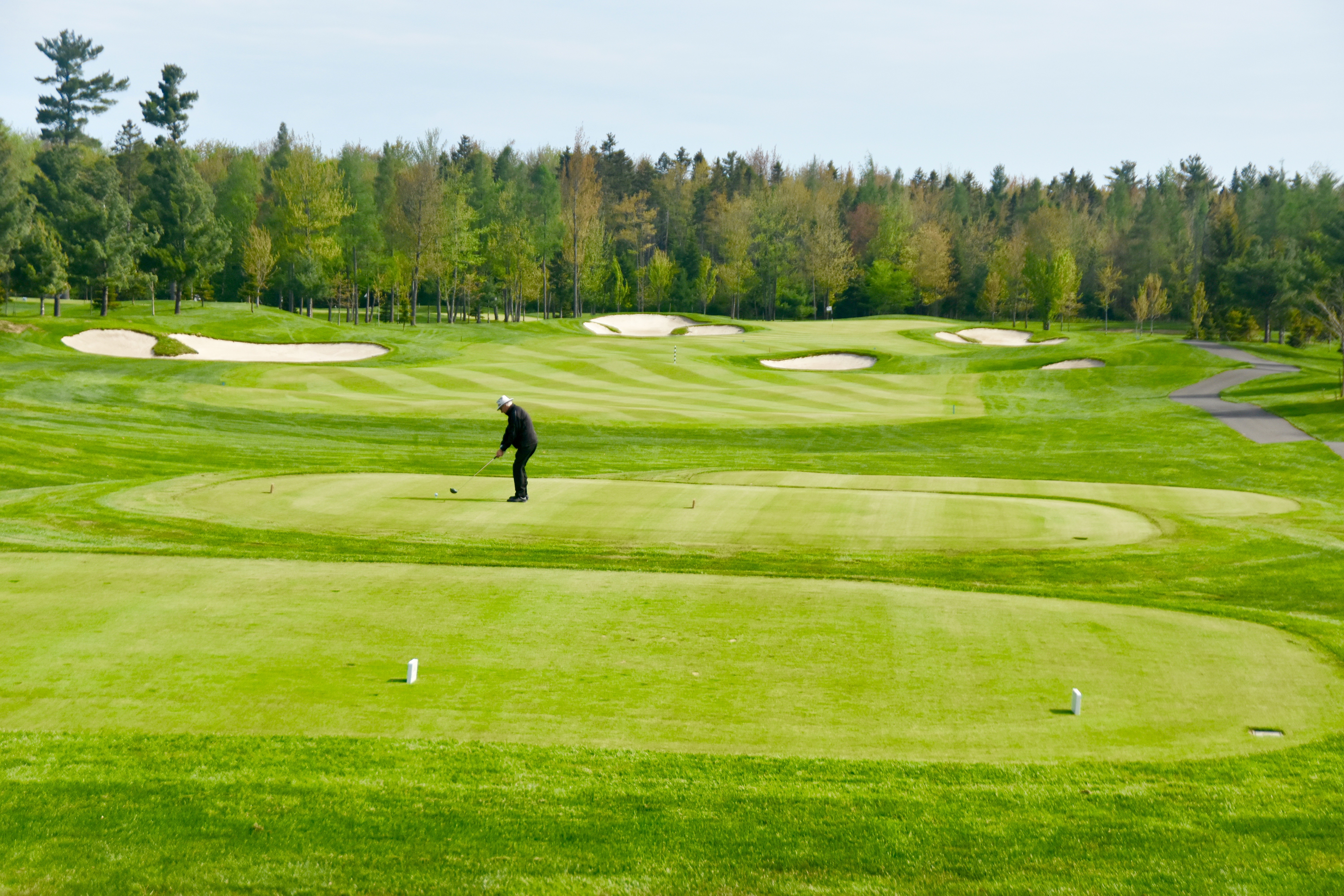 As starting holes go this 370 par 4 is fairly benign, with a usual tail wind which makes it play much shorter. That trap in the centre of the fairway is reachable from the tee (I know because I was in it). Even though it's not yet June, the fairways and greens are in excellent condition and makes it very easy on the eyes. Also, despite a cold and wet spring in eastern Canada, the course had drained well enough to permit carts on the fairways. There is nothing I hate worse than to play a course that you cannot walk, but are required to keep the carts on the paths at all times. It absolutely kills the tempo of the round.
The greens at La Tempete were in very good shape with virtually no winter kill, a bane of many Canadian courses. I would describe the speed as moderate to fast with not a great deal of undulation. Still, they were not easy to read and there were many putts throughout the round that did not break the way we thought they would. Playing the course on the second day, our foursome putted much better, having gained some knowledge of the speed and breaks from the day before. – i.e. you might want to play La Tempete twice in order to get the most out of it. Our second round was on a Monday morning and we were almost the only ones on the course.
#2 – 386 Yard Par Four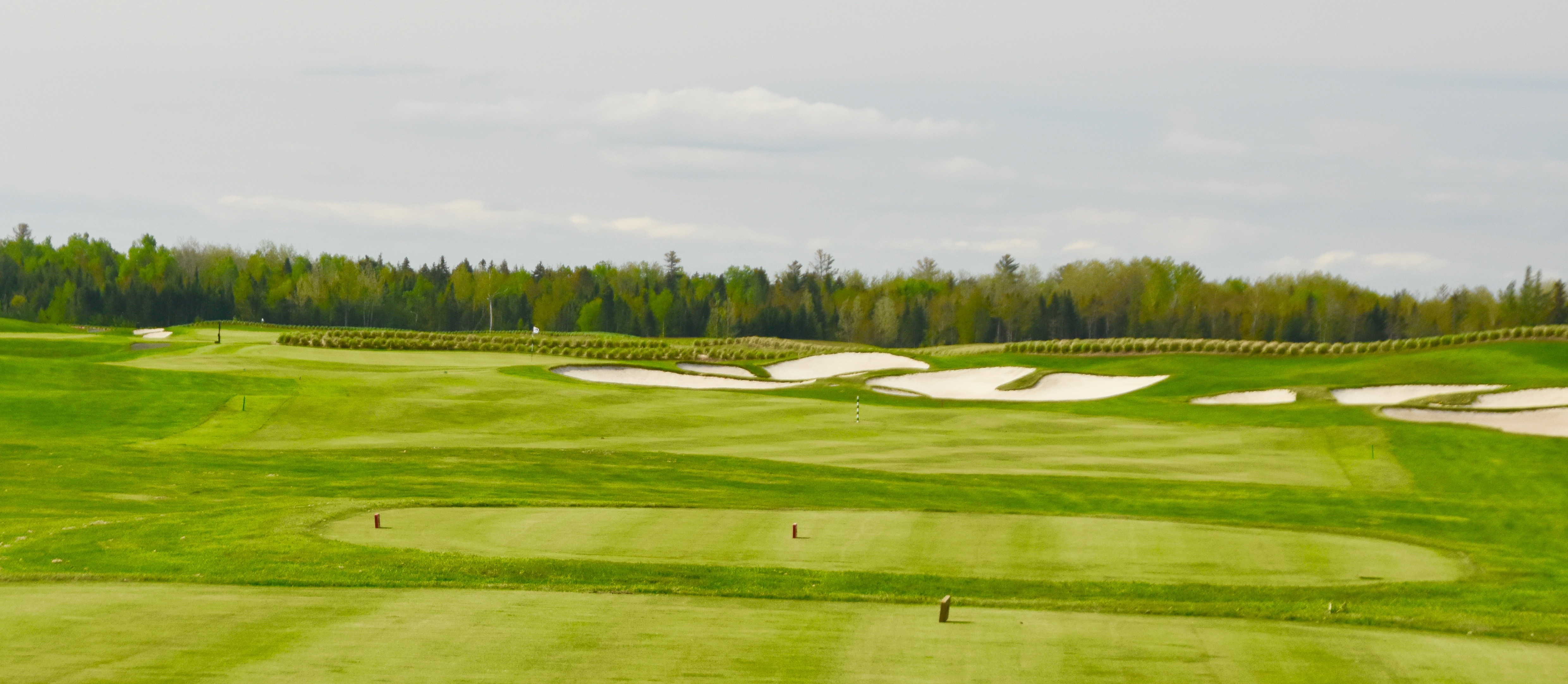 #2 is a brute of a par four at 386 yards with a headwind. This photo doesn't really show it, but it's actually 262 yards to the first trap on the right so avoiding them shouldn't be an issue off the tee. It's the second shot that's the killer here. Unless you can really pound the ball (in which case you shouldn't be playing from the whites), the second shot will almost certainly be a wood. See those clumps of grass behind the green? They look pretty, but are an absolute disaster to land in and are a real hazard on about half the holes at La Tempete. Just getting by this hole with a bogie is an accomplishment for most.
La Tempete #3 – 459 Yard Par Five

#3 is the first par 5 on the course and by far the easiest of the five.  At 459 yards it's not long, but it is into the wind so 99% of average golfers are going to need three shots to get there. From the tee there is a water hazard (the area between the red tees and the long brown grass) which is easy to clear, but the first traps on both sides are within driving distance. You can't see it in this photo, but there is a large water hazard on the right which really shouldn't be in play for the second shot. The approach shot is to a small narrow green guarded by traps on both sides, but not the front or back. If you can manage this shot, for which you most likely have a wedge in your hand, par is a good possibility.
 #4 – 341 Yard Par Four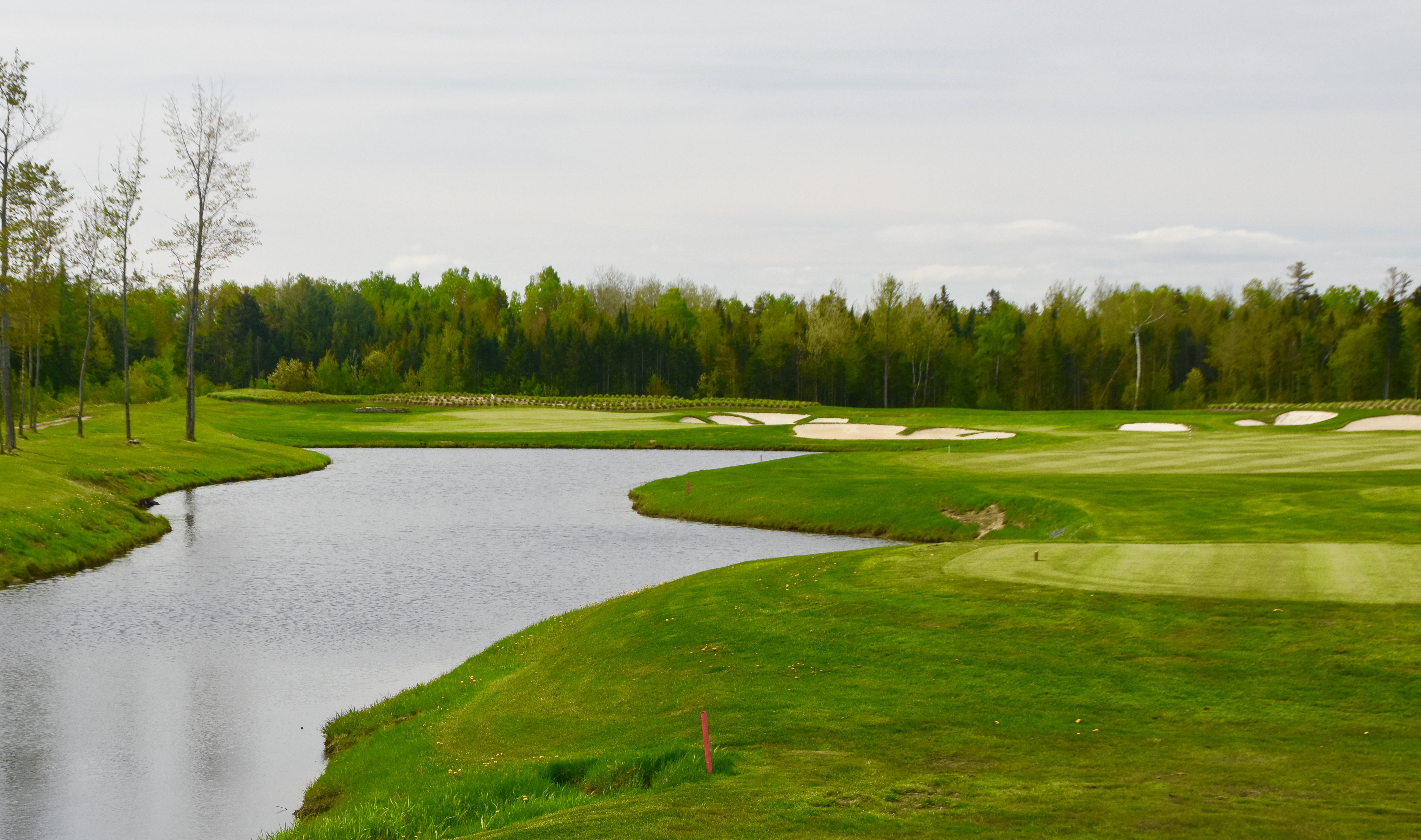 This is the first of what I considered to be quite a number of really good holes at La Tempete. At 341 yards it's the shortest par 4 on the course, but as you can see, distance can be deceptive. At 262 yards there is no way that any sane golfer is going to try to clear this water hazard from the tee so driving well out to the right is the only option. From there this is what the approach looks like.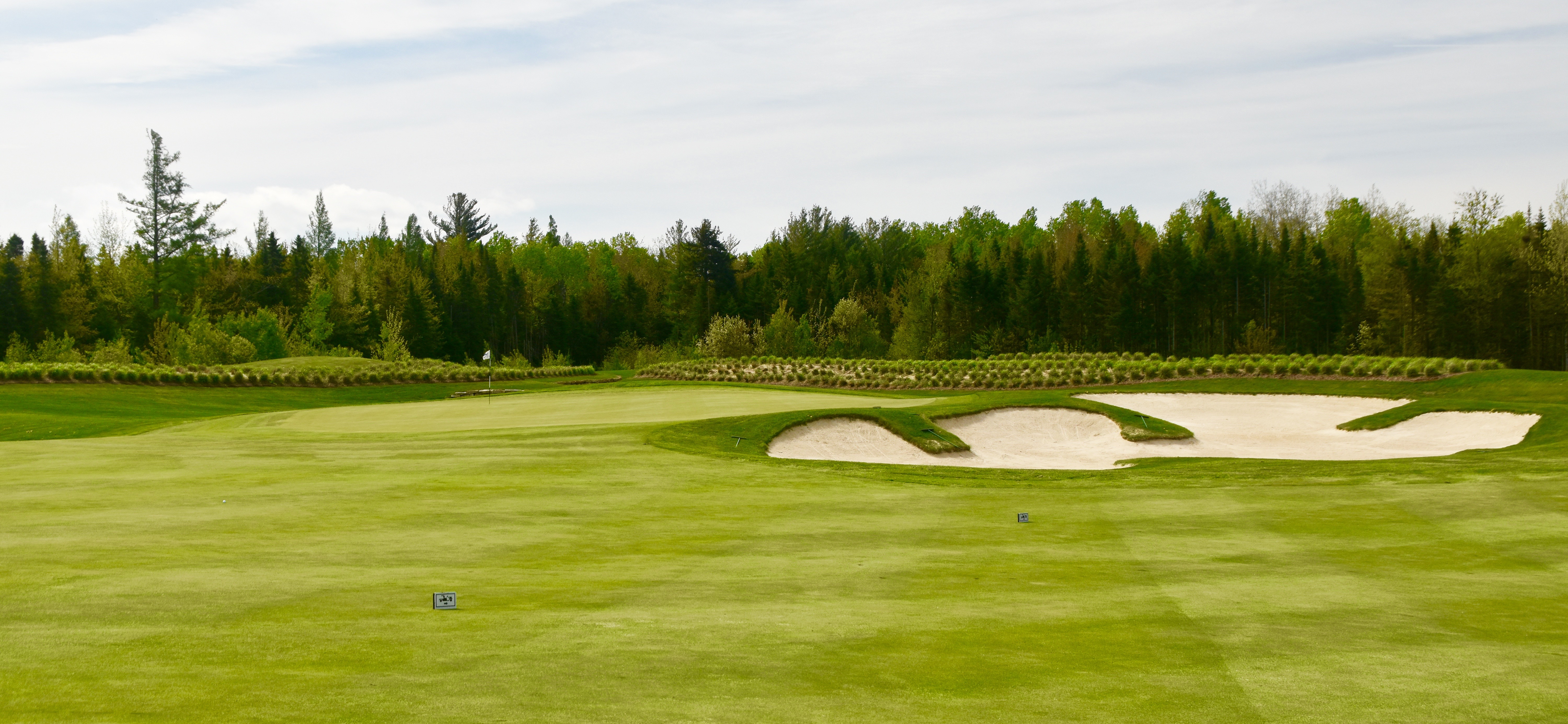 The foreshortening makes this look a lot closer than it is. A word on the sand traps, since that's where I ended up after this shot. Put simply, they are superb. The sand is soft, deep and consistent from trap to trap. If you know how to play bunker shots then the traps at La Tempete will not be a source of frustration and you may well pull off a few sand saves. Nothing makes an average golf feel like a pro then a sand save.
La Tempete #5 – 147 Pard Par Three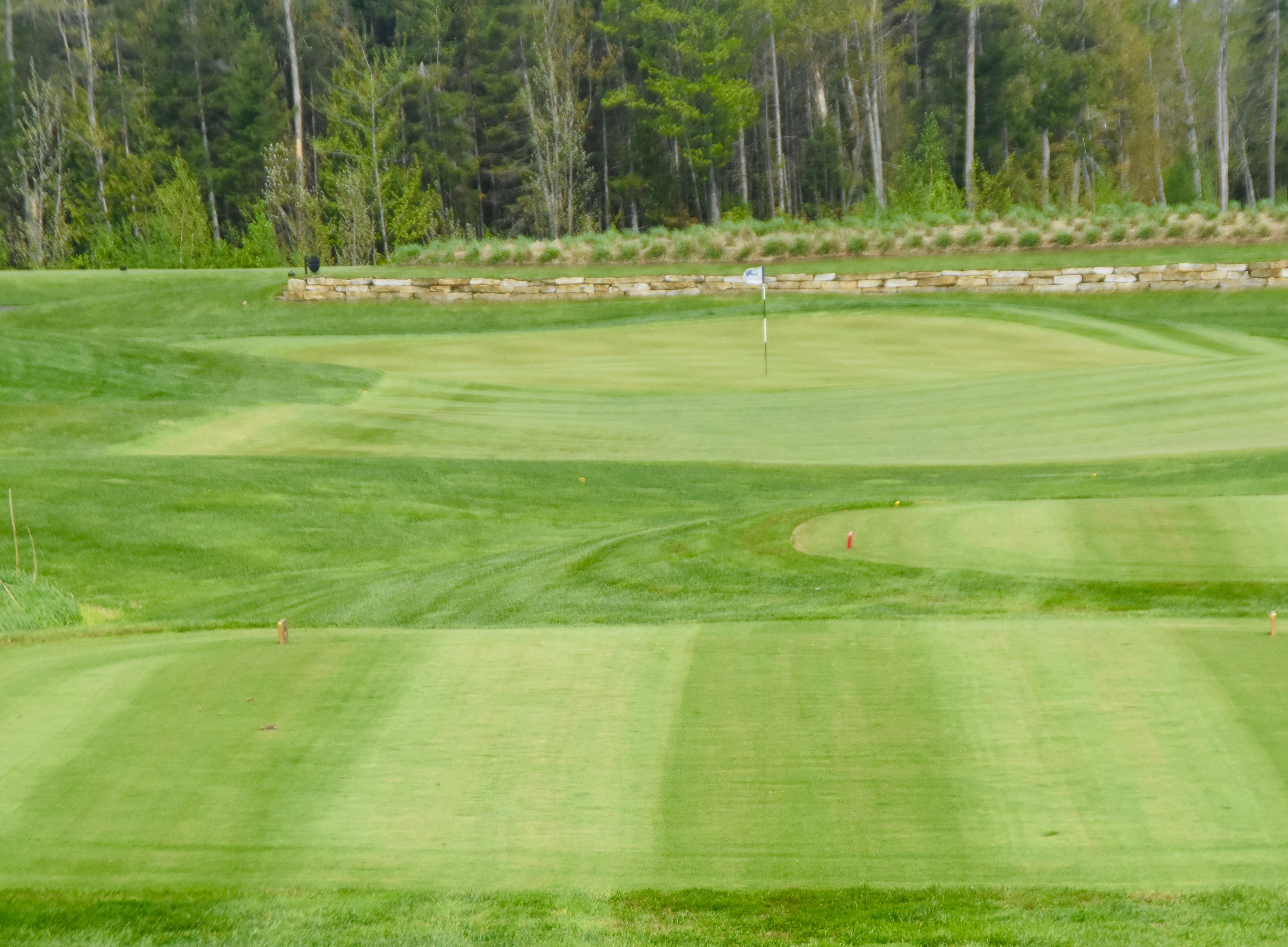 This is the first of five par threes on La Tempete and in my opinion, by far the weakest of the lot. At 147 yards it's not long and there are no hazards of any kind. The only thing tricky about it is the green which has some pretty decent undulation. From here on in the par threes get much better.
#6 – 388 Yard Par Four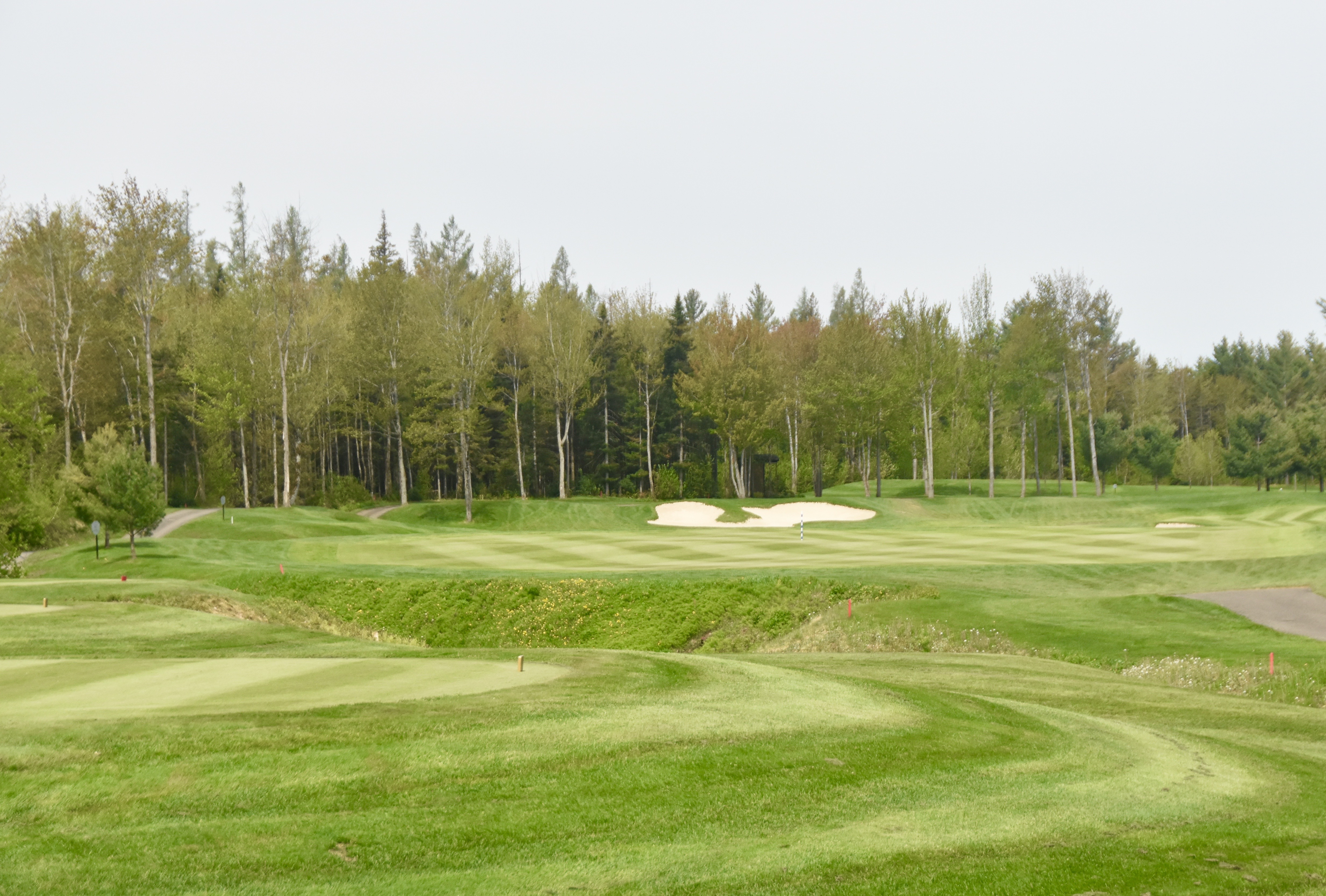 Getting a little cocky after the hohum 5th, the average golfer faces a 6th hole that is almost sadistic in its difficulty. The hardest hole on the course requires crossing a deep gully twice with a damn near impossible second shot. At 388 yards and with trouble everywhere you have to play this as a three shot hole to the green. Otherwise you will almost certainly incur at least one penalty stroke. From the tee the gully slants diagonally left and is very much in play for a left handed slice or a right handed hook. Going right off the tee is the best route, but anything just a little too far right and you'll be in the trees. This is the first hole played through the great Canadian north woods, so if you've been sloppy with your drives on the wide open opening holes, you will pay the price on the next two holes and severely on the back nine.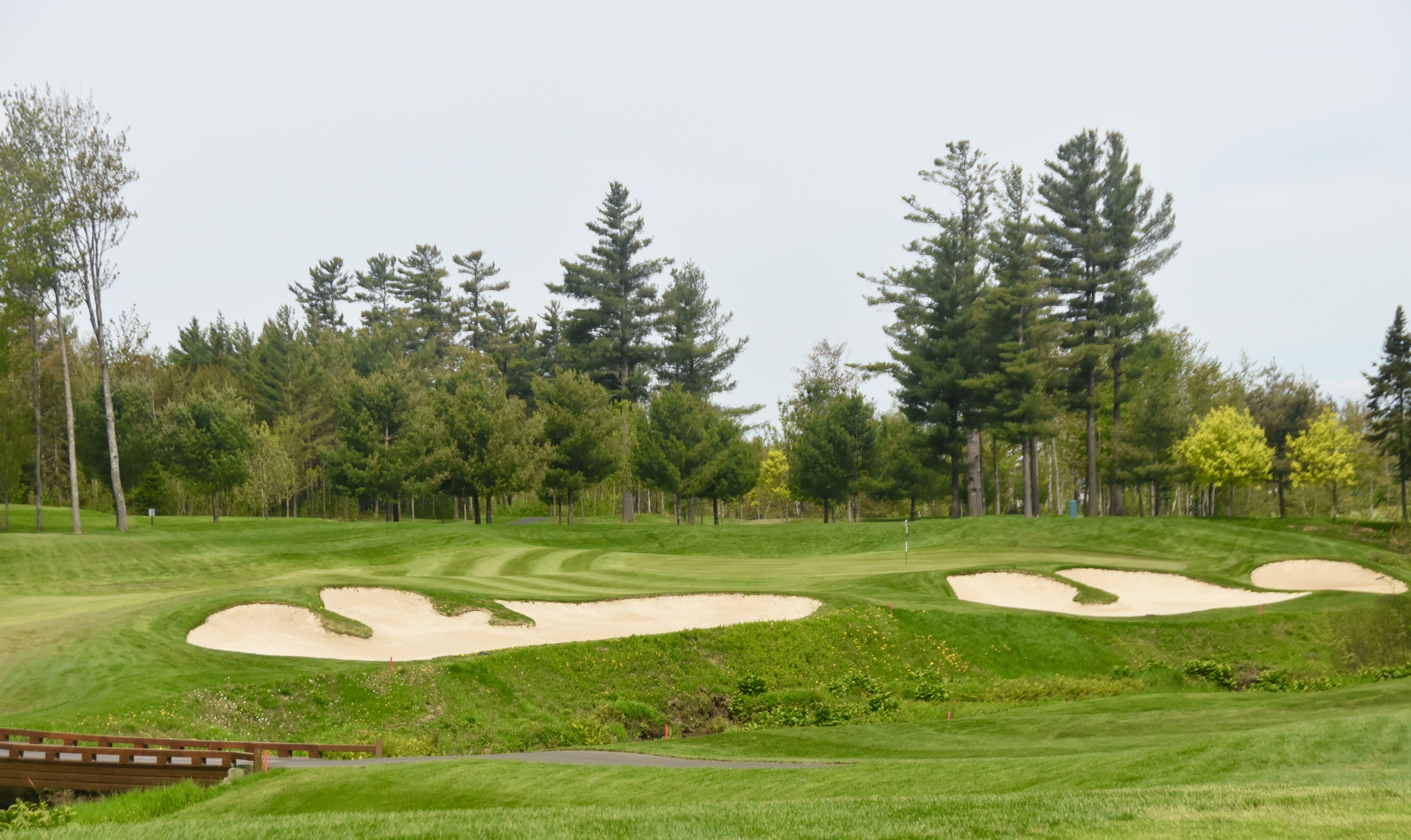 This is the approach to #6 green. The shot is taken from the end of the fairway just over 200 yards off the white tees. Believe me it is a lot harder than it looks. Anything not smoked dead straight is probably going to end up in the gully or if you're lucky in the front bunker. The smart play here is to just take a 7 iron and hit over the forward trap and hope you can save part with a chip and putt. A five looks a hell of a lot better on the card than a seven. BTW #6 is a beautifully designed hole, even if it is a beast.
La Tempete #7 – 180 Yard Par Three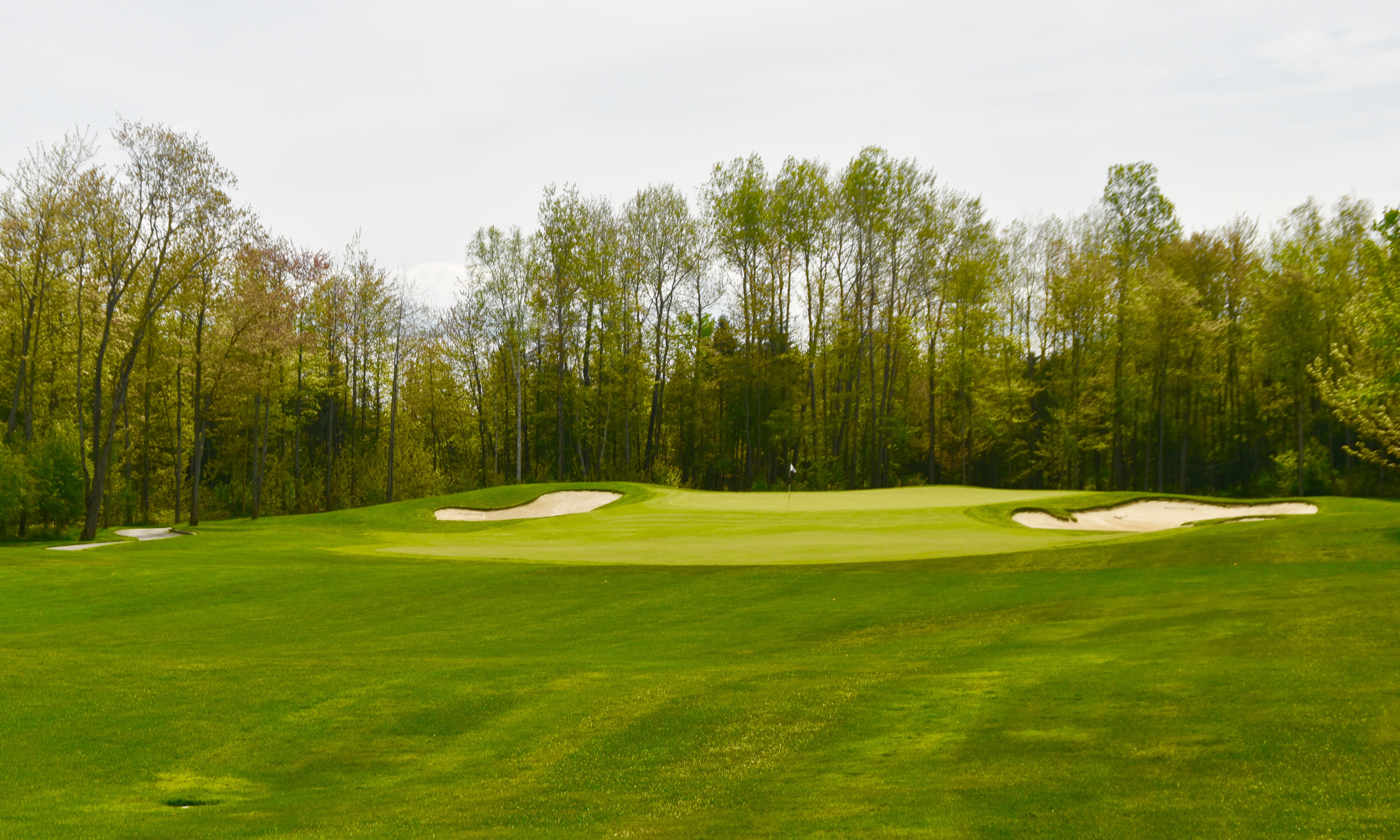 The second of the front nine par threes looks pretty simple, but at 180 yards uphill, it's not – unless your Fred Couples who put it within six feet from 242 yards with a 2 iron. I didn't even know they still made 2 irons. For the average golfer this is going to be a wood off the tee and just pray it goes straight. Even then, the green is so big that three putts are the norm for guys like me.
#8 – 352 Yard Par Four

#8 is the second of the risk/reward dogleg par 4's on the front. At 352 yards it's reachable with a good drive and the thankfully you're back on the stadium part of the course so the only thing to avoid is the large pond on the left. Still you are going to have to deal with it on the second shot which looks like this. That's intimidating.

Again, like six, you can chicken out and play for a bogie and maybe get a par or you can man up and go for it. What you don't realize is just how elevated the green is. Notice the layers of rock on the other side of the pond that create that elevation? One member of our group who's a much better golfer than me, slammed his ball into them so hard it almost bounced all the way back over the water. After a decent start La Tempete is really starting to fight back.
La Tempete #9 – 483 Yard Par Five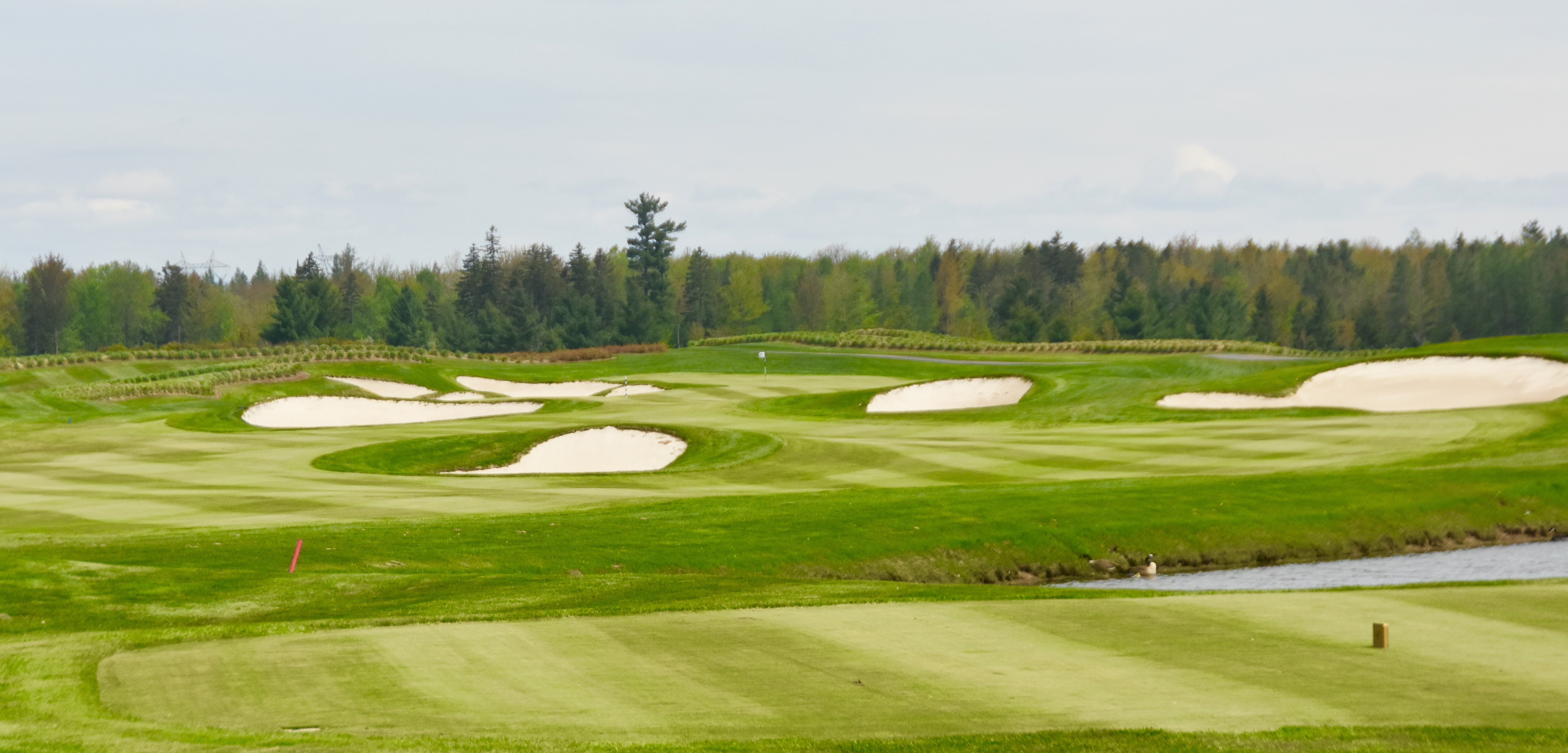 #9 is a lovely hole to look at from the tee. The water on the right is not really in play, but the traps sure are. The smart play is to go straight over the front trap to a pretty wide landing area and then stay right with your second. The only problem is that the immense green has three tiers and if you get on the wrong one then even with three well played shots i.e. not in any traps, you still might not get par. This is a strong front nine finishing hole.
 #10 – 400 Yard Par Four

While the front nine has the traditional five par fours and two par fives and two par threes, the back features three of each starting with this ball busting 400 yard par four. Not only does it play into the wind, but there is nothing but water and sand down the right side. Standing on the tee the fairway looks a lot skinnier than this photo makes it look. This is one of three holes that play alongside what we were told is the largest man-made lake on any course in Canada.
By some miracle I actually parred this hole on the second day and convinced myself that I was going to have a stellar back nine. After all I just parred the toughest hole on the back. La Tempete had other ideas, as I soon found out.
La Tempete #11 – 168 Yard Par Three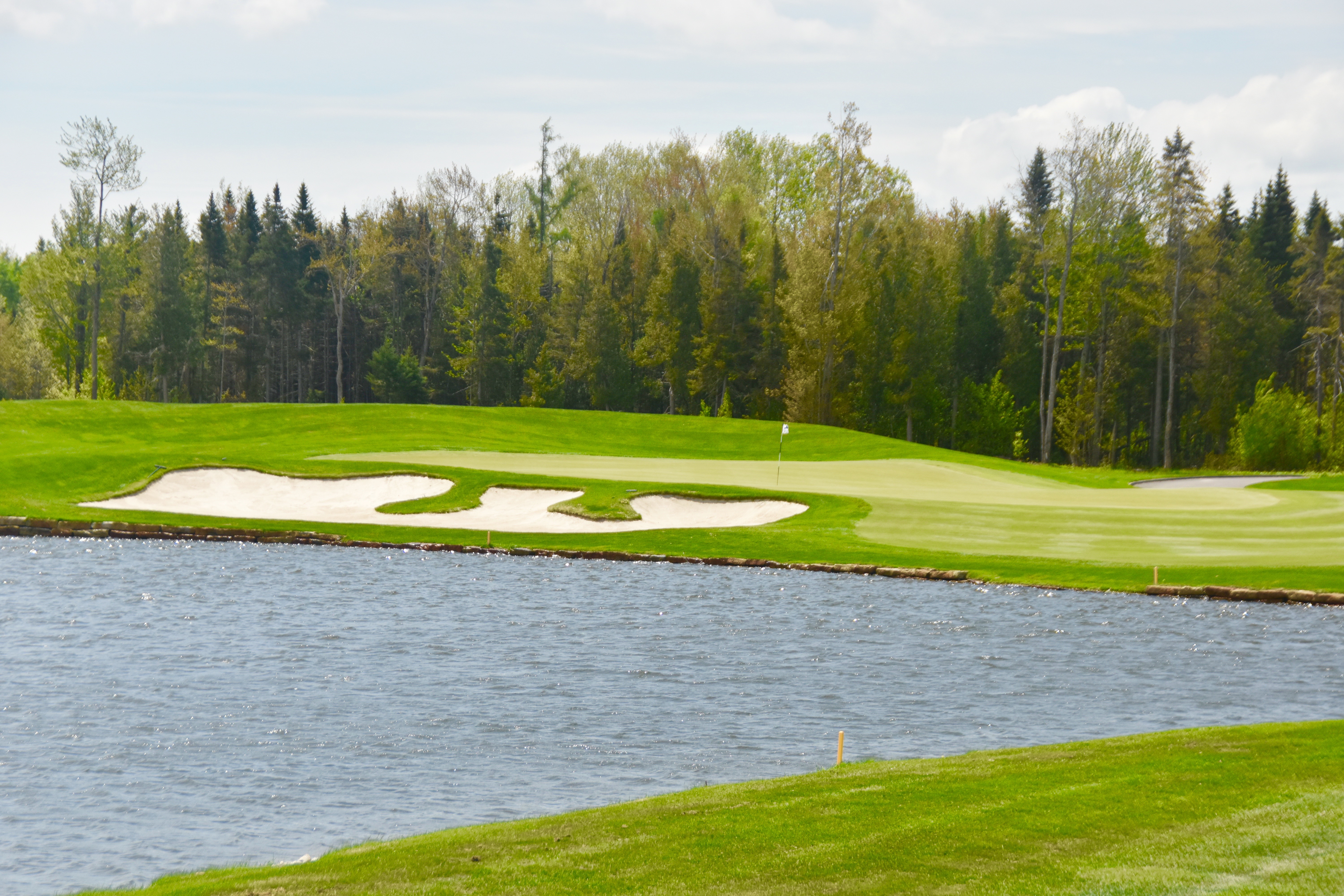 For a left hander this is a terrifying par three, especially into a strong headwind that's going to exaggerate any flaw in your swing. At 168 yards it's attackable, but if you don't take enough club then forget it – water or sand await. That's starting to become a familiar refrain on La Tempete. This is a hole that I think would be a pleasure to play with no wind, but on the stadium part of the course that's going to be a rarity.
#12 – 540 Yard Par Five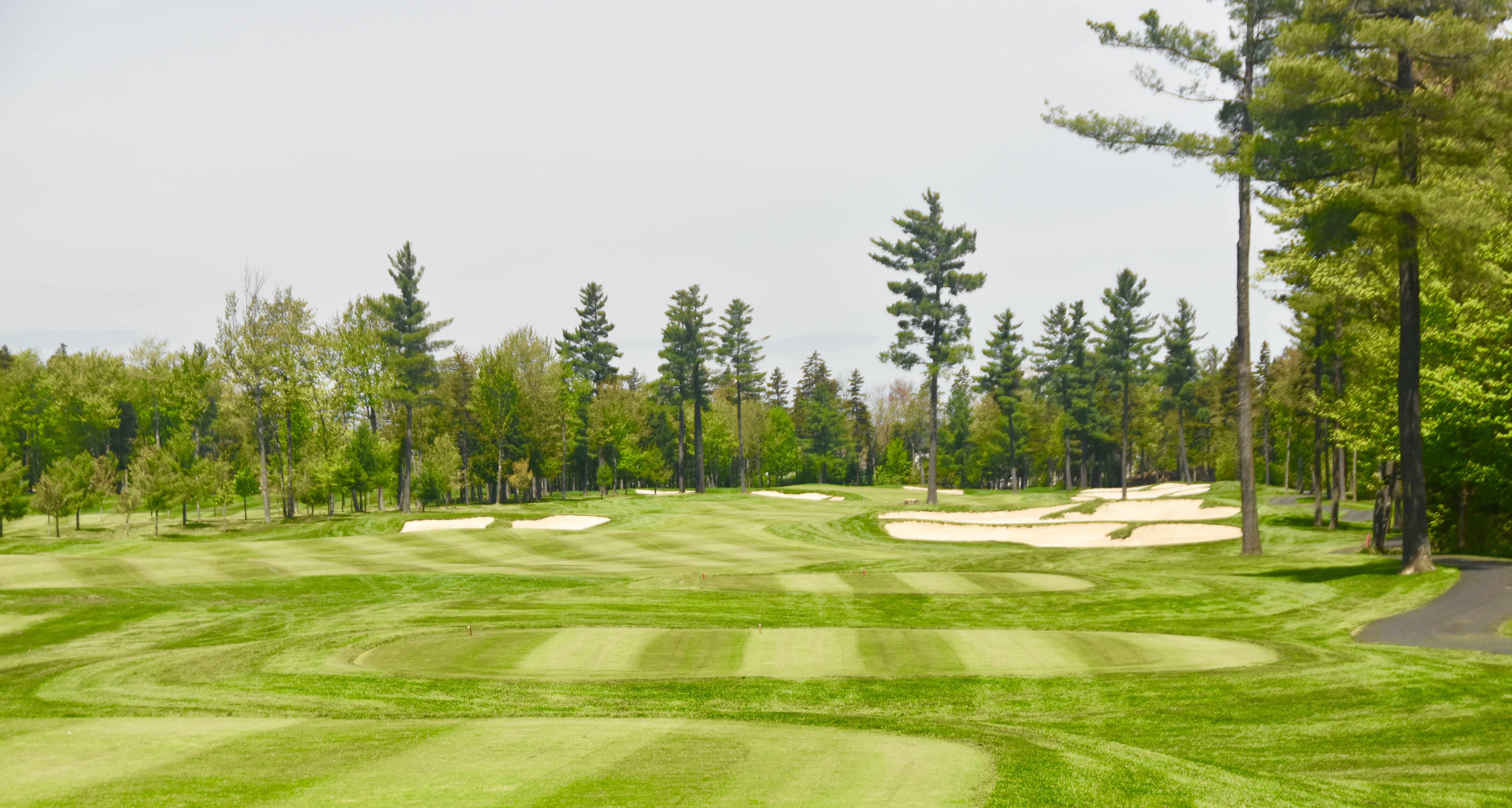 At #12 you literally cross the tracks and return to the wooded part of the course for the next four holes. This 540 yard par 5 is narrow, winding and lined with trees on both sides. Some of these pines are over 100 years old. With the number of hardwoods in the forest mix I bet this is a beautiful hole in the fall. As it is, it requires three good straight shots to get to the green. Avoiding both the traps and the woods is probably a 50/50 proposition for most golfers. It's a stand up par 5 by any definition and one of the most memorable holes at La Tempete.
La Tempete #13 – 364 Yard Par Four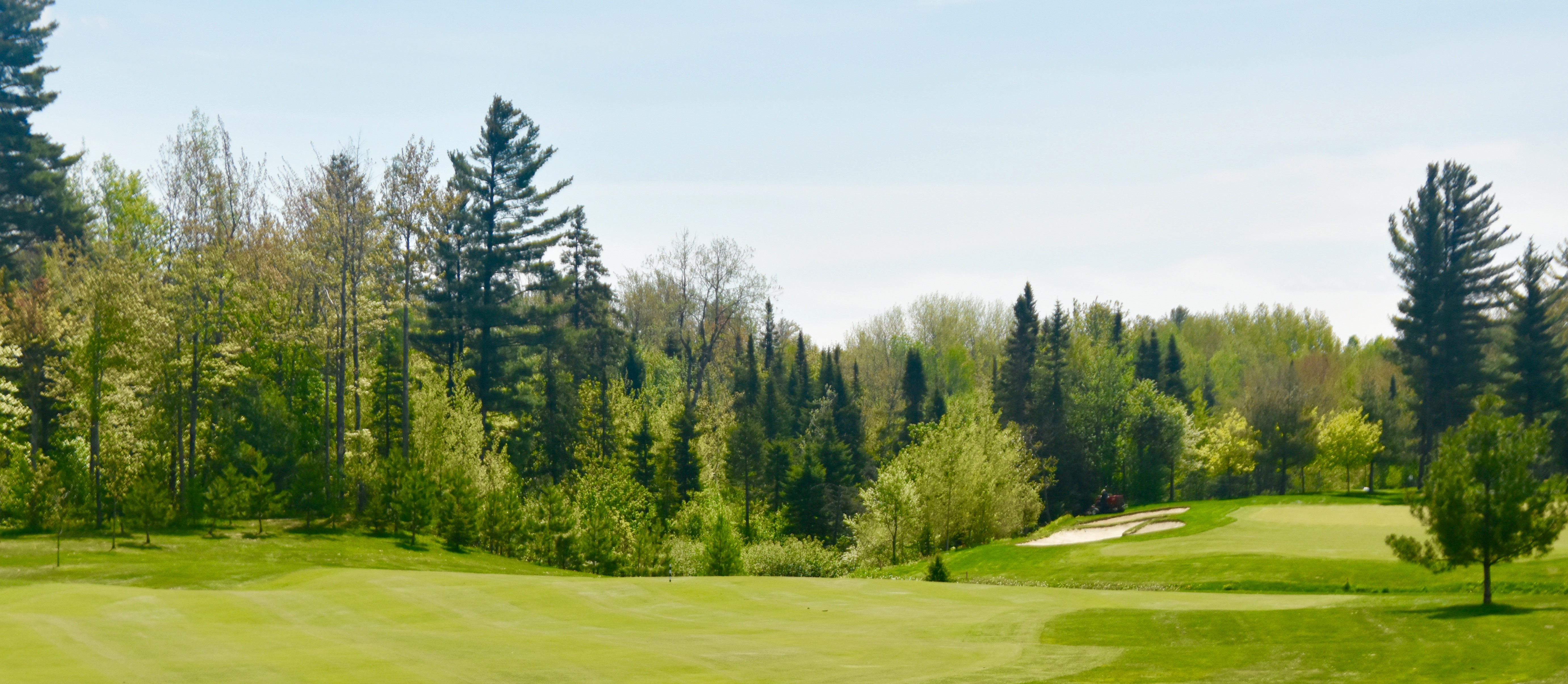 #13 is allegedly the easiest hole on the course. I say allegedly because I think that's b.s. You have to deal with that damn gully again on your second shot. With a good drive you will probably have a downhill lie to an uphill pin with the gully waiting to gobble up any ball that's not hit square. I mean how often do average golfers screw up on downhill lies? We have a hole very much like this on my home course of Ashburn and despite playing it hundreds of time I've never felt comfortable trying to hit a 160 yard approach off a downhill lie over a hazard and I know I'm not alone. So forget thinking that this is an easy par, it's anything but. It is however, a very pretty hole, I'll give it that.
La Tempete #14 – 452 Yard Par Five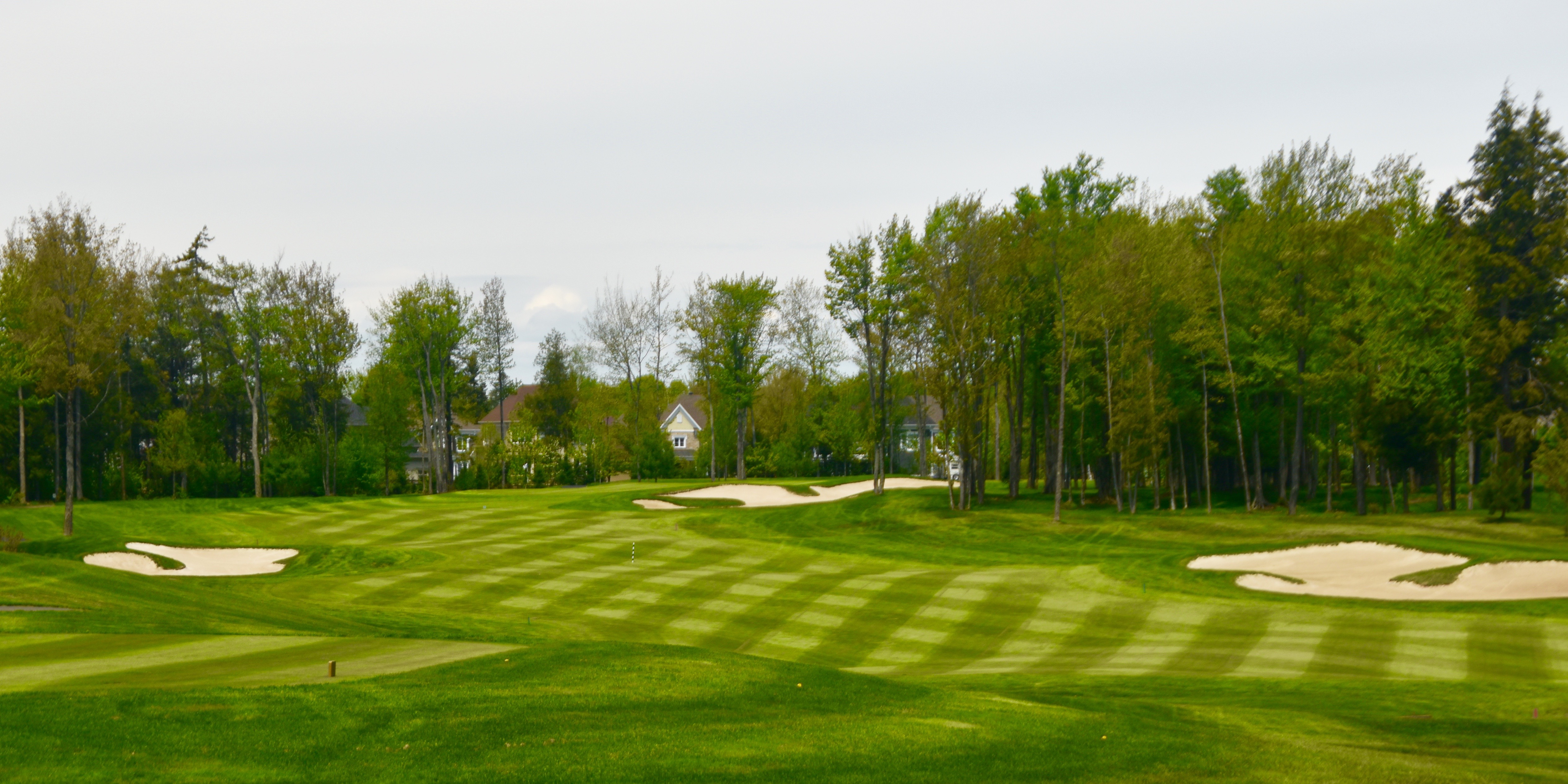 #14 is a short par 5 where the tee shot makes all the difference between a shot at par, maybe even birdie or disaster. Again the photo does not show the gully that runs across the fairway about 170 yardsf rom the white tees. It's 186 yards to clear it which is fine if you hit it straight, but if you are left at all your ball flight will track the shape of the gully and you are dead. If you hit it right you may be worse off. If you stay out of the trees you will still have to hit a good shot to get far enough to go for the green in three. This is a thinking man's par 5.
Or a lucky man's. This is where I ended up by hitting so far left I never made it to the gully and actually was able to get on in three and par the darn hole. Notice the houses peeking through the trees. One of the great things about La Tempete is that you can see signs of civilization on very few holes. There are no houses lining the fairways.
La Tempete #15 – 155 Yard Par Three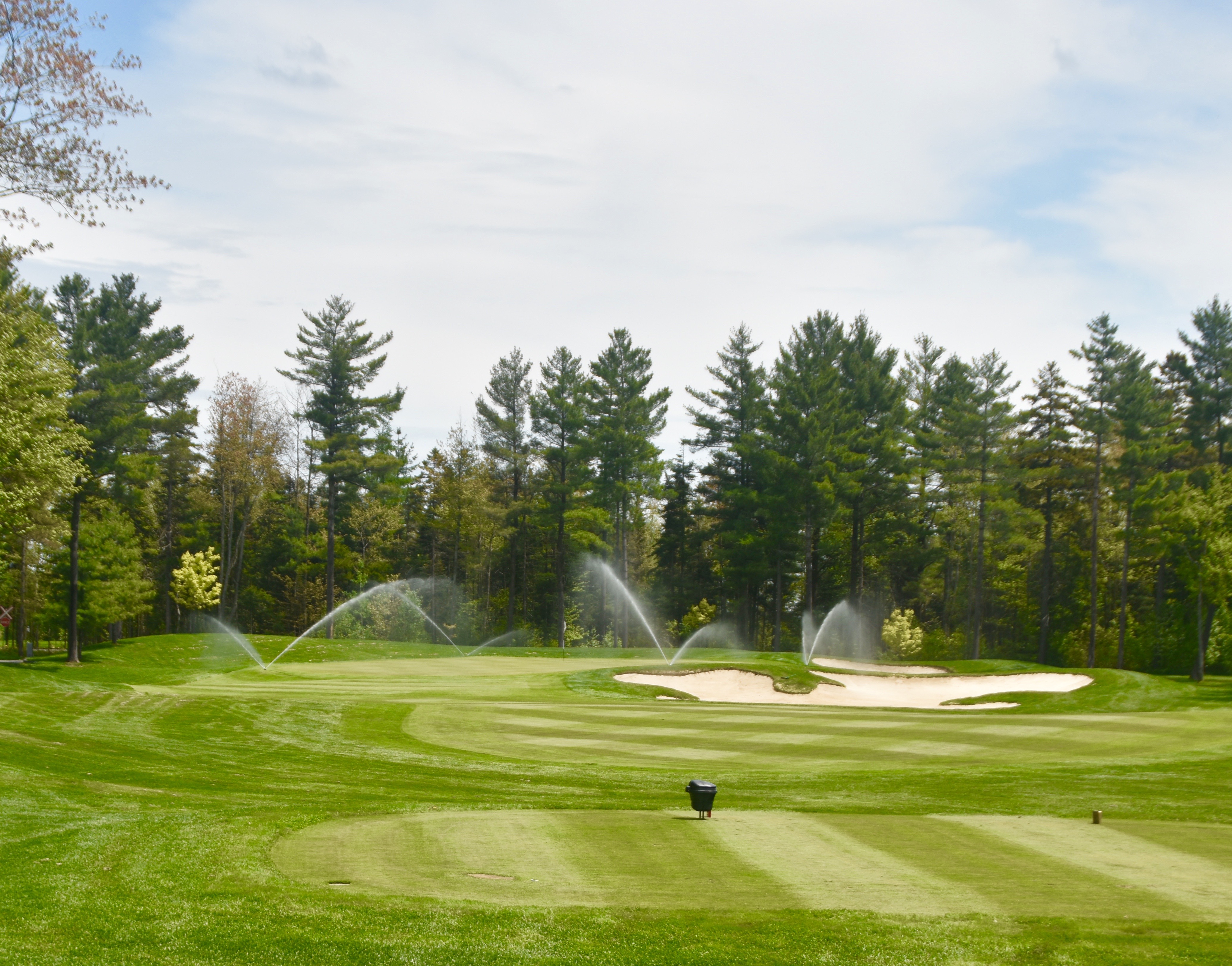 #15 is all about pin placement. If it's behind the right hand trap then it's a much tougher hole than if it is on the left side. No matter where it is, the smart play for the average golfer is to avoid the traps and go for the left side of the green and let your putter do the rest of the work. Easier said than done. And BTW the sprinklers will shut off as you approach the green.
La Tempete #16 – 394 Yard Par Four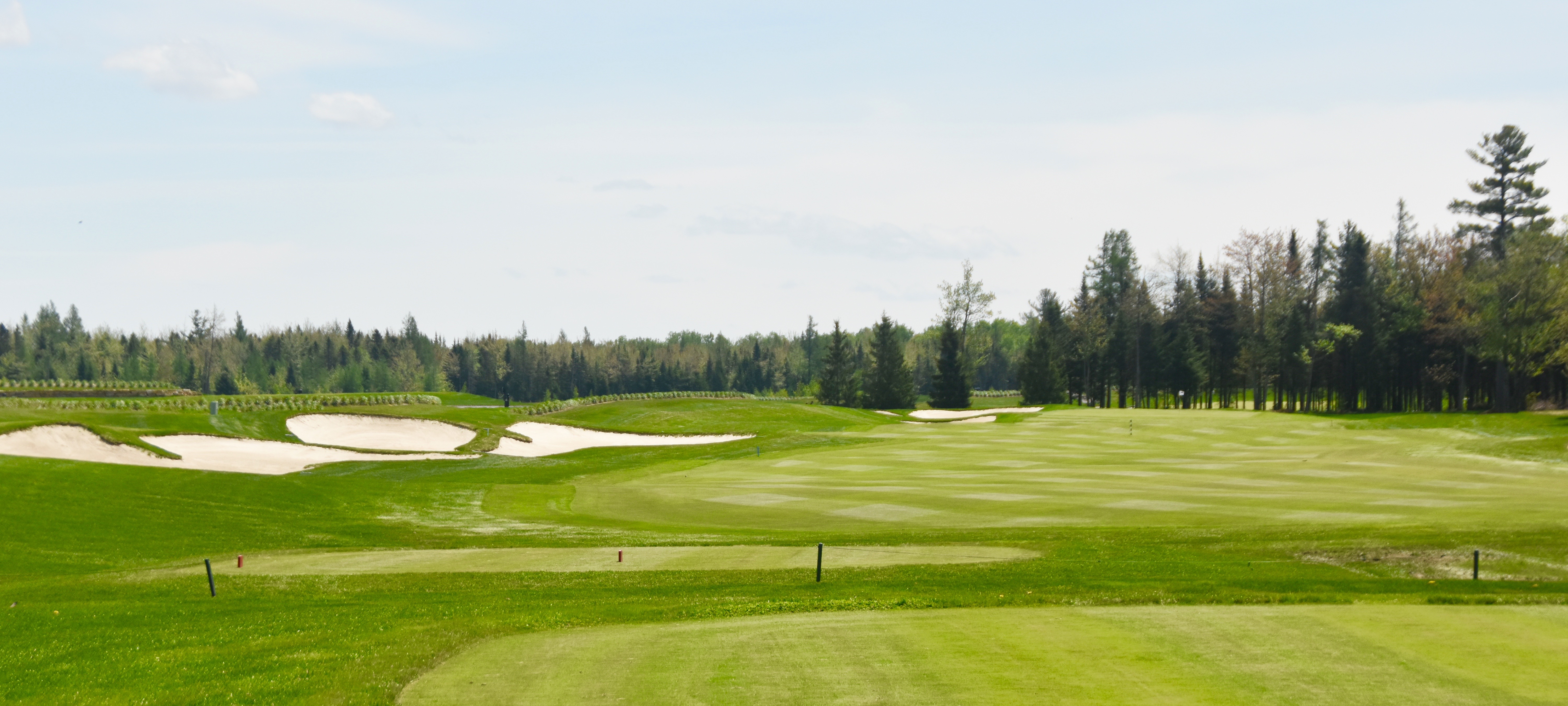 #16 is a unique hole at La Tempete in that you have a combination of the woods on one side and the stadium type hazards on the left. It's the last par four and to my mind one of the hardest. It's long at 394 yards which means most golfers won't hit it in two. The failure to recognize that reality will lead to overswings with fairway woods that seldom end well. The green is small by La Tempete standards and probably the hardest to read on the course. Five is a good score here.
La Tempete #17 – 133 Yard Par Three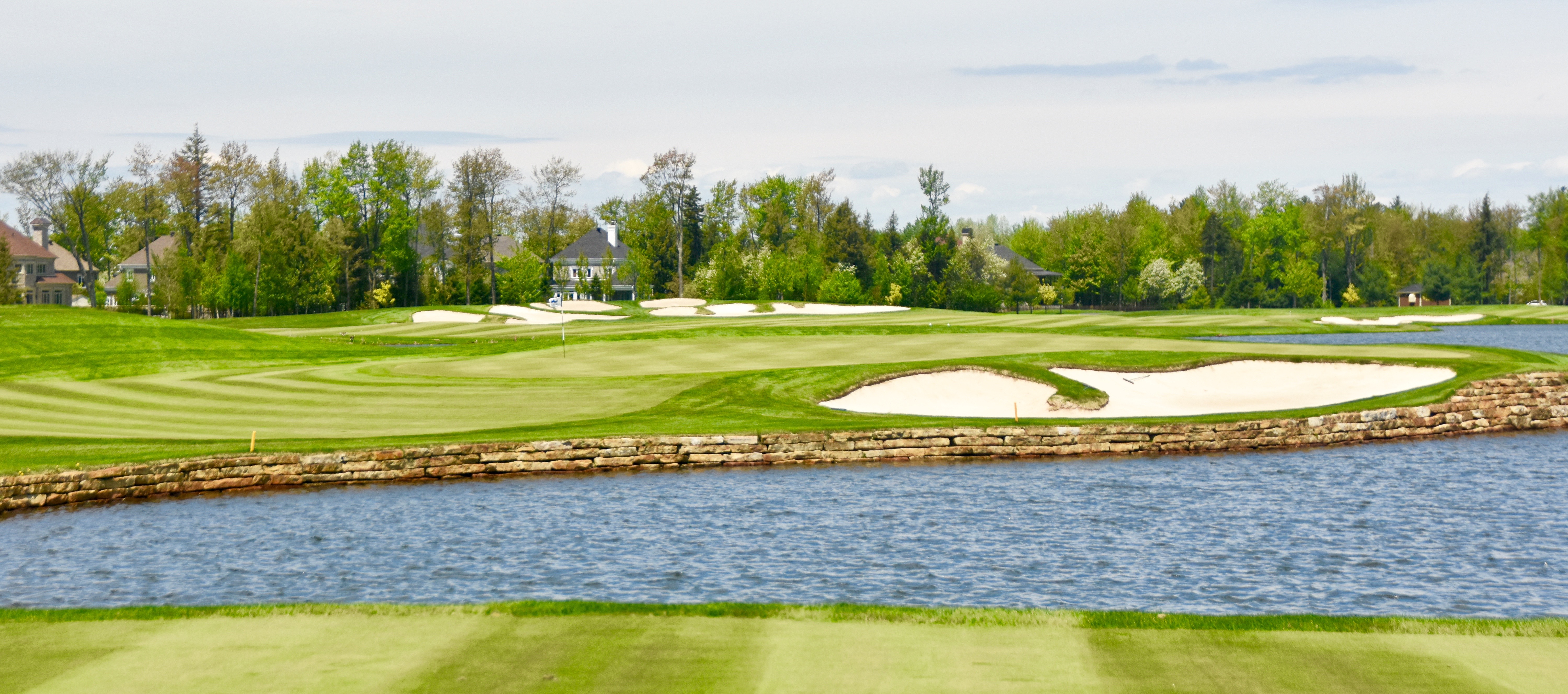 #17 is only 133 yards, but as you can see from the flag, plays into the wind almost entirely over water and sand. What could possibly go wrong? This hole is all about believing in the club you picked and slowing down your swing. This is not a hard hole if you don't let the water intimidate you.  It's also a gorgeous par three, the best on the course in my opinion.
La Tempete #18 – 476 Yard Par Five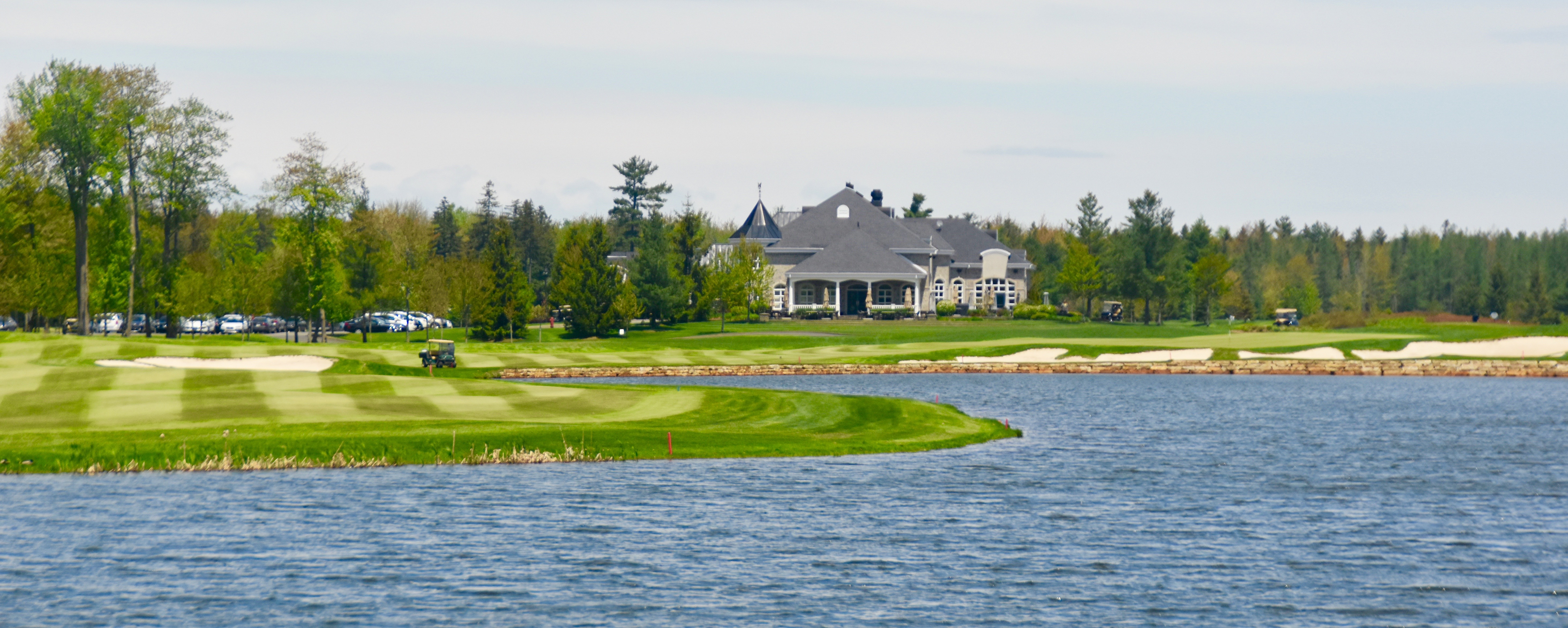 This is the view from #18 tee. Pretty spectacular. It's a risk/reward par 5 that very few people should take the risk on. To do so you would need to cross at least 200 yards over water on the second shot, into the wind. If you just think about making a par here, this is a fun hole to play. The tee shot over water is not as far as it looks in this picture and playing a safe second shot up left side leaves a wedge into the huge green. A great finishing hole because it offers choices and is not as hard as it looks from the tee.
So that's La Tempete. We played in just over 3½ hours. Time to grab some lunch.
La Tempete Restaurant & Bar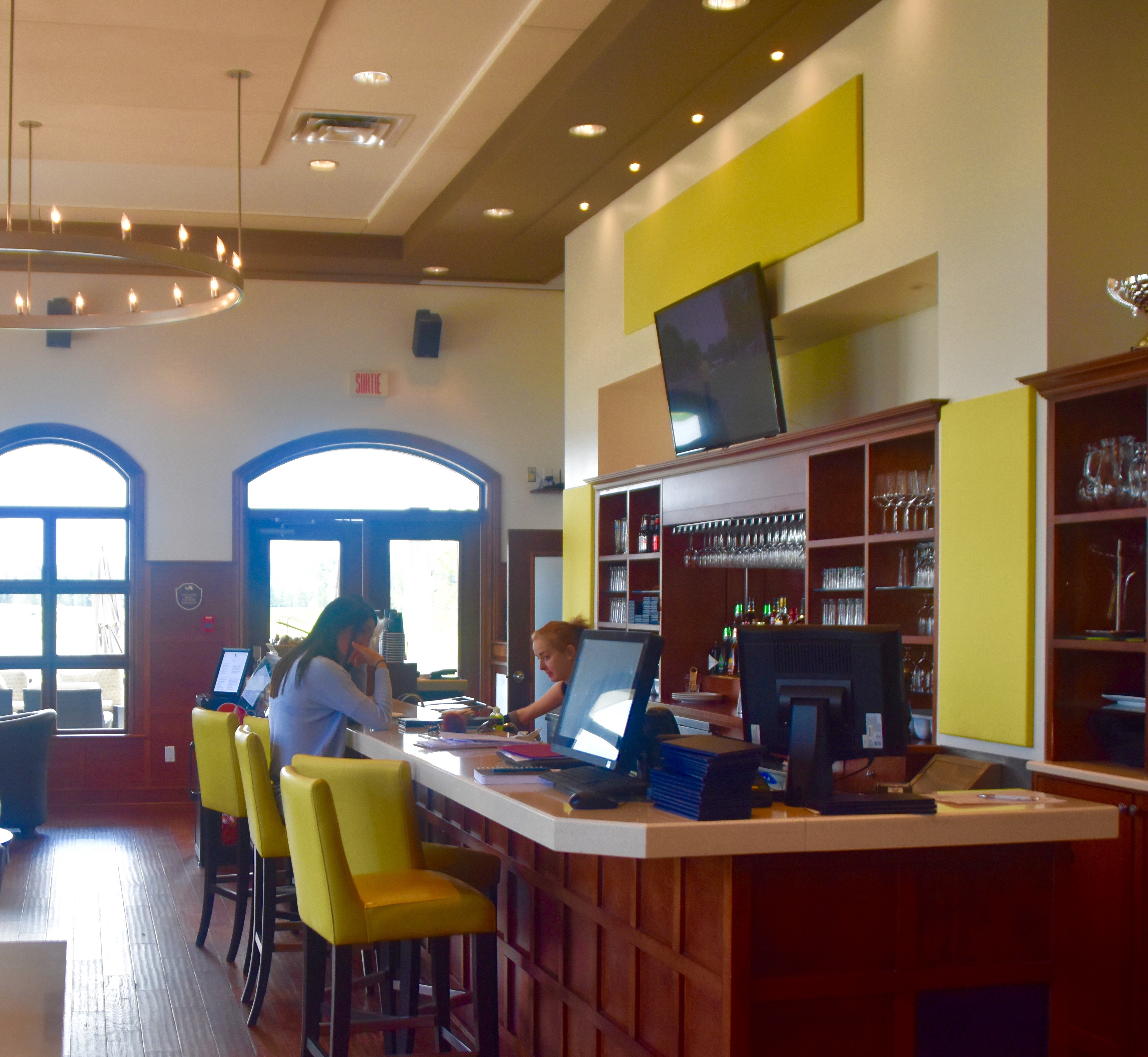 The bar and lounge at La Tempete, MC Signé Golf,  is managed by Le Bonne Entente which explains why the quality of the food is so high. We stayed for lunch after one of our rounds and had these delicious looking and tasting dishes.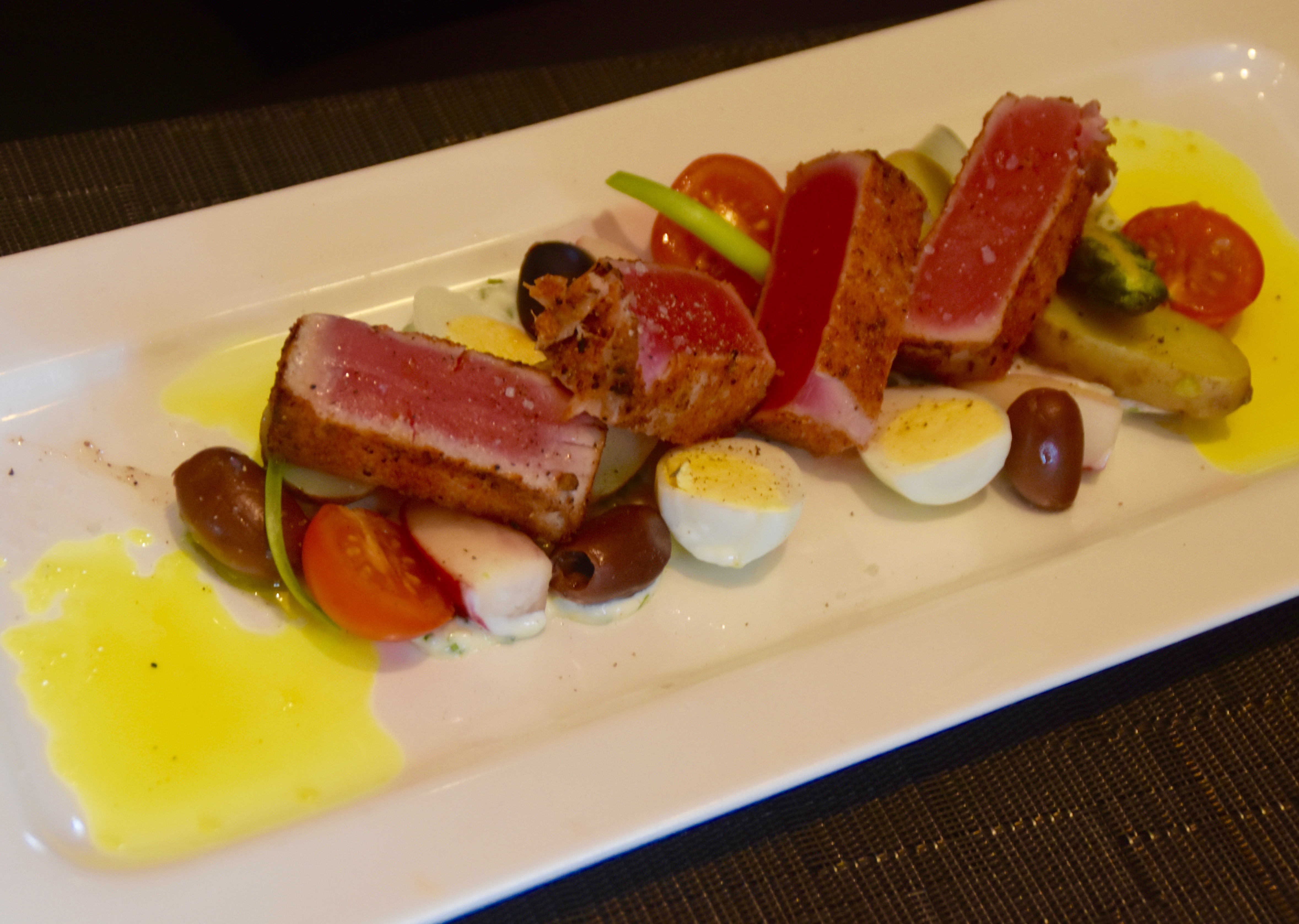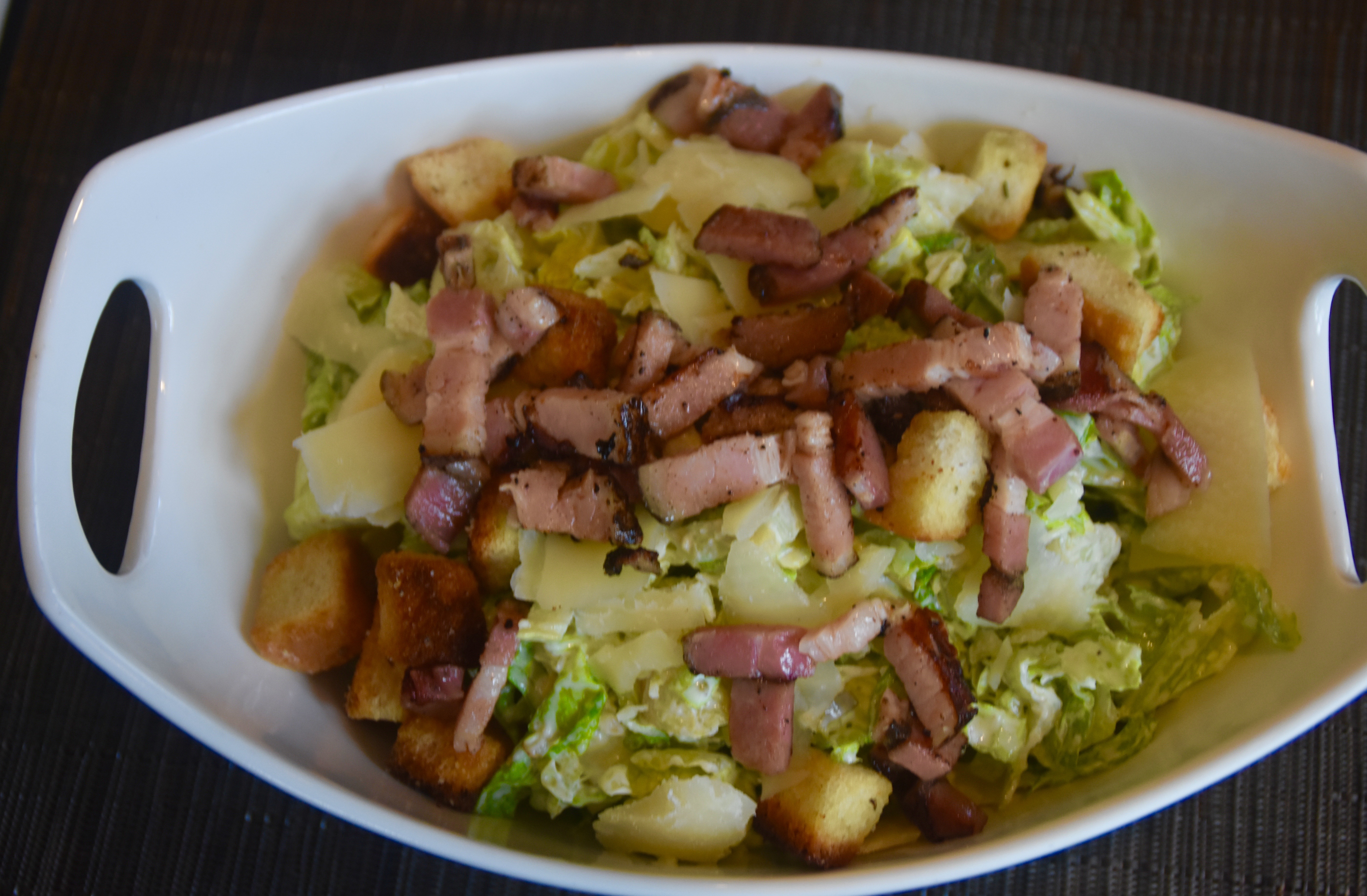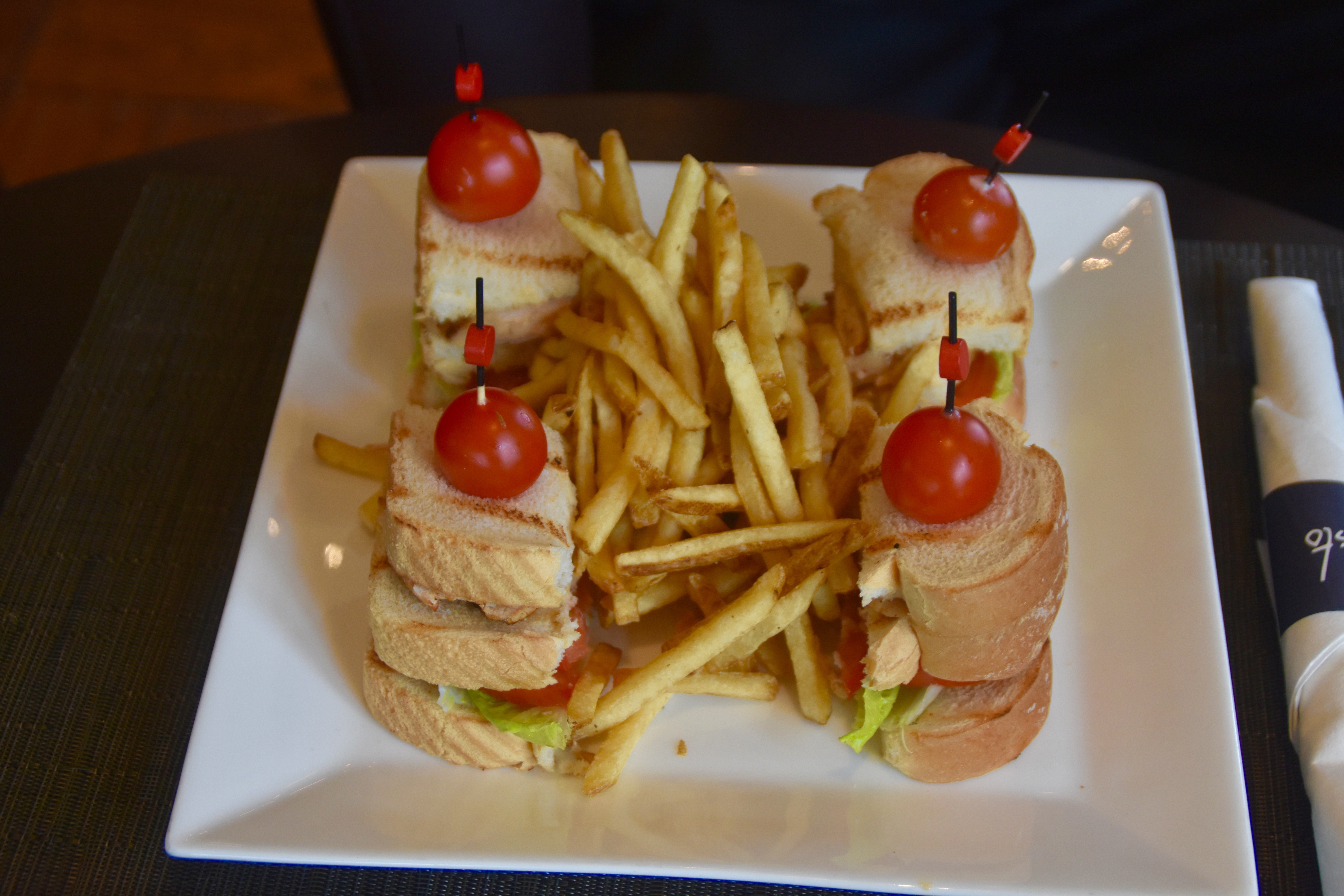 Overall our experience at La Tempete was simply excellent and I can recommend playing a round or two here without hesitation. While probably 99% of visitors to Quebec City come to see the old town, it is a pleasant diversion to spend some time in Ste. Foy and Levis, well away from the hordes of tourists that cram the narrow streets of the upper and lower towns.
Since playing La Tempete a few years ago they have announced plans for another 18 holes which will provide a great excuse to return.
In my next post from the Quebec City area we'll have a gourmet meal at a construction site. I kid you not.