Kingsbarns Golf Links – Simply Awesome
Everybody knows that Scotland is the home of golf with the St. Andrews Old Course as the definitive predecessor to sixty million people playing on over 30,000 courses world wide. Ironically the seventh oldest documented golf course was Kingsbarns, not far from St. Andrews, dating from 1823. The reason it is ironic is that that this course disappeared into history over 100 years ago and nobody is even sure where it once was laid out. However, the name was revived seventeen years ago when the first links course to be built in Scotland in seventy years was opened. Kingsbarns has rocketed up the list of great golf courses and now stands at number 42 in the world. A few days ago I got the chance to play it along with seven friends and after playing  a series of great courses including Turnberry, Royal Troon and Carnoustie, most agreed that our most memorable day of golf was on this wonderful course.
It certainly didn't hurt that the weather was beautiful that day and that the course was being prepped for the Alfred Dunhill Championship in a couple of weeks where the likes of Rory McIlroy, Ernie Els and Padraig Harrington will trod the same ground as we do today. The course is a short distance south from St. Andrews on the coast of the North Sea. We are greeted warmly as we step off the bus and after arrangements are made regarding caddies we head to the practice area. That's our driver Willie checking out Frankie's swing and trying to figure out how he can get to a four handicap.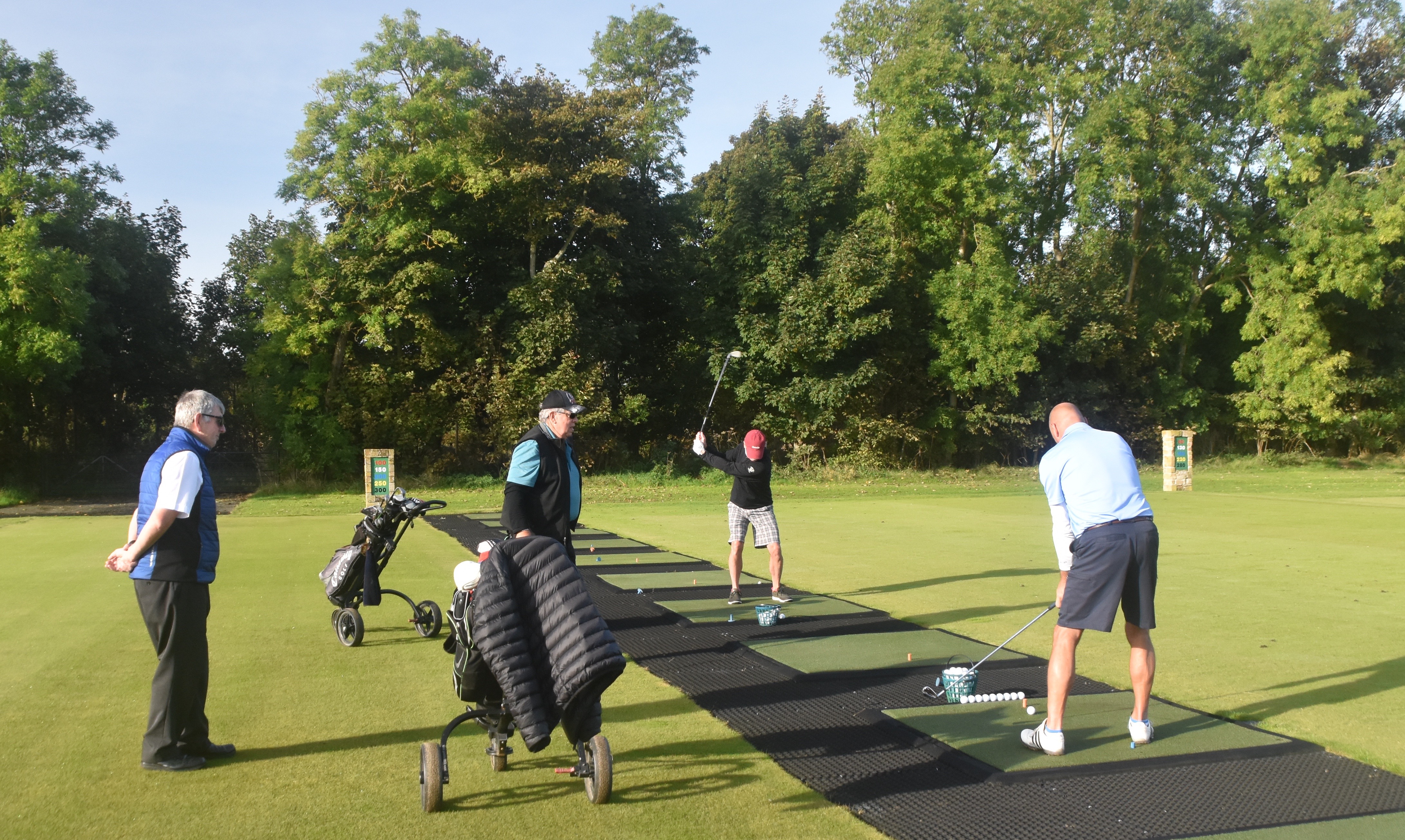 One of the things most North Americans will be disappointed at in Scottish courses is the lack of a proper driving range. In fairness, Kingsbarns wasn't letting us hit off the grass because of the upcoming tournament, but at one world class course after another we found either no driving range near the first tee or one limited to hitting off mats. Ready to tee off I was introduced to my caddie, Michael O'Brien who, despite being the proud father of a sixteen week old baby girl, seemed to be well rested and eager to show us around the course. I took this picture at the end of our round after it had clouded over, but for the first fifteen holes we had gorgeous weather as the pictures will show.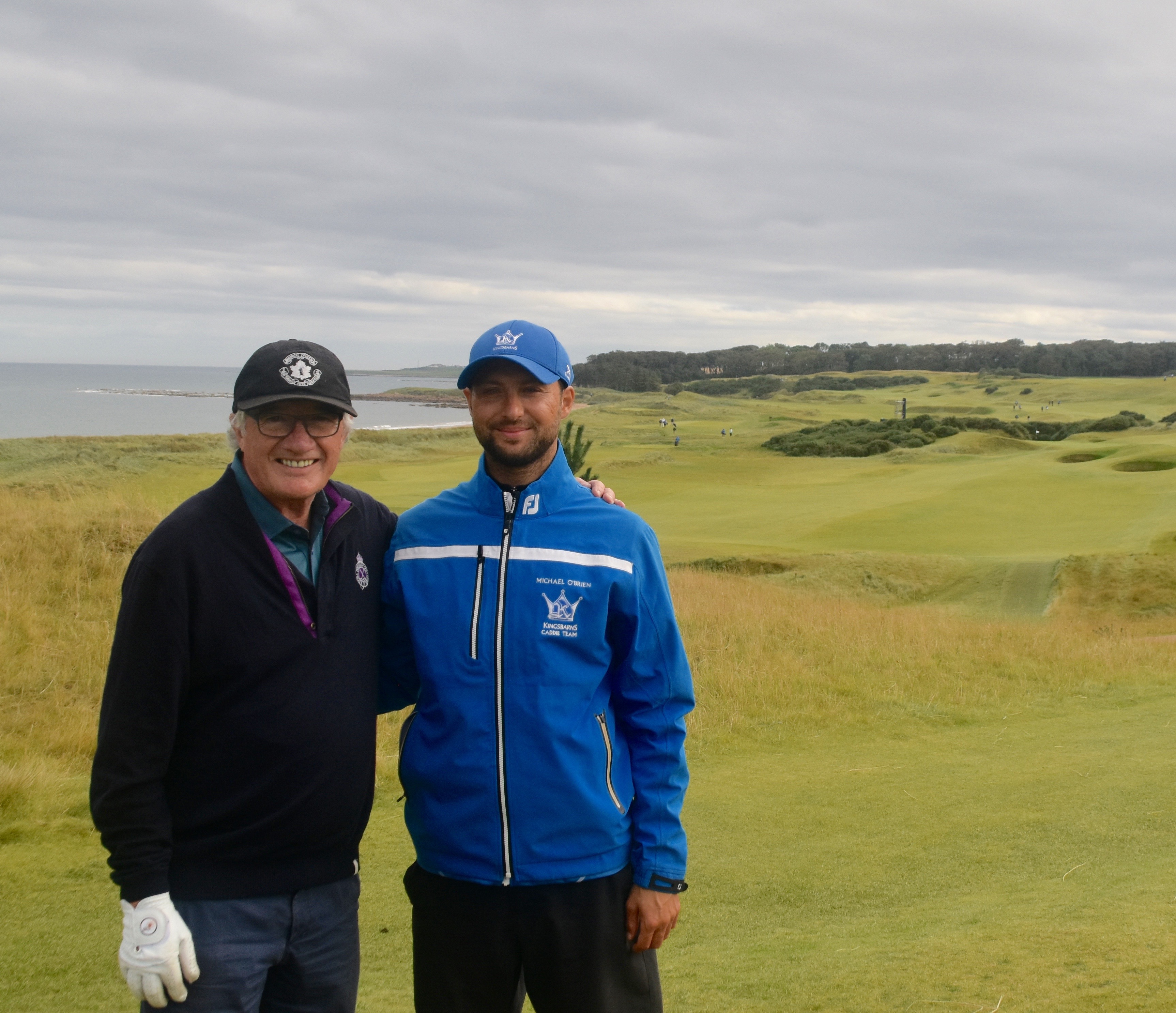 The starter presented is with zippered pouch which contained a course guide, souvenir score card, some really good tees, a ball mark repair tool and a bag tag on which we could have our name and date of play attached. We received some nice complimentary mementos at a number of courses, but this was the best of the lot. Many courses charge exorbitantly for course guides.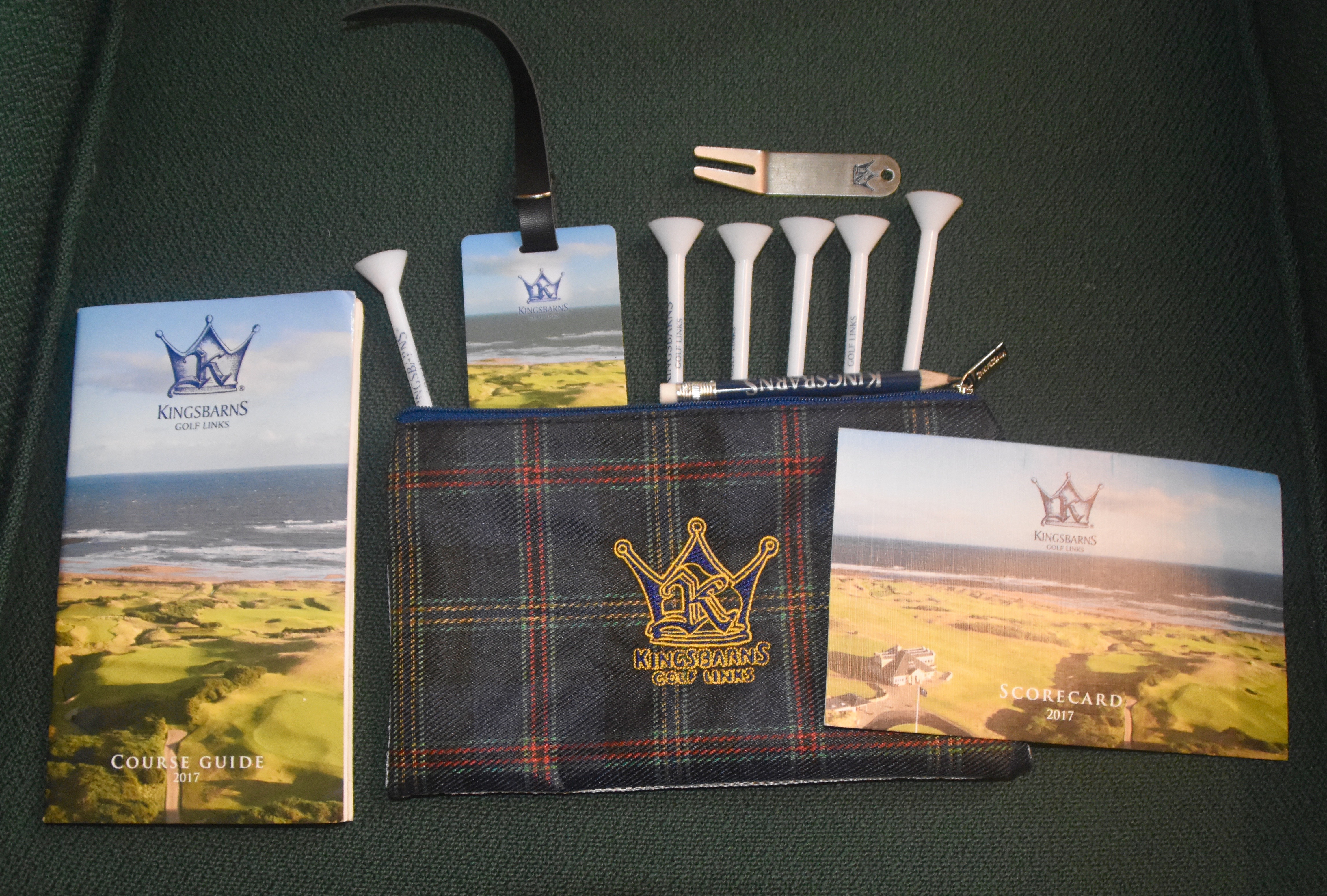 OK, let's head to the course and find out if Kingsbarns really deserves its high ranking. Here's a wide angle shot showing just how blue the skies and the North Sea were to start our round and note that some can play in short sleeves and shorts. Not what most would expect in late September in Scotland.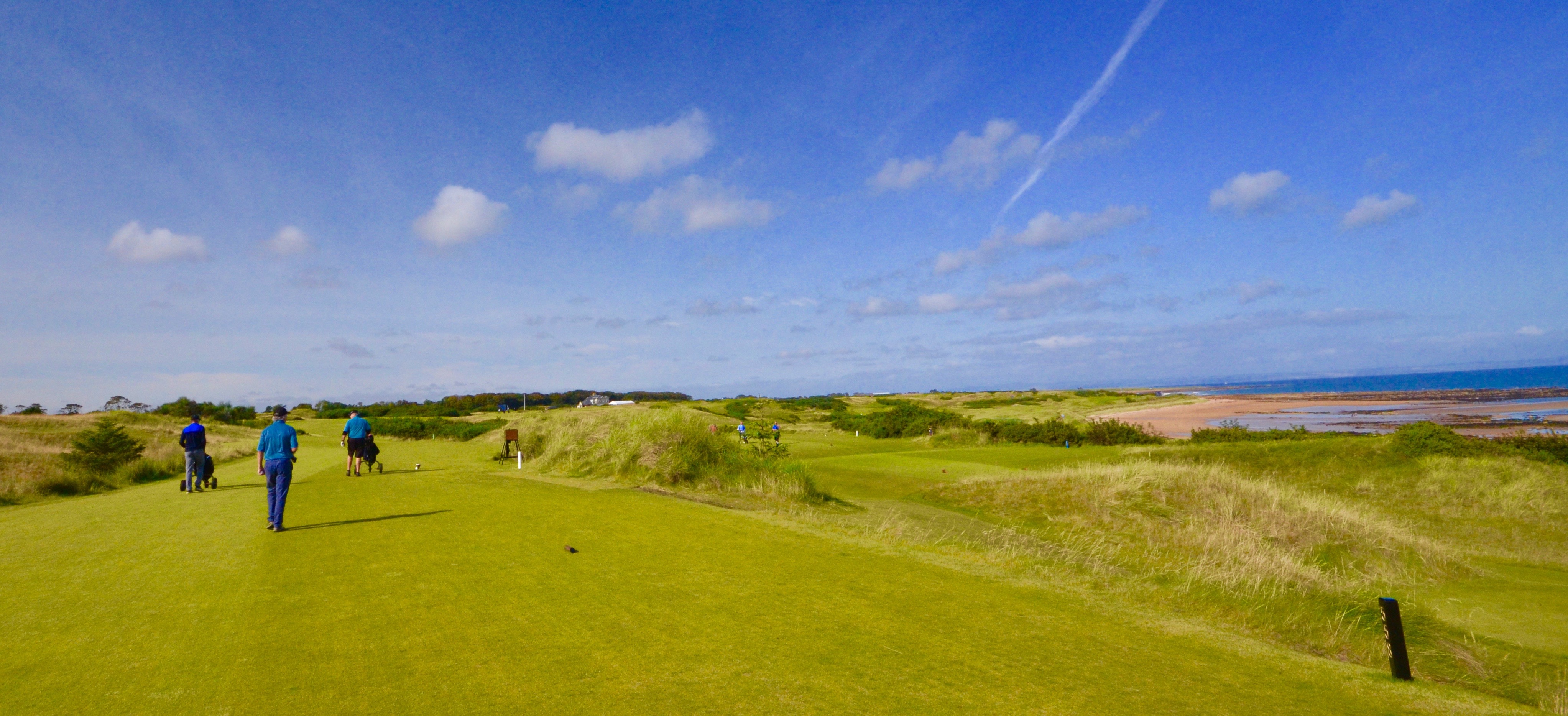 We elected to play a sensible 6,088 yards from the blue tees. Here's a hole by hole description of Kingsbarns.
Kingsbarns # 1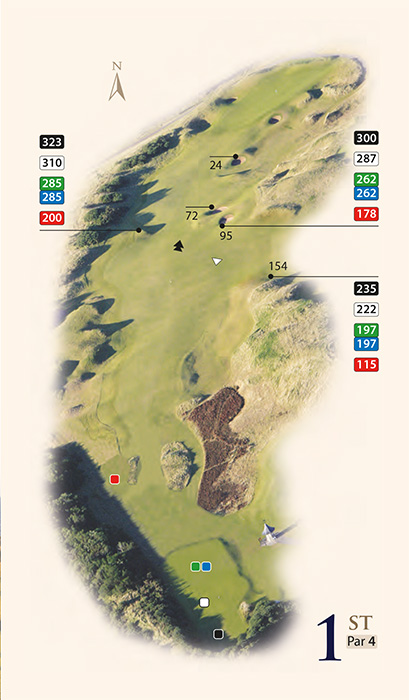 Kingsbarns was the first course on which we came across heather which added a nice, but deadly, pinkish hue to the course. As you can see this is a dogleg right that requires a decent carry off the tee.

We all managed to be safe off the tee and you can see three balls side by side with an easy approach to a big green. All the greens are Kingsbarns were immaculately groomed and very fast after North Berwick, which were notably slow. Michael was a tremendous help to all of us in reading them.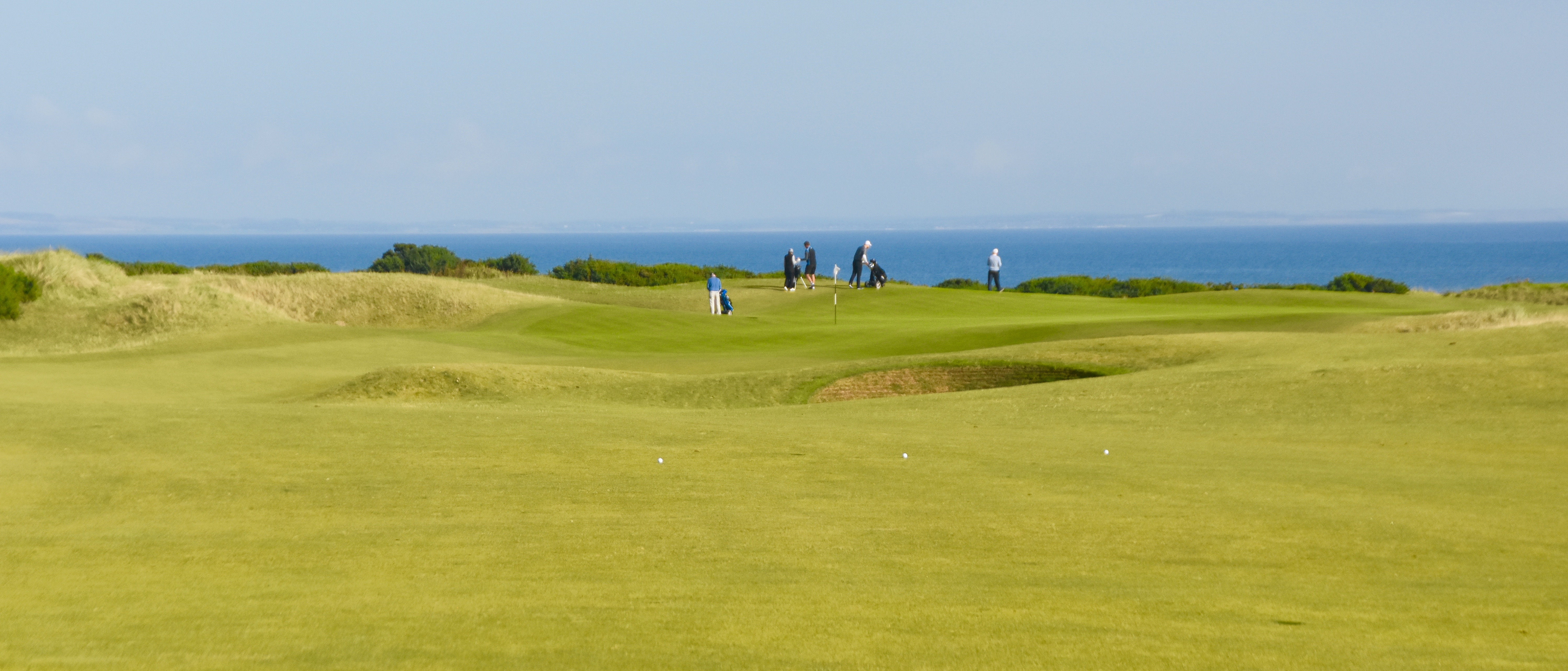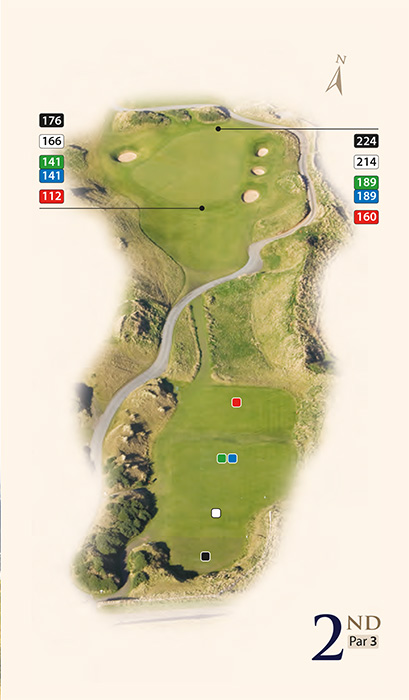 No. 2 is a medium length par three that has a gorgeous ocean backdrop. It was a good place for a foursome photo. From left to right – yours truly, Peter Wedlake, Don Harding and Chuck Johnstone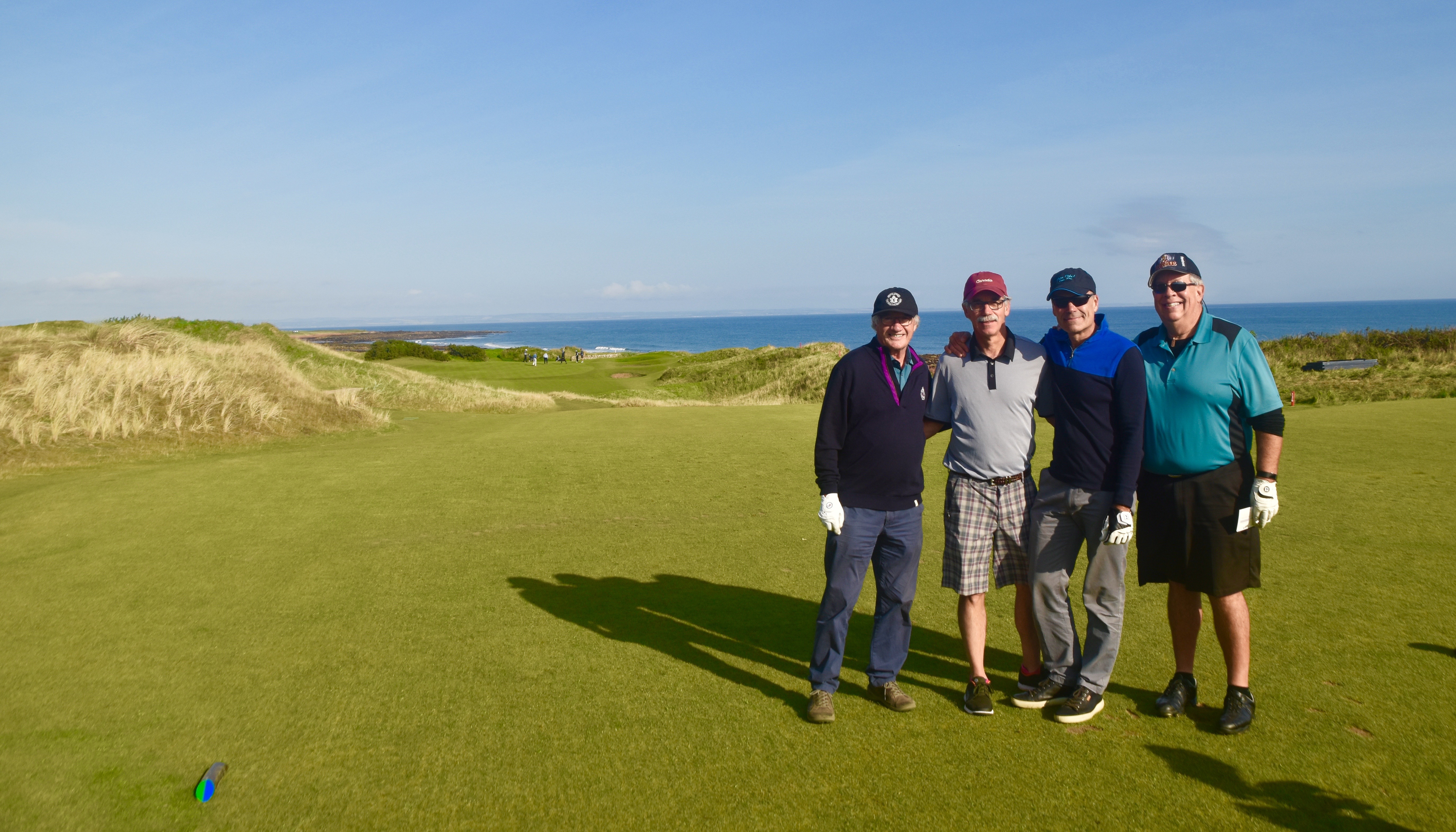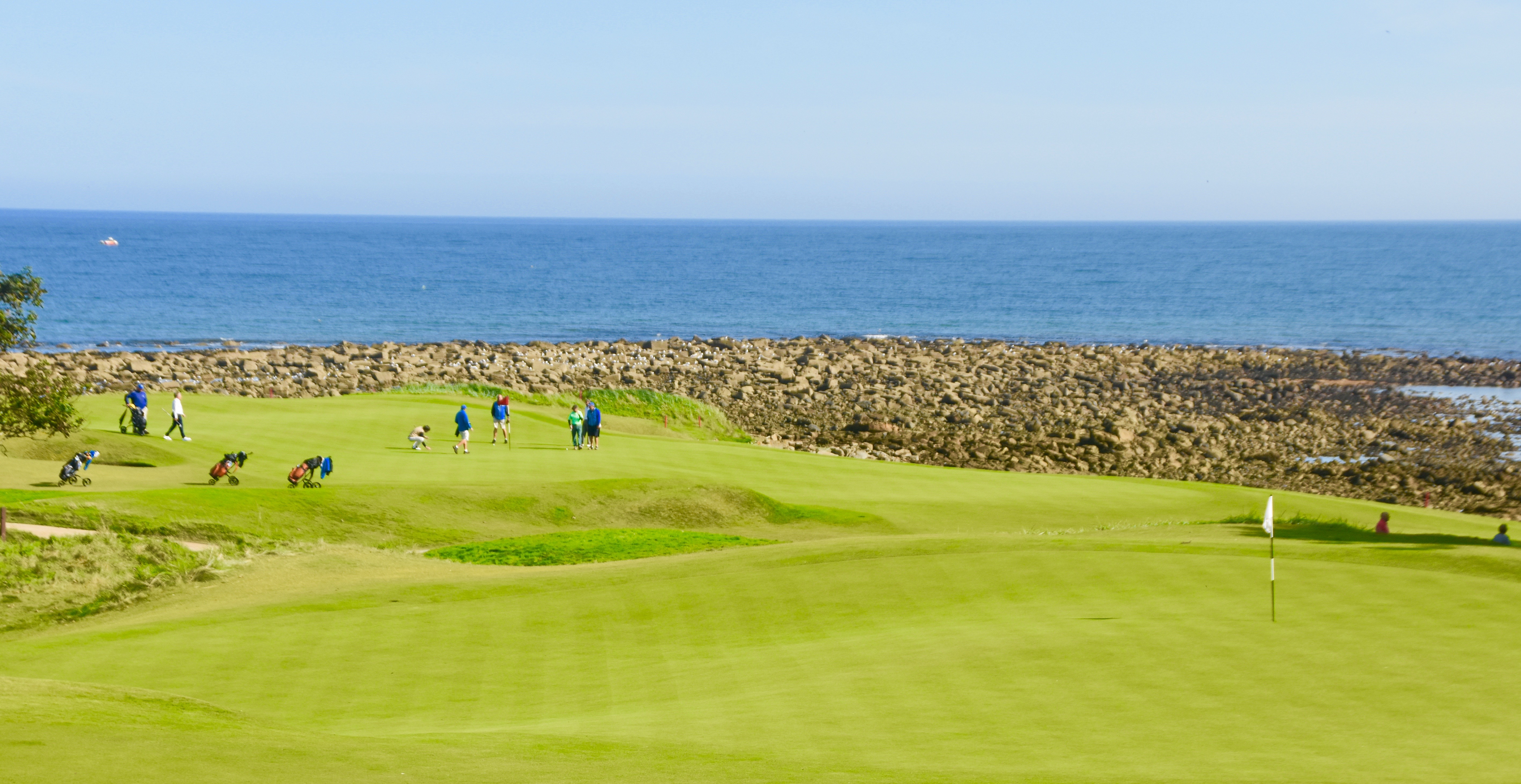 Kingsbarns #3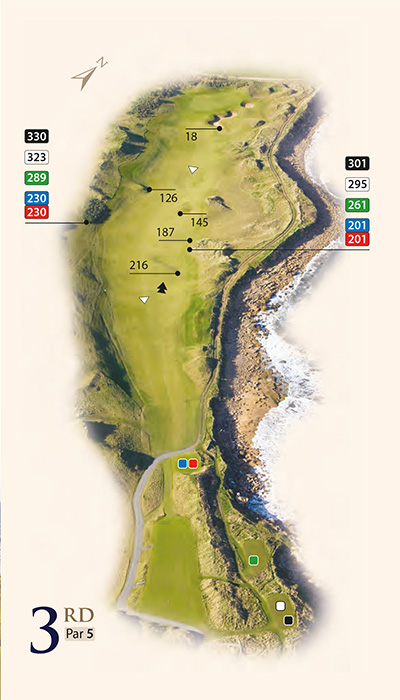 No. 3 is a par five with the ocean all down the right side and a green protected by a treacherous deep bunker which naturally I found. Fortunately, if you really keep your head down and are not afraid to swing hard and through, you can get out of these bunkers almost every time, as I did here.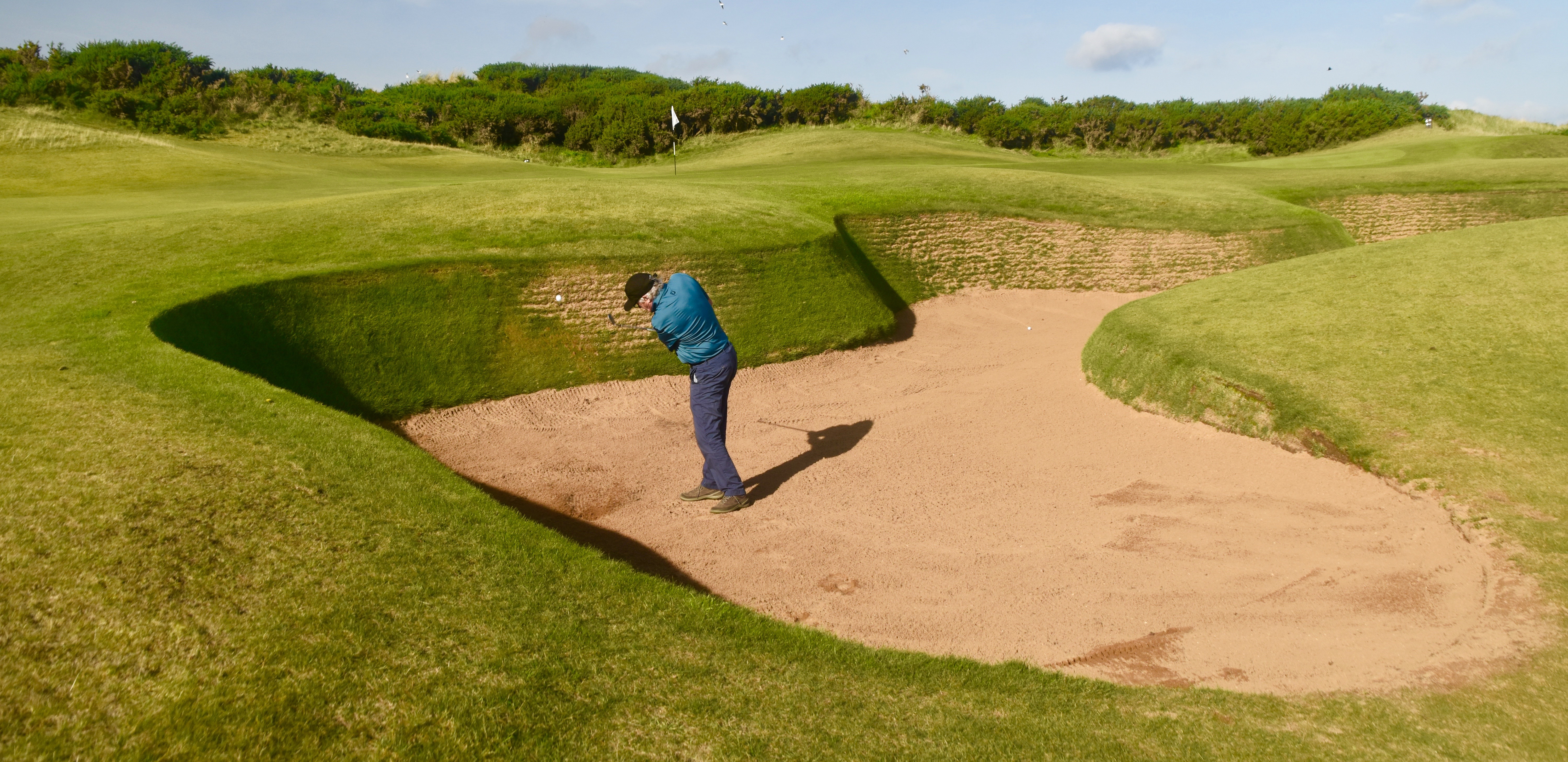 #4
No. 4 is a dogleg left with a bunker exactly where most left-handed players would land there ball. That's our first foursome just on the other side of it. According to the website there was once a castle on the side of this hole.

Kingsbarns # 5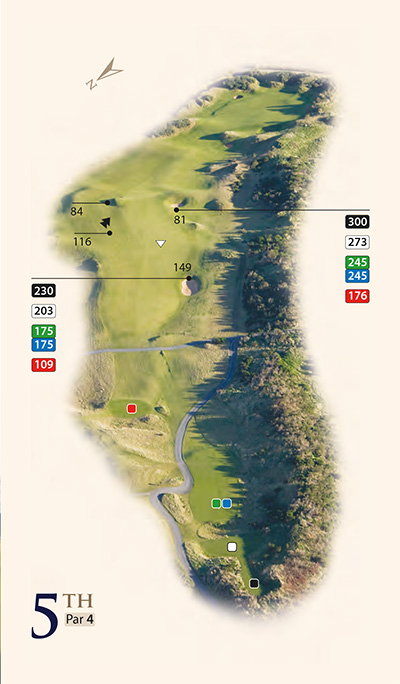 Yet another dogleg, but a generous landing area that even I can't miss.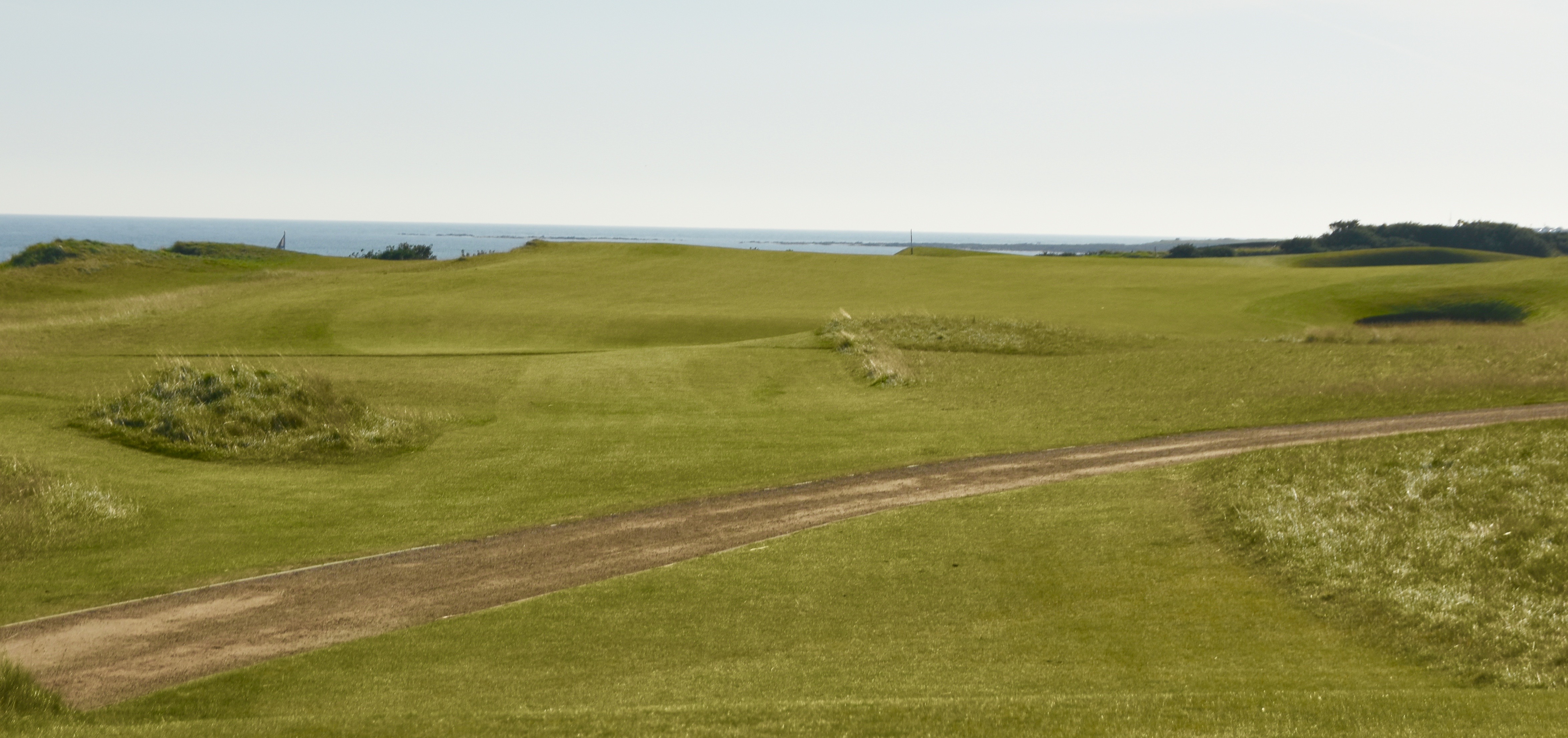 There is a tight approach for the second shot with both a fearsome bunker and heavy rough on the right side.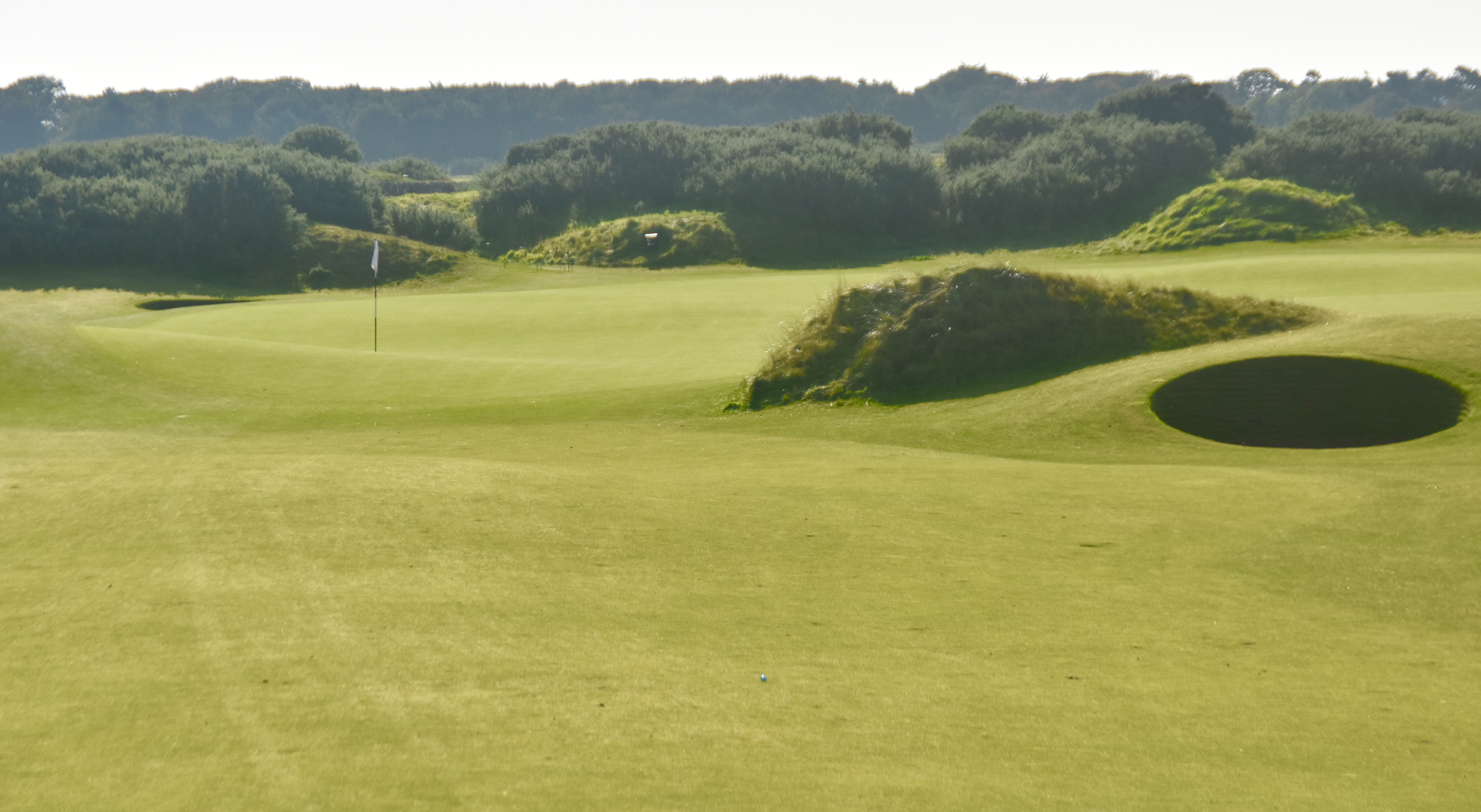 No. 6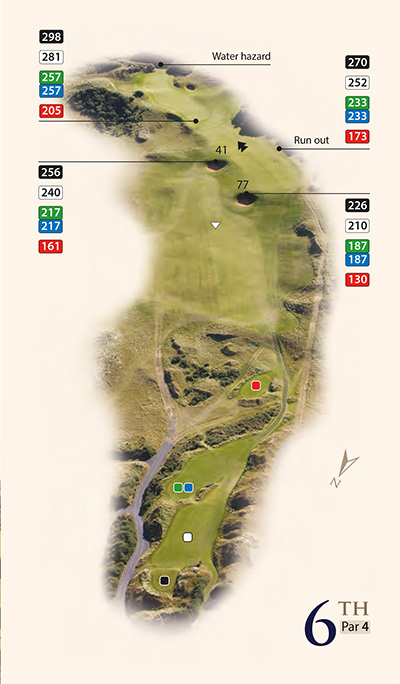 No. 6 is a short risk/reward par four from an elevated tee. Someone like Frankie could almost drive the green if he could clear the right side bunkers. Luckily I can't hit it far enough to even try to take the risk so I'm rewarded with a bogie.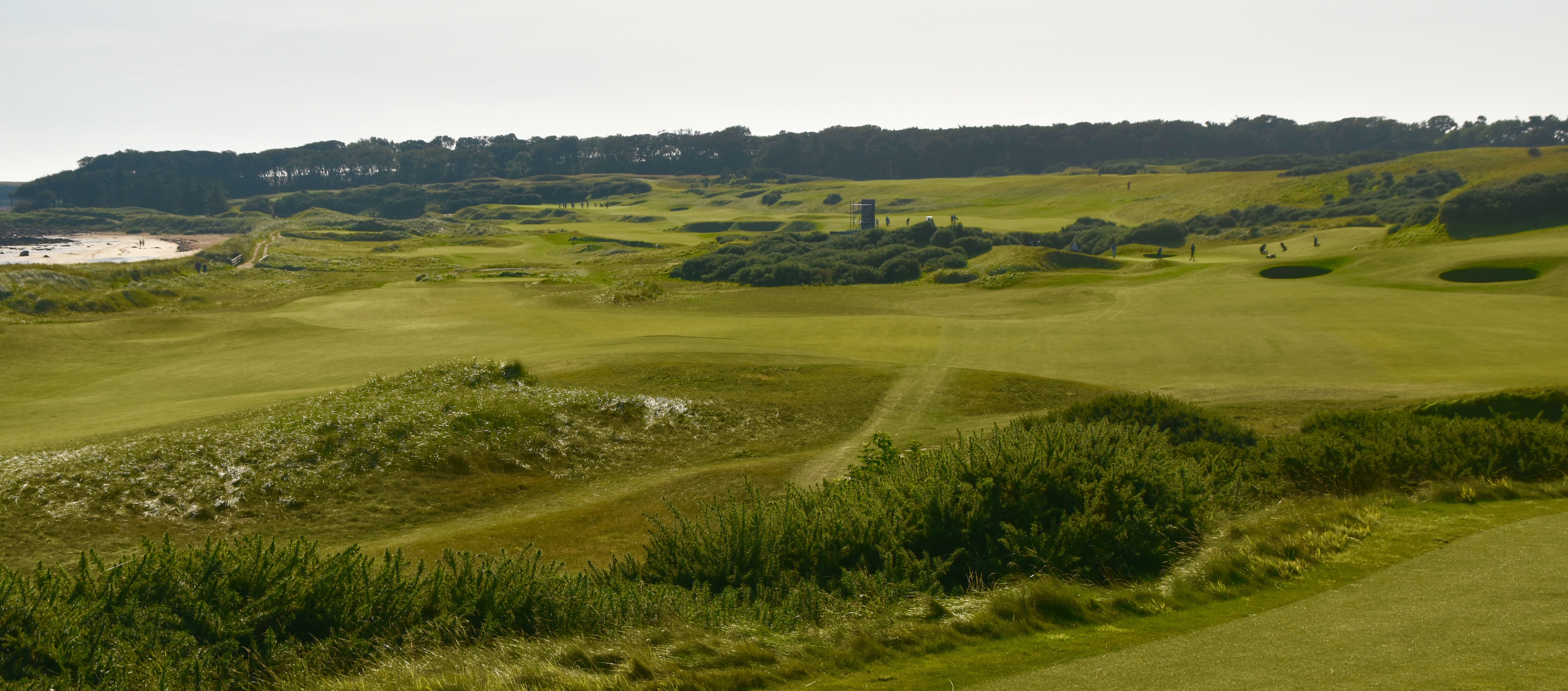 I should say that by this point we are simply blown away at how beautiful this course is and how much of a pleasure it is to play. The wind is not a real factor so avoiding trouble is easier than it has been on other courses we have played on this trip. It truly is a day when one is glad to be alive and playing a game we all have a love/hate relationship with. Today it's love, love, love.
Here is a view of the Fife Coast with the tide out.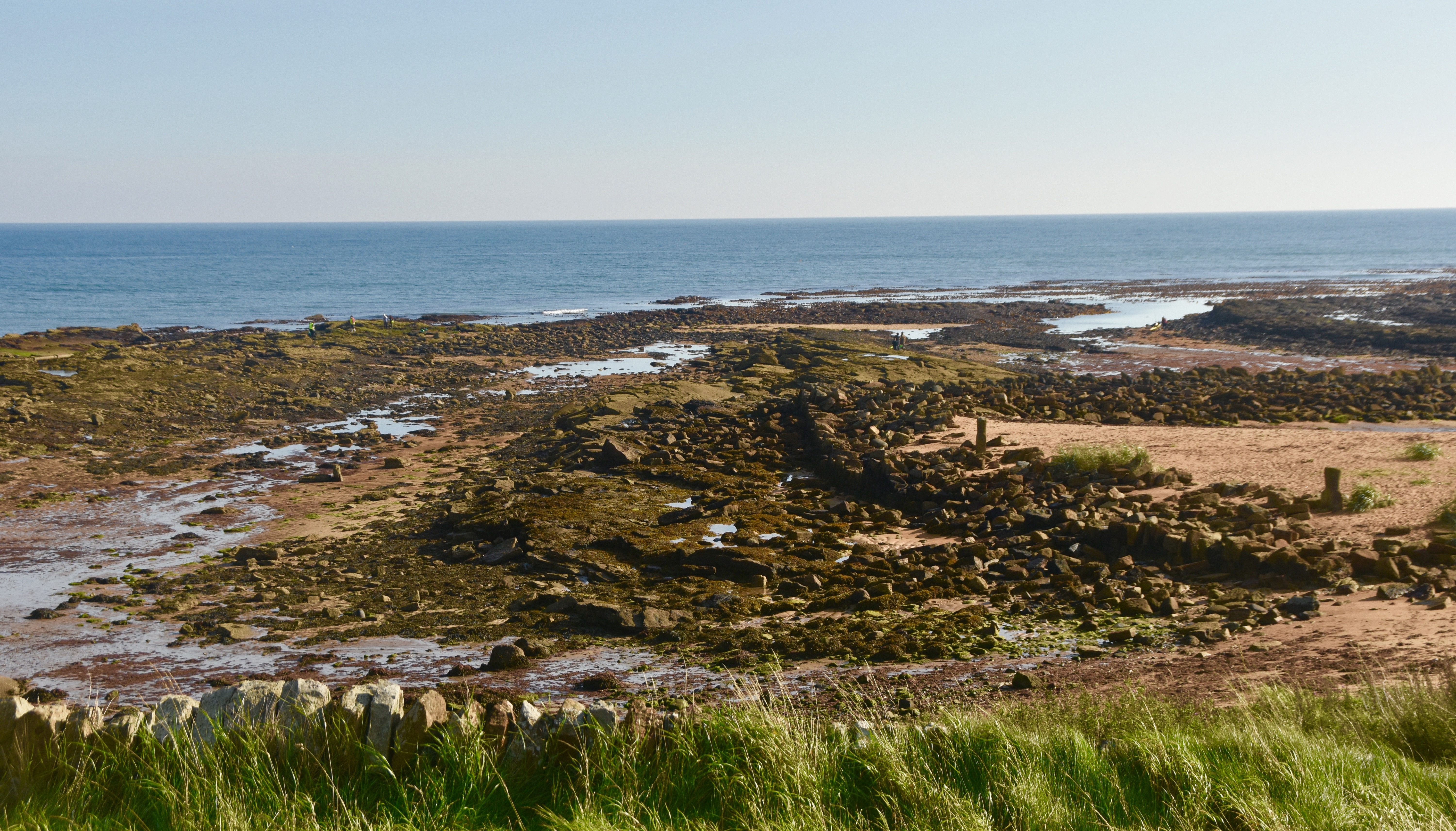 The long distance Fife Coastal Path passes alongside the course and walkers have the right of way over golfers.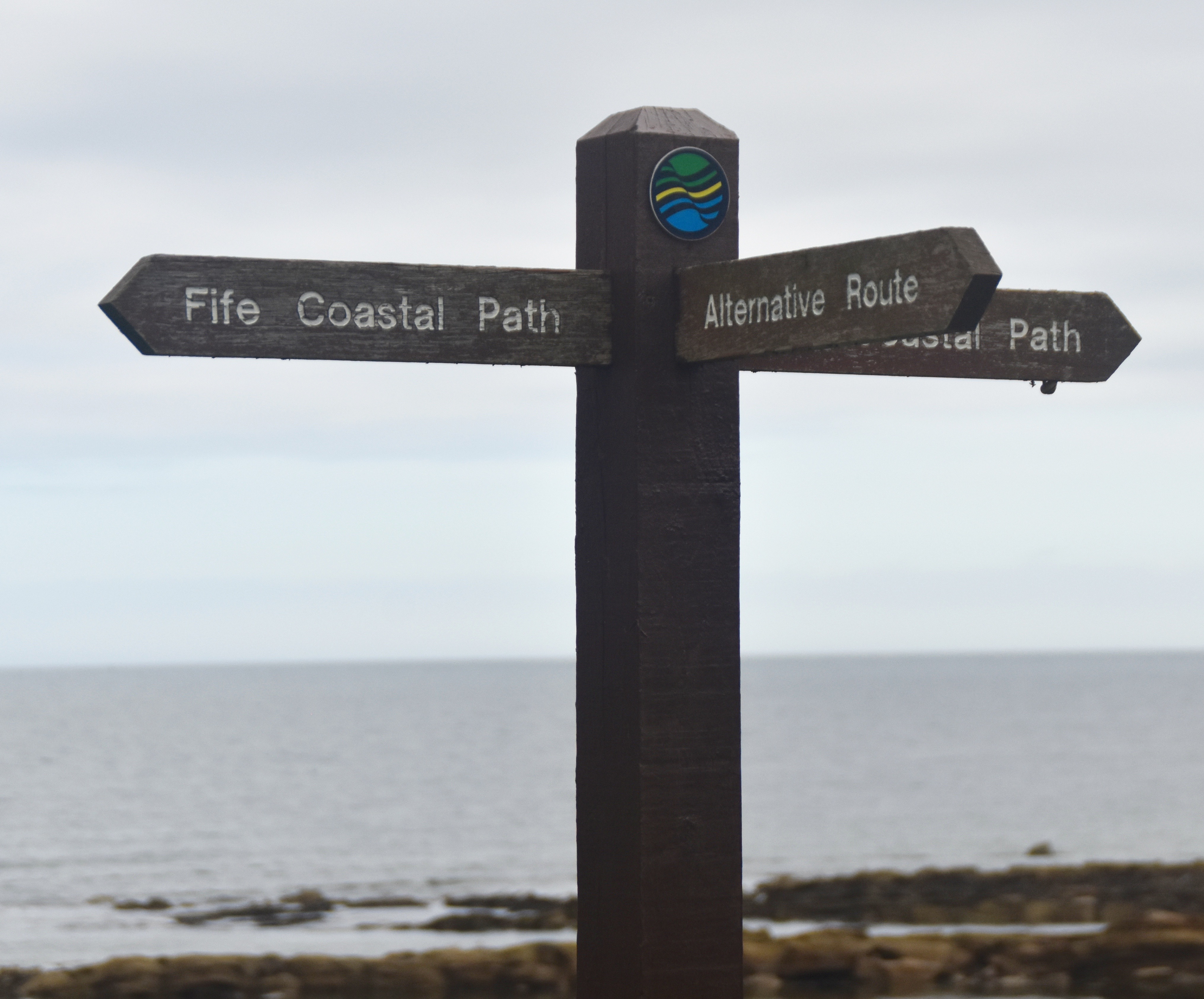 We encountered many groups of walkers, most out for a stroll, but some with large backpacks indicating they were trying to traverse the entire 117 miles of one of the most scenic long distance paths in Britain.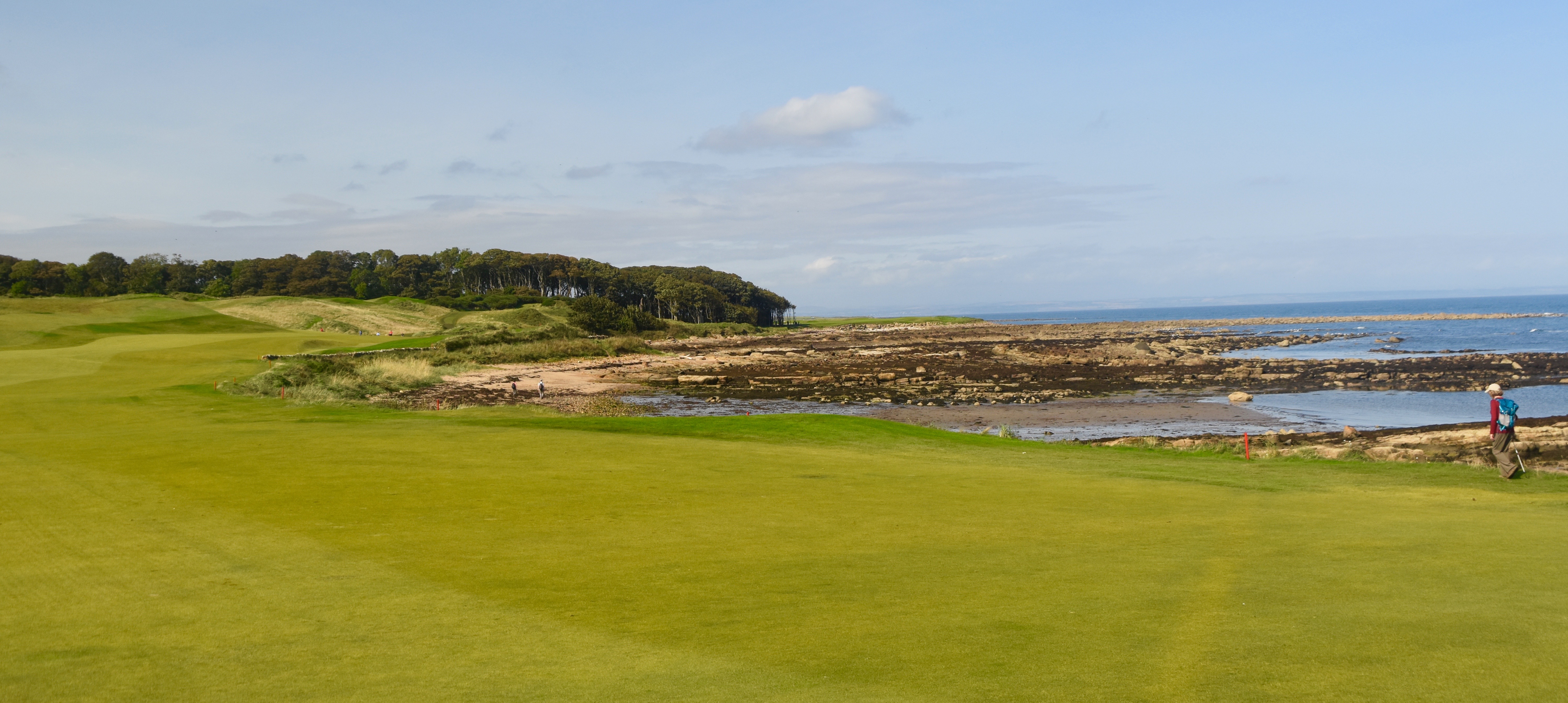 Kingsbarns #7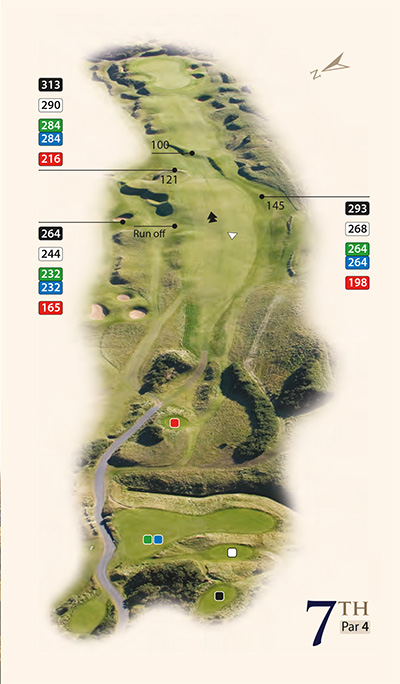 If #6 was a bit on the short side #7 makes up for it. Another elevated tee with nothing but trouble on the left side. Guess which side I hit my slice to?

 #8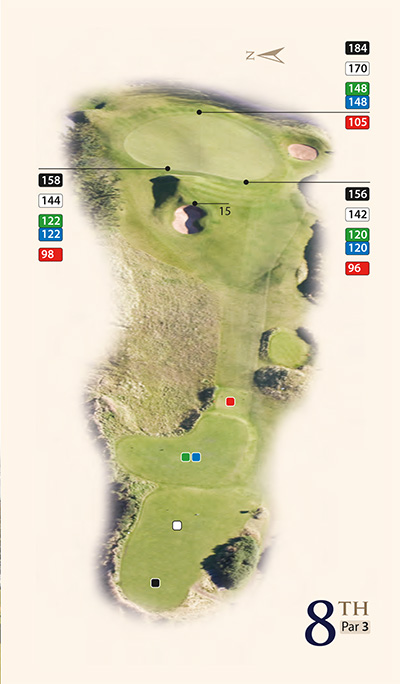 No. 8 is one of the prettiest par threes I've ever played. The views from the tee back over the course are world class.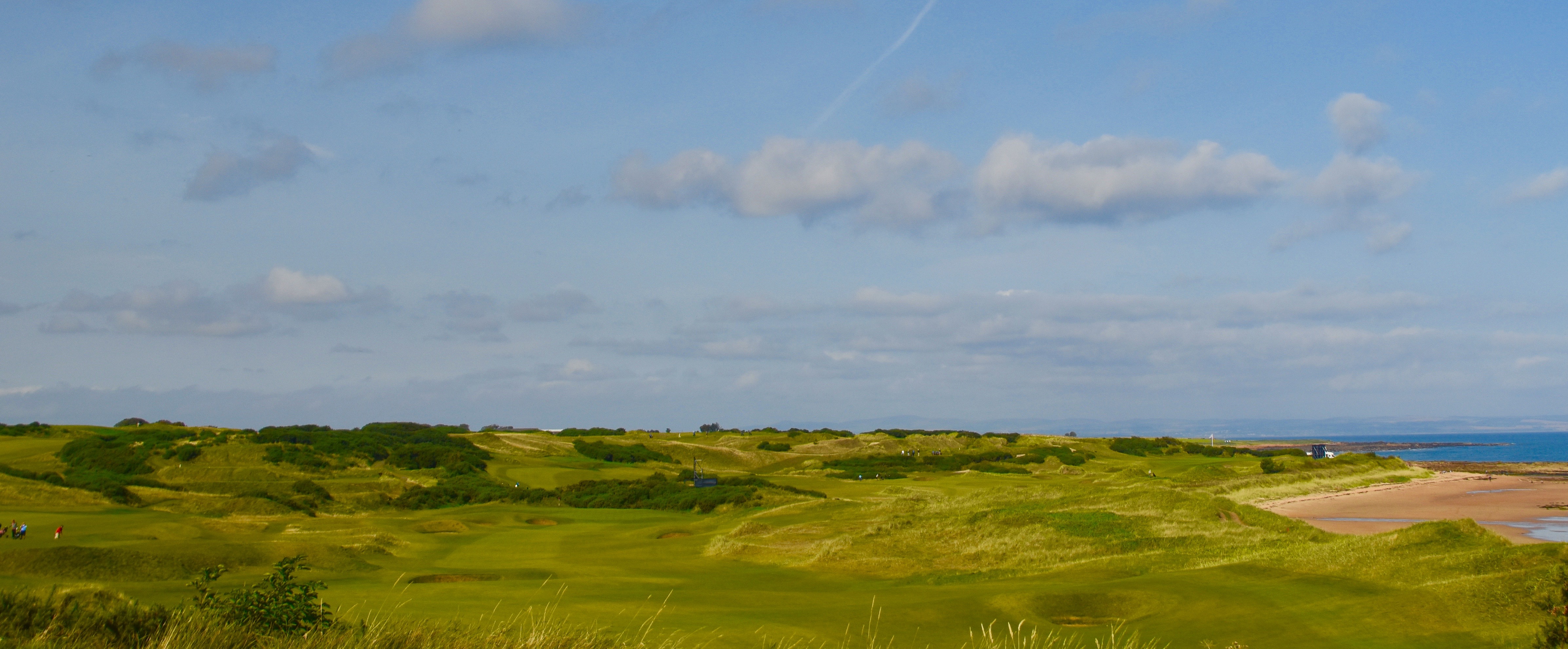 This is the 8th green with an Alfred Dunhill scoreboard in place. The trees are sycamores which were imported from France to Scotland in the middle ages.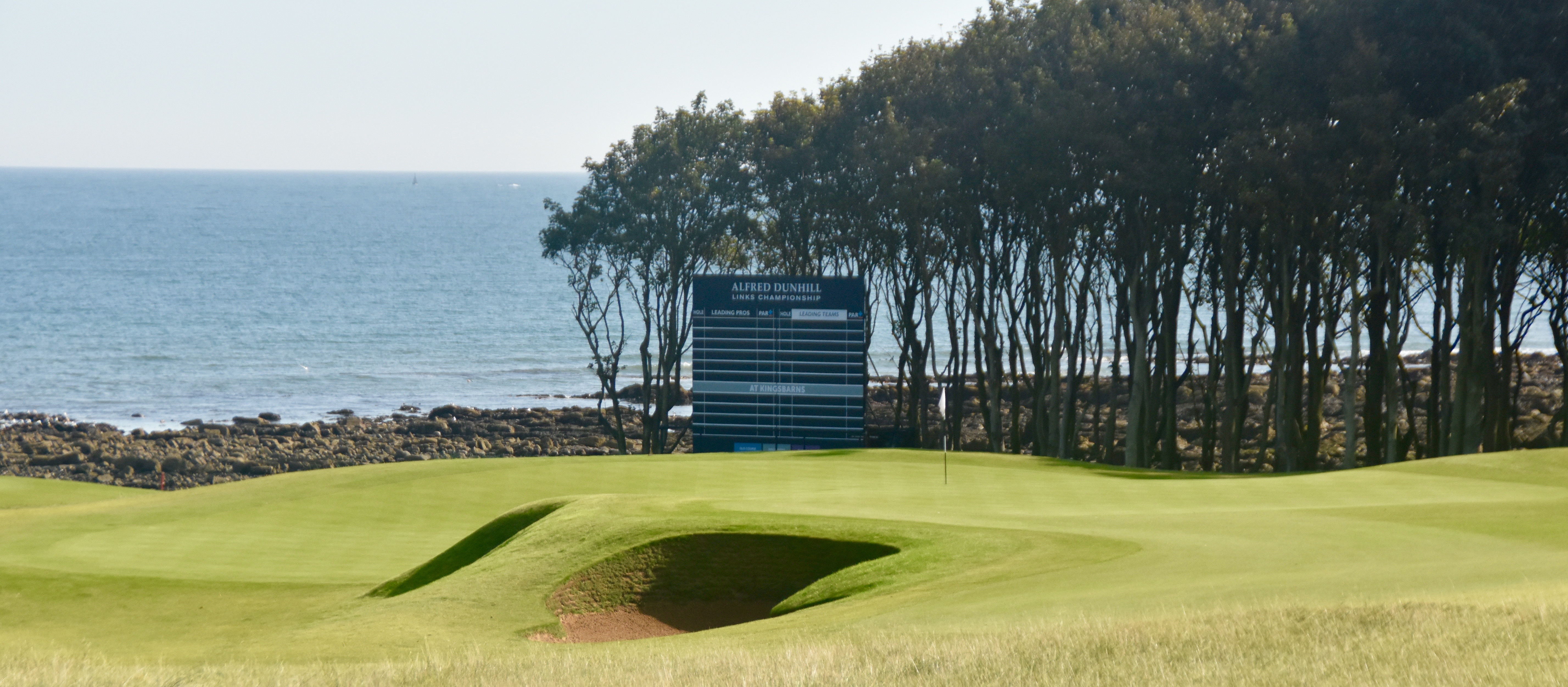 From the 8th green you can see quite tiny fishing boats which Michael advised were lobster fishermen plying the trade.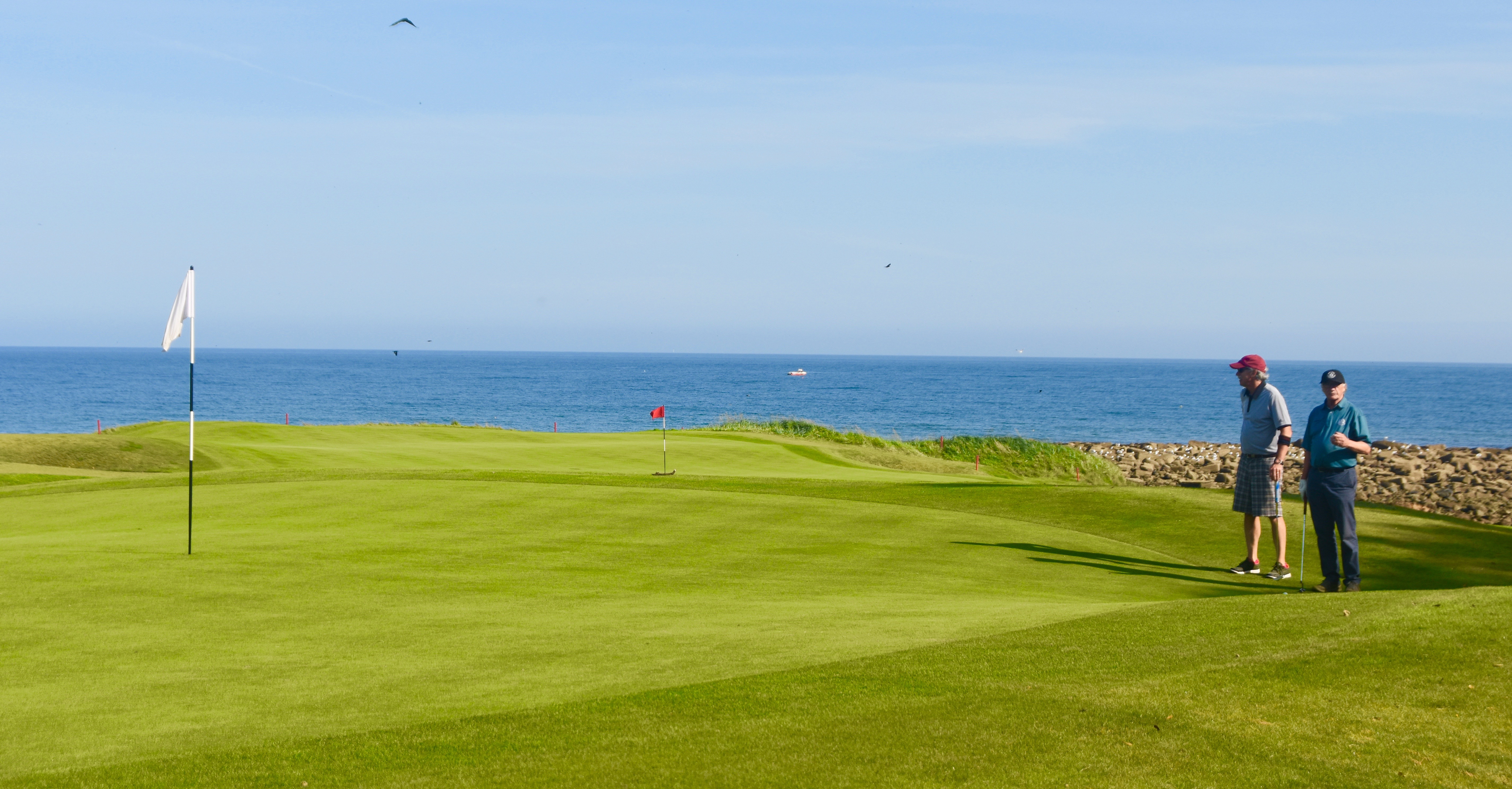 Kingsbarn #9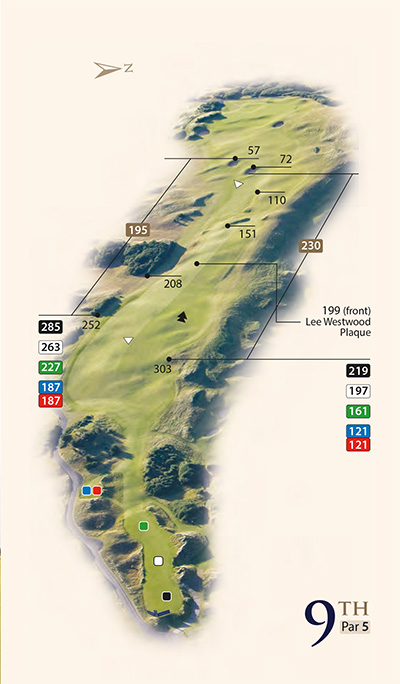 No. 9 is a long par five that plays back to the clubhouse. Here's Chuck and Don on the tee.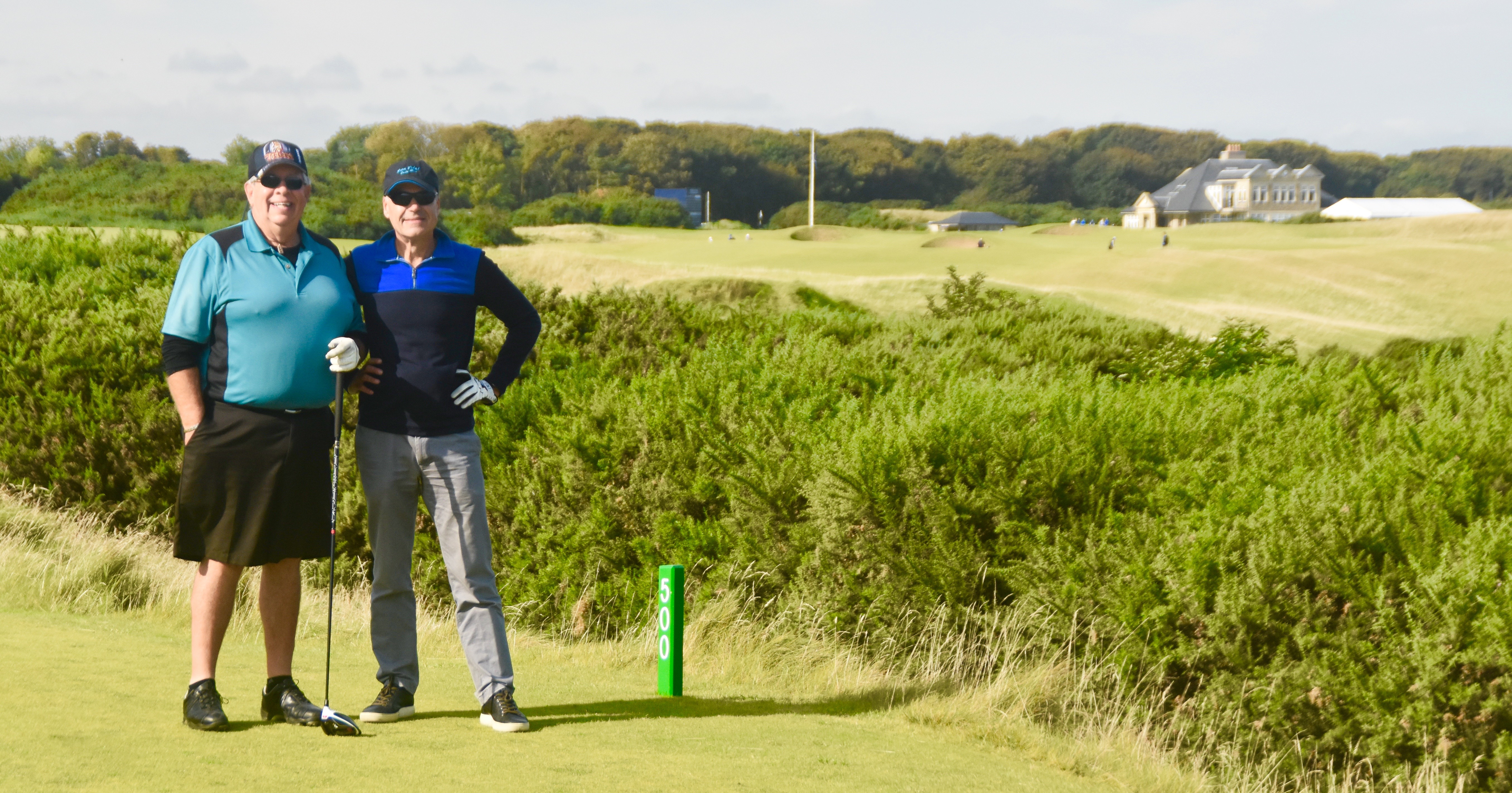 Michael pointed out a plaque at roughly two hundred yards from the green from where Lee Westwood holed out for an albatross on his way to winning the 2003 Dunhill Championship. It only takes me four shots to get down from nearly the same spot.
 #10
After stopping at the Bunker Bar beside the tenth tee to stock up on Belhaven Best for the back nine we begin with this long par four.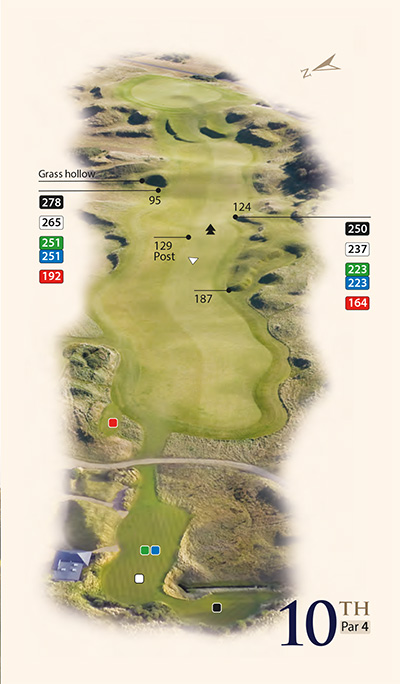 Kingsbarns #11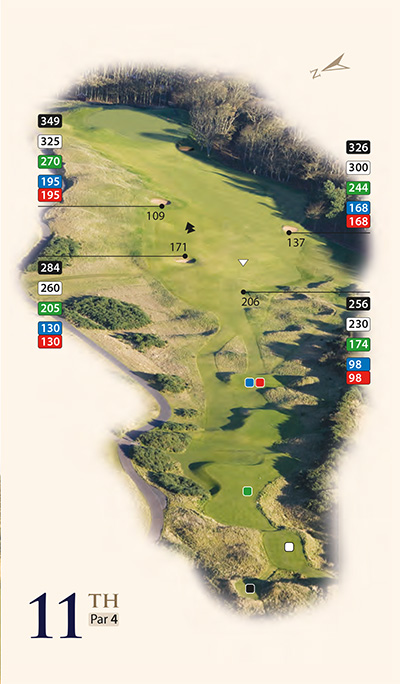 No 11 has sycamore tees all down the right side to a partially shaded green with bunker very close to today's flag. It's not your typical links course hole and adds to the variety that makes Kingsbarns so enjoyable.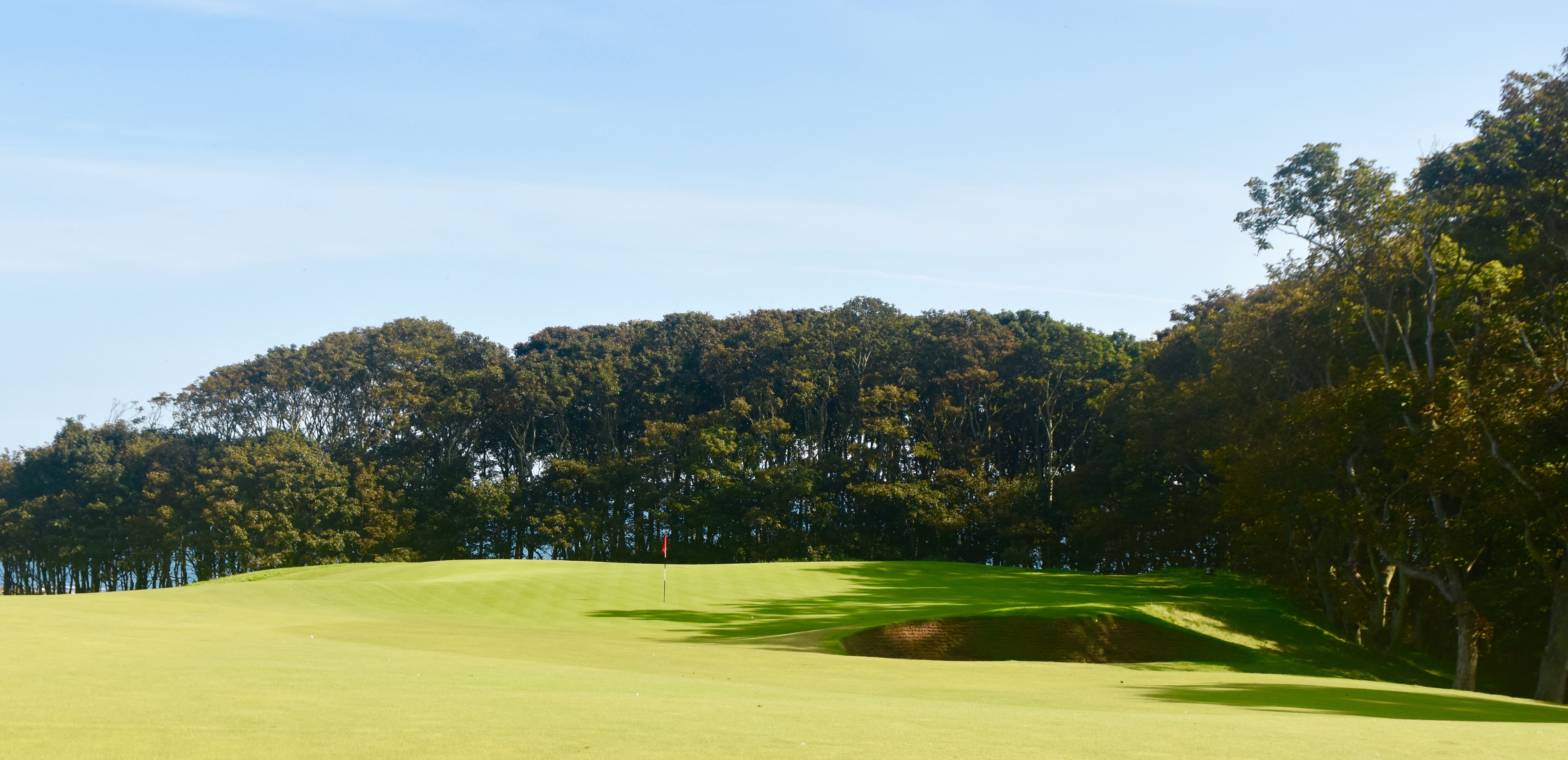 Between the 11th and 12th holes you pass by this shaded stream.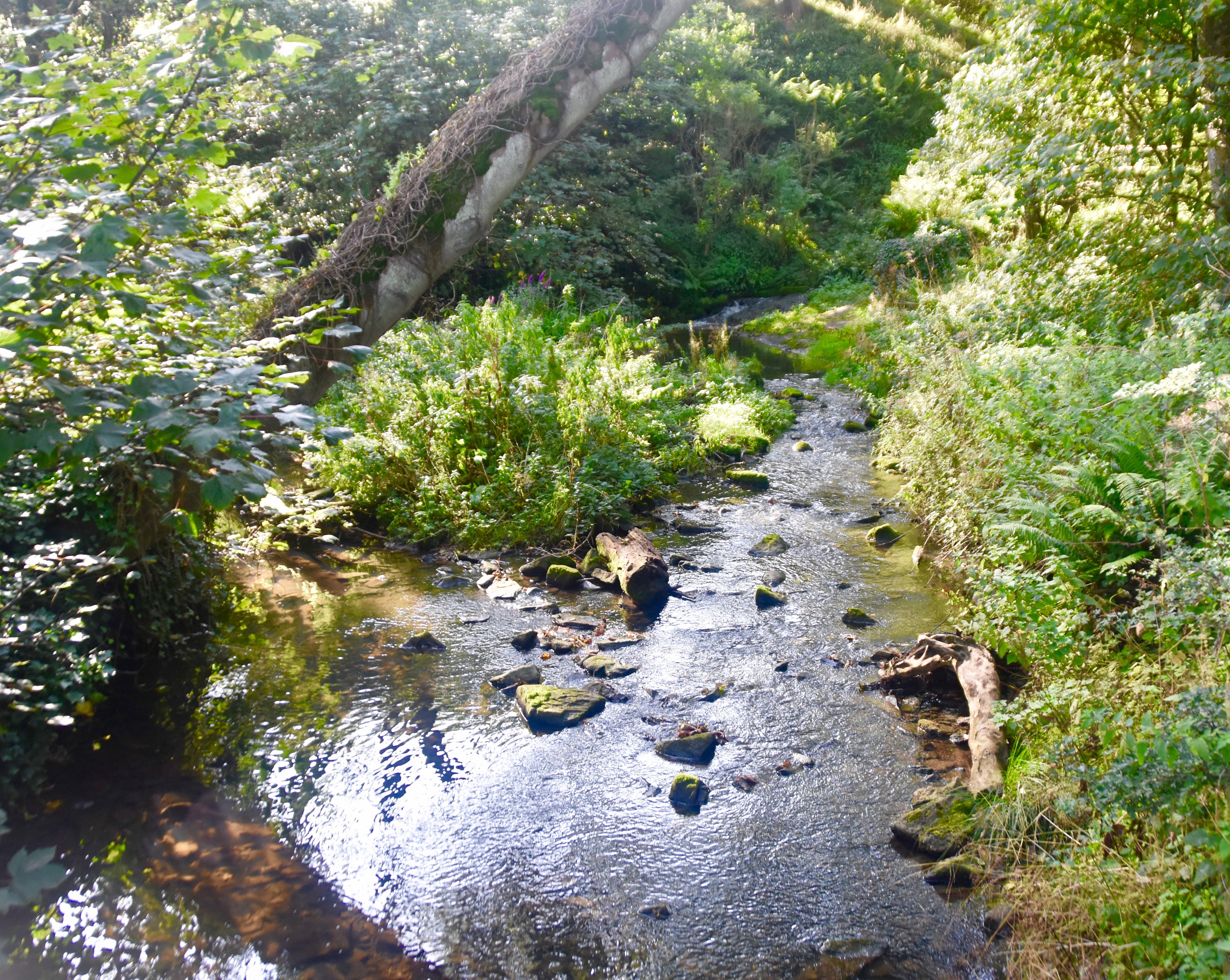 #12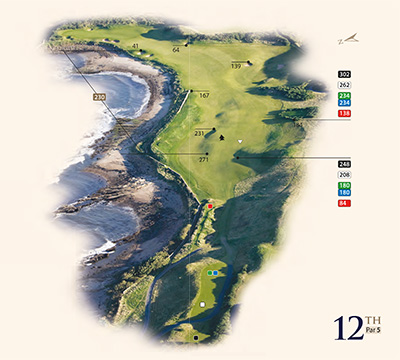 If No. 8 was a world class par three, then No. 12 may even top it as a world class par five. If there's a better looking golf hole than this I've yet to play it. Michael said it was even more dramatic when the tide is in and the waves literally crash into the left side of the hole. This is what it looked like the day we played.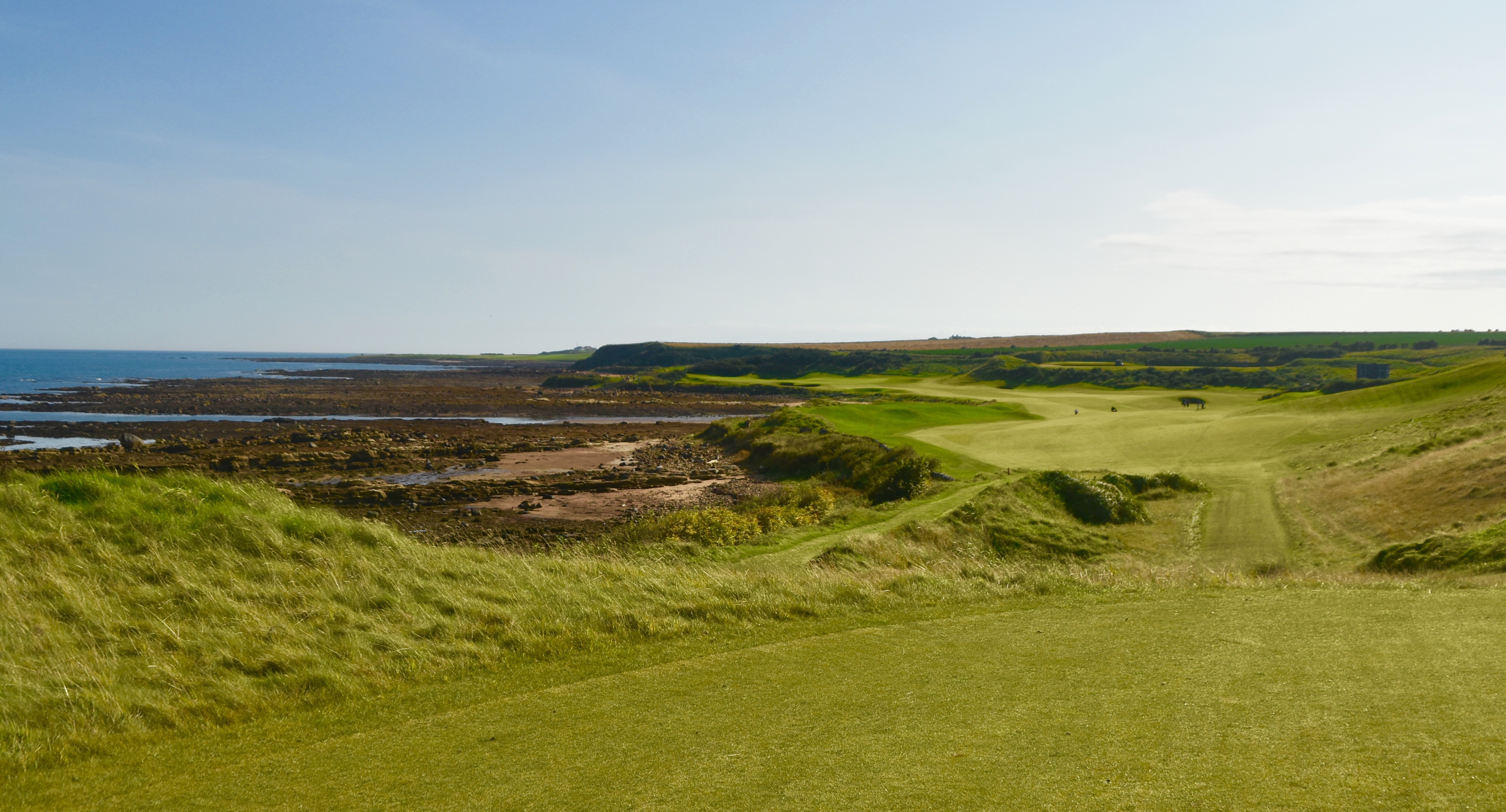 This is what it would look like with the tide in.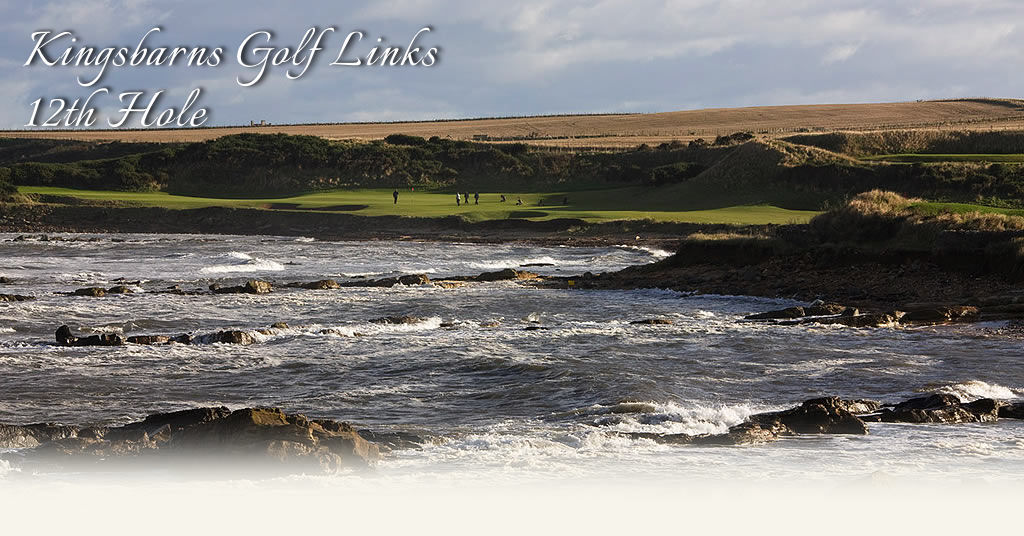 With this photo you get an idea of the drop from tee to fairway and why the view is so dramatic.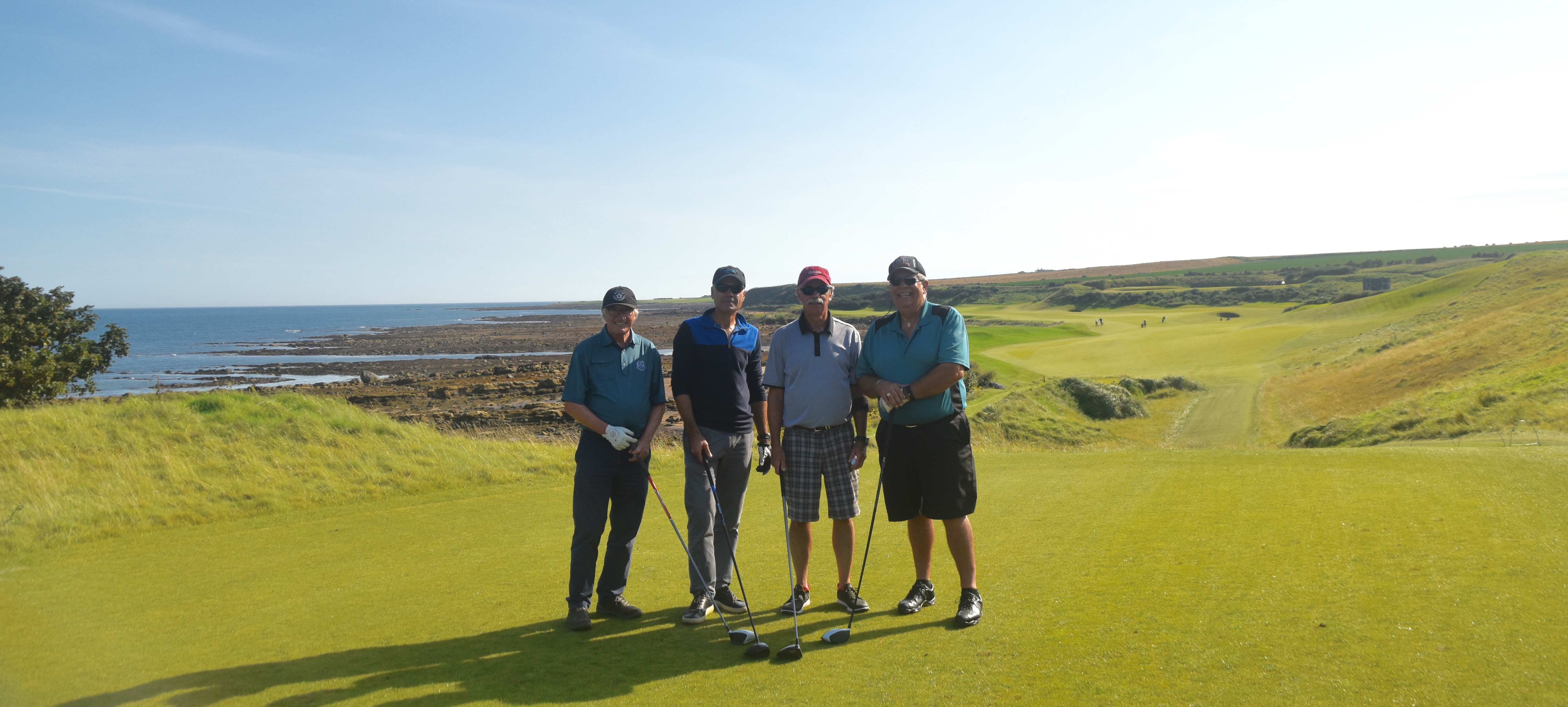 On #12 Tee
Here's the view looking back from the 12th green.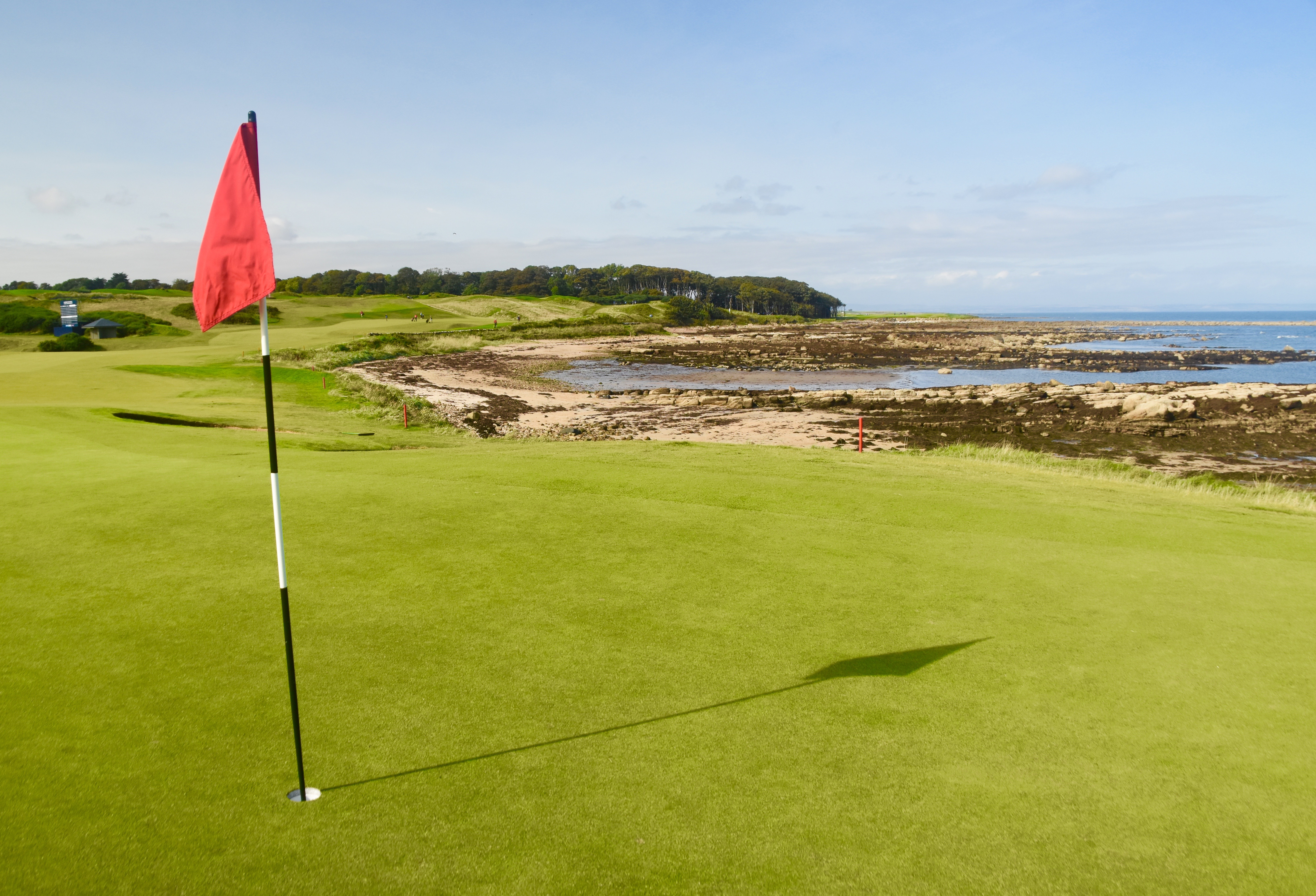 Kingsbarns #13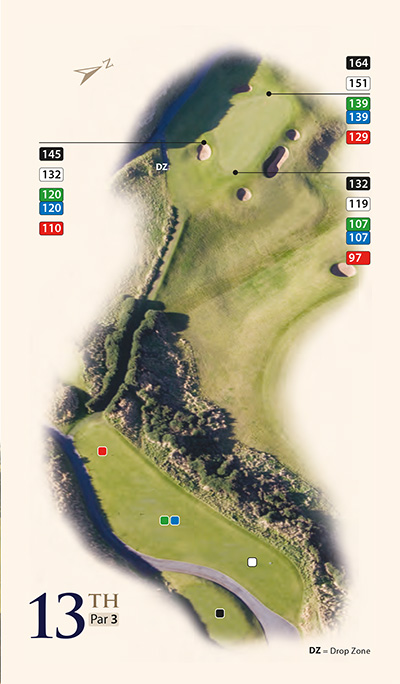 By now I've totally fallen in love with the par threes at Kingsbarns. This is another atypical links hole with a small cliff to the left of the green and a shot off an elevated tee to a green that's elevated from the surrounding fairway. That makes it a target golf shot and by some miracle I hit an eight iron almost stiff. Naturally I missed the birdie putt.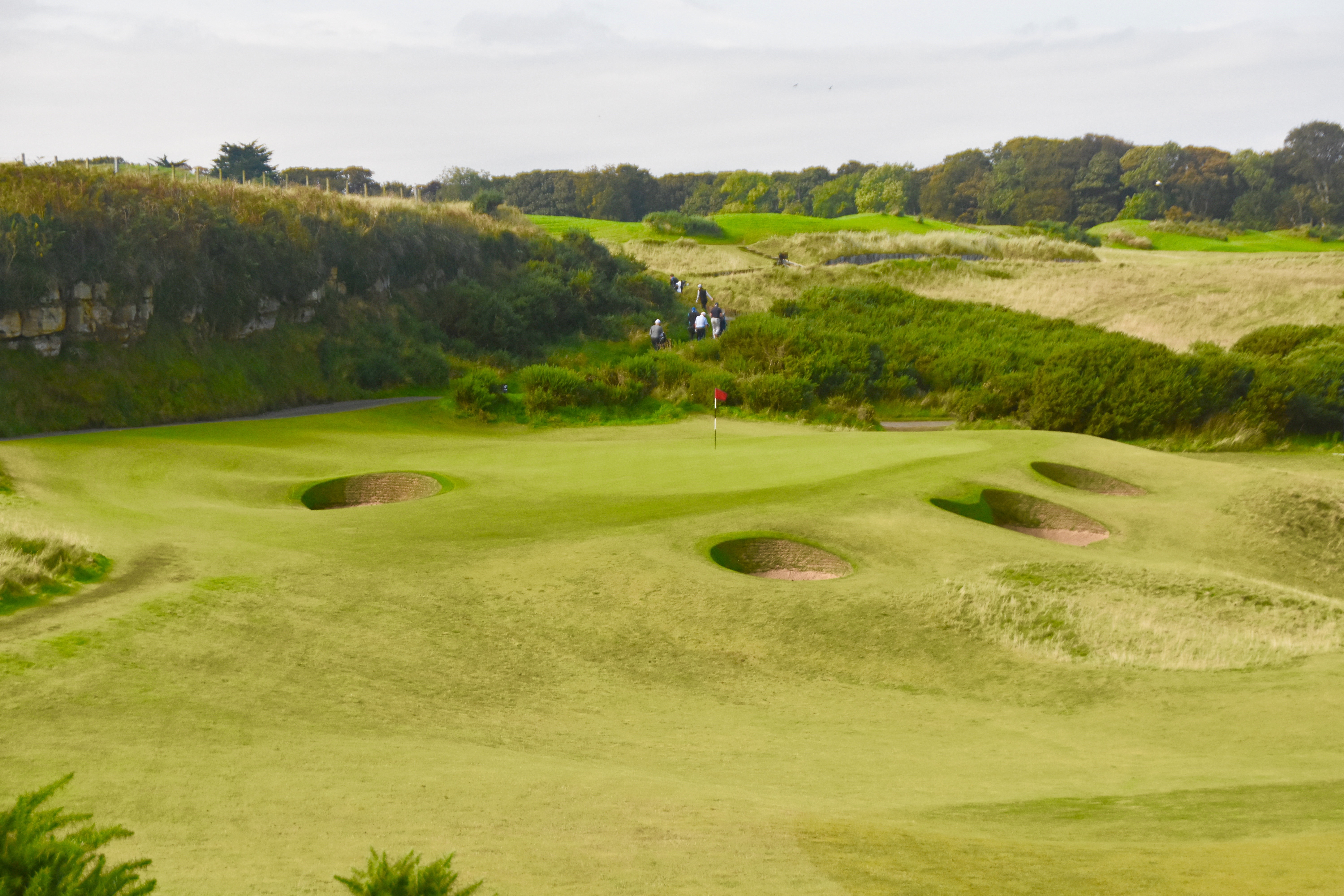 #14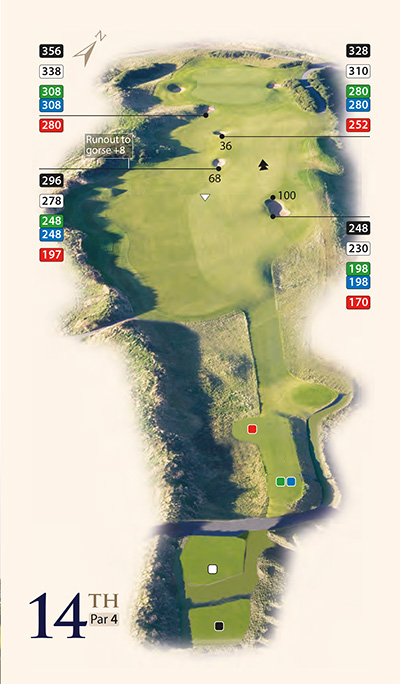 No 14. is a relatively straightforward par four that takes us back to the sycamore grove. Can't beat those ocean views and it's still sunny and warm – I love this course!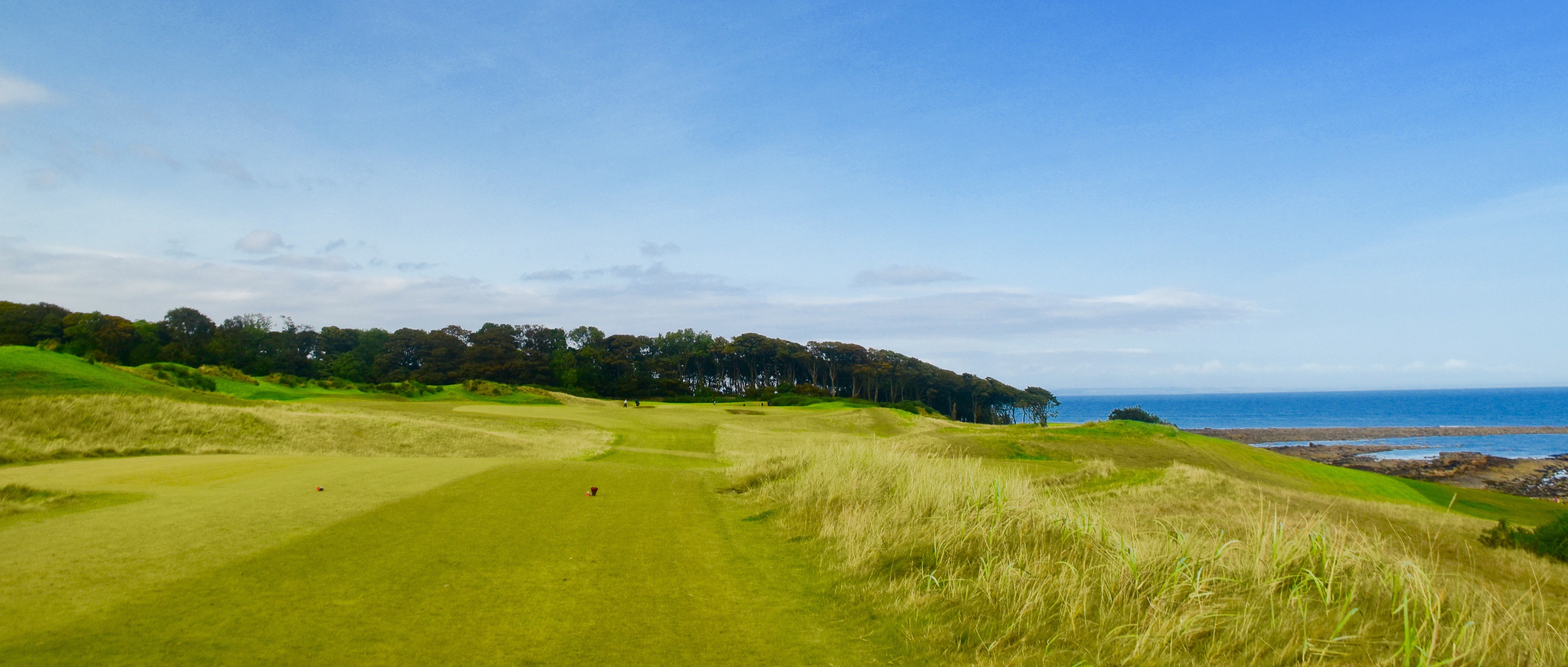 Kingsbarns #15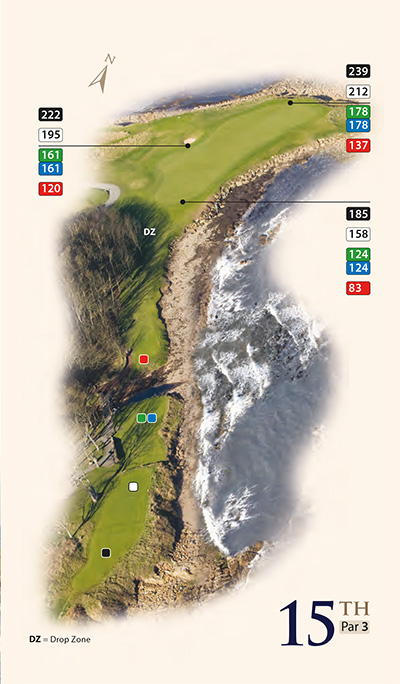 No. 15 is yet another jaw dropping hole with nothing but water between the tee and green and sycamore trees waiting on the left side if you bail out. This hole set up perfectly for Don's left to right ball flight and while Chuck and Peter were in the woods, Don landed ten feet from the stick.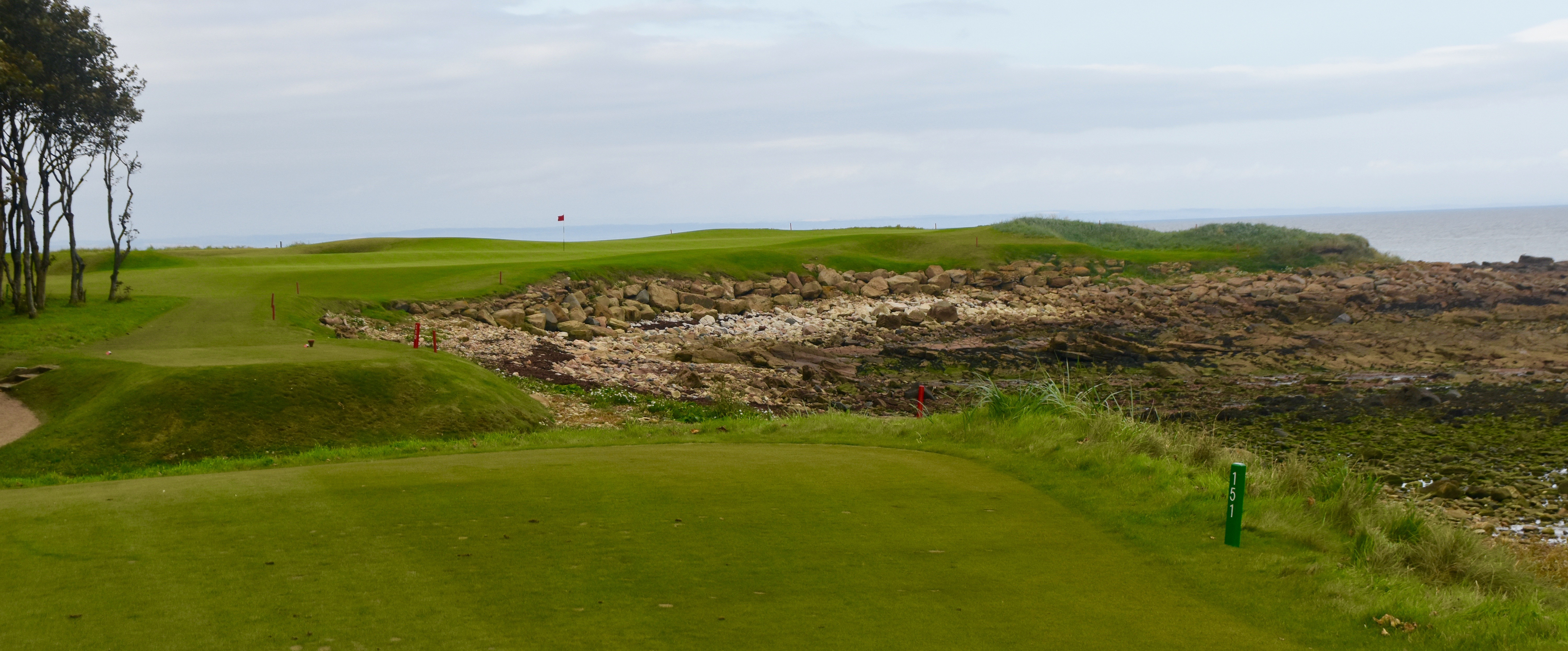 #16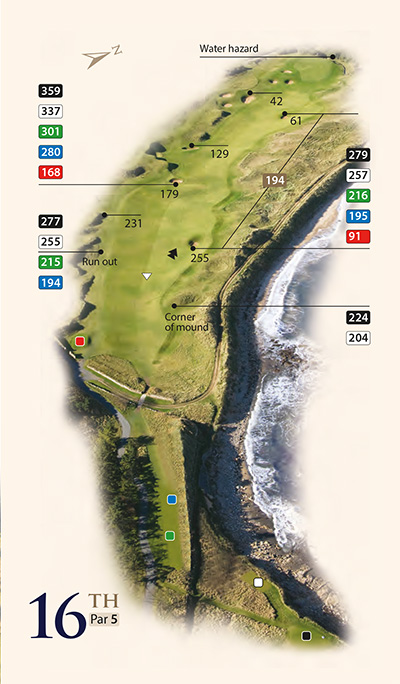 Almost too fast to notice, the blue sky has disappeared and we'll play the last few holes without benefit of the sun. Just makes me realize how lucky we were to have it for most of the round. Somehow Kyle Phillips and Mark Parsinnen, the designers of Kingsbarns have managed to create one more great oceanside hole in this final par five.While I had the trouble on my left on #12, the righties in my group face the problems on this hole. I'm not too sorry for them.

Kingsbarns No. 17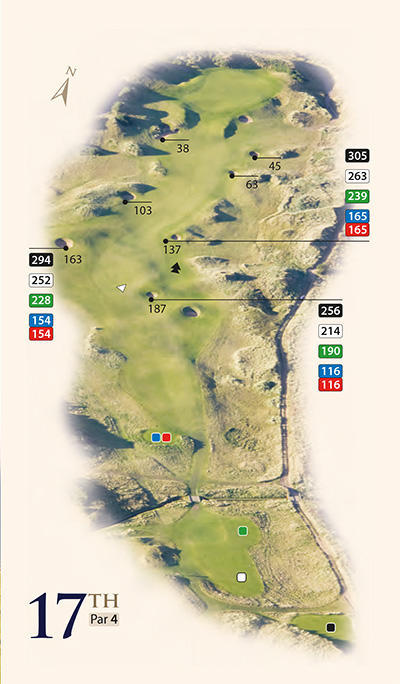 No. 17 is the last hole along the water and has the definite look of a links course hole – there's gorse, heavy rough and deep bunkers. What more could you not ask for?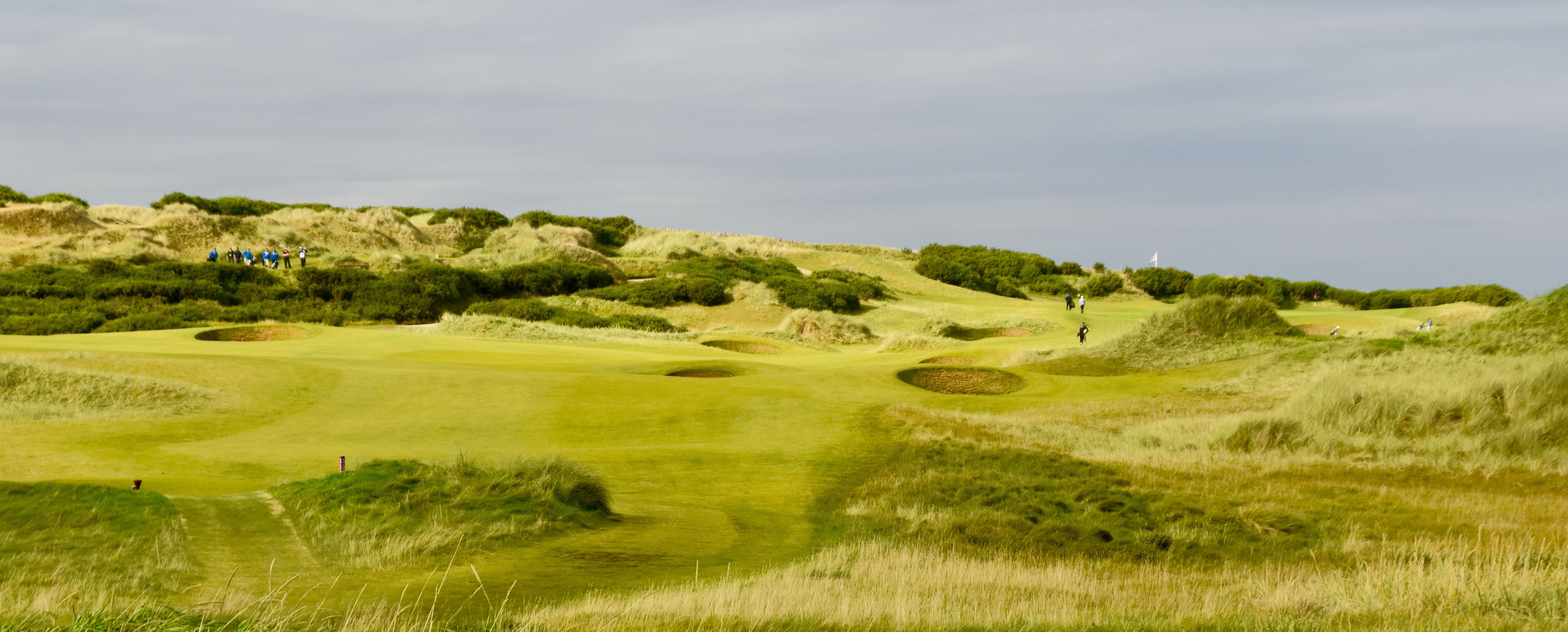 #18
I am almost tearful on the 18th tee, knowing this is the final hole at Kingsbarns. This is an experience I don't want to end, but my legs are telling me that enough is enough and the uphill 18th brings out the worst in them.

Despite my legs, I do hit my best drive of the day and it allows me to go for the green with a short iron. In a way that only the golf gods understand, I hit a perfect 9 iron and par this great finishing hole. It's with a sense of parting with a new found best friend that I cross the bridge and head to the club house.
In the bar all eight of us agree on one thing – we all love Kingsbarns and will sing its praises to anyone who is interested in golfing in Scotland.