Crail Balcomie – Quirky, Hilly and Historical
I've just finished a ten day nine course visit to Scotland playing Open venues Turnberry, Troon, Carnoustie and Muirfield. I couldn't be more pleased with the courses, accommodation and the weather. The first two were the responsibility of the expert owner of Golf Travel N.I., Barry McGuigan with whom we toured Northern Ireland in 2015 and the third was Mother Nature's gift to us. Despite dire warnings from previous Scotland golf attendees, we were never rained out, had the rain gear on only twice and not for more than a few holes and had more sunshine than clouds. The wind however, was another matter and that brings me to the subject of this post – the Balcomie course at Crail.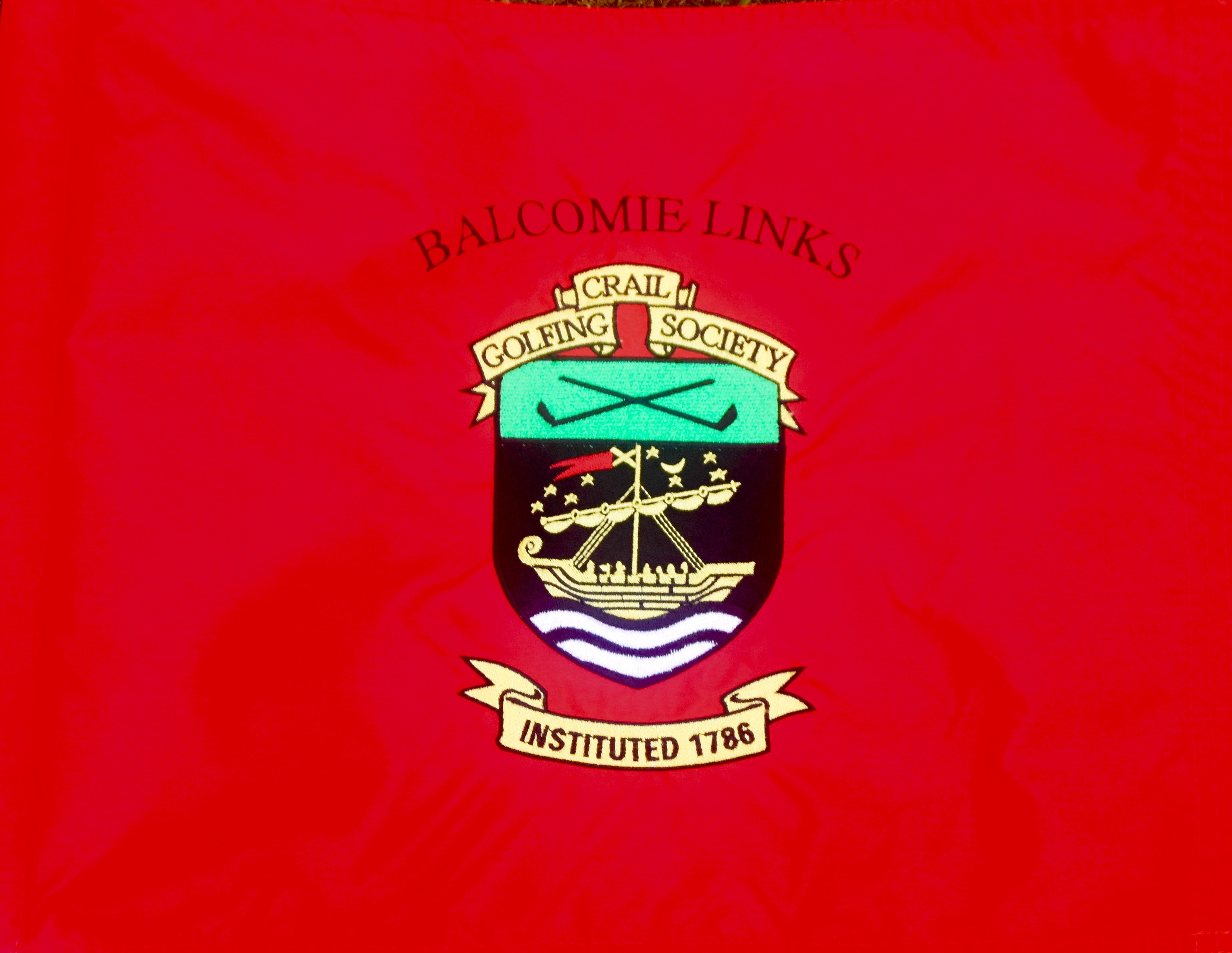 Before coming to Scotland I had known of every course we were to play except Crail. The lowest rated of the other eight Scottish courses we played was Western Gailes at 15th and then the Balcomie course at Crail which comes in at a puny 57th. However, it does have some good things going for it – it is a true links course and it was designed by Old Tom Morris. Besides, everyone we talked to about the Balcomie course at Crail, including our caddy from the day before at Kingsbarns, said we would like it. Unfortunately, things got off to a rough start at Crail.
Located on the North Sea not far south of Kingsbarns down a narrow country lane on which I doubt two cars could pass, let alone our bus, the Crail Golfing Society claims a heritage dating back to 1786. However, the two courses today date from much later. Balcomie opened in 1895 and the Craighead course, the first European course designed by international hot shot golf architect Gil Hanse, opened in 1998. Hanse is also responsible for the much higher rated Castle Stuart in northern Scotland. However, Craighead was good enough to host the World Junior Championship and from what I could see of it as we played Balcomie, it looked immaculate and deserted.
Barry had arranged for us to have a fore caddy and pull carts or trolleys as they are called in Europe. When we checked into the minuscule pro shop we were told there were none available. There was no way I was going to be carrying my gigantic cart bag around a course that looked to be very hilly. "F*** it" I said to myself and went into the clubhouse for a beer and eschewing a hot roll filled with haggis, settled for what turned out to be really good chili. The other three in my group had headed to the practice range only to find there were no balls left in the dispensing machine. I had noticed that there seemed to be one hell of a pile of balls on the driving range. Apparently no one had told the groundskeeper that once in a while they needed to be picked up. So no one was a happy camper in Crail, at least at the outset.
This would be a pretty short post if I didn't play at Crail, but they did manage to roundup some battery powered push carts, but with no batteries. Ever try to push one of those buggers w/o battery power? Trust me, don't be an idiot and do as I did and start out to play 18 holes with an albatross around your neck. What they lined up for Chuck was beyond belief. I was shocked and appalled that he was not too ashamed and embarrassed to climb aboard an electric cart designed for a paraplegic. I kid you not.
Chuck likened driving it to a combination of a motorcycle and a snowmobile. The bottom line is that Mitch and I got to push around a behemoth cart while Chuck whizzed back and forth on the fairway like a flitting fairy.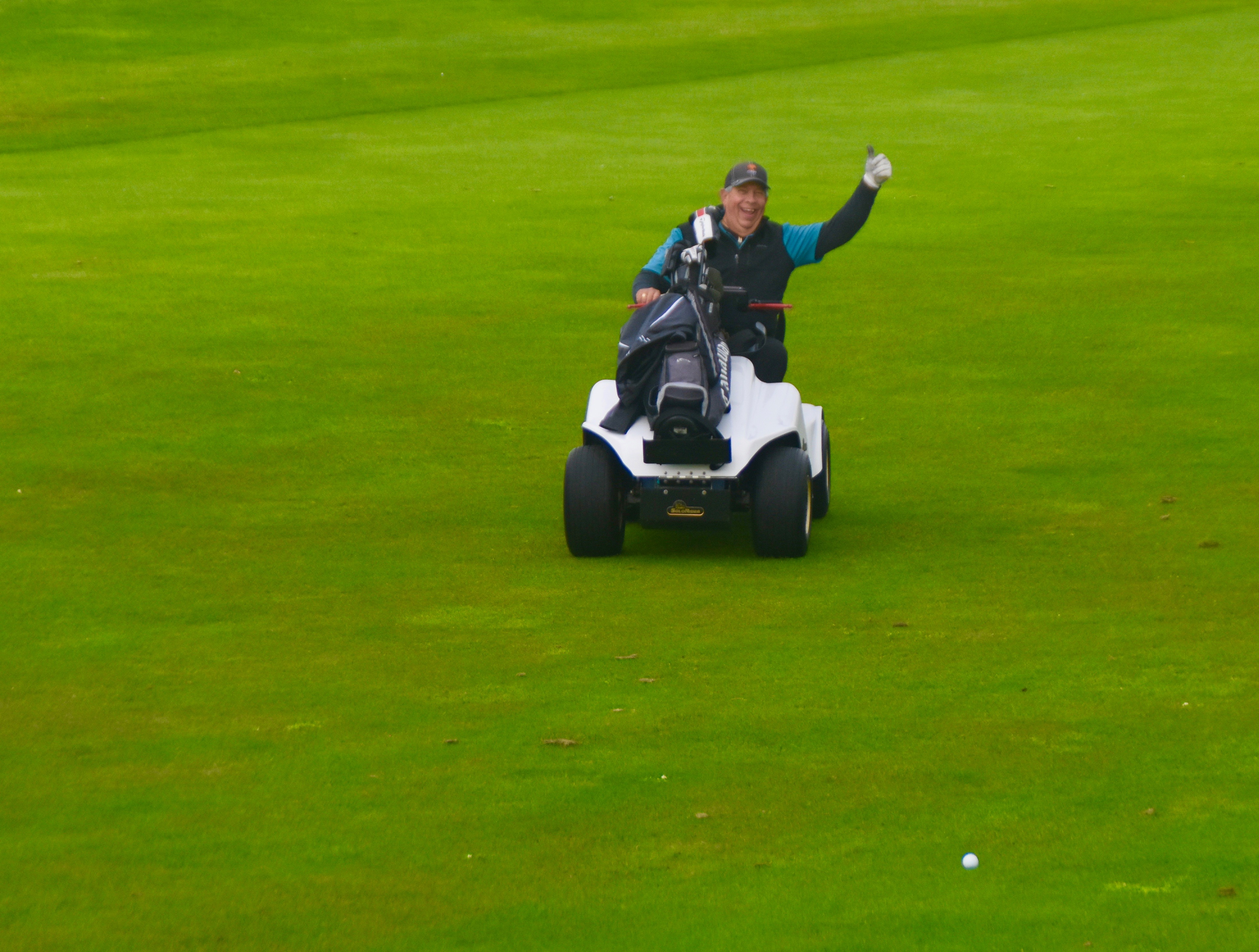 Our fore caddy arrived, driving up in a Mercedes. He had a name tag with the name 'bil' written on it. I refrained from telling him that that was not the way you spell Bill. He introduced himself, handed us each a souvenir penny that had been flattened in one of those machines you find at fairs and almost rubbing his hands with glee, said " Yuz boys ares in fer a treat". I took the flattened penny and thought, "He's in for a penny, we're in for a pound".
Crail No. 1 – Boathouse
I'm not going to do a hole by hole for a couple of reasons. The first is that by the time we knew were actually going to play, I had had absolutely no warm up. The result of that was that I duck hooked not one, but two balls off the first tee right onto the beach. This was right after bil declared that the hole was wide open and no trouble at all. I was too frazzled to remember to take pictures of most holes. In fairness, it is a good starting hole and is an example of elevation changes at Crail.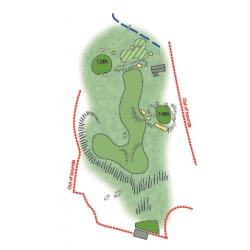 Here is a photo of No. 1  I downloaded from the web, which is pretty much the same view we had on the day we played. You can see just how bad a shot you would have to hit to land on the beach.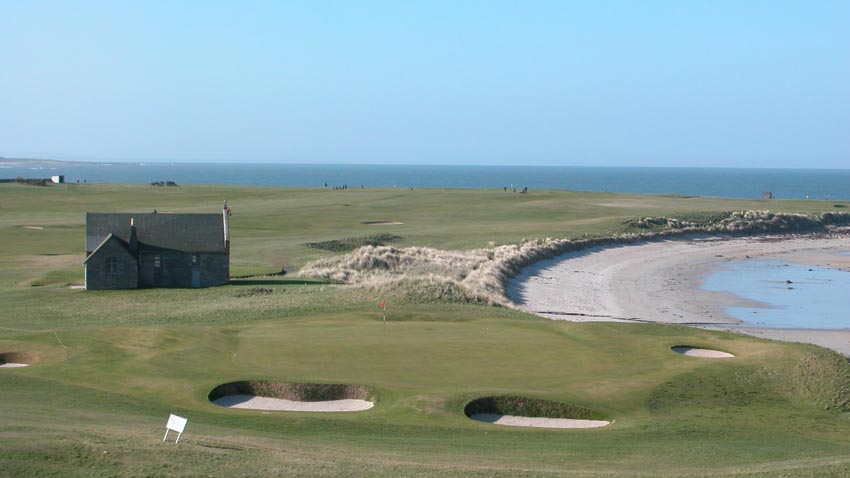 The clubhouse and a number of holes are on a hill overlooking the ocean side where most of the holes are located. The difficulty is that you go up and down this hill at least four times and even without a powerless power cart, it would be a stiff walk. Here is an aerial view of the course which gives an illustration of just how many of Balcomie's holes play along the water. The front nine is on the top and most of the back nine on the lower right.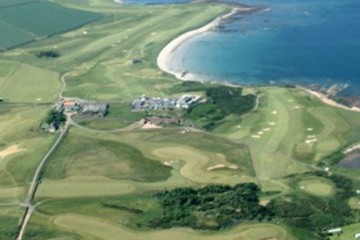 As we walked to #2 tee, a par five, bil kept on telling us what a great course Balcomie was. He declared that he had caddied for members of Pebble Beach and they unanimously declared that this course was better. Not hearing any guffawing from us over this outrageous statement he then went on to berate the Old Course at St. Andrews for having only three good holes while every one at Balcomie was great. I have to be honest and say that my enjoyment of Crail was diminished by these ludicrous assertions and if bil had just let us discover the course on our own and form our own opinions we would have appreciated it more than we did at the time we played. Looking back, I realize now that, but for the troubles at the outset, I would have been in a better frame of mind and more open to bil's comments than I was then.
#4 – Fluke Dub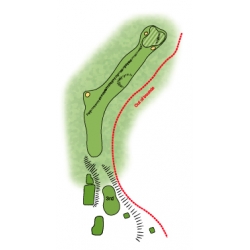 By the time we reached the fourth hole, after a strong par 5 2nd and a nice par 3 3rd, both along the water, my determination to dislike Crail was waning and I got the camera out for this shot of the 4th. It's a beautiful looking par four with a huge risk/reward factor. Just how much do you dare cut off? Fortunately for me my usual lefty's slice was back in action and there was little danger of hitting the beach.

Crail #5 – Hell's Hole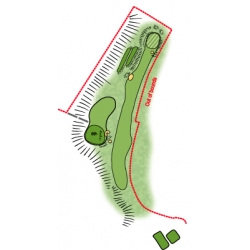 While #4 was short enough that you really didn't need to flirt with the water, No. 5 was a different story. At 439 yards into the wind it is a monster and quite aptly named. Accept reality and play it as a par five.

#6 is probably the weakest hole at Balcomie. It's a 172 yard par 3 with a large green and no real trouble except for some small traps to the left of the green. Balcomie is not a course that relies overly on traps and those that are present are generally much less deep than those on most of the other courses we played.
For #7 you make the first of those ascents I described earlier. By now, a third of the way through, I could feel my legs steadily weakening with each upward step. Luckily help was on the way as the marshall appeared with a power cart and I had a moment of elation thinking we would get to ride the rest of the way. Then I saw he was pulling two non-battery pull carts which he exchanged for the monsters we had been pushing up until now. All offers of cash, including even the flattened pennies, for the right to ride, were refused. However, Chuck was a different story. When they tried to get him to swap his paraplegiamobile for a pull cart he drove off laughing hysterically and they gave up and let him keep it.
Holes 7, 8 ,9, 10, 11 and 12 are all away from the sea and while nice, do not compare to the seaside holes. However things get real interesting again at 13.
Crail # 13 – Craighead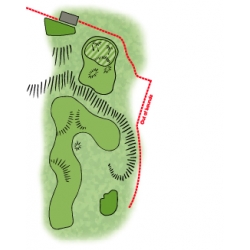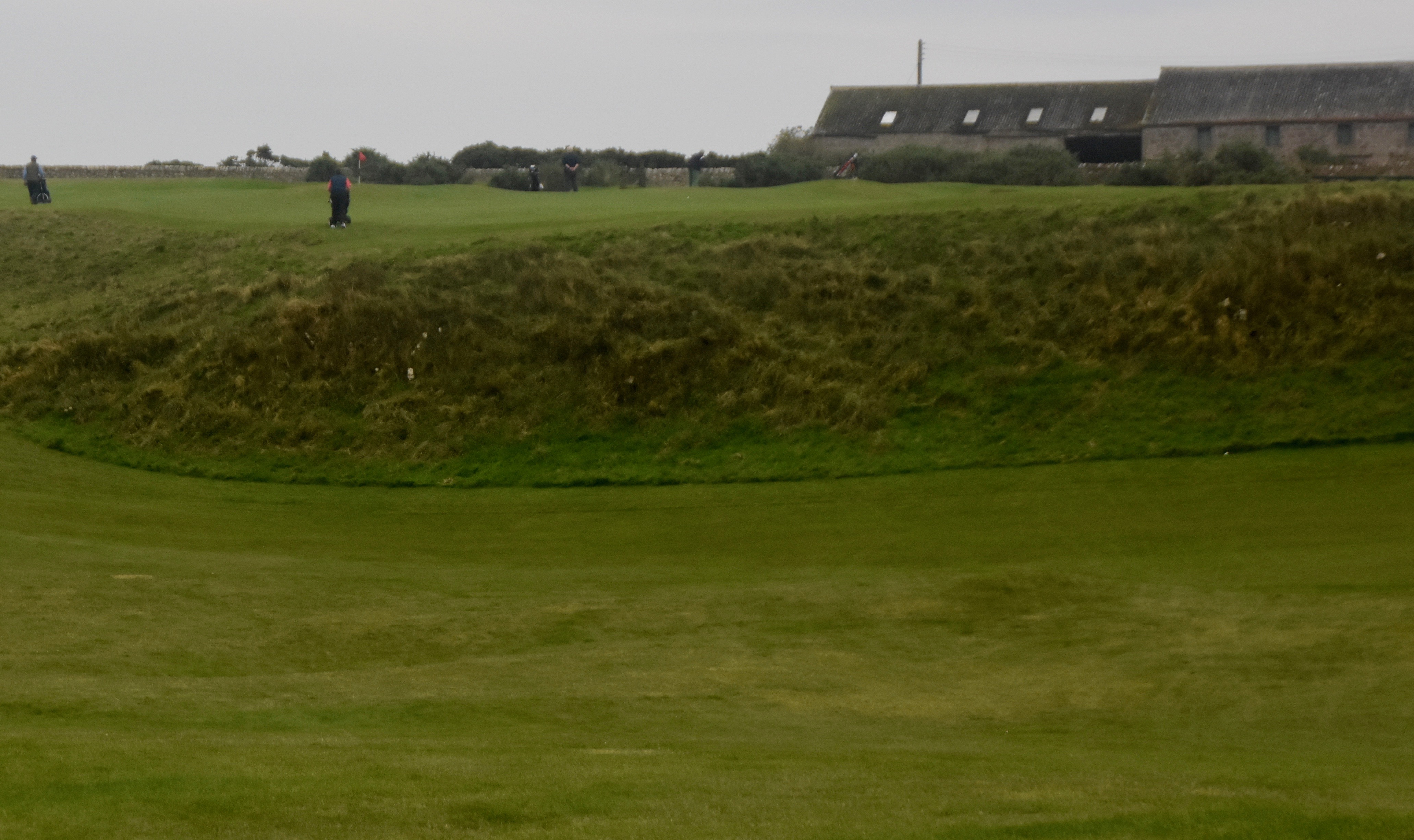 My photograph of this hole did not do justice to what I think is the hardest par three I've ever played.  Not only is it long (214 yards), not only does it play into the wind, not only is the tee shot blind, but the bloody green is elevated about thirty feet above the tee. So all you have to do is hit a perfect driver straight into the wind. I didn't even try and simply laid up below the cliff face. bil then stood on top with his hands up indicating the direction of the flag and I hit a full seven iron and still came up short. Frankie is a long hitter and even he couldn't reach this hole with his drive. I think I might reconsider which hole on this course should be called Hell's Hole.
#14 – The Cave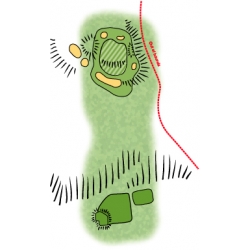 This is the signature hole at Crail and it is a very memorable par three. Opposite of Craighead, you tee off from above to a green below. The trick is correctly guessing the right club. Of course I didn't and dumped an 8 iron into the trap that protects the front of the green. Still it was an easy out for a two putt bogie.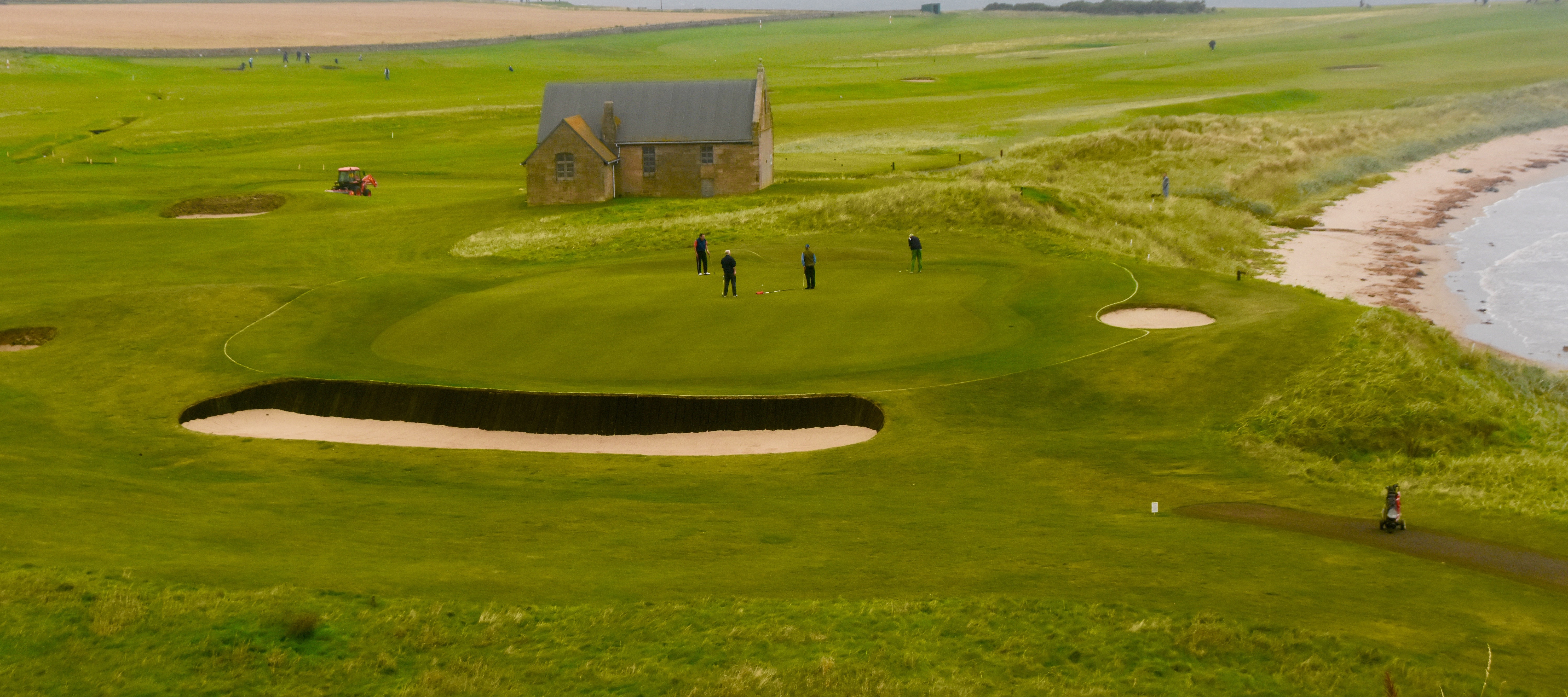 The reason the 14th is called The Cave only becomes apparent when you make the trek to the 15th tee which passes by this.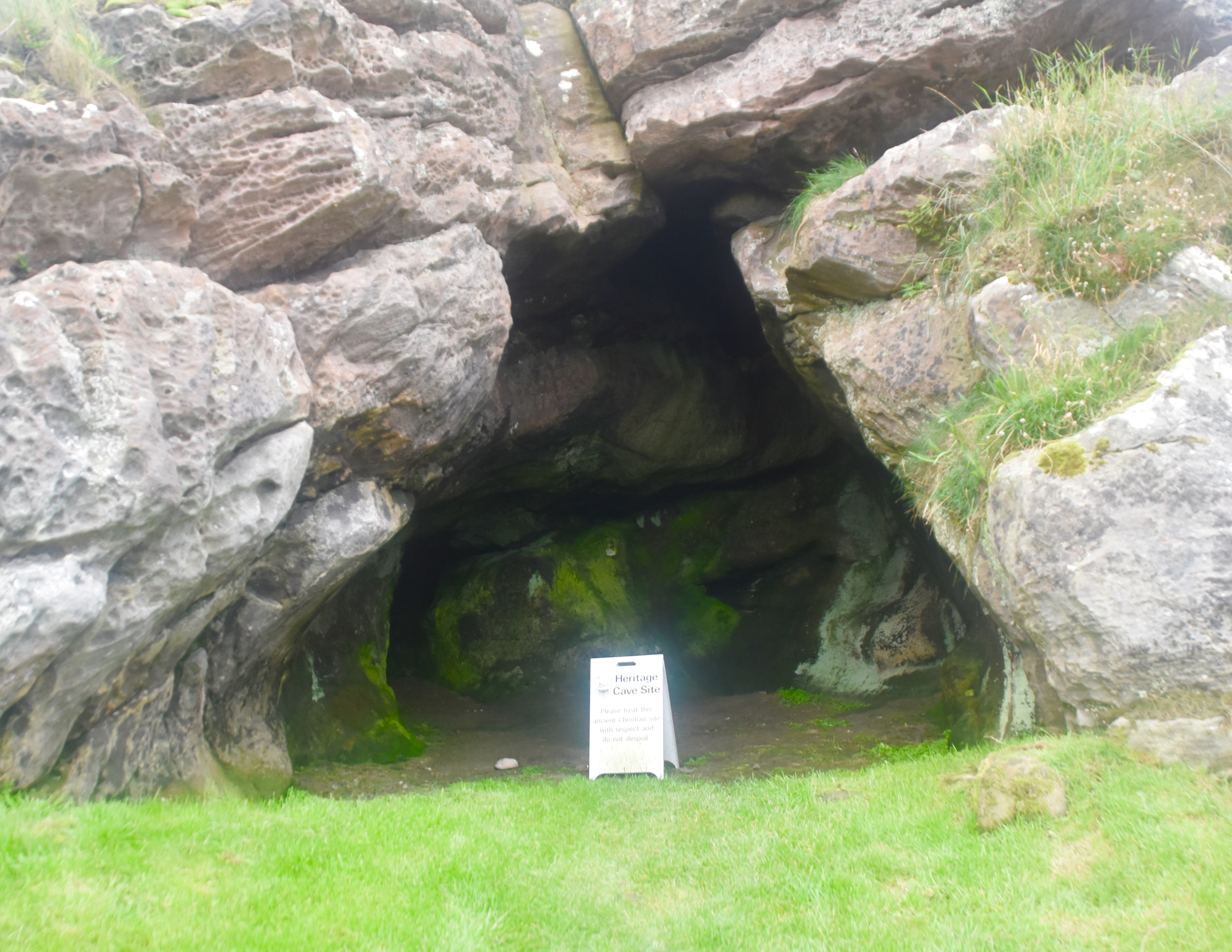 This is Constantine's Cave which archaeological diggings have confirmed has been occupied at times for thousands of years. Legend has is that Scottish King Constantine II was killed in the cave or nearby, by raiding Vikings, but there is no historical evidence to support it. Still it makes a good story and not one you would expect to find on a golf course.
Speaking of Vikings, the last four holes at Balcomie are located in an area where walls that are over a thousand years old were constructed as protection from Viking raiders. That is a fact and not a legend.
Crail #15 – Mill Dam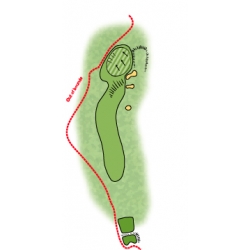 A very short par 4 with the sea all down the left side. Not good news for me.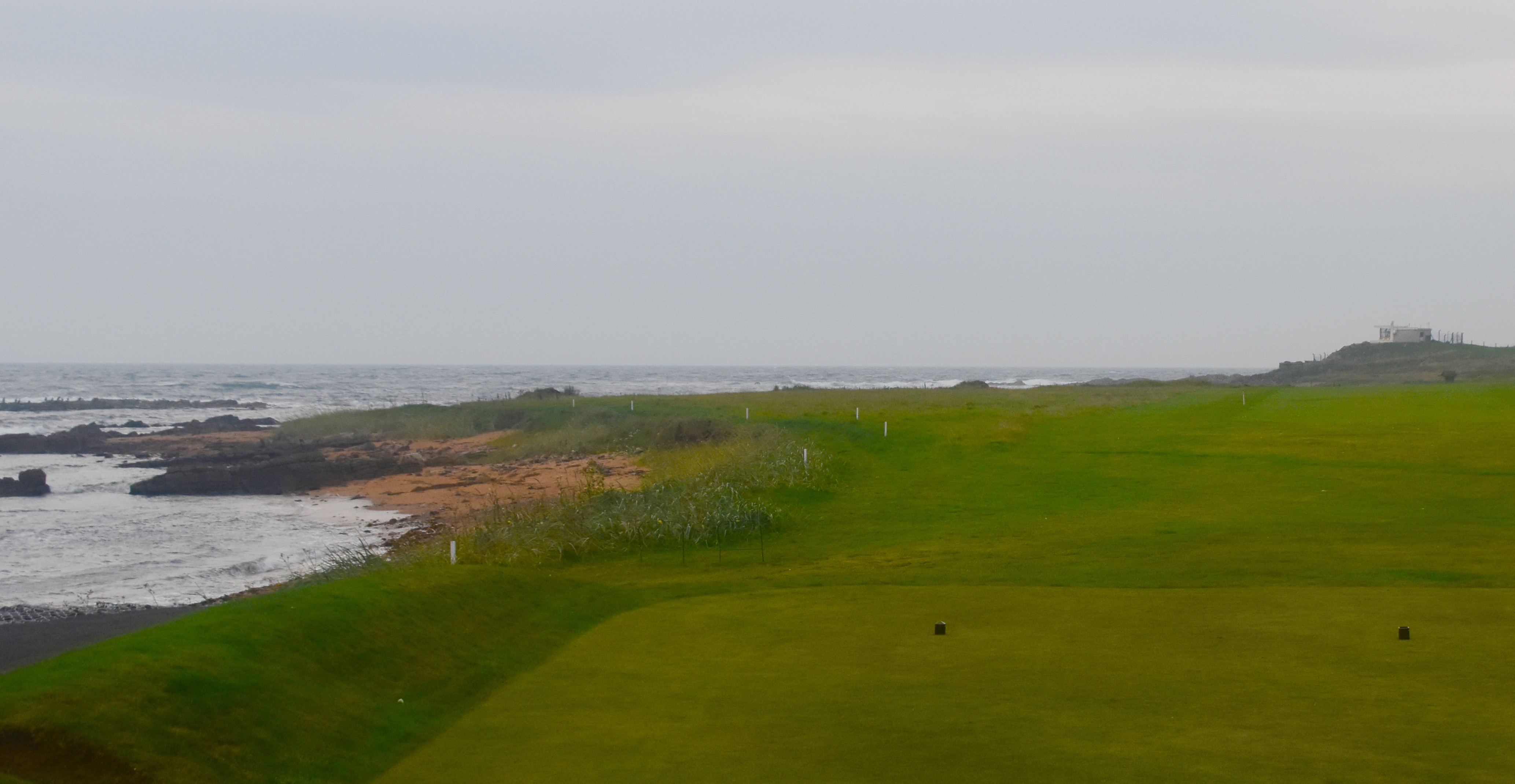 The building in the background is one of the last remnants of the aerodrome which once existed just north of Crail. Today the airfield has been converted into an auto racing track and by the weirdest of coincidences represented the first of three days of auditory assaults whilst we were golfing. Barry had pointed out the race track on the way in and apparently Sunday is not a day of rest in Crail, but one of incessant car races. For almost the entire round, and particularly on the elevated holes, there was a constant revving of engines followed immediately by the screech of braking tires. Depending on the wind direction, at times it seemed as if the track was right beside the golf course rather than half a mile away.
Balcomie finishes up with a strong par three that has the ancient wall running down the right side. From the final green there is quite a climb back up to the clubhouse. If not for the thought of a Belhaven Best awaiting at the top, I don't think I would have made it. The ups and downs of Balcomie really took a toll on my knees which I was to feel for the rest of the trip.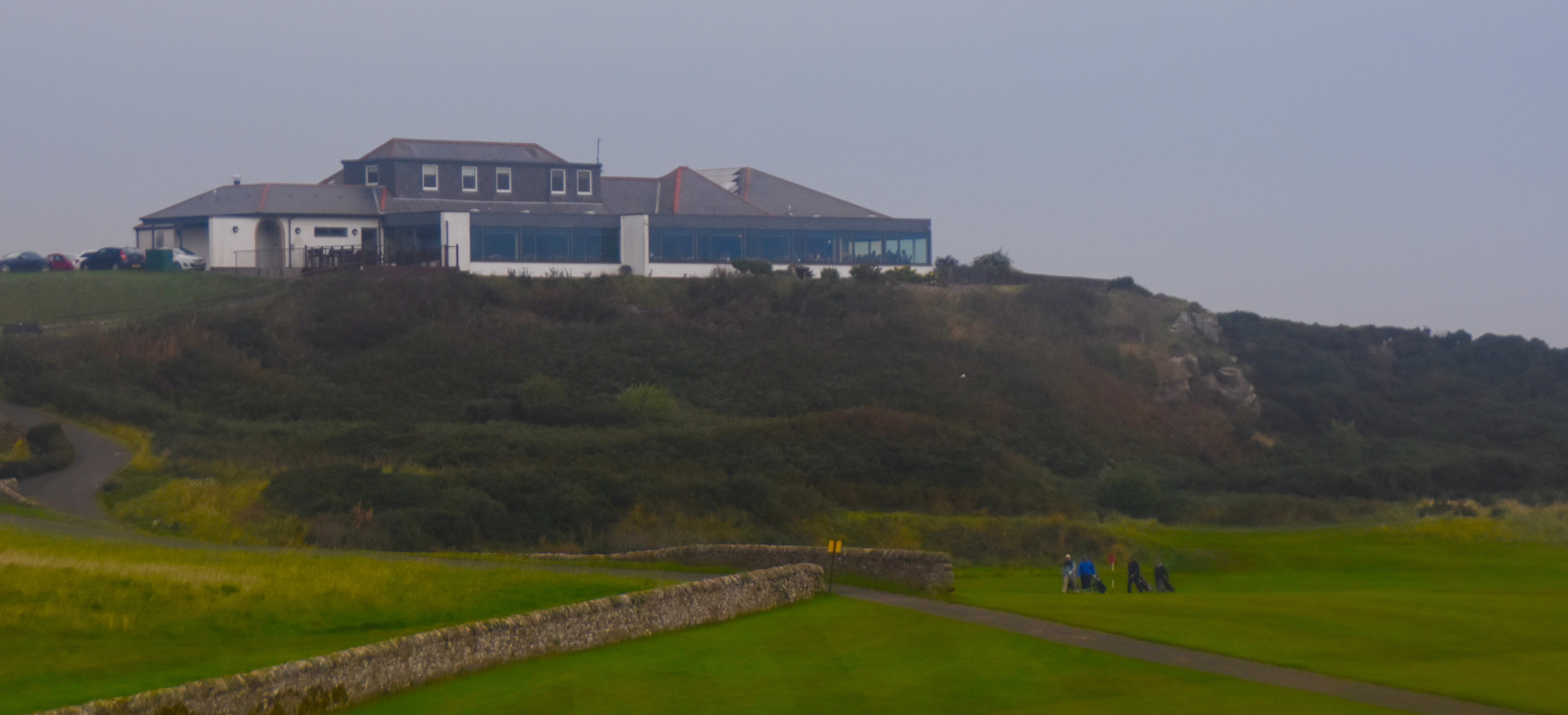 We parted ways with bil who was happy to collect gas money for his Mercedes. Balcomie Crail is a very good course with some nice historical touches, but no match for Pebble Beach or the Old Course, despite what members might think.