Turnberry – The Ailsa Course.
Today we get to play the last of four current British Open venues on our tour of Scotland, the legendary Ailsa course at Turnberry.  Golf Travel Northern Ireland has done a fantastic job of getting us on these prestigious courses as well as others like Kingsbarns, North Berwick and Prestwick. For comparative purposes, you can read my posts on Muirfield, Carnoustie and Troon by clicking on the links. No British Open venue has been more in the news lately than Turnberry and that's thanks to the efforts and bombast of one man – you guessed it, Donald Trump. He bought the course, changed the name to Trump Turnberry (surprise, surprise) and spent a fortune of maybe his own money or maybe someone else's, to return the course to the glory that sees it now listed as a top twenty course in the world. Won't you join me and my golfing companions and find out if Trump Turnberry is really as good as The Donald says it is?
History of the Ailsa Course, Turnberry
The history of the coastline in the Turnberry area goes back a lot farther than the game of golf, no matter how early one claims it started. Legend and actually some pretty decent factual material, has it that the great Scottish King Robert the Bruce was born in Turnberry Castle, which now lies in ruin near the present day lighthouse. Golf at Turnberry only dates as far back as 1901 when Lord Ailsa not only had the course built (he didn't name it after himself – that was done much later), but also the first dedicated golf resort in Scotland. The massive Station Hotel was built with the idea of tourists arriving by train to stay and play. We saw something very similar in Northern Ireland where golfers would take the train from Belfast or Dublin to Newcastle and stay at the impressive Slieve Donard hotel and play Royal County Down.
Turnberry's recognition as a great golf destination was stalled during both WWI and WWII when the grounds were commandeered by the R.A.F. and used as an air base. During the WWII occupation much of the course was literally flattened and covered in concrete. Fortunately, the fame of the course led to its restoration to its current layout.
Turnberry didn't host it's first British Open until 1977 when Tom Watson beat Jack Nicklaus in the legendary 'Duel in the Sun' which immediately sealed the course's reputation as a great Open venue. Other winners were Greg Norman in 1986, Nick Price in 1994 and Stewart Cink in a heart breaking win over Tom Watson in 2009. It has also hosted numerous Senior Opens, British Amateur's, Women's Open and a number of European PGA tournaments. With its placement on the current British Open venue list, Turnberry solidified it's place as a world wide golf destination, but for some reason the ownership kept changing. After British Transport Hotels divested the property in the the late 20th century both the hotel and the course went through a series of renovations, most notably by Starwood Hotels and of course, the Trump Organization, which allegedly put £200 million into the effort. Today we'll see if that expenditure has paid off.
The first thing you'll notice, because you can hardly miss it, as you approach Turnberry is the massive white hotel with a red roof, that overlooks not only the three golf courses at Turnberry, but the famed lighthouse, the volcanic plug called Ailsa Craig and the Mull of Kintyre (cue Paul McCartney). The humongous ballroom on the left does not date from the glory days of grand railway travel, but was added by Trump. I guess that was his signature touch which made him feel like he should name the place after himself. I mean, who goes to grand balls anymore?

Opposite the hotel is the newly renovated clubhouse with this ridiculous fountain that wasn't working, topped with what, a Roman emperor, a god, someone being lionized? What's this got to do with Scottish golf? I asked about it inside the pro shop and the guys just shook their heads and confirmed it was a very recent addition.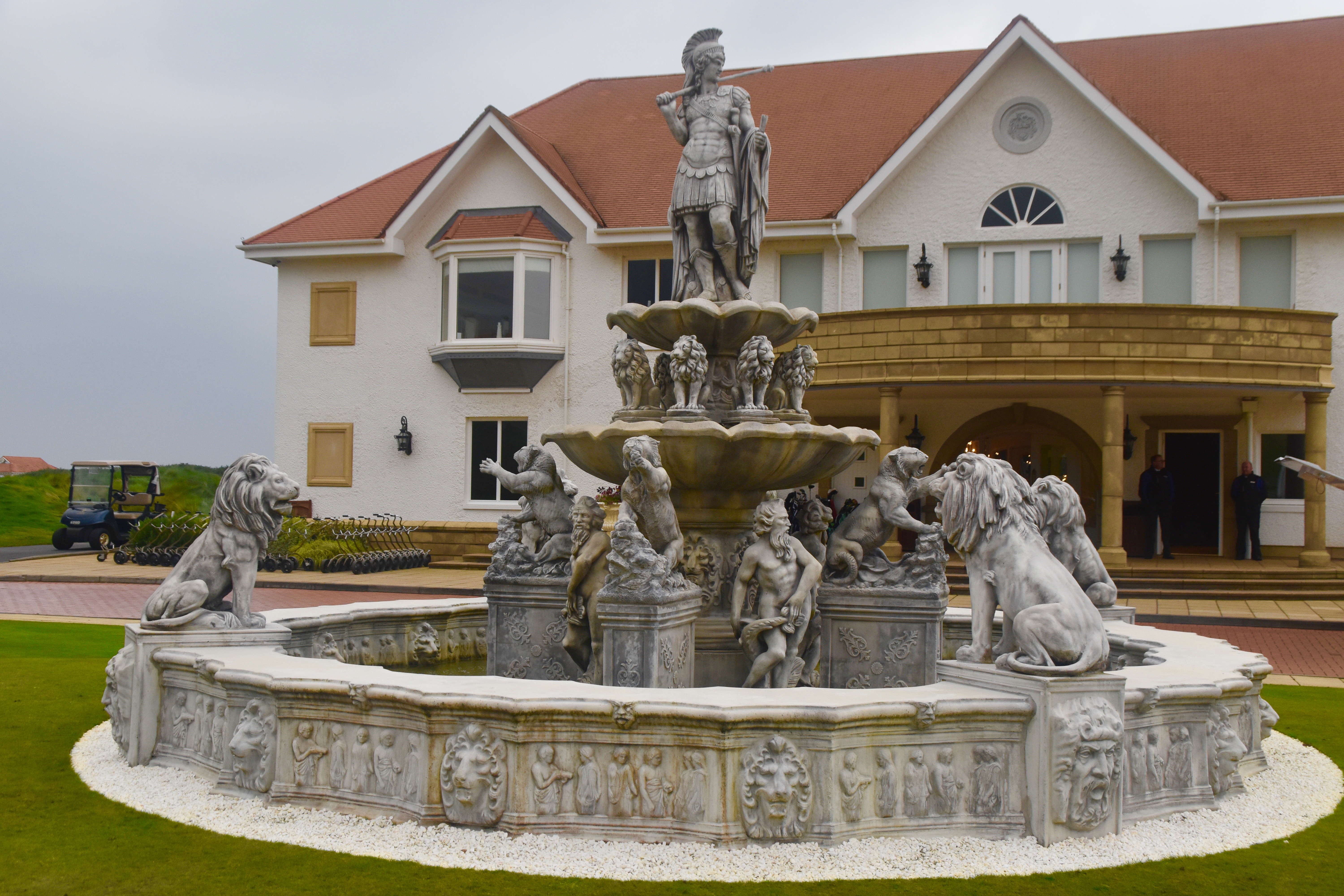 The staff at Turnberry are very courteous and the prices in the pro shop not totally outrageous. Apparently most of the logoed clothing and other paraphernalia that we golfers are suckers for, used to all say Trump Turnberry, but guess what? Nobody was buying it, so they returned to the much classier logo featuring the lighthouse.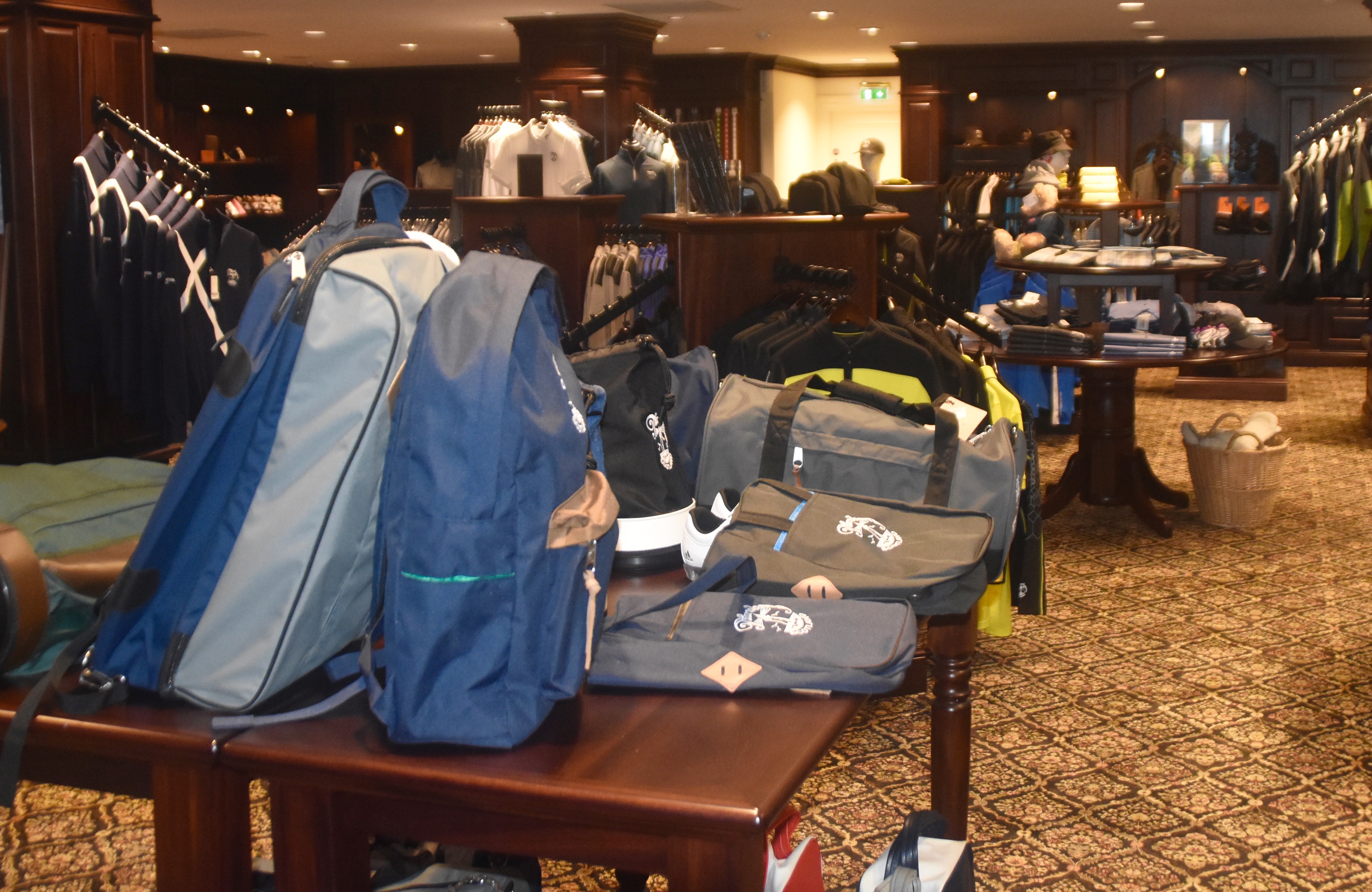 Like the clubhouse at Troon, Turnberry's has a a lot of golf memorabilia on display including these very old clubs. It's hard to believe, but the great golfers of the late 19th and early 20th century were shooting scores using clubs like this and gutta percha balls, that are not that far off what they shoot today.

Turnberry was one of the first places to recognize that golf was not just a man's game and women have been playing here since its inception. At one point they even had their own course. Sixty-five years before the first men's Open was held here in 1977, the Ailsa course played host to the British Ladies Amateur. I couldn't help but notice that the first Ladies Captain was no doubt a distant relative of mine as the Dunlop's were originally from Ayrshire before my branch decamped for Northern Ireland. Looks like some of the McIlroys went with them.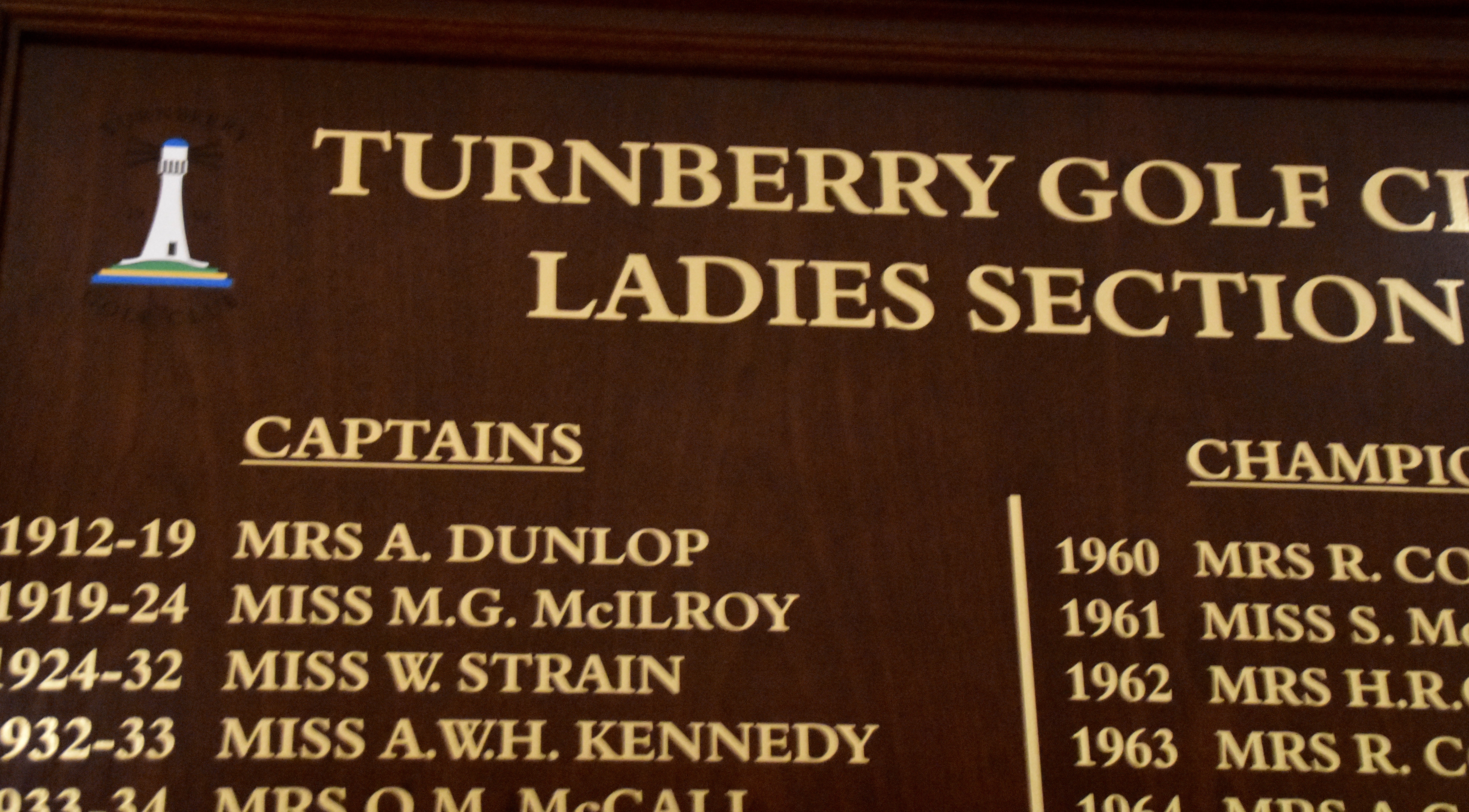 I continue to be underwhelmed by the practice facilities at some of the top Scottish golf courses. At Turnberry they give you a paltry little bag of balls to be used hitting off mats. C'mon man! For £200 million surely they could let us hit off grass.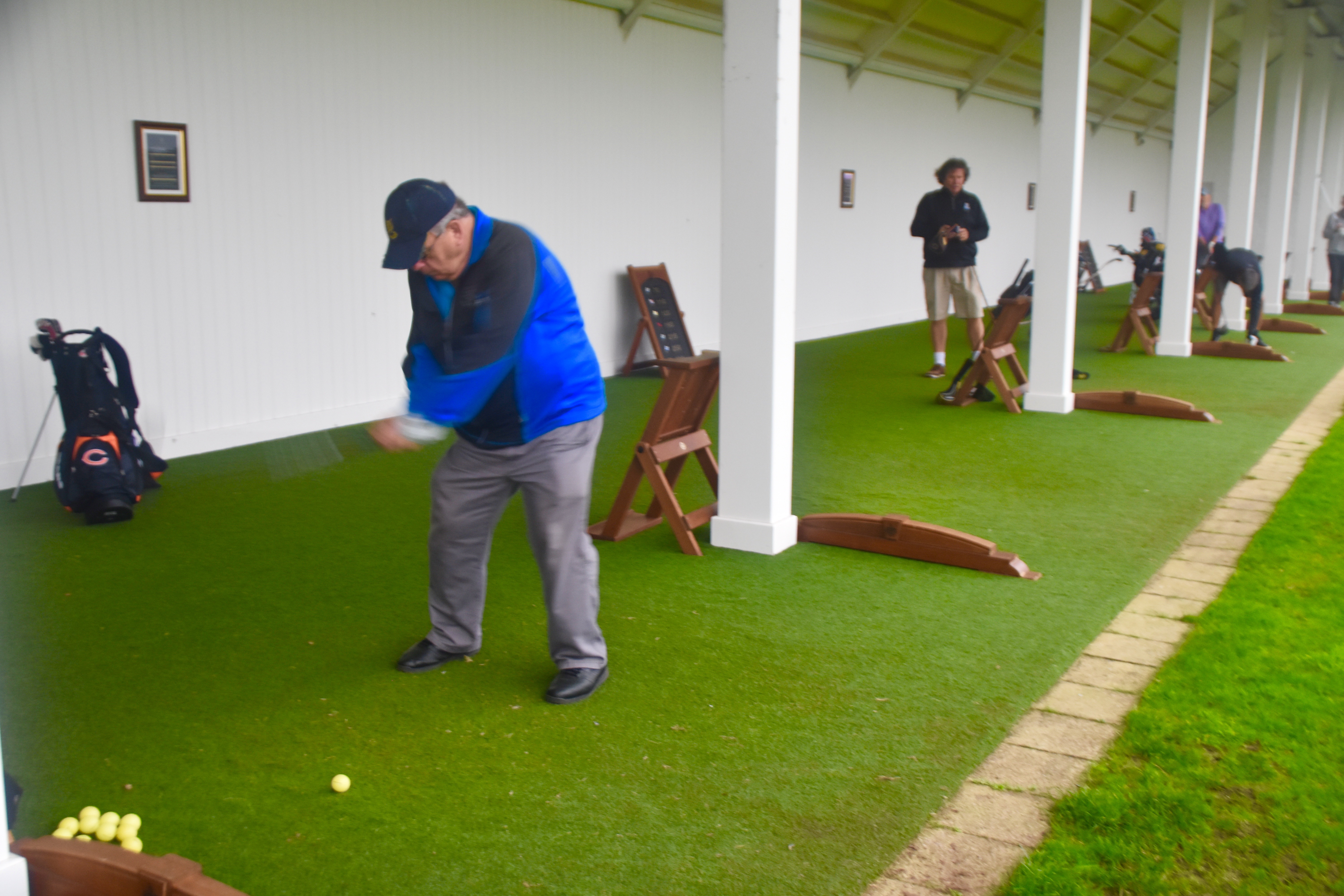 Also, the pull carts they rent are so flimsy that you wouldn't expect to see them on the poorest muni course in North America.
OK, enough bitchin'. Let's play golf.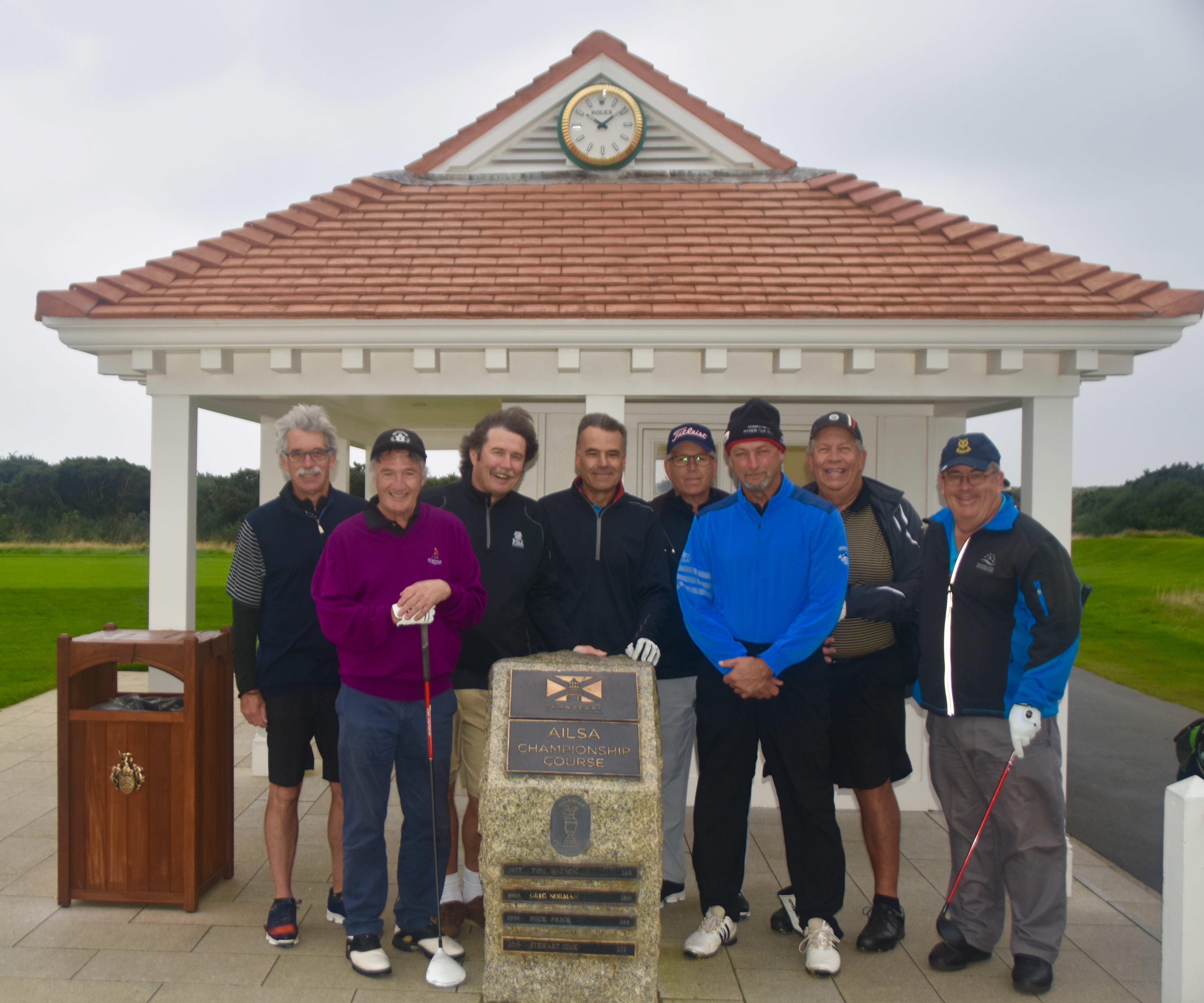 Another area they didn't spend enough money on was the website. There is no hole by hole description with accompanying maps and fly overs that most resort courses use to entice potential visitors. How much did they spend on that ballroom? I have nothing but a few photographs on what was a lousy day for photography due to fog and mist.
That being said, I can state without reservation, that this is one of the most beautiful golf courses I've ever played and easily the nicest, scenery wise, of any of the four Open venues we played. Only Kingsbarns could compete in this category. In terms of conditioning, I would give it a 10 – magnificent tee boxes, fairways and greens.
The first three holes do not prepare you for what it is to come, but they are all absolutely typical of what you would expect on a links course with one exception. Those holes that are not directly on the water feature gorse, heavy rough, rolling undulations, but relatively few traps and these are nowhere near as difficult as most other links courses. Of course, the wind is always a factor and on the day we played Turnberry it varied from almost nothing to a four club difference on some of the holes playing along the water. Try hitting this fairway on #2 with a strong crosswind.

The hole markers are another example of Trump inserting himself where he really doesn't belong. This crest is one that Trump is alleged to have misappropriated from the original owner as detailed in this BBC story.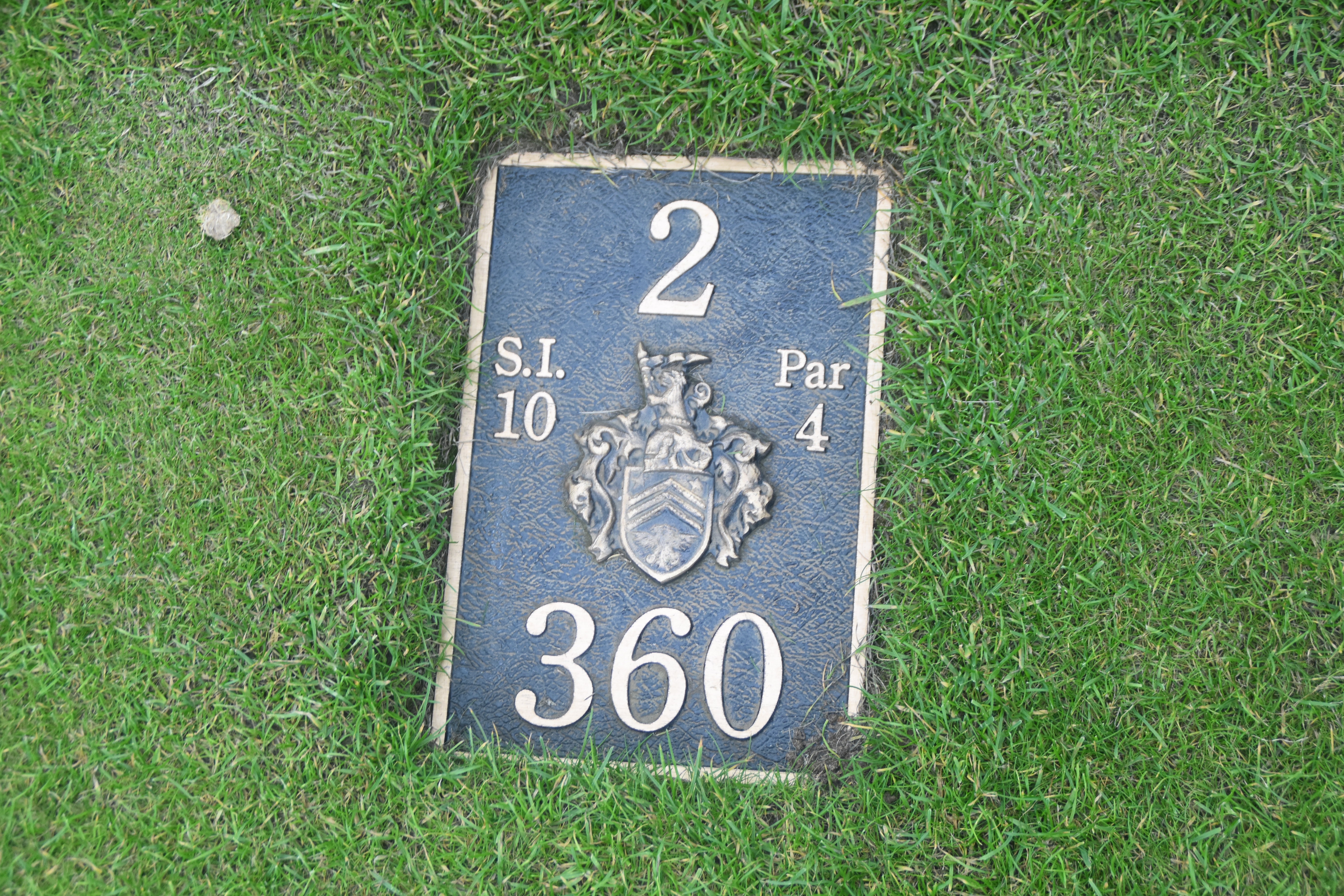 Here are photos of the original coat of arms and the Trump version. Incredibly he replaced the Latin word for 'integrity' with 'Trump'. Does he believe the two are synonymous? What hubris!
Anyway, the Scots were having none of this and Trump is not allowed to use the Trumped up coat of arms on his Scottish properties, so ergo the even more ersatz crest on the hole markers. Why Donald?
#4 is the first of eight straight holes that play along the Firth of Clyde and although #9 is the signature hole, I think the crescendo is really reached at #11, a hole that has been recently added by the British design team of Mackenzie & Ebert who specialize in working on renovations to Open venues including Royal Troon, Lytham St. Anne's, Liverpool and Royal St. George's. I have to give Trump credit for resisting the temptation to bring in some of the better known American designers who might have the cachet, but I doubt the ability to actually improve on courses that have been legendary for longer than most designers have been alive (well maybe not Pete Dye).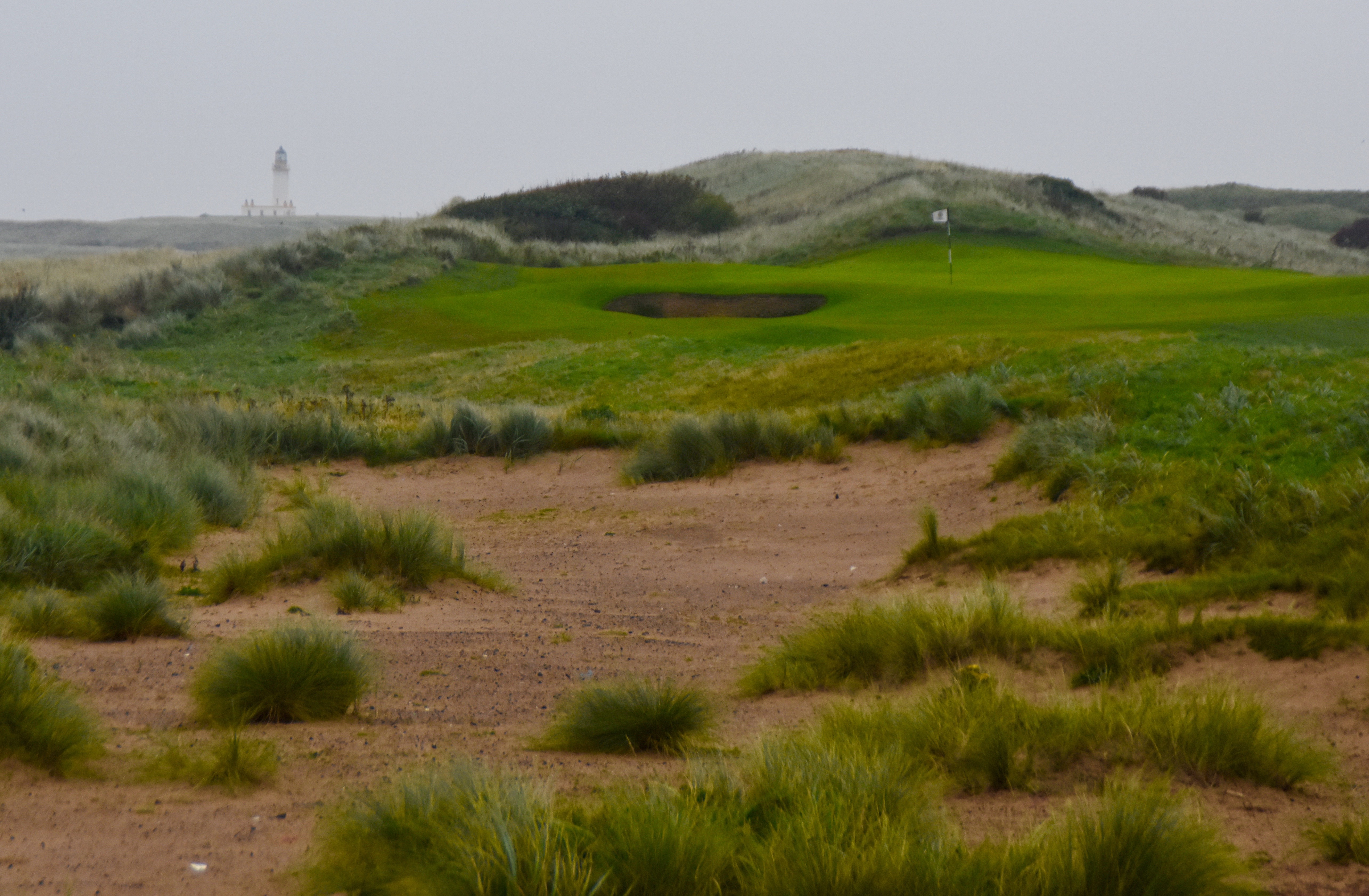 As you can see the famous lighthouse is now in view and will be from most of the remaining holes. This was the only waste bunker we saw in all of Scotland and yes those two dots are balls that came up dismally short. We all under clubbed on this hole.
This is the view from the 4th green.  Remember what I wrote about Troon and it holds at Turnberry as well – the tide always seems to be out.
No. 7 is a dogleg par five (are there any other kinds in Scotland?) that illustrates very well the more naturally contoured bunkers of Turnberry as opposed to the traditional pot bunkers on most other Open venues.

Here we are on #9 tee and we are all still smiling. I won't be after my tee shot. This is the signature hole which has the lighthouse in the background and a chasm between tee and green. You can see from my hair and Brian's that the wind is blowing fiercely here and not off the sea, but in the opposite direction pushing everything towards a watery grave.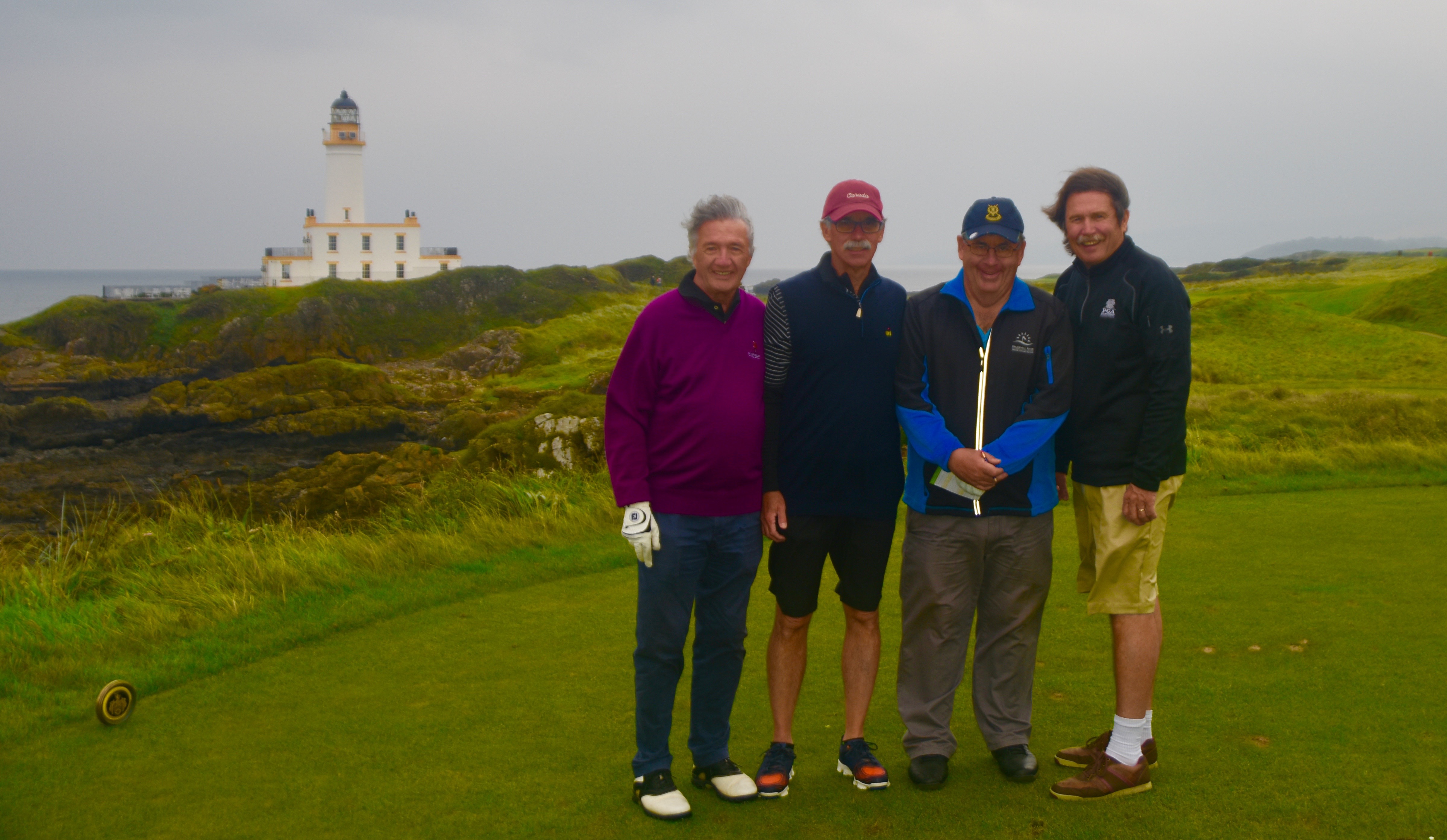 There is a green up there somewhere.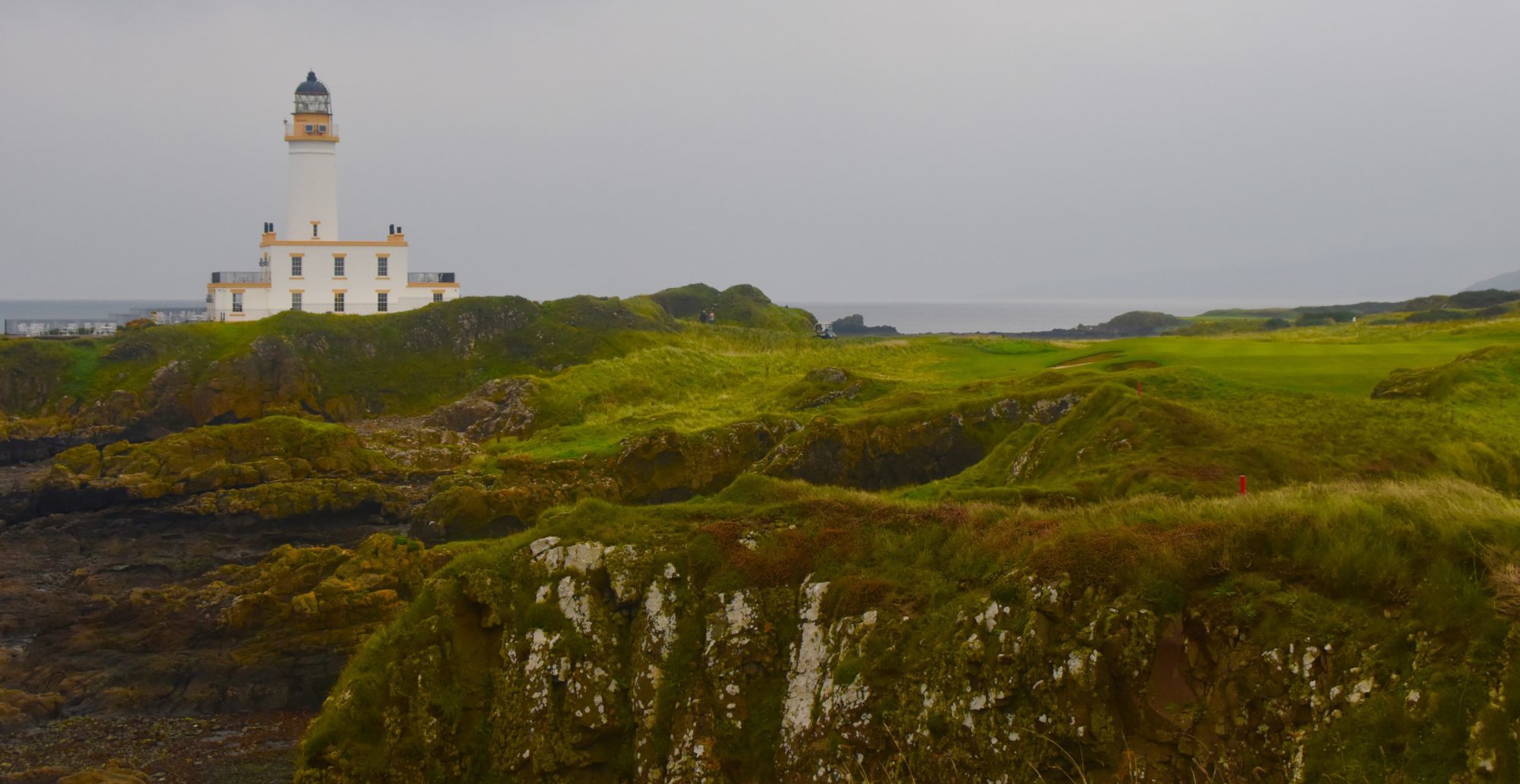 To his credit Brian somehow keeps his ball straight and finds the green for a two put par from a mile away. Congrats Brian. I had a six.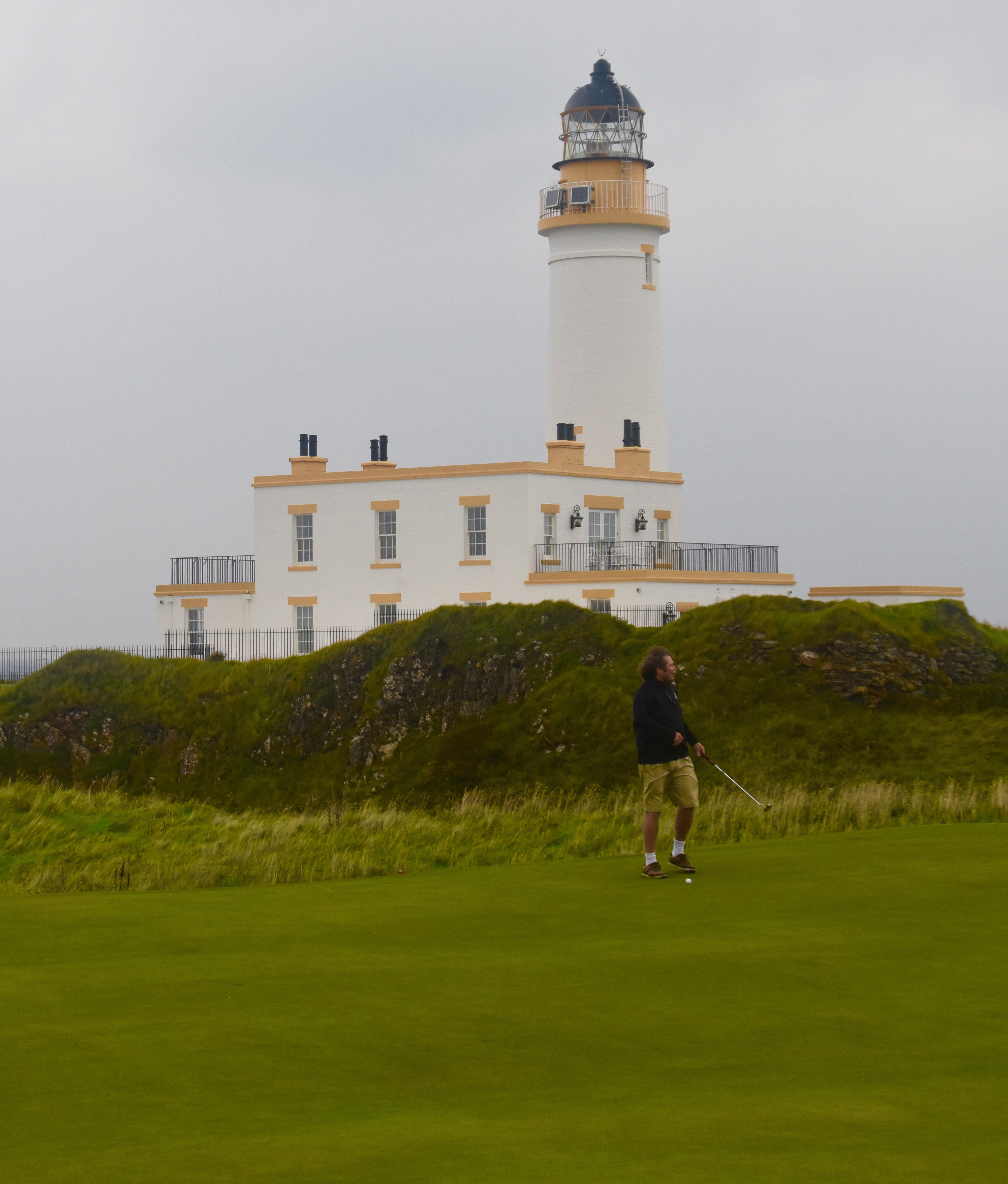 Here's the view looking back to the tee from the lighthouse. This is not the type of terrain one usually associates with the British Open. It looks more like Pebble Beach.

So now we are at the famous Turnberry lighthouse which made world headlines when Trump interrupted his presidential campaign to fly over and officially open it as an uber expensive guest house. It is pretty impressive and doubles as the halfway house.
The lighthouse was originally built by Robert Louis Stevenson's father, of all people. After setting out the historical details, the rest of the plaque reads like a series of Donald Trump tweets proclaiming that after Donald J. Trump bought it he made it into "the world's finest and most spectacular Halfway House" and "is now one of the most famous images of Scotland". And there's that ridiculous coat of arms again.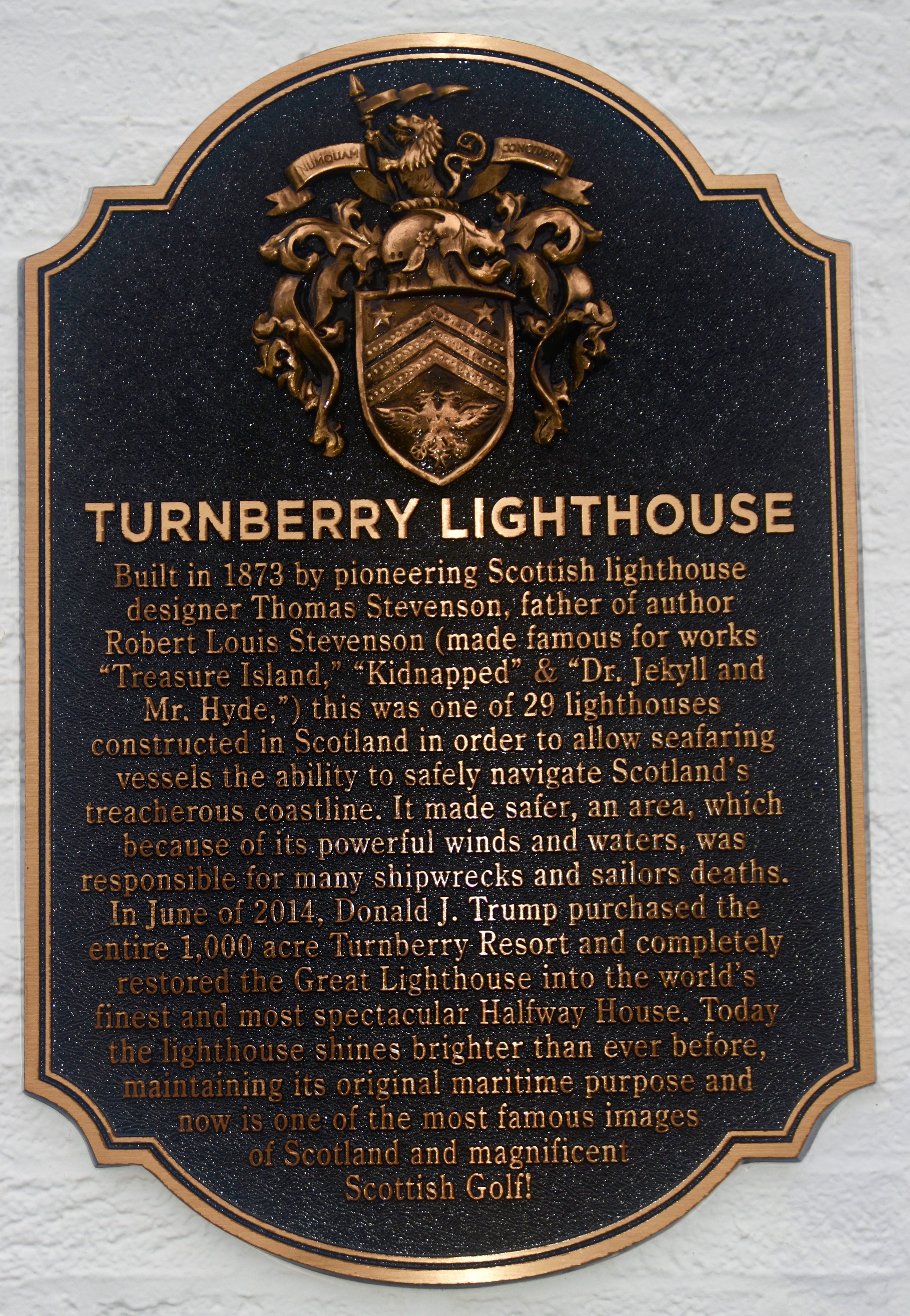 The weird thing about the Halfway House is that you are only going to get four people at a time there, being the foursome that just finished #9 since it's completely isolated from any other part of the resort. I will say it was very tastefully done with good beer and some nice Scottish meat pies.
#10 has to be just about the hardest driving hole I've ever seen from the pro tees. It's a new tee that never been used in the Open and can be stretched to make it a 260 yard carry to the fairway. Considering the wind, that's just nuts.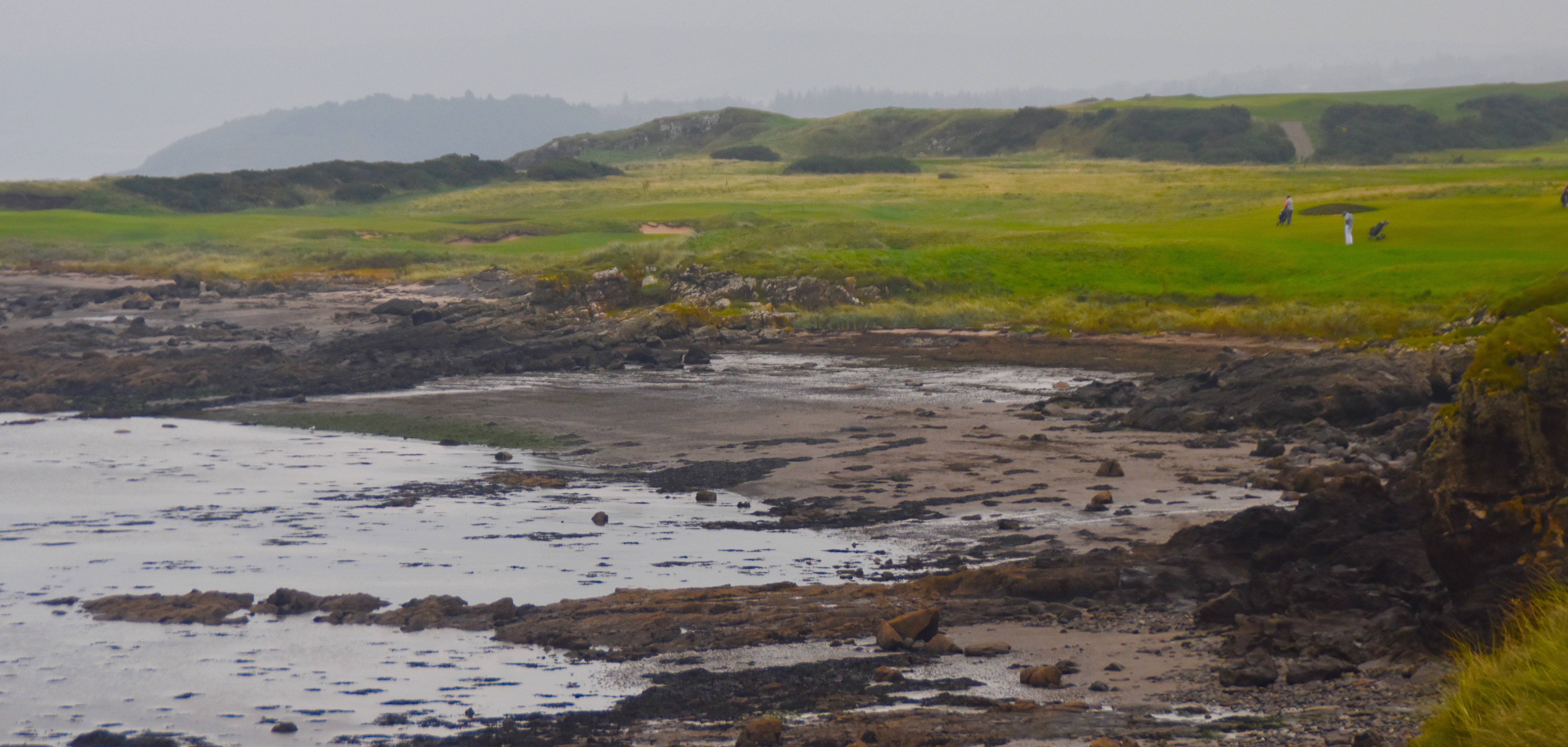 Here's the view back to the lighthouse from the regular tee at #10. You can see the ruins of Turnberry castle on the right. Hard to know if the warrior king Robert the Bruce would approve of the current owner who avoided battle because of 'bone spurs'.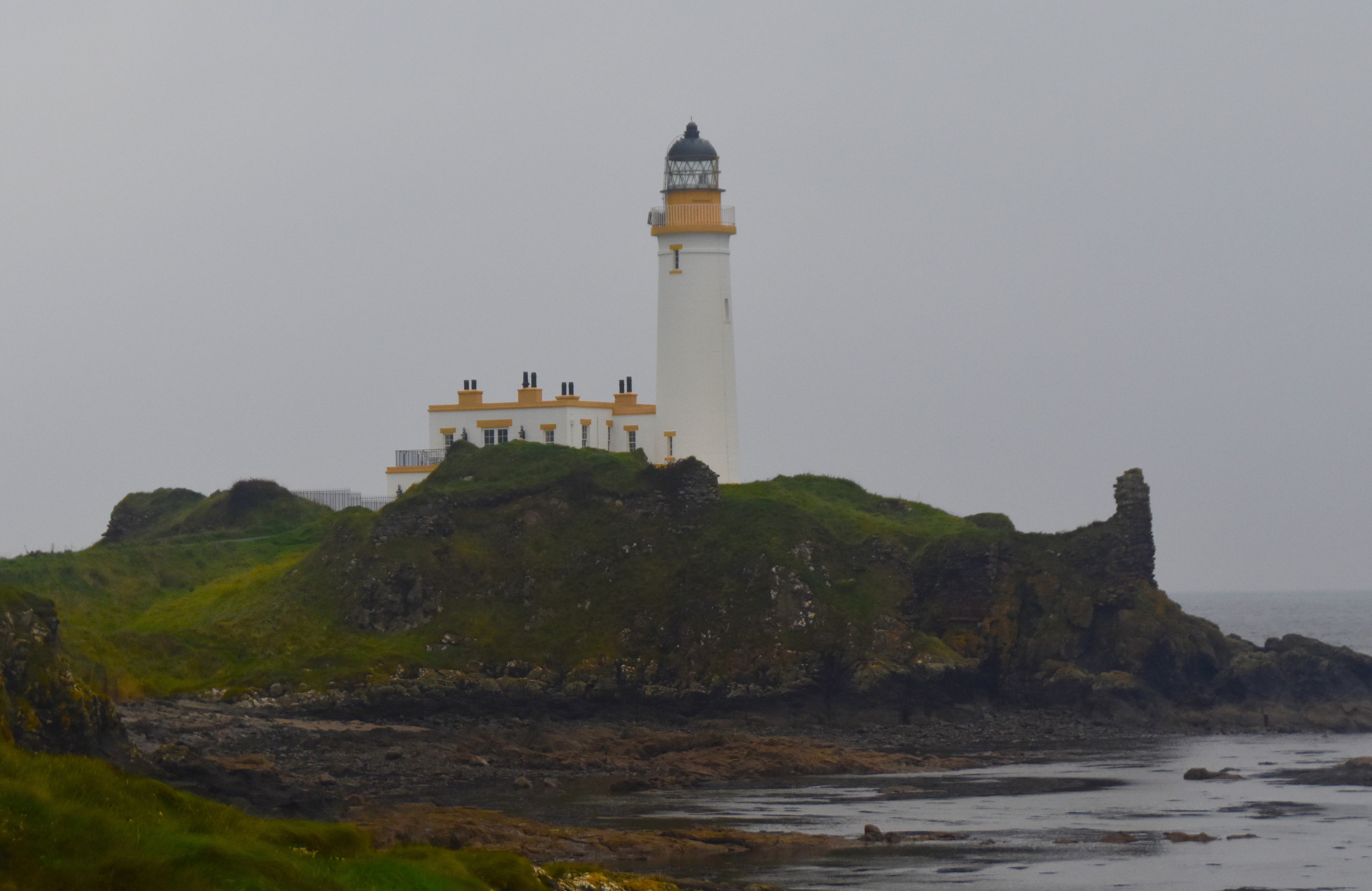 Here is Peter on the tee on #11 which is #9 redux, but even longer. He's keeping his head down nicely. A beautiful hole without question and a great way to end the seaside holes. For me, you can never have enough great par threes on a course.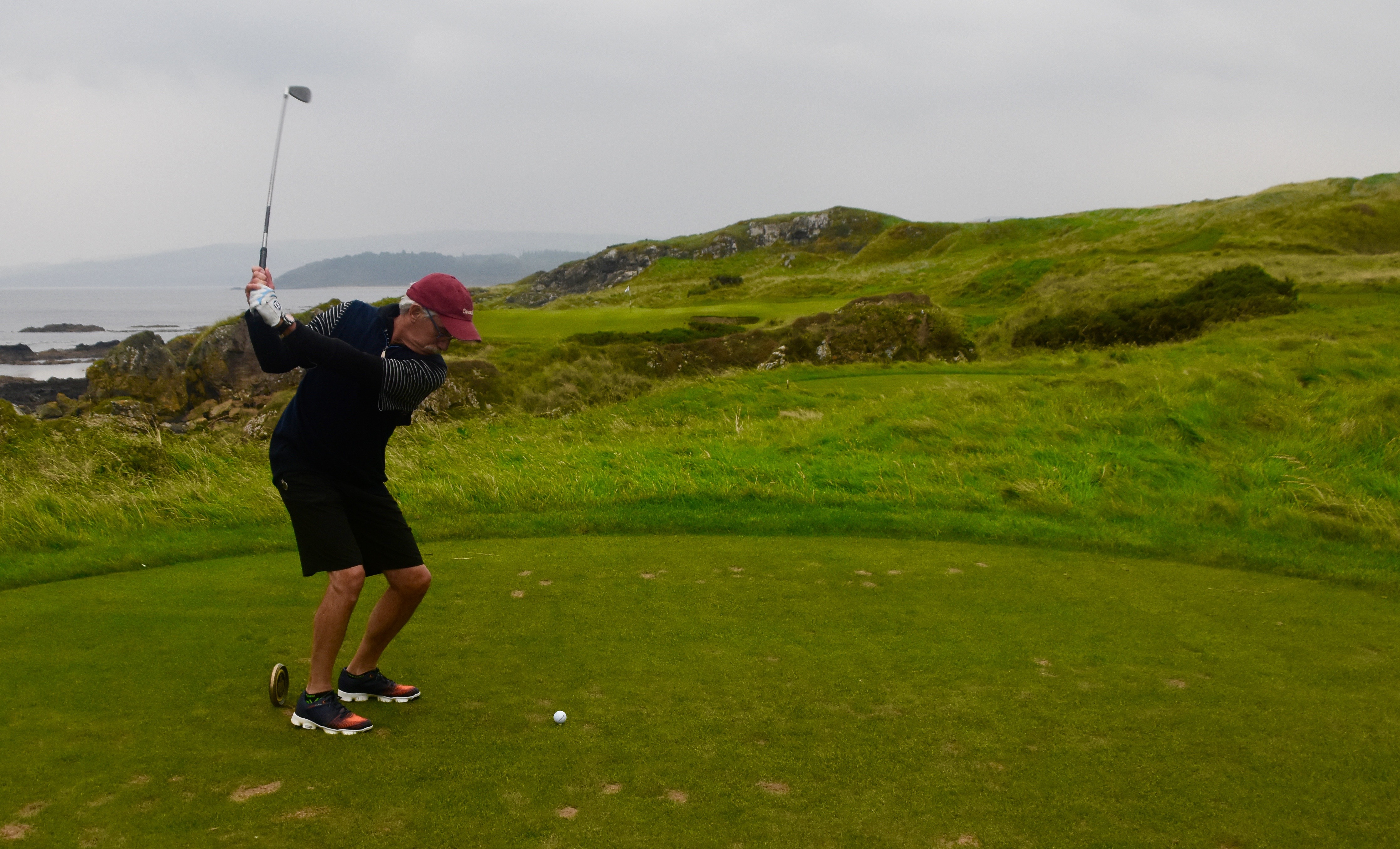 I'd be lying if I said the remainder of the holes are not somewhat anticlimactic. I don't see how they couldn't be, but don't think they are not good holes. If they were the only holes you played on a links course you would be wowed.
This monument to airmen who lost their lives while training at Turnberry can be found above #12 green. It had a special meaning for me. My father was in the R.C.A.F. in WWII and stationed in Scotland. For all I know it could have been here.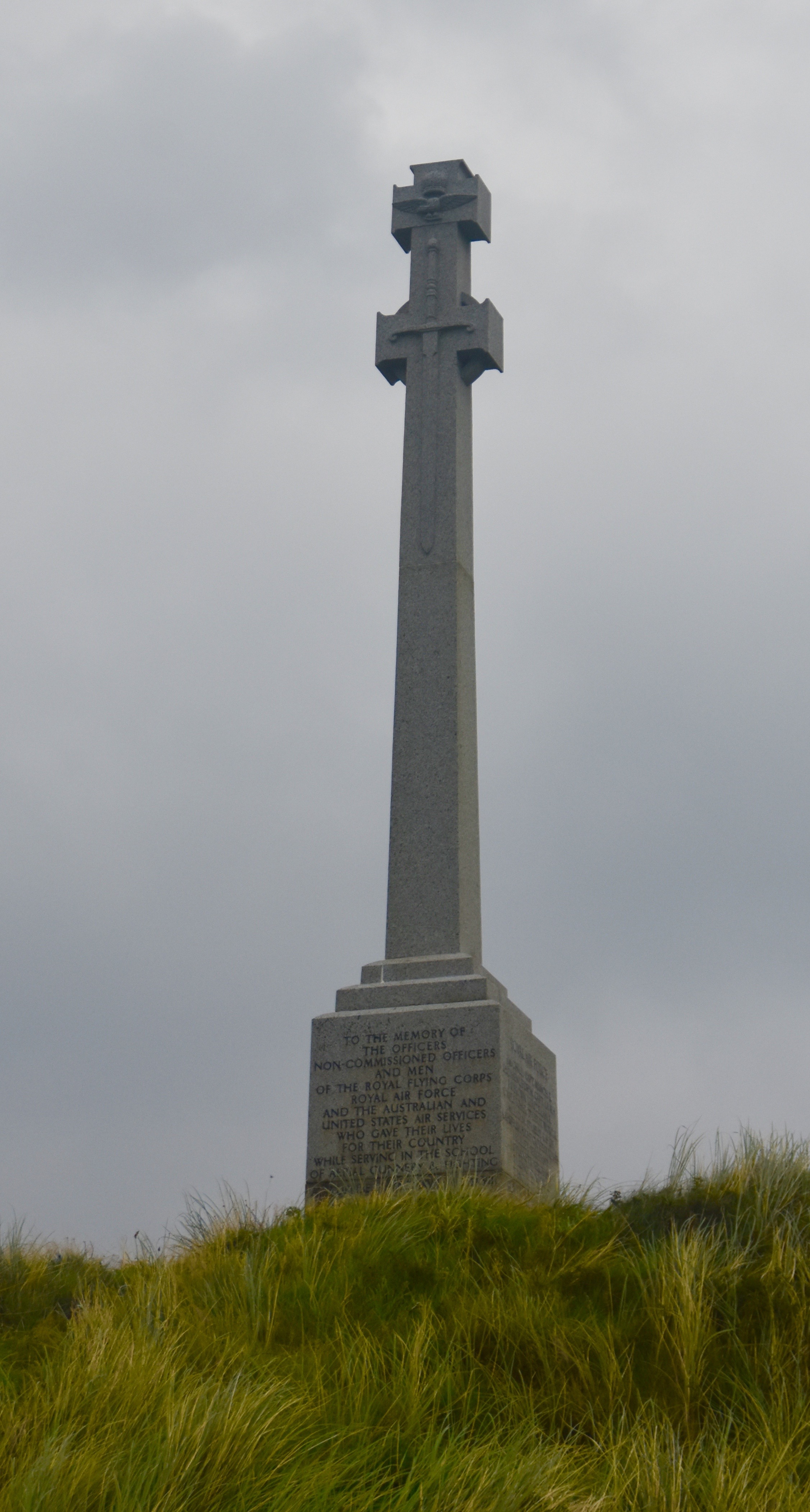 No. 16 provides a wonderful view of the hotel and the cottages that where originally built for workers but now serve as accommodations. It was also on this tee that Tom Watson, tied with Jack Nicklaus with three holes to go, famously turned to him and said, "This is what it's all about, isn't it?" This was part of what many consider the greatest Open finish of all time – the Duel in the Sun.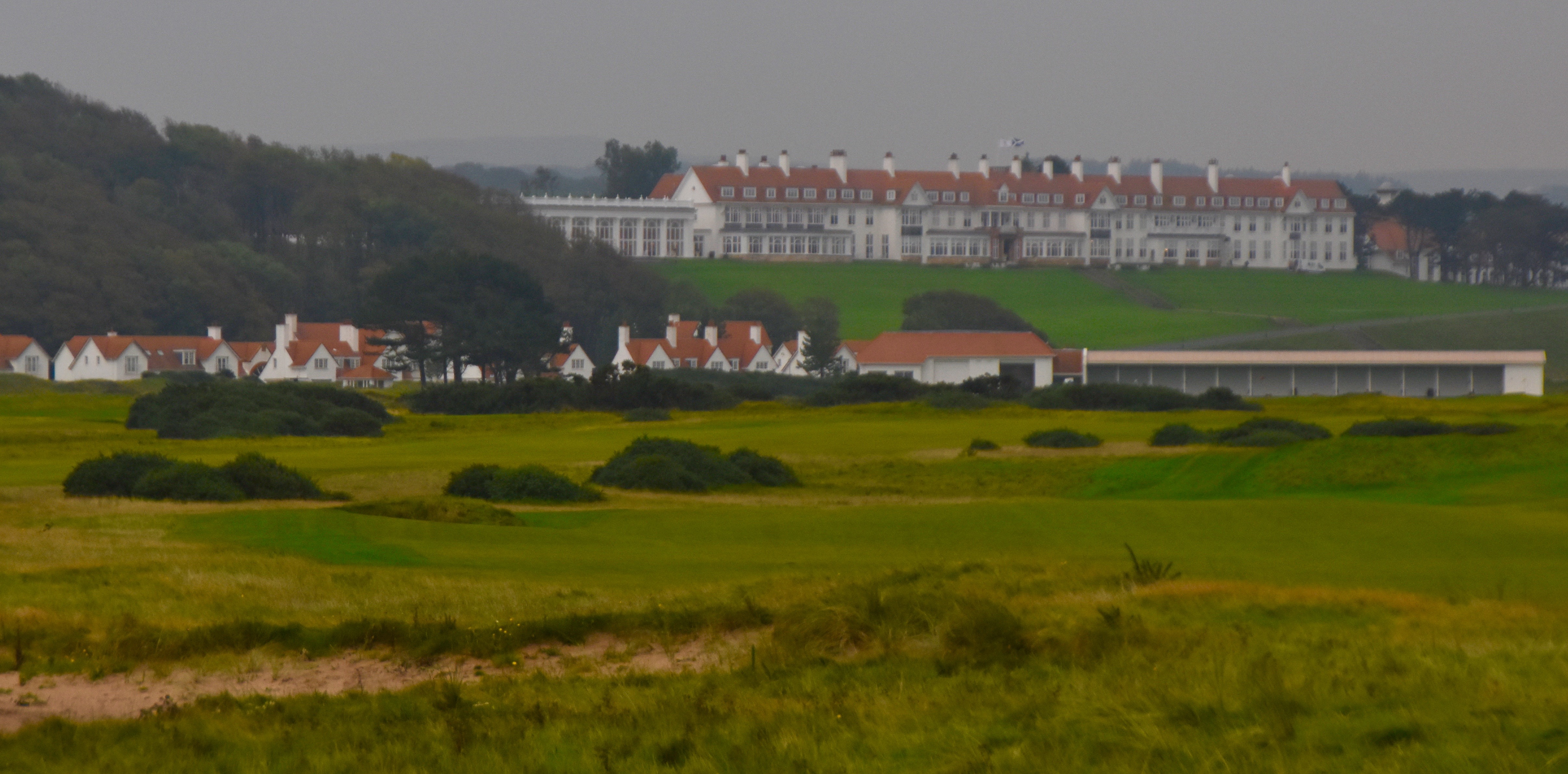 Tied coming up 18, Watson stood at the spot where this picture was taken.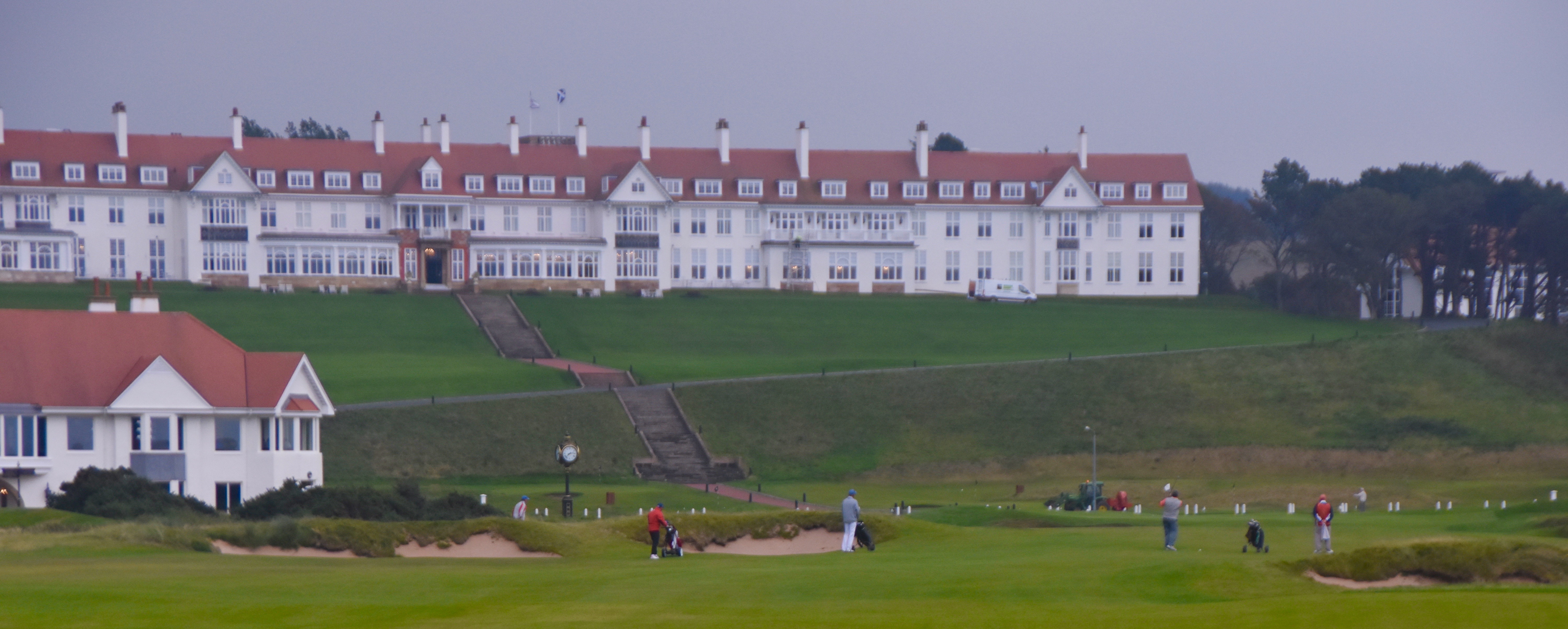 And he did this.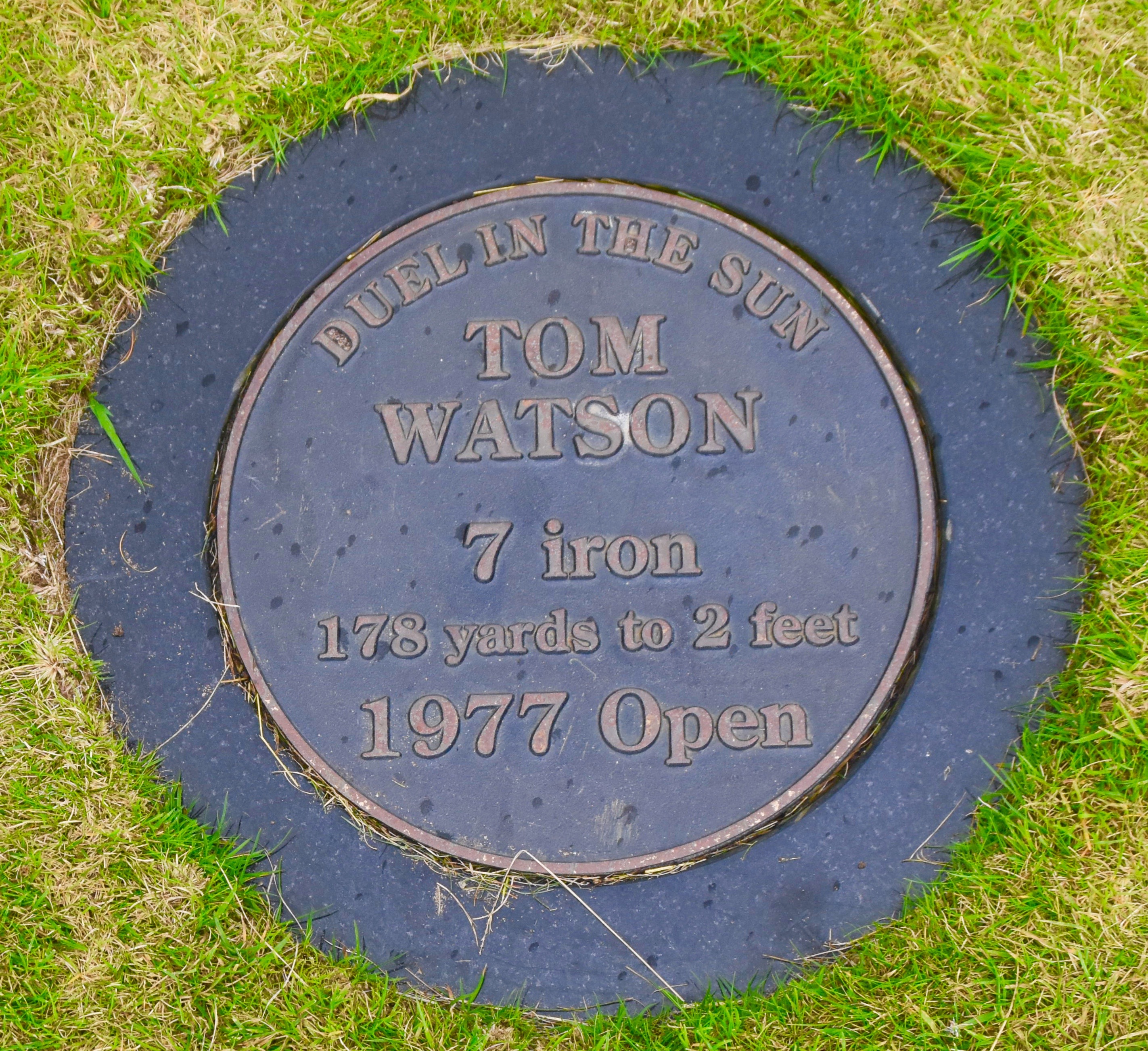 We were not pushed at all on Turnberry, or anywhere else in Scotland for that matter, so we all dropped a ball and tried to emulate Tom's feat using a 7 iron as he did. I think one of us got within 20 yards of the green. Great way to end the round at Turnberry.
I'm no fan of Donald Trump as President, but I have to concede that he's done a wonderful job at Turnberry. I just wish he would stop bragging about it.