Sossusvlei – Namibia's Wondrous Sand Dunes
Having just returned from a 12-day trip through Namibia with Canadian travel company Adventures Abroad, I can say without hesitancy that the visit to some of the world's largest sand dunes at Sossusvlei in the Namib Desert was one of the highlights of the trip.  For someone who left a Canadian winter with temperatures dipping below -20º C (-4ºF) into early March, finding myself in the middle of one of the hottest and driest places on earth a few days later, was simply otherworldly. But it was not in any way an unpleasant experience, in fact the opposite. I actually enjoyed the heat and aridity. Add in the utter silence of the Namib, the sheer beauty of the massive red sand dunes with the sentinel like trees of the Deadvlei at their base combined with the chance to climb one of the tallest dunes on the planet and you've got a recipe for a real adventure abroad. Here's why you will want to make the journey to Sossusvlei.
Getting to Sossusvlei
The old truism that "Getting there is half the fun.", certainly applies in the case of the trip to Sossusvlei which takes the better part of a day from the Namibian capitol of Windhoek. After arriving a day early and touring downtown Windhoek on our own including an interesting visit to the National Museum of Namibia which I chronicled in this post, Alison were ready to hit the road. We were a group of thirteen plus our Adventures Abroad rep Gabriela Rodriguez and our two guides from Ultimate Safaris Perez Kamukuenjanje and Gerhardus Jansen travelling in two specially outfitted Toyota Land Cruisers, the modern day 'ships of the desert'.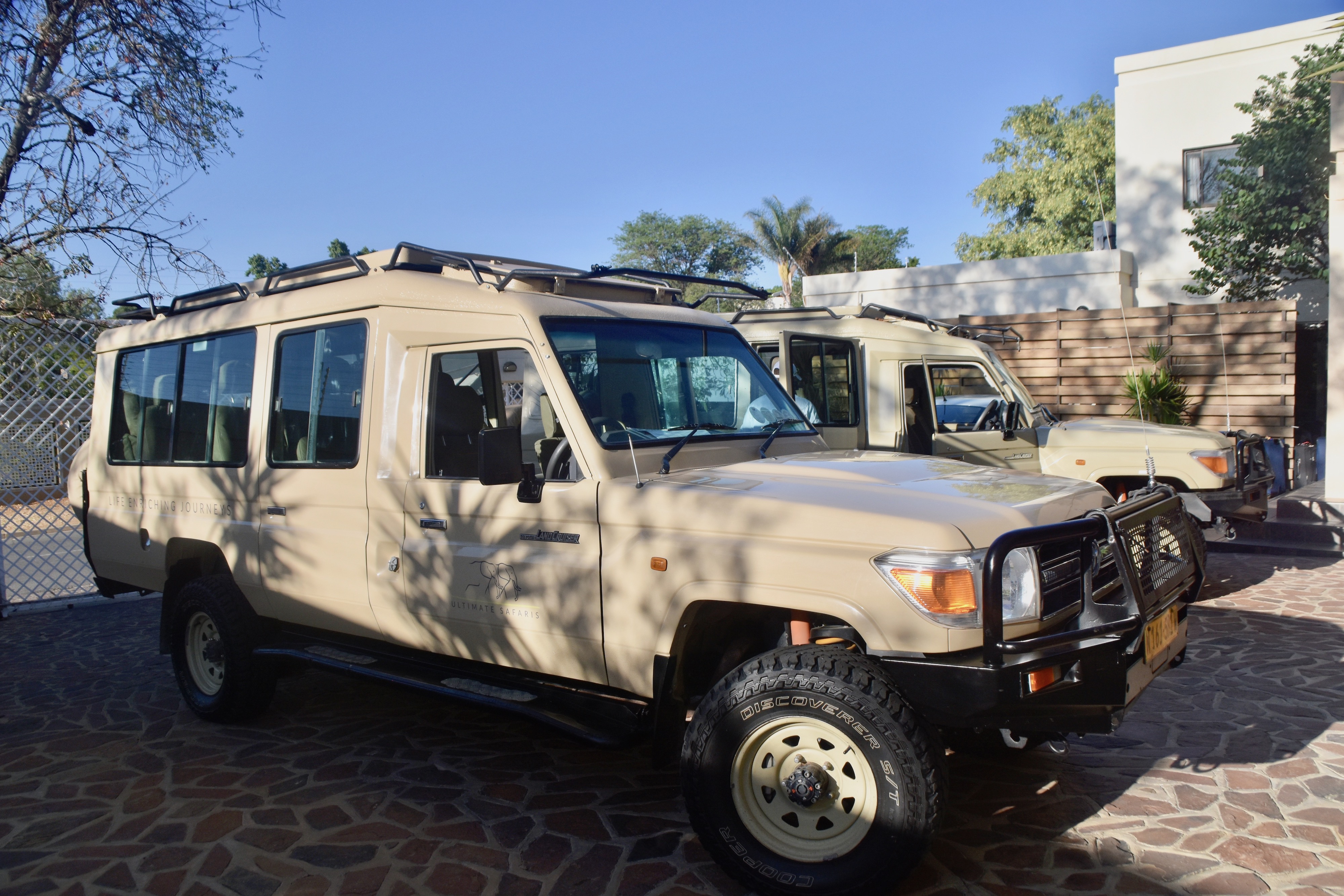 Heading south from Windhoek on the excellent B1 highway we made our first pit stop at Rehoboth. While the others attended to their needs, I noticed a series of interpretive panels which told the interesting and somewhat tragic story of the Rehoboth Basters.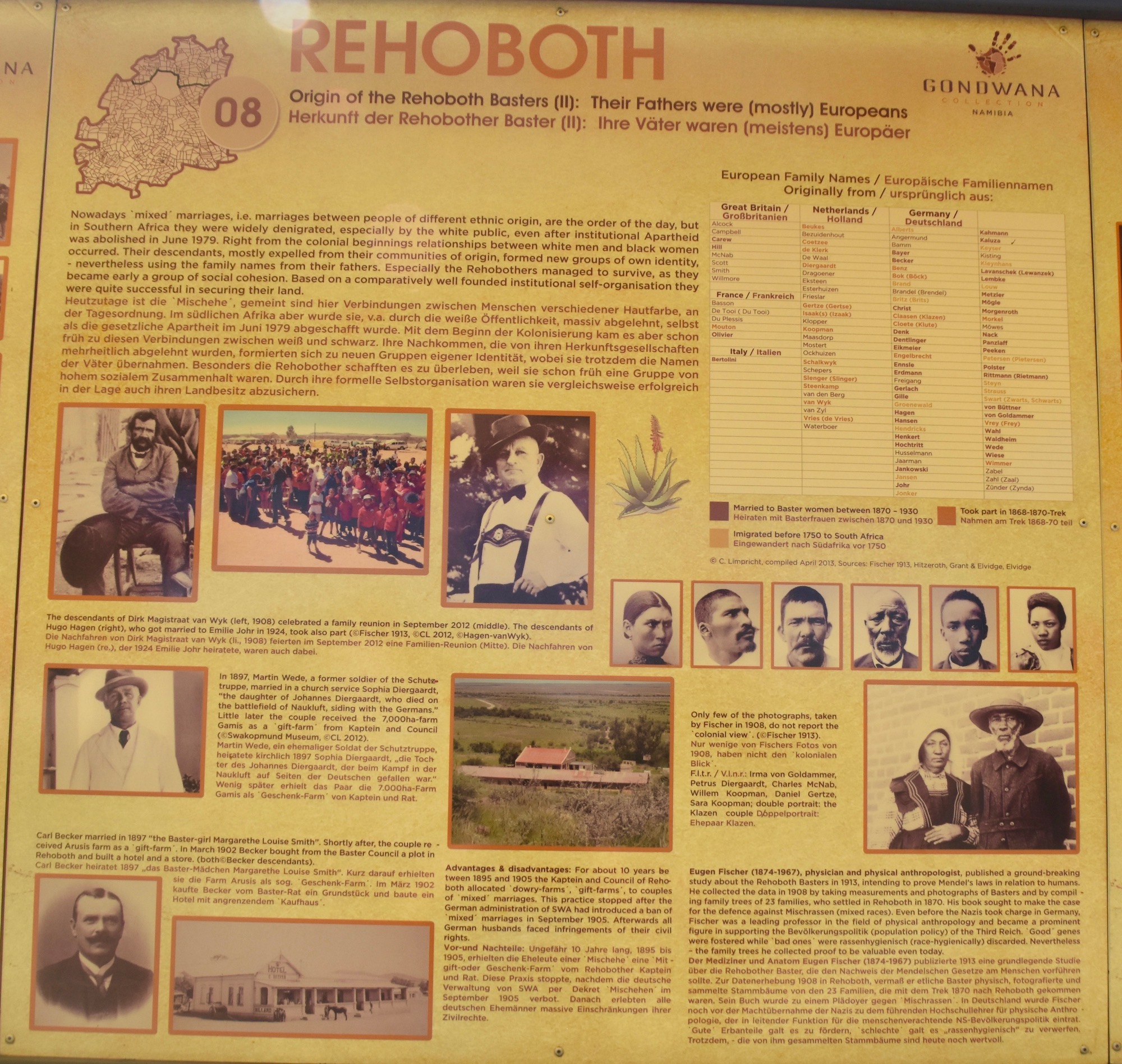 As you might infer from the name, basters refers to mixed race descendants of white fathers and black or coloured mothers. While the term bastard is pejorative in our way of thinking, or at least was a century ago, the basters are proud of their identity and have over hundreds of years, developed their own distinct culture, language and sense of identity. They came to be in Rehoboth after performing their own version of the Boer's Voortrek, leaving South Africa in 1868 after being increasingly marginalized by white society. Today they have created a thriving community in Rehoboth and frequently celebrate their heritage with reunions in Rehoboth from which people from all over the world attend.
You never know what you'll learn by just poking around what would otherwise appear to be just another gas station and convenience store.
Just after Rehoboth we gave up the comforts of a paved highway and turned west, saying goodbye to a smooth ride and hello to mile after mile of gravel and sand roads. Not far along we came across our first oryx, also called a gemsbok by many Africans. It is a fine looking antelope with a set of deadly looking horns that have been known to kill an adult lion. They thrive in desert like conditions and thus have been adopted as Namibia's national animal. Unlike Canadians and Americans who don't eat their respective national animals, the beaver and the bald eagle, Namibians love a good oryx steak.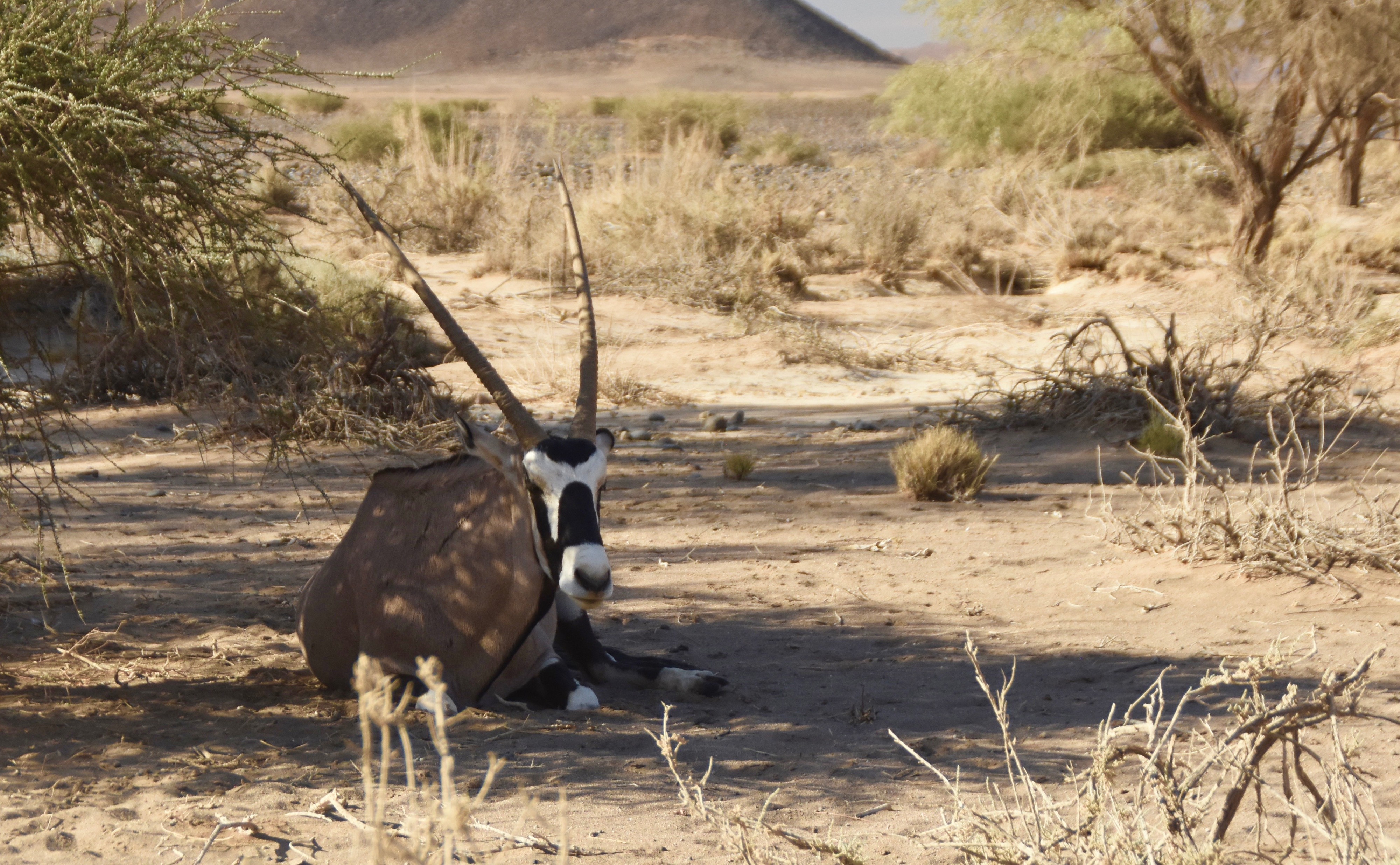 Namibia is also known as a geologist's delight, with a complex geological history that has created a plethora of interesting rock formations and the world's largest treasure trove of interesting minerals. This becomes apparent at our next stop where this pile of granitic boulders have been extruded from the otherwise flat plateau on which we have been traveling for some time.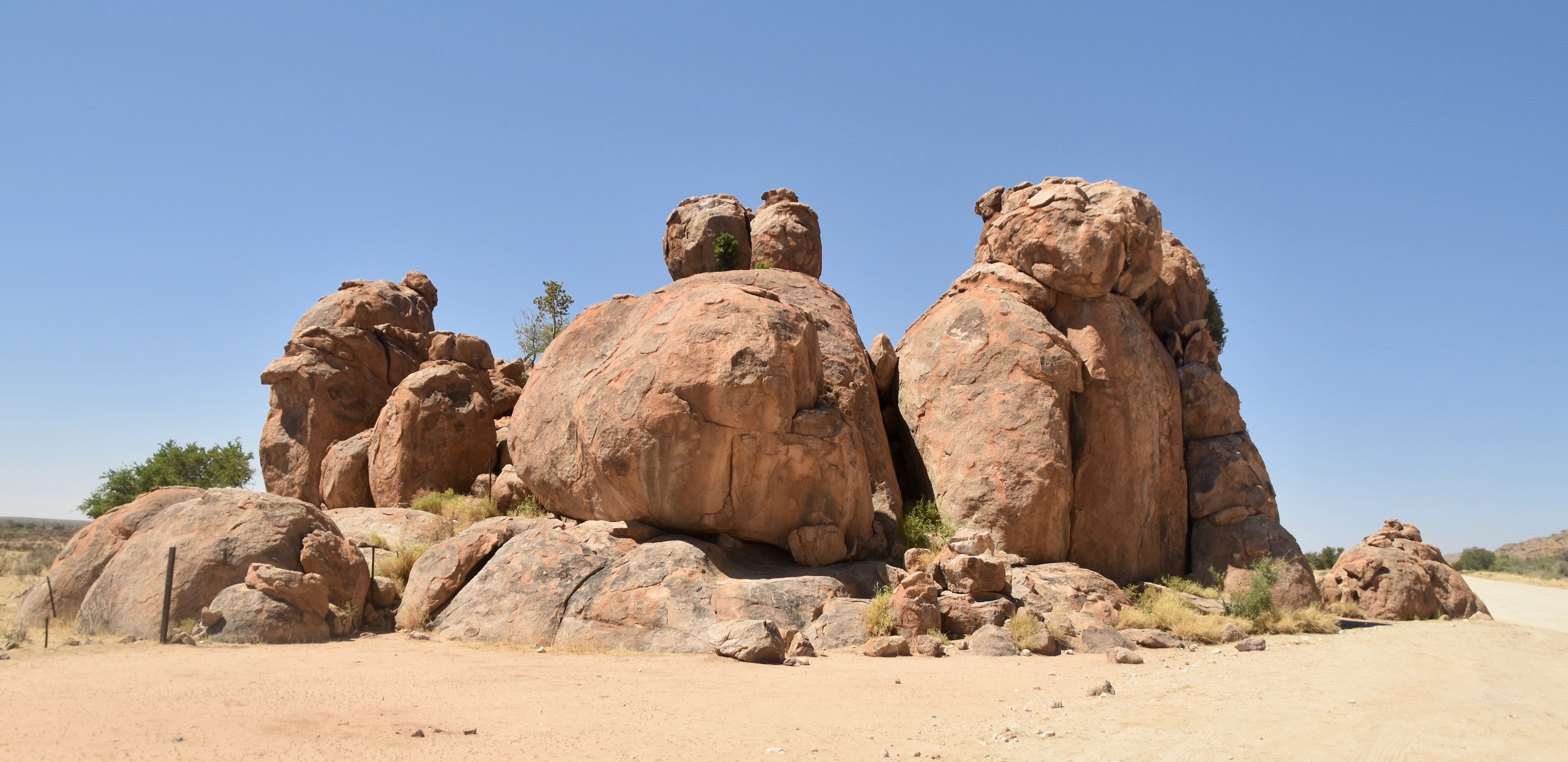 A closer look reveals that this sterile looking rock pile is actually teeming with life, including this Namibian Rock Agama which mimics the gray and red shades of the rocks upon which it forages for beetles while keeping an eye out for mongoose and hornbills who find them a tasty snack.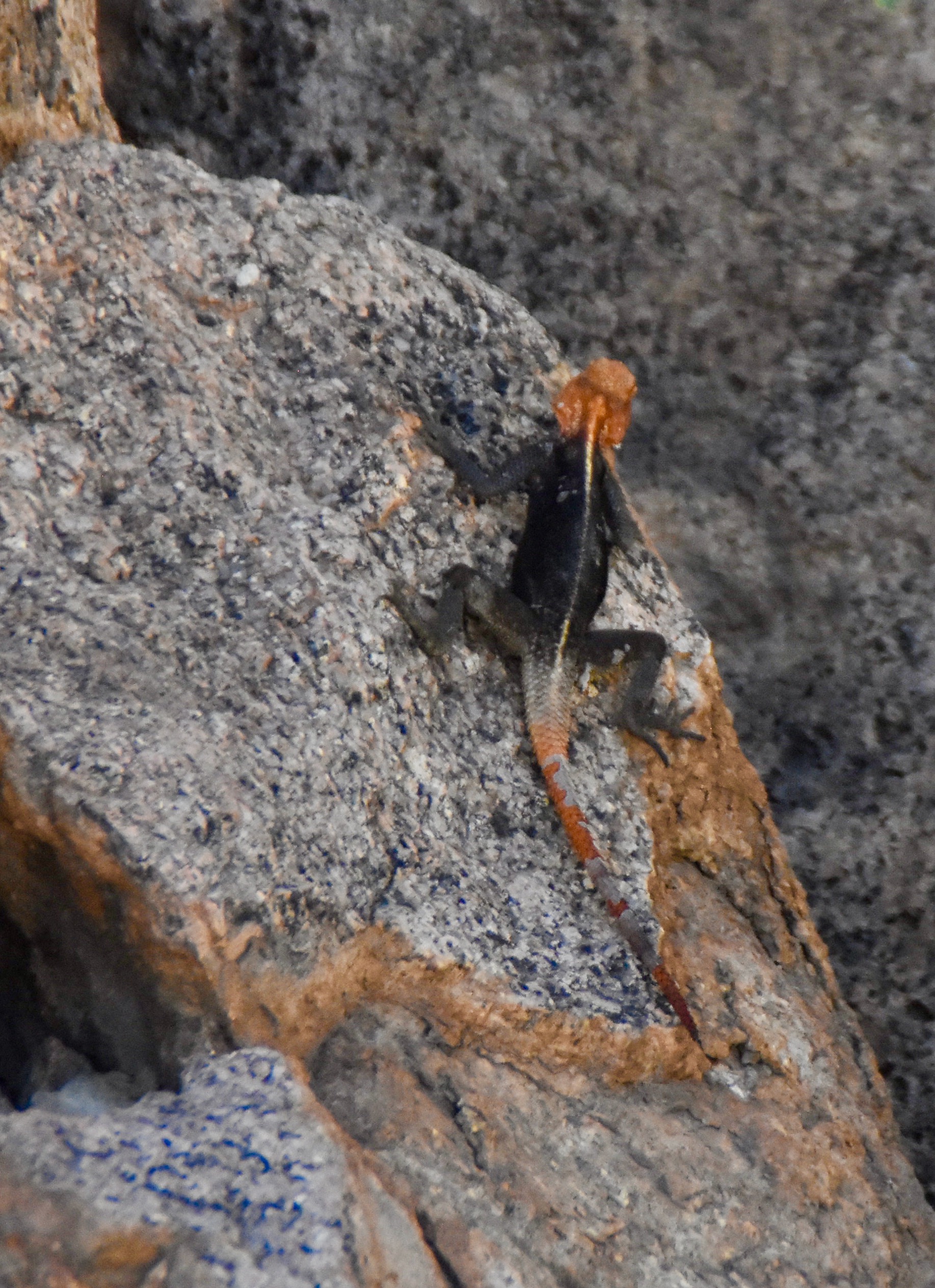 By now we have been on the road for about four hours and it's time for our first of many al fresco lunches under the shade of a camelthorn acacia. In a matter of only a few minutes Perez and Gerardus set up a picnic lunch consisting of salads, wraps and other goodies. In less than half an hour we are fed, our legs stretched and back on the road.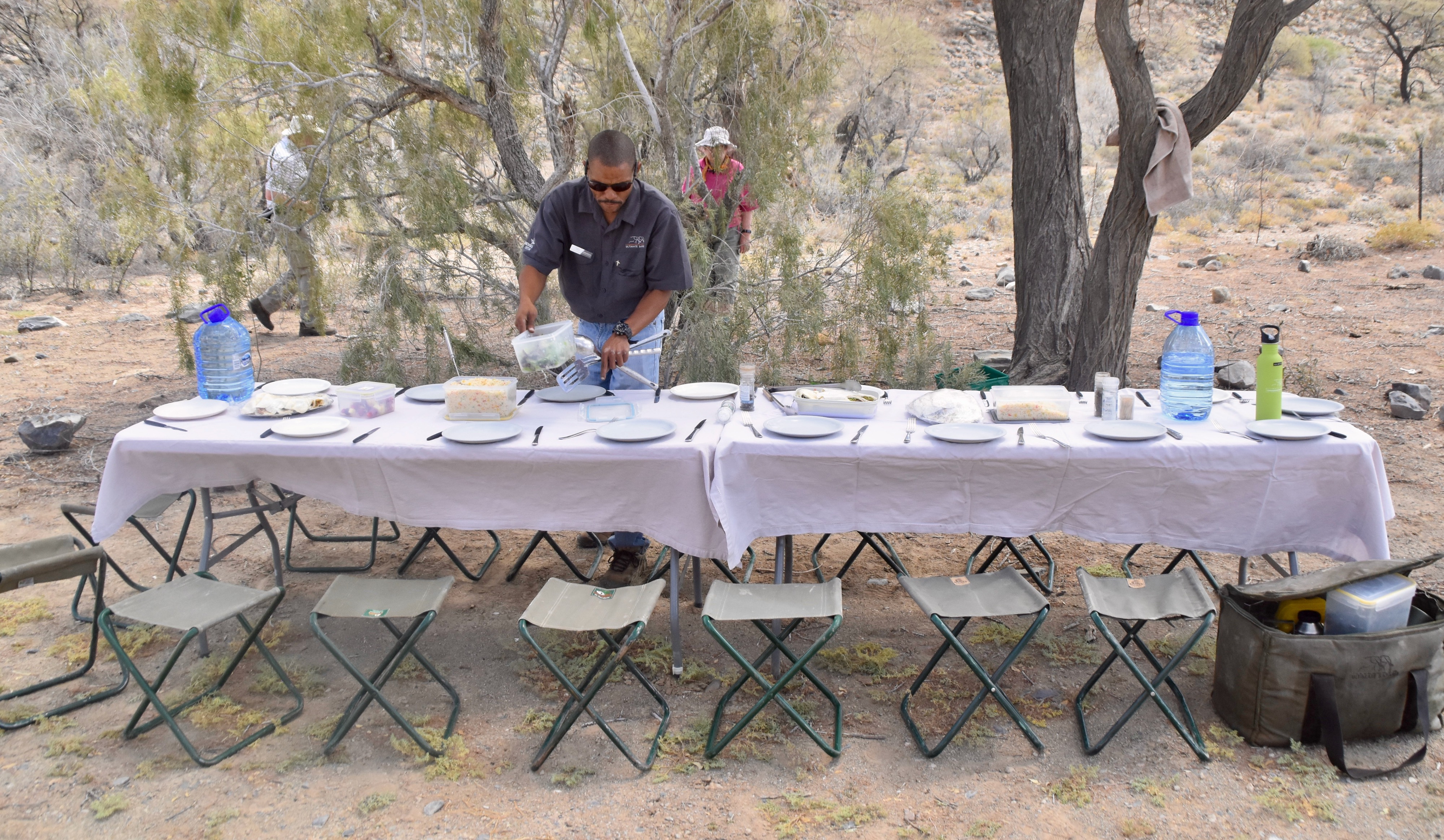 Sesriem Canyon
Just after mid-afternoon we arrive at our first stop in the Sossusvlei area which is not the sand dunes, but rather Sesriem Canyon which is a narrow and quite short canyon that was carved out of the flat surroundings by the Tsauchab River. Every river bed we have crossed in Namibia to get here has been completely dry and it is a fact of Namibian life that the great majority of its rivers flow only after major rainfalls and those don't happen very often. In fact, Namibia is currently in the seventh year of a major drought.
Gerhardus explains the story of the creation of Sesriem Canyon while warning us not to get to get too close to the quite crumbly edge. It might not be the Grand Canyon, but if you fell in you would be useful only to hyenas and vultures.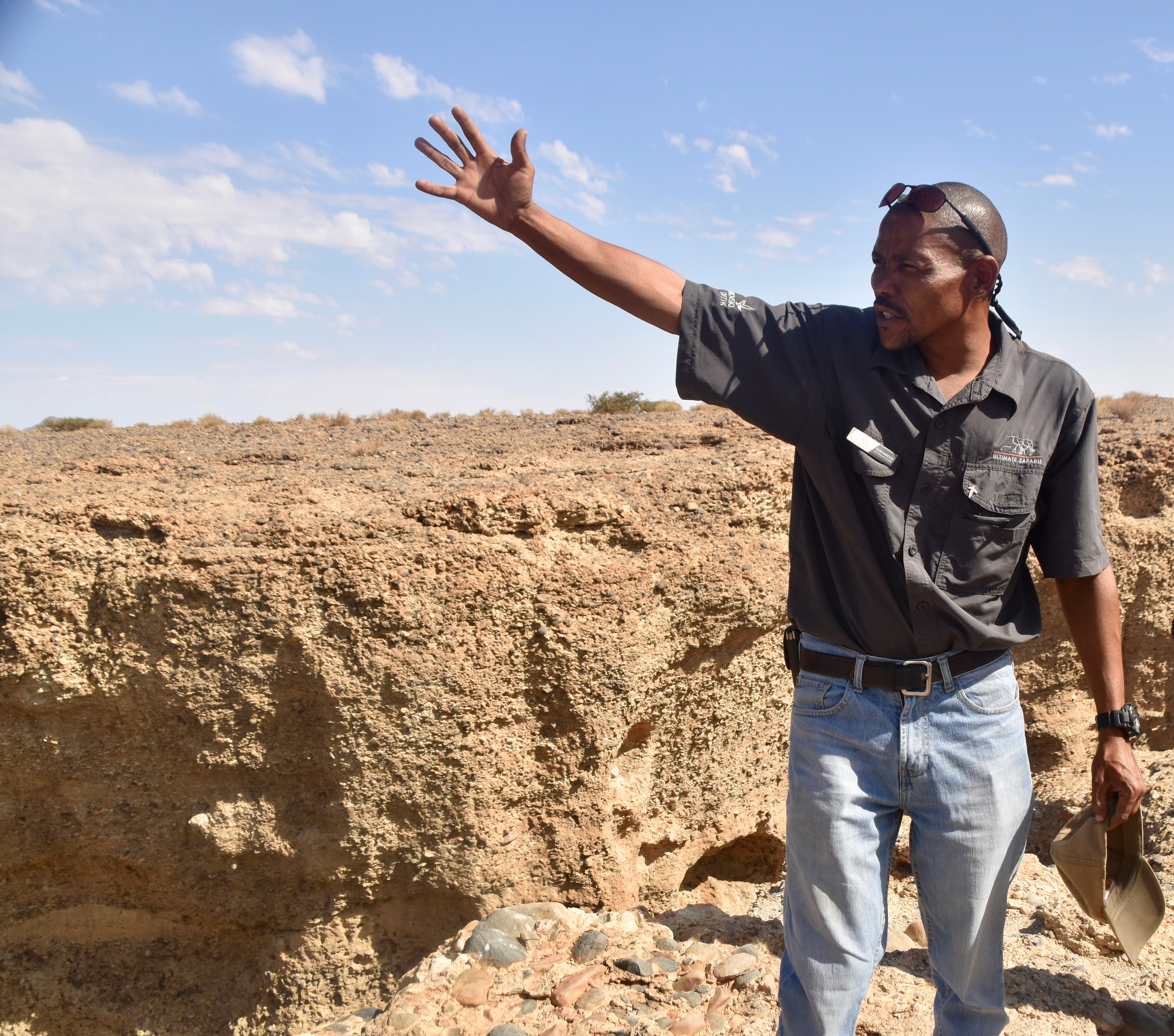 Gerhardus then calls for volunteers to climb down into the canyon which is just being vacated by a group of Chinese tourists, none of whom are dressed appropriately for canyon scrambling. Knowing that the canyon is now ours for the taking, most of the group heads down.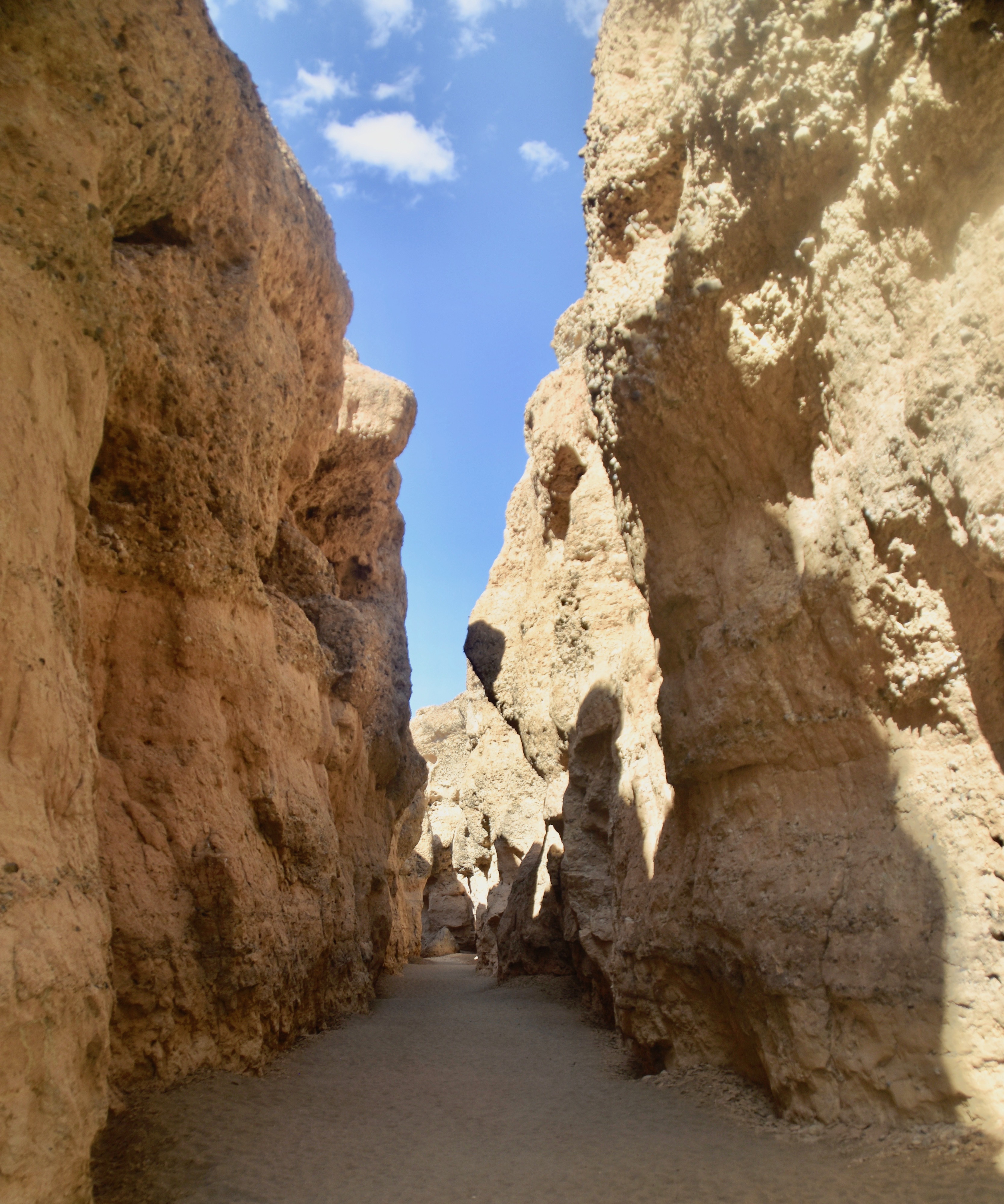 It's amazing how much cooler it is down in the canyon. It's also a tight squeeze in places, but really nothing that anyone in decent shape can't handle. Notice the dust on my Sketchers. That and sand will be the end of them before the trip is over.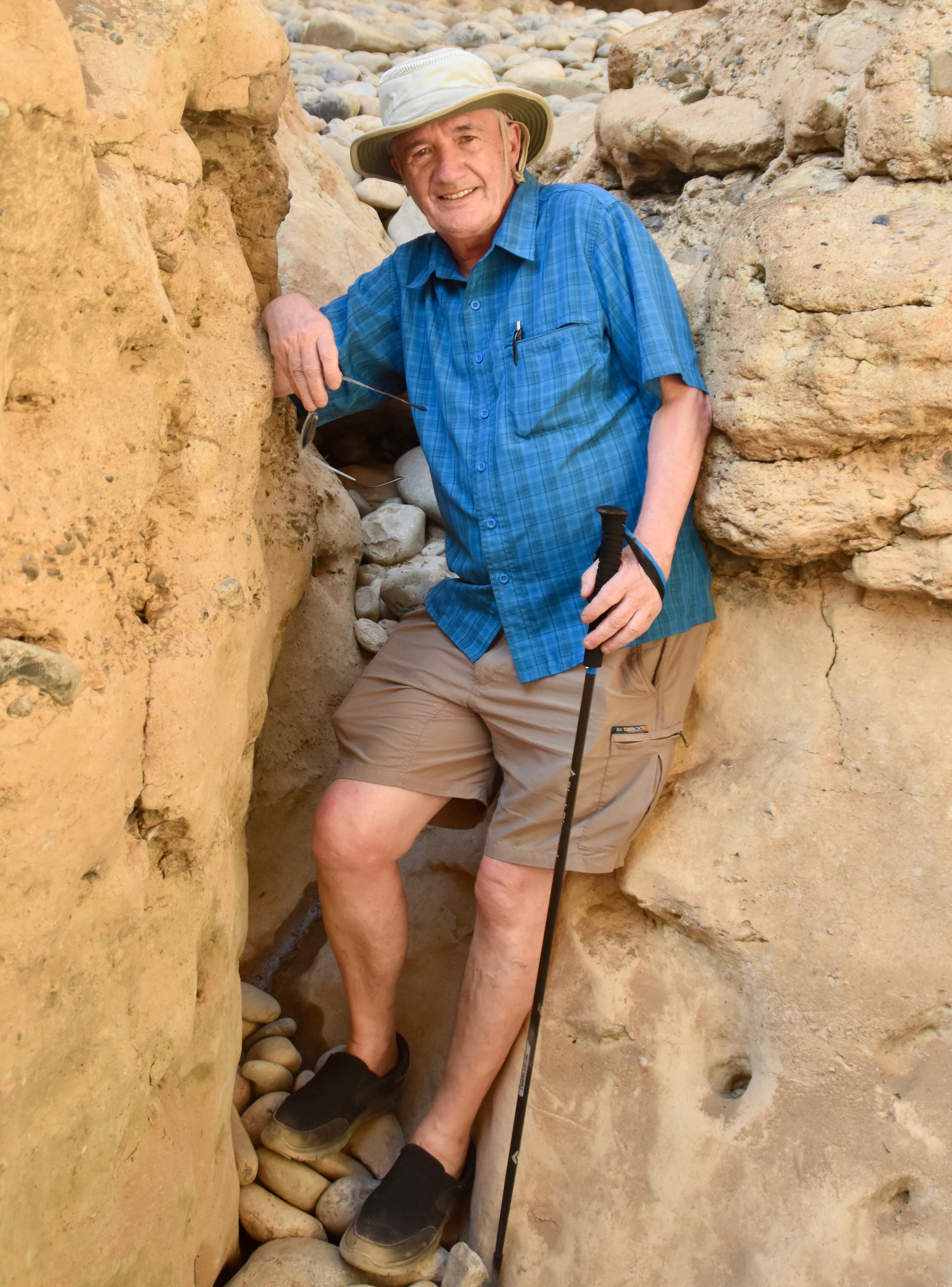 This is the view looking up. Not the place to be if you are claustrophobic.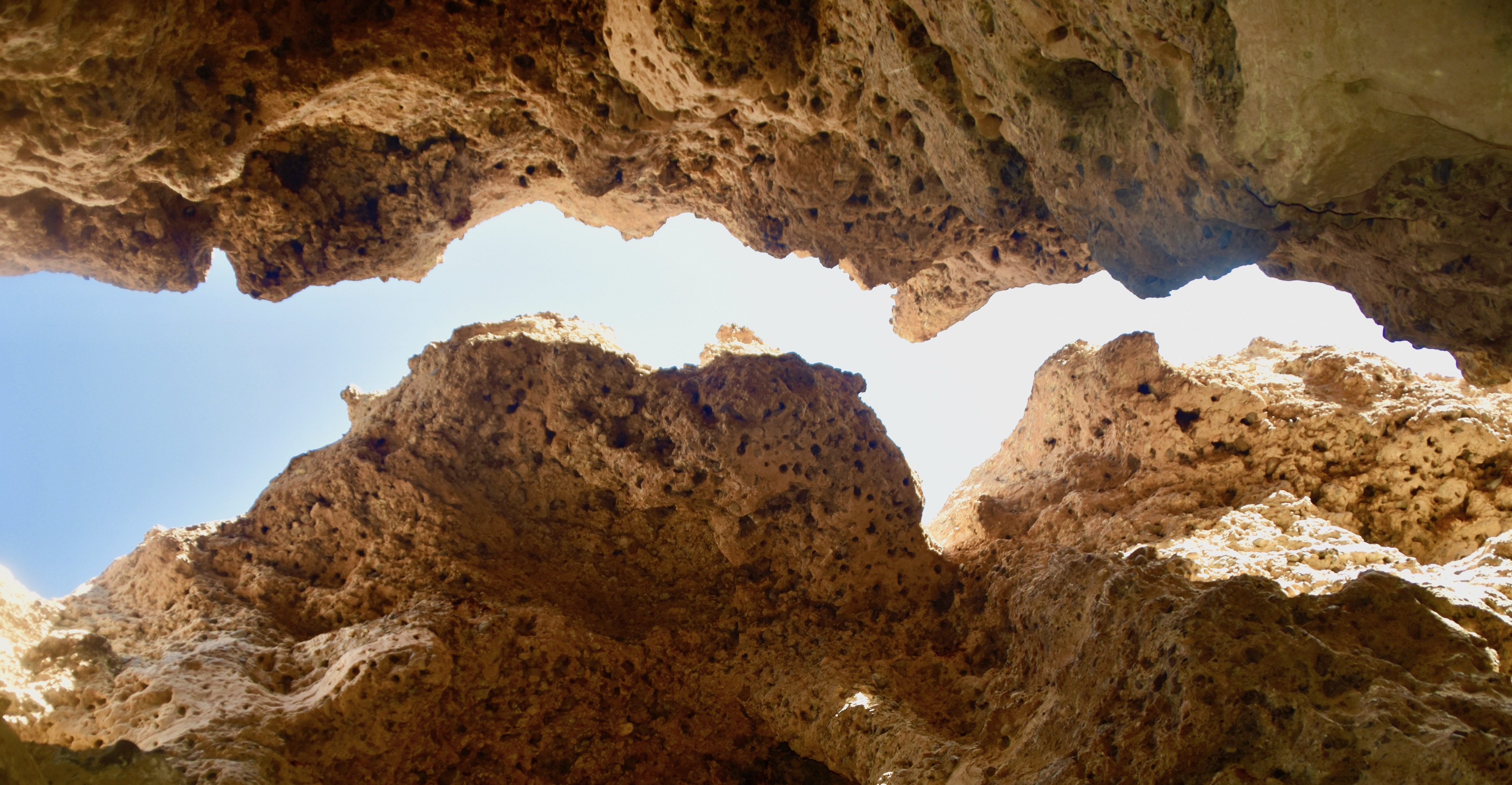 Eventually the canyon ends at a fetid pool of water that Gerhardus tells us attracts oryx and other parched creatures. Not long ago I was in a place in Death Valley called Badwater for obvious reasons and this strikes me as Namibia's version of the same. You die if you drink it and die if you don't. I almost involuntarily grip my water bottle tight and take a slug, just thinking about this.
Back up top, it's now time to head for our lodging in the Sossusvlei area.
Kulala Desert Lodge, Sossusvlei
Sossusvlei is actually within the bounds of Namib-Naukluft National Park, a huge protected area that stretches all the way to the Atlantic Coast. The various accommodations options all lie outside the park and that includes Kulala Desert Lodge where we will spend the next two nights. It's about twenty minutes from the entrance to the park, located on a large private reserve owned by Botswanian ecotourism company Wilderness Safaris which operates many such lodges throughout sub-Saharan Africa.
As we approach the lodge, the area surrounding it is so dry, barren and frankly bleak looking that I had to wonder why anyone would pick this place to build a lodge. But once you get closer it becomes apparent that the main lodge and the individual thatched roof cottages or kulalas as they are properly called, have a magnificent west facing setting designed to catch the setting sun.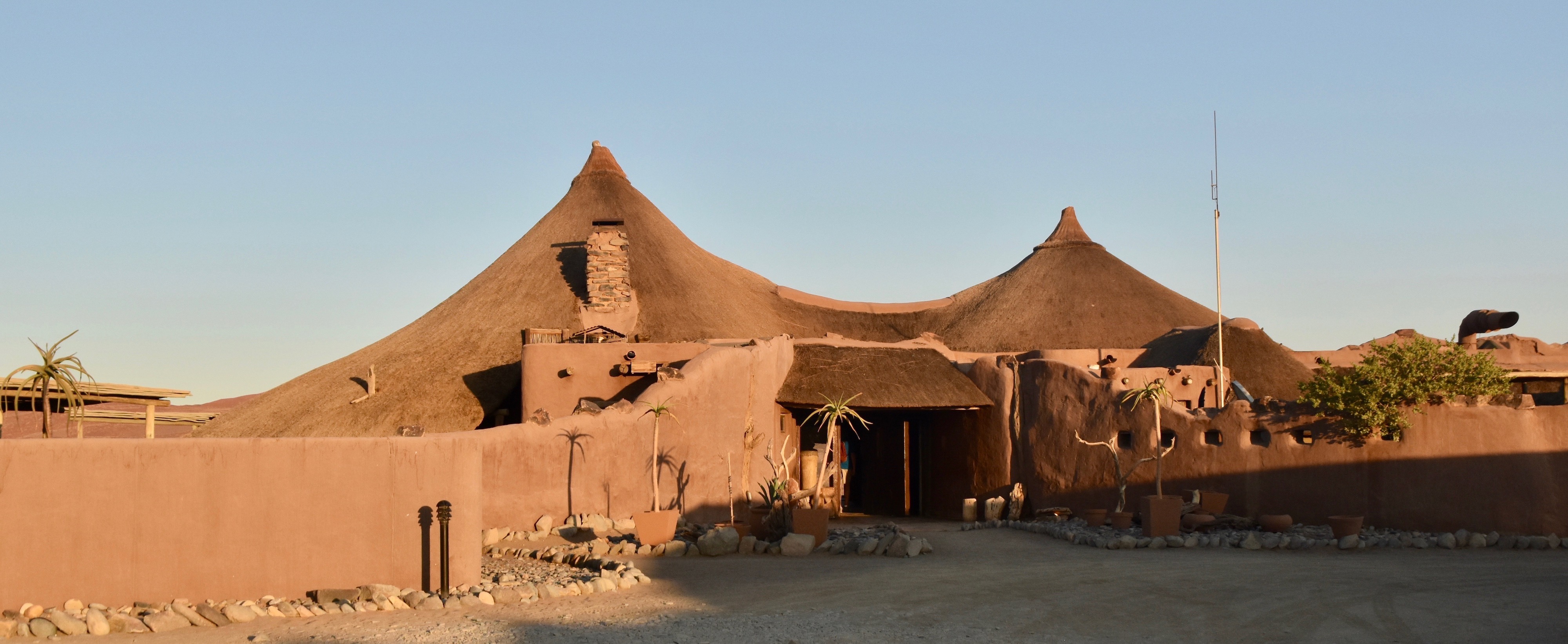 We are greeted at entrance with cold face cloths and a cold drink, both of which are very welcome as the temperature is now in the high 30's Celsius or close to 100 Fahrenheit. One of the things I learned on this trip to Namibia with Adventures Abroad is that nobody builds an economy or second-rate lodge in the desert. These places are marvels of eco-engineering that involve the minimization of water use and maximization of heat control through shade and location, reducing the need for air conditioning and electricity use as much as possible. If you are going to go to all that trouble then you make the place as luxurious and comfortable as possible and believe me, Kulala Desert Lodge is both.
This was our kulala, number 15, located below the main lodge.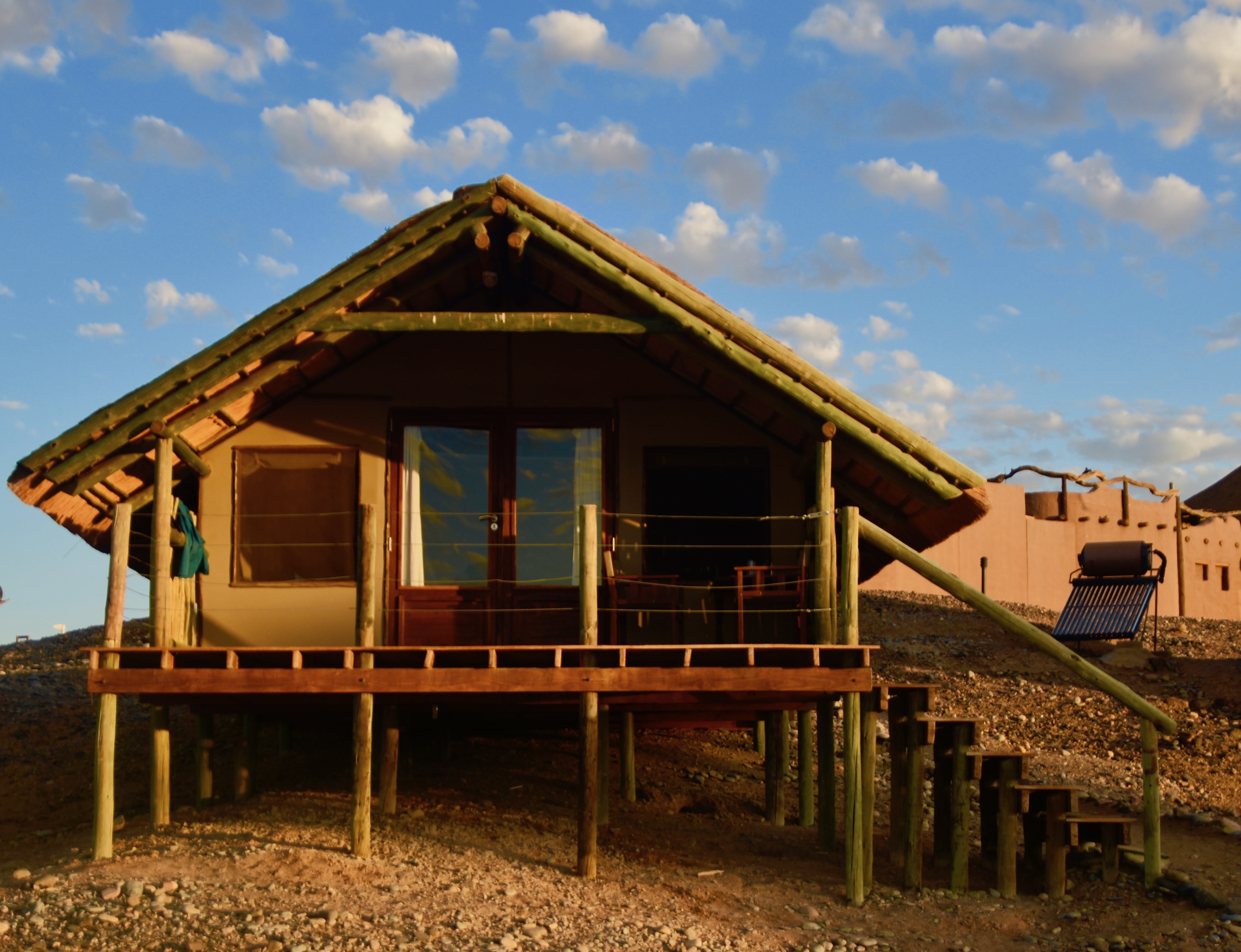 Each kulala has its own solar heated water supply, and if you think solar panels can't get water boiling hot you are in for a surprise.
This is the view from the deck.
What really surprised me is that most of these lodges have a swimming pool.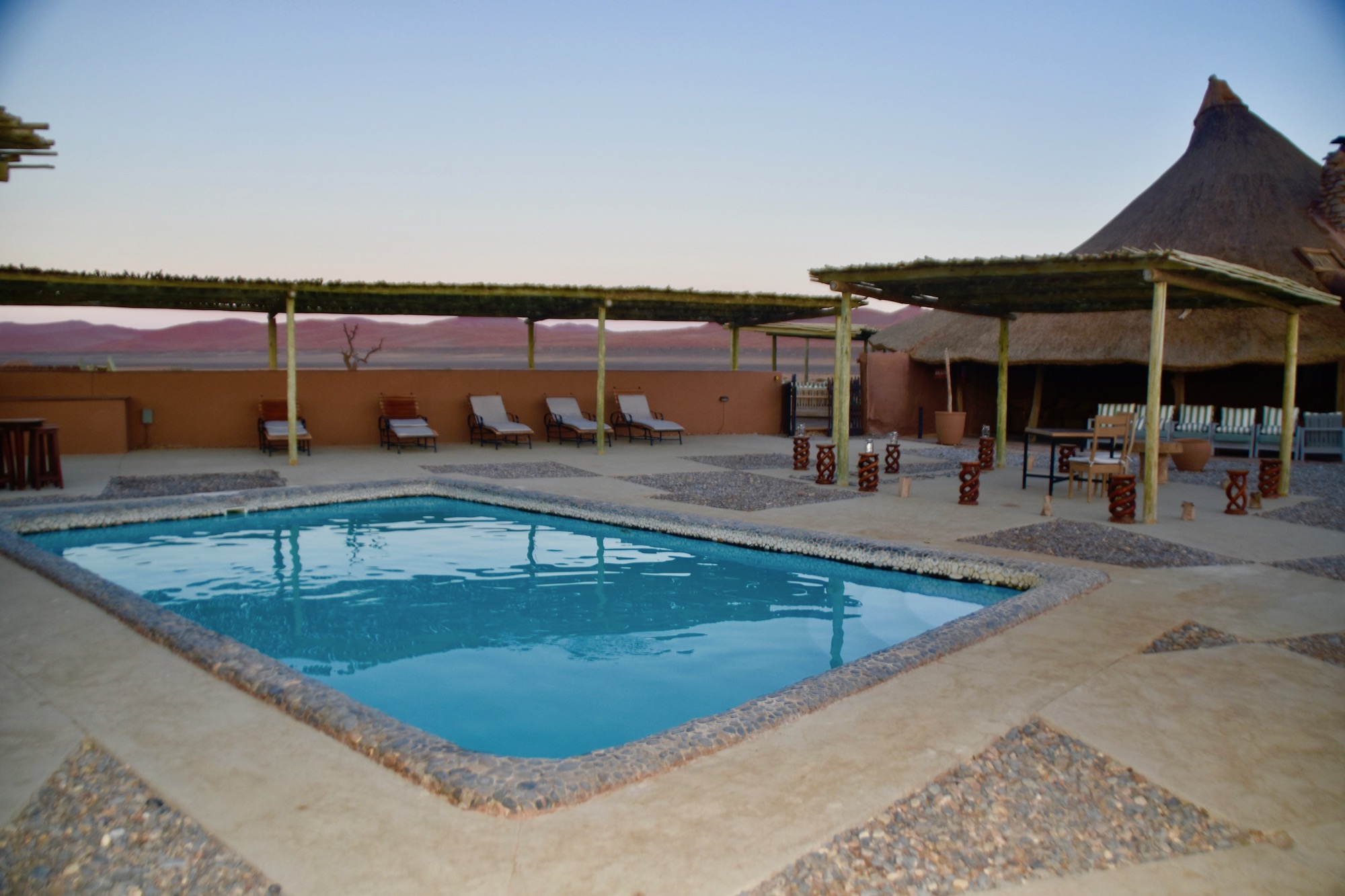 I'm not really a pool person, but with the temperatures as high as they were in the Namib I did take advantage of this one and I was amazed and at first numbed by how bloody cold the waster was. It is piped in from a deep drilled well and comes up ice cold. After catching my breath and getting used to the contrast between the air and the water it was tremendously refreshing. Add in a couple of the excellent Windhoek lager beers and you've got the makings of a great way to spend some time before dinner.
Meals at the lodges are relatively simple affairs with salad followed by a couple of meat or fish entree choices, plus a vegetarian option and then a dessert. They are hearty, tasty and filling. Absolutely nothing to find fault with, especially considering how difficult it must be just to supply these places. Every lodge serves decent to excellent South African wines. On this trip I learned to appreciate what a great job the South Africans are doing with the chenin blanc grape, one that is generally shunned at home.
The kulalas all have the option of letting you literally sleep under the stars. Staff will proved a mattress on the small tower that projects up from your kulala and you can lay down and go to sleep under a sky filled with more stars than most people have ever seen in their lives. It sounds like a great option, but believe it or not, the Namib gets really cool at night – not freezing, but the contrast between day and night is so great that it feels like it's freezing out. As a kid, I remember reading in wonderment a Ripley's Believe It or Not story on people freezing to death at night in the Sahara Desert and questioning whether it was true or not. After being in the Namib at night, I now know that the story was true.
Sunsets in the Namib are spectacular and they are followed by the gradual emergence of so many stars that it creates a genuine sense of awe at just how big the universe really is and how insignificant our little place in it is.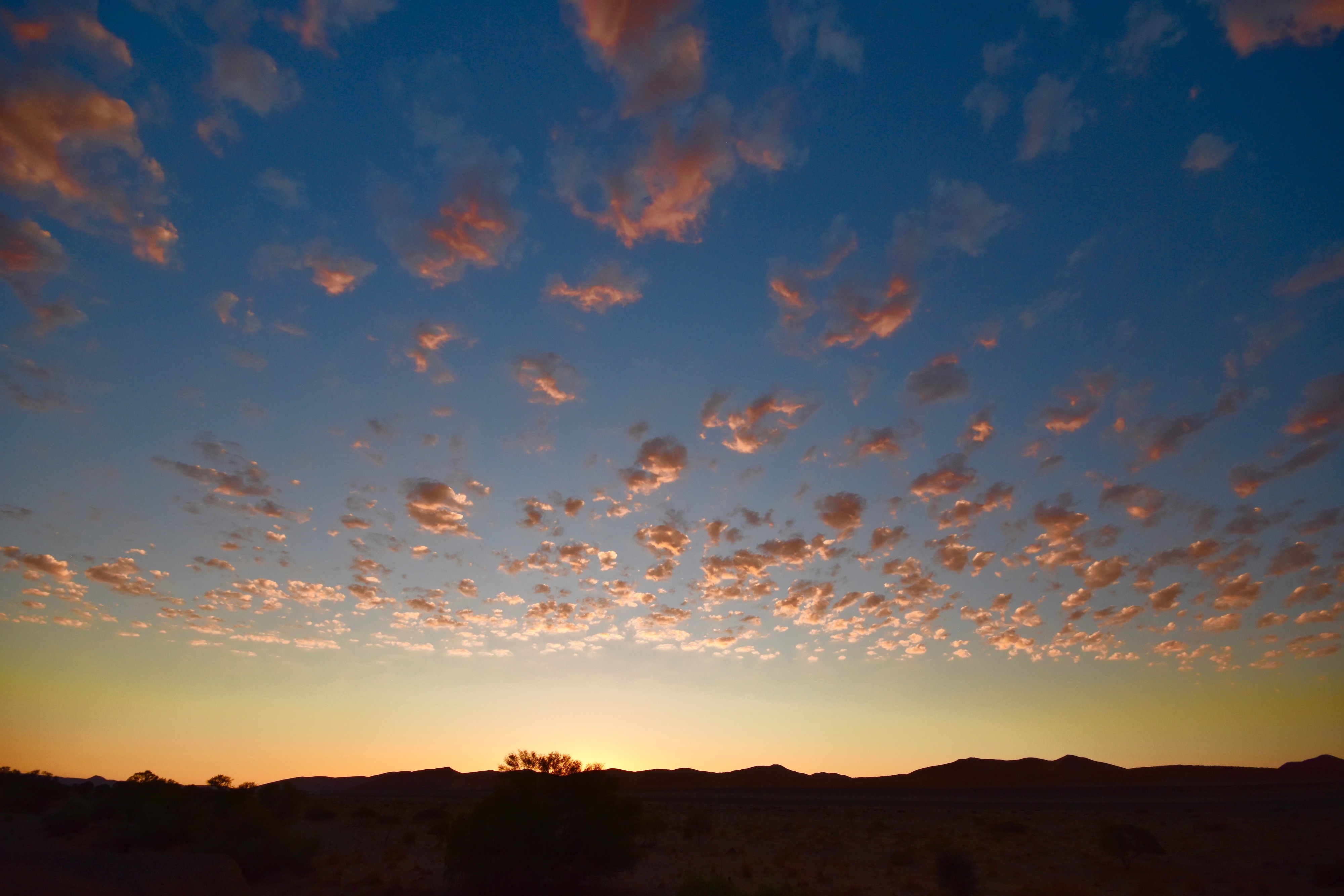 Orion is a readily identifiable constellation for most people and he is present in the Southern Hemisphere, except he is upside down. The Southern Cross is also readily seen low on the horizon. Unfortunately the moon was waxing during our time in Namibia and the stargazing was not as good as would be without the moonlight, but it was still pretty amazing.
By now you are probably thinking ,"I thought this post was about Sossusvlei? " OK, it's a new day and we are on our way.
Sossusvlei
We arrive at the park gates just before 7:00 and there's already at least ten vehicles ahead of us including a couple of tour buses. I can't imagine traveling these Namibian dirt roads in a tour bus, but everyone has their own choices to make. The gates open at seven and it doesn't take long to get in where a nice surprise awaits us – the road to Sossusvlei is paved! This is apparently fairly recent and done to prevent the mayhem that would ensue as everyone jockeyed to be first in line so you wouldn't be eating dust or more accurately, sand for the 71 kms. (44 miles) to Sossusvlei.
There is a natural flat peninsula that juts into the Namib Desert from Sesriem to Sossusvlei that gradually gets narrower and narrower the further you go as the sand dunes on either side start to close in. We stop for pictures of what are referred to as star dunes because from above they are star shaped and created where the winds blow in different directions. This makes for a stationary dune as opposed to the classic barkhan dunes that are crescent shaped and actually move over time.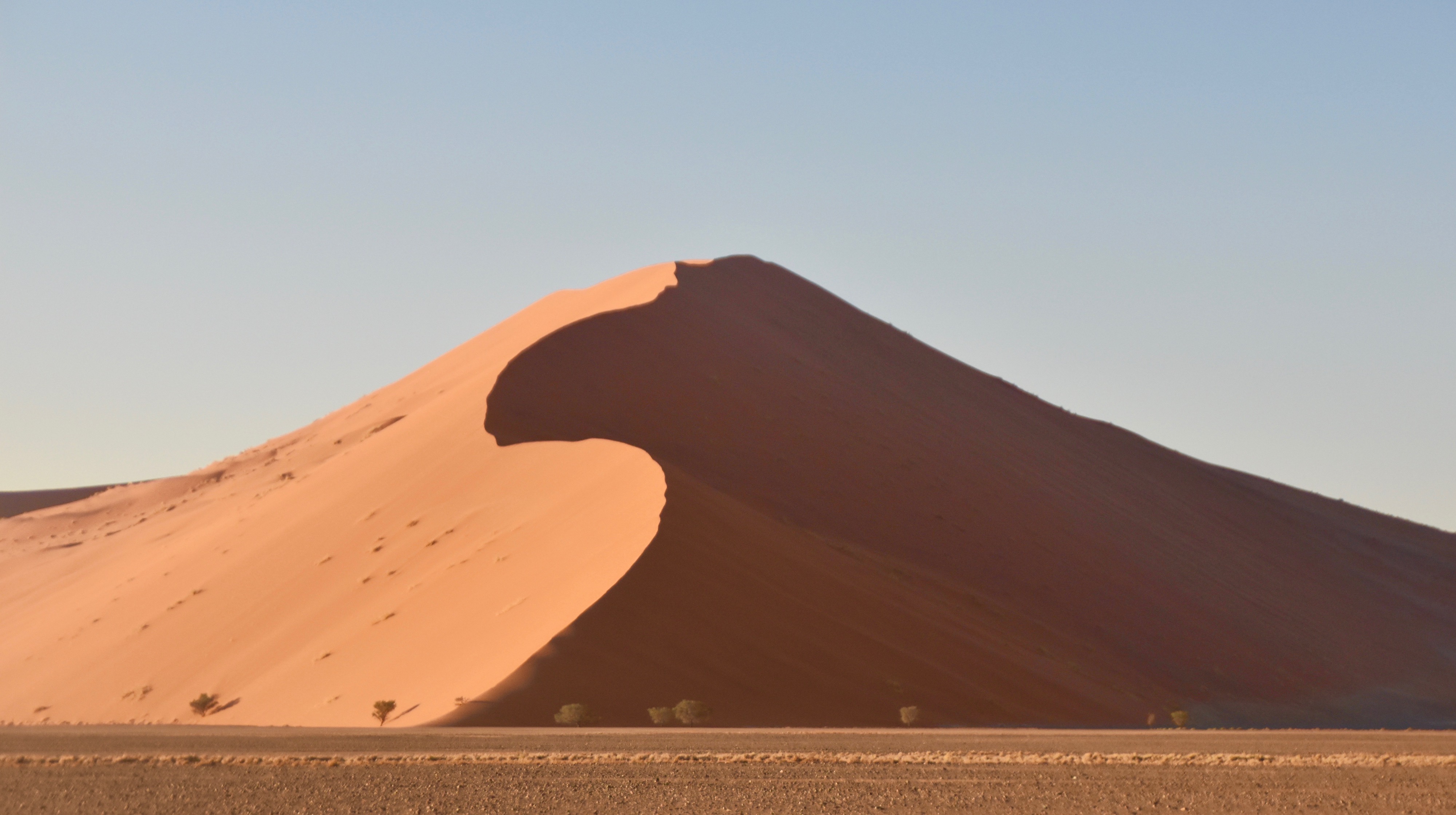 About two thirds of the way to the end of the road you come to Dune 45 which is not only pretty to look at it the morning light, but the first chance to climb a dune. Dune 45 is 85 metres (278 feet) high and is a fairly easy climb. Here are a few of our group doing a warm up. If you arrive here in a tour bus or non 4X4, this is the only dune you can climb as you can't get to the end of the road in either type of vehicle. Sure enough the tour buses we passed pull up and within a few minutes Dune 45 is crawling with tourists, nose to bum. Not for me thanks.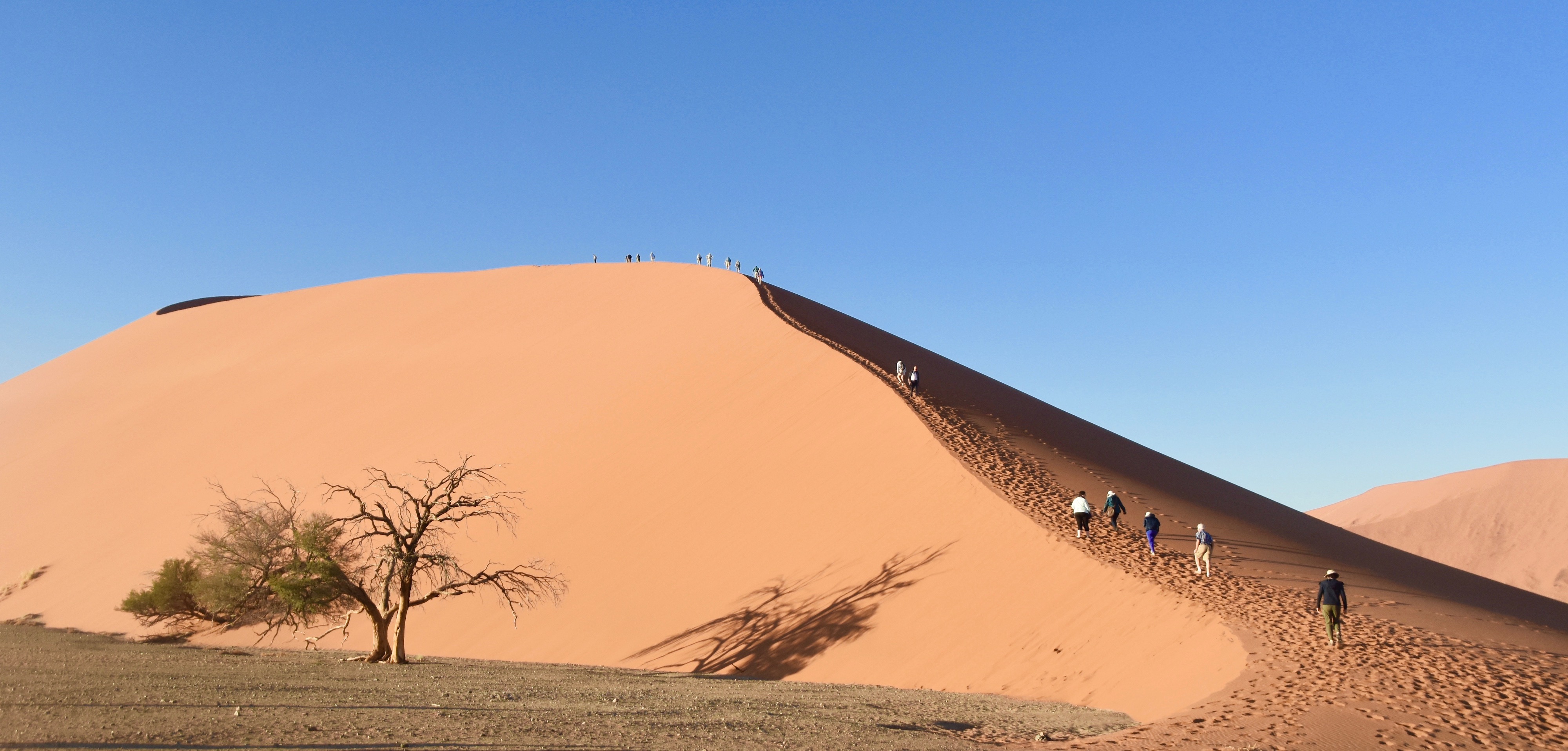 I'm more interested in that tree you see and the shadow it is casting in the morning light.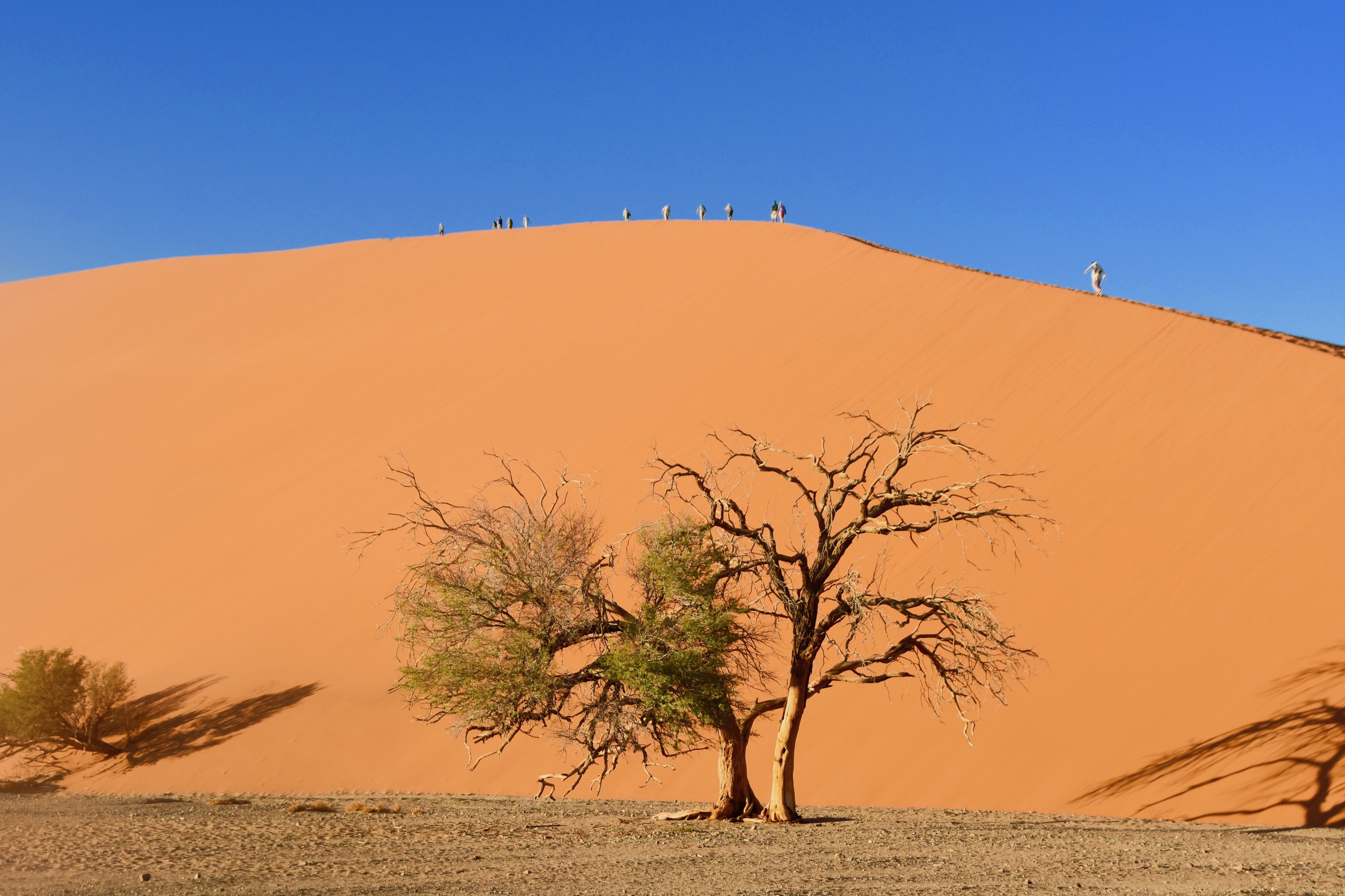 It would be a great place to play shadow puppets.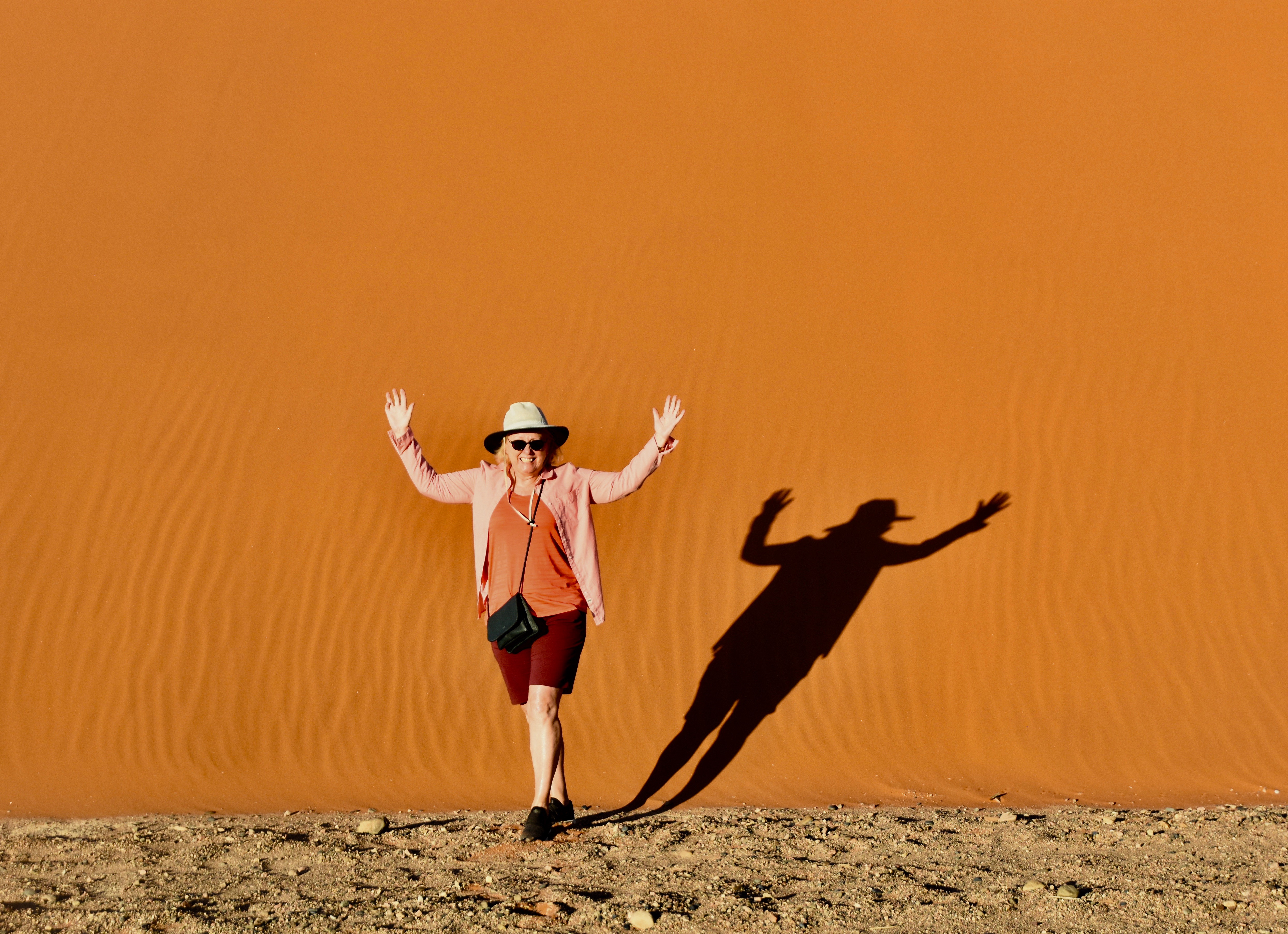 Moving on, we reach the end of the paved road, but there's still 4 kms. (2½ miles) to go over very treacherous sand that is difficult even for our Land Cruiser to manoeuvre through. One young couple who arrive without a 4X4 are walking in under the now increasing hot sun. They will be exhausted even before they get to the big dunes. I am glad to report that they did get a lift back to their car later in the day.
So why are we here? To see and maybe climb one of the highest sand dunes in the world – Big Daddy. At 325 metres (1066 feet) it dwarfs Dune 45.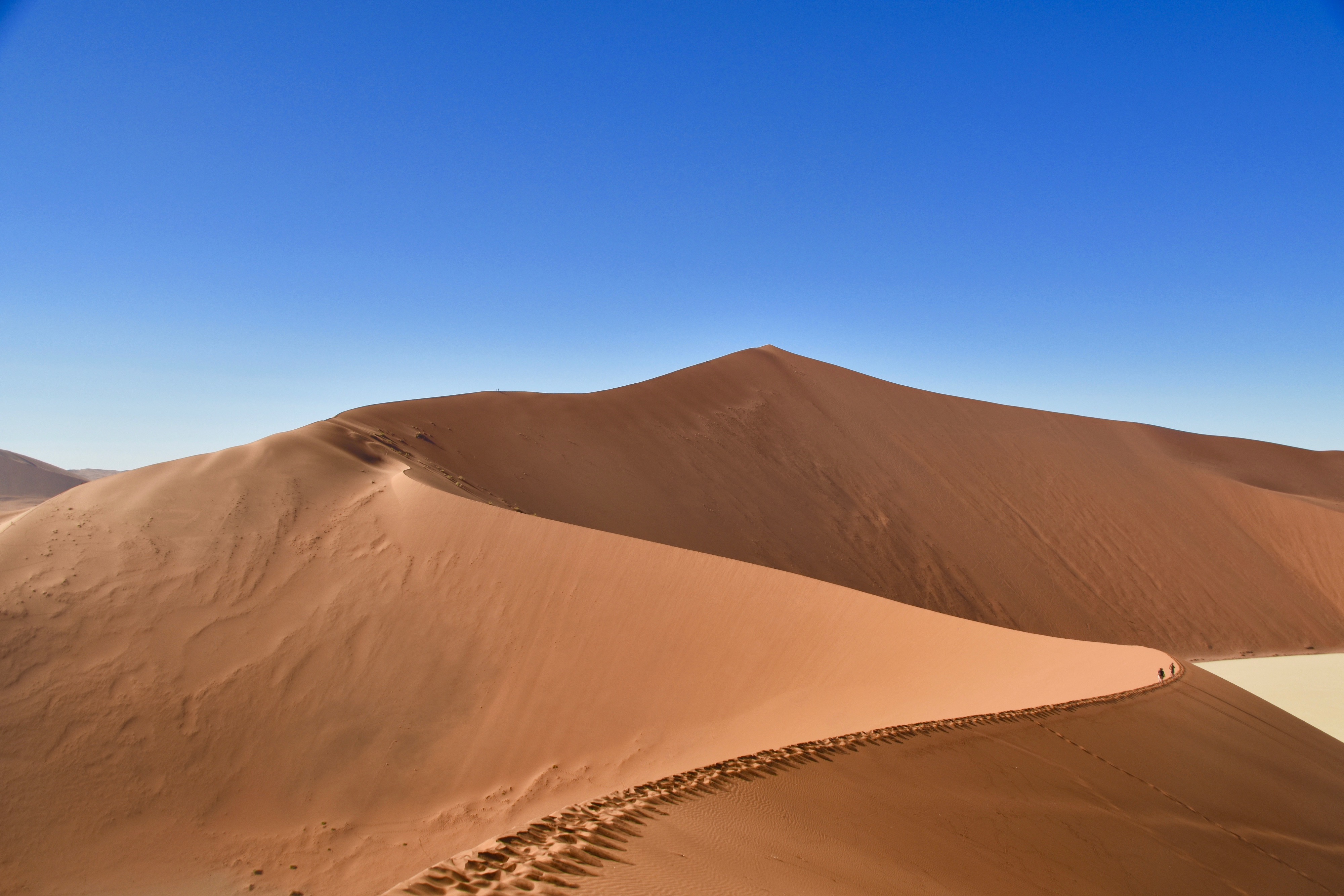 Perez says it will take at least an hour and a half to get to the top so only a couple of our group are going for the Everest approach. Alison and I will be content to get up to a ridge about two-thirds of the way. It's actually a decent walk just to get to the base of Big Daddy.
Here is the path upward. It starts off quite gradually, but so does Everest.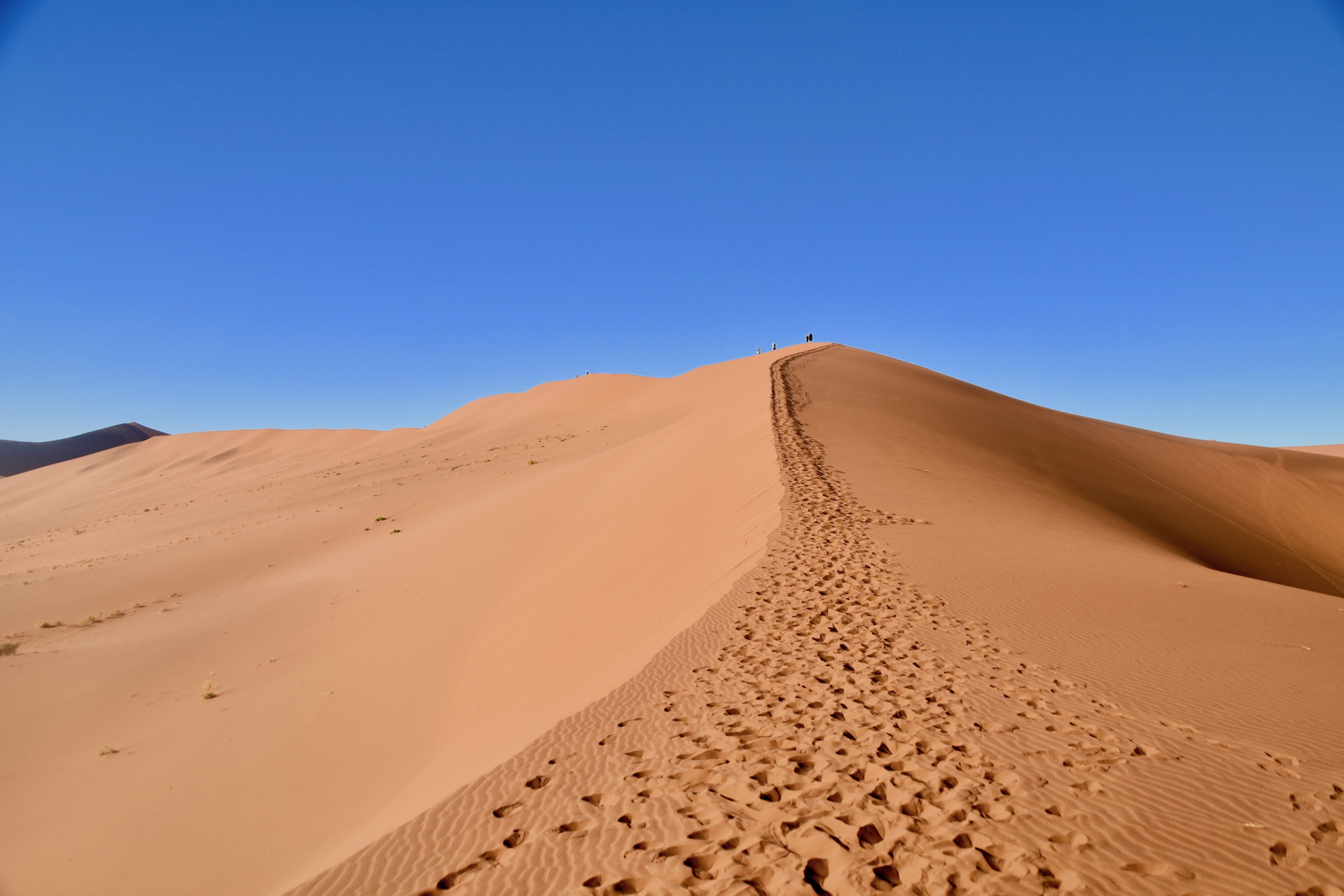 Here I go. There's nowhere near the number of climbers as at Dune 45.
While the dunes might look lifeless they are actually criss-crossed with the tracks of lizards and geckos in search of their favourite snack, the darkling beetle of which there are plenty.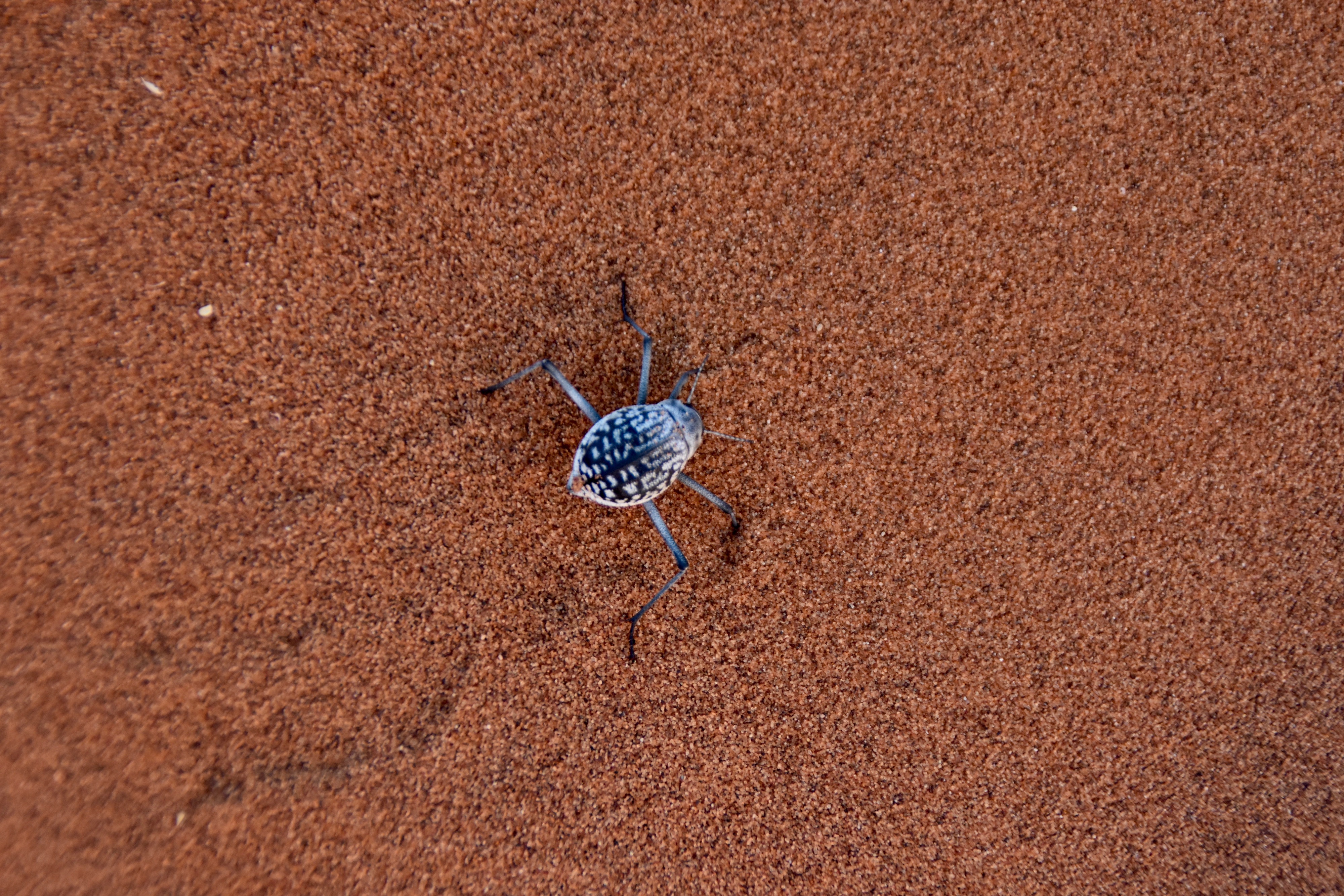 After about 40 minutes we reach the crest which is our intended target.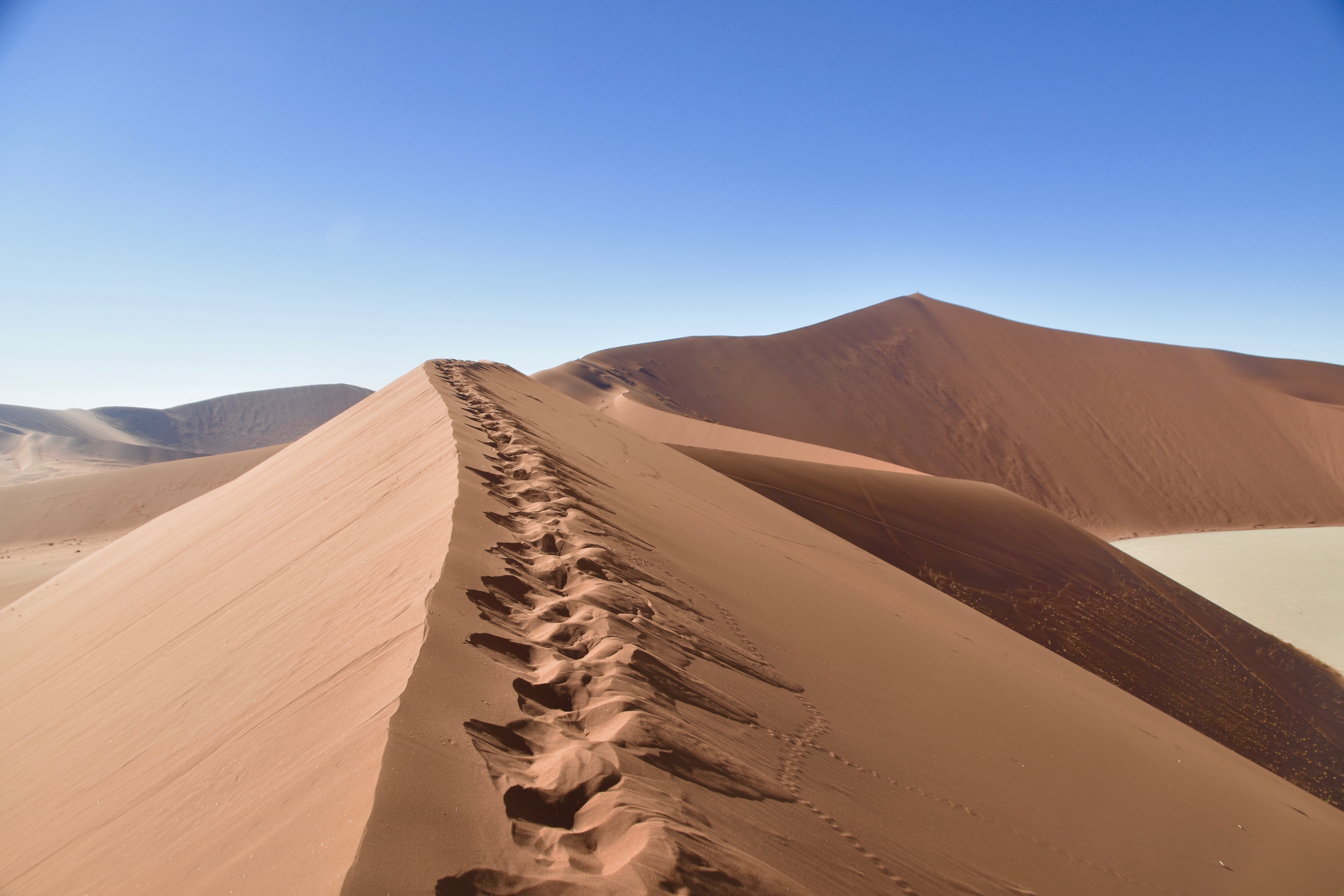 By now my heart is pounding a breath coming in gasps as is evident in this video I took. It does contain some exaggeration as Big Daddy is not taller than the Empire State Building as I apparently believed when I shot this. My only defense is that at that moment in time it sure as hell seemed taller.
We did in fact continue of to the next crest just before the trail ascended the final distance to the top where we could see those who had successfully crested Big Daddy including only one from our group, Susan Stern. Congrats Susan!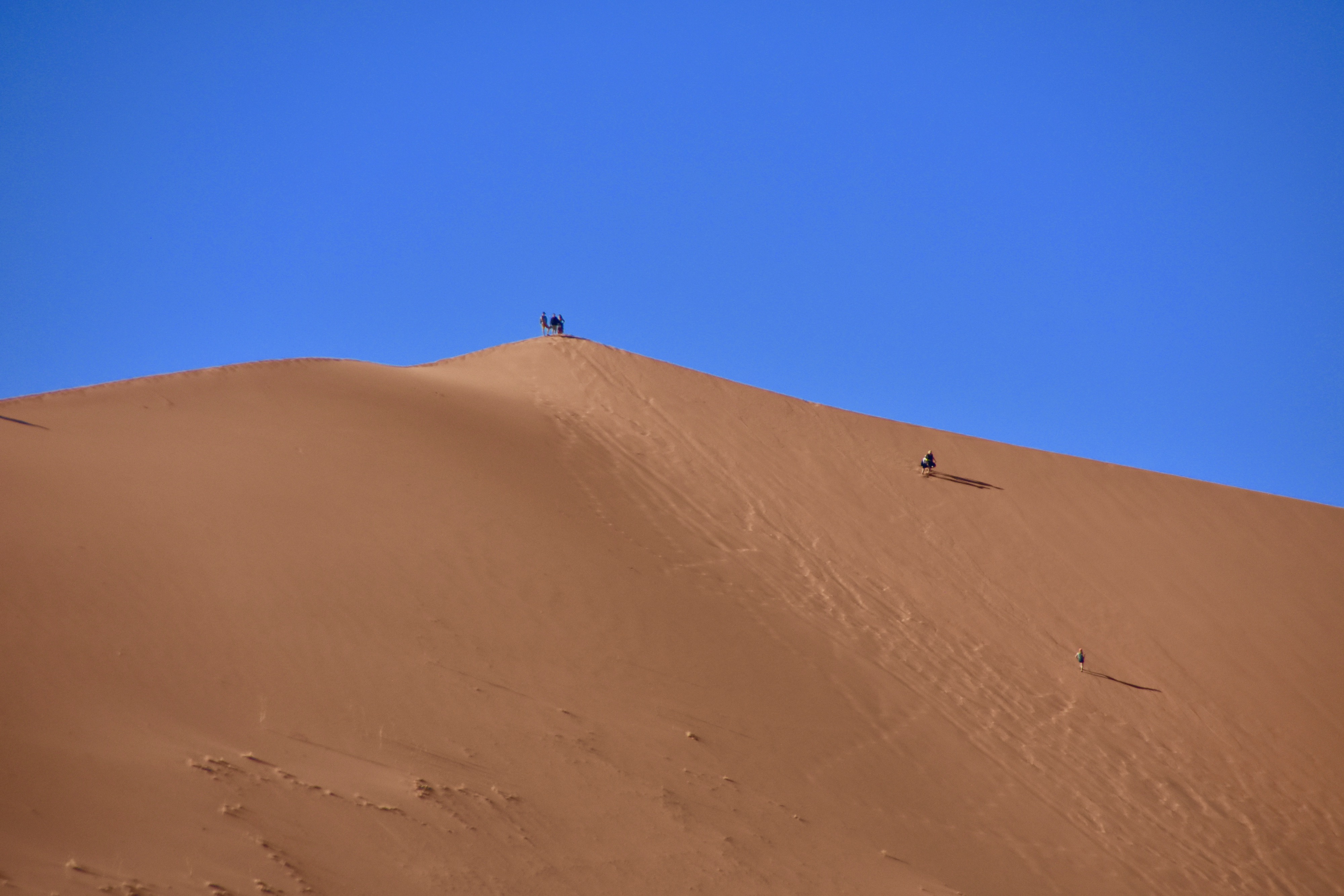 Now the issue was – how do we get down? Far below was the Deadvlei salt pan from where we could walk back, but the side of the dune was easily as steep as a double black diamond ski run. Well, nothing ventured nothing gained or would it be fools rush in where angels fear to tread?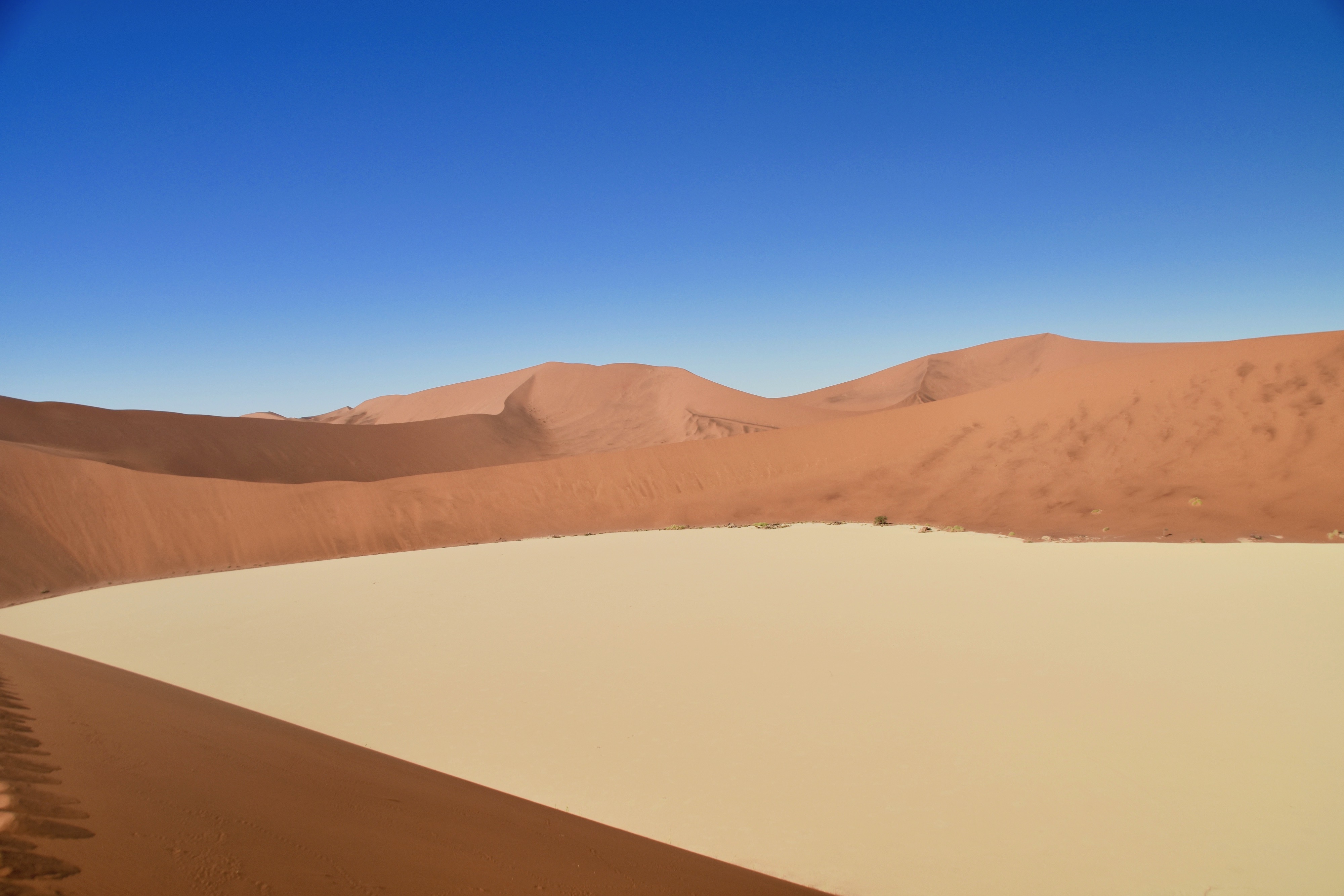 Not surprisingly, and in retrospect something I should have figured out, the sand provides a natural braking motion and going down was not that difficult. Every step created its own mini landslide in the sand.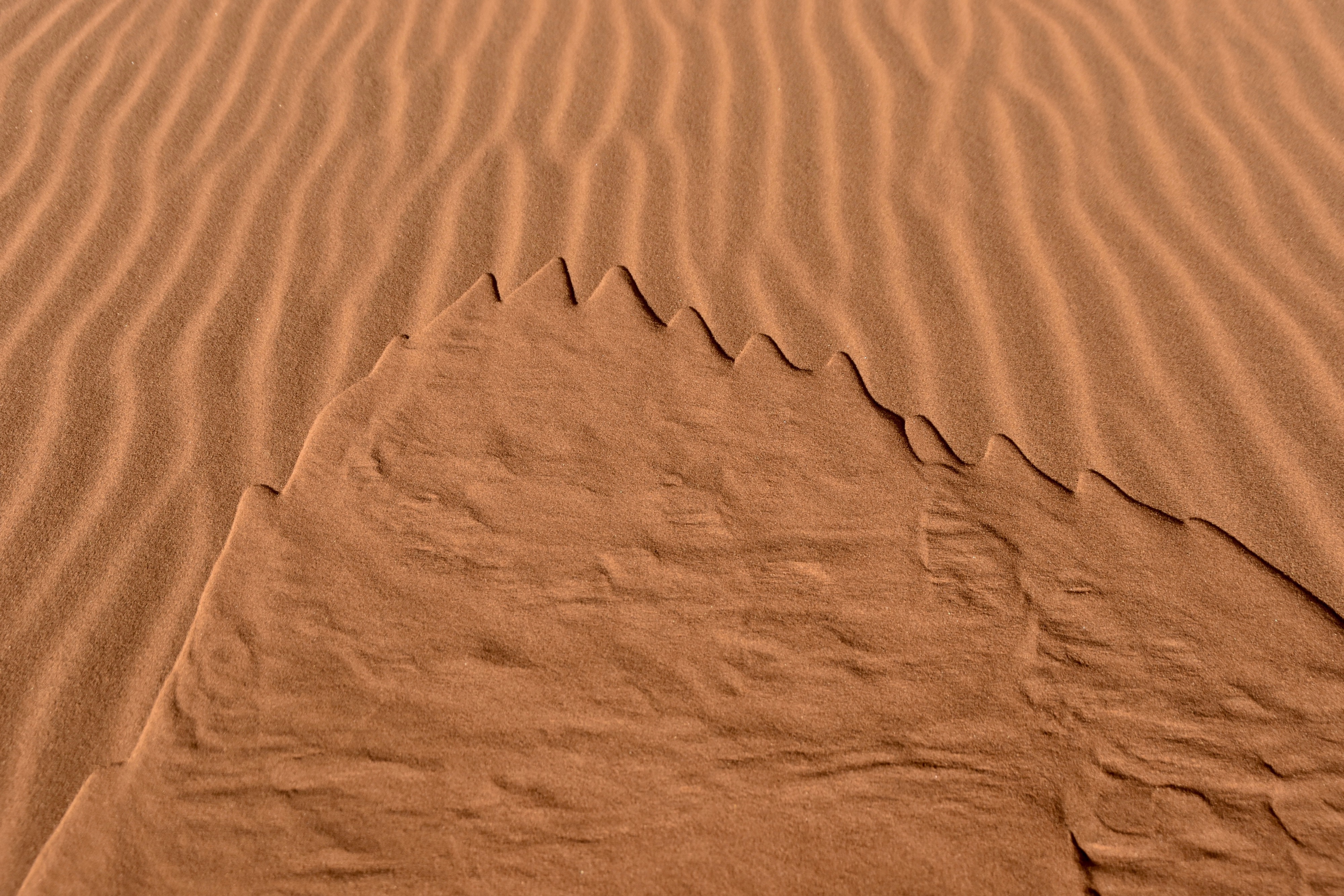 About three quarters of the way down Alison decided to take an alternate approach.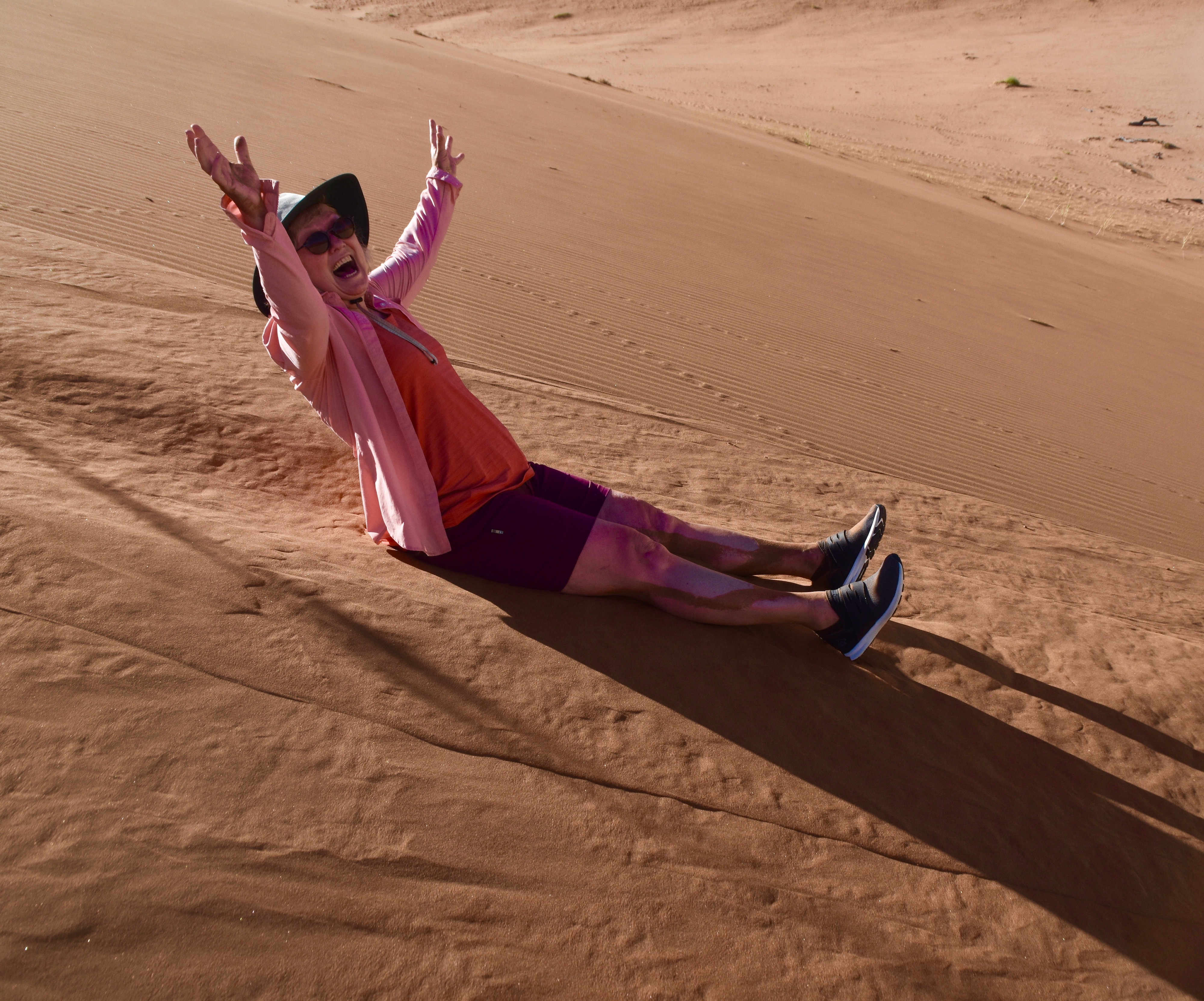 Deadvlei
Eventually we reached the salt pan at the bottom of Big Daddy which is almost as famous as the dune, Deadvlei. First I needed to remove about a pound of sand from each shoe. Sand was still coming out for the next two weeks.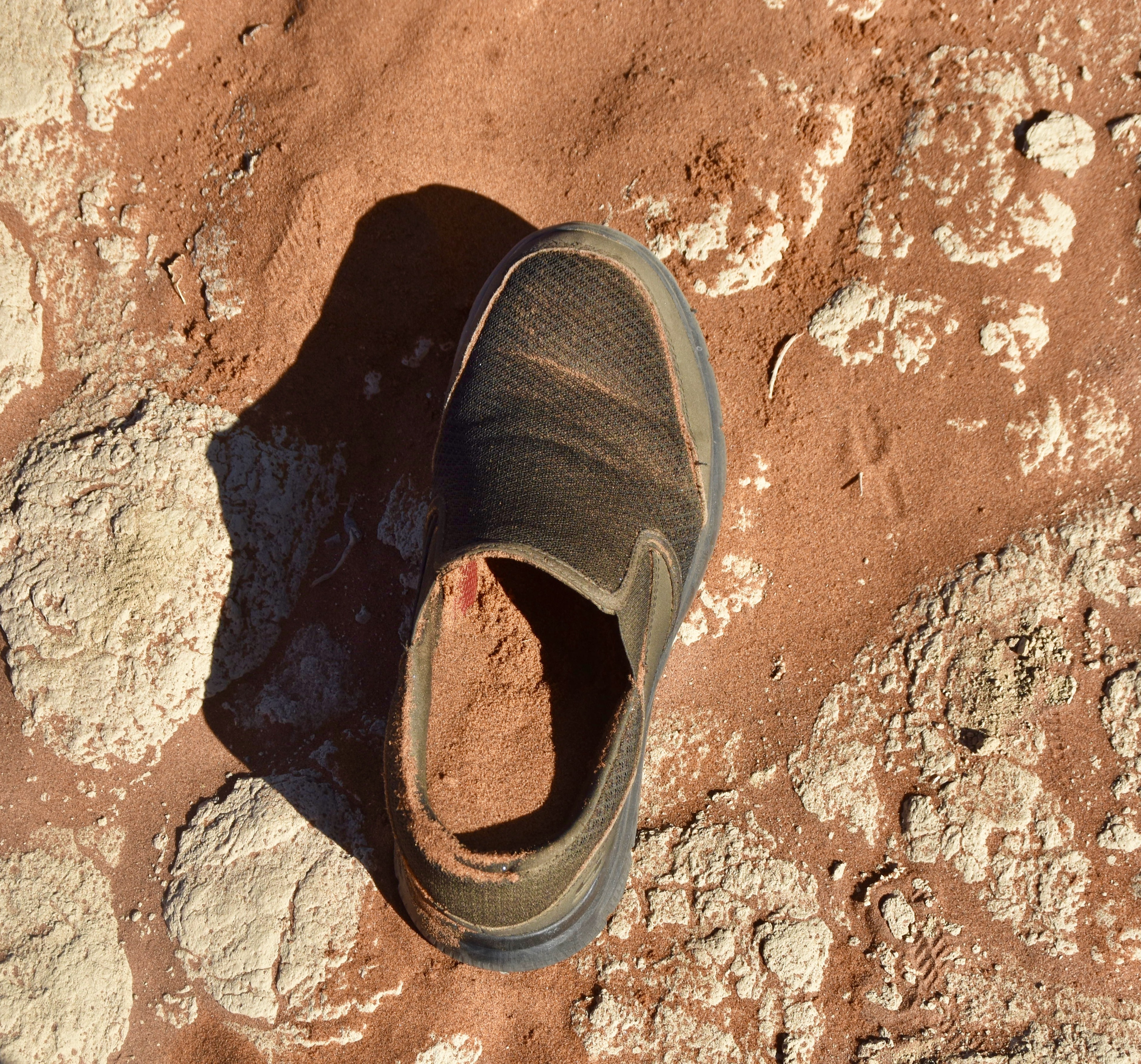 By now the sun was blazing hot and we were in an almost pure white landscape with the dead trees that have made this particular salt pan a photographers dream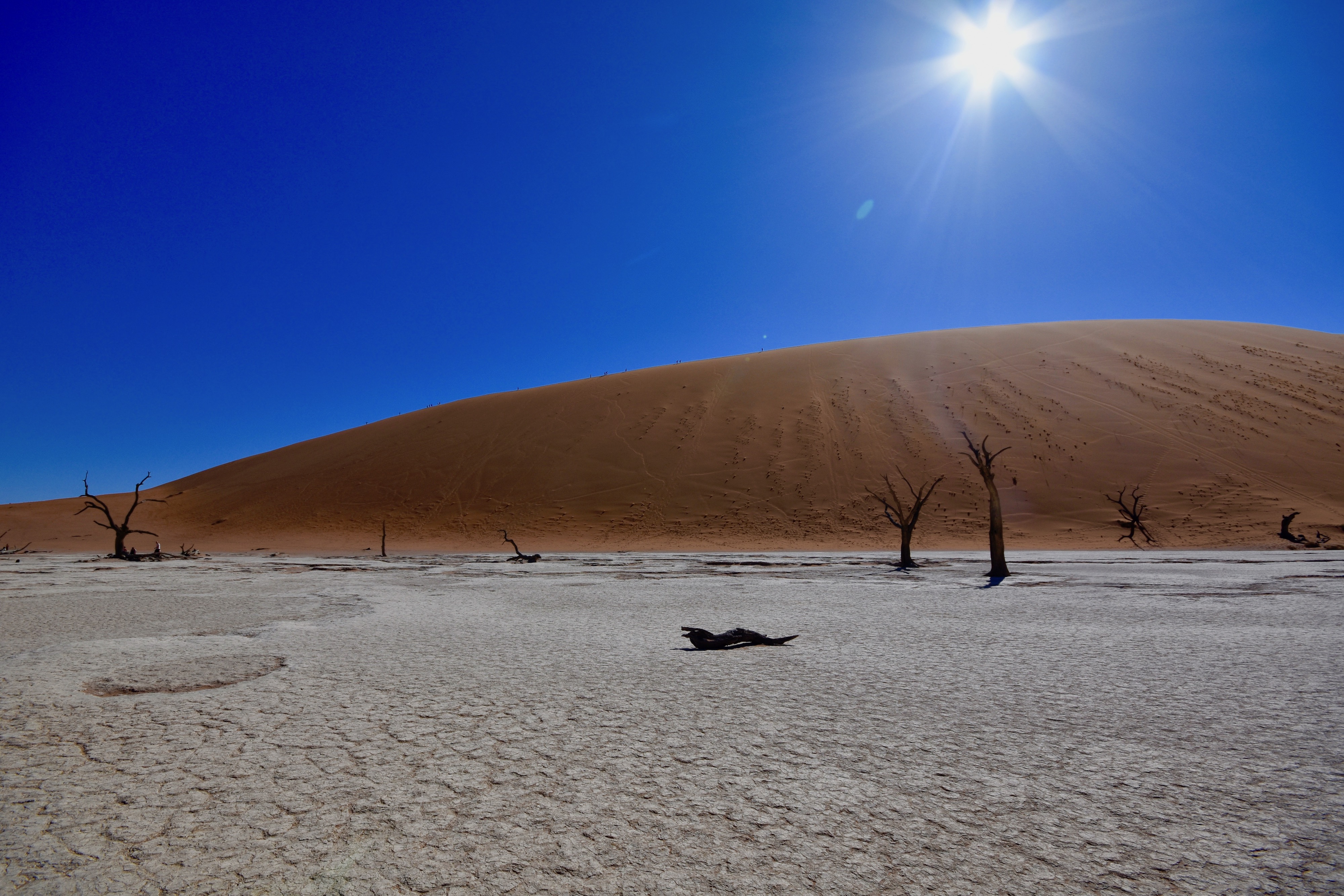 Even with the heat, you will want to linger in this place to capture the magic of the Namib Desert and Sossusvlei. At least I know we did. I hope you agree that the results were worthwhile.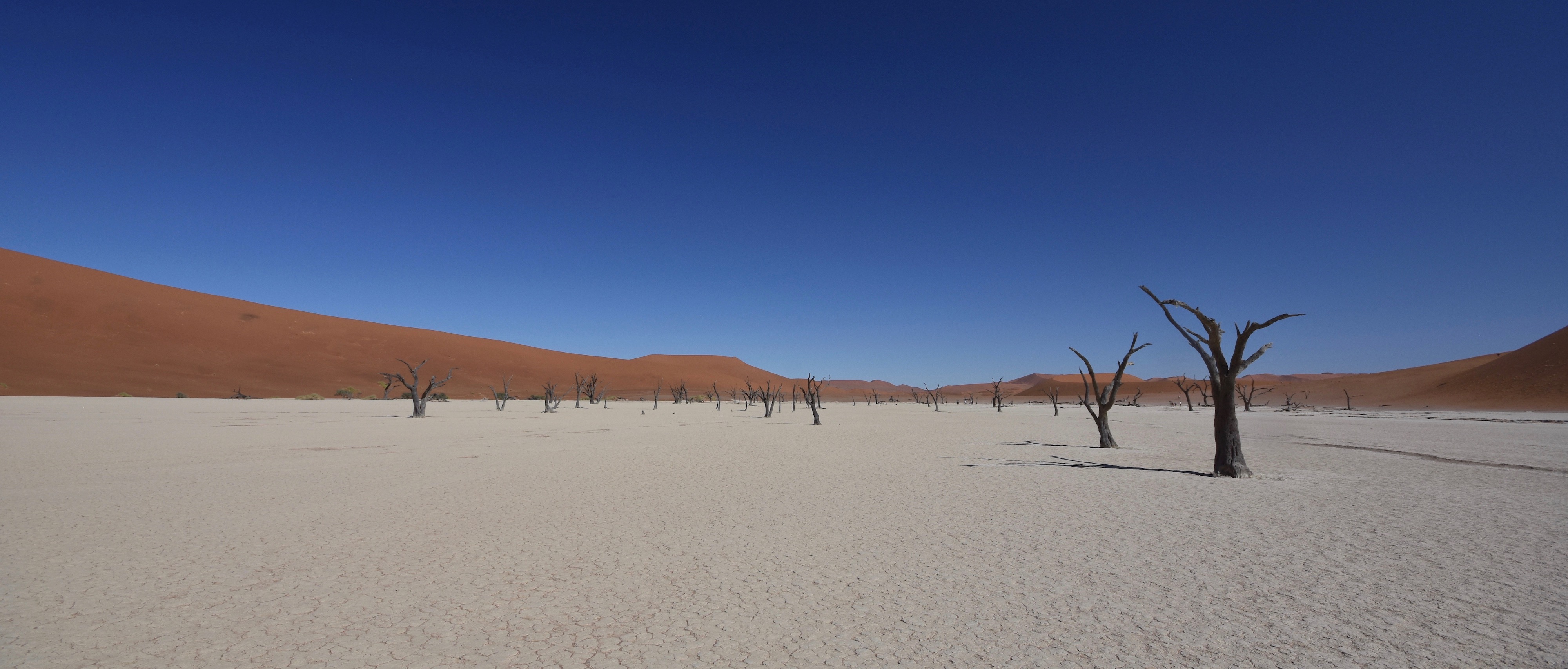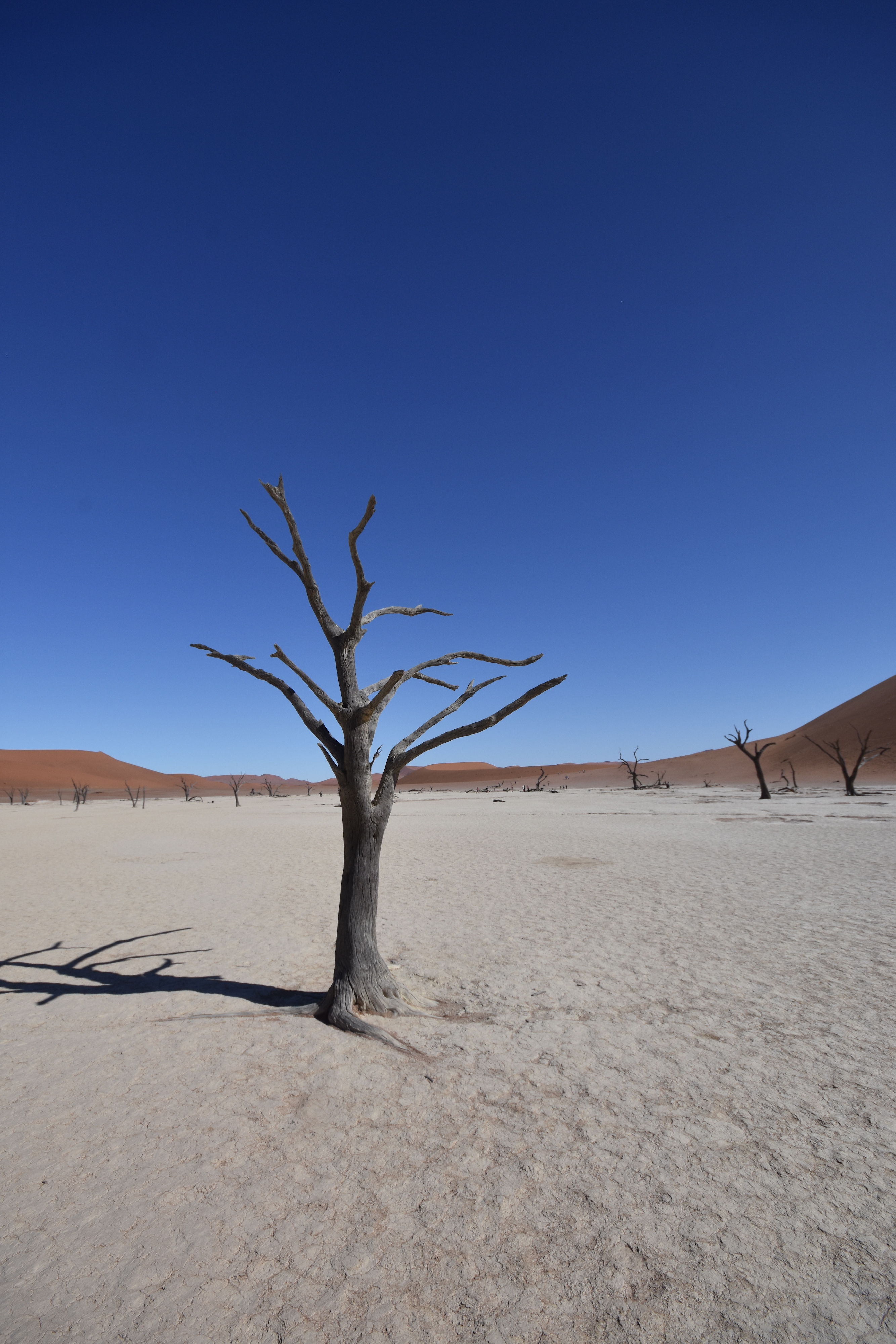 So it was a tired, but sensorily overloaded group that trekked back to the Land Cruisers and returned to Kulala Desert Lodge for a second wonderful night in the Namib Desert. The trip has only just begun and already it has exceeded my expectations.
Tomorrow we are off to the Skeleton Coast where the temperatures will be much cooler and the sun shielded by fog. I'm looking forward to the contrast and hope you are too.