Water Holes of Etosha – Part 2
This is my second post on the famous water holes of Etosha National Park in northern Namibia. This is the final leg of a journey that has taken us from Windhoek to the Namib Desert to the Skeleton Coast to Damaraland and now Etosha. We are spending three nights here during which we will participate in four game drives, the first two of which I reported on in this post. If the last two are anywhere near as exciting as the first two, it should be a blast with lots of great wildlife photos. Let's go find out.
Mushara Lodge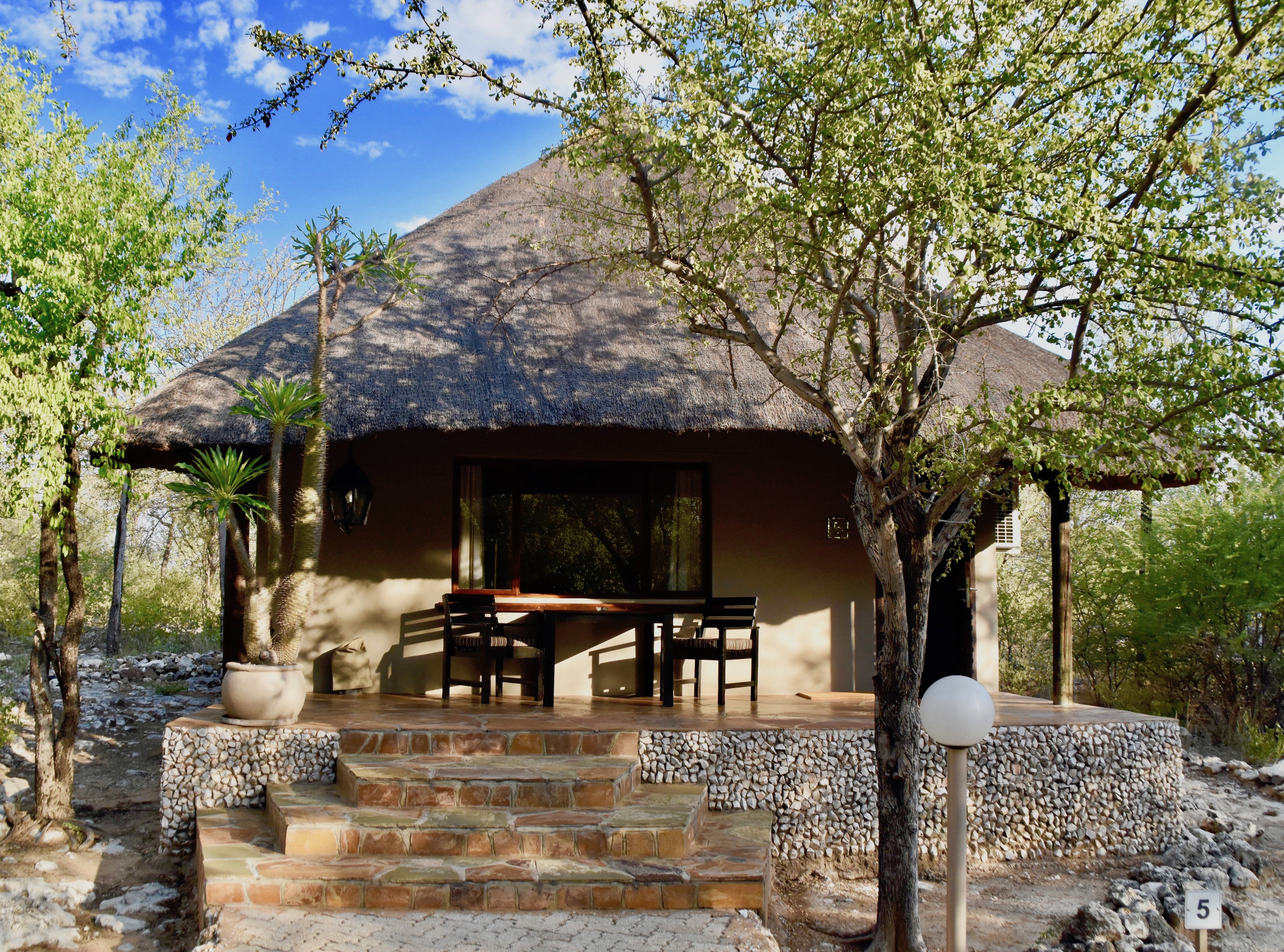 We spent the first night in the area at Etosha Safari Lodge which is just outside the Anderson Gate at the southern entrance to the park. It was fine, but with 65 bungalows, just a little too big for my tastes. Frankly, we were spoiled by staying at much smaller lodges in the Namib and Damaraland where our group pretty well had the places to ourselves.
For the next two nights we returned to being pampered by being the only guests at Mushara Lodge just outside the eastern gate to Etosha. It has only 14 cottages set in a wooded area that has plenty of its own wildlife.
This is the interior of our cottage #5. It also had a nice sitting area and a mini fridge which we always appreciate, especially for keeping cold the great South African white wines that you can buy in Namibia.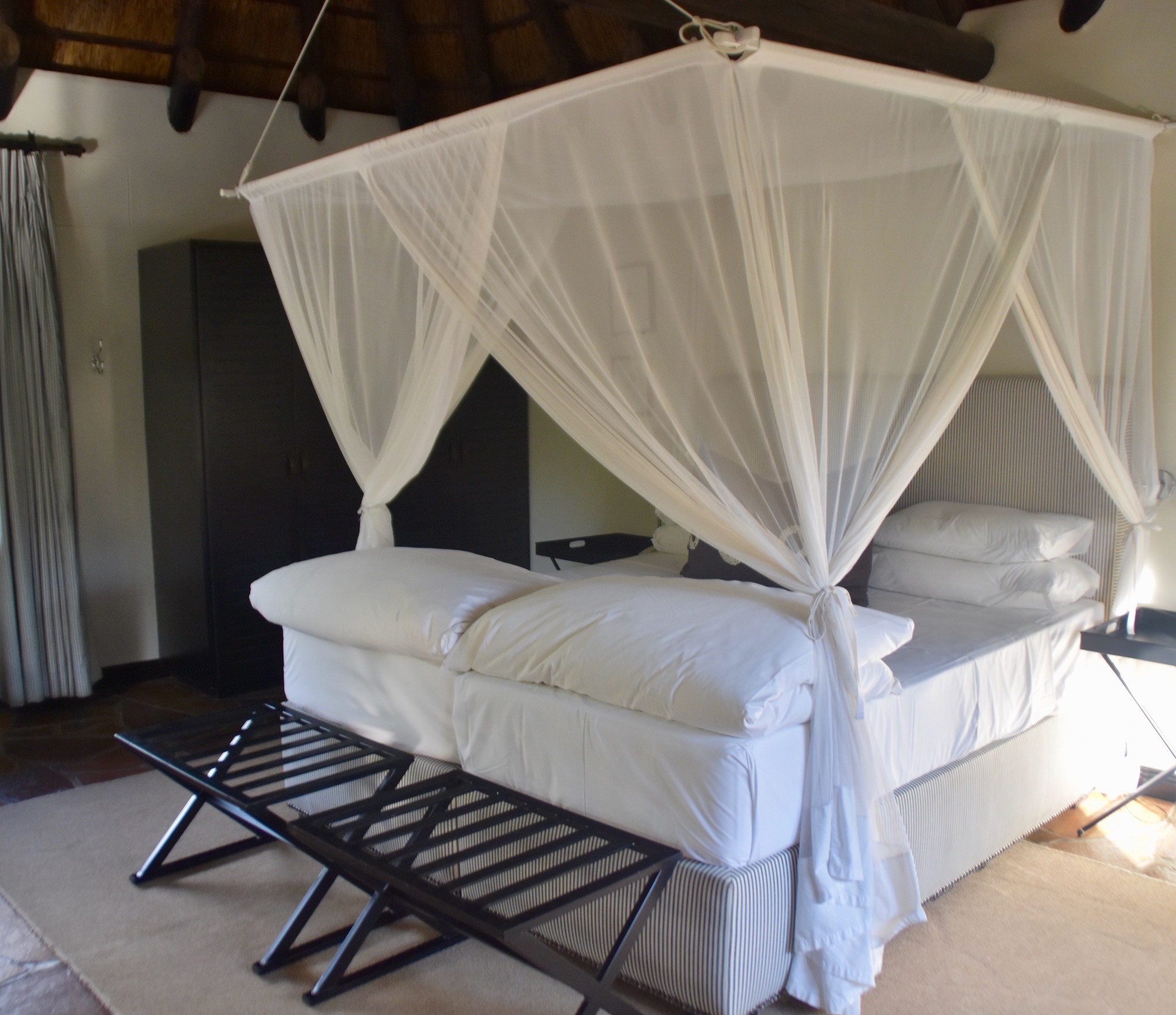 The grounds featured a number of warthogs that seemed to be acting as the lawn mowers for the property. Despite the fearsome looking tusks on the bigger ones, they are actually quite shy and after a few minutes we got used to having them around.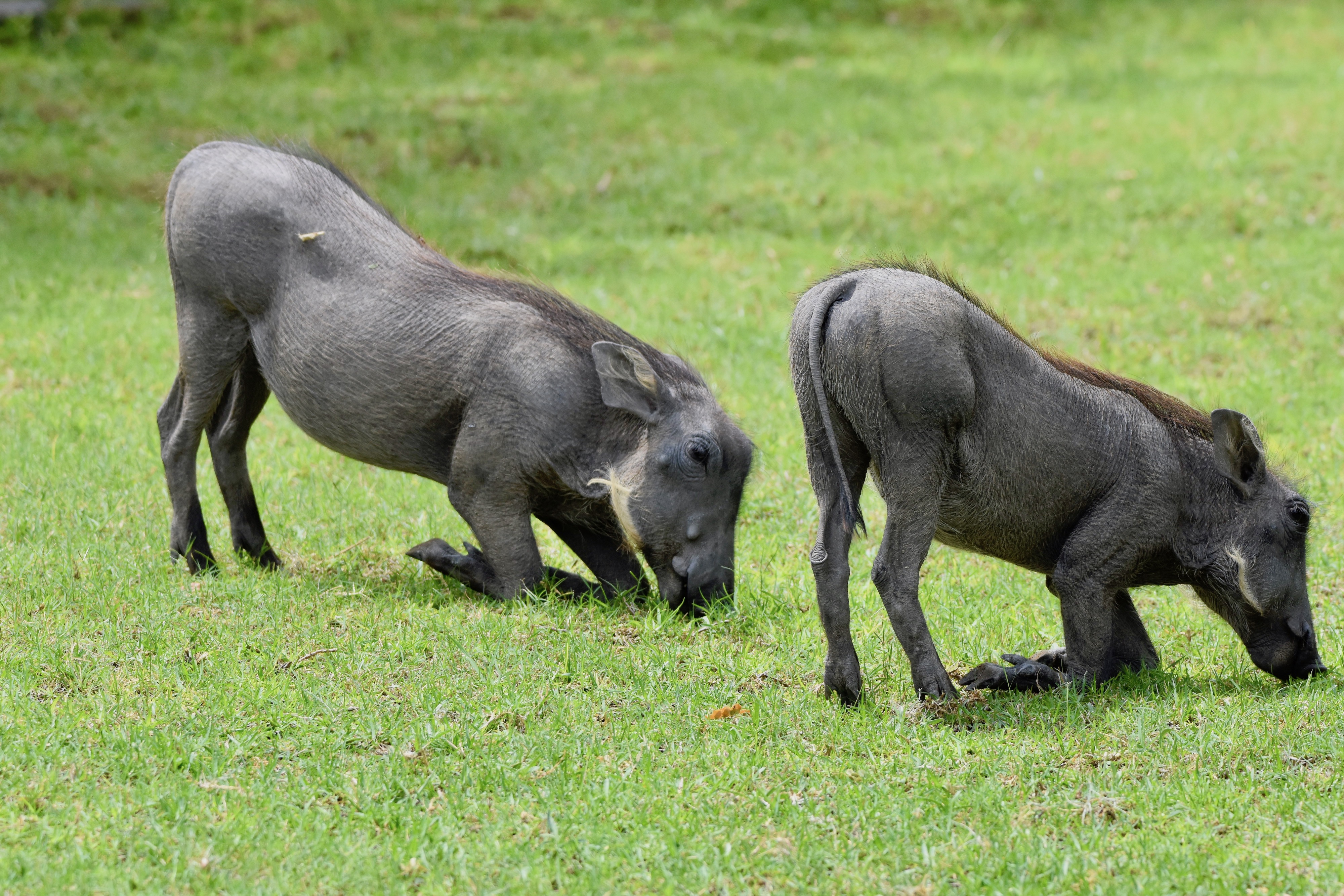 Also abundant on the grounds were red-billed spurfowl, so called for the vicious looking spurs on the back of their feet. If the warthogs were the lawn mowers, the spurfowl were the chickens, pecking away at the ground in search of insects and seeds.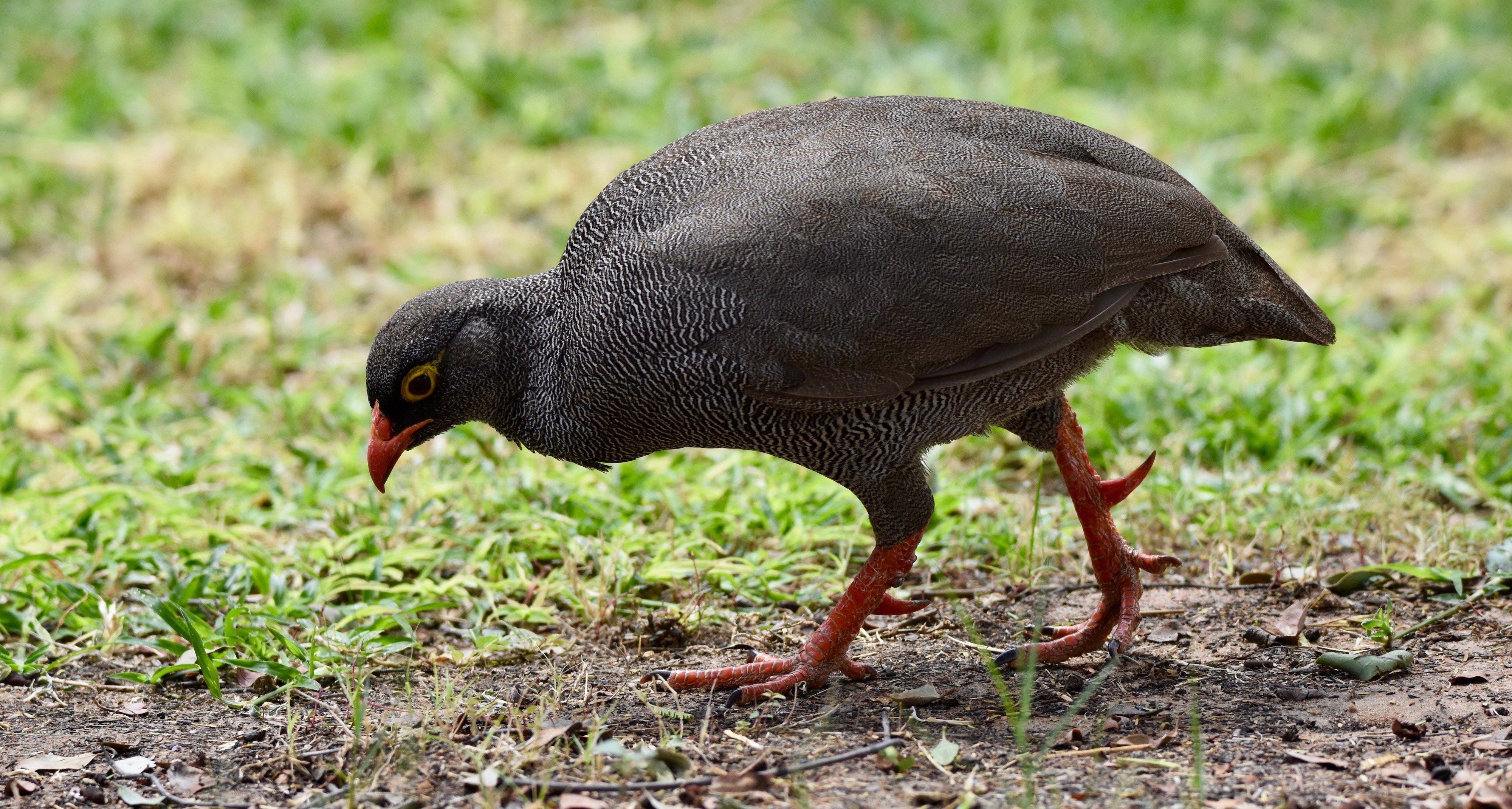 Also on the grounds were numerous smaller birds including this gorgeous crimson billed shrike, which despite my trailing it around the grounds for ages, simply would not sit still long enough for a better photo.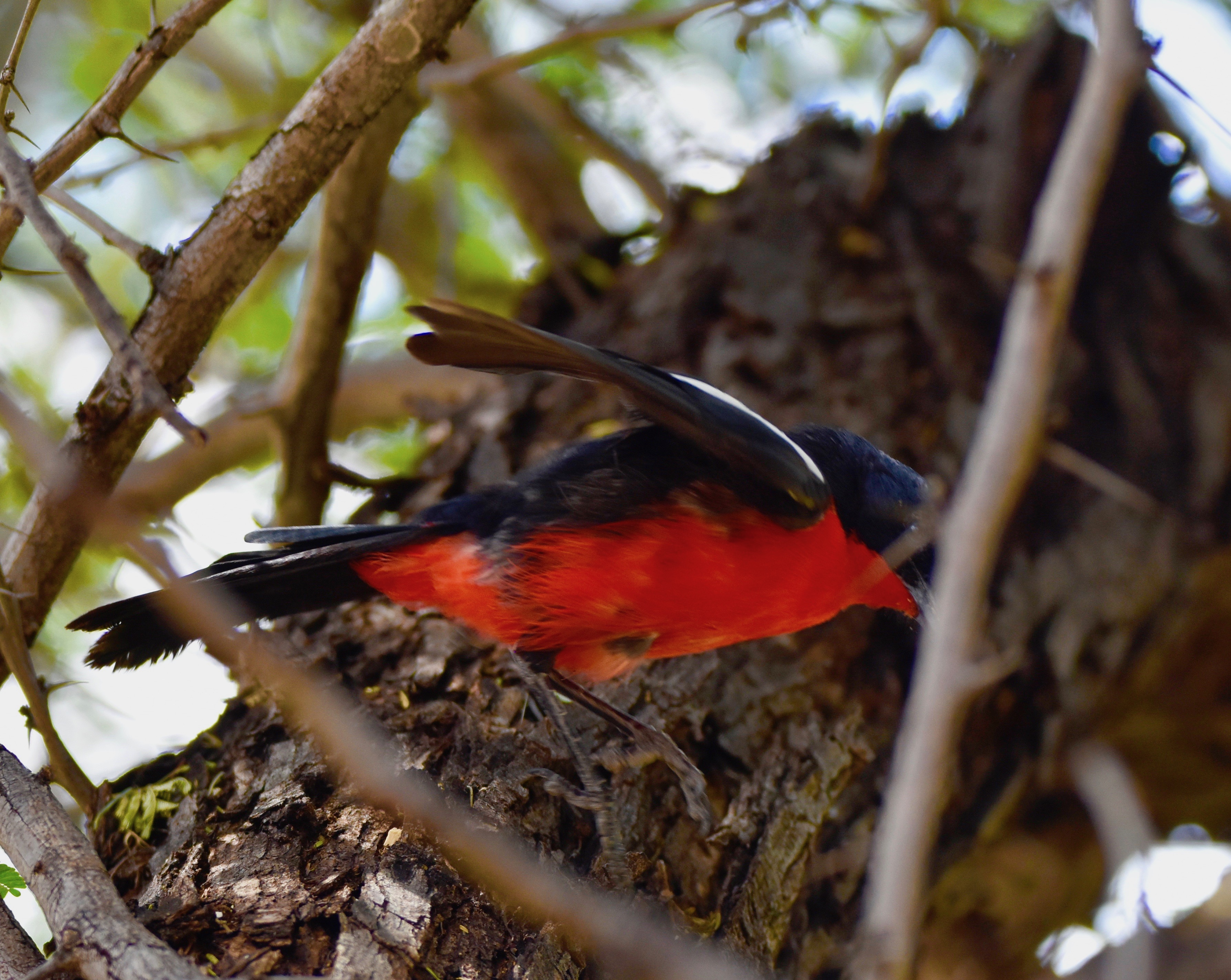 In the underbrush, usually early in the morning or at dusk, it was not uncommon to see dik diks which are the smallest of all the antelope species and maybe the cutest.
All the accommodations we stayed in Namibia were very good, especially when compared to the total cost of the trip, but I think Alison and I liked Mushara Lodge the best. It has a sense of intimacy combined with almost romantic remoteness that makes it pretty special.
Water Holes of Etosha – Game Drive Three
On our last day in Etosha we made two game drives to the water holes in the eastern part of the park and once again Perez and Gerhardus struck wildlife gold, starting with the birds.
This is a lilac-breasted roller in the same tree as a red-headed finch.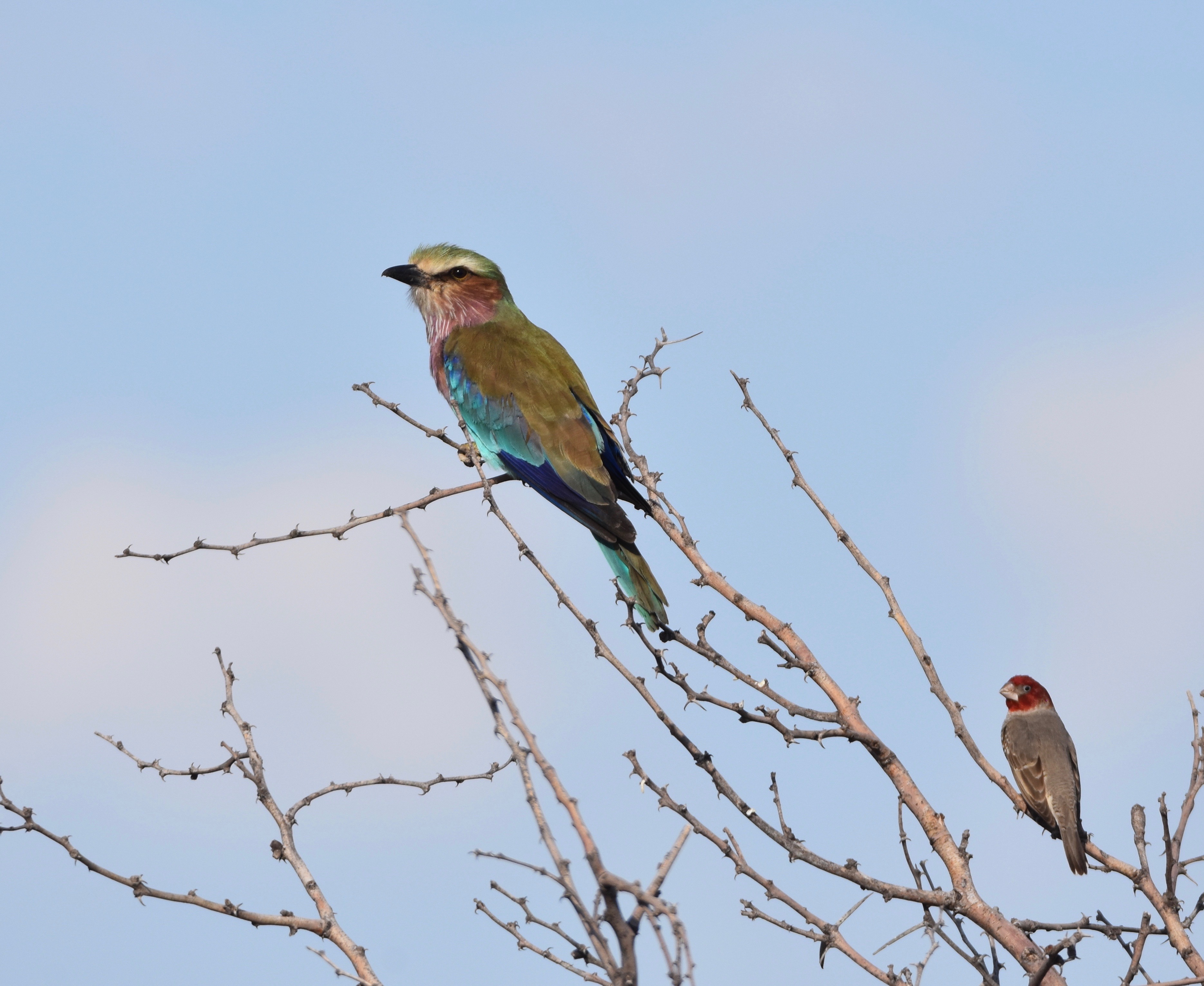 Here's another tree with just red-headed finches of both sexes.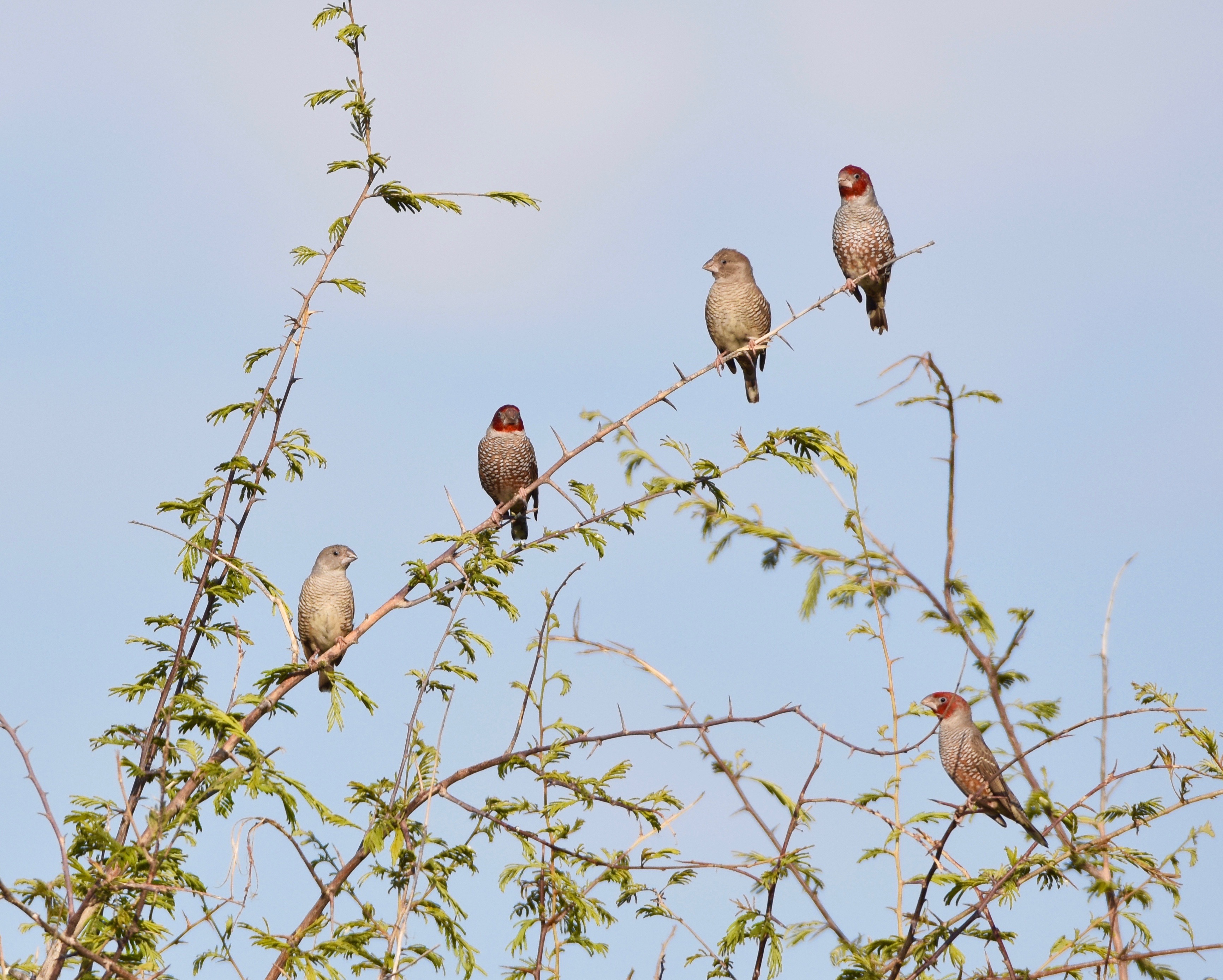 We arrived at our first of a number of water holes we would visit this morning to an idyllic scene of zebras and impalas grazing apparently nonchalantly, but there was always at least one pair of eyes on lookout duty. It is a sad fact of life that water holes, which are essential to the survival of almost every species in Etosha, are also the most dangerous places to be.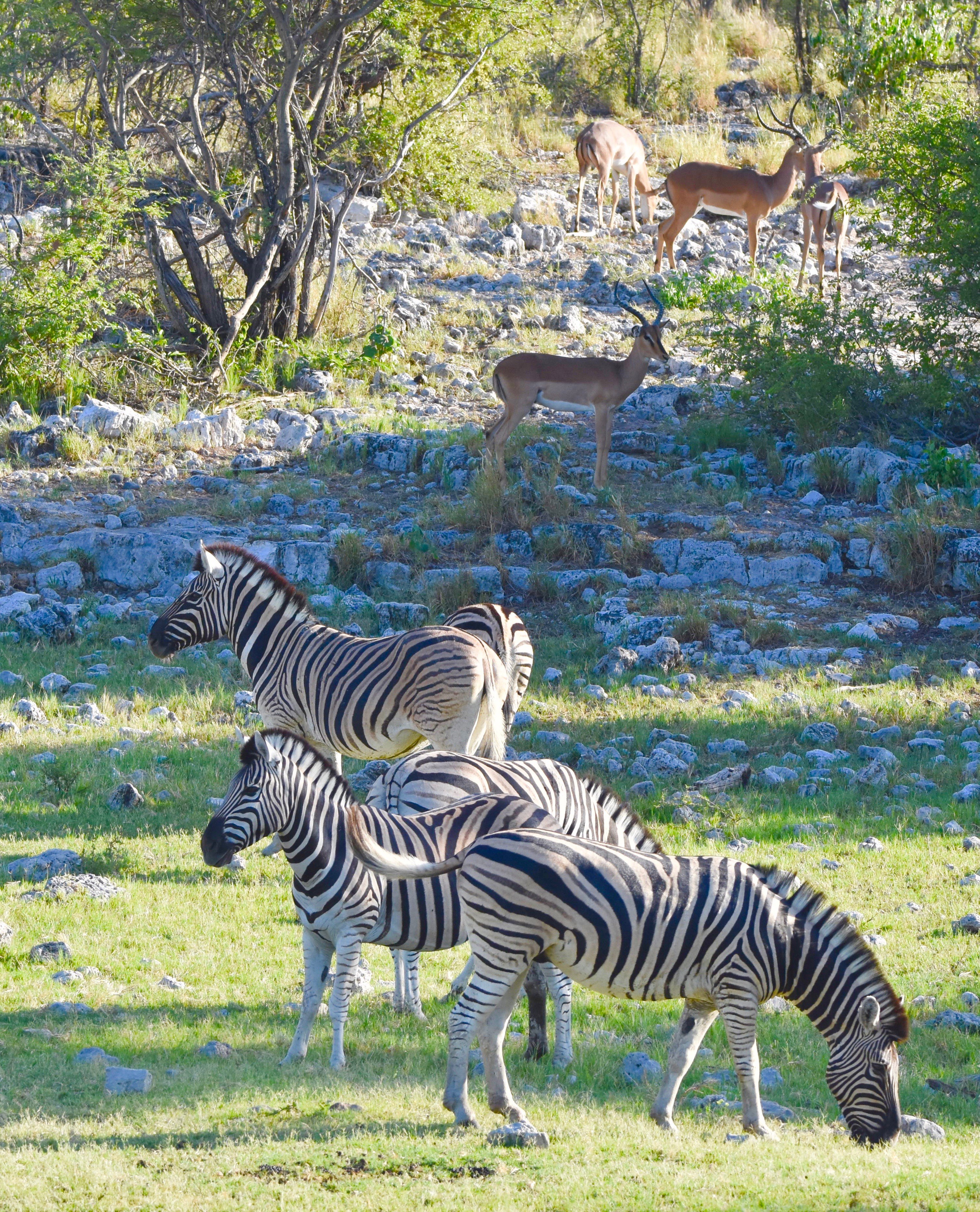 This particular water hole, Tsacor by name, was made with a concrete basin into which water is delivered by a solar powered pump. We saw a number of these here and in Damaraland. They are constructed in places where there is enough space between the water and the forest edge to diminish the chances of getting ambushed.
Next came a sight we had been waiting for the entire trip. As noted in the previous post, Etosha has over oner third of all remaining black rhinos in the wild, just over 1,750 of them. Yesterday we saw that number reduced by one as we came across the carcass of a juvenile that had been killed by lions. Today we finally got to see one still breathing.
This huge male lumbered out of the brush as we waited in awed silence as he approached the water hole.
Seeing a rhino in the wild is an amazing experience and one I can only hope will still be available for generations to come, but the fight against poaching is relentless. The use of drones to patrol large areas which are inaccessible to vehicles has definitely been a positive development.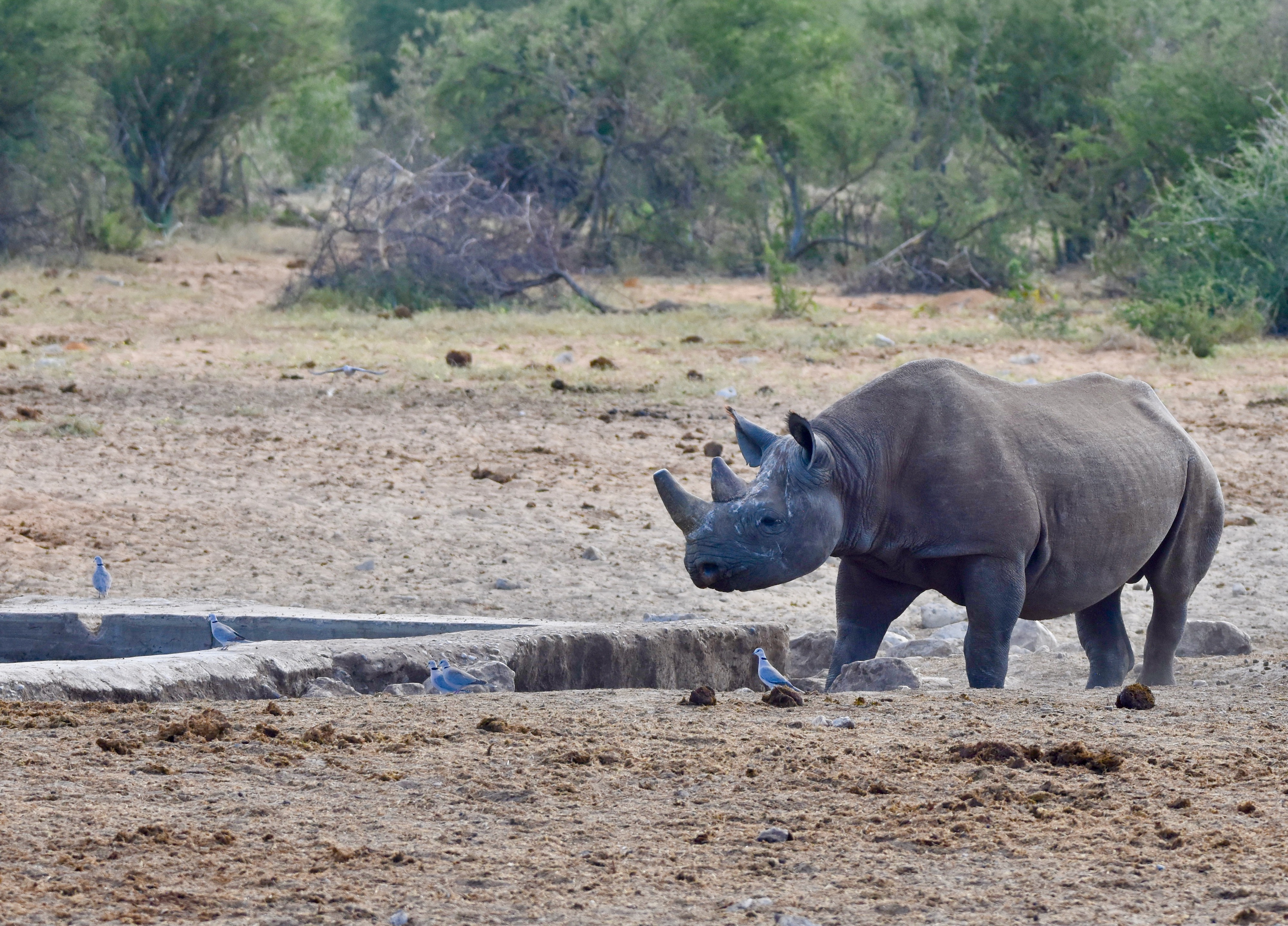 The rhino was then joined by a kudu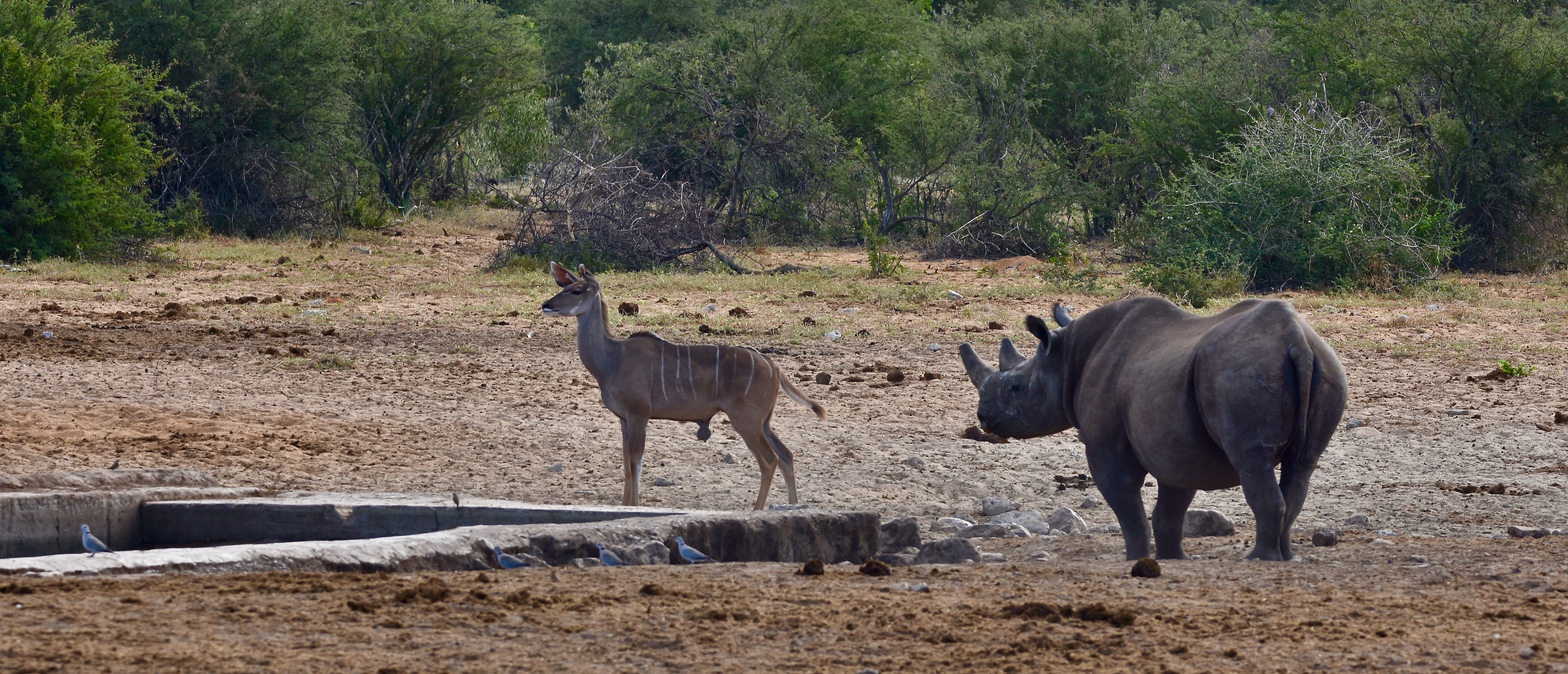 The unquestioned kings of the water holes are the elephants. This guy lumbered up to one end of the water hole and the rhino and kudu stayed well away from him at the other end.

Lone bull elephants are notoriously cranky and we wouldn't be the first vehicle to be charged by one. This guy gave us a long look over before deciding we were no threat.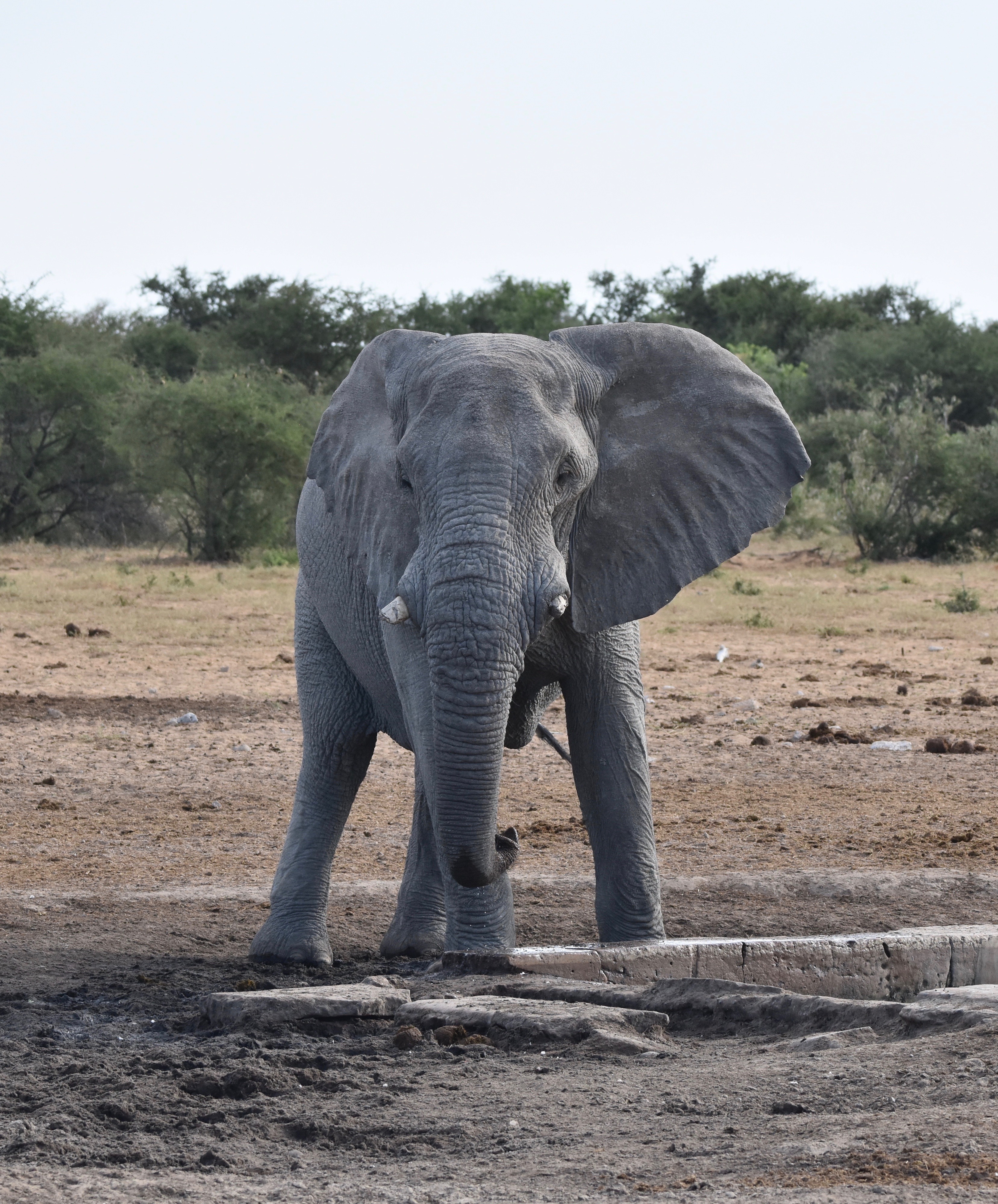 The big male rhino ambled back in the brush, but almost as if on cue, two more came out to drink, a mother with an almost full grown daughter. Note that the mother's horns have been cut off for her protection, but not the younger one's.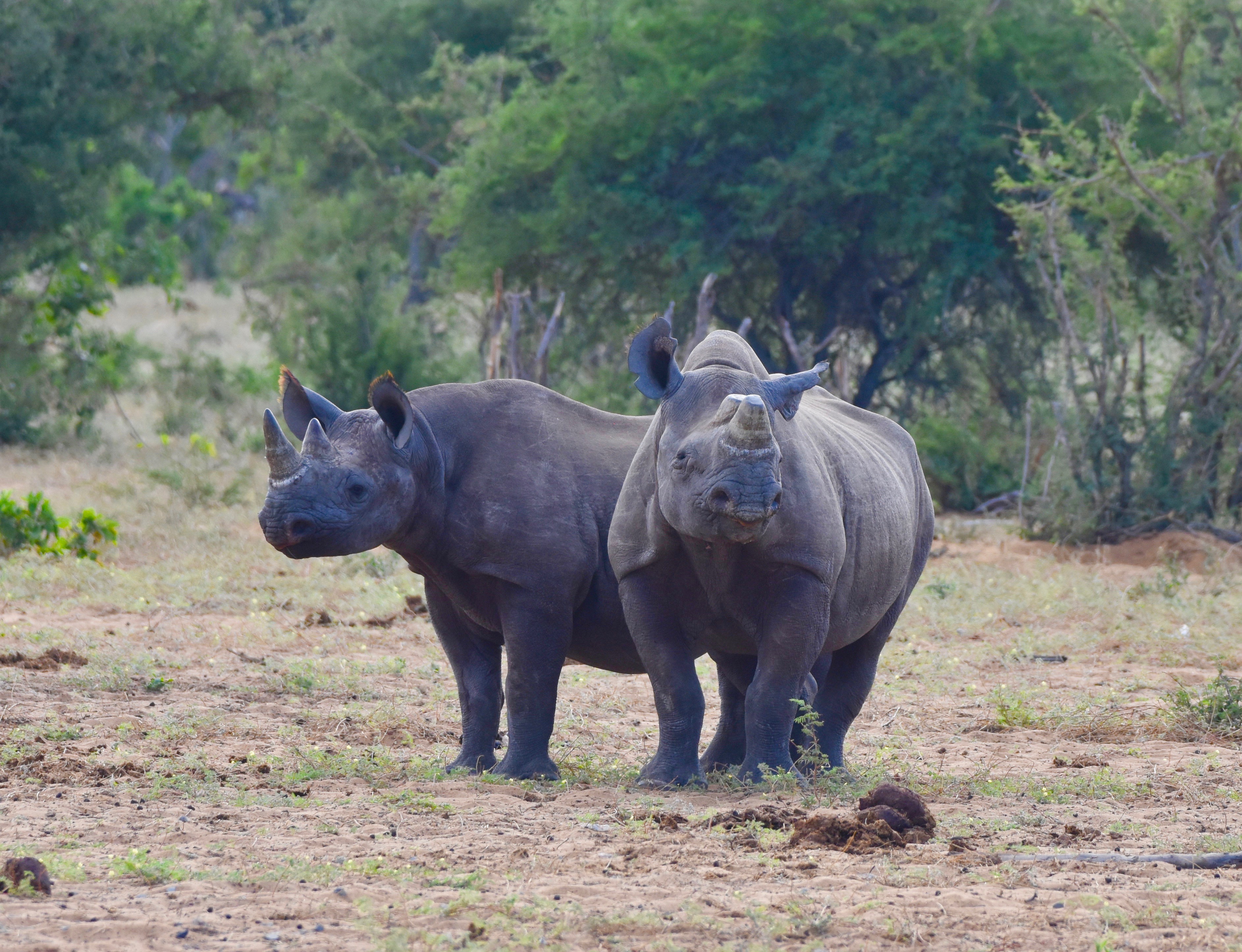 The big male wasn't gone long before returning and posing for this portrait.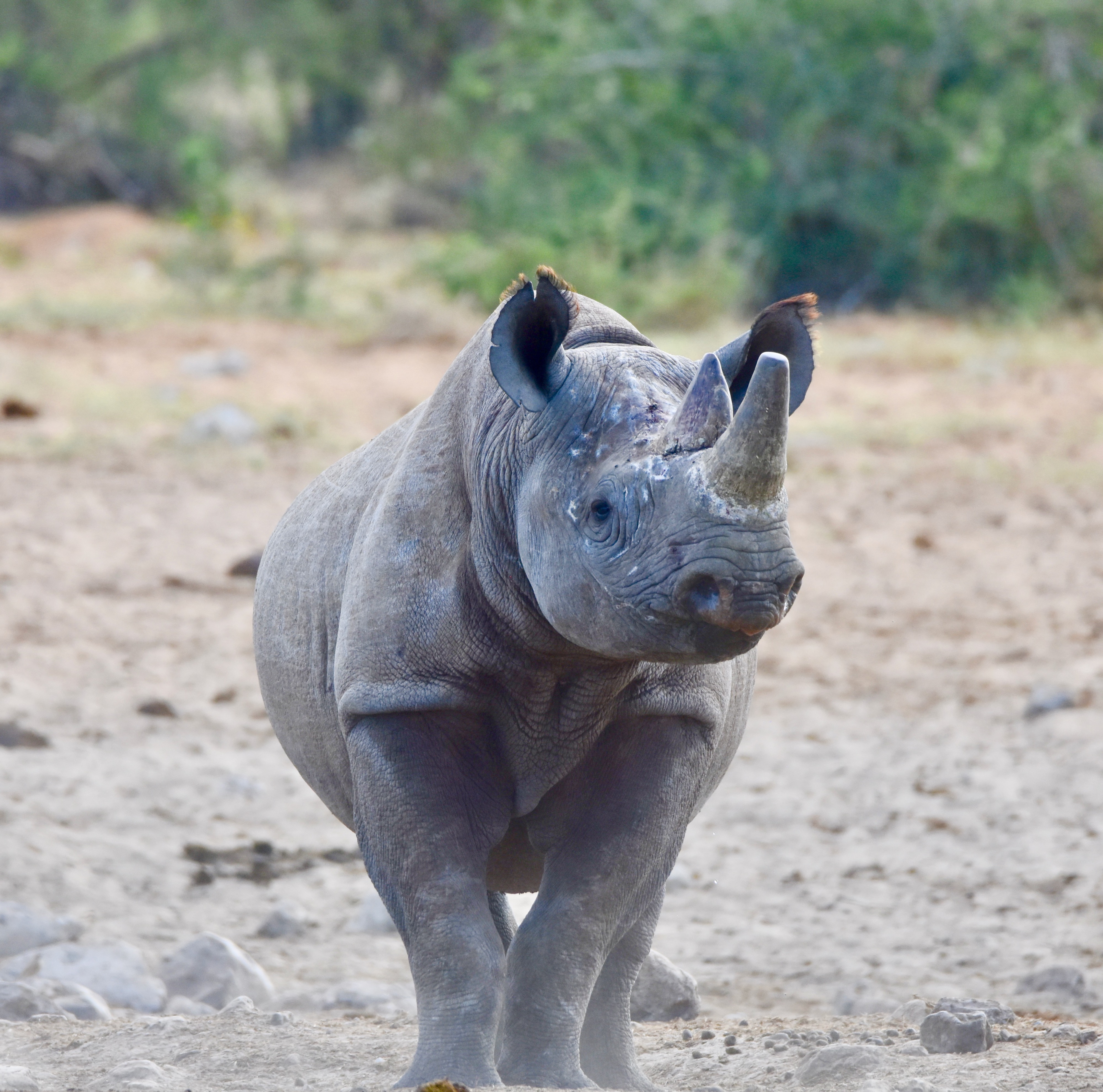 Here's a wide-angle of Tsacor water hole after the rhinos left and a giraffe, several oryx and a herd of zebras arrived.

They are very wary of the elephant and very slowly approach the water hole.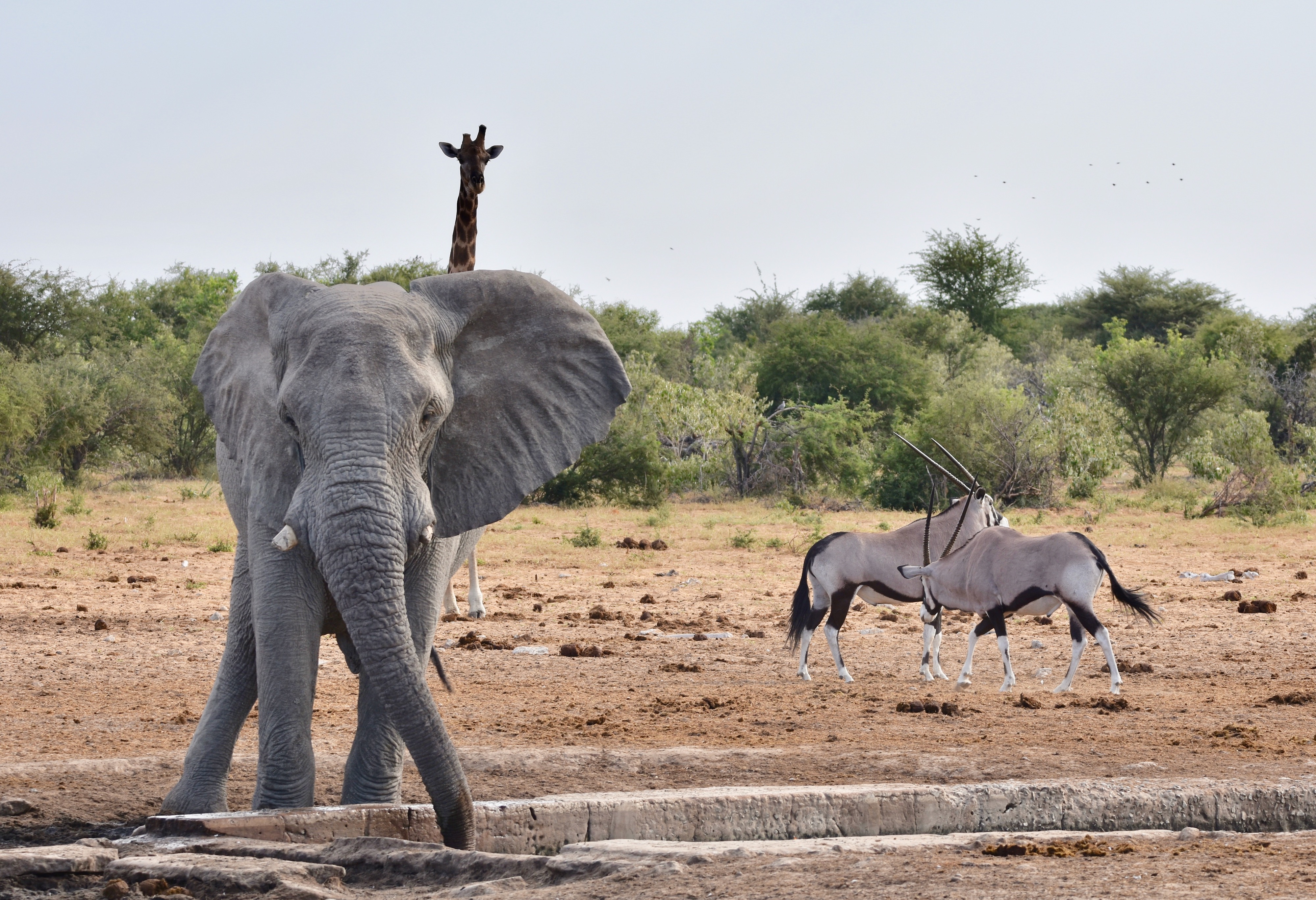 None of the other animals are going anywhere near that lone elephant.

Next a very unusual thing happened – the elephant got driven away by a flock of tiny birds. Whydah birds are amazing to watch. They have impossibly long tails compared to their body size and in flight look more like giant dragonflies than birds. A huge flock of them descended on the mud beside the concrete basis and began fluttering up and down. If you look closely at this photo you'll see little specks all around the elephant that are whydah birds. For some reason this really seemed to bug the elephant and he trotted off in a huff, leaving the water hole open to all the other would be drinkers.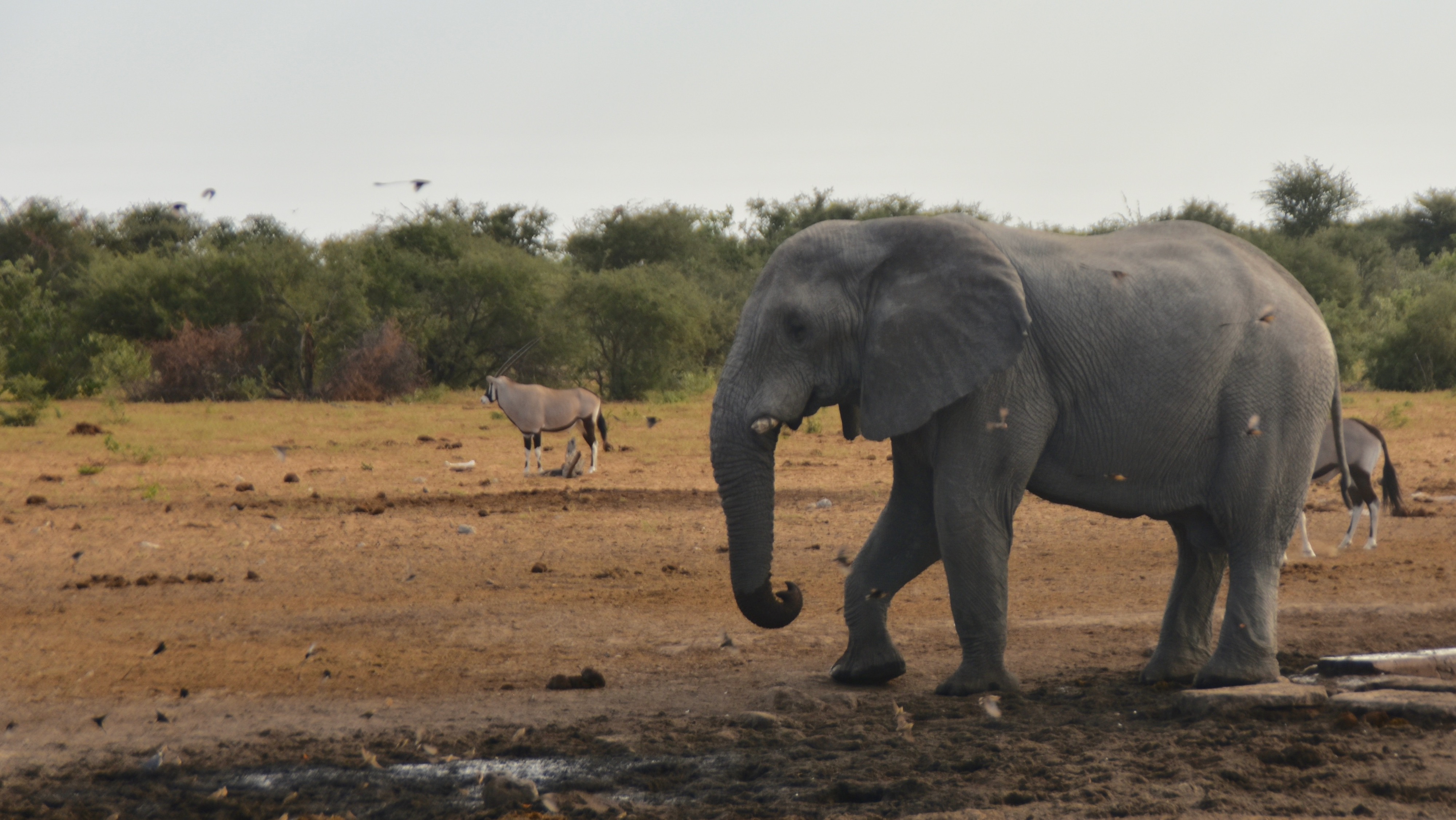 This is the best shot I could get of a pair of shaft-tailed whydah birds.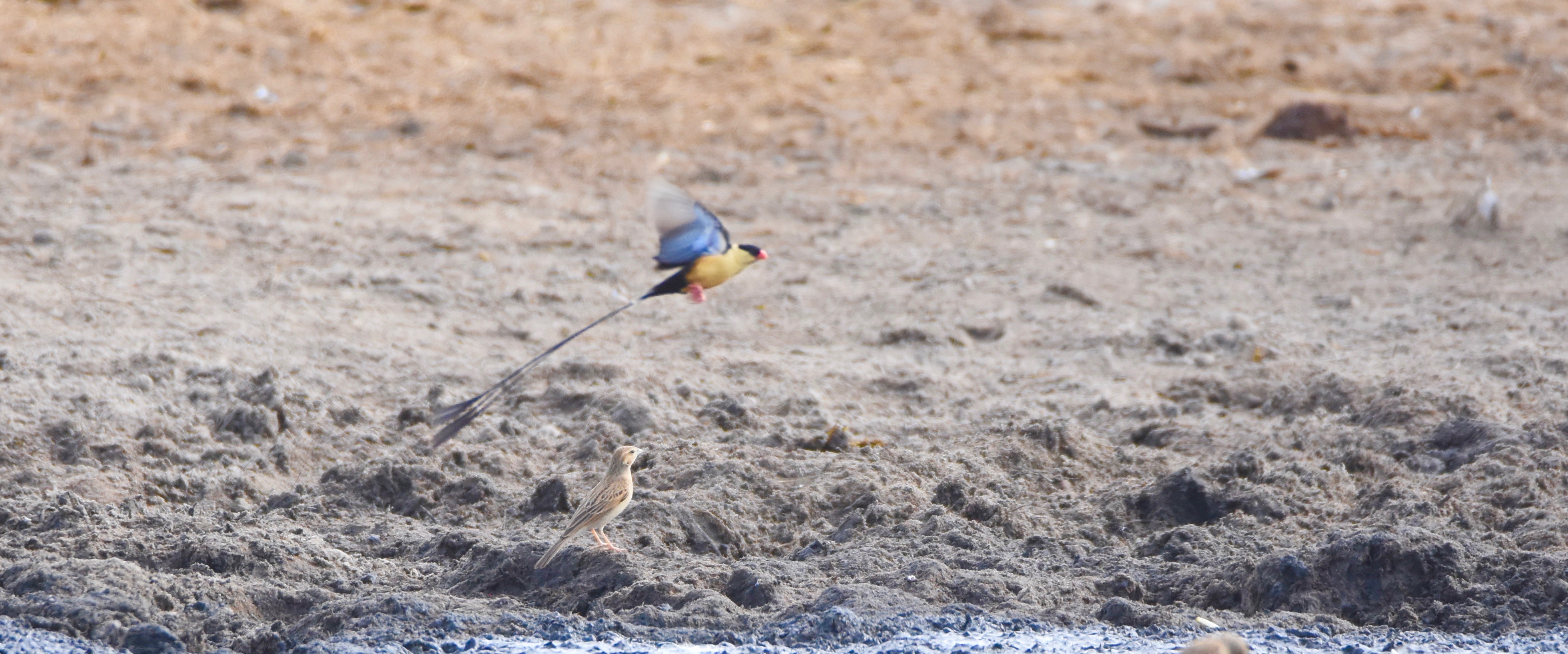 Not far from the water hole we found the first of the day's mandatory lion sighting with this lioness sheltering under a bush. She does not look one bit menacing, just a giant putty tat, but we know from yesterday's evidence that looks are deceiving.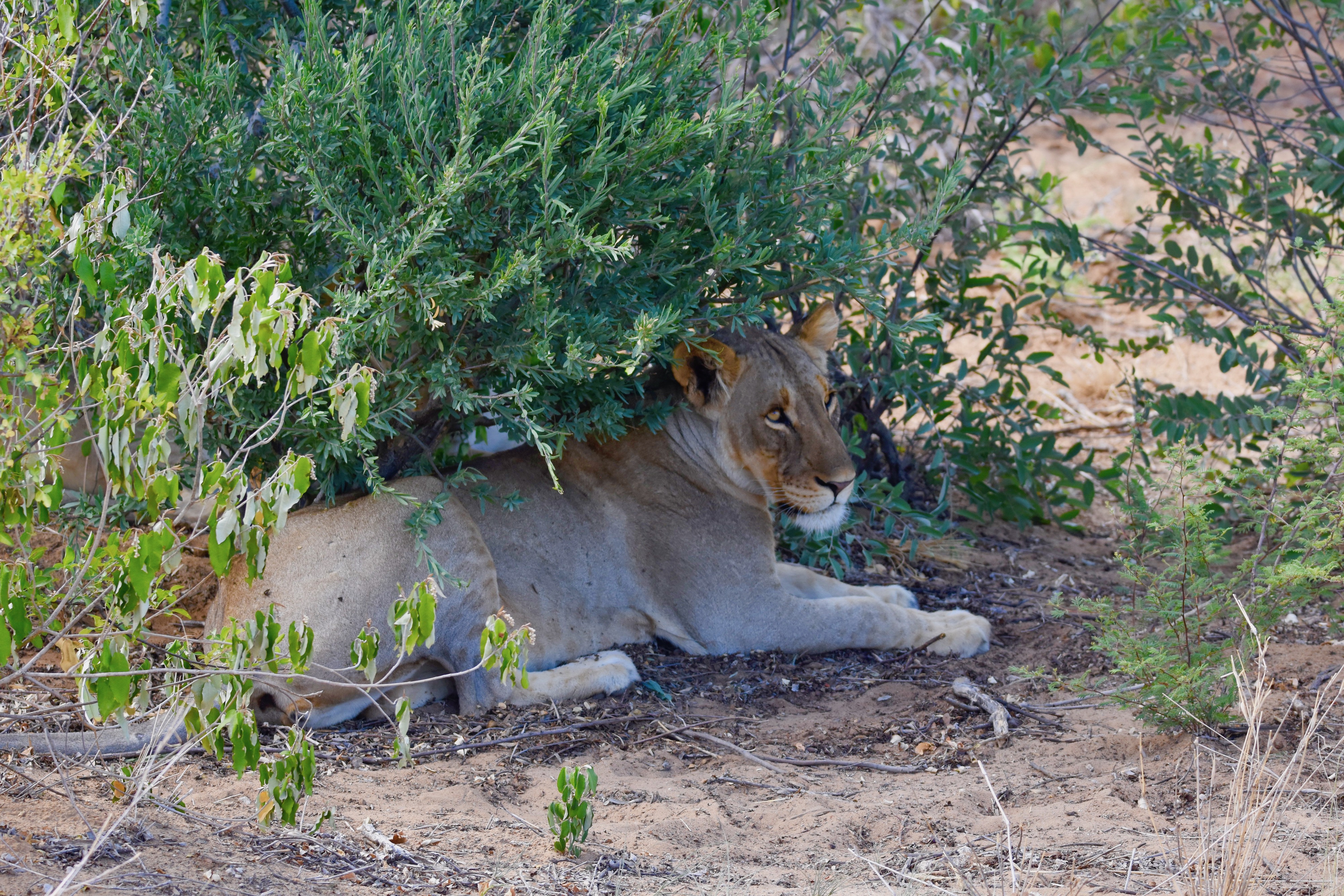 And we'll end this game drive with another birding first, at least for me, a purple roller.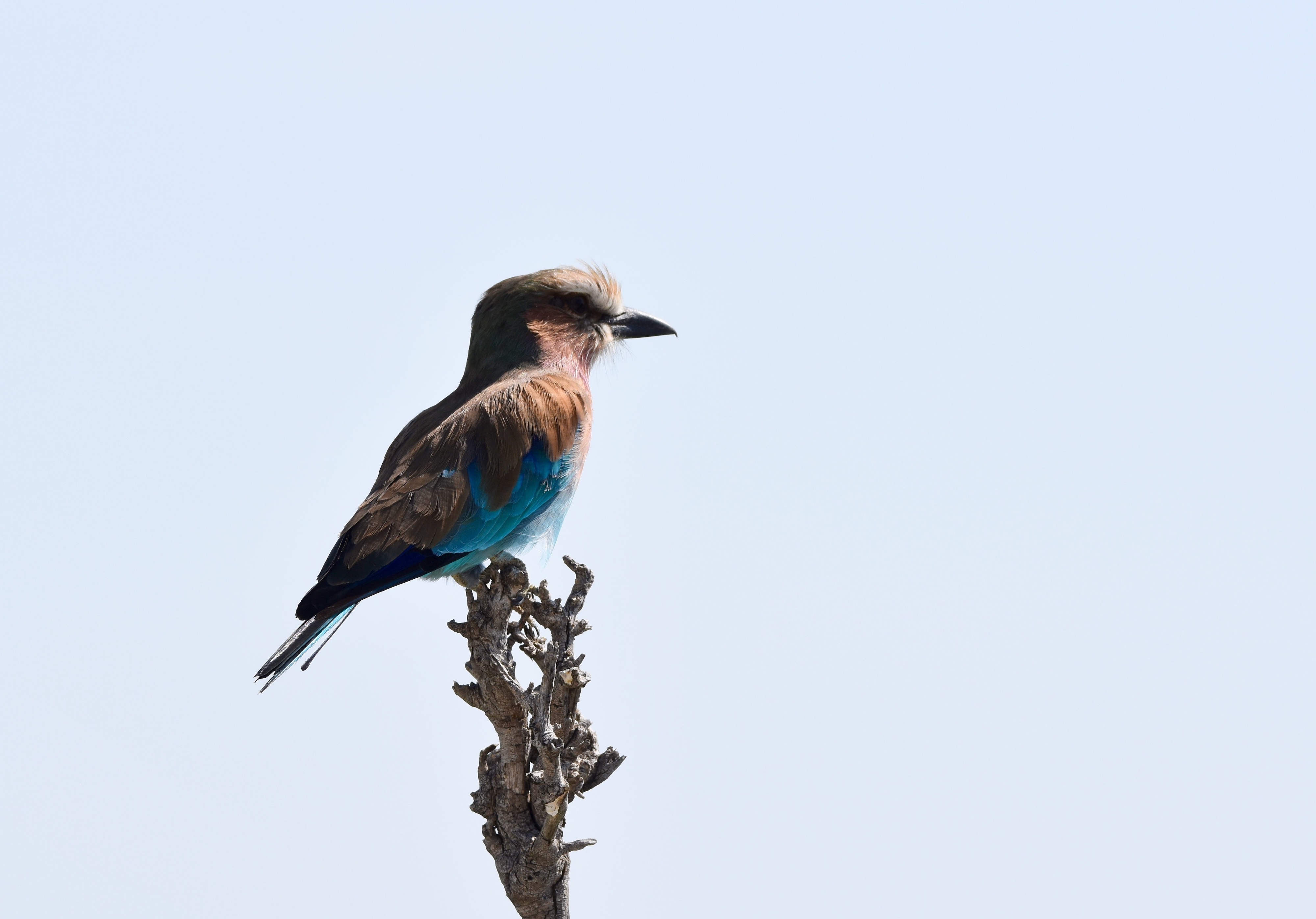 Etosha Water Holes – Game Drive Four
We returned to Mushara for lunch and a chance to relax around the pool before going on our final game drive in Etosha and the last of the trip.
This time we focussed more on the areas very close to the salt pans and once again saw species not encountered on the first three drives, like this secretary bird, so named because of the feathers that sticks up from the back of their heads. Before modern pens were invented, secretaries used feather quills and often stuck them in their hair when not in use. These birds are quite unique in their habit of walking the grasslands in search of their favourite prey – snakes, including cobras, but they will also prey upon another snake killer, the mongoose.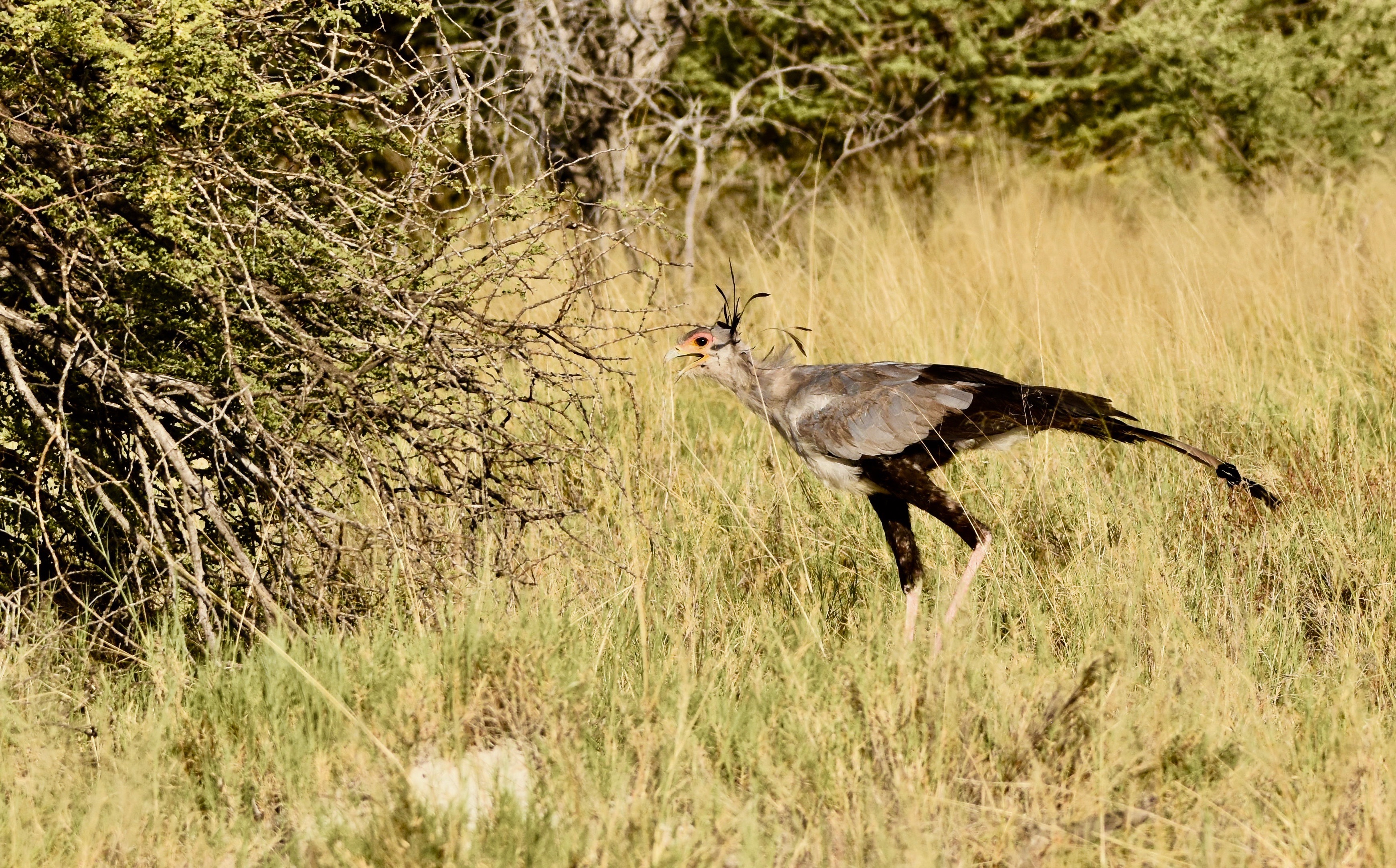 Another first was this pygmy falcon which is found in the scrub lands and savannah southwest Africa and northeast Africa, but nowhere in between. As the name implies, they are the smallest of the many falcons, eagles and raptors found on the continent.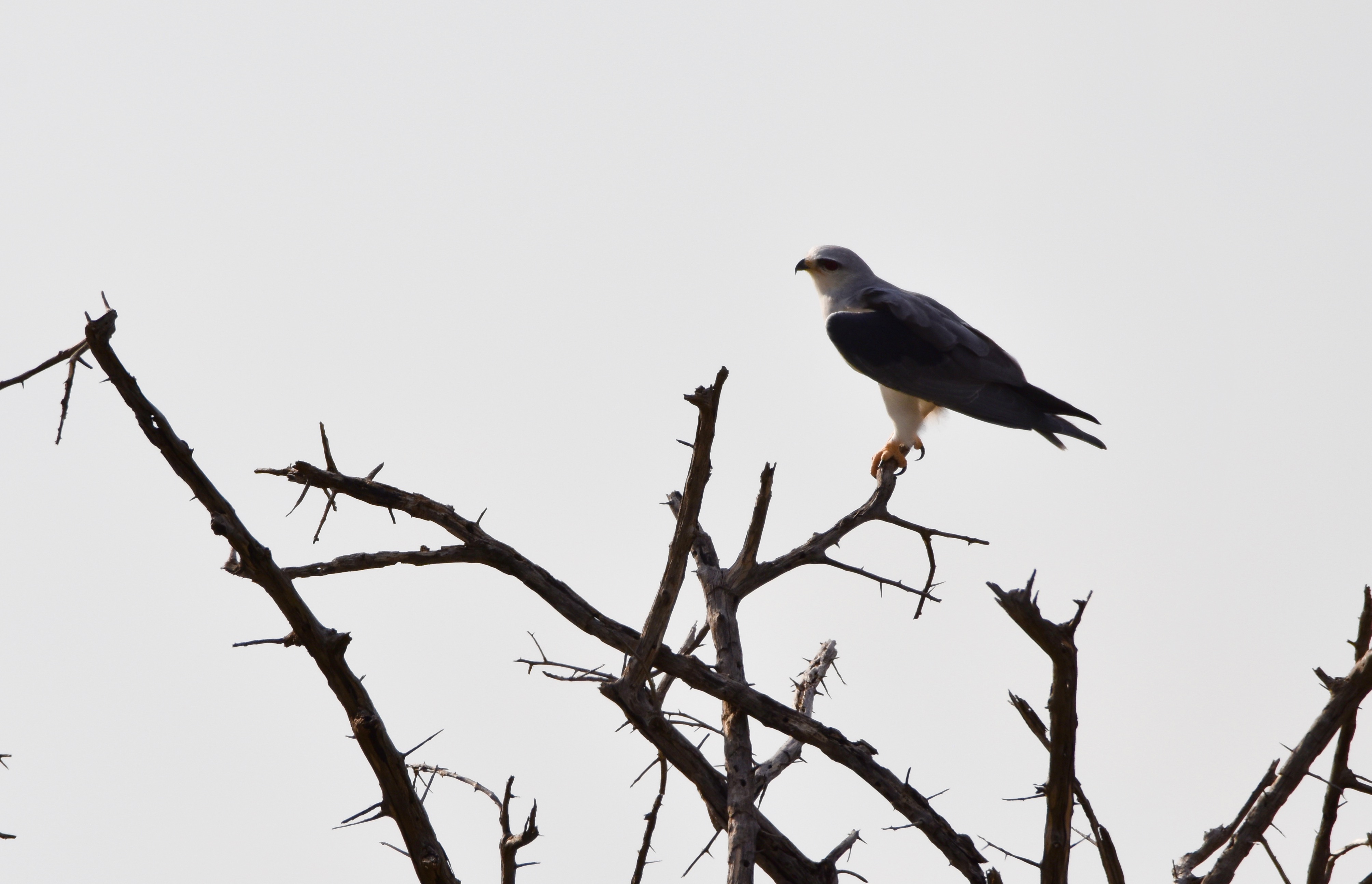 The real excitement of this last game drive was at one of the natural water holes in Etosha. When we arrived there were a number of animals drinking and one hyena almost completely hidden in the mud. Then, almost as if Perez and Gerhardus had called to them , a herd of elephants came tearing out of the bush, trumpeting as they came. I've seen lots of wild elephants before, but never seen them actually making a racket to announce their presence.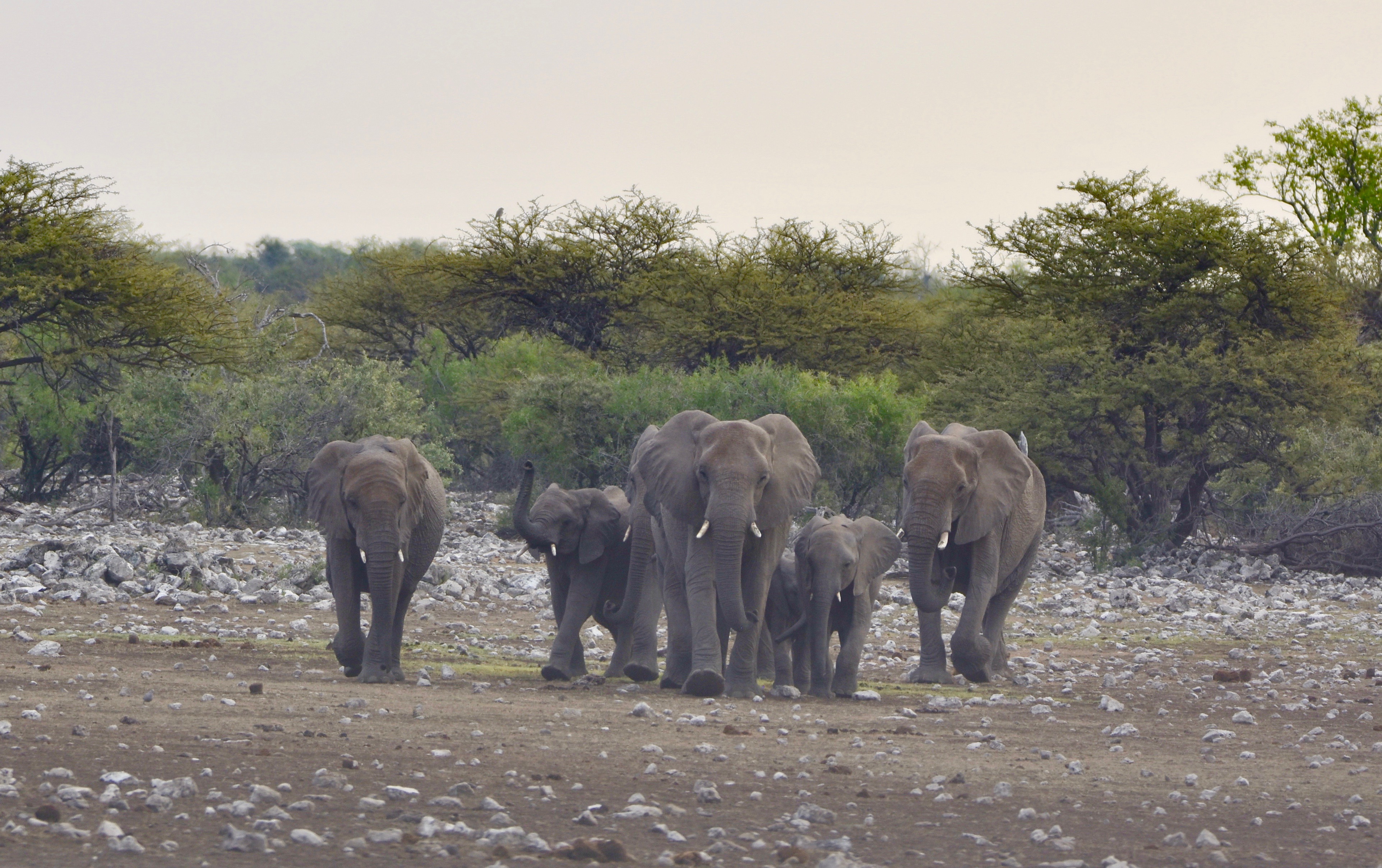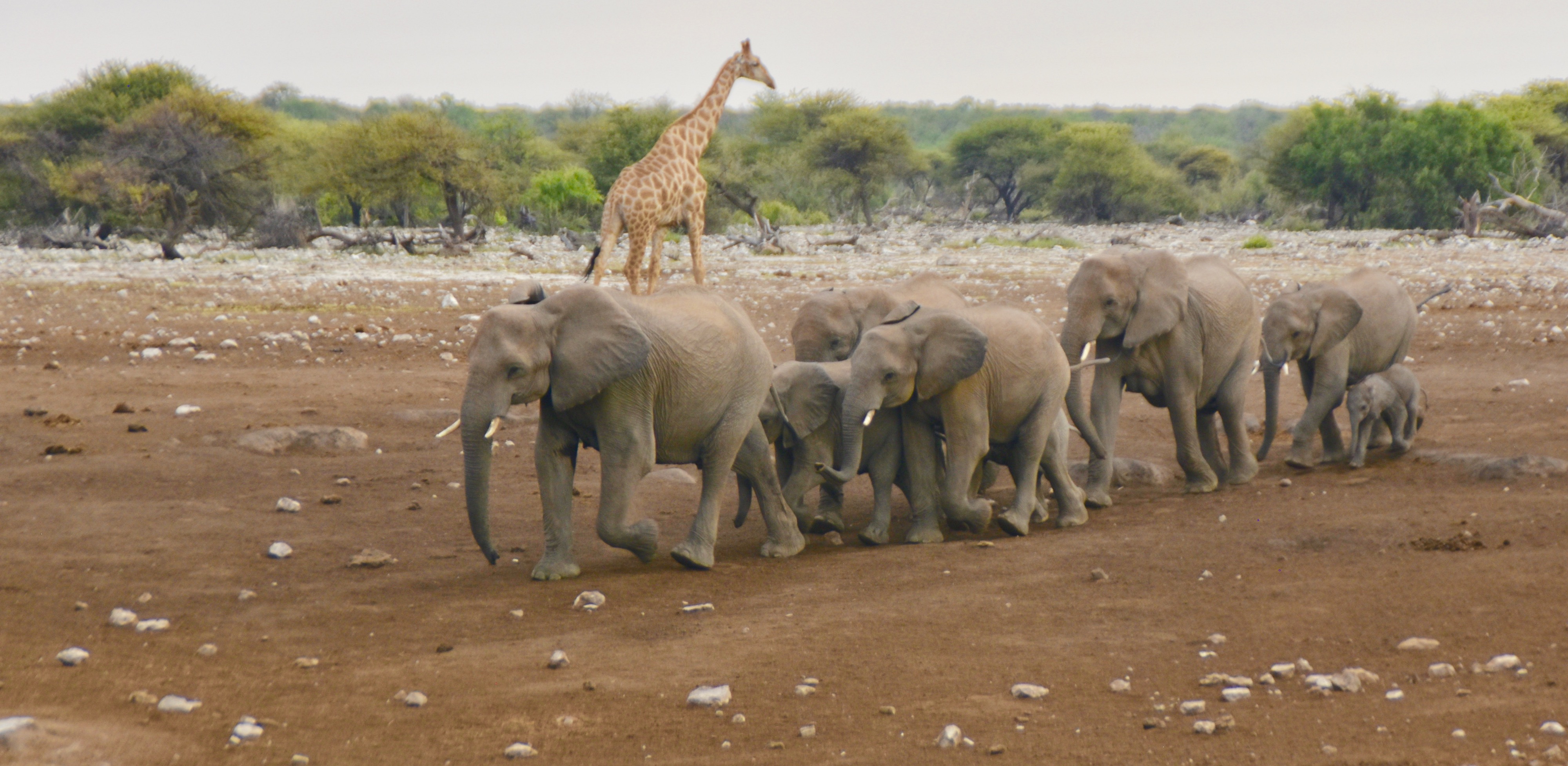 Needless to say, every animal that was in or near the water hole took off as fast as they could. However, the hyena was so deep in the mud that it looked like he was about to get trampled. If you look closely at this photo you'll see him just freeing himself from the mud and making his escape.
The elephants all took their time drinking and then the smaller ones indulged in mud baths.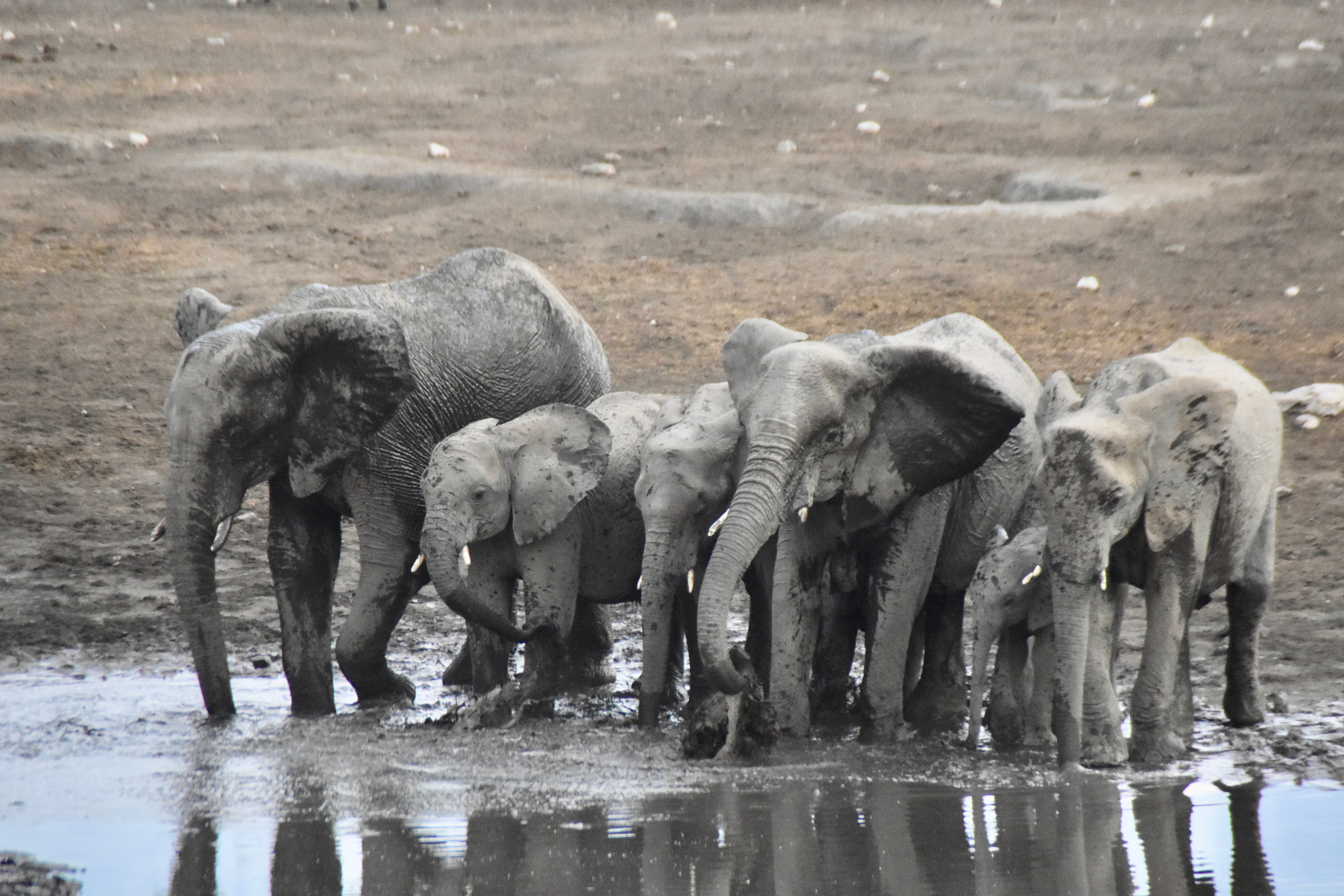 After about fifteen minutes the elephant parents dragged the young ones from the mud and headed out, much to the relief of the many other animals that had been waiting their turn.

None were more happy than these ten giraffes that had been waiting patiently for the elephants to leave.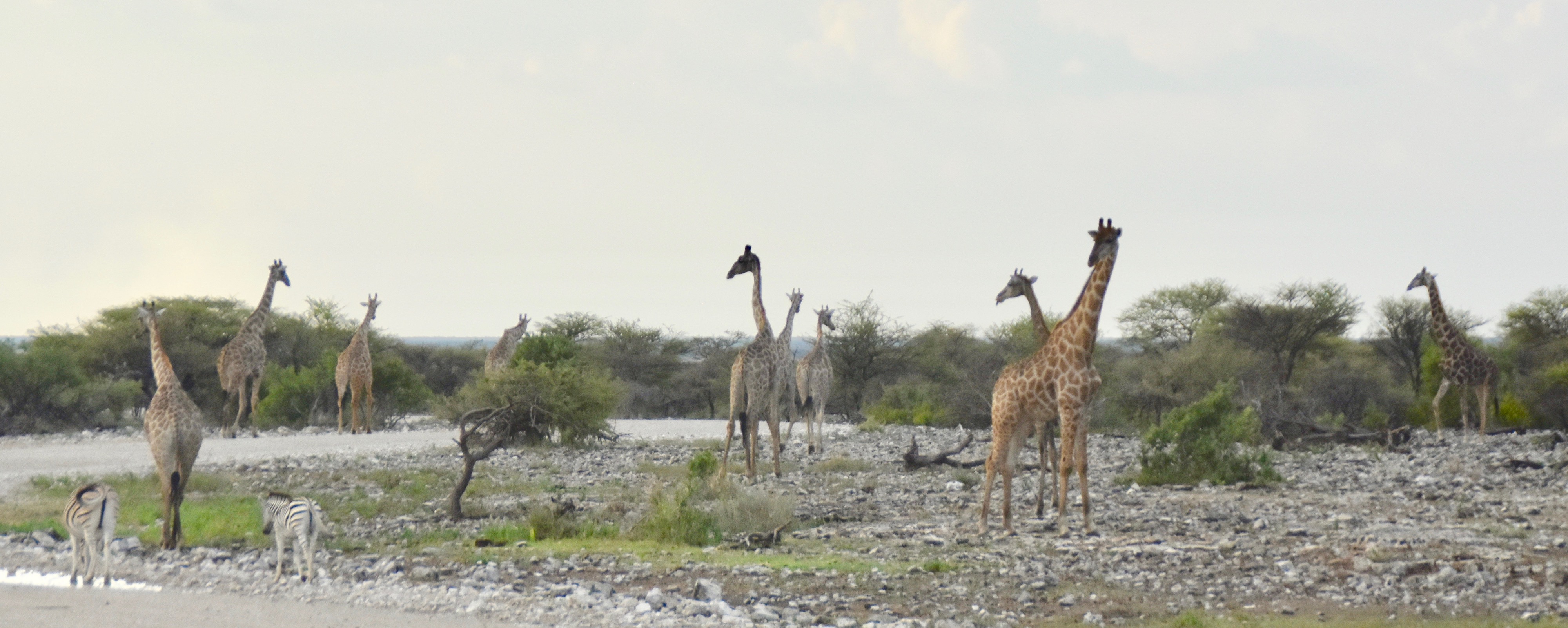 By now it was getting close to dark and we turned the Land Cruisers to go back to our lodge. There was only one problem – the elephants decided that they would use the road for their trip to wherever they were going for the night. One thing you don't do is try to steer a vehicle between a herd of elephants, so we were stuck in an elephant roadblock. I can think of a lot worse things in life. Actually it was pretty funny. How do you explain to the folks who have dinner waiting back at the lodge that you were late because of an elephant blockade? Sounds a bit like, "The dog ate my homework".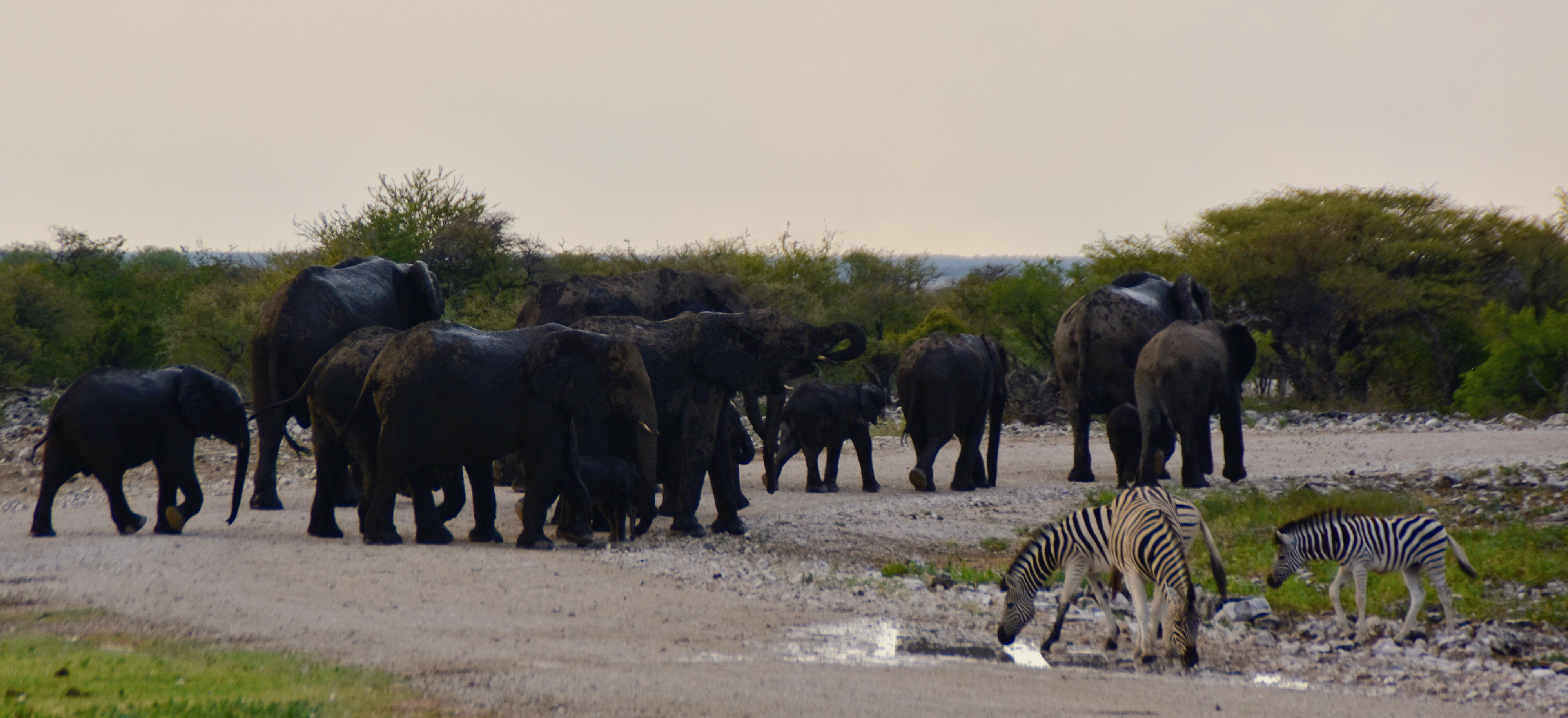 The elephants finally walked off stage in what, in retrospect, was a pretty neat way to end our wildlife viewing in Namibia. We did get back just a few minutes before the gates to Etosha were being closed for the night and had a great outdoor meal at Mushara for our final night in Etosha.
The next day we drove back to Windhoek and Galton House for the final night. We had a final meal at the Stellenbosch Wine Bar which I would highly recommend to anyone looking for a good restaurant in the Namibian capitol.
Sadly, this will be the last post on what has been fabulous trip to this lesser visited African nation. Adventures Abroad, as always in my experience of traveling with them for almost twenty years, put together an itinerary with great variety led by two great guides, Perez Kamakuenjanje and Gerhardus Jansen. Gabriela Rodriguez from head office in British Columbia was along to make sure everything went smoothly and it did.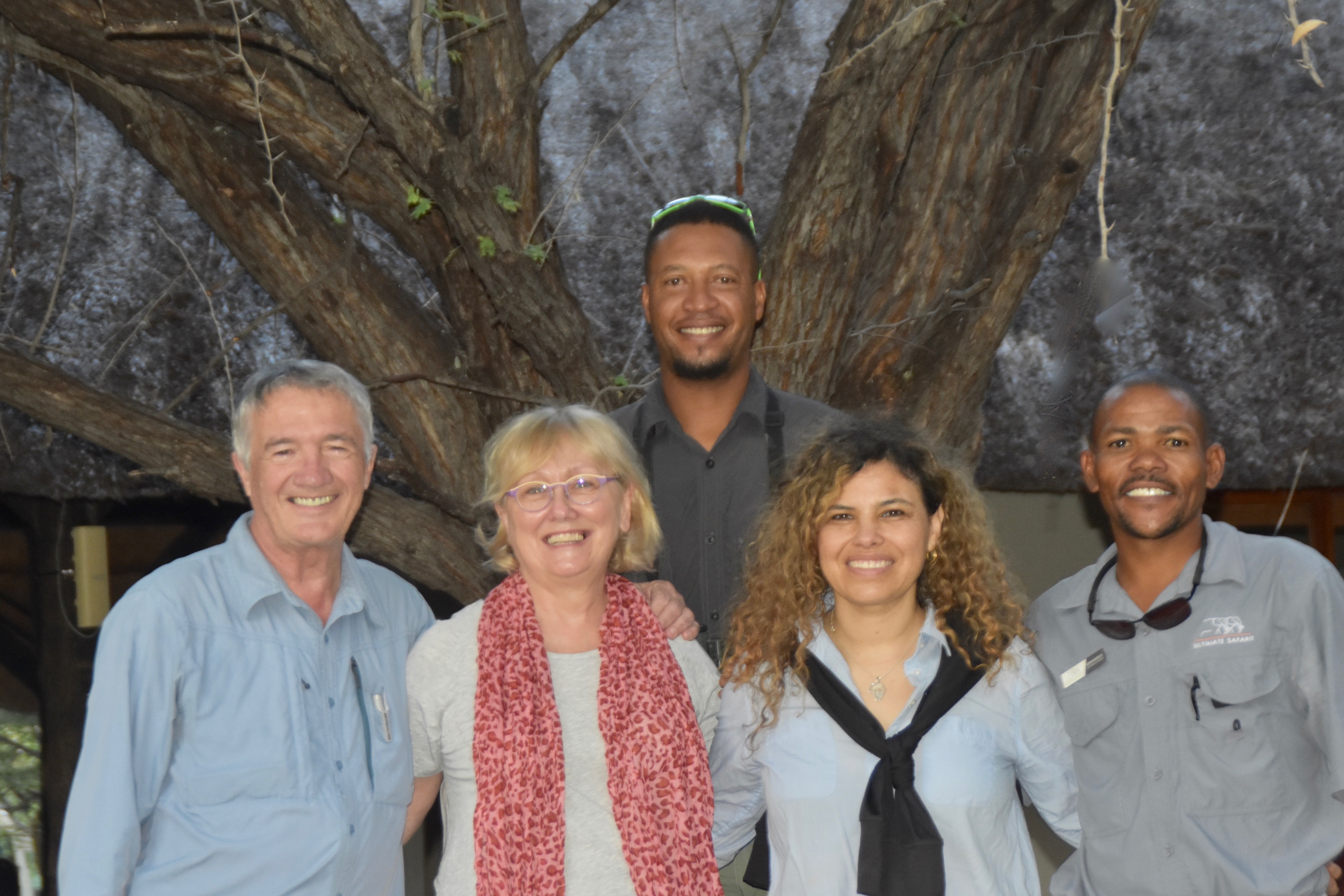 However, the good news is that the African sojourn is not over. Alison and I, along with a few others will be continuing on to Victoria Falls in Zimbabwe and then Botswana. We hope you'll come with us.