Crowbush Cove – PEI's Finest Golf at this Rodd Resort
Originally I wrote this post about playing Rodd Resort's three great golf courses in Prince Edward Island- Brudenell River, Dundarave and the Links at Crowbush Cove. Since then I have created separate posts on Brudenell River and Dundarave, so have pared this post down to just Crowbush Cove. Here's why I have come to appreciate a course I once loathed.
I used to despise the Links at Crowbush Cove. The carries were too long, the 11th hole ridiculous and the mosquitoes at times unbearable. While I can forgive Highlands Links for not being a true links course, I was not prepared to provide the same indulgence to Crowbush Cove. Then a funny thing happened last week – despite playing in a mild drizzle most of the day, I saw the course for the first time as it was meant to be played – a very tough proposition under normal seaside conditions, but enjoyable if you don't expect to shoot your usual score. In other words – accept the inevitable – the course is going to win. For some reason, maturity or senility perhaps, I actually loved the course on my recent round.
My original opinion of Crowbush Cove is not shared by many. It currently ranks #40 in Canada on the recently released 2020 ScoreGolf top 100 rankings of Canadian courses, but down considerably from its ranking as high as #14 in former years. This makes it the No. 1 course in PEI which has a lot of great courses. When first built Crowbush Cove was pretty well in the middle of nowhere with Cavendish and Green Gables well to the west and the courses at Brudenell River well to the east. Now there is a resort on site, but frankly I think there is a lot more to do at Brudenell River resort than at Crowbush, so I would stay there and drive the 20-30 minutes to Crowbush Cove. That being said I have not stayed on site and I do know that if you like beach walking then Crowbush Cove has it all over Brudenell River.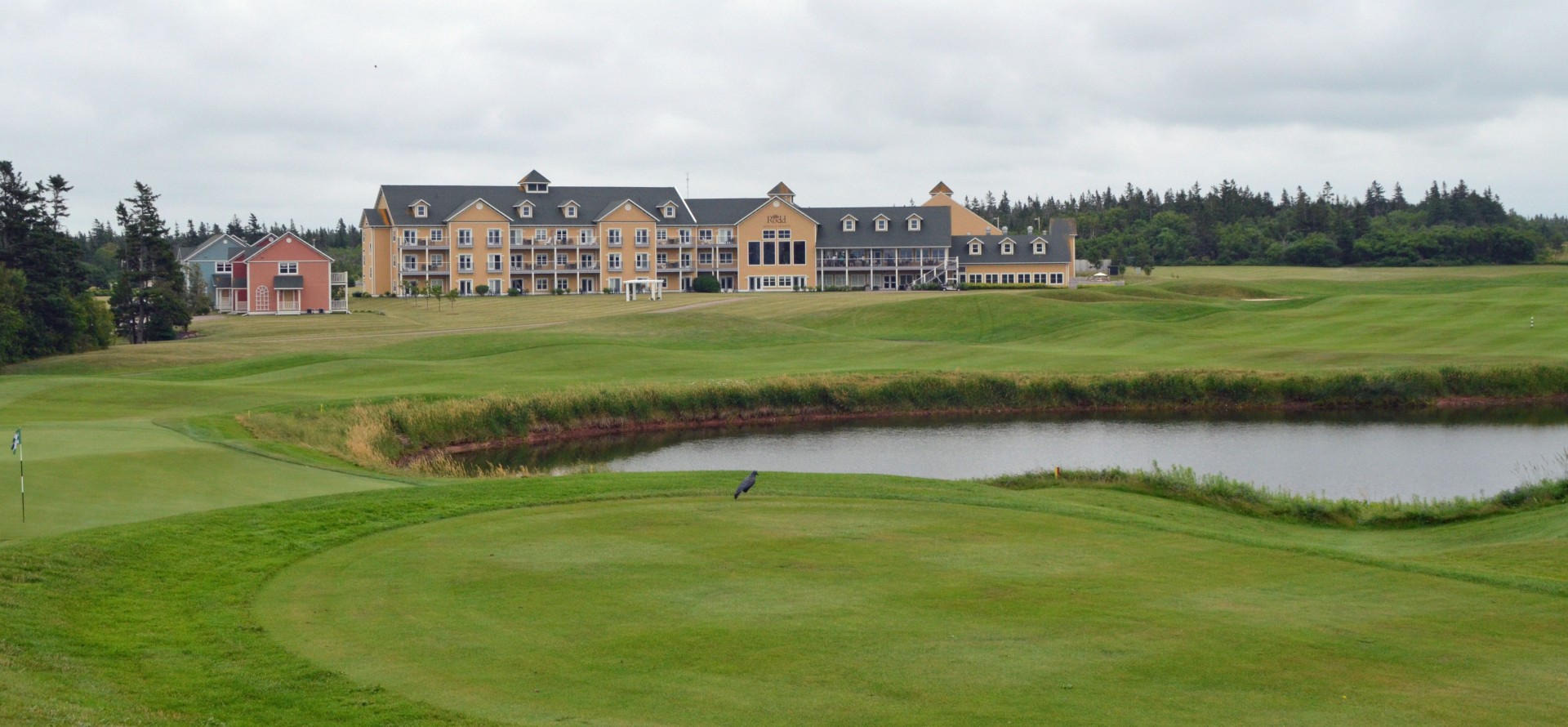 The clubhouse at Crowbush Cove sits on the highest point of land on the front nine and is clearly visible from quite a few holes. The course itself starts out fairly benignly with three not too interesting holes. What you will notice are the undulating greens and excellent fairways. The trees surrounding most of the course are ugly black spruce that thrive in this part of coastal PEI – nothing like the lovely hardwoods found at Brudenell River. However, they do add to the difficulty as finding a wayward ball is well nigh impossible.
The course really begins at #5 Forerunner which is an incredibly tough, but fair par 5 that requires a great drive, a great second shot that, depending on the wind could be anything from a three wood to seven iron and a precise shot to the green over what seems like at least 100 yards of water. It is a memorable hole where six is a good score and a true forerunner of what is to come. Next up is one of the best par 3's you'll find anywhere. It's not long, but is all carry over a marsh full of cattails. #6 Cattails is the first of a series of long water carries off the tee, usually into the wind coming right at you off the Gulf of St. Lawrence. Make it over these carries on 7,8,14 and 16 and you will score well. These are really test your mettle holes.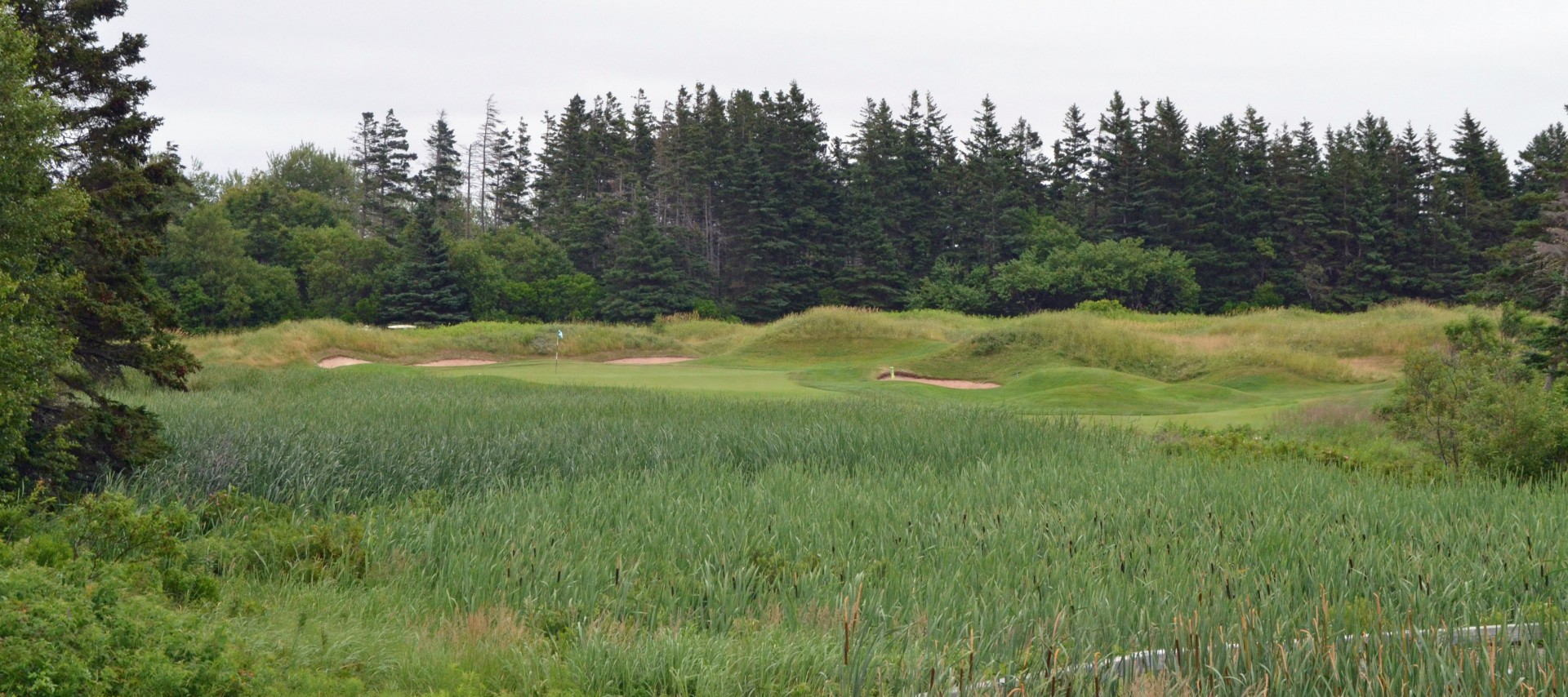 #7 Breakers is a great par 4 that requires a long carry into the oncoming wind. However, if you make it then par should be the reward.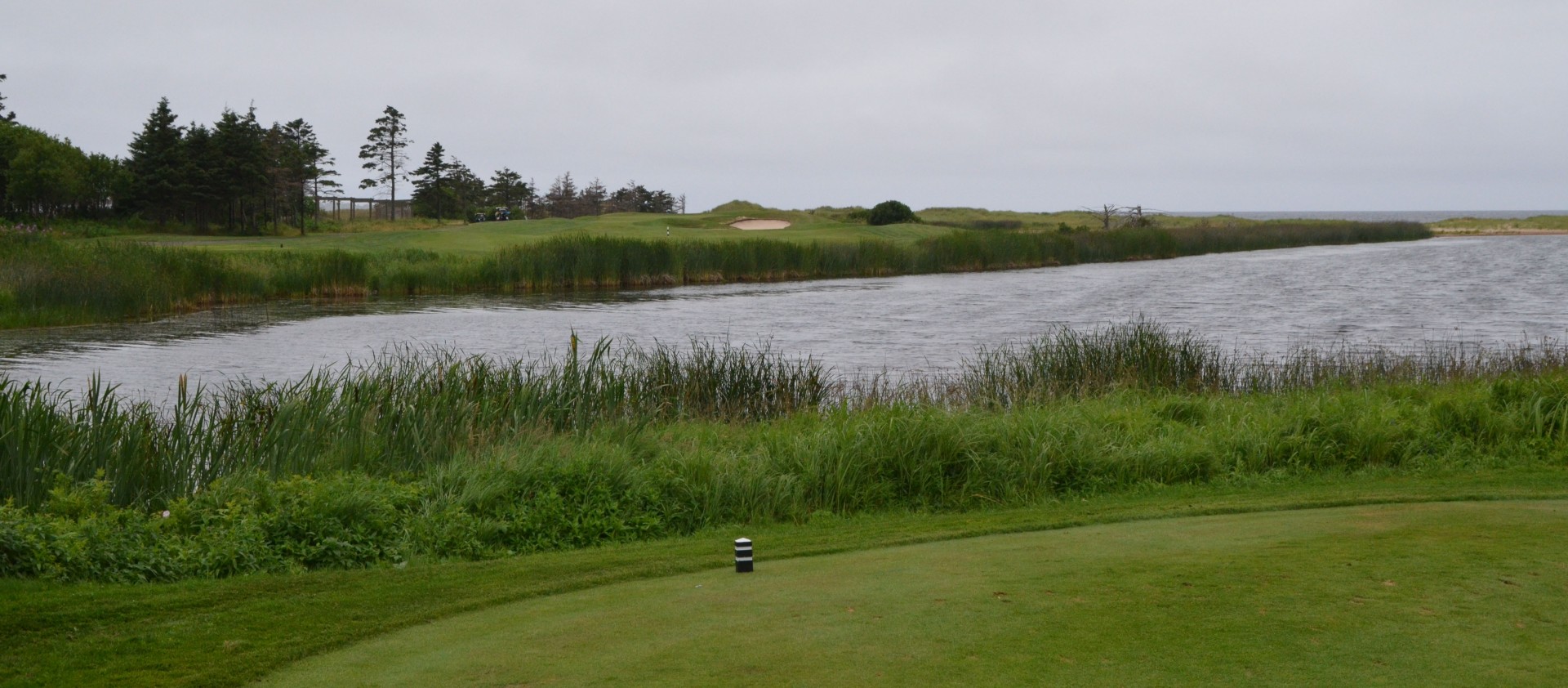 Next up is Pinnacle Dune another par 3 with a long water carry. In the past I have gone through holes 5-8 losing balls in the water on every hole. Last week I lost only one (on 5) so that may explain my belated benevolence to the course.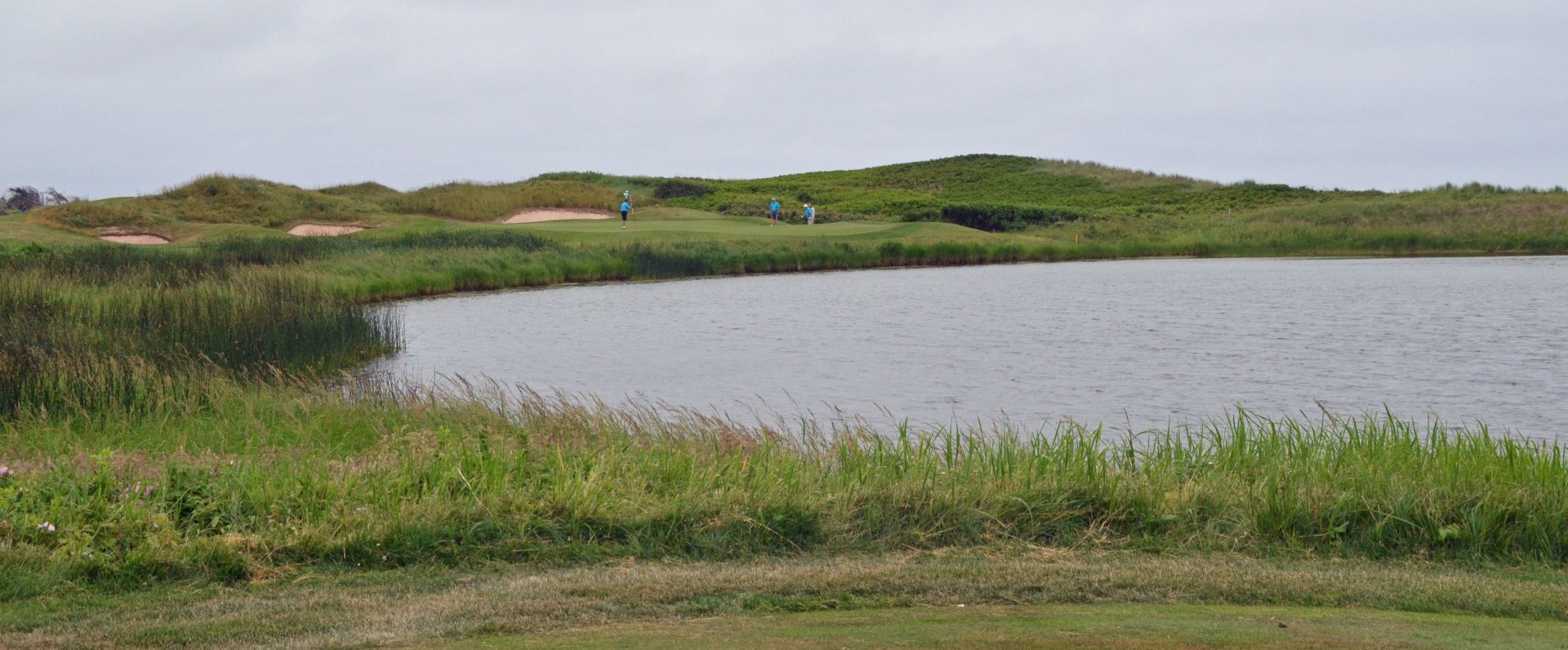 The view back along the famous PEI sand dunes from #9 tee is exceptional and the one most often seen in Crowbush ads and yes there is a real Crowbush Cove.

#11 Sully's Run is still a stupid hole, but if you play here make sure you walk up to the championship tee box high atop the dunes for an unbelievable panorama of the course in front and the ocean behind. You might as well hit from here because no matter how long you hit it, the only thing you can do is layup with your second – often just a wedge. The problem is the third shot which is an incredibly long carry to a small green. Just the look of it intimidates all but the longest hitters. If six is a good score on #5, then 7 is here, because you almost certainly will lose a ball or two.
The carry off the tee on #14 Seaward Bound is horrendous, but what a high if you make it. Here is Mike 'The King' Argand about to make the effort. My lips are sealed as to whether he made it or not.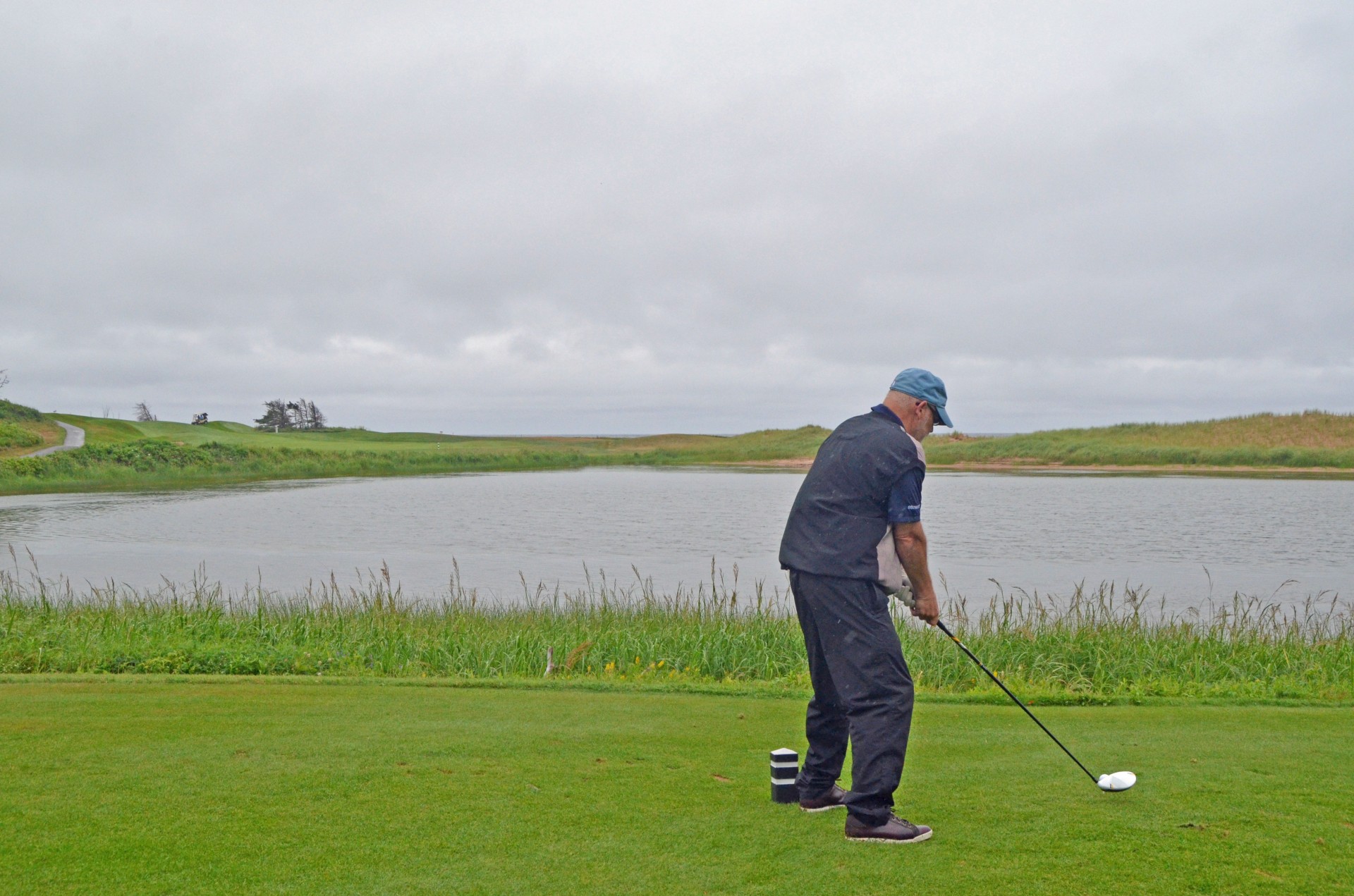 #17  Flying Jib is one of the toughest short par threes you'll find anywhere. Usually it's an uphill blind shot and guessing the right club is a chore. It may only be 97 yards, but I've seen lots of 5's or worse on this hole. #18 Crow's Nest is a welcome sight as you head for home and the second floor balcony of the clubhouse from where you can sip a beer and watch your other companions wrestle with this brute of a course.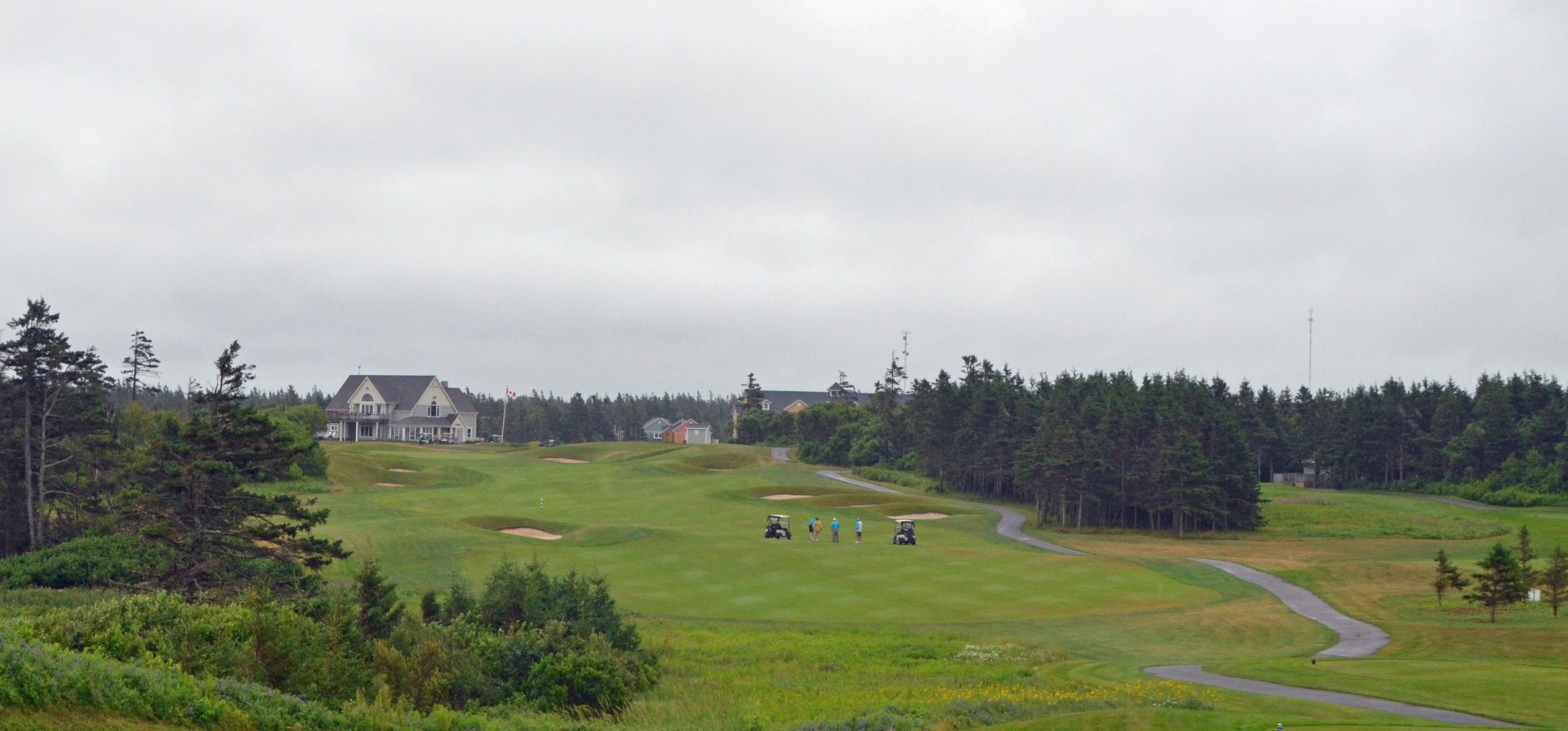 While Crowbush is not a true links course, it has a number of holes that definitely have the links look and is a dramatic change from most PEI courses. While PEI calls itself The Gentle Island, there is nothing gentle about Crowbush Cove. This time I came prepared for a battle that I didn't expect to win, so losing was, to steal from Shakespeare, 'sweet sorrow'.
I can't finish this post without a picture of myself in finest athletic mode as I toss the washer in the finals which, alack, I came up on the short end of an 11-10 score. Still silver is a better colour than bronze or none. Cheers from PEI!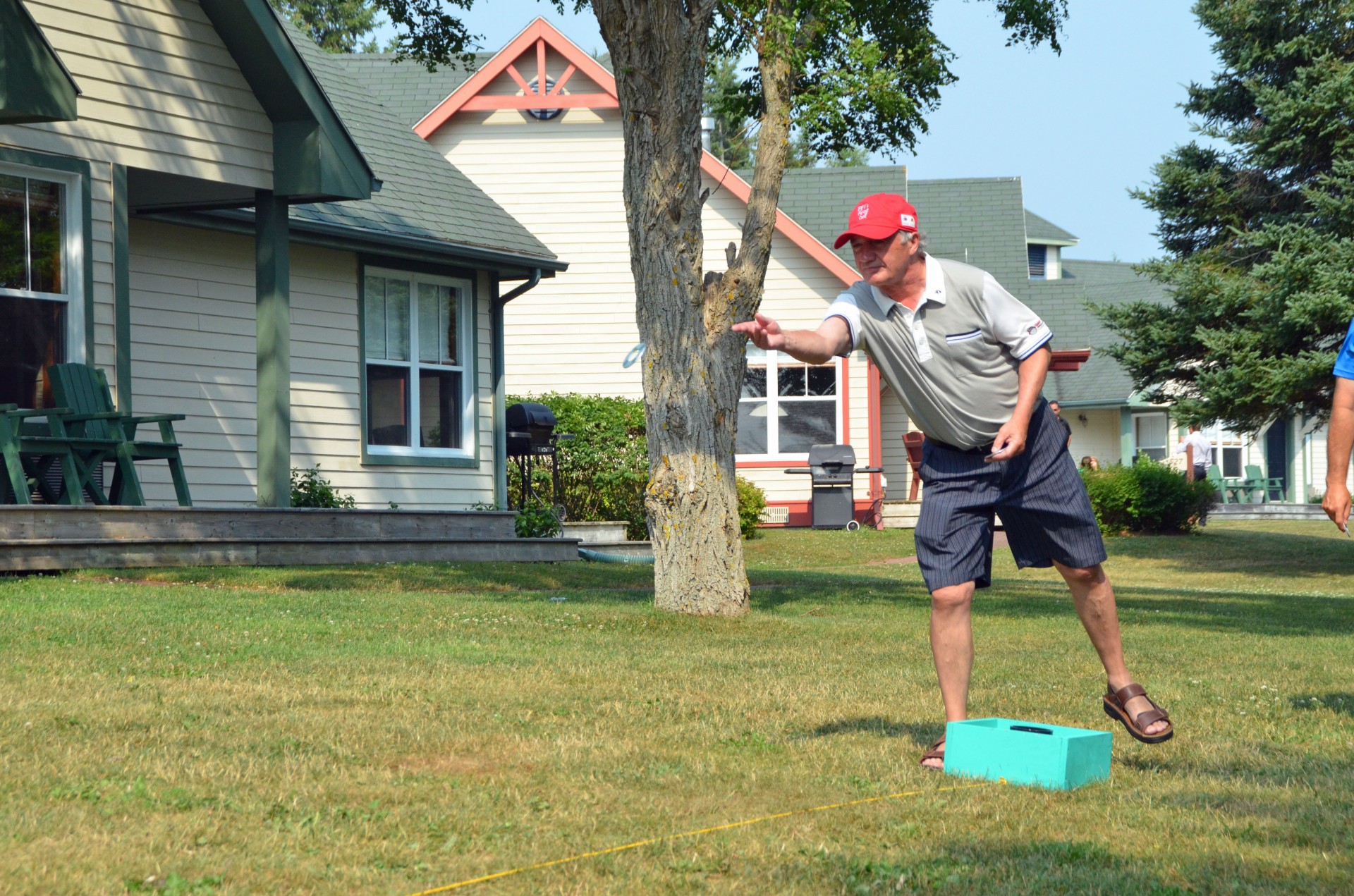 If you aren't interested in golf then wait for my next post which will be a report on a planned expedition to mysterious Isle Haute.
If you are interested in golf join me at the RBC Canada Cup to be held next week at my home course Ashburn.