Highlands Links – Stanley Thompson's Masterwork
Stanley Thompson is, without question, Canada's most well known, most prolific and most respected golf architect. The creator of over 150 golf courses, most in Canada, he was a cofounder of the American Society of Golf Architects and even has his own society of dedicated followers intent on preserving his legacy. Beginning in 1924 with Jasper Park Lodge he designed or consulted on the creation of a series of eight national park golf courses that are now considered a national treasure. Three of these courses are in Score Golf's Top 100 in Canada including Jasper Park at #3, Banff Springs at #6 and Highlands Links at #9. There is a bit of irony in Highlands Links trailing its two Canadian Rockies rivals because they in turn trail the #1 course in Canada Cabot Cliffs which just happens to also be in Cape Breton as well as the #5 course Cabot Links both of which I played and reviewed earlier on this trip. Please join Alison, my daughter Lenore and me as we play what Mr. Thompson considered his masterwork.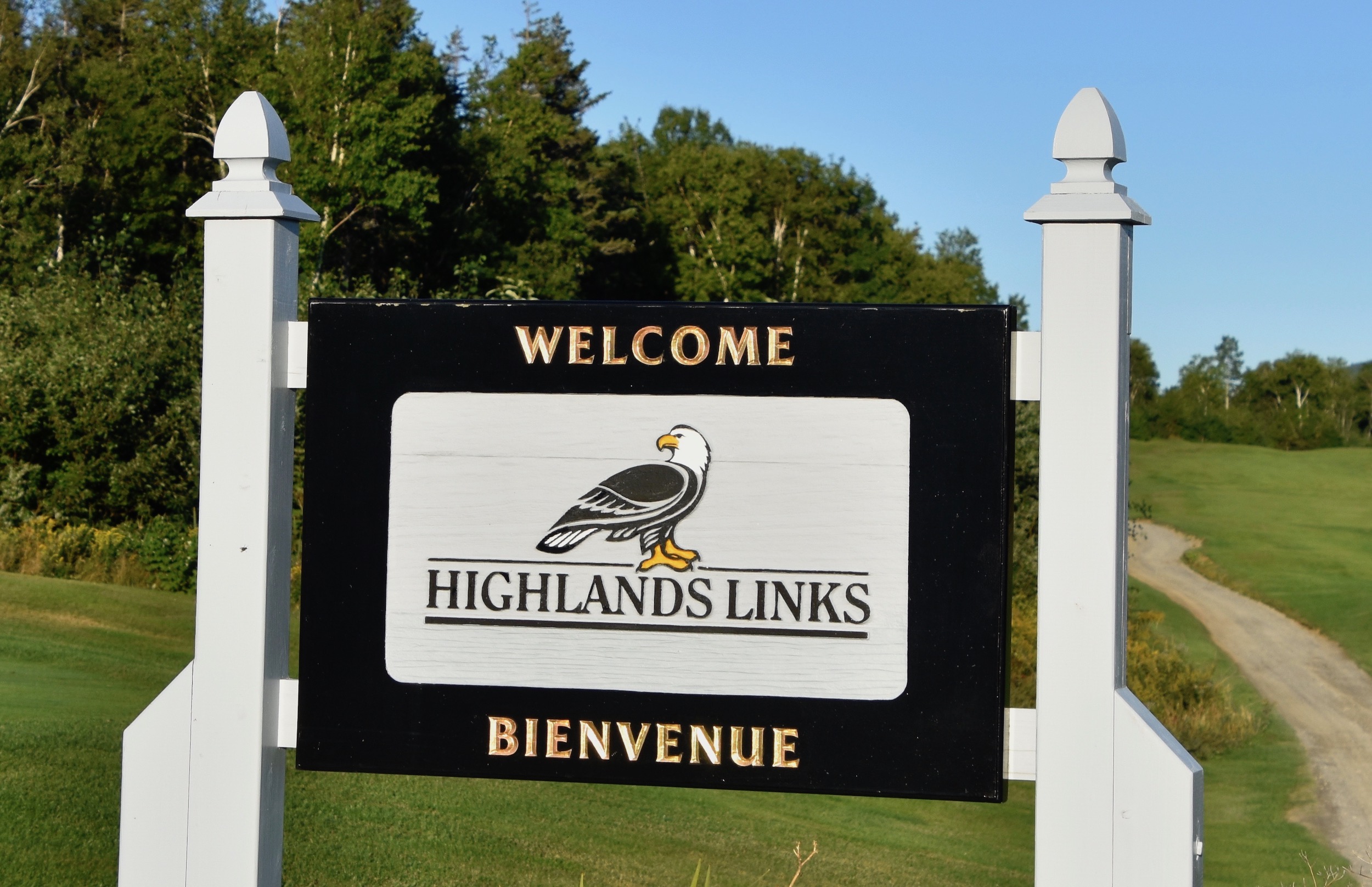 History of Highlands Links
Stanley Thompson started the course in 1939 and took two years to build it, having to bring much of the equipment needed for construction in by boat. Much of the actual labour was done by local men using picks, shovels, axes and saws. In 1936 the Nova Scotia government had expropriated a large property on the Middle Head Peninsula near Ingonish and built the majestic Keltic Lodge on site. The idea was that the golf course would be an ideal accompaniment to the luxury lodge and Thompson was instructed to start and end the course just below the lodge. Originally planned as only a nine hole layout, Thompson recognized that the terrain running from Middle Head down to the mouth of the Clyburn River and then along the stream as far as the base of Franey Mountain was so unique it demanded eighteen holes. Thankfully the National Park Service (now Parks Canada) agreed. Thompson called Highlands Links his 'mountains and oceans course' and considered it his finest achievement.
The first thing to acknowledge before you step foot on Highlands Links is that it is going to beat you up. It is a very difficult golf course with a slope rating of 135 from the white tees. Average slope rating is 120. Although only 6,592 yards from the tips there are tremendous elevation changes and in some cases mammoth distances between holes. For the first fifty years of its existence this was a walking only course. I remember playing it in the late 1970's, the 1980s and the 1990s and being totally exhausted both mentally and physically, but somewhat paradoxically perhaps, happy with my day. It is just such a beautiful course that no amount of fatigue or ridiculously high scores is going to ruin the experience. What can ruin the experience is the condition of the course which over the years has been an issue. Playing many different courses in all three Maritime provinces this drought stricken summer I have seen course conditioning range from superb at Dundarave to terrible at Digby Pines, another Stanley Thompson resort course. Hopefully Highlands Links will be in the shape it deserves to be to live up to its spectacular design.
We are fortunate with having the second tee time of the day with just a singleton out before us. I will be playing from the whites which are 6161 yards which is more than enough and yes we will be taking carts.
After checking in with the starter you are greeted on the first tee by Stanley himself, wearing a protective mask during the Covid 19 pandemic. Wouldn't want him catching it.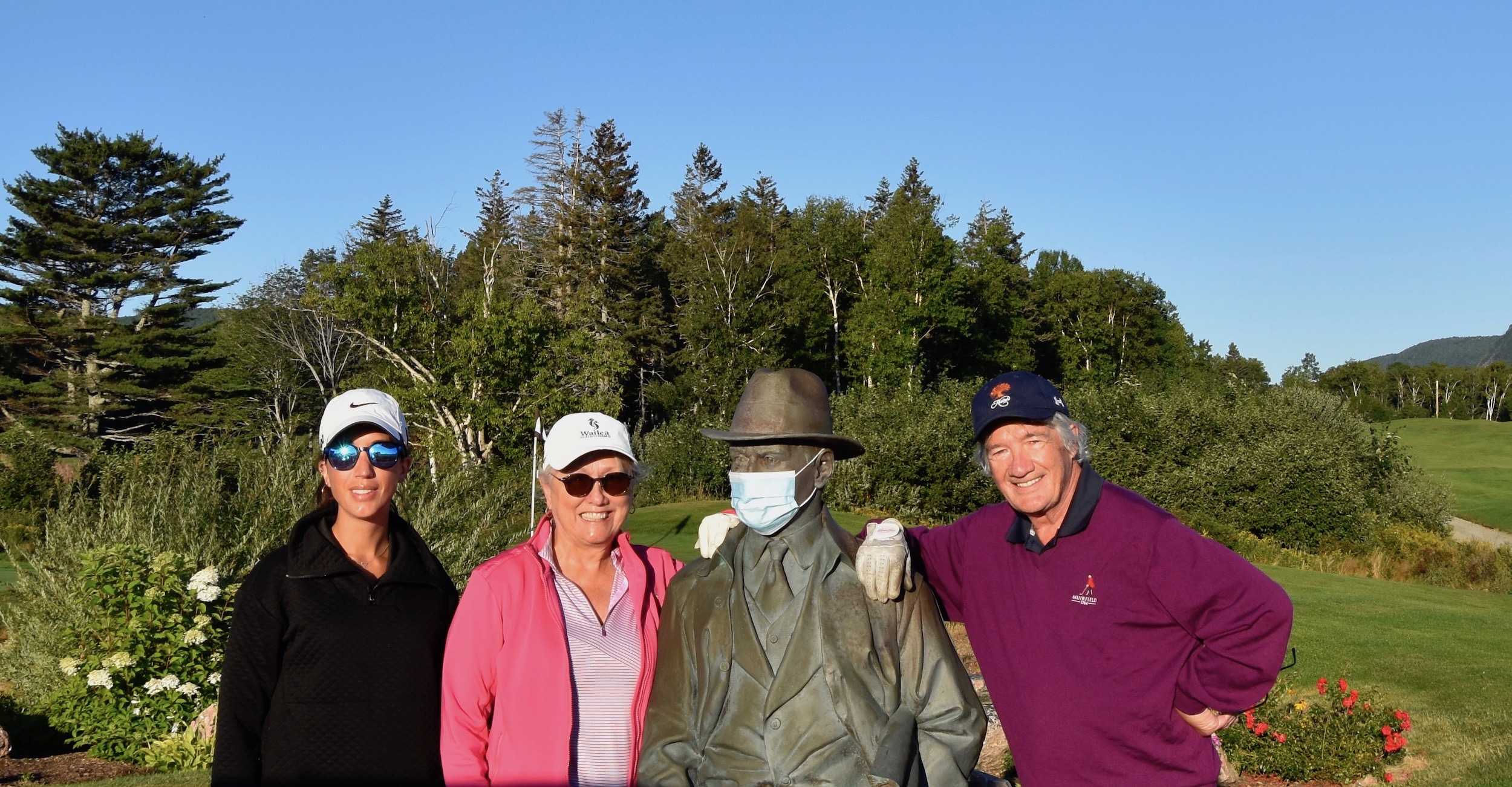 Highlands Links # 1 – Ben Franey – 397 Yard Par 4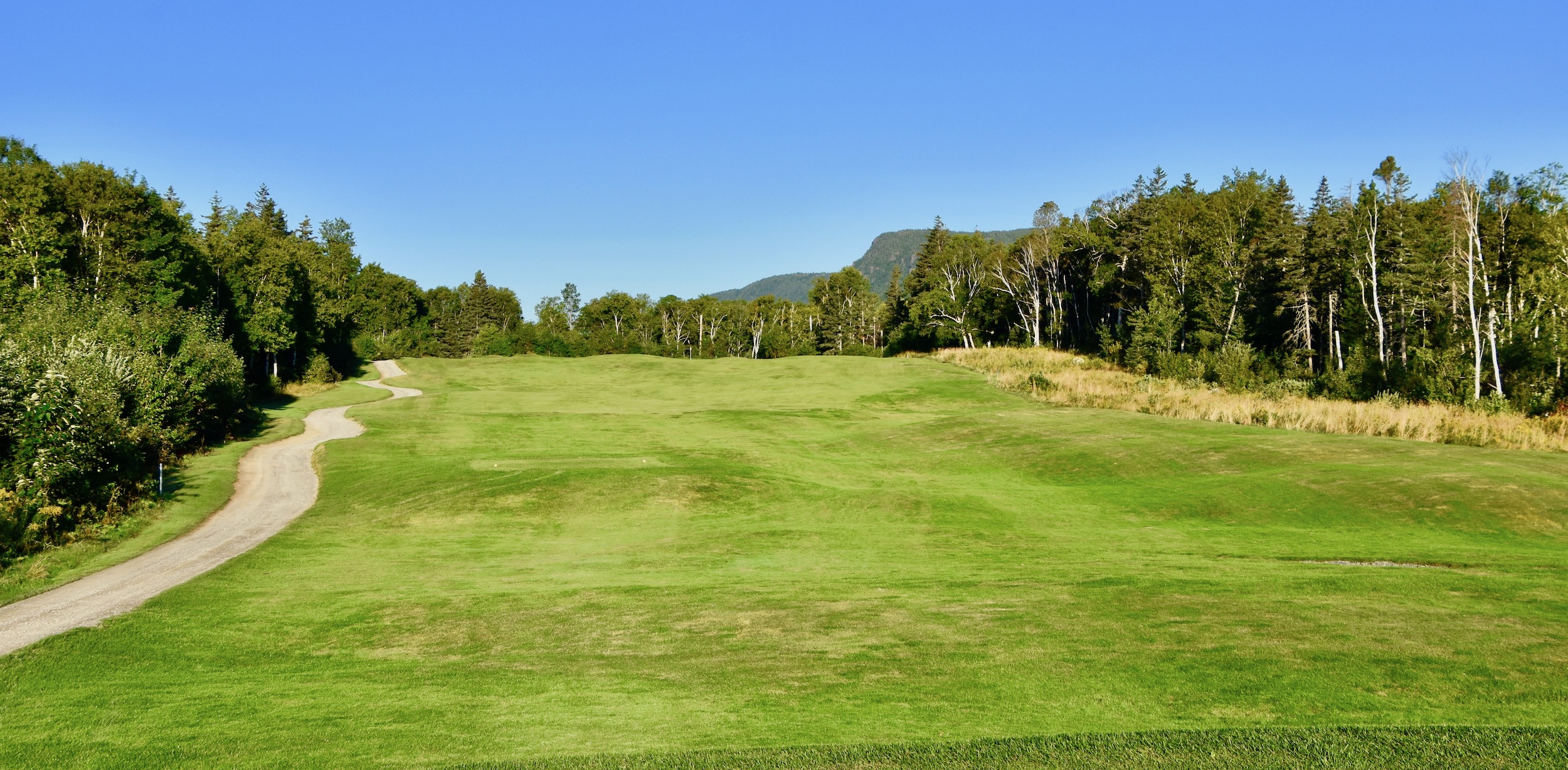 I love golf courses that give their holes names that have some significance that sometimes tells you something about the hole or something about the architect. Highlands Links is perhaps the best example of this that I know of. Ben Franey is the mountain you see in the distance, seemingly miles away. When I first started playing here there was a fire tower on top of it and I did not believe the person who told me that after nine holes I would be standing at the base of Ben Franey – that just sounded crazy, but it's true.
The first two holes at Highlands Links are brutal. This one plays uphill all the way making it far longer than its stated yardage. The good news is that the tee boxes are in very good shape and the fairway, at least this one, pretty good.
Reaching the green in three is pretty standard for a bogey golfer on this hole. More good news here as the greens are in excellent condition. Thompson uses subtlety in his greens rather than overwhelming you with swales and undulations or lightning speeds. His greens are much smaller than most modern architects and two putts are the norm if you read them correctly. Five is a very acceptable score on this starting hole.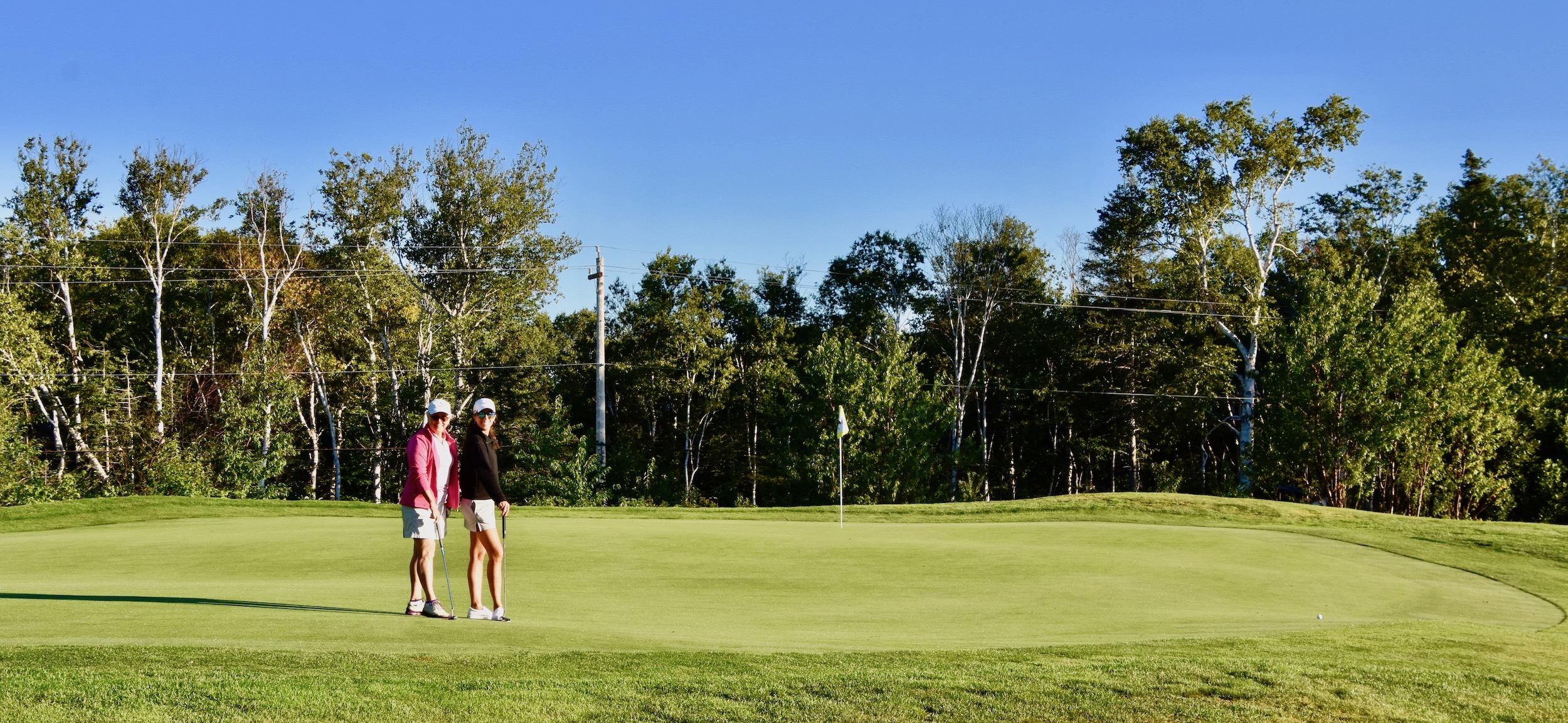 #2 Tam O'Shanter – 439 Yard Par 4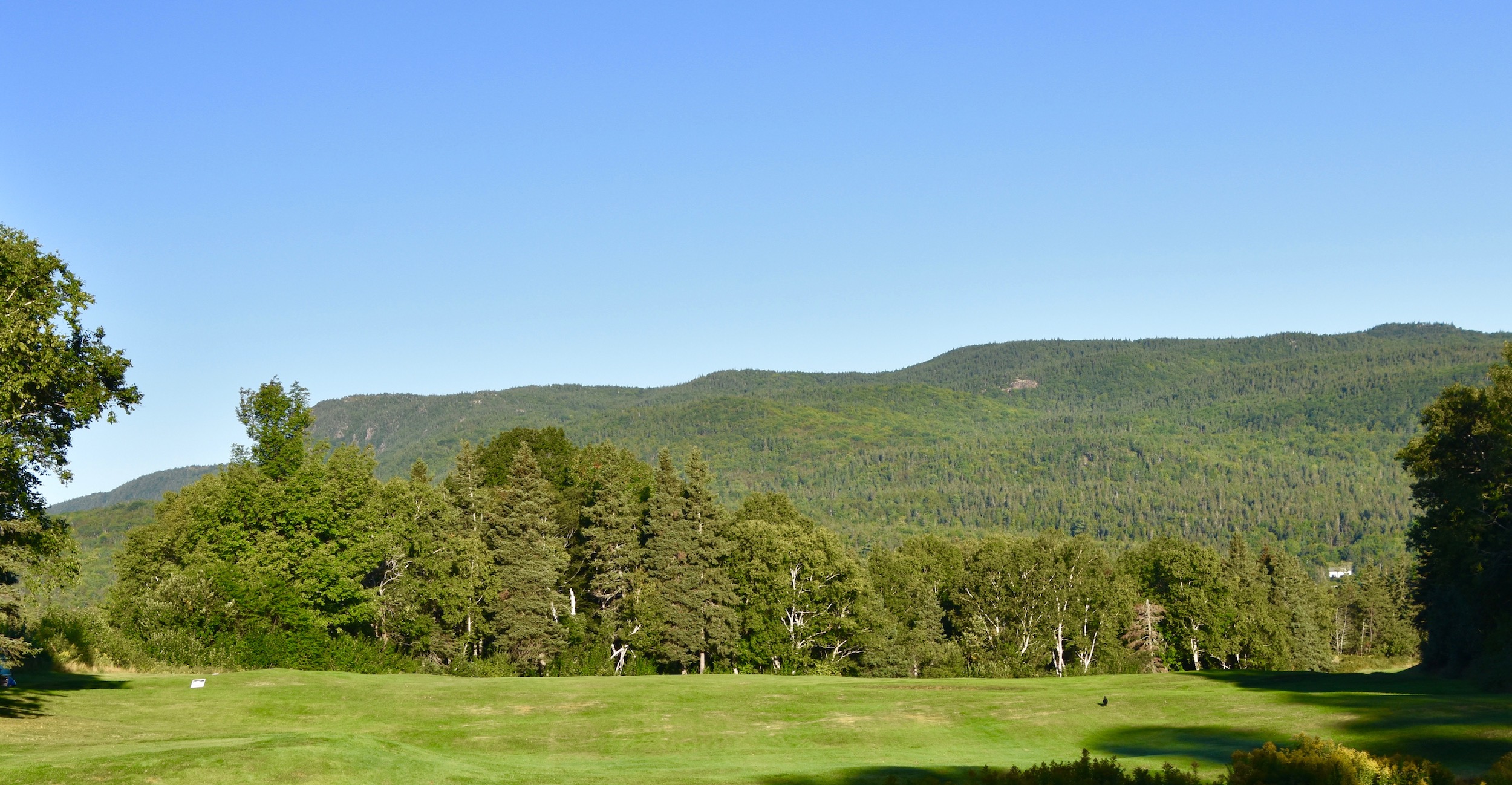 Tam O'Shanter is a character created by Robert Burns who gets chased by a ghost after a bout of drinking at the local tavern or is it just a figment of his drunken imagination? Here's a photo of Tam O'Shanter and his drinking buddy Souter Johne I took at the Burns Museum in Scotland a few years ago.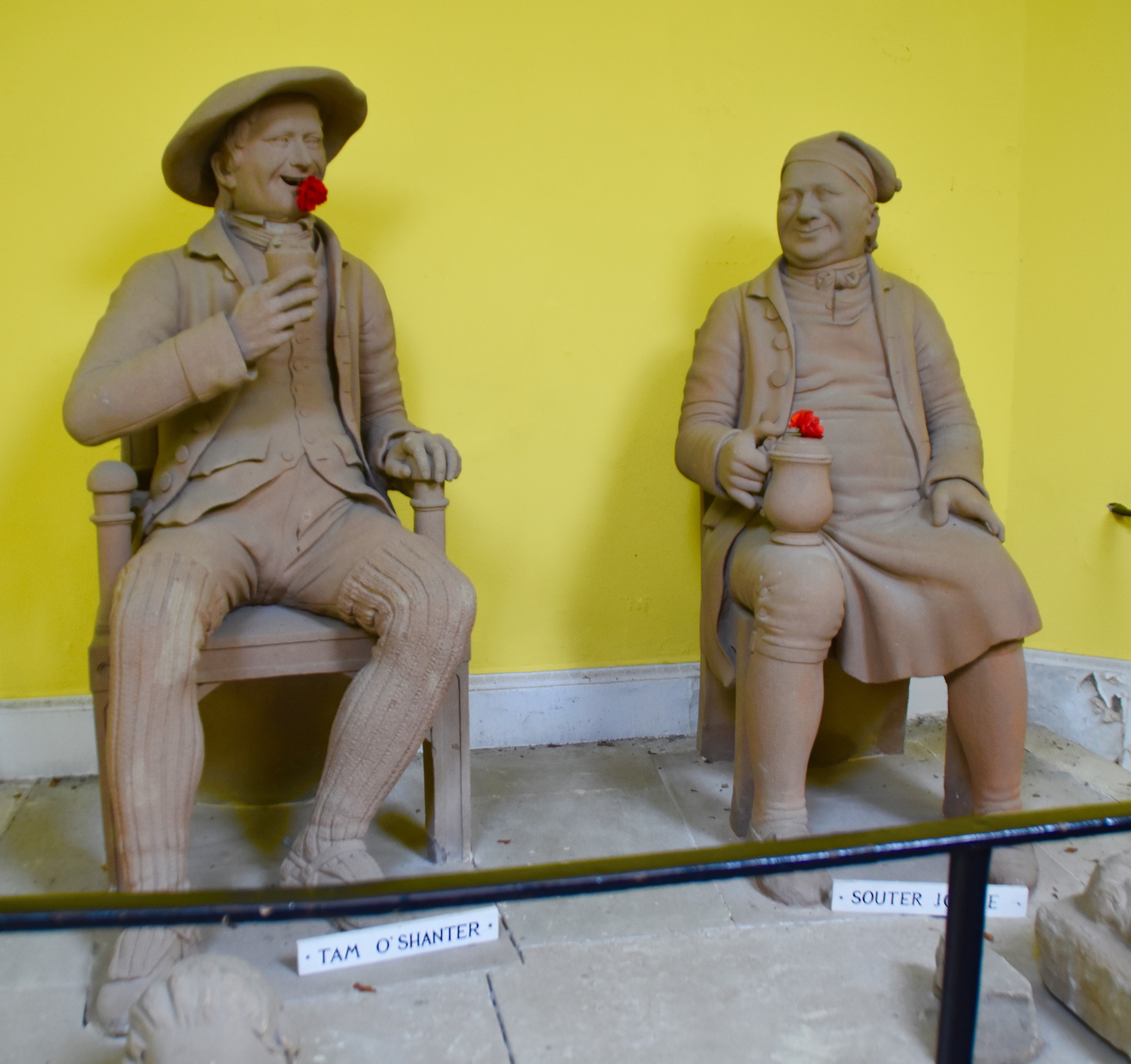 This hole has a semi-blind tee shot in that you can see the fairway straight ahead, but the first time you play it, have no idea how dramatically it drops down to the right. Big hitters can try to cut off some of the dogleg by going over the trees down the right hand side, but I've rarely seen it succeed. The best plan for ordinary drivers is just to hit it down the right side of the fairway and hope for some roll. This is what you will see if you do that and you get your first example of just how majestic this course is as the ocean comes into view.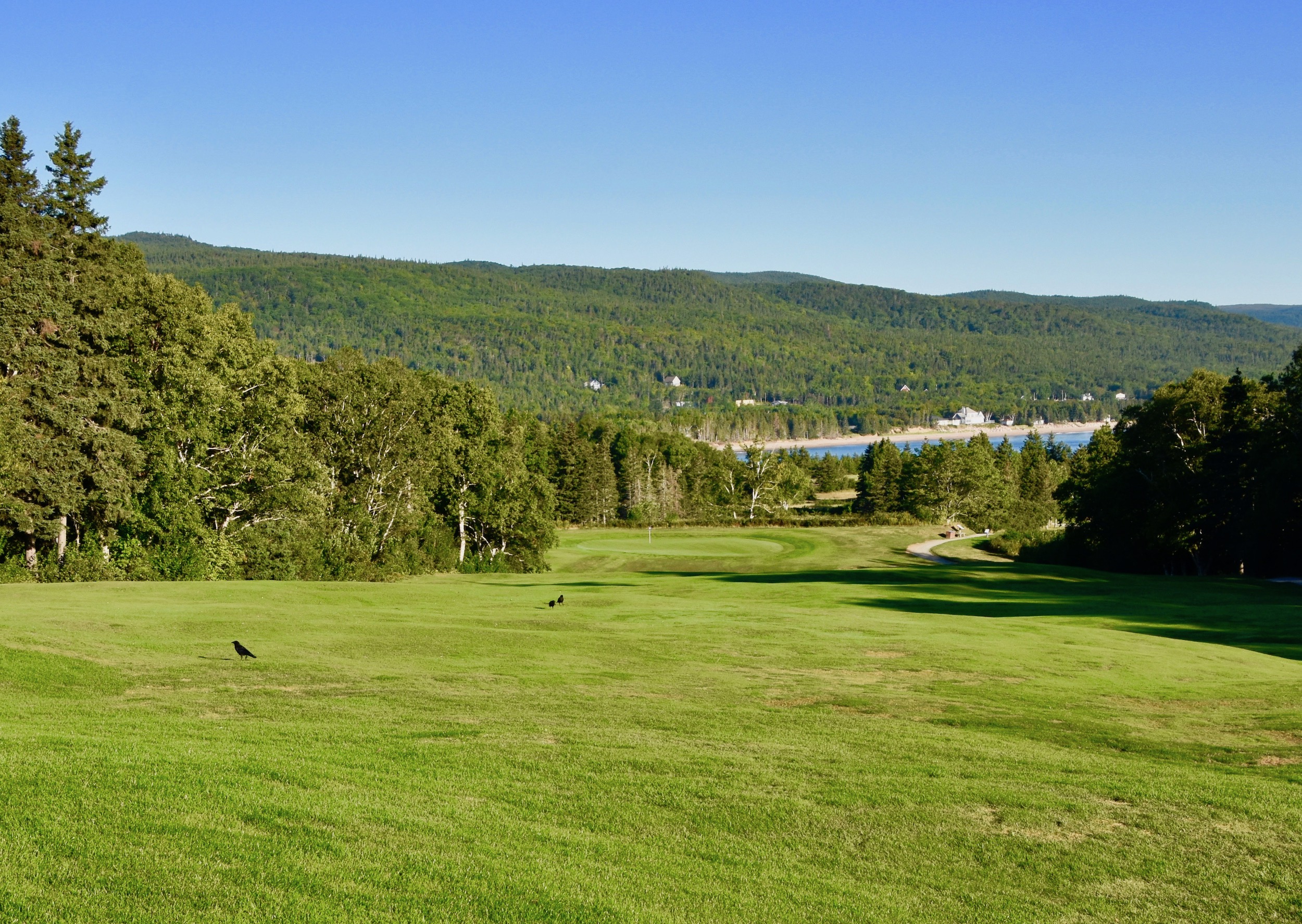 Despite its daunting length this hole is actually easier than #1 because the second shot is so much downhill. Even if you don't reach the small green, chances are you'll be close with no traps to worry about. A chip and a one putt is very much in the cards and like Tam O'Shanter, despite the troubles, you are safely home.
Highlands Links #3 – Lochan – 154 Yard Par Three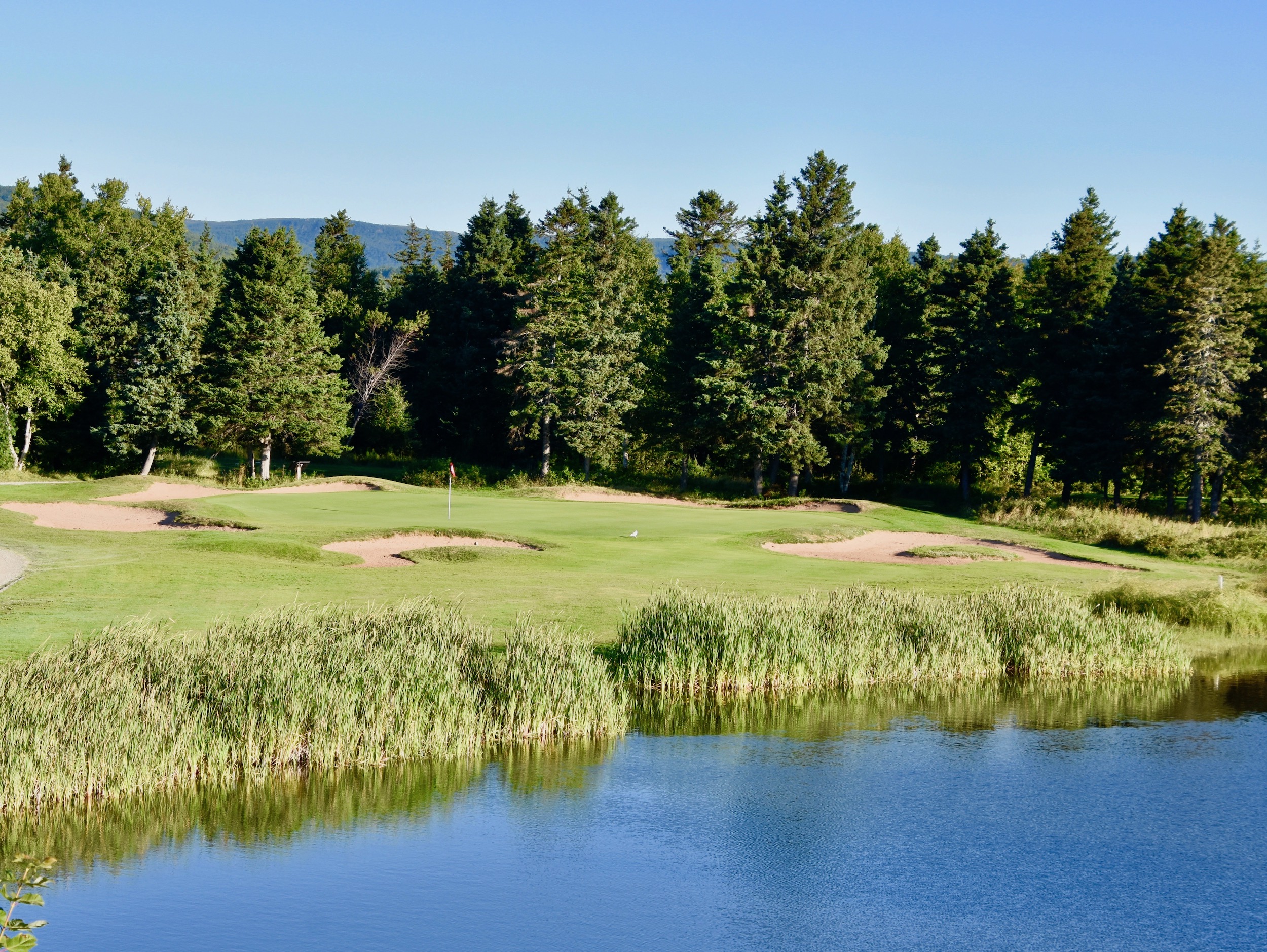 A lochan is a small pond or baby loch if you like and that's what you need to cross to reach the green on this very pretty par three. With traps completely encircling the green, club selection is the key to this hole. Because of the elevation almost anything that hits the front half of the green is going to stick. Par is very doable on this easiest hole on the front – a nice respite after the first two.
#4 – Heich O'Fash – 275 Yard Par Four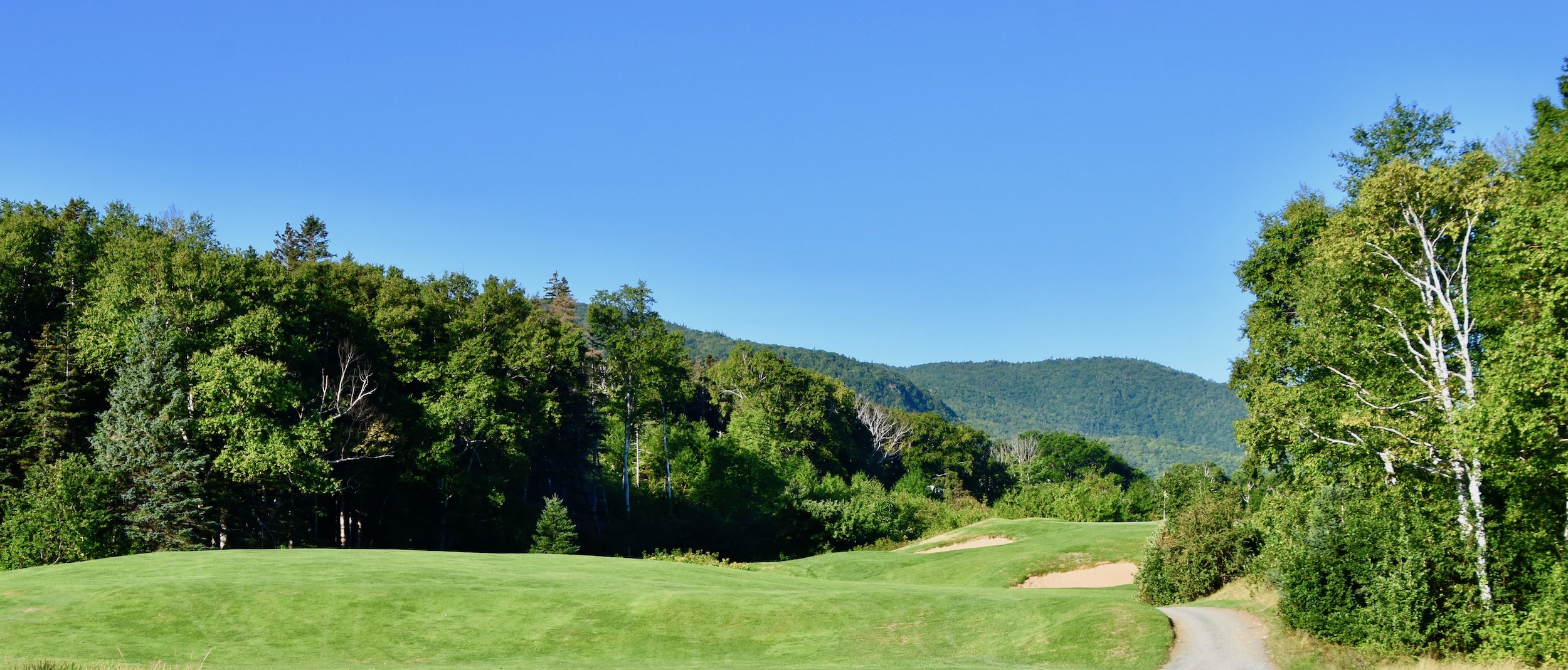 The name of this hole is often translated as 'heap of trouble', but more accurately should be 'hill of trouble' which refers to the tiny elevated green surrounded by traps on all sides. I don't know if Thompson was thinking of the ninth hole at the King's Course at Gleneagles in Scotland which is also called Heich O'Fash, but it certainly presents a conundrum from the tee. Do you take a driver and land just short of the green which brings trouble on the right into play or just hit an iron or five wood and have an easy second shot in with a wedge? I prefer the latter which presents this view on the second shot.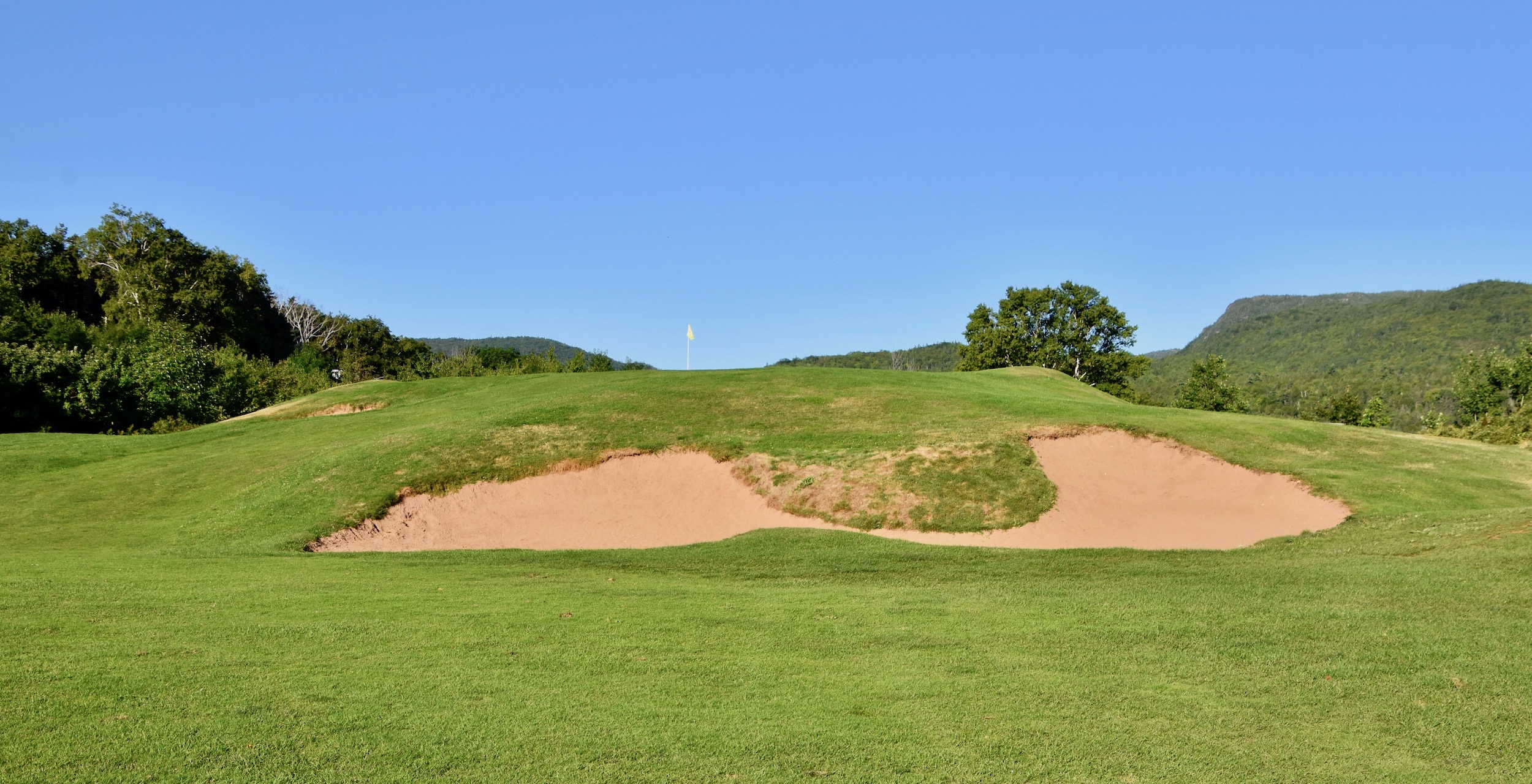 Now you can see why it is a 'hill of trouble'. This is a very unique hole that, played properly, should be an easy par.
Highlands Links #5 – Canny Slap – 158 Yard Par Three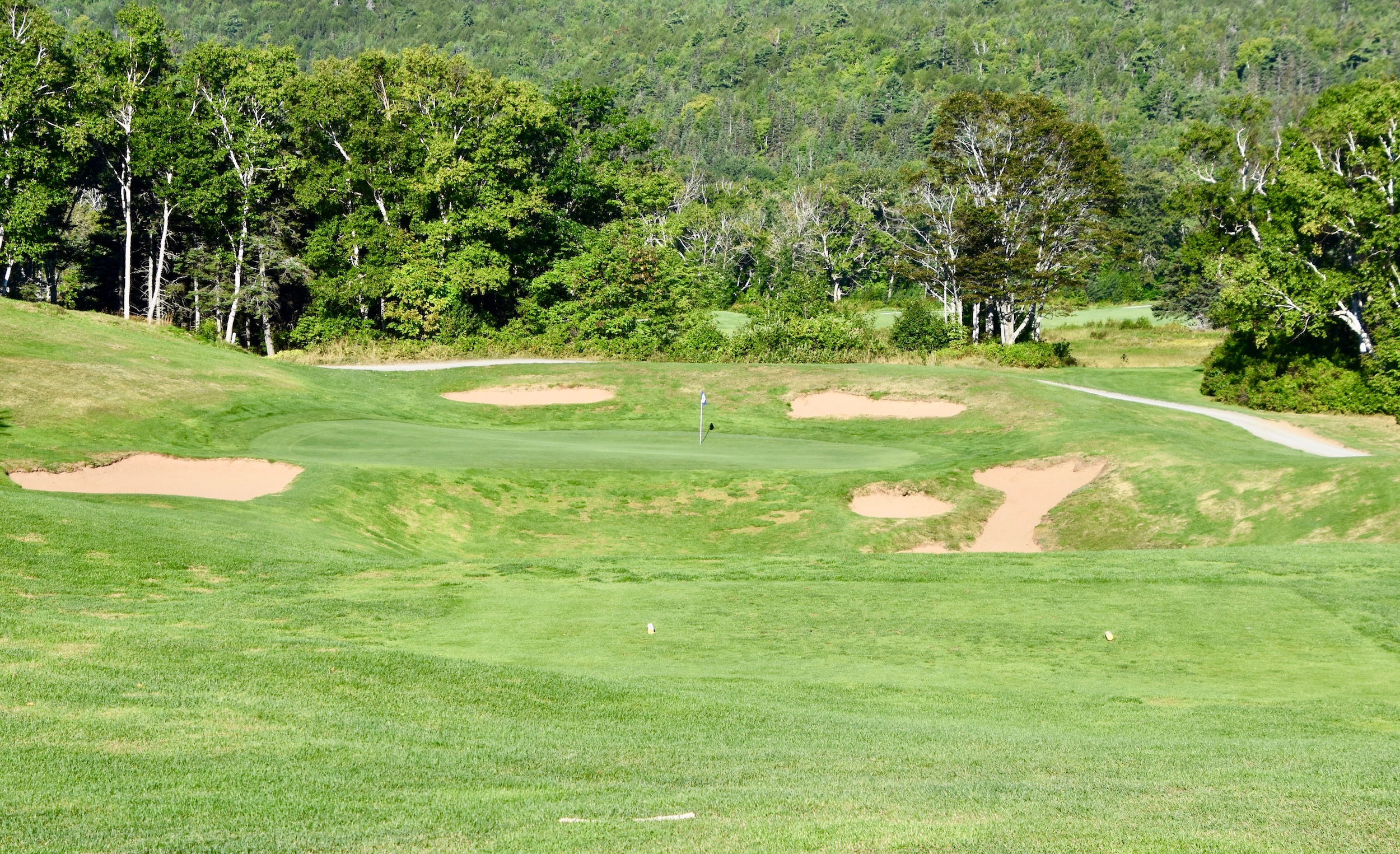 The second par three on the front really does require a 'canny slap' or in modern parlance, a smart strike, to reach and stay on this green. In my experience, almost everyone comes up short leaving a very steep pitch to what suddenly is an elevated green. If you do hit the green off the tee, odds are it will run through and you'll have very steep downhill shot facing you next. I've seen good golfers on this hole take a seven as they went short, long, back in the hollow etc. etc. Ranked the easiest hole at Highlands Links it really is a devilish par three.
#6 – Mucklemouth Meg – 477 Yard Par Five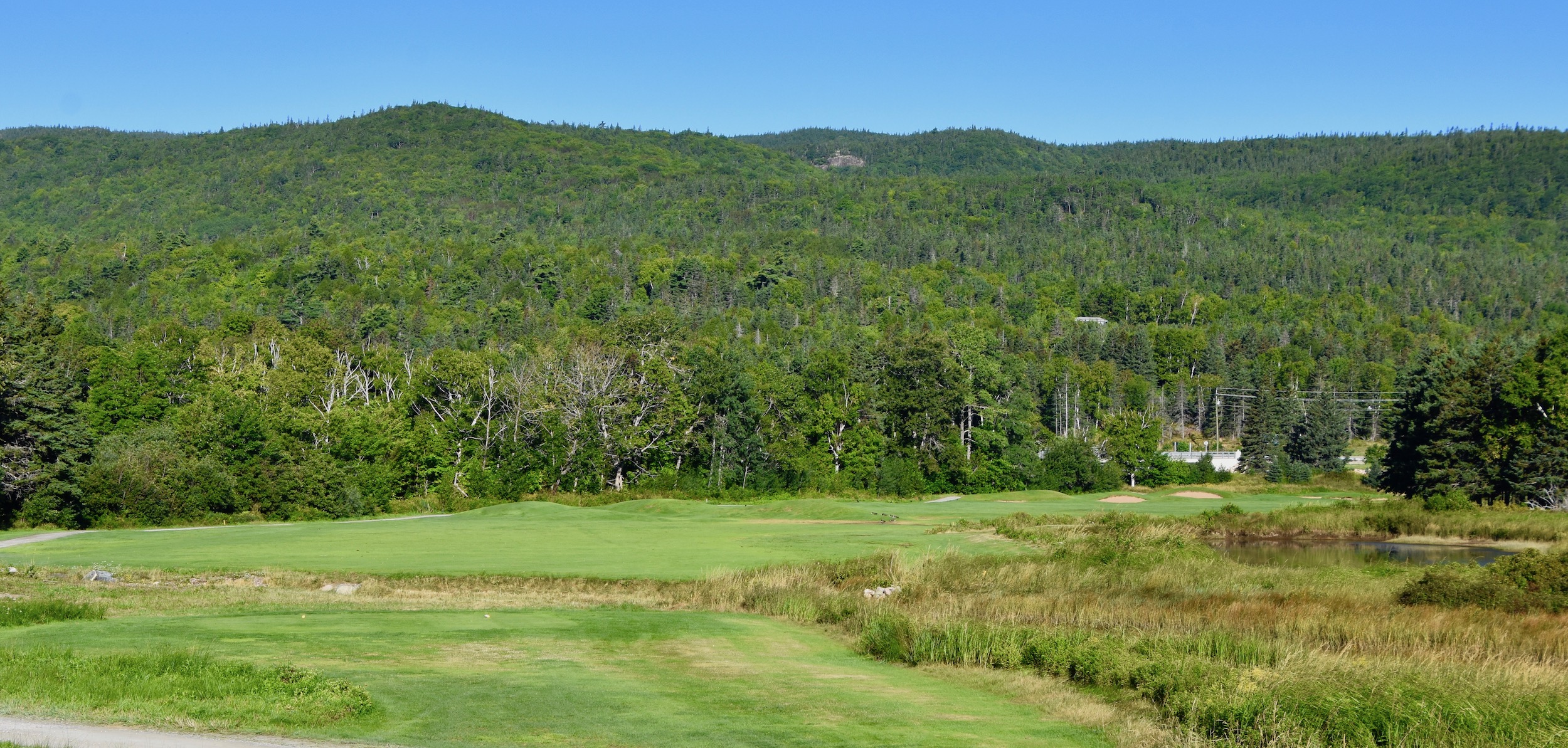 Despite its name, Highlands Links is not a true links course, but if there was one hole that could be on a links course its this one. From an elevated tee you have to decide if you are going to challenge the brook or lay up. It's a pretty long carry, but quite doable with a decent drive which opens up the possibility of a birdie or even an eagle. However, fail to make it and a double comes in to play on what is essentially a very easy par five. For me the smart play is to make this a three shot hole and hope for a one putt birdie.
BTW Mucklemouth Meg was a real person, infamous for her enormous toothy grin that made her quite ugly to most until she was married to a marauding reiver, William Scott who chose marriage over the hangman's noose. I assume that Thompson saw the brook cleaving this hole as Meg's mucklemouth.
Highlands Links #7 – Killicrankie – 554 Yard Par Five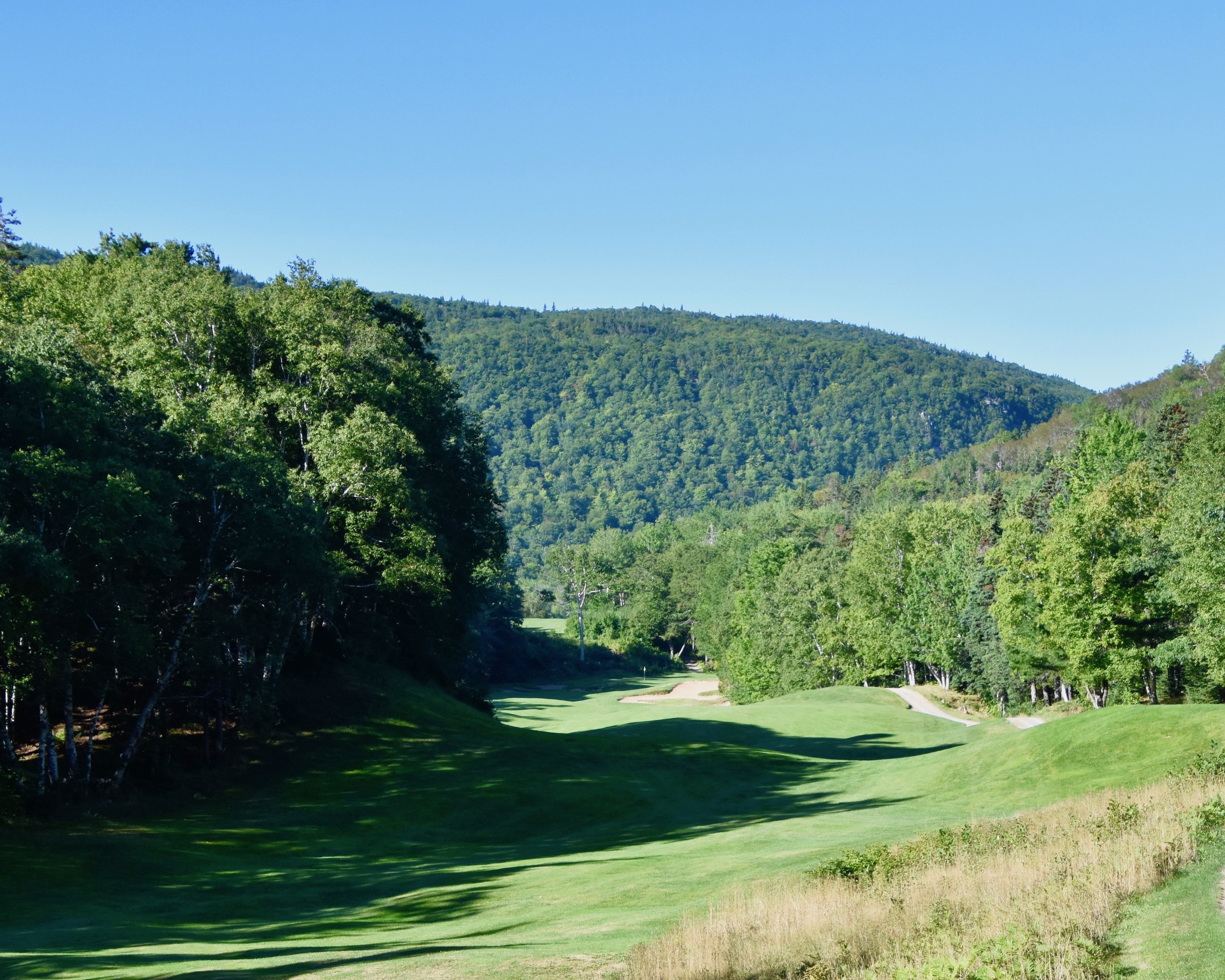 I can say, without fear of contradiction, that this is the hardest par five in Nova Scotia, probably Atlantic Canada and maybe the entire country. It is also one of the greatest golf holes in the world, listed as one of the 1001 Golf Holes You Must Play Before You Die. Interestingly, so is #7 at Mill River in Prince Edward Island which I reviewed earlier this year.
We all fear the dreaded double breaker putt; well this is the ultimate double breaker fairway which just gets narrower and narrower as you approach the green. Standing on the tee box, your objective is to get to the bottom of the gully so you can have a clear second shot without having to go over the trees. Problem is that it's a hell of a long way and your drive has to be dead straight. Good luck with that for most mortals.
Assuming you've beaten the odds and are still in play after two great shots, you still are going to have this uphill approach to a tiny green from a long way out. Honestly, paring Killicrankie feels almost as good as a hole in one.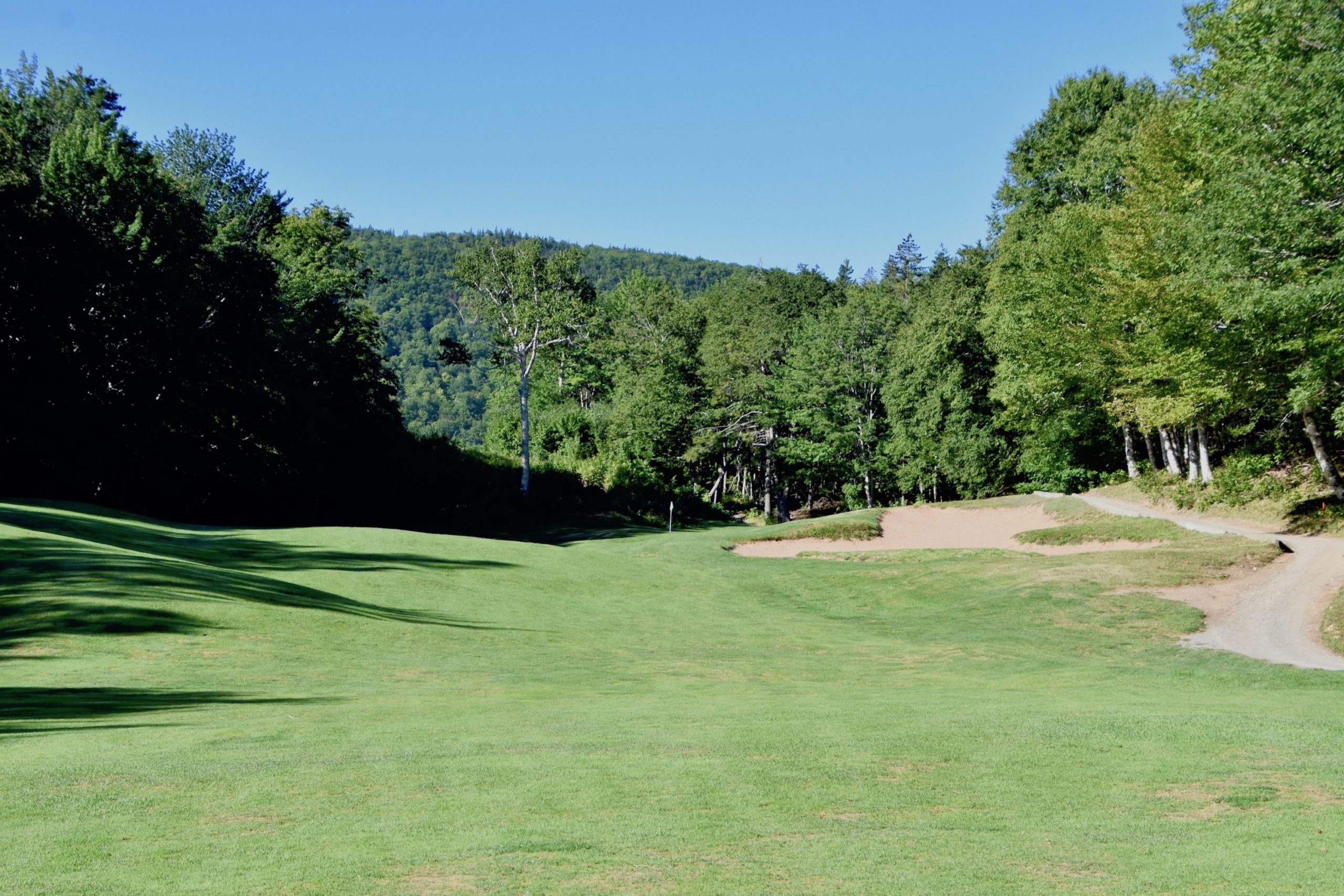 Killicrankie is a real place in Perthshire, Scotland famed for its natural beauty, but also the site of a bloody battle during the first Jacobite Rebellion which the rebels actually won. I suspect Stanley was thinking of the metaphorical bloodshed to your score that this hole will inflict when he chose the name.
#8 – Caber's Toss – 309 Yard Par Four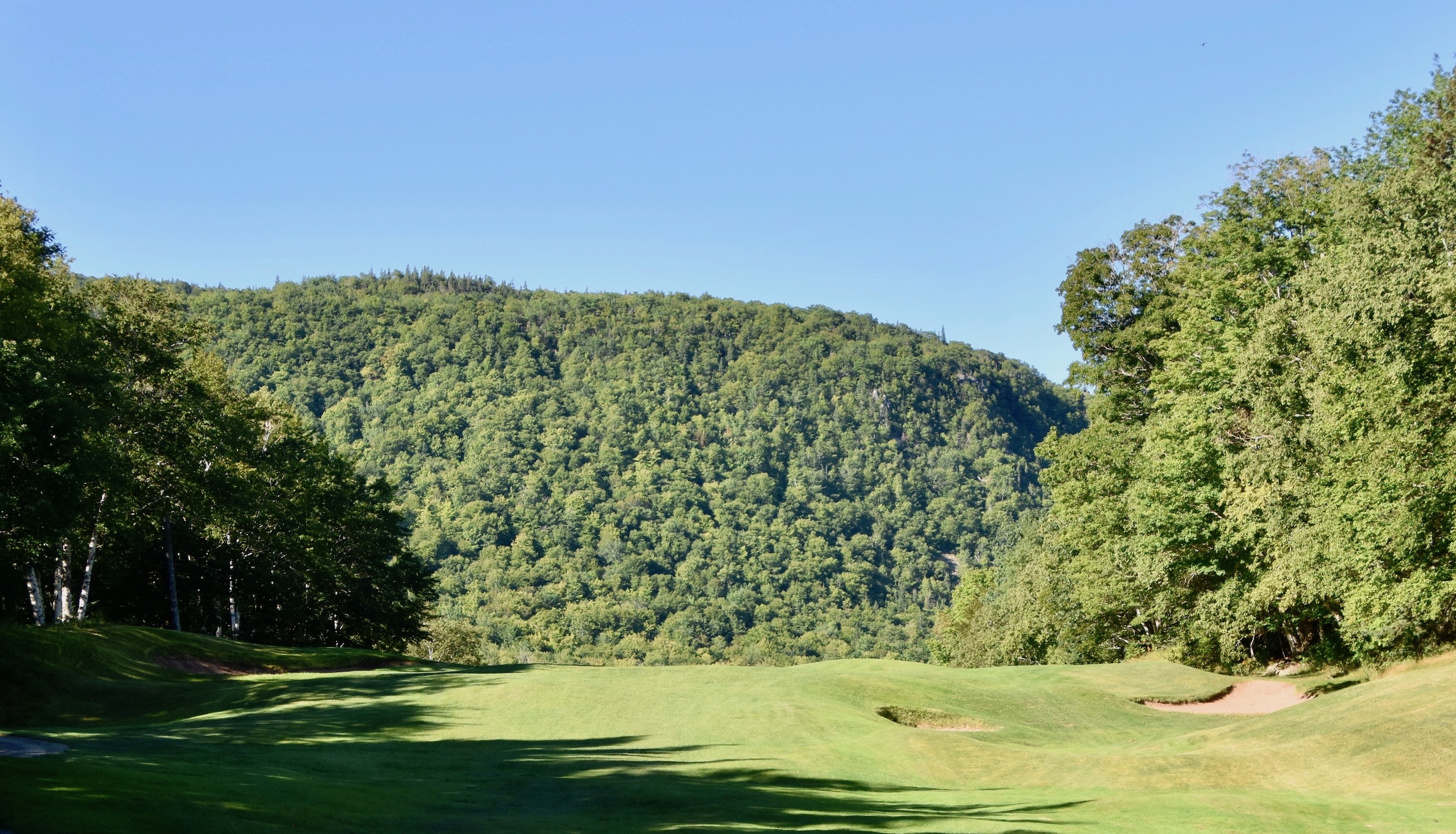 You now come to the first of two sensational par fours as you move deeper and deeper into the Cape Breton Highlands. A month from when this photo was taken in early September that hill will be ablaze with fall colours.
This is a blind tee shot that beckons you to clear the hill with your drive and then hope that it rolls and rolls forever, just like tossing the caber and hoping that it lands properly, falling forward and not back. That will leave this downhill shot to another microscopic green. This is the perfect spot to try a bump and run shot as a misplaced pitch shot may well bound into the woods.
For me, this is one of the greatest vistas on Highlands Links – nothing but trees and hills with seemingly a golf hole intruding out of nowhere.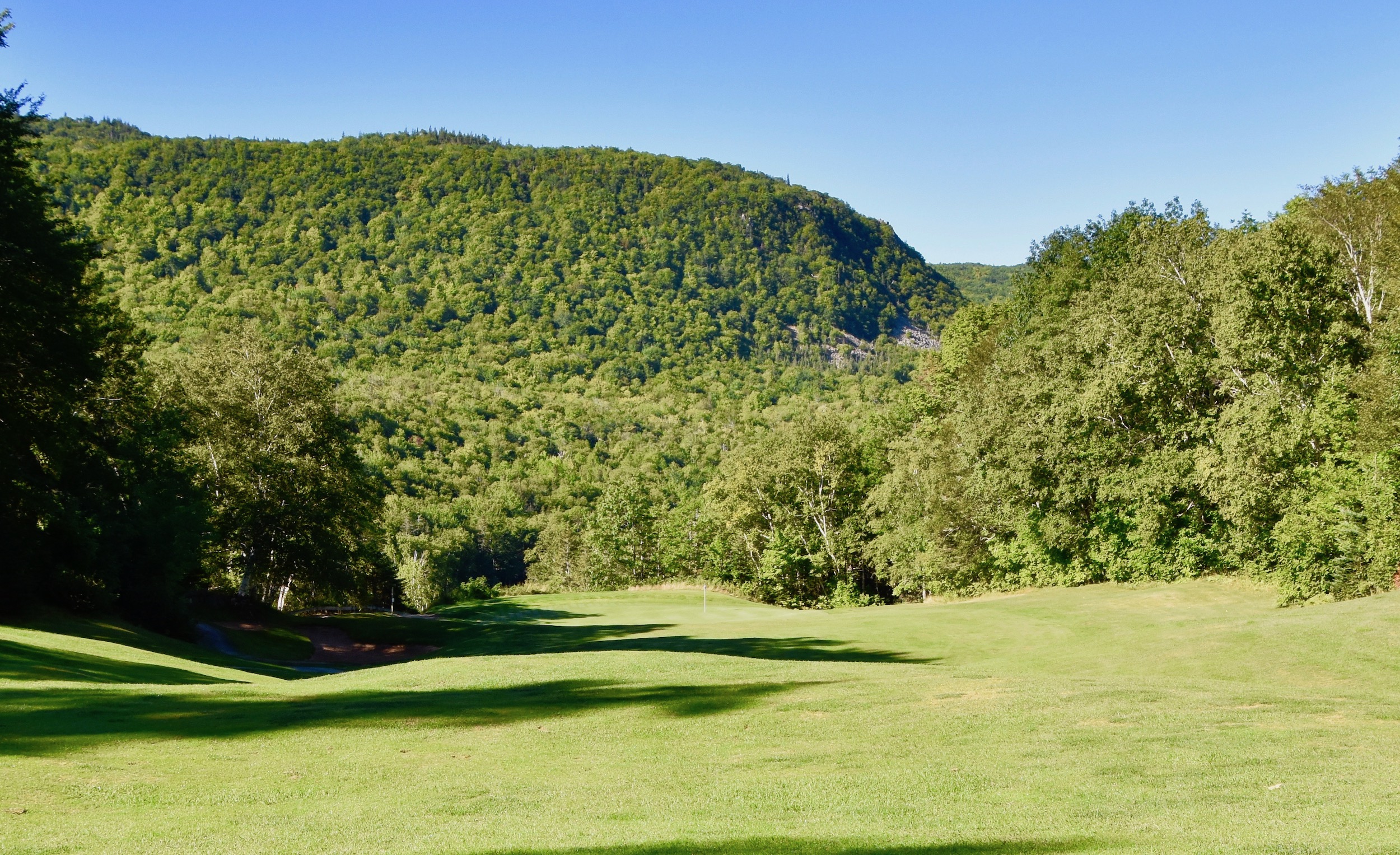 Highlands Links #9 – Corbie's Nest – 323 Yard Par Four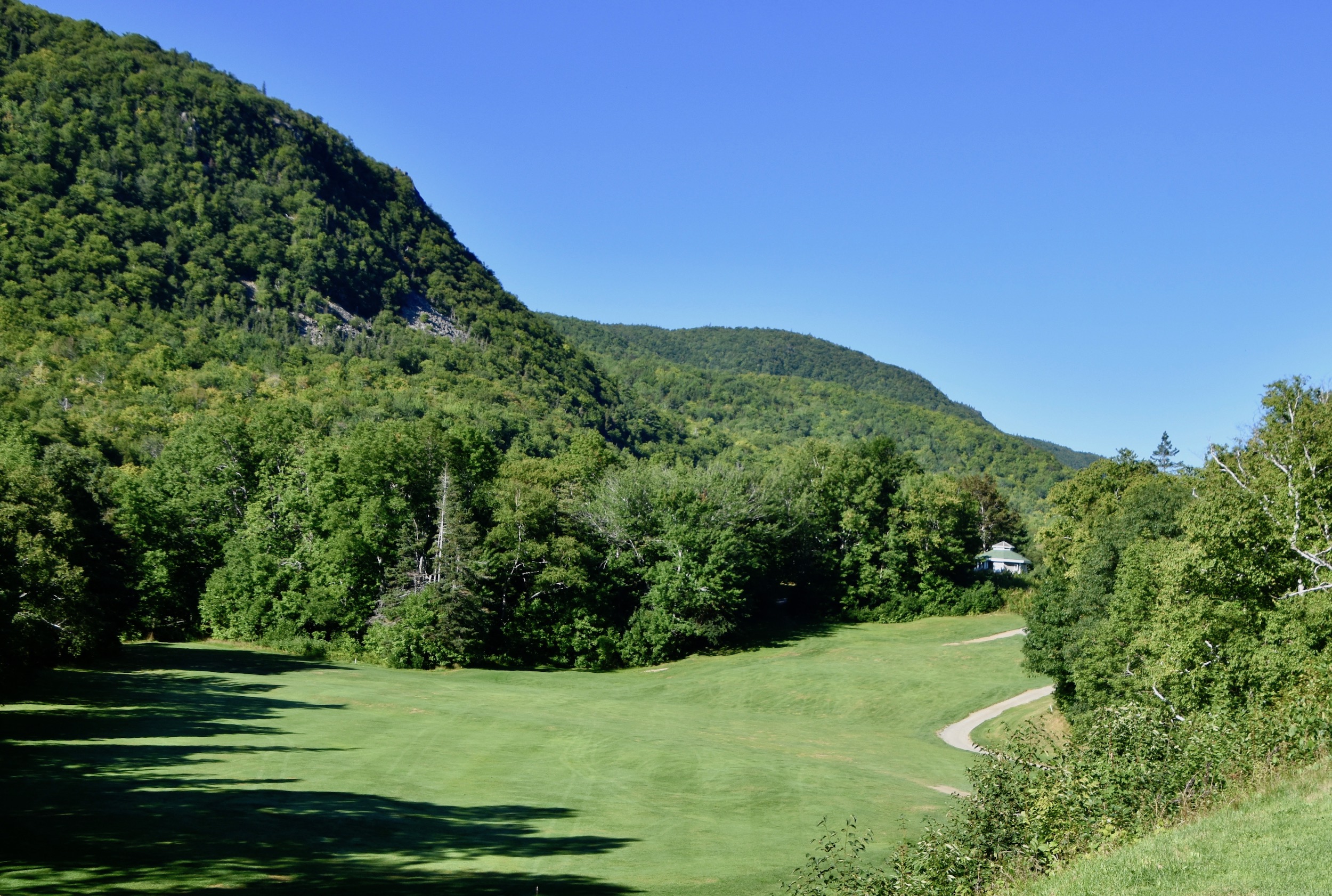 Stanley Thompson was a genius at making difficult short par fours that require two precise shots to get to the green. In the case of this hole you need to place your tee shot somewhere at the base of a very steep hill that doglegs to the right. If you opt to chicken out and just hit it to the centre of this generous fairway you suddenly have a very long second shot to a green you cannot see.
Assuming you do hit a well positioned tee shot, you still have this look, or should I say non-look, at the green. I call the second shot on this hole a wing and a prayer because you have to guess as to where the green might be and then take into account the steepness of the hill in making your club selection. Guess right and you might have a birdie putt. Guess wrong and you might be looking at double or worse.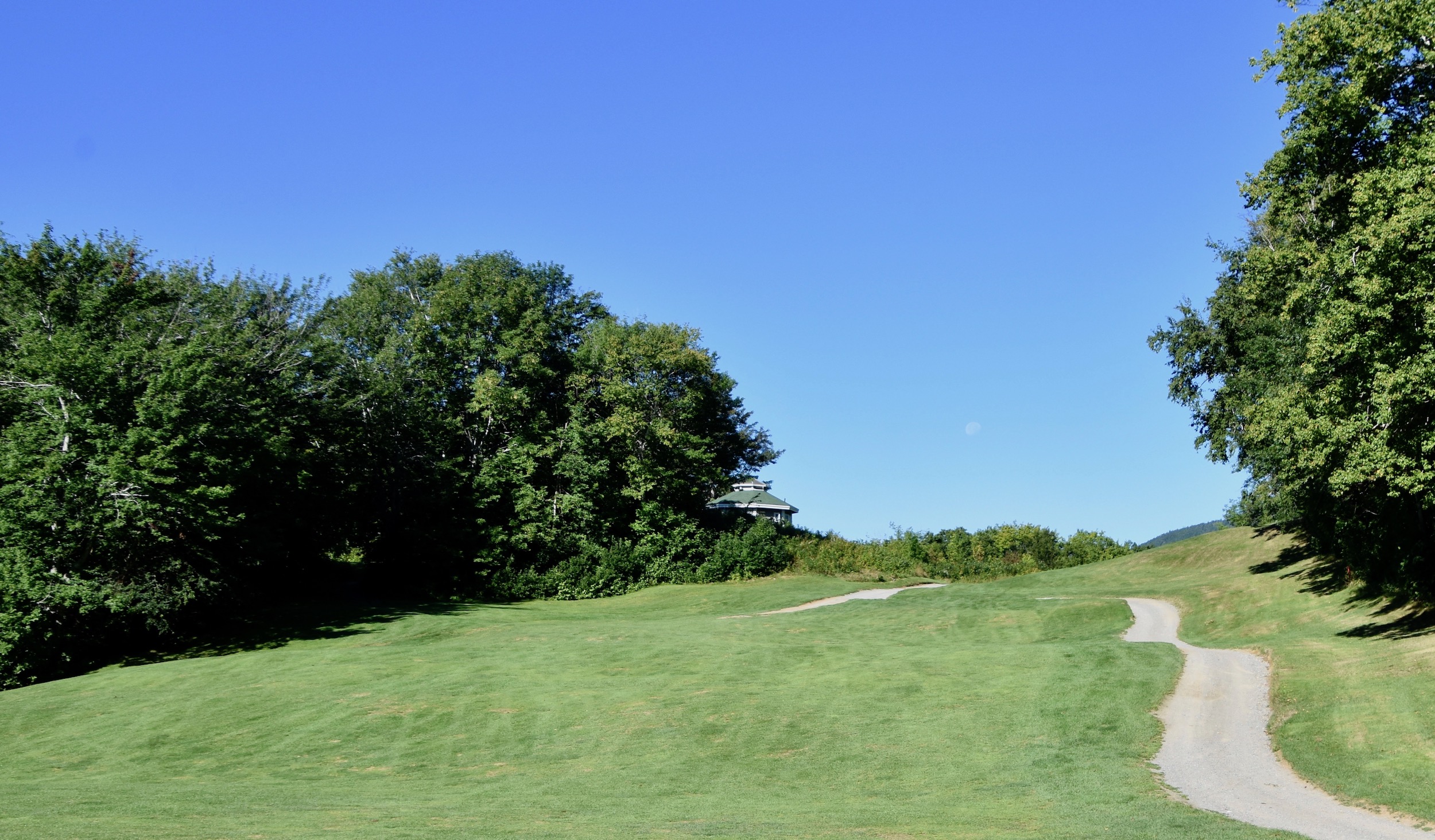 Highlands Links is like most links courses in that you are miles away (literally) from the clubhouse after nine and Ben Franey is right there. Thankfully there is a canteen which you can just get a glimpse of in this photo.
#10 – Cuddy Lugs – 141 Yard Par Three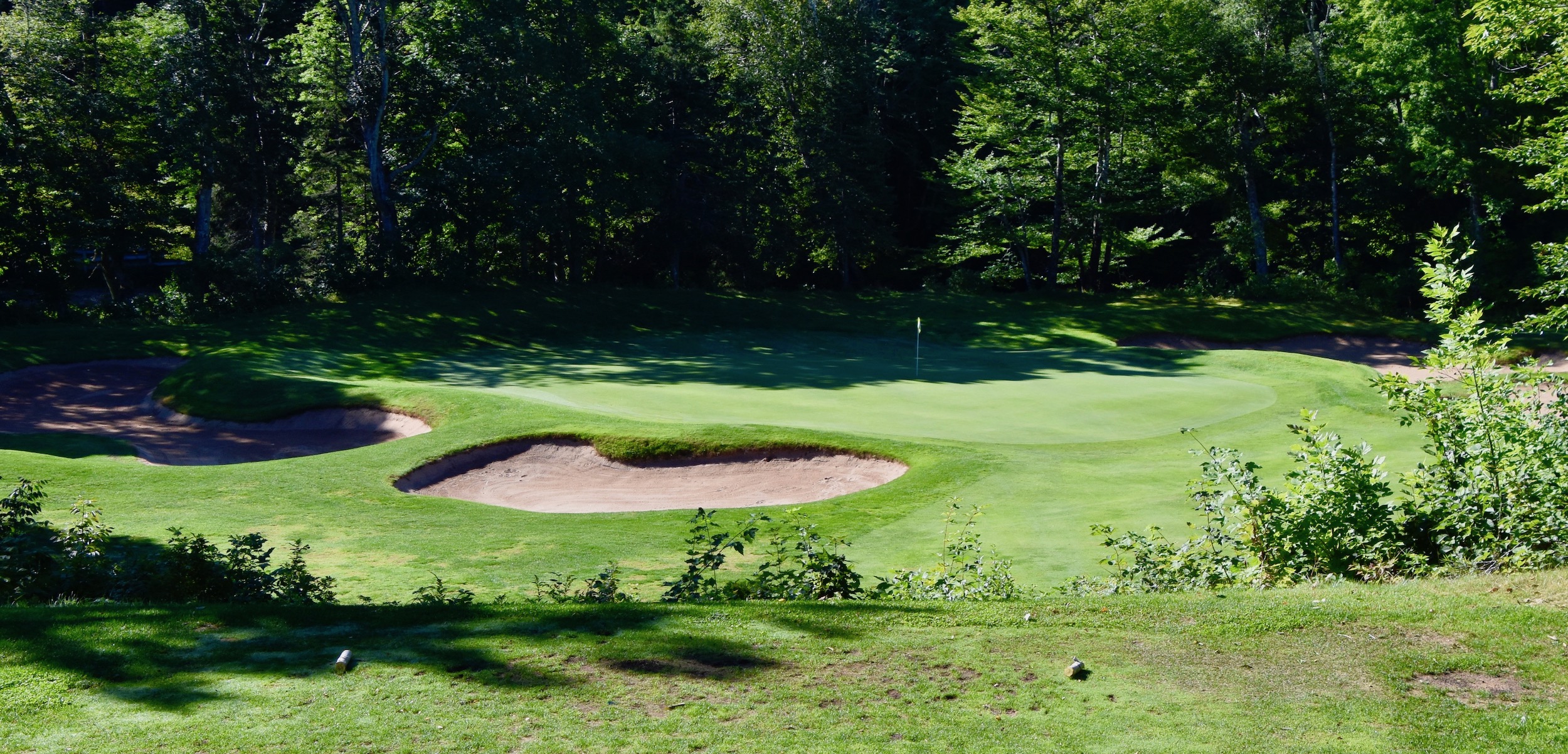 A cuddy is usually considered to be a horse and lugs are ears so this, rather than a horse's ass of a hole, is a horse's ears, although I can't say that is obvious looking at it from the tee box. What it definitely is, is another great looking par three requiring proper club selection to what, for once, is a pretty large green. For me, this is the easiest hole at Highlands Links and you'd better par it because all hell is about to break loose.
Highlands Links #11 – Bonnie Burn – 403 Yard Par Four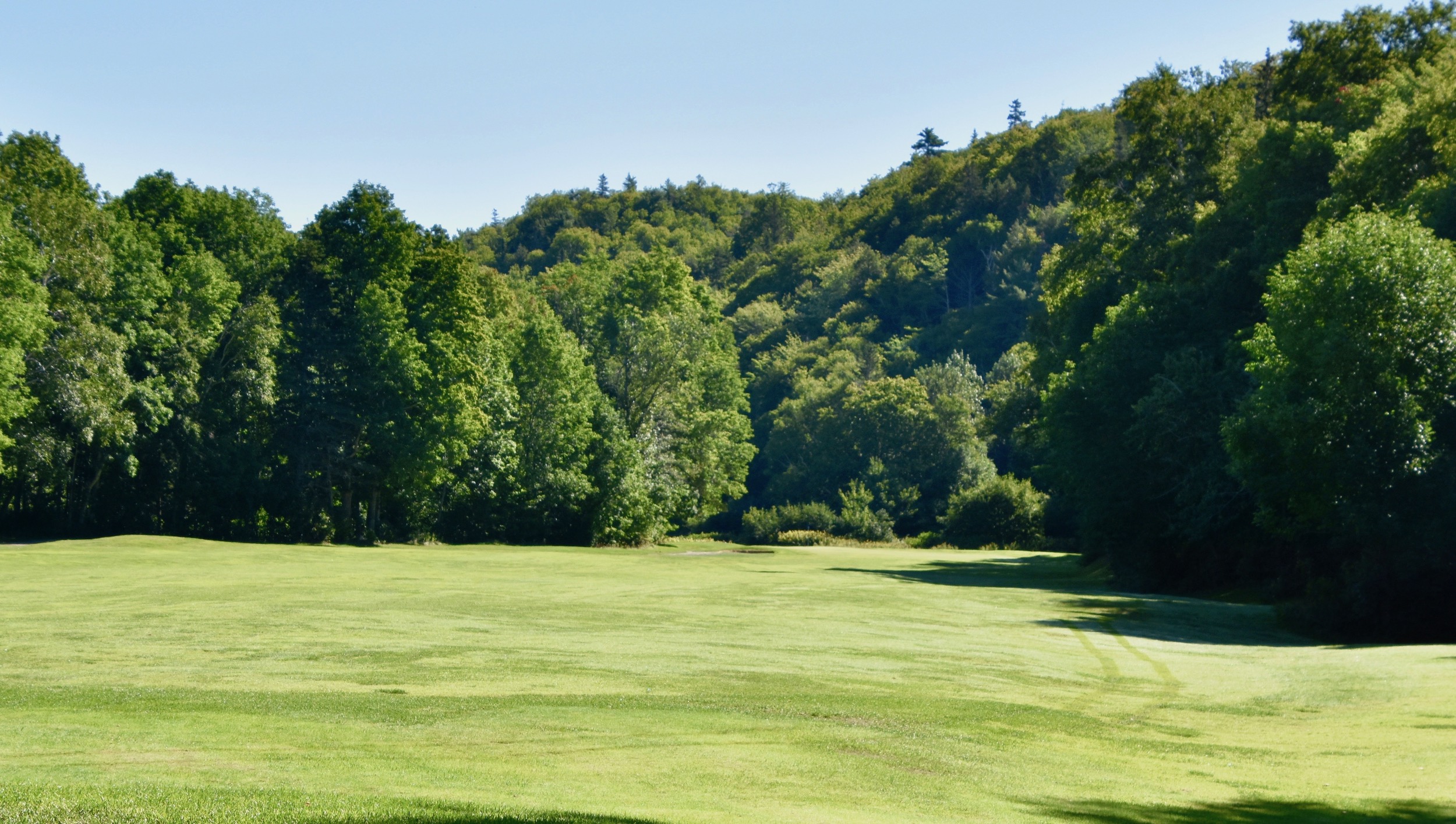 There is absolutely nothing tricky about this hole except its length and the fact that the green is tucked into a narrow hollow that is exceedingly difficult to see from the fairway. This is probably the most difficult second shot of any par four on the course and it's very difficult to say why. It may have to do with the fact that there is almost always a combination of light and shadow which you can see in the photo that makes club selection and landing point problematic. This is a hole I'm always glad to have behind me.
#12 – Cleugh – 205 Yard Par Three

The same problems with light and shadow that you encountered on #11 come into play on this hole as well. Add to that the fact that it is over 200 yards and you've got the makings of a monster par three which includes a pretty good carry over water. At one time Clyburn Brook regularly flooded in the spring and inundated this hole, but now a berm has been constructed that has solved the problem. You can see it to the left in this photo, but it has taken out the charm of what was originally constructed as a hole with water all down the left side. Such is the price of progress I guess and makes a mockery of the name which means ravine.
Highlands Links # 13 – Laird – 412 Yard Par Four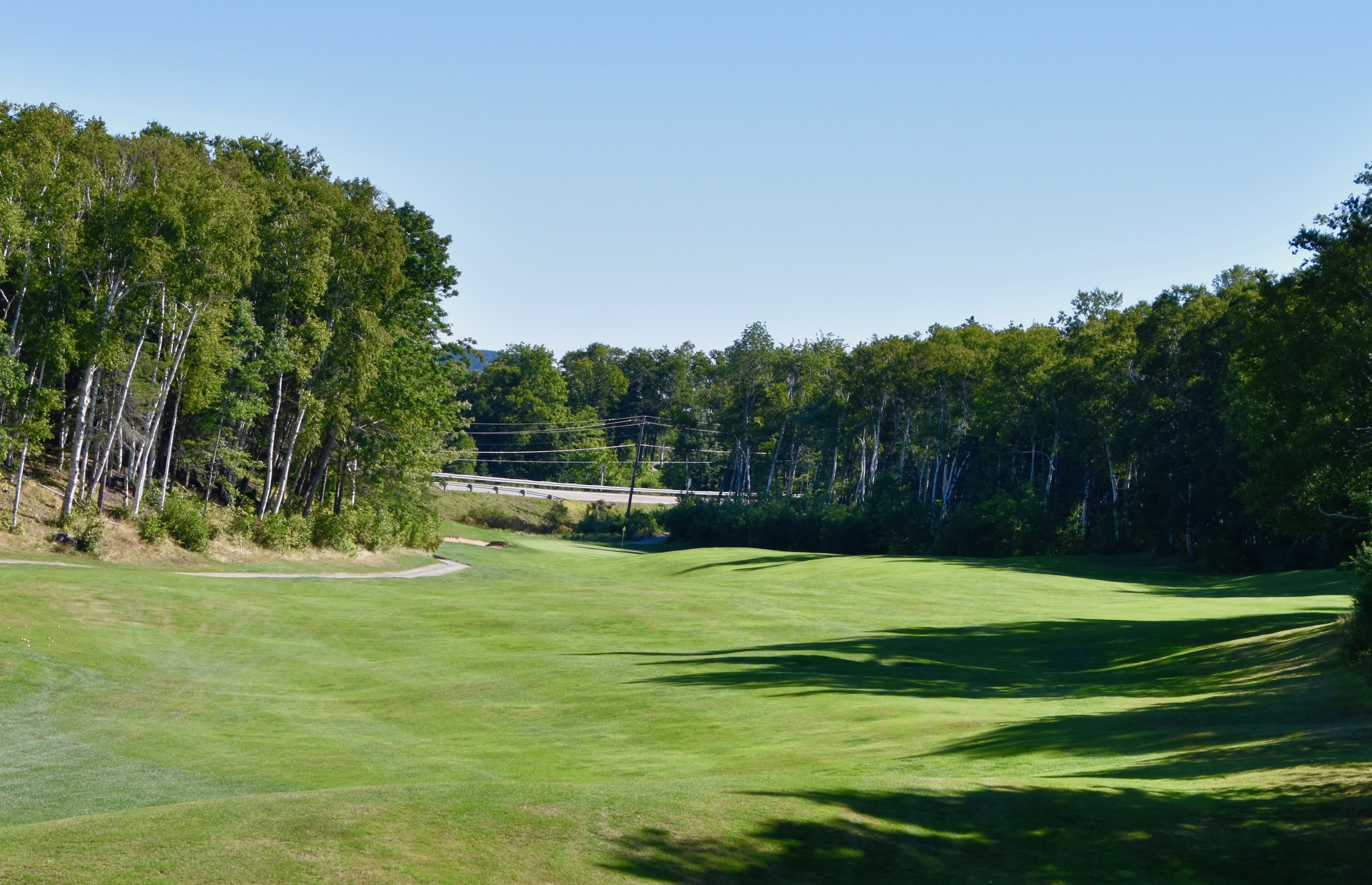 Stanley keeps up the length attack with this very pretty hole that plays actually much shorter than its 412 yards. Everything is pushed right to left making it a great hole for lefties like me. By now it should be apparent that but for a few spots, Highlands Links is in great condition, in fact, the best I can recall in decades. If there was ever a fall to play this course it might be 2020.
#14 – Haugh – 373 Yard Par Four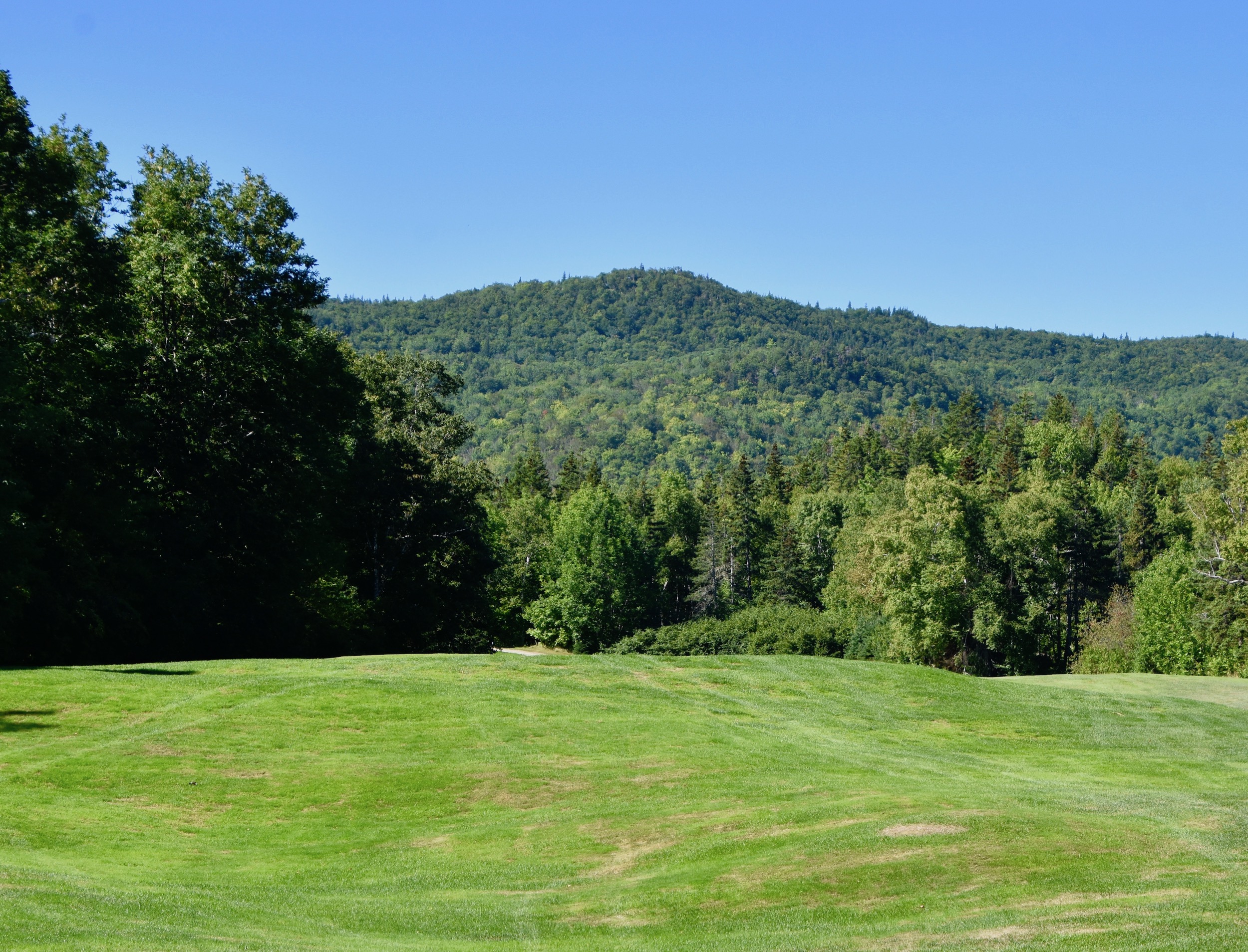 A haugh is a meadow in a river valley and that's exactly what you get with this uphill par four. A very wide fairway makes taking a driver an easy choice followed by a mid iron in. Not my favourite hole at Highlands Links, but that's coming up next.
Highlands Links #15 – Tattie Bogle – 530 Yard Par Five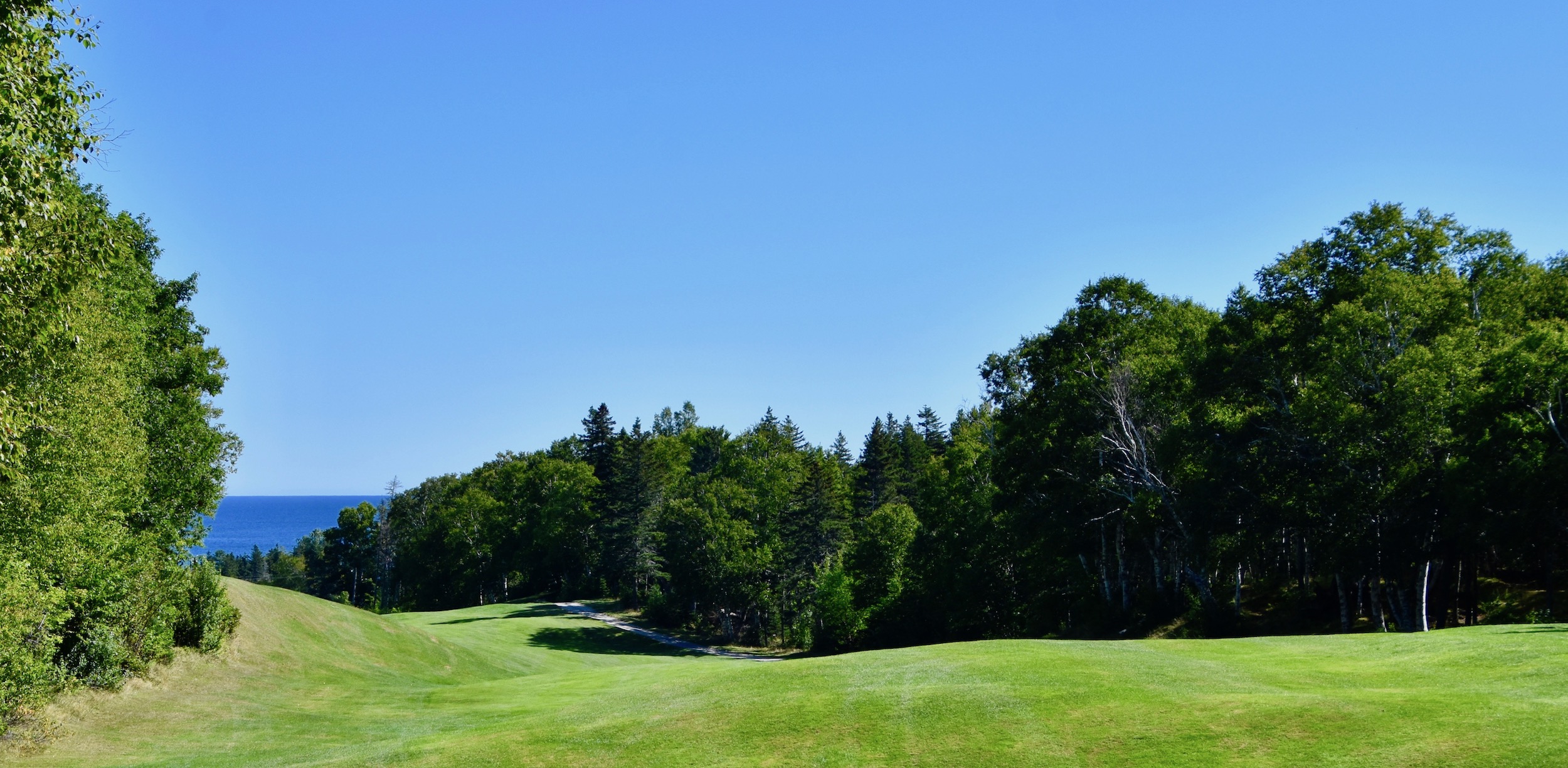 For me this is the signature hole at Highlands Links although you might not think that from the tee which presents a semi-blind shot around to the fairway doglegging left – a left hander's dream shot. It is when you round the corner and see this that you realize just what a stunning hole it truly is.
This is simply one of the best holes in the world and also makes it into the top 1001 holes to play before you die. Perhaps the best thing about Tattie Bogle, which is a Scottish scarecrow in a potato field, is that it is a joy to play. Although it is the #2 ranked hole at Highlands Links it plays all downhill and for some strange reason the ball just seems drawn to that green. Yes, there is plenty of trouble to the left side, but for reasons unknown I have parred this hole almost every time I've played it. You simply cannot but have a smile on your face as you walk off this green.
#16 – Sair Fecht – 453 Yard Par Five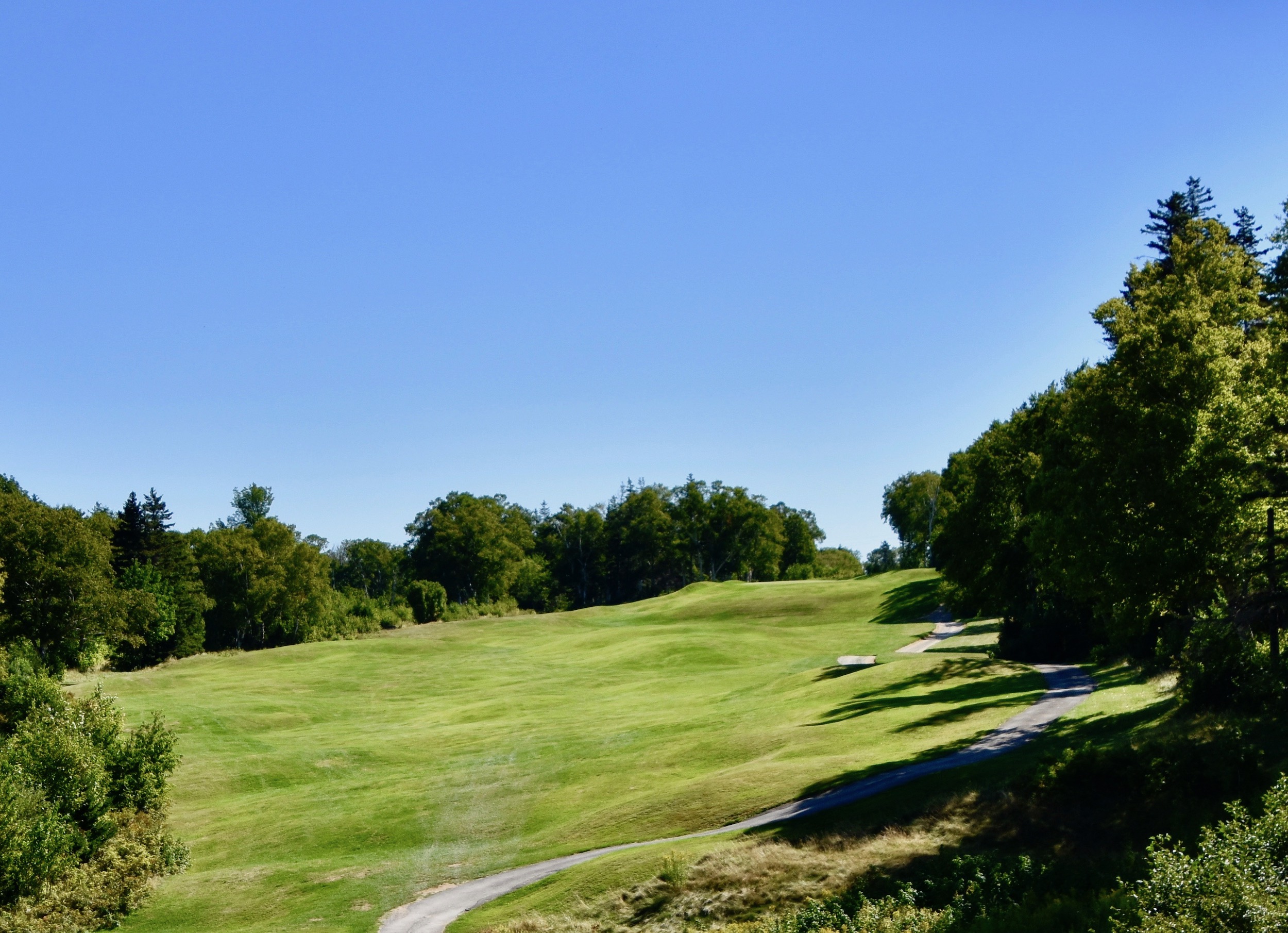 Nothing will wipe that smile off your face faster than playing this uphill grinder of a par five. When this was a walking only course, arriving at the tee box on this hole looking at the climb ahead was daunting to say the least. While #15 plays shorter than its length, Sair Fecht plays way longer and by the time you reach the severely elevated green you will know why the words mean 'it's a sore fight'.  It sure as hell is.
Highlands Links #17 – Dowie Den – 171 Yard Par Three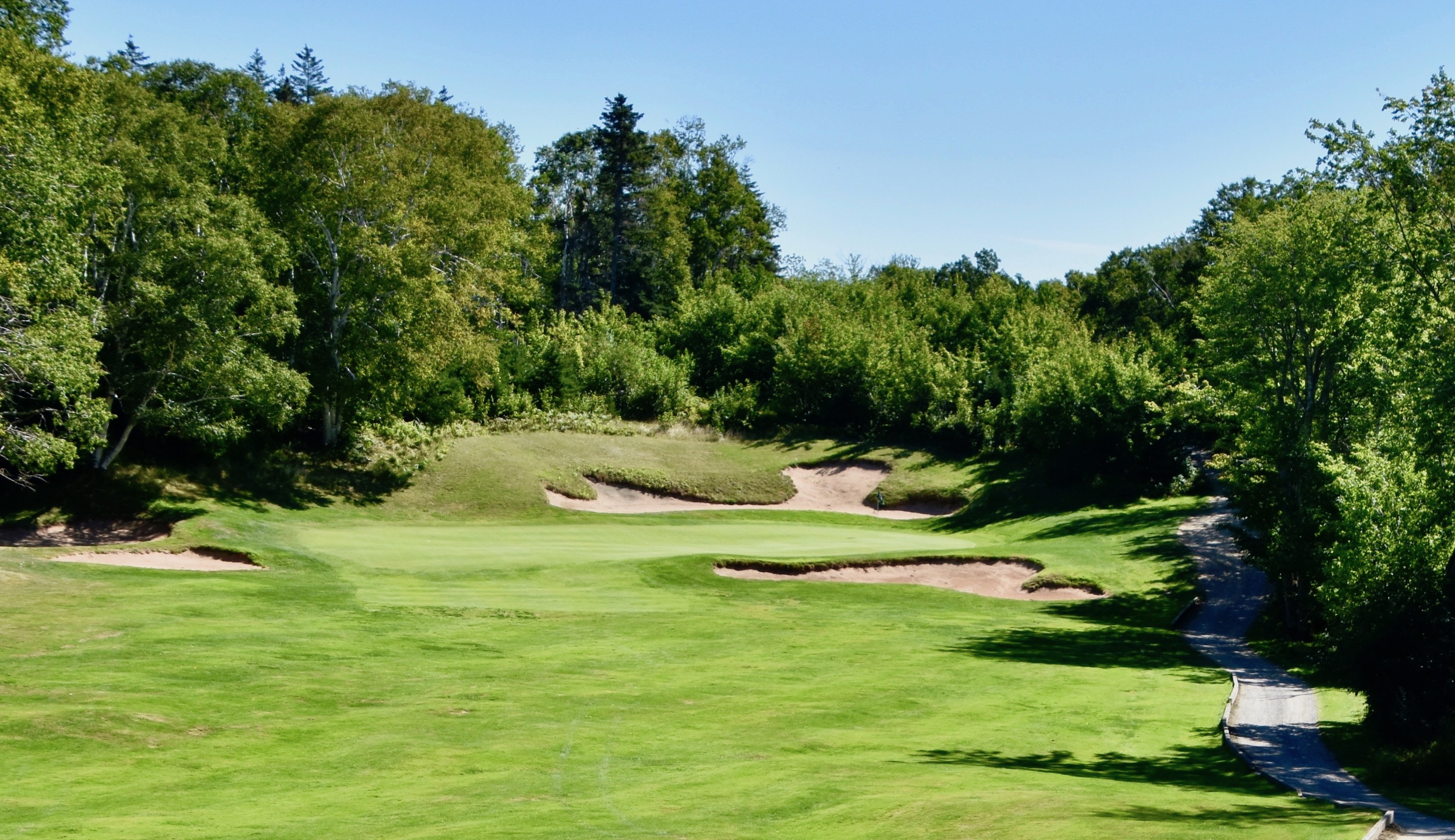 The final par three at Highlands Links is another gorgeous golf hole and I don't know why Thompson would call it 'dowie' which means sad or dismal. I suppose if you get in that bunker behind the green you might become dowie, but otherwise this is a very strong par three that requires taking a lot more club than you might think.
#18 – Hame Noo – 387 Yard Par Four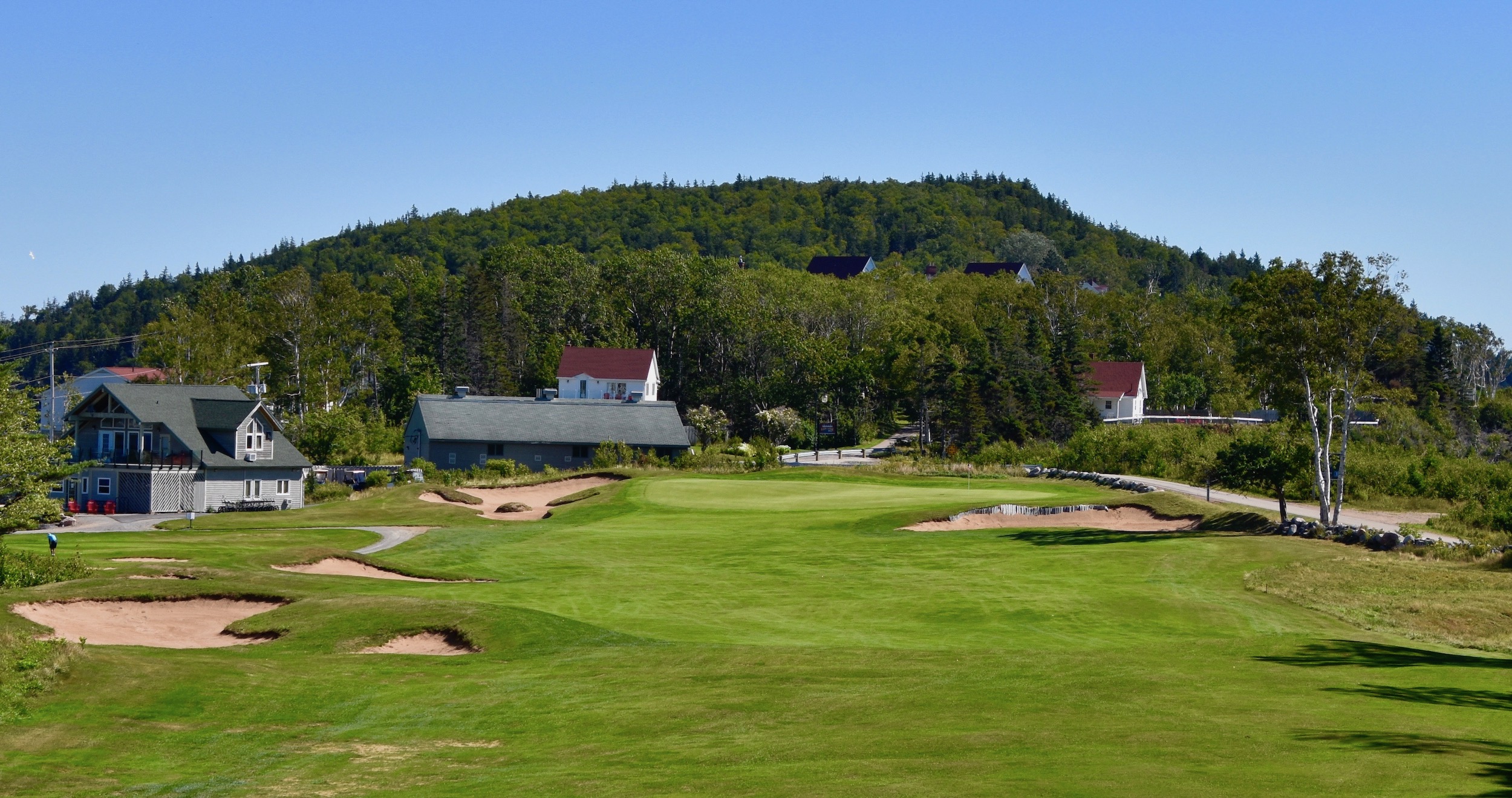 The last hole is almost like a wake up call. For the last seventeen holes there has been nary a sign of human occupation and the game has felt as much a walk through the highlands as anything. The name means 'home now' and that brings to a conclusion one of the great rounds of golf you can play in this country or anywhere for that matter. Thank you Stanley Thompson for creating this Cape Breton masterpiece.
One of the benefits of taking a cart around Highlands Links is that you won't be too exhausted to hike the trail out to the end of Middle Head Peninsula which begins right behind Keltic Lodge. It will remove any tinges of guilt for not walking the course.