Royal Oaks G.C. Hole by Hole
This is my final post from Alison and my recent golf trip to New Brunswick in late September. So far we have played Kingswood, West Hills and Fundy, all of which we enjoyed tremendously and today it will be Moncton's Royal Oaks Golf Club, the original championship course in the area. Please join us as I give a hole by hole description of this popular course.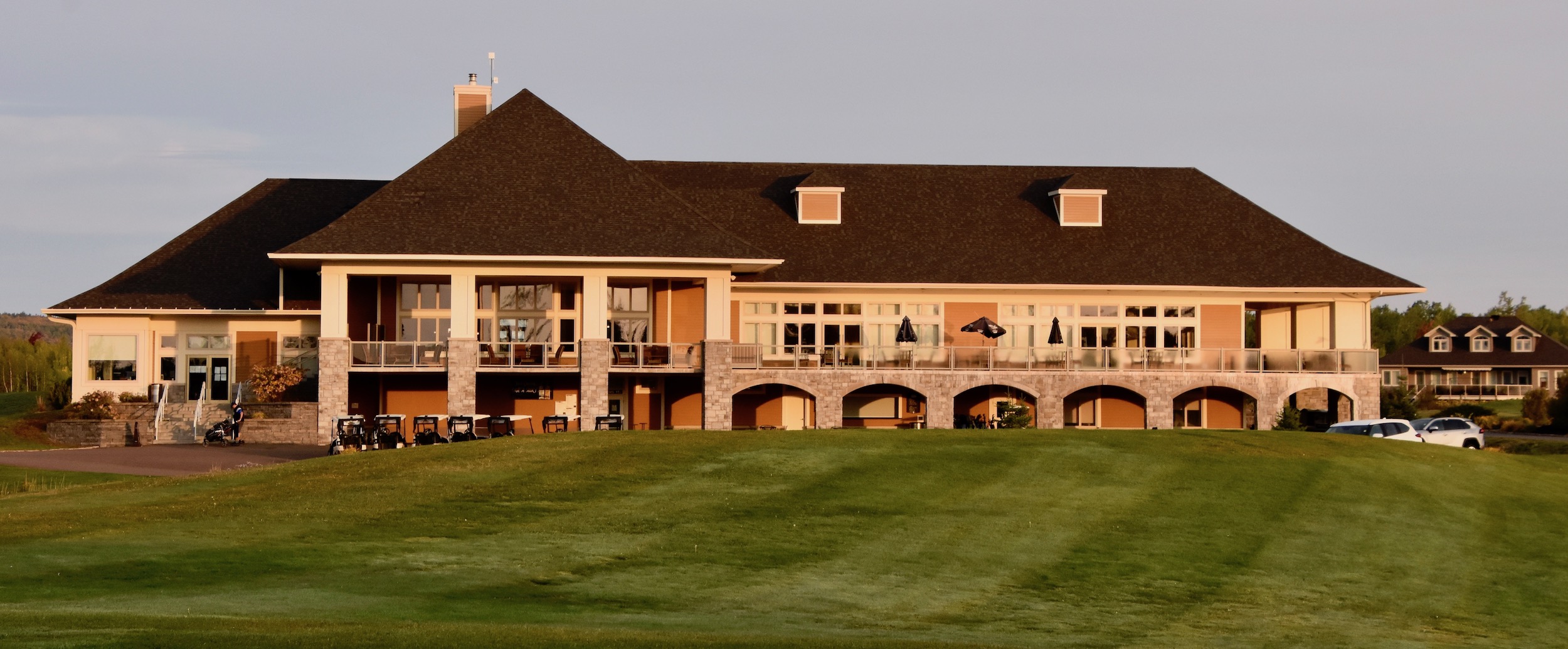 History of Royal Oaks
Royal Oaks was the first course in Canada to be designed by one of the most recognizable names in golf architecture, Rees Jones, son of Robert Trent Jones and brother of Robert Trent Jones Jr. The three of them can truly be called a golf dynasty with Rees being called upon to modernize many famous layouts to make them suitable for PGA tournament play, including seven U.S.Open courses, nine PGA courses and six Ryder Cup venues. In Canada, after Royal Oaks, he was tapped to prepare Royal Montreal and Hamilton Golf Club for the Canadian Open.
The course was opened in 2000 and is the centre piece of a significant housing development just north of Moncton. It has a huge clubhouse by Atlantic Canadian standards and prior to Covid, Crosswinds was a very popular restaurant and bar and presumably will return to that status once the pandemic is under control, along with the many social events usually held here.
It also has one of the best practice facilities in the province.
We arrived for the first tee time of the day on another beautiful fall morning in New Brunswick. We have been very fortunate with the weather on this trip and I'm beginning to think that late September is a prime time to visit the Picture Province.
Royal Oaks #1 – 357 Yard Par Four

Royal Oaks can play as long as 7,103 yards making it suitable for all levels of tournament play, but the other four sets of tees are where most sane golfers will tee it up. I'll be playing from the whites which is still a challenging 6,173 yards for me. Alison will play from the red tees which measure out at 5,325 yards.
I have played Royal Oaks a few times in the past and remember it as a player friendly course with generous fairways and a lot of links looking holes like this first one. I also remember that it was in great condition on those previous occasions and today that appears to be the case as well. There are more water hazards on Royal Oaks than any of the other courses we have played on this trip and in fact, more than any course we've played in Atlantic Canada this year. These water hazards are one of the things that make the course memorable, for at this time of year they are teeming with migrating waterfowl. I counted at least ten different species during our round.
There is one downside to lots of water and lots of grass – Canada geese that have become a literal plague to golf courses all across North America and that is especially the case at Royal Oaks. I talked to the superintendent about what they could do about it and the answer is really not much. Propane powered cannons that scare the geese with their loud noise are somewhat effective, but after a while the geese realize that these devices are all sound with no fury and they ignore them. At my home course Ashburn they use specially trained dogs to put the geese to flight and according to The Humane Society this is the best method.
So with avoiding the goose shit as much as possible on our minds, we'll tee off on this par four slight dogleg left that suits my ball flight perfectly. From the photo you can see a number mounds on the edge of the fairway and this is a feature of Royal Oaks.  A ball that is hit offline will often be bounced back toward the fairway if it hits one of these mounds. That is one of the things that make this course quite player friendly. On the other hand, if you are really wild off the tee and hit on the far side of one these mounds it will compound your trouble.
While Royal Oaks is a quite walkable course, most players use a power cart and there are paved cart paths on the sides of all holes.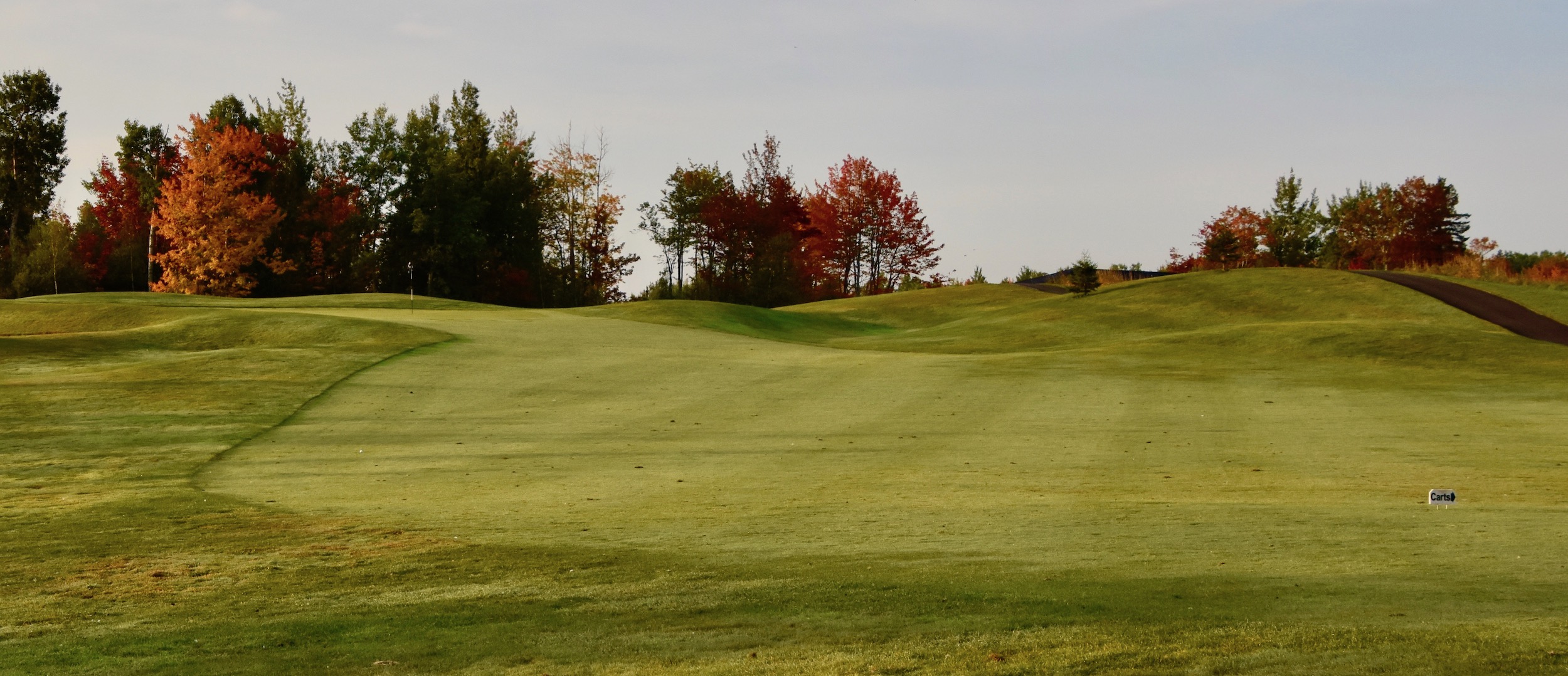 This is the approach to #1 showing another feature of this course which is the transition from a fairly coarse fairway to an immaculately groomed area around the greens. All the fairways and greens at Royal Oaks are bentgrass which is the preferred type for climates like Moncton where they get a ton of snow in winter and some very low temperatures. Bentgrass can survive these better than the bermudagrass more commonly used in southern courses. Bentgrass can also be very finely mowed allowing for fast and even greens which is the case on this course, although at this time of year they are nowhere near as fast as they could be in July or August.
All in all No. 1 is a good starting hole that fairly represents the challenges that Royal Oaks has to offer.
#2 – 310 Yard Par Four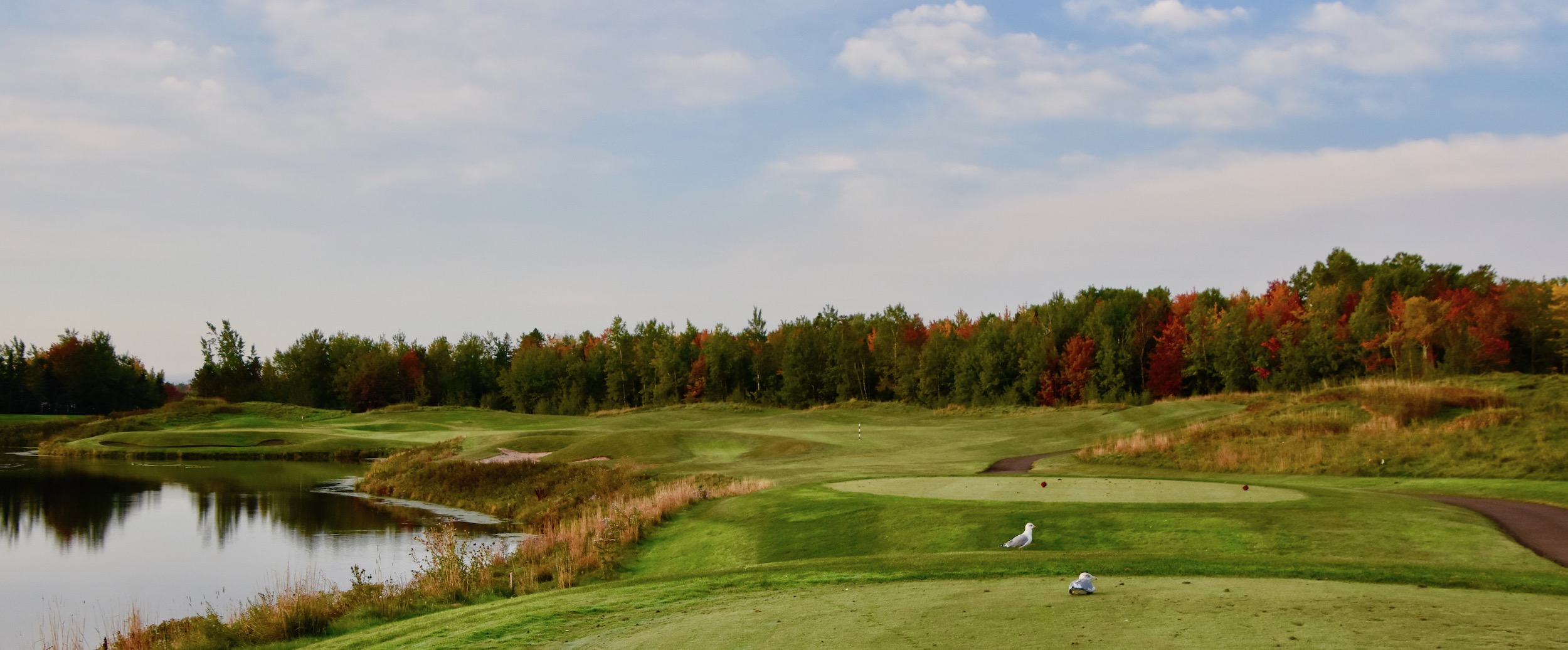 #2 is the first water hole on the course and it is present from tee to green. This is definitely one of the prettiest holes at Royal Oaks with the combination of fall colours, green fairway and blue-gray water that reflects the trees. It is also one of the most enjoyable to play. The trees are not really in play and you can aim your drive well away from the water and then have a wedge into this green. The gulls on the front of the tee did not move even when I struck my drive.
Royal Oaks #3 – 472 Yard Par Five

Things start to get a little tougher on this #7 ranked hole, but the fairway is quite wide with those mounds acting as bumpers on both sides. It is a straight away par five that you don't need to try to overpower. A decent drive followed by a five wood will leave another short approach shot to a receptive green. By that I mean that the greens at Royal Oaks are quite soft and will hold any decent short iron shot, unlike some places I've played this summer where the greens were so hard that they acted like trampolines.
#4 – 371 Yard Par Four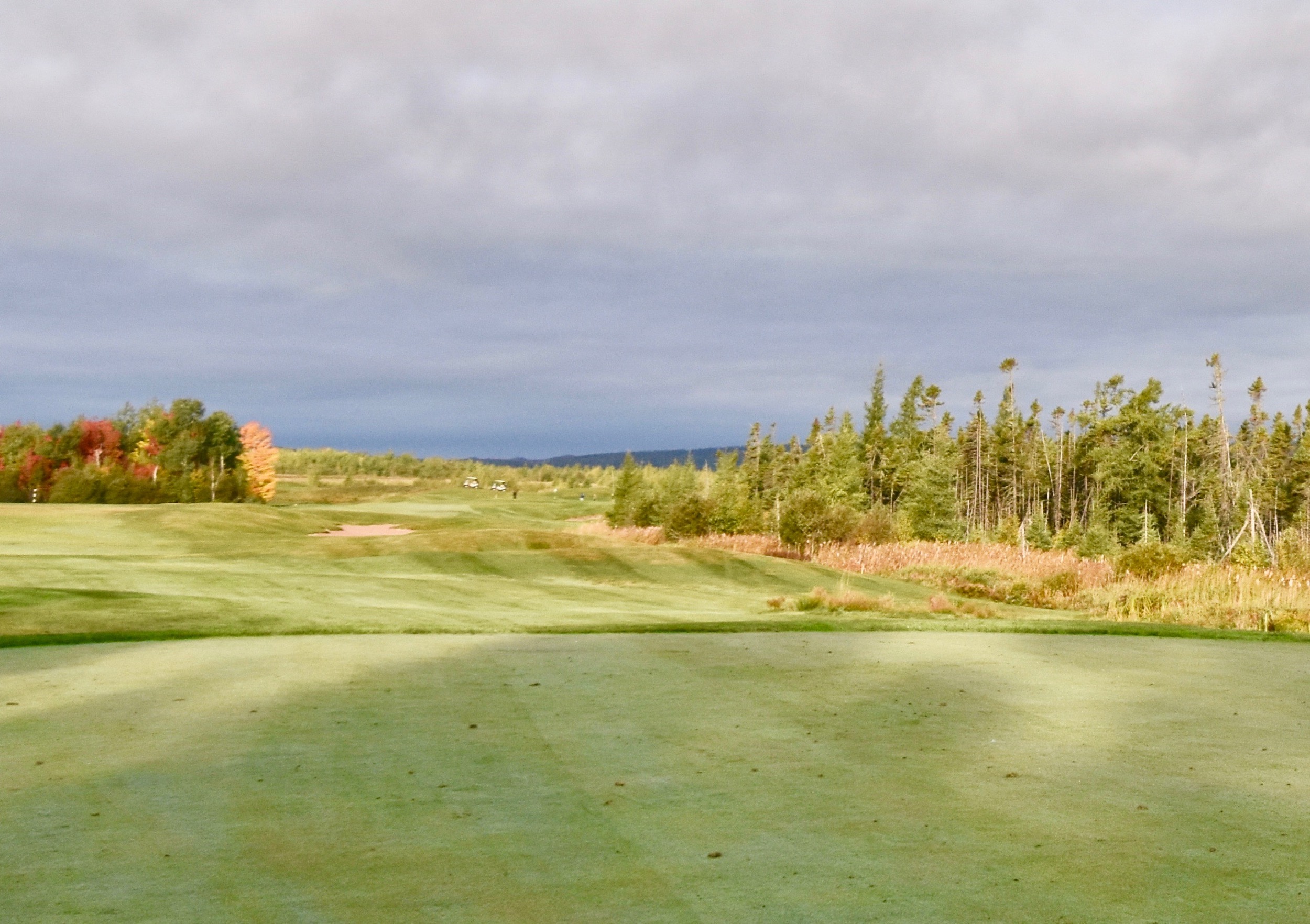 This is the hardest ranked hole on the course and requires a drive positioned well to the left toward the 150 yard marker you can see at the edge of the photo. It is one of the few holes at Royal Oaks where the woods are in play and anything right of the fairway is almost certainly dead. The bunker is very strategically place to dare long hitters to challenge it which is a sucker's play on this hole.
Rees Jones does not go crazy with bunkers as some golf course architects do. The ones here at Royal Oaks are almost all in strategic locations and not just for looks. Although Covid has affected bunker play, I did hit a few shots from bunkers and found them to be very fair with quite fine sand and no real huge lips to clear.
Royal Oaks #5 – 388 Yard Par Four
This is the second of the water holes. The pond on the left is not in play, but what you cannot see from the tee is the water that starts just past the bunkers on the right. I didn't hit a great drive on this hole, but it did avoid the water leaving this 180 yard approach. Again the mounds are your friends here and they make a nice target keeping your ball flight well away from the water.

#6 – 131 Yard Par Three

After a stretch of three of the tougher holes at Royal Oaks you come to this little sweetie which to me was the easiest hole on the course. With the right club selection this should be a no sweat par. Although it doesn't look it, the bunkers run all the way up to the left side of the green. However, with today's pin placement there is no excuse to be anywhere near them. A pin placement on the left side of the green would make this a much tougher hole.
Royal Oaks #7 – 503 Yard Par Five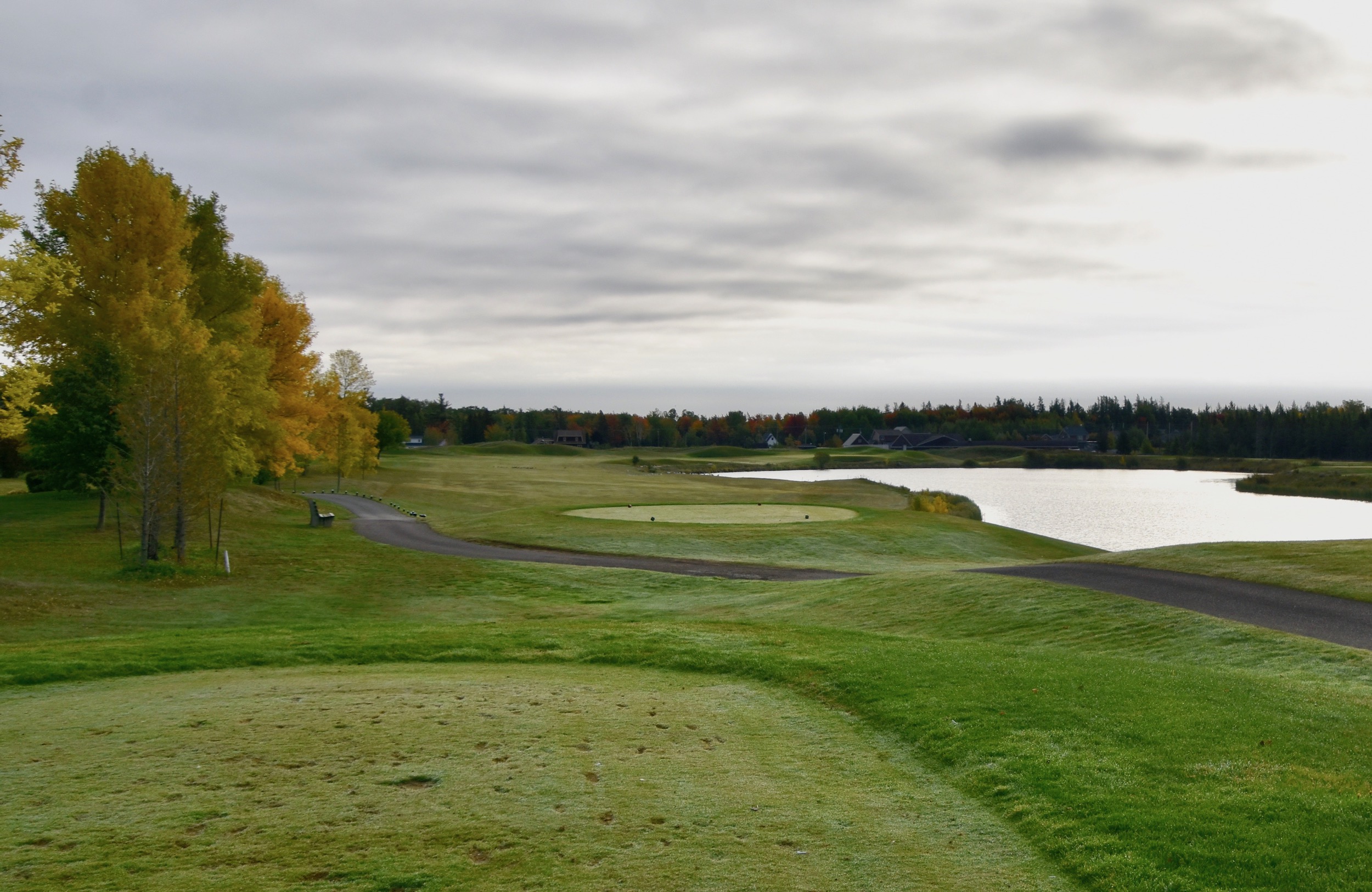 At this point I should comment on the fact that despite Royal Oaks being part of a housing development, there are very few holes where the houses come anywhere near the fairway. This is a credit to Rees Jones and the developers for not trying to squeeze every dime out of the place by jamming in homes every place possible like so many other development courses I have played. Florida is especially notorious for this. On this hole there are homes down the left side, but they are buffered by the trees and set well back on very large lots.
This is probably the toughest driving hole at Royal Oaks with a narrow fairway and water down the entire right side of the fairway. It is also one of my favourite designs for a par five – a cee curve around a body of water that can be challenged on the second shot or respected by playing the second shot along the water, but not over it. Probably no course does this better than Arnold Palmer's Bay Hill in Orlando. It's a classic design that also creates a great looking golf hole as well.
Being the chicken I am, I chose not to challenge the water, but underestimated how far I would have to hit it to avoid going over it on the third shot. I was left with this approach shot and by some miracle didn't choke and hit the green in regulation for a two putt par.

This is a shot looking back from the green to the clubhouse and gives a better idea of how far the houses are from the fairway on this hole.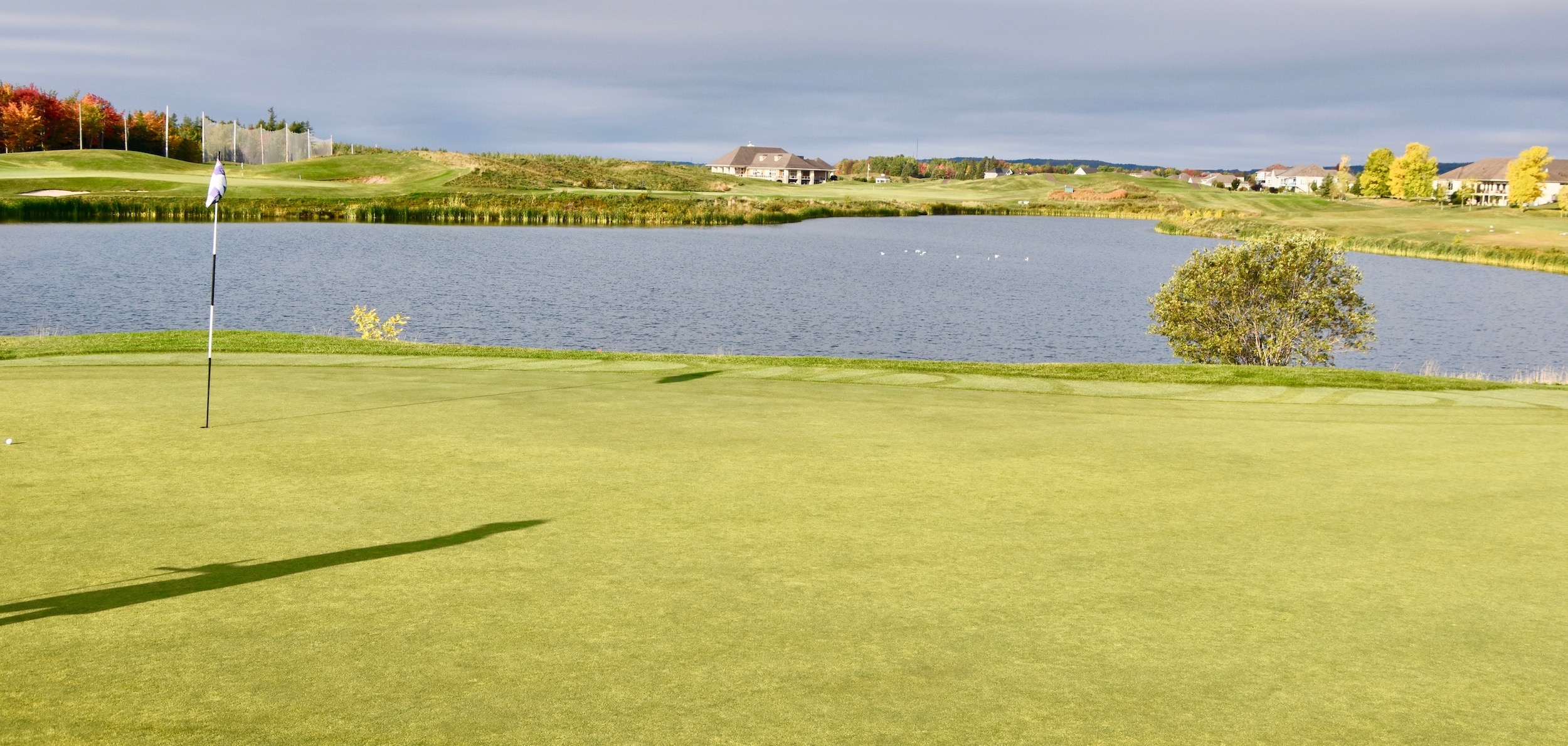 #8 – 133 Yard Par Three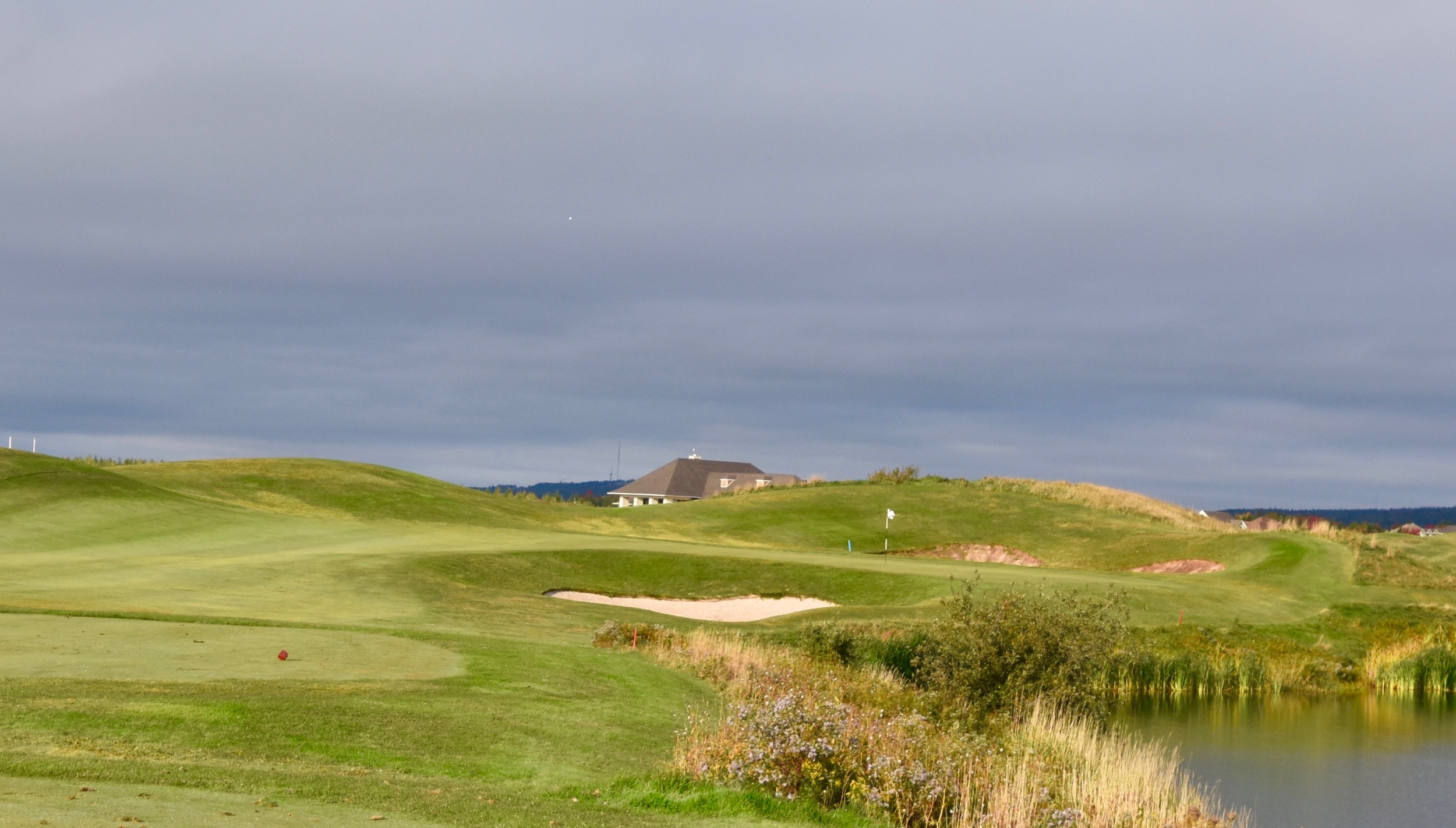 #8 is a tricky little par three with all the trouble straight ahead or on the right side. The green slopes sharply left to right which means you need to be well above the hole with your tee shot. Going too far left will bring the mounds into play which once again is not necessarily a bad thing on this hole. The saving grace here is the short distance which allows for a lofted club with a high ball trajectory which will hit and stick reasonably well.
After not a great start, this was my third par in a row.
Royal Oaks #9 – 352 Yard Par Four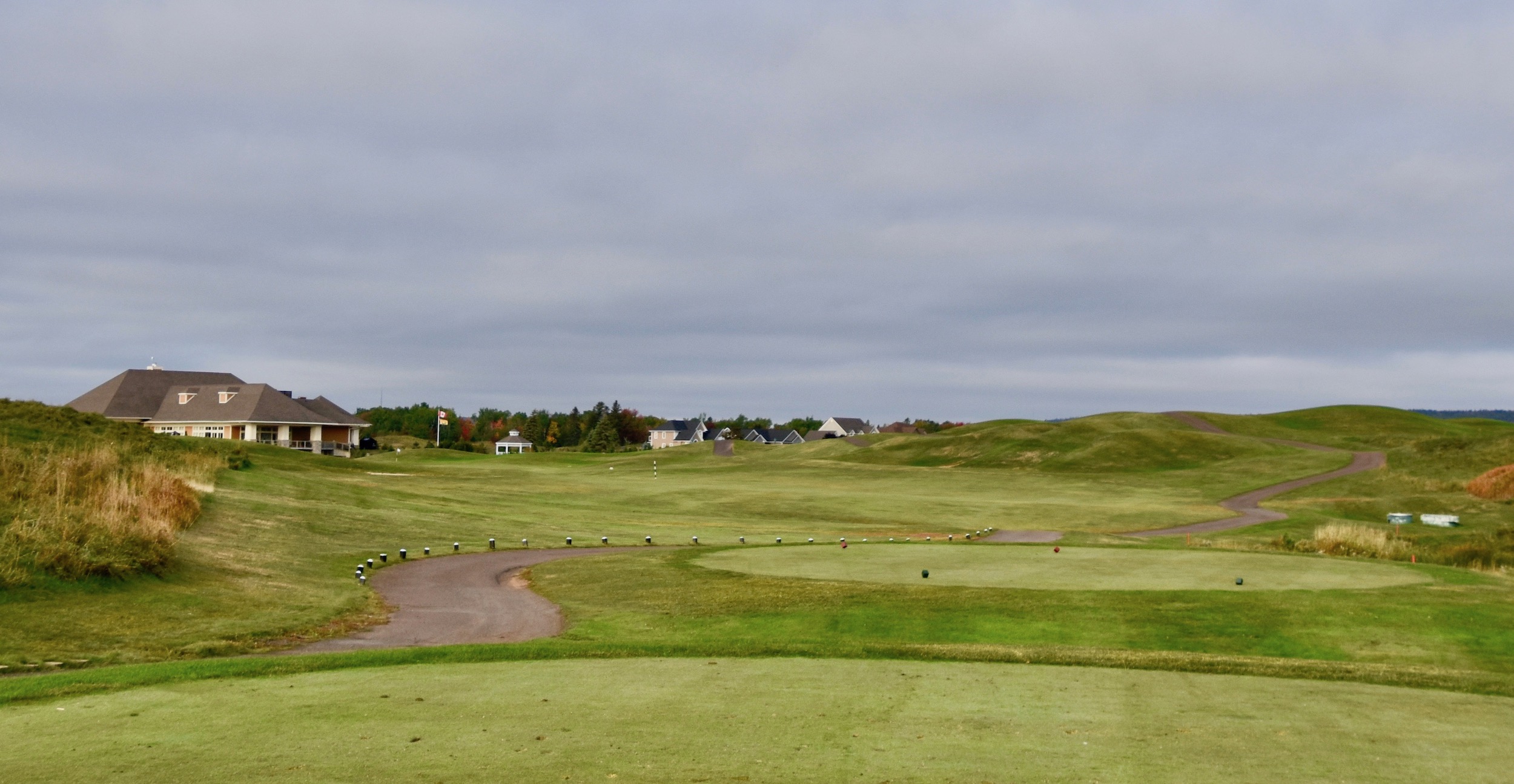 The wide fairways reappear here at #9 and there should be no problem off the tee. The difficulty is the second shot as the left side of the green is guarded by yet another pond. Like many golfers, I gave the water too much respect and ended up well right of the green on the approach shot leading to the end of my three hole par streak. Oh well, all good things must come to an end, but luckily we've still got nine holes to play.
#10 – 464 Yard Par Five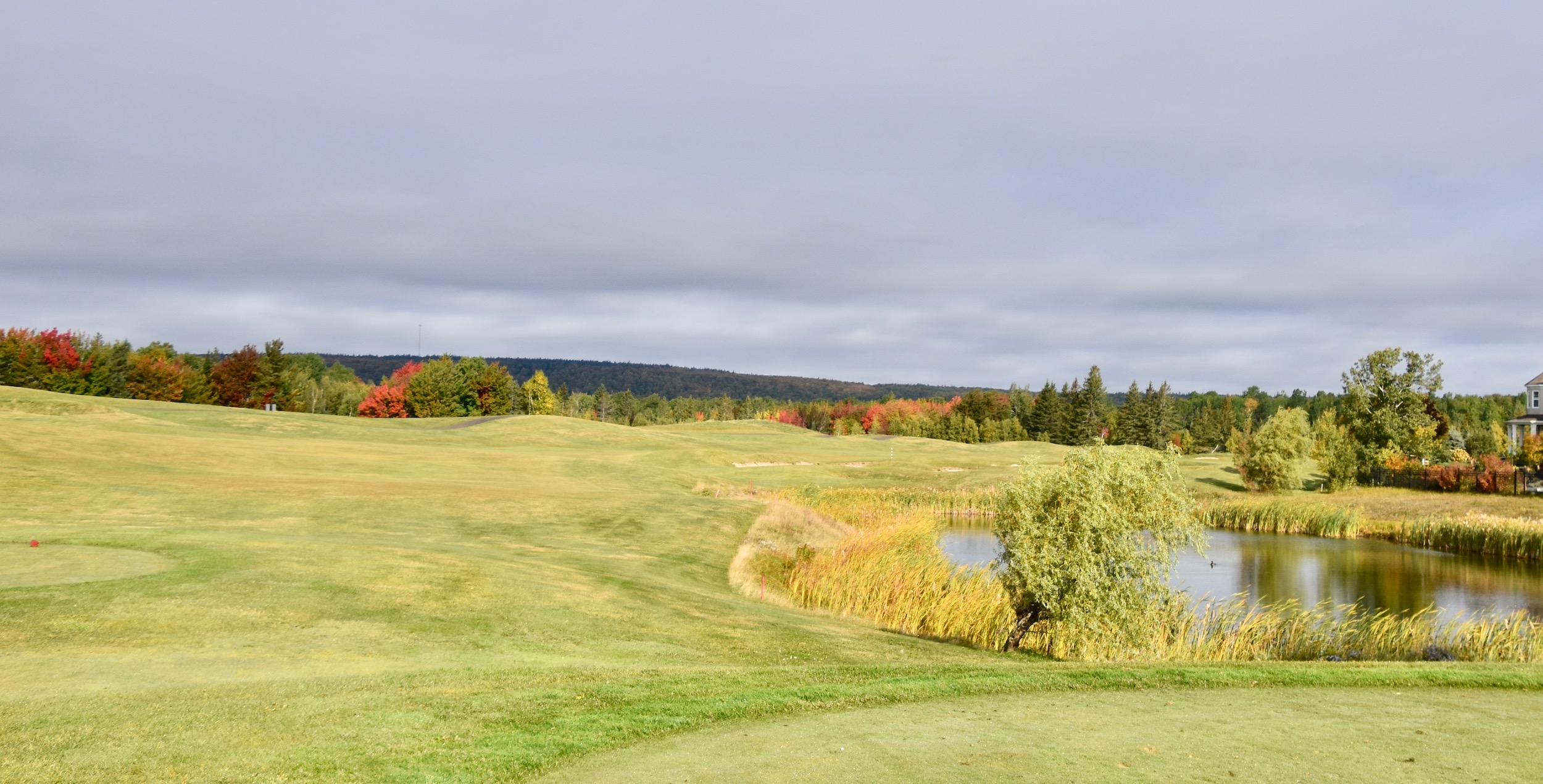 This first par five on the back is another very playable hole which should not present a problem for most golfers as long as you play it as a par five and don't try to overpower it. A decent drive will leave you with this look from well over 200 yards. A hybrid aimed at the traps will come up short leaving a not very difficult third shot and a real birdie opportunity. Heroes will try going over the water to the pin and most likely fail miserably.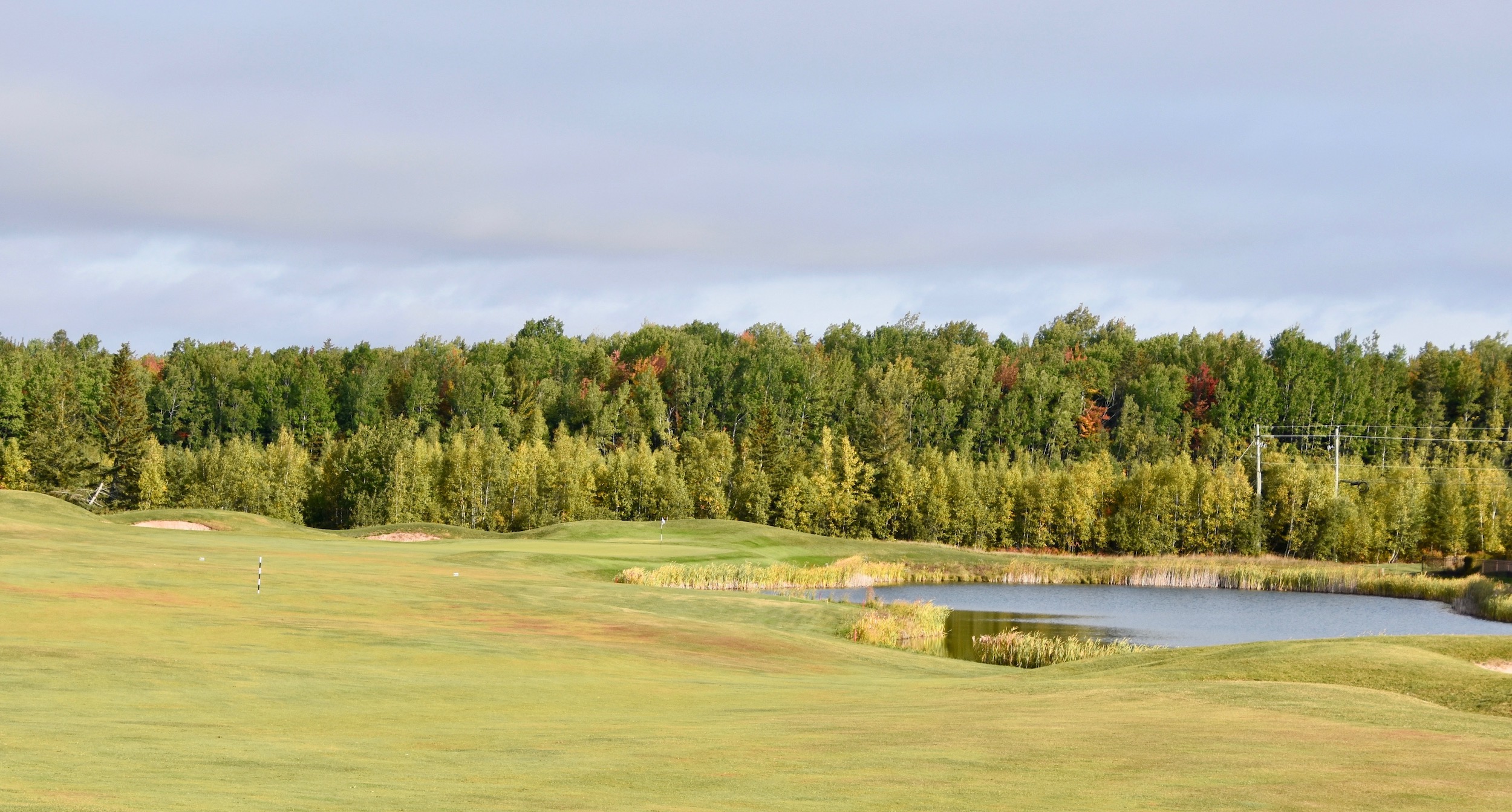 Royal Oaks #11 – 344 Yard Par Four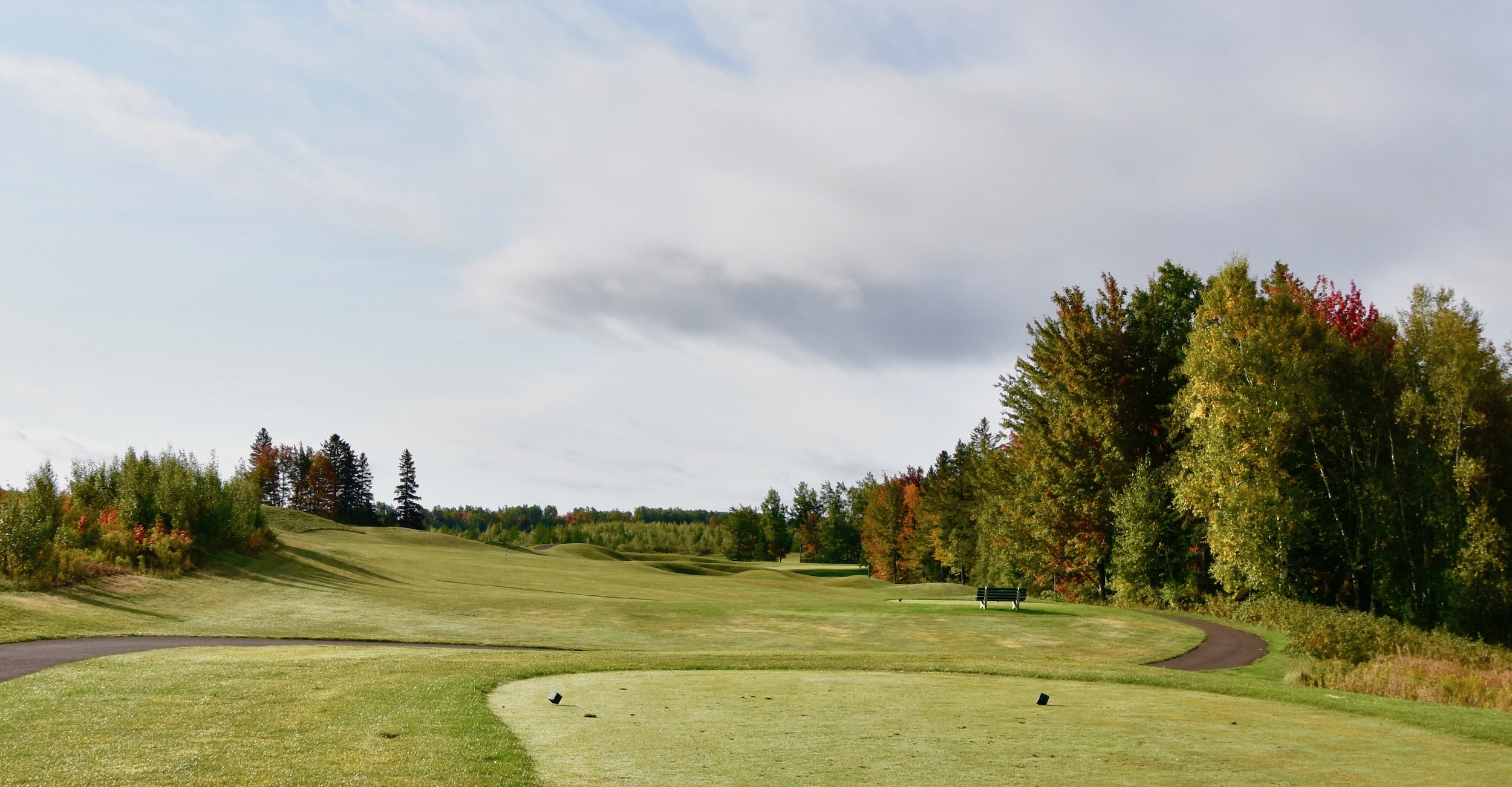 This was my favourite par four at Royal Oaks and perhaps the signature hole. While it's a relatively short hole, it is rated the sixth toughest hole on the course. From the tee box the reason is not readily apparent, although it is one of the few holes on the course where the woods are actually in play. However, for a leftie like me this is a great driving hole with a slanted fairway that will prevent any right to left drive from getting into trouble.
This is most likely what you will face on your approach shot – bunkers everywhere and a very small green. A precision second shot is required here, something I've yet to master in fifty years of playing this game. This is one of the holes where you're apt to be tested on your ability to get up and down from a bunker.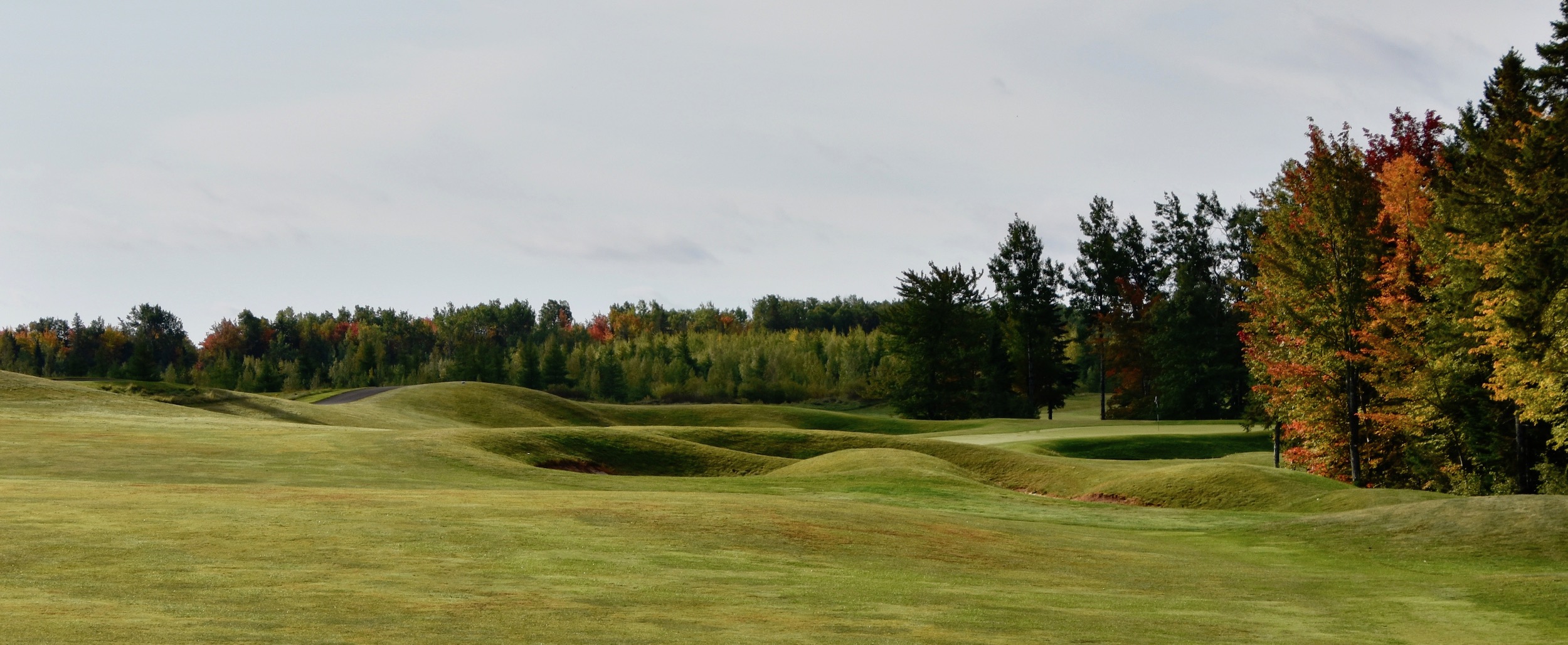 #12 – 158 Yard Par Three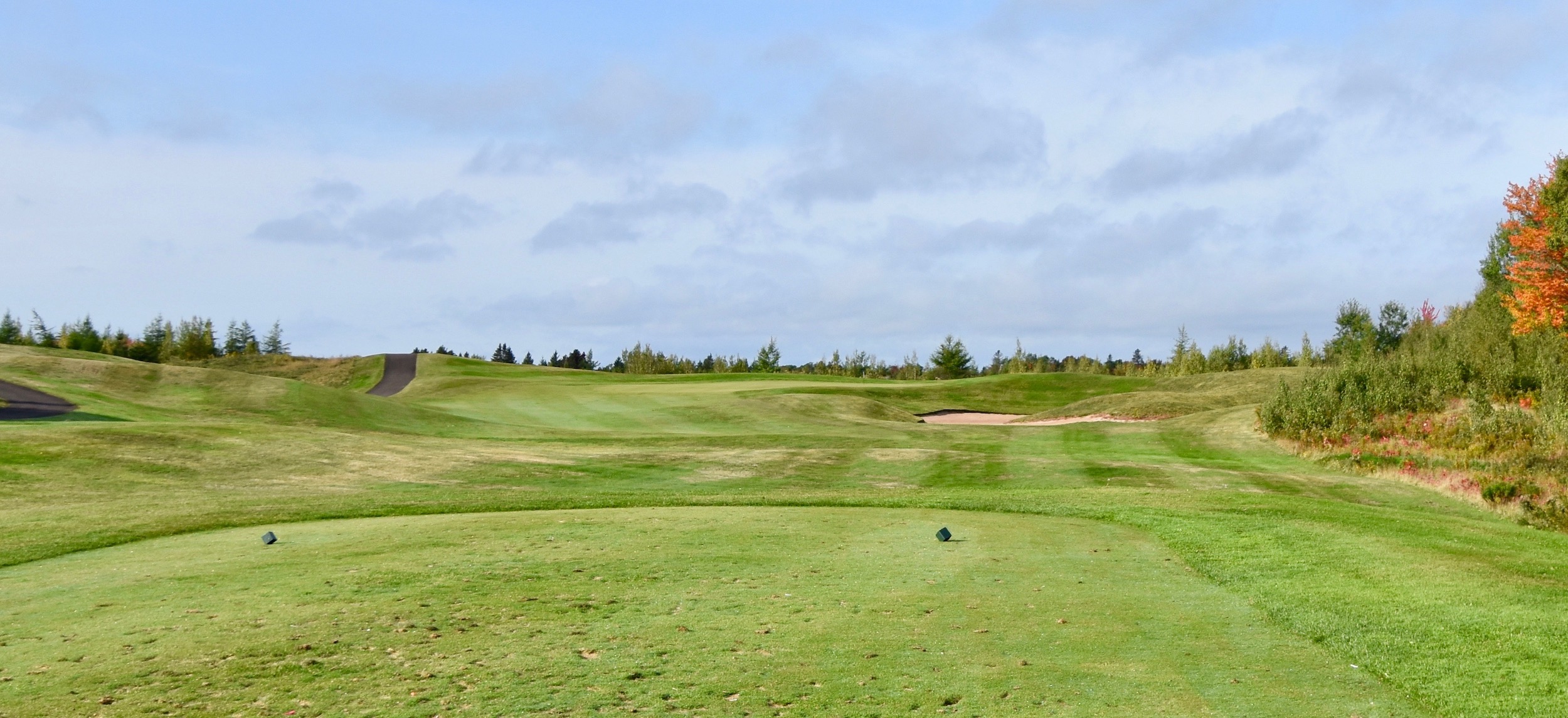 The longest par three at Royal Oaks is still a very reasonable distance even though it plays uphill. All the trouble is on the right with lots of room to bail out on the left. You can go right at it hoping for a birdie putt or play it safe and almost certainly guarantee a par.
Royal Oaks #13 – 465 Yard Par Five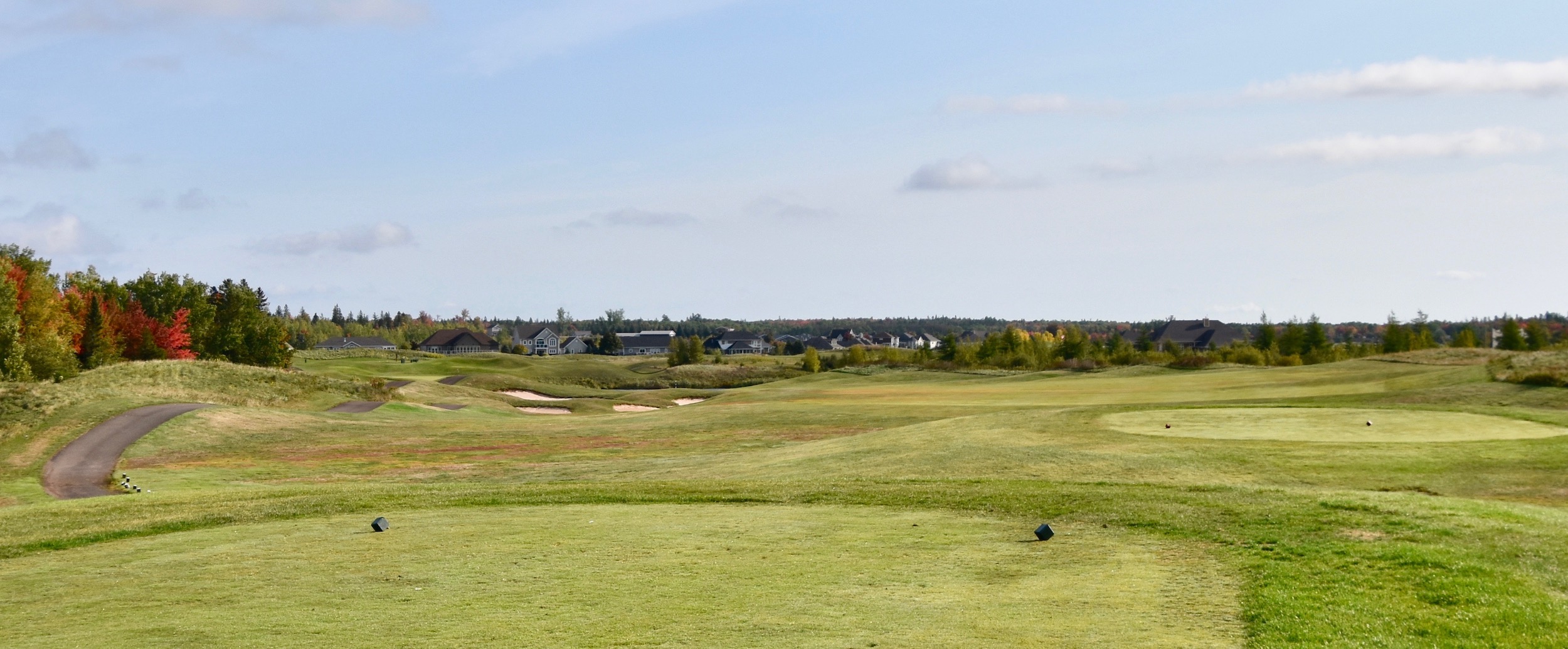 This is the final par five at Royal Oaks and probably the easiest of what is a very player friendly group of long holes. I really like the fact that you can play these par fives as they should be – a driver, a wood or hybrid and then a short iron in. It is simply not fun playing par fives that are so long that the third shot requires a long iron or worse. Call me a wimp, but I like short par fives. This one has a pond on the right side of the green so it's not all a bed of roses.
#14 – 152 Yard Par Three

This final par three has no easy bailout option like #12. Going for the pin is the requirement here with trouble everywhere but short. One of the few holes at Royal Oaks where taking a little less club makes sense. Even with those apartment buildings in the background this is a very nice looking hole.
Royal Oaks #15 – 411 Yard Par Four
For me this was by far the toughest hole at Royal Oaks. Its length makes you decide if you are going to try to challenge those bunkers off the tee or play safe out to the right. The former is risky, but if the drive is successful you could reach this green in two which is unlikely if you play it safe.
Don't ask me how, but I did hit the longest drive of the entire New Brunswick trip on this hole and had this approach from 170 yards. Ok, you can stop laughing that a 240 yard drive is titanic by my standards. One more time those mounds can be your friend if you play the approach too far to the right. Or your ball can just get stuck in them as mine did, ensuring a bogey and blowing that great drive.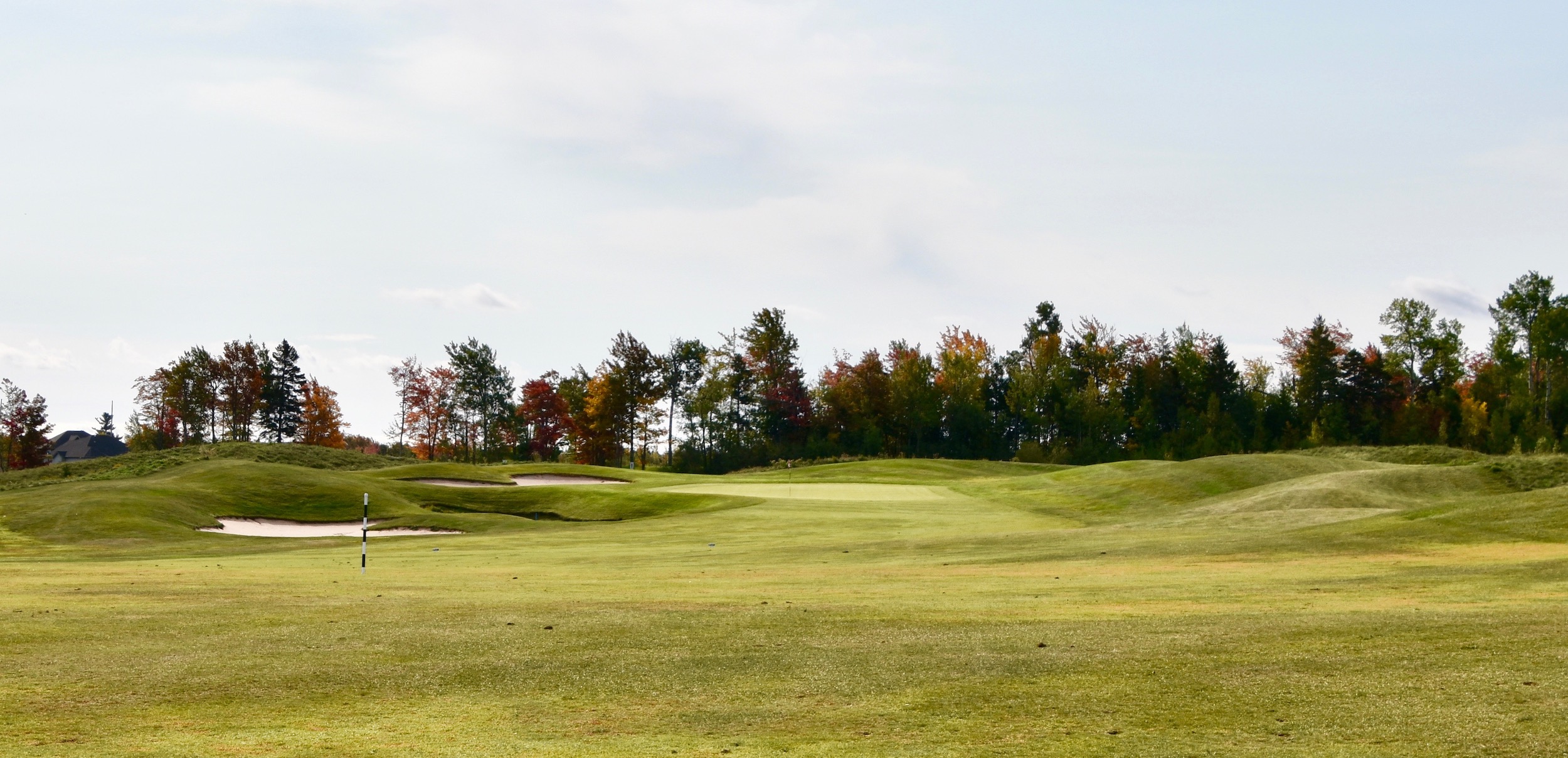 #16 – 365 Yard Par Four
Wow! Look at the beautiful fall colours on this hole. It's a straight par four with a look quite different than most of the holes at Royal Oaks. You can actually lose a ball in the woods here, but the fairway is pretty wide and anything on the fairway will give a mid iron into green that has bunkers on both sides.
Royal Oaks #17 – 378 Yard Par Four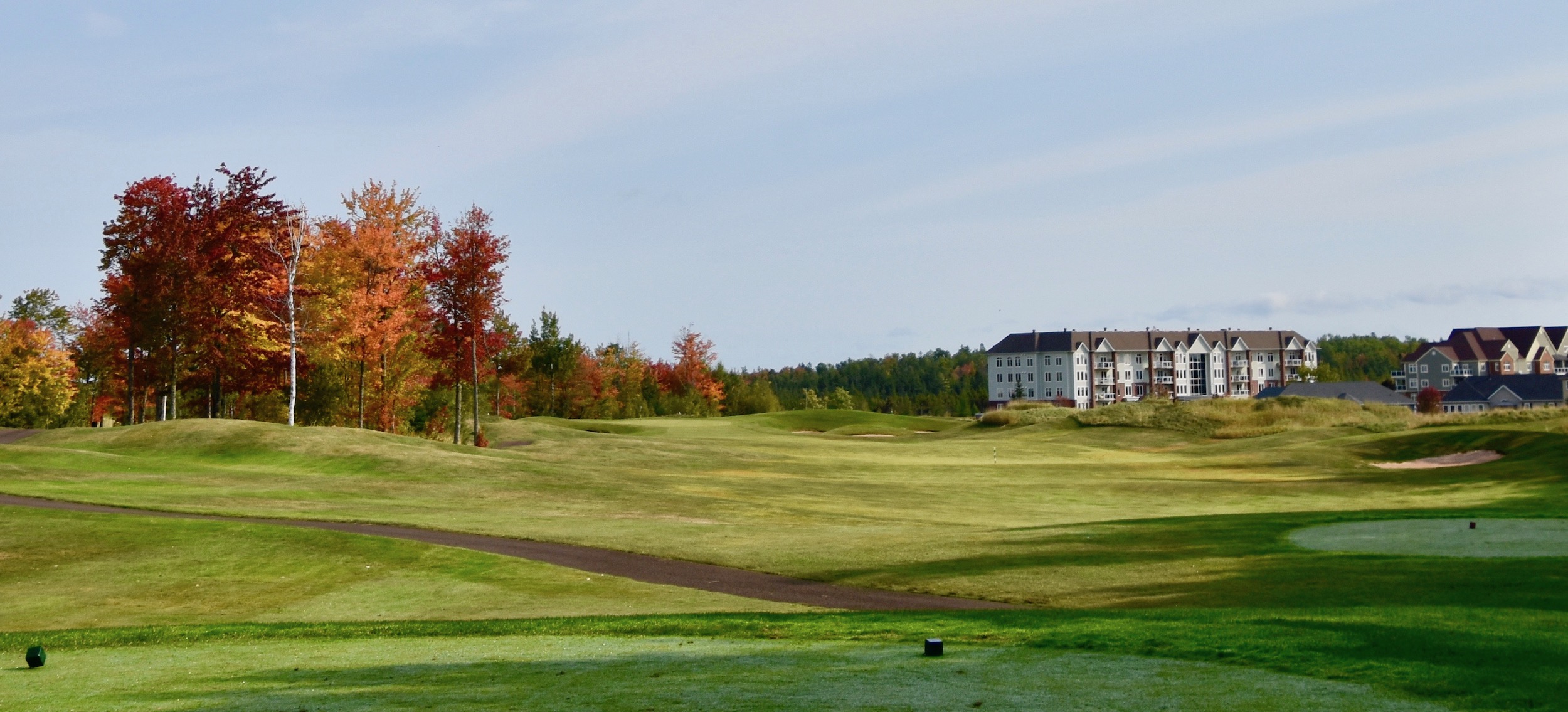 I found the apartment buildings on this hole a distraction from the tee, but actually it's a very nice par four. Aim straight for the building on the left and there is a ton of room to land and then it's probably about a five hybrid to one of the larger greens at Royal Oaks.
#18 – 419 Yard Par Four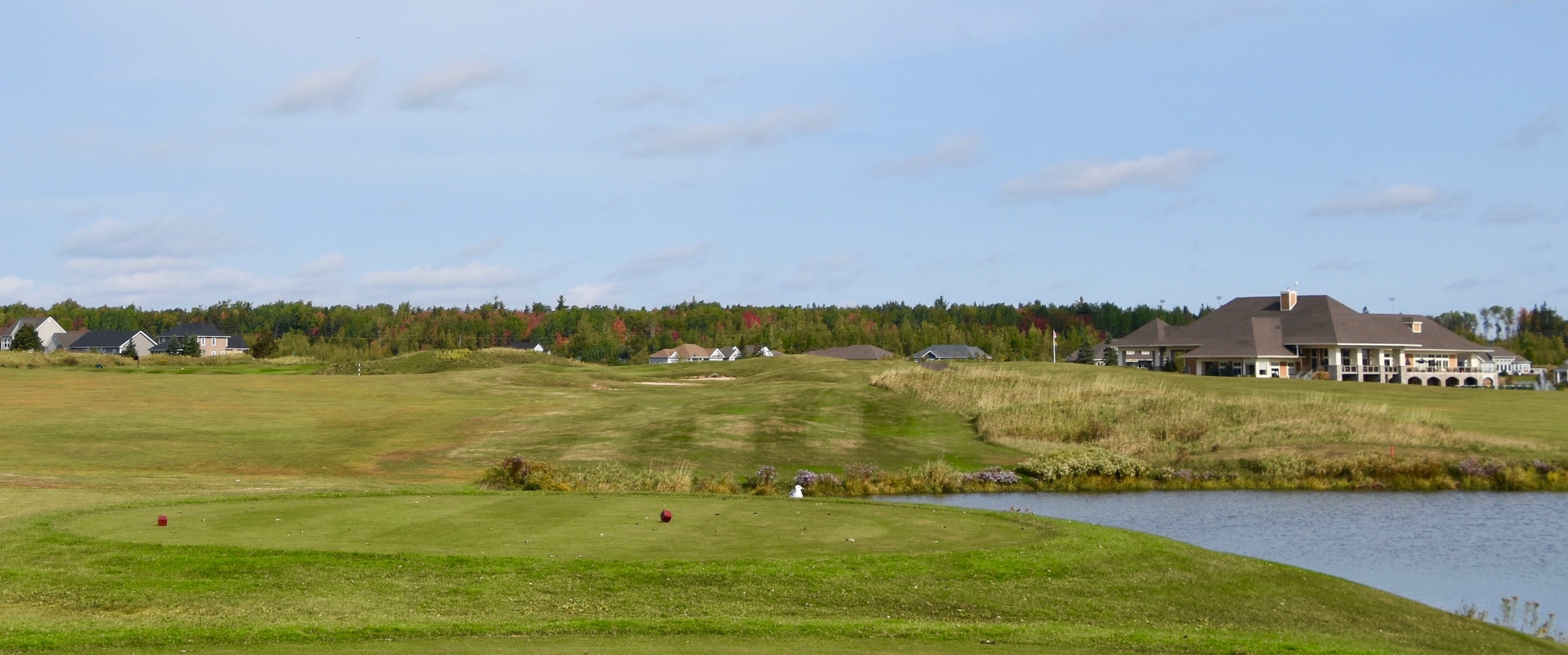 The final hole is a really long (by my standards) par four that requires a great tee shot to have any chance of getting to the green in two. You can see that 150 yard marker seems miles away from the tee. The upside is that one final time Rees Jones has provided lots of room for error to the left so you don't even need to think about the bunkers straight away. I couldn't reach this in two, but my approach shot wasn't too far off the green and if I could putt I might even have parred this hole.
Starting with four out of the first five holes as par fours and finishing with four consecutive par fours makes Royal Oaks a quite different experience than most courses. I have always found that par fours are the hardest to par or birdie with the result that, if you are like me, you will probably get off to a slow start, then have a great run from 6 through 14 and then come back to earth on the last four. No matter if that's true or not, I think that Royal Oaks provides a very fair test of golf and it should be on every Maritime golfer's must play list for 2021.
For a hole by hole review of Moncton's other great course Fox Creek check out this post.