Fundy Golf Course Hole by Hole
Alison and I arrived in Alma, the gateway to Fundy National Park after driving the Fundy Trail Parkway which has now been completed from St. Martins through to Sussex, as part of our continuing fall golf expedition to New Brunswick where we will play the Fundy Golf Course. Arriving here brought back fond memories from half a century ago.
The year was 1967 and my family had just spent a week at Expo 67 and we were now headed to Nova Scotia to visit relatives there, as we had done for many years in a row. Part of this yearly ritual was staying in national park campgrounds wherever we could and a frequent stop was Fundy National Park. The main campground at that time was not too far from the golf course, a sport I had taken up at about age 12 and was very keen on. The course I played in my home town of The Pas, Manitoba was completely flat so when I ambled over to the first tee at Fundy Golf Course I was floored by what I saw – an incredible drop off from the tee to the fairway which seemed unimaginable to a boy from the northern prairies. We didn't have time to stop and play golf then, but I vowed that some day I would return and play this amazing looking course. Little did I know it would take over fifty years to fulfill that promise, but in late September, 2020 I did and here's why it lived up to expectations.
In a previous post on Cape Breton Highlands National Park's Highlands Links course I described how Stanley Thompson, Canada's foremost golf course architect, was commissioned to build a series of golf courses in national parks from 1924 through 1948 resulting in a legacy that is now recognized as a national treasure. Three of these courses, Jasper Park, Banff Springs and Highlands Links are in the top ten in Canada and people come from around the world to play them. Often overlooked is the nine hole course Stanley designed in Fundy National Park, which is a shame because in the opinion of golf writer Anthony Pioppi in his book The Finest Nines Fundy Golf Course is the best nine hole course in Canada. That opinion is shared by Canadian golf blogger Andrew Harvie who puts it atop his list of Canada's top 25 nine hole courses. Please join Alison and me as we play Fundy Golf Course and find out if the accolades are warranted.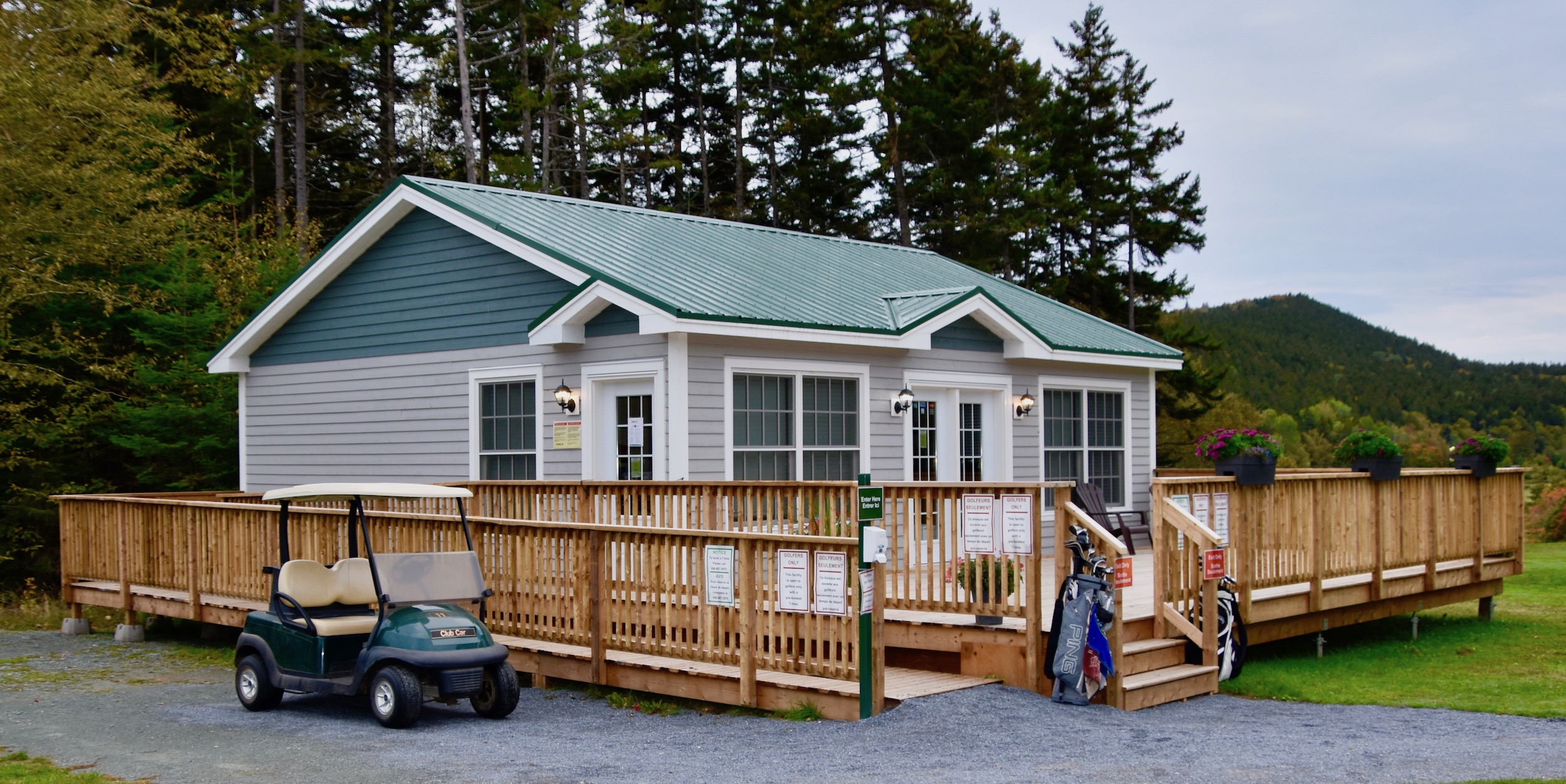 Unlike its big brothers in Jasper, Banff and Cape Breton, modesty is the watchword at Fundy Golf Course, starting with this minuscule pro shop. There is a dichotomy between the big three and Parks Canada's other golf courses which translates directly into course conditioning. Jasper Park and Banff Springs are part of the Fairmont resort system while Highlands Links is affiliated with Keltic Lodge, owned by multimillionaire Jim Balsillie. These courses are administered and maintained by those organizations, while the other Parks Canada courses have to compete for budget dollars with all the other amenities that the populace expects from our national park system. Ok, I'll stop beating around the bush – Fundy Golf Course is starved for money to keep it in the condition that Stanley Thompson would have expected when he designed the course. With that said, let's go to the first tee.
Fundy Golf Course # 1 – 394 Yard Par Four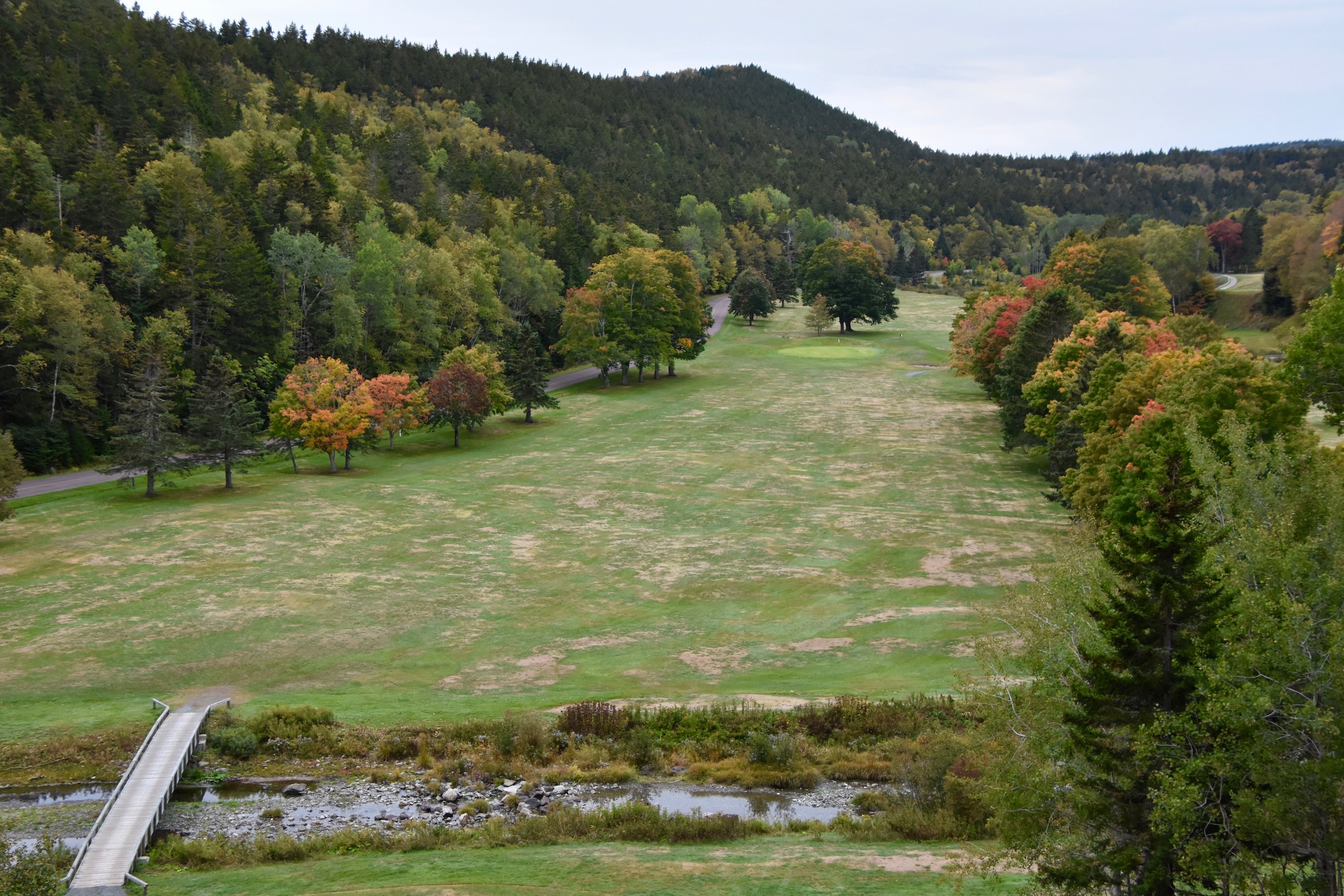 I'm now standing where I first stood fifty years ago and you can see why I was so taken with this view – this is as dramatic a starting hole as you are going to find anywhere. You can also see that the fairway is burned to the proverbial rat shit. But you know what, poor conditioning is not going to overly detract from a great design, just as great conditioning won't gloss over a poor design. Now to be fair, in reading reviews of Fundy Golf Course on Trip Advisor from 2016 through 2018, nobody commented adversely on the state of the fairways and most said the course was well maintained so I am going to assume that the super dry summer of 2020 was largely responsible for the shape of the fairways.
The nine holes at Fundy Golf Course play to a quite reasonable 3069 yards from the whites, which also happens to be the tips, but it has a number of serious up and downs so you might want to consider taking a power cart. We did and were glad of it.
Big hitters might overwhelm this course, designed in the days when 300 yard drives were extremely rare. The one defence from the long ball, and anyone else for that matter, is the postage stamp greens that require precise approach shots.
While this hole looks pretty wide open from the tee, the reality is that anything the least bit right is going to find the trees. Fortunately my ball flight is right to left so that wasn't a problem here.
This is a look back at #1 tee from the fairway which I think gives a better idea of how far below the tee box the fairway actually is.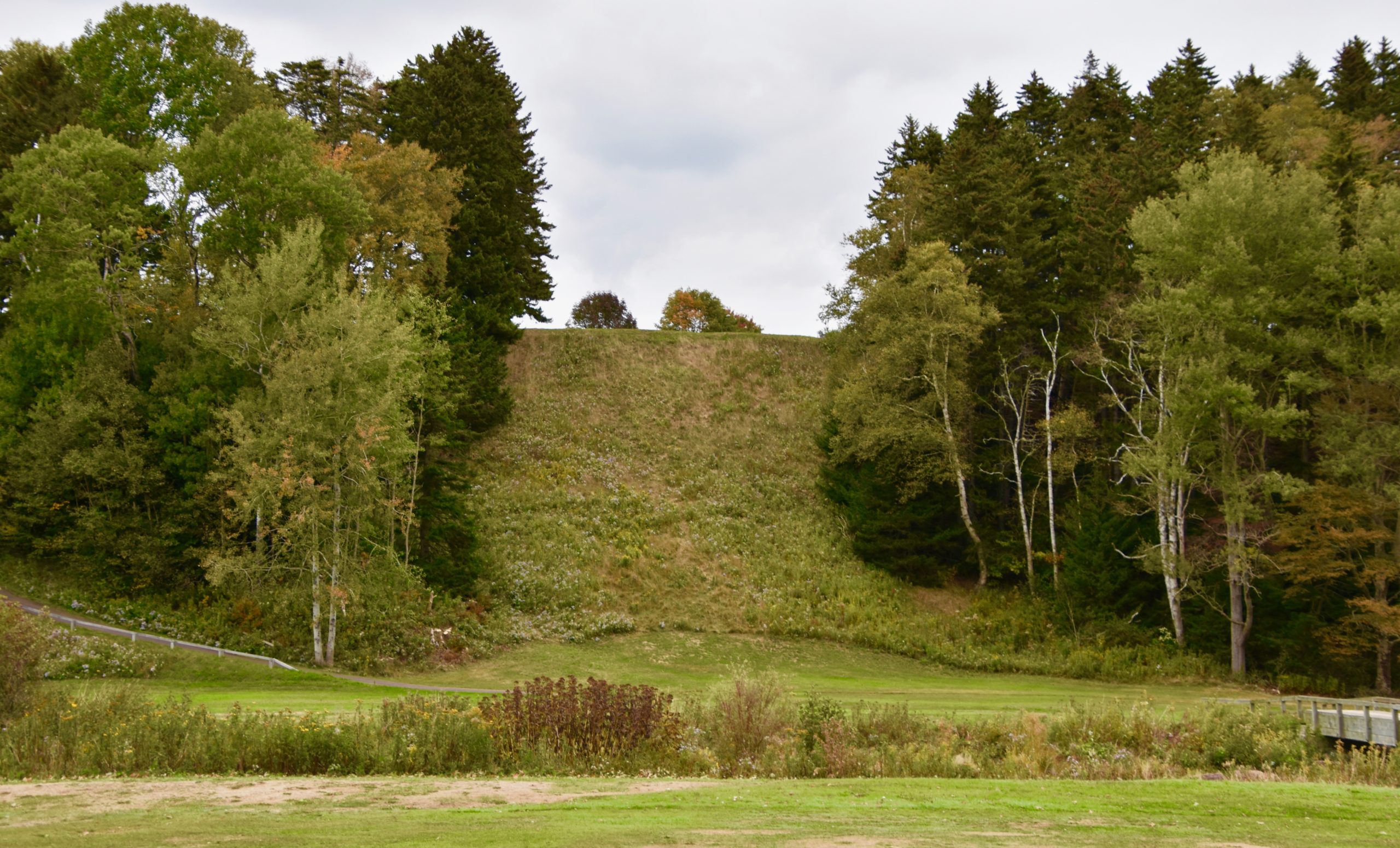 The green is in much better shape than the fairway, but the bunkers beside it have basically been abandoned due to Covid, as have many other bunkers on other courses, so that's not simply a maintenance issue.
#2 – 399 Yard Par Four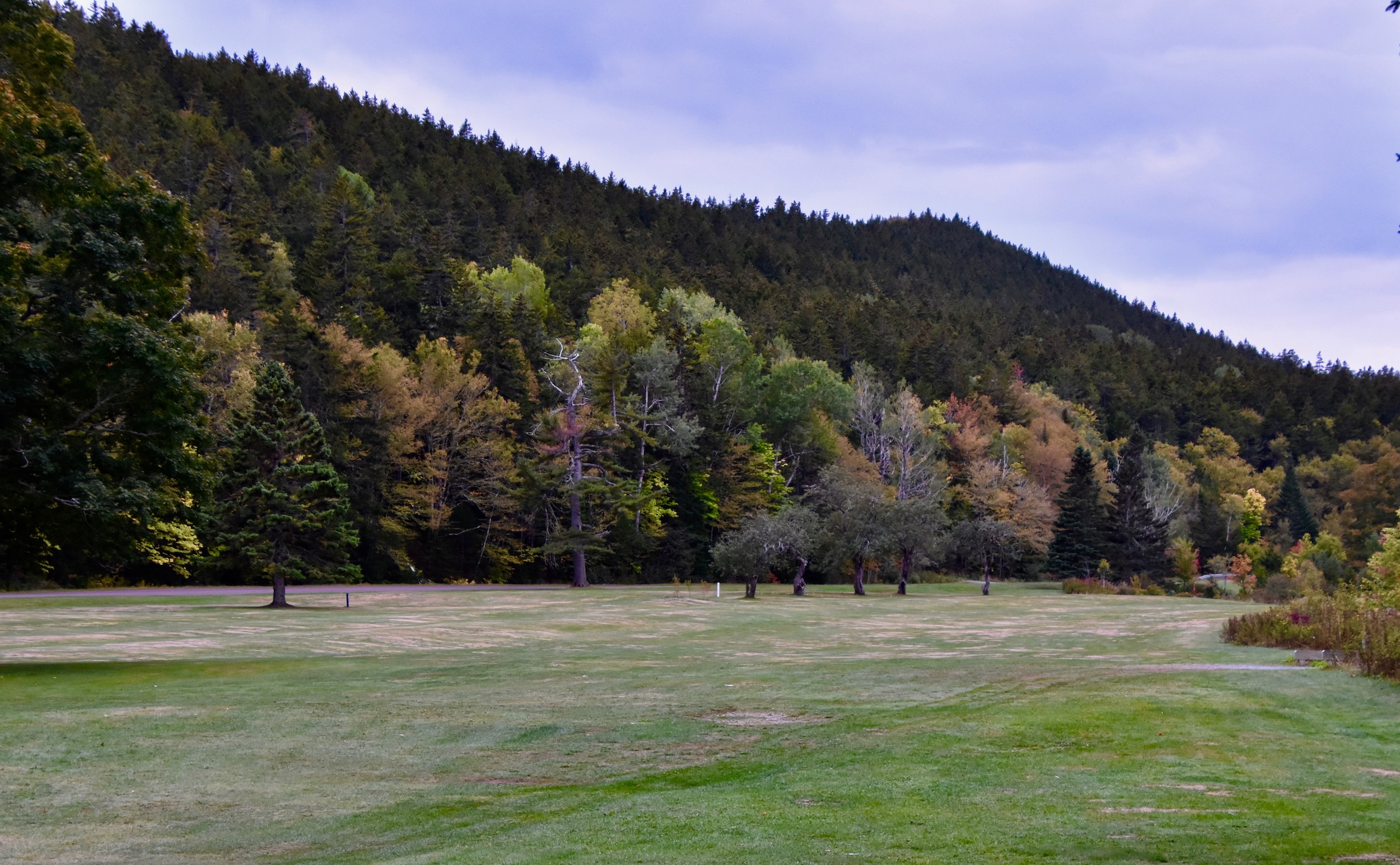 This is a very difficult par four that requires a long drive to reach the area where the fairway doglegs right and is crossed by a small stream. One thing Thompson did not do and that was give women much of a break off the tee. On more modern courses you might see a difference of up to 100 yards from the men's and women's tees, but at Fundy Golf Course the difference in length for women is about 250 yards in total. # 2 at 365 yards from the women's tee is a real challenge, especially with the stream to cross.
Here's a look at the second green which is pretty typical of a Stanley Thompson design – no great undulations, but very subtle elevation changes that can make them difficult to read. In this case, the front to back slant was more severe than it appeared and we both came up woefully short with our first putt. You can also see that the greens are in pretty good condition, not great, but quite acceptable.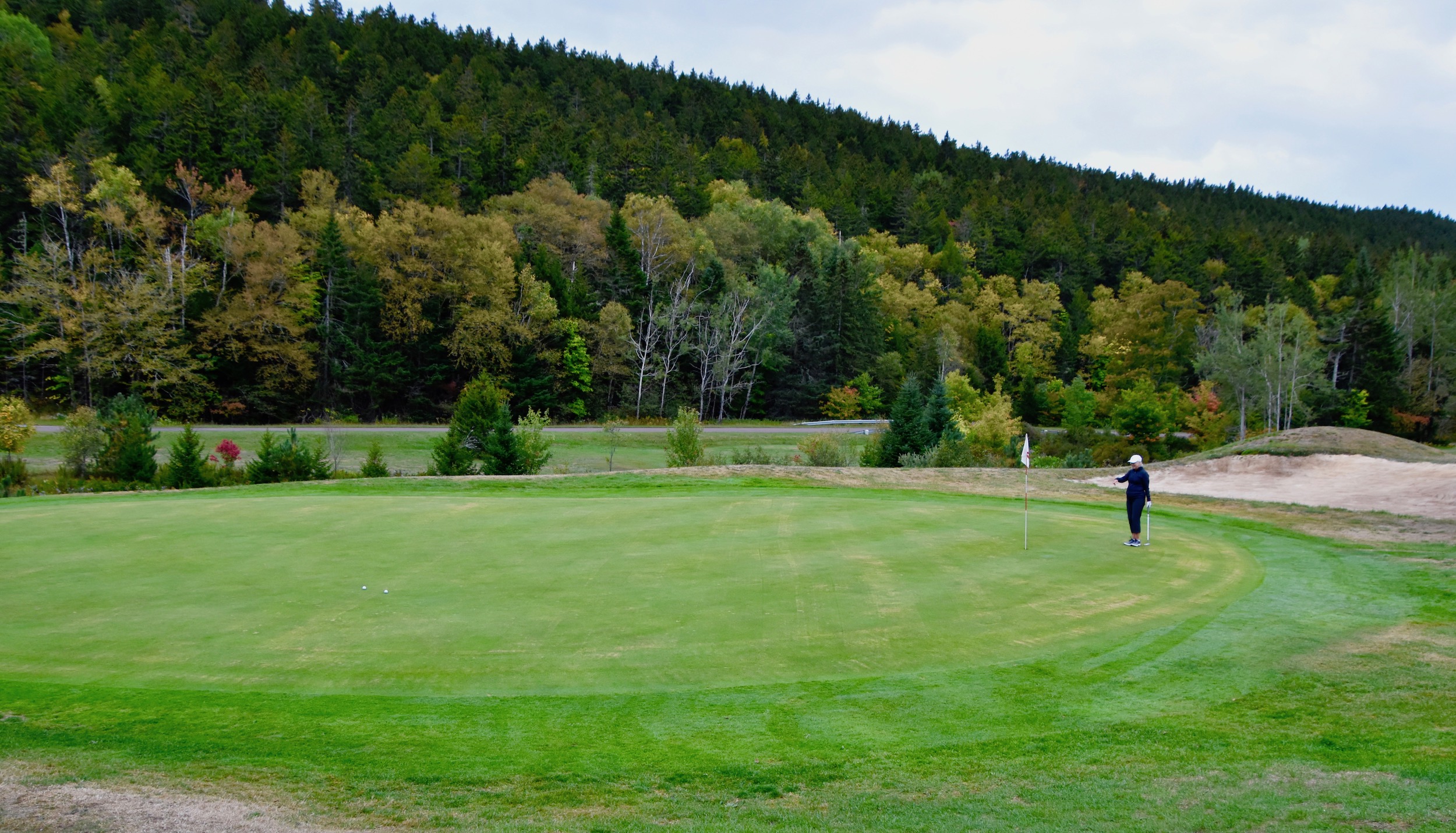 Fundy Golf Course #3 – 175 Yard Par Four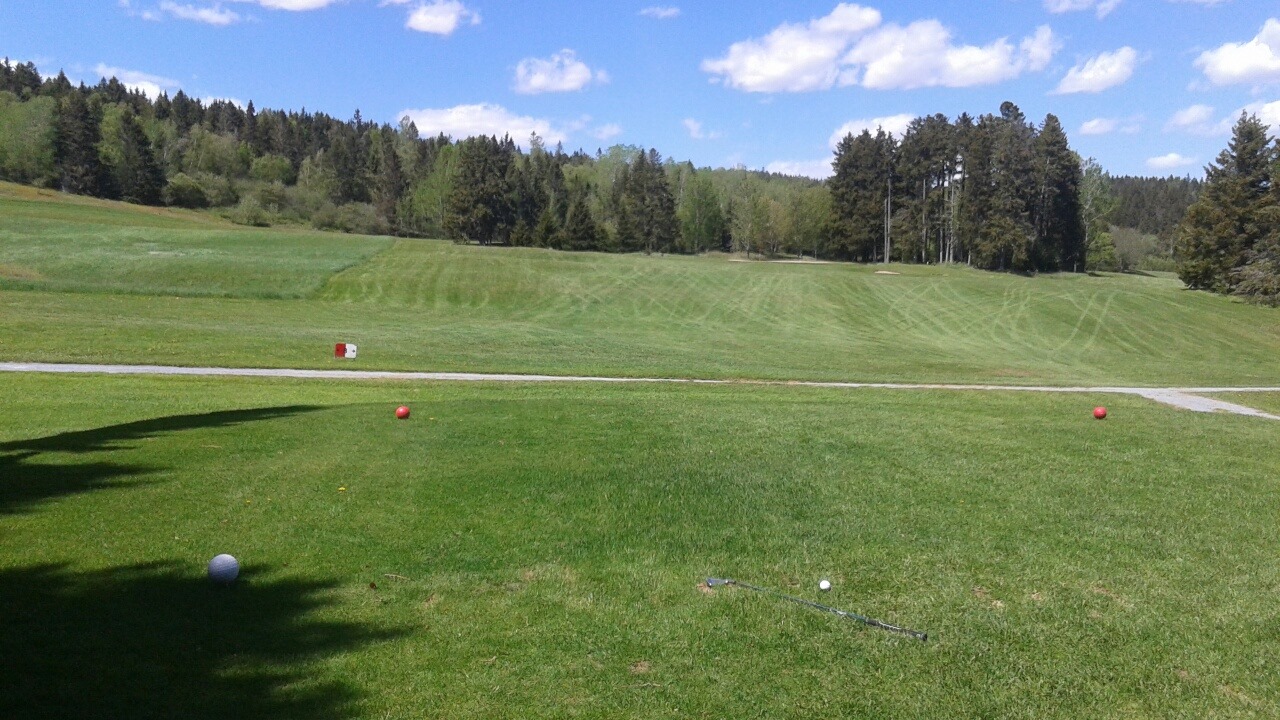 For some reason I forgot to take a picture of #3 and found this one on the Facebook page of Fans of the Fundy Golf Course, although it does not indicate who took it and I presume the fans won't have a problem with me using it. You can see that the fairways were in much better condition when this shot was taken.
This is a very challenging par three that requires way more club than the yardage would indicate. What you can't really see from the tee is that the green is almost completely surrounded by traps so you not only have to pick the right club, but strike it precisely, which of course I did not. Three would be a good score here, but I suspect four is closer to the norm.
#4 – 383 Yard Par Four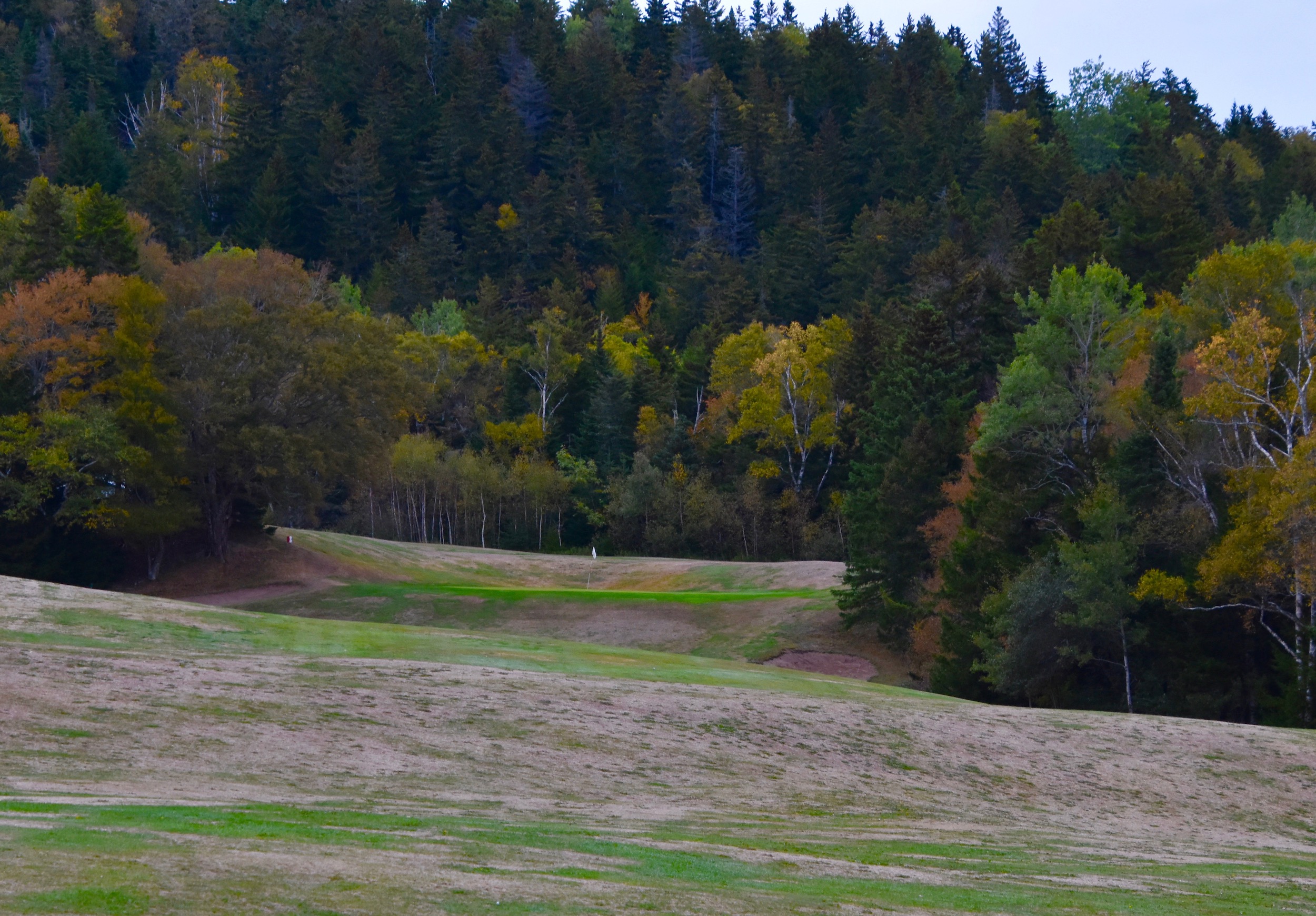 What goes down as in #1, must eventually go up and # 4 is the first step. This is a great hole, but not easy. First, the uphill elevation makes it play more like 400 yards+. Second the fairway slants crazily left to right. Third, you've really got to guess how much to club up on your approach shot to a green that is the smallest on the course. The good news is that there is a backstop so you can err on the side of too much club.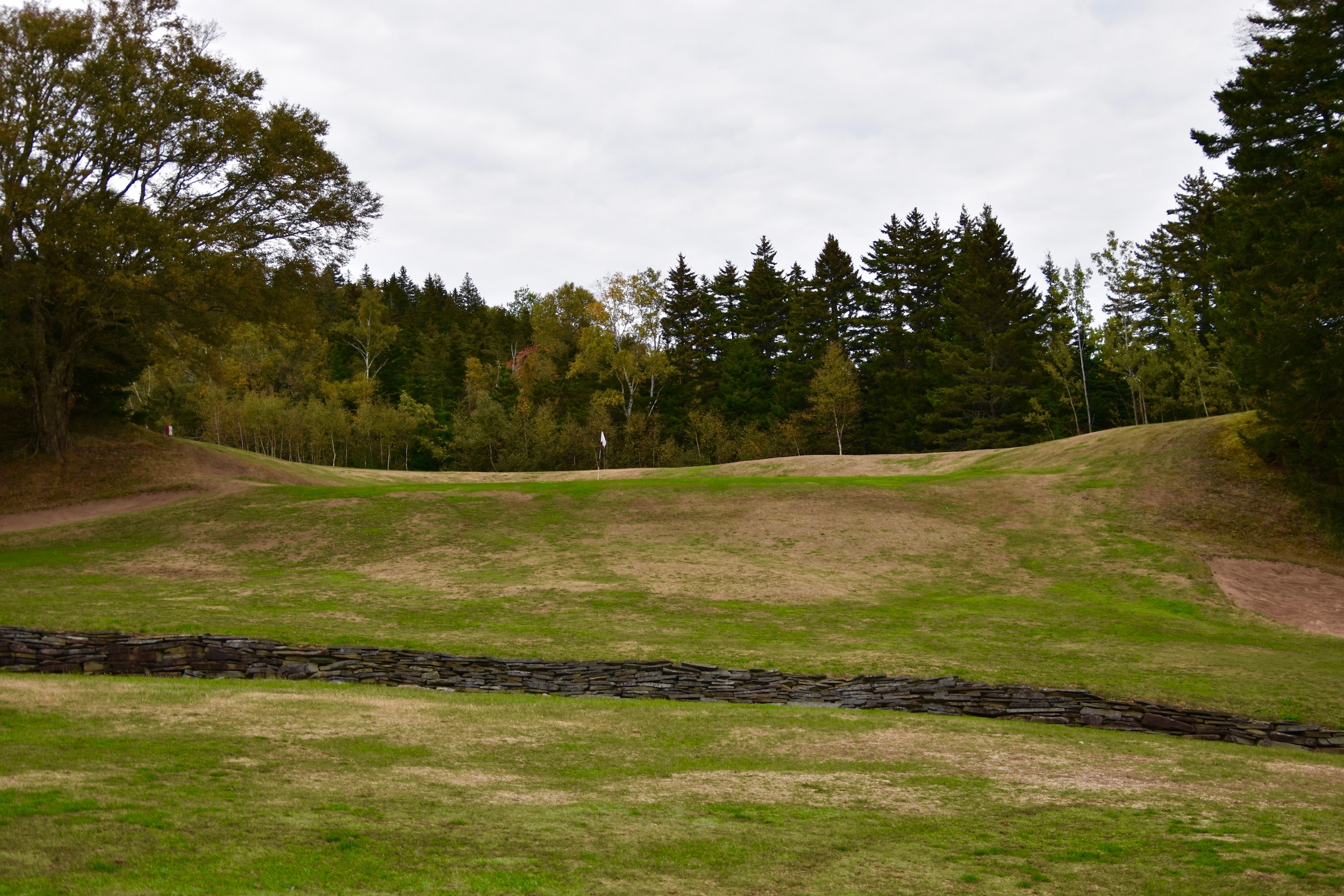 This is a very unusual drainage ditch the likes of which I don't recall seeing on any other Thompson course. A lot of work had to go into making those slate walls.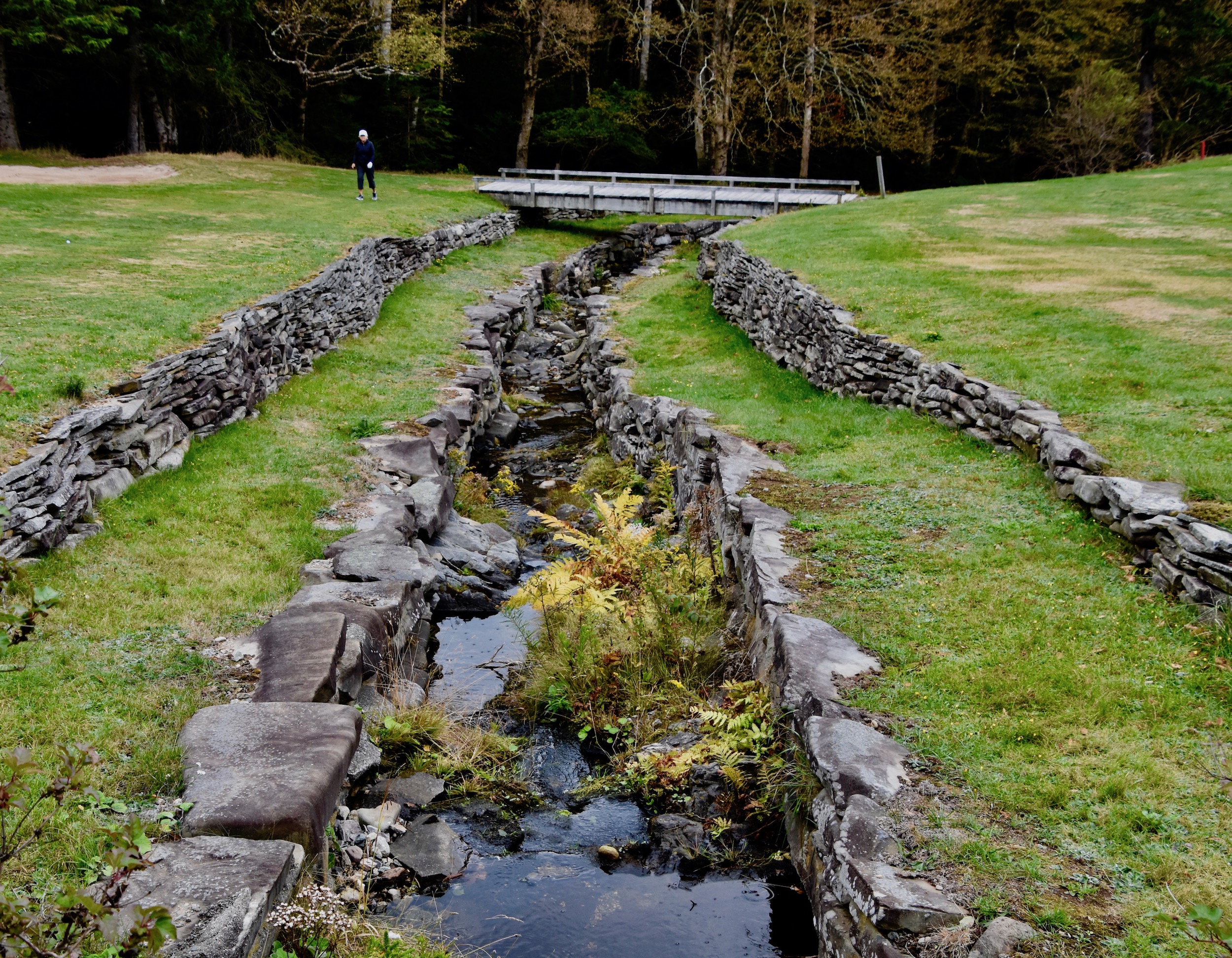 Fundy Golf Course #5 – 481 Yard Par Five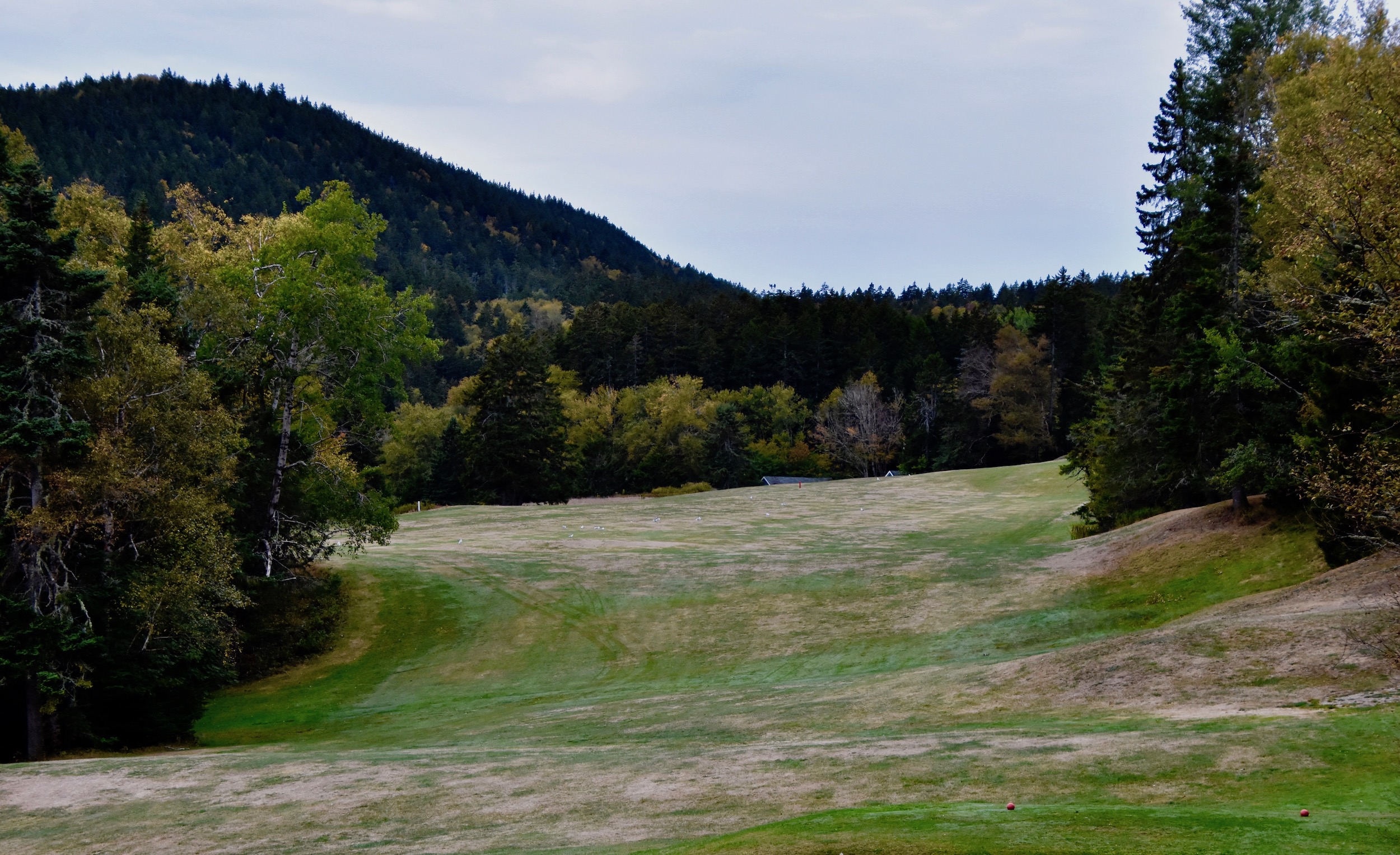 This is the hardest hole on the course and from the tee it looks it. It's actually a fair distance to clear that swale from another highly elevated tee and if you do the ball will roll severely to the left and not any closer to the hole.
You will then need a wood to get somewhere near here for your approach shot. Thompson does a great job with some optical trickery here as you see a fairway that slants sharply from right to left, but a green that's perfectly flat. Rather than start your ball out well right of the green as you might think, the correct play is to go almost right at the flag.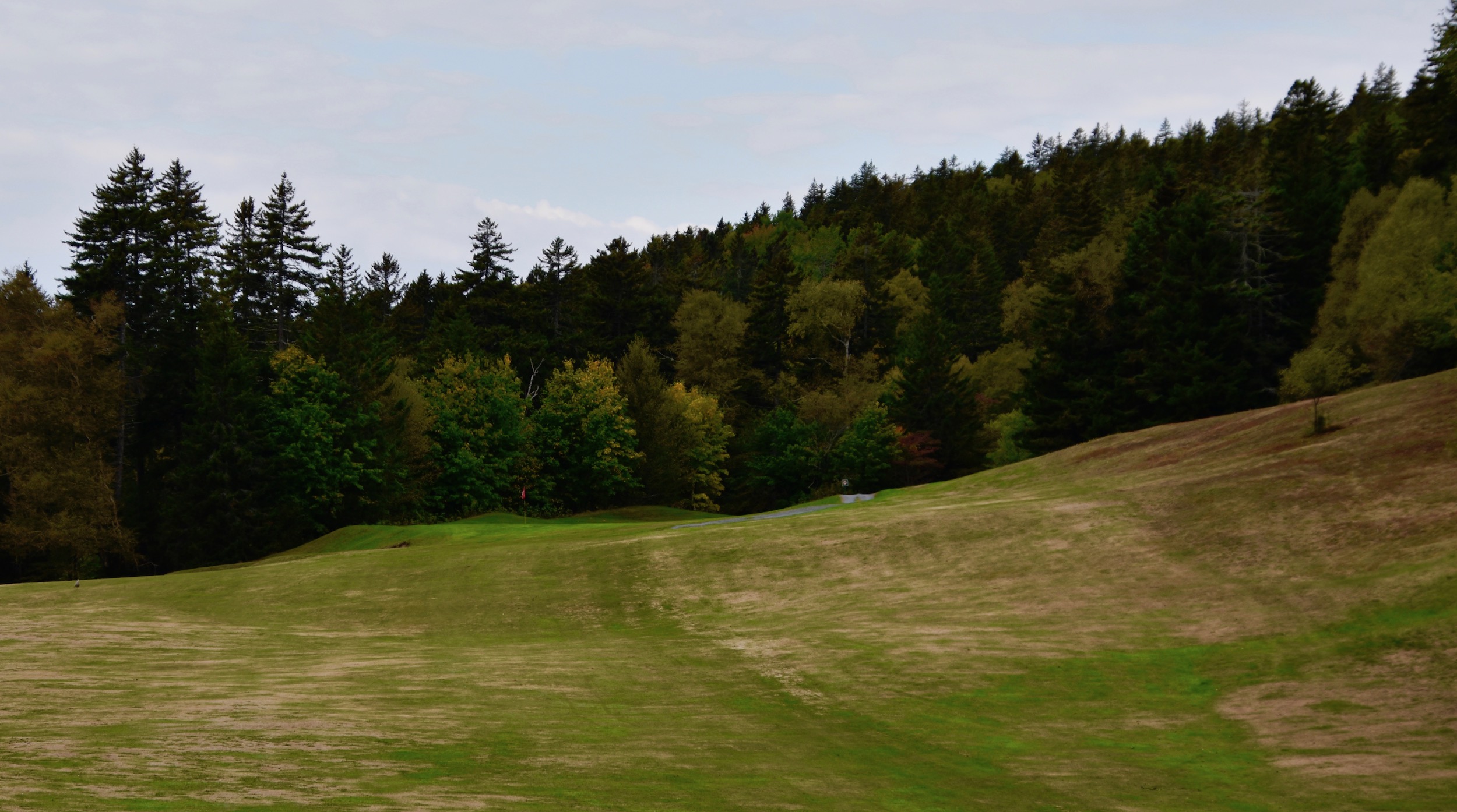 #6 – 240 Yard Par Three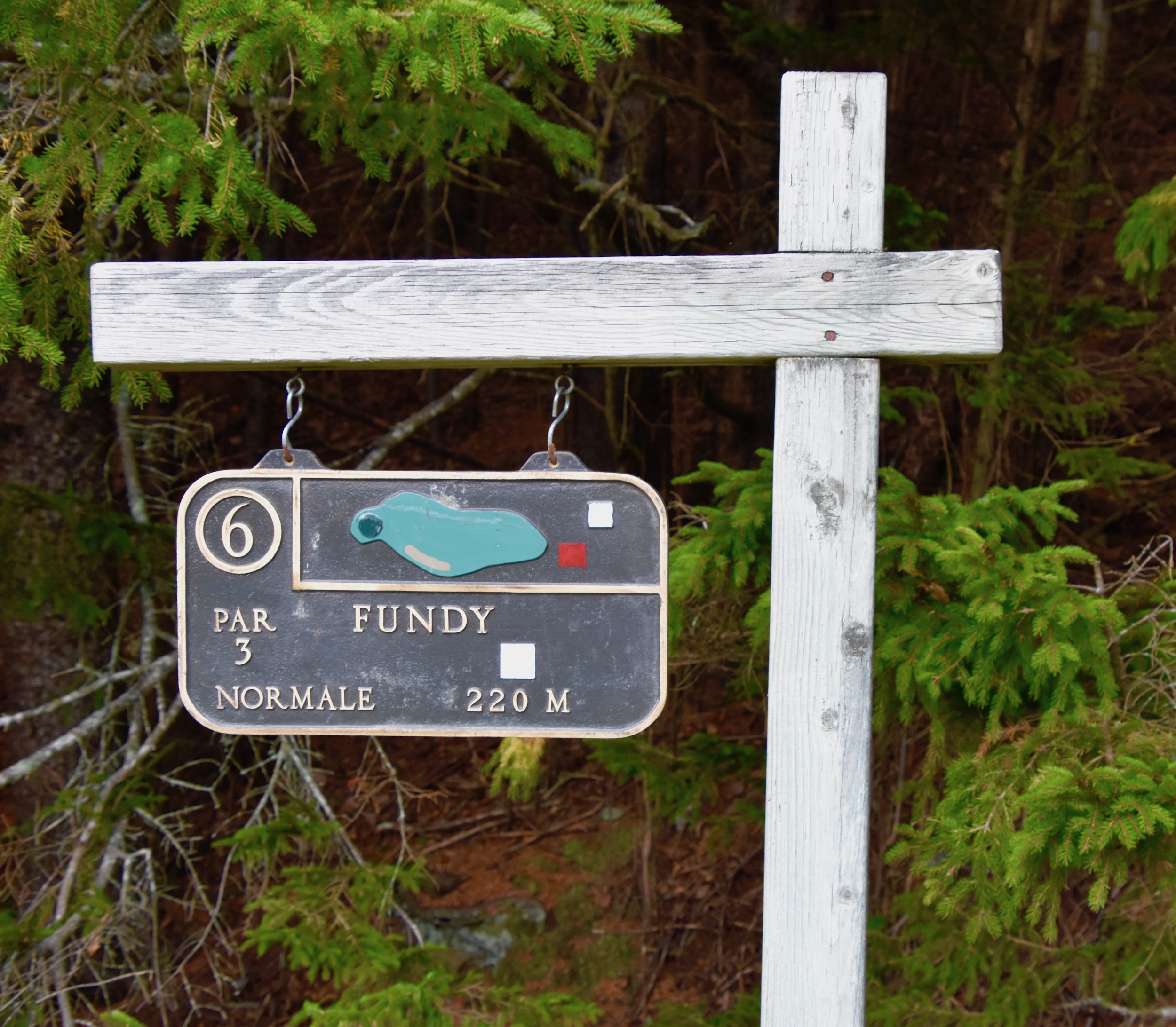 I had to take a picture of this sign to believe it. First of all it's only in metres which is nuts since no one in North America uses metres instead of yards. Is this some kind of politically correct thing going on? Secondly, is that distance for real? Fortunately the score card is in both yards and metres so I know this par three is 240 yards. What was Stanley thinking? Only once or twice in my life have I ever seen the pros play a par three this long. What is the ordinary mortal supposed to do? I couldn't hit this with a driver on my best day.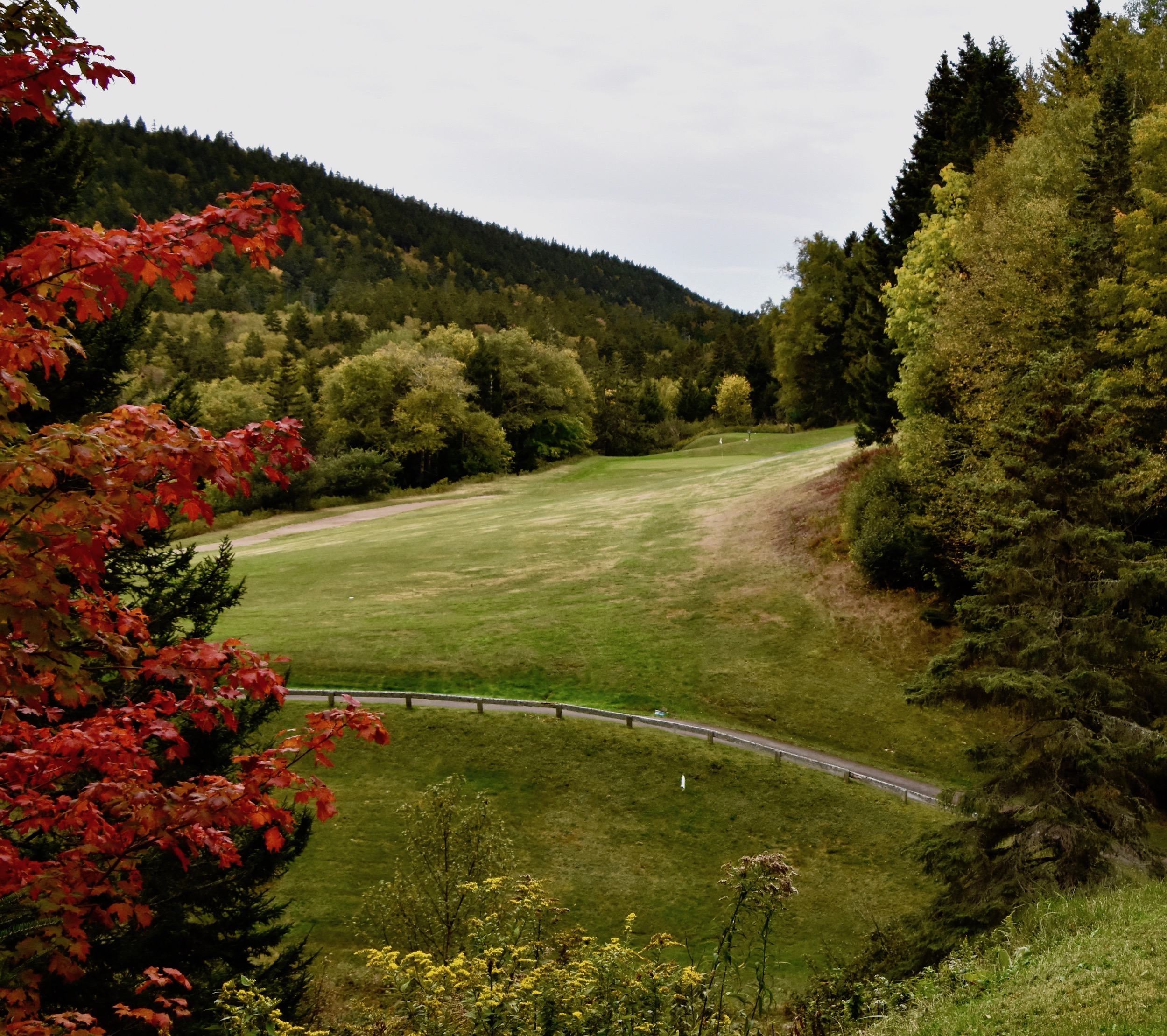 OK, I know the photo makes it look way closer than it really is, but trust me this is the most intimidating shot on a par three I may have ever seen. I did hit a decent drive, with a driver no less, and as expected it kicked right all the way down to the far end of that bunker, about 30 yards from the green. I did get a four which felt more like a par than a bogey. You don't get that feeling very often on a par three.
This is the one hole on the course where women do get a substantial break, only having to play from 153 yards from where Alison got a par.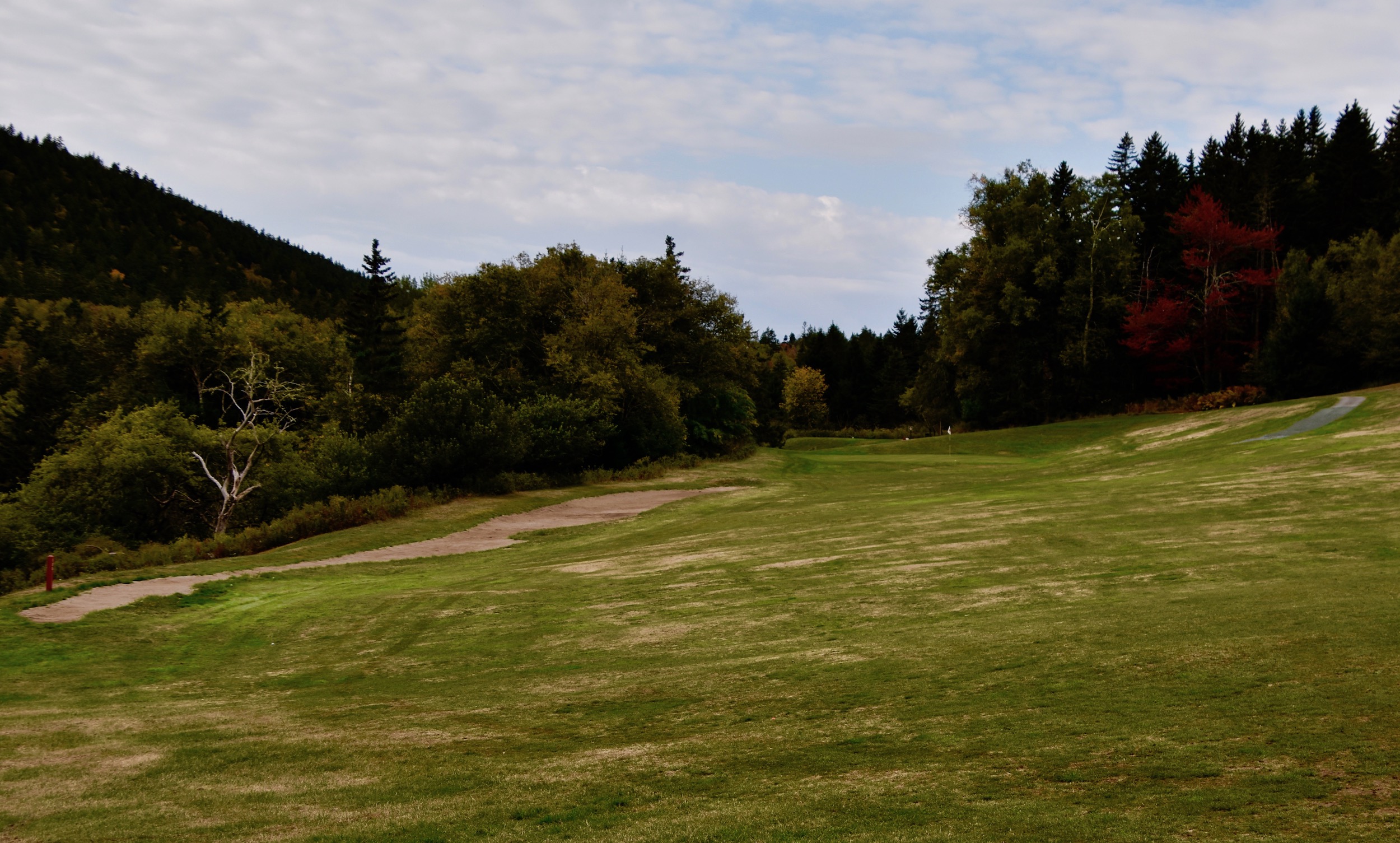 Fundy Golf Course #7 – 377 Yard Par Four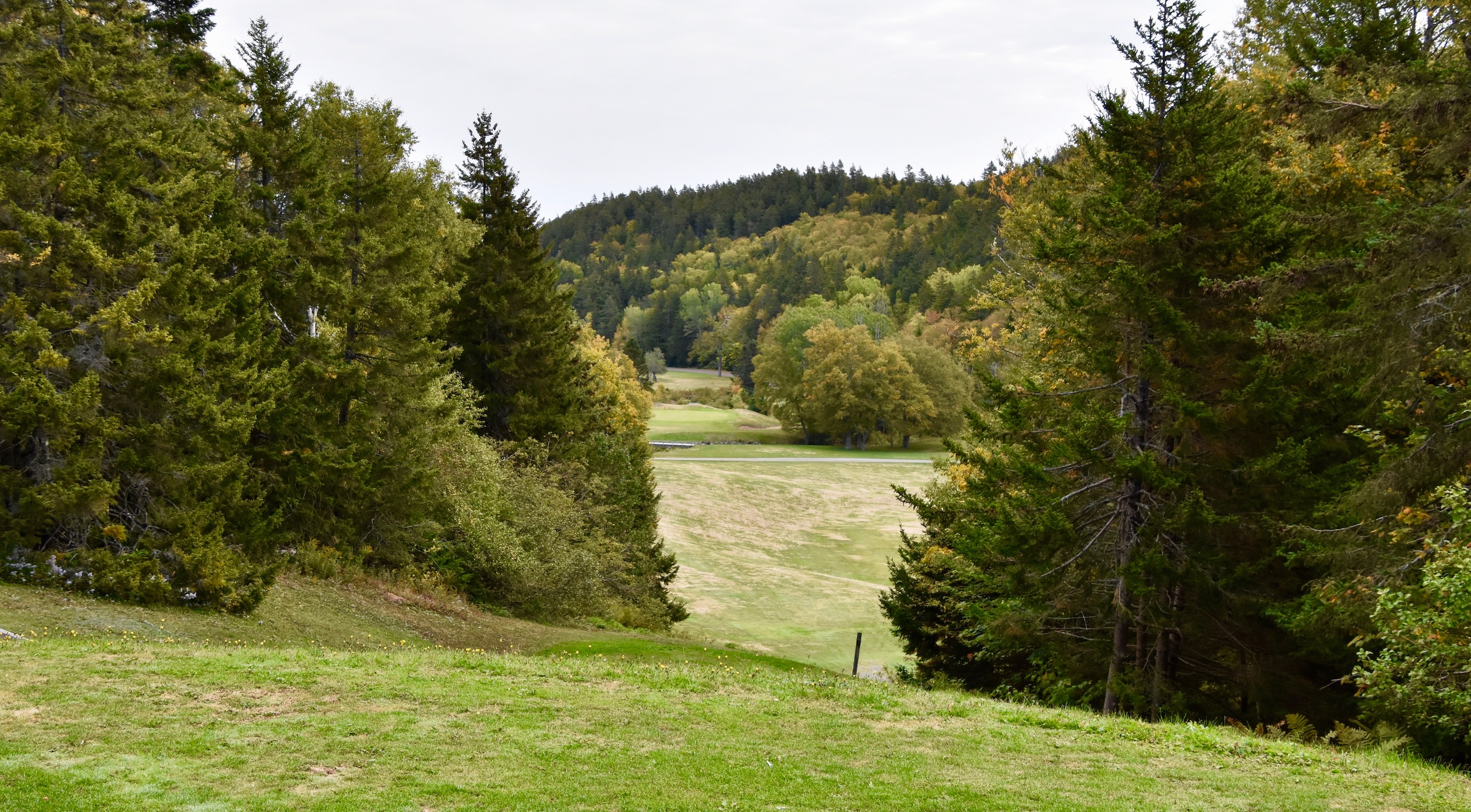 This is a hole you could get lost on. You climb up to yet another really elevated tee with the narrowest of chutes. The good news is that once through the chute there is a very wide fairway. The women's tee was somewhere in the woods which Alison was looking for while I walked back down to the cart. Driving around to where I thought she should be there was no sign of her. It seemed like five minutes before she came down a steep set of stairs out of the deep woods.
This is the approach shot which requires clearing the same stream we first saw on #2 and avoiding traps on both sides of the green. Other than that, it's a snap.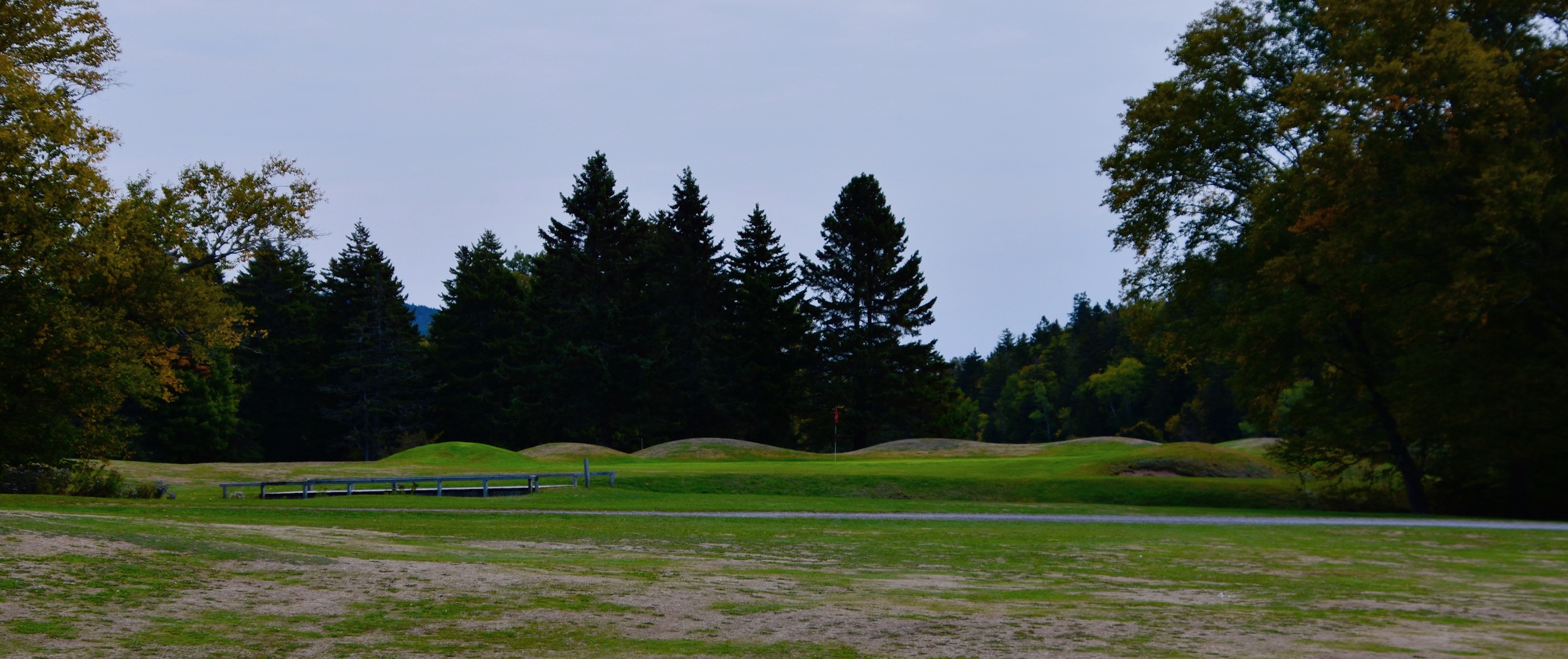 #8 – 150 Yard Par Three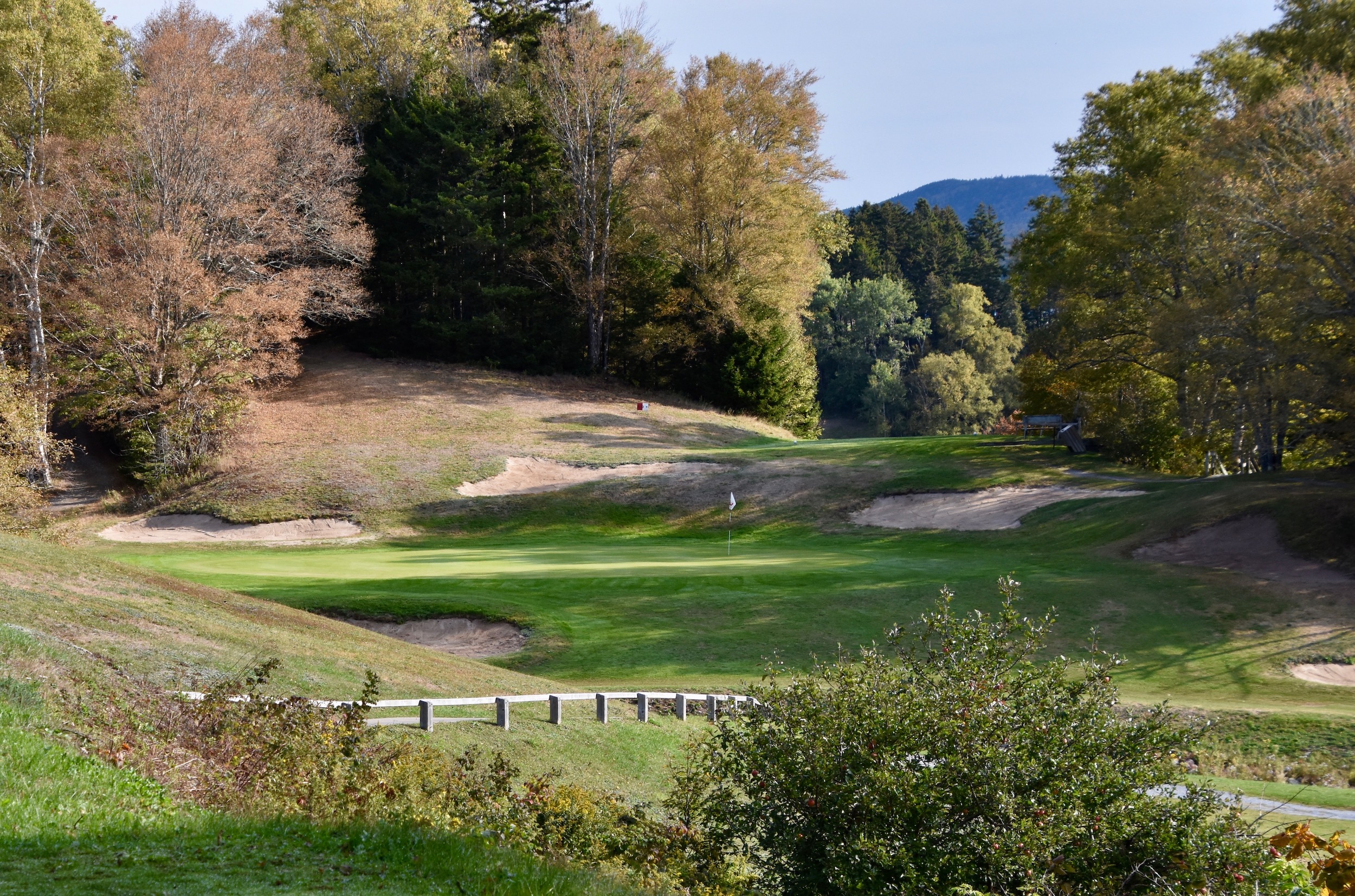 This was my favourite hole at Fundy Golf Course and the only one of the par threes that played a comfortable length for me. It's a beautifil little hole set in a wooded vale with a green surrounded by five traps. The easiest hole on the course plays like it and after a tough stretch is a welcome relief.
Fundy Golf Course #9 – 470 Yard Par Five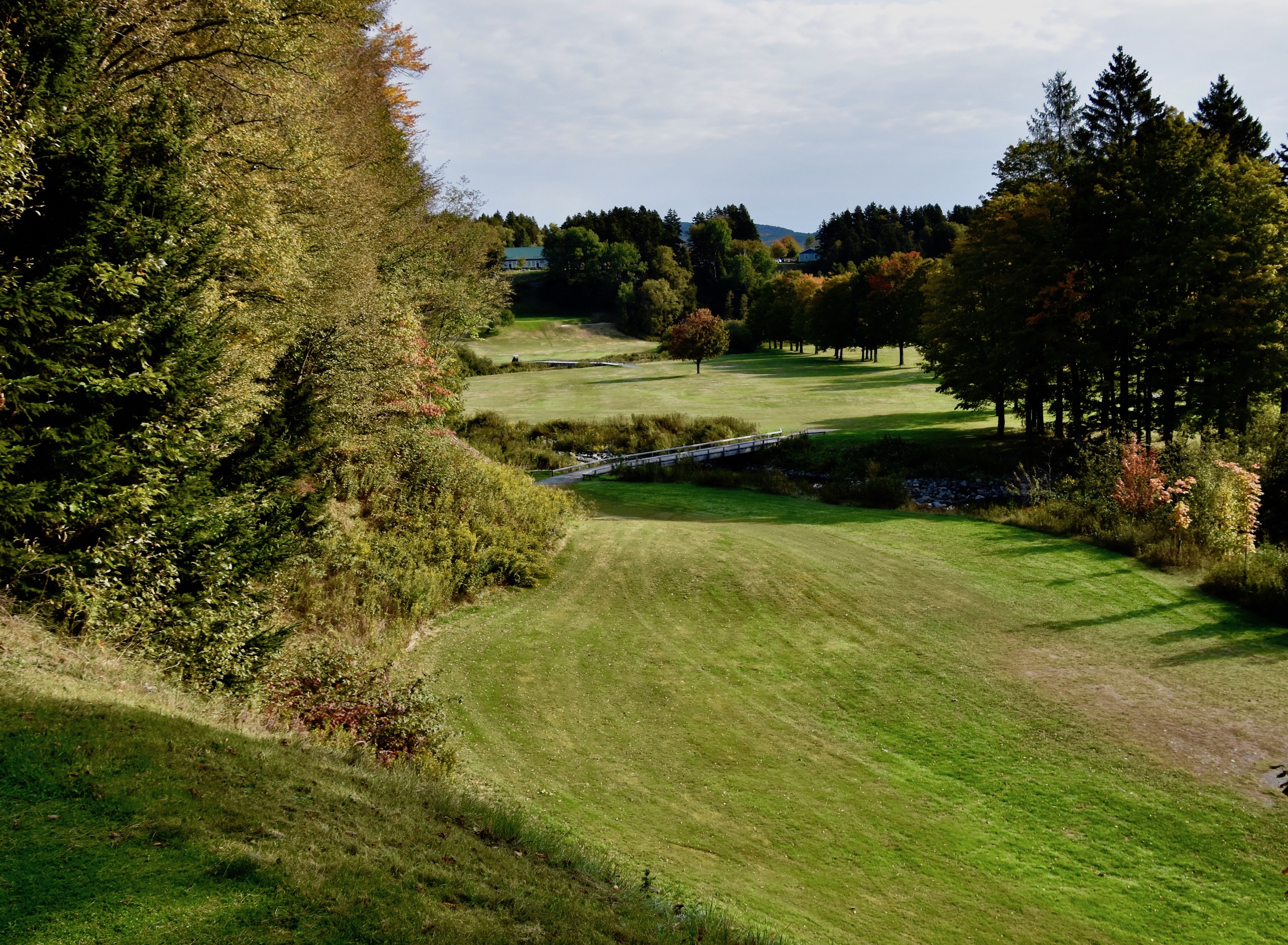 The finishing hole at Fundy Golf Course is also a beauty with the familiar stream to be crossed twice followed by an approach to the most elevated green on the course. A good drive will put you out by that lone tree after which you can think about going for the green in two, but probably shouldn't. Instead a layup shot will put you just short of the hill from where it's not a difficult up and down for par and even a good shot at birdie. And that's a great way to end the round on this brilliant layout that takes full advantage of the rolling, wooded terrain. If you are planning a golf trip to New Brunswick in the future, then make sure to add Fundy Golf Course to the itinerary.
Parkland Village Inn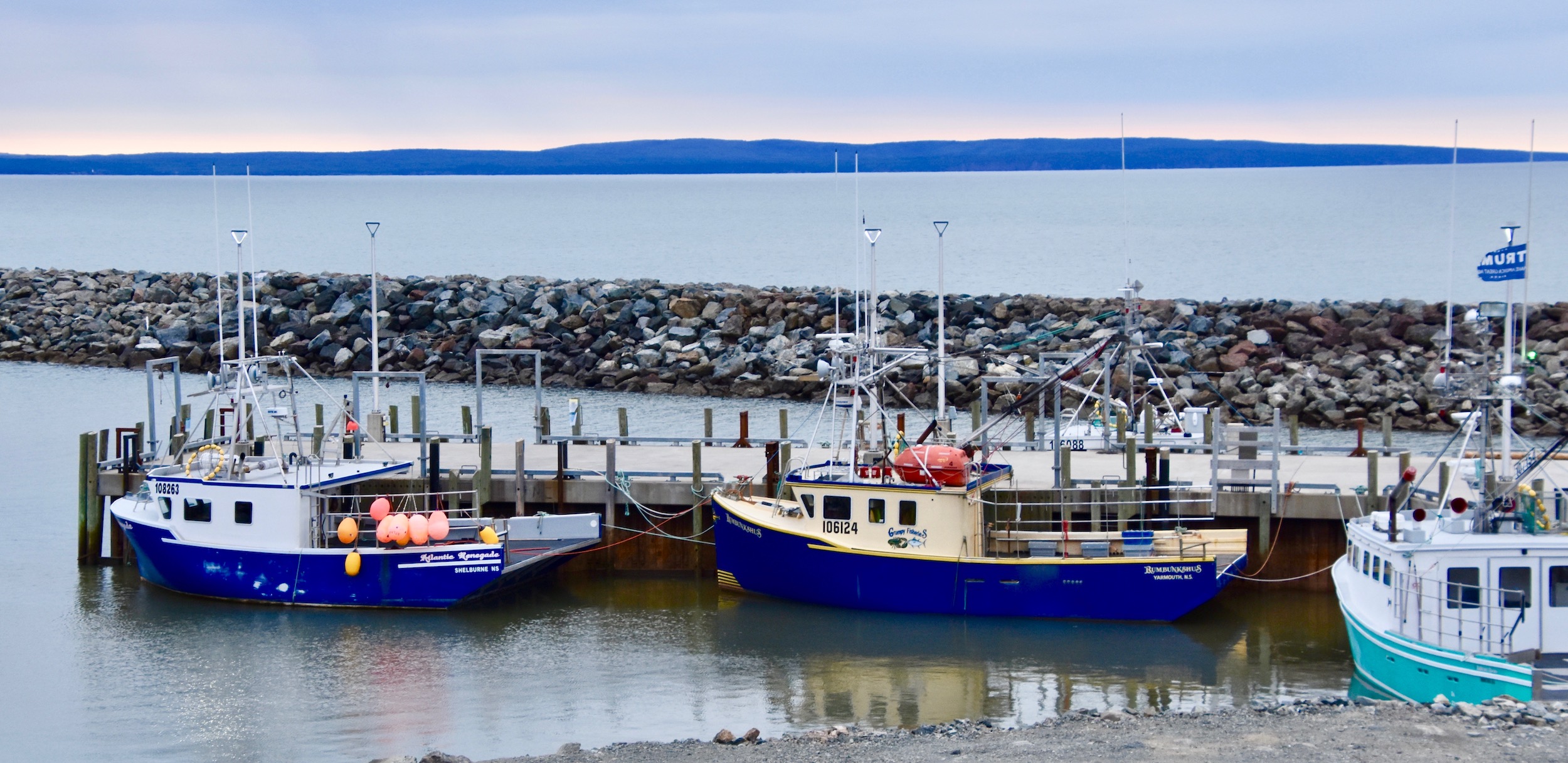 There are a variety of places to stay in the small village of Alma on the outskirts of Fundy National Park and over the years we've stayed in a number of them. If you are looking for a great view from your room you can't beat the Parkland Village Inn where you'll have this view literally just outside your balcony. It's been around for over sixty years, but you only have to wait a few hours and you'll have this view. It's a classic Bay of Fundy photo duo that's been intriguing photographers since cameras were first invented.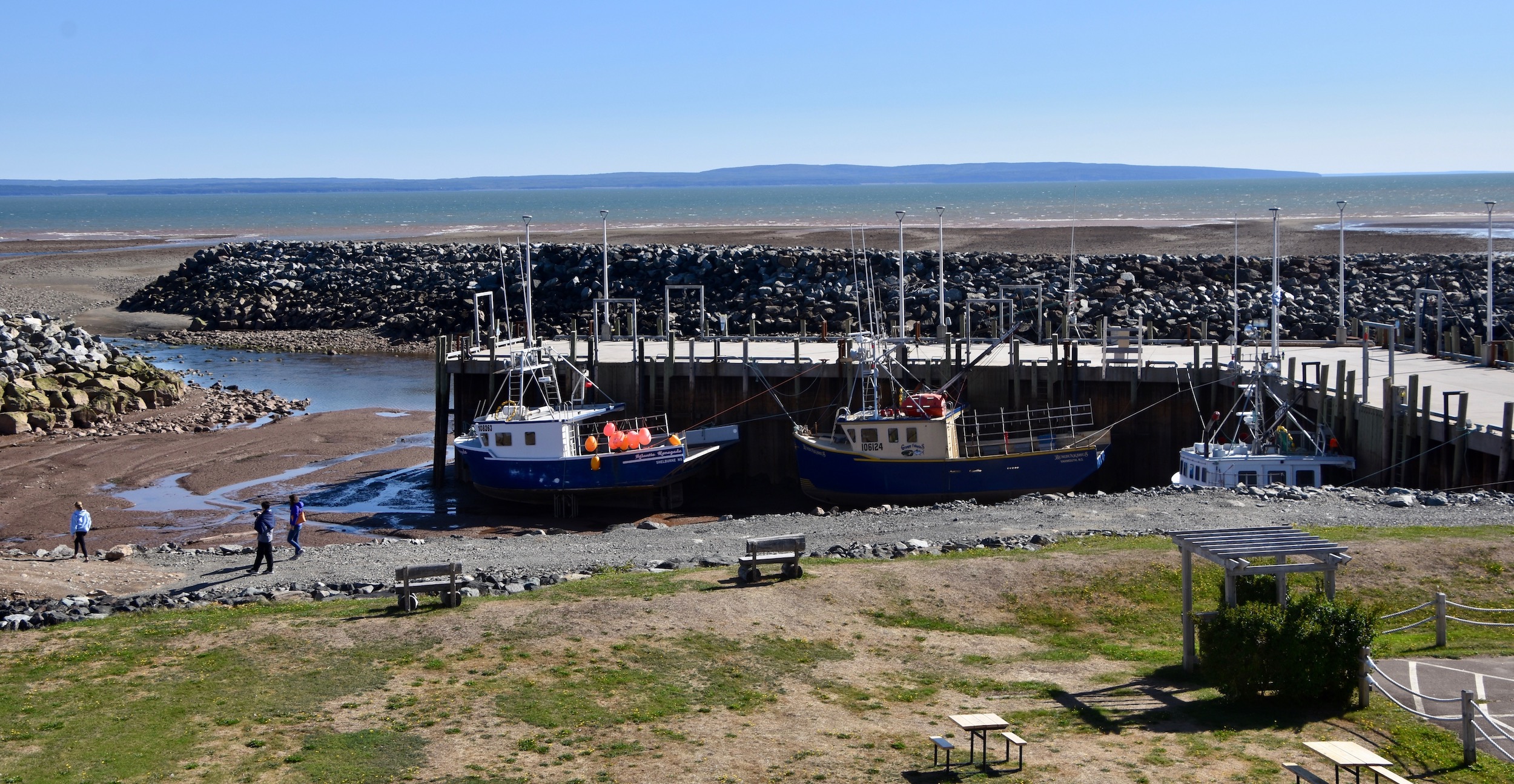 In the top photo you might have noticed something unusual flying from the right hand boat. Yep, that's a Trump flag alright. I asked the owners of the inn about it and they said the boat belonged to a young iconoclast who just liked to piss people off and apparently he has succeeded. The owners said they've been asked about it repeatedly and some people, mistakenly thinking it represents the views of most Alma residents, said they'll never return. I'm writing this post three days before the 2020 election and we'll see how he feels about it on November 4th.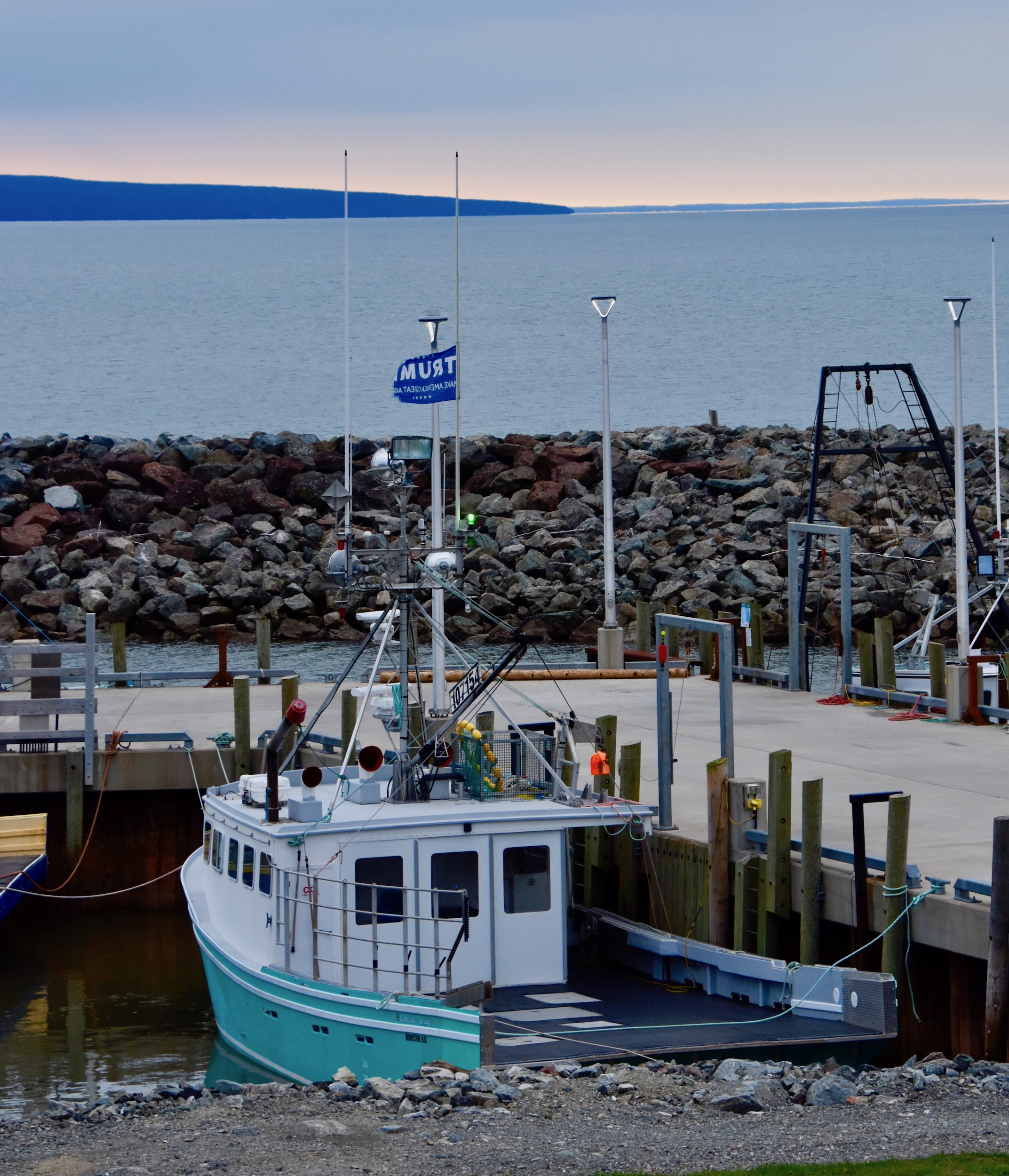 The Parkland Village Inn has a great restaurant, The Tides, where you can dine overlooking the waterfront, choosing to ignore the Trump flag if you wish. During our visit the chef was experimenting with different and unusual recipes for lobster of which we tried three, two of which were hits and one that wasn't.
This is a lobster mac and cheese arancini and God it was good! Arancinis are a traditional Sicilian appetizer that usually feature rice balls covered with bread crumbs and deep fried. In this recipe the rice was replaced with lobster mac and cheese and served with a beautiful creamy sauce. I would return to The Tides just for this, but there's another great lobster dish awaiting.
This is lobster chicken cordon bleu. Contrary to what you might think, cordon bleu dishes did not originate in France, but rather Switzerland. The process involves wrapping chicken or veal around a soft cheese, breading it and then deep frying it. Here the chef has added lobster to the mix to produce a mouth watering dish that is pretty to look at and more fun to eat.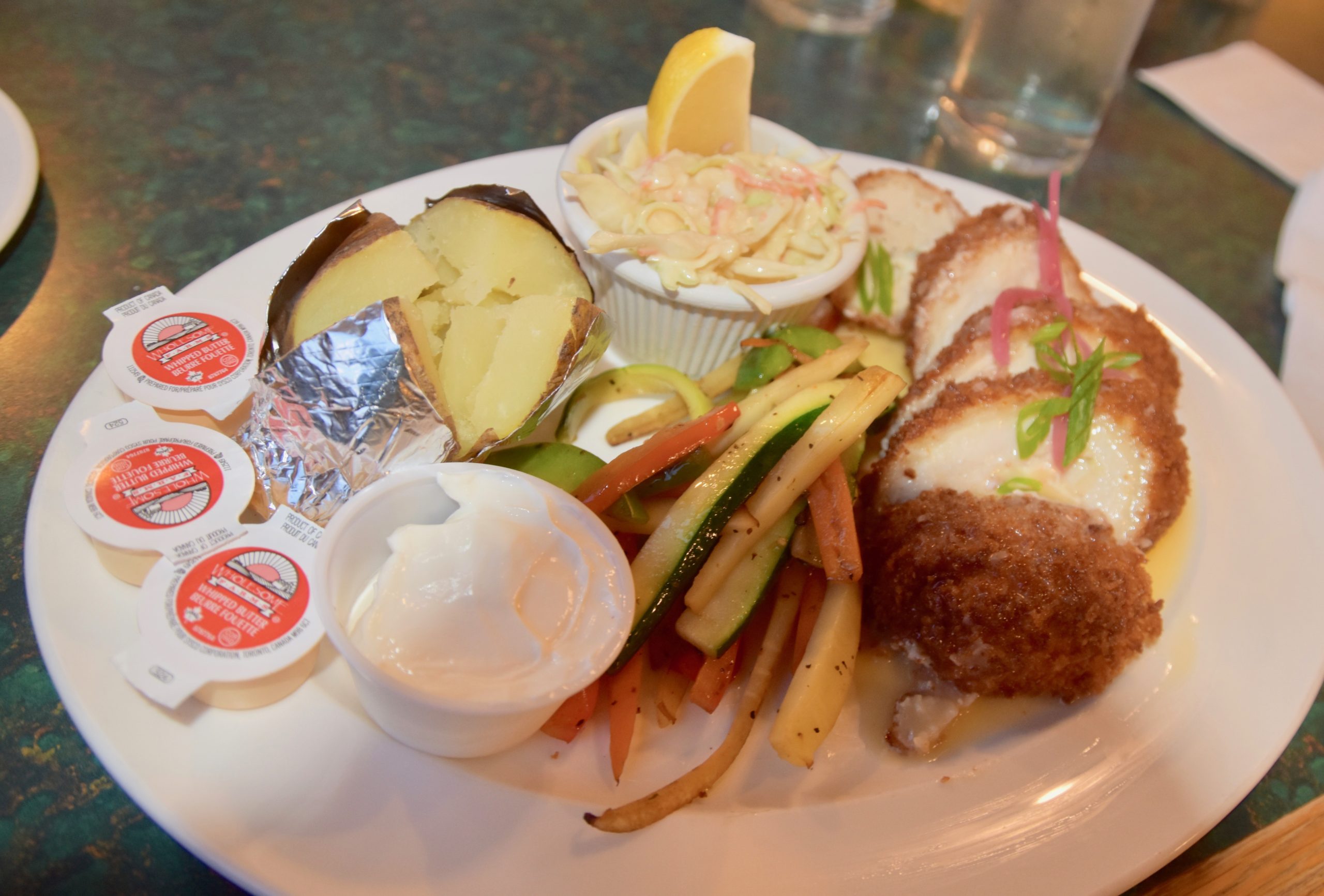 Ok, lobster goes great with mac and cheese and chicken, but what about beef? Sorry, but the answer is, it doesn't – at least in a burger.
This is The Tides lobster burger which has chunks of lobster embedded in the burger. It looks great, but, maybe it was just me, I just didn't find the beef and lobster meat complemented each other. Still, I had no difficulty eating all of it. Oh well, as Meatloaf proclaimed, "Two out of three ain't bad."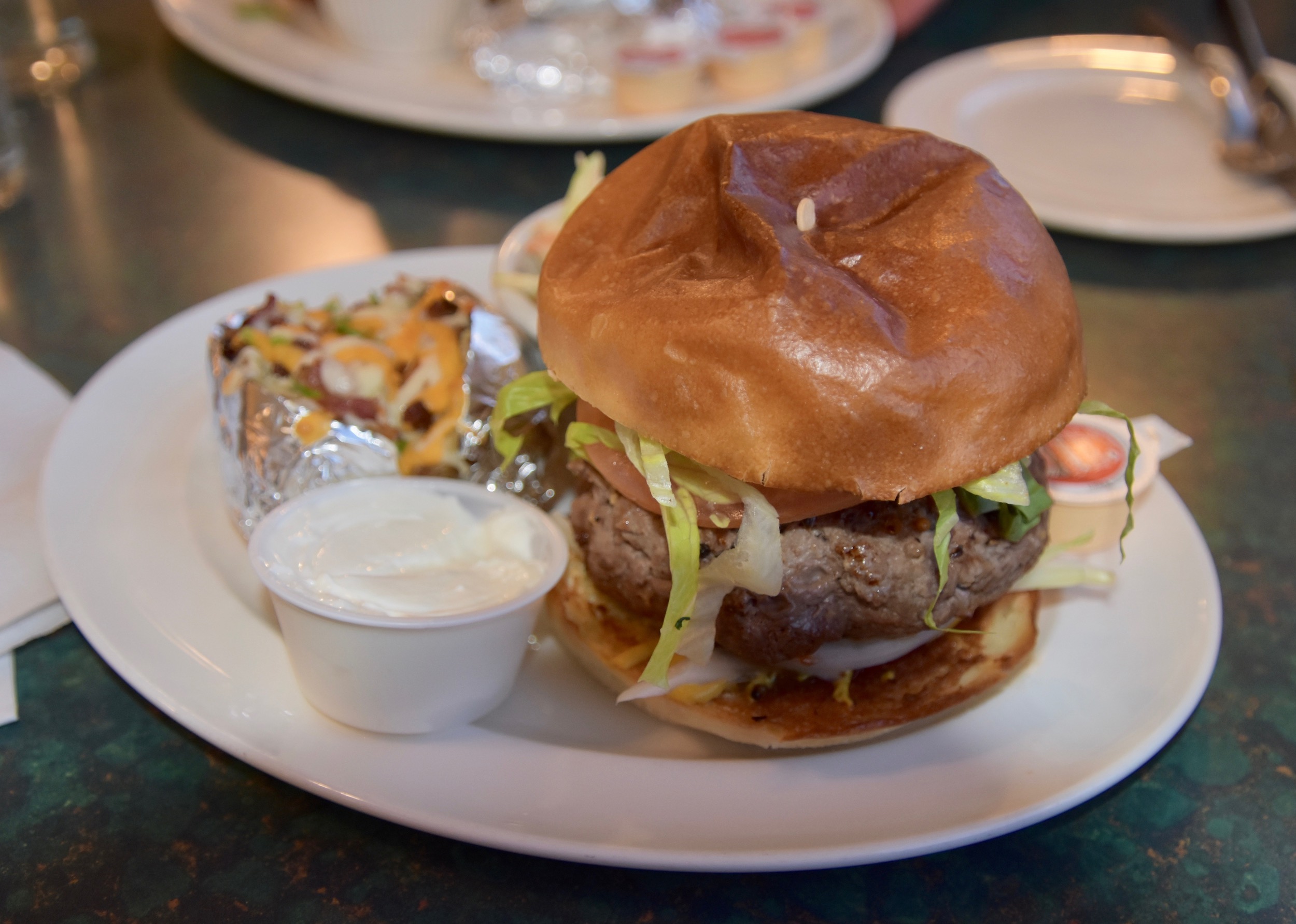 On a more serious note, the quality and diversity of seafood offerings at The Tides is quite amazing and far removed from what would have been offered when my parents first took us here in 1967. One thing we have found out in this mini-tour of New Brunswick is that the province is batting well above its weight when it comes to the quality of its restaurants. There is clearly a culinary renaissance going on and it behooves the rest of us in the Atlantic bubble to pay the province a visit to find out for yourselves.
On a final note, the Parkland Village Inn has a number of very interesting local handicrafts on display and for sale. Alison spotted this raku fired right whale by Alma resident Karin Bach and it now hangs on our living room wall as a permanent reminder of this great fall trip to New Brunswick.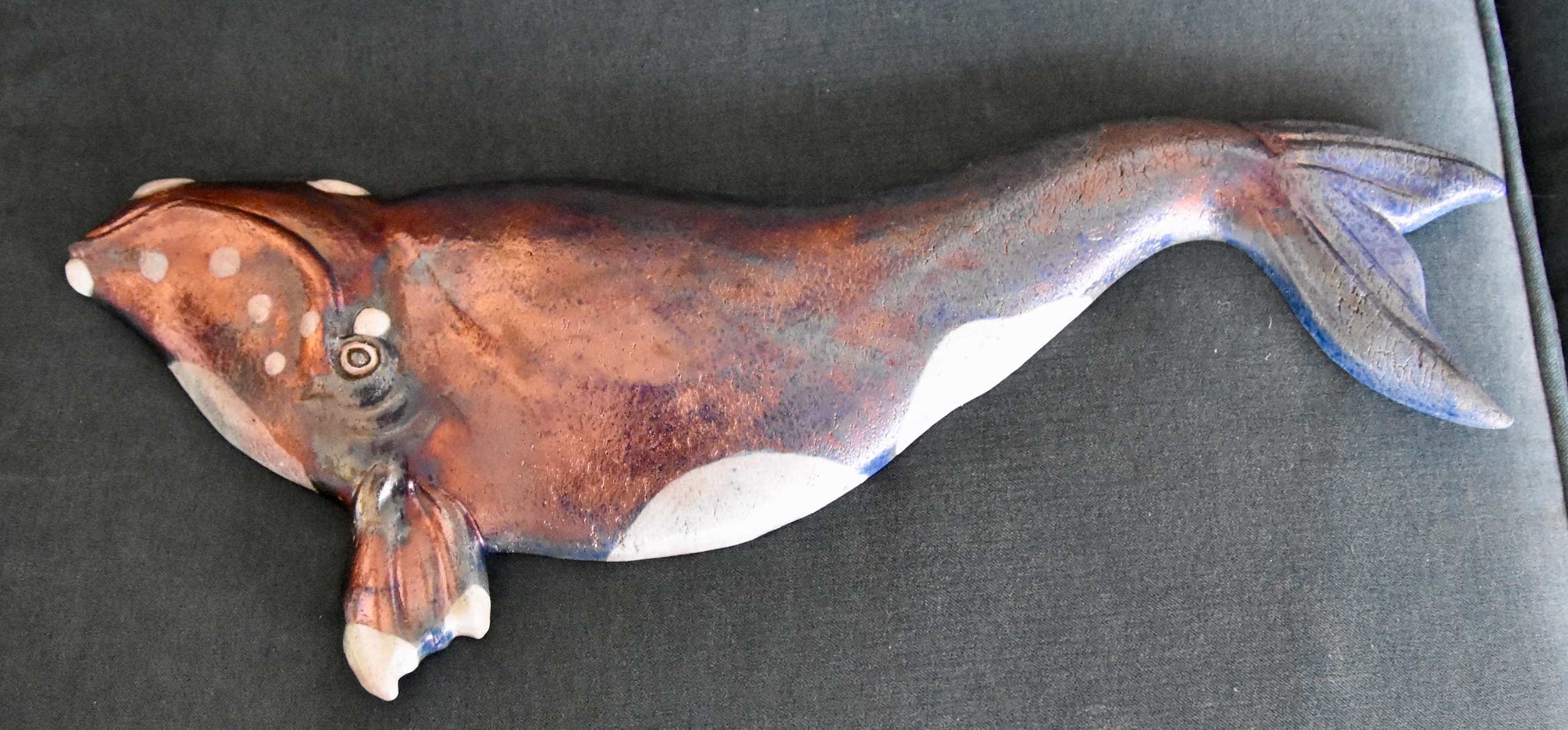 Please join us on our next and final golf outing at Moncton's Royal Oaks Golf Course.