Fox Creek Hole By Hole
Fox Creek Golf Course in Dieppe, New Brunswick first opened in 2005 and until 2021 was open to the public. In the latter year Fox Creek transitioned to become a completely private course, one of the very few in the Picture Province. I first played it a number of years ago in a charity scramble tournament and then returned in September, 2022 to play a round with Alison and club member Mitch Hatheway. What follows is a hole-by-hole description of one of the top courses in Atlantic Canada.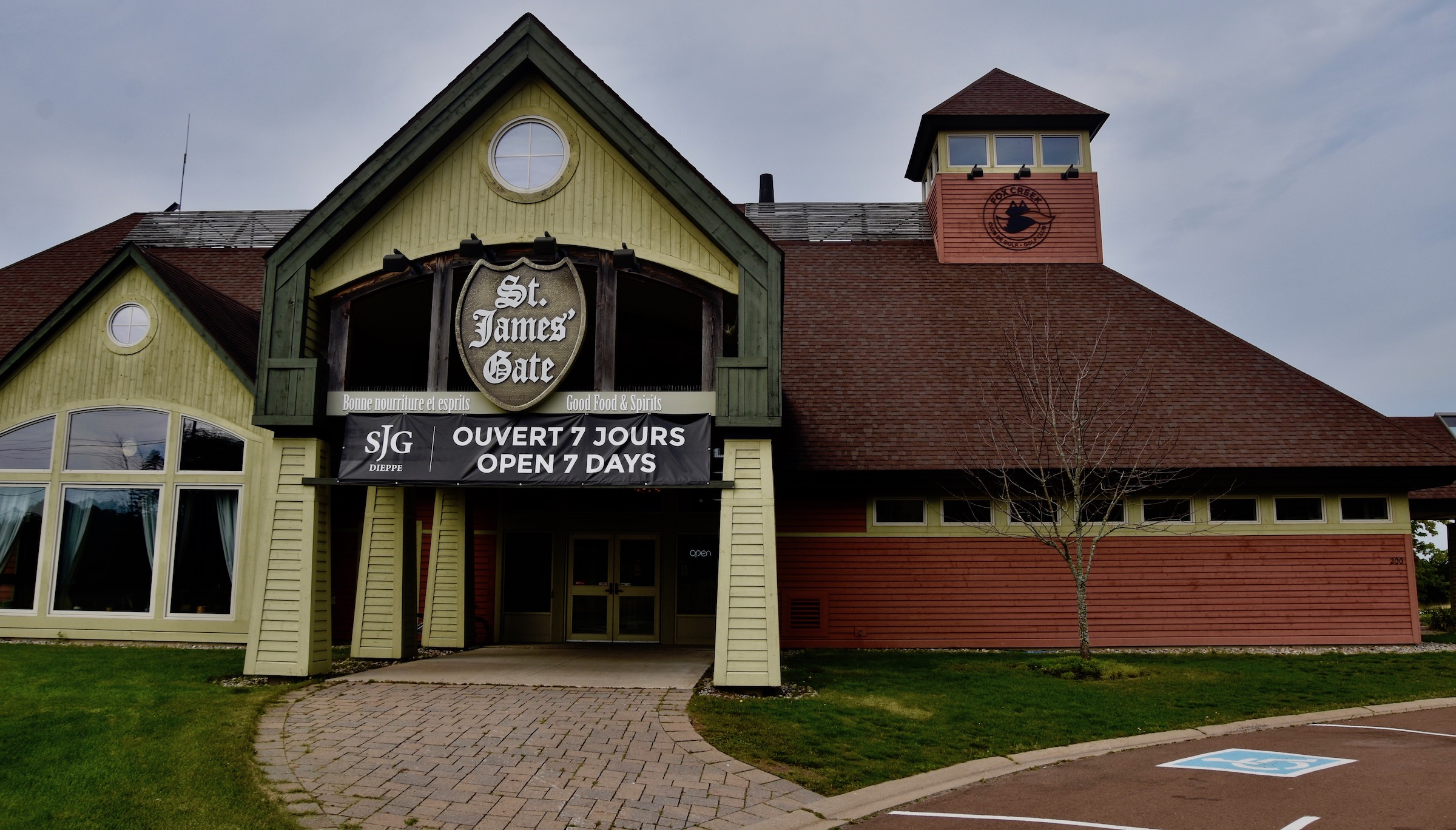 This is the entrance to the Fox Creek facility. Most of the building is occupied by the St. James Gate boutique hotel and restaurant which is open to the public. On the side of the building is the members only area that can only be accessed with a membership card. Inside is a small pro shop, locker room and lounge.

Fox Creek was designed by Graham Cooke, one of Canada's most prolific and respected golf architects. He was also responsible for Kingswood in Fredericton and Fox Harb'r in Nova Scotia, both of which I have previously described hole-by-hole. The tract of land he was given to work with in Dieppe is dominated by the actual Fox Creek which has created a number of deep ravines providing some very interesting challenges and opportunities for Mr. Cooke. Here is why I think he has largely succeeded and created a great golf course for people of all abilities.
Fox Creek #1 – 447 Yard Par Five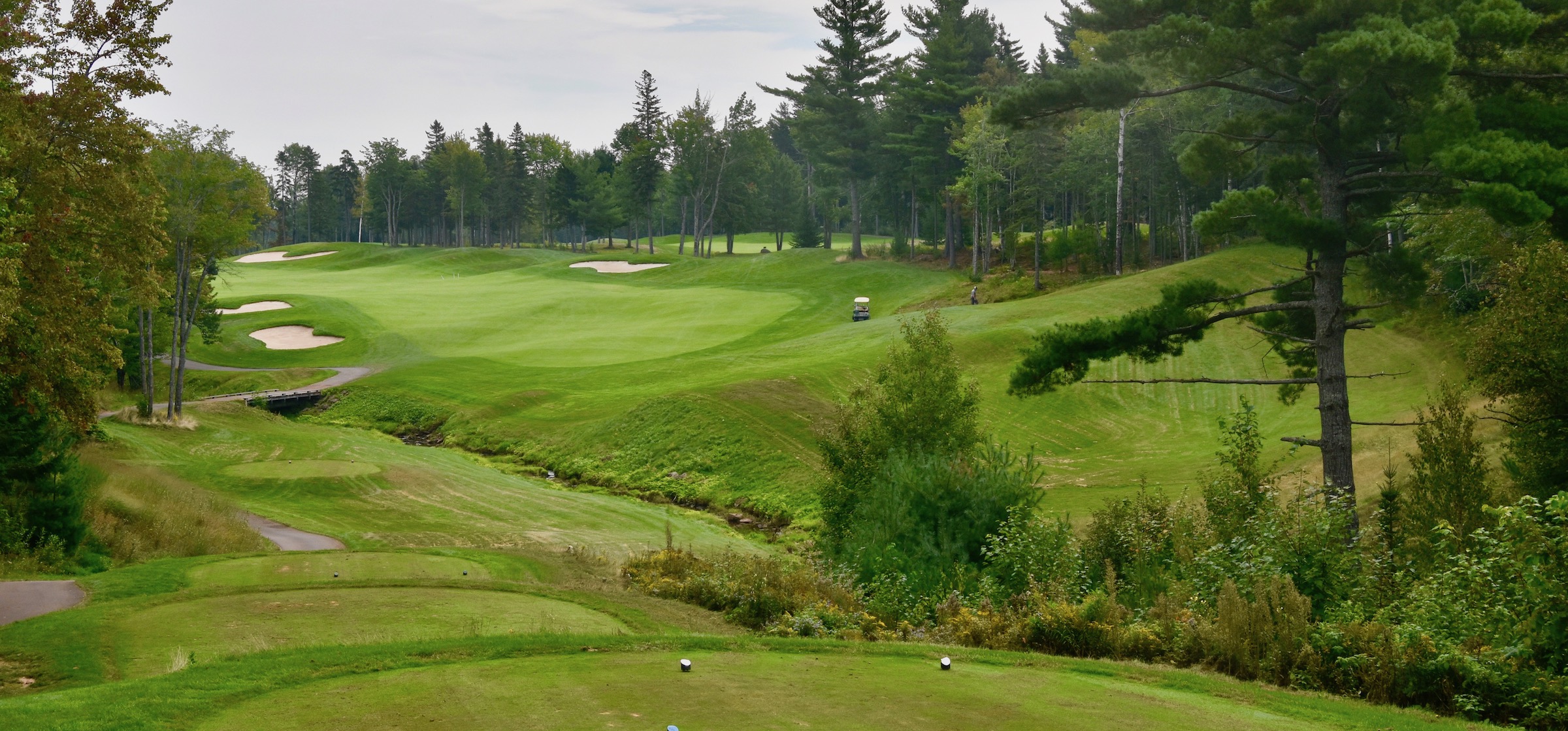 While the course can play as long as 6,925 yards from the tips, Mitch and I will play from the Senior Men's tees at 5,612 yards which will still be a challenge for both of us.
From the very first hole at Fox Creek you can see why it is a special golf course. Its conditioning is on a level well above most courses and there are only a few other courses in Atlantic Canada that can compare. That includes the tee boxes, fairways and greens, which are all bent grass which is perfect for the cooler Maritime climate. It grows densely and can also be mowed very short allowing for beautiful fairways and very fast greens.
This is one of the holes that has Fox Creek meandering down the left side of the fairway and is very much in play as the fairway slants sharply right to left. The correct way to play this is to land your drive as high on the right side as you can while still landing on the fairway. I managed to do this and still my ball stopped only a yard or so from the left rough.
For the ladies Fox Creek plays 4,836 yards which meant that Alison's drives often ended up as long as mine or Mitch's.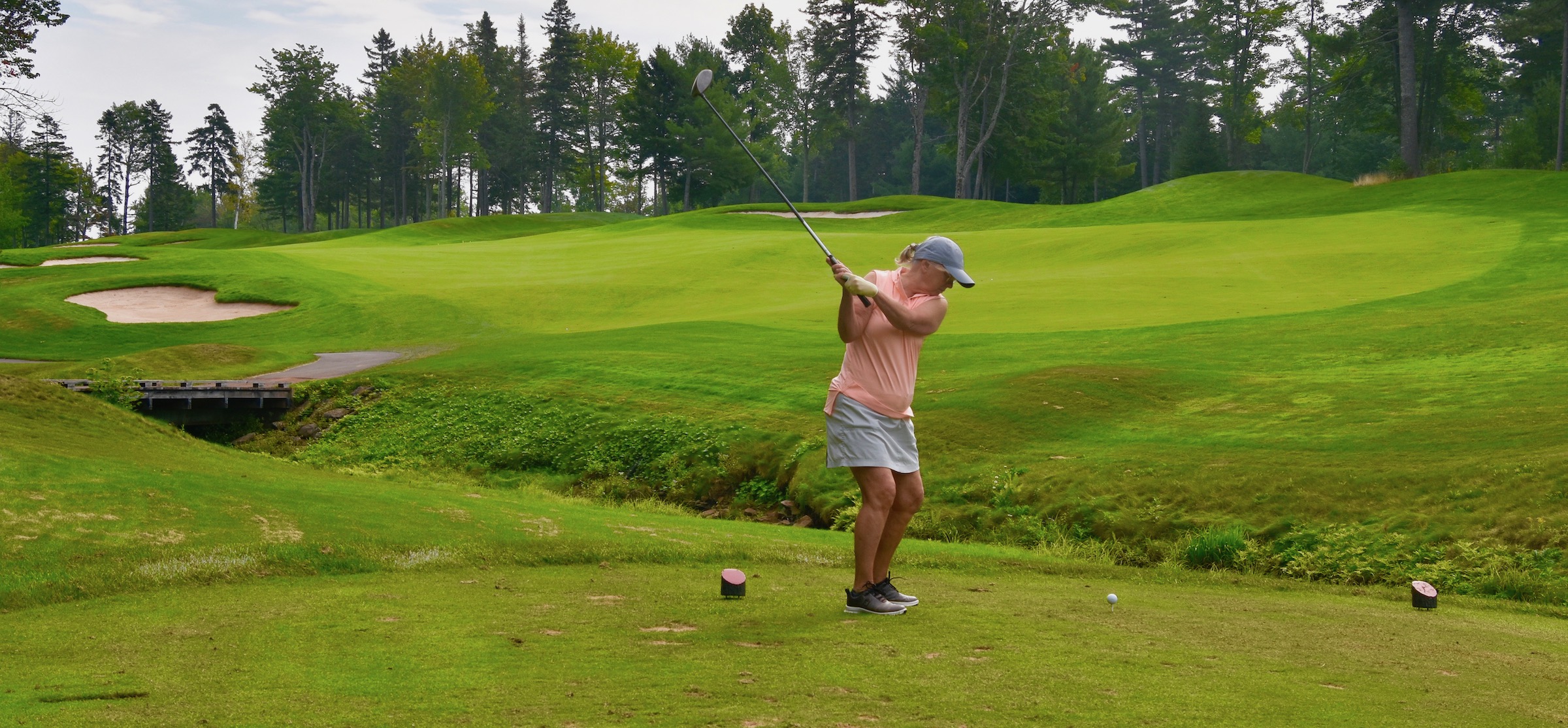 This is the approach shot on #1 to a very large green and fast green. Cooke has not made the greens at Fox Creek overly tricky, it is the speed that makes them difficult, but fair. I suspect if they wanted to these greens could me made so fast as to be the equivalent of PGA tour greens. That was the conclusion of Stephen Ames and Paul Casey when they played an exhibition round here.

All in all, #1 is a tremendous starting hole.
#2 – 142 Yard Par Three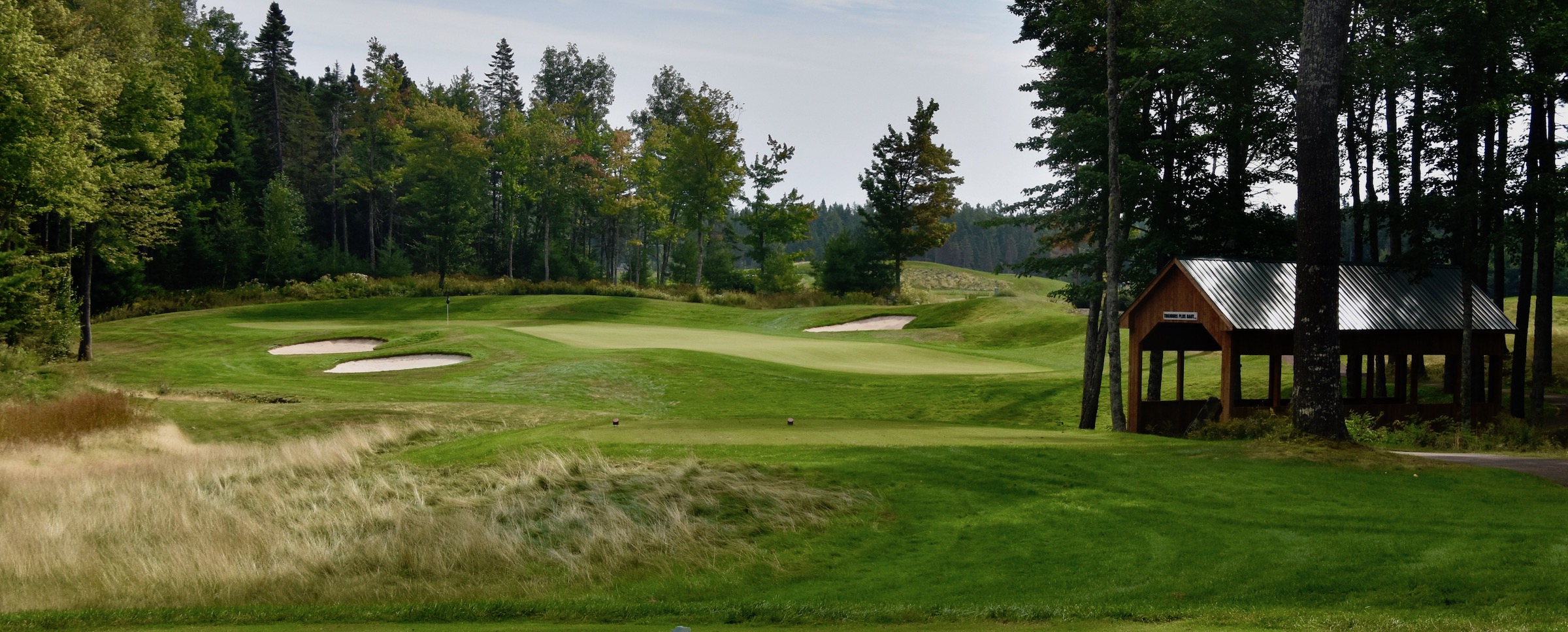 #2 at Fox Creek is a par three with a long but very narrow green. The swail between tee and green on this hole is quite deep with the creek running through it so you need to take an extra club and fly it all the way to the green. The covered bridge dedicated to the late Rheal Cormier, former MLB pitcher for sixteen seasons and native of Moncton, is a nice touch reminding one that New Brunswick is home to many covered bridges.
Fox Creek #3 – 346 Yard Par Four

The water should not be in play on this short par four dogleg right. The key is avoiding the traps. If you don't you will find the sand in these traps to be quite grainy requiring some careful thought as to how to play out of them. You need to take a shallower amount of sand than you would if the grains were much finer.
#4 – 102 Yard Par Three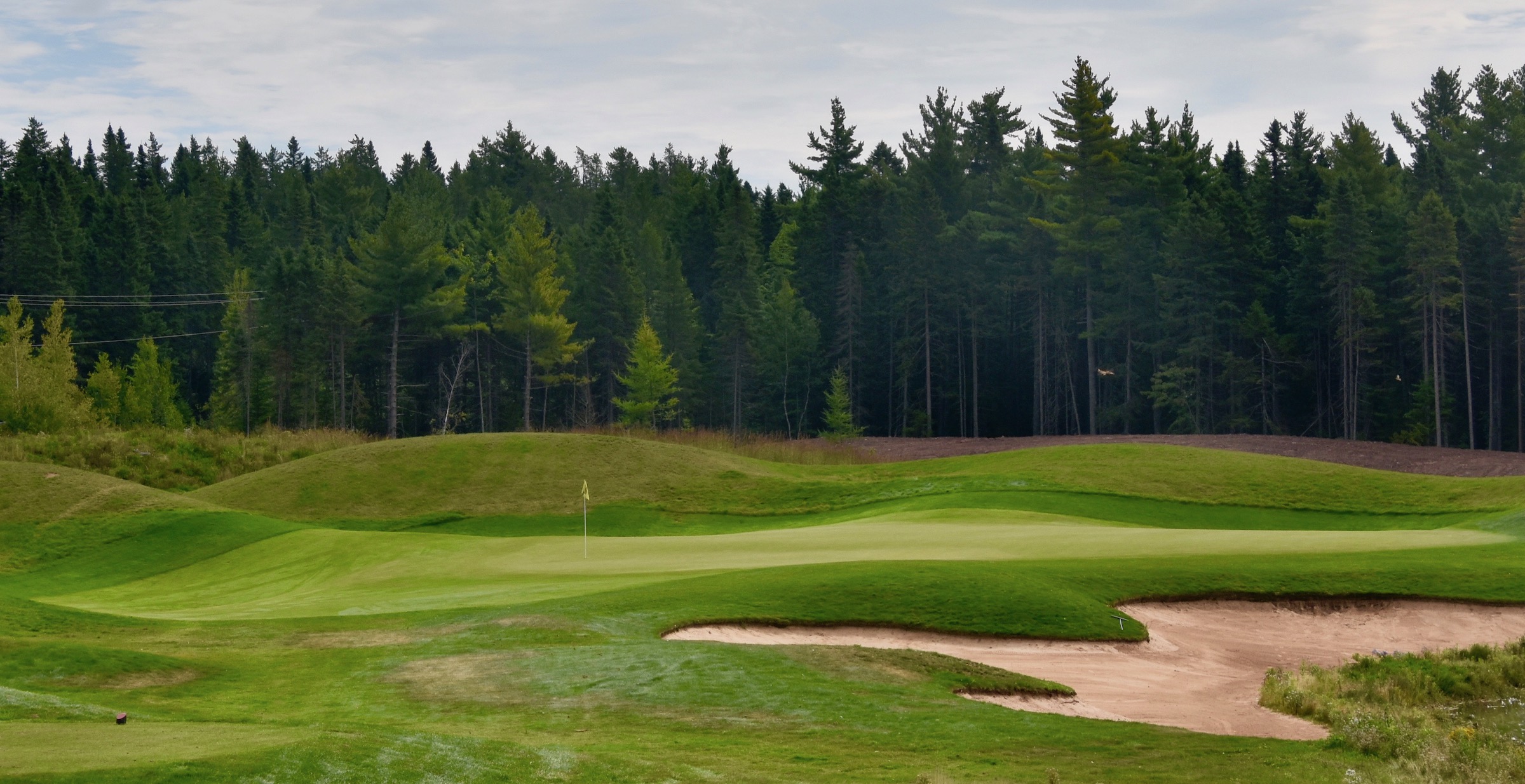 This baby par three is the easiest hole at Fox Creek and ends a stretch of three straight fairly easy holes. The difficulty on this hole is the green which has enough undulation and speed to make three putts the norm, even from fifteen feet or so. At least that's what happened to all three of us.
Fox Creek #5 – 494 Yard Par Five

The difficulty returns with a vengeance at this three shot par five. You need to avoid water on the right and the large trap on the left. Even if you do so, if you are too far right as I was, you are forced because of the trees jutting into the fairway to hit a short second shot to the edge of Fox Creek which bisects the fairway on this hole.
This is what you might be left with for a third shot to a slightly elevated green. No. 5 is definitely the hardest hole on the front nine. With a perfect drive you could clear the creek on the second shot making for a very short approach, but that would require hanging down the left side and risking the trap just over the water.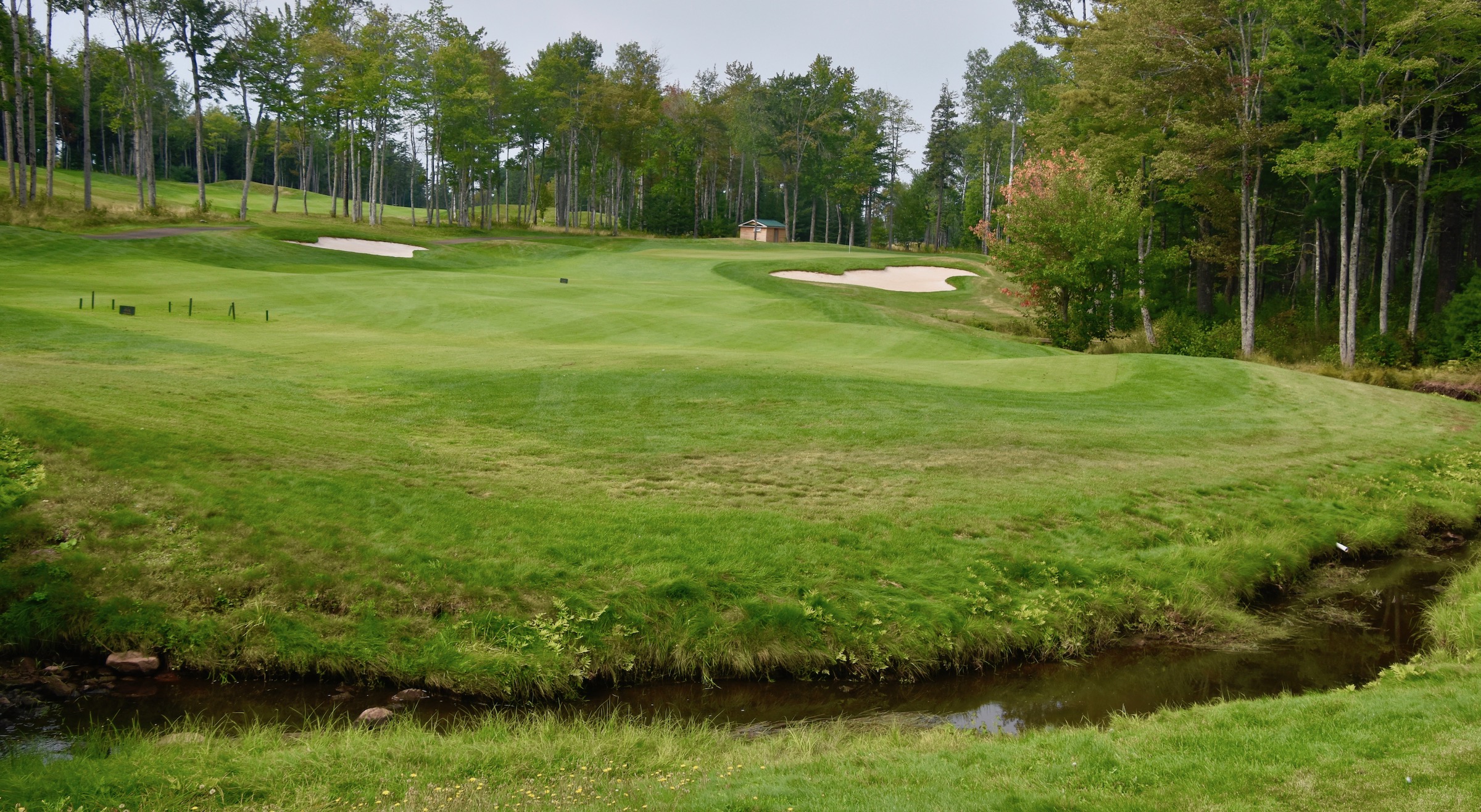 As you can see there are a lot of Canada geese on this hole and they are a bit of a nuisance on a couple of holes at Fox Creek, but that seems to be the case almost everywhere that you have water and grass.
No. 6 – 343 Yard Par Four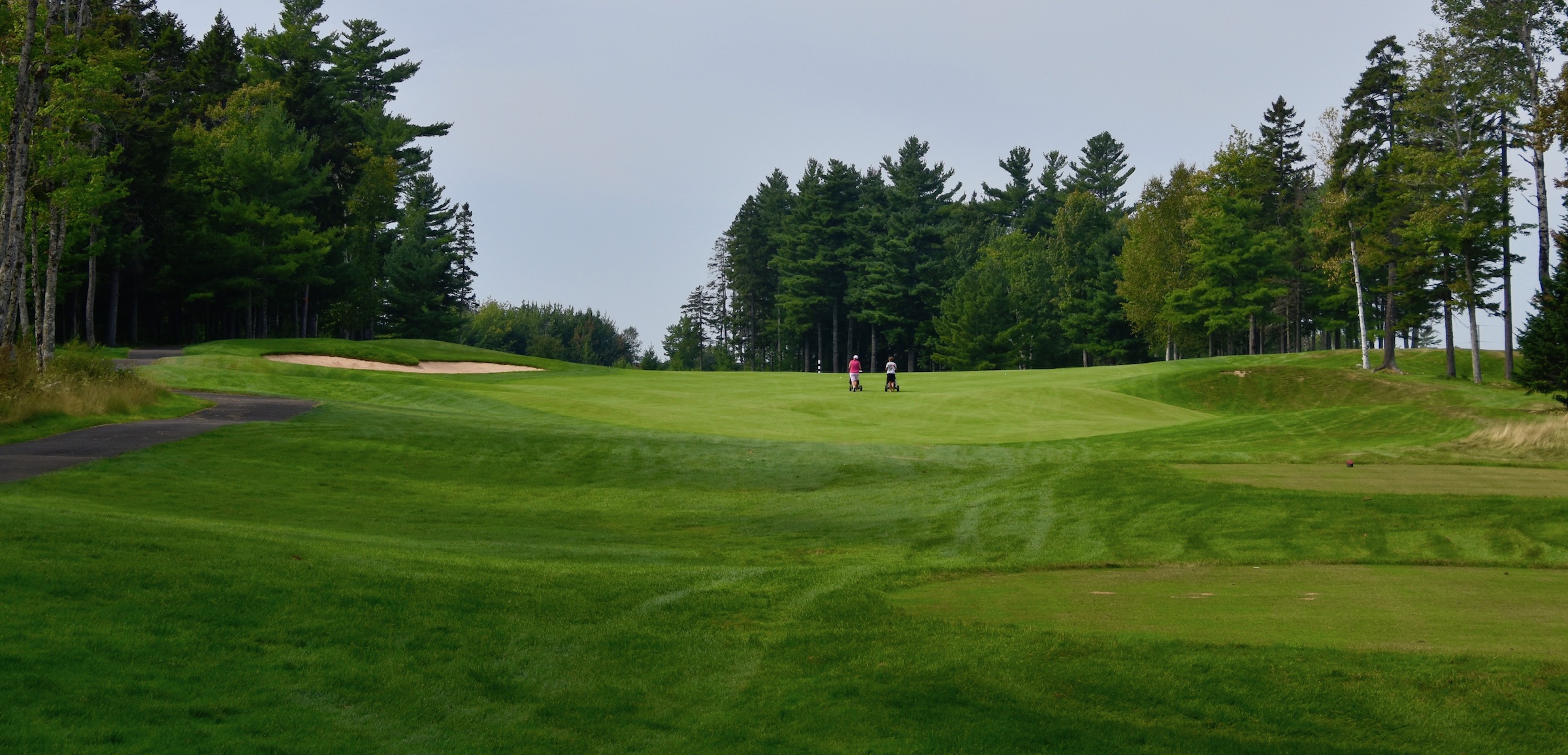 This is one of the few blind tee shots at Fox Creek, but the fairway is very generous and if you go over the crest with your drive you should have a relatively easy approach.
Fox Creek is one of the few courses in Atlantic Canada that has a true first and second cut of rough consistently throughout the course. The first cut is about a yard wide and should present no real issues. The second cut is wider and a lot longer and does present problems. Anything deeper than the second cut will almost always require a chip back onto the fairway as it is next to impossible to advance the ball far in the thick rough.
Fox Creek # 7 – 380 Yard Par Four

Fox Creek No. 7 is a challenging dogleg right that presents risk/reward opportunity. Play it safe and go down the middle then you will have a very long second shot. Go over the bunkers on the right and you have a much easier second shot, but you risk hitting the trees. Par is a very good score on this hole.
No. 8 – 160 Yard Par Three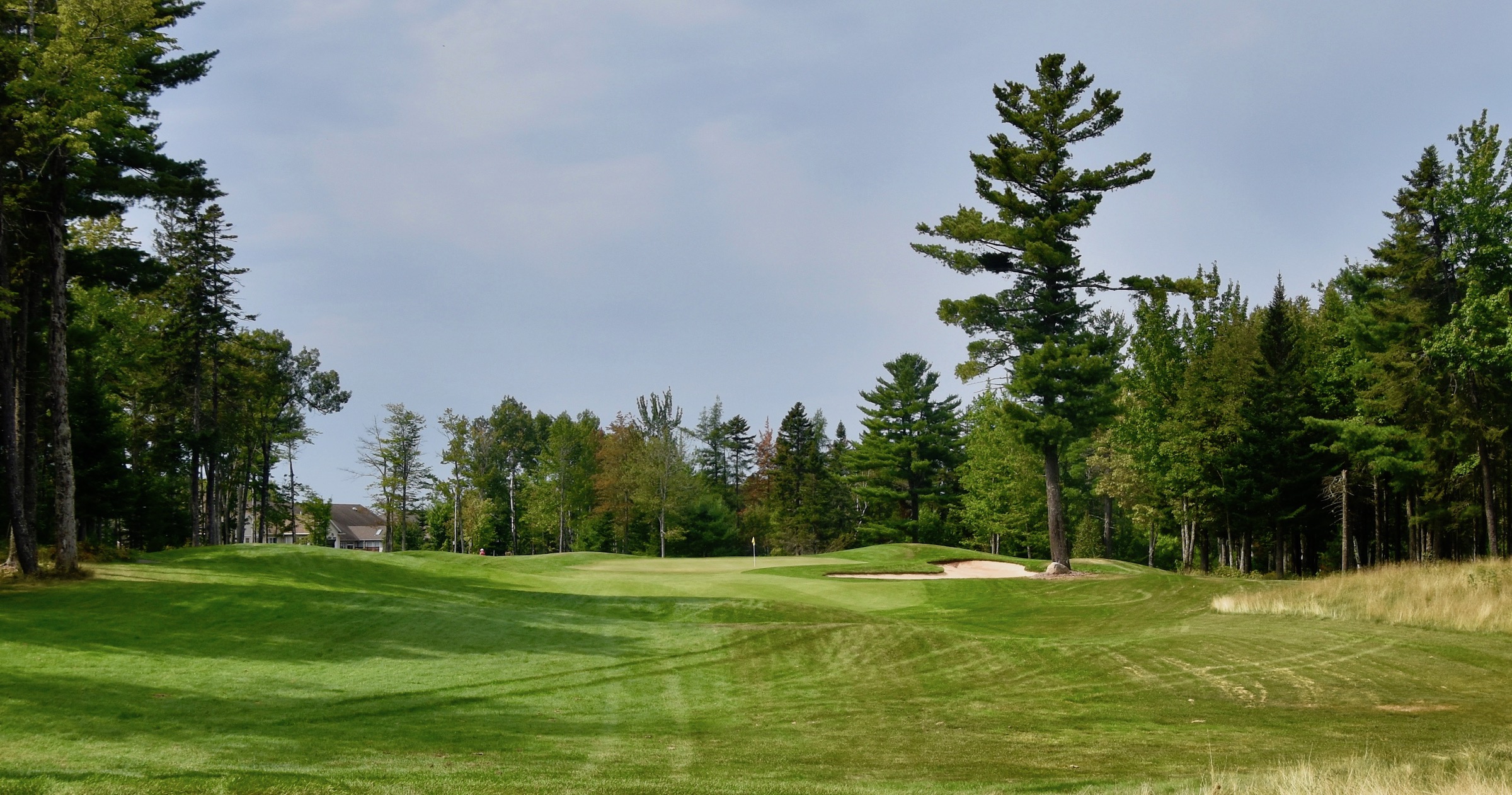 This uphill par three plays much longer than its stated yardage. You need at least one extra club than you might think and maybe two. This is by far the most challenging par three on the front nine.
Fox Creek #9 – 463 Yard Par Five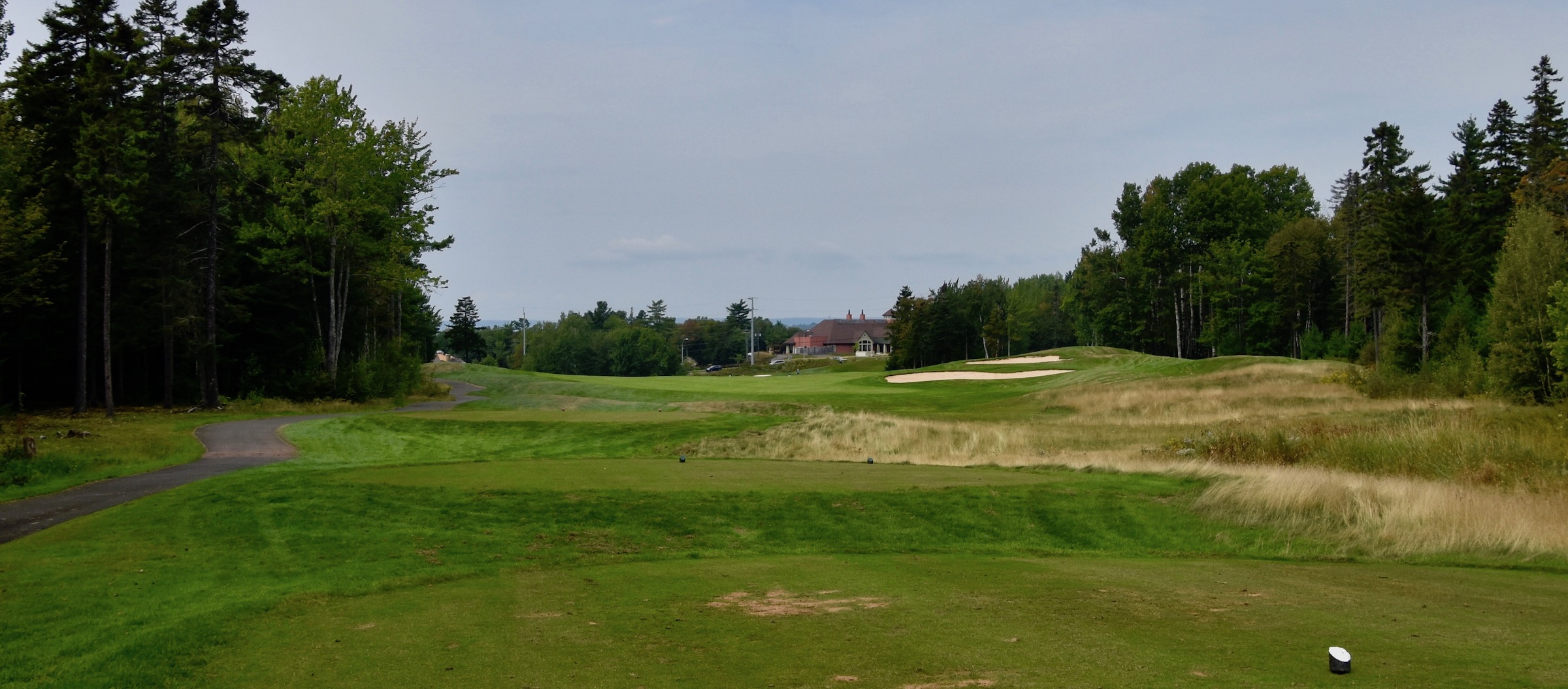 We now come to what I think should be the signature hole at Fox Creek. It starts with quite a long carry off the tee just to reach the fairway. If that is accomplished then you have a choice. Like #5, make a short layup to the top of the ridge like I did here or try to be a hero and attempt to reach the small landing area just short of the green which is no mean feat. Fox Creek cuts a through a large ravine that separates the fairway from the green and will punish anyone who either comes up short or bungles the second shot layup. I really enjoyed this hole and it was a fitting conclusion to a very, very good front nine.

#10 – 459 Yard Par Five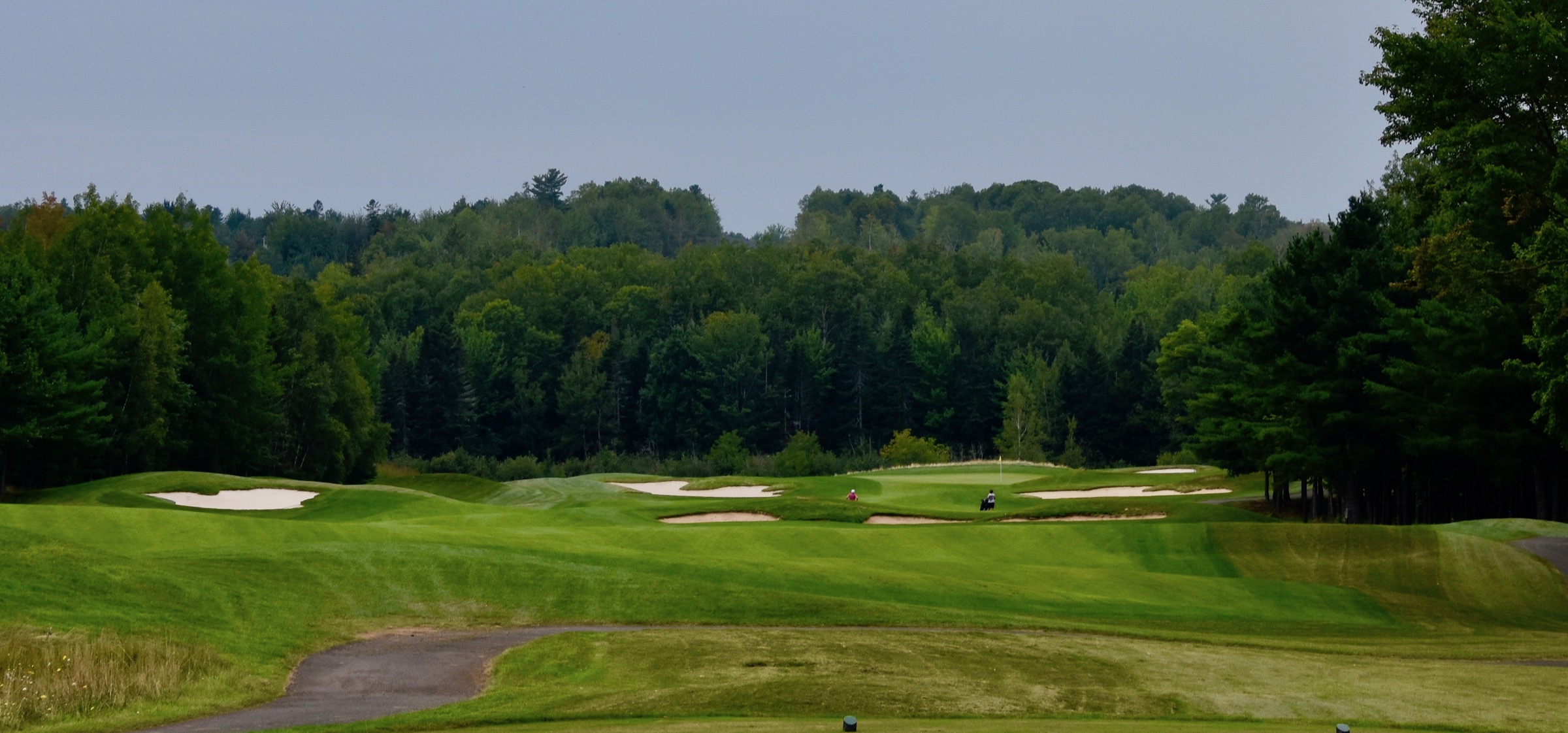 The back nine is separated from the front by Dieppe Boulevard and has an almost completely different look starting with this very nice par five where avoiding the traps is the main challenge.  This nine is considerably shorter than the front featuring three very short par fours and a chance to redeem your score after dealing with the tough front nine.
Fox Creek #11 – 273 Yard Par Four

This tiny par four does not require anything more than a hybrid off the tee, although you can use driver. However, challenging the traps on the right side is foolish and probably the best play is a five wood just to the left of the traps. This is a golden birdie opportunity.
#12 – 370 Yard Par Four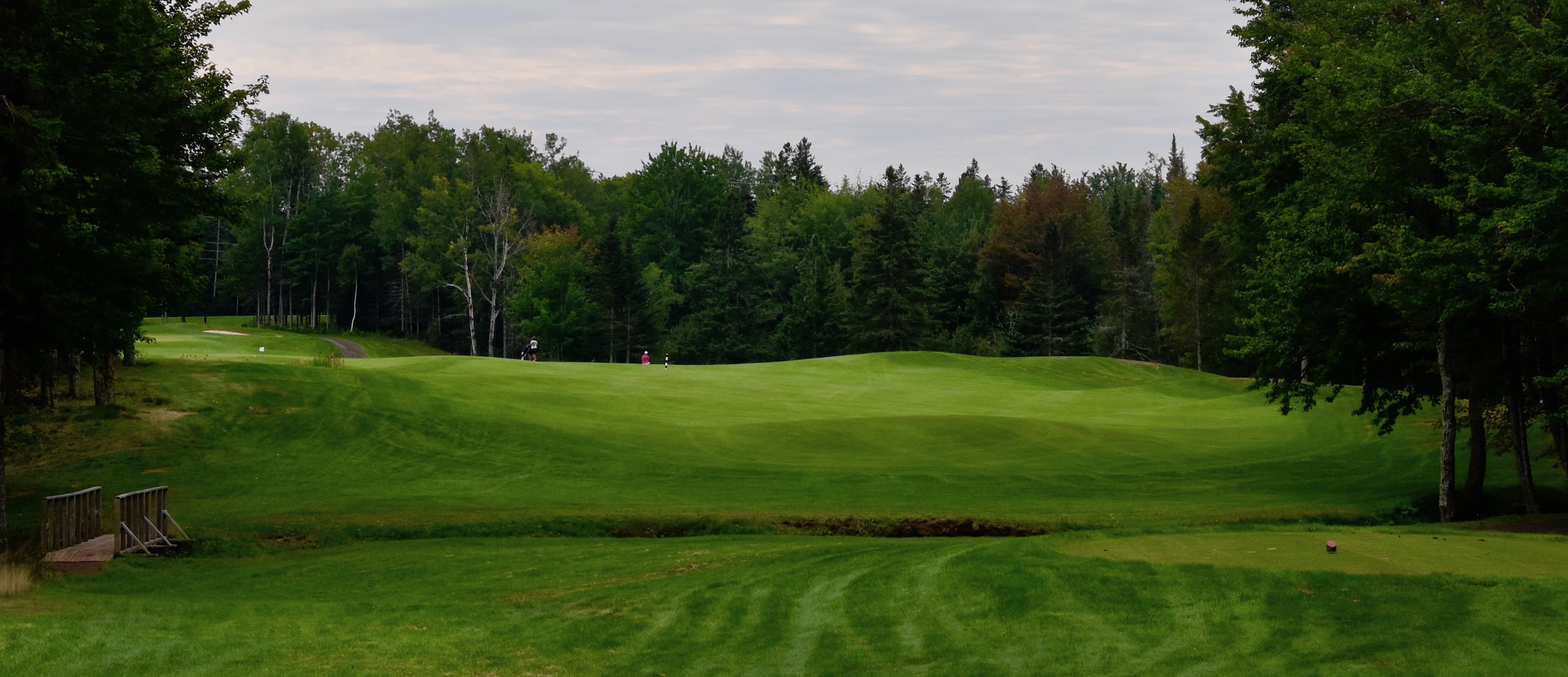 Things get serious again at #12 which definitely requires a driver for a decent opportunity to hit the green with a shorter iron. This hole was perfect for my right to left ball flight, but those who favour left to right will find this hole much more difficult.
Fox Creek #13 – 179 Yard Par Three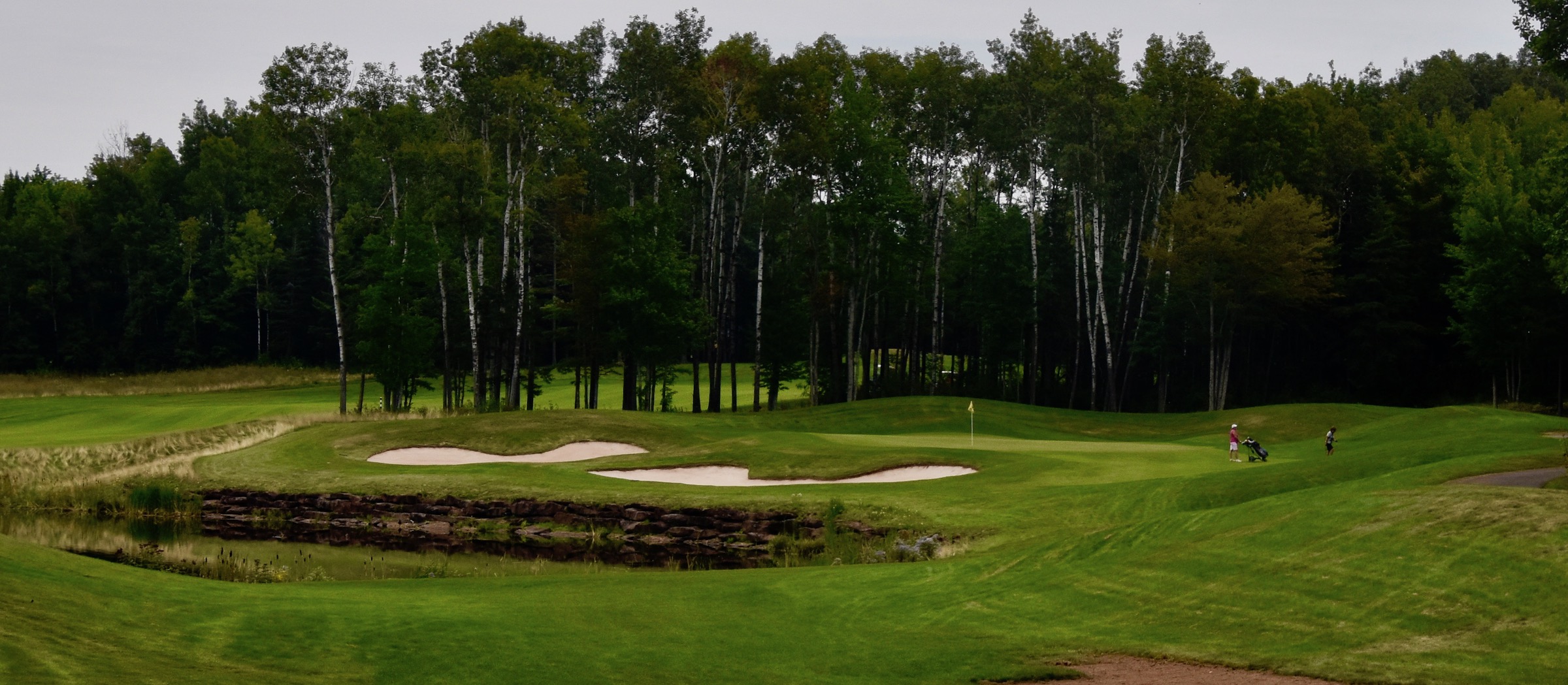 No. 13 is in my opinion the best and most challenging of the par threes at Fox Creek. There are a myriad of ways to get in trouble here with a very narrow landing area to the right of the green. Attempting to carry it to the flag is not a great option unless you are very confident of your club selection which probably should be one more than you think necessary. This is one of the very few par threes where the women's tee might be harder than the senior's. While from the tee above you do not have to necessarily cross the water, the women's tee is to the left and requires a tee shot over both the water and sand to safely make the green.
This is a truly great par three no matter where you play it from.
#14 – 352 Yard Par Four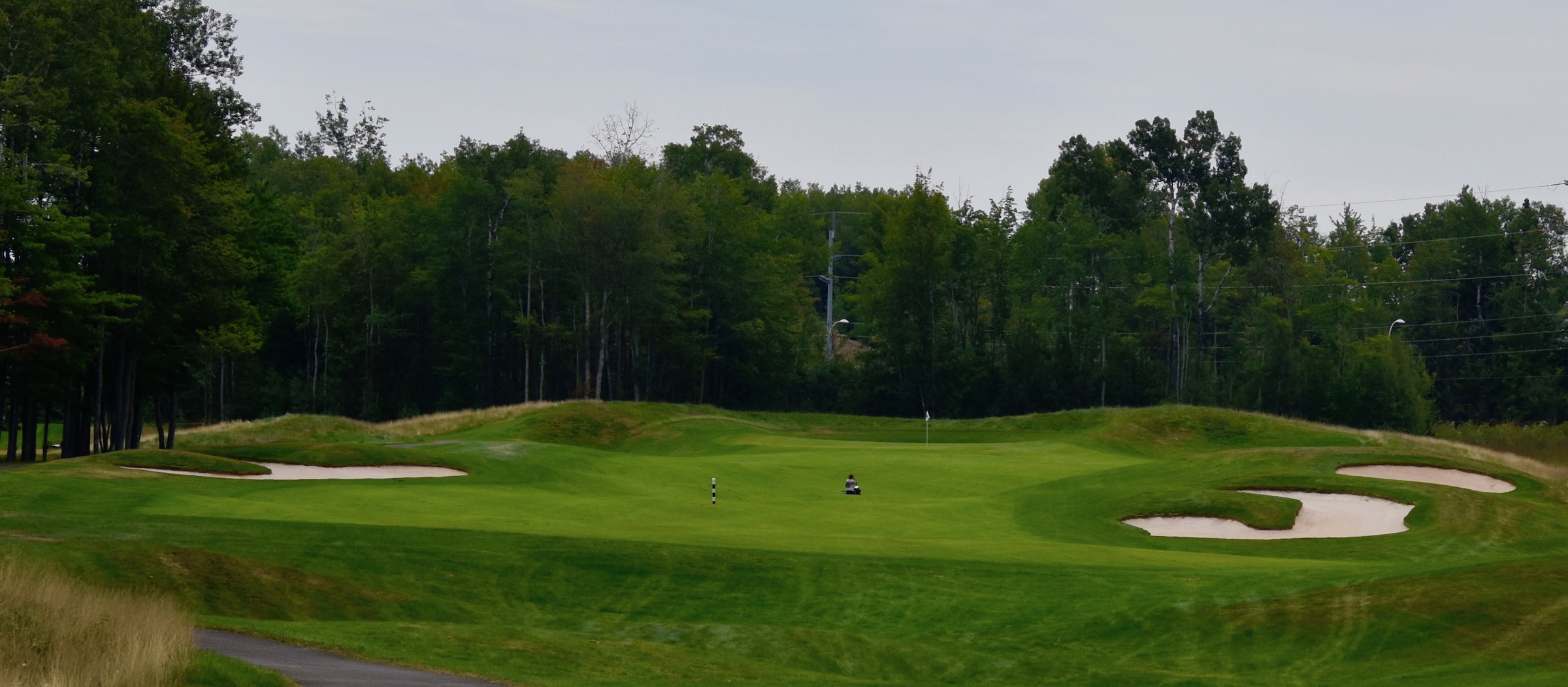 No. 14 at Fox Creek is a no nonsense straightforward hole that requires a reasonably long and straight drive after which you will be rewarded with an approach to the large green. Looking at this photo taken in early September I can't help but think how nice this hole will look when those hardwoods put on their fall display.
Fox Creek #15 – 443 Yard Par Five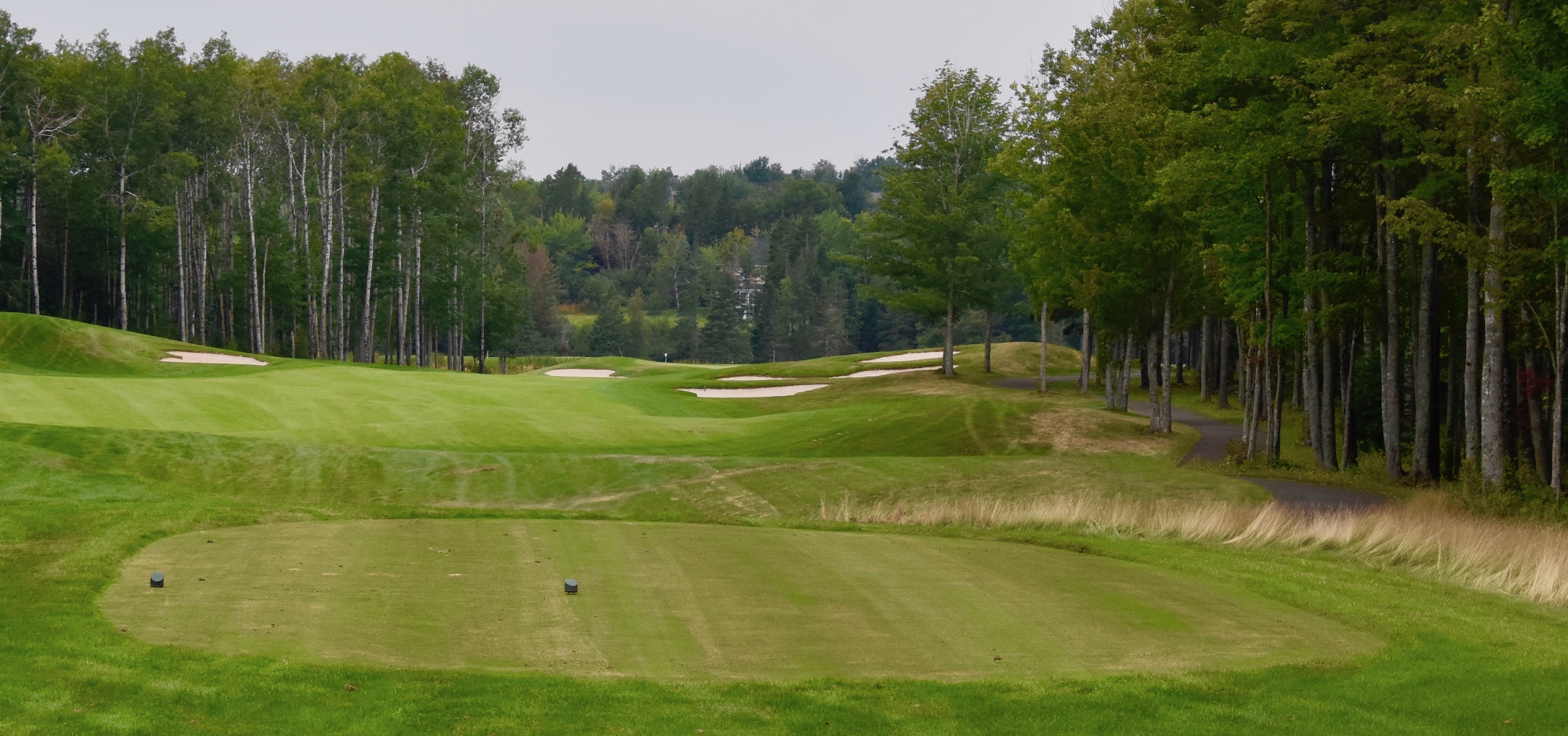 This is by far the shortest par five at Fox Creek and yet it is the #1 stroke hole. There is literally trouble everywhere on this hole starting with the very constricted landing area for the tee shot.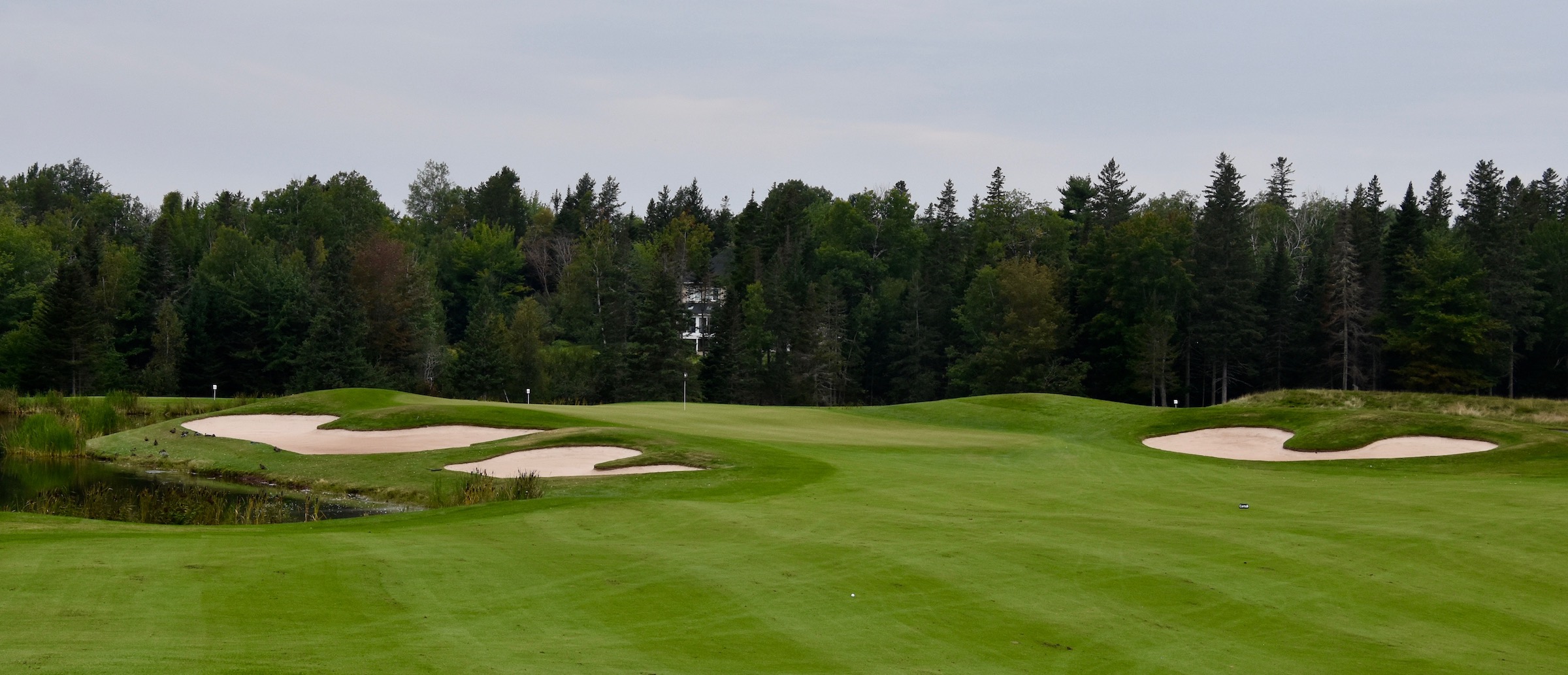 The green is surrounded by water on the left and behind it. This is definitely a thinking golfer's hole as the short length suggests birdie possibilities, but the degree of difficulty has to be respected and I opted to play it as three shot hole using woods and a hybrid to navigate to this spot for an easy wedge approach.
#16 – 233 Yard Par Four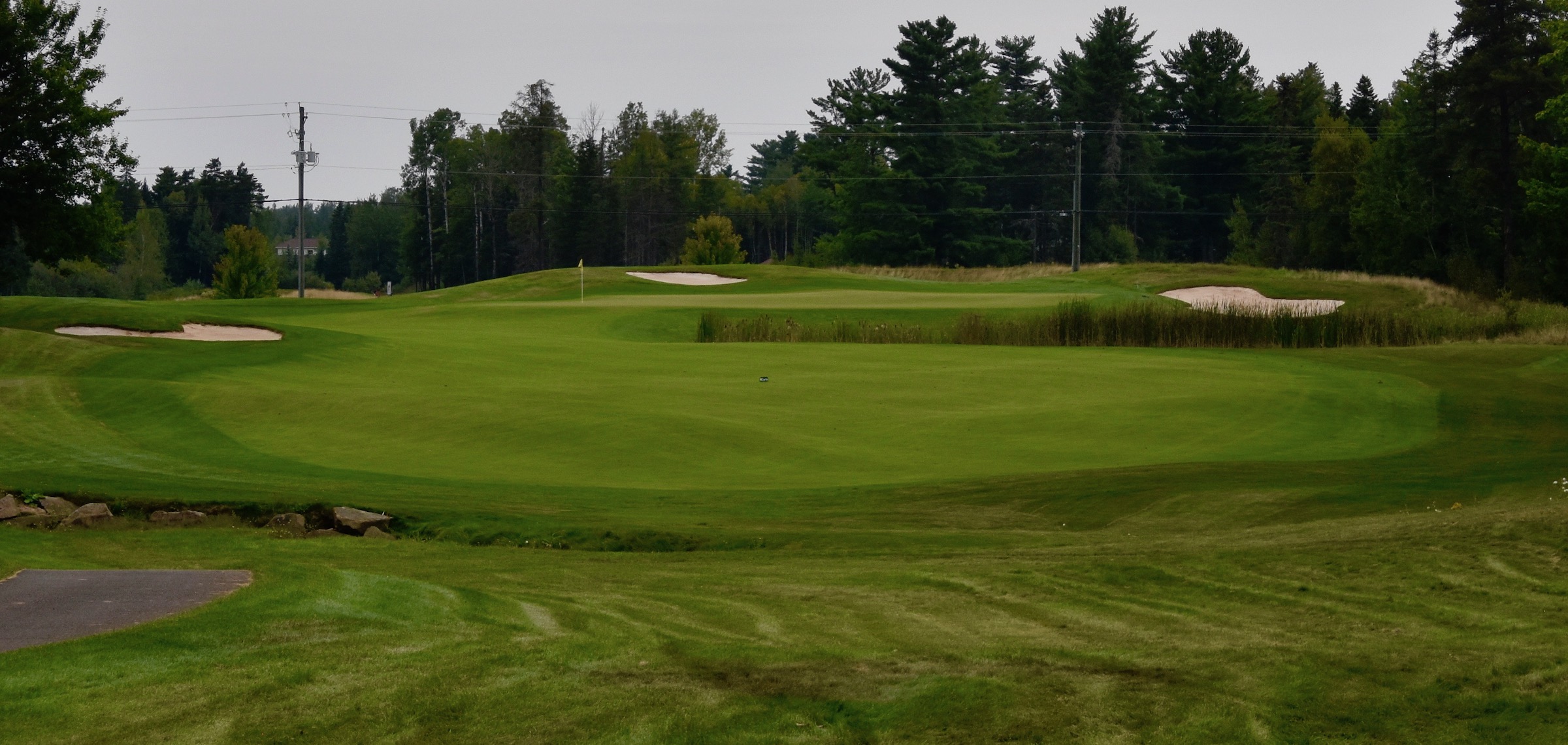 This ridiculously short par four simply dares the senior golfer to grip it and rip and just ignore the water on the right. This is by far the best birdie opportunity at Fox Creek.
Fox Creek #17 – 131 Par Three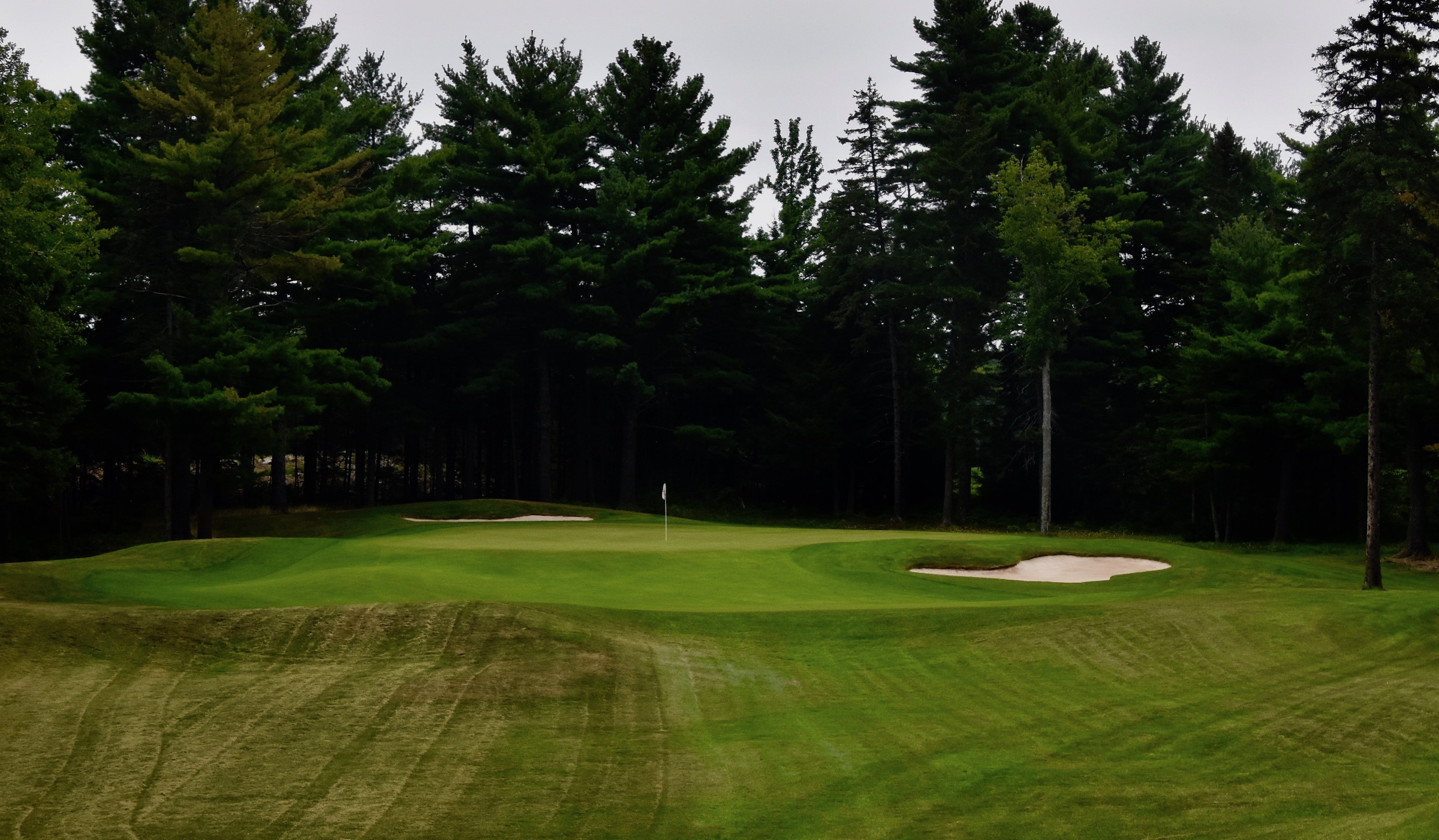 The final par three at Fox Creek is not difficult and after #16 represents a chance to maybe pick up two birdies in a row. Club selection is everything on this hole and if you get it right there should be a chance for that birdie putt.
#18 – 295 Yard Par Four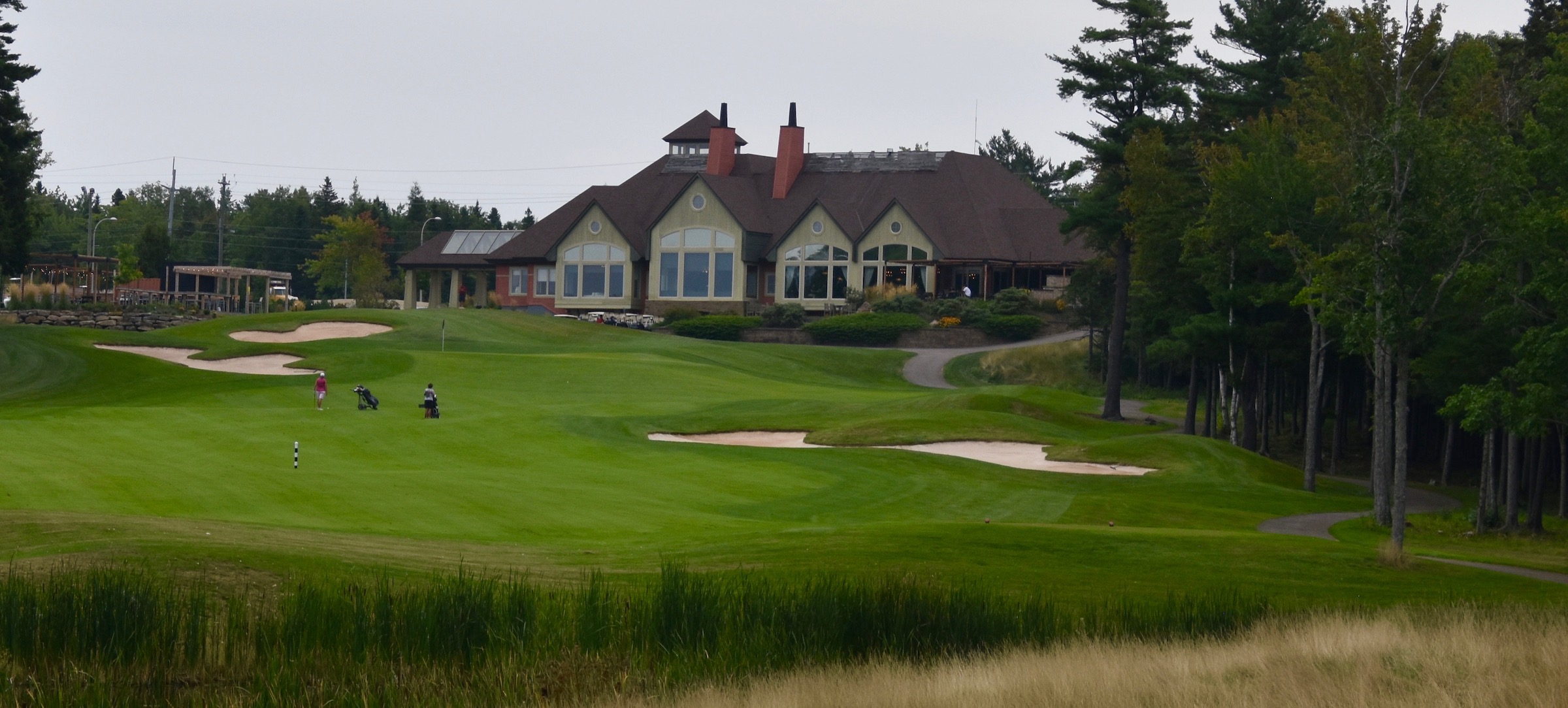 No 18 is a gorgeous looking finishing hole playing uphill to the clubhouse and thus a lot longer than the stated yardage. Even so a well placed drive down the right side should leave a short iron to a very receptive green.
So that concludes our round at Fox Creek which we played in just over four hours. While most of my readers won't get a chance to play Fox Creek now that it is private, if you do happen to be in the Moncton area why not see if one of the members will have you as a guest.