York Redoubt National Historic Site
Yesterday was the first reasonably mild day in quite some time and in my quest to find something reasonably interesting to write about during this Covid lockdown I set out on a drive with nowhere in particular on my mind. Hitting the Armdale rotary, I took the Spryfield exit and then Purcell's Cove Road heading for Herring Cove and maybe Sambro after that when I came across the sign for York Redoubt National Historic Site. I knew instantly that this was my unintended destination and pulled into the parking lot which a bit to my surprise had about eight or nine vehicles parked there already. Considering that the site was officially closed, this still being mid-March I was about to find out that visiting York Redoubt in the 'off season' was every bit as enjoyable as a visit during the open hours. Here's why.
History of York Redoubt
York Redoubt is an important part of the Halifax Defence Complex which was one of four major overseas naval stations in the British Empire during the 18th and 19th centuries. The other components are the Halifax Citadel, Fort McNab, Prince of Wales Martello Tower in Point Pleasant Park and Georges Island which I had the privilege of visiting for the first time last summer and wrote about in this post. It is my intention to write posts about all five of the components over the next year.
Halifax was founded in 1749 as a counter measure to the immense French presence on Cape Breton Island in the form of Fortress Louisbourg which commanded the entrance to the Gulf of St. Lawrence and the major colony of Quebec. The Citadel was built on a large glacial drumlin that dominates peninsular Halifax and is the centrepiece of the Halifax Defence Complex. However, British naval planners decided that you can never be too cautious and decided that the entrance to Halifax Harbour should be guarded as well. The narrowest point to the outer harbour lies between McNab's Island and the mainland just below Chebucto Head and this is where York Redoubt was first constructed in 1793. Standing on the ramparts today you can get a sense of why this was the perfect place to build a fortification. McNab's Island seems like only a minor cannon shot away.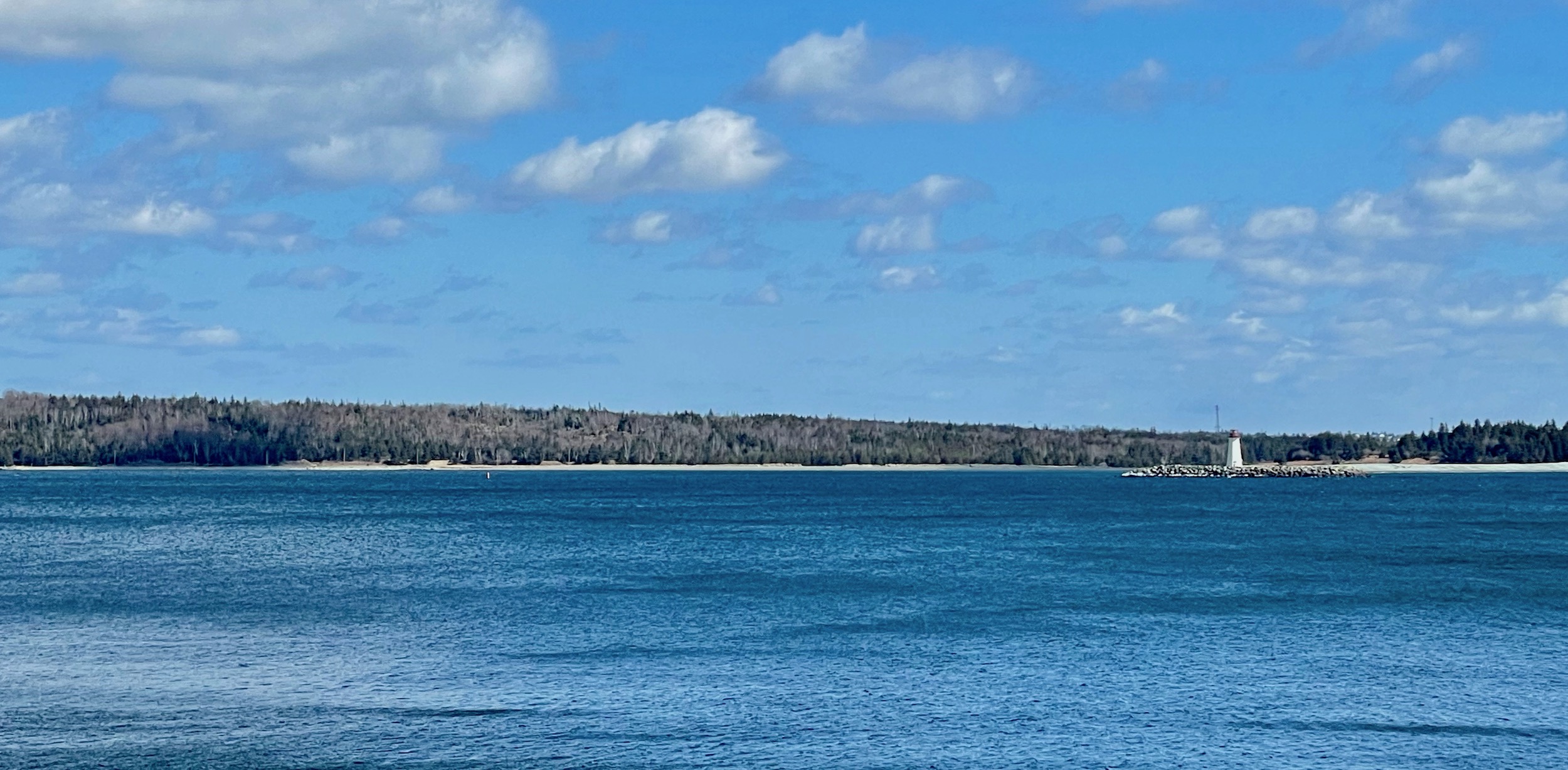 The Halifax Defence Complex was so formidable that it never came under enemy attack, but did play a key role in a number of conflicts right up until WWII when York Redoubt served as the command post for the defence of the harbour from German U-Boats which lurked just offshore. The U-Boats laid mines outside the harbour on a number of occasions and late in the war sank the mine sweepers HMS Clayoquot and the HMS Esquimault with a combined loss of 47 lives. Few people are aware of just how close the war came to our shores in those precarious days.
After the war, like most coastal defence locations, York Redoubt was essentially abandoned and would have reverted back to nature or given its prime location, possibly been gobbled up by developers, but for its designation as a National Historic Site in 1962. In 1968 it was opened to the public and that's around when I made my first visit. My primary recollection of that first visit was the huge array of cannons that were literally just lying around the site. They are still there, although Parks Canada has preserved them from rusting away and they remain one of the most compelling sights at York Redoubt.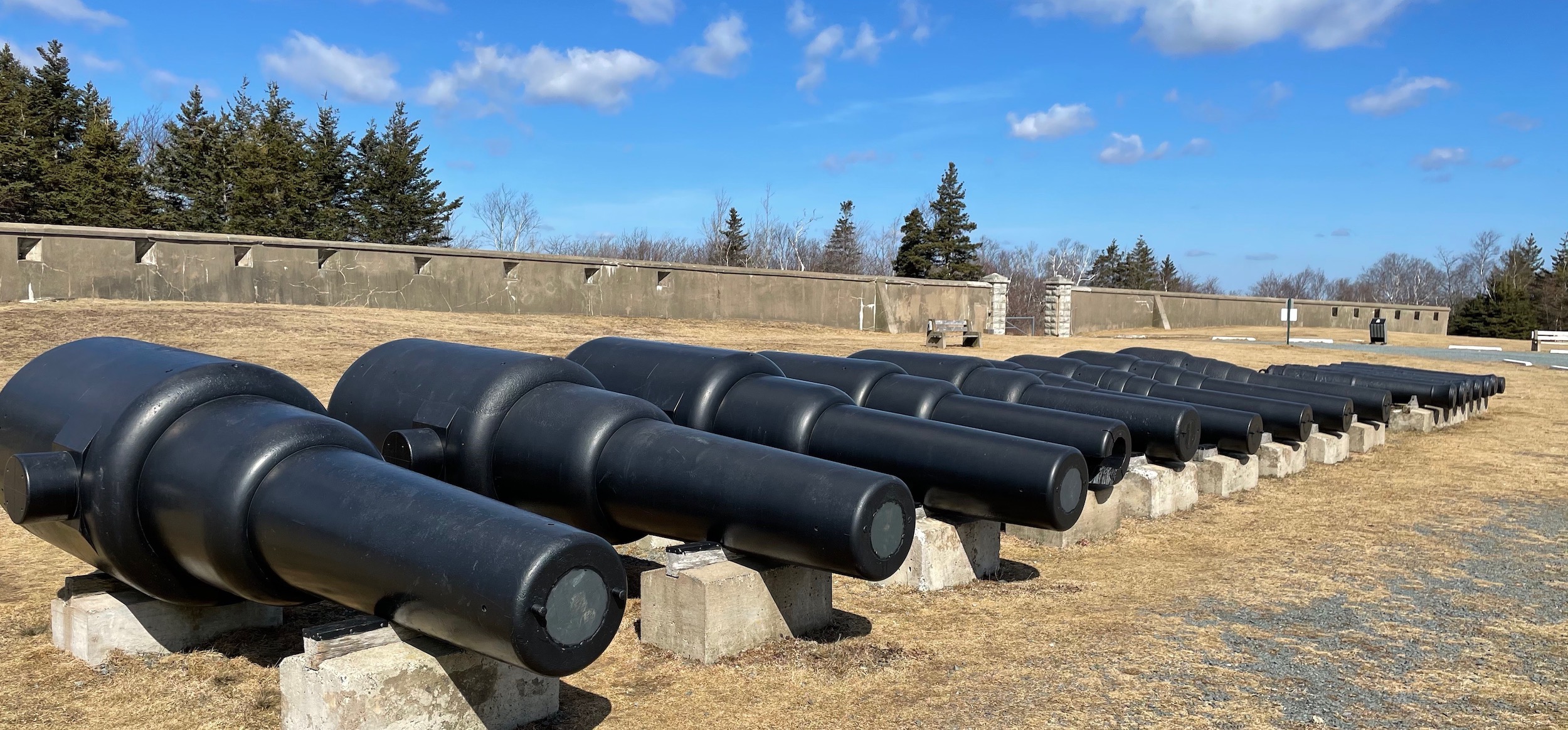 Visiting During the Off Season
Unlike The Citadel or Georges Island where many of the things to see are inside or underground, York Redoubt is almost all about the exterior of the fortification. You come here to roam the grounds, enjoy the spectacular views of Halifax Harbour and marvel at the restored gun emplacements. That's why it's a great place to visit on any sunny day. Here's a few of the things you might want to see.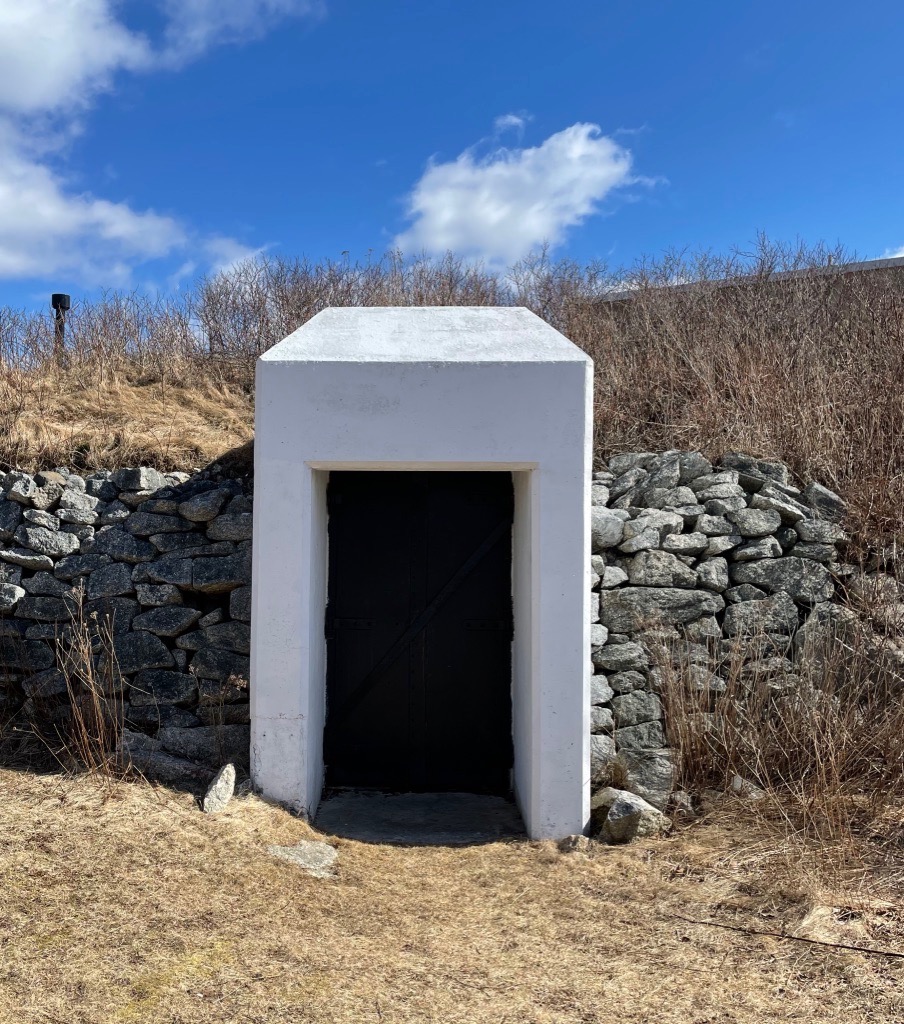 Like all defence complexes, York Redoubt has its share of underground tunnels, but these are mostly closed in the off season. However, not to worry, there are still places you can wander through at any time of year, such as this one that leads to a battery that guarded the landward side of the fort.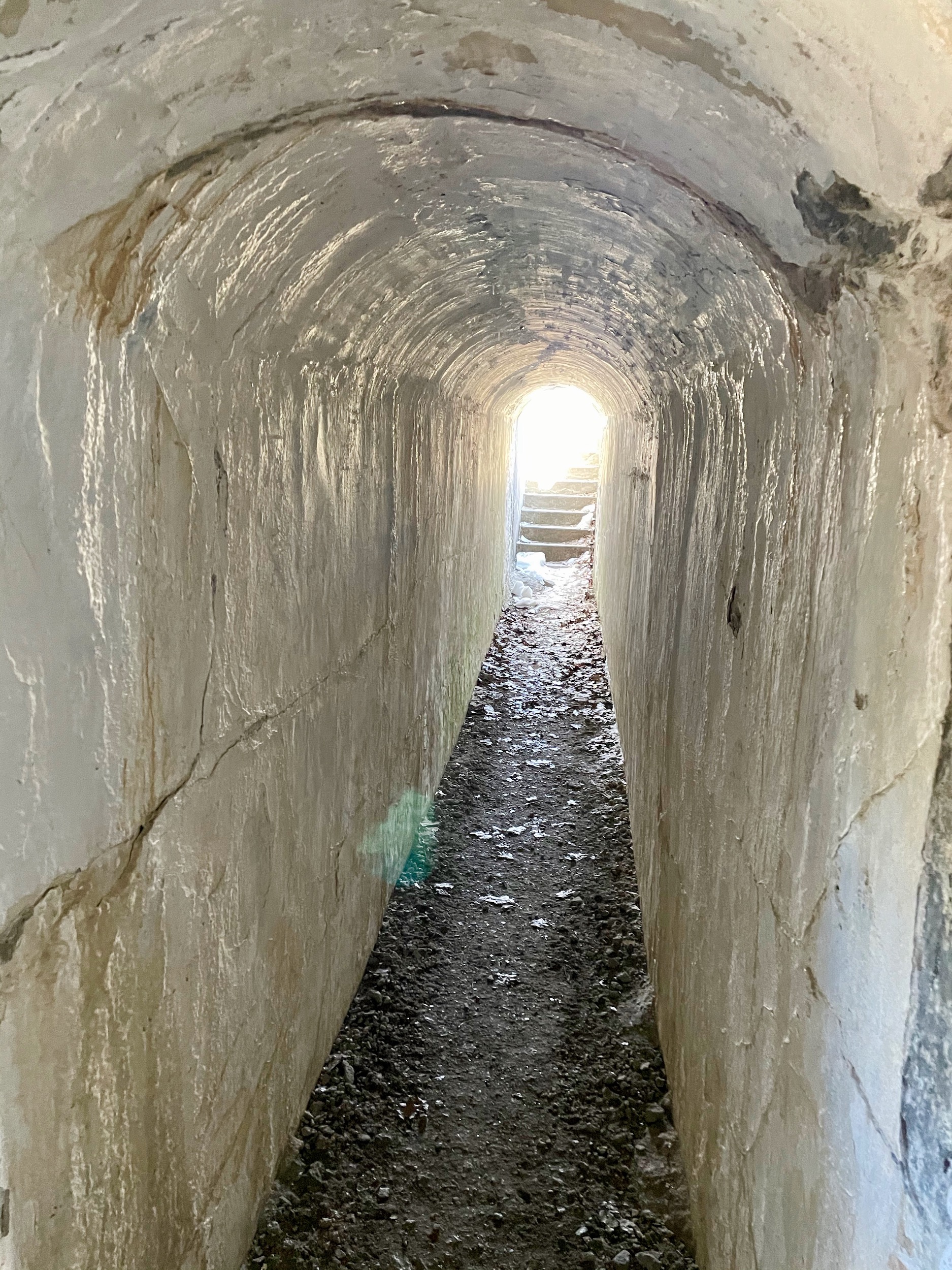 This is the building that served as the Halifax Harbour Defence Headquarters in WWII.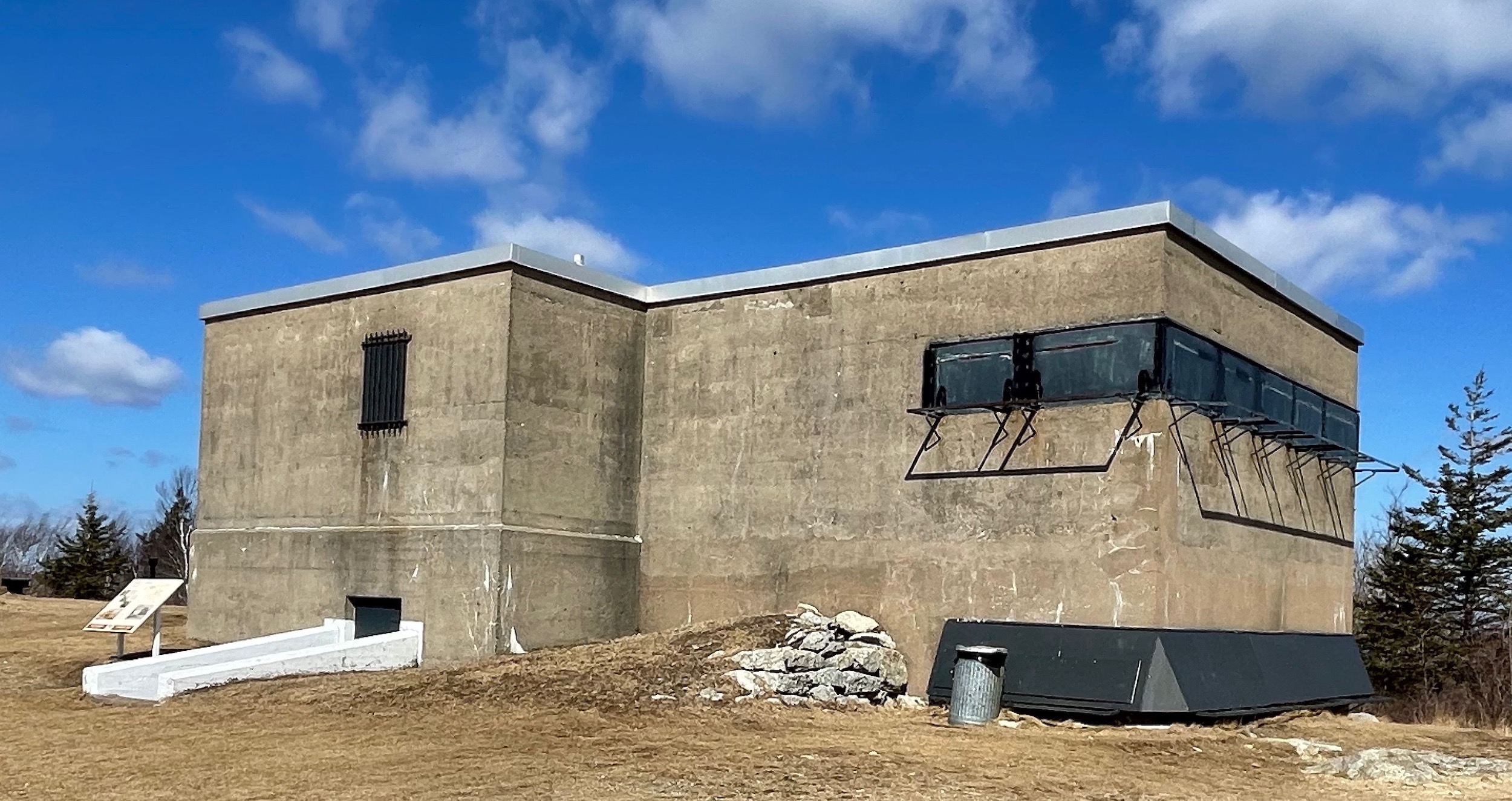 From here you take this set of stairs down to the lower portion of York Redoubt where the batteries are located.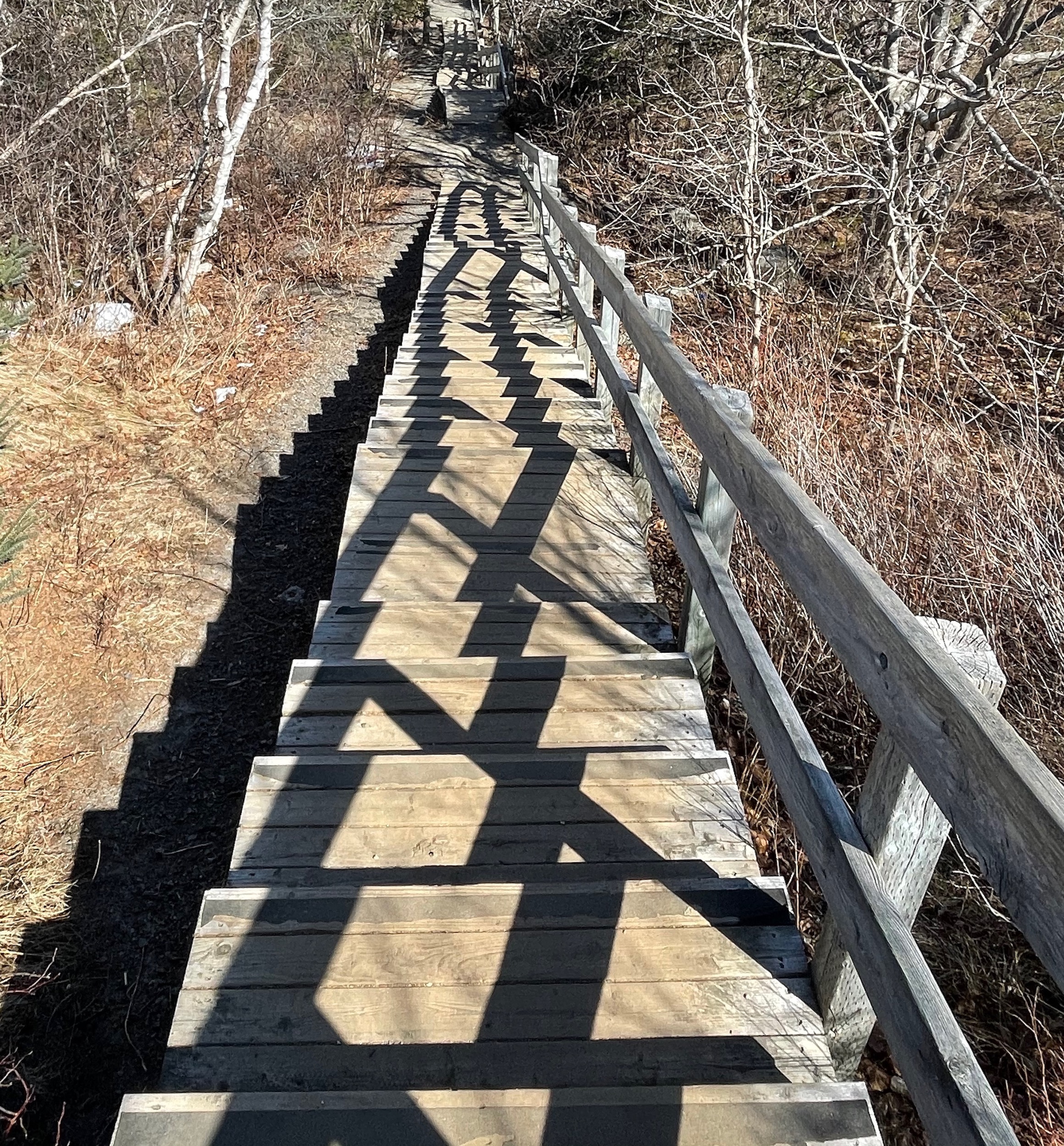 The one thing that has changed dramatically since York Redoubt since it first opened is the restoration of the five huge gun batteries that served as the principal armaments. They are very impressive and well worth a visit on their own.
These are muzzle loading rifled cannons from the 1870's known for their deadly accuracy and range. They were able to swivel in  any direction along the circular tracks upon which they were mounted.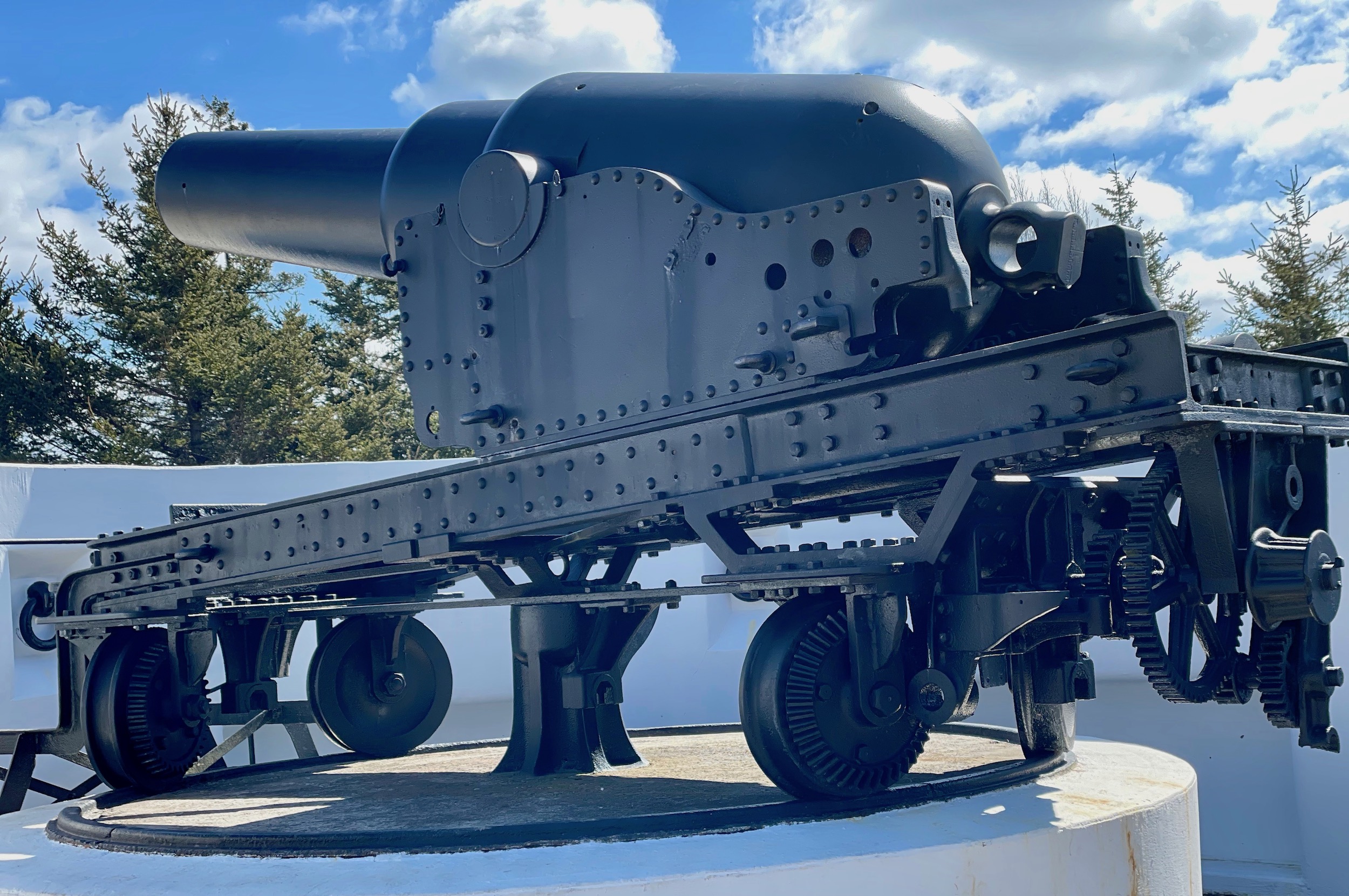 While I was inspecting these cannons, I in turn was being inspected by this descendent of Lassie who trotted along the top of the battery walls while I walked along the bottom.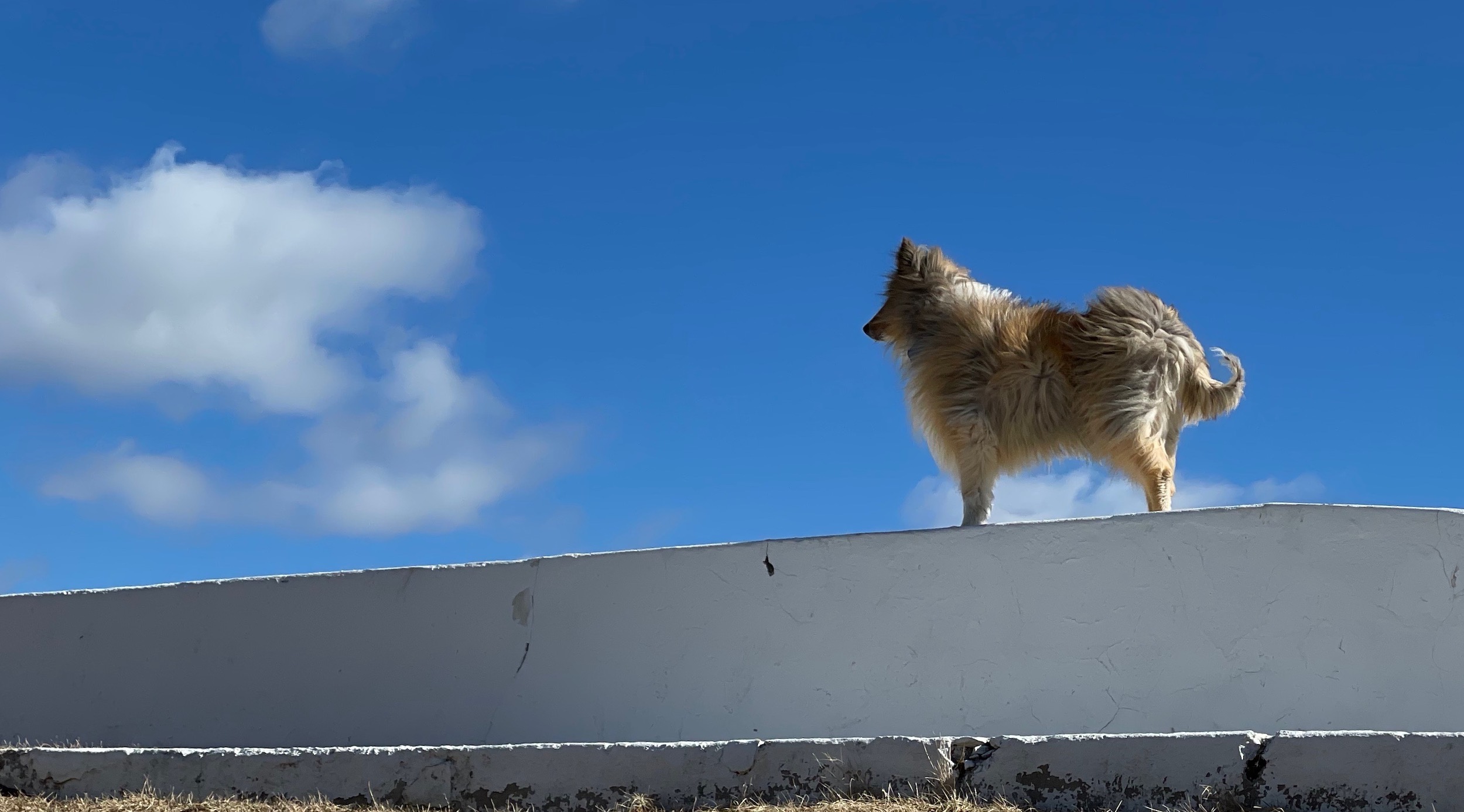 York Shore Battery
The one thing you don't want to miss at York Redoubt is a visit to York Shore Battery which is located on the waterfront well below the fort itself. You exit the fort through a gate on the north side to a well maintained gravel road thats leads gradually down to Sleepy Cove where the battery is located. On the way you get a good view of the slate walls of York Redoubt that seem to bleed rust red.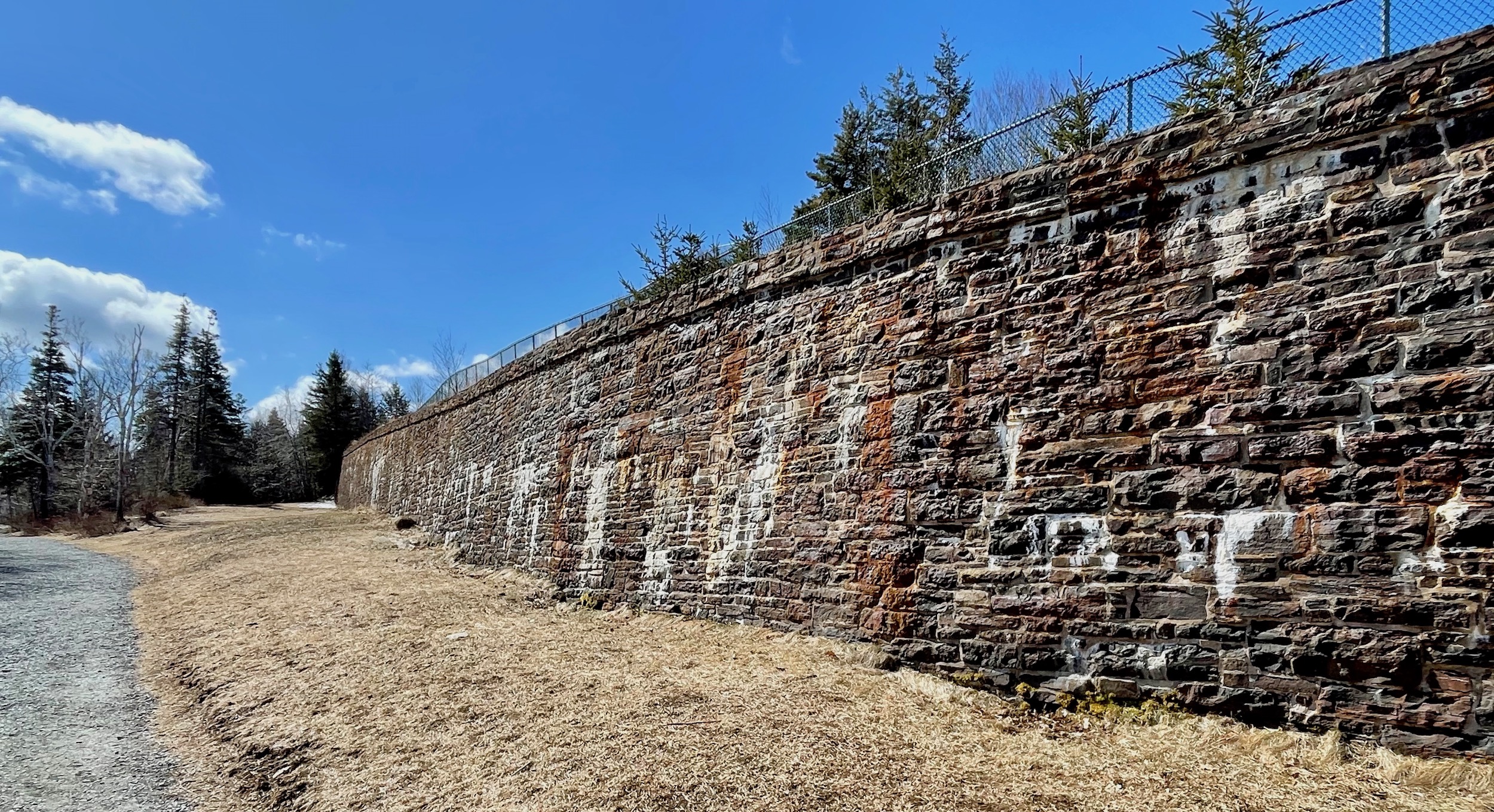 Unlike the fort proper, Parks Canada has let nature and graffiti artists do their thing at York Shore Battery.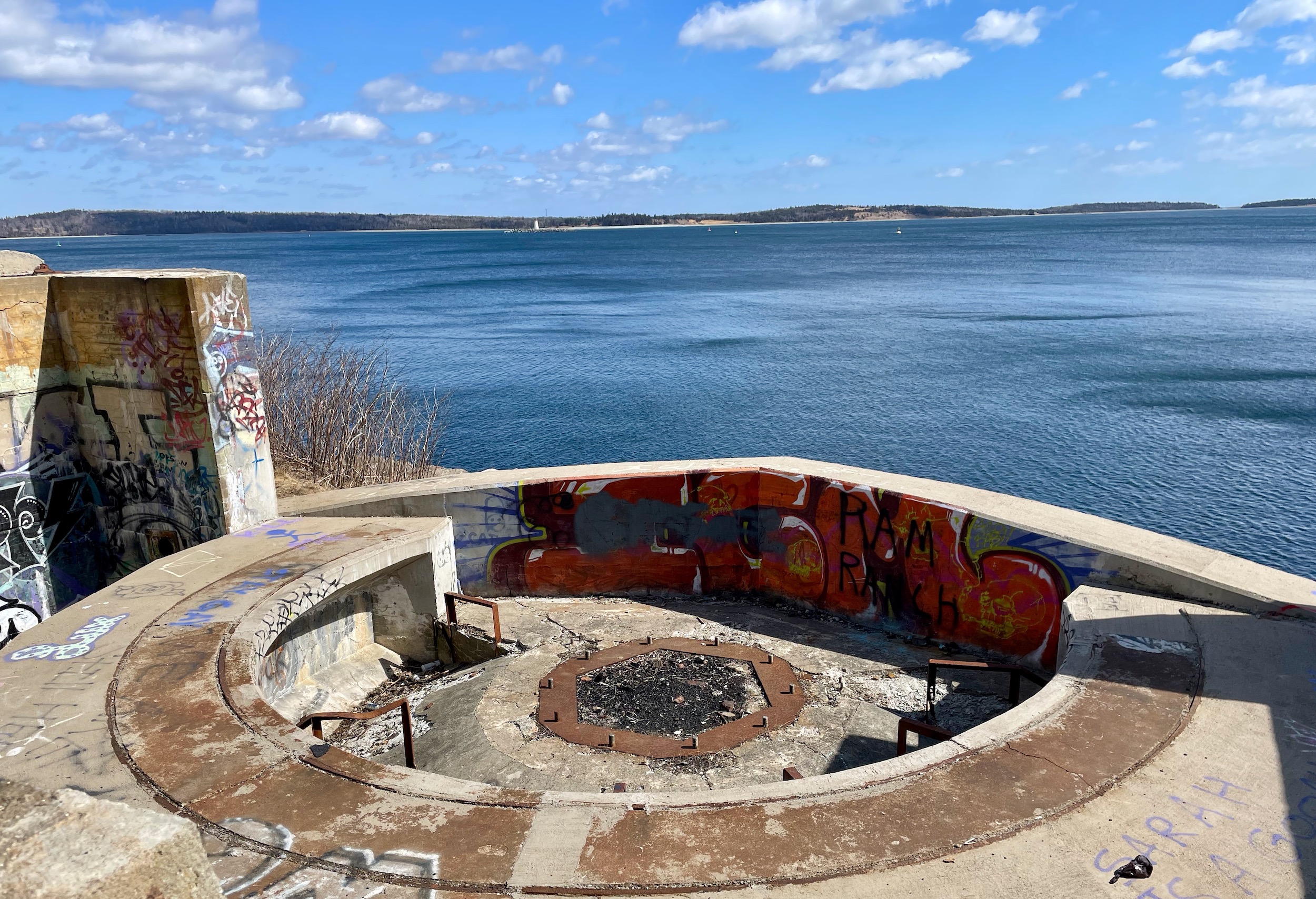 In previous posts like this on from Bogota, Colombia I have railed against graffiti, but praised really good street artists. At York Shore Battery you'll find both in what is kind of an unexpected explosion of colour and symbolism.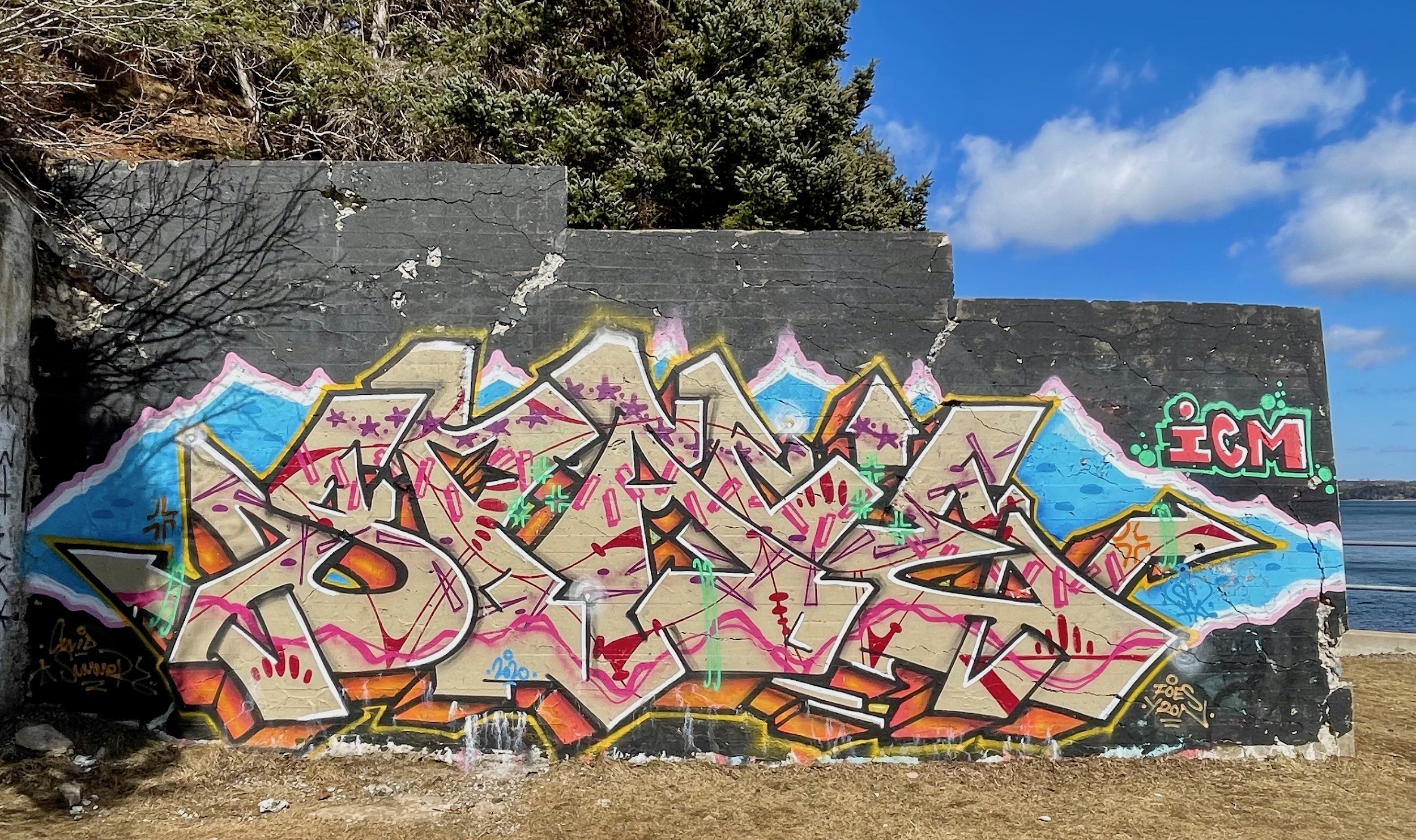 What's happened is that some very talented people's work has been defaced by talentless jerks like the one who spray painted the eyes of this skull.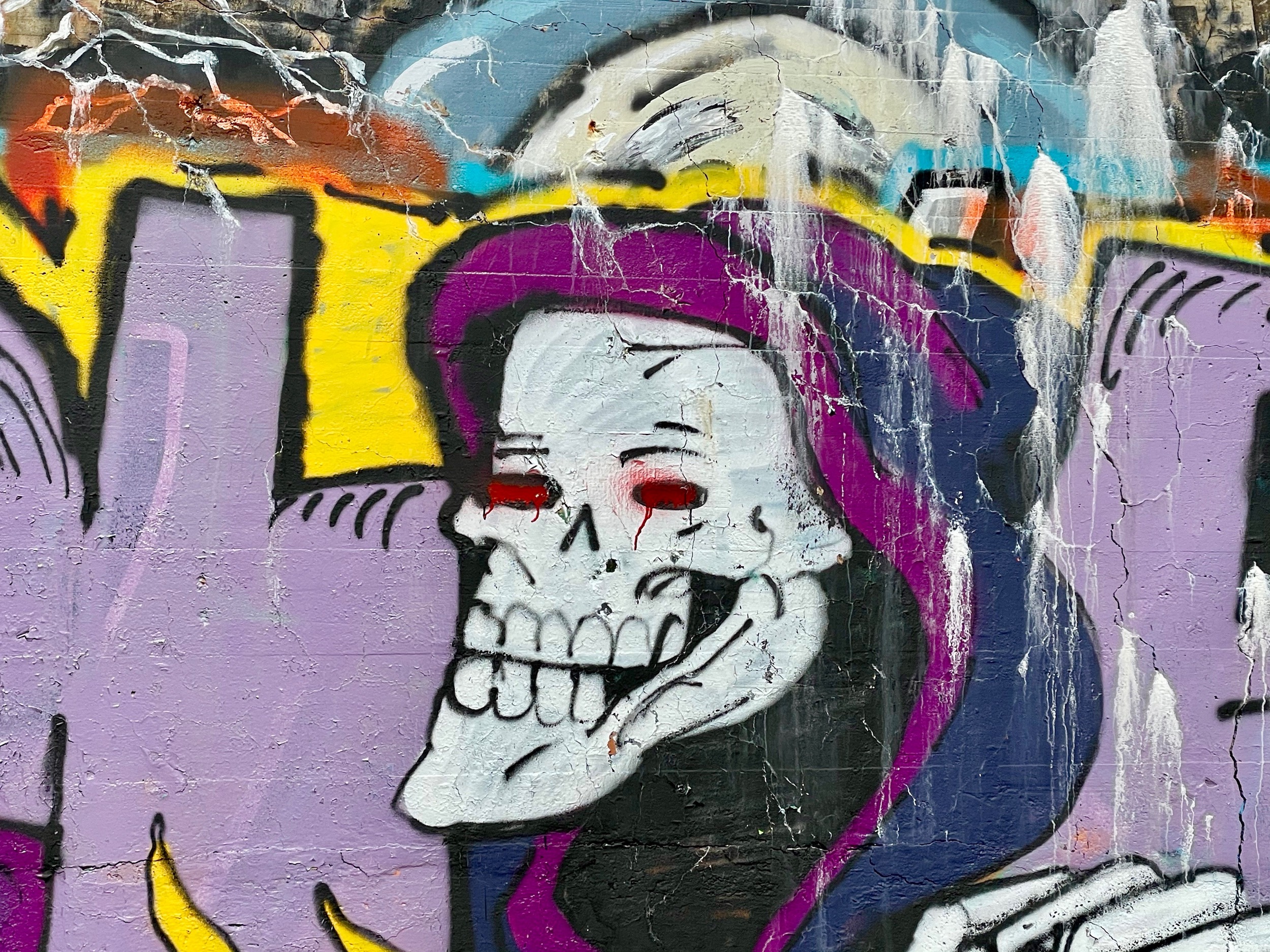 I found this piece which has not been defaced particularly intriguing. At first glance it's just a seal, but given the creepy location I couldn't help but think it was really meant to be a selkie, the shape shifting merwomen of Celtic folklore.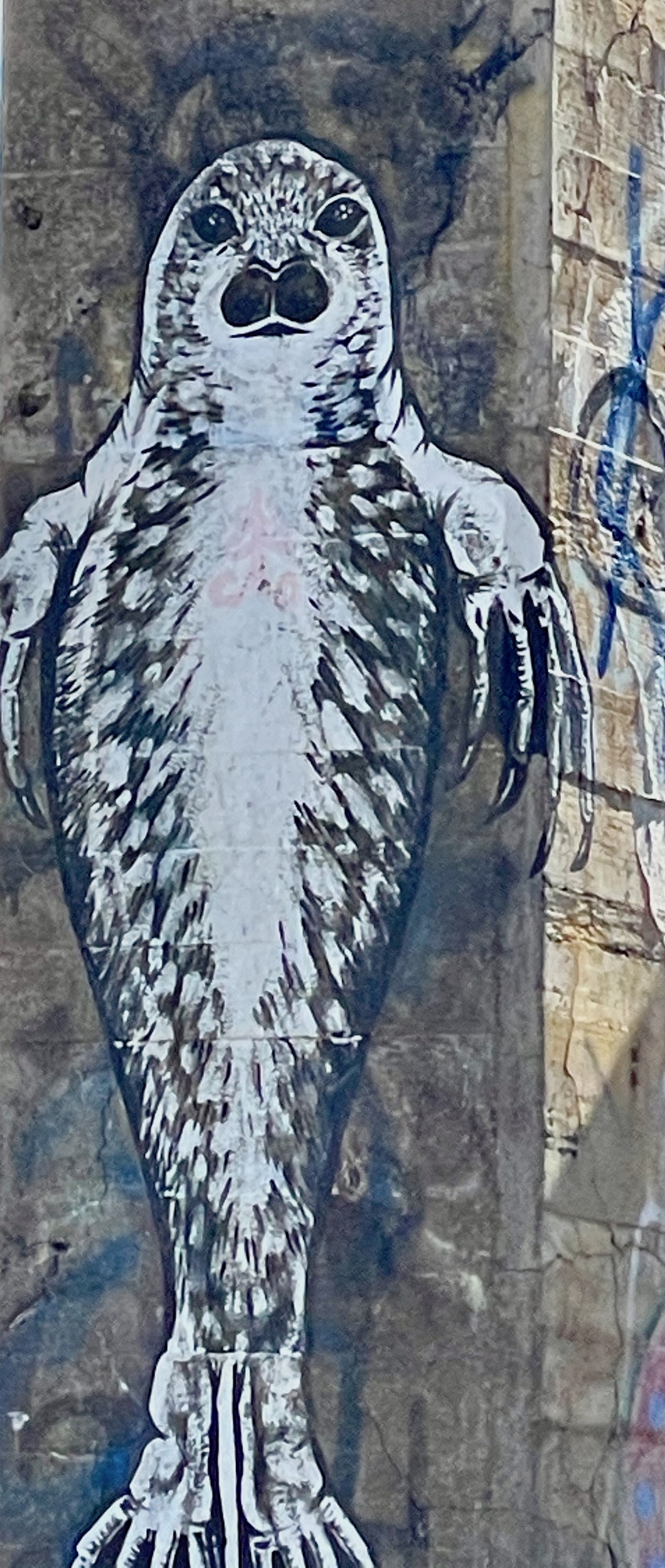 There are a number of abandoned concrete buildings at York Shore Battery that would be perfect for using as a backdrop in your own version of The Blair Witch Project.
However, I don't want to end on scary note because York Shore Battery is a great place from which to explore one of the few patches of coastline along Halifax Harbour that is not rapidly being turned into nesting sites for McMansions.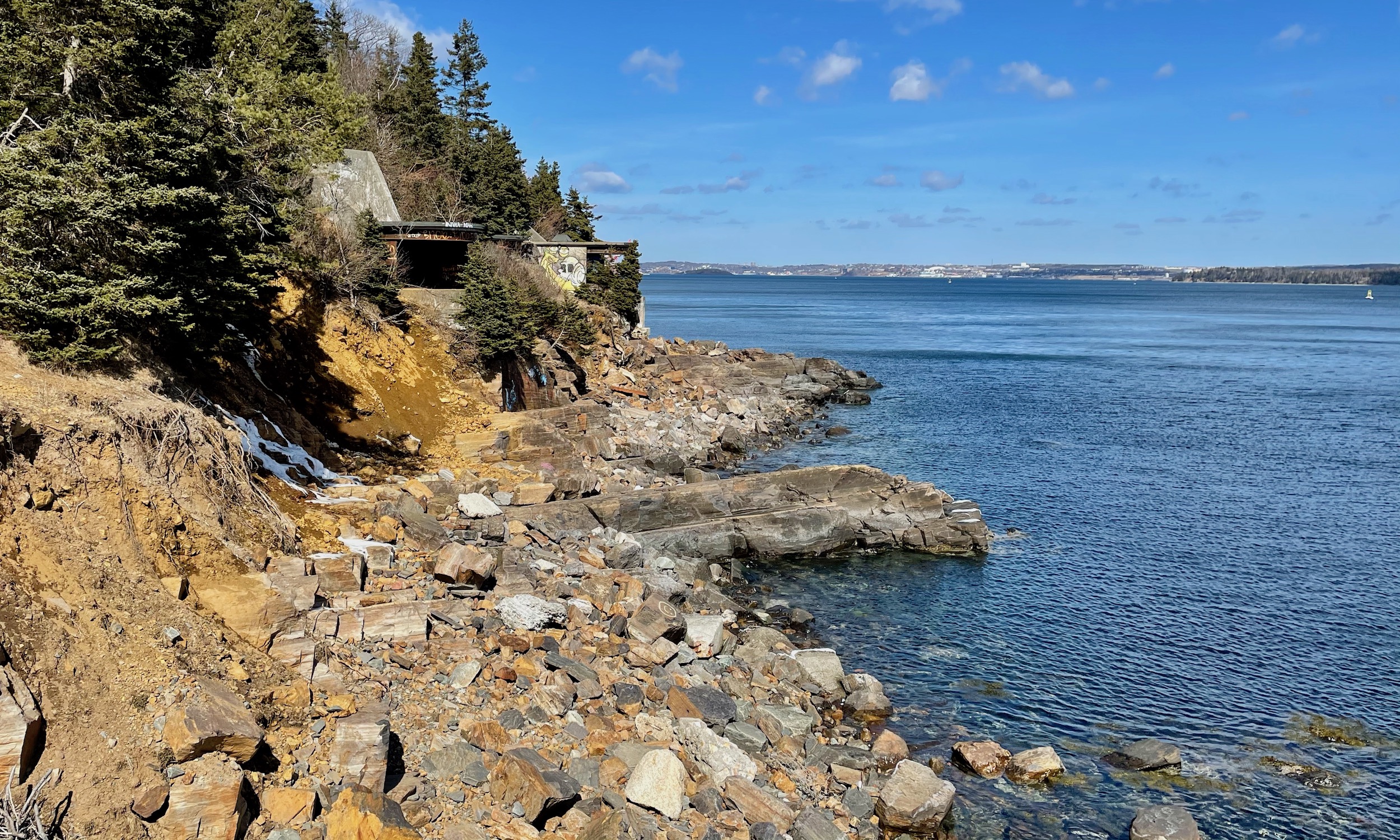 So, just because a place is supposedly closed doesn't mean that you can't drop in for a visit at any time of year.