Great Caribou Island – Hiking From Battle Harbour
In the last post I extolled the many reasons why Battle Harbour is a must visit destination in Labrador. In this post I'll add another one – hiking on Great Caribou Island. The island is literally only a minute away from Battle Harbour across a small strait or as they call them in Newfoundland and Labrador, a tickle. At one time it had a thriving seasonal population with many 'stages' and other buildings. Now all but one are long gone and you'd never know from looking across to the island that it once been almost as busy as Battle Harbour. Looking at the landscape as we motored past it yesterday it looked more like something you would see in the Arctic rather than in southeast Labrador. Please join Alison and I along with two new found friends as we explore Great Caribou Island.
This is a map of Great Caribou Island which as you can see is much larger than Battle Island.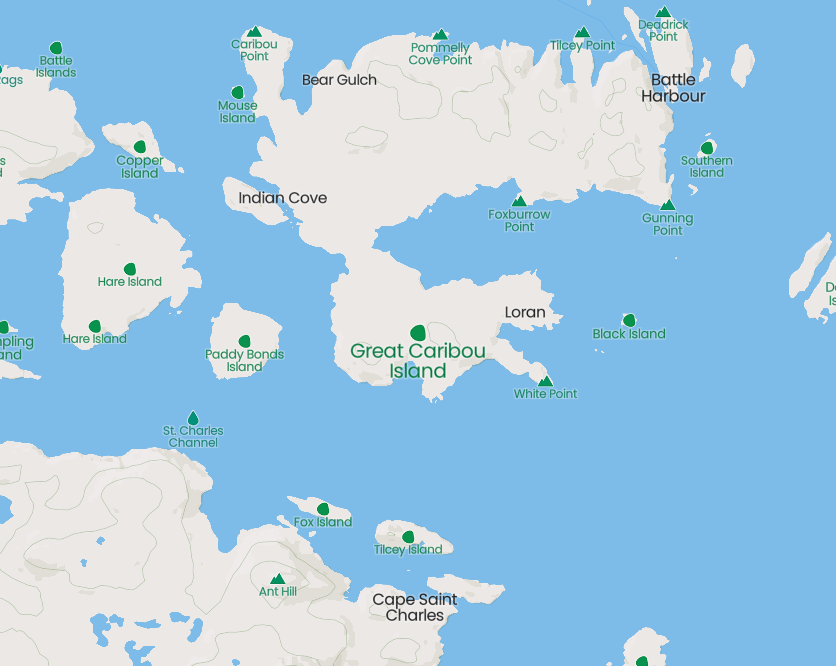 For a small fee the Battle Harbour guides will transport you across the tickle to land at the fishing stage. When you are ready to come back they can spot you from the other side and will be over to pick you up in a few minutes.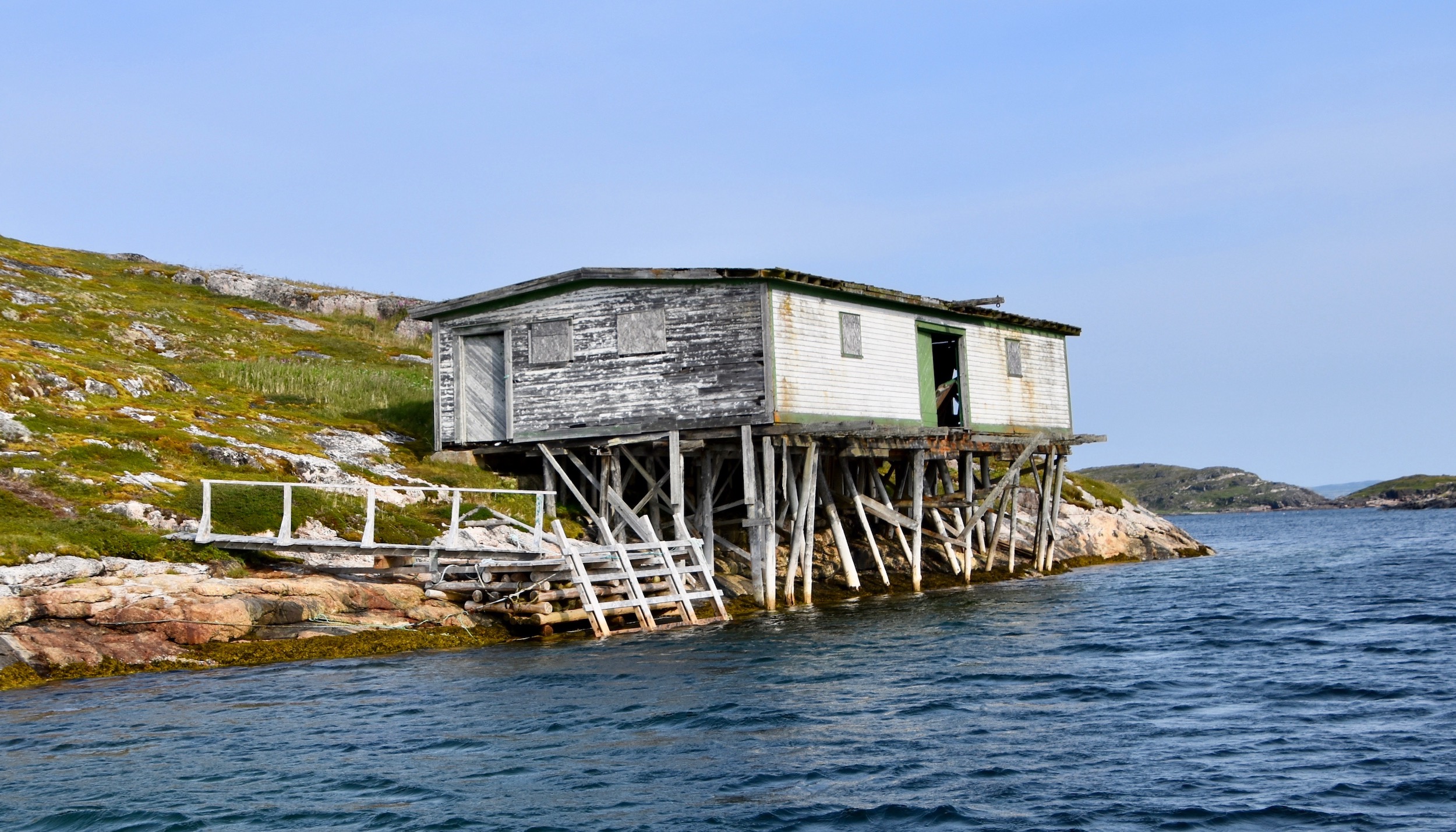 The one piece of advice that I have given in dozens of posts on various hikes on this website is 'Be prepared'. That means wearing the right footwear and clothing, bringing enough water and making sure you know where you are going. While I had the first two admonitions under control I completely blew it on the third. Alison and I left just after breakfast with two ladies we had met on the boat on the way over who were avid hikers in good shape. The assumption was we would spend a couple of hours hiking and be back in time for lunch. The boatman told us to follow the painted stakes on the island if we somehow got lost.
The first part of the hike follows a steep route straight up the side of Great Caribou Island and at the top you are rewarded with the best views of Battle Harbour you are going to get from anywhere.
This is the where the semi-permanent residents live.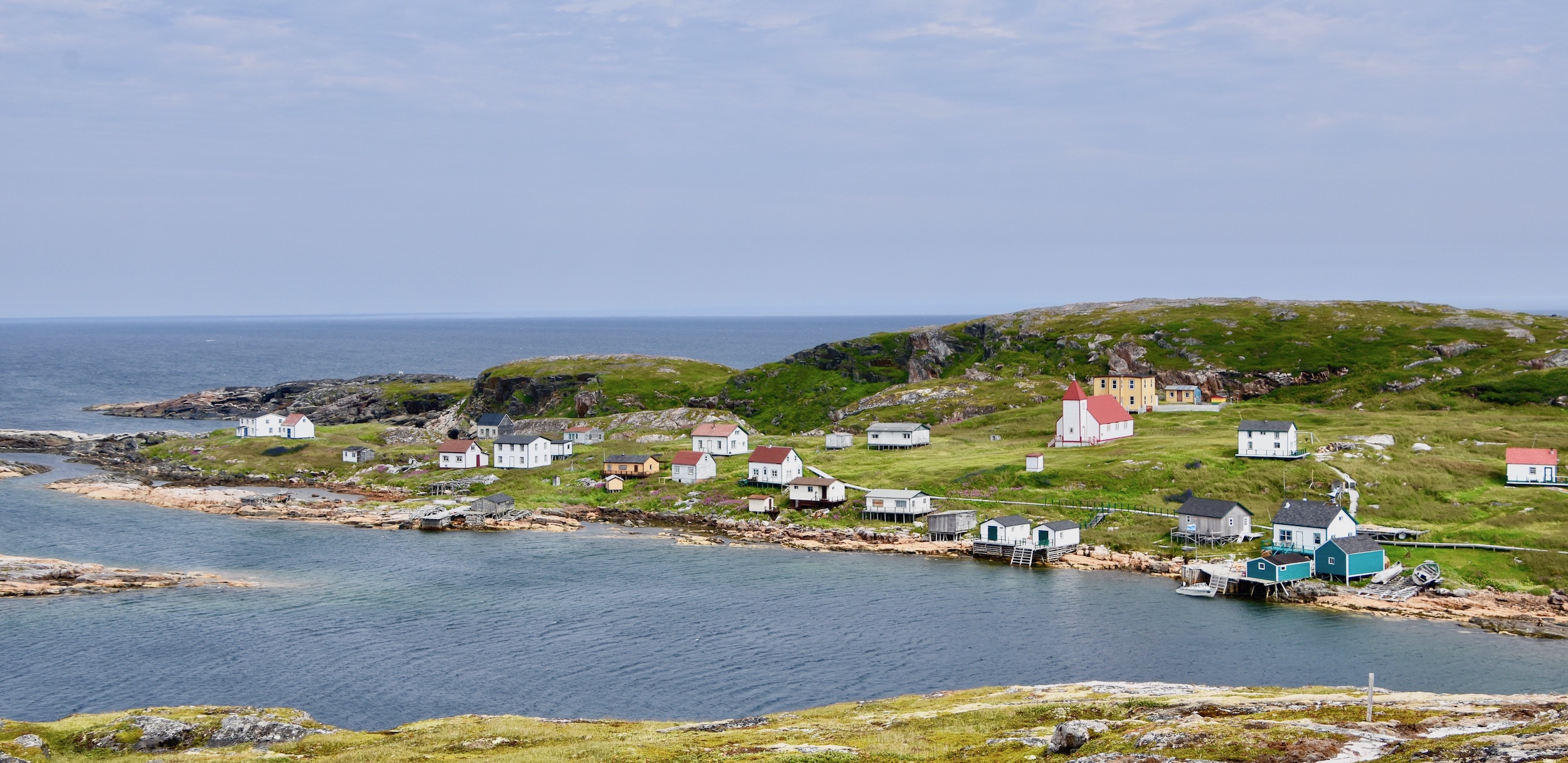 Some people might be satisfied with going this far on Great Caribou Island, but we wanted to seek out some of the tiny settlements that once existed on various parts of the island so we continued inland for a ways until we came to a T-junction. This is where we made our big mistake by assuming that this was the beginning of a loop trail that would return us to this point so we turned left. If I had taken the time to do a little research or ask a few pertinent questions I would have known just how big Great Caribou Island is and realized that we could never circumnavigate the island in just a few hours.
However, for the next two hours we were blissfully unaware of our mistake and just enjoyed a wonderful hike over a landscape that was in fact a tundra. You can see from this photo that the path is fairly easy to follow and there were wooden markers at regular intervals.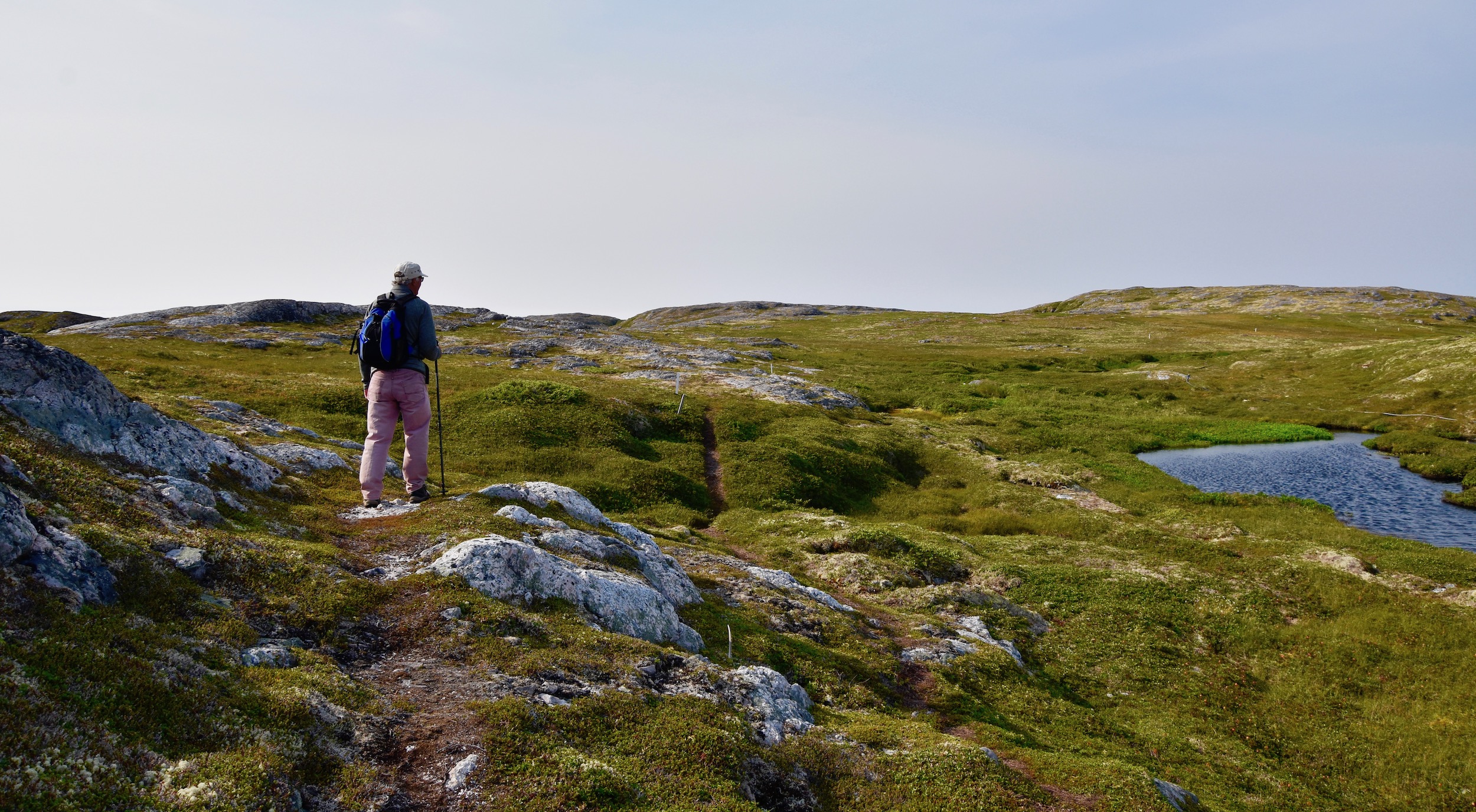 On of the pleasant distractions were the great quantities of bakeapples as they are called in Newfoundland and Labrador and cloud berries in other places. These are delicious when ripe and mid-August was the perfect time to eat them and so we did which caused a bit of dawdling.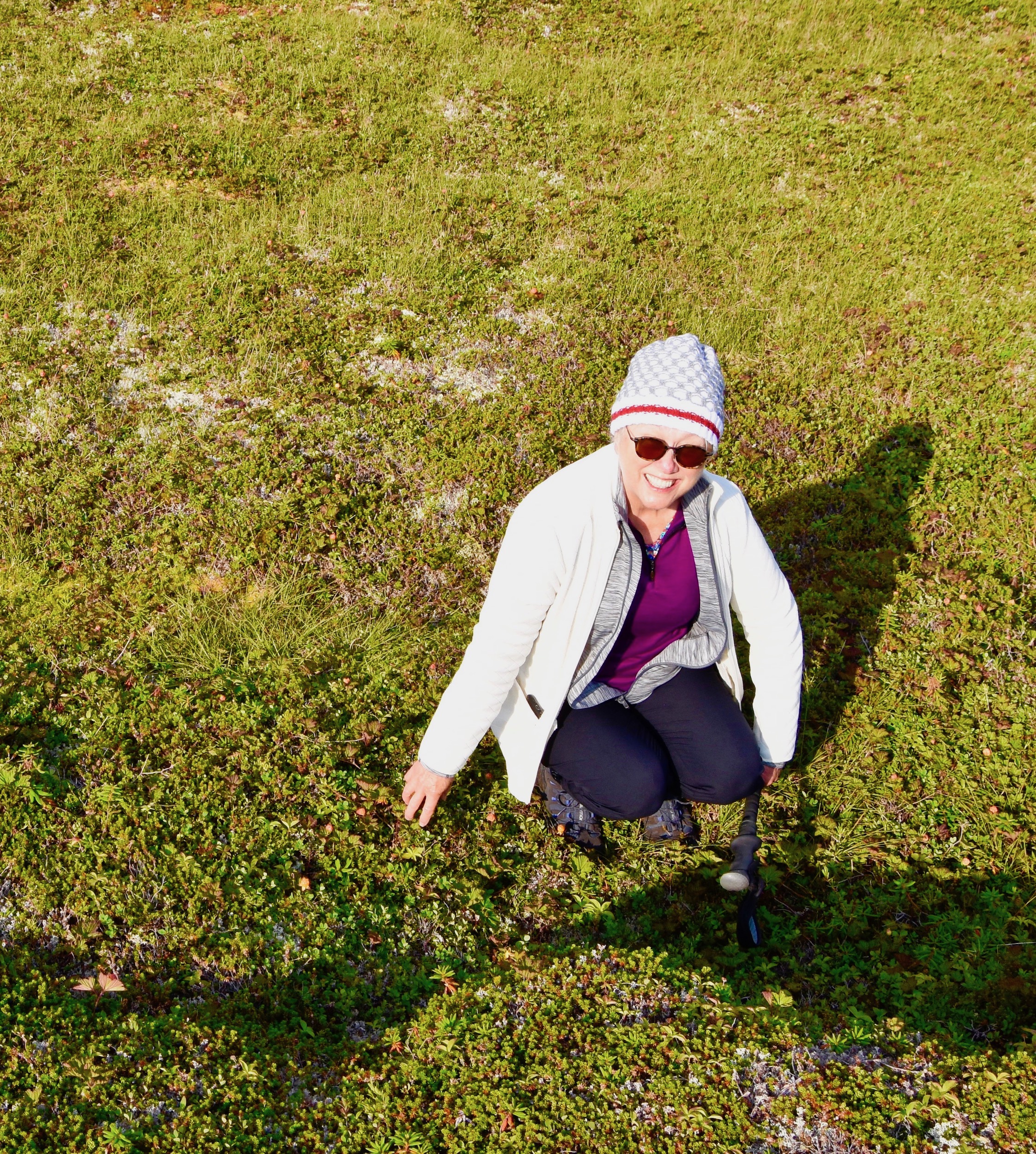 An attractive feature of Great Caribou Island are the many small ponds that dot the top of the island. In fact Battle Harbour gets its water supply from a large pond on the island by way of a rubber pipe that runs under the tickle.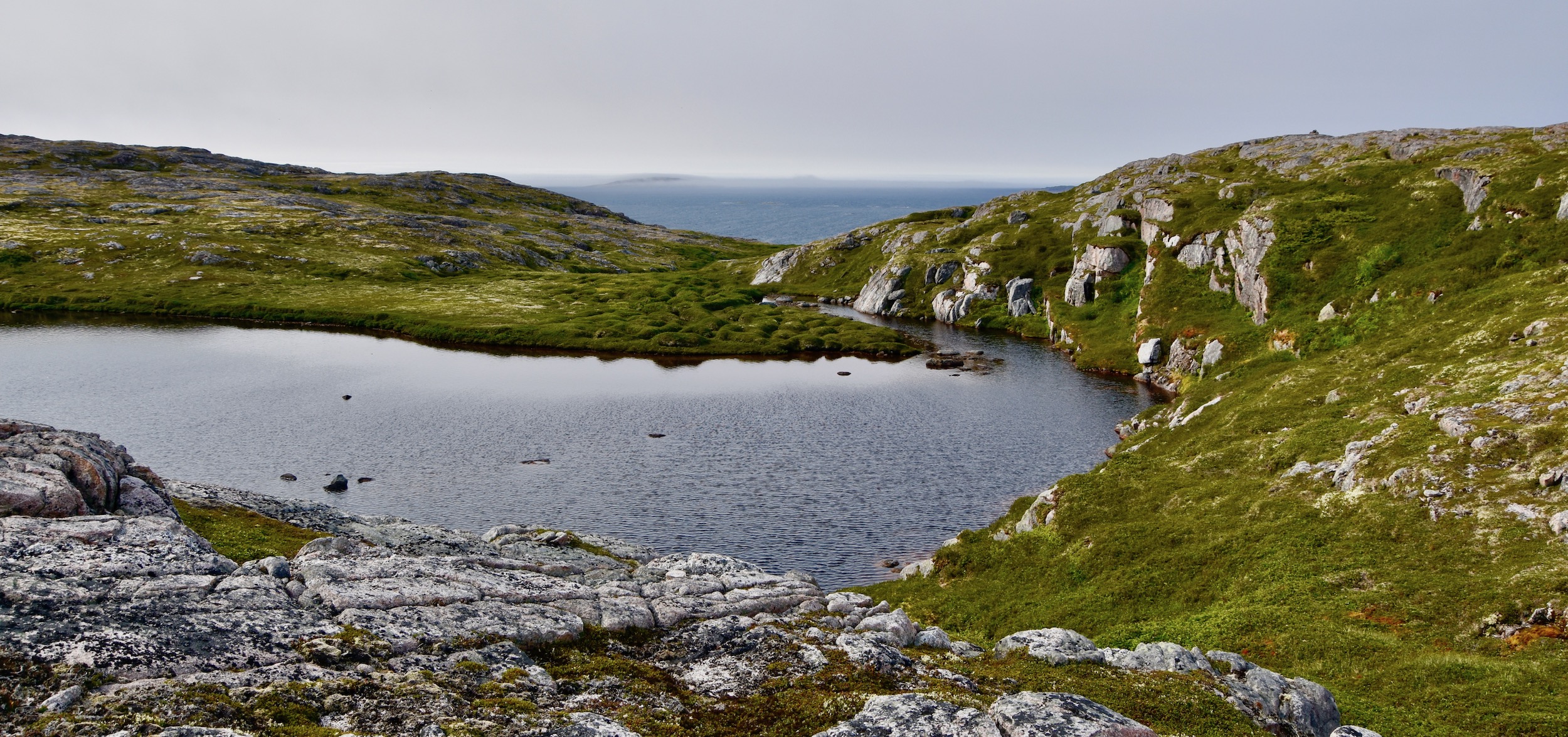 In terms of vegetation, there a virtually no trees, but rather shrubs that are almost flat to the ground such as this juniper that was almost totally encased in lichens.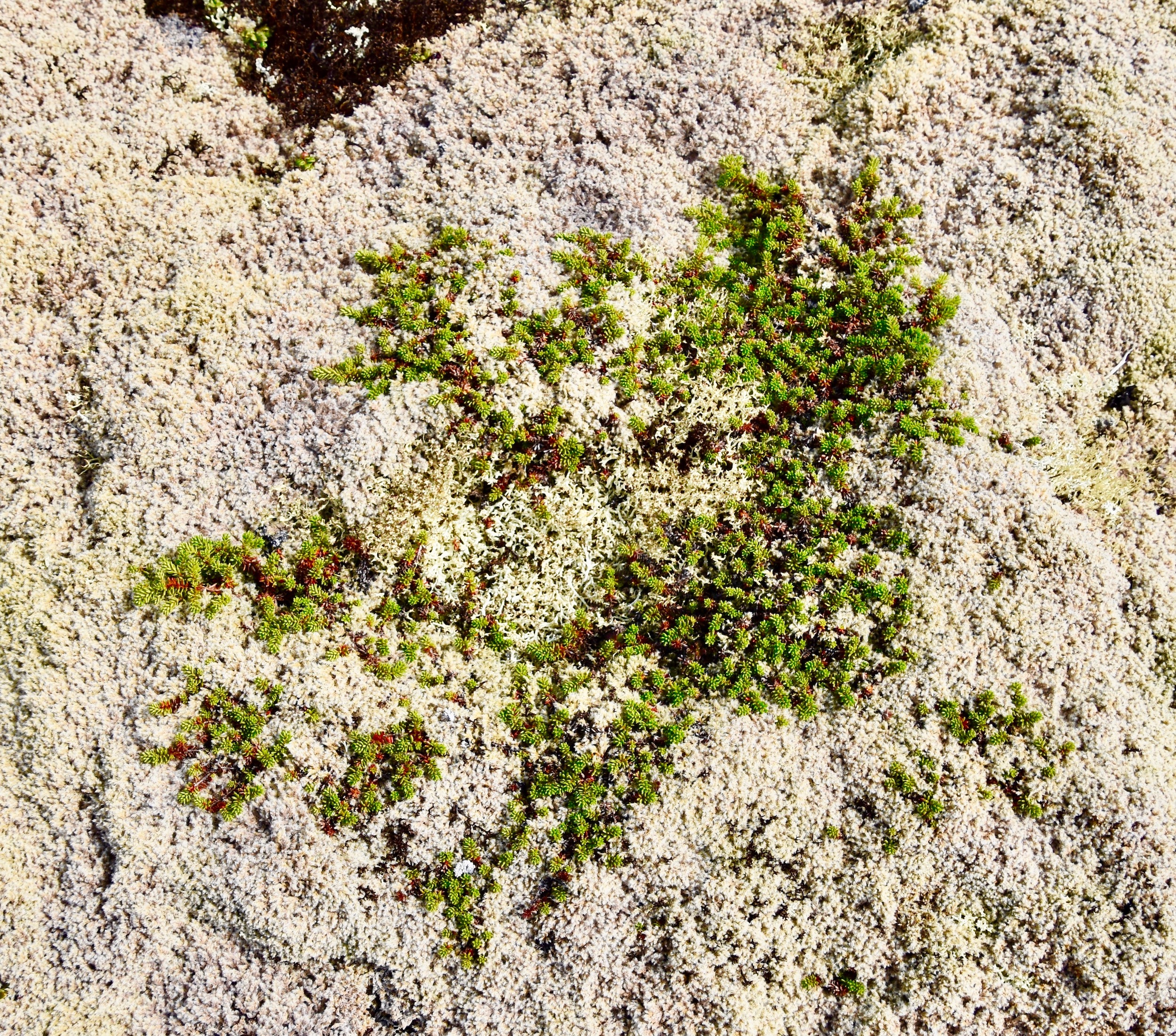 The day we were there we were not bothered by black flies or mosquitoes, but the abundance of carnivorous sundews and pitcher plants suggests there must be enough insects to keep them well fed.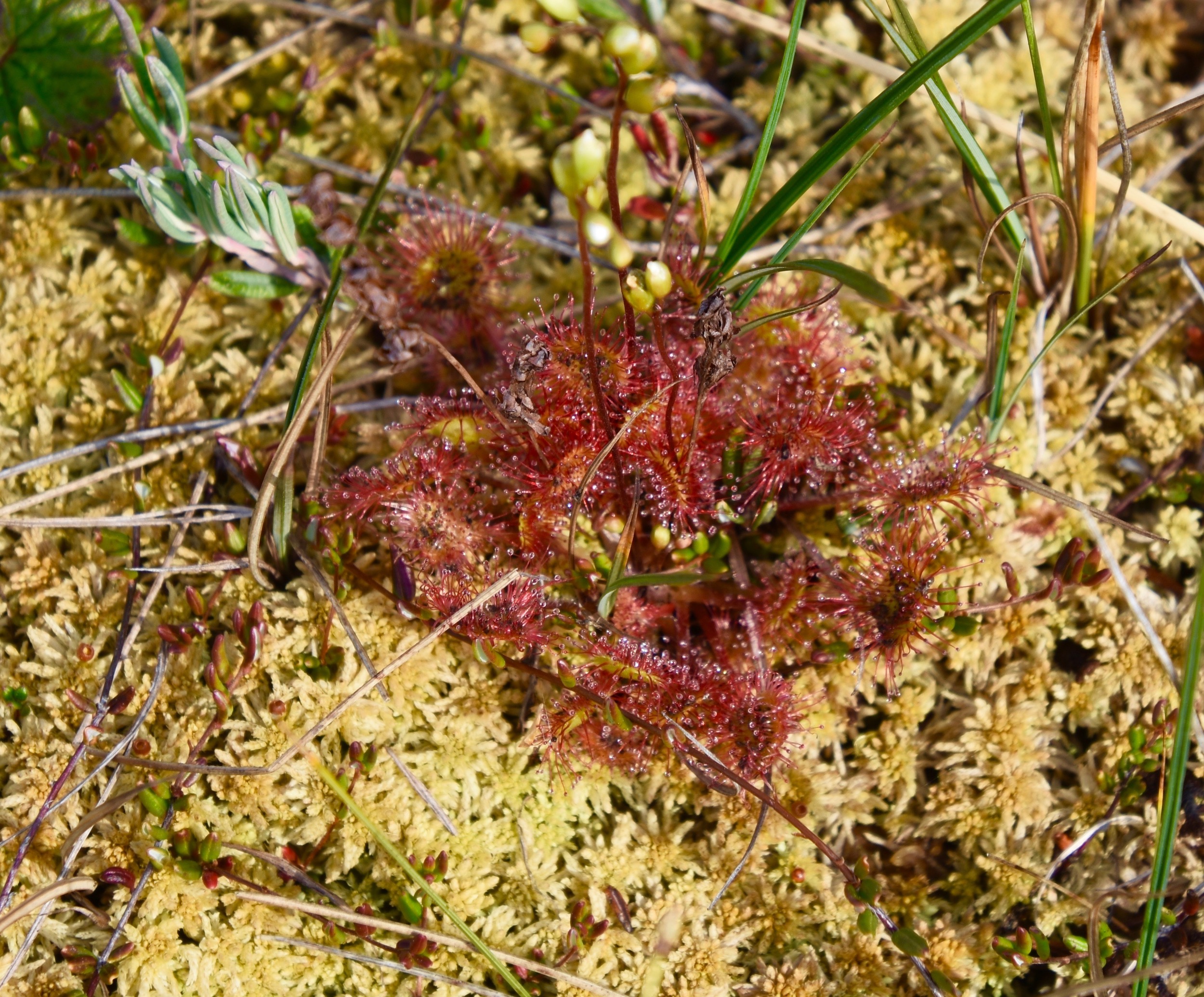 We reached what I believe to be Fox Burrow point where there were indeed burrows of the Arctic foxes that make Great Caribou Island their home, well south of their usual range.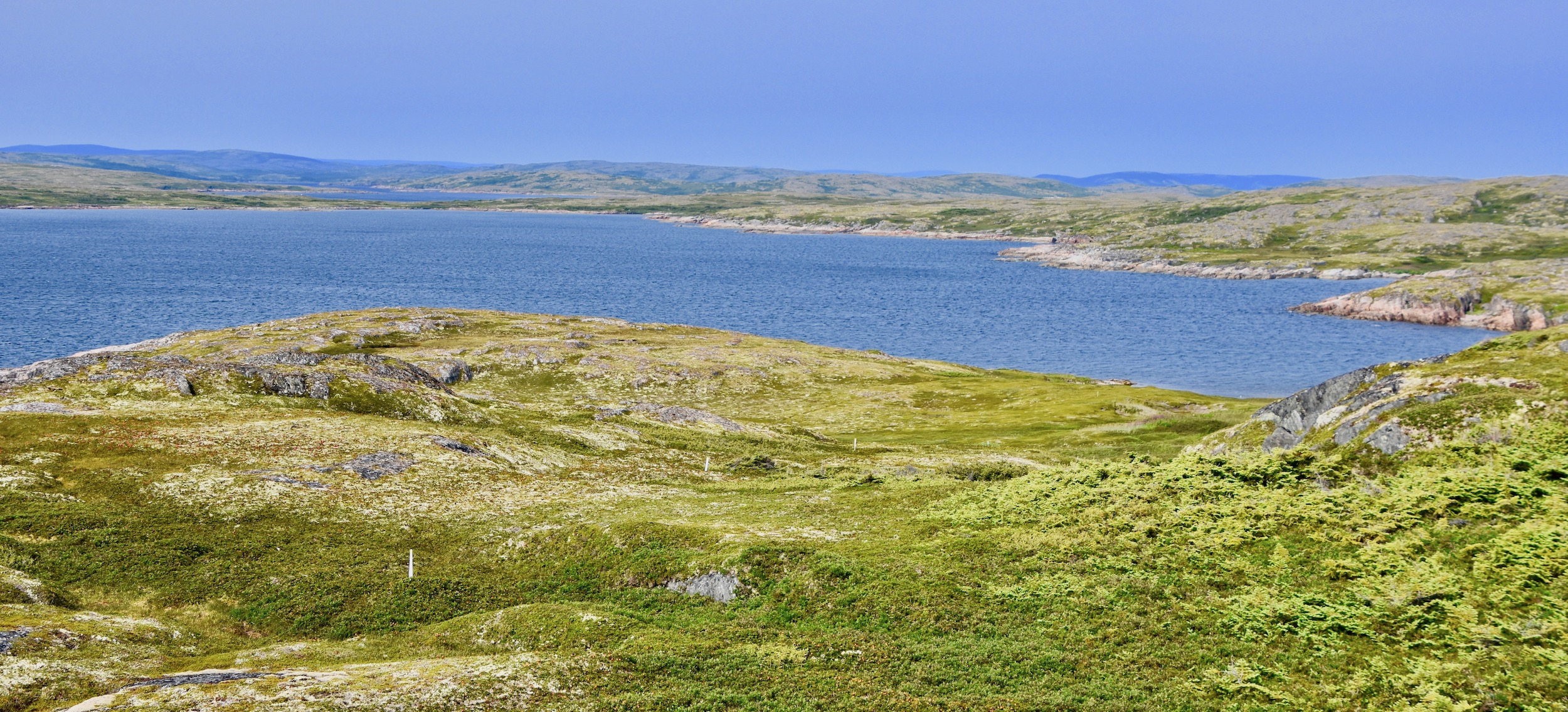 While we did not see any live foxes we did come across this partial skull of one.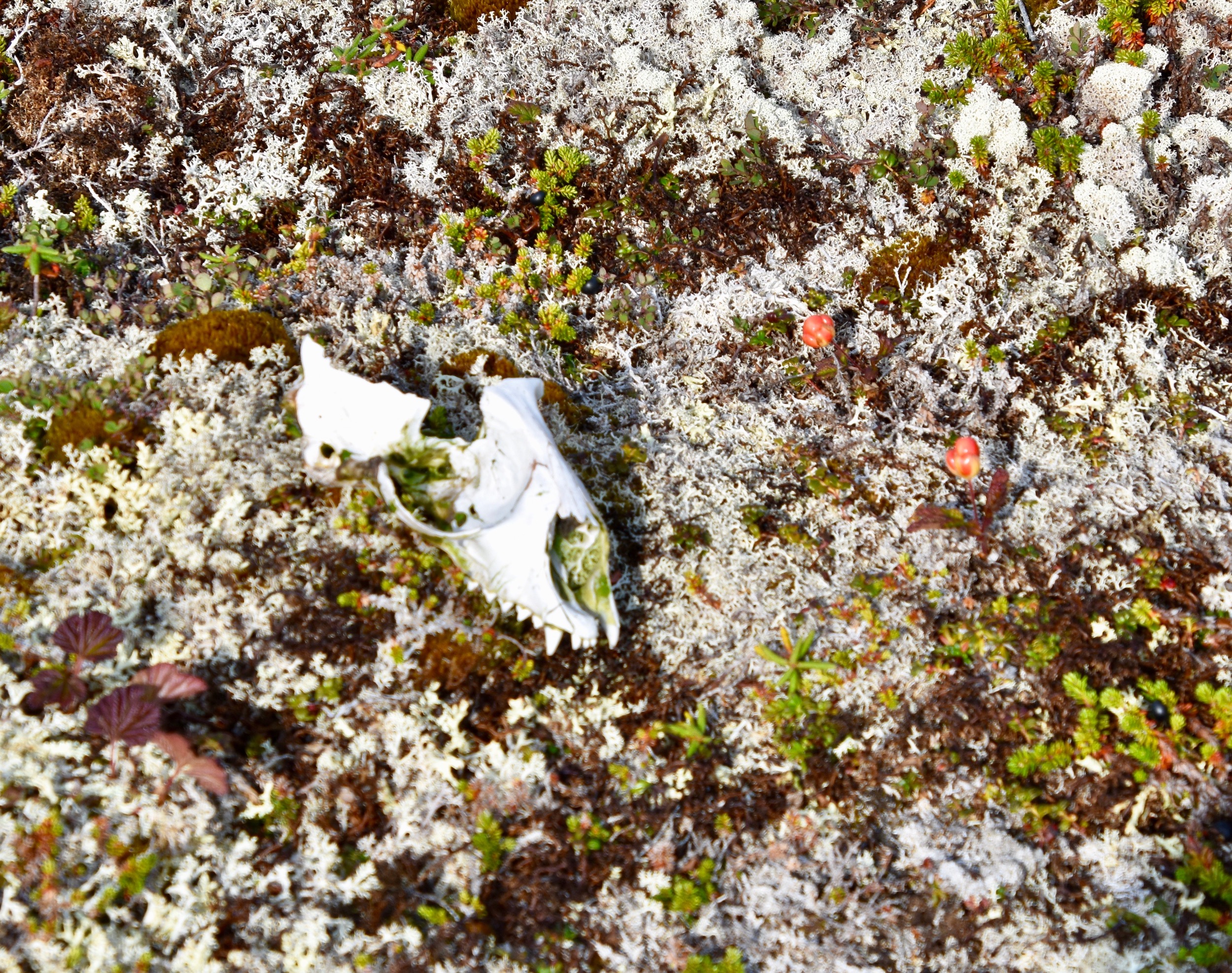 By now we had been hiking for over ninety minutes and I began to get creeping doubts as to whether we were on a circular trail or not. This was confirmed about thirty minutes later as I scouted ahead of the other three and saw that the trail was headed straight to Indian Cove and not back toward Battle Harbour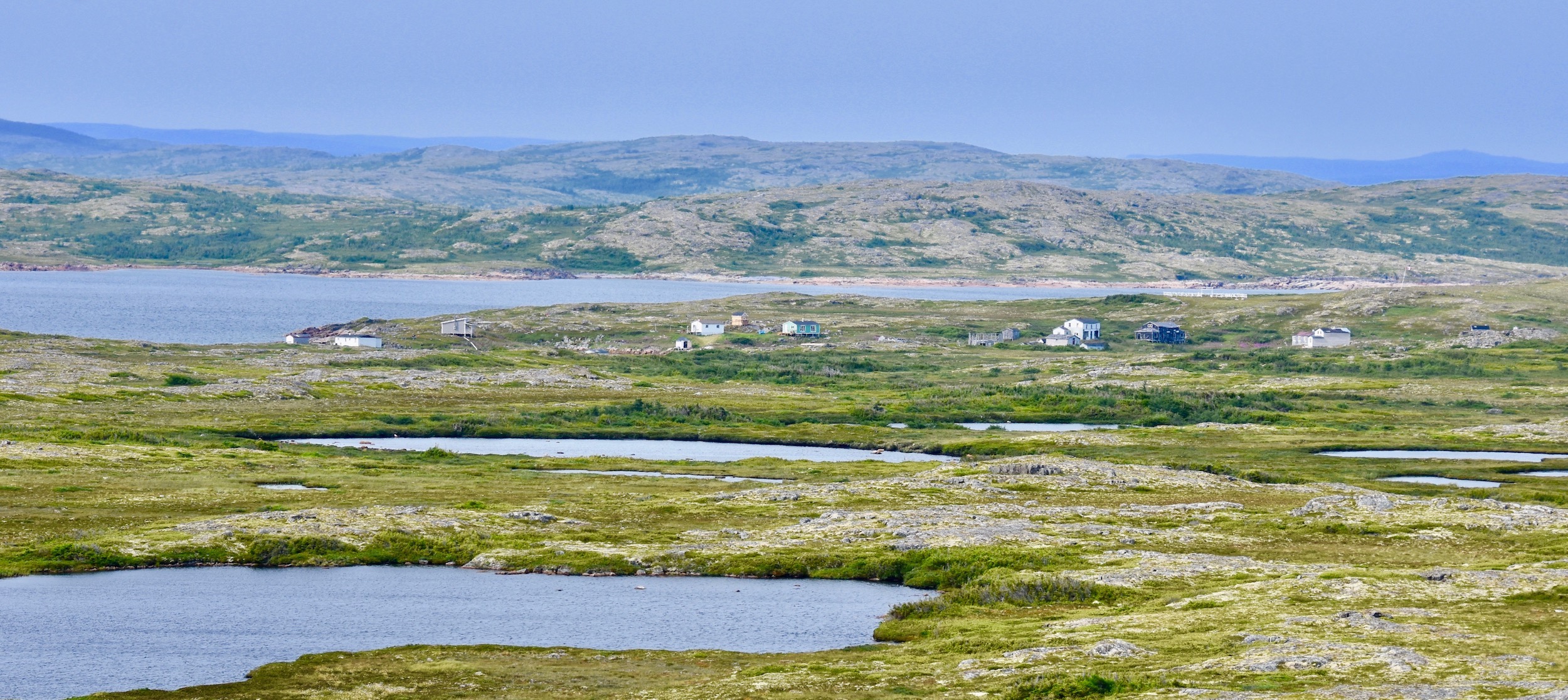 I waited for the other three to catch up. We knew if we retraced the route we had just taken it would take another two hours to get back to the landing so we decided we would need to cut directly across the island to get back as quickly as possible. There is no cell service on Great Caribou Island so we couldn't dial up Google maps to know where we were. BIG mistake!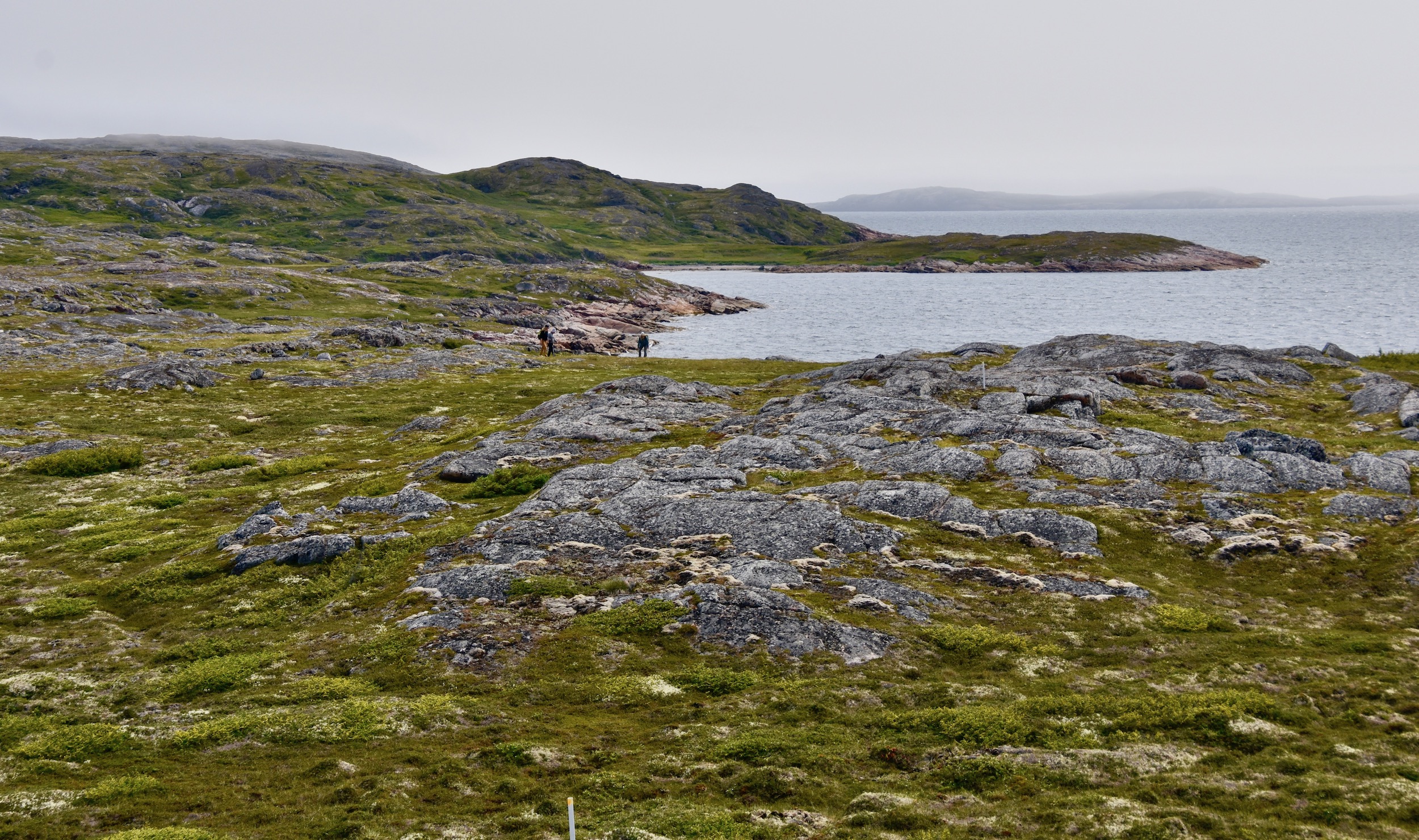 The centre of Great Caribou Island is a series of high ridges with deep valleys in between. I expected that after we crossed a couple of them we would see the Marconi tower and know which way to go. We we crossed one, then two and another and another and still no Marconi tower. One ridge had an almost sheer cliff face we had to navigate our way around and in a couple of places we had to turn around and find another way. It was exhausting work.
At last we did come to the abandoned buildings and one seasonal dwelling that we had seen in the distance from the T-junction hours before so we knew we were almost back.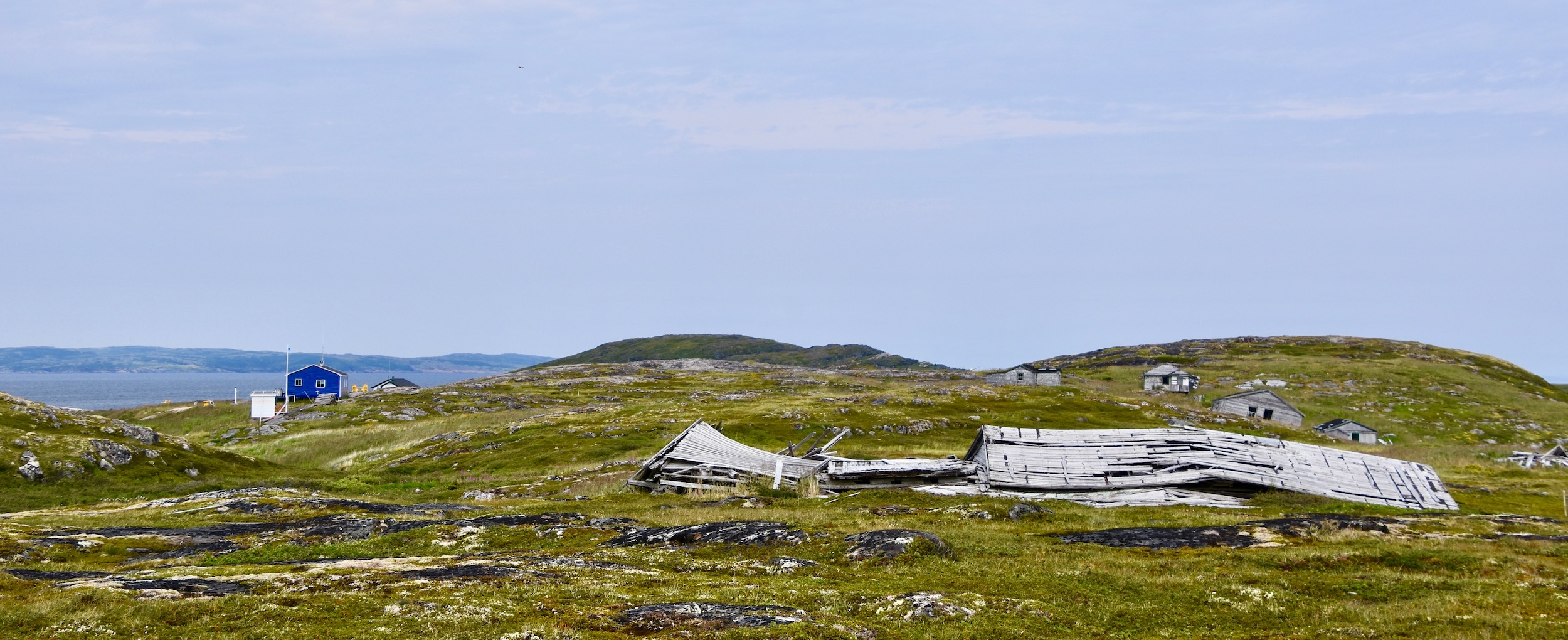 At the foot of the next to last ridge we came across a small overgrown cemetery, an all too common sight in these formally thriving little communities. While the government of the day no doubt thought that they were doing the right thing by 'resettling' the outporters to be closer to 20th century amenities most of us take for granted, it must have been heart rending to leave behind one's deceased parents, siblings or even children. There was something utterly sorrowful in looking at this broken headstone.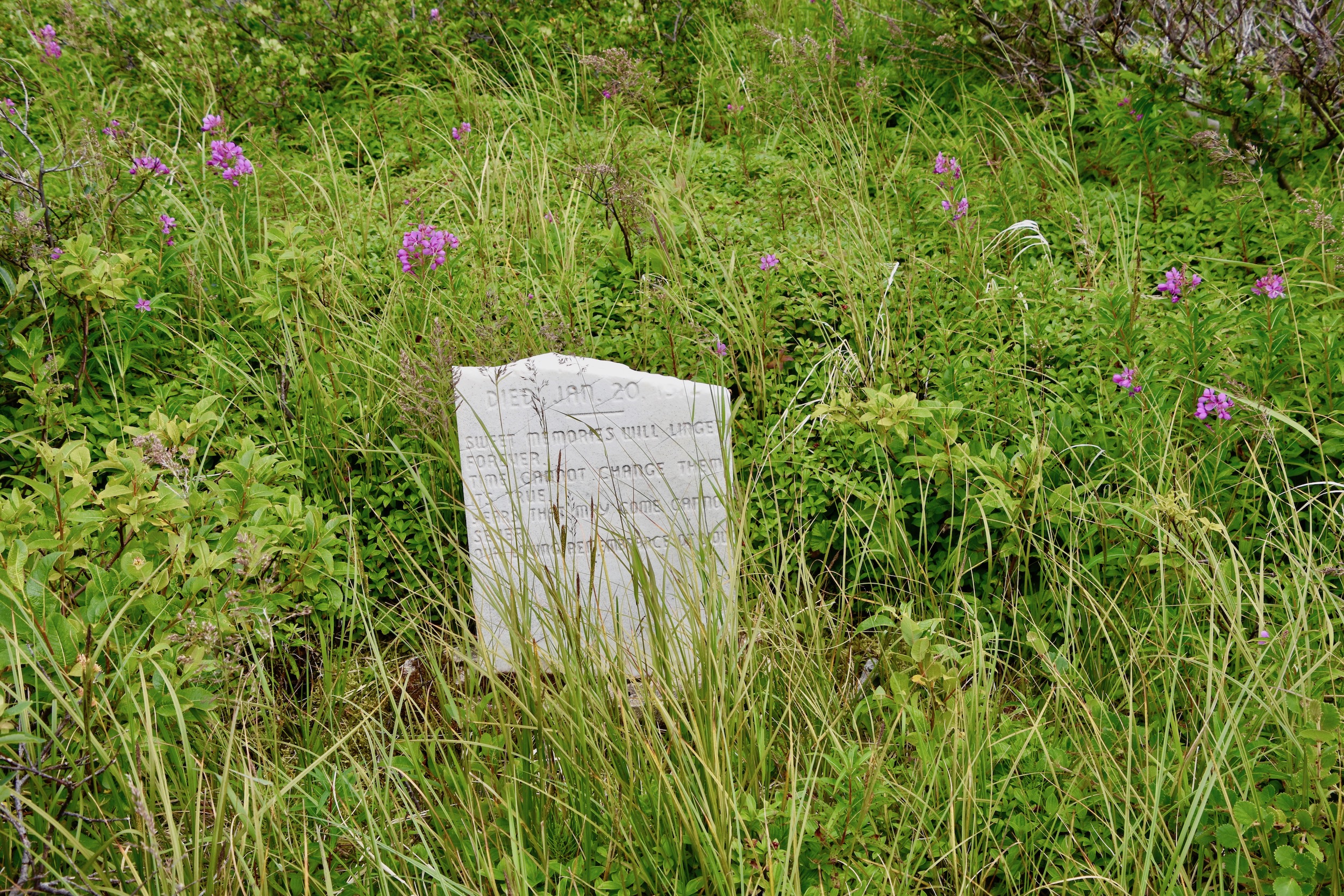 I was not sorrowful to finally spot the Marconi tower and get back to the landing where we were quickly picked up. We had turned a pleasant two hour hike into a five hour nine mile ordeal. Gilligan would have been proud of us.
Seriously though, using some common sense, everyone who visits Battle Harbour should take the time to visit Great Caribou Island.
In the next post Alison and I return to the Great Northern Peninsula and visit our third UNESCO World Heritage Site on this trip. Please join us at L'Anse aux Meadows.