L'Anse aux Meadows – Vikings in Newfoundland
L'Anse aux Meadows will be third UNESCO World Heritage Site that Alison and I have visited on this trip to western Newfoundland and southeast Labrador. Previously we were awed by the grandeur of Gros Morne and very impressed with the archaeological detective work that led to the discovery of the Red Bay Basque whaling station in Labrador. The story of L'Anse aux Meadows and its discovery as the one place in North America that had a definitive Viking settlement, is not dissimilar to that of Red Bay. Please join us as we explore this truly unique place in Newfoundland and Labrador.
History of L'Anse aux Meadows
While the discoveries at Red Bay came about as a result of research done on written documents contained in various archives in Europe, the discovery of L'Anse aux Meadows was intrinsically linked to the oral traditions of the Icelandic sagas which told of visits to a place called Vinland by Leif Erikson . Two of these were written down in the 13th century, the Saga of the Greenlanders and the Saga of Erik the Red and both related fairly similar stories of voyages that had taken place hundreds of years earlier. If the tales were true, the place called Vinland could only have been somewhere in North America. Many archaeologists believed that these sagas were fables despite the fact that many of the people described in them like Erik the Red and Leif Erikson were historically real characters. So while most of those who grew up in the first half of the 20th century were taught in school about the Vikings in North America, it was more as a romantic possibility than a fact.
All that changed in 1960 when Norwegian husband and wife team Helge Ingstad and Anne Stine Ingstad were led to a series of mounds by a local fisherman near the village of L'Anse aux Meadows on the very tip of the Great Northern Peninsula . They had been searching for evidence of Viking settlement in North America much further north than most others would have. Vinland was believed to be a reference to wild grapes, of which you sure won't find on the Great Northern Peninsula, so it was assumed it had to be further south, maybe as far as Cape Cod. It was the Ingstad's contention that Vinland did not refer to grapes, but rather to a meadow on a peninsula. It all had to do with medieval pronunciation which is too complicated to get into here.
The bottom line was that over a period of seven years the couple unearthed indisputable evidence that L'Anse aux Meadows was a Viking settlement dating back approximately 950 to a 1,000 years before the present day. Interesting, the lynchpin which sealed the deal was this tiny object called a wood spindle. This was similar to items found on Greenland and Iceland and widely used in those places, but never by the Indigenous peoples of North America.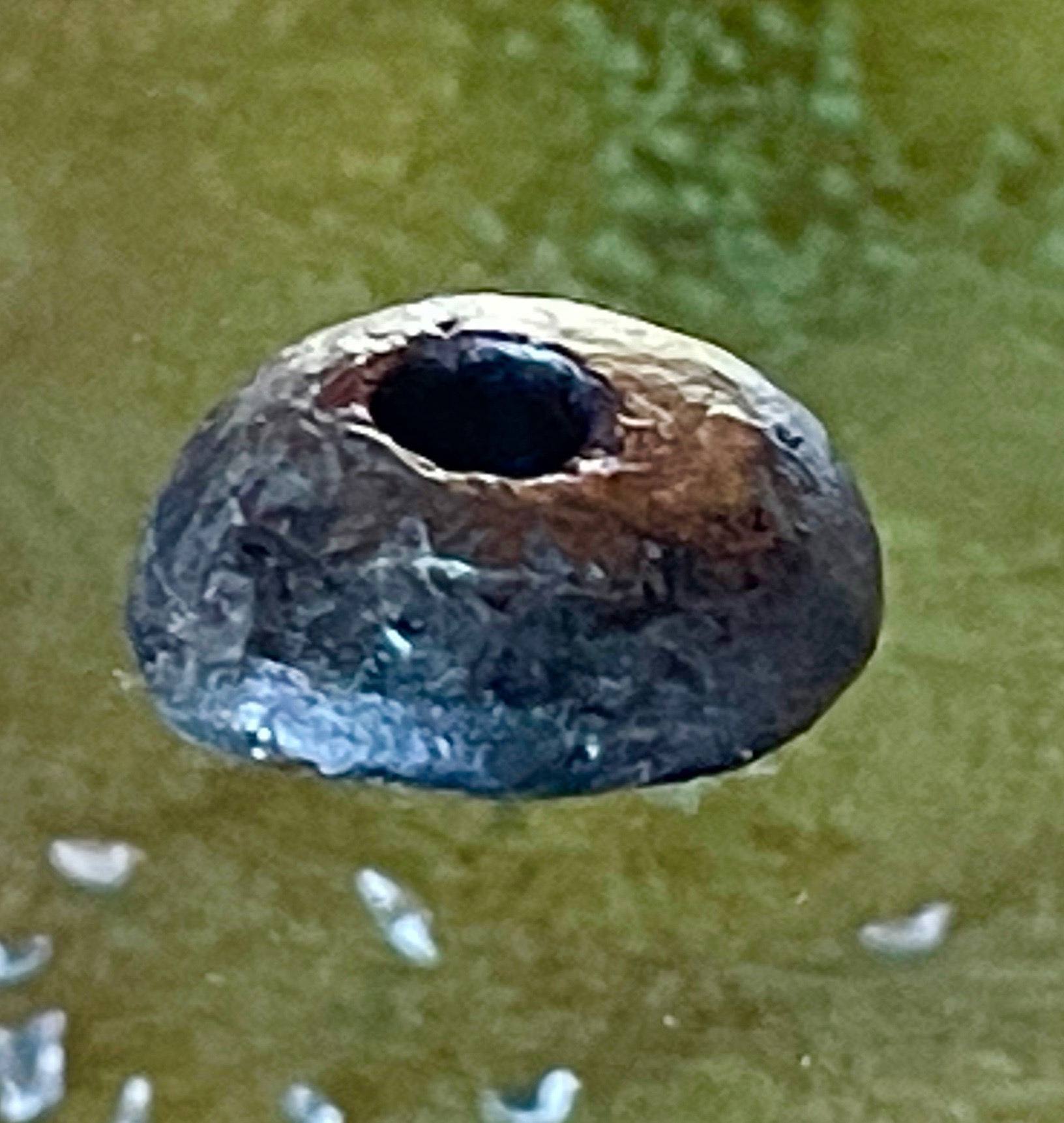 By 1975 no serious scholar was doubting the fact that L'Anse aux Meadows was a Viking settlement and in that year it was declared a National Historic Site which is today administered by Parks Canada. In 1978 it was designated a UNESCO World Heritage Site with this brief overview:
L'Anse aux Meadows National Historic Site contains the excavated remains of a complete 11th-century Viking settlement, the earliest evidence of Europeans in North America. Situated at the tip of the Great Northern Peninsula of the island of Newfoundland, this exceptional archaeological site consists of eight timber-framed turf structures built in the same style as those found in Norse Greenland and Iceland from the same period. The buildings include three dwellings, one forge and four workshops, on a narrow terrace overlooking a peat bog and small brook near the shore of Epaves Bay in the Straight of Belle Isle.
And guess what, L'Anse aux Meadows is located in an area of open grassland at the tip of a peninsula.
Visiting L'Anse aux Meadows
L'Anse aux Meadows is appropriately at the end of Newfoundland's Viking Trail which we have been following since departing the Trans-Canada Highway at Deer Lake. The nearest town of any size is St. Anthony which is the supply centre for the entire area. We stayed at the Haven Inn which is a nice three star establishment with a good restaurant. I can personally vouch for the poached cod and the partridge berry carrot cake.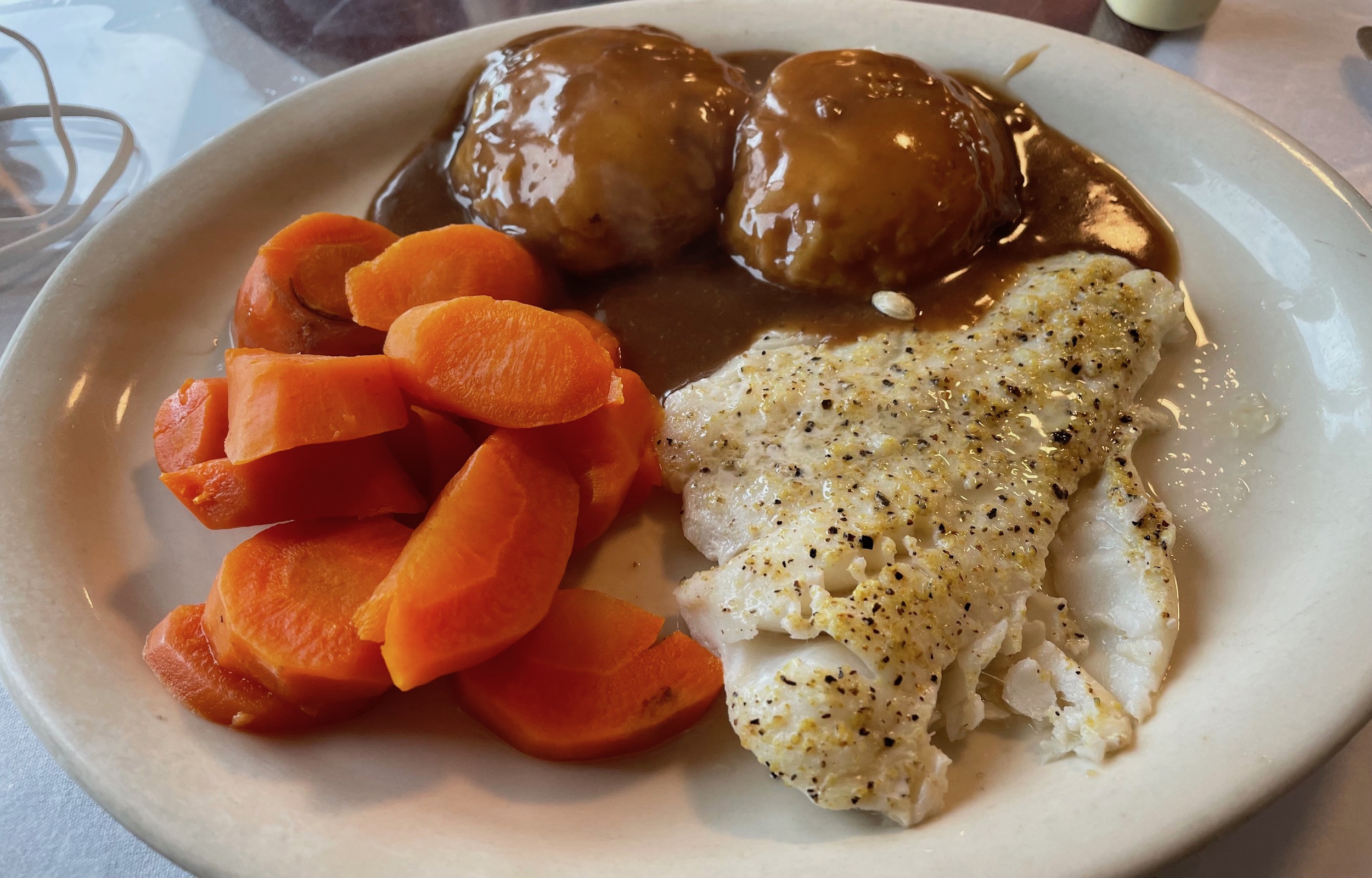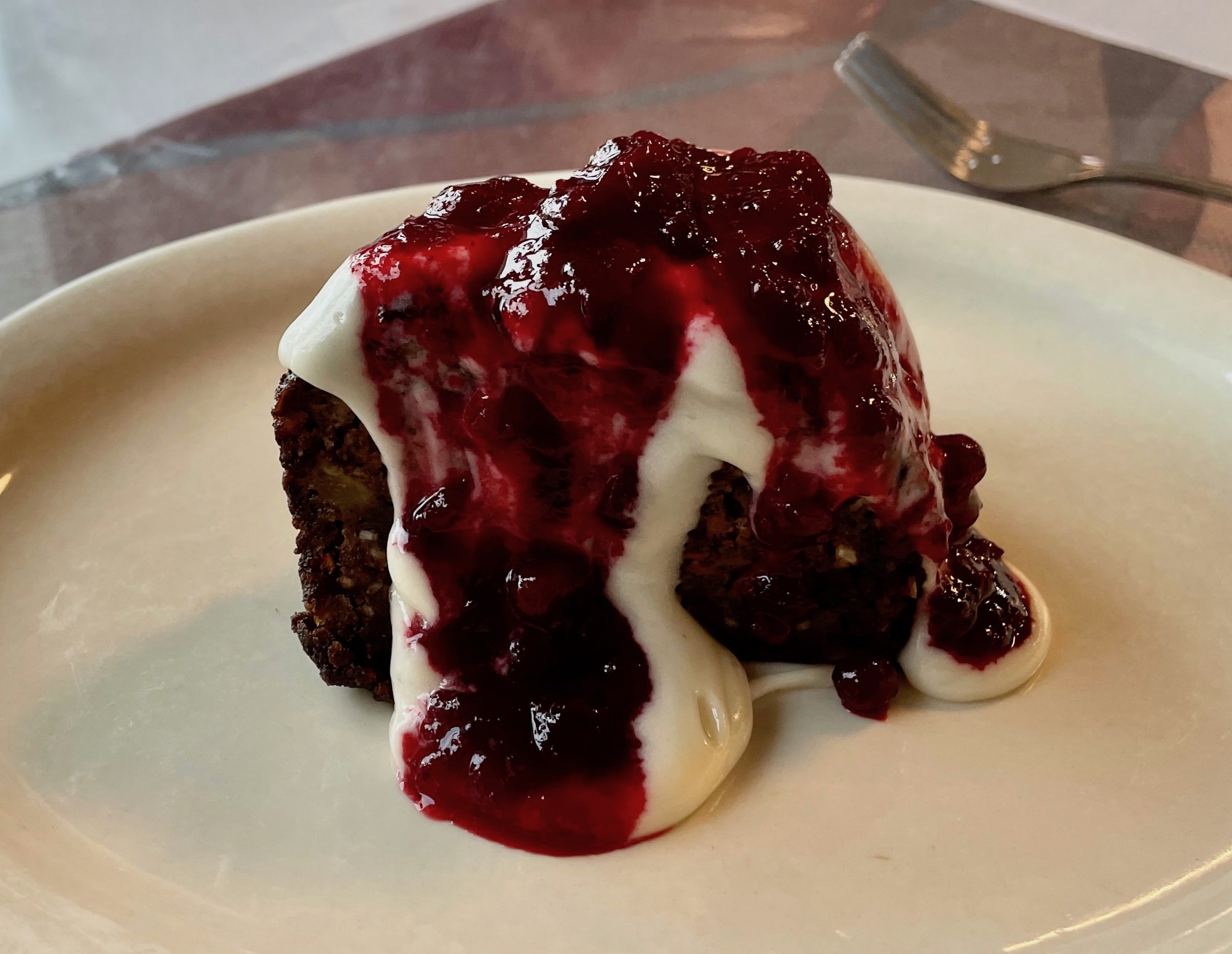 While we did not visit it on this trip, St. Anthony is also the home of the Grenfell Historic Properties where the first of Dr. Wilfred Grenfell's many missions was established. It is definitely worth visiting, especially for the handicrafts that have long been a product of this organization.
From St. Anthony it's 40 kms.(25 miles) on a scenic paved road that ends at the L'Anse aux Meadows parking lot. Start your visit by climbing up to the metal monument depicting six Vikings scouting out this new (to them) land.  Interestingly, although many Indigenous artifacts have been recovered in the L'Anse aux Meadows area from before and after the Viking settlement, it does not appear that there were any Indigenous settlements here at the time the Vikings arrived. A Dorset paleo-eskimo settlement on site was abandoned about 200 years previously. However, that does not mean the Vikings did not have interactions with the existing peoples in Newfoundland and Labrador. They certainly did and there are mentions in the sagas and elsewhere of these encounters. I will return to this subject shortly.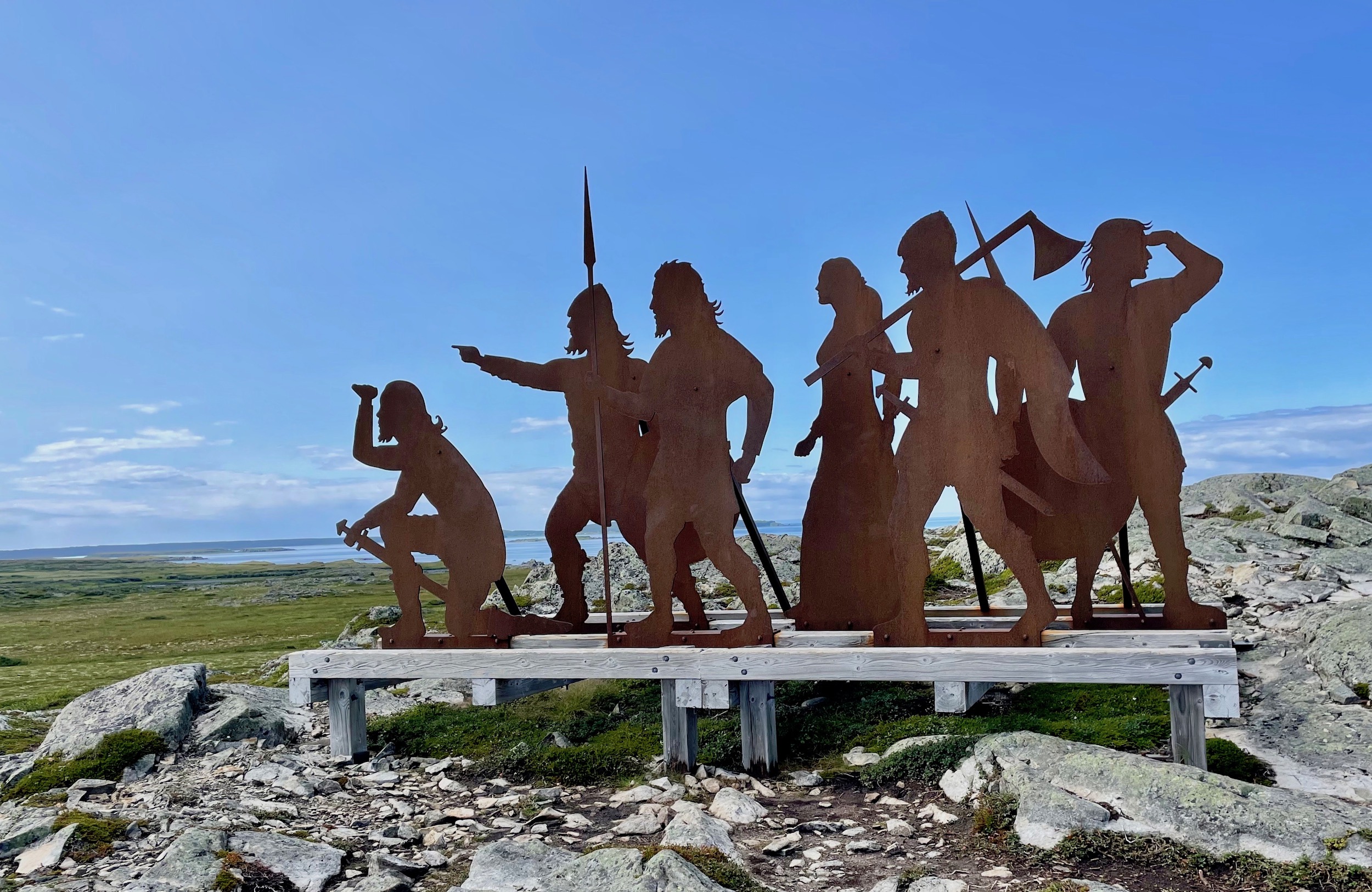 This is also a great vantage point to look down at L'Anse aux Meadows and see what a pretty place it is. You can also see that it is indeed a grassland on a peninsula. The recreated settlement is contained within the circular enclosure below.  The first time we visited L'Anse aux Meadows was in October and it was the rutting season for moose. We saw many during that trip and from this spot saw at least five. However, none today that we can see.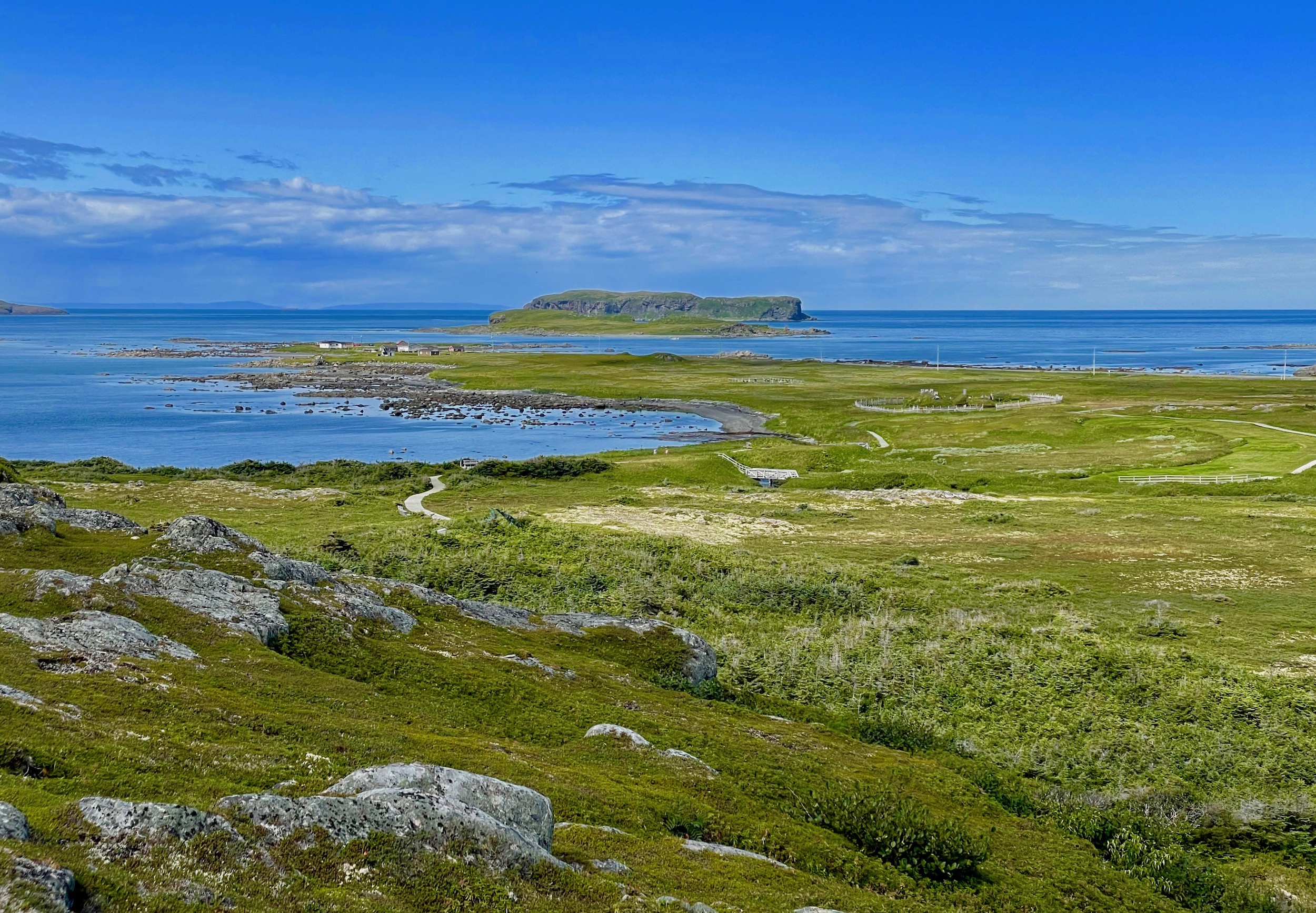 From here you make your way to the Interpretive Centre where watching the short film on the history of L'Anse aux Meadows will enhance your experience.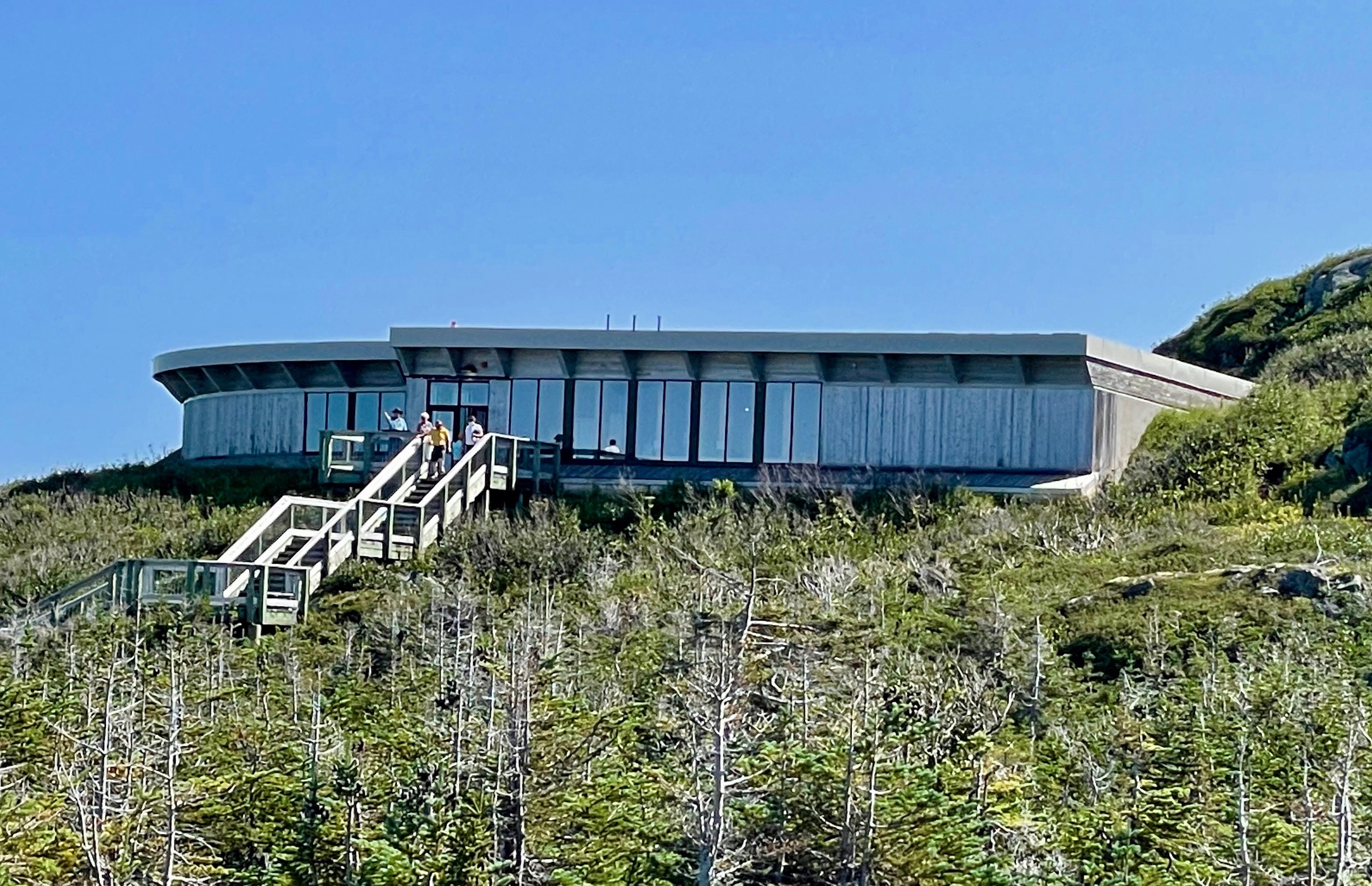 There is also a model of the site which lets you see how tiny L'Anse aux Meadows actually was. All told there were no more than eight or nine buildings and a maximum population of about a hundred and sixty, but likely far less. Unlike later European expeditions, the people who arrived at L'Anse aux Meadows included women and possibly children.

This is a poor photograph of a model of type of ship the Vikings would have used to travel the coastal waterways. It is thought that L'Anse aux Meadows was probably seasonally occupied and that its main purpose was as a base from which to trade and gather resources like timber that was scarce on Greenland and Iceland. A lot of butternuts have been found here and the closest place that they can be gathered is New Brunswick so the people here definitely travelled well up the Gulf of St. Lawrence and elsewhere. There is no evidence that they wanted to permanently colonize the areas they were exploring.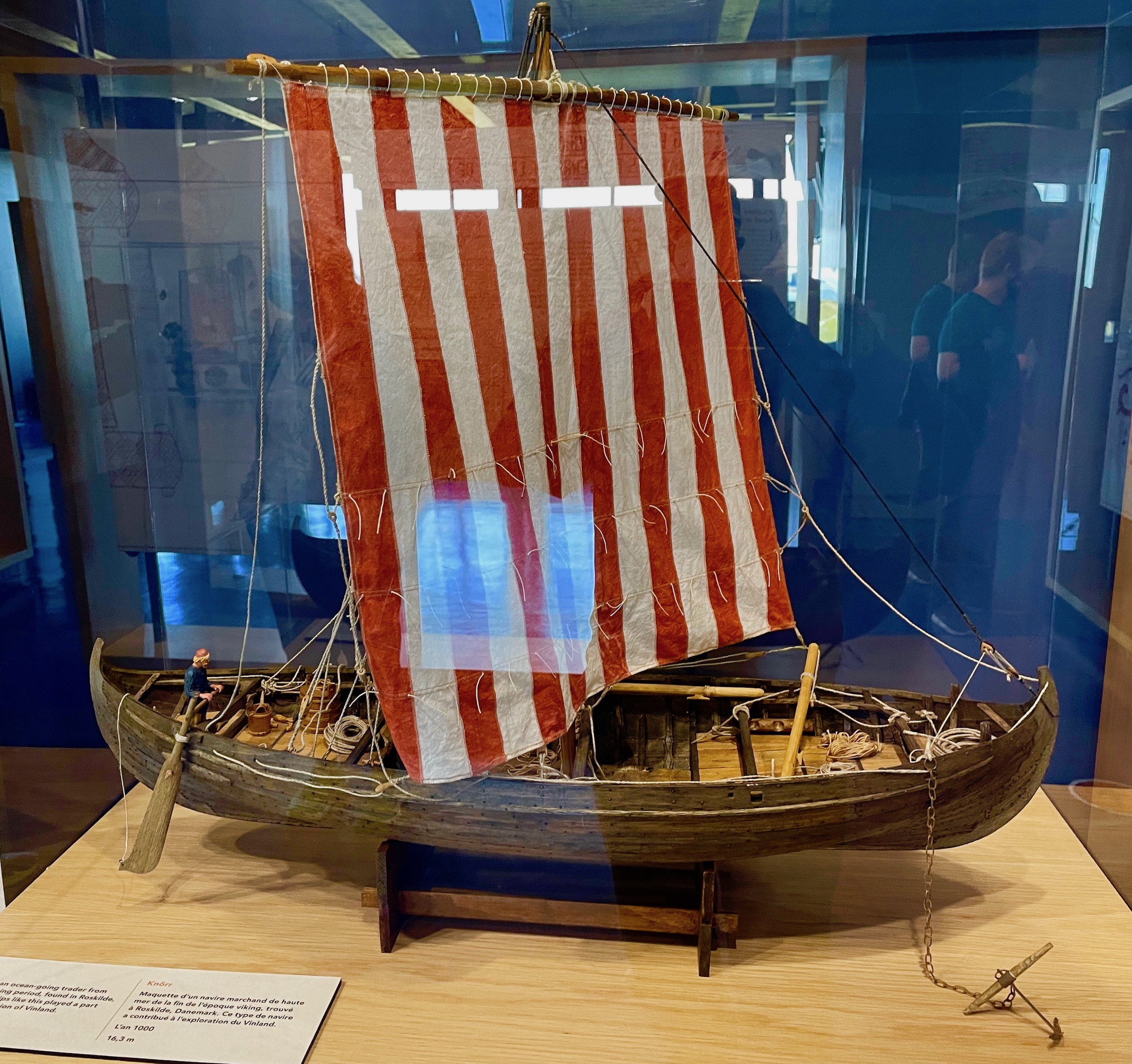 After touring the Interpretive Centre it is time to follow the boardwalk down to the original settlement site and the recreated settlement nearby. On the way you pass through this intriguing sculpture that commemorates a really stupendous moment in world history that took place at L'Anse aux Meadows. It is called Completing the Circle and marks the first time and place that human beings had actually completed the circumnavigation of the globe. From the west were the Indigenous people who had come out of Africa, crossed the Asian continent into North America via the Bering Strait land bridge and from the east the Vikings whose ancestors had also come out of Africa into Europe and eventually crossed the Atlantic Ocean to meet up here. It's really a mind blowing concept that is hard to grasp and it took place right where you are standing.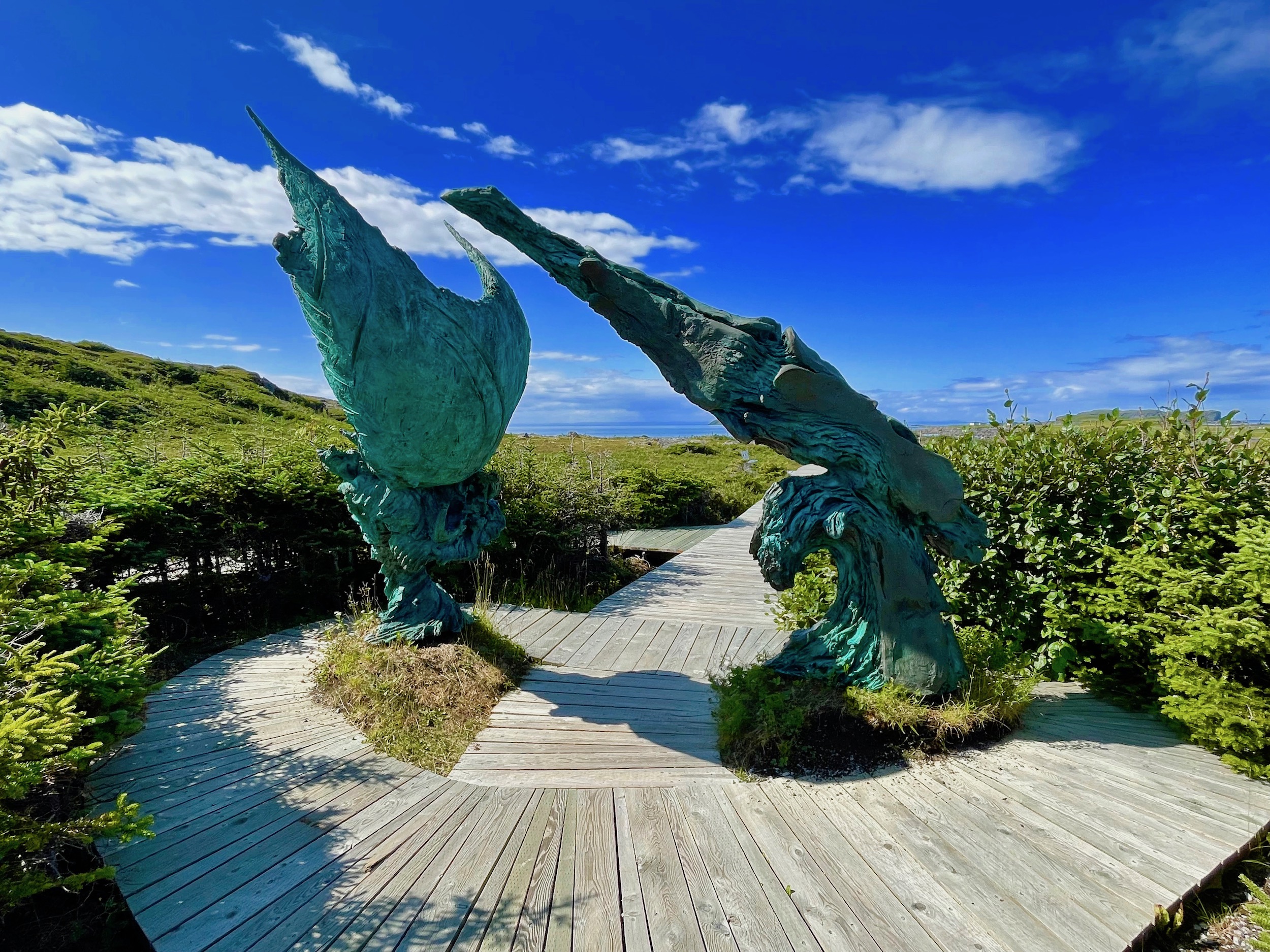 Continuing on, in a bit of a daze, you come to a small cove which is quite photogenic.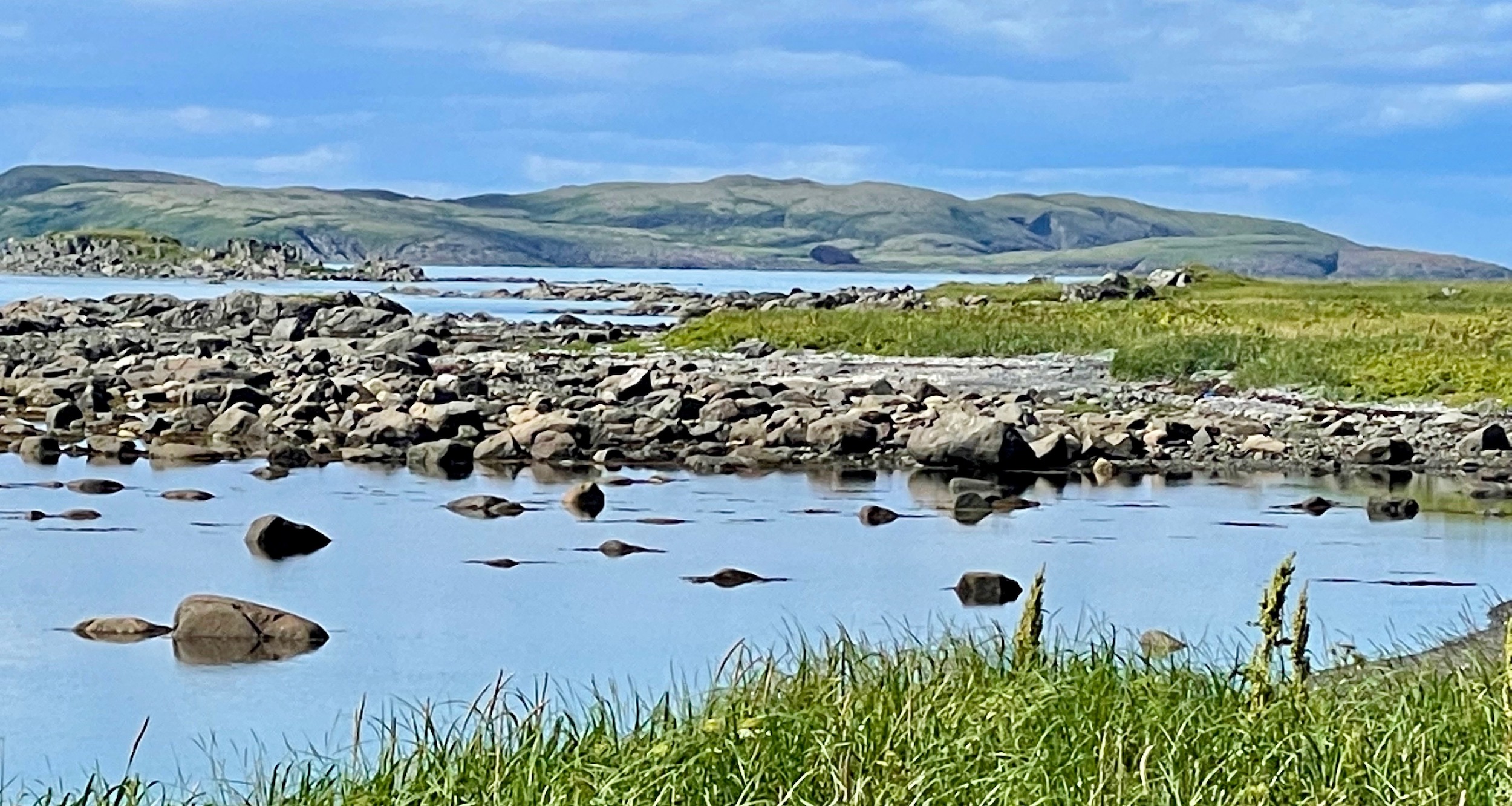 And then you enter the small compound of recreated sod houses that are based on the foundations found nearby and the designs of similar sod houses found in Greenland and Iceland. Sod is basically what you use to build when timber is scarce. Your first impression might be – "This is it?", as I admit it was on my first visit. However, when you consider the Completing the Circle analogy, it's pretty damn impressive.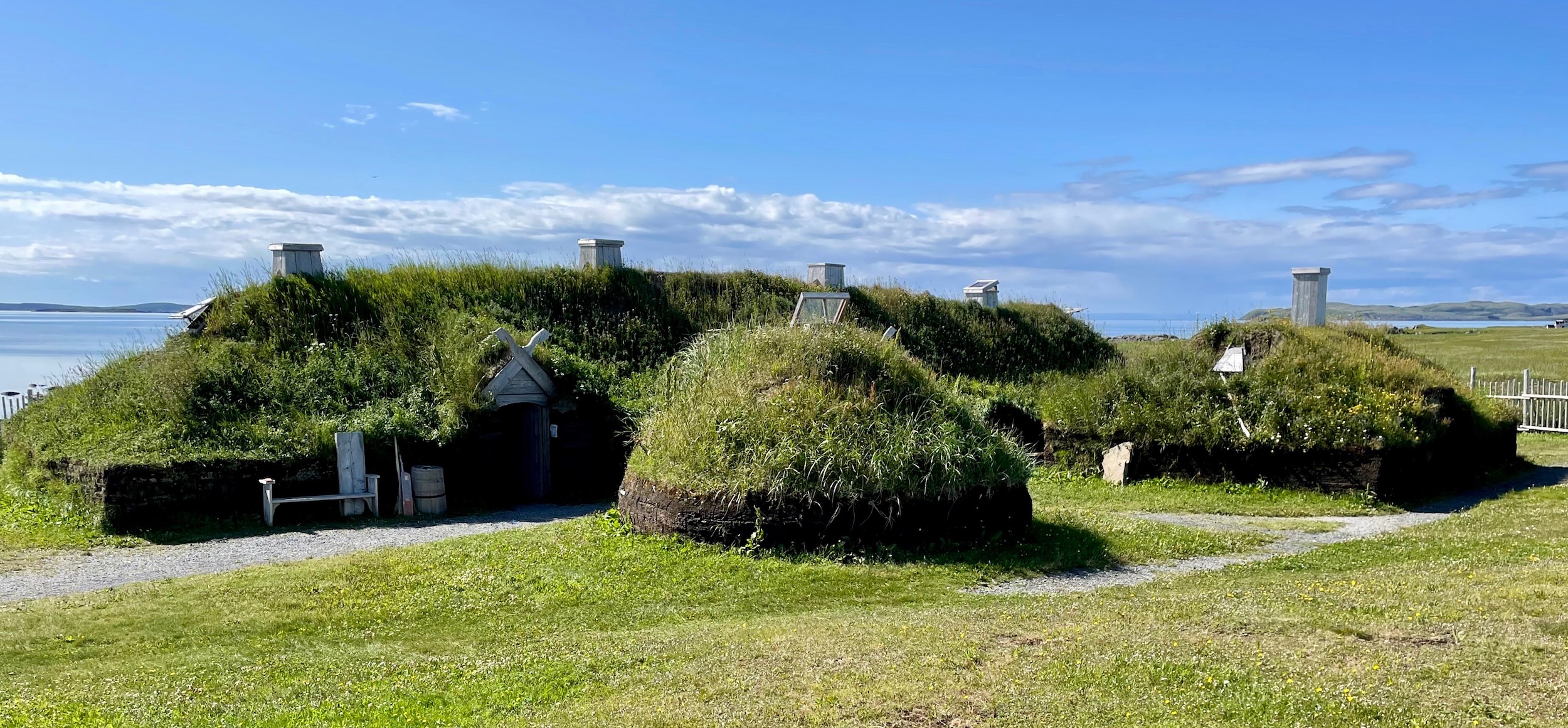 The best part of the visit to L'Anse aux Meadows for me was going inside the great house which is on the left and finding out just how comfortable living in a sod house could be.

This is the married couple who you can converse with to get an idea of what life was like in L'Anse aux Meadows a thousand years ago. Re-enactors don't always work, but these two sure do. Within minutes of entering this room you will begin to feel that you are in L'Anse aux Meadows with the Vikings, maybe even one of them.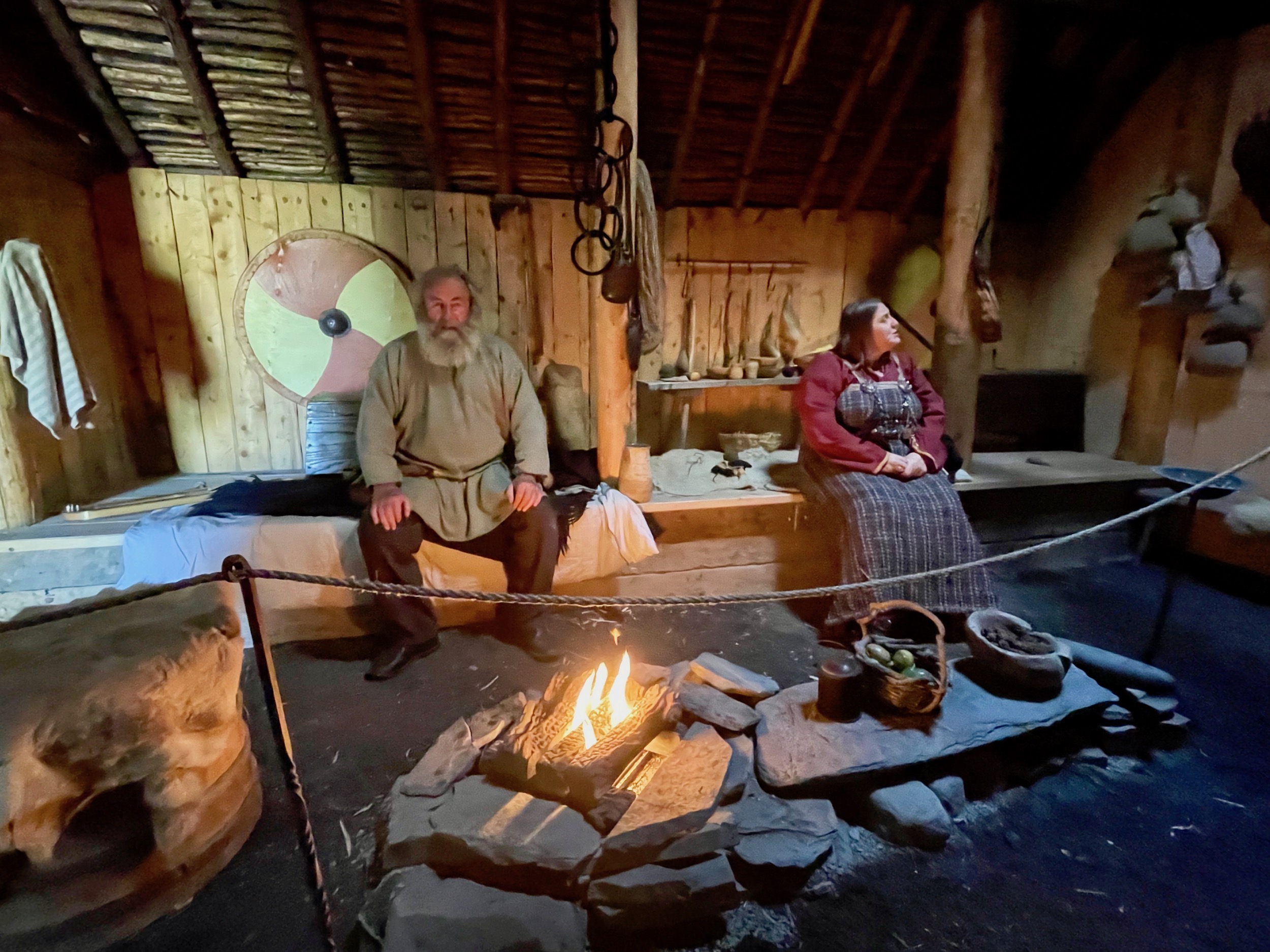 In the next room in the great house there is a Viking story teller who reminded me of the character Floki from the great TV series The Vikings.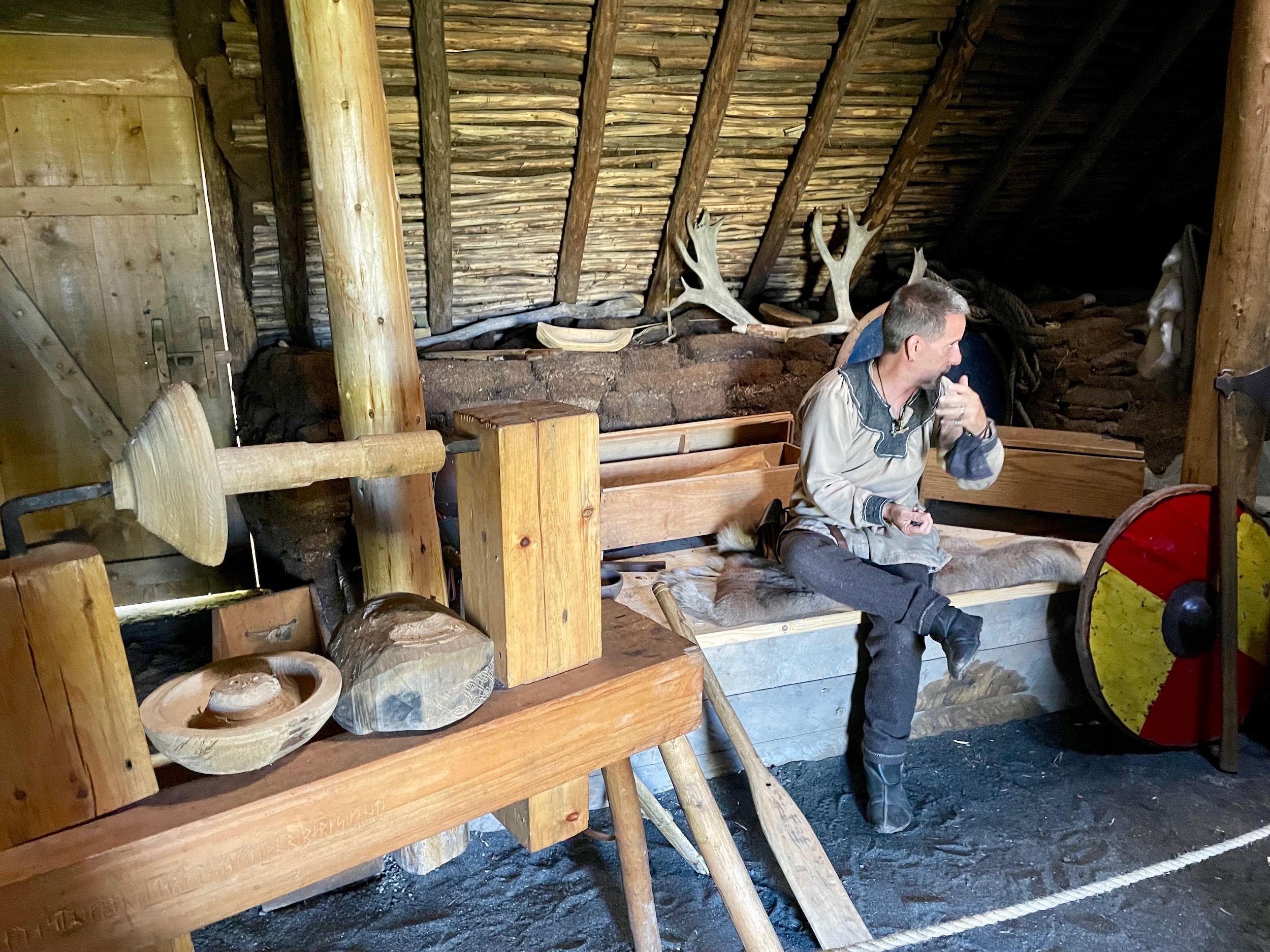 The third room in the great house is the unmarried women's quarters which looks very cozy.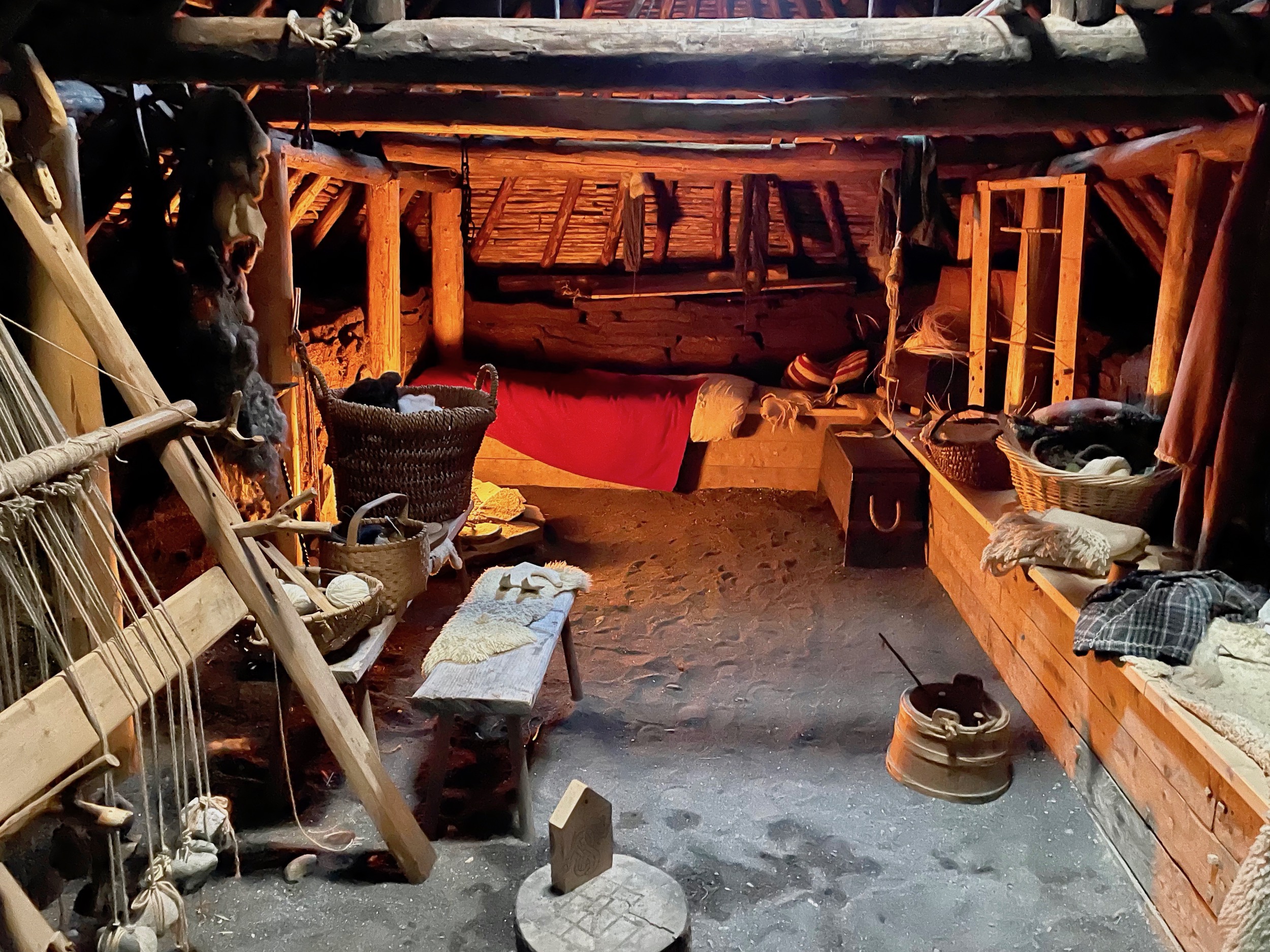 The sod used to build this and the other buildings at L'Anse aux Meadows is two feet thick which explains why they are so well insulated.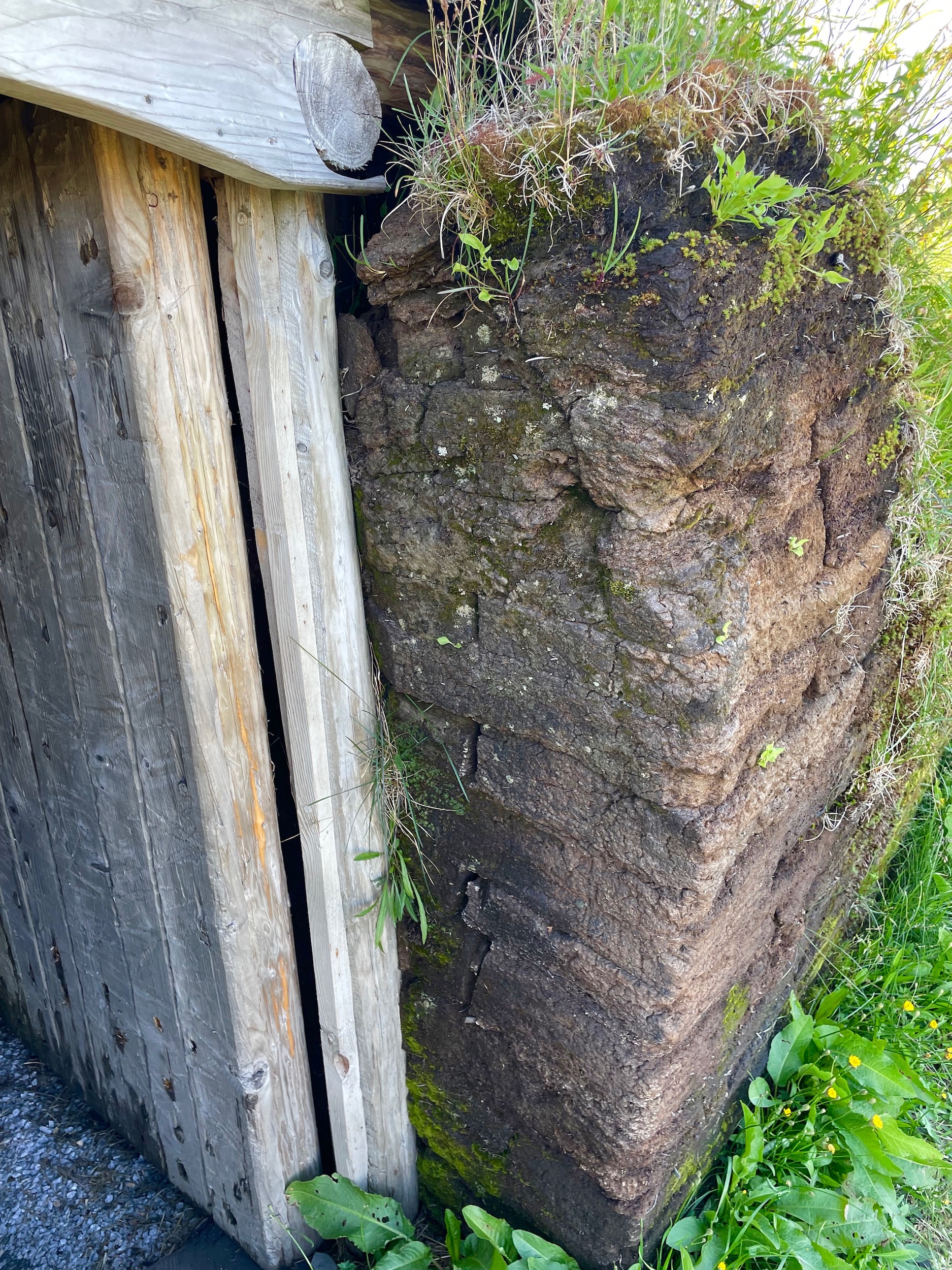 L'Anse aux Meadows is also notable for being the site of the first forge in the North America. There wouldn't be another one for almost five hundred years.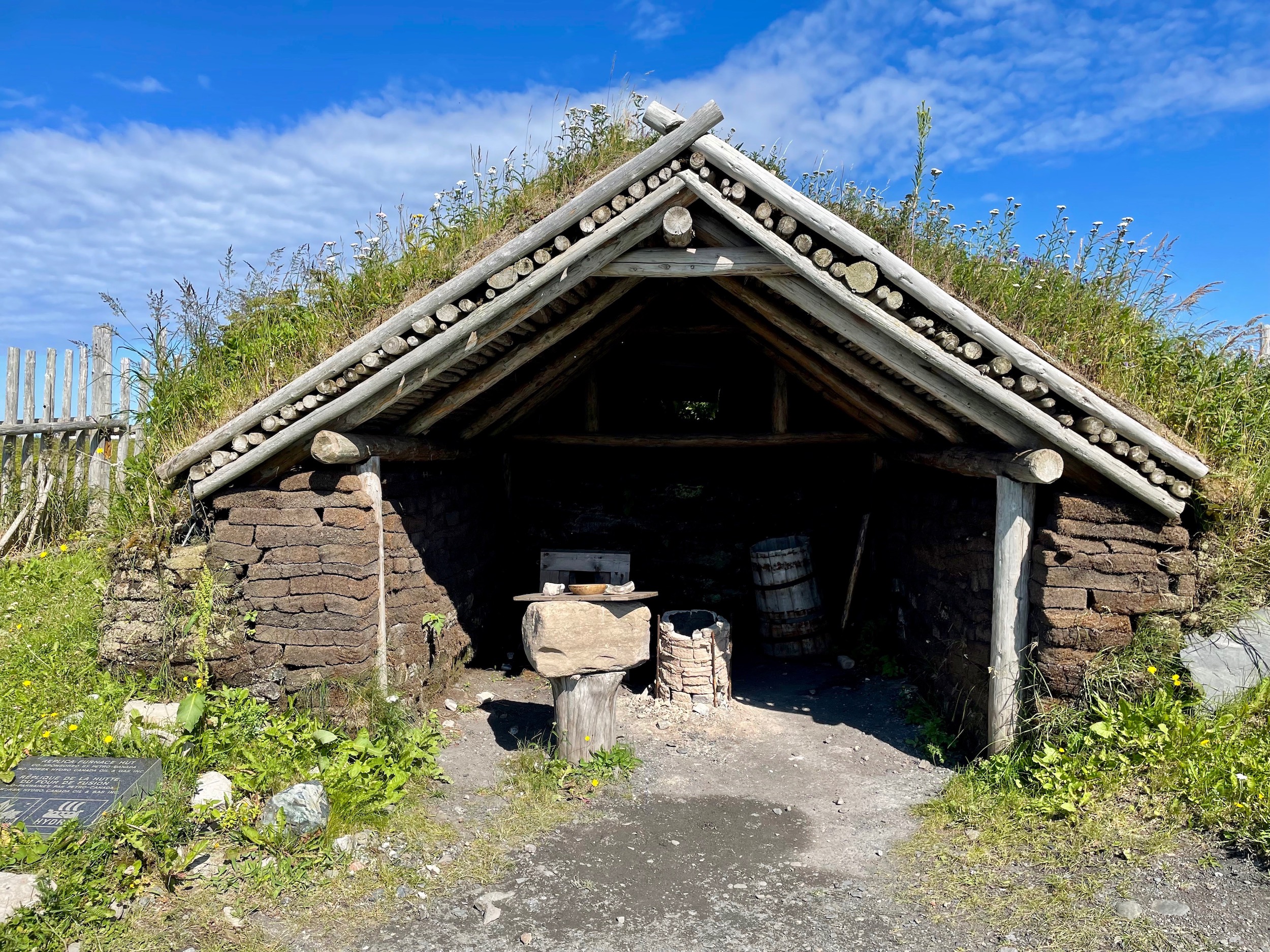 The actual site of the original L'Anse aux Meadows settlement is not much to see with only the bare outlines of the buildings visible.
Why the Vikings stopped coming to L'Anse aux Meadows or even how long they were here remains a mystery that will probably never be solved. The sagas do relate of clashes with the people they described as skælings, which is roughly translated as 'people who wore skins', but that is not a complete explanation. Trade would have been beneficial to both sides and unlike the post-Columbian Europeans who came to the New World, the Vikings had no interest in converting the Indigenous peoples to their religion or way of life.  Suffice it to say that L'Anse aux Meadows is truly unique and a place that every Canadian should make the effort to visit at least once.
Raleigh and Burnt Cape
If you have come this far on the Viking Trail to visit L'Anse aux Meadows you should take the time to visit two other noteworthy places nearby, the village of Raleigh and Burnt Cape Ecological Reserve. Both are on Route #437 which branches off from Route #436 which leads to L'Anse aux Meadows.
If you came over on the ferry from Cape Breton chances are that you have seen Raleigh already as there is a large photograph of a dilapidated wharf in that community on both ferries. Here's what it looks like when you are standing at the entrance to it. This is a classic Newfoundland photograph of a fishing premises if there ever was one.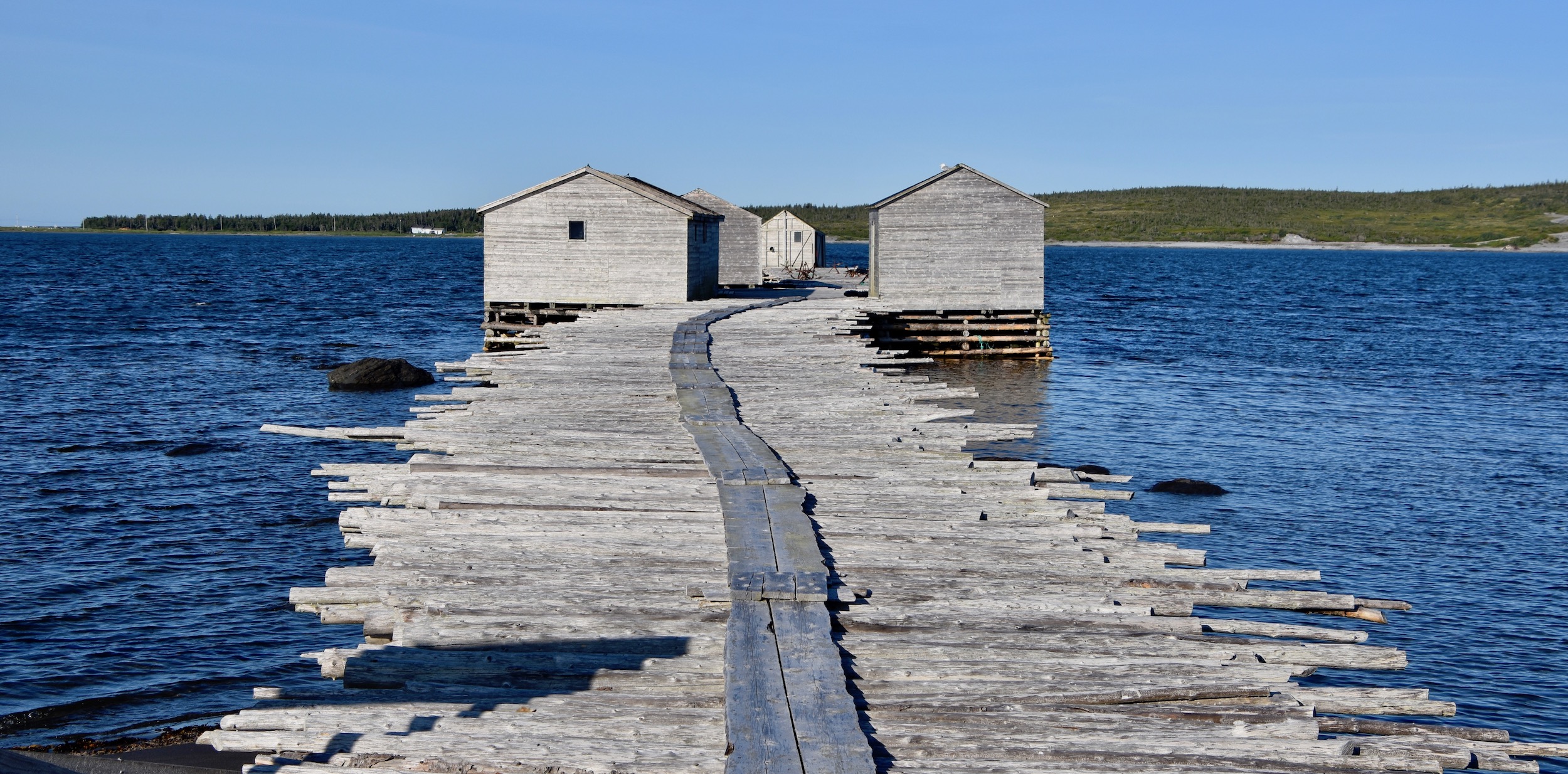 There are also very photogenic buildings nearby.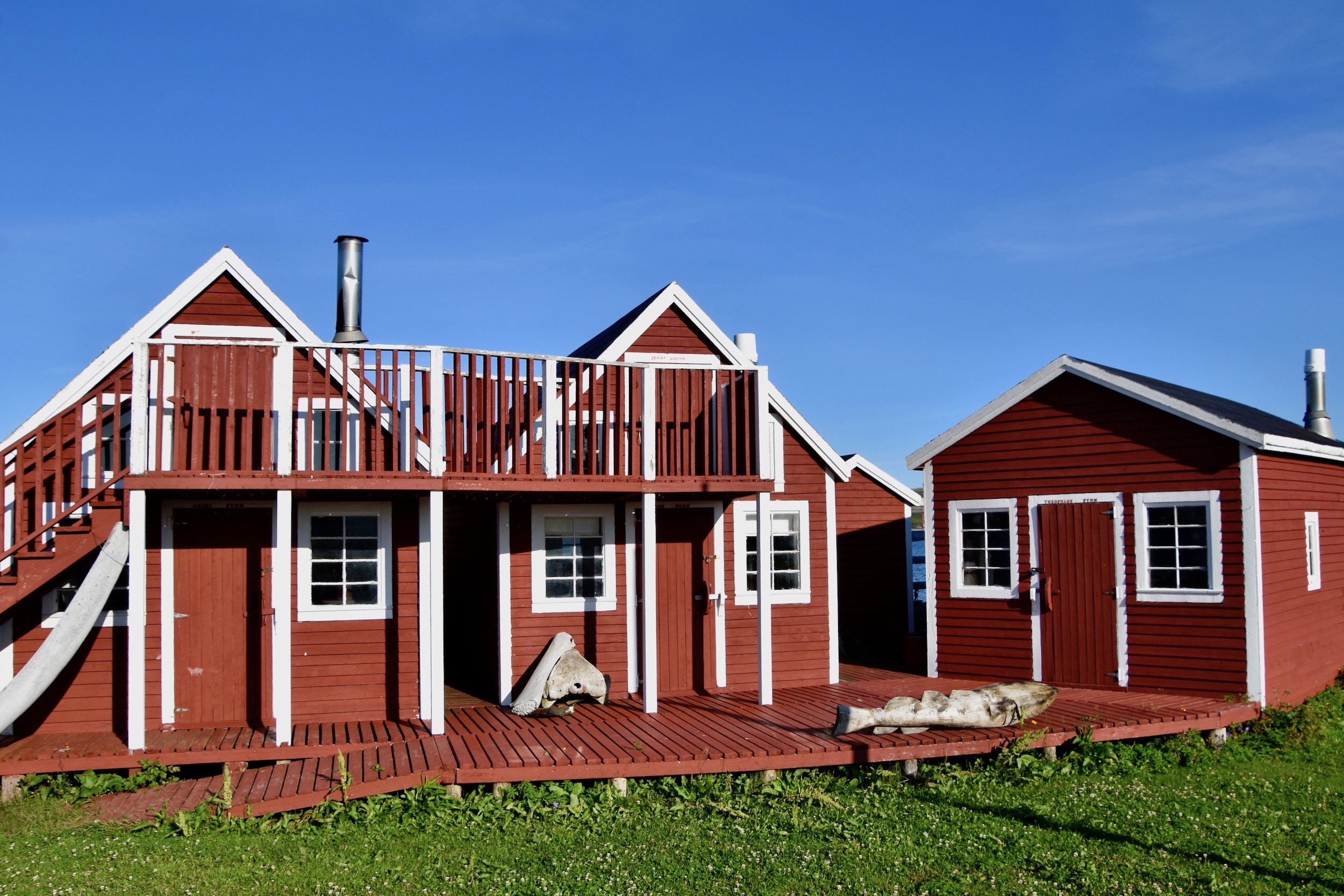 Across the bay from Raleigh is Burnt Cape Ecological Reserve which is perhaps the best example of limestone barrens in Newfoundland and Labrador. We previously saw these at Port aux Choix and L'Anse Amour and they are home to a great variety of rare plant species in an Arctic like environment.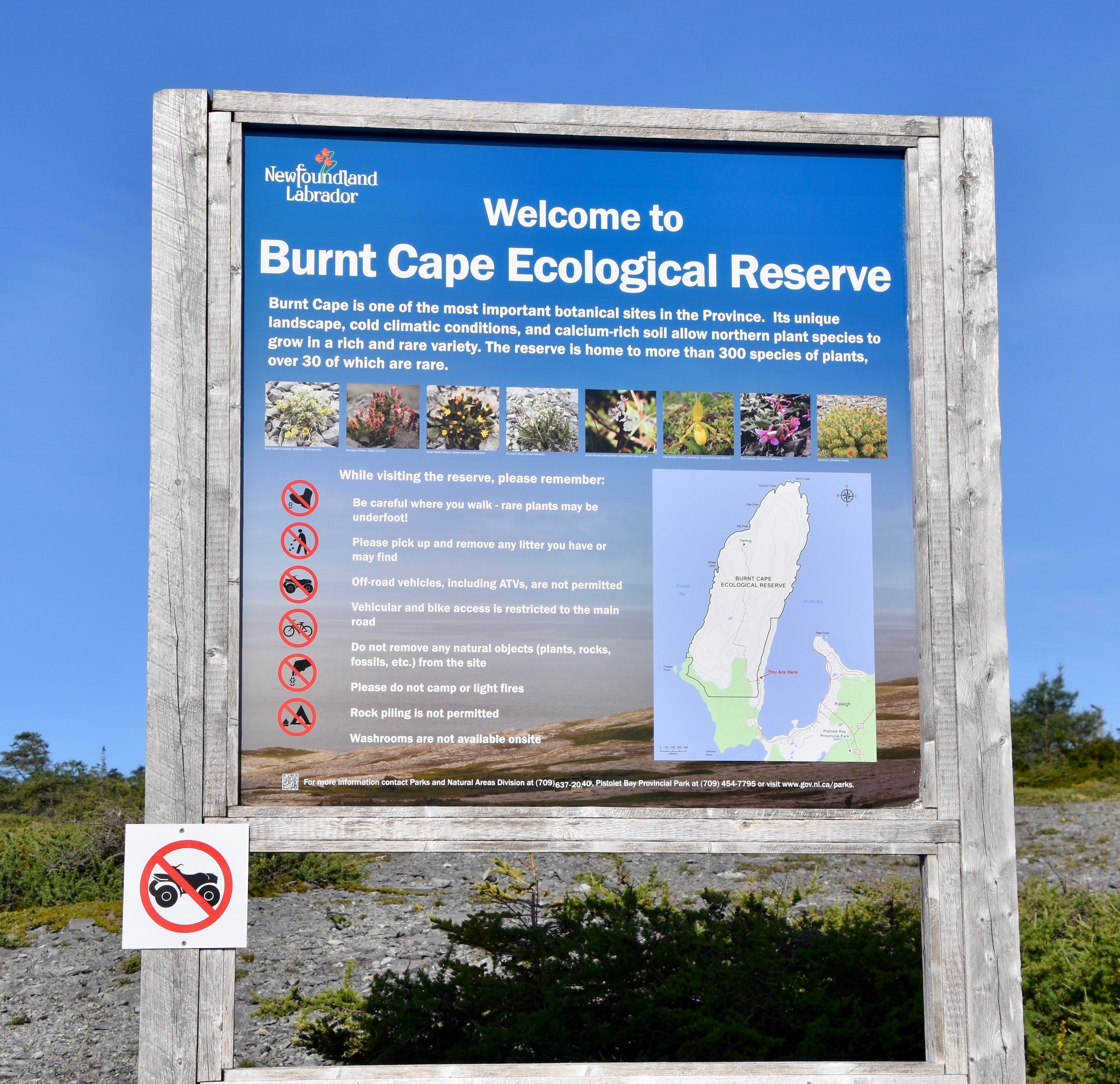 The road in is pretty rough, but it is worth taking it slow to get to the parking lot and going in search of some of rare plants found here such as roseroot. Alison and I spent some time here photographing various flowers and other plants and it was a great way to finish a day of exploration out of St. Anthony.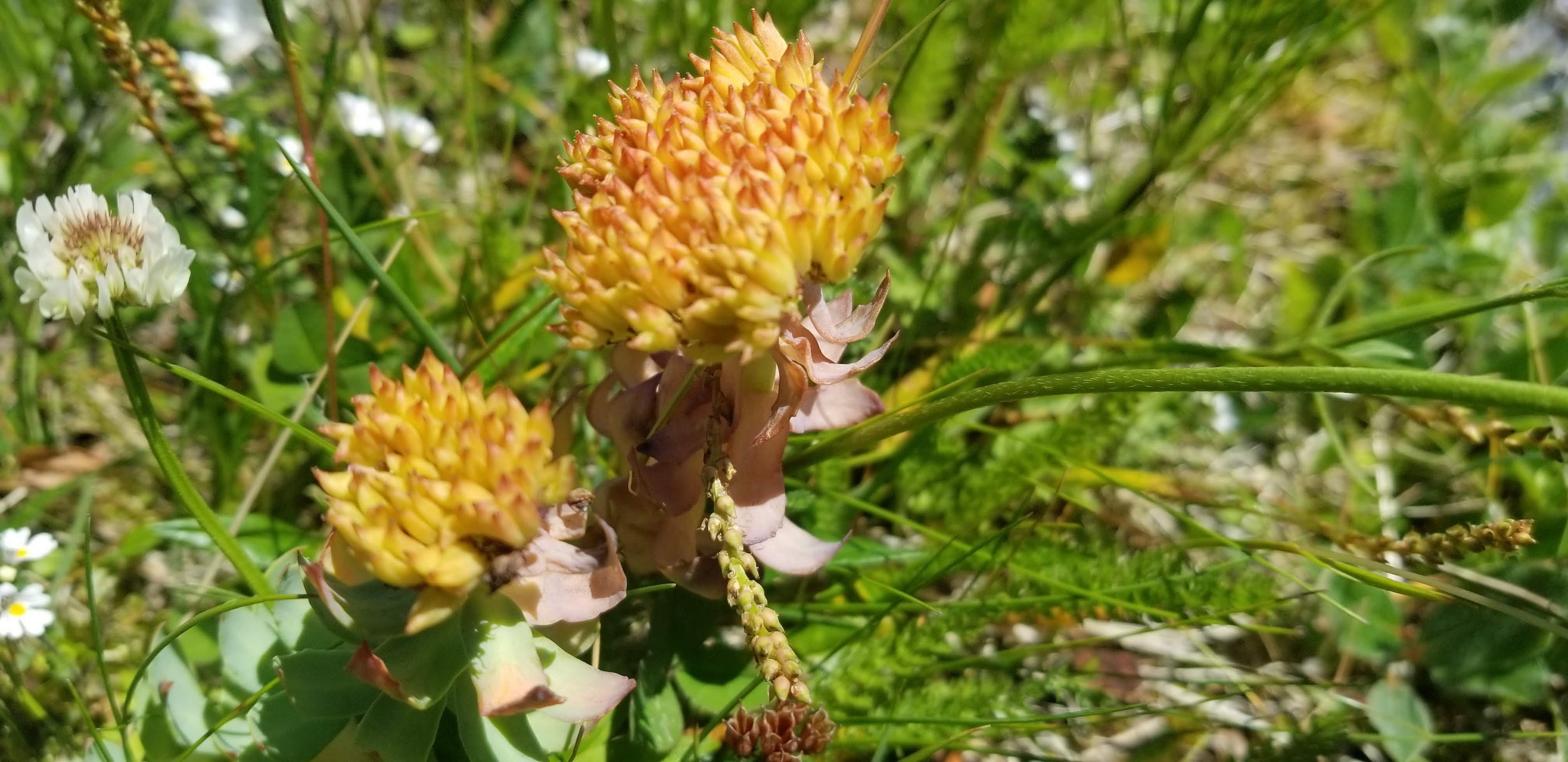 In the next post we'll start heading back to Port aux Basques and home, but not before stopping to see the greatest tapestry I've ever seen outside of Bayeaux. Please join us as we wrap up a spectacular trip to western Newfoundland and southeast Labrador.