El Conquistador GC – A Caribbean Icon is Reborn
After the May 2022 North American Tavel Journalists conference in San Juan, Puerto Rico I set out to play some golf. With the help of Discover Puerto Rico and it golf PR agency Dan Shepherd PR I was able to secure tee times and rooms at three of the island's best golf resorts. In the first two posts I described my rounds at the Flamboyan and Palm courses at the Wyndham Palmas Beach and Golf Resort in Palmas del Mar. After checking out of the Wyndham I drove north on route 53 along the east coast of Puerto Rico to the town of Fajardo where the iconic El Conquistador Resort is located. This is a place I have longed to visit for many years as it has one of the most famous golf courses in the Caribbean. Please join me as I learn that that there is a lot more to do at the El Conquistador than just golf.
The first iteration of the El Conquistador opened way back in 1962, occupying a spot on a cliff 300 feet above the Caribbean with views of the Virgin Islands from every room. Over the years it grew larger and larger, topping out at 750 rooms and becoming a major convention centre as well as a resort. The addition of the Arthur Hills designed golf course in 1993 was one of many amenities including a water park and private island that made the El Conquistador one of the  top destinations in the entire Caribbean. Then in 2017 disaster struck as Hurricane Maria devastated Puerto Rico and destroyed pretty well all of the resorts on the eastern end of the island including El Conquistador. It was closed until May of 2021 and then reopened at a much reduced capacity of 299 rooms most of which are in the Las Brisas wing which you can see in the photo below.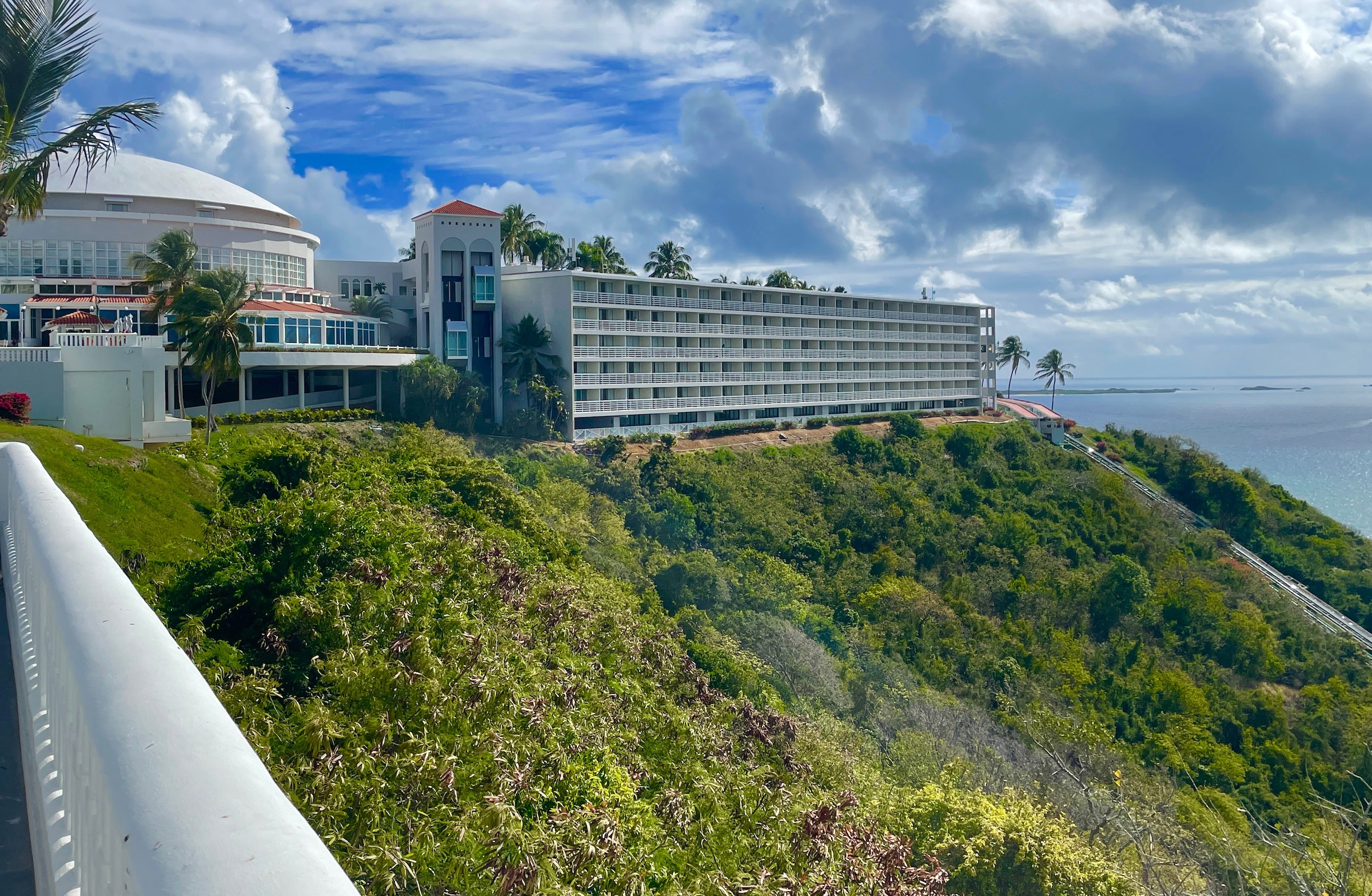 For those who prefer to be on the water there is La Marina Village which is next to the water park and from where the boat departs to the private Palomino Island. But I'm getting ahead of myself.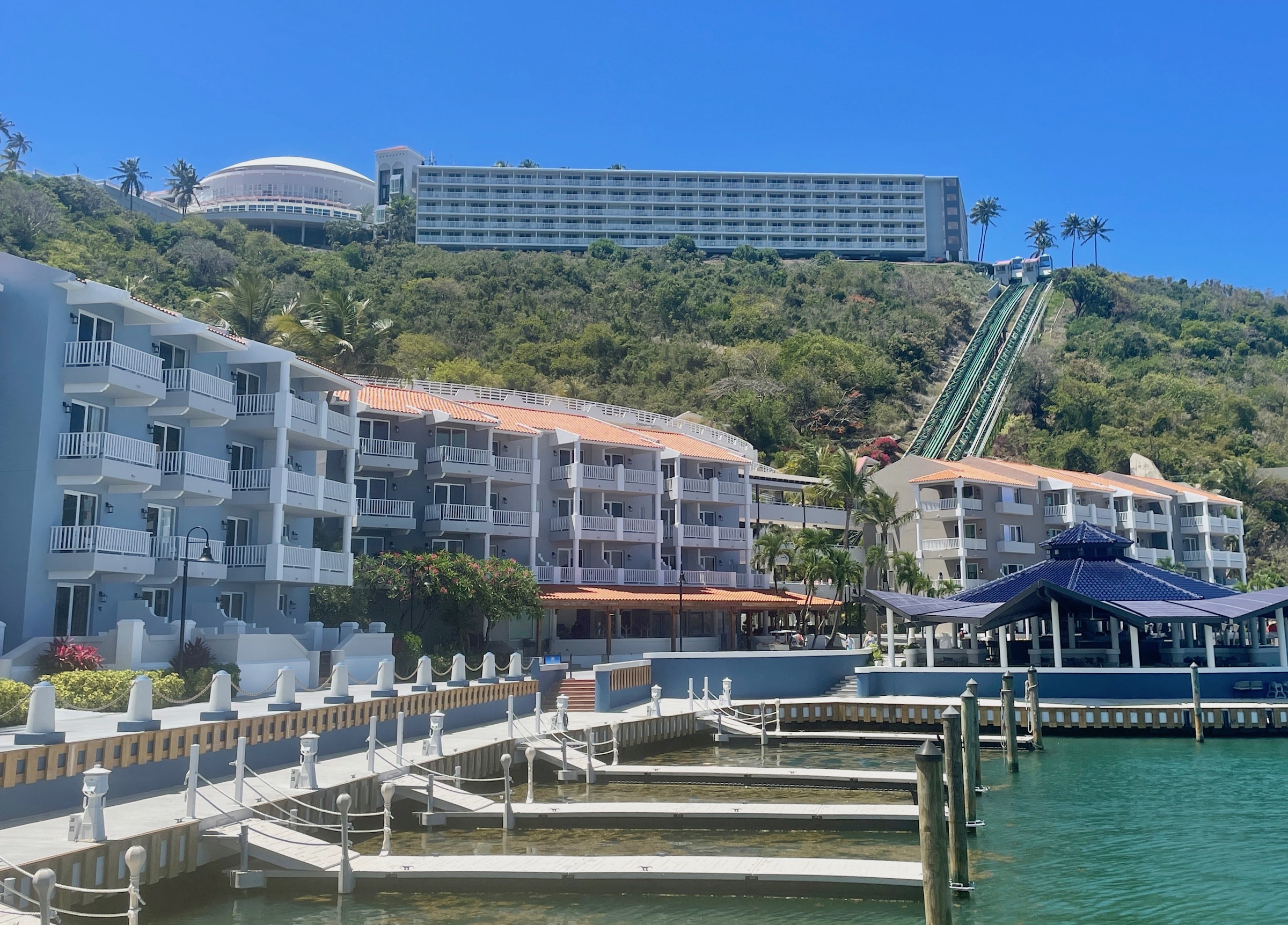 Driving up to the El Conquistador you have no idea that it sits atop a 300 foot cliff. It simply appears to be the entrance to what is clearly a grand hotel. Just as at the Wyndham two days earlier, I arrived at the El Conquistador well before the usual check in time. After parking the car I walked past the huge convention centre which was currently occupied with what was obviously a major movie or television shoot. I later learned that it was the filming of the third season of Fantasy Island, a redo of the classic Ricardo Montalban series made famous by the episode opening line from Tattoo, "De plane boss, de plane".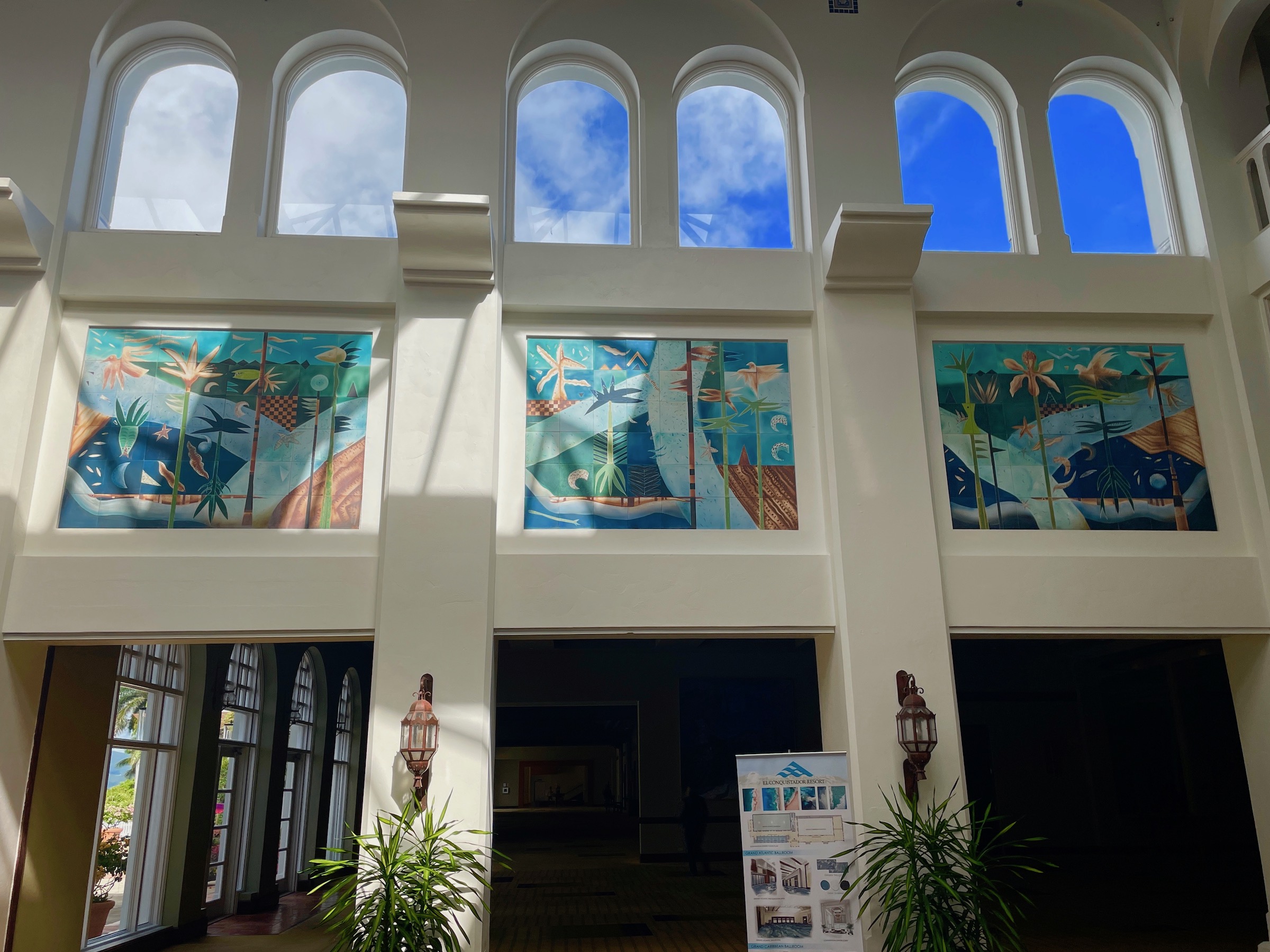 The public space in the El Conquistador is simply enormous with high ceilings, tasteful artwork and numerous shops and restaurants. Despite being early I was welcomed and given a room which was on the same level as the lobby. Now here is where the place really surprises you. Normally a room on what would appear to be the ground floor would mean no real view. Not here. This is the view from the balcony of room 3046.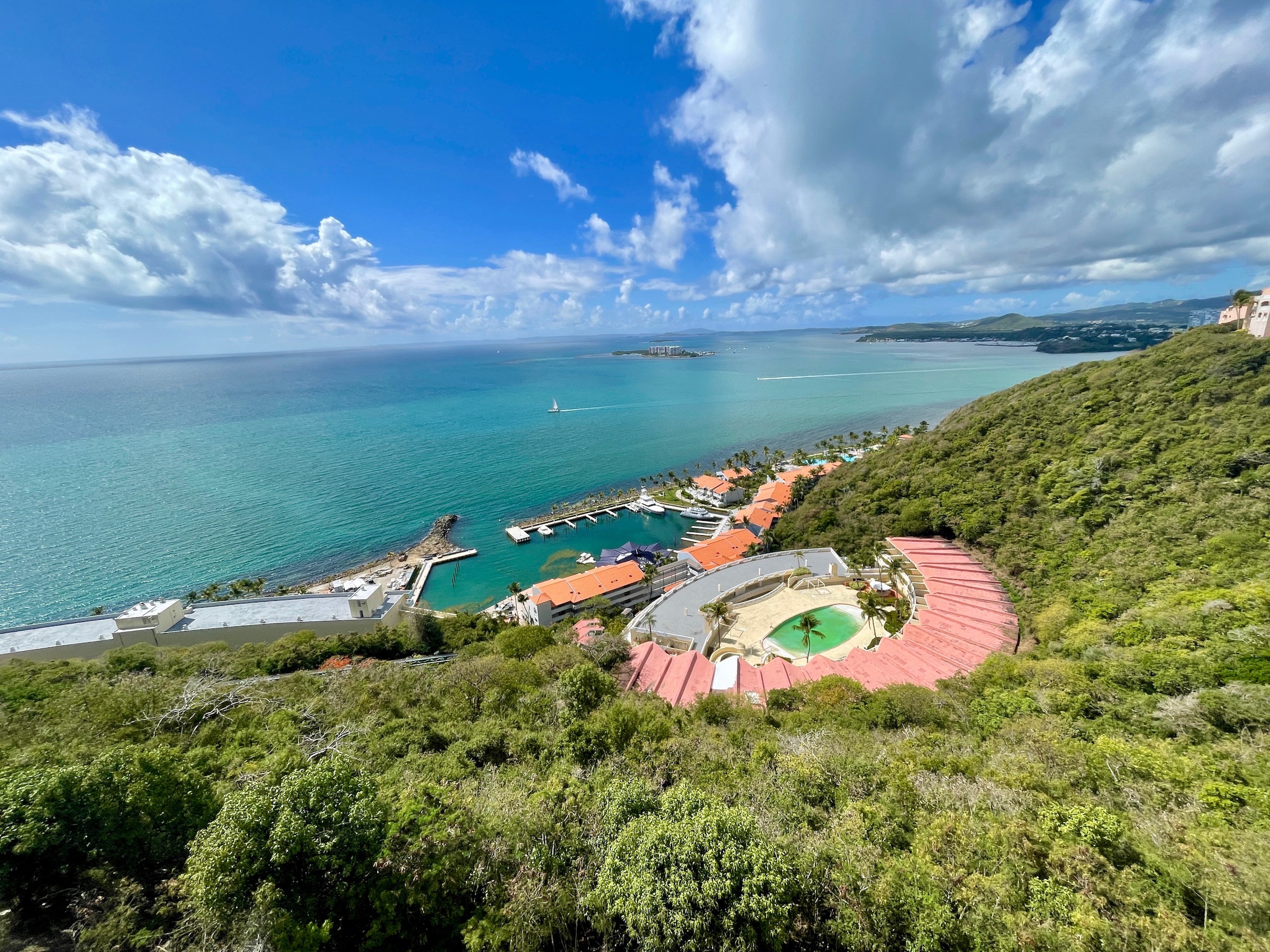 That is a view the resort's private island, Palomino where there is snorkelling and beach activities. I did not have a chance to get to it during my short stay, but it certainly is a major amenity that few other resorts can offer.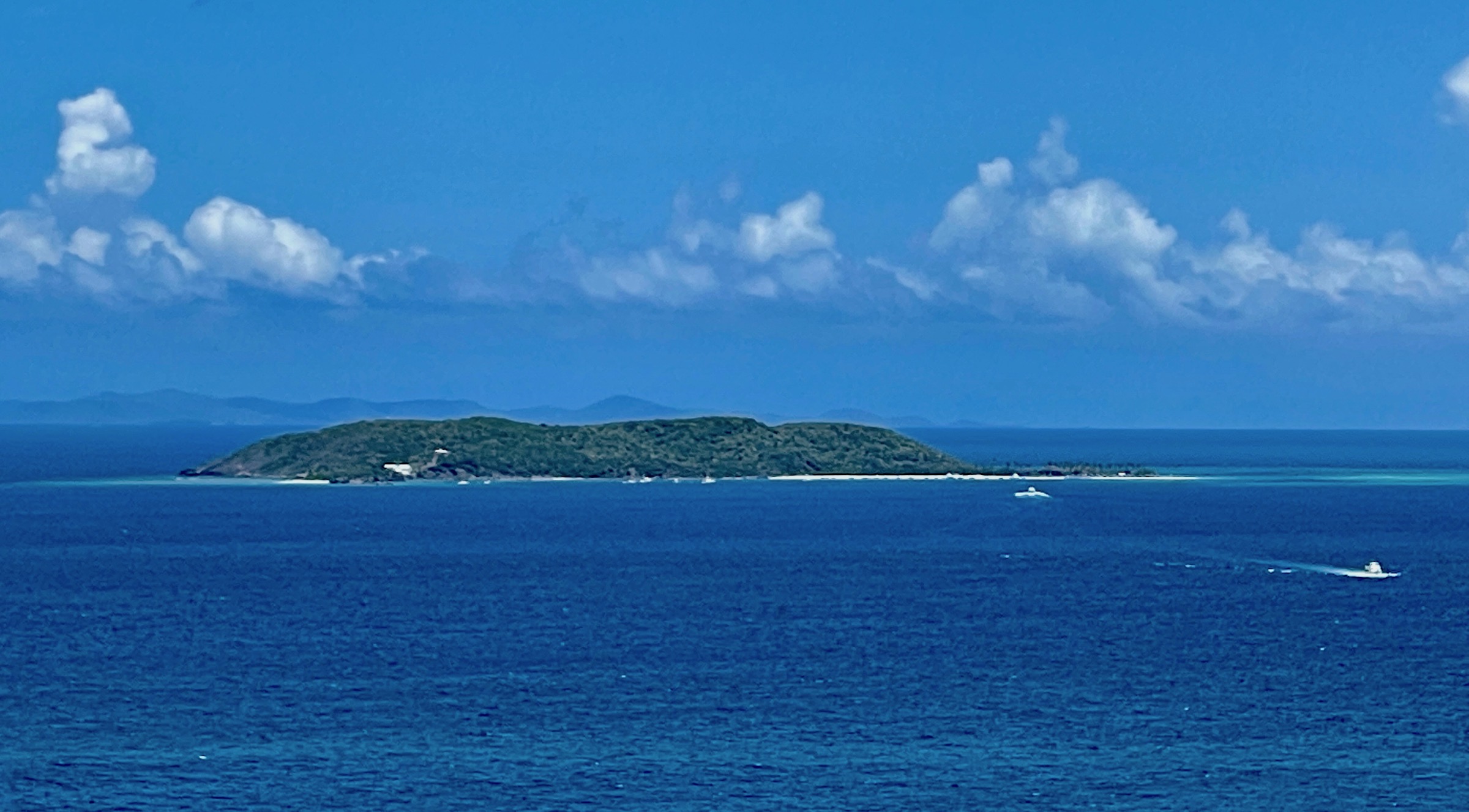 The room itself was spacious and bright.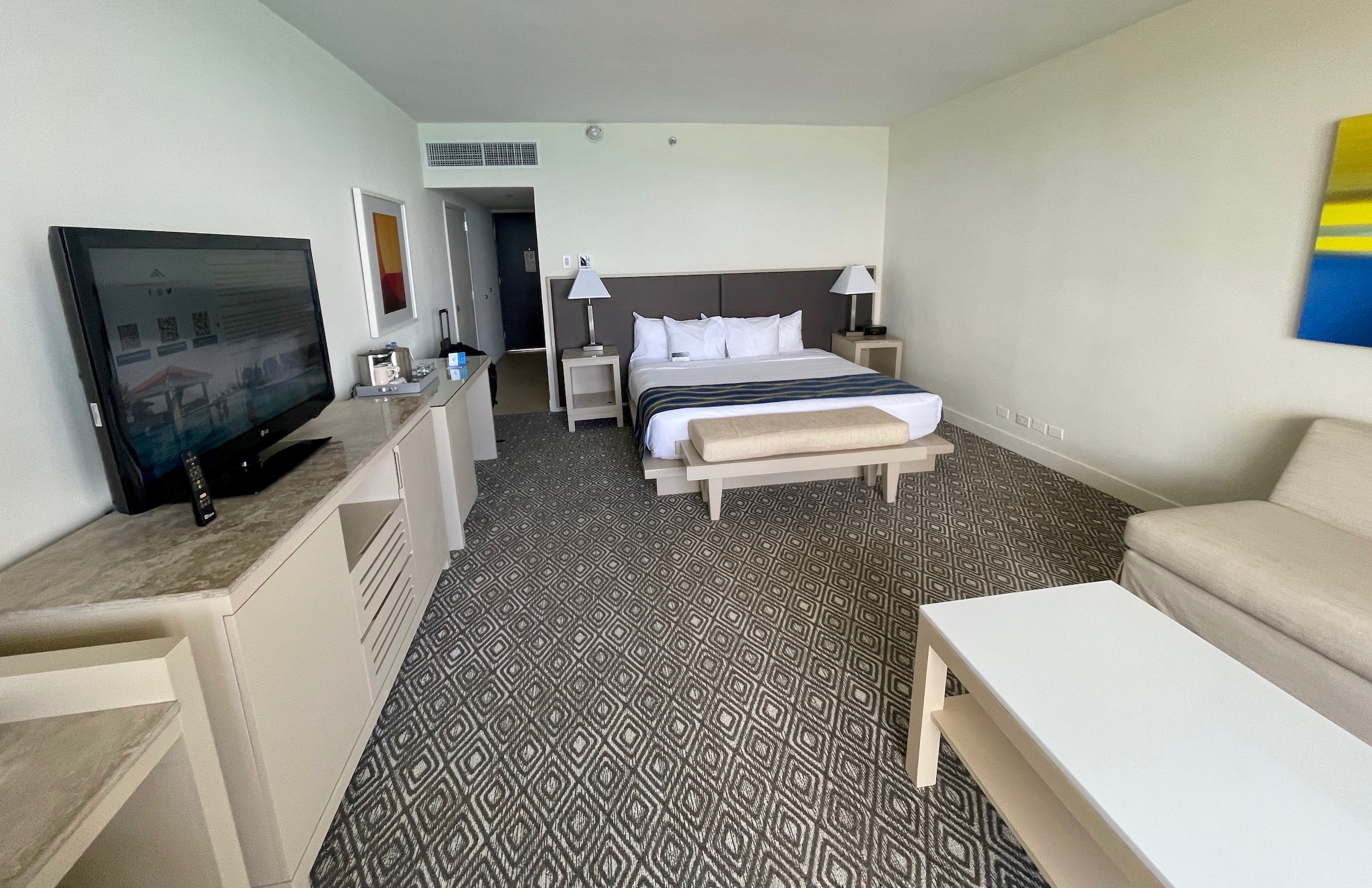 With some time to spare before tee off, I toured the grounds of El Conquistador. In addition to the Caribbean there are multiple places to get wet including two huge pools on the upper level.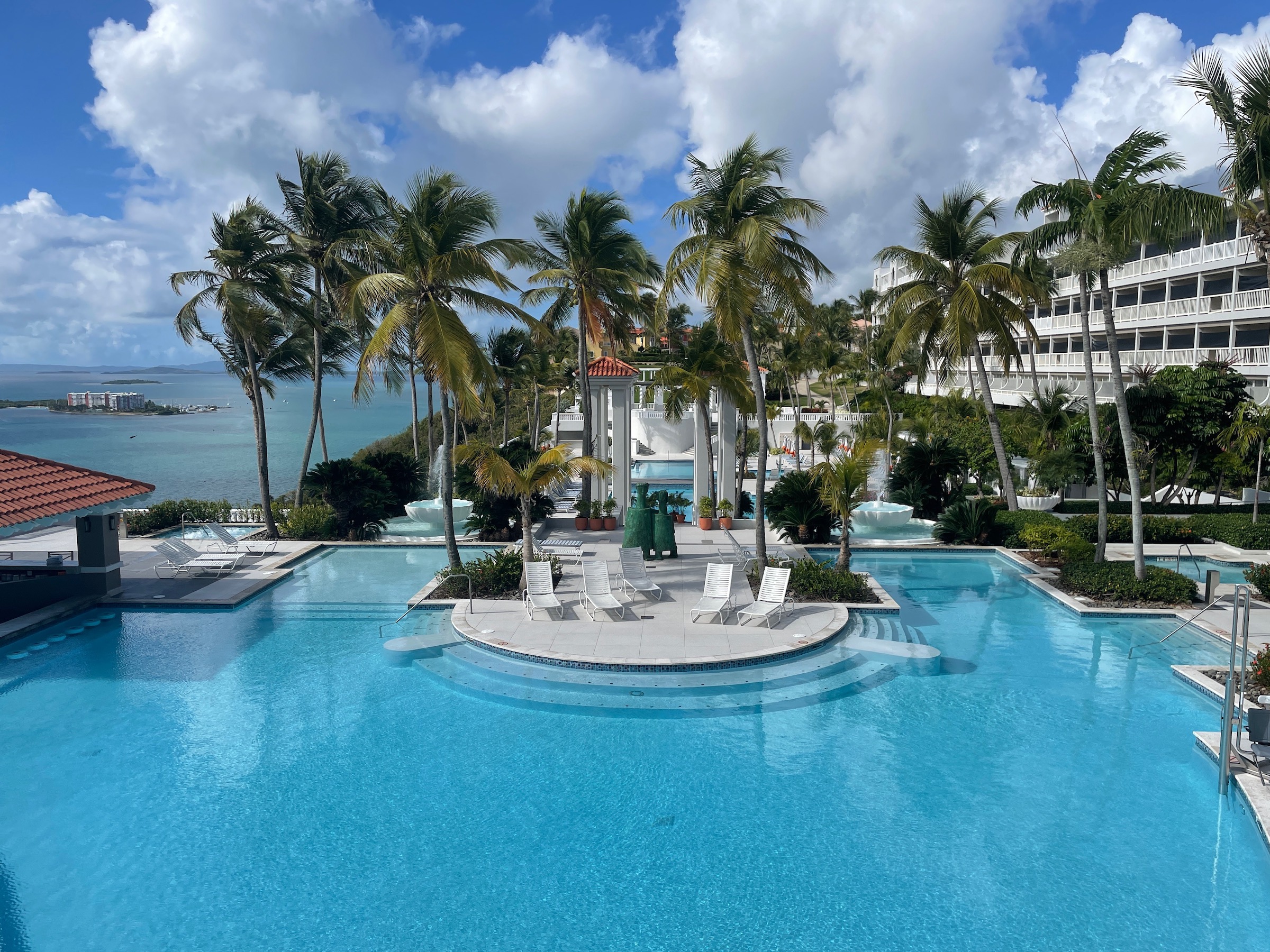 If you prefer a warmer soak, it's hard to beat this hot tub overlooking the Caribbean.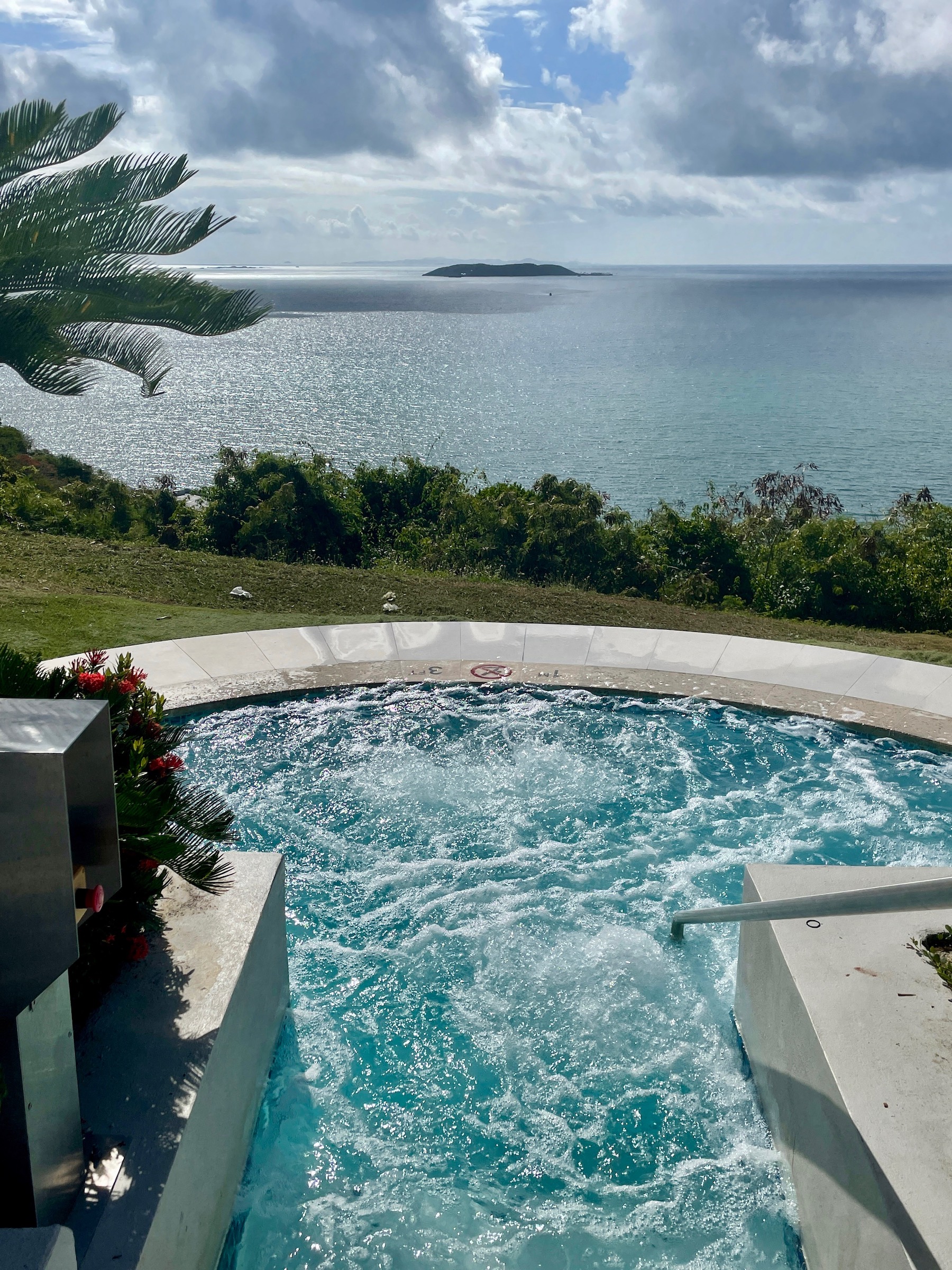 One of the unique features of the El Conquistador is the funicular railway that runs from the upper level to the marina and water park below. It operates like an elevator so it comes when you need it and not on a regular schedule.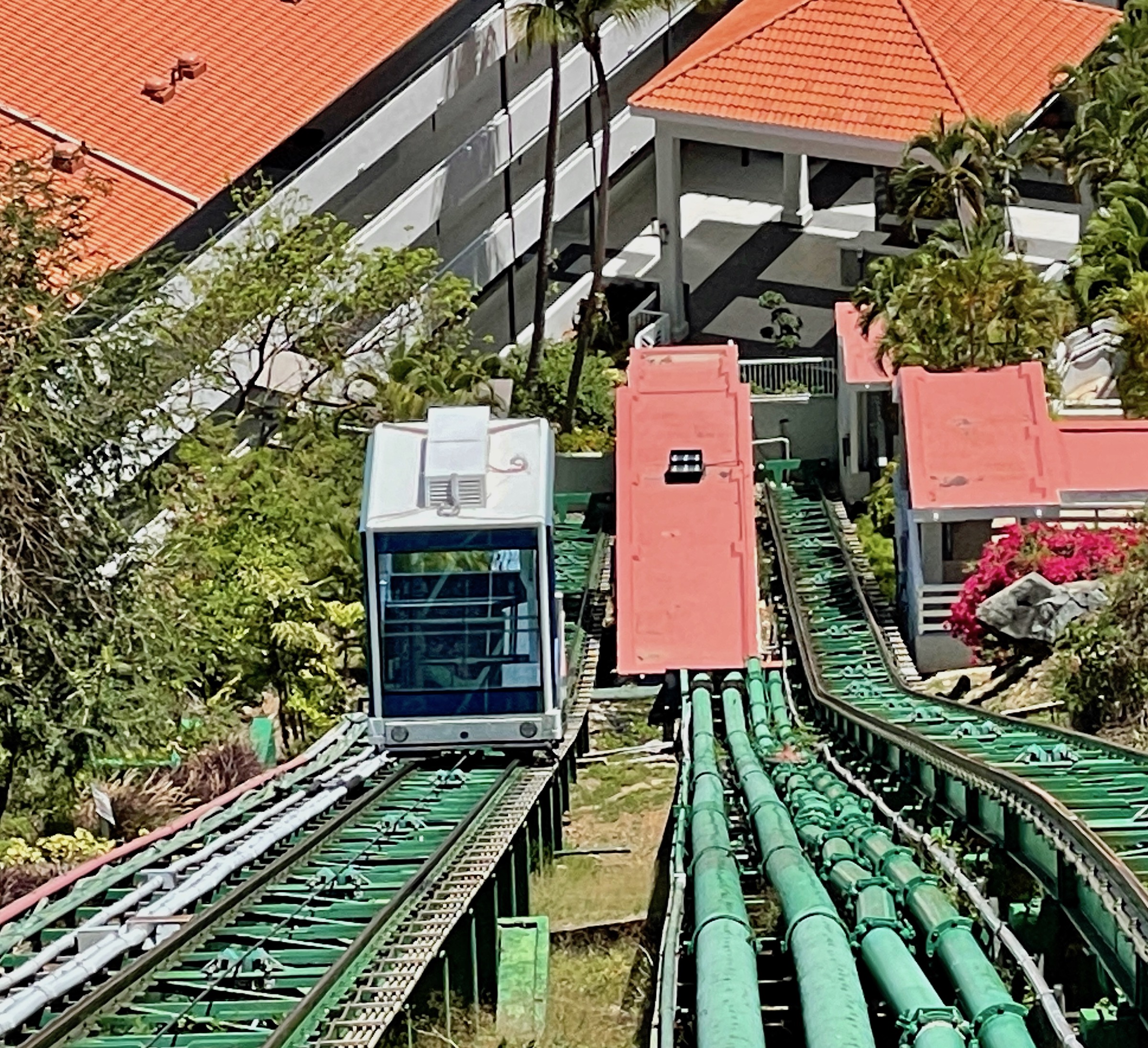 The final thing I'll say about El Conquistador before hitting the links is that it has amenities that were built for a much larger resort. Yes, not all of the facilities that it once had have reopened, but overall the place is so vast and has so many places to relax that it is completely uncrowded even if all the available rooms are booked. That will change as the owner's move to reopen the rest of the rooms and bring it back to full capacity, so if you are ever going to visit this place the next few years might be the best time to come.
El Conquistador Golf Course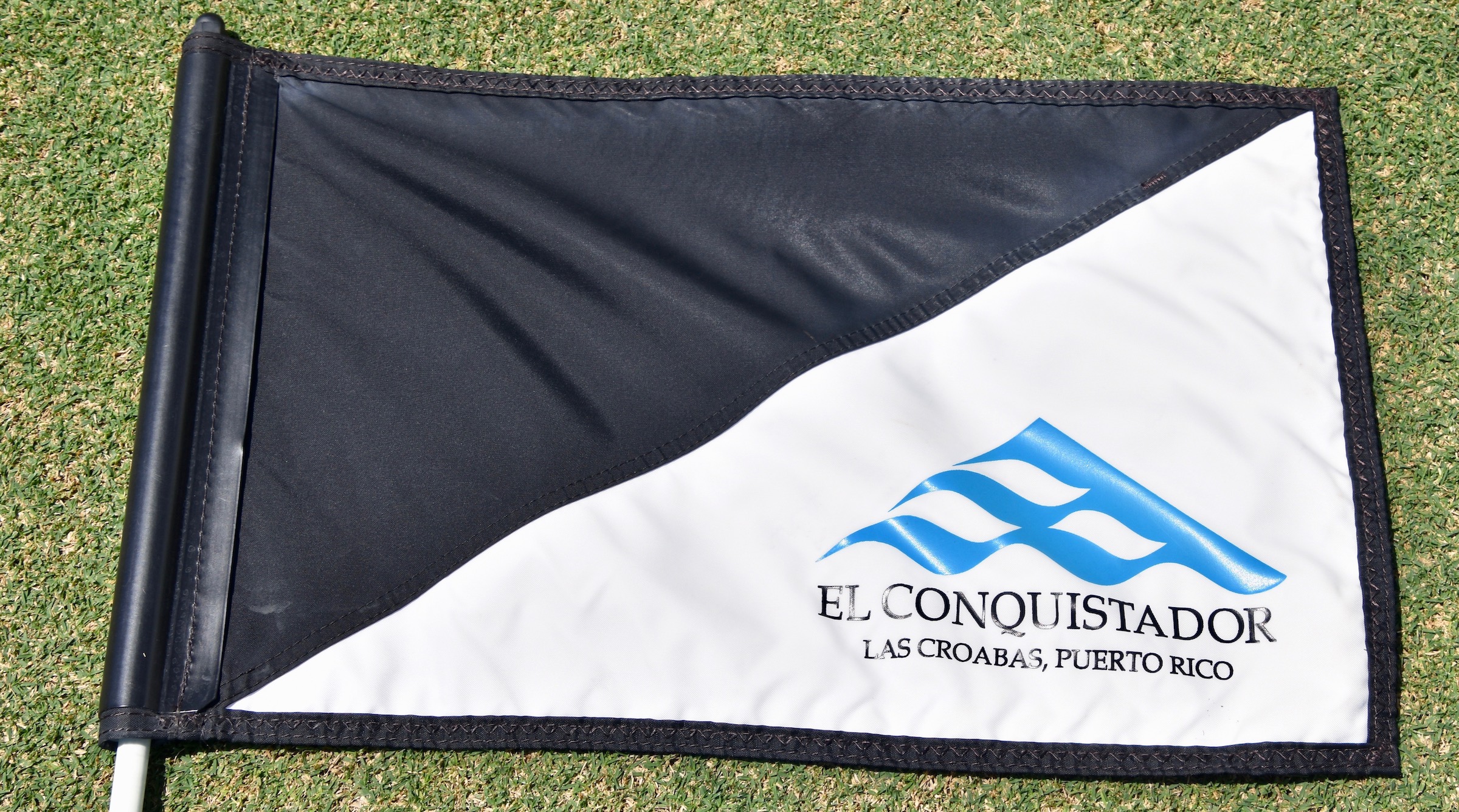 First of all, don't make the mistake I did and drive to the golf course from the hotel. When I arrived at the resort there was a sign pointing to the golf course on a road that was off the main road to the hotel so I assumed the course was away from the resort proper as was the case with the Wyndham Palmas. A half an hour before my tee time I drove from the resort parking lot and took the turn to the golf course. There was a gate and I gave my name and tee time and was let through. No problem. Except when I drove up the road to its end there was no sign of the pro shop. I went up and down a few times before a guy in a golf cart showed up and pointed me to a small parking lot with only a couple of cars in it. I obliged, got into the golf cart and was driven via a golf cart path to the pro shop which was – right beside the hotel. I could have walked here in a fraction of the time it took me to drive.
The El Conquistador Golf Course was designed by the late Arthur Hills, an American golf architect who was responsible for over 200 new designs and many redesigns. He was quite prolific in Florida were I have played a number of his layouts including the excellent private Sanctuary GC in Sanibel. At El Conquistador he was gifted with a very unique piece of land that rises steeply from a wooded valley to a crest of land high above the Caribbean. I have already noted the dramatic effect this creates between the front of the hotel and the back that overlooks the sea.
While El Conquistador is strictly an inland course in that no holes border or overlook the water, the changes in topography and elevation presented Hills with a chance to do something as dramatic with the golf course as the architects did with the hotel. In my opinion he succeeded spectacularly. With this type of property a designer has three types of holes that he can build – those going up, those going down and those going sideways to the elevation change. In my experience on other courses with similar terrain, of which there are few, most have an equal number of uphill and downhill holes with maybe two or four going sideways. Hills chose to forego the expected and create a course that has a lot of downhill holes and very few going up or sideways. The only way he could do this was by making extensive use of carts which by 1993 when the course opened were still de rigeur in most places. The walking fetish had not yet begun.
Now I don't know about you, but I love downhill holes. They are great for your ego as the ball seems to go for miles. Conversely, uphill holes kill your shots and your thoughts of greatness. And sideways holes -meh.
So with that said let's play some golf. This is the well stocked pro shop where I picked up some balls before going to the cart where my rental set of Ping clubs was waiting for me.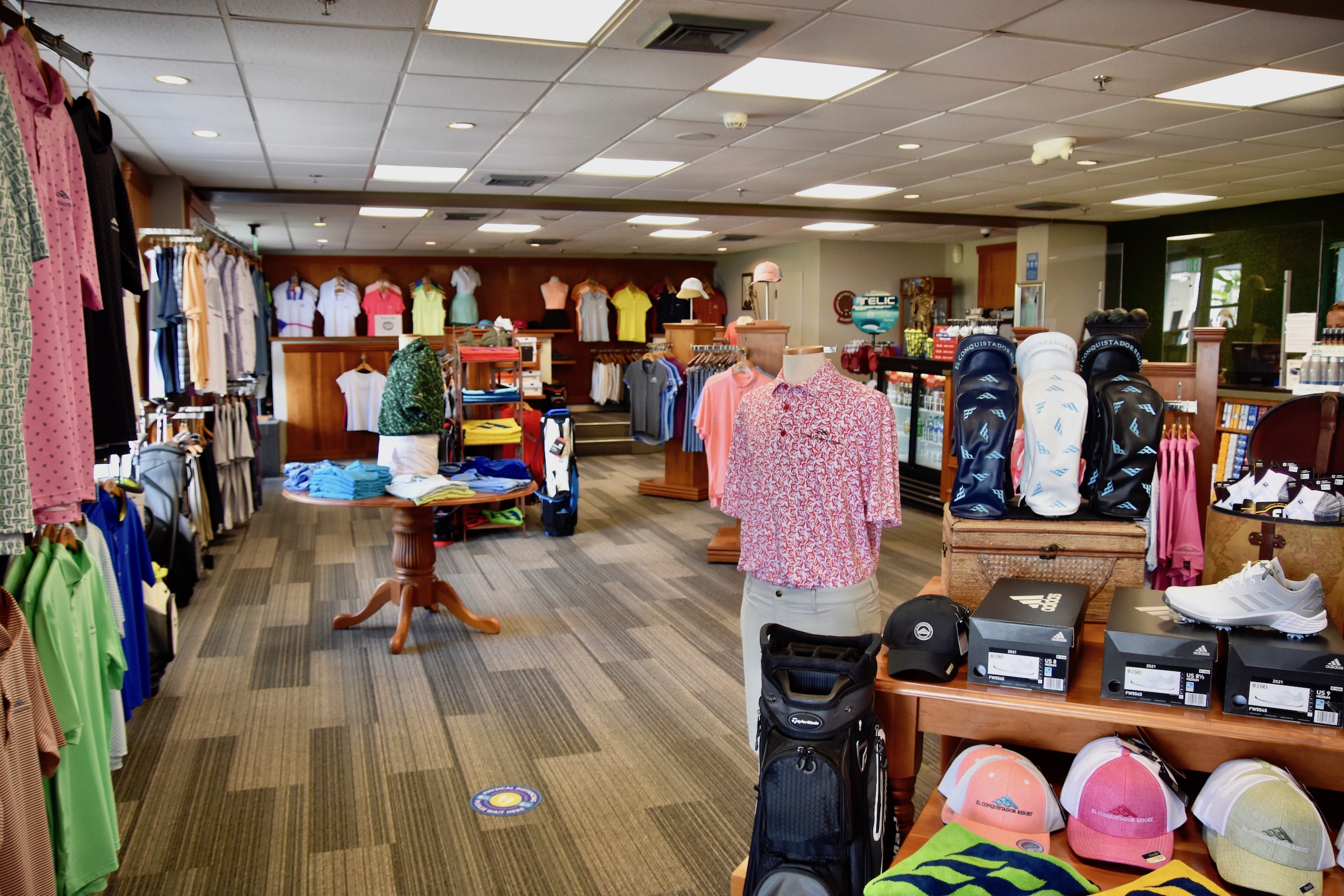 The first stop was the small putting green which you might notice is not exactly lush. So let's get a couple of the negatives out of the way first and then just enjoy the golf course.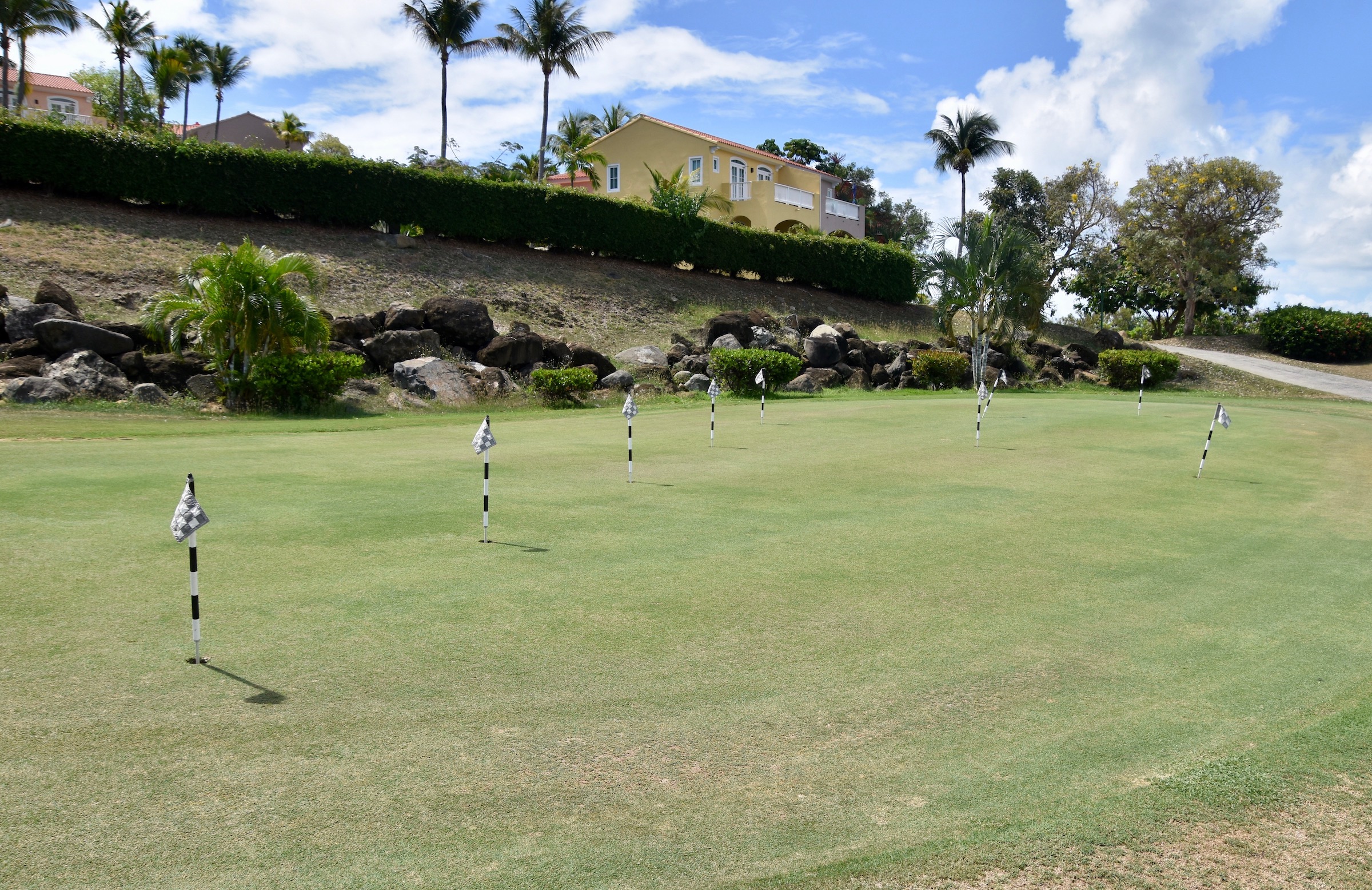 The first negative is the the El Conquistador is still using the fart filled gas carts that went out of style at most resorts years ago. I am assuming this is strictly a financial issue in that there are only so many resources available to continue the resurrection of the resort and replacement of the golf carts is probably not high on the list. The carts have no GPS so you will need a rage finder.
The second negative and this has been overstated in my opinion in some reviews I have read, is the overall course conditioning. Yes the course coming off the dry winter season is pretty dried out and certainly not as attractive as it would be say in the late fall or early winter. And yes the greens are not in the best shape. However, these are conditioning issues that are often seasonal, but even if not, they can be fixed. What you cannot fix, at least without a lot of money, is a shitty design and El Conquistador is anything but a poorly designed layout. With those caveats out of the way let's hit some balls and get going. This is the driving range which gives you the first inkling of the degree of elevation change on this course and the type of vistas you can expect to see. You can also see how dry the course is.
Just for contrast here is a photo of the course taken when conditions are better.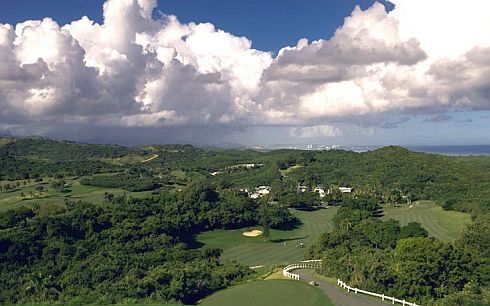 El Conquistador #1 – 337 Yard Par Four – Handicap 9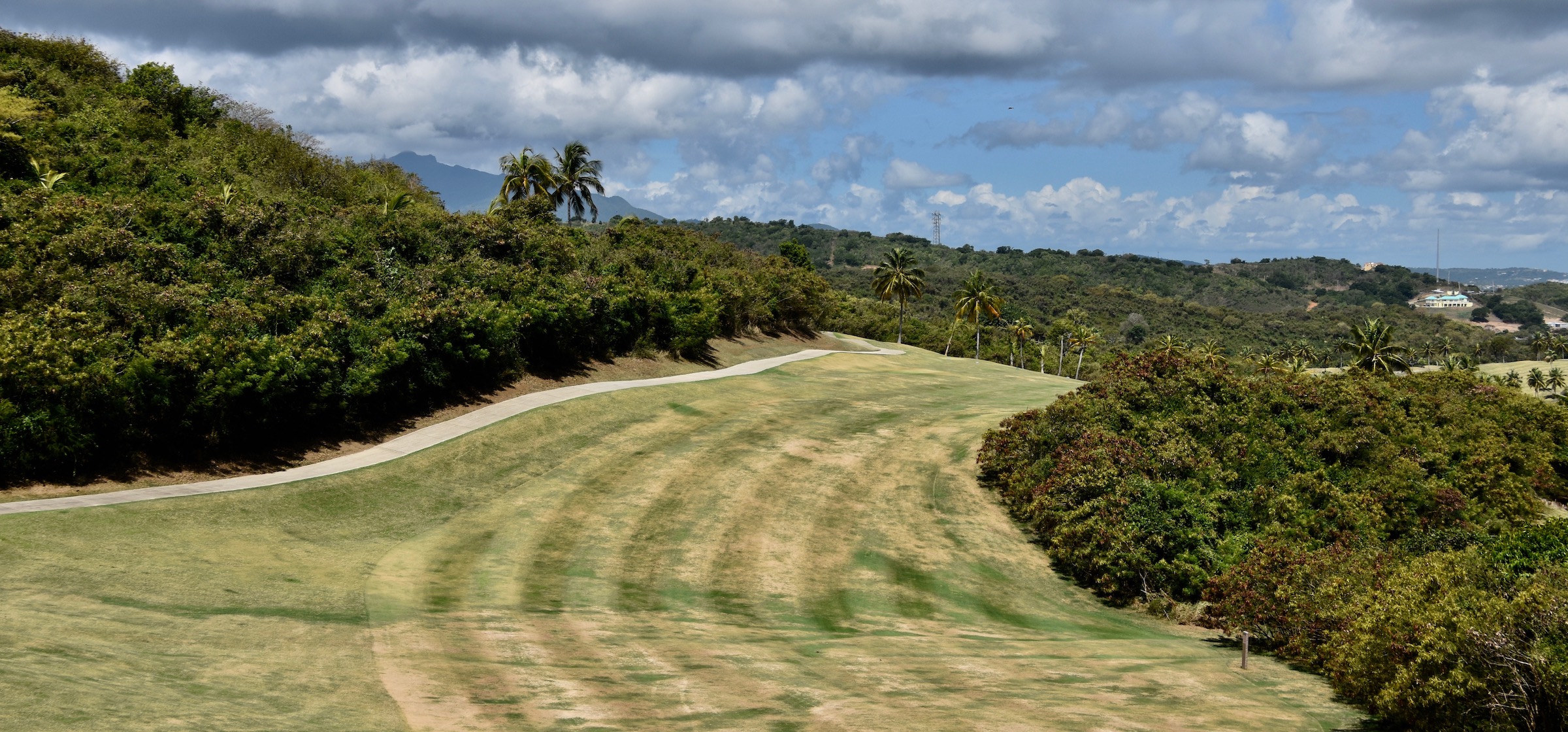 From the tips the course plays to a modest 6,746 yards, but today I will play the senior men's tees at 5,819 yards. There is an in between option of 6,378 from the regular men's tees. If I had known in advance just how many holes play downhill I would have chosen these tees.
This is a great starting hole that certainly favours a right to left ball flight unless you can hit it far enough to clear the ridge in which case you will have a very short second shot. This is what I call an up and over hole where you need to get over a ridge or face the consequences of not doing so as I found out. I confess to hitting such a poor first drive that I took a mulligan and hit what I thought was a perfect second drive as it landed high on the left side of the fairway near the top of the ridge. Taking my eye off the ball I got into the cart and drove to pick up my first ball which was at the bottom of the gully. Close by it was another ball which I assumed was a range ball but on checking it out found it was a brand new Callaway. Since no one else was around I kept it as a bonus and headed for my second drive, which was nowhere to be found. It then dawned on me that the bonus ball I had found was actually my second drive which due to the angle of the fairway had rolled back a good 100 yards from the top of the hill. Thank God there was nobody behind me to witness this embarrassment.
I returned to the first tee and this time took a much different approach, going farther right with the drive and this time making it over leaving me with this approach shot and a par with only two mulligans.
Despite my poor start I loved this hole and especially the view looking back to the club house.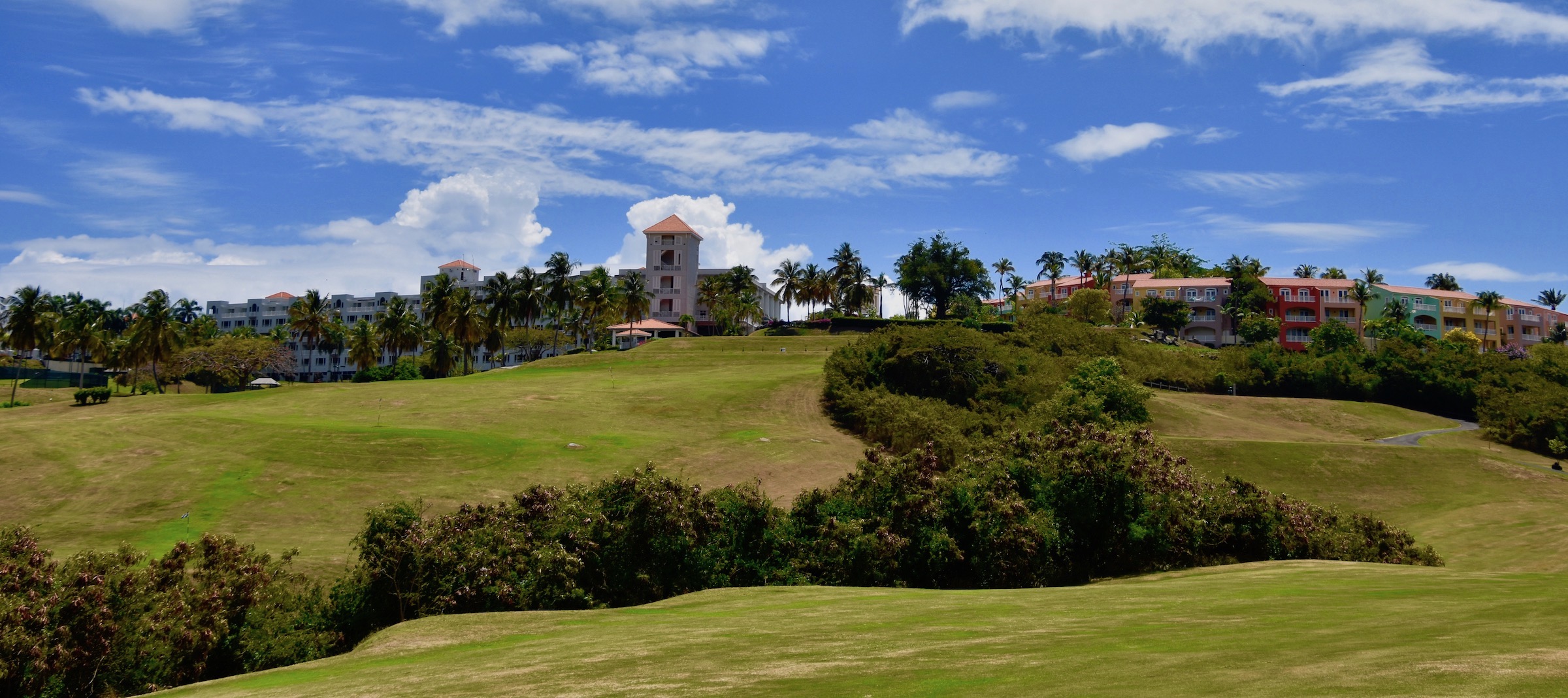 #2 – 333 Yard Par Four – Handicap 13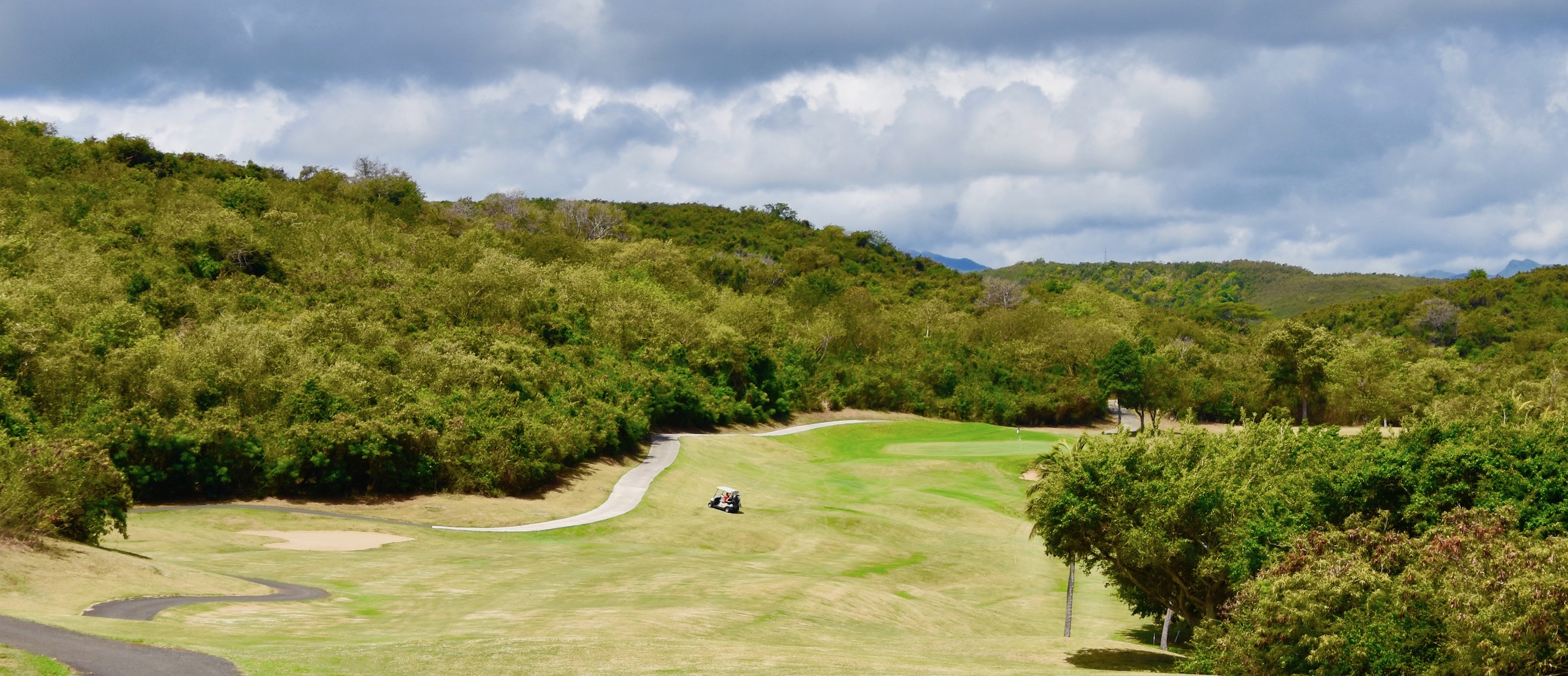 #2 is a downhill slight dogleg right that really doesn't require a driver. Keeping it in play is all you need to do and you should have a wedge into this small green.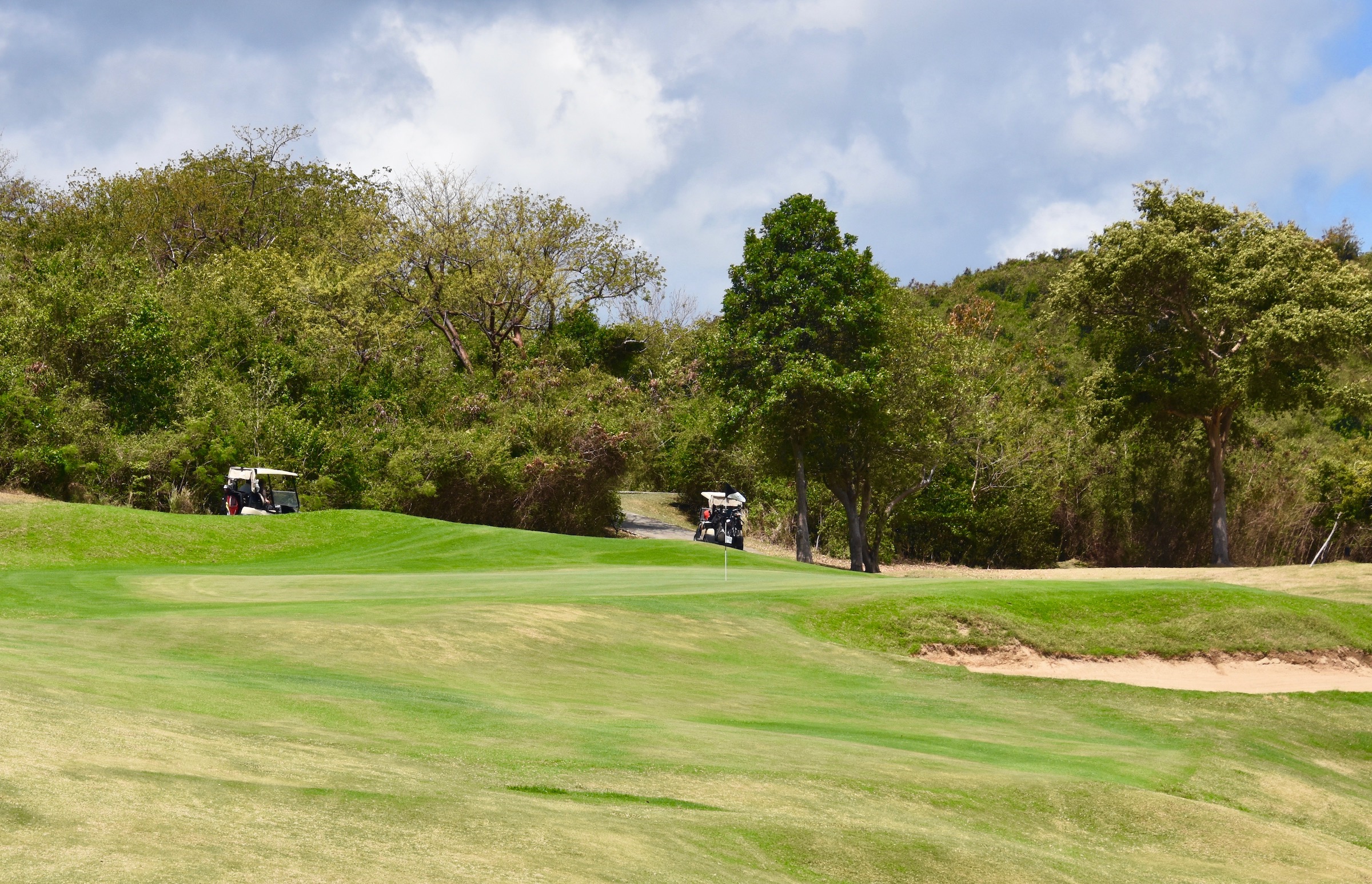 As with the other two courses I had already played, there were not a lot of golfers on the course and when I did catch up to a group such as this on #2, I was waved through on the next tee.
El Conquistador # 3 – 536 Yard Par Five – Handicap 5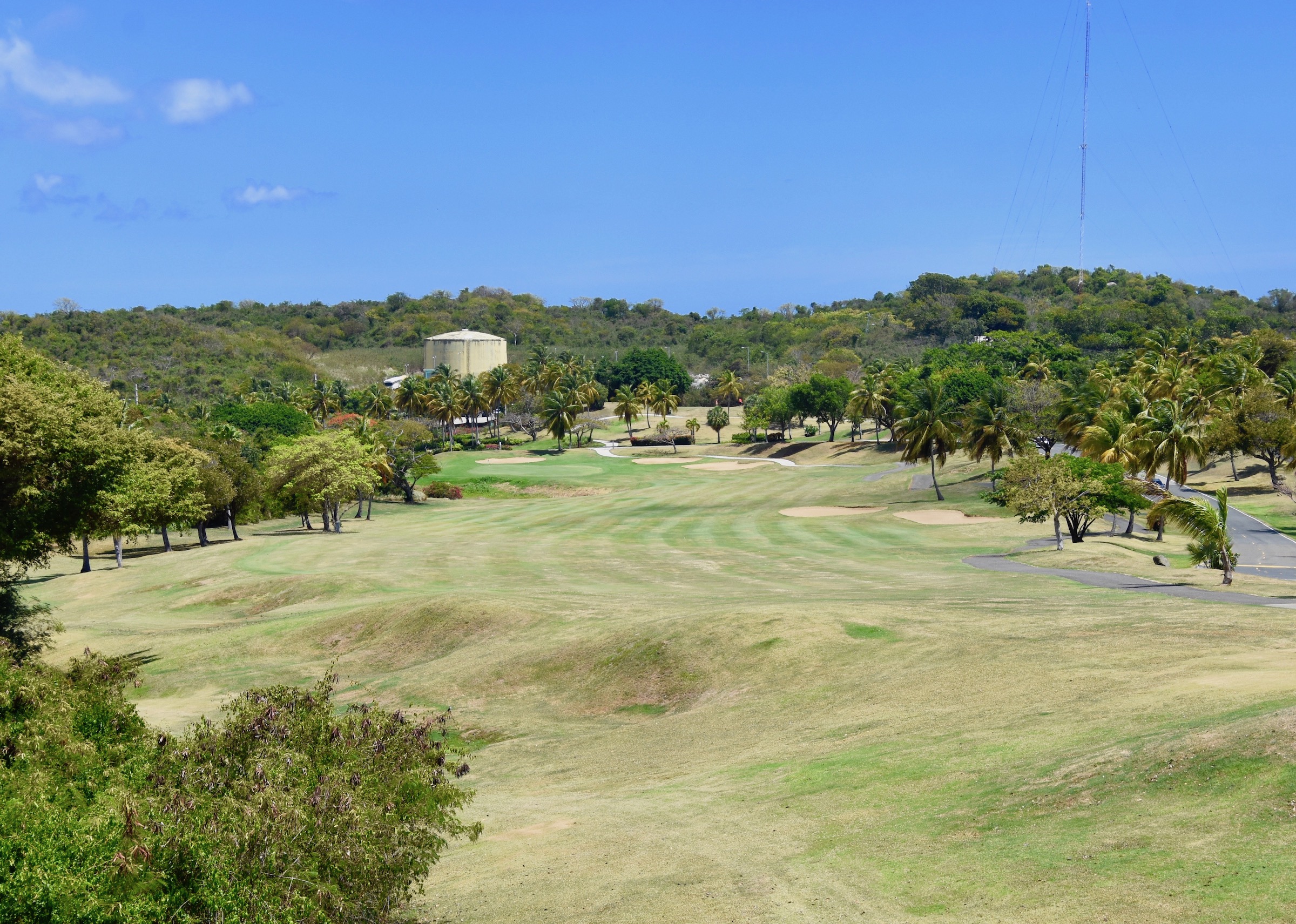 This is the longest hole on El Conquistador by a good 50 yards, but it is all downhill making it play much shorter. This is definitely an ego boosting hole as the fairway is generous and if you can avoid the traps on the right your ball will roll forever. You can try to reach the green in two with a wood or place it safe as I did by landing it somewhere close enough to making getting down in par quite doable with a birdie possibility on the table if you make a good pitch shot. The greens are quite flat in most places and given the fact that the grass is on the longish side they are quite slow. If you get the speed right, putts from a decent range have a good chance of finding the hole.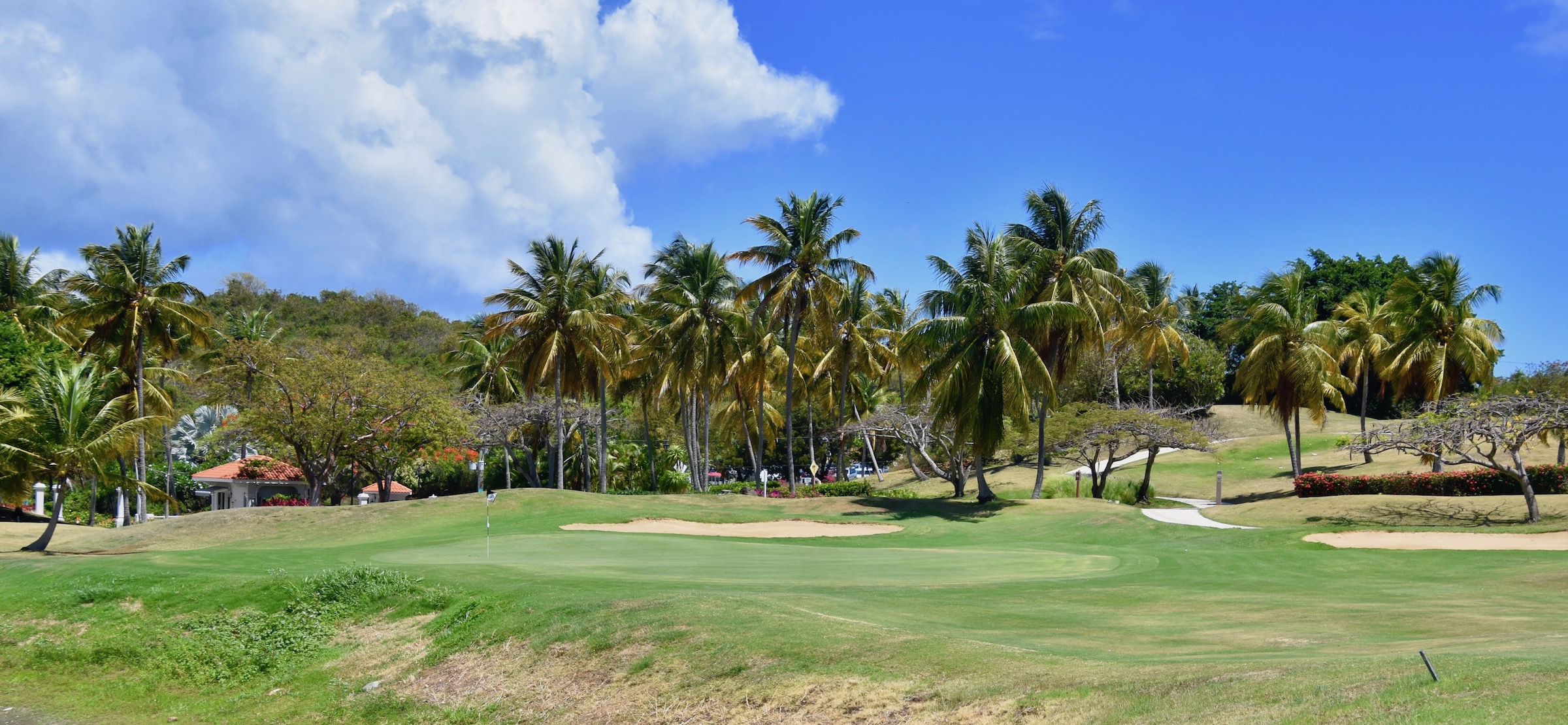 #4 – 132 Yard Par Three – Handicap 15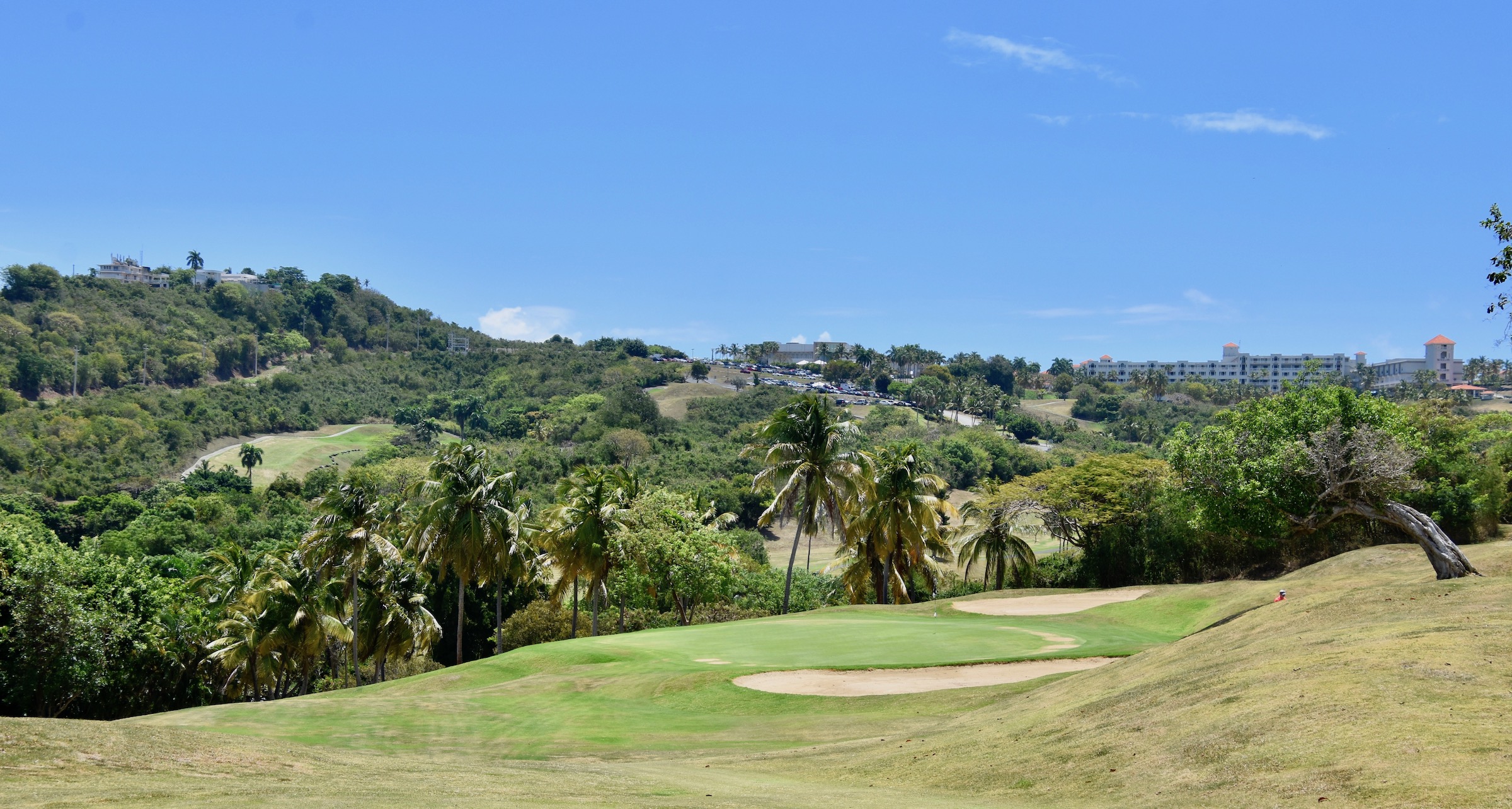 As hard as it is to believe you are still going downhill on #4. This is because between a number of holes the cart path goes uphill to the next tee.  Even though it is short, there is a lot that can go wrong on this hole starting with the two traps and the precipitous drop off at the back. You need to hit a seriously high ball to hold this green so don't under compensate for the fact it is downhill. Choose the club you think you need and then put it back in the bag and take one less and swing hard. Who knows? It just might work.
This is a very good first par three at El Conquistador.
El Conquistador #5 – 373 Yard Par Four – Handicap 1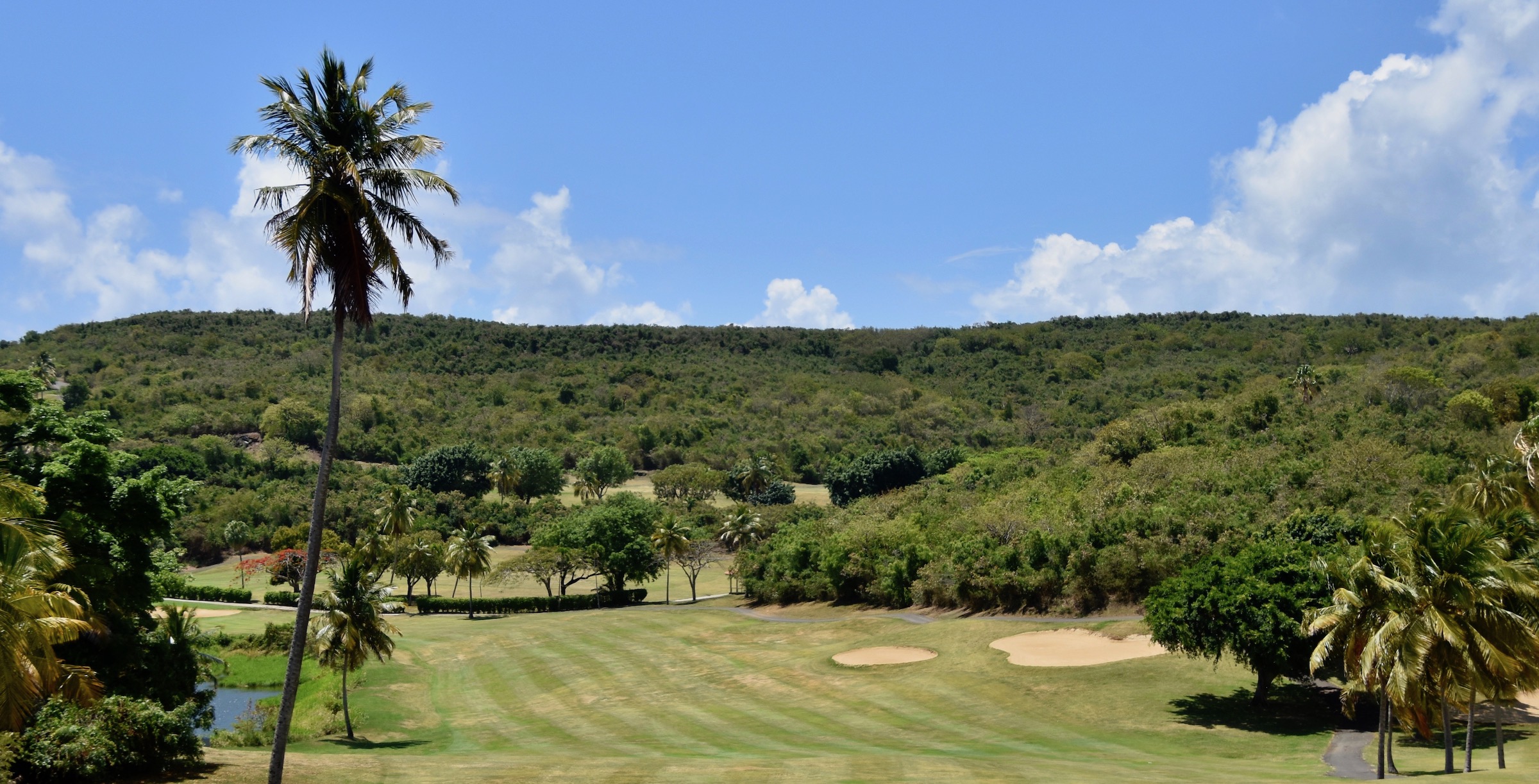 The # 1 handicap hole is a serious dogleg left that is probably going to leave a daunting second shot over water. You definitely need some length off the tee here, but have to see that the fairway slopes toward the water hazard so staying a bit right for your landing spot is essential. That is made the more difficult by the well positioned traps.
After a decent drive that rolled as close to the hazard as I could have wished I still had this facing me on the second shot. It's a lot father than it looks in this photo. This is a very challenging hole.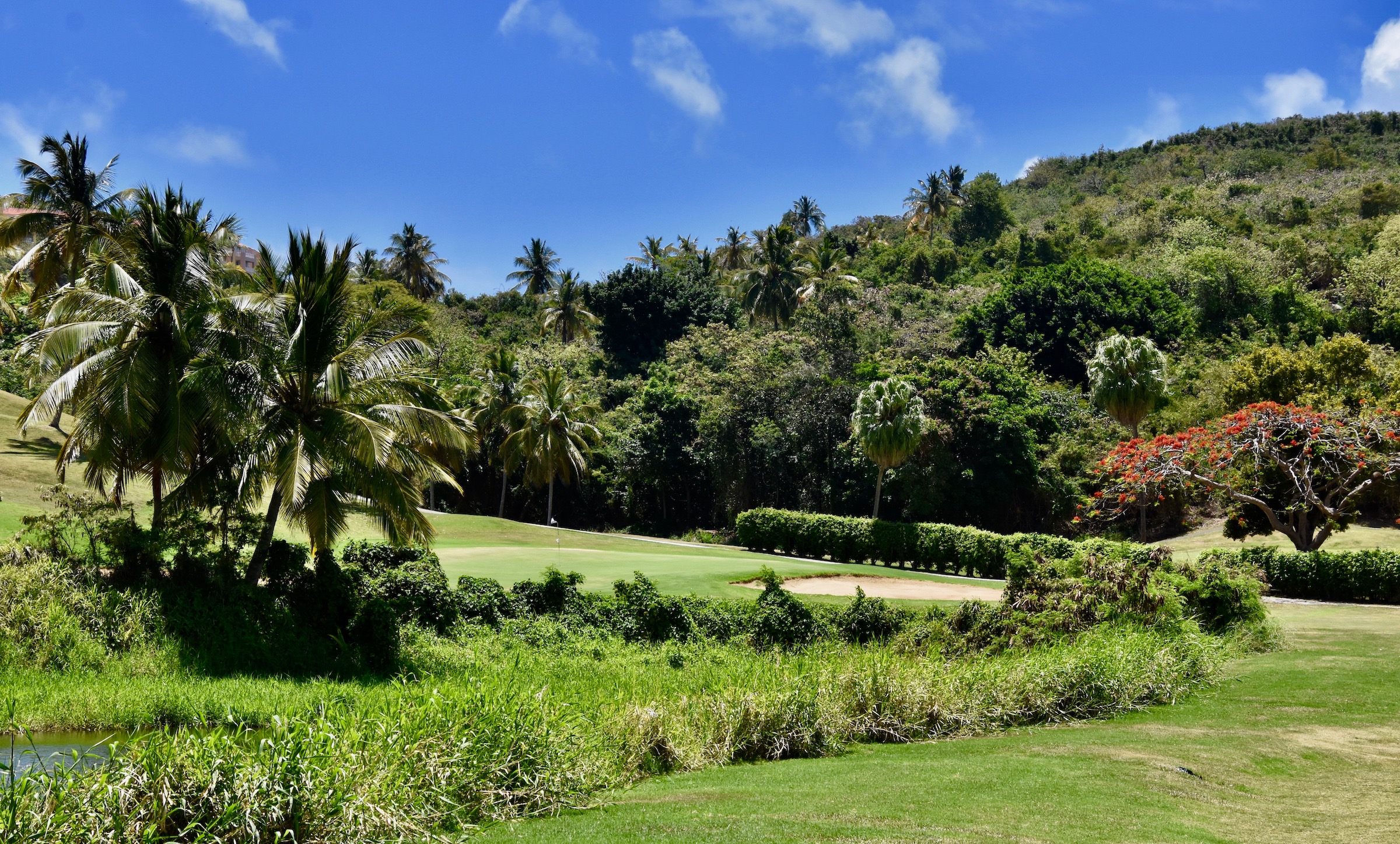 #6 – 409 Yard Par Four – Handicap 3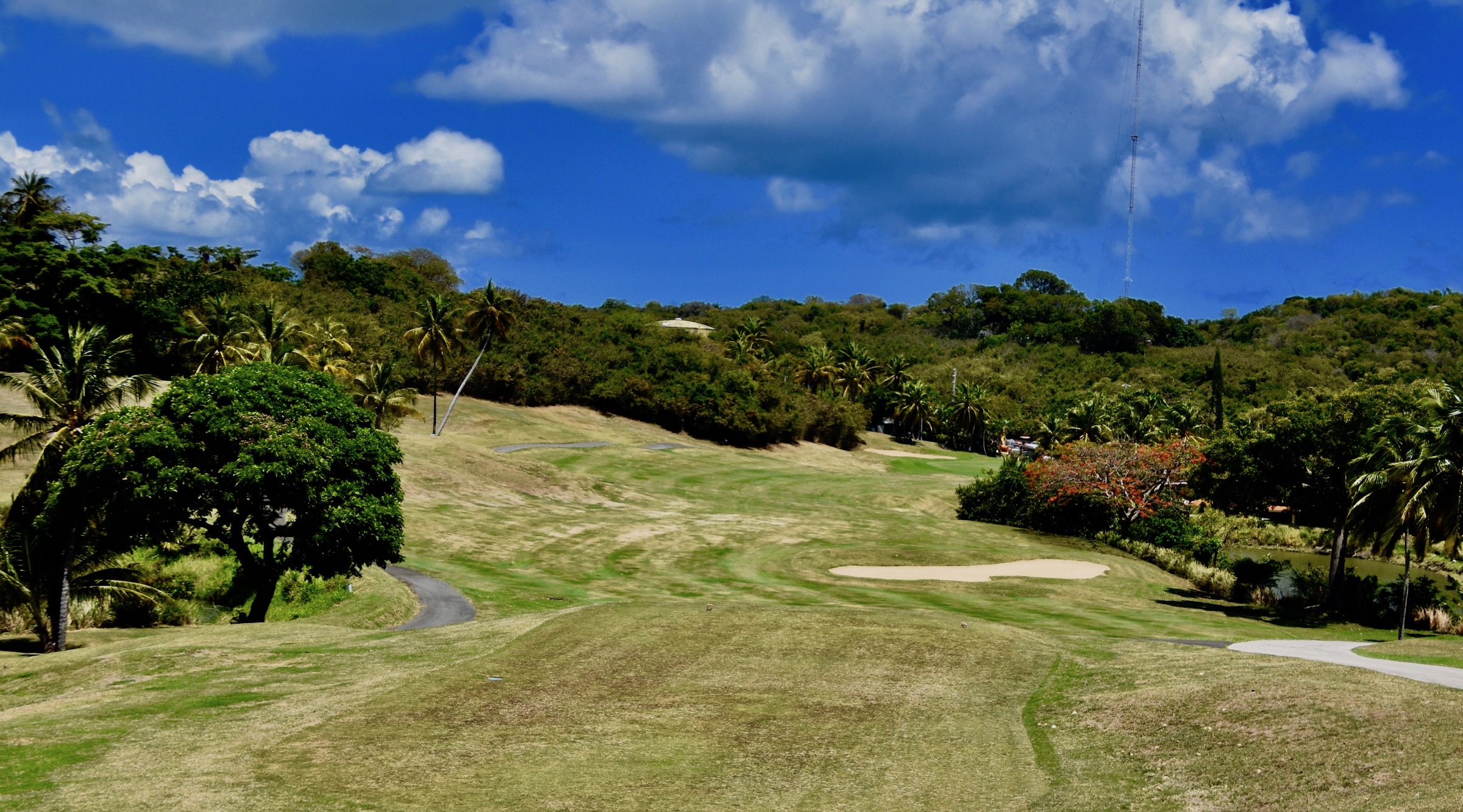 #6 at El Conquistador is the only par 4 over 400 yards and although slightly downhill is still a long hole with fairway that will cause difficulties for those with a left to right ball flight. After a reasonable start Hills throws two tough holes in a row to let you know that all is not sweetness and light on this course. This would be a gorgeous hole when conditions were prime.
I did find myself sitting pretty after my tee shot failed to make the dogleg and ended up under this poinciana tree with a blind second shot.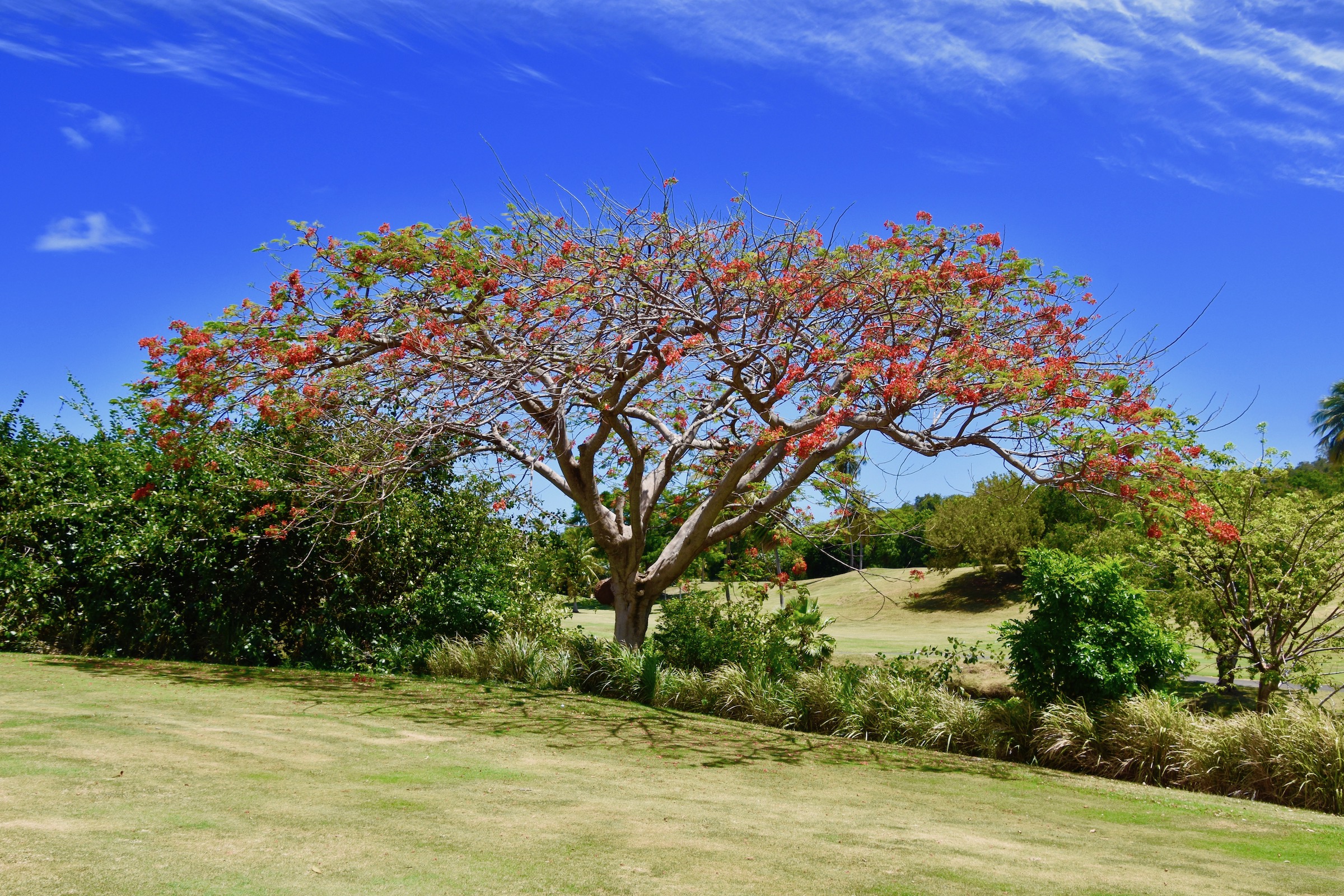 El Conquistador #7 – 277 Yard Par Four – Handicap 17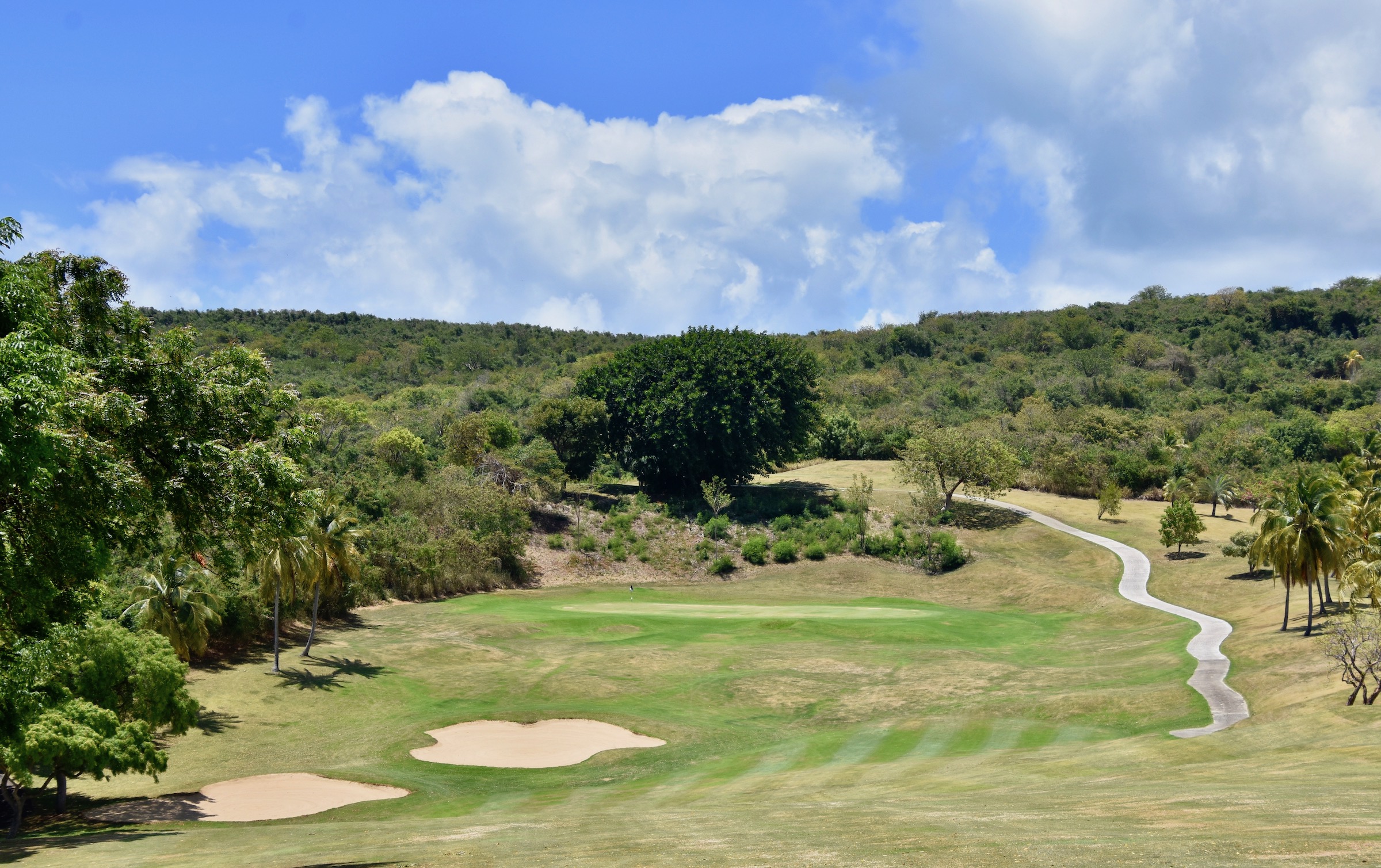 This hole that looks more like a long par three than a par four, is by far the best chance for a birdie on the entire course. Usually short par fours have a lot more protection around the green than this one so you should have a very short second shot to one of the larger greens on the course. A nice respite after two tough holes.
#8 459 Yard Par Five – Handicap 7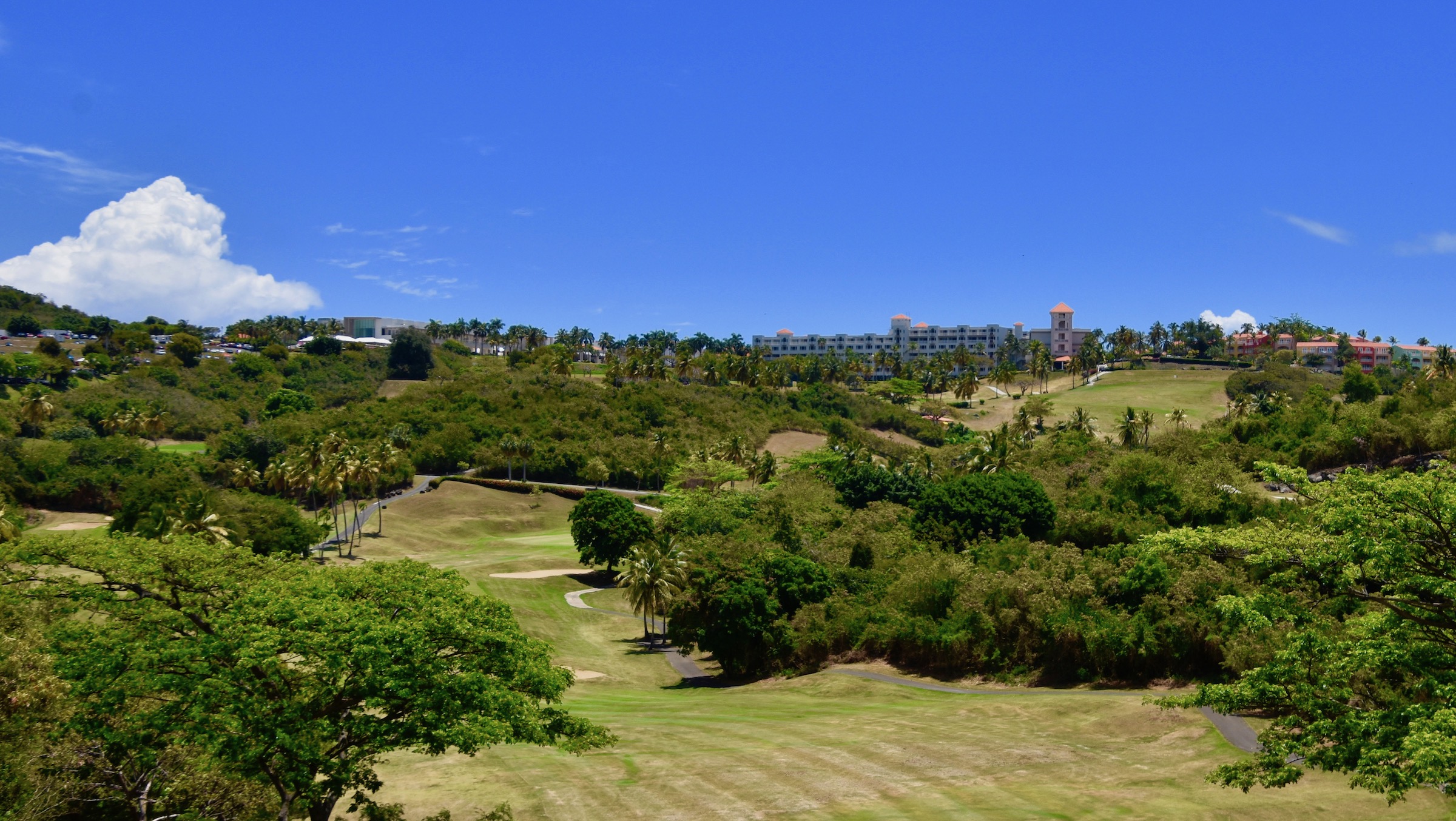 To me #8 had to be the signature hole with this great view from the tee of the resort and much of the course. This is a tough driving hole as is the second shot. Given its short length the play here is for accuracy over length, although there is the option of trying to bomb it with a driver and get home in two for an eagle attempt. However, if you miss to the right then that eagle try turns into a double bogey pretty quickly. This is definitely a thinking golfer's hole.
El Conquistador # 9 – 157 Yard Par Three – Handicap 11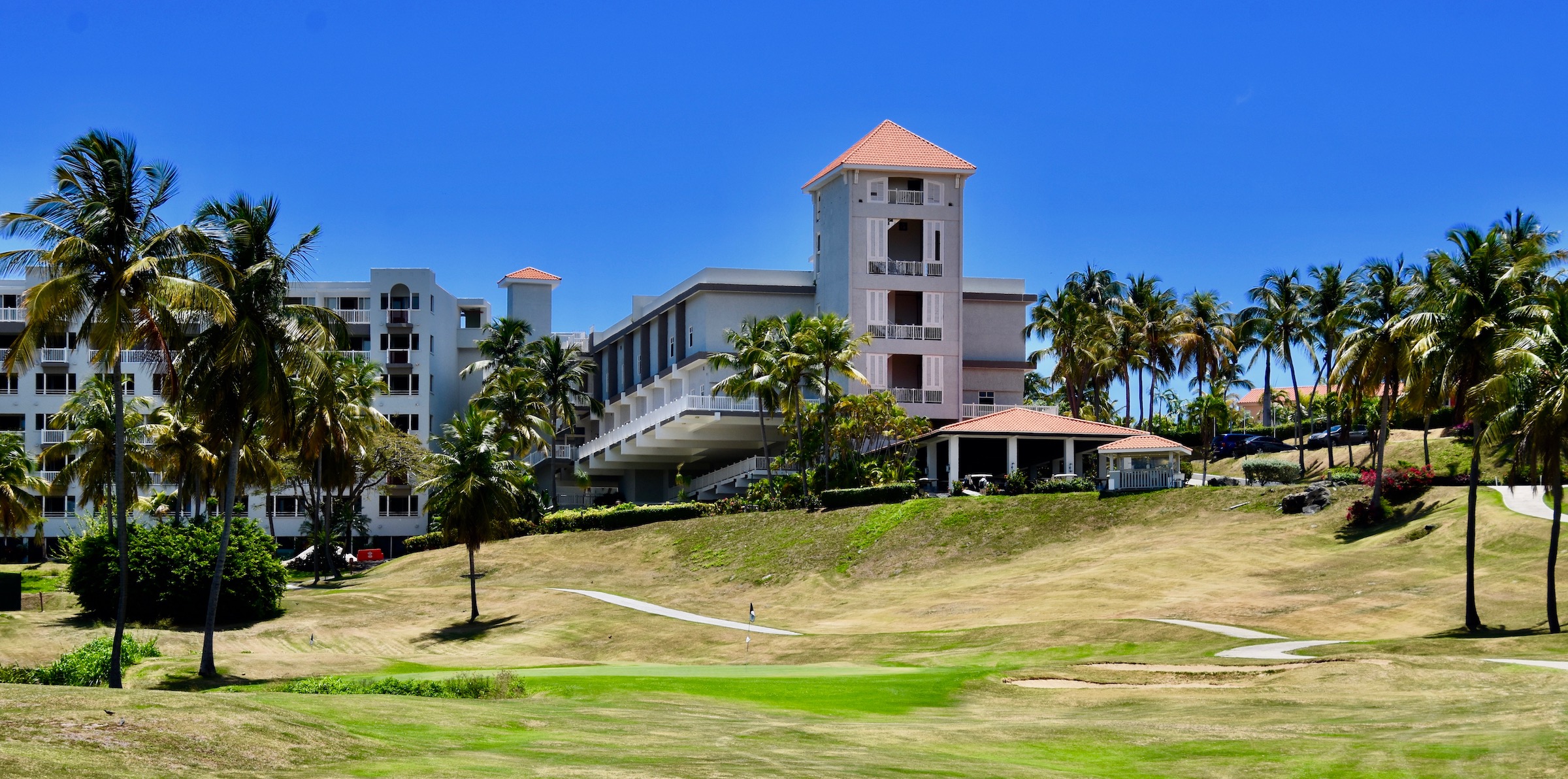 After eight straight holes that are mostly downhill you finally get to an uphill hole at El Conquistador, but it's only 157 yards so the uphill factor only applies to club selection. as anyone should be able to reach the green. However, there is a water hazard on the left side of the green that is not readily apparent from the tee box so staying right is essential.
By the end of the front nine I was seriously in love with the design of this course.
#10 300 Yard Par Four – Handicap 18
This is another very short par four that is a little tougher than #7 because of the drive, but is still a great birdie opportunity.
El Conquistador #11 452 Yard Par Five – Handicap 8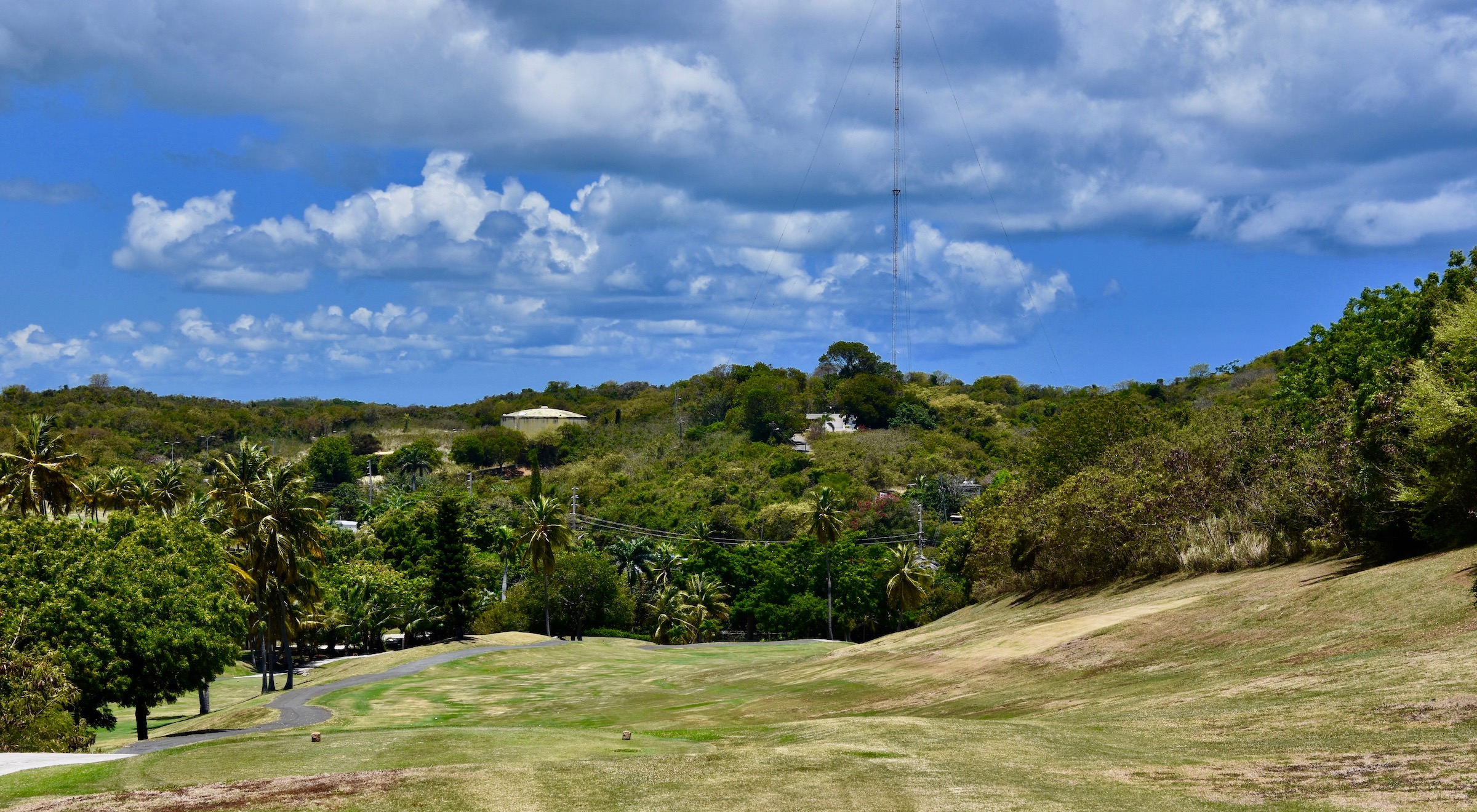 This is probably the most severely downhill of all the holes at El Conquistador and that can cause trouble as your ball doesn't want to stop until it finds the rough or another fairway. Given the short length of this hole probably two hybrids would get the job done.
This was first hole of several that these signs appears. Despite my best efforts I could find no trace of where the archaeological sites actually were as there were no further indications other than this sign.  So I guess anywhere you might lose a ball on this hole you just chalk it up to the old archaeological site free pass.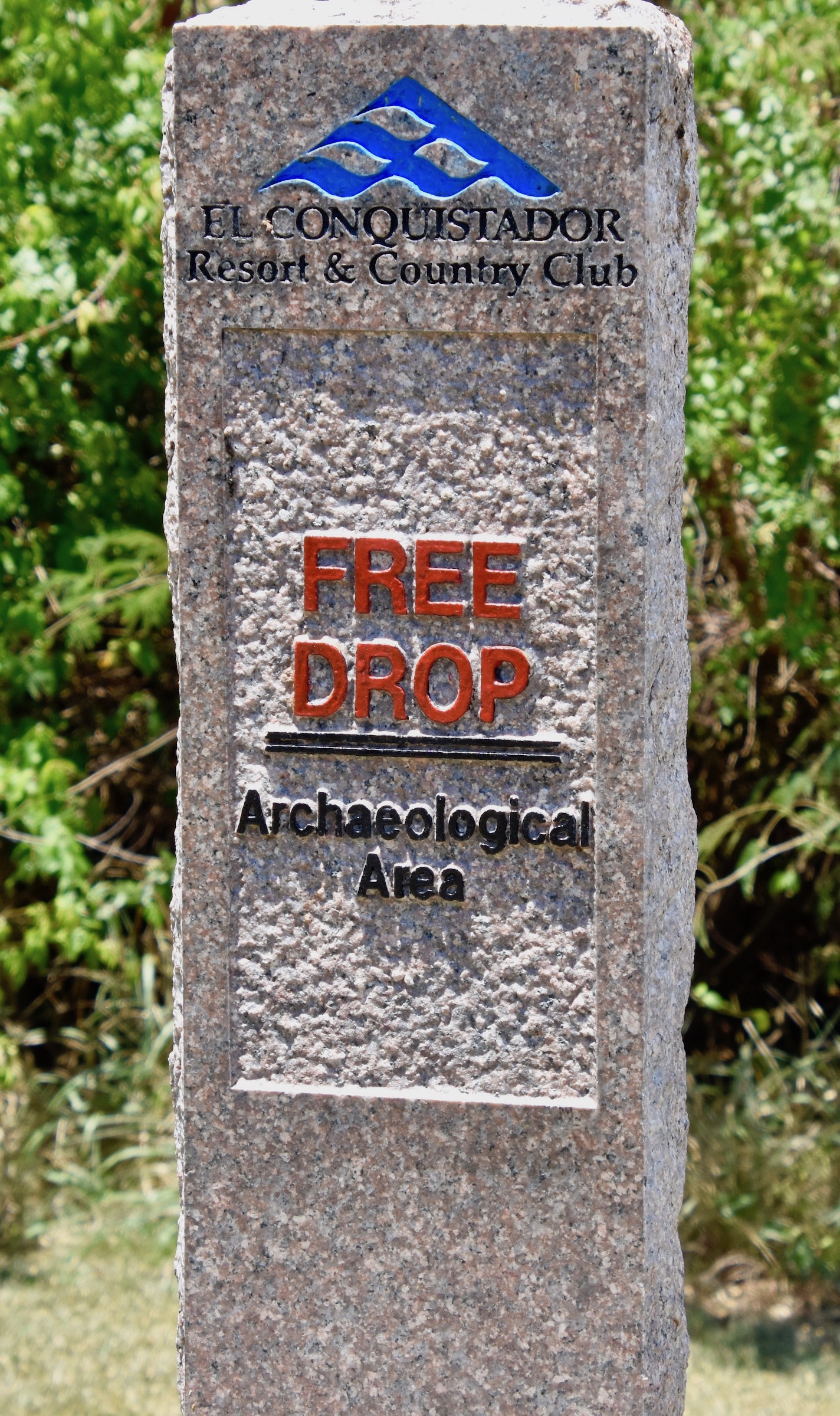 #12 331 Yard Par 4 – Handicap 4

At 12 you finally arrive at a genuinely uphill hole with a somewhat blind tee shot. A driver is not necessary on this hole which doglegs left for the approach shot. Bombers can try to cut off some distance by going right over the left side mound.
El Conquistador # 13 300 Yard Par Four – Handicap 10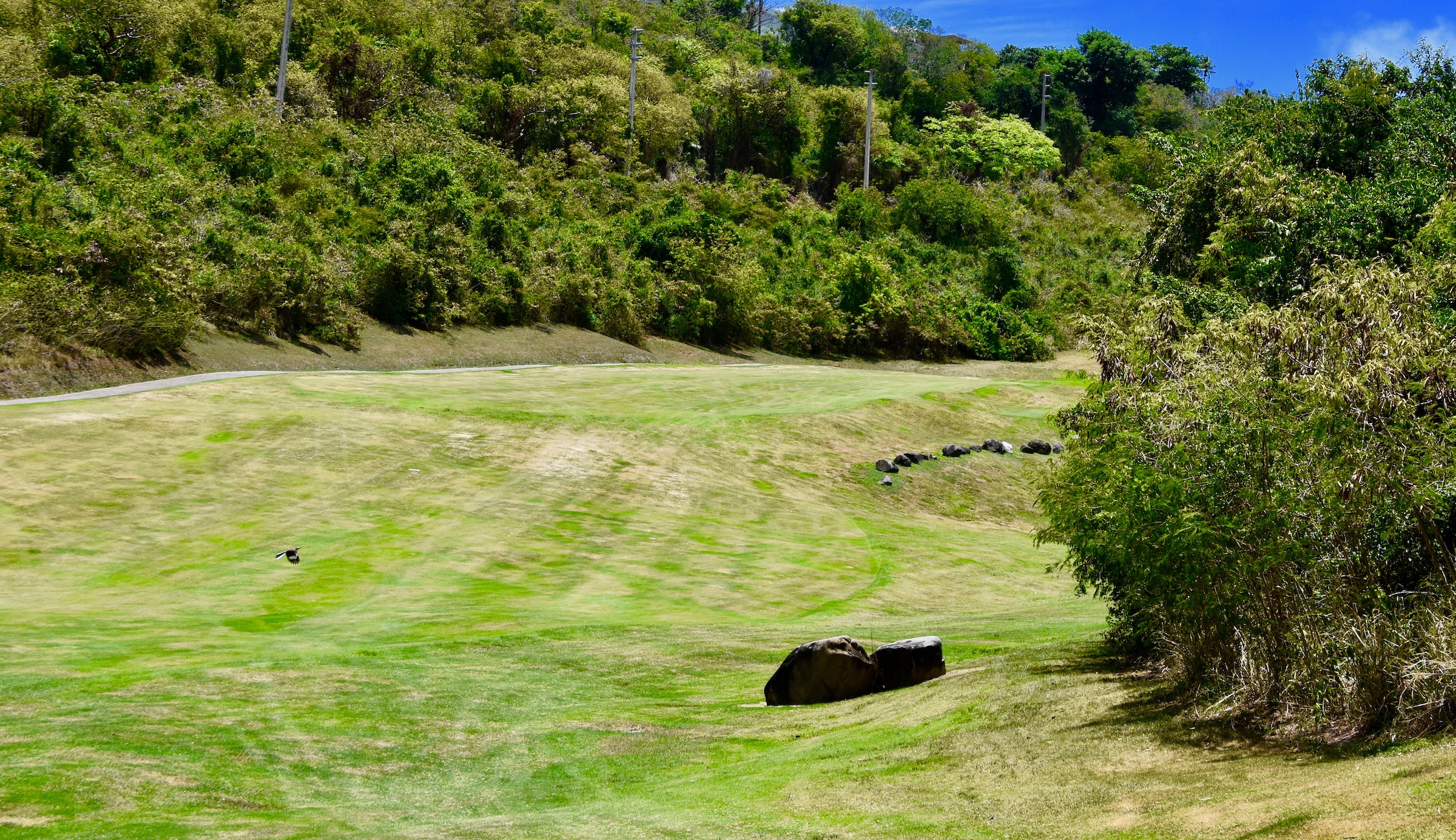 This is the best risk/reward hole on El Conquistador, but the first time you play it that is not apparent. From the tee box it looks like anything more than a mid-iron will go through the fairway and that's not far off. Assuming you do just hit the sensible tee shot you will have this look on your approach.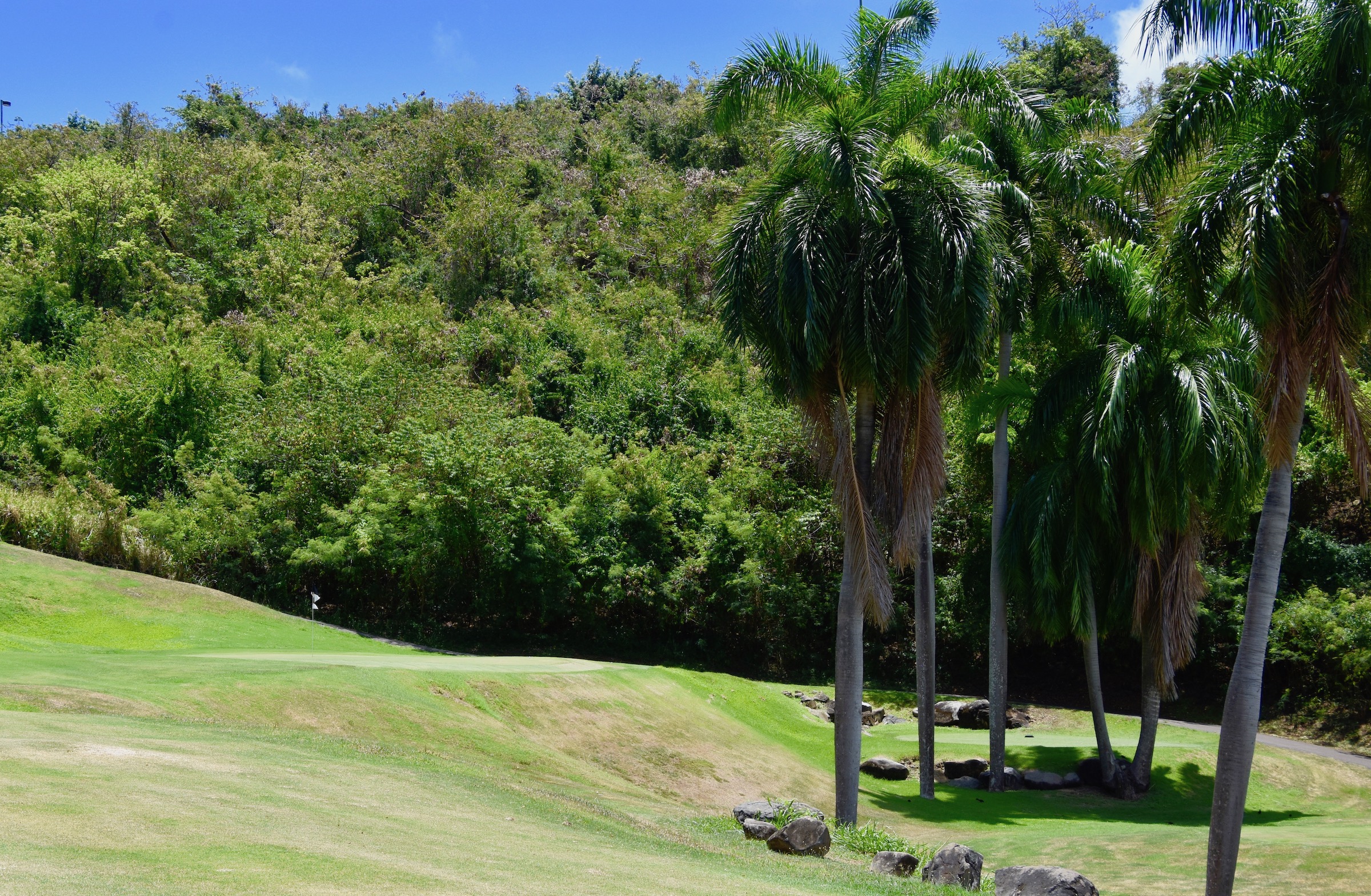 Going for the green from the tee will require a very accurate and long drive, but it is doable. The problem is that failure to make it will probably lead to a bogey or worse and that would be a disaster on a hole where a birdie is very achievable just by playing it safe. This is maybe the most interesting hole on the course from a strategic point of view.
#14 127 Yard Par Three – Handicap 16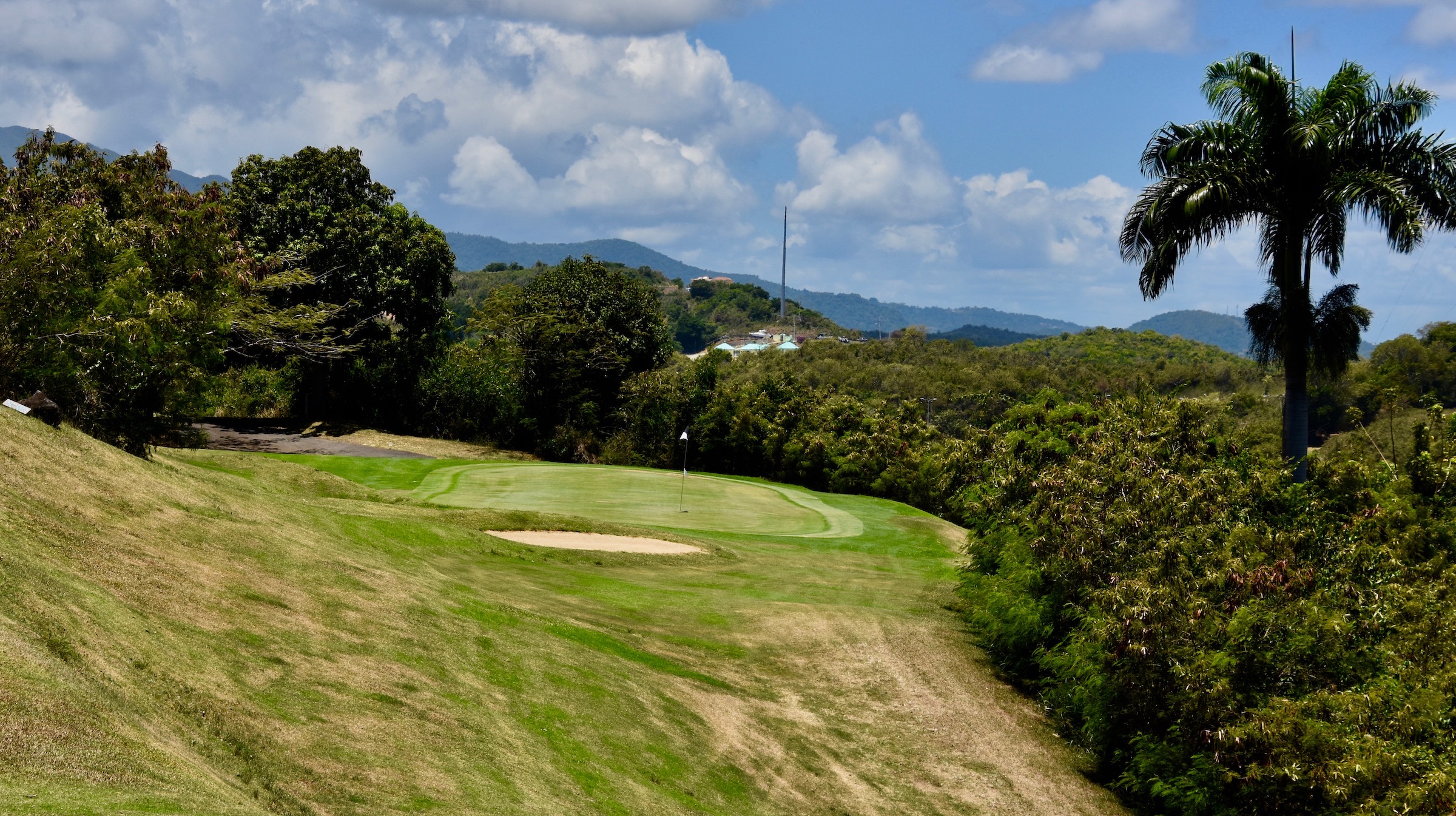 This was my favourite par three on El Conquistador. It has a very nice look to it nestled among the trees with the El Yunque rain forest in the distance. Although not long it does require some precision with trouble right, front and back.
El Conquistador #15 – 486 Yard Par Five – Handicap 6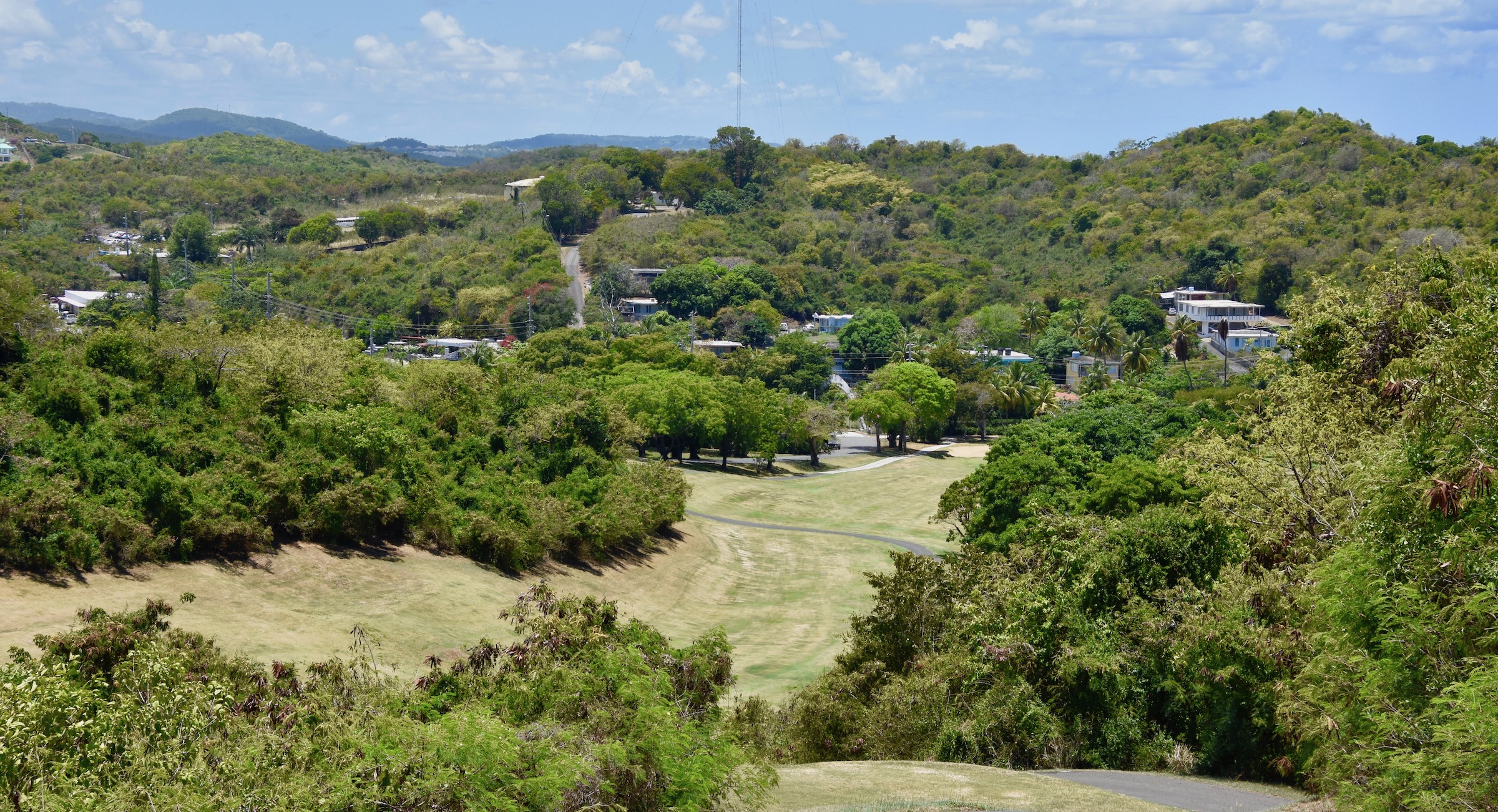 This is the most stunning and daunting look from the tee that you will find on El Conquistador. There is a 150 foot drop in elevation from tee to green. The fairway is not as narrow as it looks from the tee and if a regular golfer is ever going to hit a 300 + yard drive this is the hole to do it on. Reaching this in two is very possible although there is as good a chance of landing in one of the large bunkers guarding this green, as I did. Still even from that position par is in the cards and with a good bunker shot maybe birdie. This hole is just plain thrilling to play.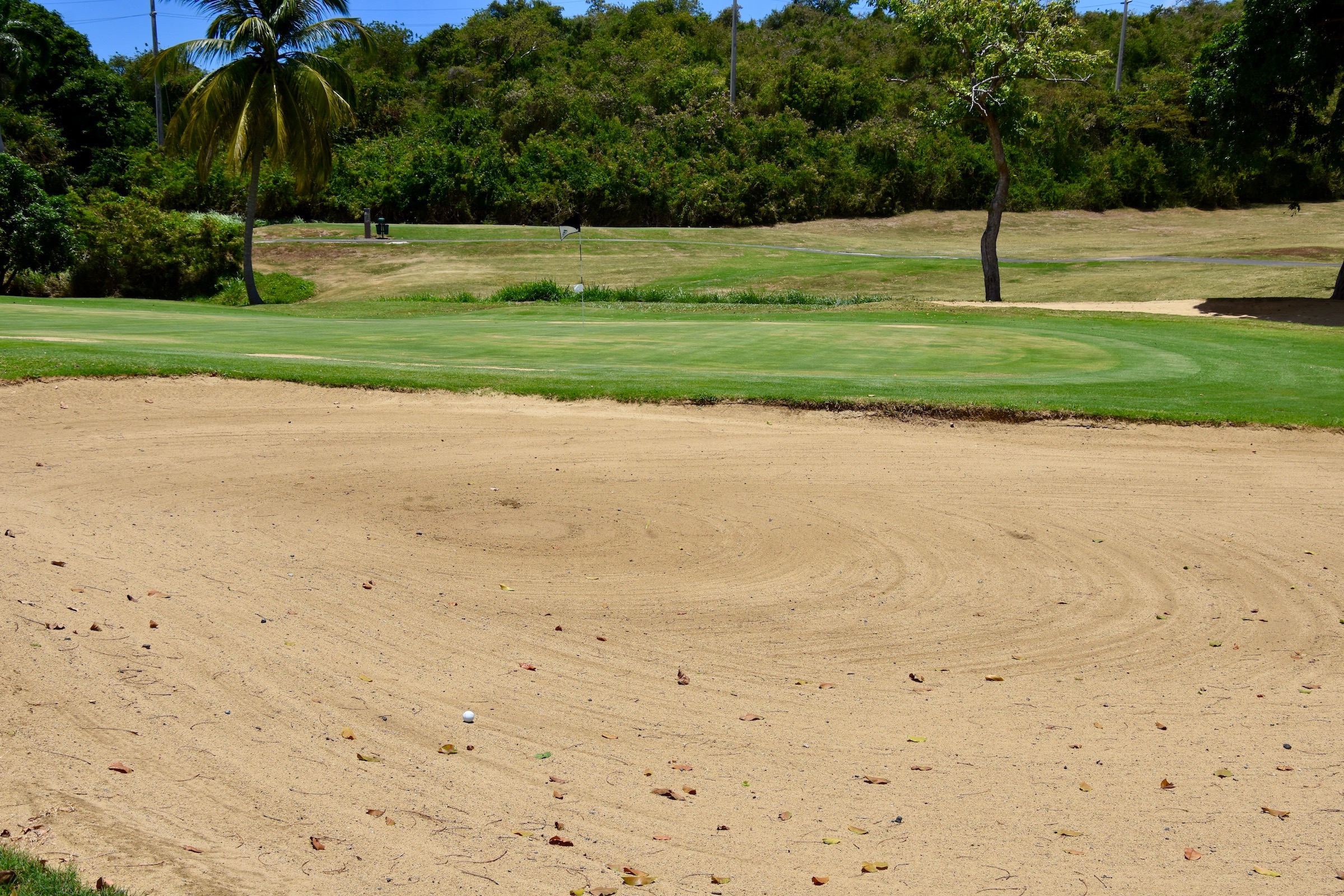 #16 353 Yard Par Four – Handicap 2
This uphill dogleg left is as difficult as its handicap rating suggests, playing much longer than its stated distance. But after the blast you get from playing #15 that hardly matters.
El Conquistador #17 142 Yard Par Three – Handicap 14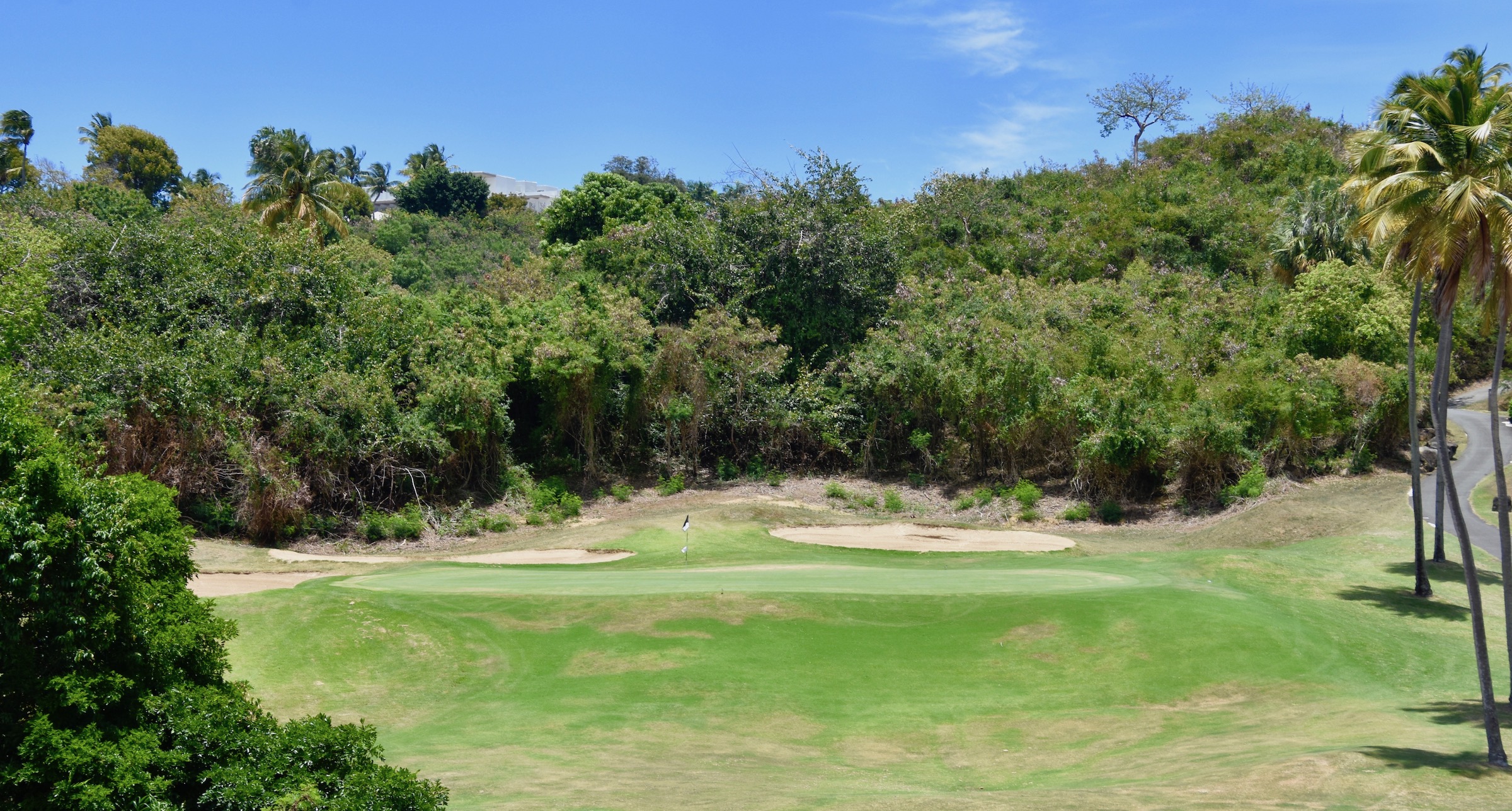 This is another really nice little downhill par three with all the trouble behind the green which tells you to take at least one club less than you were planning on.
#18 315 Yard Par Four – Handicap 12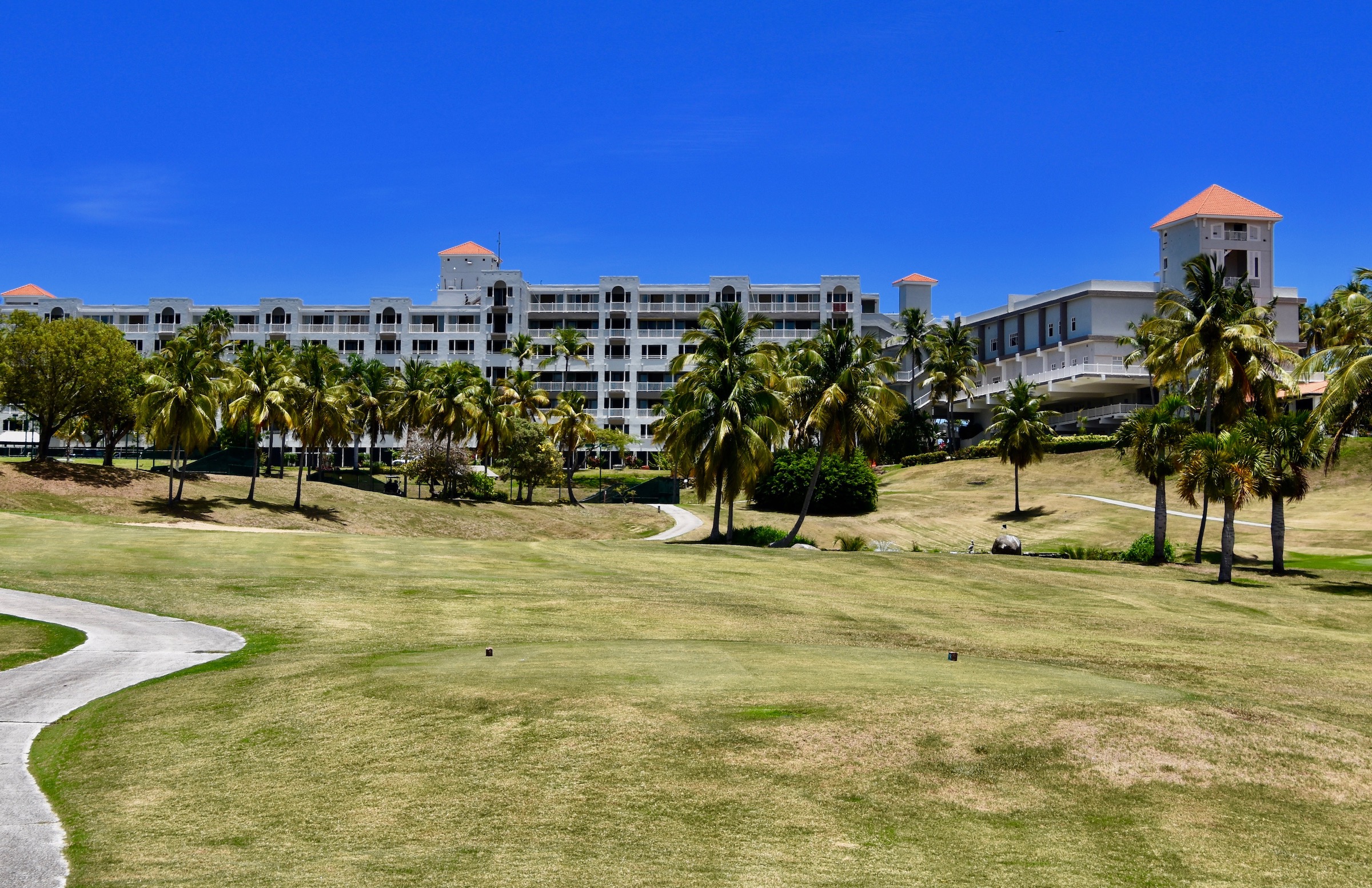 The final hole at El Conquistador is short, but requires a precision drive to a fairly narrow landing area with palm trees and water in play. Even if you get into trouble here you probably won't care because playing this course is such a delight that you might want to play 36 holes.
Needless to say I loved everything about the El Conquistador Resort and highly recommend it to golfers of all abilities.
In the next post I will complete this mini-tour of Puerto Rica with a visit to the Wyndham Rio Mar resort. I hope you'll join me.