Aranui 5 – Life on a Passenger/Freighter
In the last post on this Adventures Abroad tour of French Polynesia we circled the beautiful island of Moorea on our last day on dry land before boarding the Aranui 5 for our twelve day passage to the Marquesas Islands with stops at the Tuamotu Archipelago on the way out and back. In this post I'll describe what it was like travelling on this unique ship from the viewpoint of someone who is an avowed anti-cruiser. Please join Alison and me and the rest of the AA group as I explain why this is the one cruise that every intrepid world traveller needs to take at least once in a lifetime.
The Aranui 5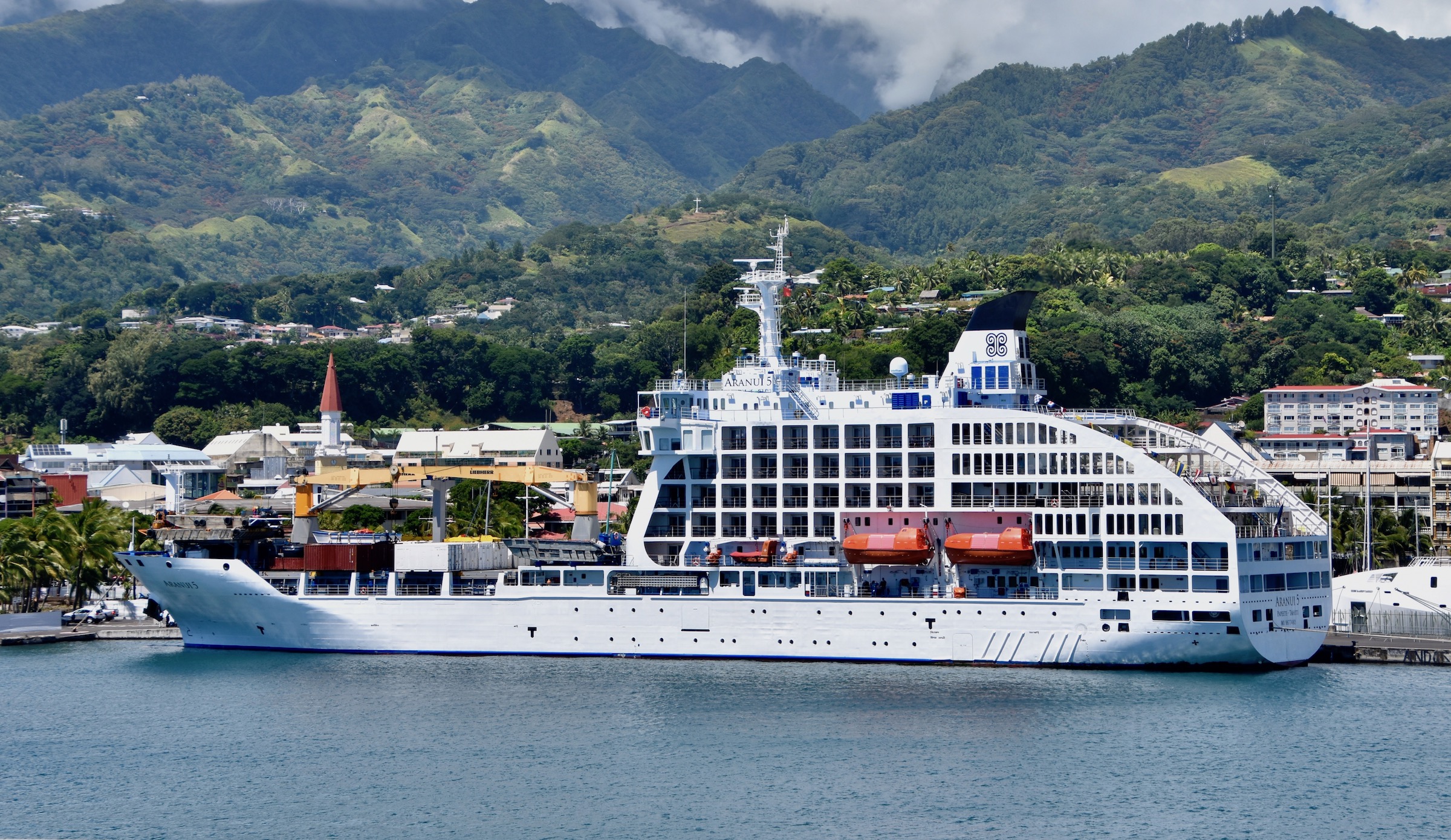 This is the Aranui 5 at berth in Papeete. As you can see it is no ordinary cruise ship nor freighter and is in reality a hybrid of both. It was launched in 2015 and has 103 passenger cabins for a maximum of 230 guests. Its principal purpose is to serve as the supply ship for the Marquesas Islands which lie some 1,400 kms. (870 miles) from Tahiti and are among the most remote places on the planet. Less than 10,000 people now inhabit the fifteen islands that make up the Marquesas. The passenger aspect of the ship allows people like our group to visit these places where few tourists ever get and provide the islanders with an opportunity to sell some of the unique products that they make from a wide array of materials. I'll go into more details on this as we visit each island.
The captain of the Aranui 5 is French, but all the rest of the crew are French Polynesian with quite a few calling one of the Marquesas their home. Unlike many cruise ships, the crew fraternize quite freely with the passengers and there are very few areas on board that you cannot enter, including the bridge.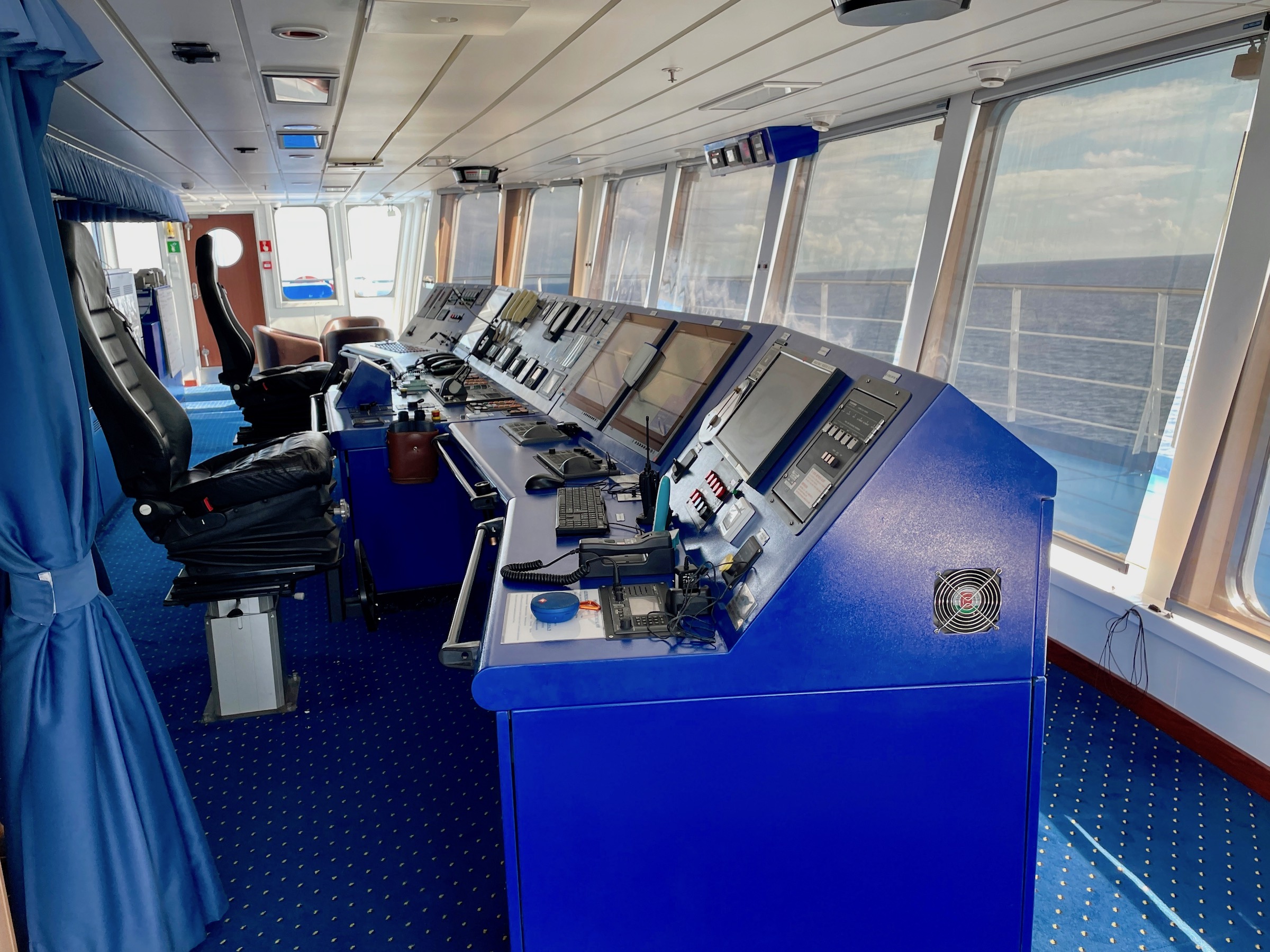 My previous experiences on cruises, which admittedly are minimal, featured very tiny rooms on a Turkish gulet, only a bit larger on a Nile river cruiser and slightly bigger than that on a motor yacht in Croatia. My expectation was that the Aranui 5 would be no different. I couldn't have been more wrong. The Premium Suites that AA had booked for us were huge with a separate living and bedroom area. Best of all was a real balcony where we could both sit in comfort and watch the sun rise or set each day.
This is cabin 6308 with a king size bed.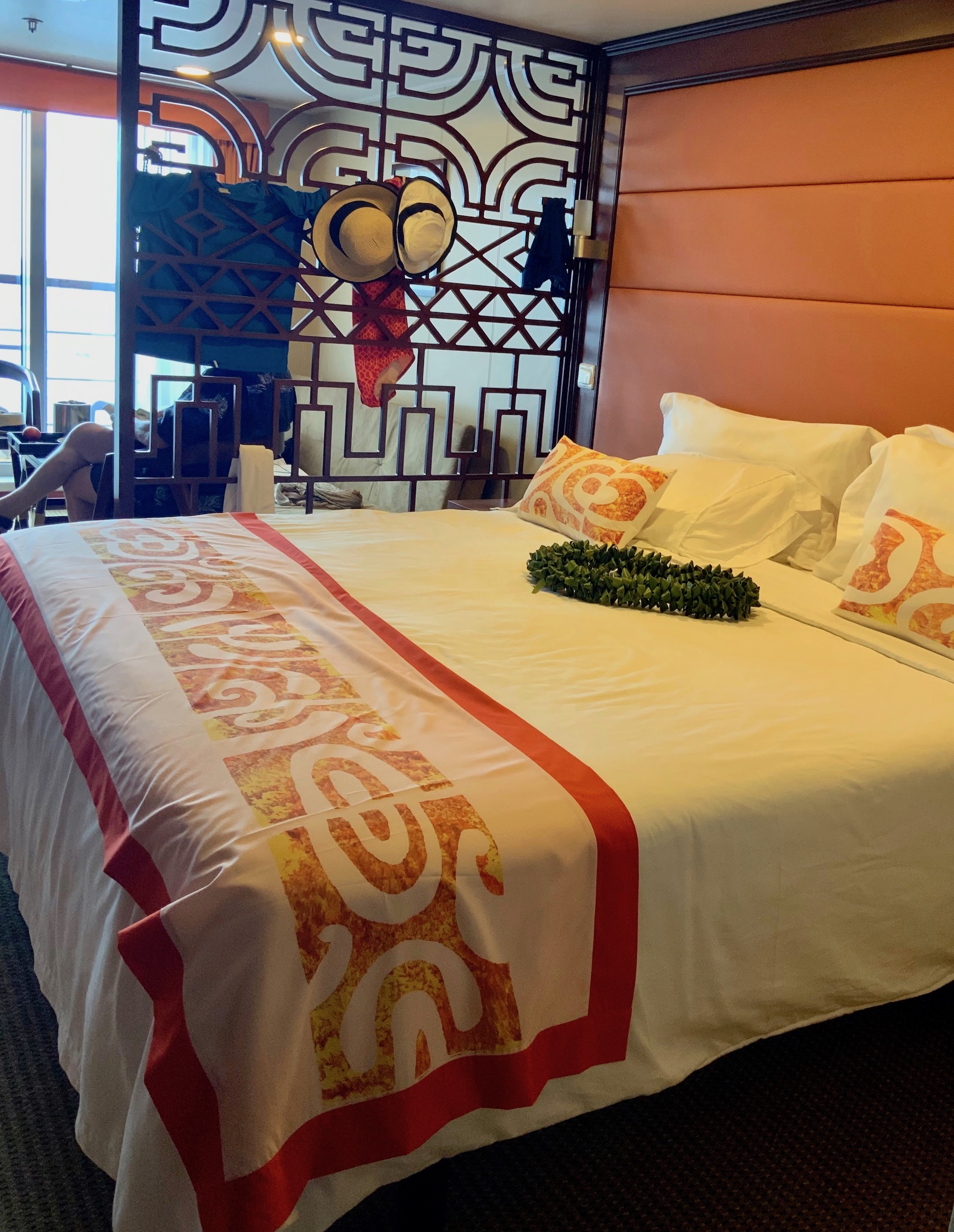 This is the bathroom in which you could actually turn around in, something you couldn't really do on my previous cruise experiences.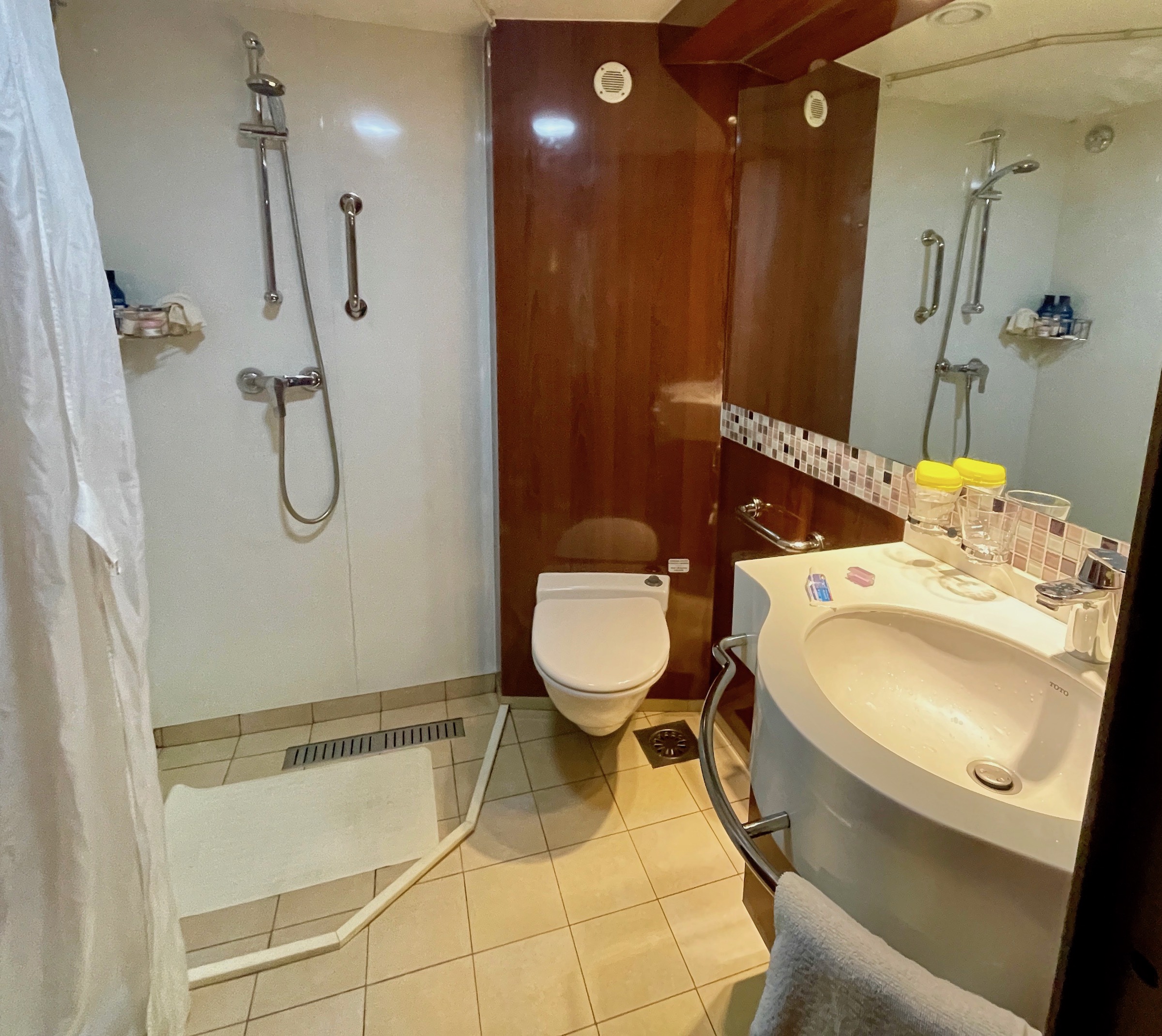 This is the sitting area.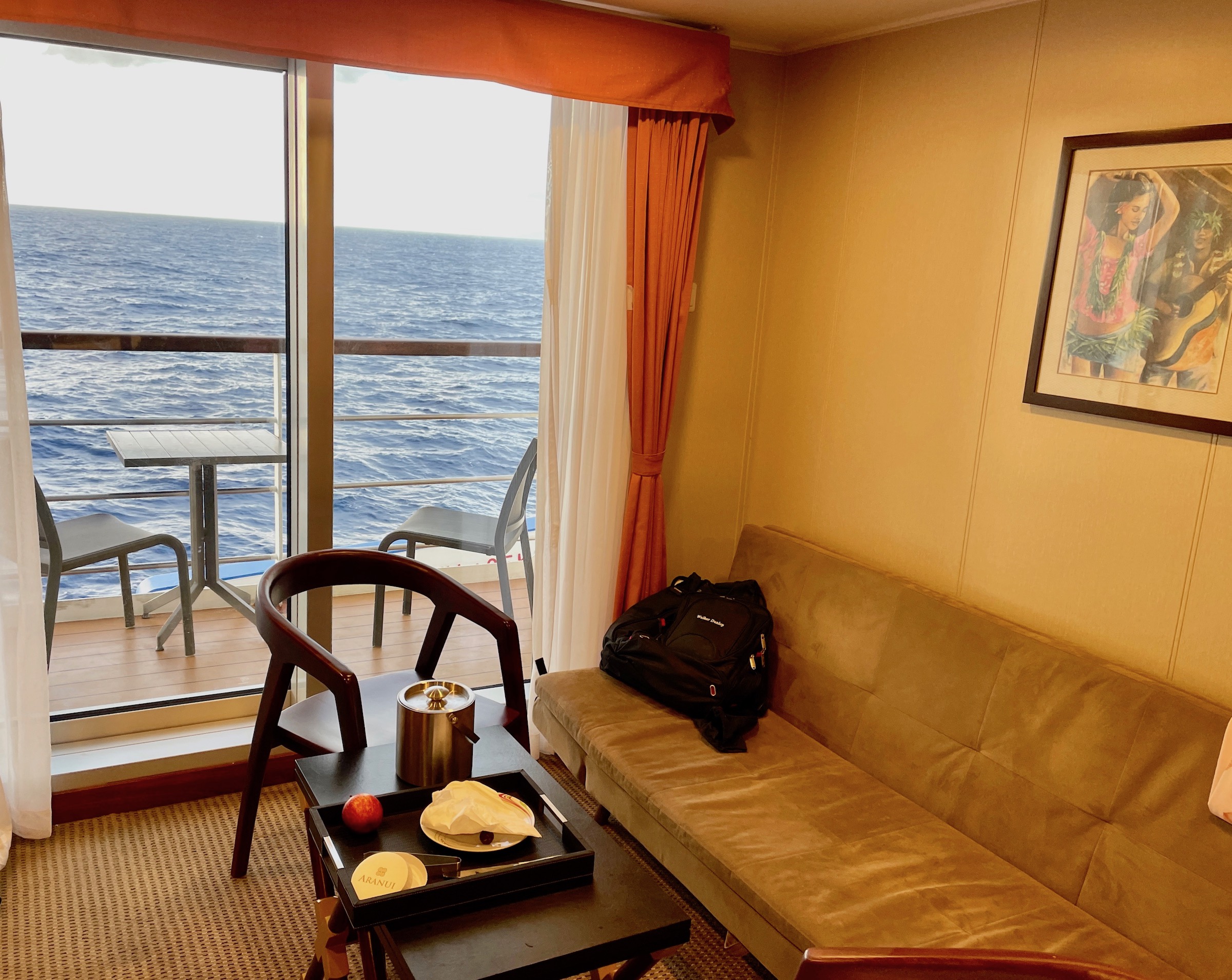 And this is the balcony.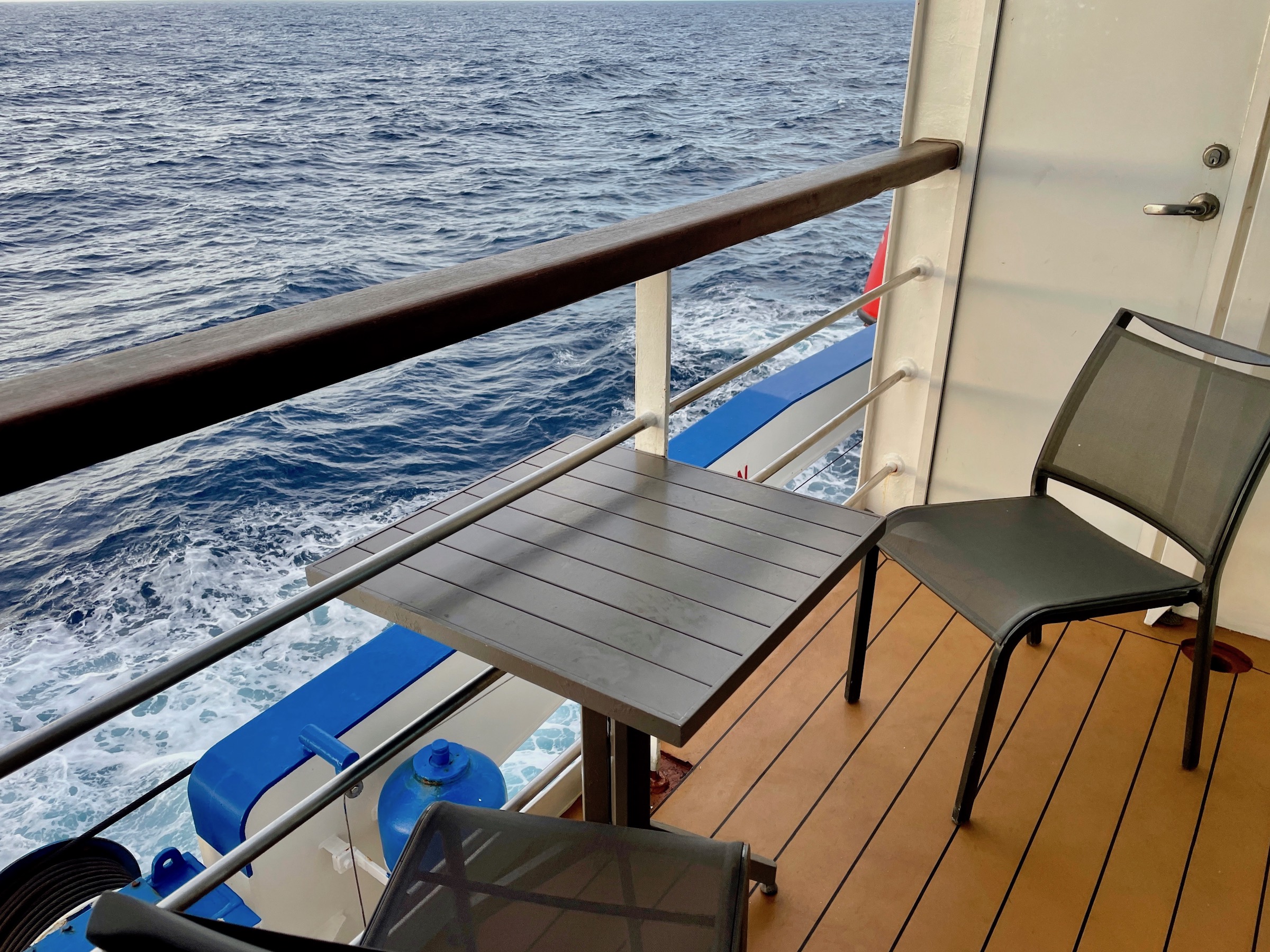 Most modern cruise ships are so big that the passengers don't really get the feel of being actually on the water. On the Aranui 5 it is the complete opposite. I loved sitting on one those chairs with the ocean only a few feet below. I shot this video to give a better idea of what I mean.
Although I didn't capture it in the video, sitting on the balcony was a great place to watch for pelagic seabirds like boobys, noddys, petrels, shearwaters and terns. On some days there would be scads of flying fish fleeing from the wake of the ship and on others an occasional pod of dolphins.
So, to sum up, the cabin far exceeded my expectations. The only downside was that there really was no internet which I found was only marginally reliable at the reception desk a few floors below. The only reason I found this a problem was that I could not access my website and upload photos each day as I usually do, but that is a pretty petty first world problem. Also, don't expect anything in English on the TV other than a few videos that reran constantly. Again, not a big deal. Sitting on the balcony watching the sea go by was far more entertaining.
This was one of the first cruises to take place with passengers on board since an almost two year delay because of Covid. We had originally been scheduled to go some 18 months earlier and like pretty well everyone in our group were more than happy to finally be able to travel again, albeit with some Covid limitations. Although the Aranui 5 could take up to 230 passengers there were only about 160 on this cruise. Of these most were French with about 30 English speakers of which our group was about half and a smaller contingent of German speakers. Our group had two designated dining tables.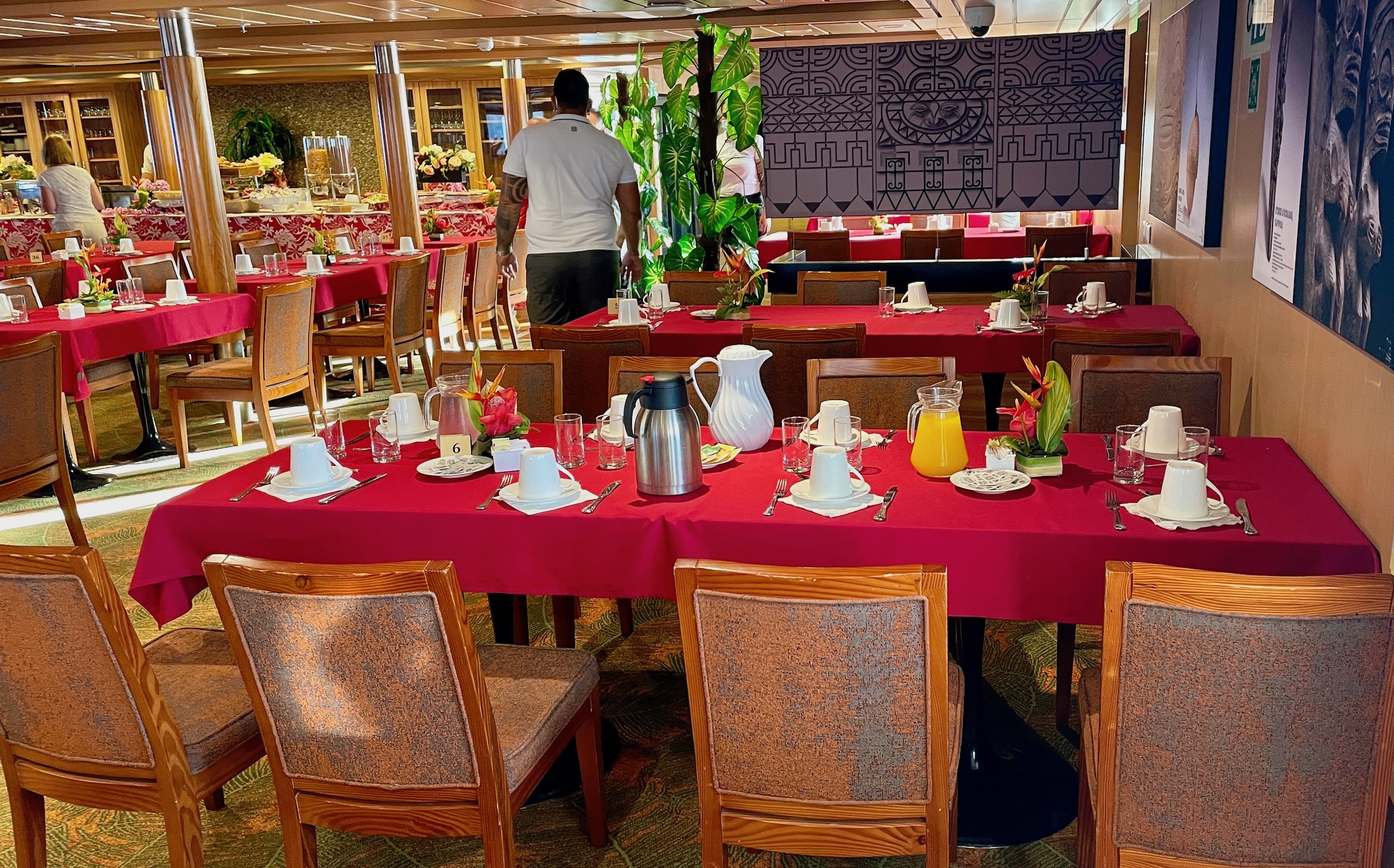 As this was a French ship one would expect pretty good food and those expectations were certainly met. Each morning we had a buffet with fresh croissants and omelets if you wanted them or tropical fruits for lighter appetites.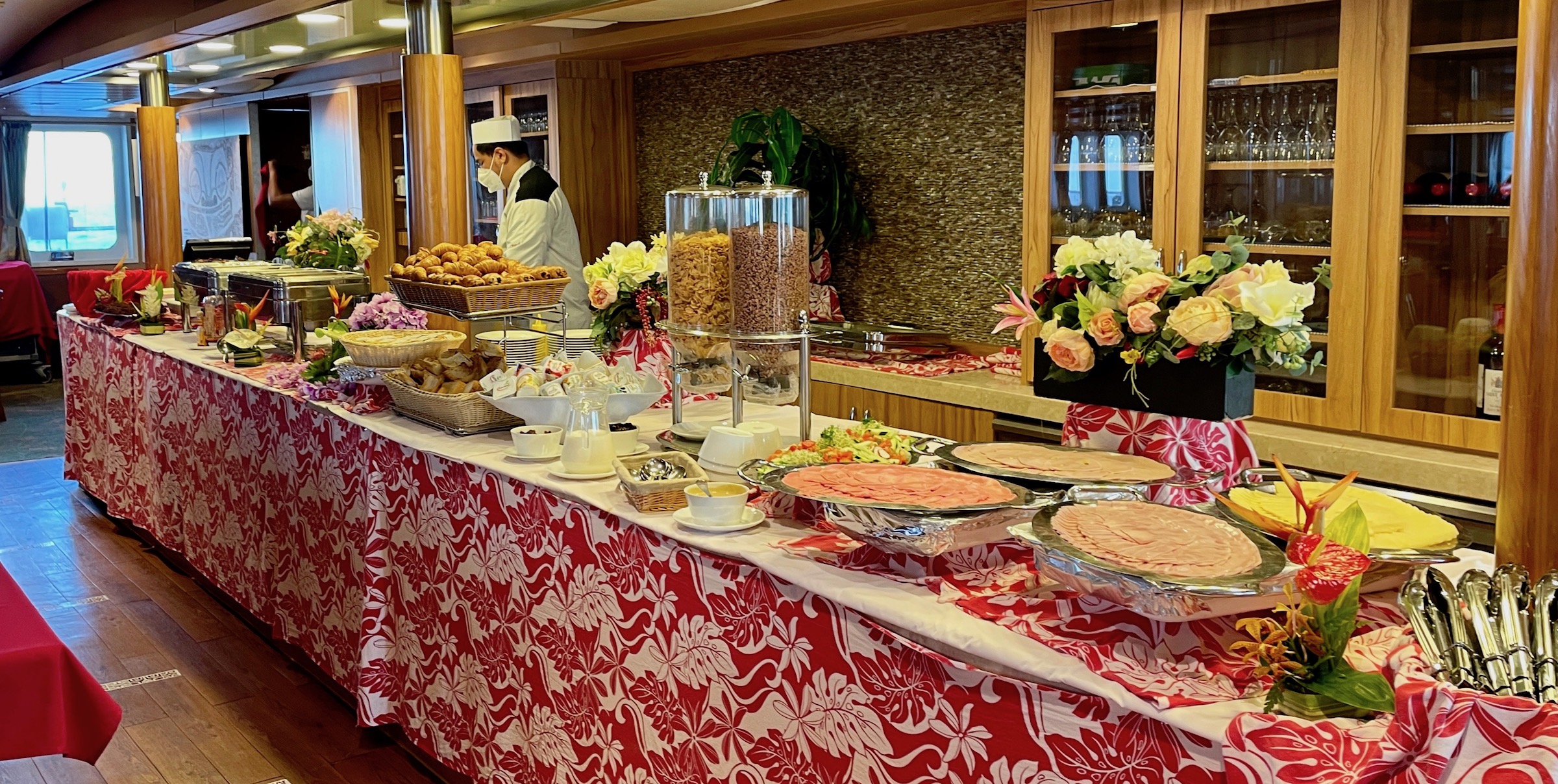 The evening meals and a few of the lunches which had on board were quite varied and included lamb, fish, chicken, pork and vegetarian entrees. Each of these meals was accompanied by a bottle of very nice French red and white wine for each table. Ironically those who were not wine drinkers had to pay extra for a soft drink.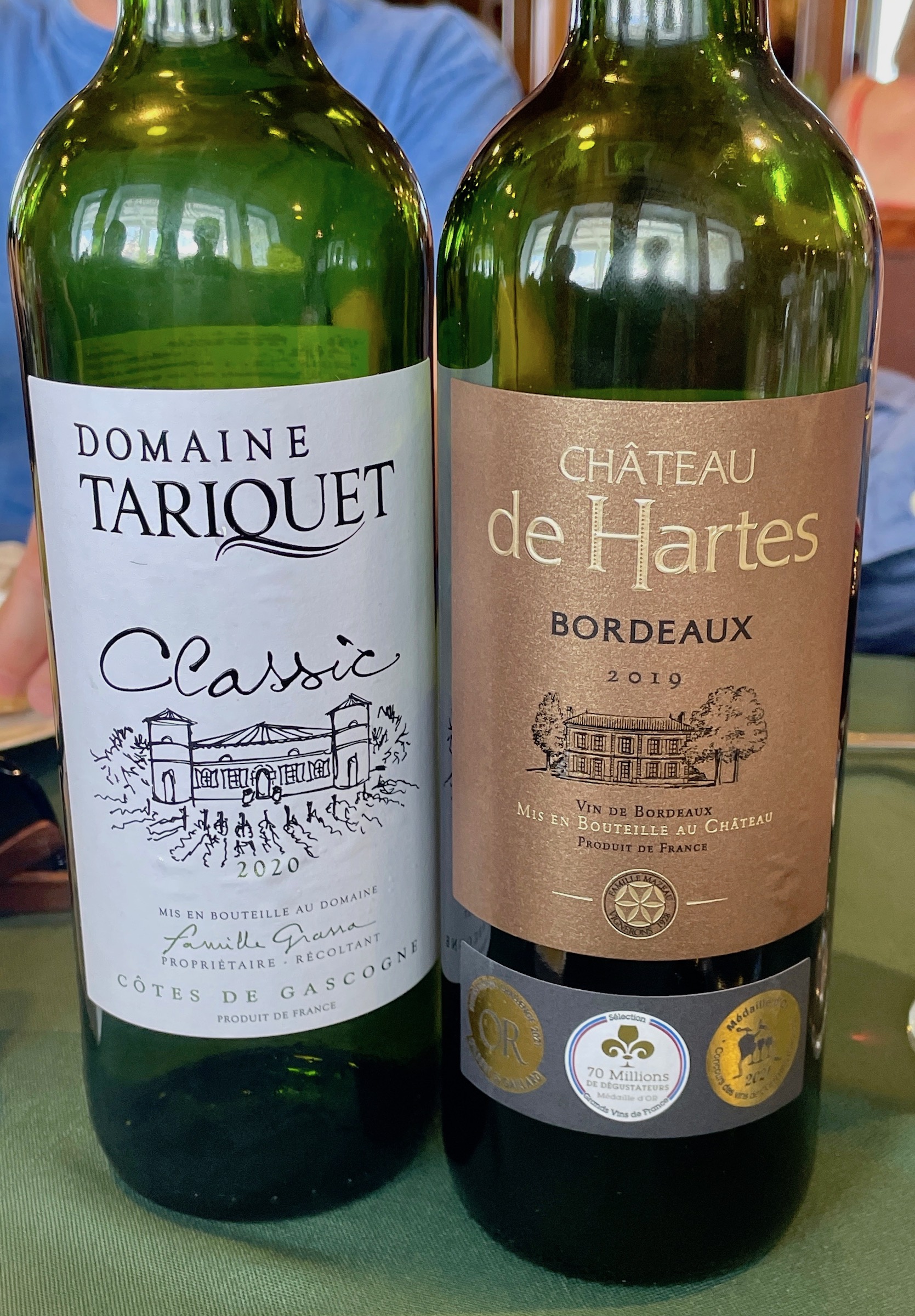 What really stood out for me food wise were the desserts aboard the Aranui 5. This was especially so one night when the desserts were the main attraction, as below.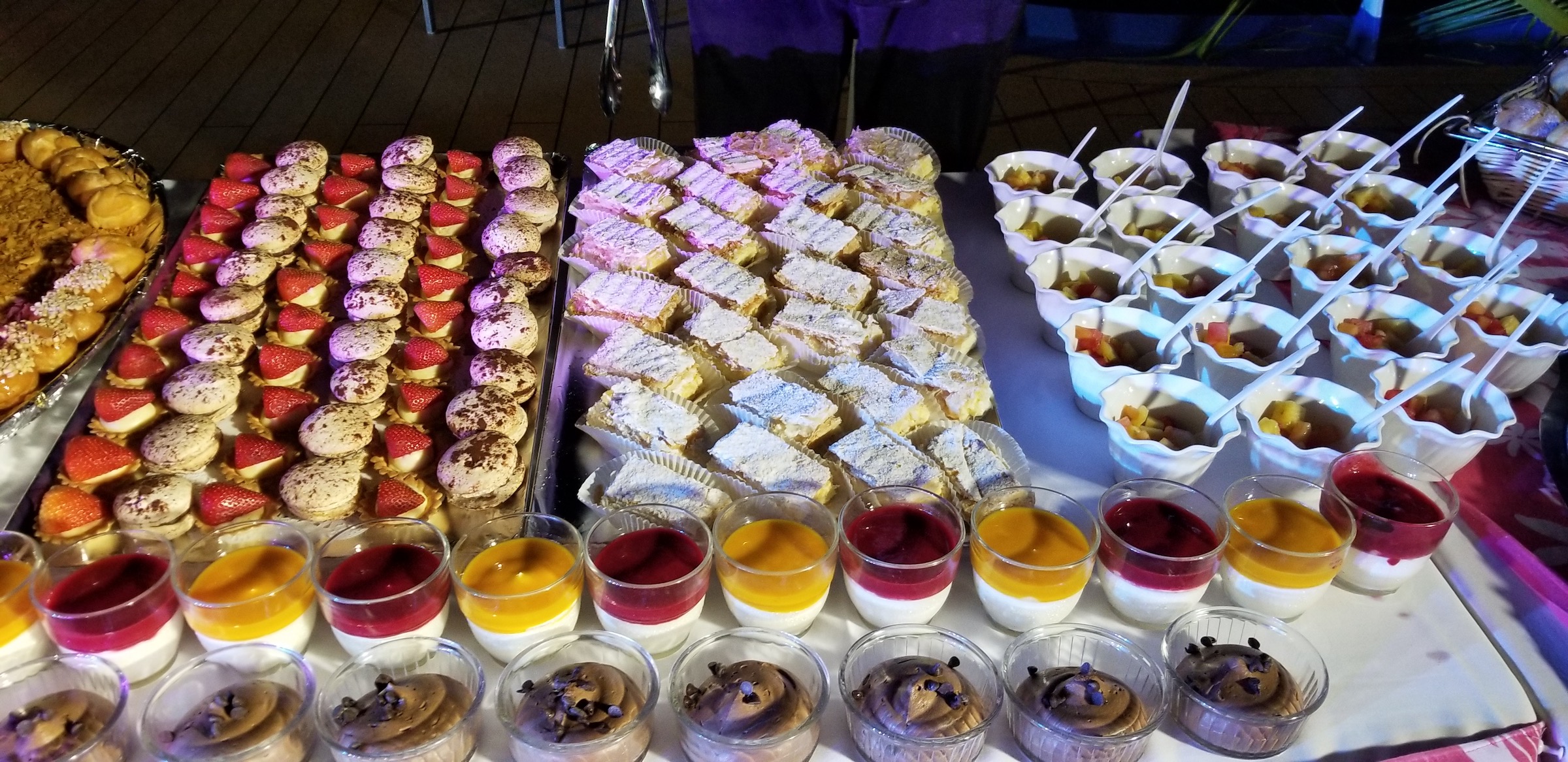 This guitar made from various desserts was too good to eat.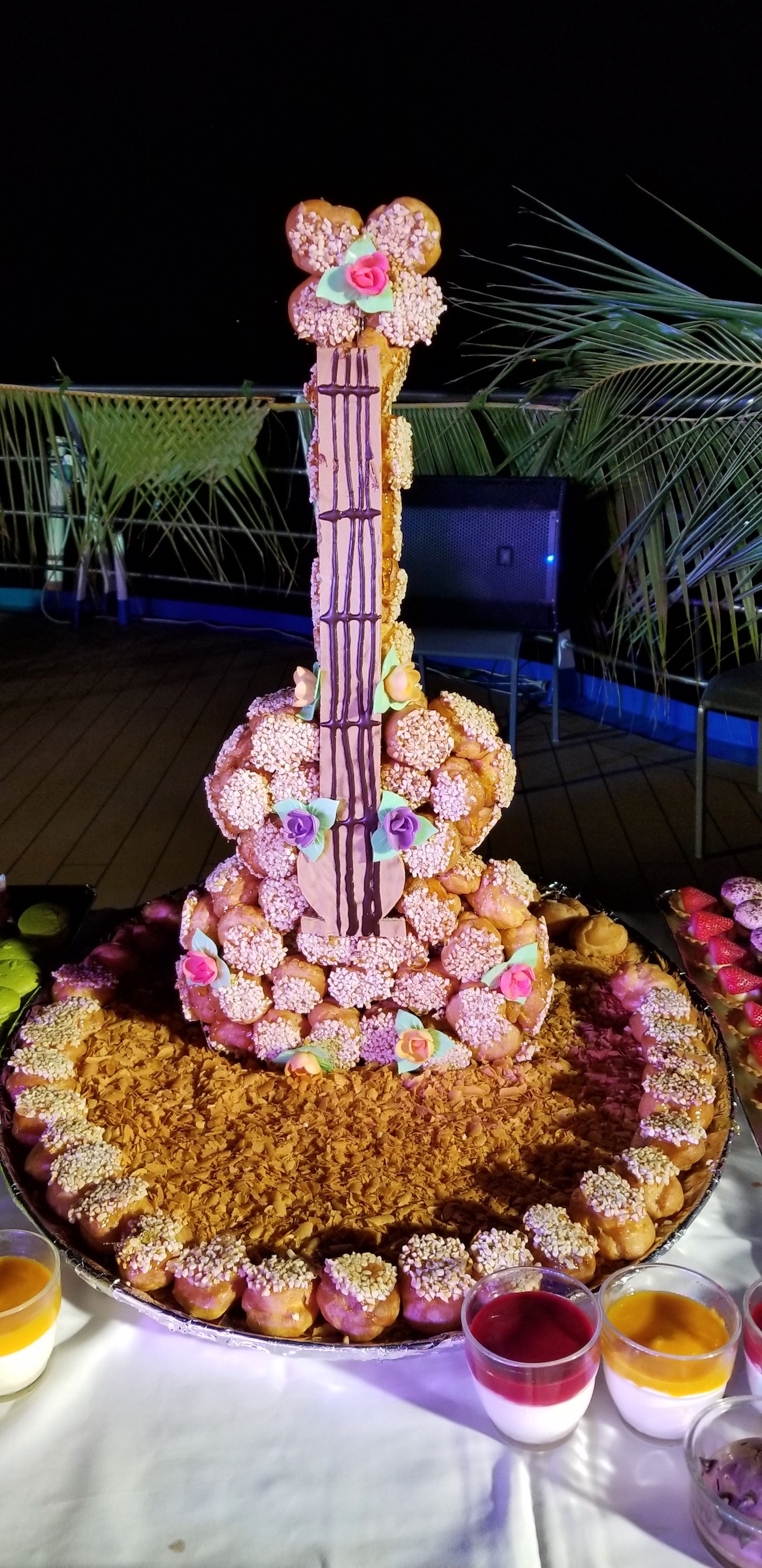 But even the regular meals had outstanding desserts like this baked Alaska, which the French call a Norwegian omelet for some bizarre reason.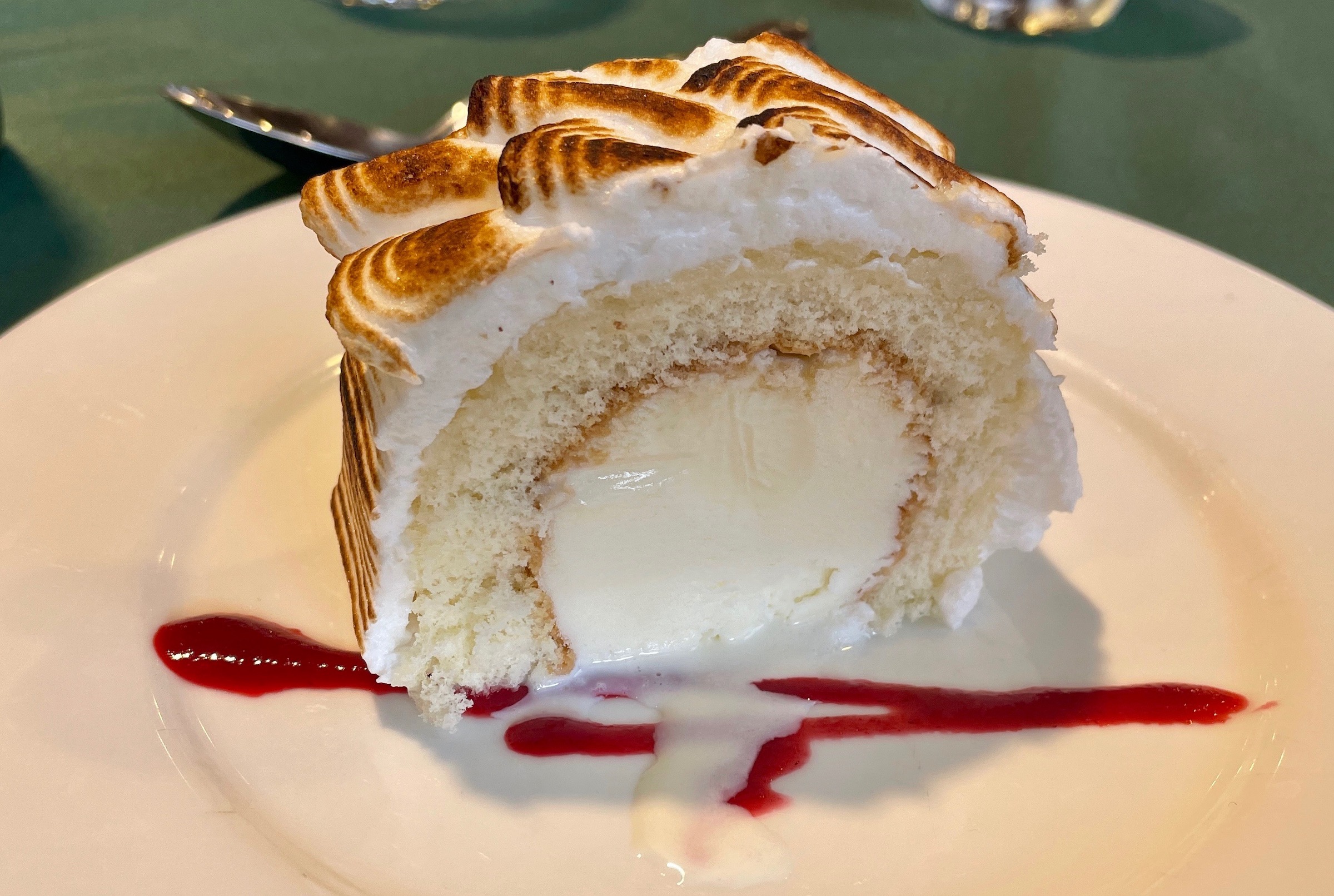 So the cabins were great and so was the food and wine.
This is the only bar on the Aranui 5 that was open during our cruise. There were two smaller ones that were still closed because of Covid. Here you could purchase a wide variety of wines, beer and cocktails as well as non-alcoholic drinks.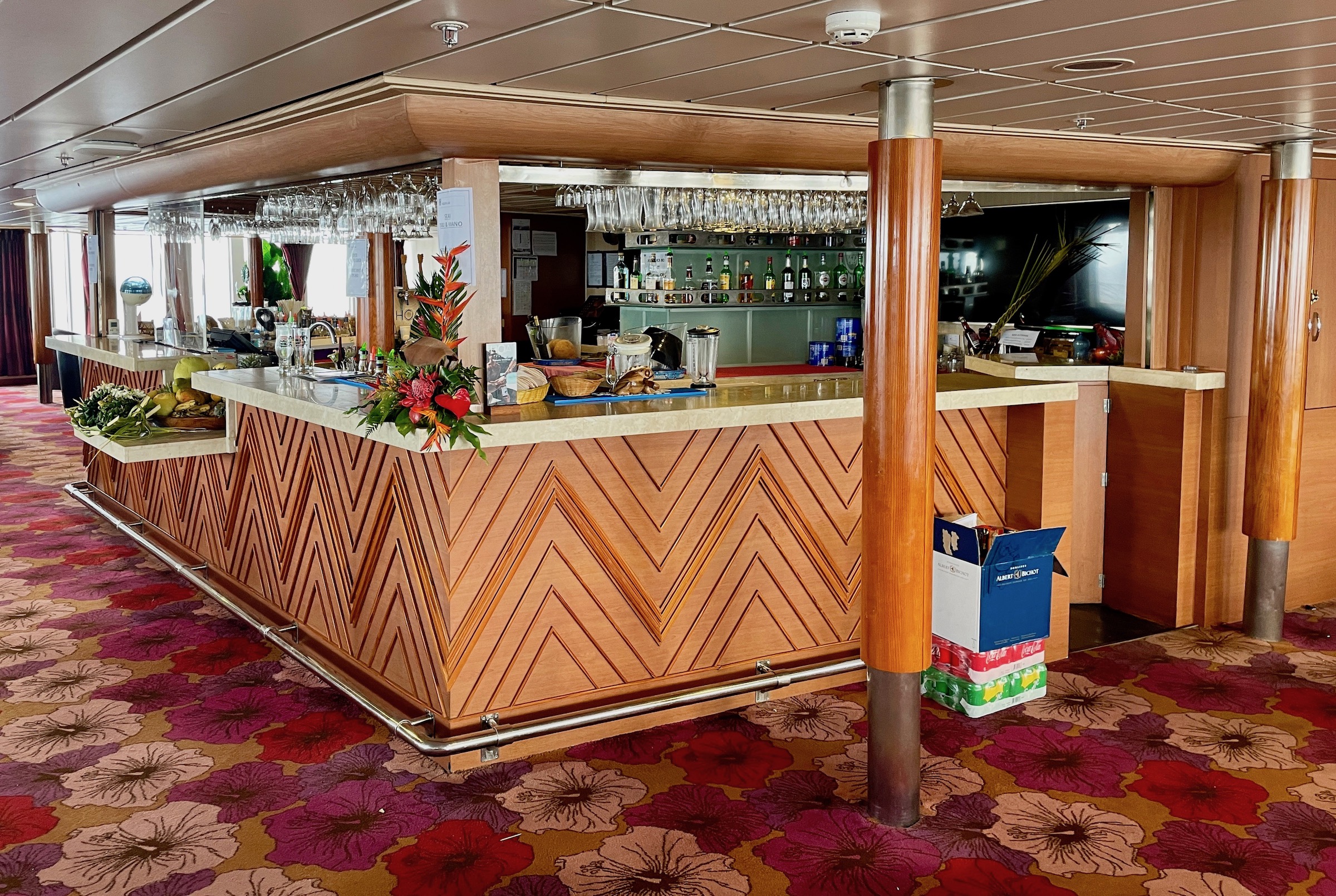 Some of our group would regularly gather at one of the many outdoor areas like the one below for pre-dinner drinks and conversation. Martin Charlton our guide and the guy who came up with the itinerary for this trip would join us as we talked over the day's events and what was to come the next day. It was a great way to build camaraderie among us and soon led to the development of some real friendships.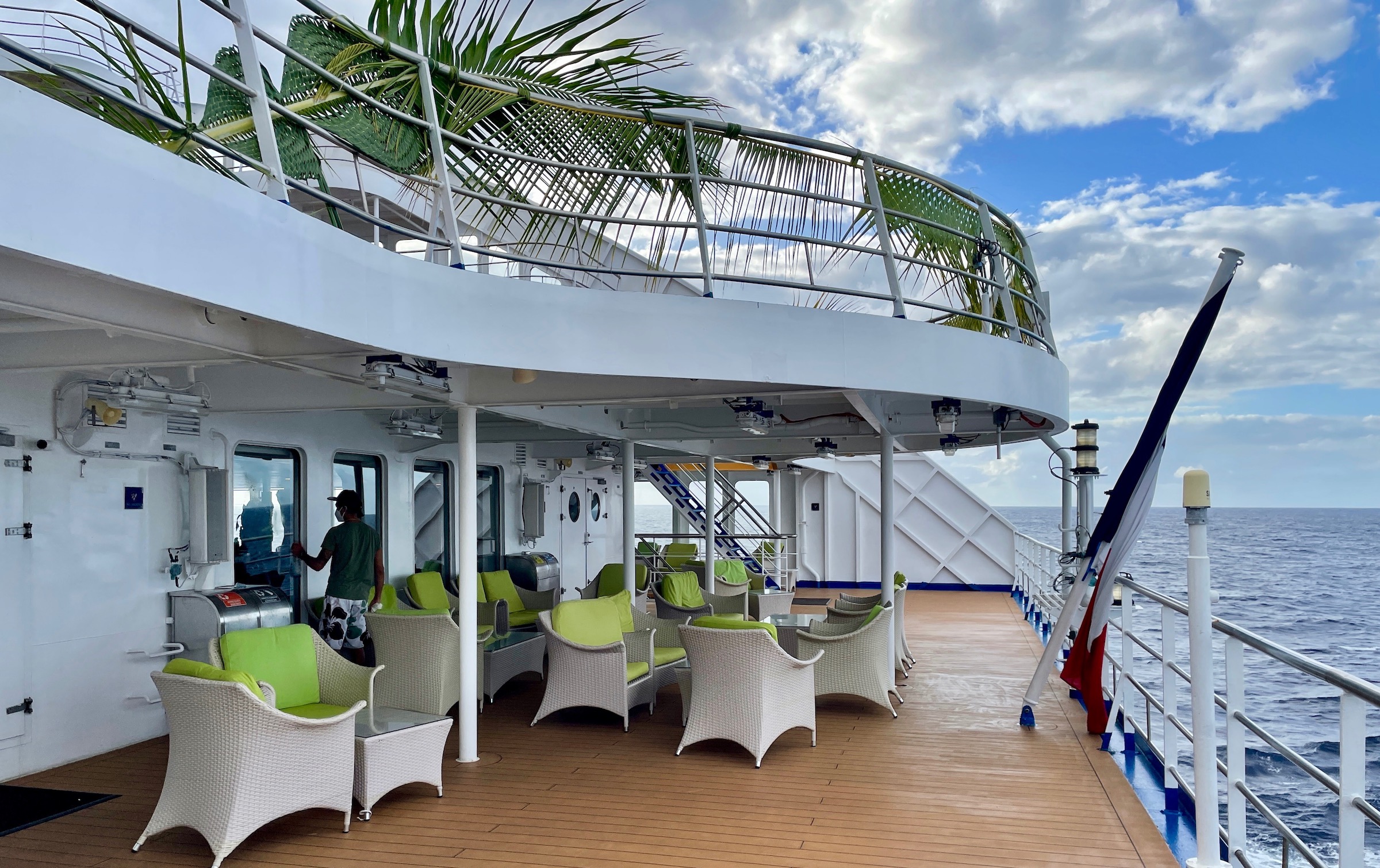 Most cruise lines offer a number of onshore options at each stop that are not included in the price and can be very expensive. The Aranui 5 does have a number of these, but Alison and I found that what was included was more than enough to occupy our time at each island we stopped at. Each of the three language groups had their own briefing room where the day's activities on shore would be described in detail the day before and any questions we had answered, no matter how stupid. Our group had a number of English speaking guides who accompanied us on all the onshore visits. I will go into more detail about these guided tours as I write posts on each of the islands we stopped at.
OK, so far this sounds like just about any small boat cruise. What makes the Aranui 5 any different?
This.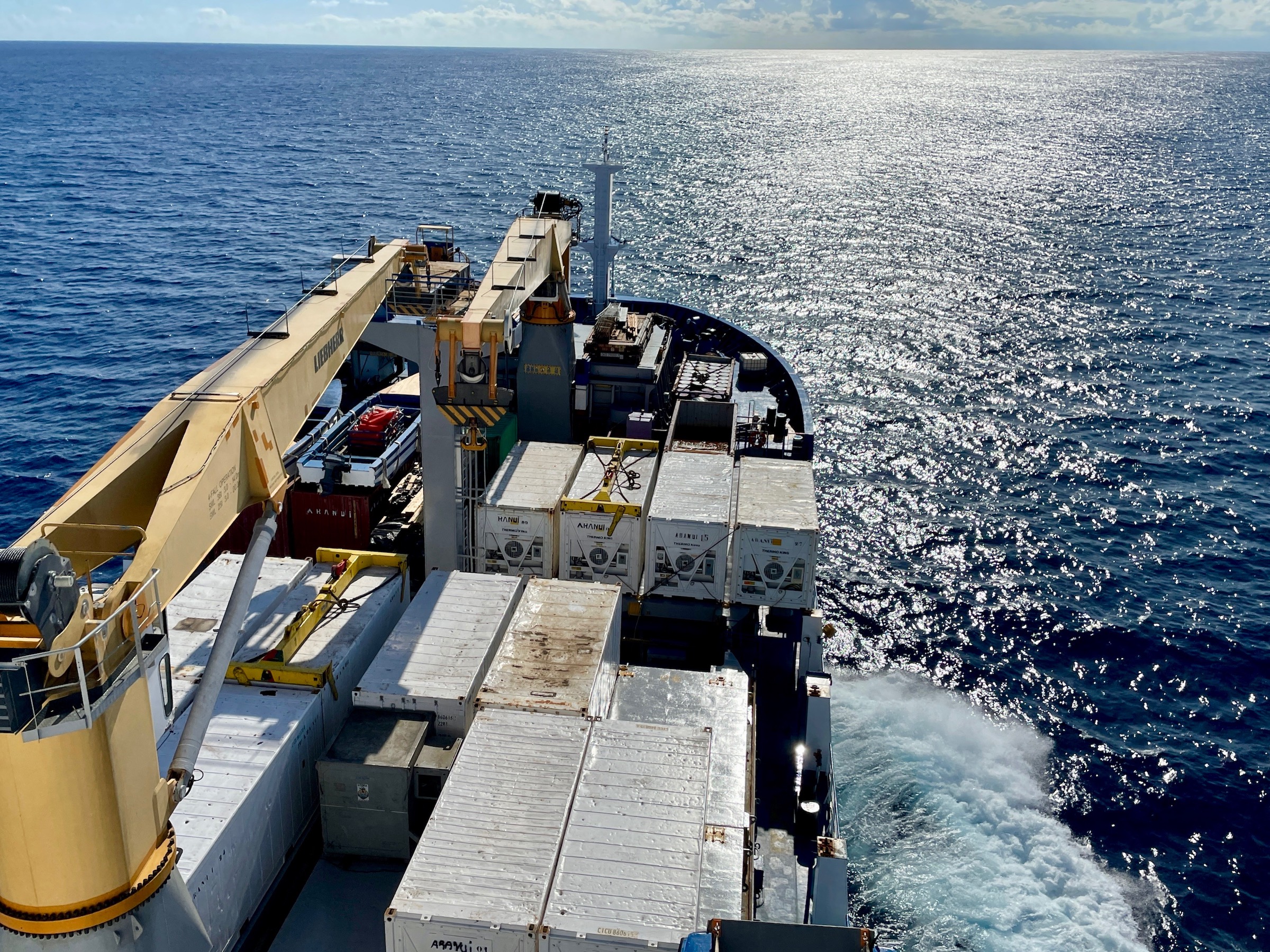 Aside from being a cruise ship the Aranui 5 is the lifeline for the Marquesas islanders bringing almost everything you can imagine to the islands and exchanging them for locally made produce, usually copra. Whether we tied up at a pier or moored in a bay, the crew would get to work in a fashion that was the epitome of efficiency.
There were two cranes on board and the operators would move the cargo containers around like they were doing a giant Rubik's cube and extract the ones that needed to go ashore at this particular stop. On the land side things were equally efficient with goods loaded and offloaded at breakneck speed.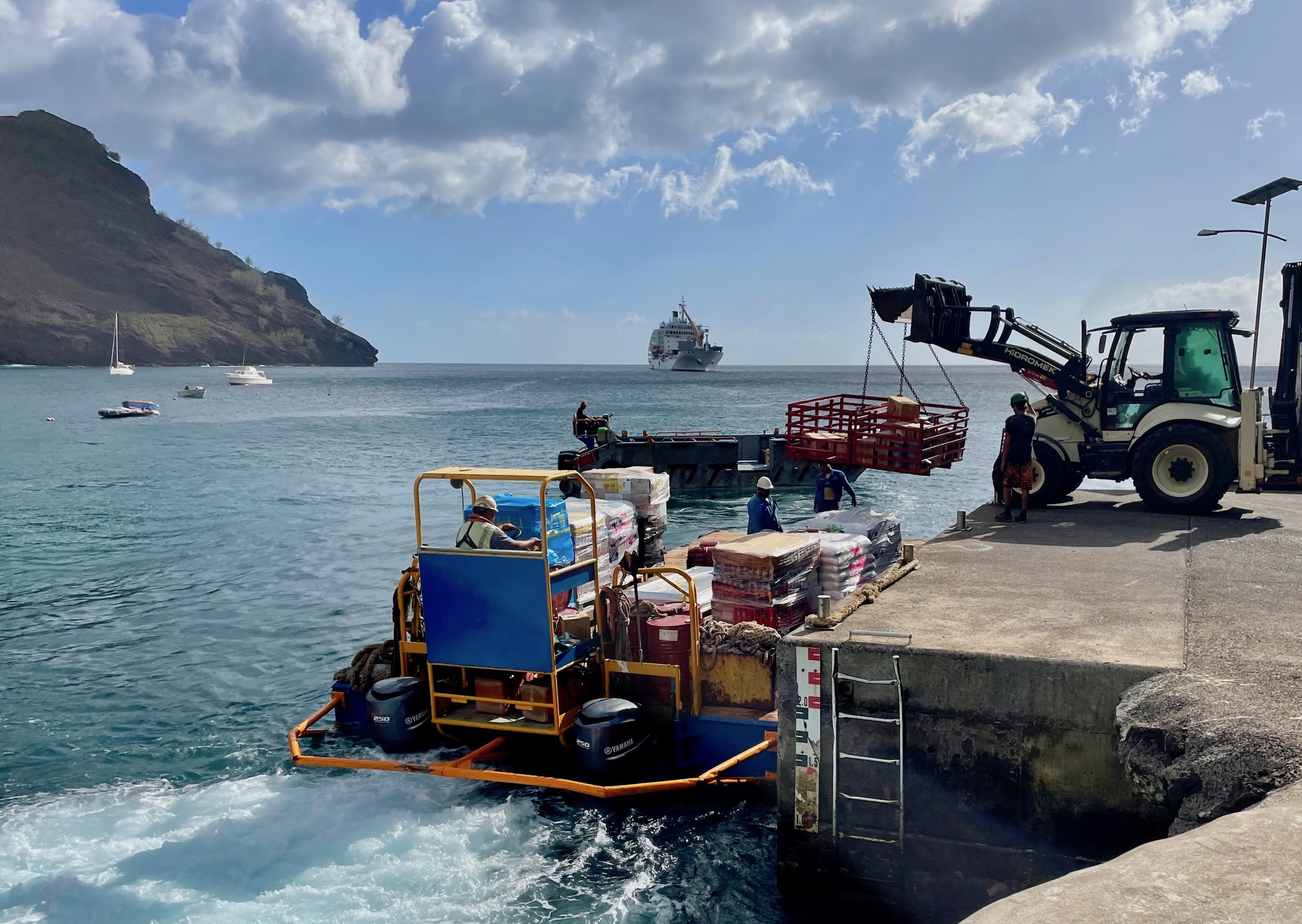 Each stop resulted in a beehive of activity with local merchants and families gathering to collect their long awaited merchandise; in a couple of cases a new car or van and in one a horse. For me this was as educational in terms of how these people maintained a quite high standard of living despite their isolation, as much of what we saw during our tours of the islands.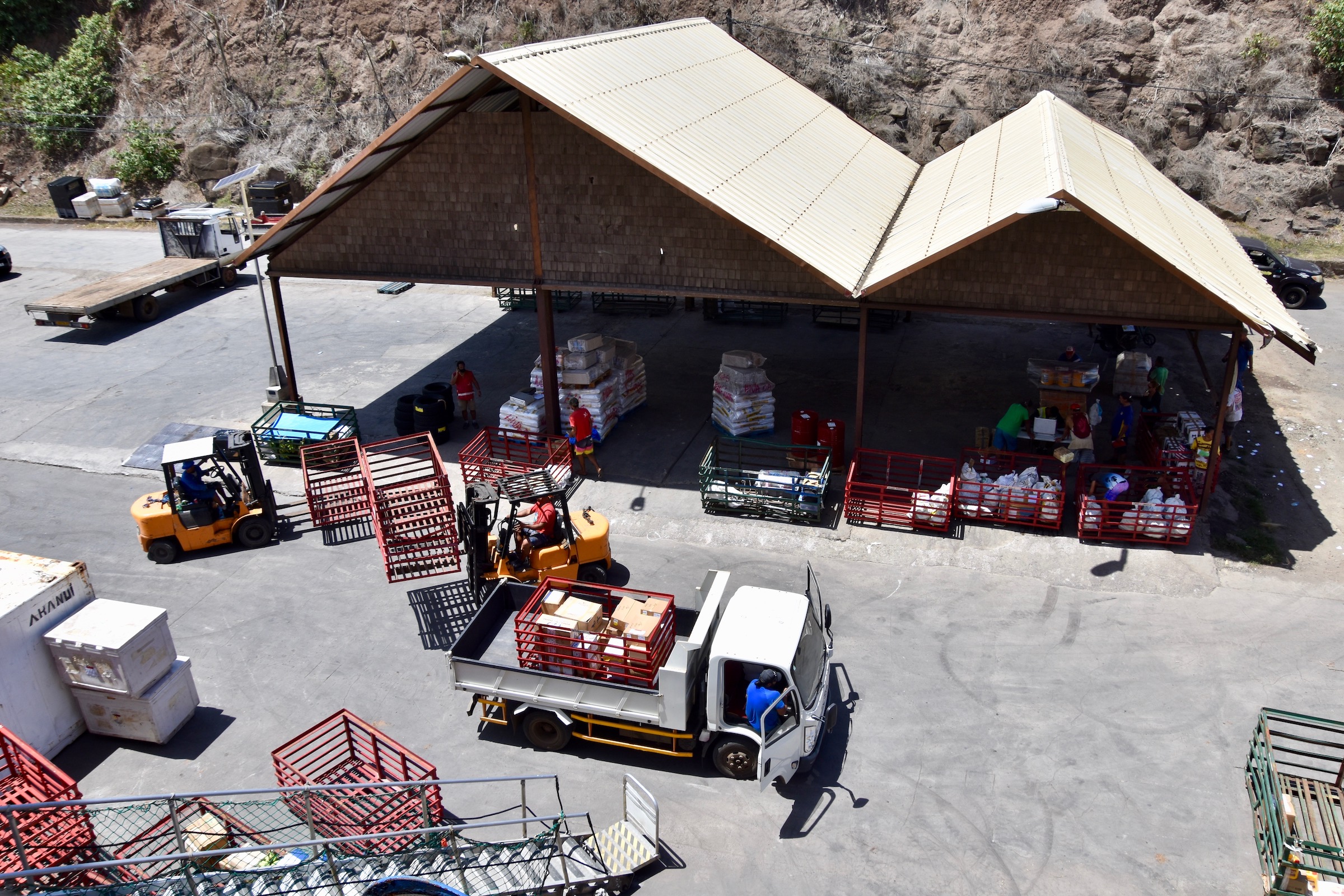 So that's a very brief introduction to life aboard the Aranui 5. In the next post we'll set sail (well motor actually) for the Tuamotu Archipelago and our first stop at the tiny atoll of Kauehi. I hope you'll join us.