Fox Harbr – A Great Nova Scotian Golf Course
This is a post on Tim Horton's co founder Ron Joyce's golf resort on the Northumberland Strait in Nova Scotia, not far from the town of Tatamagouche where Joyce grew up. Firstly, I do know the correct spelling is Fox Harb'r, but SEO won't permit any punctuation in the key word so I'll stick with Fox Harbr. I visited earlier this week with my New Brunswick friends, Doc Mitch Hatheway, Chuck Johnstone and François (Frankie) Duguay. I did not try to use my status as a member of the Golf Journalists Association of Canada to get free or reduced green fees. Instead I paid the full $200.00 daily rate which allows for unlimited golf, but we're just here for the day, so 18 holes was all we played. I've played Fox Harbr before, but not for many years and I wanted to be sure I could post an unbiased review of the course. Here's what I thought.
History of Fox Harbr
Fox Harbr Golf Resort opened in 2001 and from the very beginning was never designed to attract the average golfer. By that I mean your median average income golfer. Ron Joyce hired famed Canadian golf architect Graham Cooke to build what he intended to become one of Canada's best resort courses. Joyce was a billionaire and made it clear to Cooke that money was no object. That concept has extended to the clubhouse, spa, restaurant and accommodations. The people who come to Fox Harbr to stay and play for a few days often arrive by private jet. We saw two land while we played. In other words, its target audience is the rich and famous. Over the years these have included Bill Clinton, Tony Blair, George W. Bush, Bobby Orr, Charles Barkley, Hank Haney and the most famous name of all, Tiger Woods, who holds the course record of 63.
Given that Fox Harbr is not exactly on anyone's beaten path, it gets very few visitors on a daily basis and once you're there it feels more like an upscale private club than a resort. With not very many rounds played each season it has a reputation as probably the best maintained course in Nova Scotia. Graham Cooke, one of Canada's all time great amateur players, recognized that just because you have money, that doesn't mean that you necessarily want a difficult golf course. Fox Harbr is not easy by any means, but is fair. Wind is the principal enemy followed by the water, some woods and sand.
Fox Harbr Facilities
It's just over a 90 minute drive from Halifax to Fox Harbr, mostly on divided highway, but the last part is through scenic Wentworth Valley and then to the village of Wallace. At Wallace there is a bridge over the head of the harbour and then a right turn down a paved road through rolling farmland with views of Wallace Harbour on the right. The first sign of anything resembling a resort in this bucolic countryside is the newly planted vineyard on one side and a tall wrought iron fence on the other. There are no grand signs or even ungrand ones telling you that Fox Harbr is at hand. The entryway is gated and well landscaped with these two foxes the only clue that you have arrived.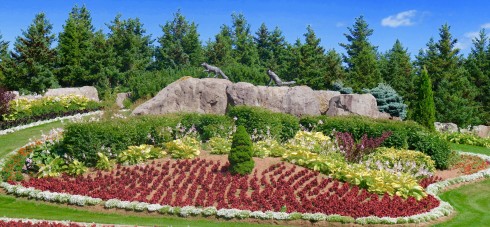 As far as I am aware Fox Harbr is the only gated community in Nova Scotia or the Maritimes for that matter. I was buzzed in after identifying my group and tee time. After parking in the mostly empty parking lot I wandered over to the pro shop that is part of the very large clubhouse that faces the 1st tee and 9th green. Elliot Isenor was manning the desk and we chatted about the state of golf generally and Nike's decision to get out of the golf business despite having Tiger Woods and Rory McIlroy on their payroll.
Later I headed for  the practice tee where I was the only one warming up until my playing partners arrived from Moncton. The practice area is large and like a private club the balls are free and you can hit as many as you want or in my case, need, in order to get warmed up.  The practice green was ominously fast. So much so that the gusting winds were able to affect deflect a put from its intended path. Enough talking, let's play. Fox Harbr was named Best New Course in Canada in 2001 so it should be fun.  The course website has a fly over and description of each hole that you can access with this link. What follows is a description of the more noteworthy holes and that would be most of them.
Before starting I should clear up one point of confusion and to some extent, contention, about the Fox Harbr course. While it advertises itself primarily as a seaside course and uses the word 'links' quite liberally, it is only the back nine that fronts on Northumberland Strait. The front nine is entirely inland and features water hazards, but the ocean isn't one of them. So with that caveat let's play.
While the course can stretch to 7,253 yards we will be playing from the whites at 6,375 yards which is still long for me. On numerous subsequent visits to writing this post I have played the reds at 5,615 yards and frankly enjoyed the experience more because I have had much better scores.
 Fox Harbr No. 1 – 385 Yard Par Four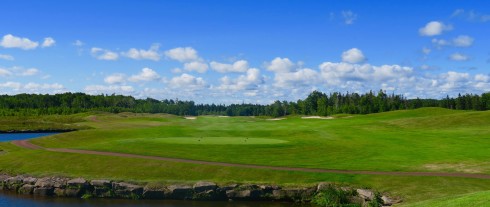 The first thing you will notice is that it was a beautiful day for golf. The second is the conditioning of the course. The fairways at Fox Harbr are as good as you'll find in Nova Scotia, as are the greens. The third thing is that there is nobody in front of us. If you value being able to play at your own pace then Fox Harbr is your destination.
The carts are equipped with satellite linked GPS systems that provide all the information any golfer should need about playing a hole for the first time. That's a rarity in Nova Scotia and a definite aid in club selection.
The first drive simply requires some decent length and avoiding the water down the left side. It's a good, but not great starting hole.
No. 2 – 495 Yard Par Five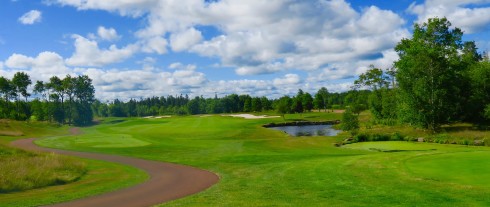 No. 2 is the first of four par fives and probably the easiest of the four. Here the trouble is on the right and avoiding it a big hitter could reach this in two. Again, a decent hole, but not inspirational for sure.
No. 4 – 135 Yard Par Three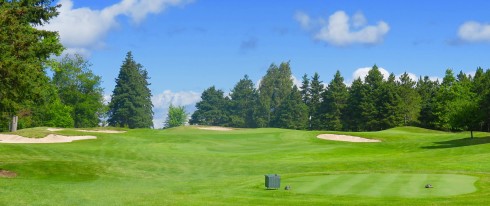 No. 3 is a brute of a par four playing over 410 yards. It's the hardest hole on the course and I don't have much good to say about it. Happily, it's followed by the easiest of the par threes, a straight uphill shot that plays longer than the yardage. By now many golfers will be wondering, aside from the conditioning, what's so great about Fox Harbr. The first time I played it, I had these same doubts and still wonder why Graham Cooke decided to start off with a whimper and not a bang.
No. 5 – 370 Yard Par Four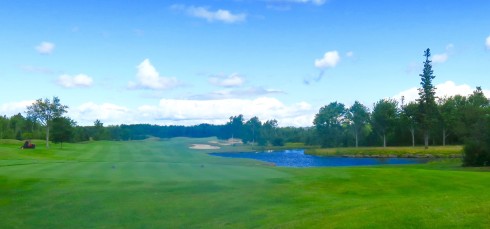 Things get a little better on 5 and 6 which are the second and third holes of a fairly easy stretch. I don't know about you, but I prefer easy to hard. Don't get me wrong, these holes are not defenceless. There is water, sand and woods as well as very fast greens. The sand at Fox Harbr is a delight to play out of. It is soft and consistent. If you know how to play a sand shot then these should not be a problem. After playing 5 and 6 you should be feeling better about your game, but that could soon end as there are a series of holes coming up that require thought and precisio
No. 7 – 175 Yard Par Three

No. 7 is a gorgeous par three to look at and play. This photo from the white tees shows that there is no room to miss on the left. In fact if you are short the water comes into play on the left side even more. What you can't see is that the green is protected by bunkers on the right. This hole plays 175 yards and odds are the wind will be in your face. It takes a long accurate tee shot to make the green. No one in our group did, and two ended up under clubbing and landing in the water short of the green. Still, it's a very good hole.
No. 8 – 335 Yard Par Four

No. 8 is a risk reward hole for big hitters. The water continues down the left hand side and at some point you need to cross the stream into which this small lake drains. It only plays 335, but the sensible play is just to hit an iron straight out short of the bunkers and then hit a short iron onto the green for an easy par. That's what I did and had this approach shot. The carry is less than 100 yards with another 20 or so to the green.
However, a big hitter could challenge the water and a carry of about 250 yards would get you across and a lot closer. Personally I think that choice is for suckers, but it is no doubt a temptation to some.
No. 9 – 500 Yard Par Five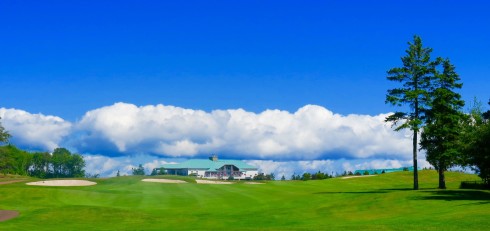 No. 9 is the second of the par fives on the front and far superior to the first one. It's 500 yards uphill with the clubhouse in the background. It doesn't look it from the photo, but those trees on the right are definitely in play. On the left hand side are some of the largest bunkers you'll find anywhere in Nova Scotia, maybe the largest. Another distraction on this hole is the possibility of a jet flying across the fairway at a low level as the runway is just on the other side of the road. This is exactly what happened, but I didn't grab my camera in time. As I passed by the runway there was a lear jet with its engines still loudly whirring. I resisted the temptation to yell, "Cool your jets!".
One thing I didn't like about this hole was a tiny, completely hidden pond just to the left of the green. However, if you checked the approach shot out on the GPS you could obviously find out it was there. Here is the approach shot on 9. If you compare the cloud cover on the first photo you can get an idea of the prevailing winds which today were quite strong and in our faces for too many holes for my liking.

So that's the opening or parkland nine of Fox Harbr. It takes a while to get going, but the last three holes make up for it. Let's head for the back.
Fox Harbr No. 10 – 395 Yard Par Four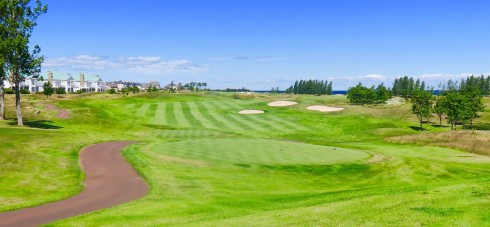 The first thing you notice on heading to No. 10 tee is that it's almost as if you've gone to a different golf course. Gone are the forested edges of the fairway, replaced by tall grass and deliberately planted specimens. Usually houses alongside a golf course are an irritant, but not in the case of Fox Harbr. The first ones you see are these condo units which is where most of the registered guests stay. Each building houses several units and they all have a great view of Northumberland Strait. Since we are not staying there's not much more I can say about them other than they are well back from the fairway and don't interfere with the play.

No. 10 is a dogleg to an elevated green that requires a good tee shot and a precise second one to hold the severely sloping green. A much better start to the back nine than front.
No. 11 is a ver difficult par five that plays 535 yards from the whites and is the hardest hole on the back. The good news is that after you struggle by this hole there are five in a row that fall into the easier half of the holes. Also, the water finally begins to become a factor, maybe not on the holes itself, but in terms of making the holes very pretty to look at.
No. 12 – 170 Yard Par Three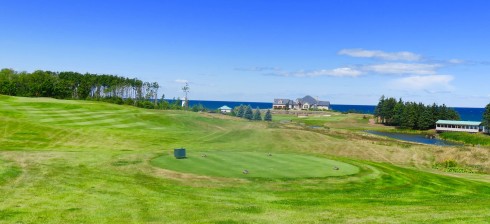 No. 12 is a long uphill par three. It is the first time you get a good view of the Ron Joyce house in the background with the lighthouse to the left and covered bridge to the right. The hole itself is pretty ordinary. No. 13 is another long par four that takes you past a number of very expensive looking private homes. When the Joyce property was built it was considered to be a mansion, but some of these new ones are actually much larger. It's the people who own these that come and go by private jet.  I didn't bother taking any pictures of them, because I'm here to golf and not look at real estate I could never afford.
No. 14 – 375 Yard Par Four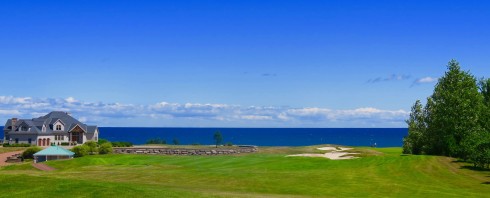 This is the first hole where you get a great view on Northumberland Strait. On the left side is the lighthouse and marina where I presume one of Joyce's many boats is moored. It's a lovely hole, but the water never comes into play unless you hit a terrible drive.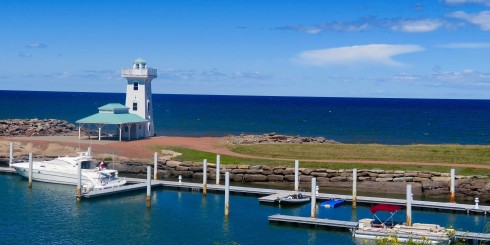 No. 15 – 165 Yard Par Three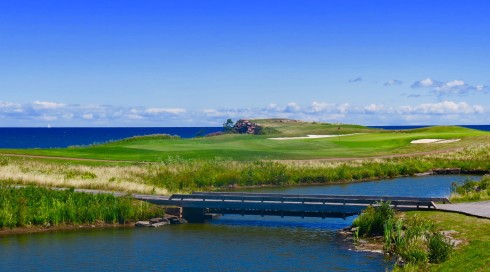 No. 15 is easily the strongest of the par threes. It requires a decent carry over water to an elevated green. Like No. 10 which also has a steep rise from front to back, if you get above the hole, just pray you can stop the ball before it rolls off the green. You can see a tiny white speck on the waterline just at the left edge of the photo. It was a fully rigged schooner running downwind. Not a sight you see much in the 21st century.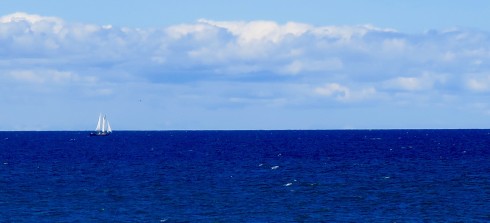 Fox Harbr No. 16 – 325 Yard Par Four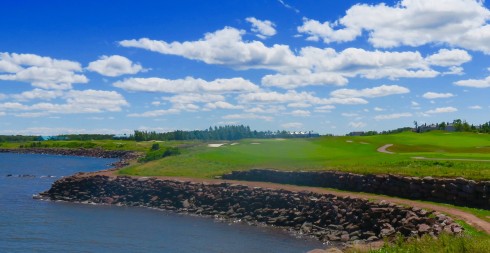 The 16th at Fox Harbr is the signature hole and strangely, also the easiest. It certainly looks difficult from the black tees, but only plays 353 yards from the back tees and there's almost always a tailwind. Although this carry looks formidable, it really isn't and even average golfers should reach the fairway from the back tee. From this vantage point you can see just how much work had to be done to shore up this part of the course. The Northumberland Strait is notorious for rapid erosion and I'm sure Graham Cooke realized this when he designed these oceanside holes.
At the end of 16 fairway there is a plaque marking Tiger Woods drive on this hole. Somehow 293 yards doesn't really seem like that much these days with some bombers now hitting 350 yard drives.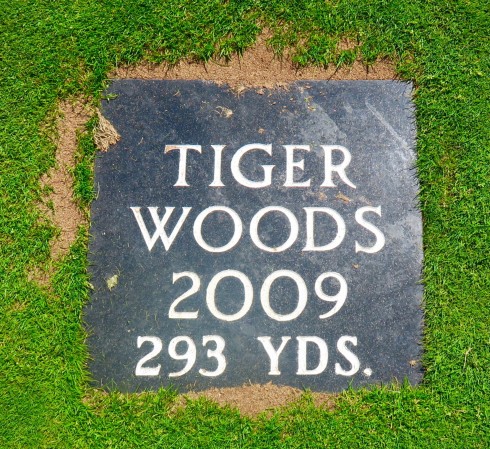 The difficulty returns on 17 as the string of relatively easy holes comes to an end at fairly long par four.  You also get a look at what I think is one of the biggest mistakes at Fox Harbr. Rather than getting in at least one more and probably two oceanside holes and at least two more where the ocean would be in view, Joyce decided to build a par three course that nobody ever plays. Some of the lesser holes on the front could serve as the par 3 course while up to 13 holes could be on the water side of the clubhouse. Have a look at this photo and see if you don't agree that this is a total waste of some great golf turf.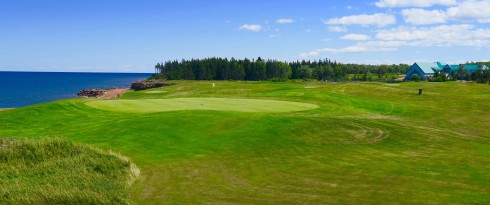 No. 18 – 460 Yard Par Five

No. 18 is a very strong finishing hole. It's not a particularly long par 5 at 460 from the whites, but it does require a solid drive to make it to the dogleg left. The second shot is to an elevated green which is guarded by a few strategic traps and some gnarly rough, which as I found out, is not a good place to be.
All in all, Fox Harbr is a very fair test of golf and its immaculate conditioning, great water holes and the ability to play at your own pace (fast for me), make it worth the high green fees.  Since this post I have returned with our large 'Olympian' group on numerous occasions, spending three days at a time so I've played the course about a dozen times since 2016. If anything, the experience of staying here and enjoying the really excellent accommodations and the restaurant and bar, have solidified Fox Harbr in my mind as one of the top golf resorts in Canada.
Since Fox Harbr opened in 2001 two other even better courses have opened in Cape Breton, Cabot Links,currently # 5 in Canada and Cabot Cliffs, the #1 course in the country. Add to that Stanley Thompson's masterpiece Highlands Links at #9 and you can see why Nova Scotia is becoming one of the hottest golf destinations in the world. This will no doubt benefit Fox Harbr in the long and short run. You might want to play it before it really gets on the golf world's radar.
Another great option in the Halifax area is Brunello which opened a few years ago and is rapidly gaining popularity.