The Matterhorn – A Perfect Day in the Alps
This is a post I have been eager to write since experiencing one of the best days of hiking in my life last June in the Swiss alps with the Matterhorn looming in the background on every step. Alison and I are well into our Swiss hiking tour with Adventures Abroad led by our good friend Victor Romagnoli. This is one of the company's Top 10 most popular tours and so far it has lived up to that billing. Our first major hike was in the Engadin Valley looking down at the resort town of St. Moritz. Not only was it beautiful, but we were very pleasantly surprised at the great number and variety of wildflowers that we came across. Seeing an ibex in the wild was an added bonus. After that we took one of the most legendary train trips on the planet, the Glacier Express from St. Moritz to Zermatt where we got our first look at the Matterhorn, a sight one never forgets. This morning the sky is deep blue with no signs of the mist we had on the Engadin hike and the temperature is expected to soar well into the 70s F (21+ C). We simply could not ask for better conditions to hike the Matterhorn area.
The Gornergrat Railway
As we found out on the Muottas Muragl funicular in St. Moritz, that nobody does mountain railways any better than the Swiss. They perfected the rack and pinion (aka cog) method of propulsion that allows rail lines to ascend to heights previously unheard of and on grades that would be impossible for ordinary rail systems. The Gornergrat was the world's first electrified cog railway opening in 1898 and taking passengers on a 9.4 kilometre (5.8 mile) journey from right in Zermatt to an elevation of 3,089 metres (10,134 feet) high in the Monte Rossa range of the Alps. From the top one can see 29 peaks that top out at over 4,000 metres (13,000 + feet) including the most famous alp of all, the Matterhorn. We have an absolutely perfect morning to make this trip and can spend as much time as we want in the mountains before returning to Zermatt. As a railway buff, this is a trip I have been hoping to take for decades and today is finally the day.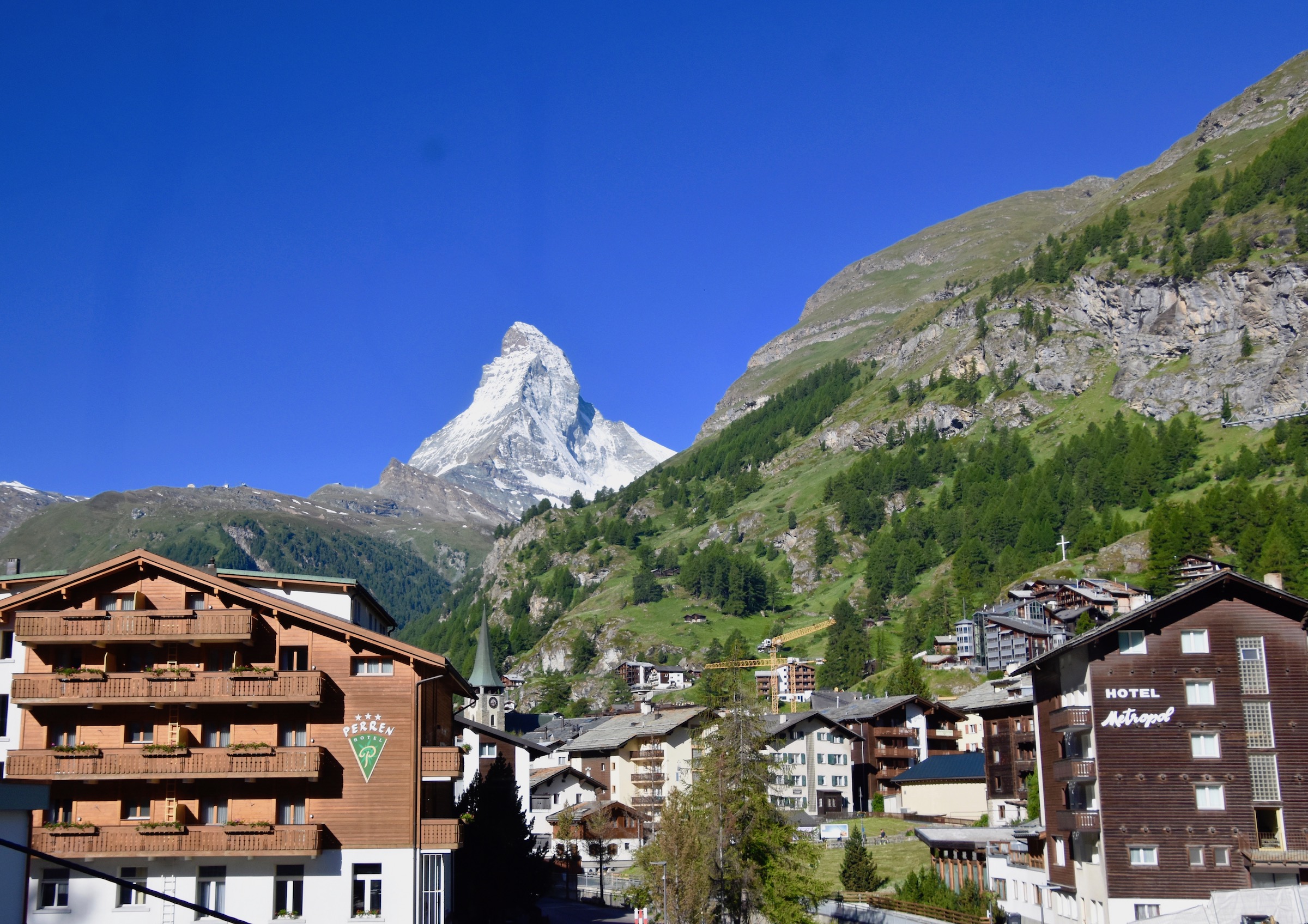 This is the view of the Matterhorn as we start heading up the 1,500 metres (4921 feet) we will ascend to the Gornergrat station. As you can see there is not a cloud in the sky. What you can't see is that the temperature is already well above 15°C (60F) and despite the increase in elevation does not drop very much as we climb. The one necessity is high SPF sun block along with a good set of sun glasses.
The views of the Matterhorn get progressively better and everyone in the group is taking one photograph after another, after all you don't get to see such a famous and photogenic mountain in such perfect conditions every day.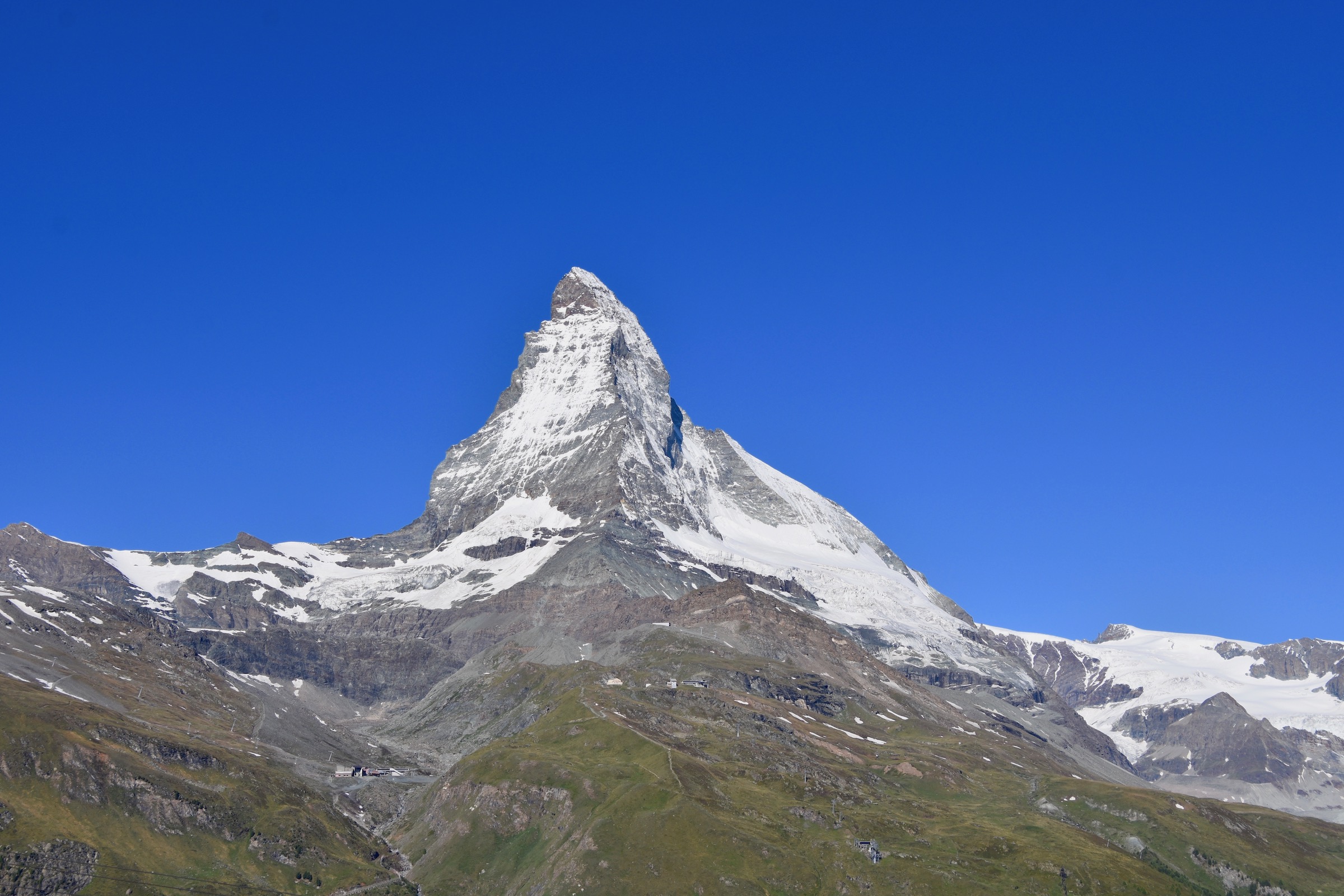 As we pass the tree line, the landscape changes to high mountain meadows that eventually give way to the perpetual snow and ice of the alpine glaciers. Look closely and you can also see a small emerald green lake or more properly tarn.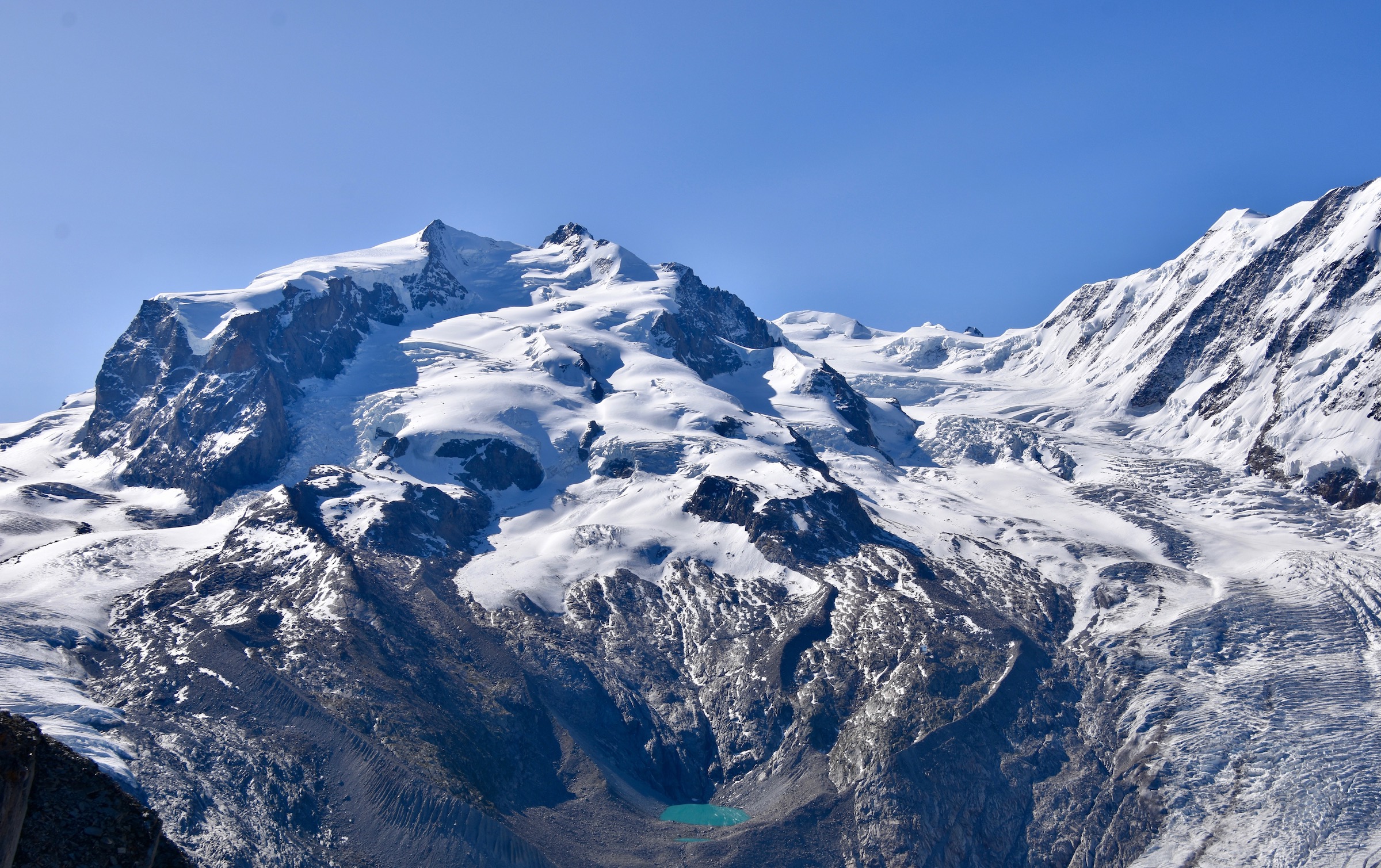 This short and inept video shows the final stage of the trip before reaching the Gornergrat station.

At last we reach the terminus where we find the Kulmhotel Gornergrat, the highest in Europe, several restaurants and shops and two astronomical observatories. Our group spends about half an hour just walking around the various platforms from which there are panoramic vistas in every direction. We needed a little time to get used to the elevation, but nobody has anything worse than a little light-headedness and that soon passes.
I could create an entire gallery of photos I took from up here, but this video will suffice, showing most of the twenty-nine 10,000 foot + peaks you can see from up here. Ignore the fact that I say the Matterhorn is only 4,000 feet high and that there are only eleven peaks over 10,000 feet. I guess I was more light-headed than I thought.
Everyone took turns getting their photos taken at this spot with the Matterhorn as backdrop.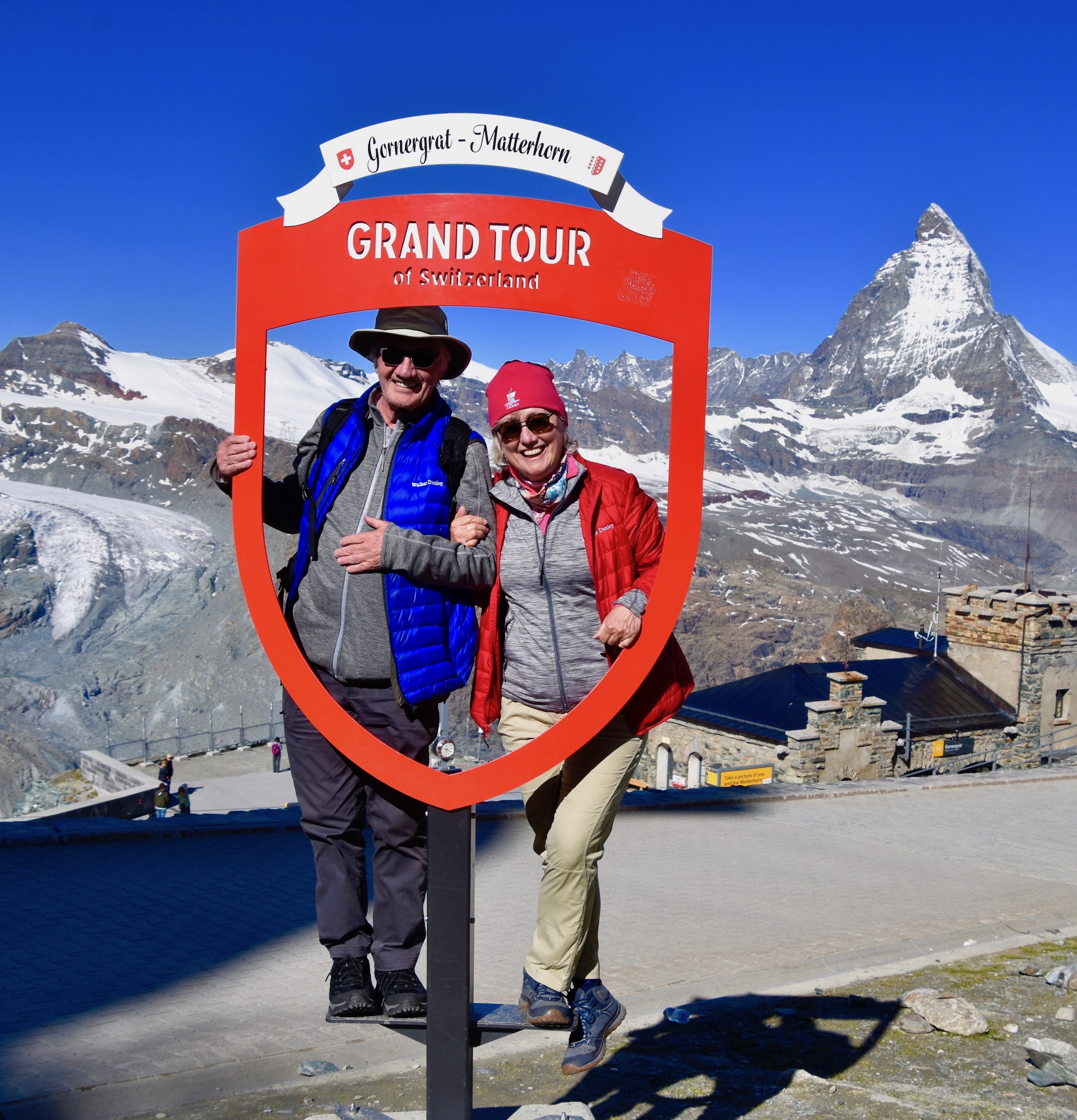 We also took time to observe the stone garden that has sprung up over the years. These seem to be a thing these days.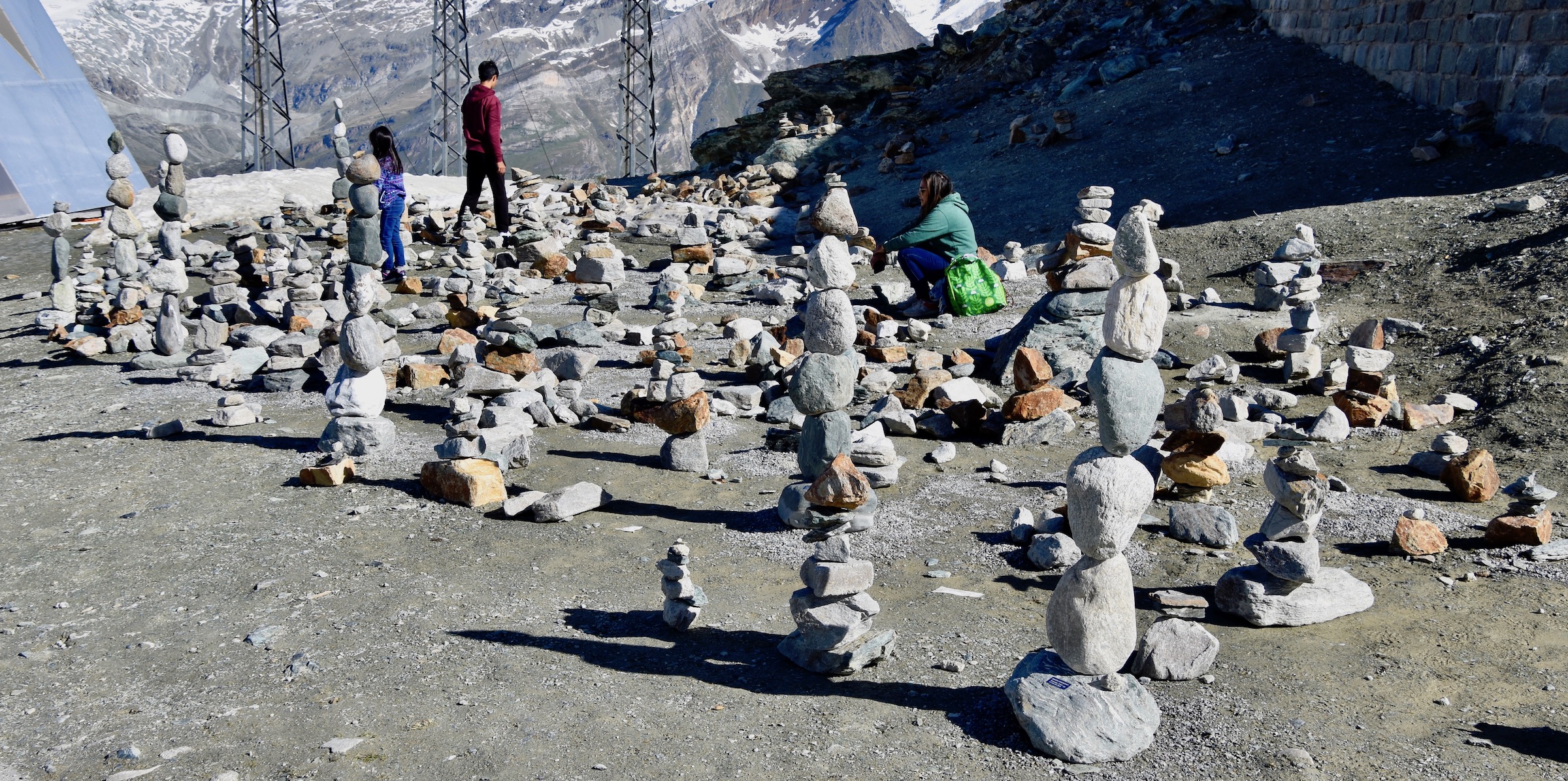 Eventually Victor rounded up his awestruck charges and we took this group photo. Note that despite the elevation, while we are dressed warmly, there was no need for winter clothing.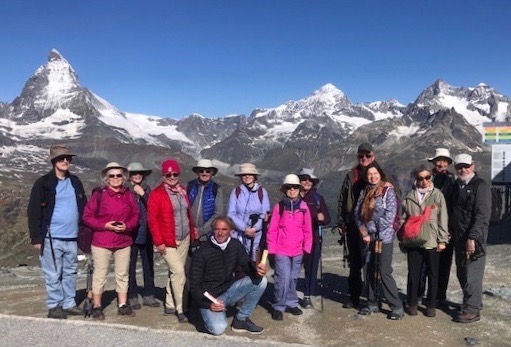 Walking with the Matterhorn as Background
It was now time to begin our ramble back down to Zermatt with the Matterhorn as a constant presence. The walking was relatively easy and Victor led the way with the rest following at their own pace.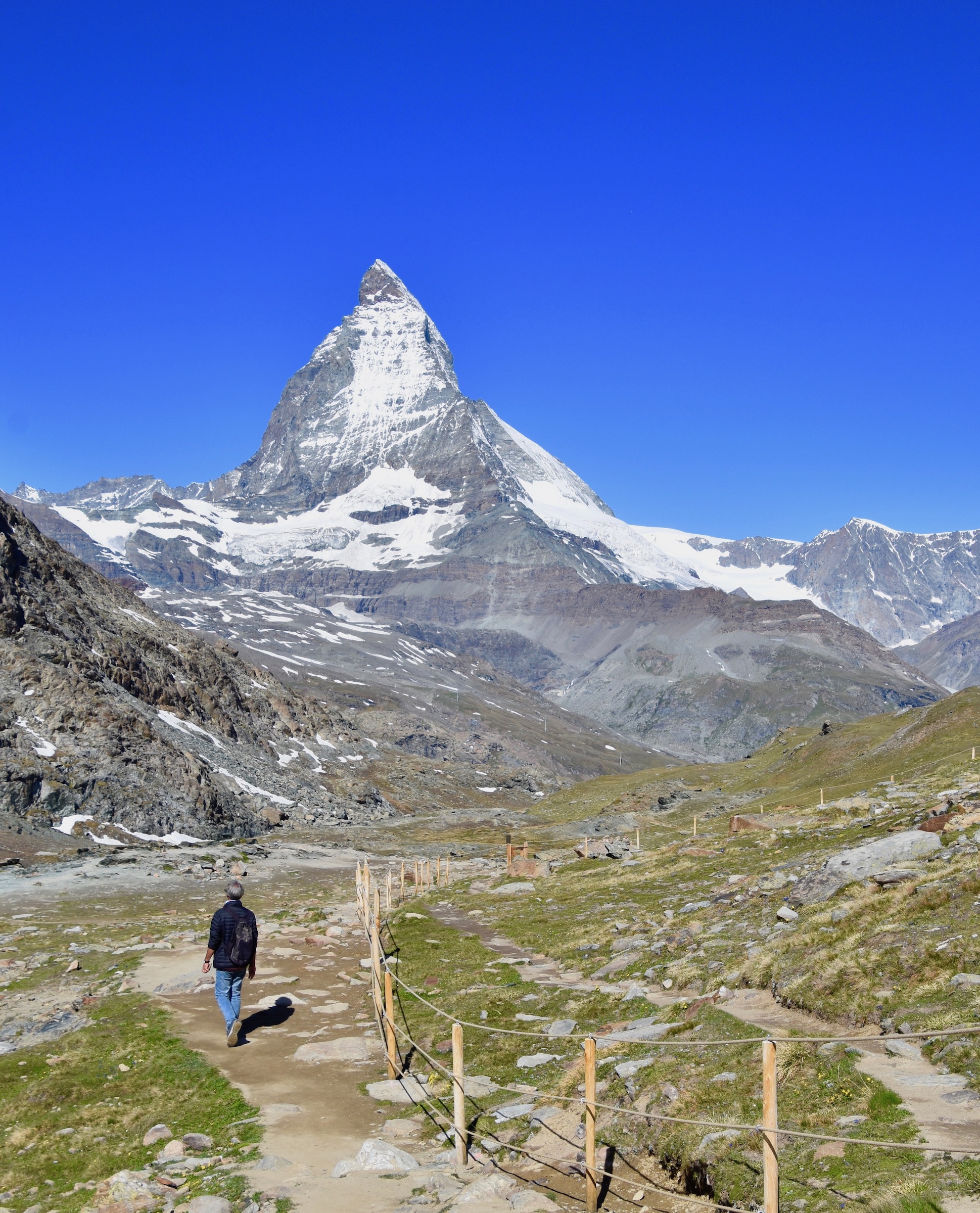 What really made this day special, aside from the fact we were actually at the Matterhorn on an absolutely gorgeous day, was that we were almost the only people around. Victor had made sure we got up early and caught the first train up, but I never expected to be able to get photos like this.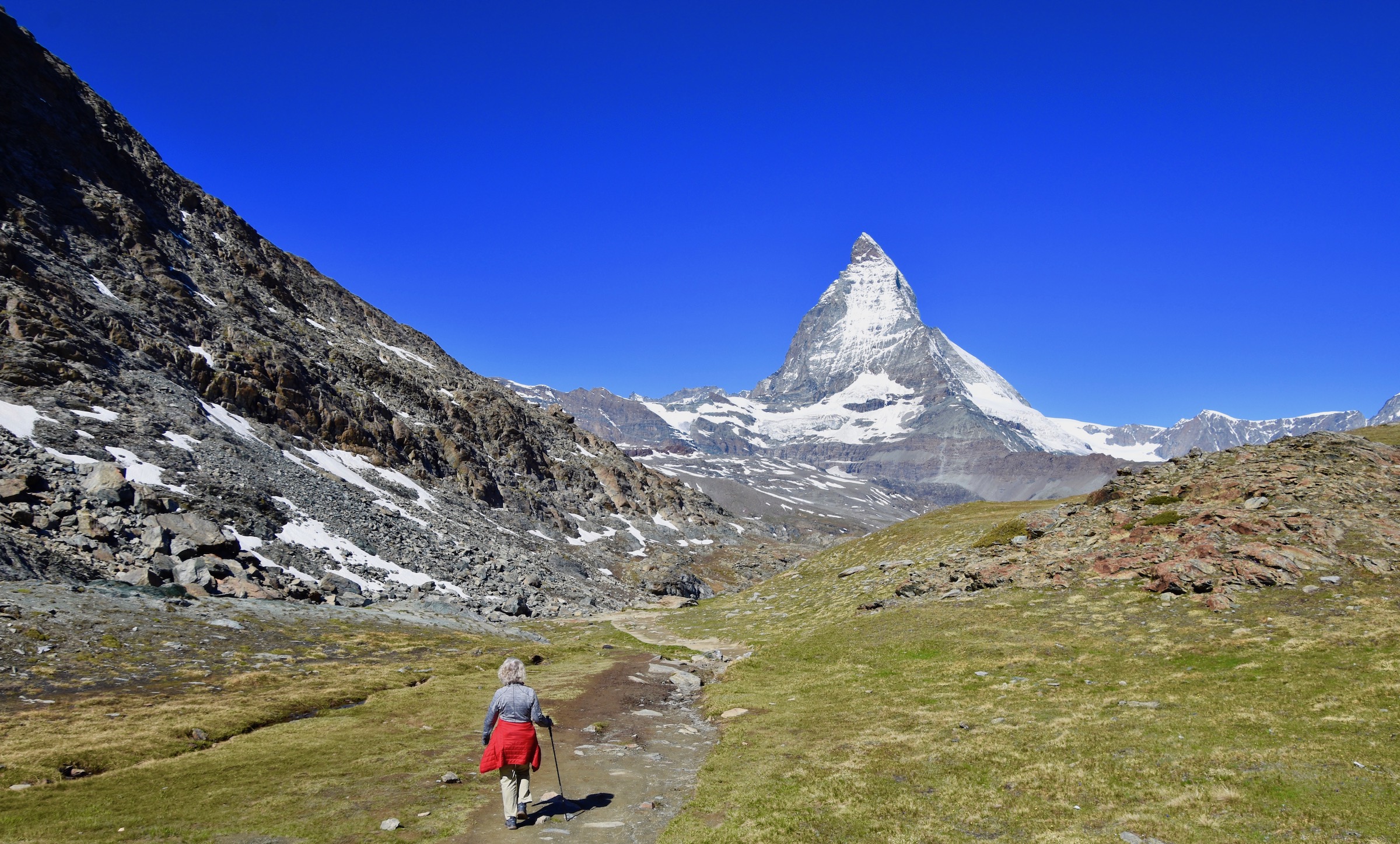 Or this.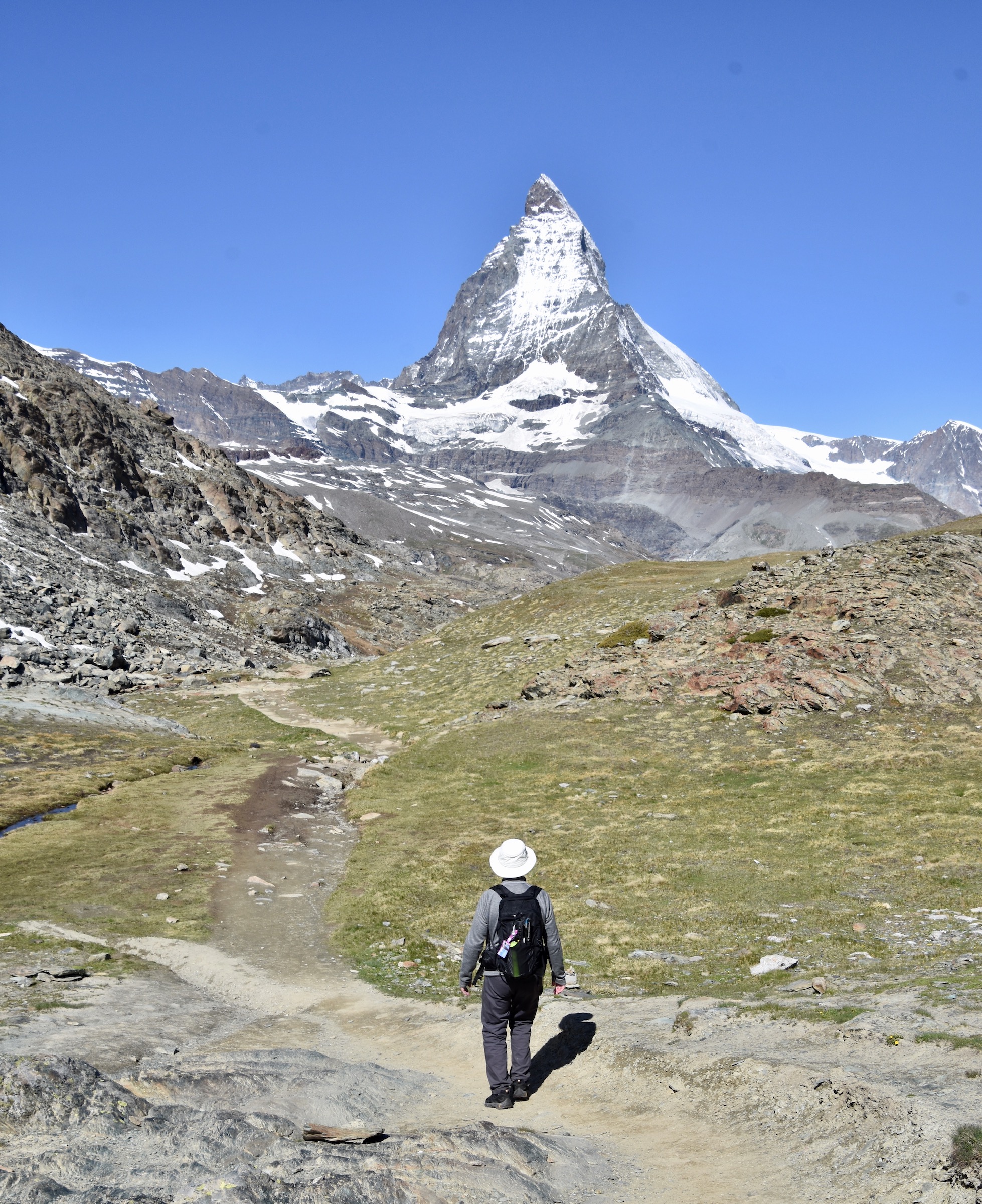 It was like having this beautiful landscape just to ourselves.
I was able to get this famous view of the Matterhorn reflected in the mountain tarn without the hundreds of other tourists that are usually seen in this location.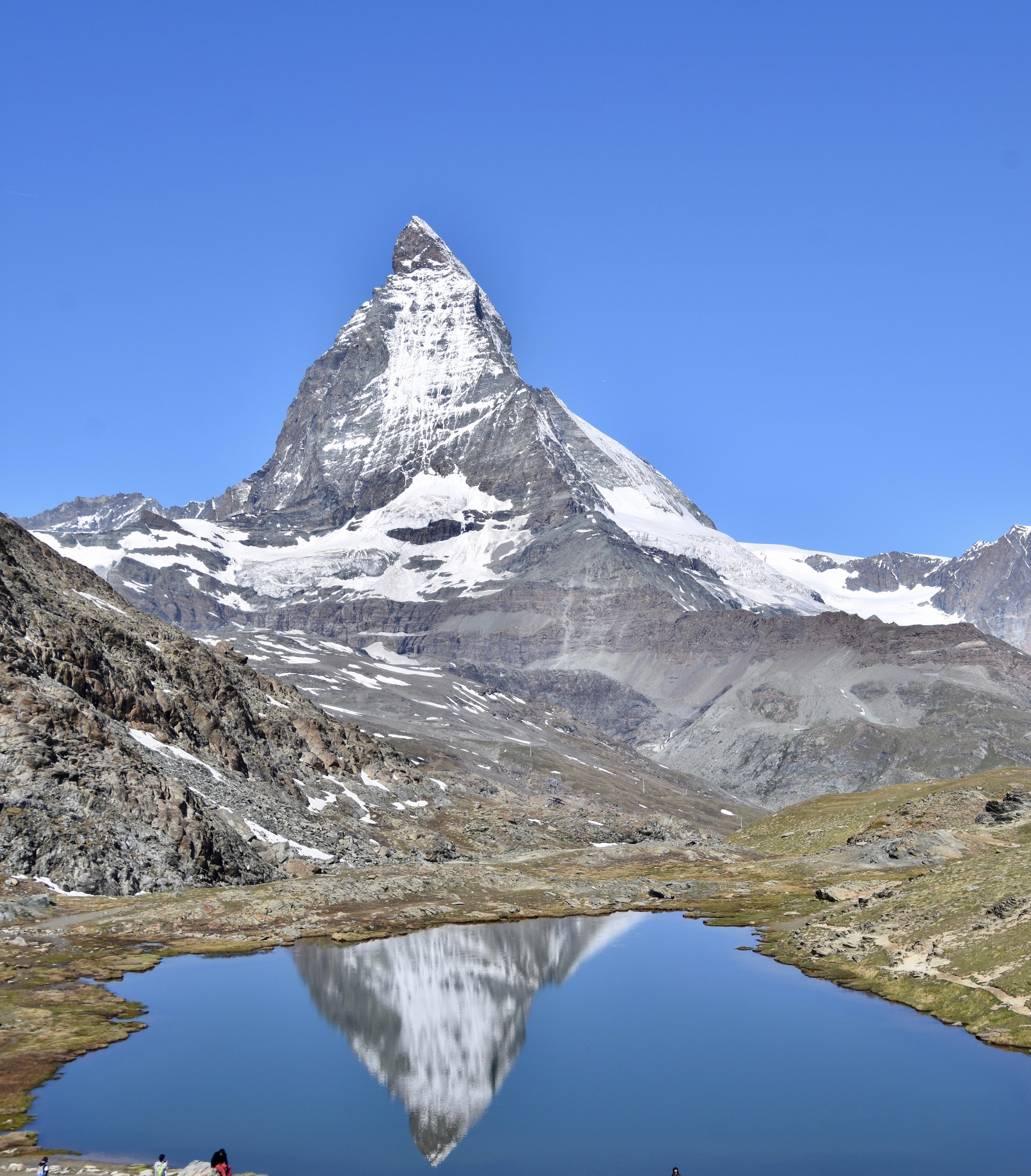 To be sure there were other people enjoying a day near the Matterhorn, but they were mostly doing other things, like mountain biking – my son Dale would loved to have joined them.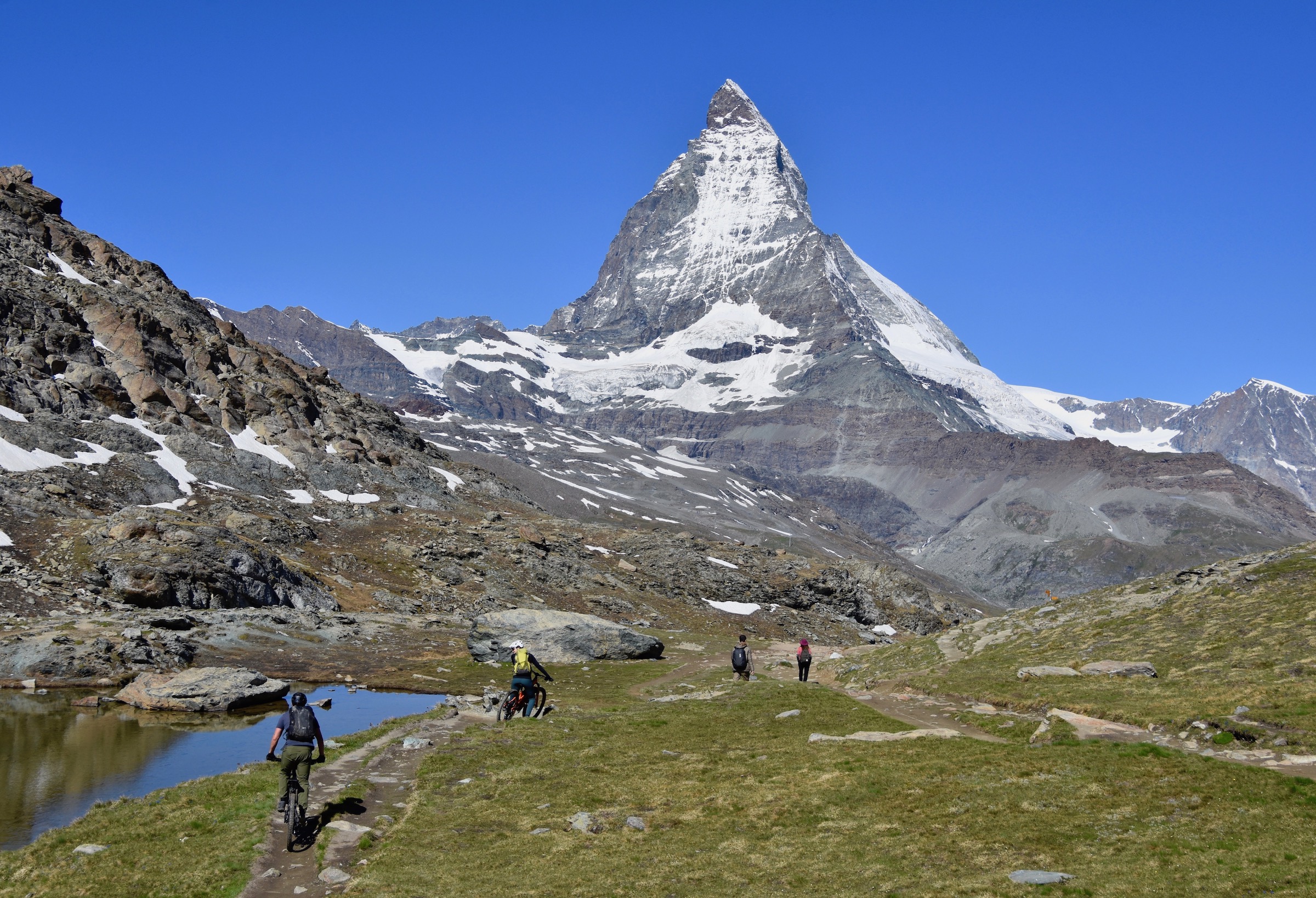 Or paragliding. Not sure who would rush to join them. These guys were on the same train that we took up.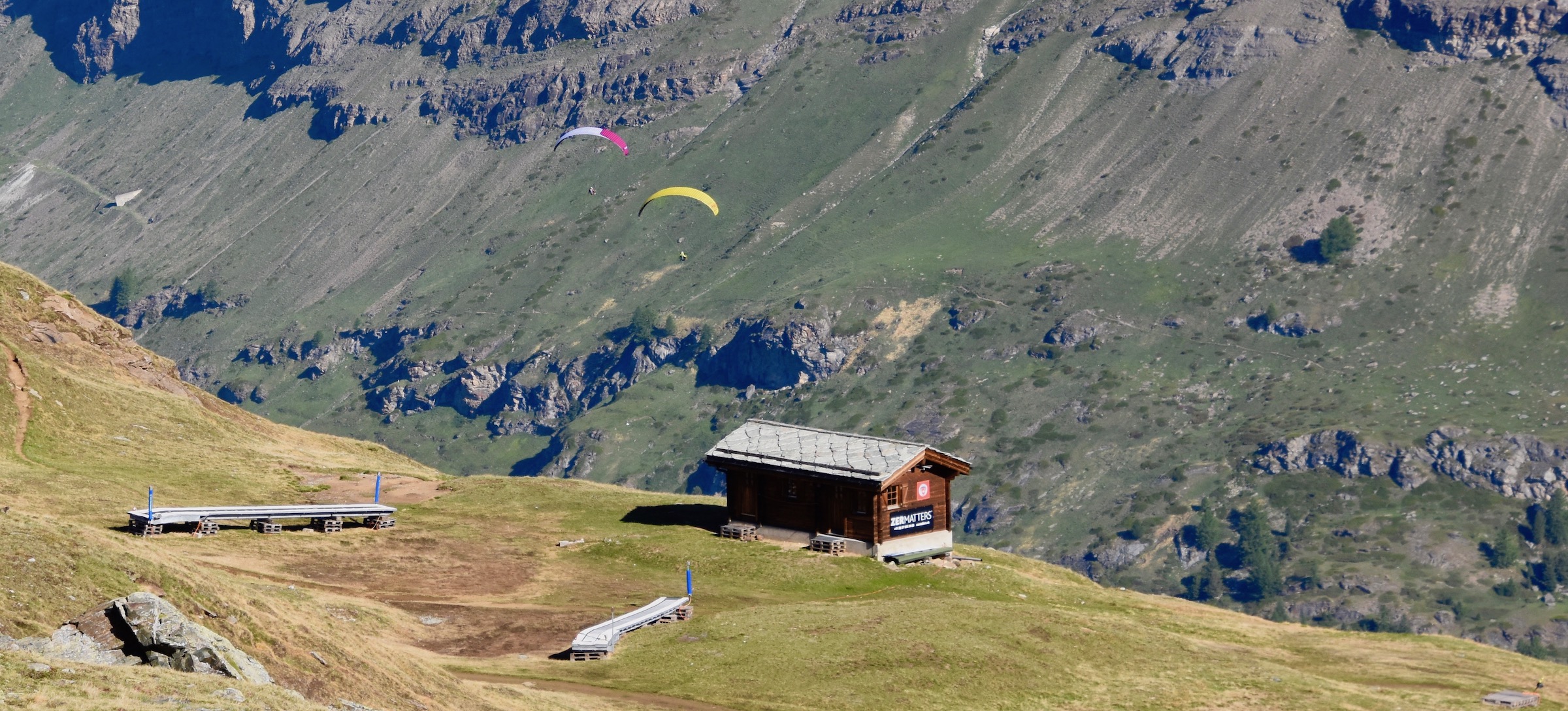 At about 8,000 feet (2440 metres) the barren rock gave way to meadows and wildflowers began to appear like this spring gentian, making the walk even more enjoyable if that was possible.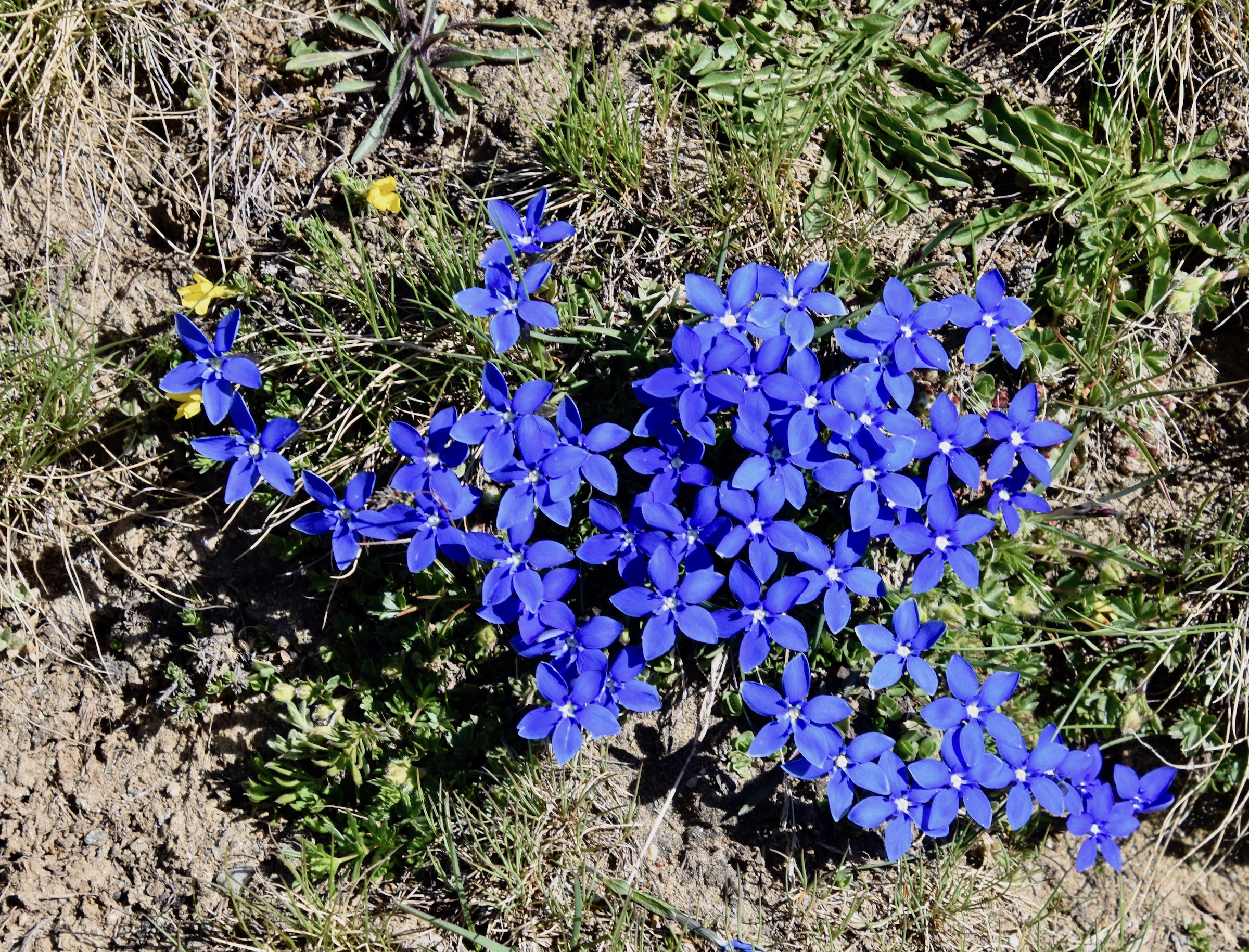 We also heard the whistling of marmots and I managed to get this photo of one before he dashed back into his mountain den.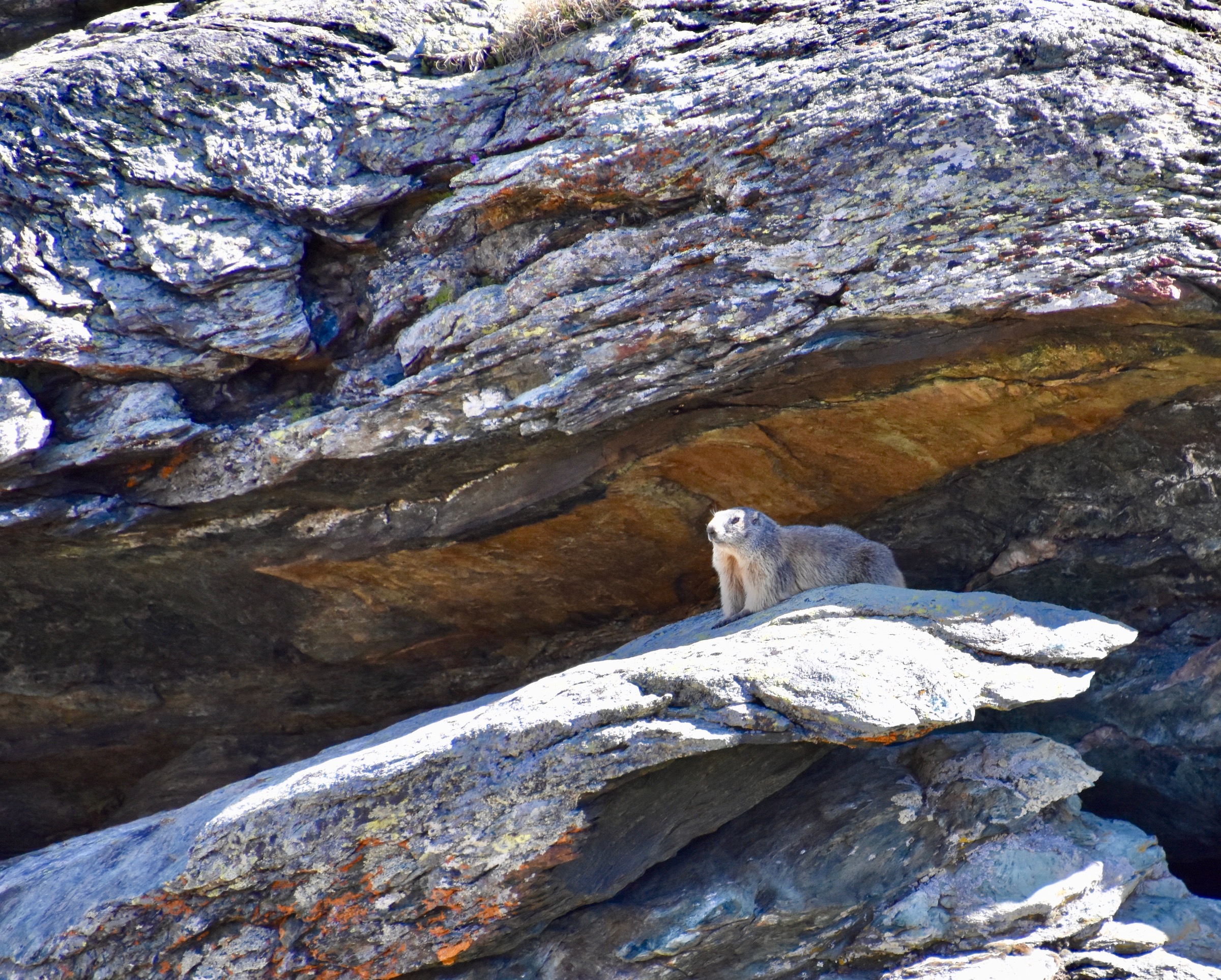 But the one thing that constantly drew the eye was the Matterhorn. I knew this would probably be the only day of my life that I would ever get to see it in these conditions and I couldn't get enough.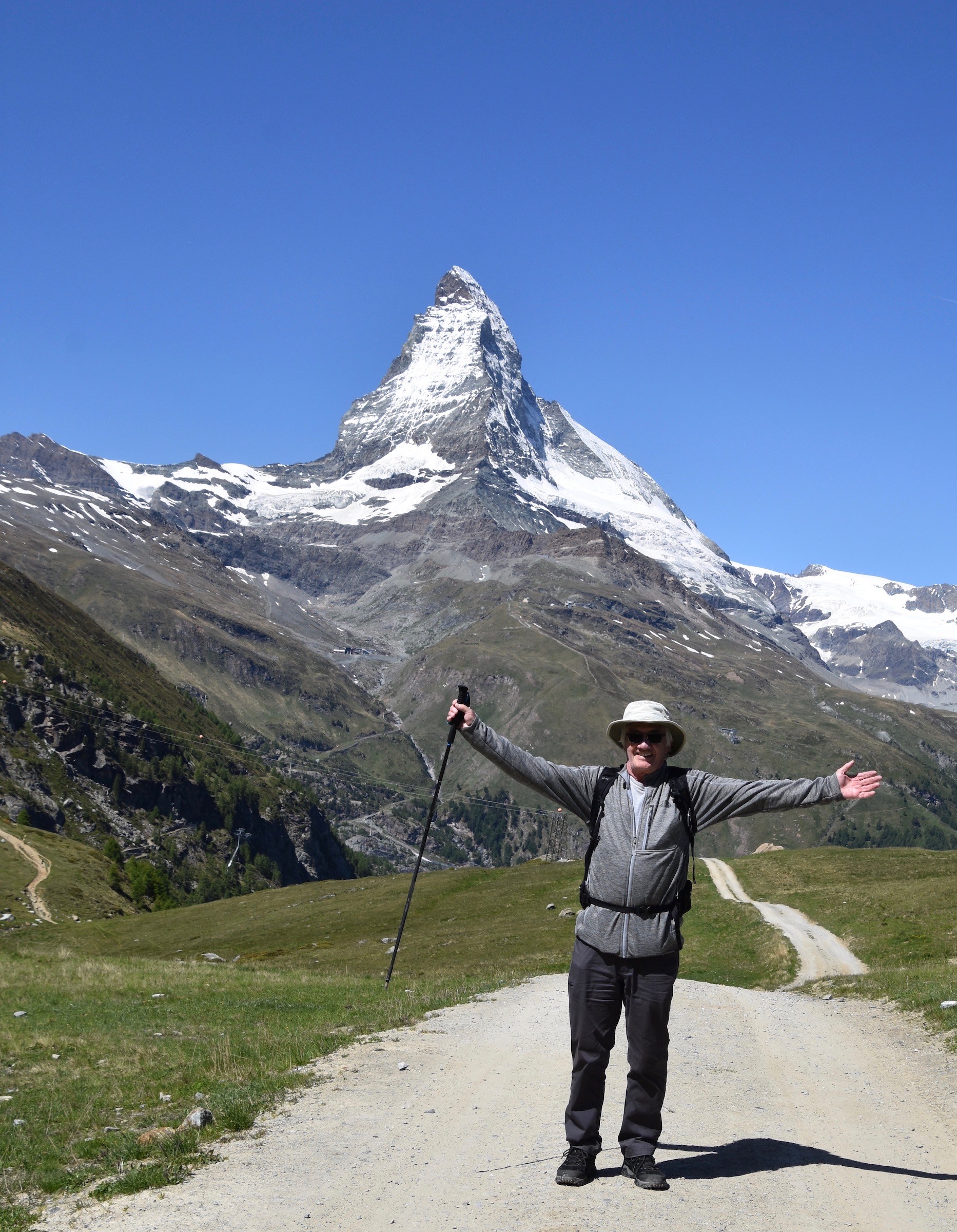 We also got views of the Gornergrat as it made its way up and down the mountains. Here there is one going up and one going down.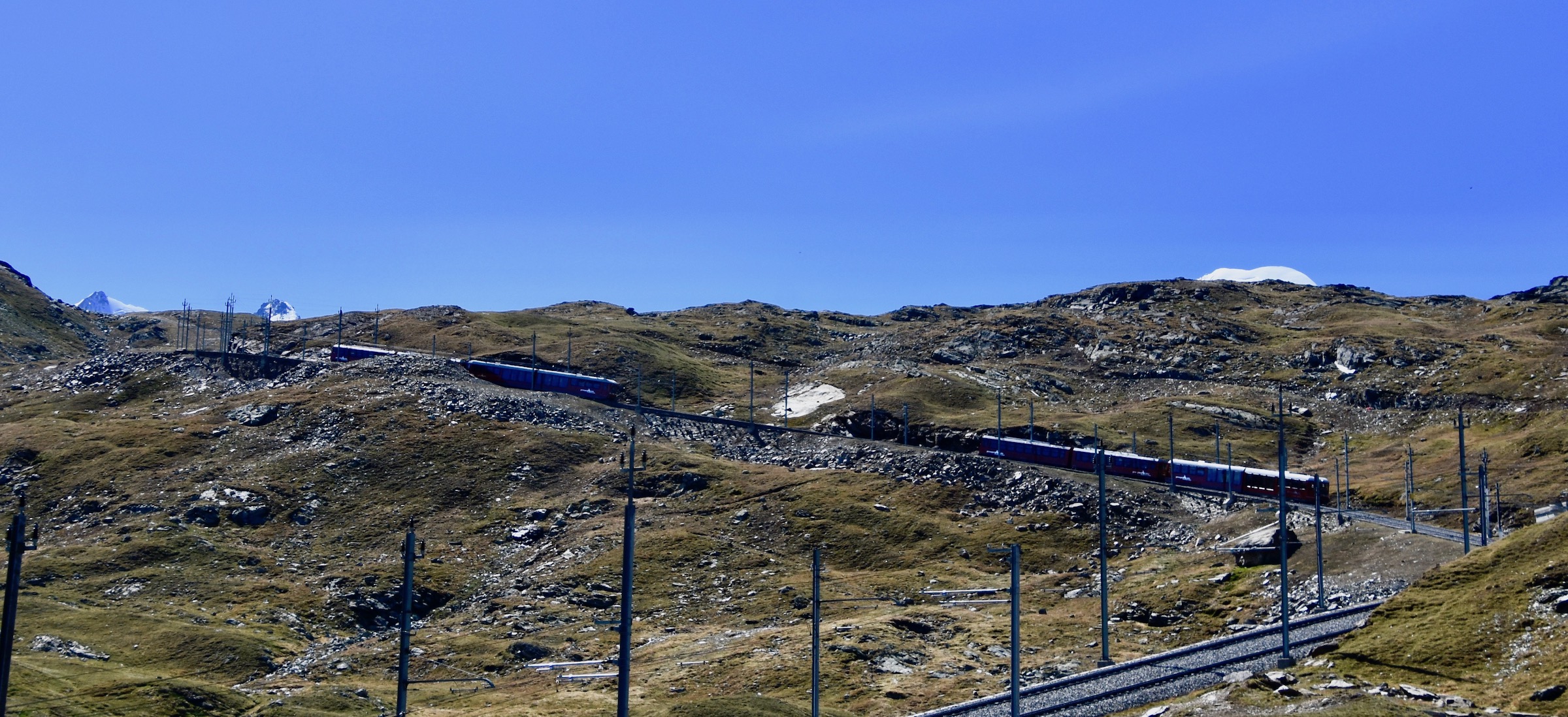 There are actually five stations between Zermatt and Gornergrat which meant that everyone in our group could decide just have far toward Zermatt they wished to walk. This is the Riffelberg station which also has a hotel and restaurant. If you look closely in the lower right you can see the valley far below where Zermatt is located. It's a long, long way down.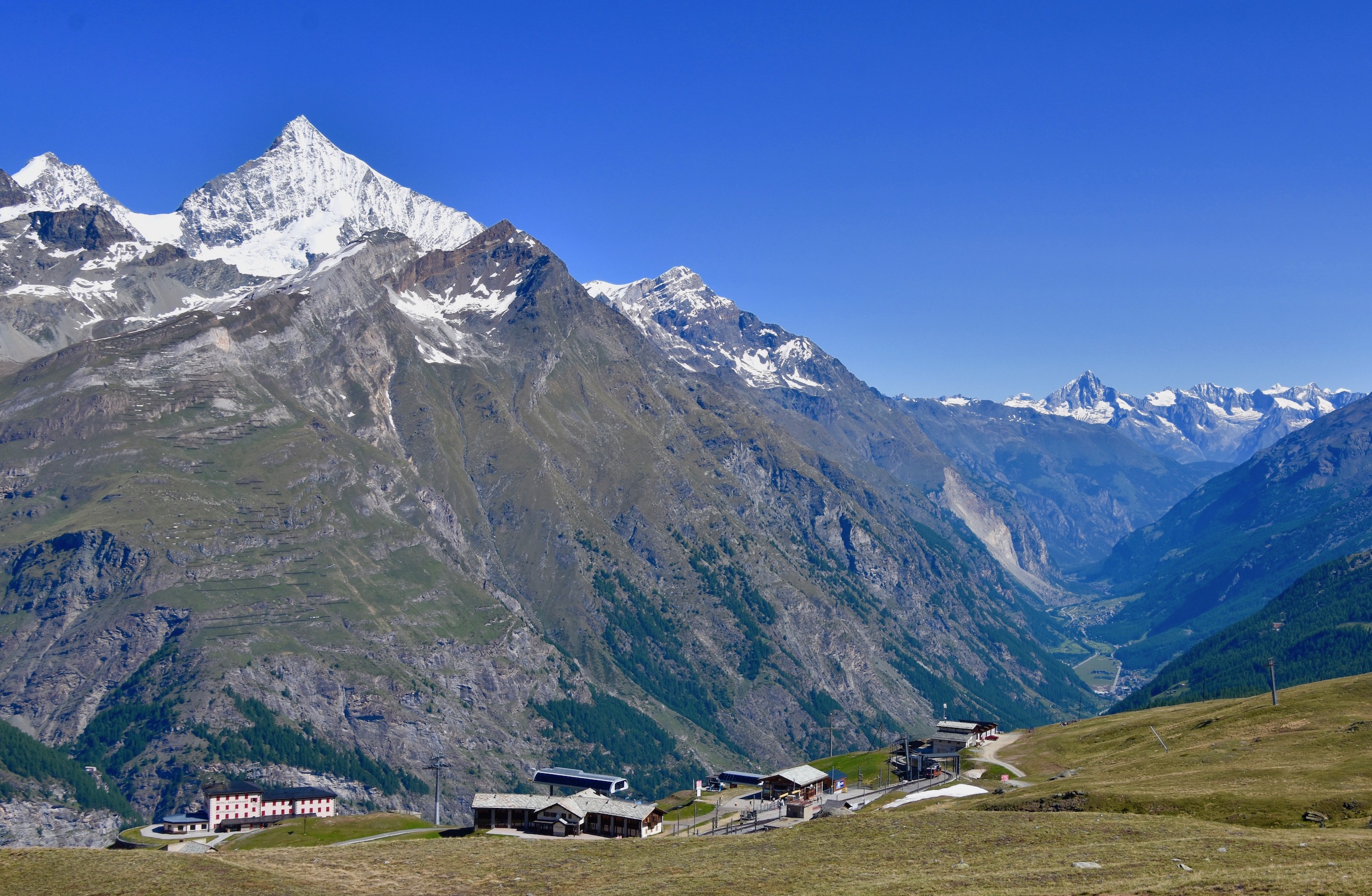 Some elected to end their day on the Matterhorn at the Riffelberg station, but most continued on down. By now some of us were down to t-shirts, it was such a pleasant temperature.
We had been walking steadily downhill for a number of hours and my knees were definitely beginning to feel the strain. We reached Riffelalp station which is just below the tree line and we should have stopped there. Instead we plunged into the forest and headed for Findelbach station. Big mistake.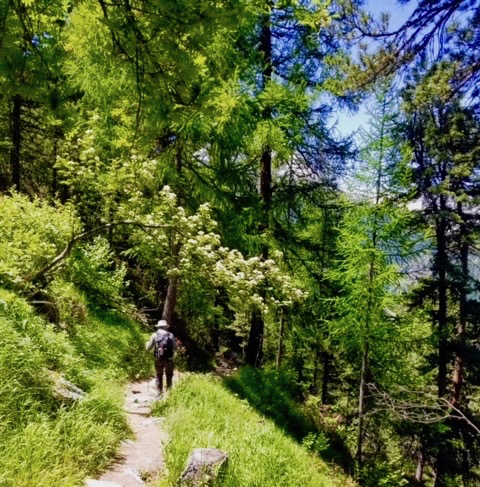 The bottom line is that I thought the Findelbach station was way closer than it actually was. We hiked downhill for another hour before reaching it and by then my knees were totally shot. Luckily they recover fast once I am able to rest them. The lesson here is not to take on more than you can handle. To their credit some in our group made it all the way to Zermatt, but for me Riffelalp should have been enough.
That said, the aching knees were a very tiny price to pay for one of the best days in the great outdoors I have ever experienced.