Interlaken – Bollywood in Switzerland
This is my latest post from last summer's visit to Switzerland with Adventures Abroad. It will feature our transition from Zermatt to Wengen with an extensive stop in the lovely little city of Interlaken. In the last post I wrote about the absolutely once in a lifetime day we had hiking down from the Matterhorn to Zermatt. Reflecting back, it was probably the highlight of a trip that had many, but there is much more to see and do on this trip led by our good friend Victor Romagnoli so let's find out why I call Interlaken the Bollywood of Switzerland.
Although it's only 66 kms. (41 miles) from Zermatt to Wengen it actually involves switching trains four times and takes well over three hours in total. Look at the Swiss Rail map below and find the route from Zermatt to Visp, then the short distance from Visp to Brig, then Brig to Spiez via a very long tunnel, then Spiez to Interlaken, then Interlaken to Grindelwald and finally to Wengen which isn't even shown on the map. You'll understand why it made sense to break up the day with a substantial stop in Interlaken.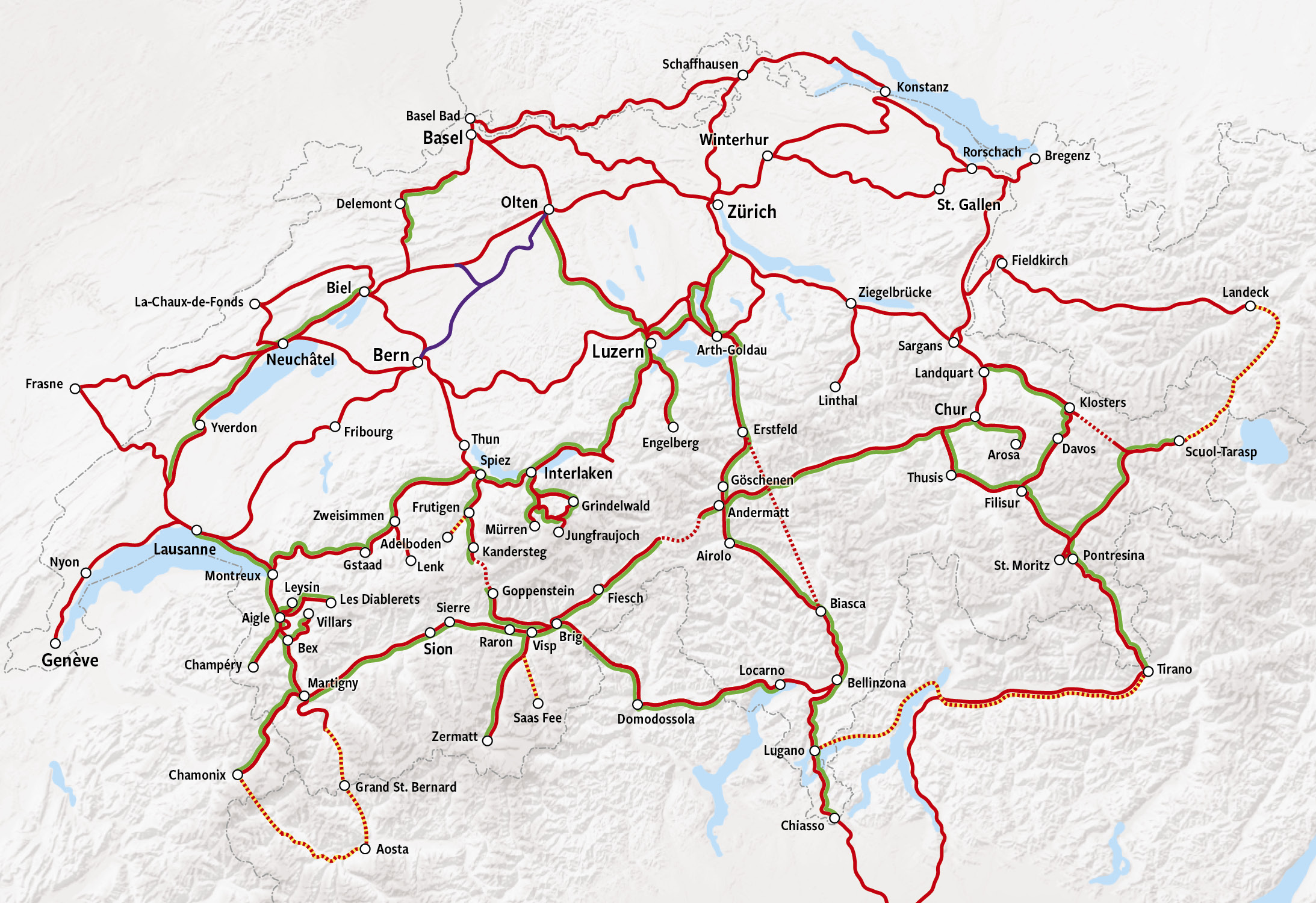 History of Interlaken
It doesn't take a genius to figure out that Interlaken means between lakes and indeed it has an ideal location on the Aare River between Lake Thun to the west and Lake Brienz to the east.
This is a view of Lake Thun from the train as we near Interlaken. It is a beautiful late spring day in the Bernese Oberland as this area of Switzerland is called.
Unlike many Swiss settlements with Roman or earlier roots, Interlaken has a relatively recent history dating back to Medieval monasteries where not much seems to have happened other than the usual ecclesiastic spats, until tourists discovered the place in the 1800's. Arriving at the train station it is soon apparent that tourists are still discovering the place as there are hundreds of young people just sitting around with their backpacks and guitars waiting for what I'm not sure.
I also notice that there are a huge number of Indian families disembarking with some of the largest suitcases I have ever seen. I didn't even know you could buy a suitcase as big as some of these are. I ask Victor about this seeming anomaly as we haven't seen any great number of Indian tourists in the other places we have visited. He says to follow him and we'll find out. There is a really nice path along the Aare river which we follow for about a kilometre to the bridge you can see in the background.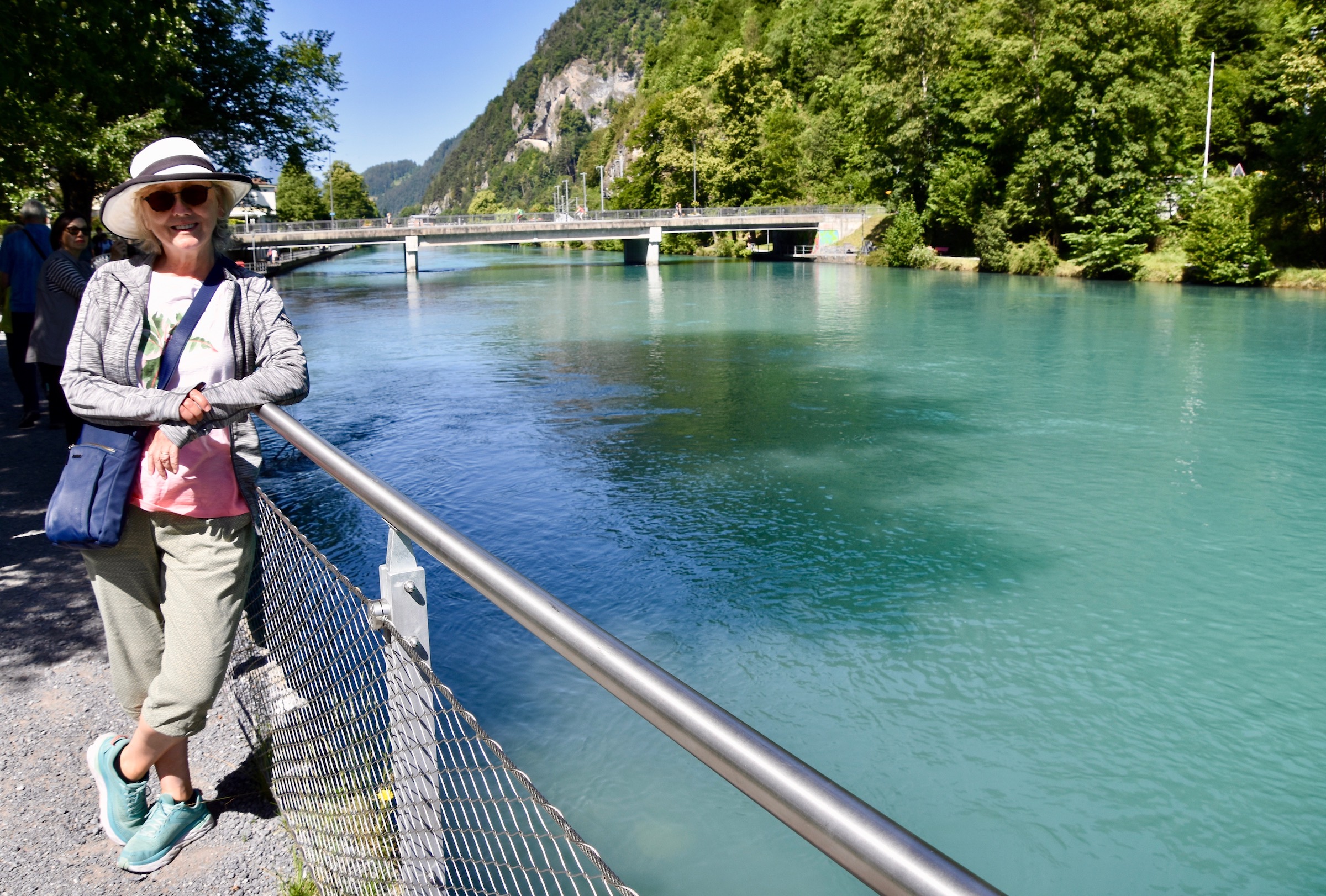 It is the largest river that is entirely within the Swiss boundaries and drains the snow melt from over half of the country. Up until today I have only known the Aare as a frequent answer in crossword puzzles and it is a revelation to stand on this bridge and realize that with its aqua coloured waters, it is a truly beautiful sight.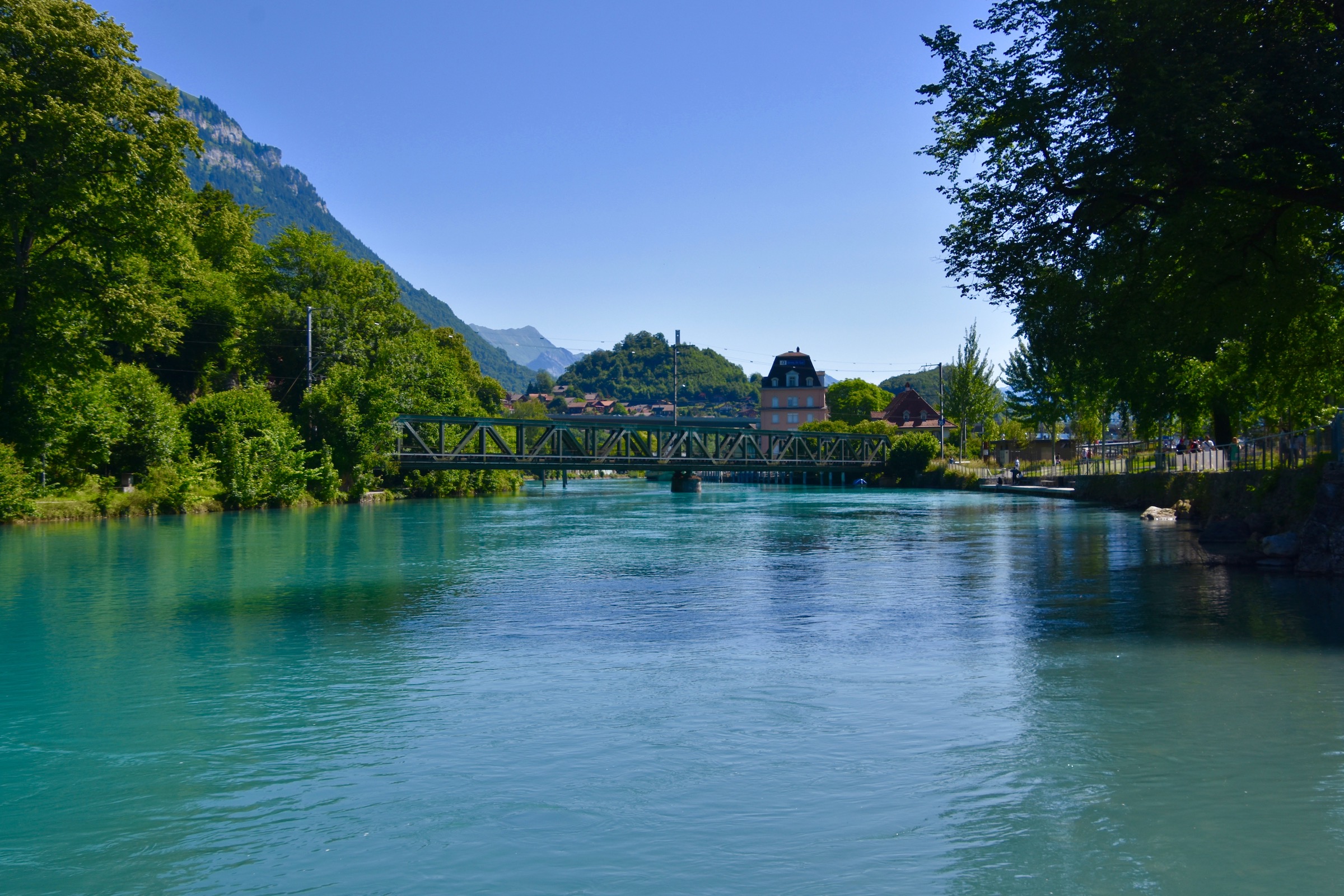 From the bridge we had a decision to make. On the other side is the entrance to Harderbahn funicular railway that can take you to the top of Harder Kulm in ten minutes where I can see a castle like restaurant that has some of the best views in Switzerland. Even if you aren't hungry there are two viewing platforms. My initial plan was to take this funicular, but when I got to the ticket booth there was a significant lineup and the estimate was a thirty minute wait to go up. Not sure of how long the entire trip would take and knowing we had a definitive time to be back at the station, I decided not to go. Big mistake. Several people in our group did wait it out and were rewarded with stupendous views of the entire Interlaken area and were able to get back to station in plenty of time to catch our next train.
So, I continued with Victor to find out why every second person in Interlaken was from India. We reached the grounds of the Casino Kursaal which as casinos go was not too over the top.
Nearby was this statue which held the answer to the Indian tourists mystery. This is acclaimed Indian film director Yash Chopra who is credited with creating the romantic musicals that are synonymous with Bollywood and he did it by featuring the Interlaken region as the backdrop for many of his best loved films. Time and again for over forty years he made Interlaken and the wider Jungfrau area so familiar to Indian film goers that it became a huge destination for Indian tourists. Mystery solved.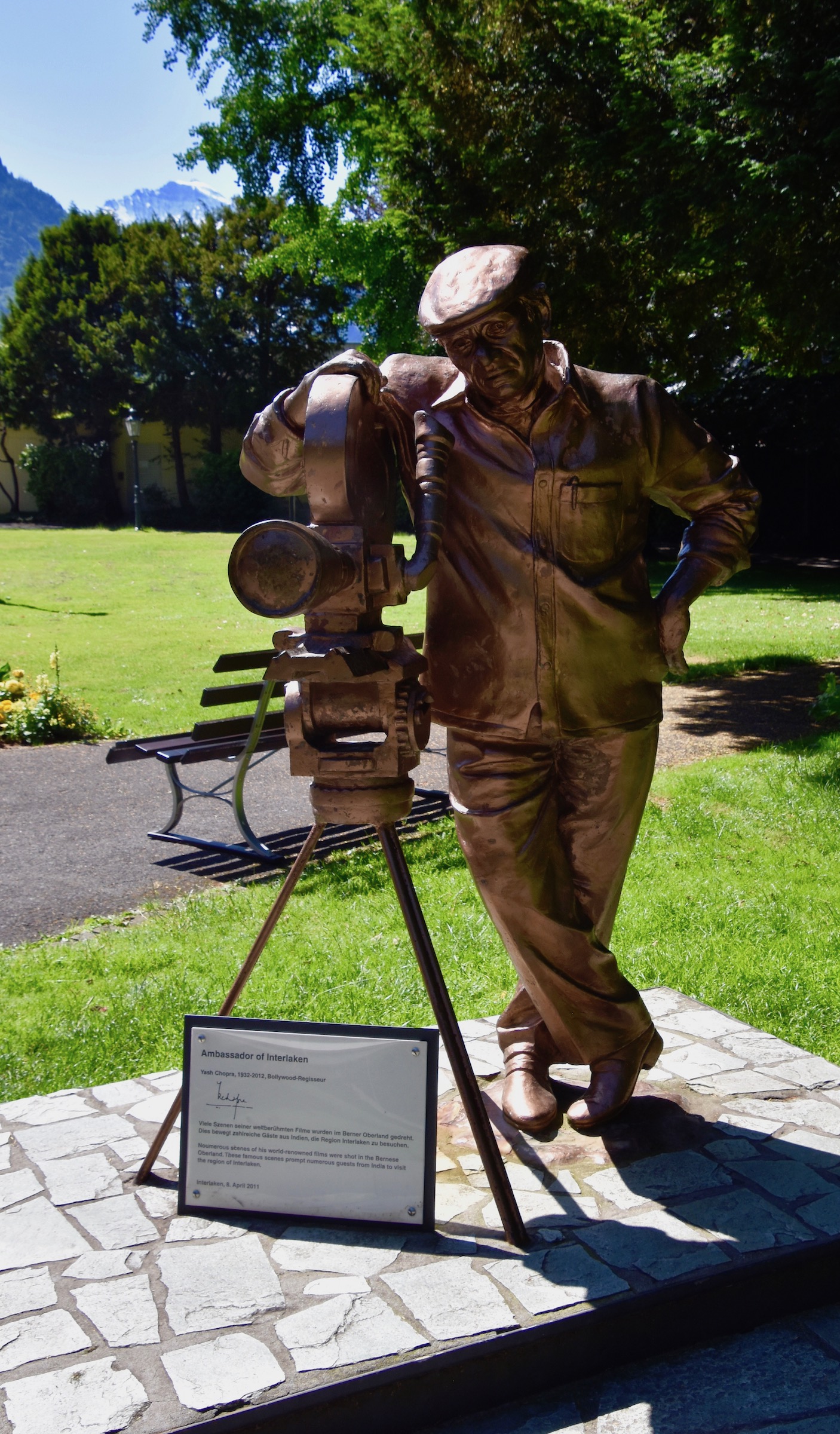 We parted ways with Victor to do some exploring on our own including finding a place to eat lunch. Interlaken has a very interesting outdoor market with some very interesting specialty shops like this one selling only products made with garlic.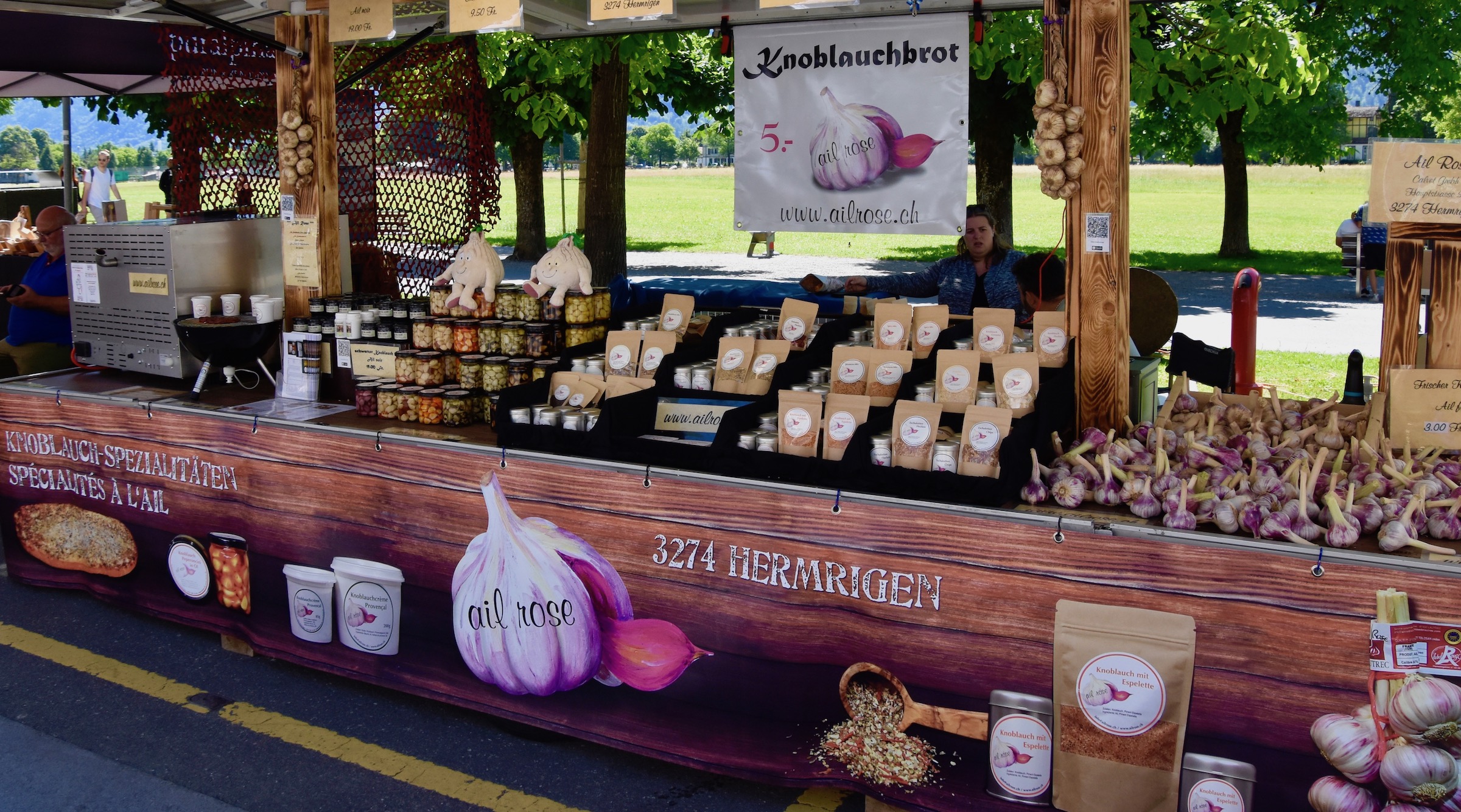 Or this one selling dozens of types of Italian cured meats. Just looking at it made me hungry and thirsty.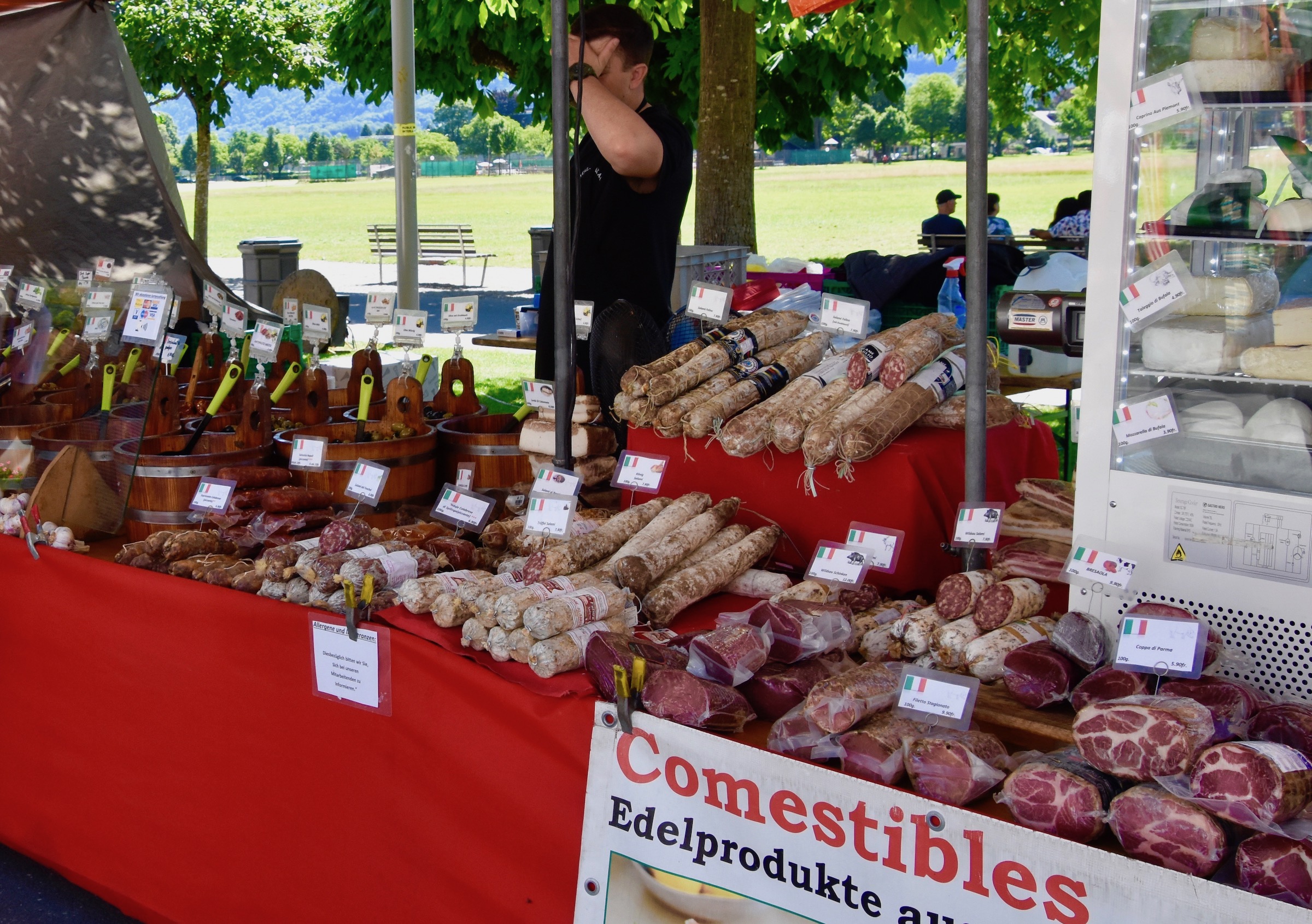 Not surprisingly, at least half the restaurants in Interlaken specialize in Indian food, but we were looking for something more definitively Swiss and found it at the Chalet Beizli which has a nice outdoor seating area. Most of the other diners appeared to be Swiss and guessing from their attire, dropping in after attending church.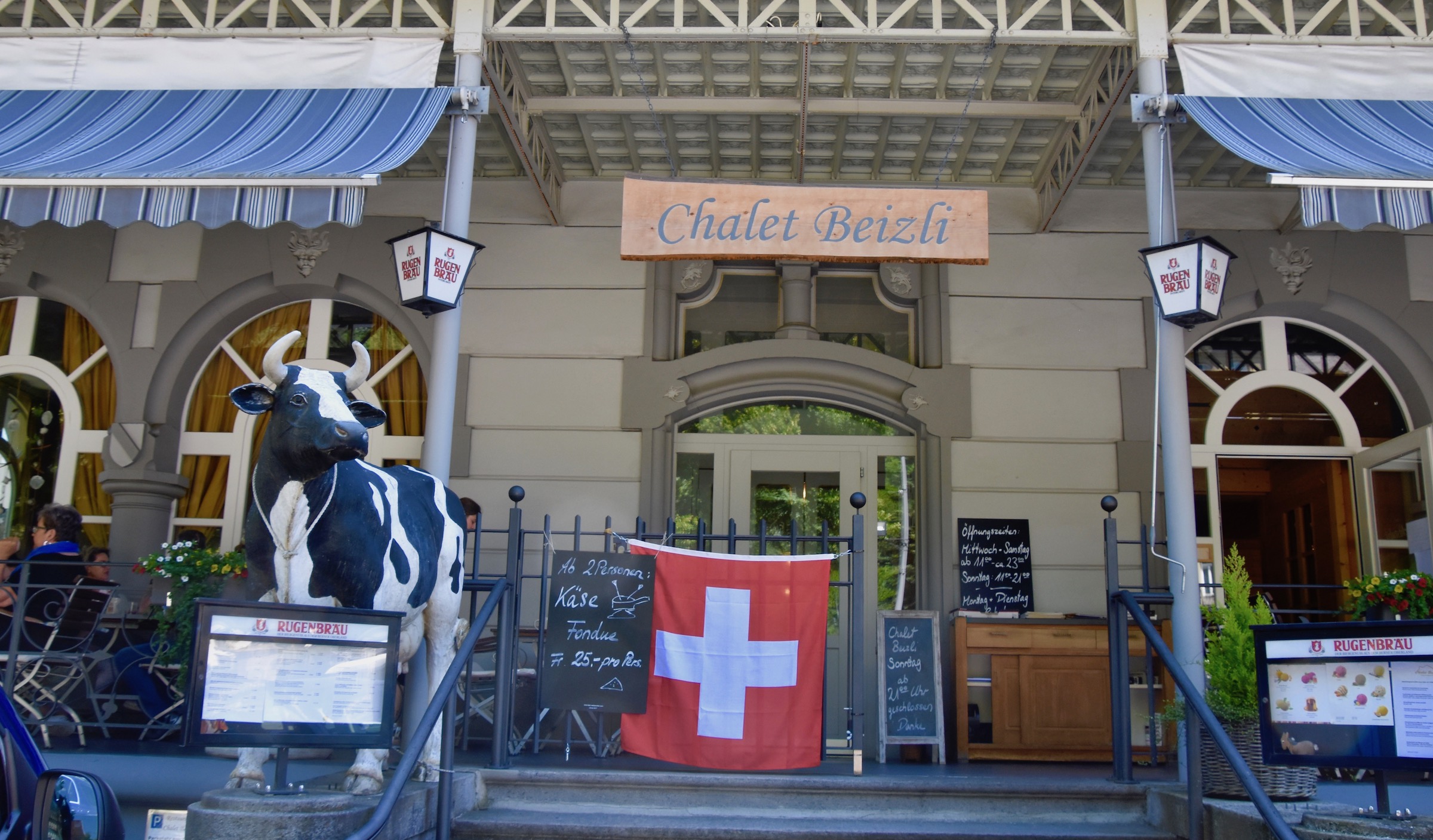 I started off with a Rugenbrau lager which is made right in Interlaken. The stein was a nice touch.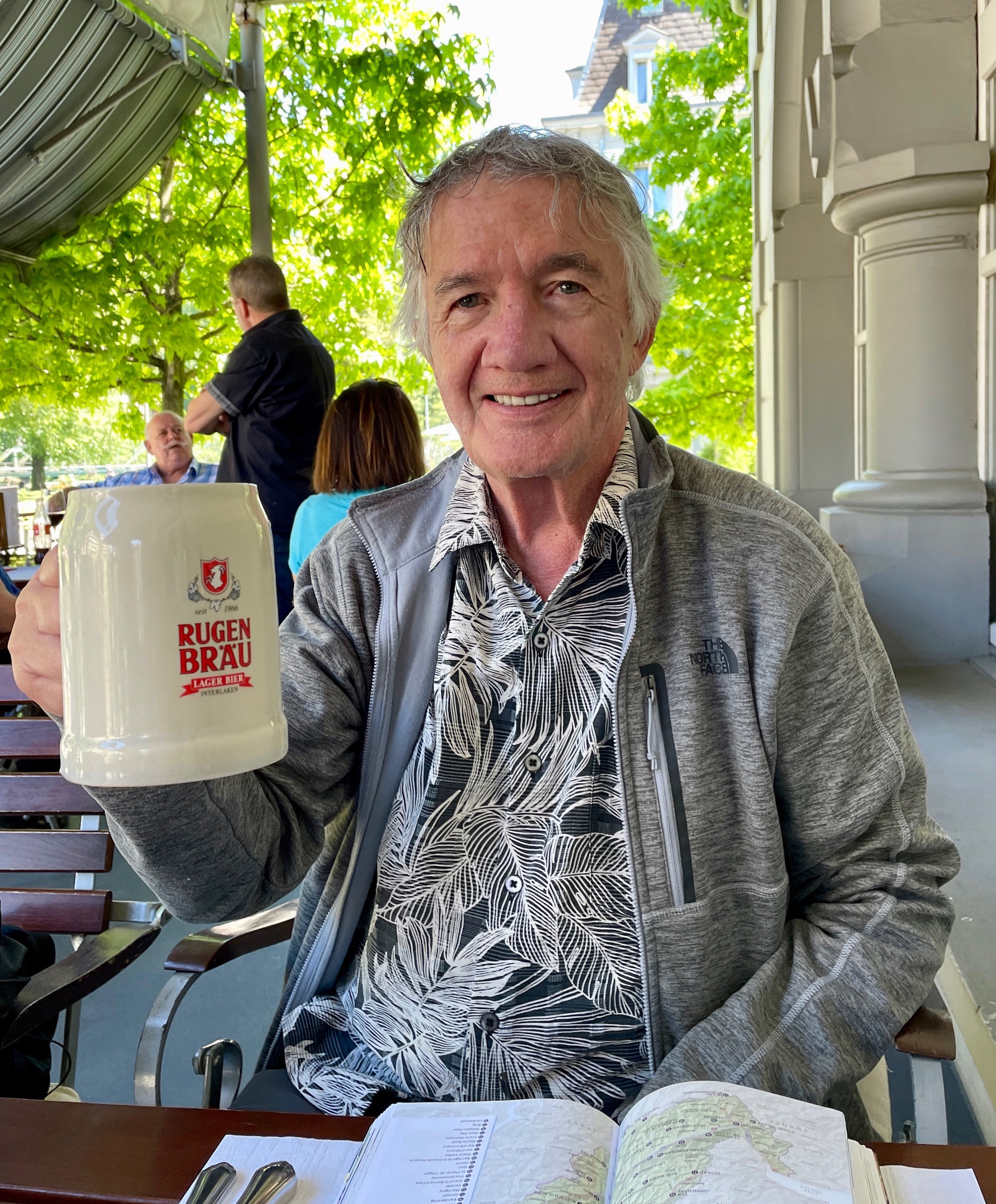 For my lunch I had the best calves liver I have ever tasted. Unbelievably tender and tasty along with roesti. My mouth is watering just thinking back on it.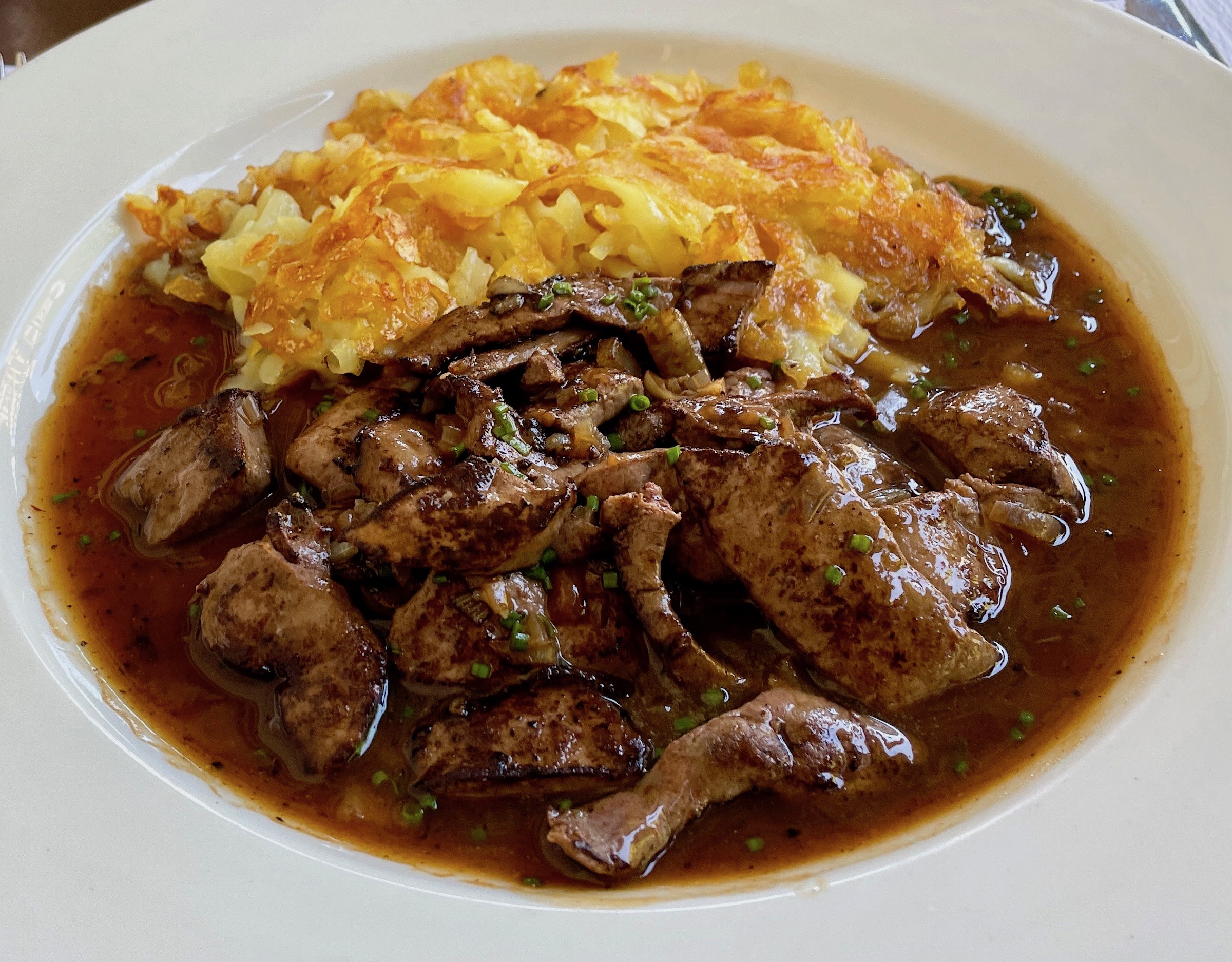 Alison had mushroom ravioli which was also delicious and washed down with a crisp white Swiss chardonnay.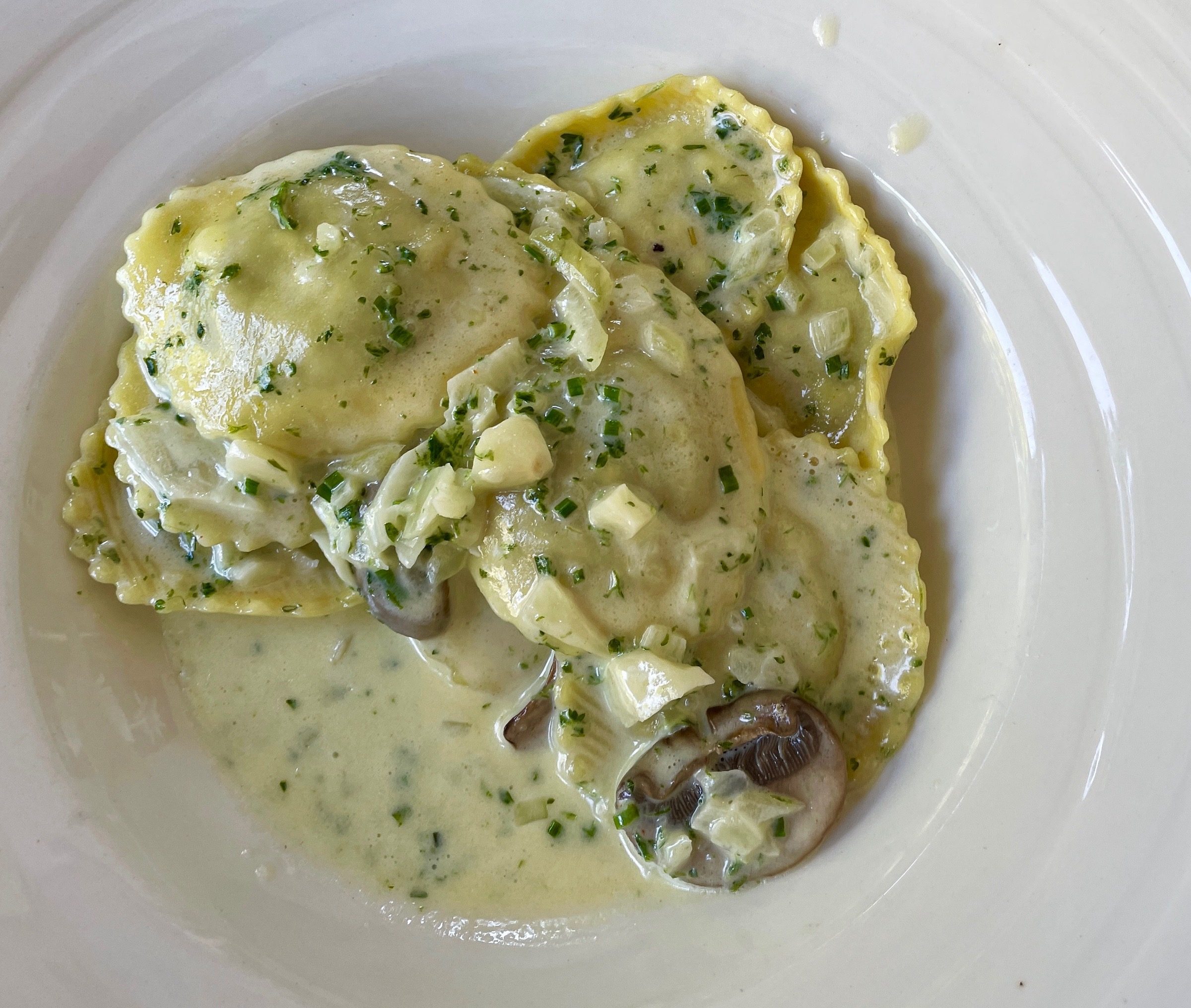 Our hunger satisfied we continued our stroll around Interlaken which has another distinction. It is the paragliding capital of Switzerland and maybe the world. There were dozens of paragliders everywhere in sight, many offering tandem rides to daring tourists. It hardly seems possible that such a small expanse of cloth could keep two people aloft, but it clearly did.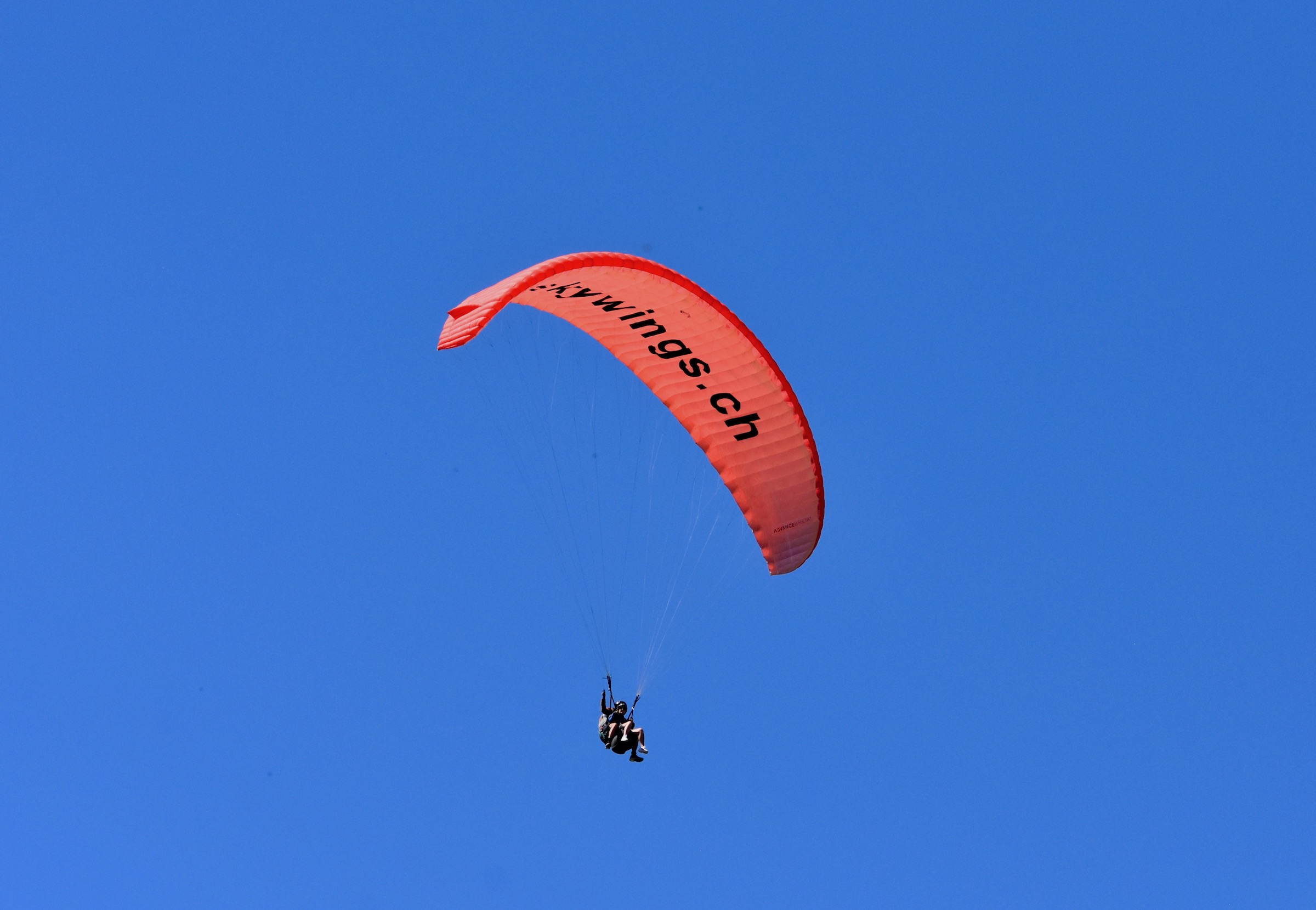 The small city also has a ton of green space with fountains and flowers galore, especially roses.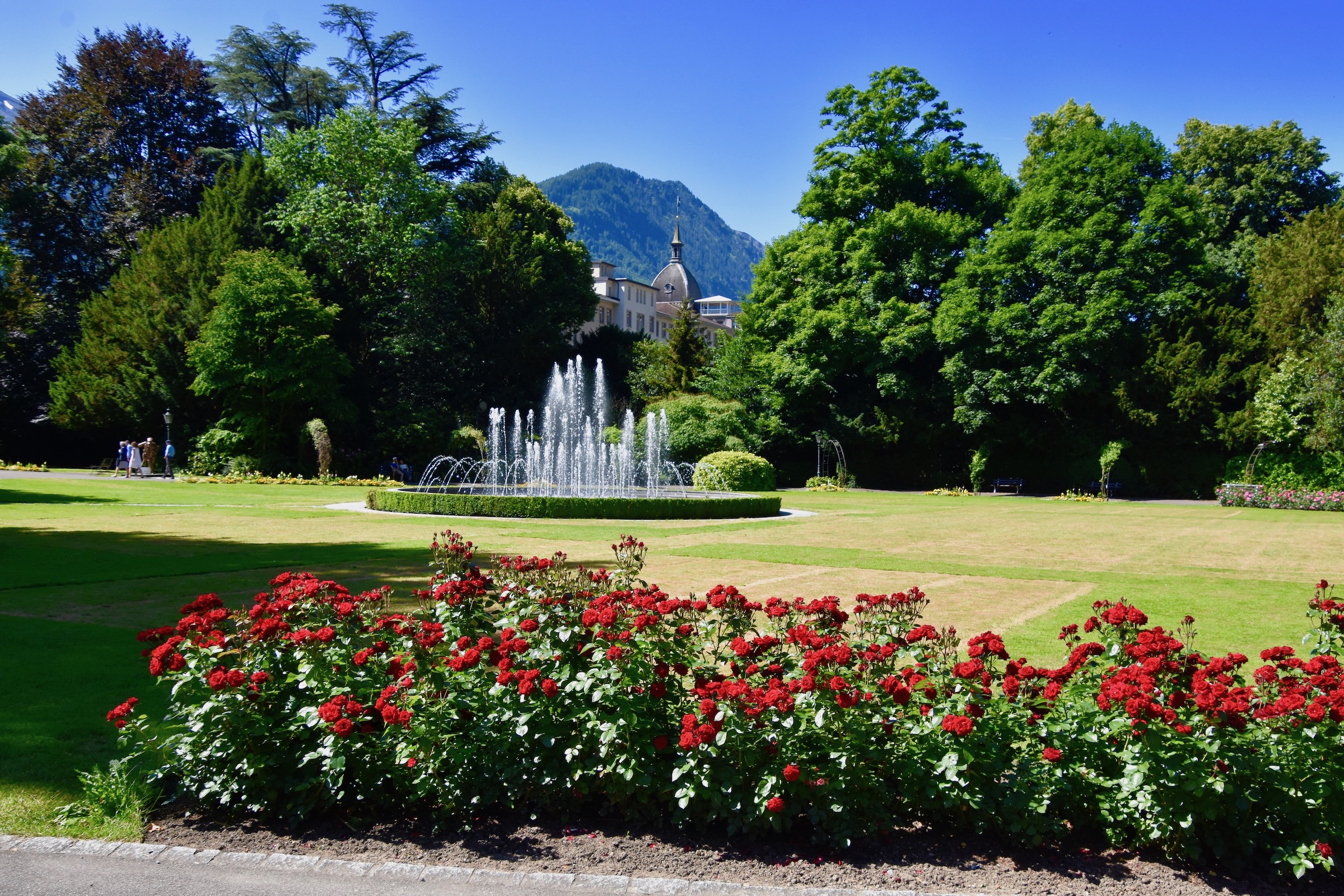 This is just one of many gardens between the main streets of Interlaken and the train station which we were now headed back to.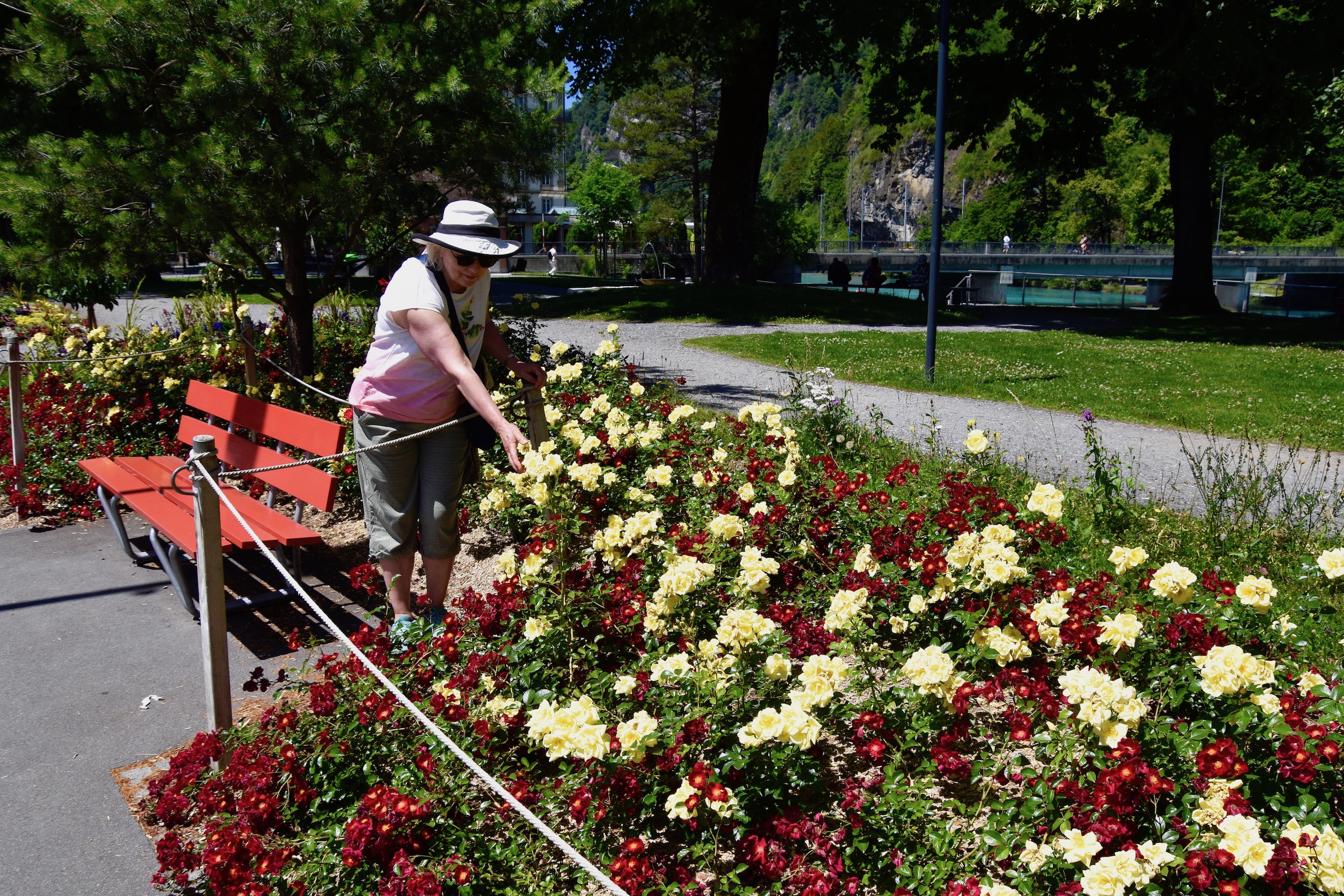 The itinerary for this tour indicates that the next three nights will be in Grindelwald, but in fact we are headed to the much smaller village of Wengen which like Zermatt is car free. Join me in the next post to find out why Wengen was my favourite of the smaller places we stayed at on this tour.