Grindelwald-First Gondola to the Cliff Walk
In the last post from this Adventures Abroad tour of Switzerland led by veteran guide Victor Romagnoli our group transitioned from Zermatt to Wengen by way of the very interesting small city of Interlaken. As I noted in that post the itinerary initially had us staying in Grindelwald for three nights, but instead we went to the much smaller village of Wengen instead and I think that was a wise decision. While Grindelwald is definitely the hub for all types of excursions into the Bernese Alps it is also pretty crowded and noisy. Wengen is the opposite, with no motorized vehicles and a small pedestrian main street that is lined with interesting shops and restaurants. This is some of our group walking toward our hotel after arriving, but I'll backtrack a bit.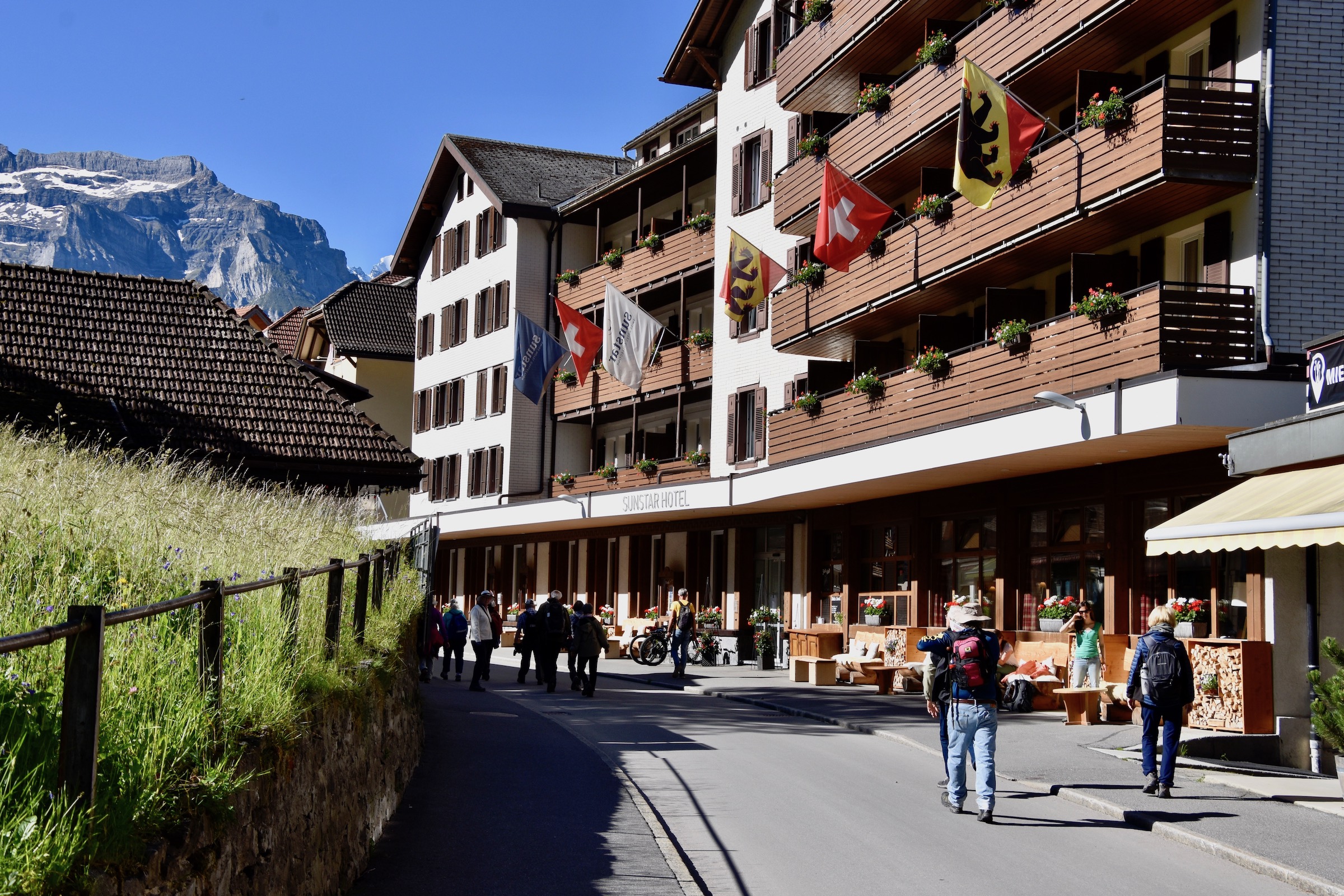 To get to Wengen you need switch trains at Lauterbrunnen, a small town with a beautiful location at the foot of Staubbach Falls which plunges 297 metres (974 feet) over a nearby alpine cliff.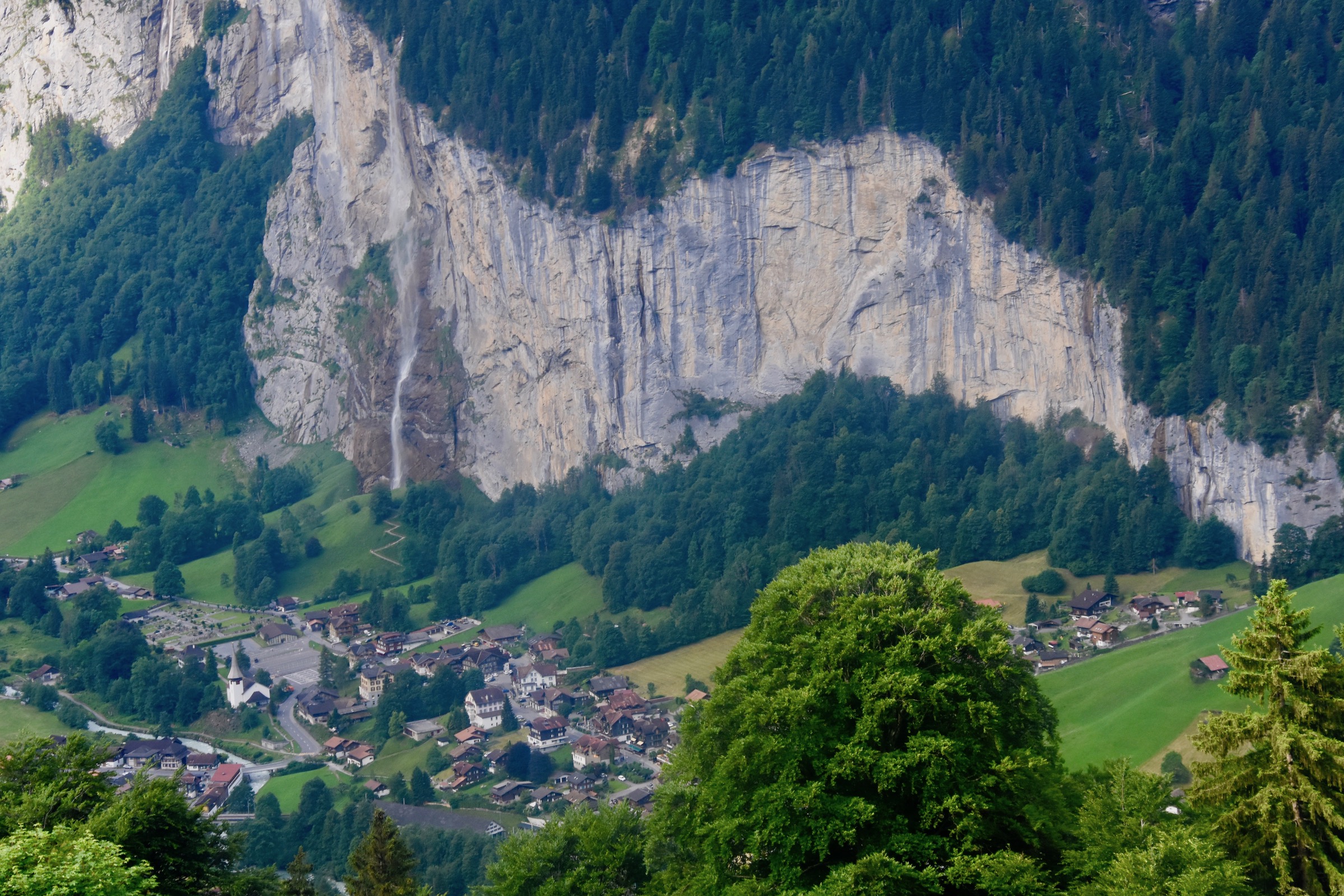 From Lauterbrunnen the train rises on an incredibly steep incline until reaching Wengen and the very picturesque train station there.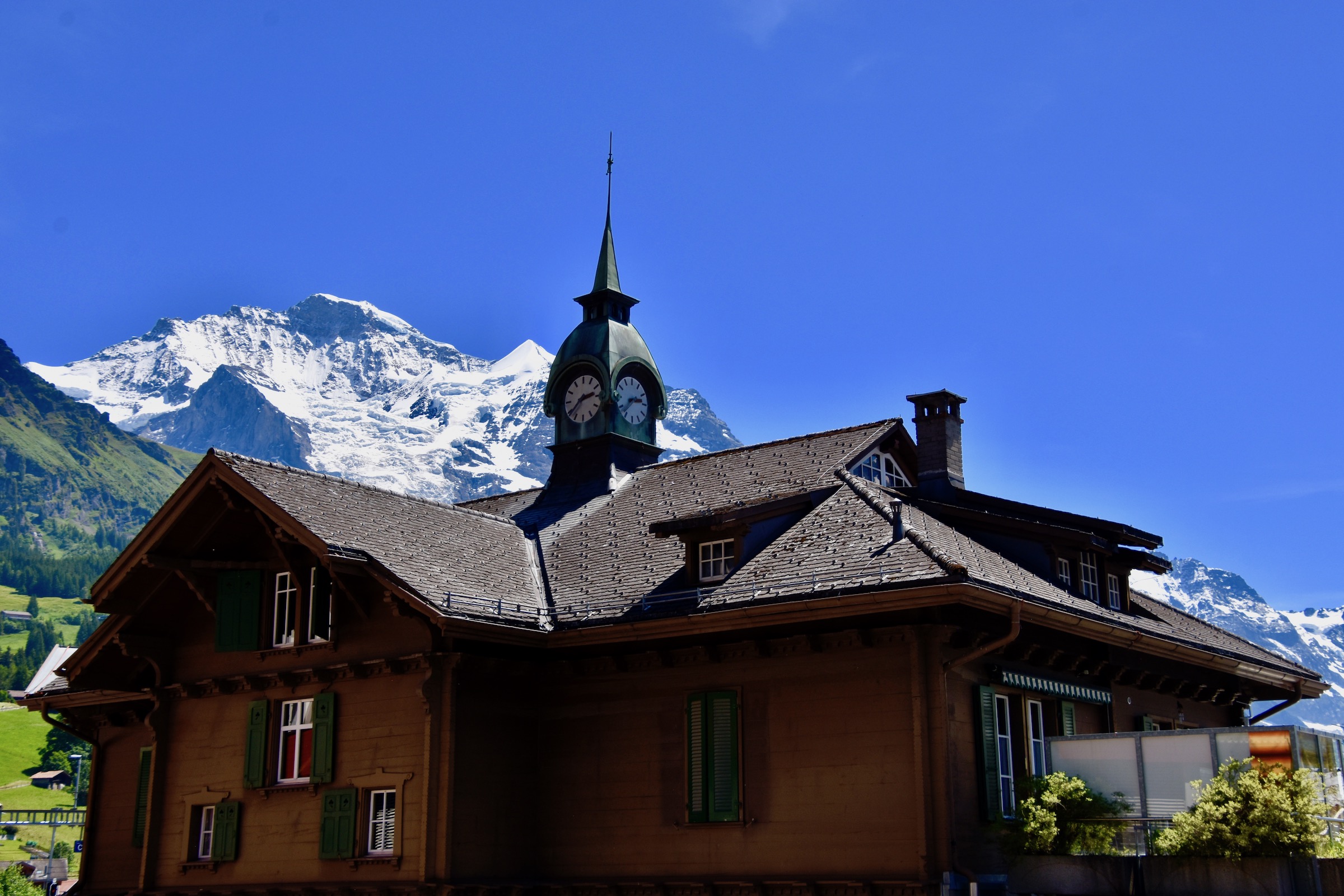 Wengen has a special significance for Canadians that Grindelwald does not. It is here that the famed Lauberhorn ski races have been held annually for over ninety years. The highlight is always the men's downhill where racers can reach speeds of up to 95 miles per hour. Crashing at that speed can be fatal and the winner of the downhill is treated like a god by the Europeans. Up until 1975 no North American had ever won a downhill and they were looked down as chickens by the Europeans. All that changed in that year when Canadian Ken Read won in France, but it was here in Wengen that the legend of the 'Crazy Canucks' was born. There were five of them and they took risks and attained speeds that were considered insane, because they usually ended up crashing. At the Lauberhorn a treacherous final section became known as 'Canadian Corner' because so many of them crashed here. But in 1980 all things came together and Ken Read won the Lauberhorn and to this day he is considered a legend in Wengen. This small obscure town in the Bernese Alps was for many years a household word in Canada and millions of us waited anxiously every winter to watch the Lauberhorn and hold our breath to see how many could conquer Canadian Corner.
So it was it was with a feeling of pride and a bit of trepidation that I followed Victor up the main street of Wengen passing many ski shops along the way.
Hotel Belvedere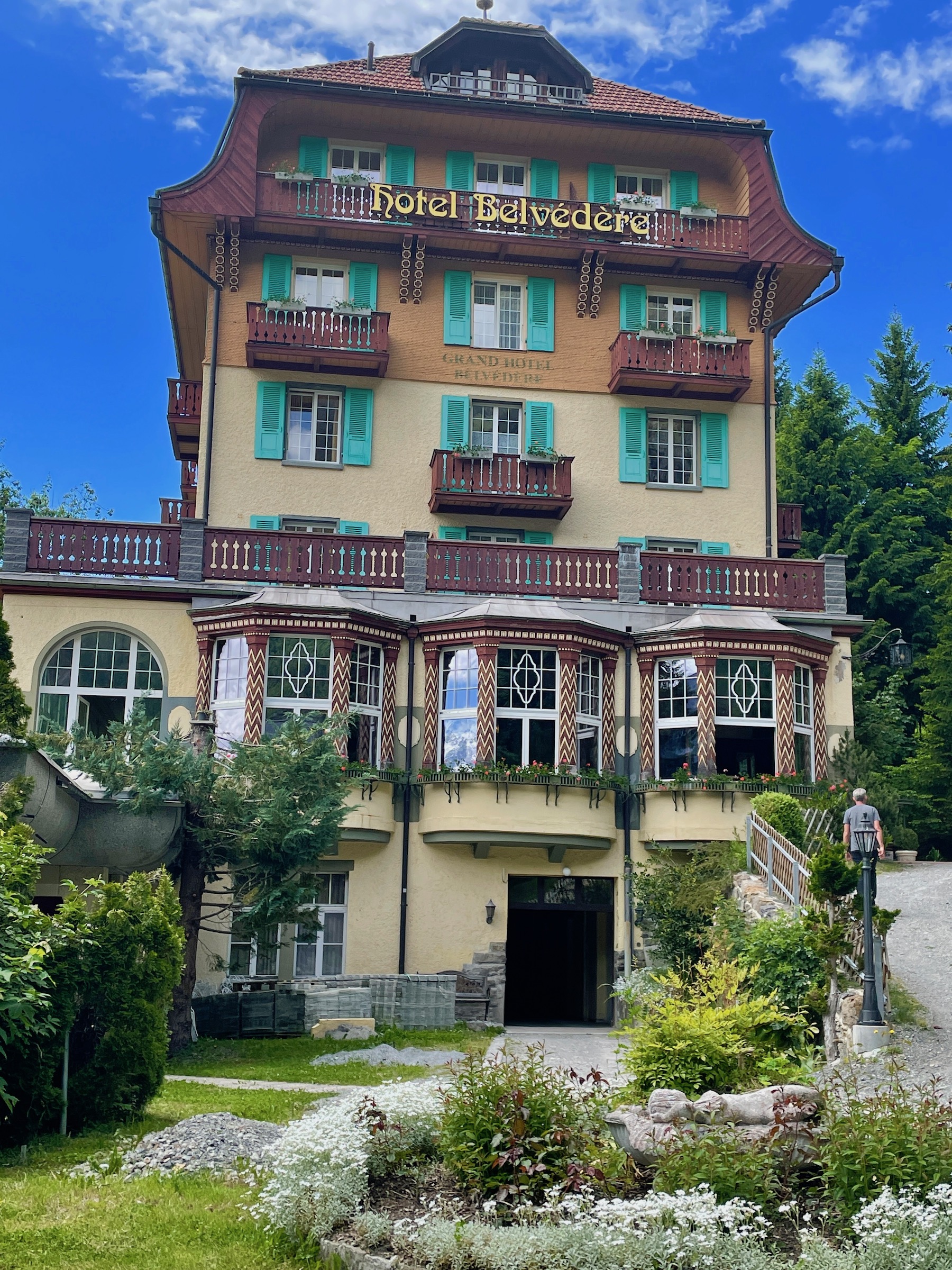 Alison and I really like our three nights at the Hotel Belvedere in Wengen. It definitely exudes Old World charm in a understated way with lots of dark wood, fireplaces and interesting lamps everywhere.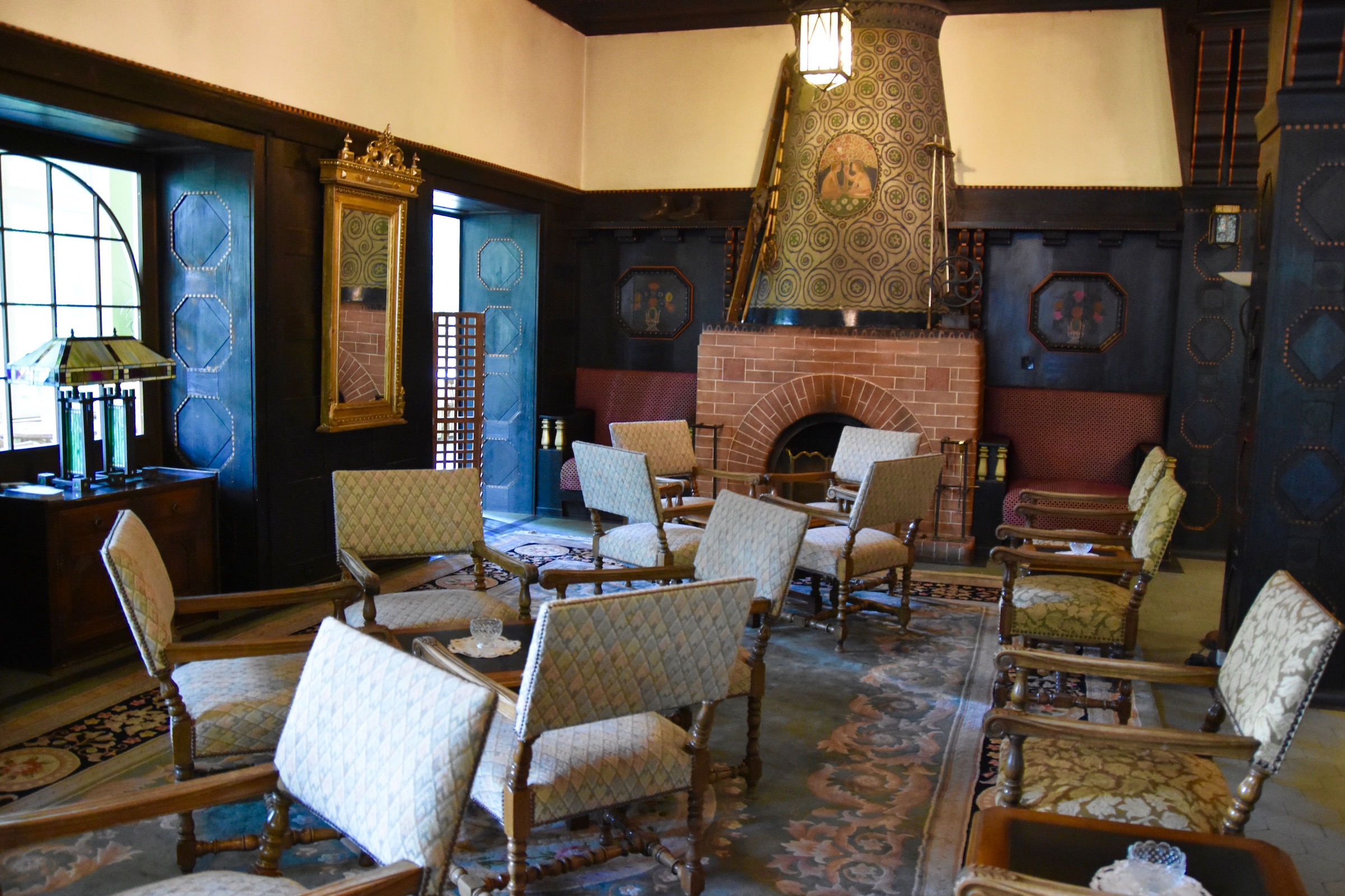 However what makes staying here so enjoyable is the view from the balconies. Now I must admit that at first we were assigned a room that faced away from the Alps and into a forest. As I often do when there is a great view to be had, I enquired about paying for an upgrade to a room with a view and for a surprisingly modest price we were upgraded to a room that not only had a view, but a huge patio from which to enjoy it. I always encourage people to do these upgrades because you may never get another chance to enjoy a view like this.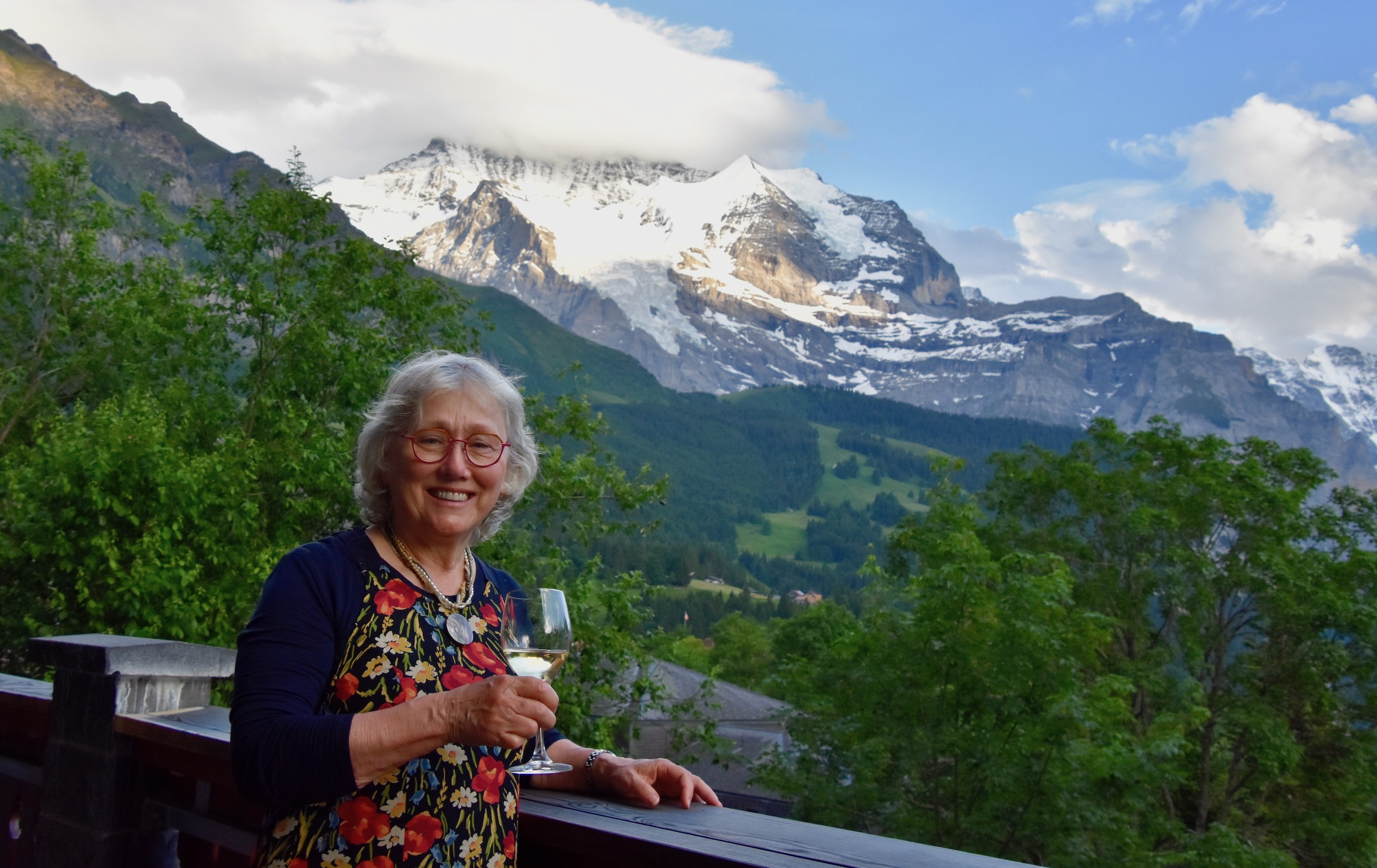 Or this. That's the Jungfrau that we're looking at. We'll be almost at the top tomorrow, but today we are heading to Grindelwald to take the gondola up to First mountain and do some alpine hiking and for those who dare, attempt the Cliff Walk as well.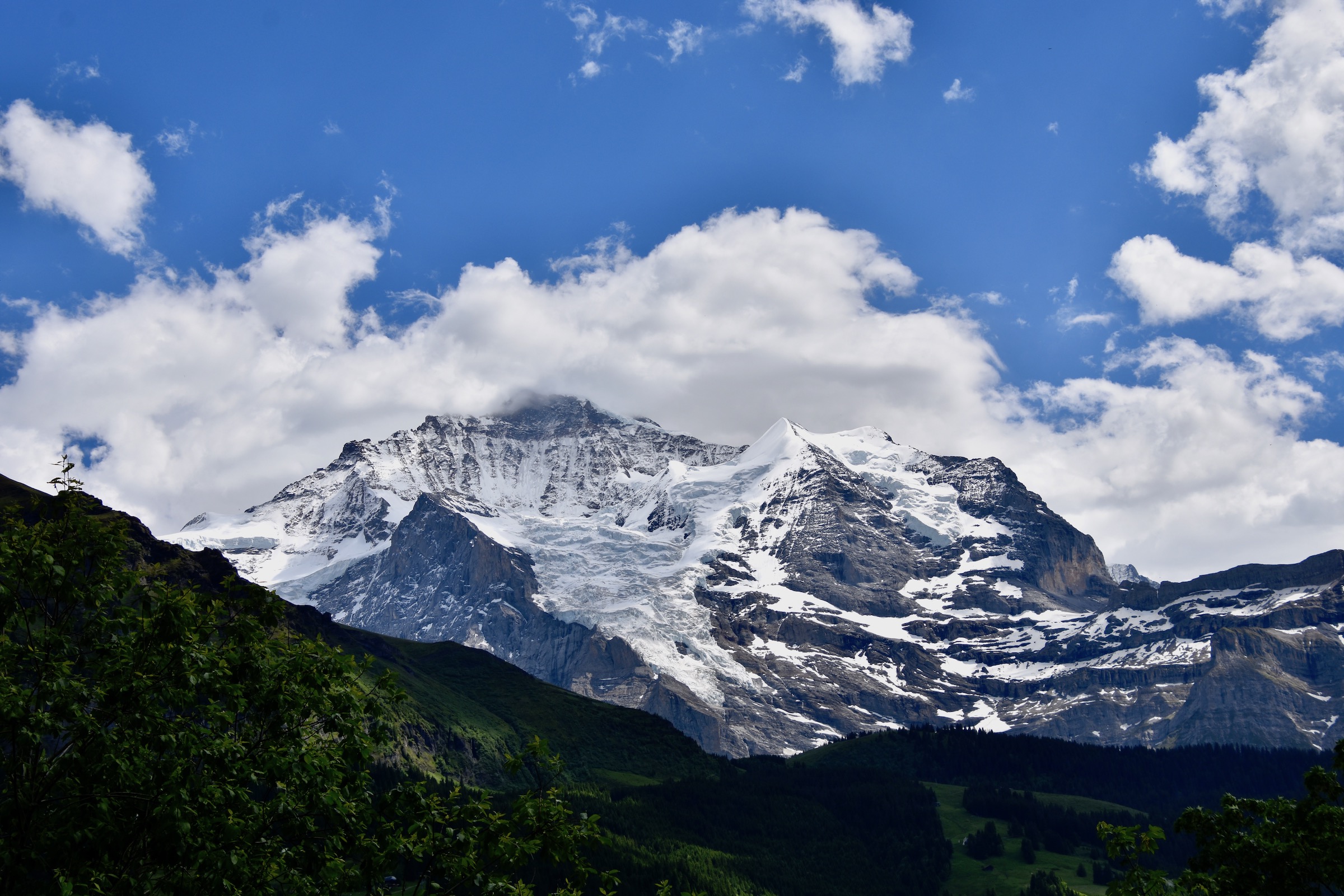 The trip from Wengen to Grindelwald does not take long and after getting out at the busy train station Victor herds us onto a local bus that makes its way up the main street and deposits us at the base of the Grindelwald-First gondola. Here we will start our day's adventure.
Grindelwald-First Gondola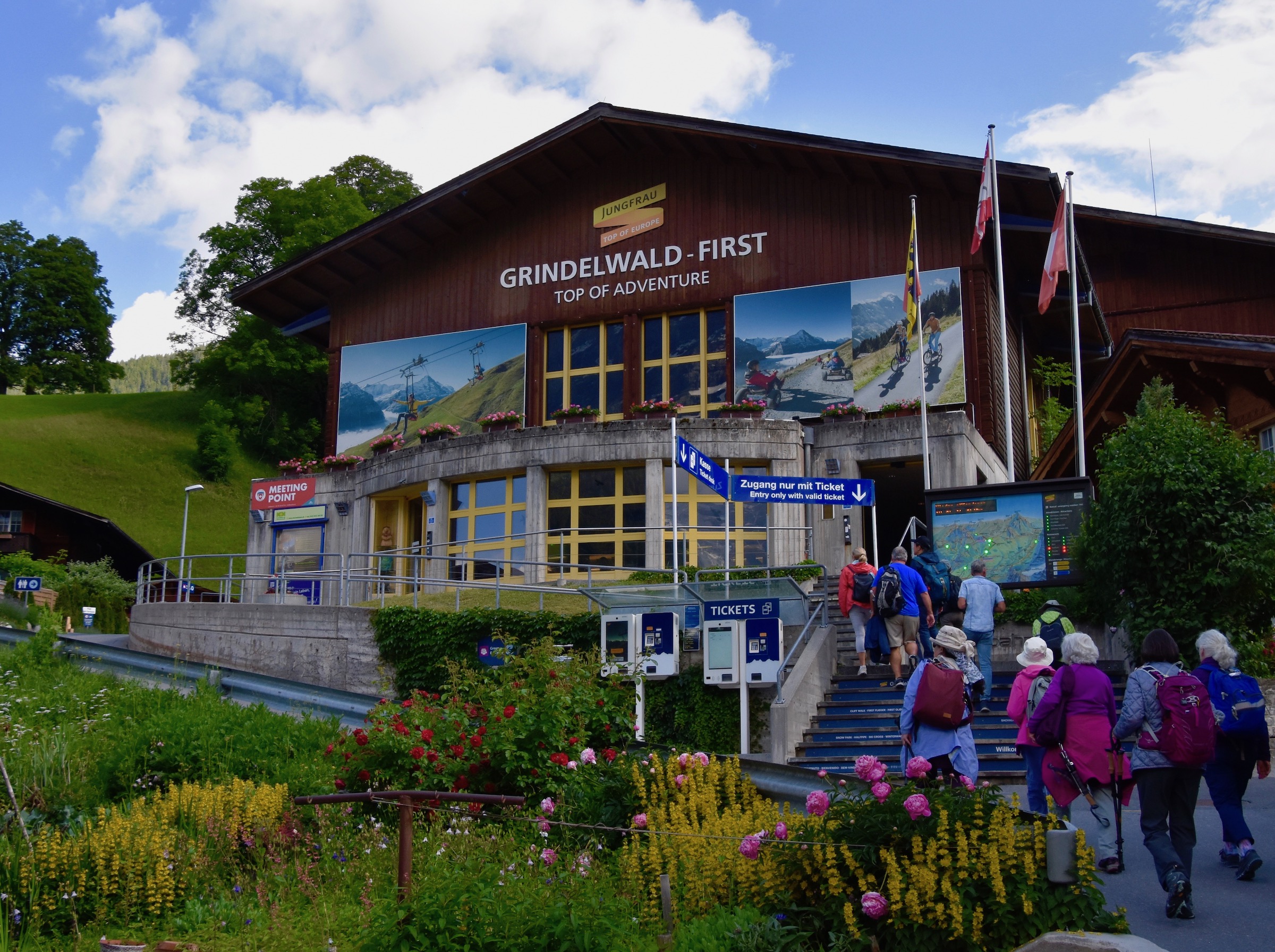 The ride starts off with views of alpine meadows with contented Swiss cows grazing below.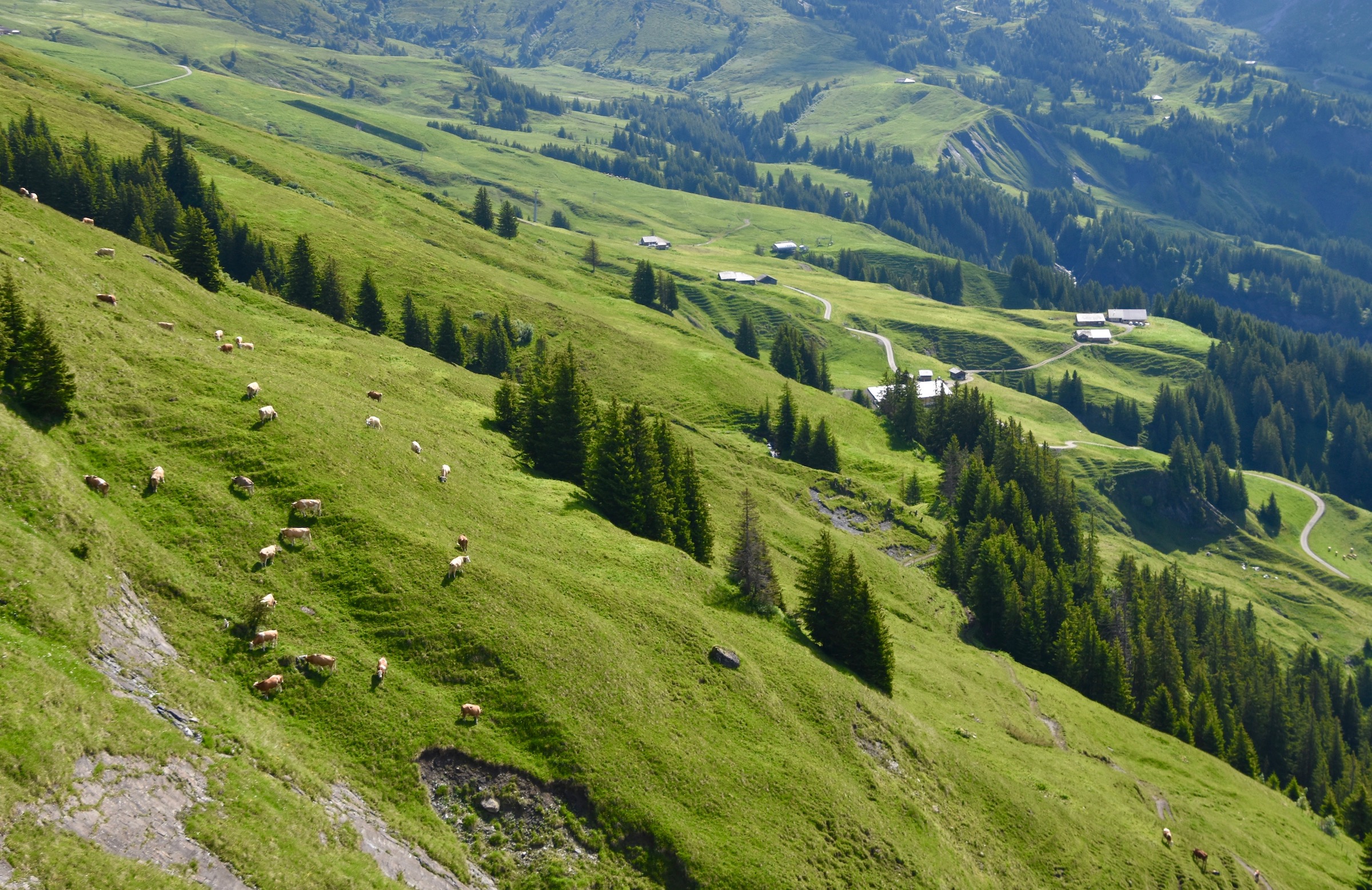 This is the view as we are nearing the top. As you can see it is another very nice day in the Bernese Alps. Let's hope it stays that way because the weather can change on a dime up here.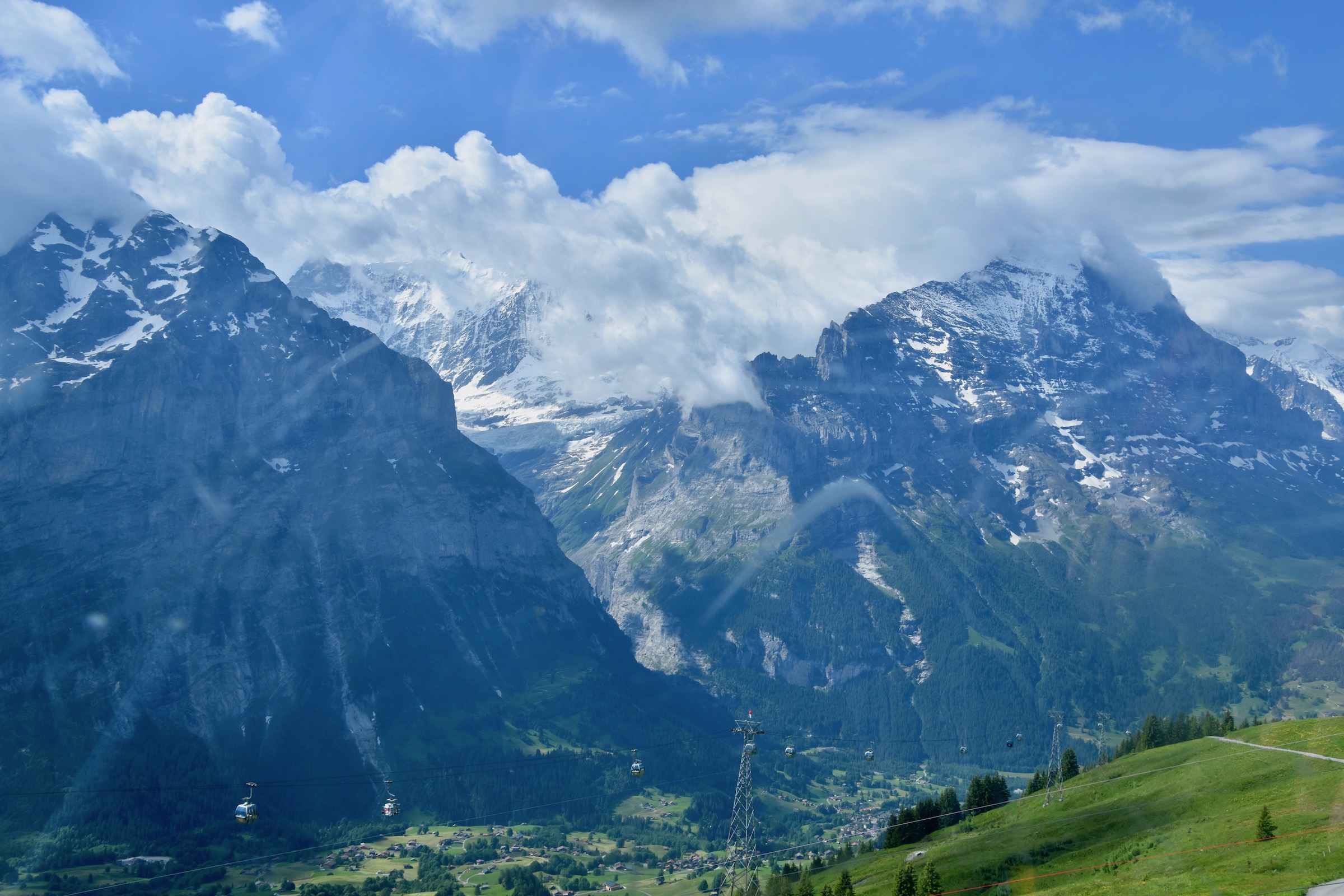 The elevation at the top is 2168 metres (7112 feet) which is relatively moderate compared to the Matterhorn Gornergrat where we started our hike a few days ago. But still it's best to pace yourself even at this elevation as you might not get altitude sickness, but you will tire out very easily.
We have a decision to make at the top. Our main objective is to hike to the Bachalpsee, a small alpine lake, and back which is a distance of just over 6 kms. (3.7 miles) with a few ups and downs, but not much overall change in elevation. There is also the option of doing the Cliff Walk which may not appeal to everyone as it is exactly as it sounds, a walk alongside a cliff with sheer drops below. It's not dangerous, but those with acrophobia won't be interested. However, I quickly realize, if you have a fear of heights the last thing you are going to sign up for is a trip to the Swiss Alps.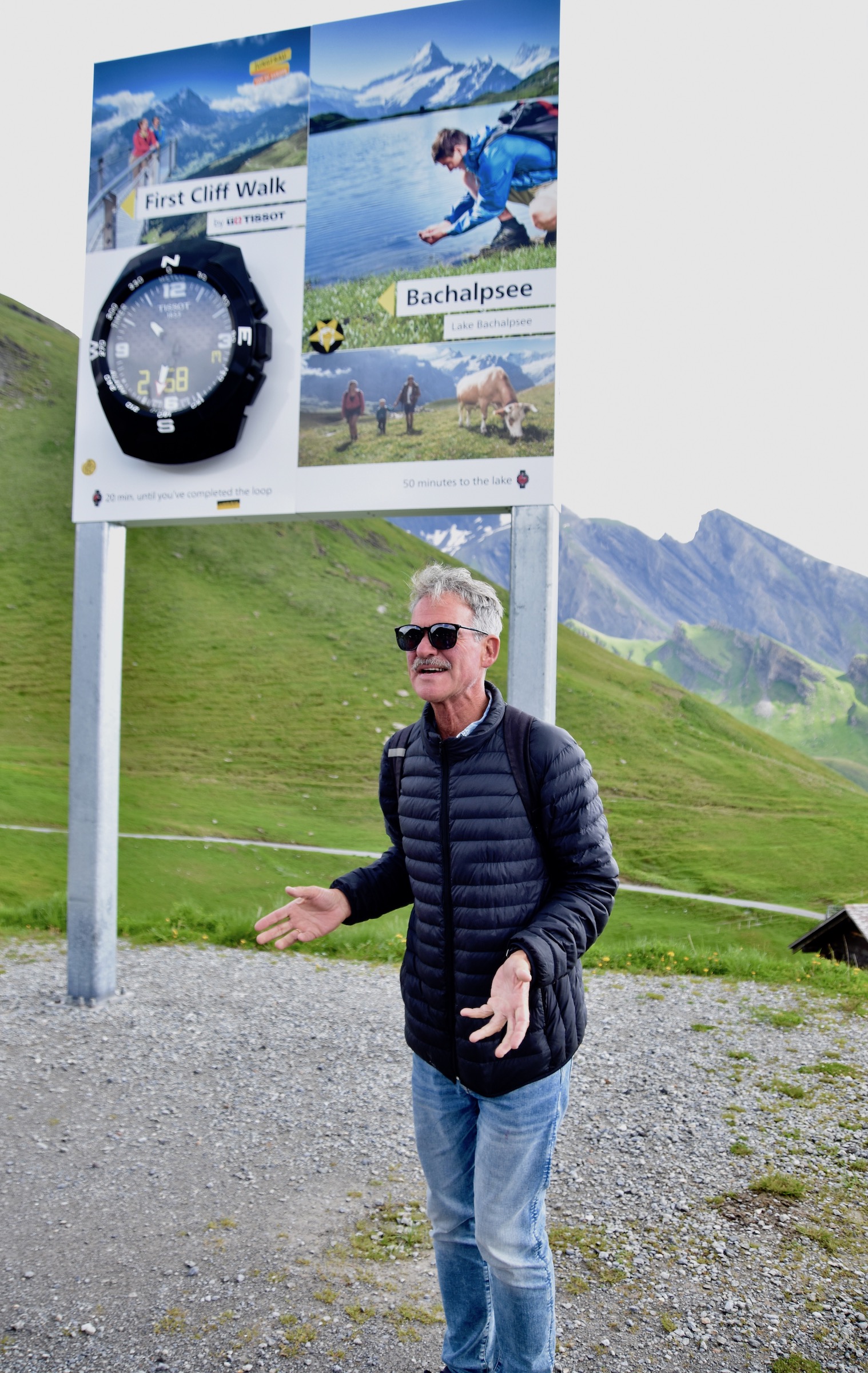 The weather remains very good and the group opts to do the Cliff Walk first. Turns out this was a great decision.
Opened only in 2015 the First Cliff Walk is actually a metal walkway attached to the side of First mountain which leads to a walkway that overlooks the entire area. It starts not far from the gondola station and only takes about ten or fifteen minutes to traverse.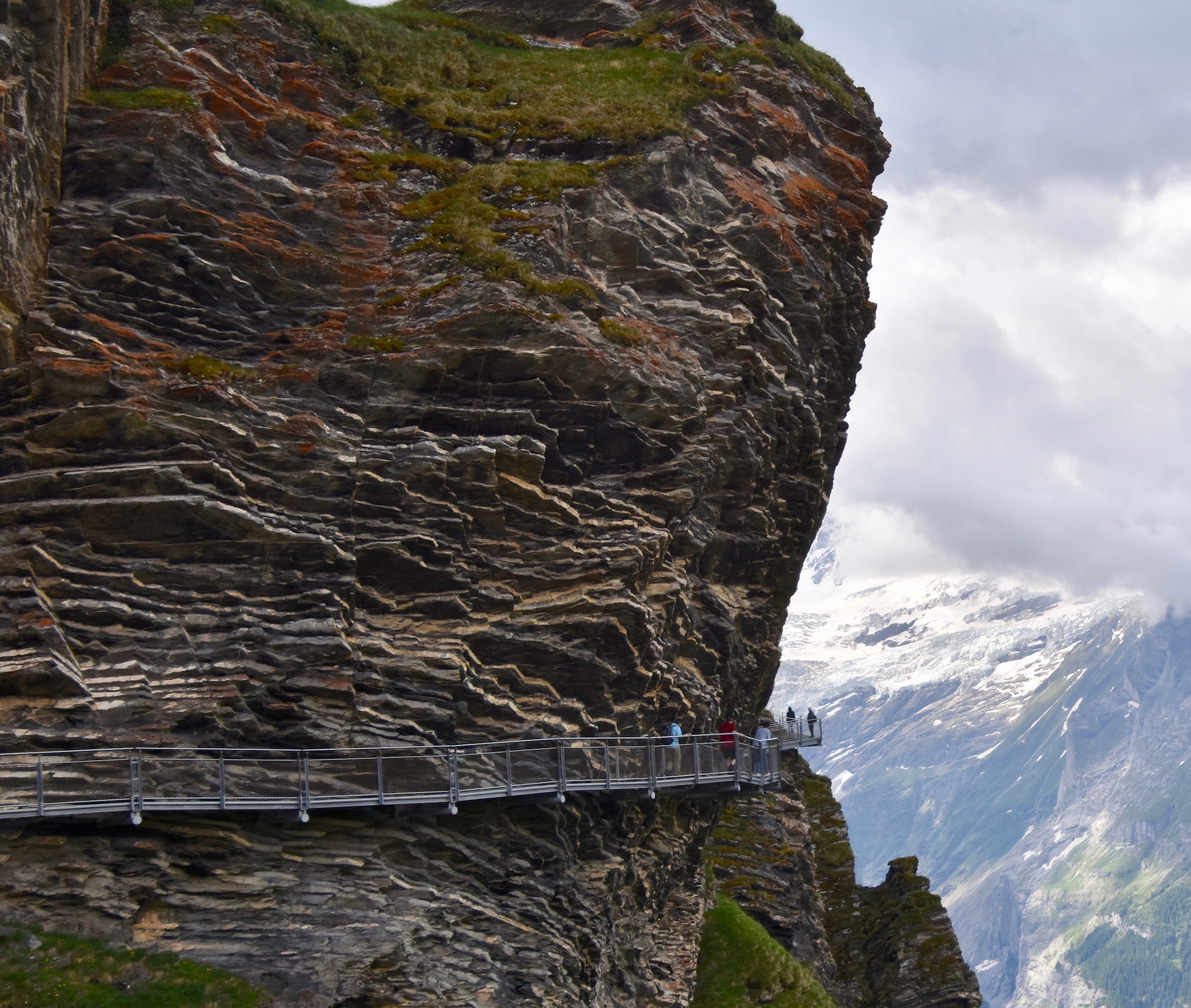 But you are going to want to take pictures along the way so expect to spend more like 30 minutes all told. This is Bachlager Falls.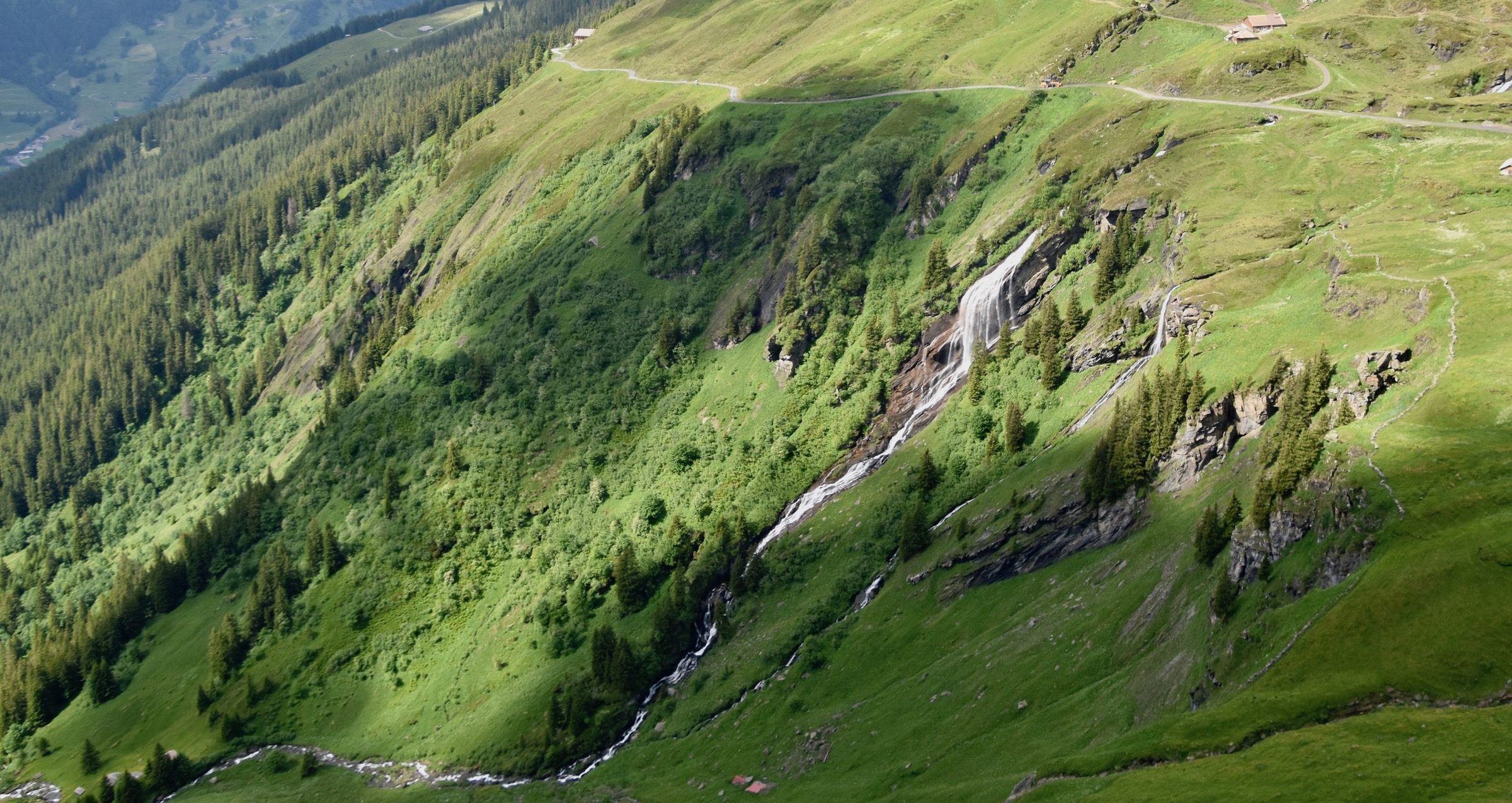 This is the view looking up the valley toward Bachalpsee where we will be hiking next.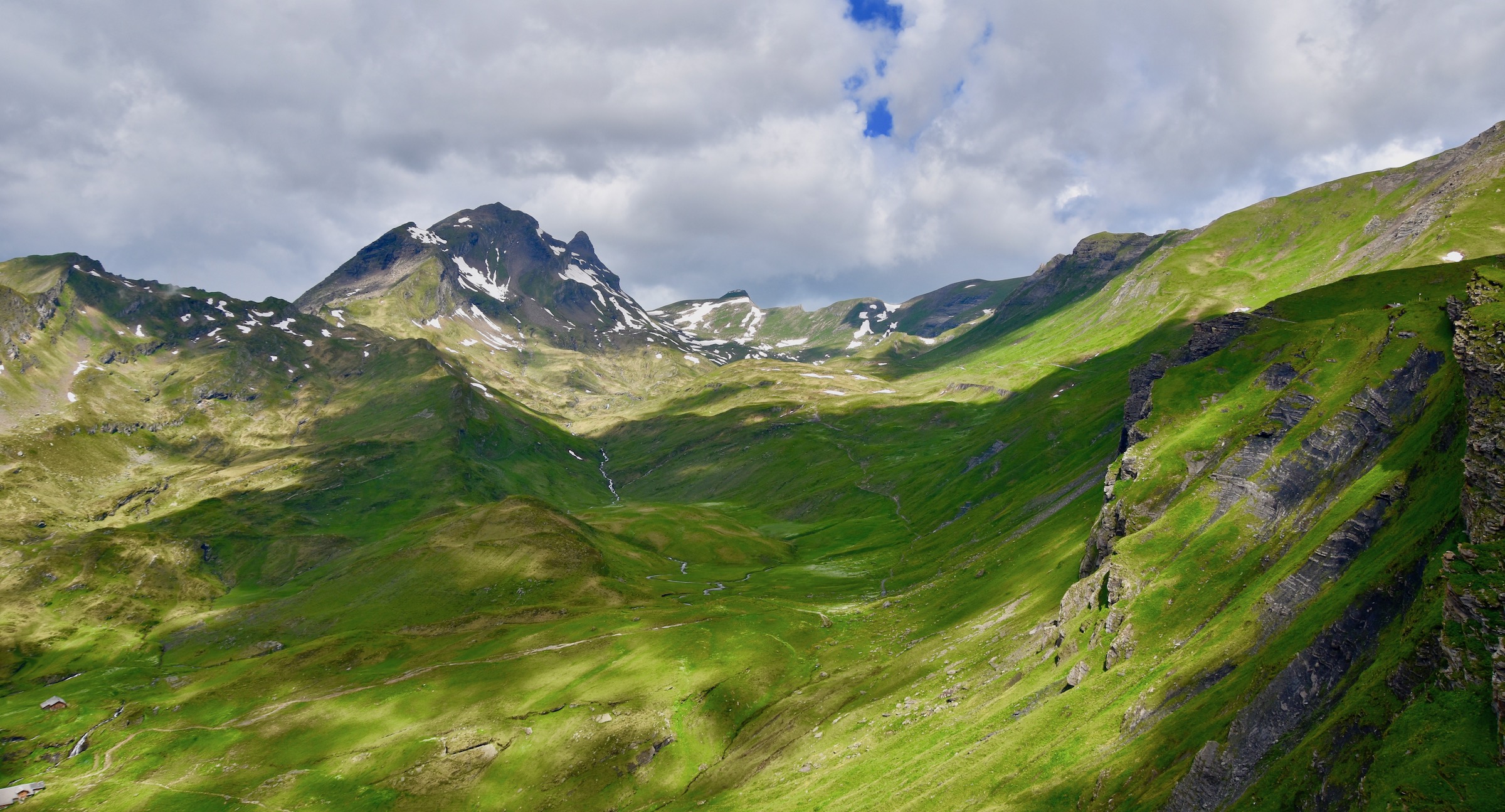 There are a few places where you need to duck your head as Alison is doing here so wearing a hat is a good idea.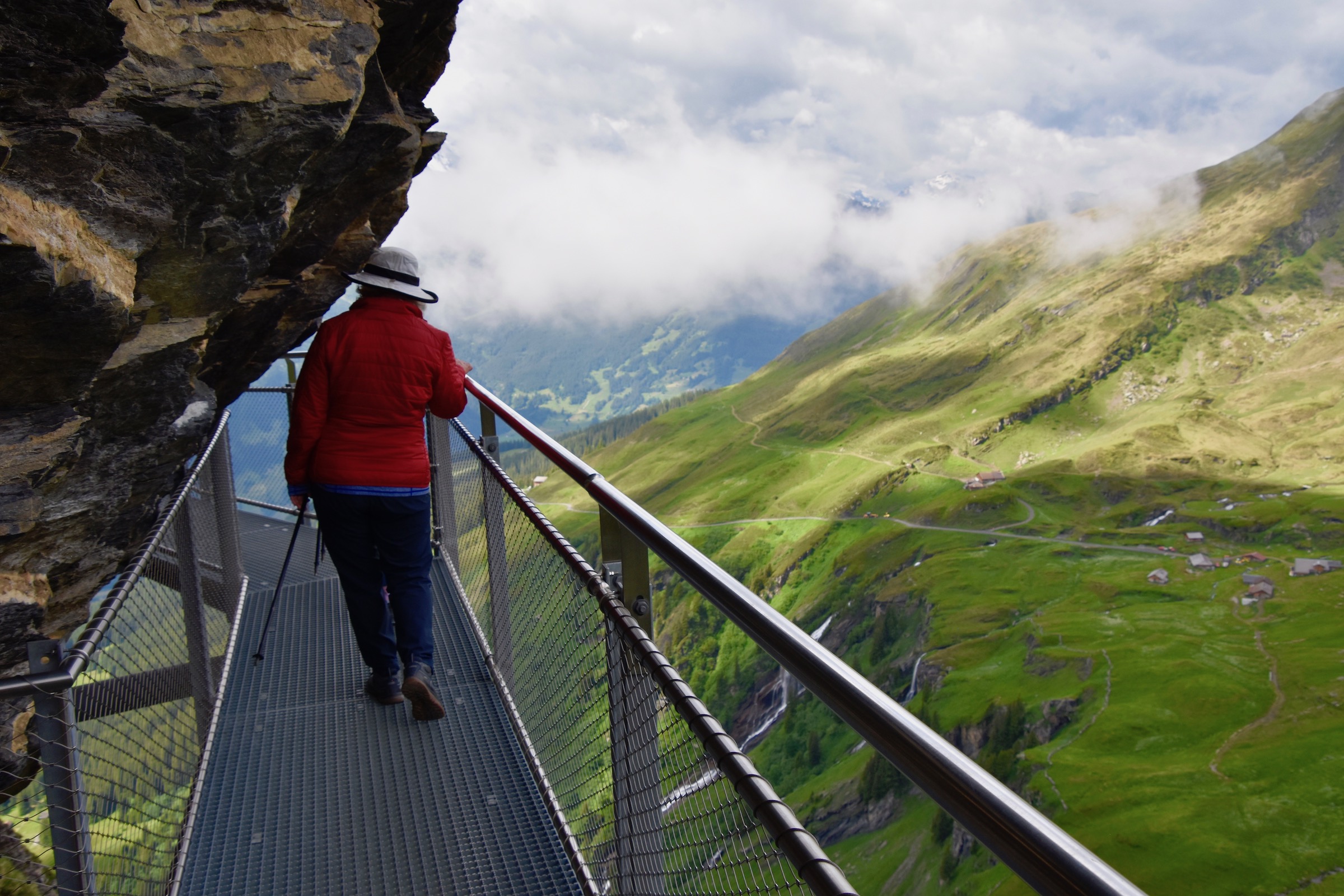 The objective for most is to reach the walkway to nowhere, but there were a couple of social media divas at the end whose narcissism made them pose endlessly with no regard to others who might have wanted to share the view. I find this type of behavior increasingly common at major tourism sites and it gets no less annoying every time I see it.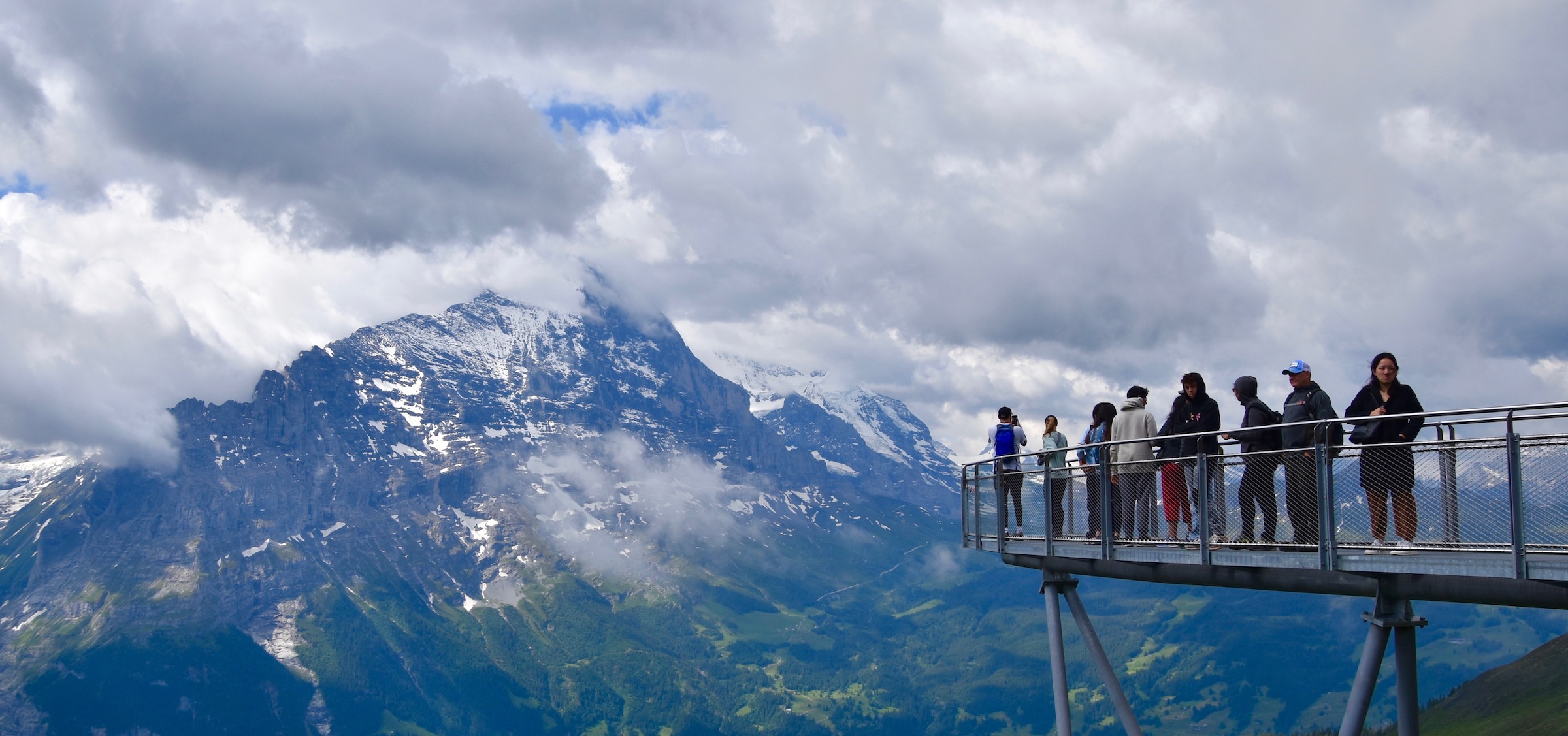 After the Cliff Walk, which I think everyone in the group made, Victor gathered us together and we set out for Bachalpsee.
Not far along we had this great view back of the Cliff Walk. I wondered if the same two idiots were still posing at the end of the walkway.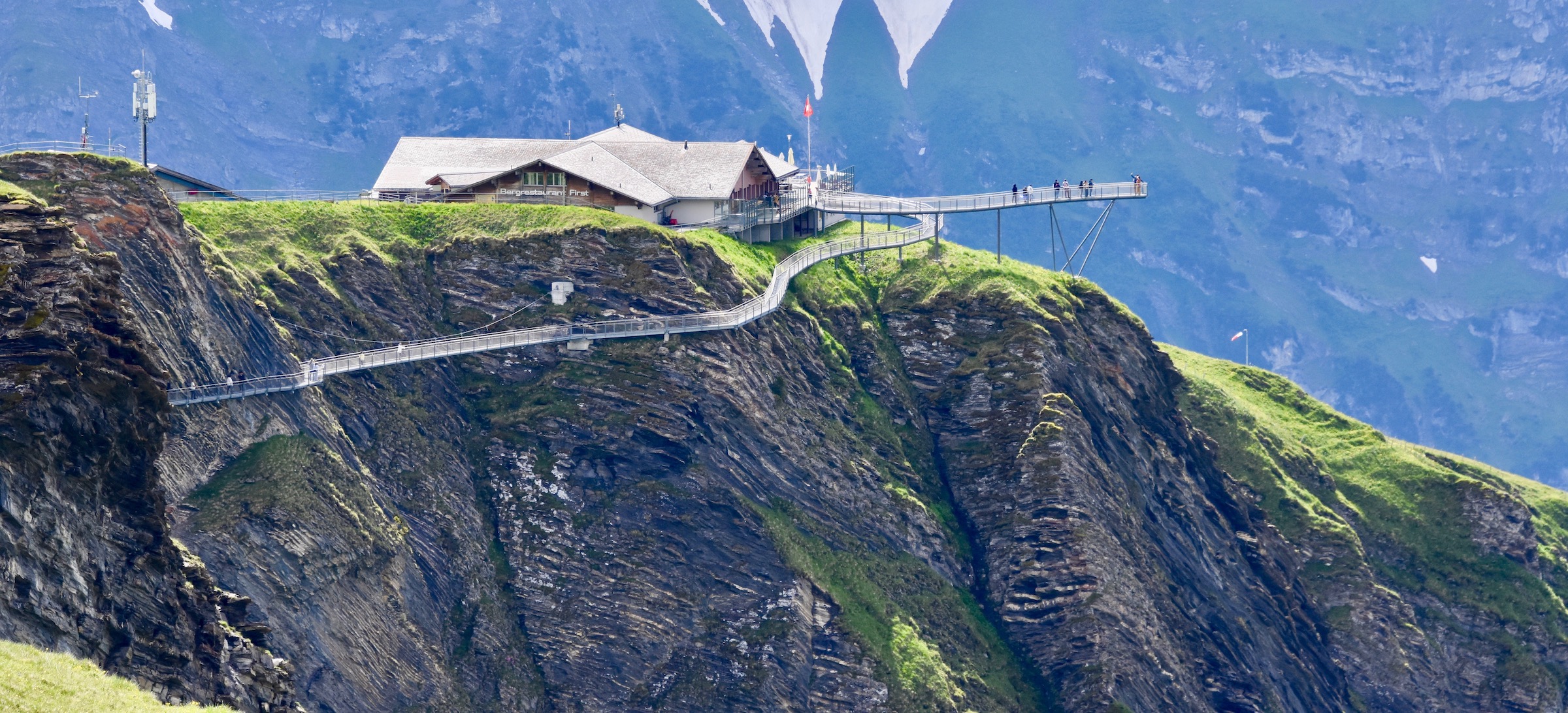 The hike to Bachalpsee was along a path that was wide, easy to follow and generally not hard on the feet. Since we all knew where we were going everyone went along at their own pace.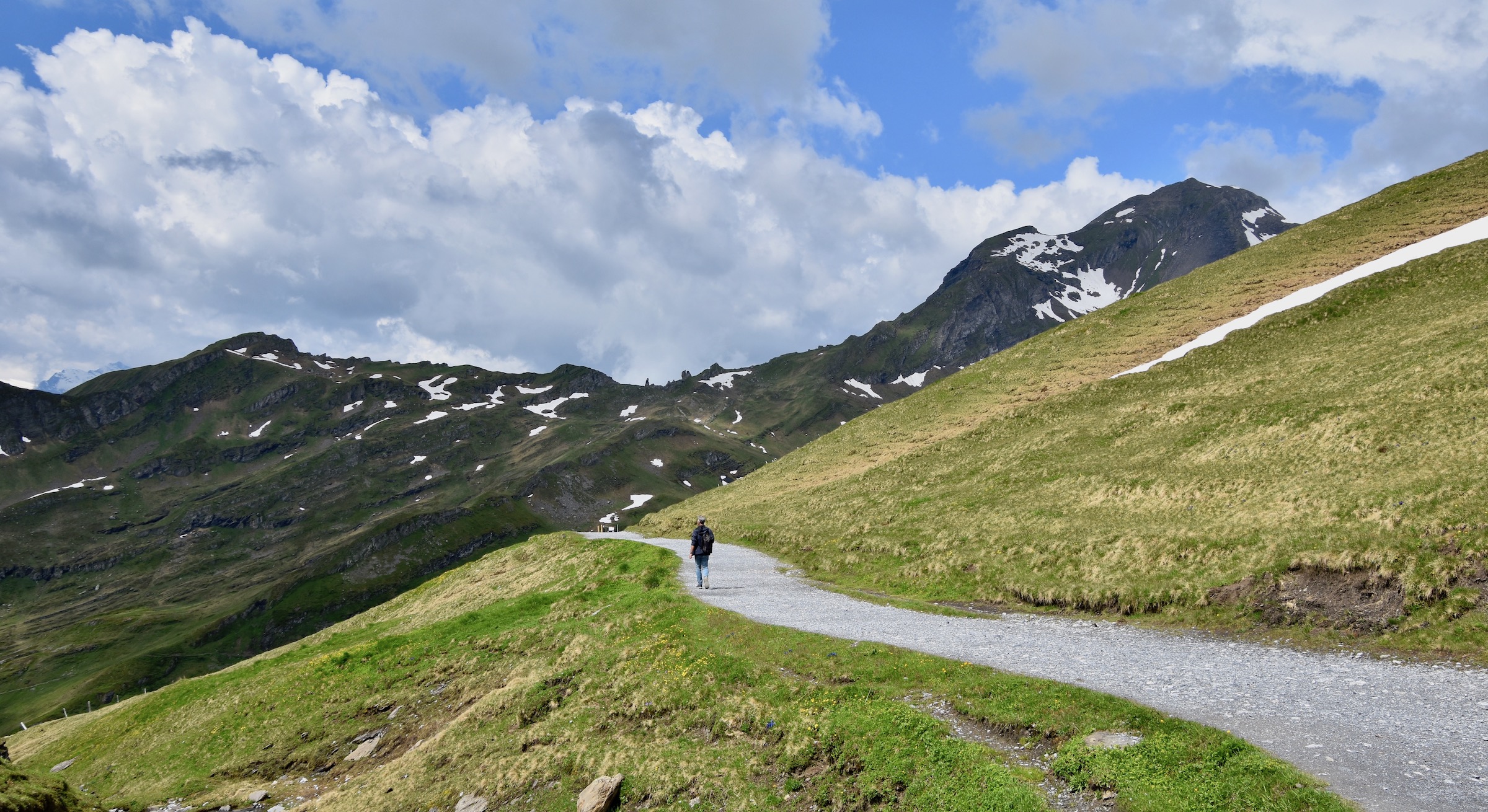 The wildflowers on this hike were not as profuse or varietal as on the Engadin Valley and Matterhorn hikes, but they were still interesting.
These are marsh marigolds which as their name implies, like watery conditions.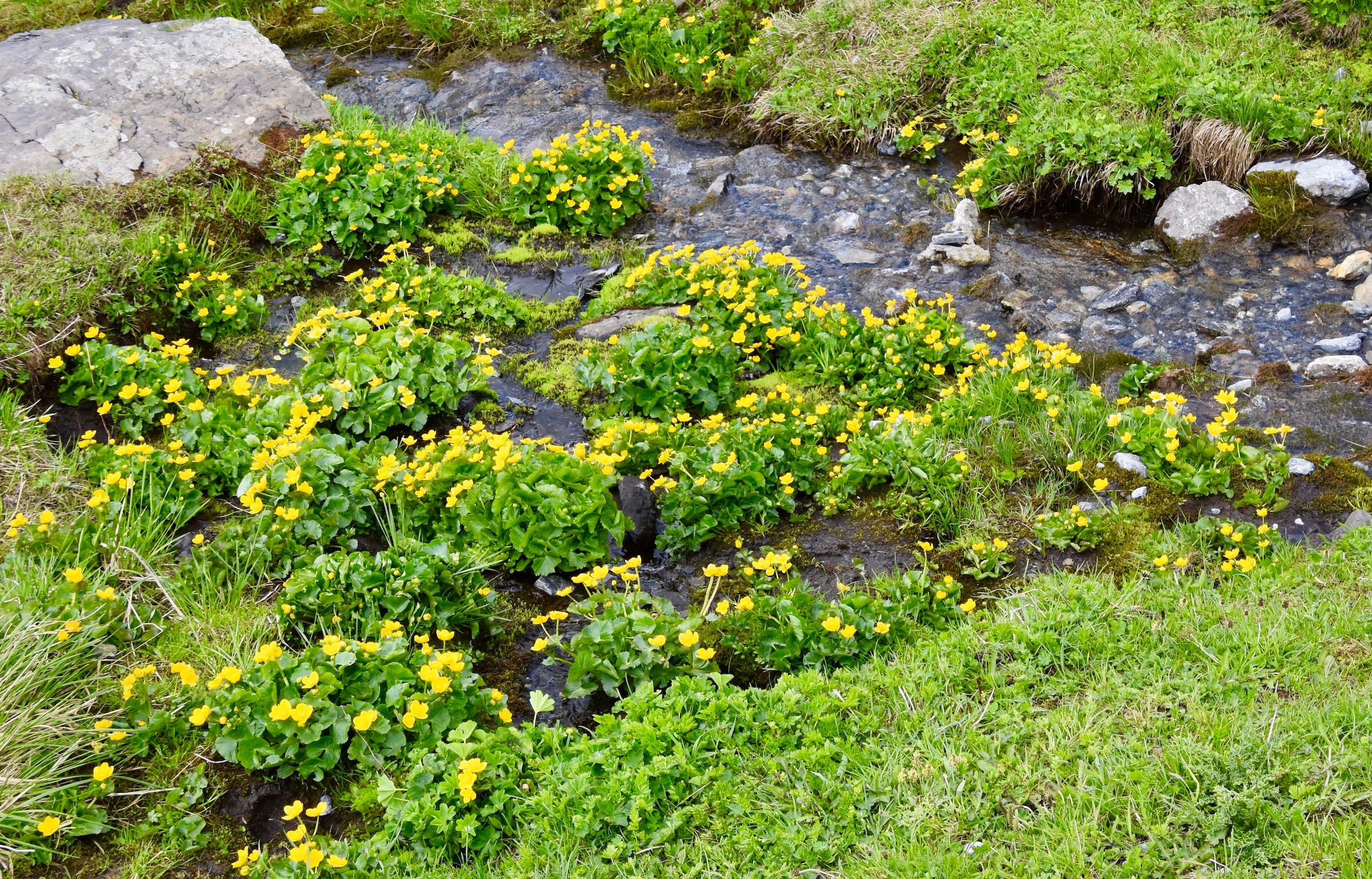 This is alpine toadflax, one of the prettiest of the alpine flowers found above Grindelwald.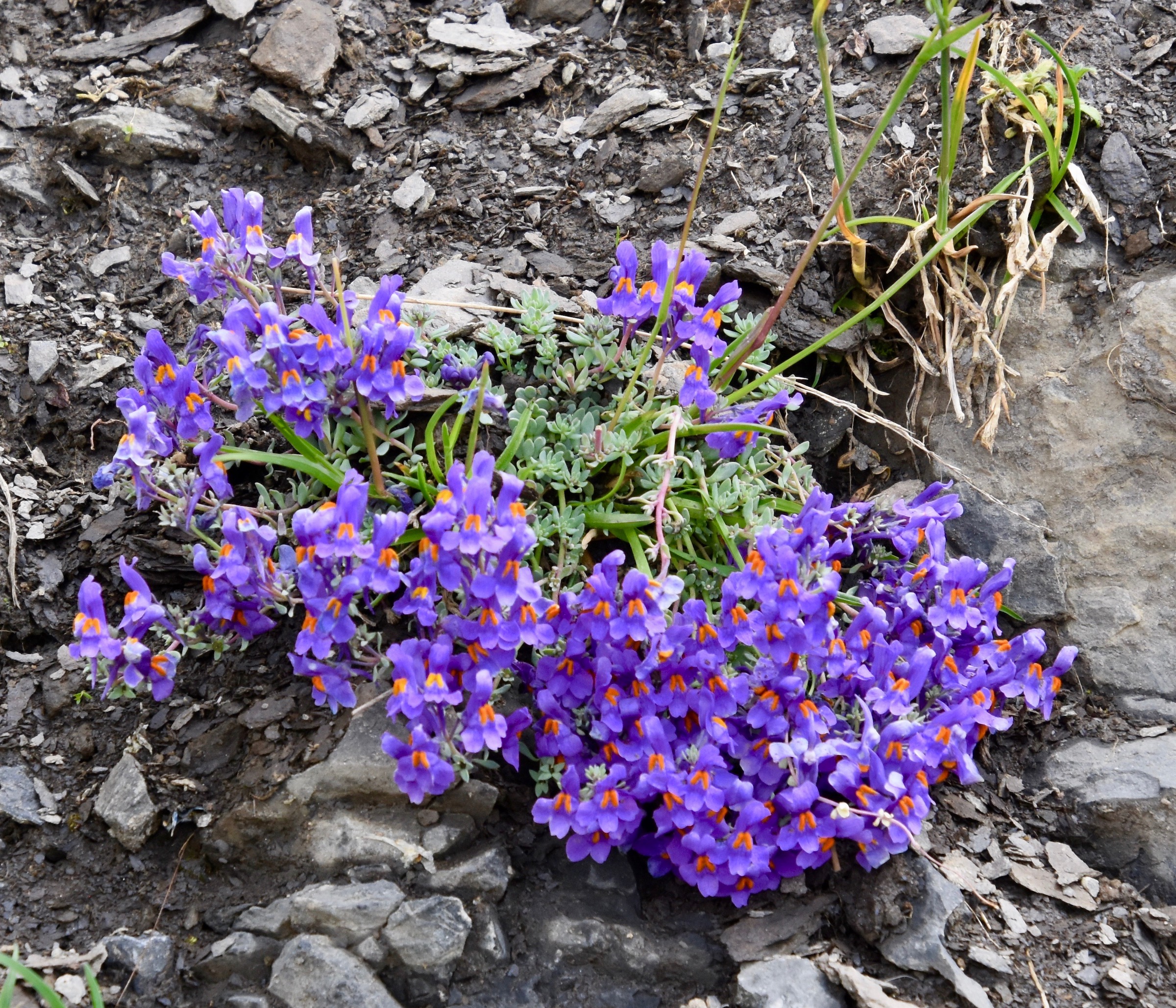 These primula or primroses as most people call them are a harbinger of spring back home, but at these altitudes bloom much later.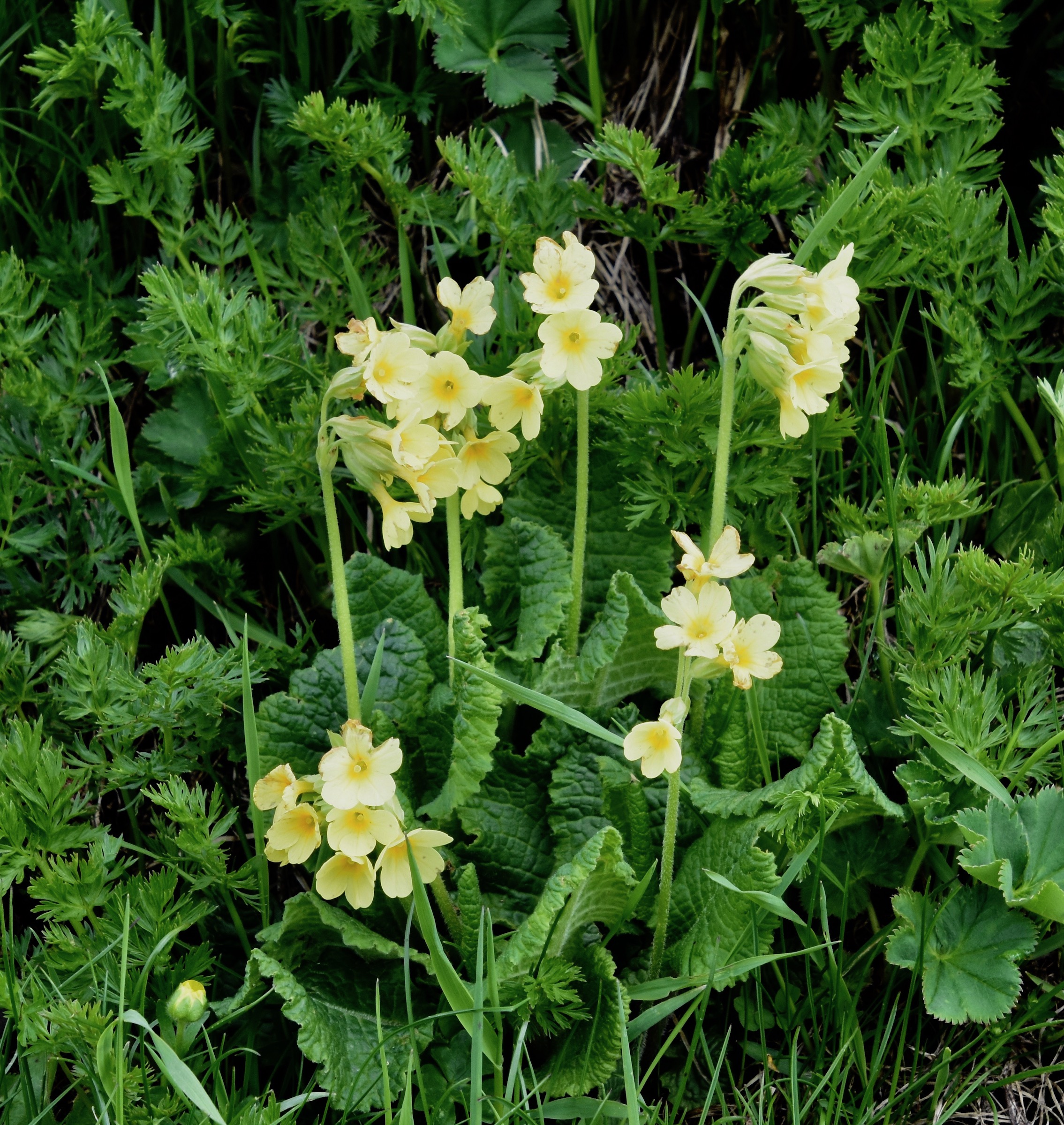 As we were about two thirds of the way to Bachalpsee the clouds rolled in and a gentle mist turned into a steady drizzle. Instead of getting to see a view like this.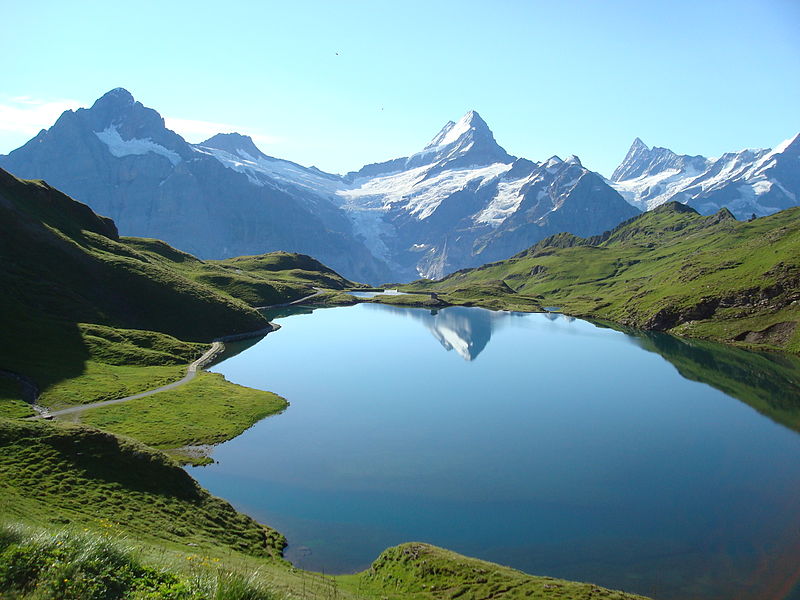 We got this, but you know what? After the phenomenal weather we've had so far for most of this trip odds were that we would run into a bad patch eventually.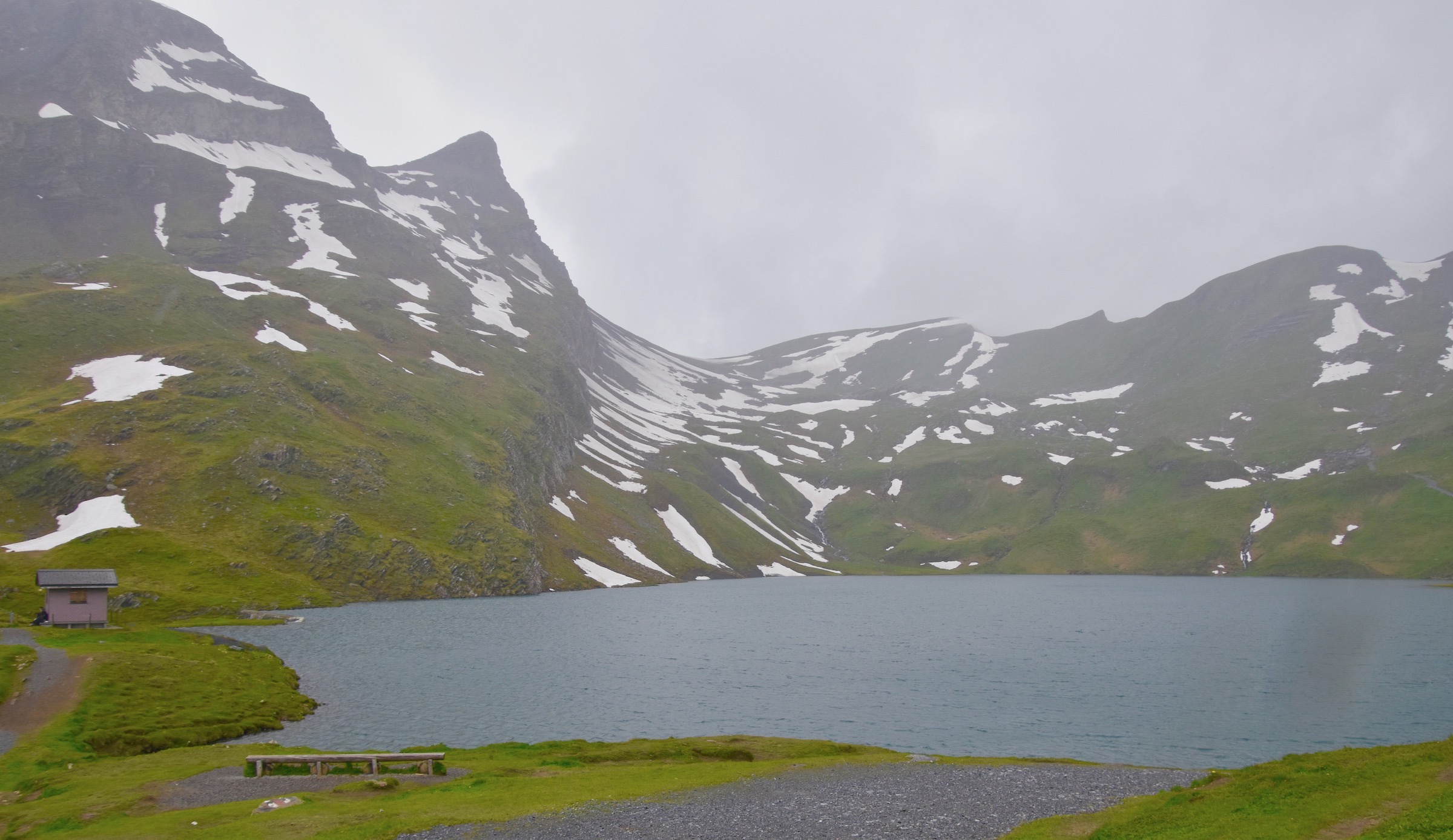 As we headed back the rain let up, but a thick fog rolled in from the valley below and in just a few minutes after taking this photo it engulfed us as well. For the last half kilometre or so we could barely see ten feet in front of us. The decision to do the Cliff Walk first was now looking like an act of genius.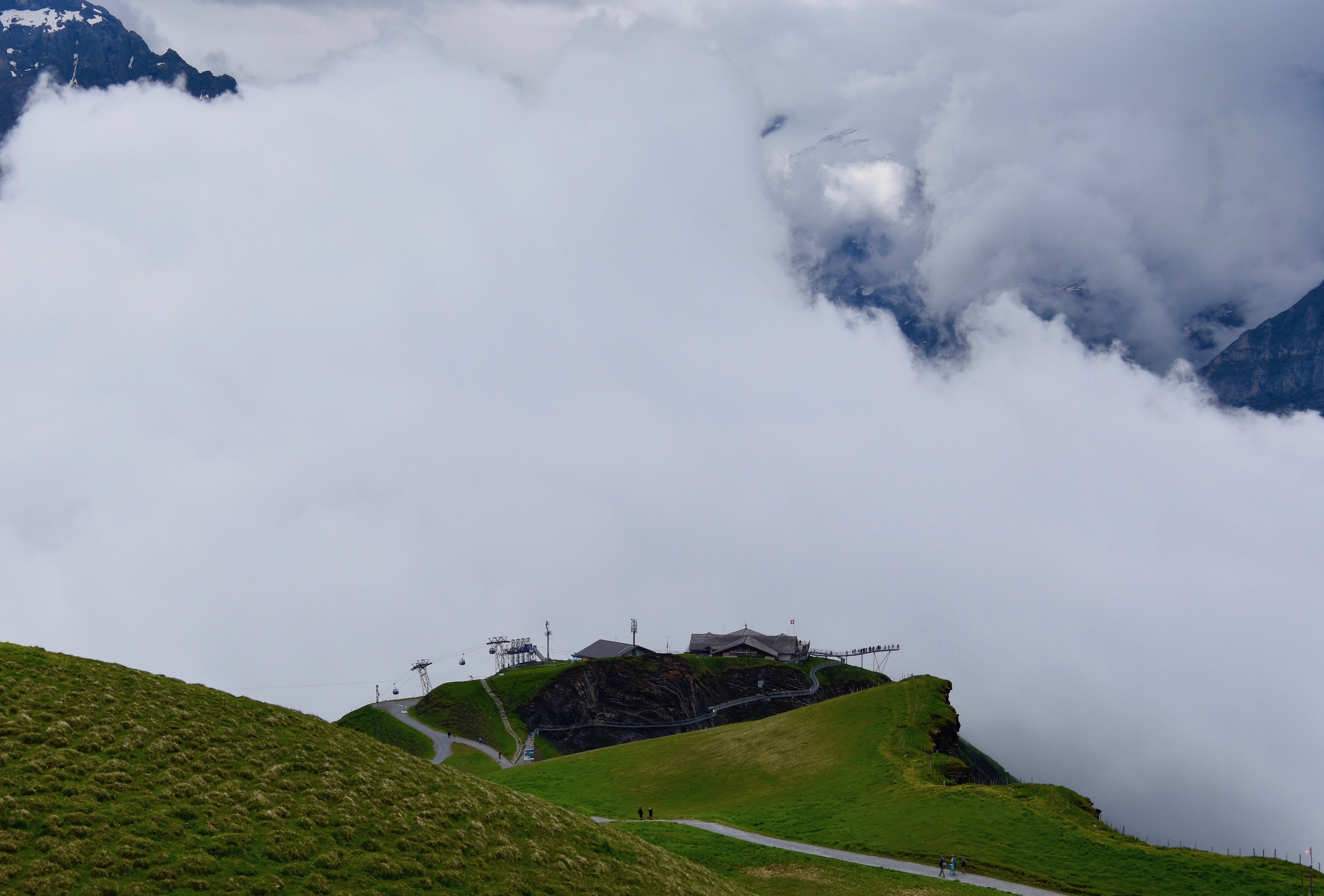 Back in the gondola on the way down we passed through the layer of fog and came across this family going down on these three wheeled trikes that you can rent. What got me was the cows looking at them like they were some kind of creatures from another world.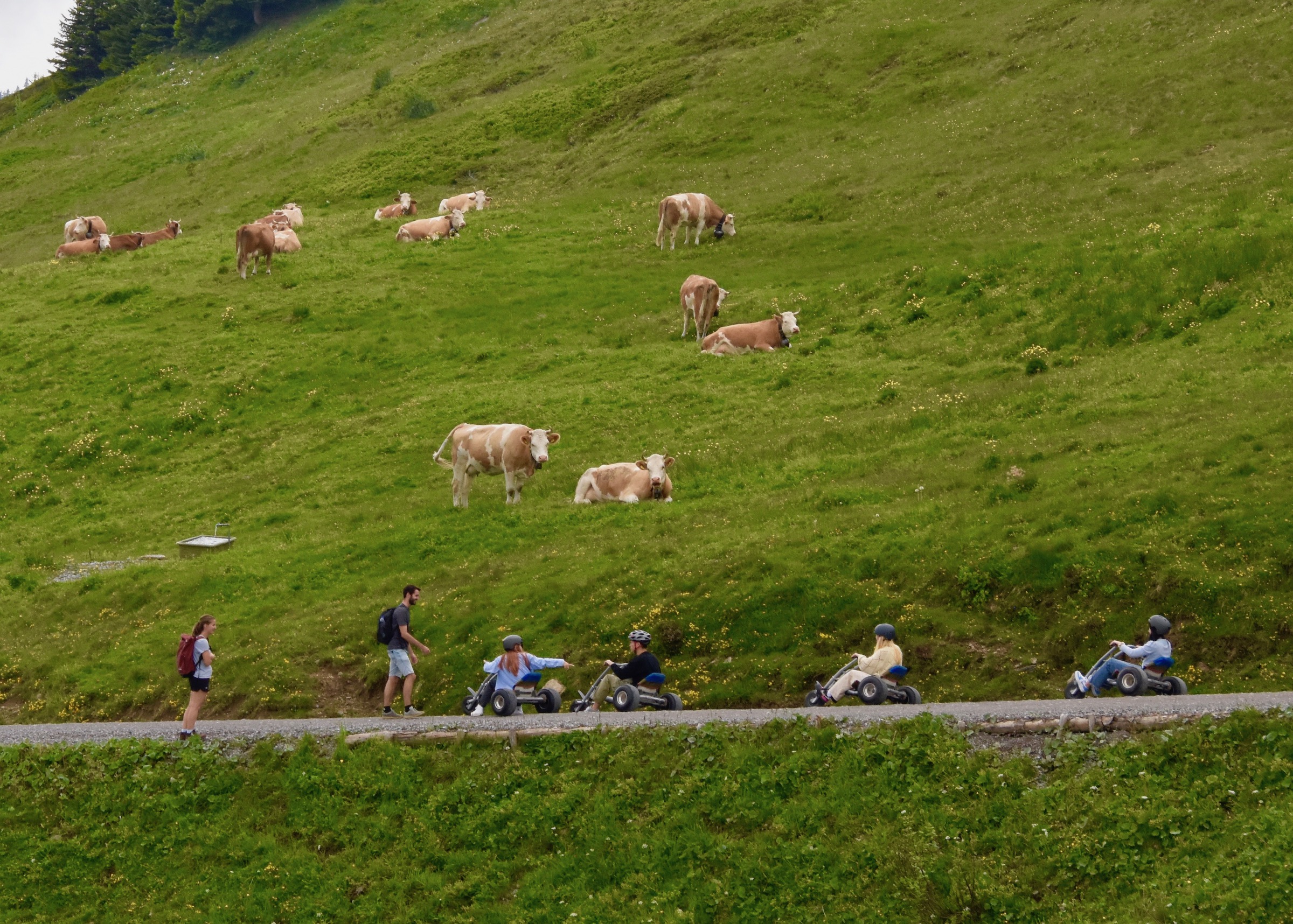 Back in Grindelwald we walked back down to the train station in what was once again a warm and sunny day. There was time to enjoy a beer and do some people watching before heading back to Wengen in what, despite the rain, was a pretty damn good day.
That evening we had a great meal at the Bernerhof Restaurant which was about as Swiss as it gets. Since we'd had our fill of fondue earlier on the trip we opted for some other Swiss specialties.
Rösti with pork sausage and onion sauce for me.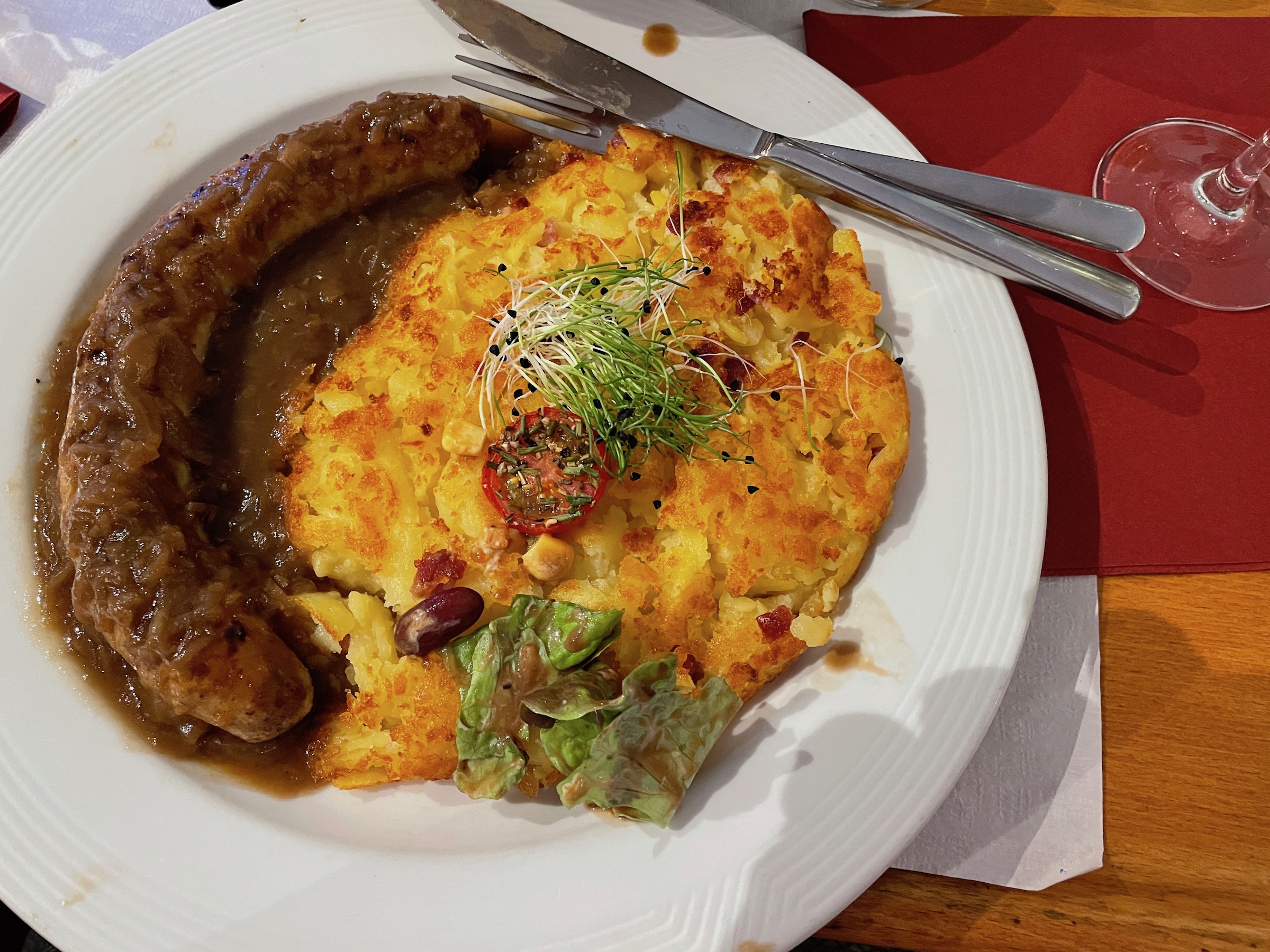 Alison opted for a Swiss pasta dish – minced beef with sour cream, red wine and apple puree. Just perfect after a day in the mountains of Grindelwald.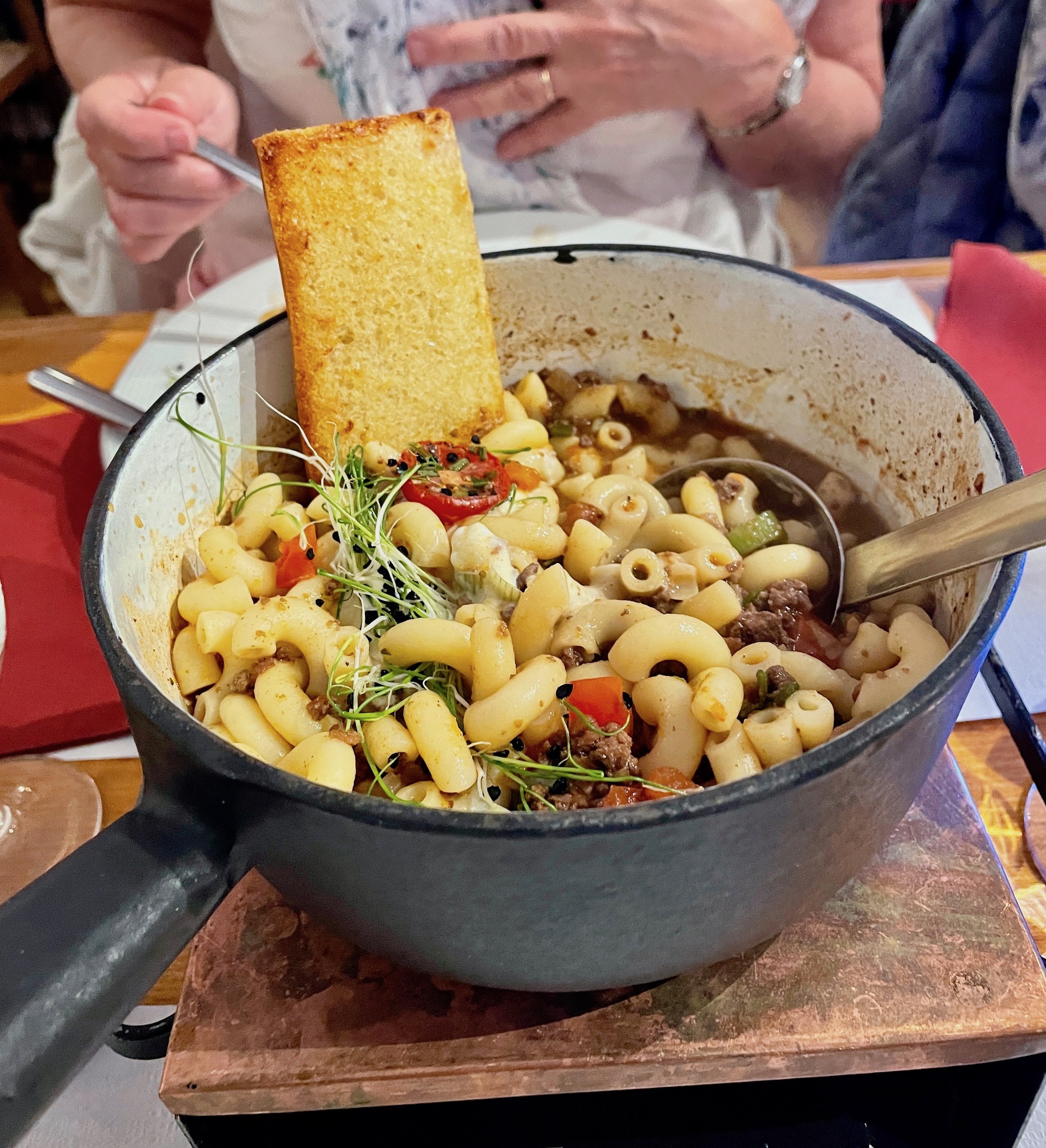 Tomorrow we'll head to the Top of Europe on the famous Jungfraujoch that takes us to the highest train station in Europe. Hope you'll come along for the ride.