Bangkok – A Very Quick Overview
This is the first of what will be a fair number of posts from a trip to Southeast Asia in March, 2023. Most of it was centred around a 27 day tour of Laos, Vietnam and Cambodia with our usual tour provider Adventures Abroad. However, as this was our first foray into this part of the world we also wanted to visit the city of Bangkok and see a few of the notable places in and around that city including the UNESCO World Heritage Site of Ayutthaya,  the Royal Palace and other temple complexes within the city proper. I also wanted to spend a day getting to the site of the famed Bridge on the River Kwai. To do these things we enlisted the services of Trails of Indochina, a Vietnamese based company recommended to us by Adventures Abroad. Together we came up with an itinerary that included all I wanted to see and more. So without further ado let's get the ball rolling with this post on a few things about Bangkok that my readers might like to know.
If you look at a globe you'll find that there are few places farther away from our home base of Nova Scotia than Southeast Asia. From Halifax to Bangkok is 13,300 kms. or 8,265 miles. We opted to do it in two chunks. The first was to Vancouver via Toronto which is about a third of the way there. After overnighting in Vancouver we then took a 13 and a half hour flight to Hong Kong followed by another three hours to Bangkok. So it's a bloody long way to get to Bangkok and you're going to be exhausted when you do get there.
Knowing this in advance we had our itinerary include a Fast Track Immigration Service which is more than worth the extra cost. We were met coming out of the gate and immediately whisked on a golf cart to the Fast Lane Immigration line which by passed the hundreds of other passengers waiting in the regular line. We were through and into the baggage area in a matter of minutes.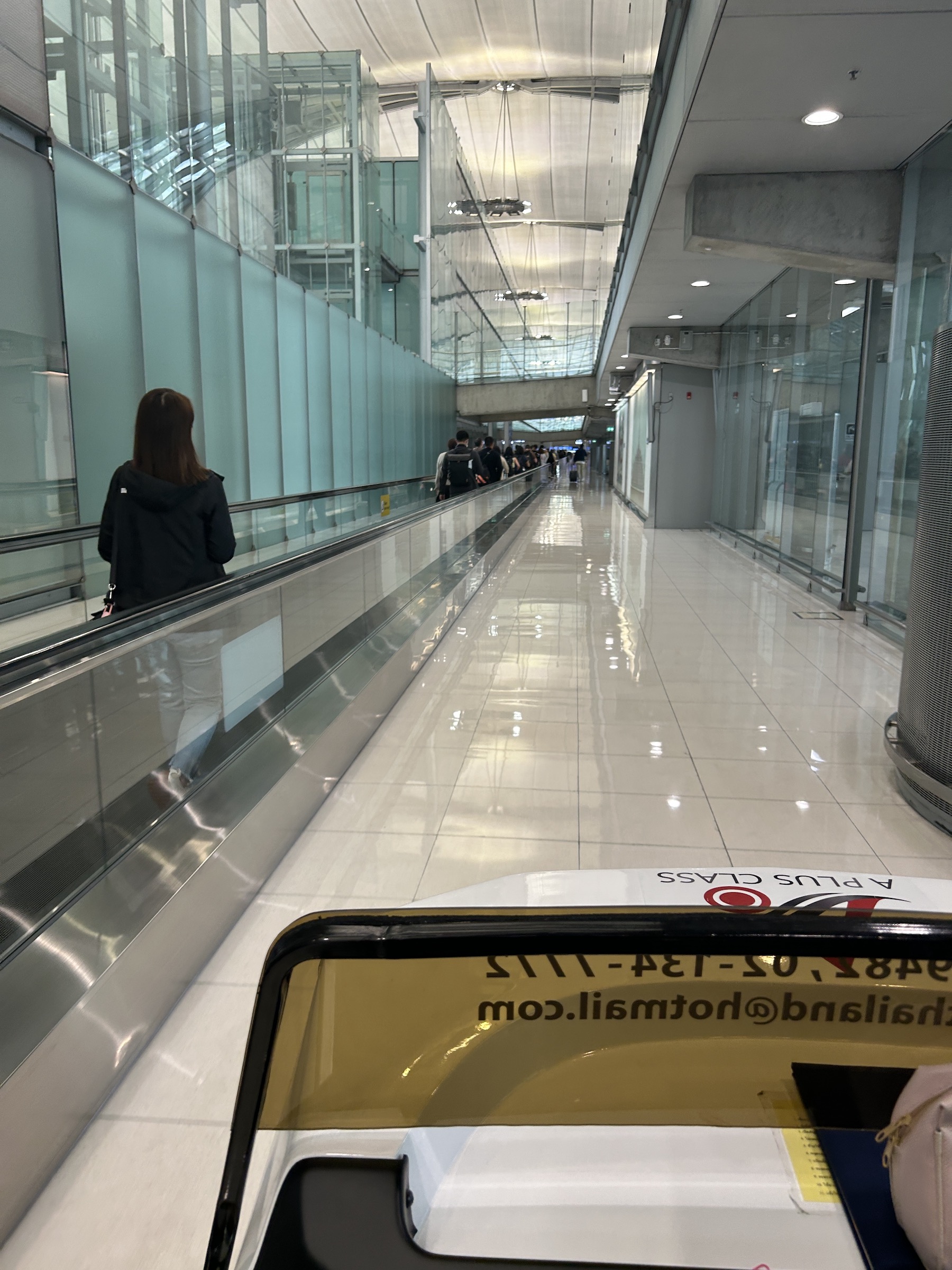 Our guide Su from Trails of Indochina was waiting for us in the baggage area and from there we proceeded to meet our driver and private van which was big enough for eight people.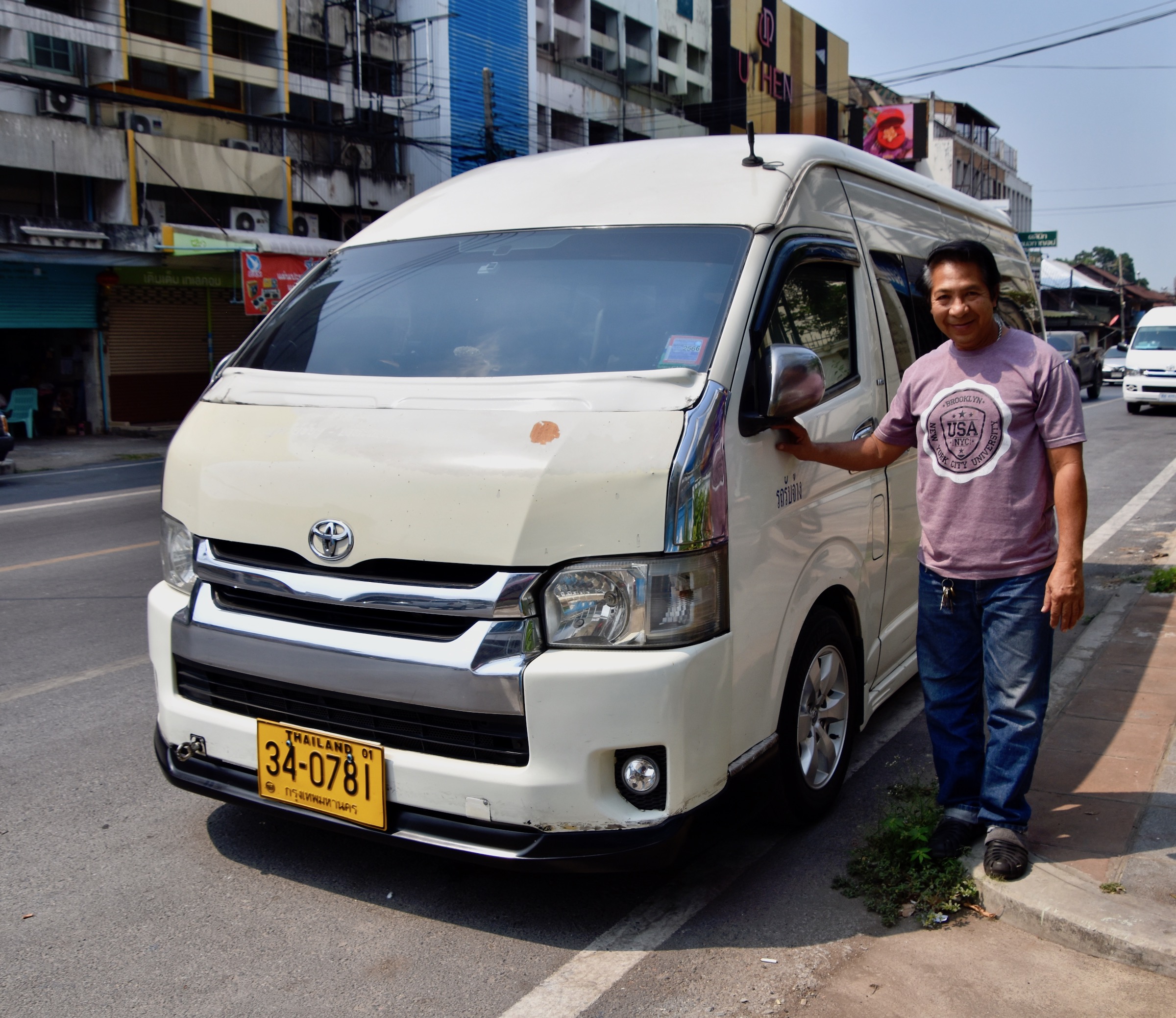 Bangkok is a vast city of over eleven million residents and no matter what your preconceptions, it is bound to surprise you. First of all it is incredibly modern with a great highway system and as many architecturally interesting modern buildings as I have seen in any city. It is almost as if the country's architects have entered a contest to see who can come up with the most unique way to build a skyscraper. As we sped along the highway to the city centre I could not help but marvel at many of these structures. This is just one example.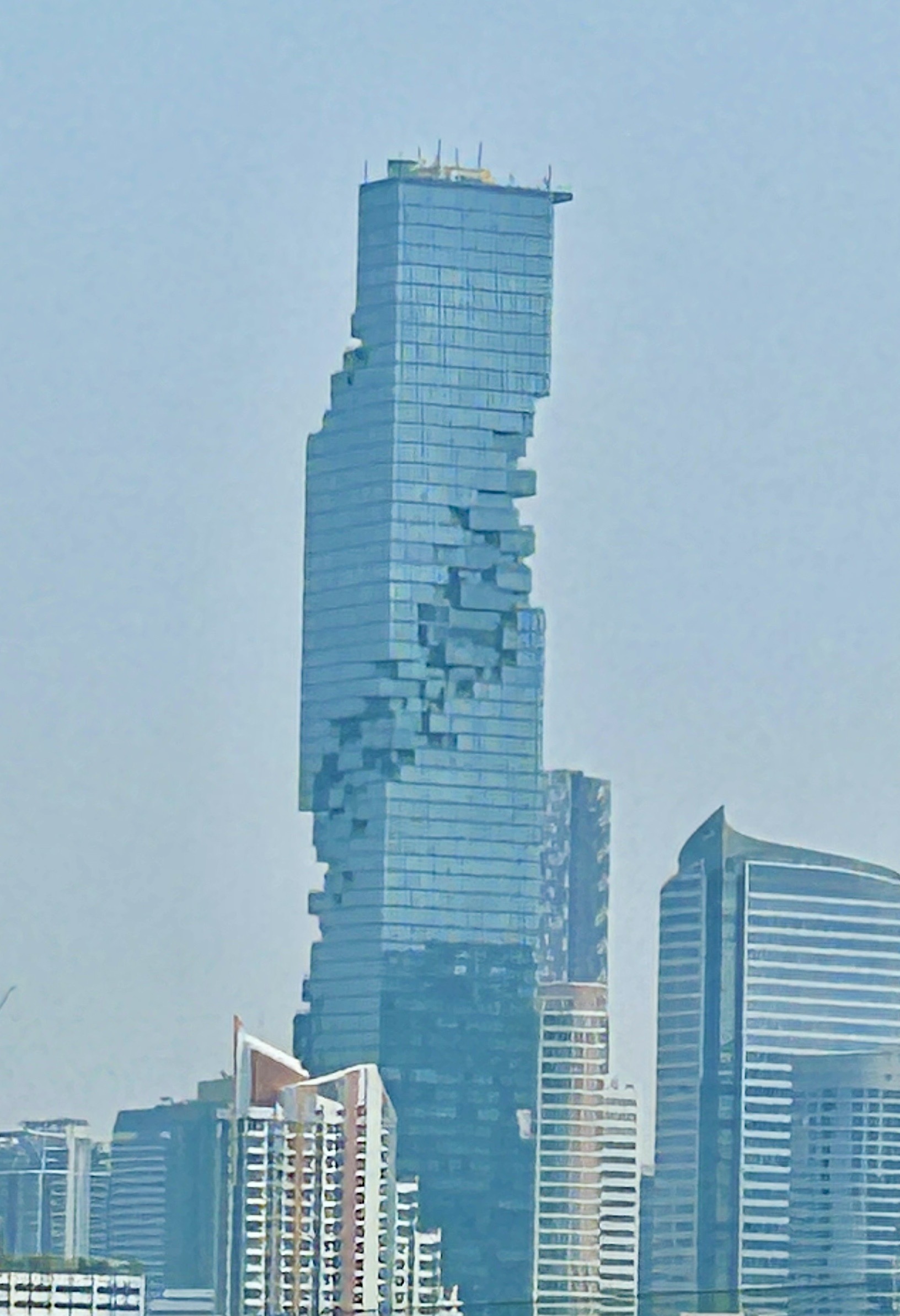 The second thing you'll notice about Bangkok the moment you get off the freeways is that it is also the exotic place you've always heard of. Suddenly the streets are crammed with tuk tuks, mopeds and bicycles and there are street vendors everywhere selling fruits and vegetables you never see in North American markets. Every second business seems to be a massage parlour. At some point you cross the Chao Praya River which was and still is to a large extent the lifeblood of the city, alive with boats of all sorts from huge barges carrying the produce of the nation to the instantly recognizable long-tail boats with their projectile like propellers.  You might remember these latter from a famous river chase in the James Bond movie The Man with the Golden Gun.
So the bottom line is that Bangkok is both not what you expect and what you do expect. It's a paradox that over the next five weeks will play out over all the large cities of Southeast Asia that we will visit on this journey.
The Mandarin Oriental Hotel, Bangkok
Trails of Indochina gave us a number of hotel options in Bangkok and we opted for the Mandarin Oriental which is a legendary hotel that first opened in 1887. While the original 40 room structure is still there, today most of the 330 rooms and suites are found in a modern 16 story building that fronts on the Chao Praya River. It is consistently rated as one of the best hotels in the world and after spending four nights there, I have to agree. We have never had better service at any hotel or resort than at the Mandarin Oriental. The staff to guest ratio is simply off the charts and it starts from the moment you arrive when multiple doormen greet you as if you were the King of Siam.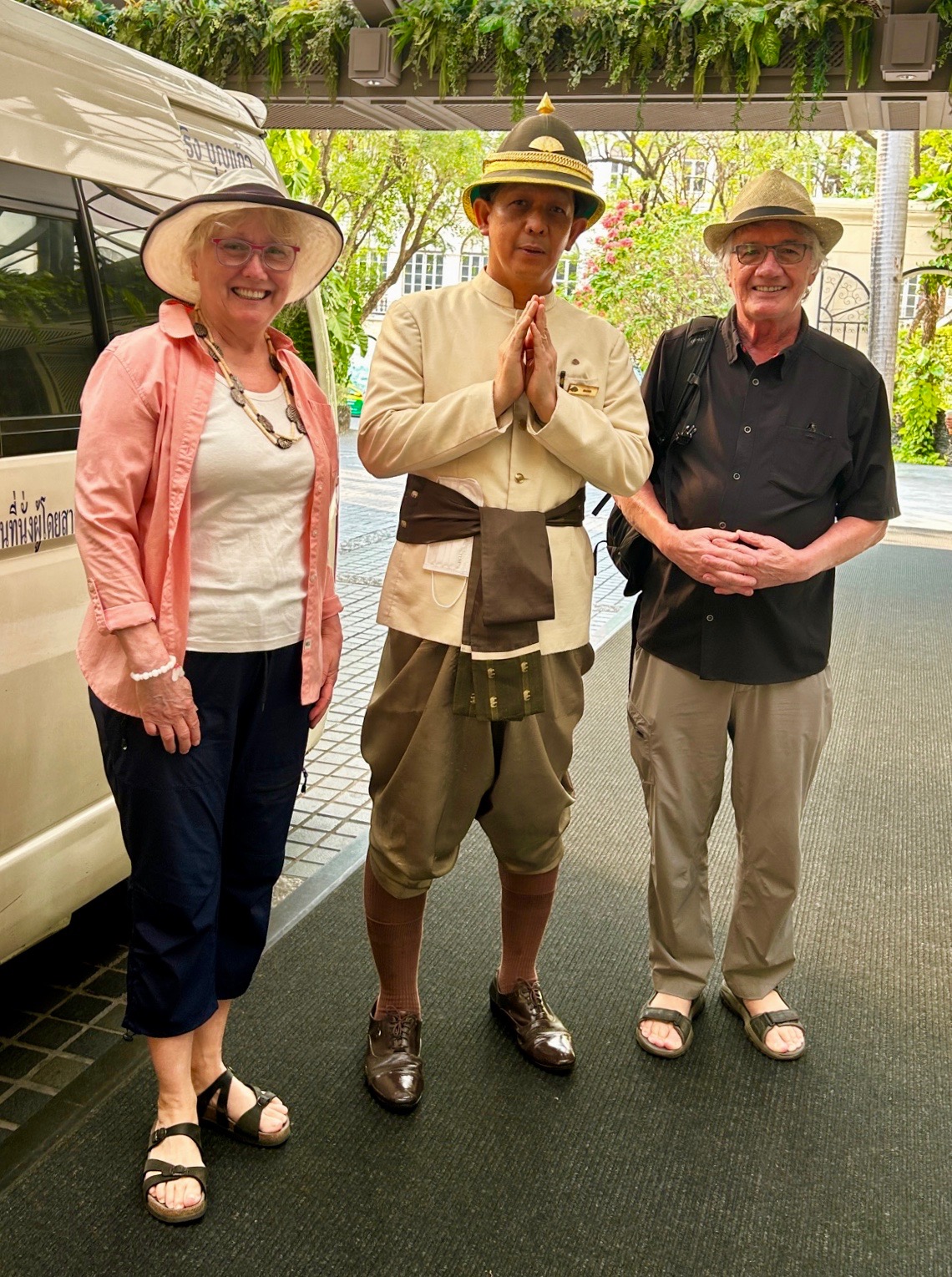 It was clear that our guide Su was well known to the staff as she too was treated like royalty and while we gawked at the grand lobby like the Beverly Hillbillies, she took care of the check in.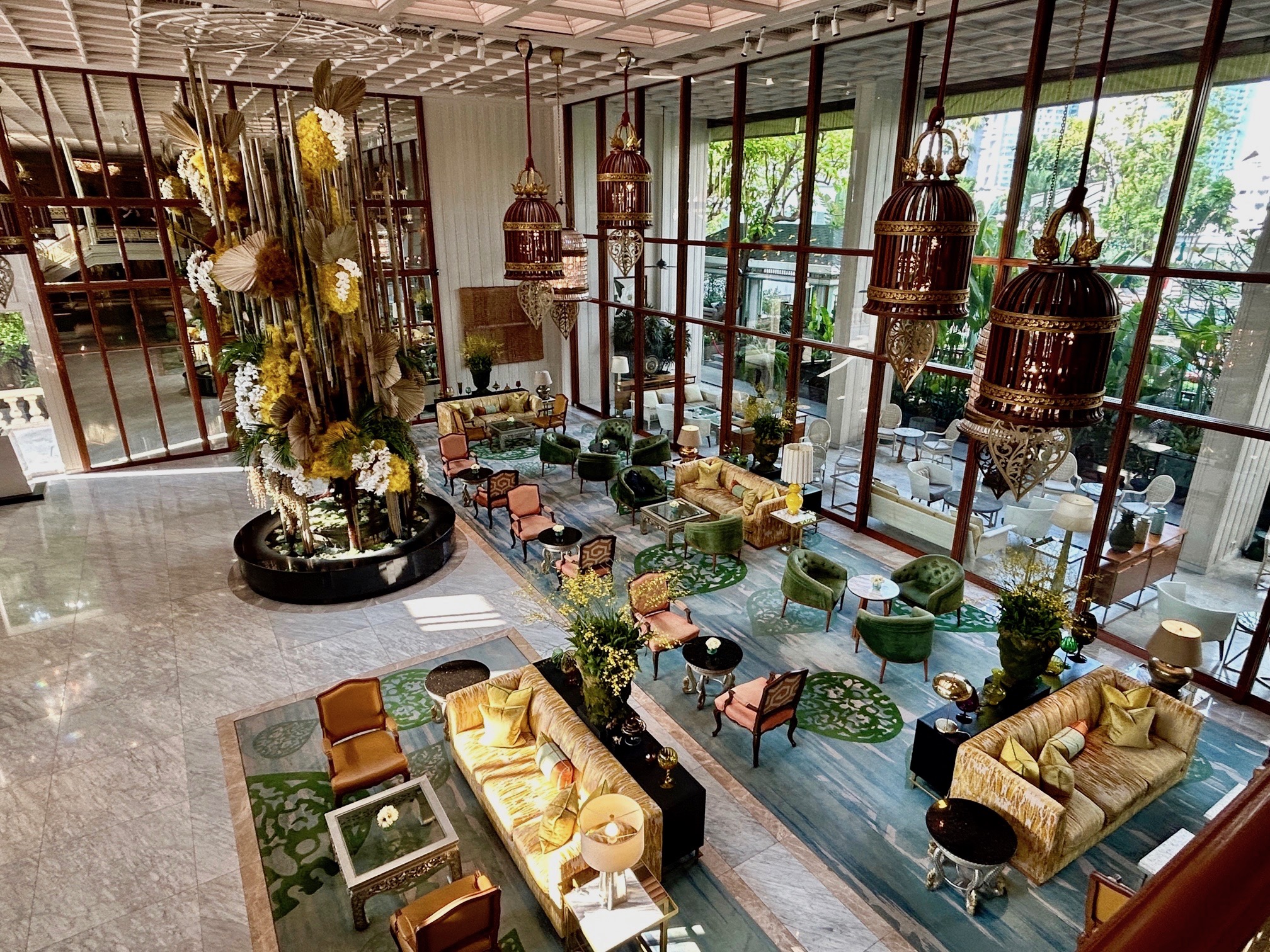 The plan was that we would simply rest up for the rest of the day and start our touring the next morning. Turns out that was a great idea as I can think of no place better in Bangkok to just loll around than here.
This is room 1426.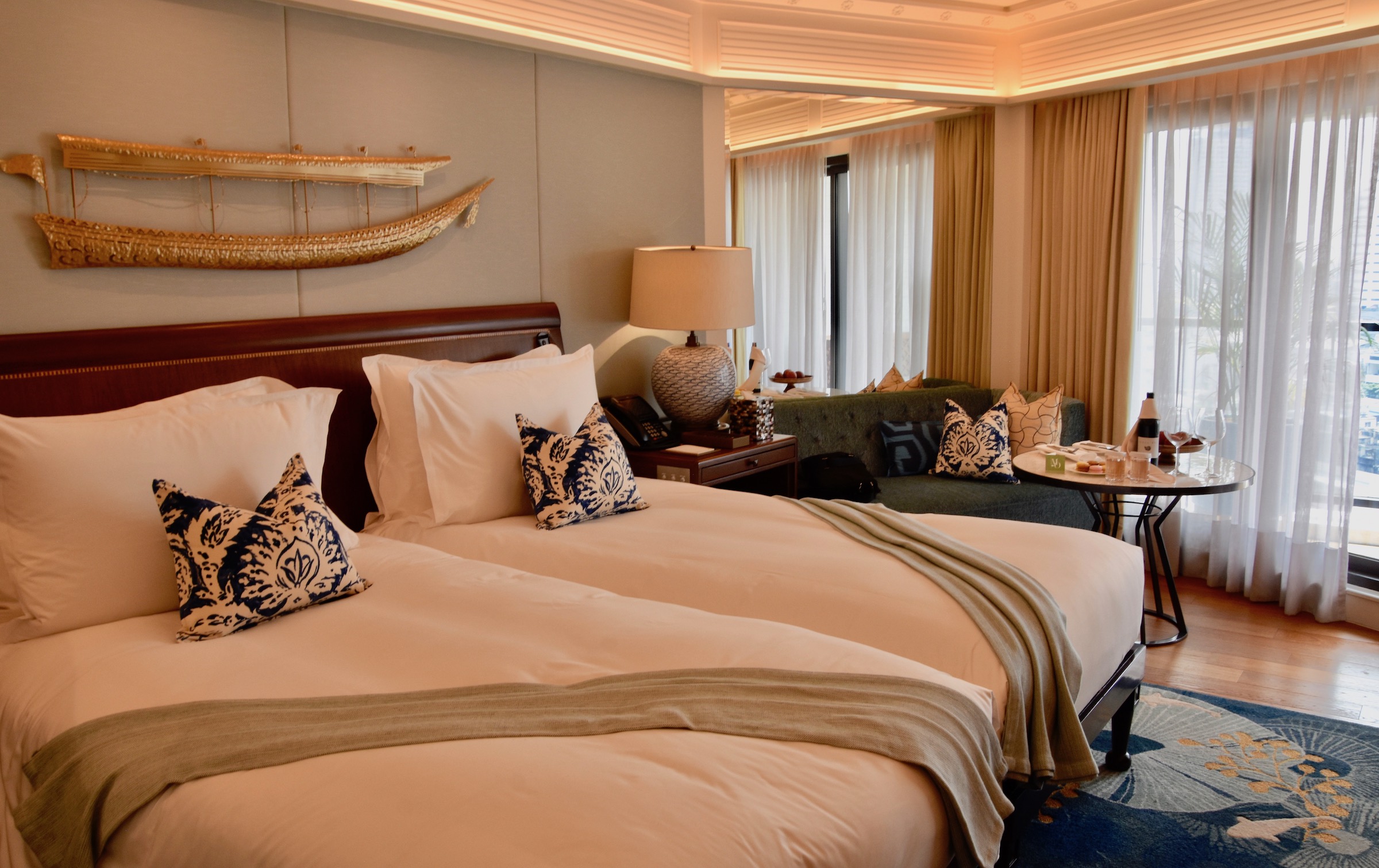 This is what was awaiting us on our arrival. Each day there would be a different selection of fruits and macarons.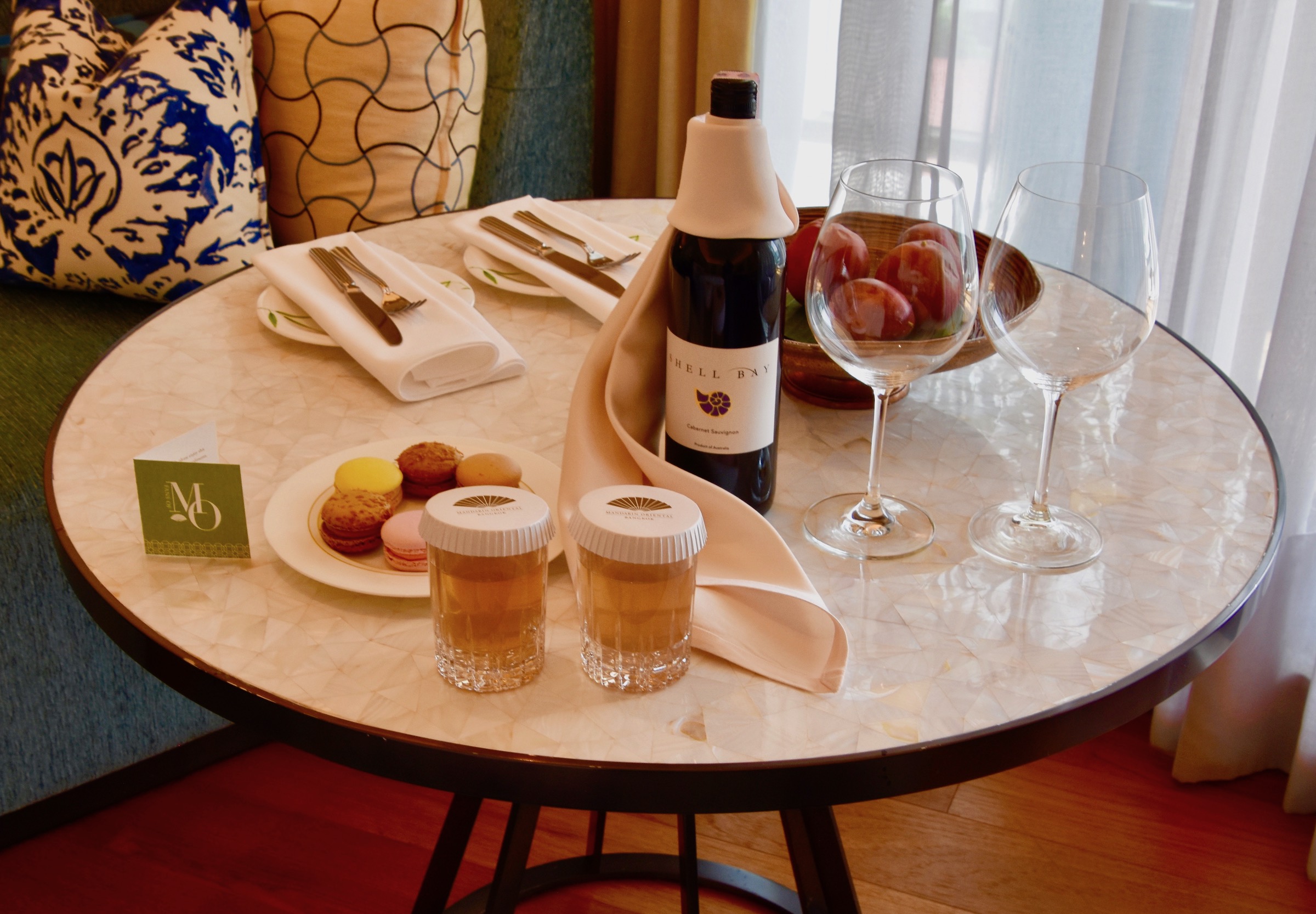 And best of all this was the view from the balcony of our room.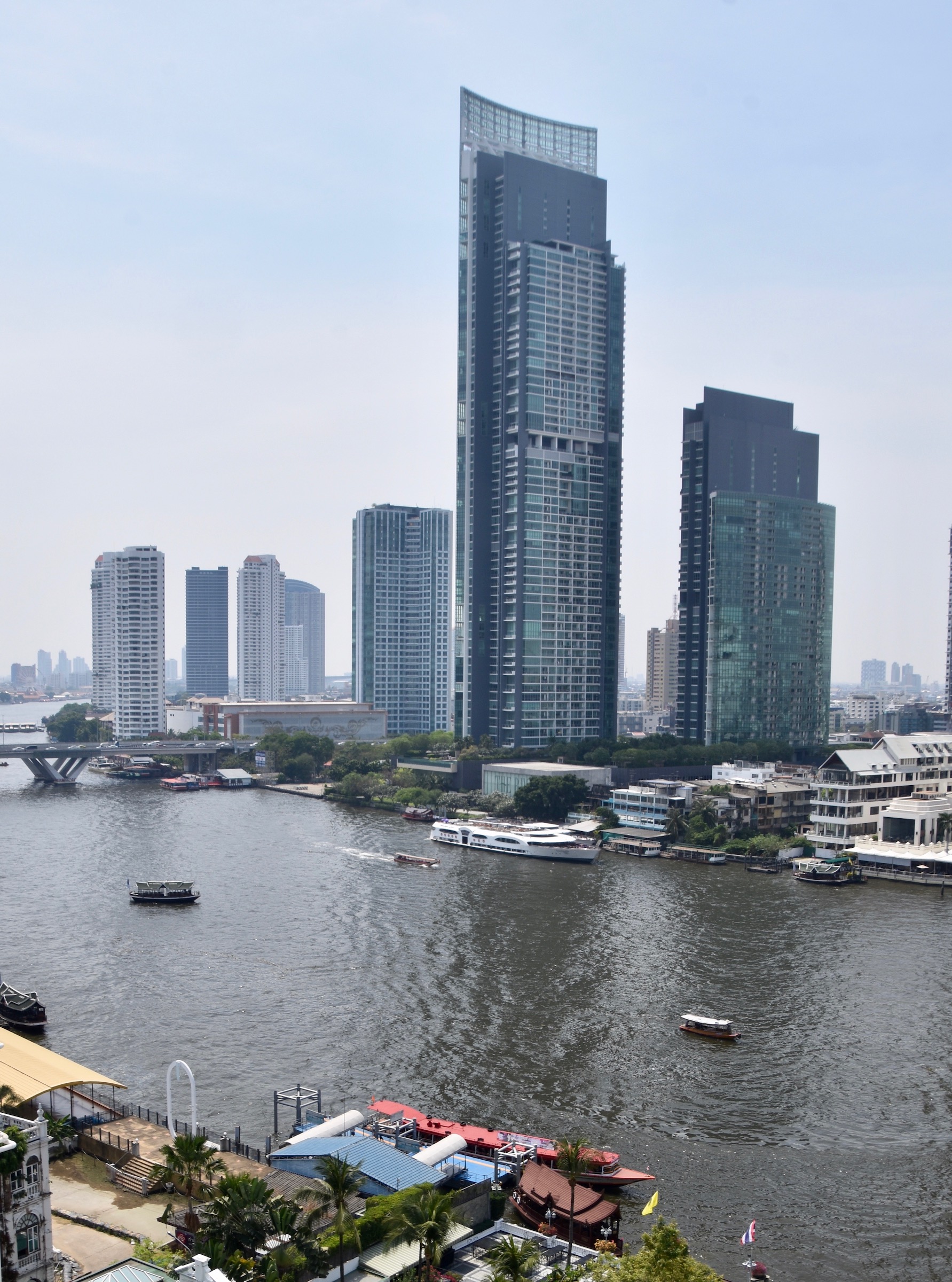 It was even more interesting at night when many of the boats that frequent the river are brightly lit up.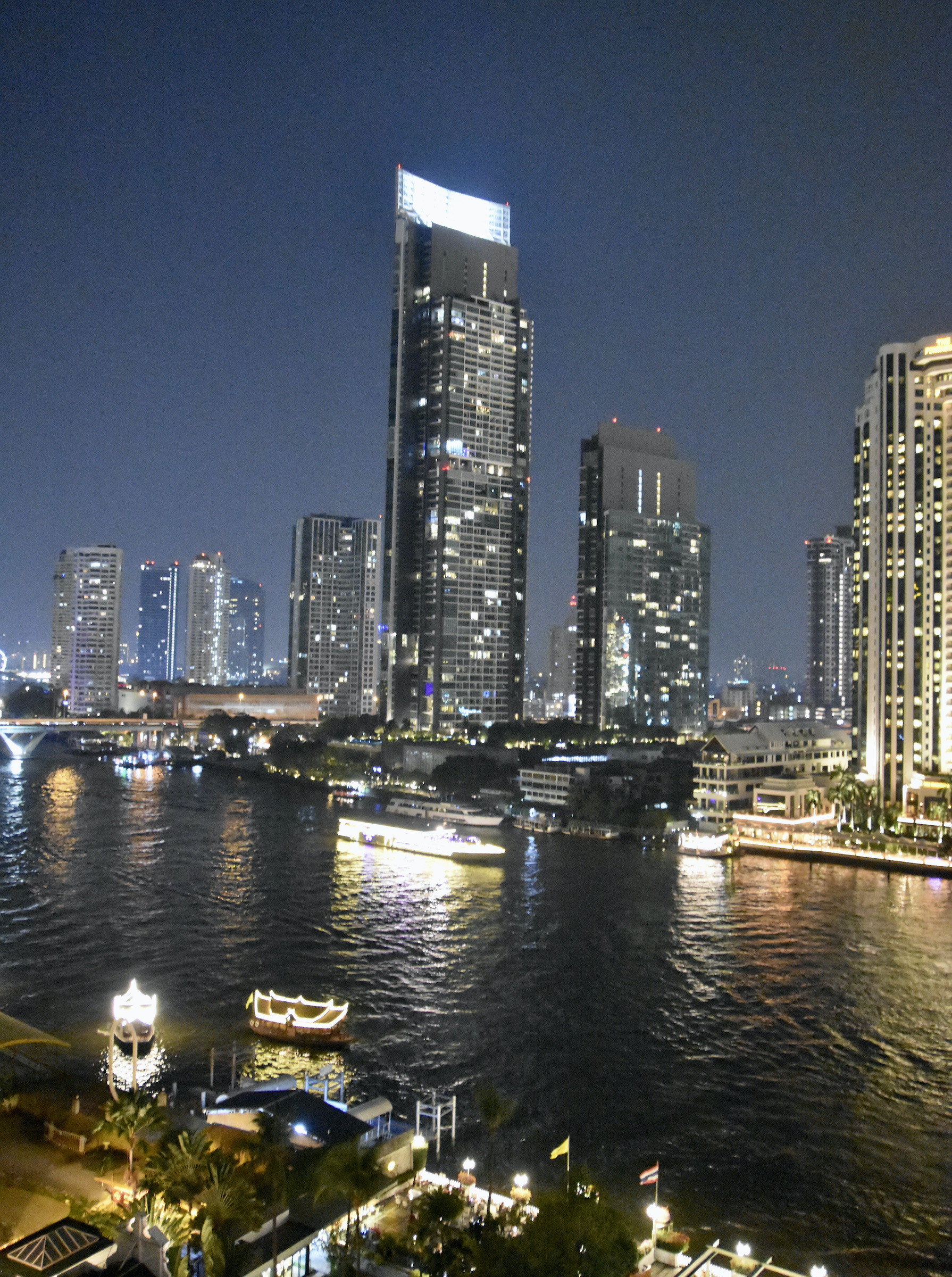 You are probably wondering how much it costs to stay at the Mandarin Oriental. Well it is bloody expensive, but sometimes you do get what you pay for and in the case of this place it was worth it.
There are no less than a dozen restaurants on site and over the course of our stay we tried four of them. The breakfast buffet which is included and served on the terrace by the river is simply outstanding as is the location.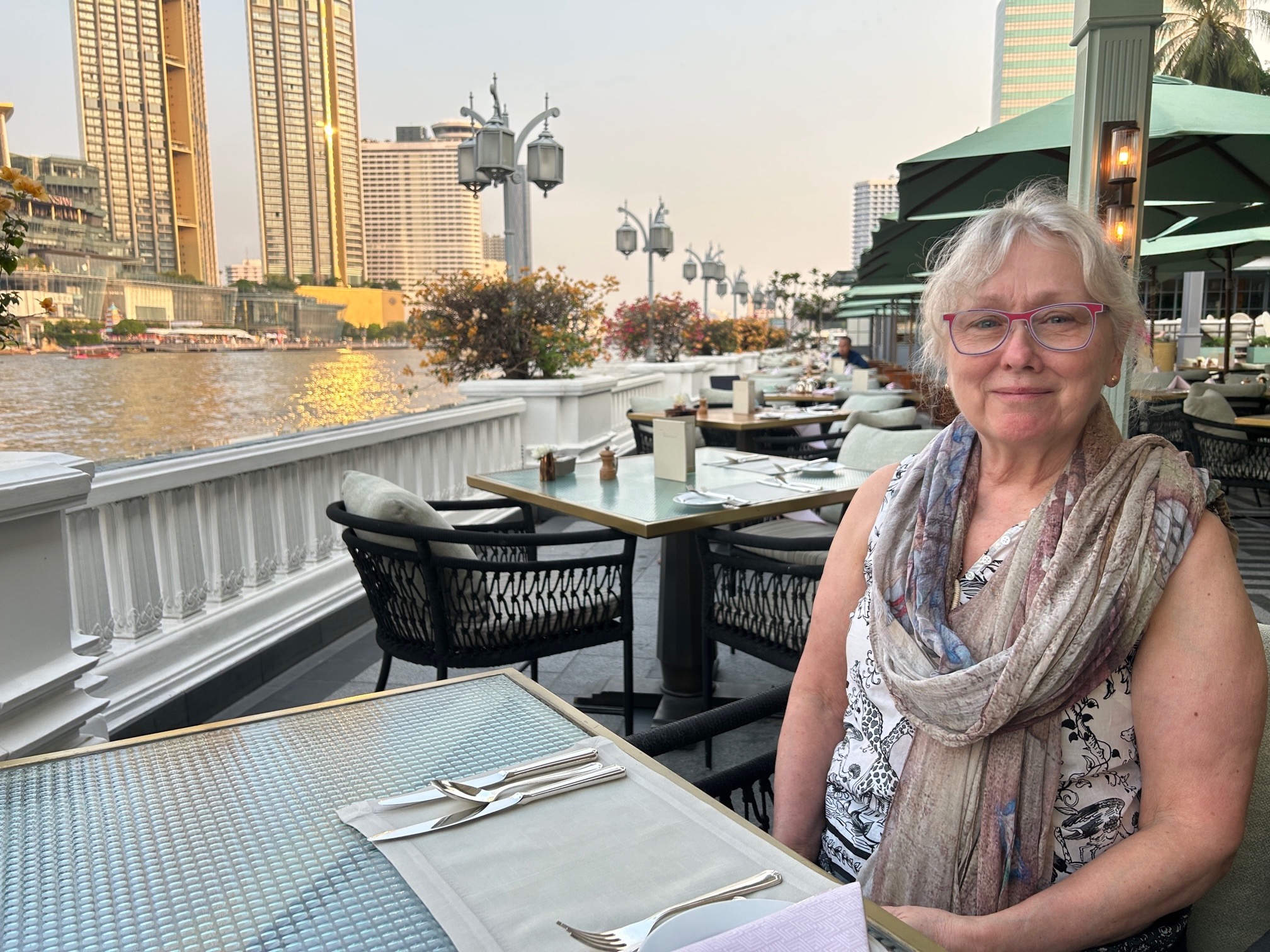 Given the fact that guests at the Mandarin Oriental come from all parts of the world there is something for every appetite and I mean that literally. If you couldn't find it here, it probably wasn't worth eating. Here is a gallery showing items from the buffet and then some of the many things we tried during our stay including dim sum, satay three ways, Vietnamese vegetable rolls, avocado toast, corned beef hash, won ton soup and even a really good pizza.
Almost directly across the river from the Mandarin Oriental is one of the world's largest and most modern shopping malls, the Icon Siam. The Mandarin Oriental has its own dock and fleet of small ferries that have a regular schedule that goes back and forth between the hotel and the Icon Siam. I'm not usually one for shopping malls, but our daughter Lenore had been here a few months earlier and told us it had a fantastic food court where you could get any of the traditional Bangkok street foods at rock bottom prices and without any of the dangers often associated with street food. Turns out that was an understatement. The Sook Siam has foods from no less than 77 different regions of Thailand in an atmosphere that is both overwhelming in its choices and in its ambience.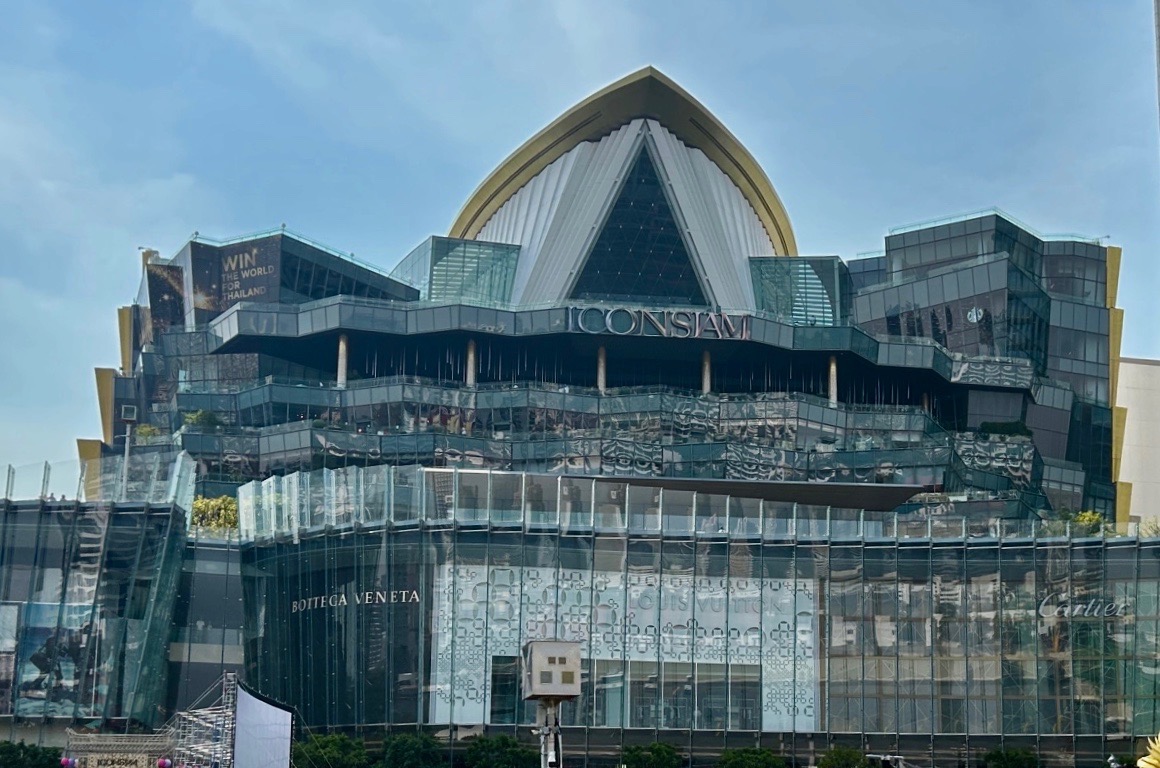 We went to the Icon Siam a number of times during our stay in Bangkok and each time found something completely different about the place. It has seven stories and shops that range from ridiculously expensive to surprisingly cheap, a combination that you don't usually get in one complex. I'm not a great shopper but I did buy this hat which I wore for the rest of the trip.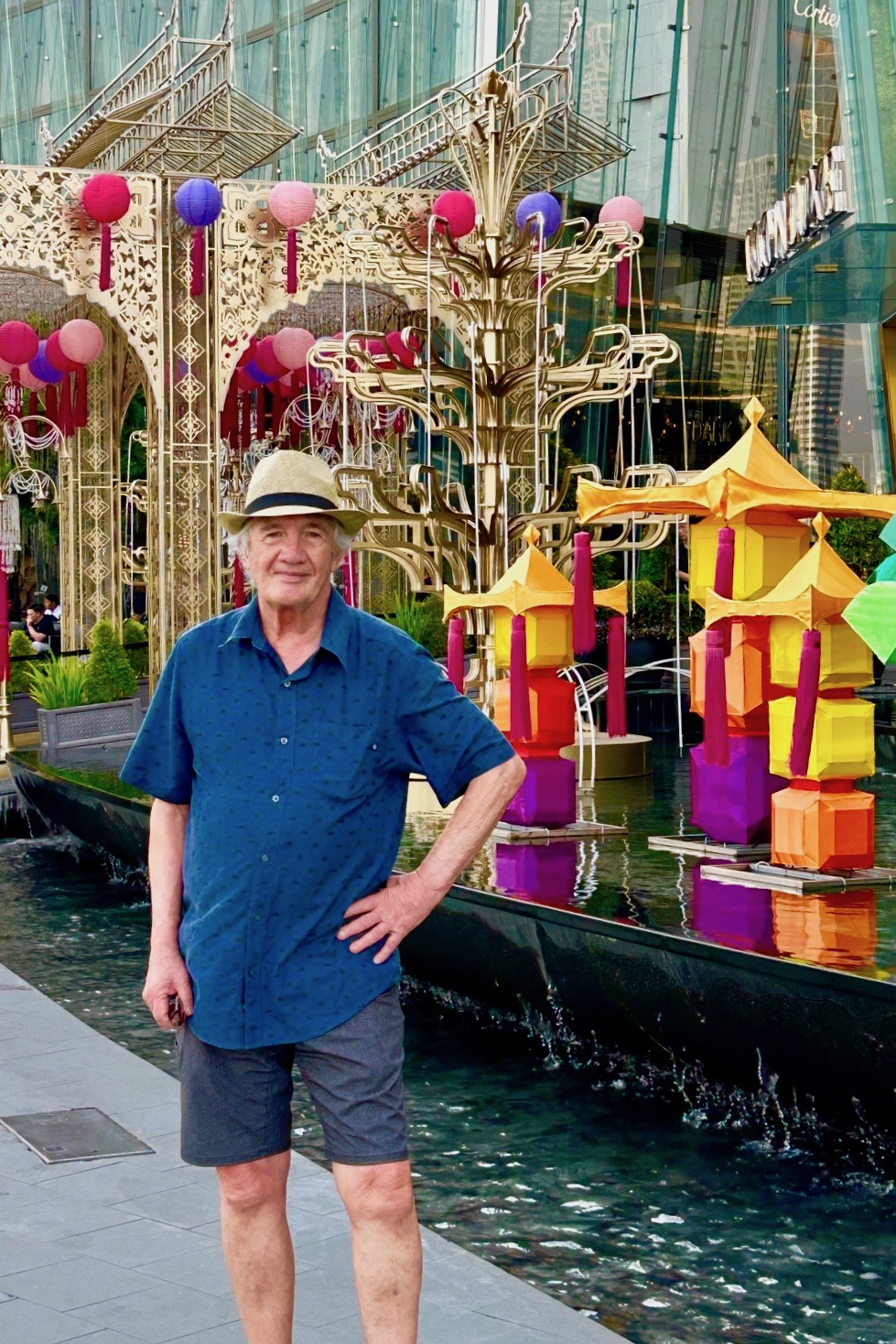 You don't actually need to leave the Mandarin Oriental to spend money as there are some very swanky shops there as well, but my preference was to relax with one of Bangkok's iconic brews, Singha lager.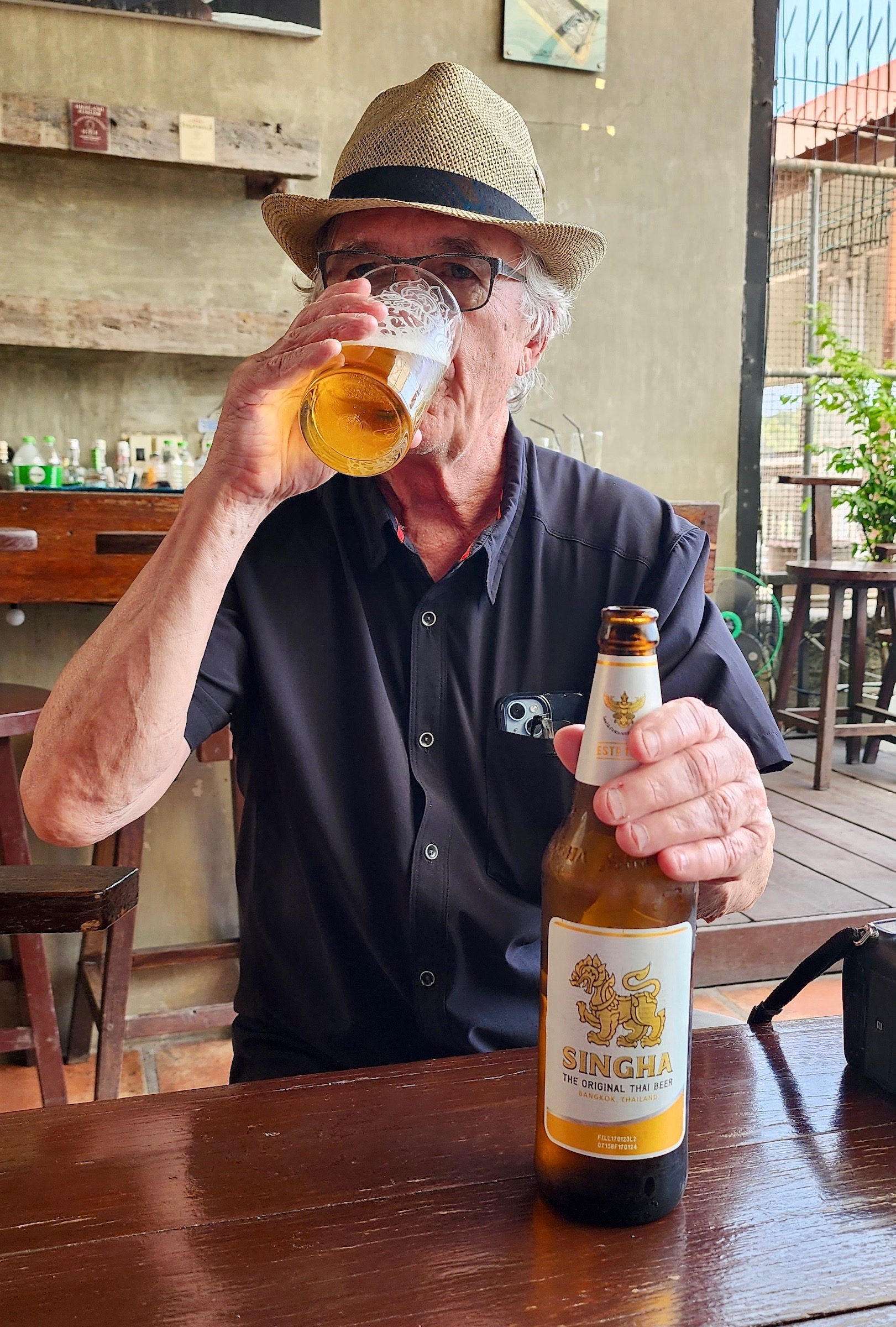 Well now that we're settled we'll start our sightseeing tomorrow with a visit to the Royal Palace and some other famous places in Bangkok. I hope you'll join us.