Cooking Alaturka – Via Egnatia Day 2
In my first post from the Adventures Abroad Via Egnatia tour our small group explored the ancient walls of Constantinople and several interesting neighbourhoods of Istanbul. Somehow we avoided dropping into one of Istanbul's 3,000 + mosques, but we'll remedy that today as we visit the grand Mosque of Suleiman and the much smaller Rustem Pasha mosque with its exquisite tile work. Then we'll spend some time exploring the colourful and aromatic spice market. Finally, we'll learn what to do with those spices as we embark on a cooking class at Cooking Alaturka. Day two of the this tour promises to be an Istanbul feast for all our senses. Hope you'll come along.
The Mosque of Suleiman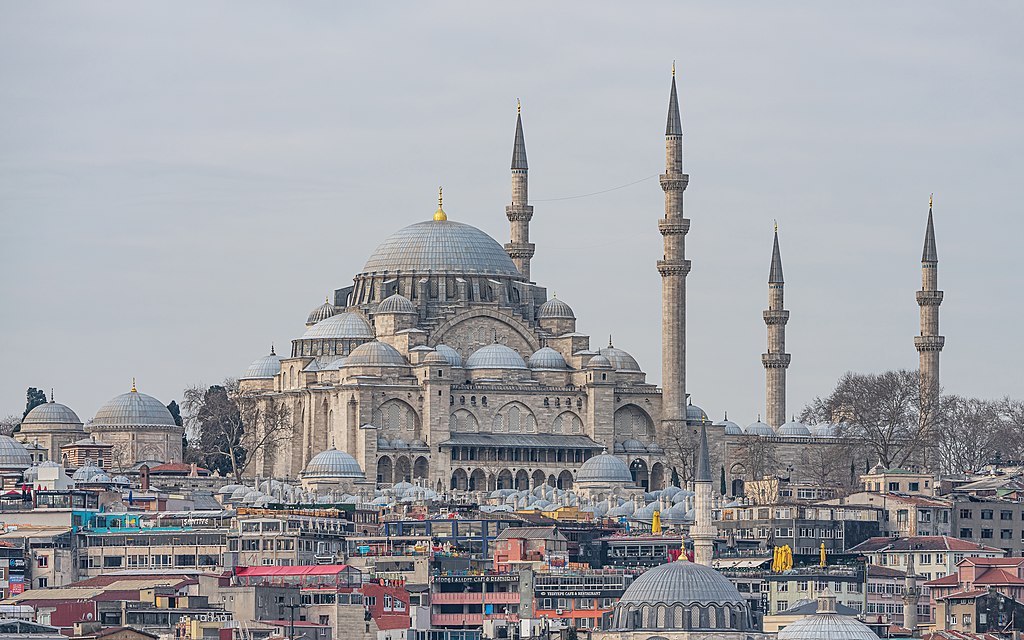 Officially Süleymaniye Mosque, this imposing edifice is usually just called the Mosque of Suleiman, named for Suleiman the Magnificent who ordered its construction in 1550. Up until the construction of the monstrous Çamlica mosque in 2019 which we will see from the Bosphorus tomorrow, this was the largest mosque in Turkey for over 450 years. It has a towering presence on top of one of Istanbul's highest points and dwarfs all the buildings in its vicinity. The design and construction were undertaken by Mimar Sinan the greatest architect of the Ottoman Empire and a contemporary of Michelangelo in the west. This along with the Selimiye Mosque in Edirne which we will also visit on this tour, are considered to be finest of his many accomplishments.
It's almost impossible to get a close up photo that does justice to this building which is why I used the public domain photo above. This was the best I could do as we approached the entrance. Note the incredible symmetry of the arches and domes.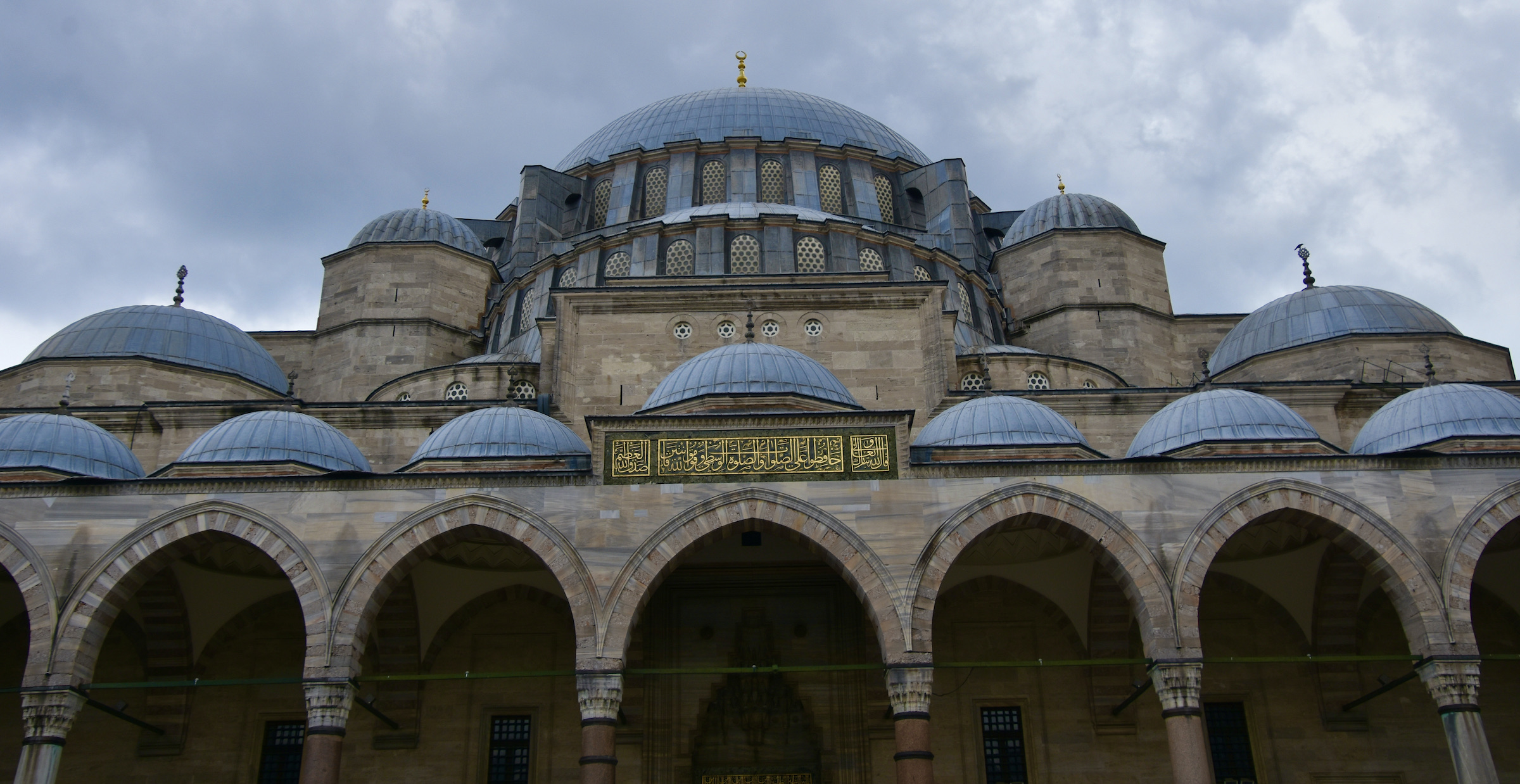 Inside there is a huge forecourt with a fountain in the middle.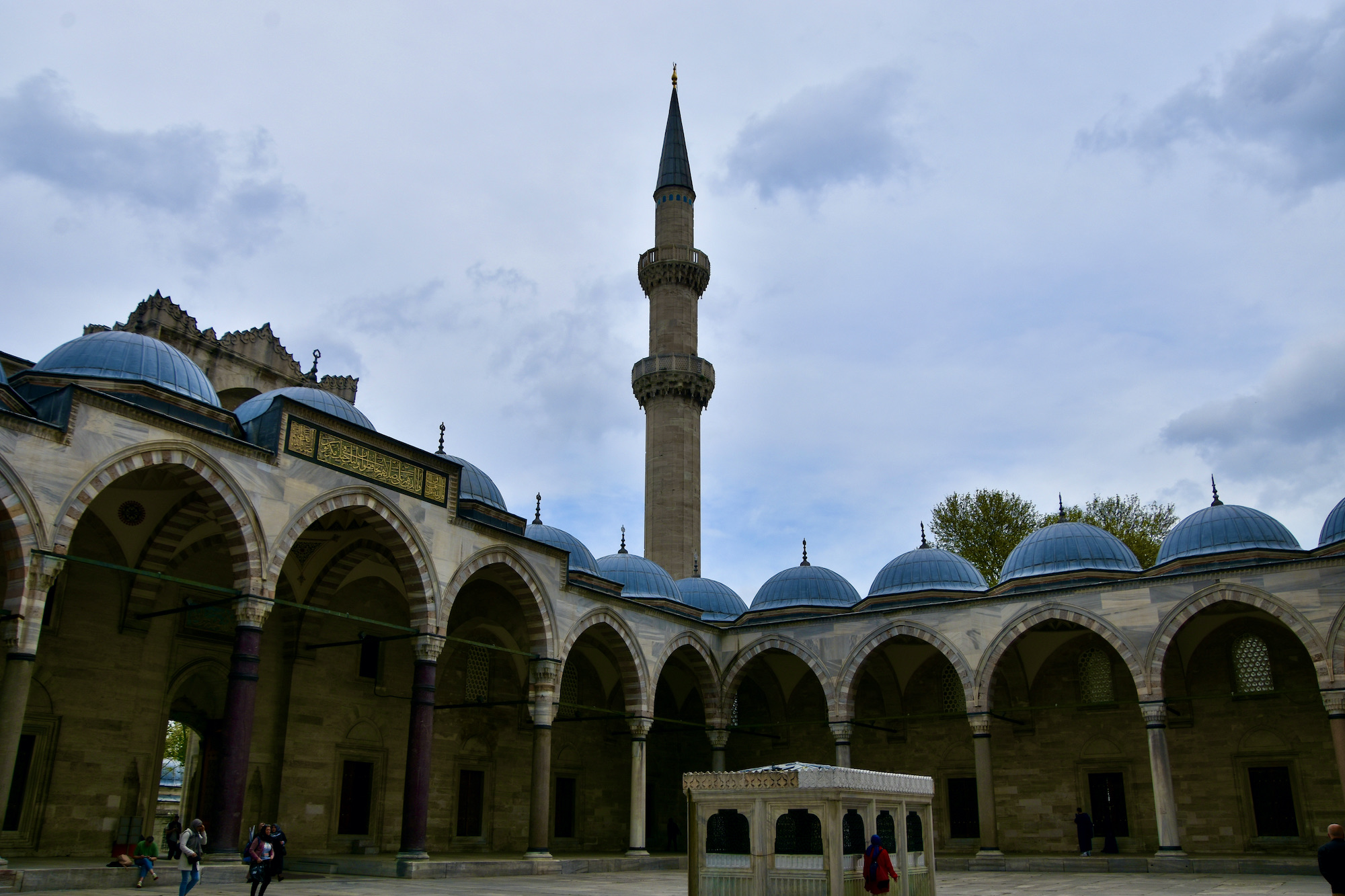 The pillars in the forecourt are a standard size except for these two taller porphyry ones repurposed from some Byzantine structure to create the royal entrance. Yesterday we saw the royal entrance to the city for the Byzantine Emperors and that tradition of exclusivity was retained by the Ottoman rulers as well.
The only word to describe the interior of the Mosque of Suleiman is vast. The decoration, but for the domes is quite modest. This is looking up 174 feet (53 metres) to the central dome.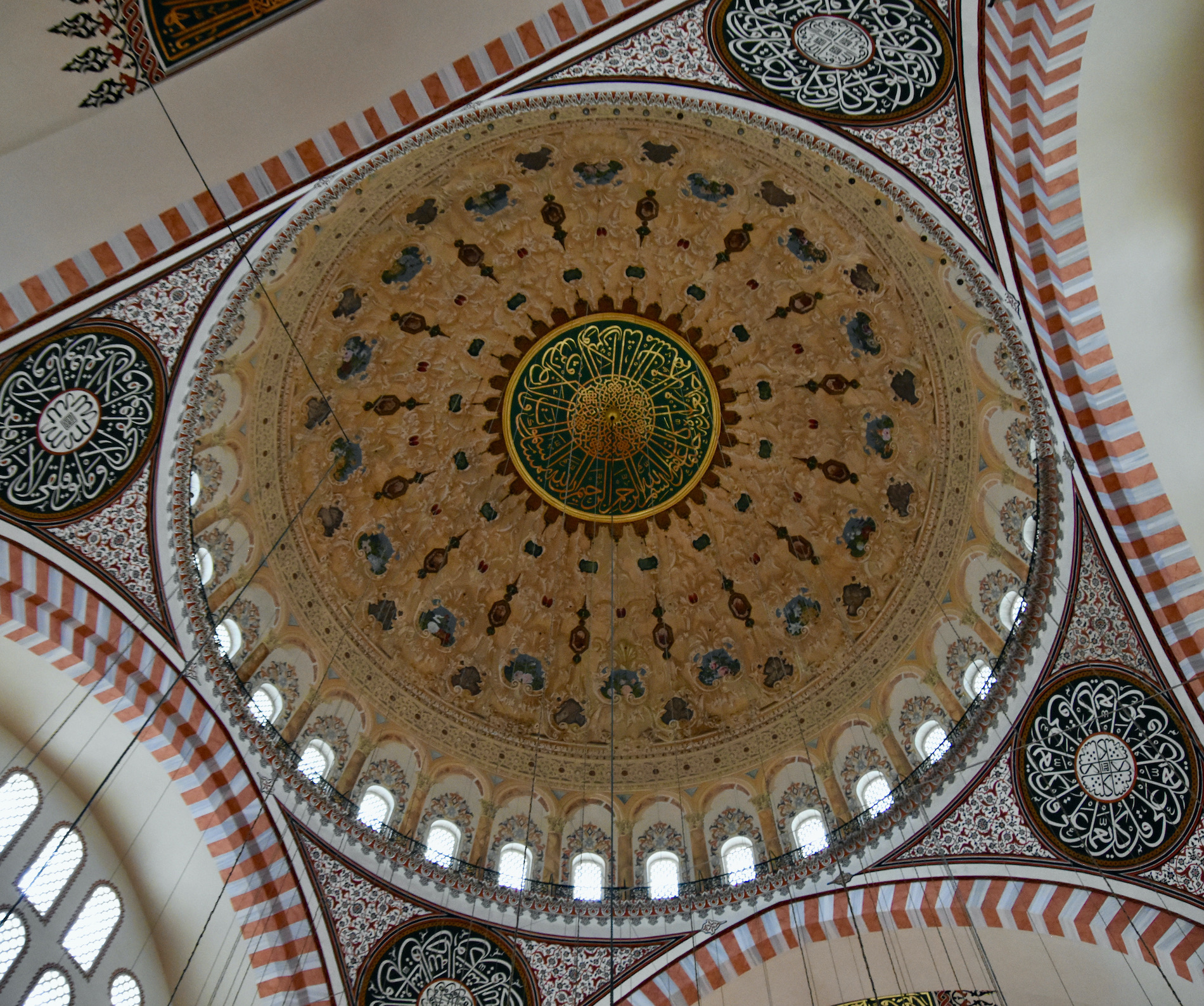 Passing through to the other side of the mosque you come out upon a courtyard from where there is a grand view across the Golden Horn. There's the Galata Tower from where we looked across this way yesterday.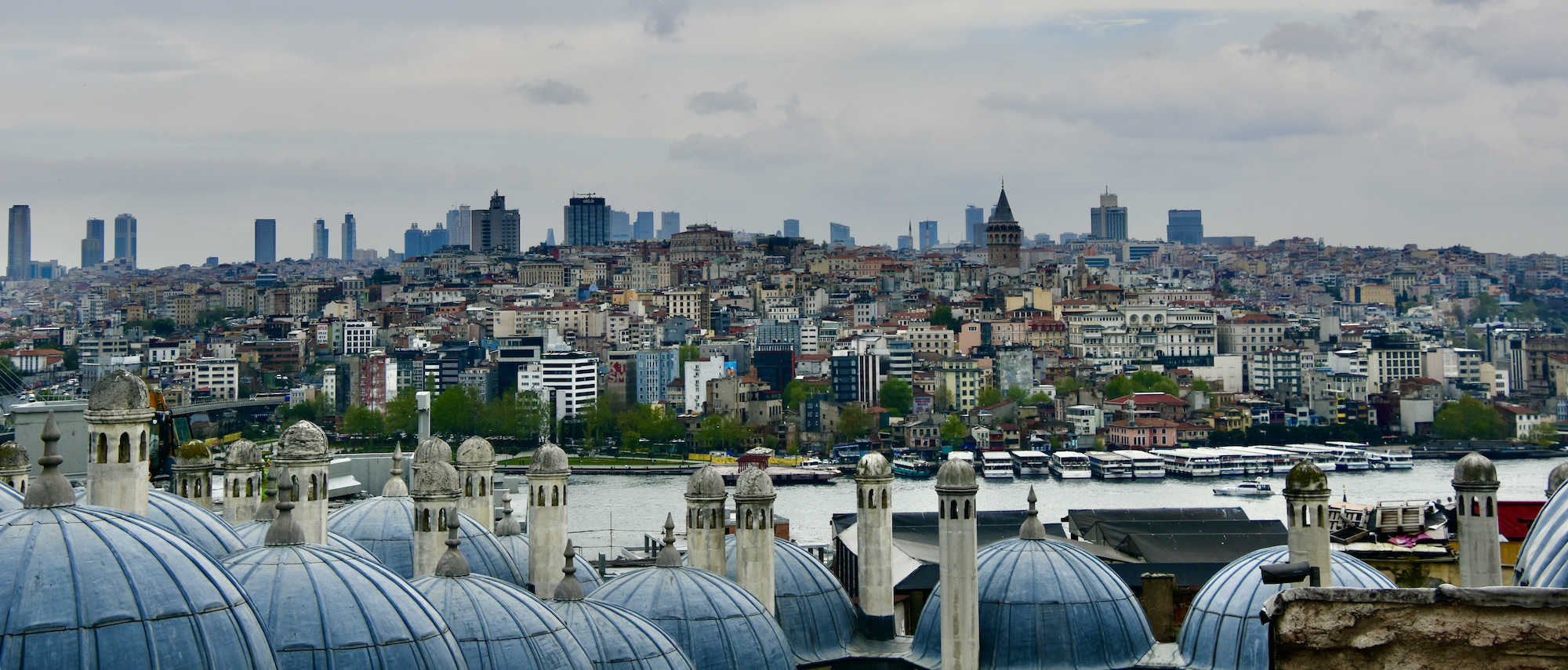 Suleiman chose the sacred ground around this mosque to be his final resting place and we pass his mausoleum on the way out.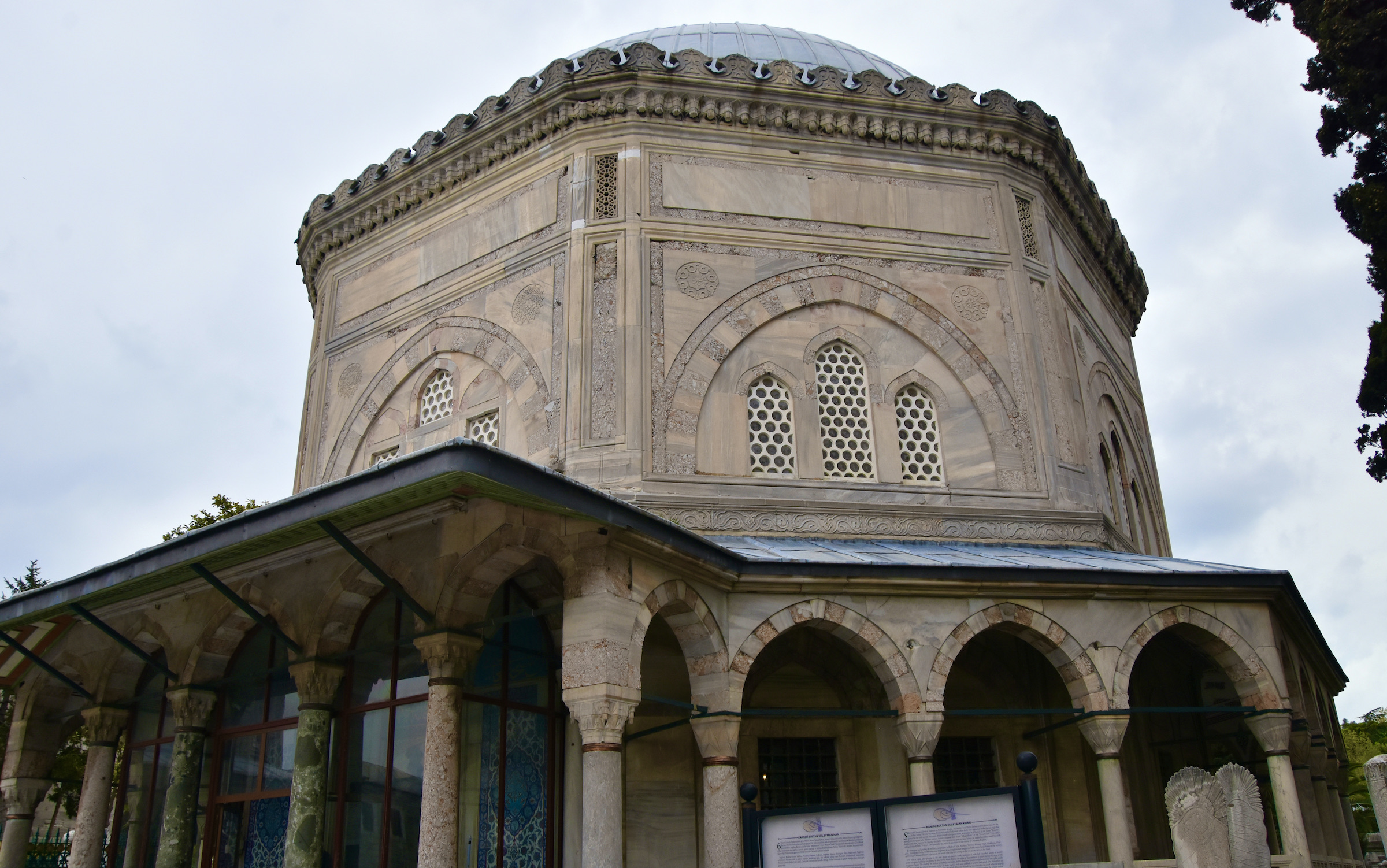 I also notice these beautiful irises blooming amidst the gravestones of the small cemetery.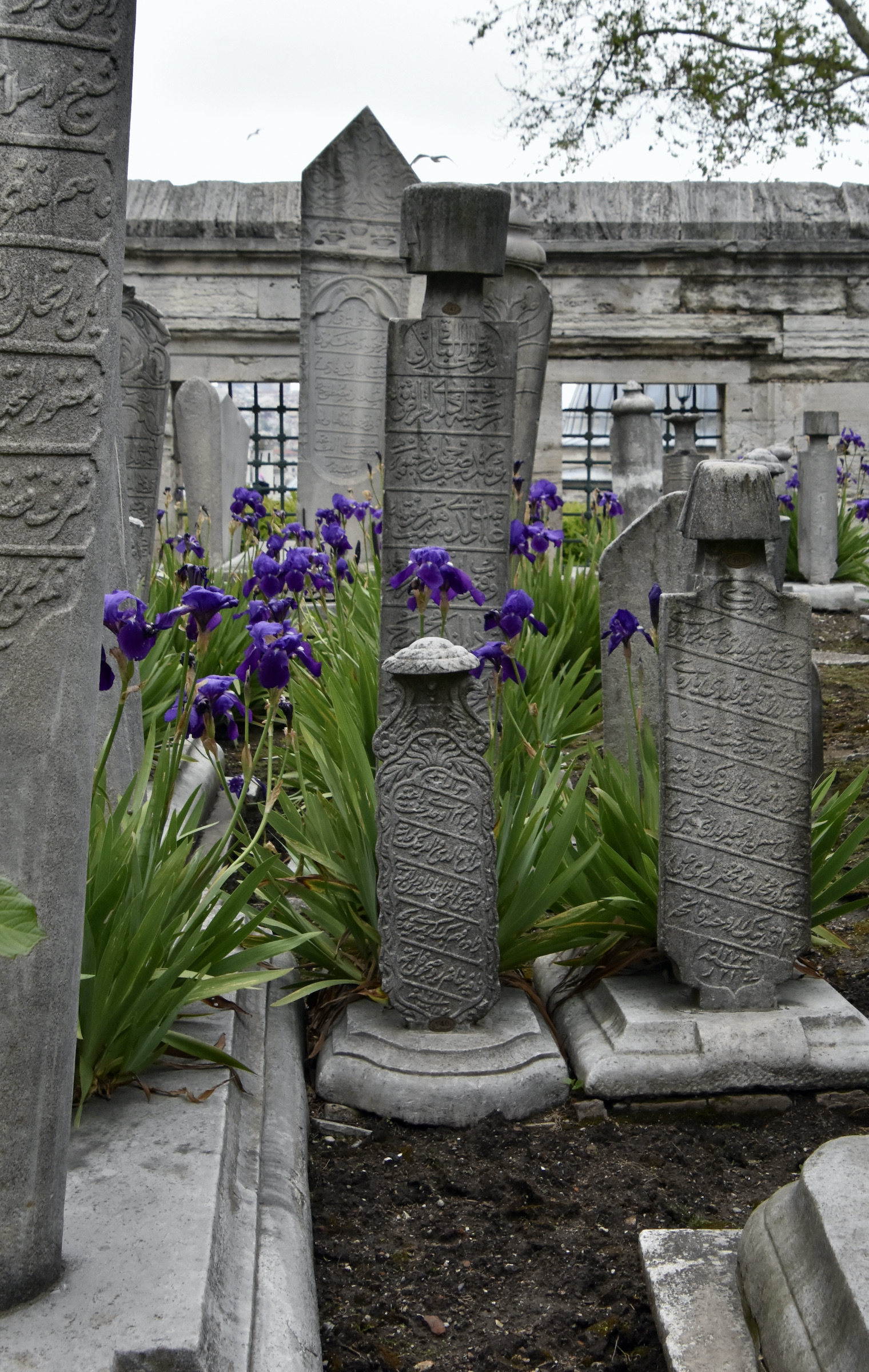 Before getting to Cooking Alaturka we have a couple more stops.
Rustem Pasha Mosque
If the Mosque of Suleiman impresses by its vast size if not it's decoration, the Rustem Pasha Mosque is the opposite; small in size, but beautifully decorated with some of the finest tile work you'll find anywhere in Turkey. This mosque was not on the original itinerary, but since we were going to the spice market and it is literally right next door, our local guide Cigdem suggested we pop in to see it and I'm glad we did.
This mosque was commissioned by Rustem Pasha the son-in-law of Suleiman and Grand Vizier of the Ottoman empire. Once again architect Mimar Sinan was called upon to design it. Rustem Pasha died before it was started and Suleiman authorized its completion in honour of his dead son-in-law. It was out of commission for centuries before being restored and reopened only in 2021 so it is not yet on most tourist's radar. It should be because the interior was the most lavishly decorated of all Sinan's mosques.The ceramics made in the small city of Iznik are considered to be among the finest ever produced and nowhere is that more apparent than in the Rustem Pasha Mosque.
Just look at the mihrab which is the most ornate I have ever seen.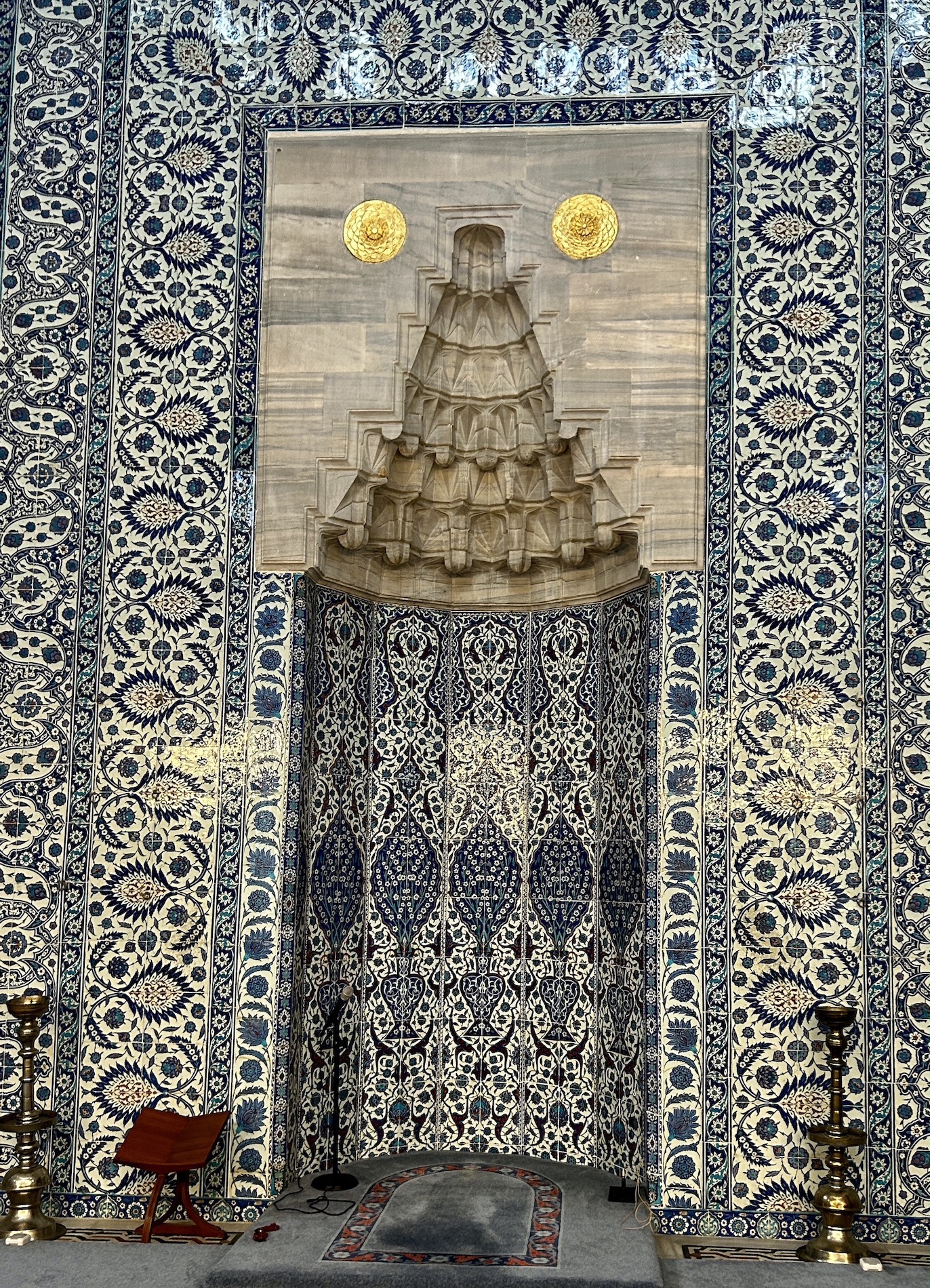 Or the minbar aka stairway to heaven.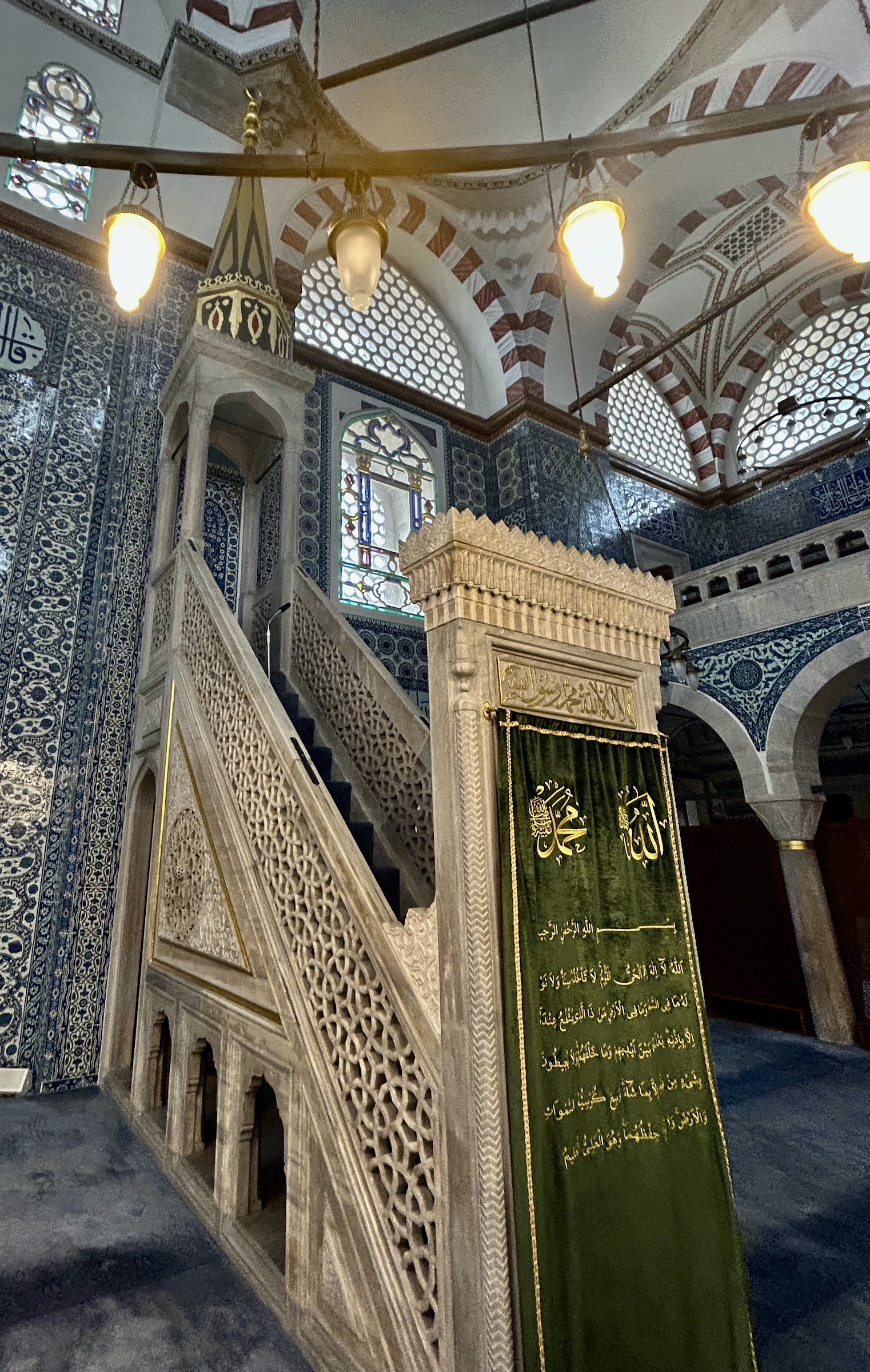 Here is a small gallery of just a few of the many types of ceramic tiles to be found in this wonderful mosque. To enlarge click to open a new window and then click on the image again.
So if you are planning a trip to the spice market and you should while in Istanbul, don't overlook this nearby hidden gem.
The Istanbul Spice Bazaar
I cannot say enough bad things about Istanbul's Grand Bazaar and would never recommend it to any self-respecting tourist, but the same does not apply to the Spice Bazaar. It is everything the Grand Bazaar is not. More colourful, way less hassle from the vendors, less claustrophobic, architecturally more pleasing and it even has stuff that you actually might want to buy. It's our last stop before we head to Cooking Alaturka.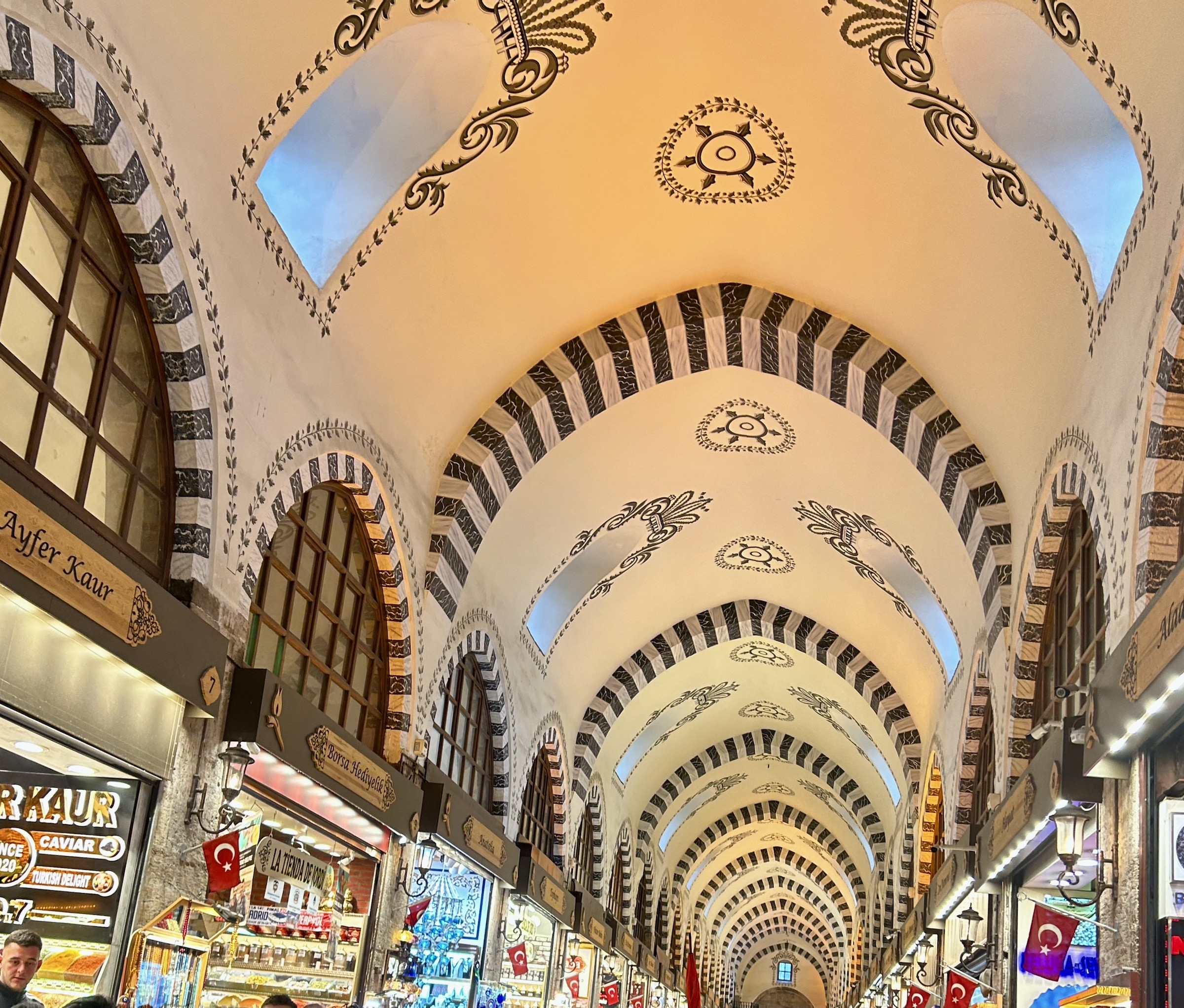 The bazaar dates back to the 17th century and was until quite recently the hub of the spice trade in the Ottoman Empire. Spice merchants are still the predominant vendors here, but increasingly confectioners, tea and souvenir sellers are taking up more of the 85 stalls in the market. It is a joy just to walk around and photograph the colourful displays.
Here is a small gallery of some of the things you might see and maybe even buy including the irresistible viagra tea.
Alison used Cigdem's help to purchase Ottoman spice which is a blend of sumac, thyme, garlic, turmeric, pepper, paprika and saffron and Ottoman chili at ridiculously low prices compared to what you would pay in Canada, assuming you could even find them.
Cooking Alaturka
One of the features of many Adventures Abroad tours is spending the better part of a late afternoon attending a cooking class and getting to make and then eat some local specialties. Alison and I had done this with Victor in Oaxaca, Mexico and on other tours in Ecuador and Vietnam. It was Victor's idea to end our second day at Istanbul's first cooking school, Cooking Alaturka which started in 2002 and since 2015 has been owned by Sicilian cum Turk, Rocco Strazzera. Chief chef instructor Nazli Yildirim is from Anatolia where most of the dishes we will prepare today originated.
So let's get cooking! Actually I'm going to act as group photographer.
This is Rocco explaining his passion for Turkish cuisine and why he gave up the fabulous tastes of Sicily to move to Istanbul. Turns out there was a Turkish woman involved.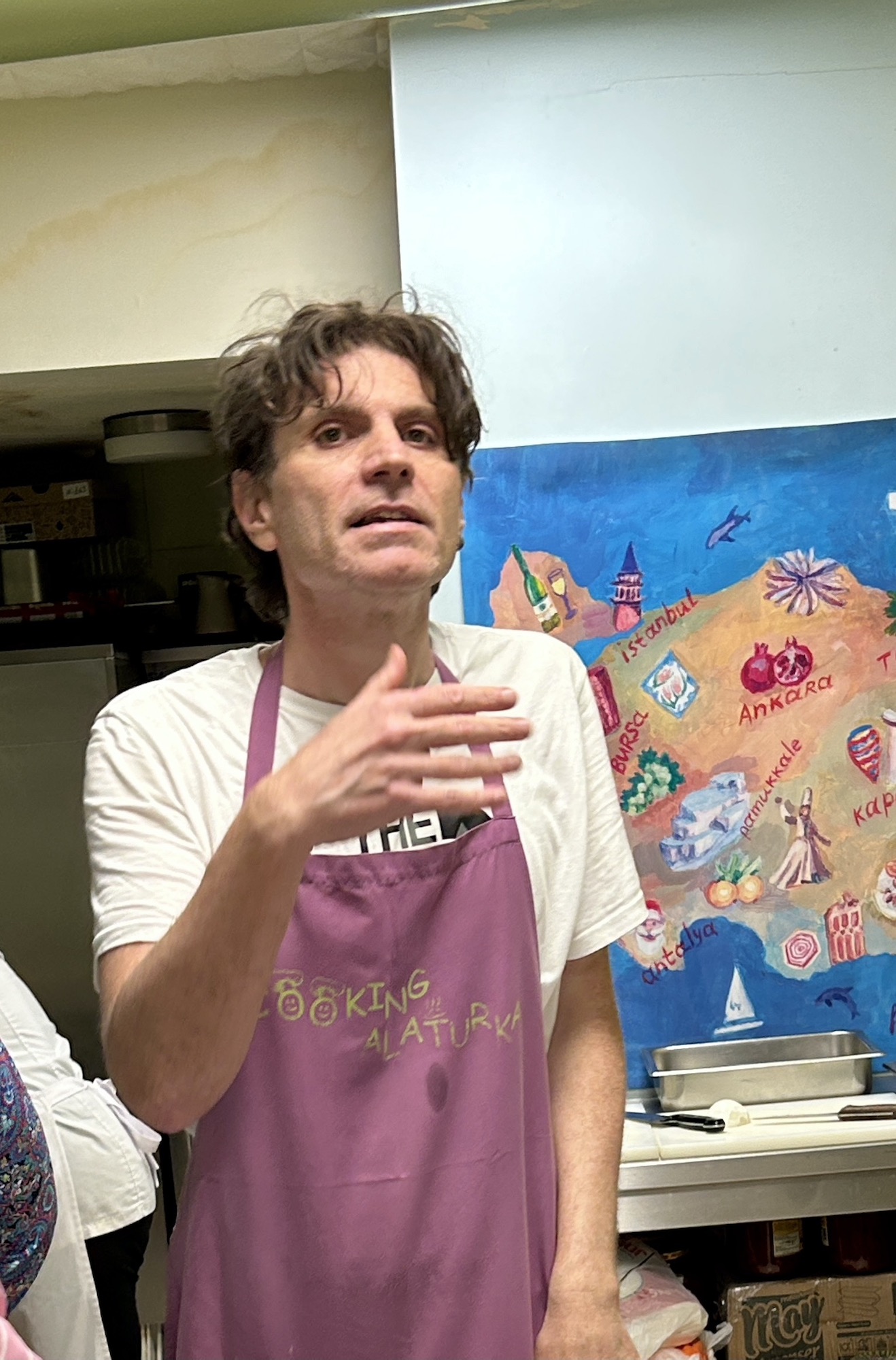 And this is Chef Nazli mincing herbs with a two handled chopper that moved so fast the camera couldn't keep up with it.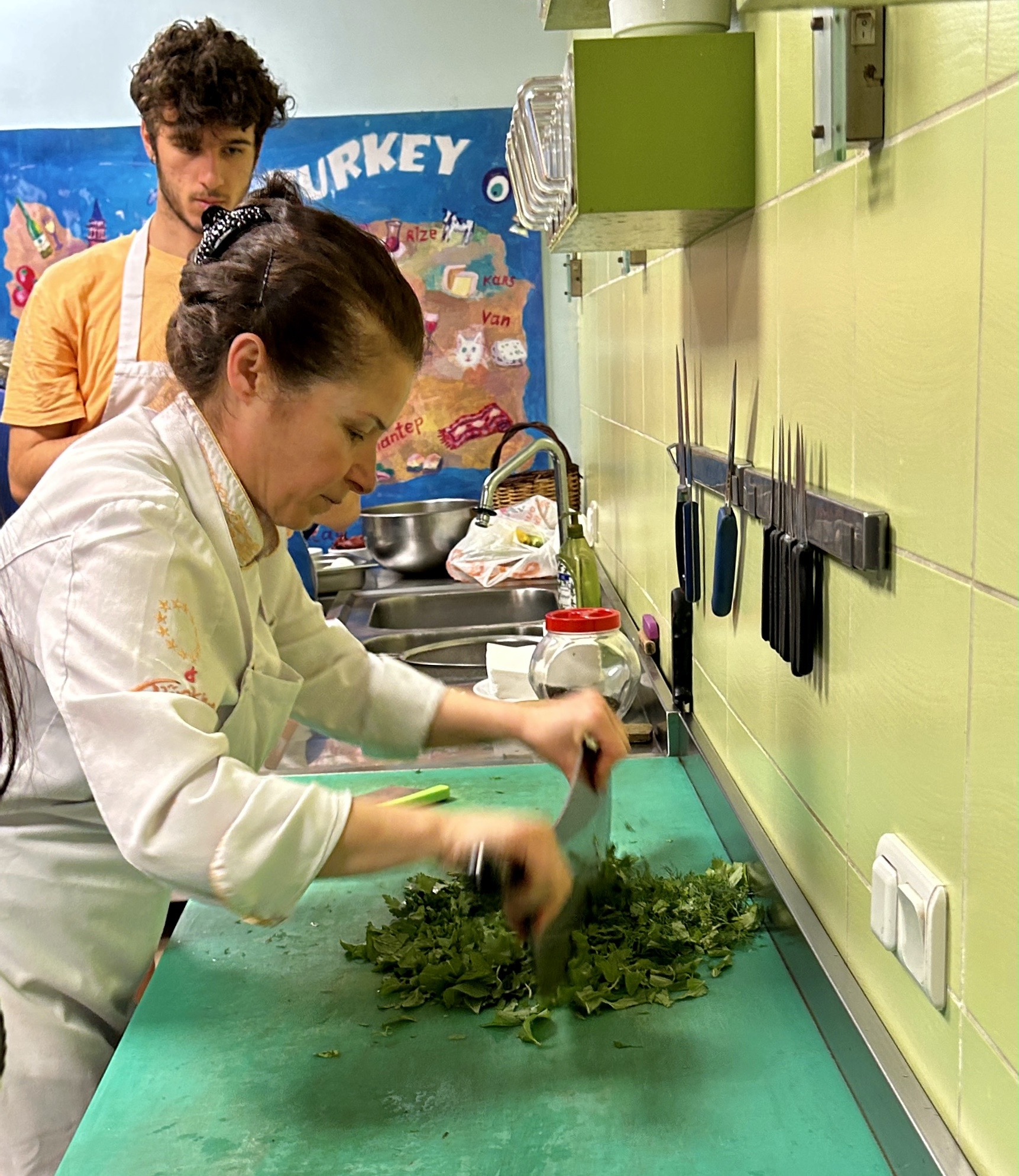 To conclude this post I will present a gallery of photos from Cooking Alaturka that show what we did and just how much fun we had. Oh, and the end products were delicious.
Tomorrow we will leave Istanbul, but not in the manner you might think. Join us as we board a local ferry and head up the Bosphorus to the Black Sea.