Alms Giving in Luang Prabang
This is my second post from the Laotian World Heritage Site of Luang Prabang on the Adventures Abroad tour of Laos. In the first post we visited four of the most important Buddhist temple complexes in the city. In this post we are going to become more than just gawking tourists and become active participants in an alms giving ceremony that dates back more than five hundred years. Afterwards we'll go to the market to see what's on display. Should be an interesting morning. Finally we'll visit one of Luang Prabang's natural attractions, Kuang Si Falls.
Alms Giving in Luang Prabang
Luang Prabang has been the religious centre of Laos since the 13th century when it became the seat of Laotian royalty who had adopted Theravada Buddhism as the official state religion. Just as there are many different religions practising under the umbrella of Christianity, so too with Buddhism, with the Theravada, which first arose in Sri Lanka, considered the oldest and most orthodox. One of the major tenets of this religion is the ability of young men and even boys to become monks, not for life, but for a few years and then return to the laity. Another is the morning ceremony known as Sai Bat in which the monks seek alms from members of their community by making a regular circuit of their immediate area to collect rice before returning to the monastery for the day. Before tourists started coming to Luang Prabang the alms giving was done mostly by the women of the city, but in recent years outsiders have begun to participate with varying results.
Originally I thought the plan was simply to observe the ceremony from a distance and maybe take a few respectful photos if permitted. This in fact is what most of the other groups of tourists we saw the morning of the alms giving were doing. They were not actively participating in the ceremony. However, both Claude our AA guide and Ta our local guide insisted that it would be a much more fulfilling experience if we actually became alms givers rather than just spectators. They had made arrangements for us to occupy a section of a street away from the main crowds, but on the alms giving route of a number of monasteries. The arrangements included small plastic seats to sit on, special sashes and most importantly bamboo baskets filled with sticky rice.
We had arisen well before dawn and made our way into a side street in Luang Prabang and were ready for the alms giving as the sun came up.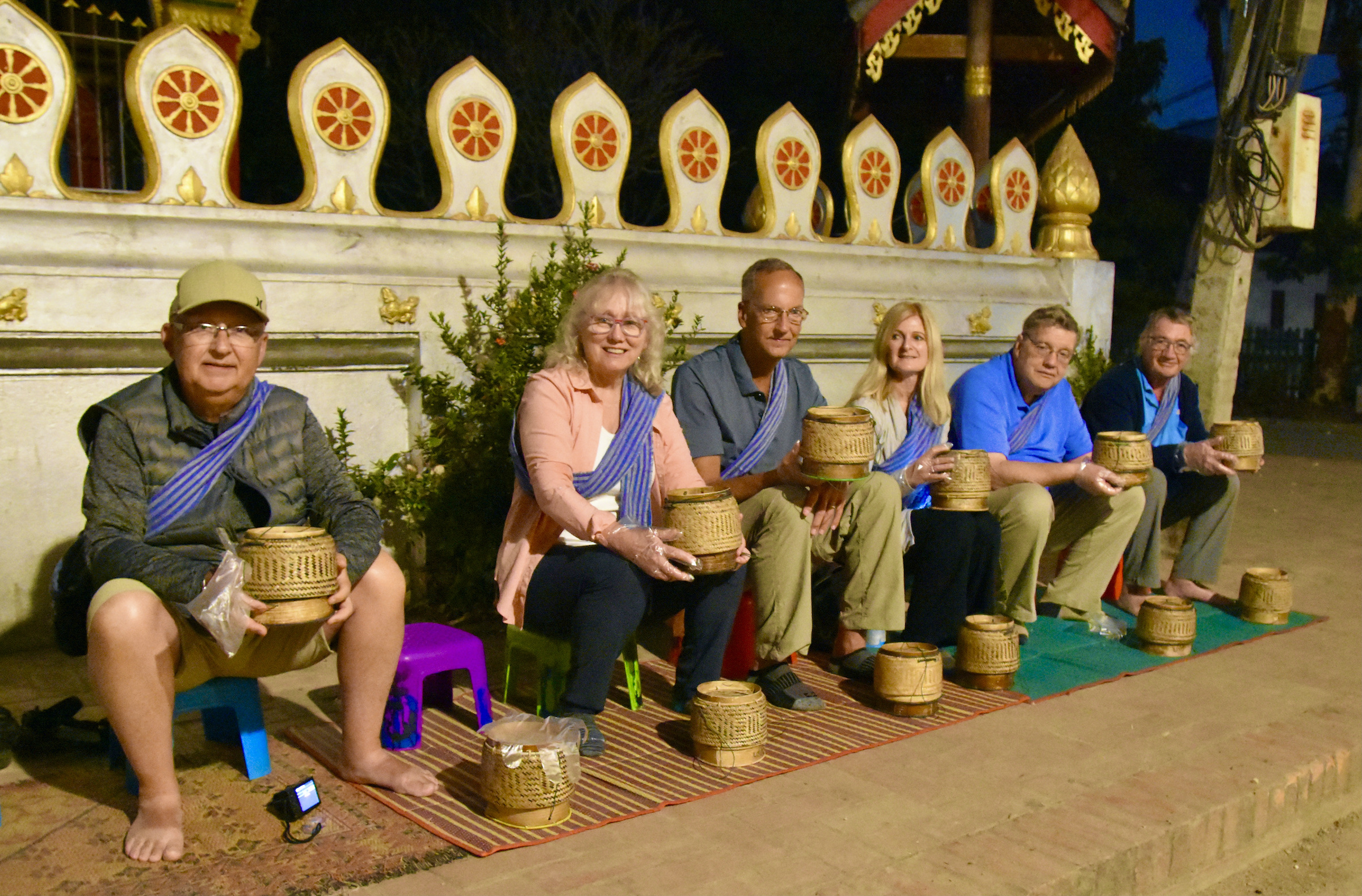 Now I have to confess I had to be talked into doing this by Claude who is seated at the left in the photo above. I am not a religious person and to me this reeked of paternalism. However, he assured me that as long as we were properly respectful and only offered the sticky rice and not other food items or even money which was demeaning to the monks, it would be a meaningful experience. So there I am ready to participate in one of the most sacrosanct principles of Buddhism, the giving of alms.
The first monks, dressed in their orange robes, appeared almost like ghosts out of the gathering light of early morning, walking soundlessly down the street towards us. I was actually trembling nervously as the first monk appeared and I gave him way too much rice. Claude had showed us the proper amount before hand if we were not to go through our two baskets well before the monks were through.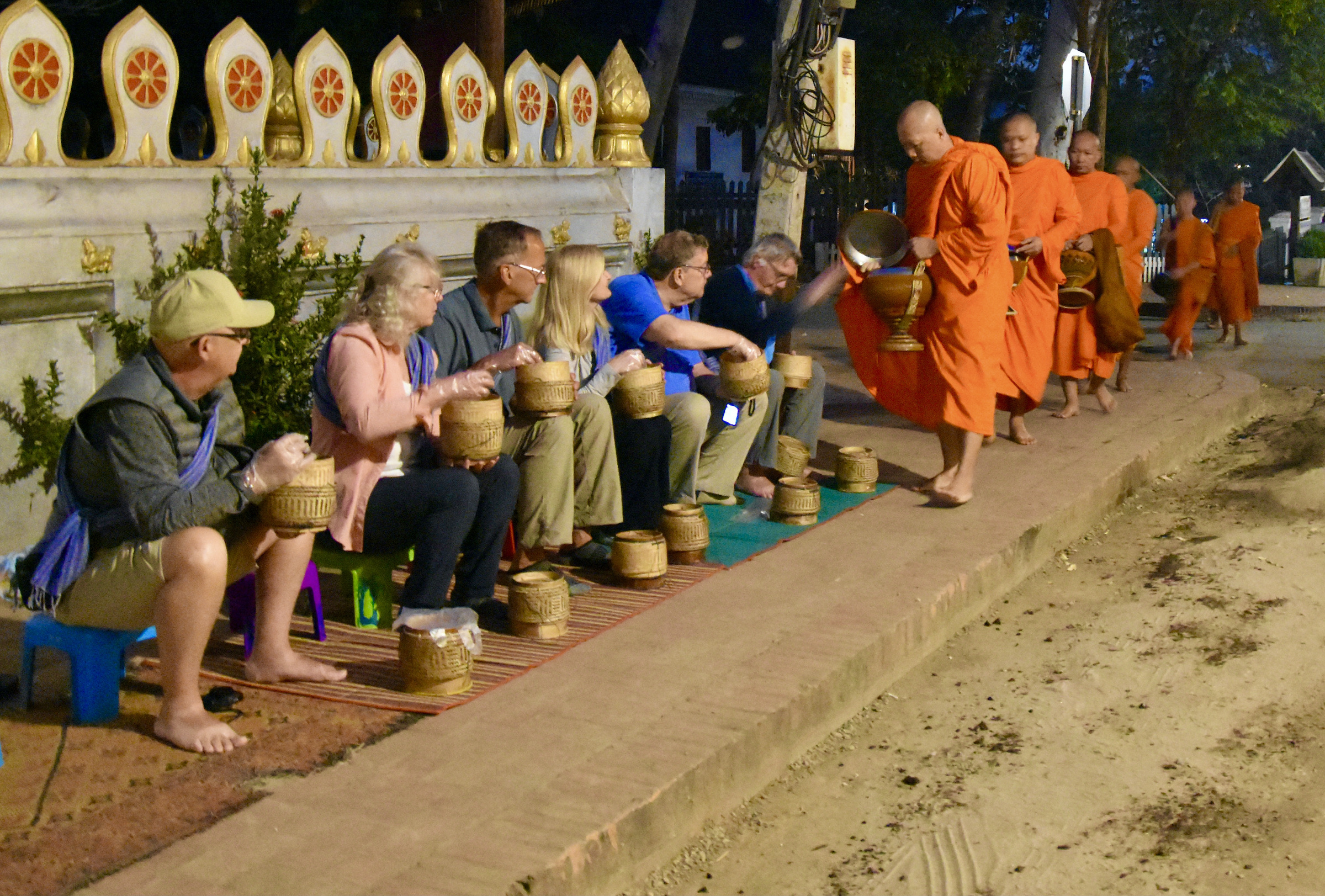 The monks came in groups as small as six or seven and some as large as twenty or more.

They ranged in age from senior life long monks to boys as young as 10.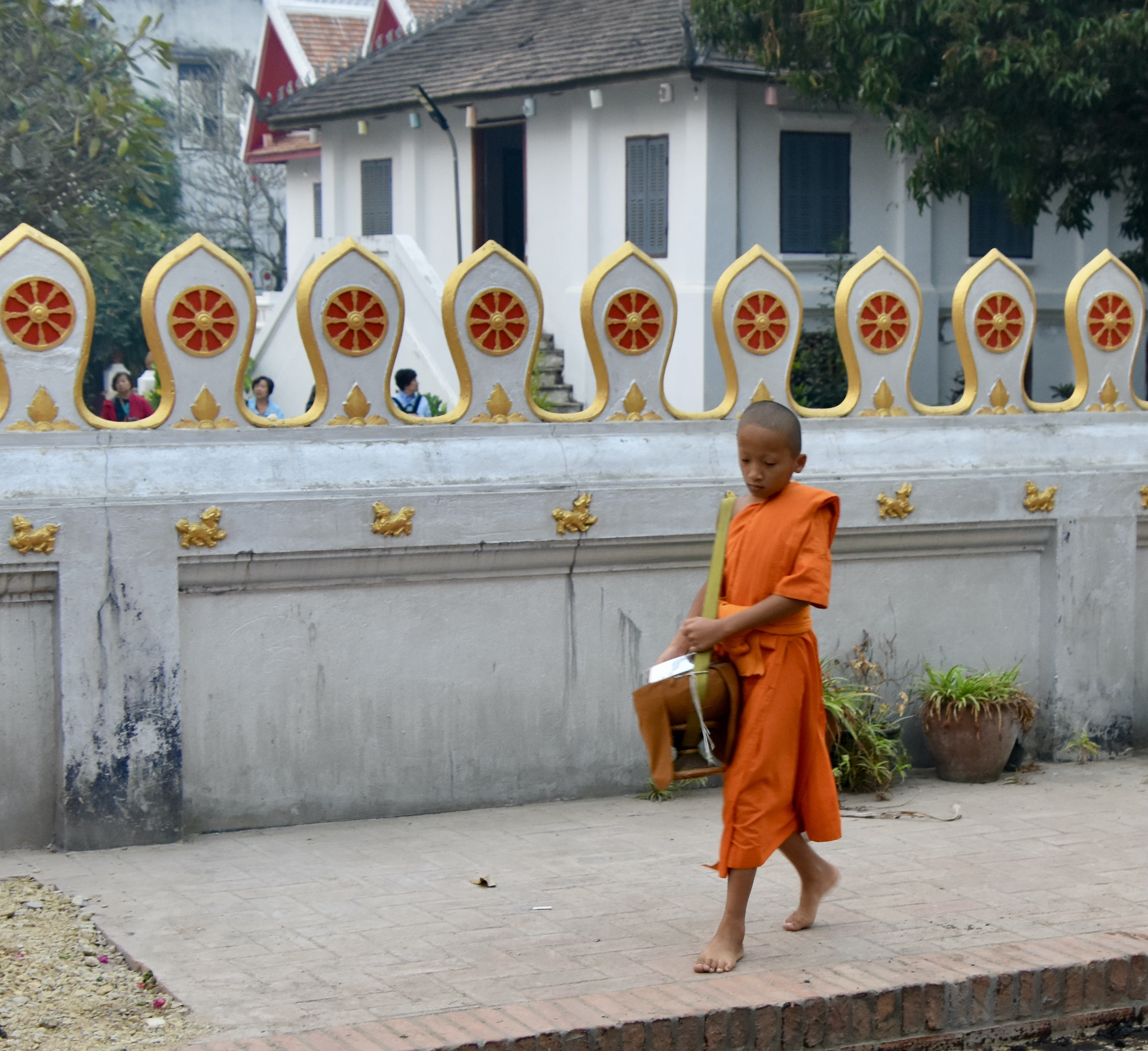 It's very difficult for me to properly describe the feelings within me that participating in the alms giving ceremony evoked. I know it was profound and I know that doing it separated us from the other tourists who simple watched by a country mile. In my heart I thanked Claude and Ta for being so insistent that we be participants and not onlookers. If you go to Luang Prabang you must take part in the alms giving. It was definitely the spiritual highlight of the trip.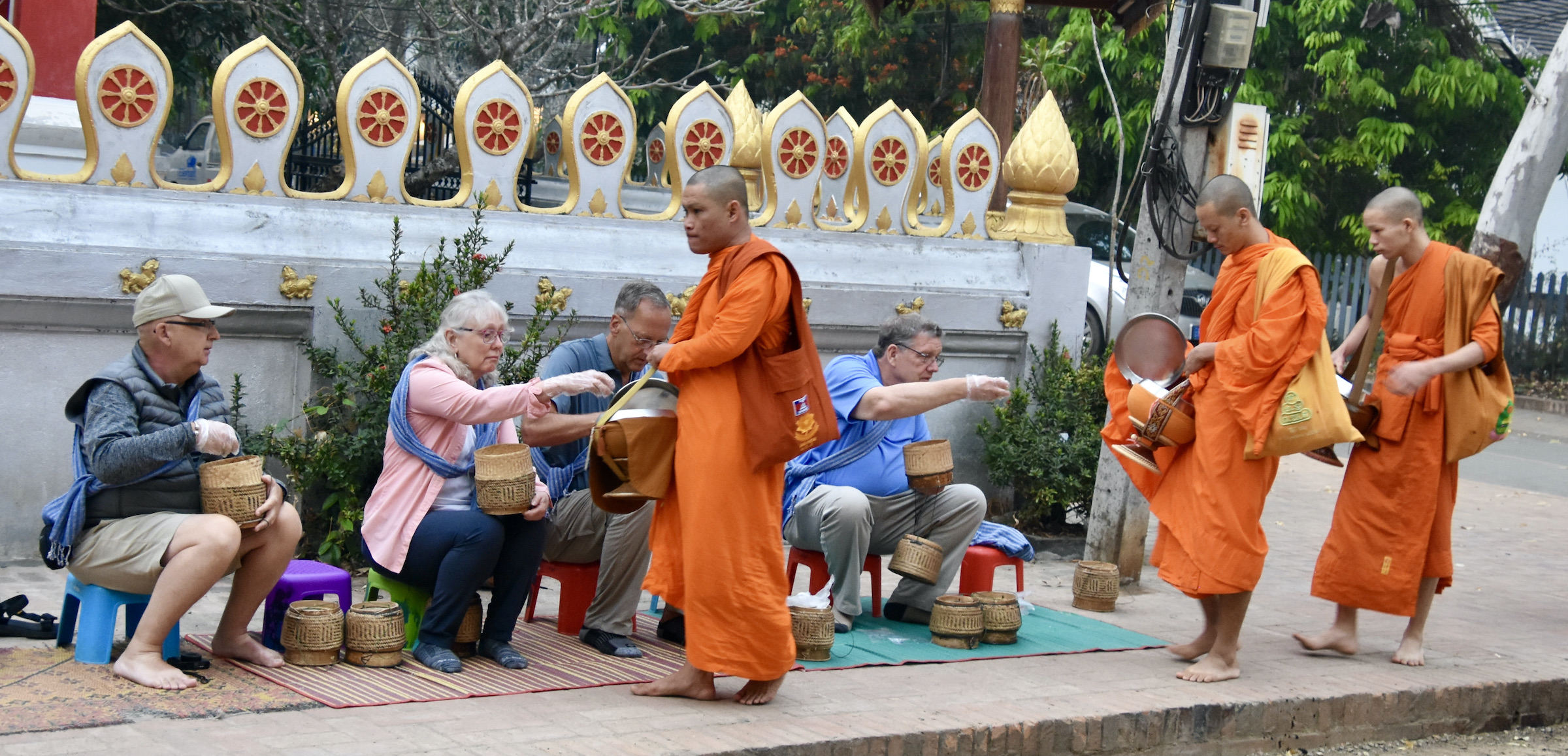 True to form I ran out of rice before the monks were finished so I retrieved my camera from Ta who took the pictures with me in them and got this photo of the group in action.
Luang Prabang Market
As I mentioned in the last post we went to the night market in Luang Prabang after our evening meal on our first day there. The morning market is completely different, catering almost exclusively to locals and offering some things you would never see in a western market.
This is Ta explaining the difference between the dry rice we eat in North America and the sticky rice that is the staple of the Laotian diet.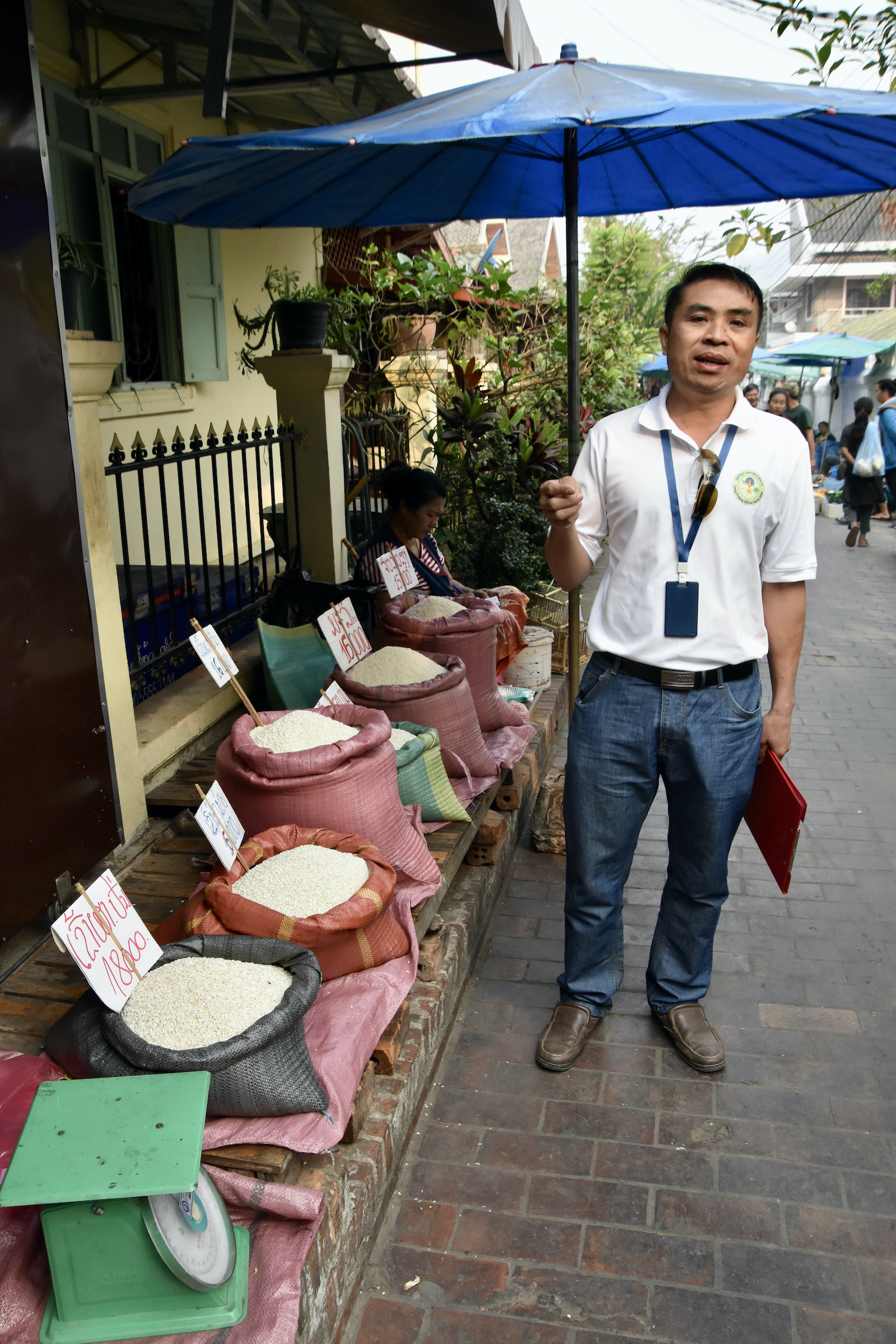 Here is a gallery of items for sale at the Luang Prabang market that you might find in a North American or European market, albeit the fish would be different species.
And here is a gallery of items you would likely never see in those same markets.
Finally, this was the first time I came across caged birds that were being sold for a religious purpose rather than to be eaten. Fang sheng is a Buddhist practice of buying and releasing captive animals due to be slaughtered into the wild to generate good karma. Ta explained that in all likelihood whoever bought this bird would release it rather than eat it which begs the question, why was it caught in the first place?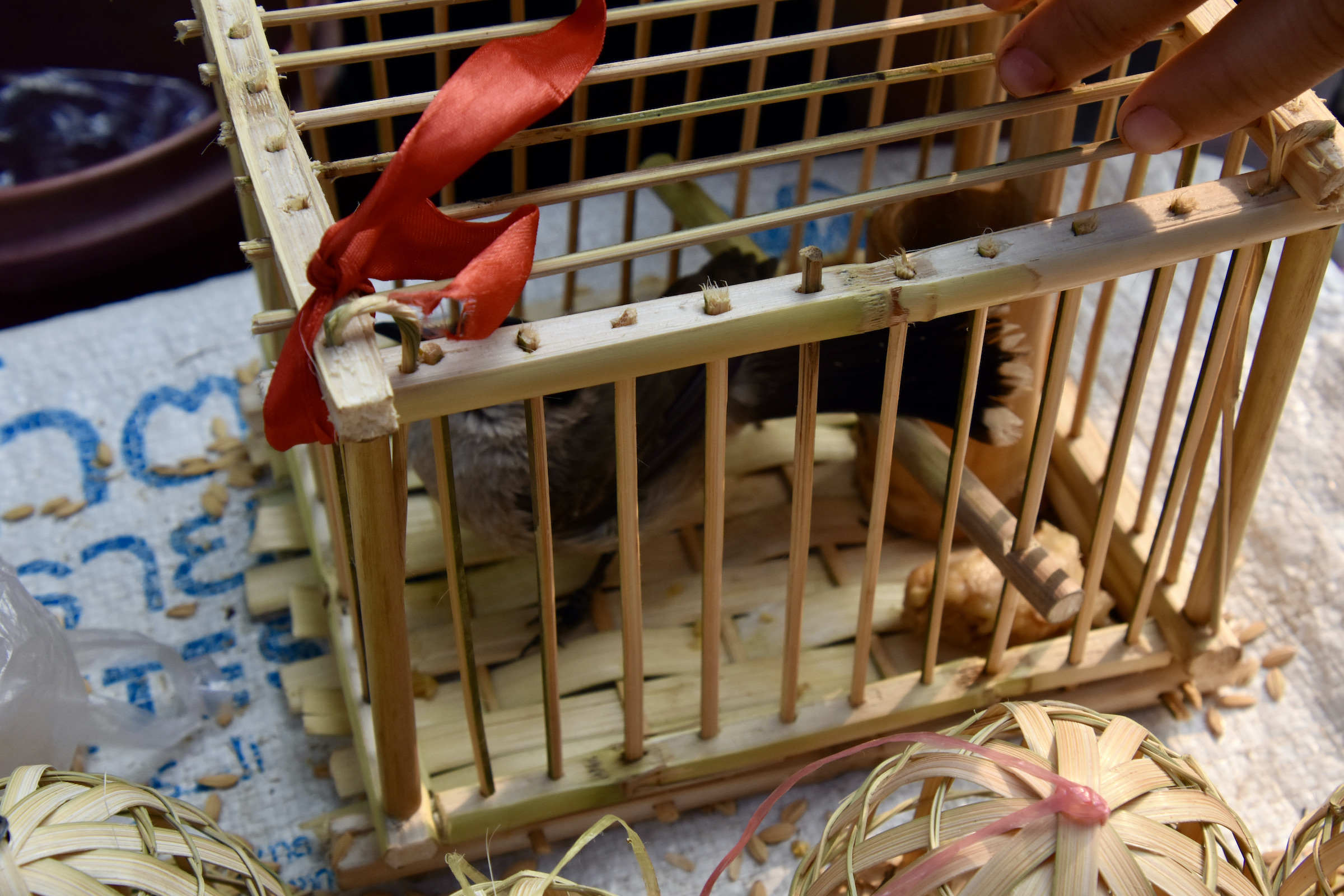 Kuang Si Falls
In my introductory post on Laos I mentioned that the country was a disappointment in terms of natural attractions, but there was one major exception to that caveat and that was Kuang Si Falls. These falls are 29 kms. (18 miles) south of Luang Prabang and a major draw for both tourists and locals. The road to the falls is in pretty good shape for Laos and a pleasant journey through the countryside. We pulled up to the large parking lot, got our tickets and were then on our own to follow the trail to and from the falls.
Before getting to the first of a series of cascades that make up Kuang Si Falls we passed by a moon bear sanctuary run by an Australian charity where about thirty of these endangered bears are kept safe from poachers. Bear parts and especially their bile are big business in the Chinese traditional medicine game.
The bears face a difficult future in the wild just as they do in almost all their habitats around the world and I was equally glad to see these ones protected and equally sad that it has come to this.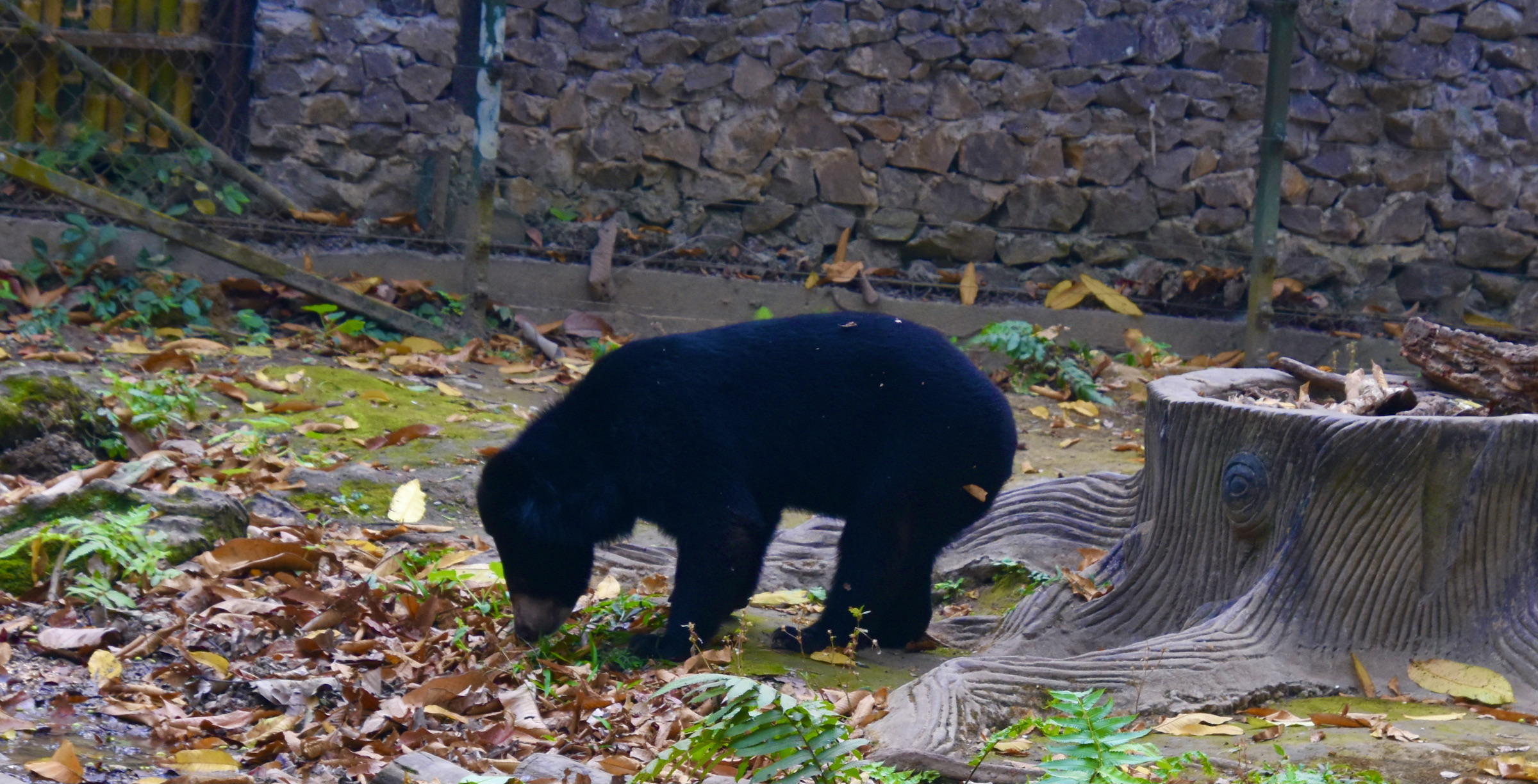 This is the first cascade of Kuang Si Falls and it's really beautiful with emerald coloured waters I usually associate with mountain lakes.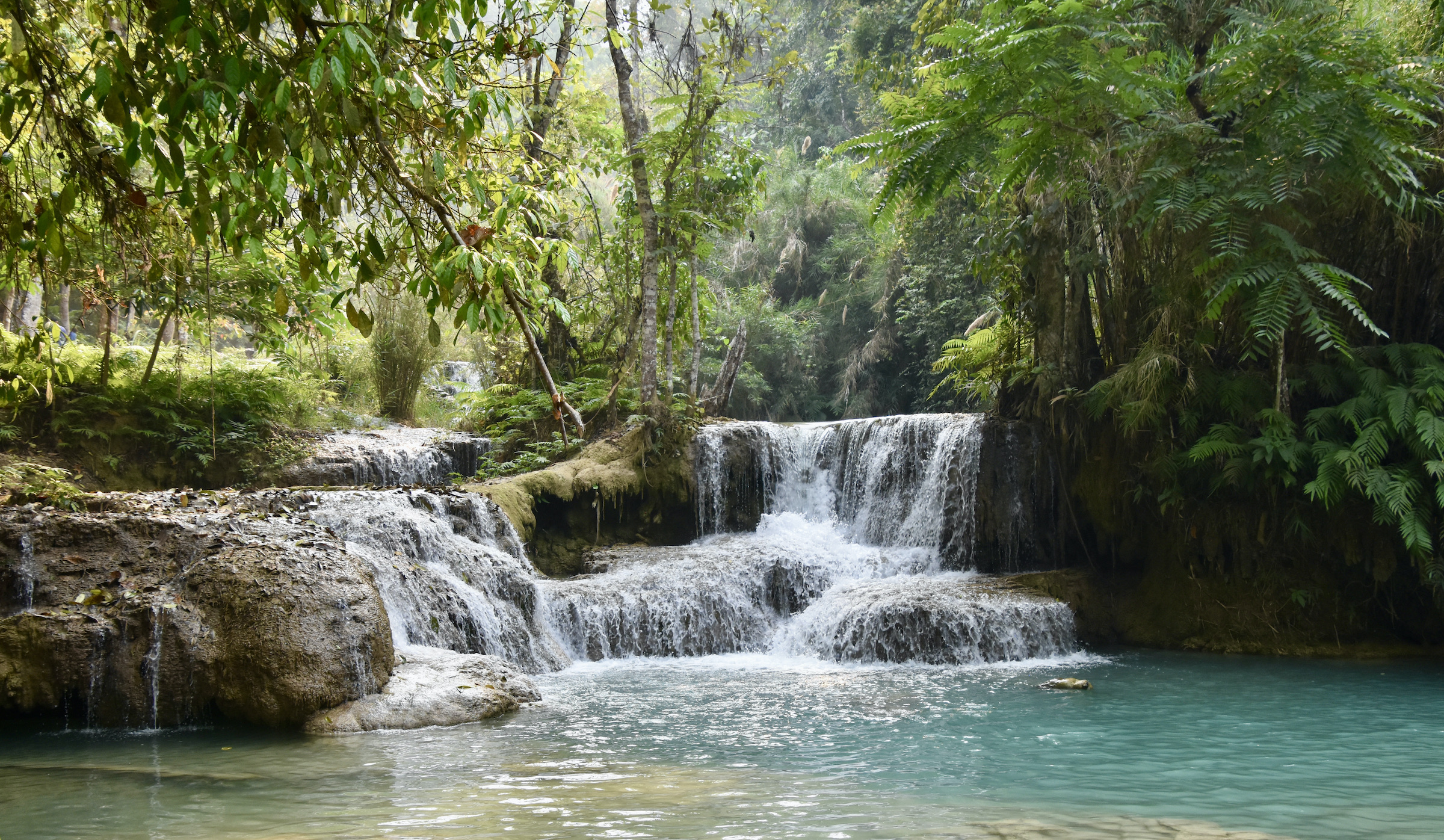 It's a short trek between each small cataract. This is the second falls where there were a lot of people swimming. Not shown in this picture is an overhanging tree limb about fifteen feet above the pool that was being used as a launching pad for the more daring swimmers. I know if my son Dale was here he would have been up their in a flash.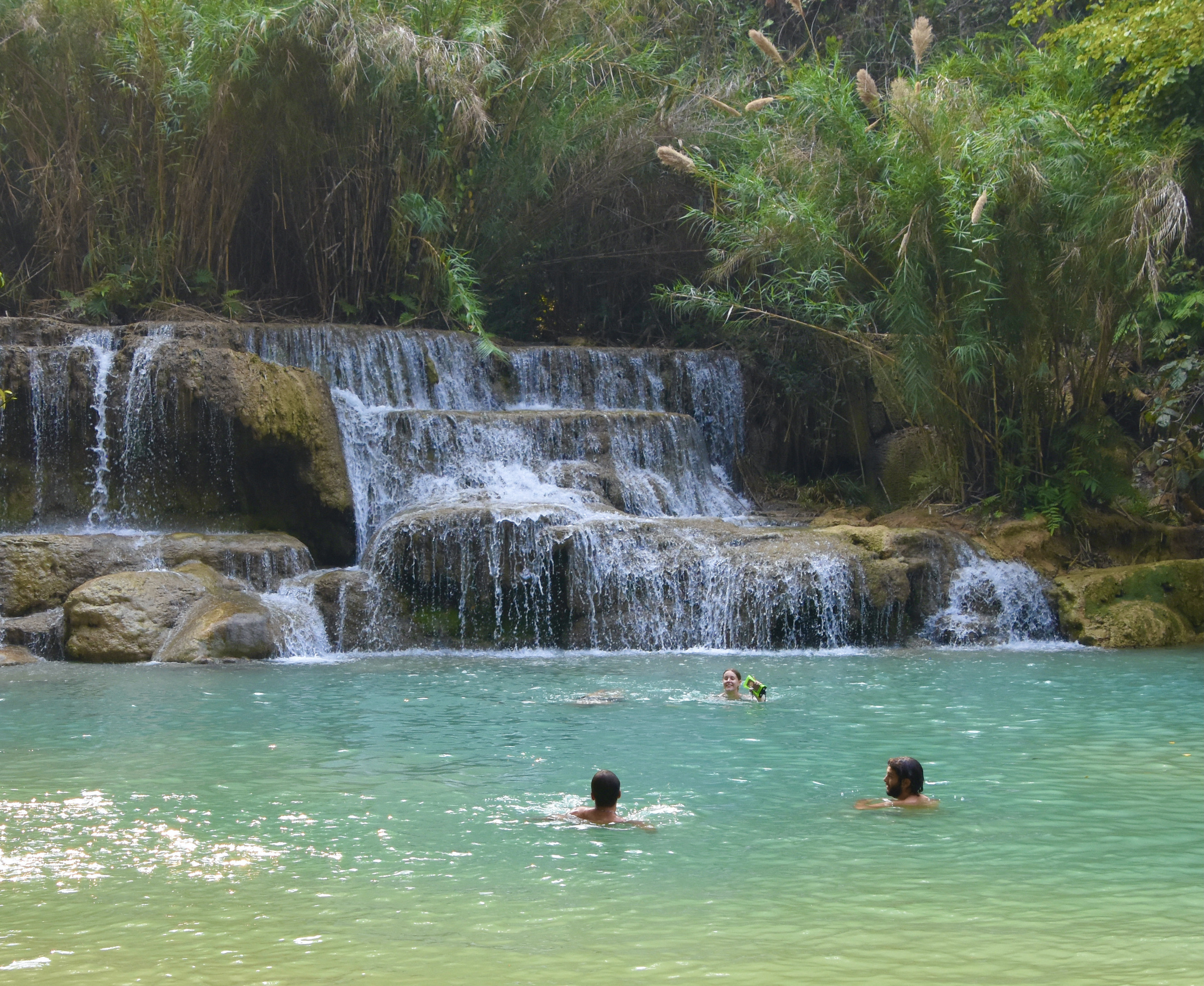 This is the third set of falls, in my opinion the most beautiful of the lot and as a sacred site, off limits to swimmers.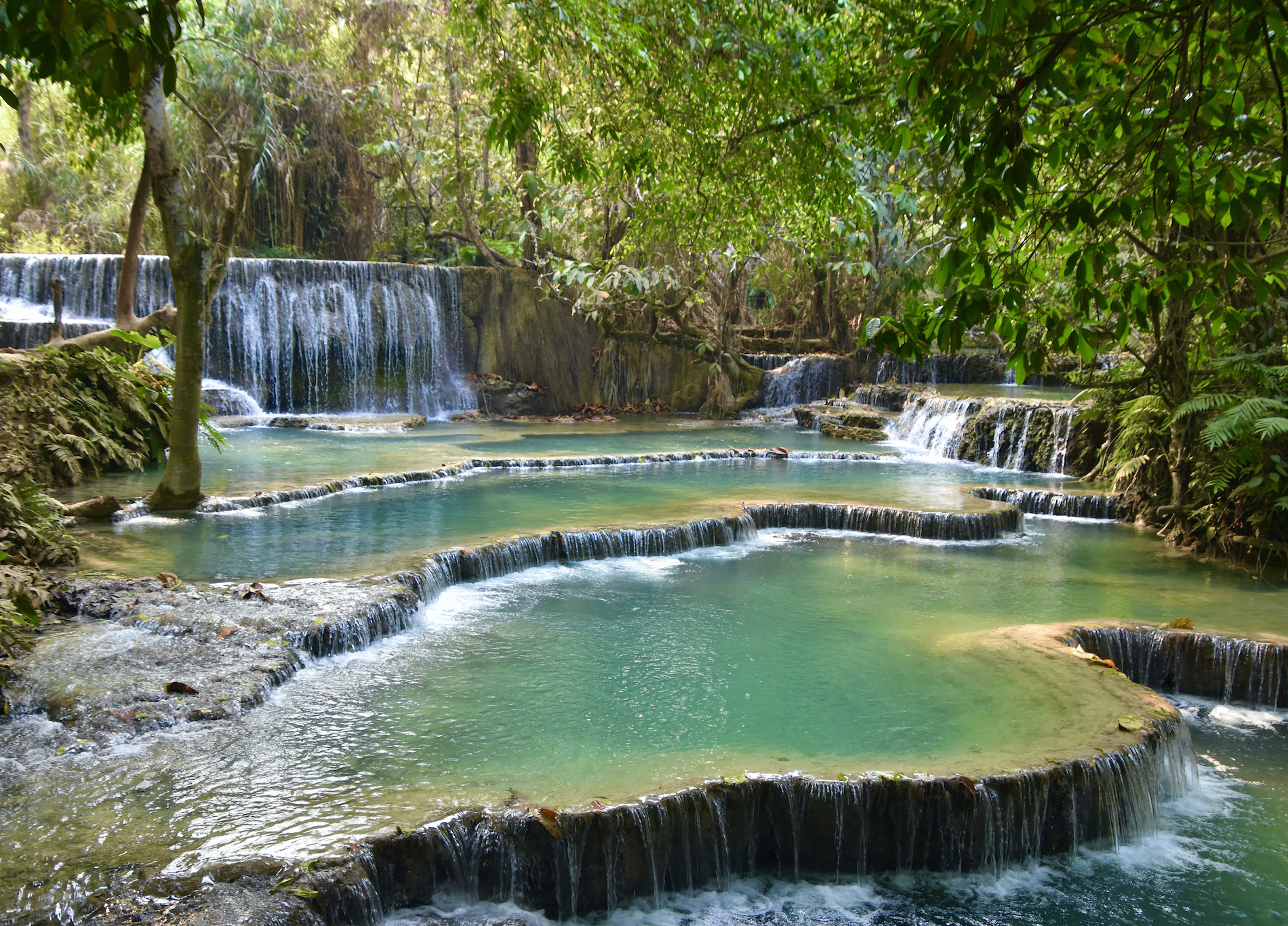 Finally you come to the largest drop which is two levels with a large pool in between them. This photo was taken from a bridge that crosses the stream below these falls. It is possible to hike up to the top, but we didn't have the time on this short stop.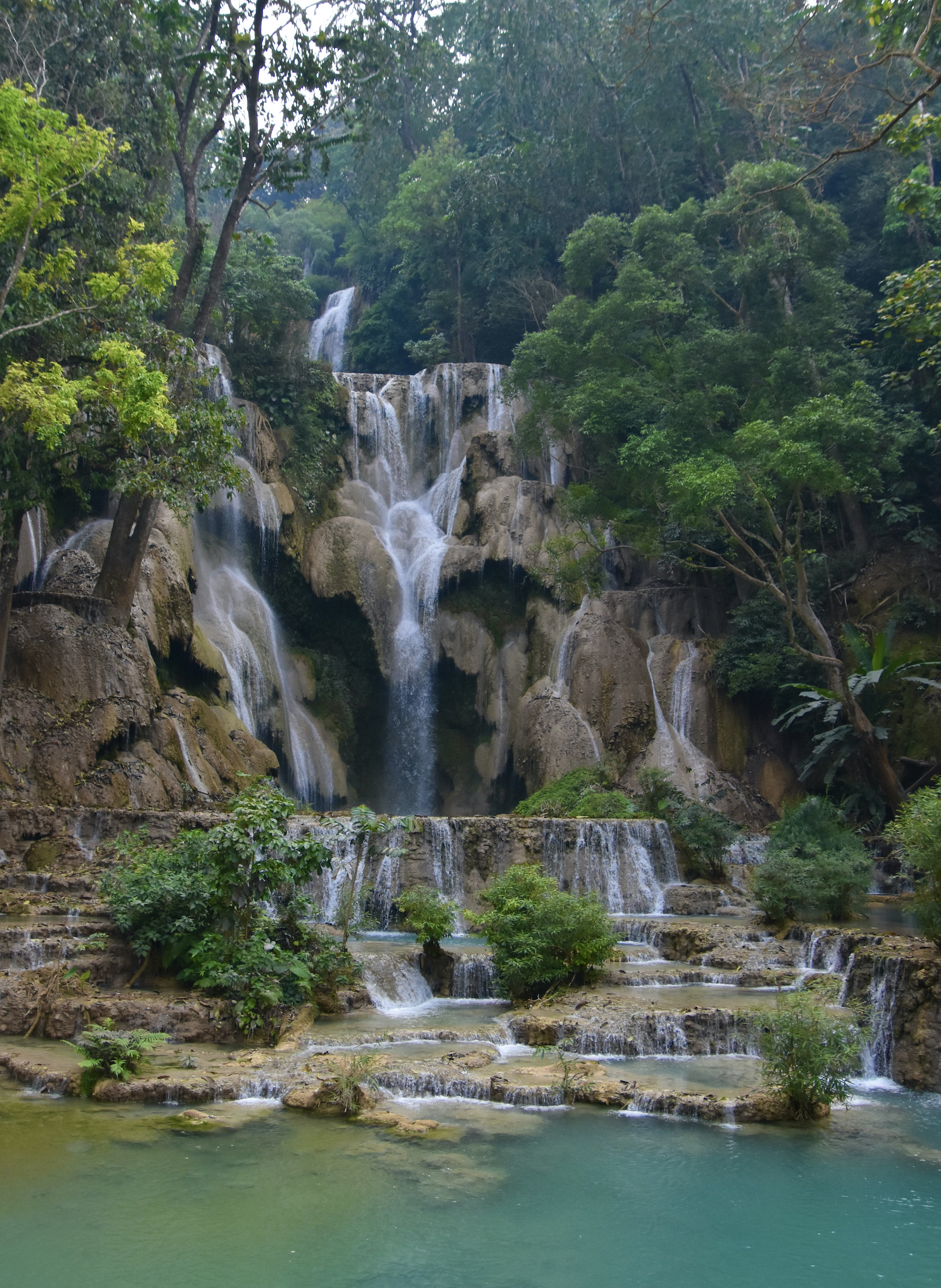 You can return to the parking lot by following a different route down an access road which makes for a very pleasant stroll through the Laotian jungle.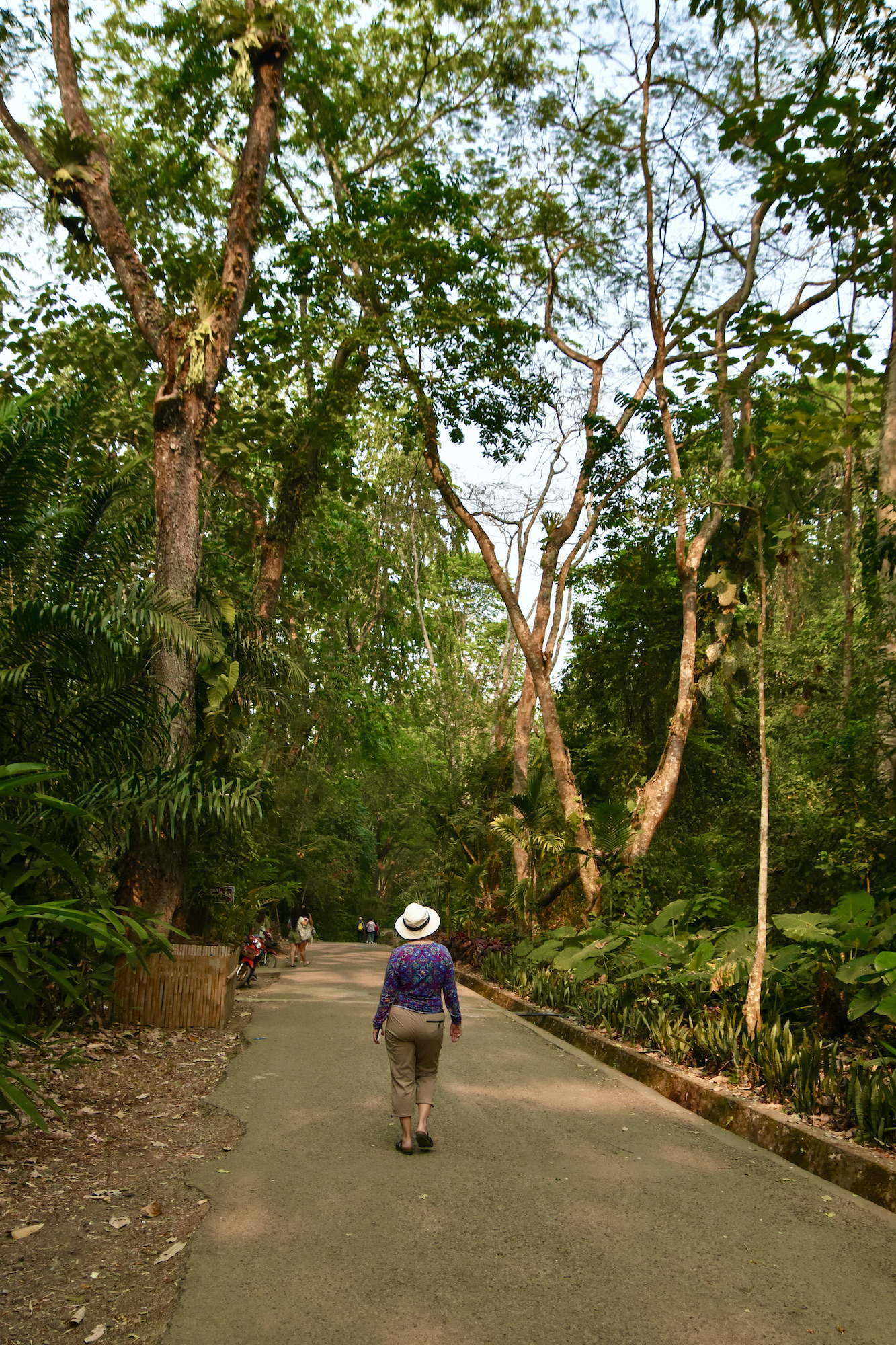 So it was a very complete day from dawn to dusk in Luang Prabang, starting with the alms giving and ending with a nature walk. In the next post we'll board our own chartered boat and take a cruise on the Mekong River up to the sacred caves of Pak Ou. See you on board.