The Kalalau Trail – Hawaiian Hiking at Its Finest, Centipedes be Damned
This is one of a continuing series of posts from a trip to Hawaii's four main islands Alison and I took a few years ago. It has been updated for accuracy as of 2021. On day three of our stay on Kauai we flew over it and on day five we were going to hike part of it; the it being the Na Pali Coast. The first thing I put on the 'must do' list in preparing for the Hawaii trip was not Waikiki, Pearl Harbor or the volcanoes of the Big Island, but hiking the Kalalau Trail or at least as much of it as we could handle. Hiking is always an important part of most trips we take and Hawaii was to be no exception. Aside from the short jaunt up Diamond Head we had not had a chance to get out on anything more than a few good walks so I was psyched for some real exercise.
The Kalalau Trail is one of the most famous hikes in the world and people do come from everywhere to hike it. It has its own website which you should consult before arriving as there are occasional closures due to landslides. At 11 miles long it might not seem  that formidable, but it is rugged in the extreme with very few level spots. The trail begins where the road ends at Ke'e Beach. It is about a twenty minute drive from Hanalei, mainly because the road is so narrow and the numerous bridges one-lane only. From my research I knew that there was limited parking at Ke'e Beach so we left Hanalei Bay Resort quite early, had a quick breakfast in Hanalei and arrived at Ke'e Beach by 8:30. Still, the parking lot which probably holds about forty cars was almost full and we got one of the last spots. It was apparent that most of the people arriving were heading to Ke'e Beach and not the trail. Those that were day hikers like us were pretty obvious with their hiking poles, small backpacks and cameras while those headed to the end of the trail to camp were loaded down like llamas. They were also all about thirty years younger than us.
Before setting out on the Kalalau trail we were witness to an interesting dispute between a cat and a bird. These usually don't turn out that well for the bird, but no so in the case of the Kauai roosters who have no problem putting the run to feral cats that get too close to their chicks as evidenced by this picture.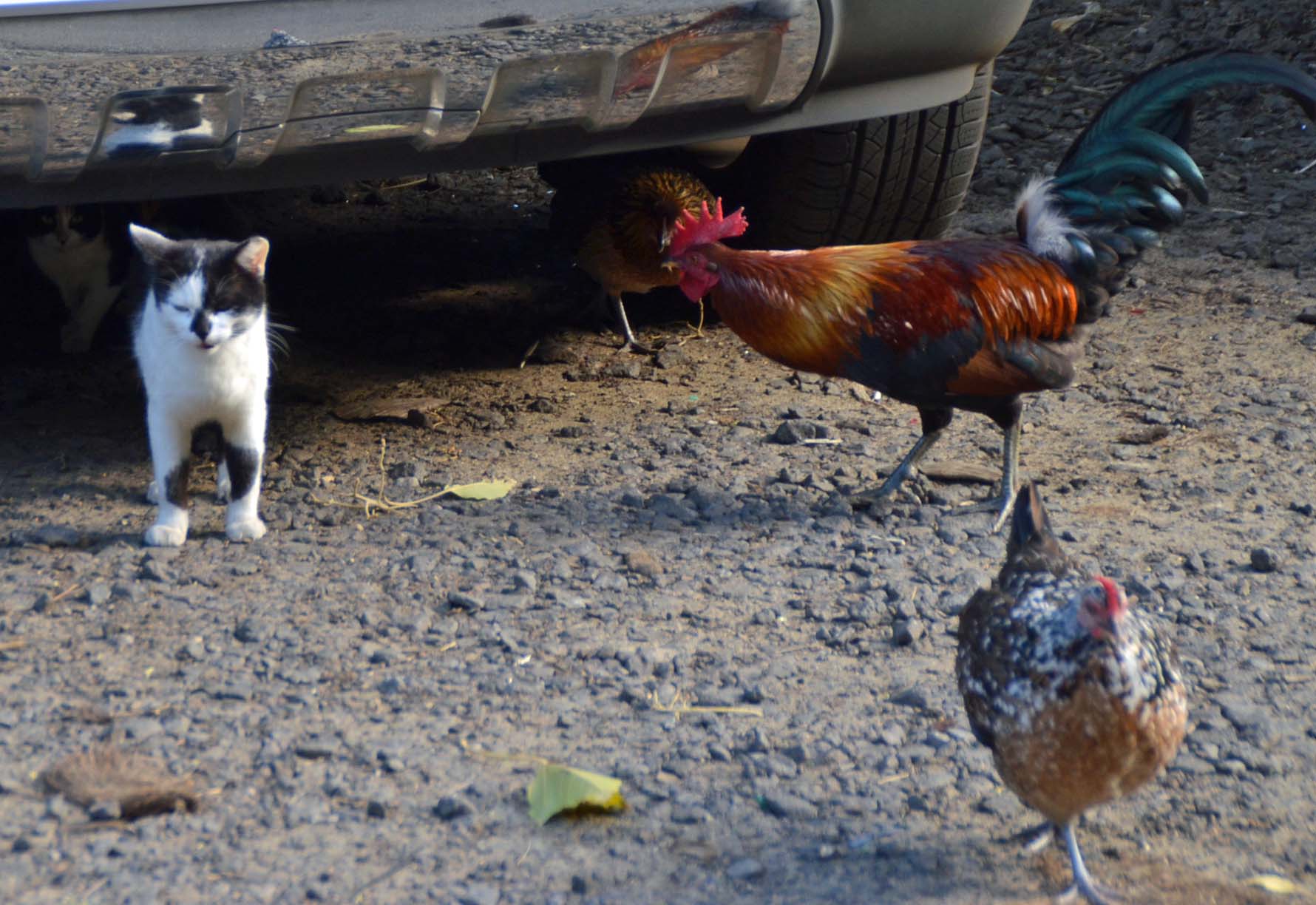 The small kiosk at the start of the Kalalau trail provided information on its history, the potential dangers and a good photo op.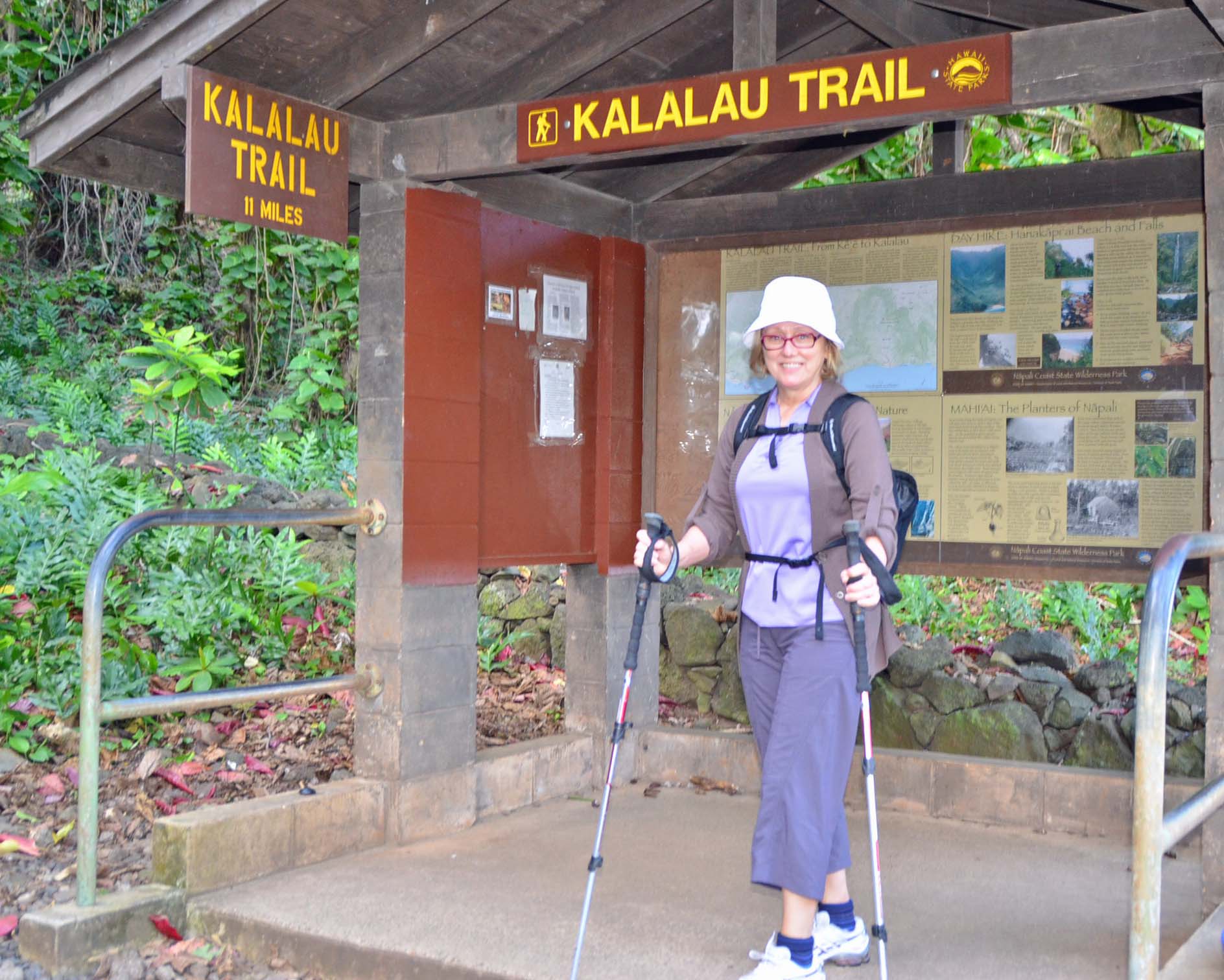 The first part of the Kalalau trail is a steady climb over what was once a narrow road built out of large rocks for mules and was not particularly tough going up, but potentially lethal going down. In some spots where the rocks were wet the need for good gripping footwear was essential – we saw a number of people downed by these slippery rocks. Speaking of lethal, we came across Hawaii's most dangerous resident, a poisonous giant centipede moving faster across the trail than I thought possible. From the blurred photo you can see he was not in a mood to stop and pose.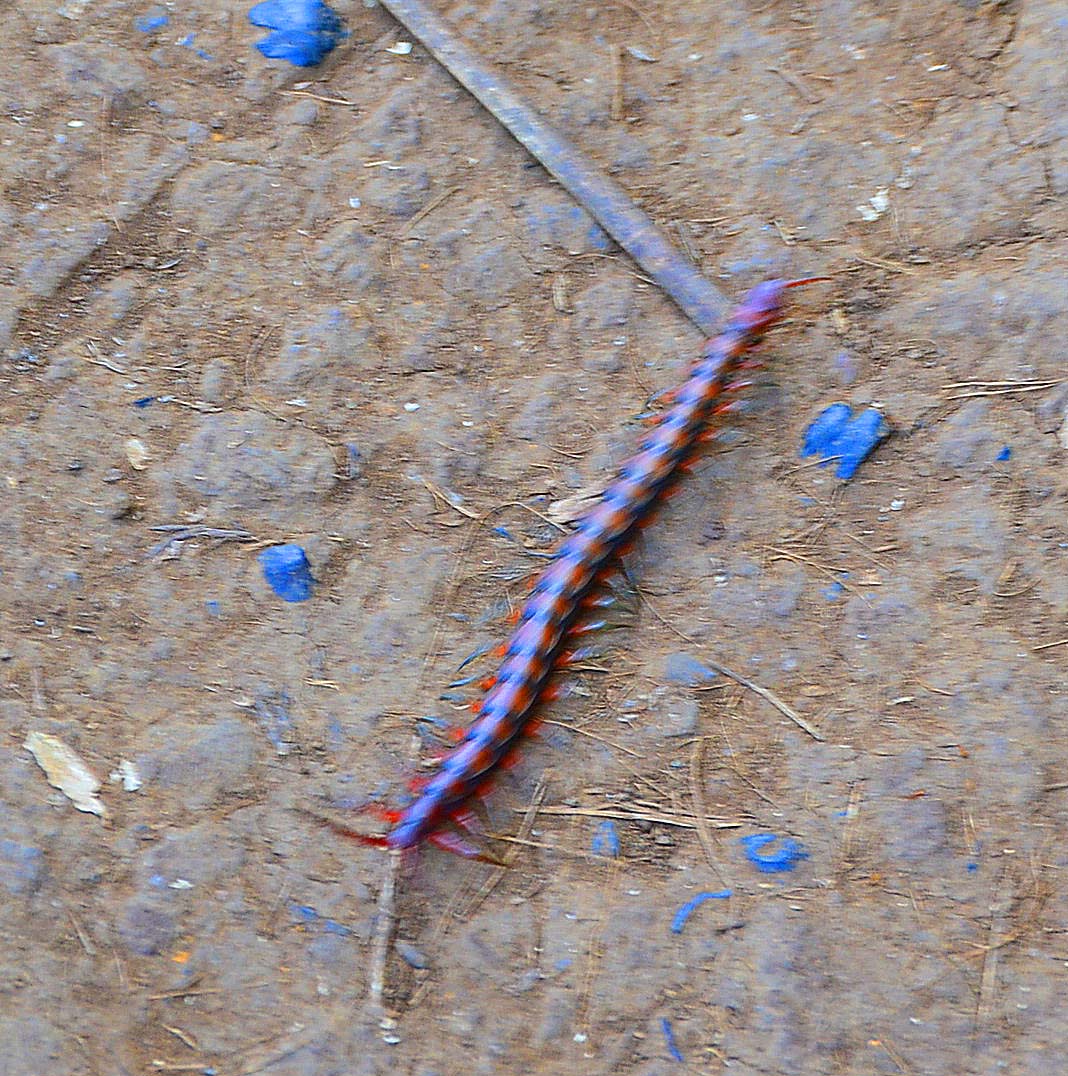 At about the half mile mark the initial climb ends with a spectacular view of Ke'e Beach far below.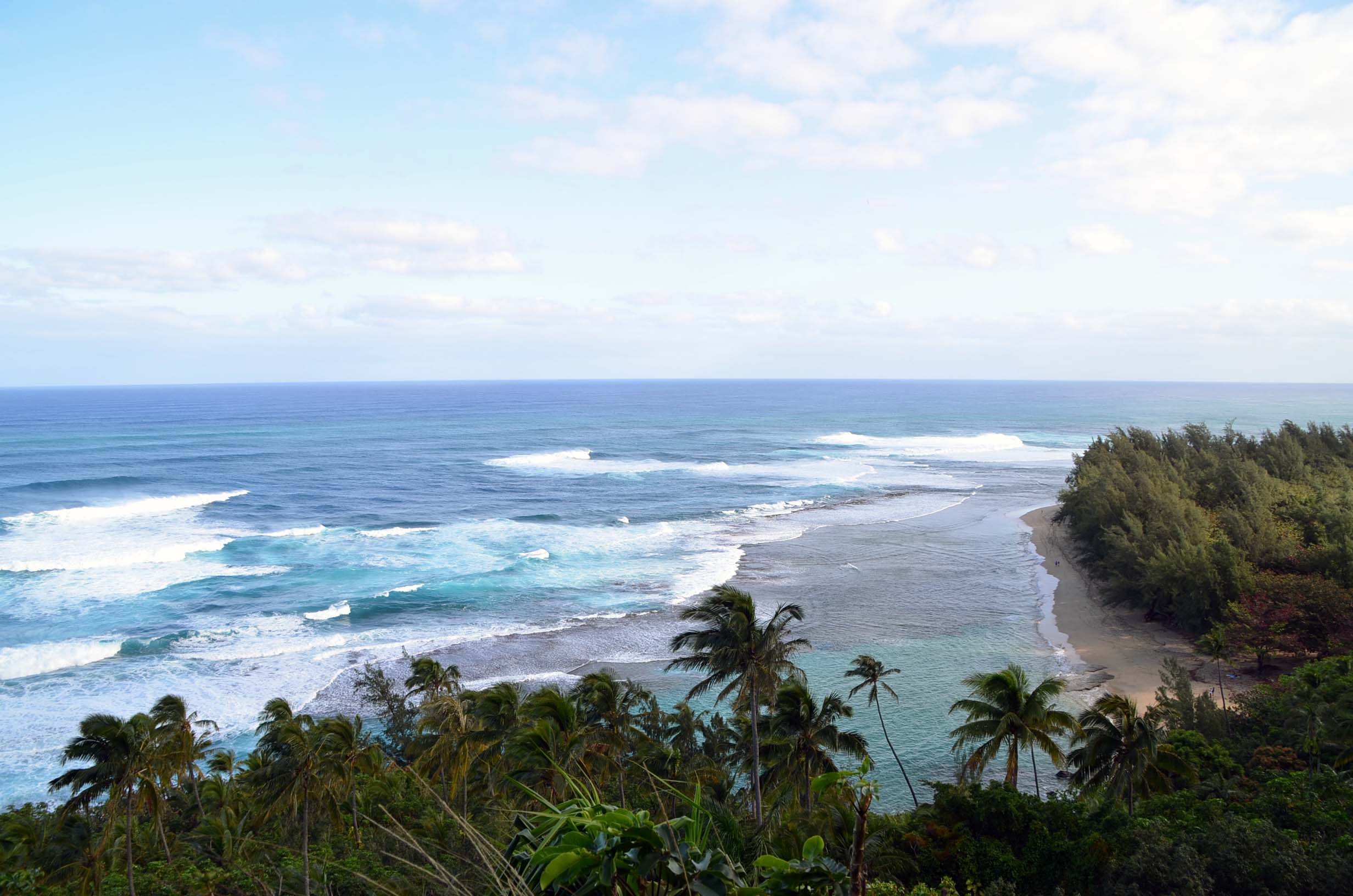 From here the trail continued climbing and after a substantial turn inland to cross a ravine we emerged with a full blown view of the Na Pali coast that was simply jaw dropping in its beauty.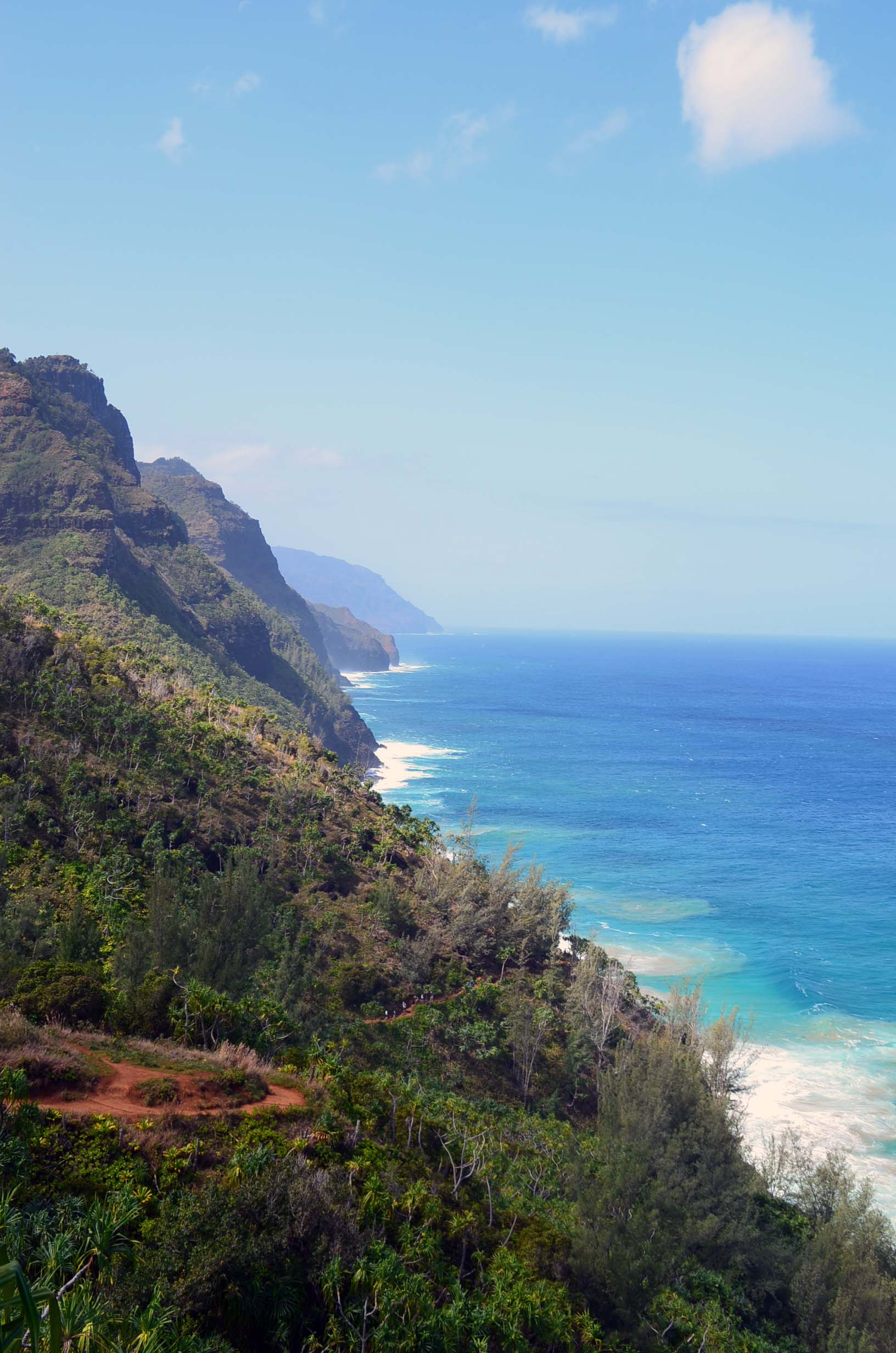 We were fortunate enough to come across a couple of Japanese girls who wanted their pictures taken so they reciprocated for us.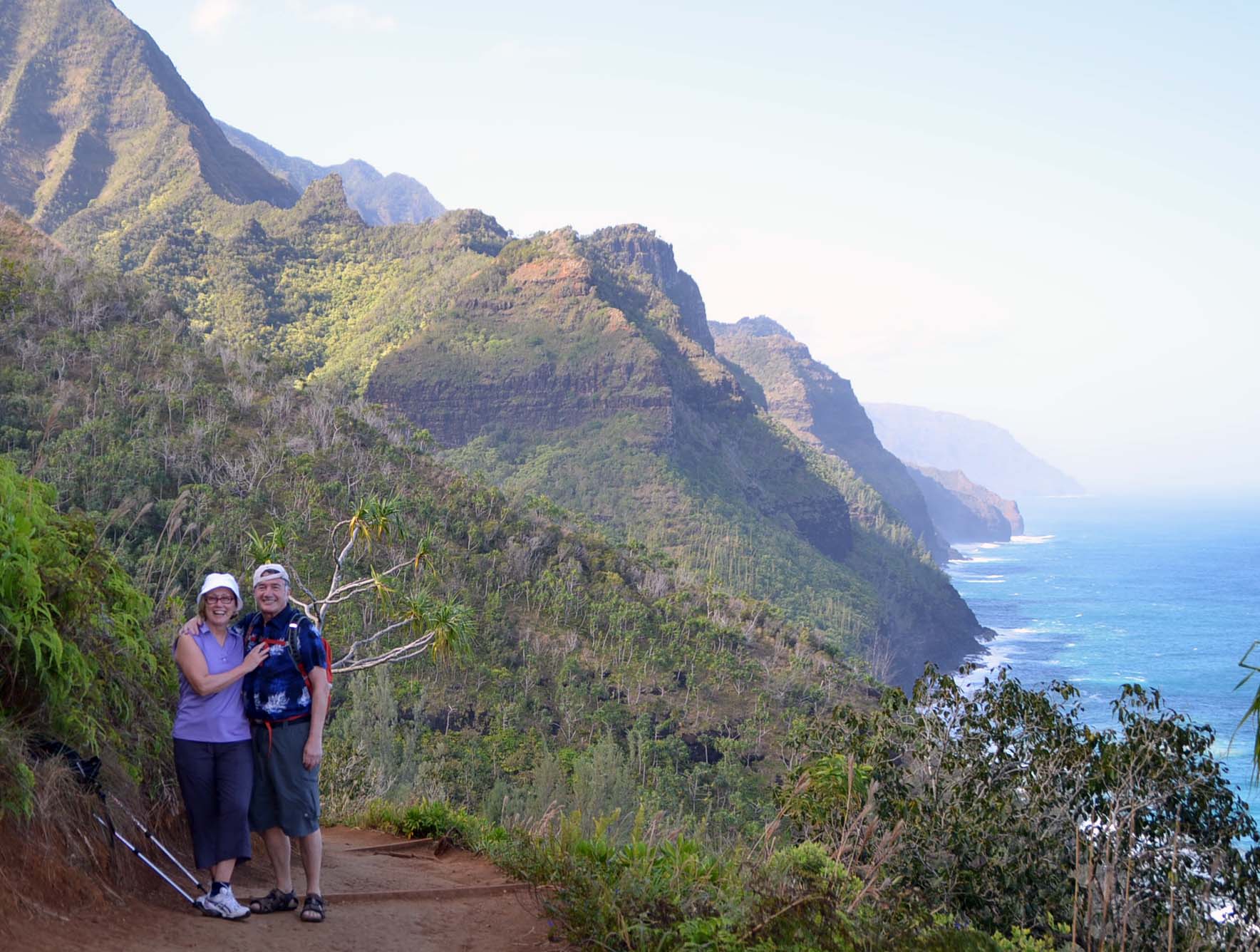 I still have to pinch myself whenever I look at the photograph to realize that we were actually there, 1000 feet above the azure hued ocean, but when I remember that we had to descend all the way down and back up again – that memory wakes me up. From the spot where this picture was taken there is a long meandering descent that eventually leads to a view of Hanakap'ai Beach below which was out intended destination. However, before getting there we were provided with a stark reminder of how dangerous the waters of Hawaii can be. A wooden sign with numbers carved in Roman numerals indicated that 87 people had drowned at this beach over the years and that it was unsafe to even go near, let alone into the water.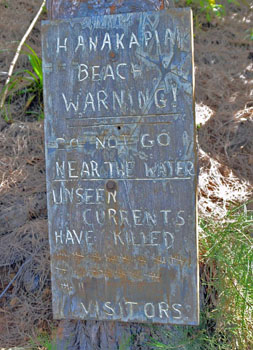 This was a number that was incomprehensible to us – 87 dead – at one beach? If two people died at the same beach in Canada it would be described as treacherous – what would we do if 87 people drowned – probably put a giant fence around it.
In planning the trip I realized that March was a time of high waves in Hawaii and we wanted to see them, but had no idea that this would foreclose swimming and snorkelling from the shore in all but a few locations. It also meant that the Na Pali coast was not accessible by water so my dreams of kayaking and snorkelling under the cliffs would have to wait until another day. Returning to the sign, we noticed that it caused grave consternation to some people who debated not descending further along the Kalalau trail, but in the end everybody seemed to put their trepidations aside and continue, including us.
Before reaching the beach it is necessary to ford Hanakapi'ai Stream that involves taking off the hiking sandals and wading across, trying to avoid slippery spots. Later exploring from the other side we found that closer to the mouth it was possible to cross by rock hopping without getting wet.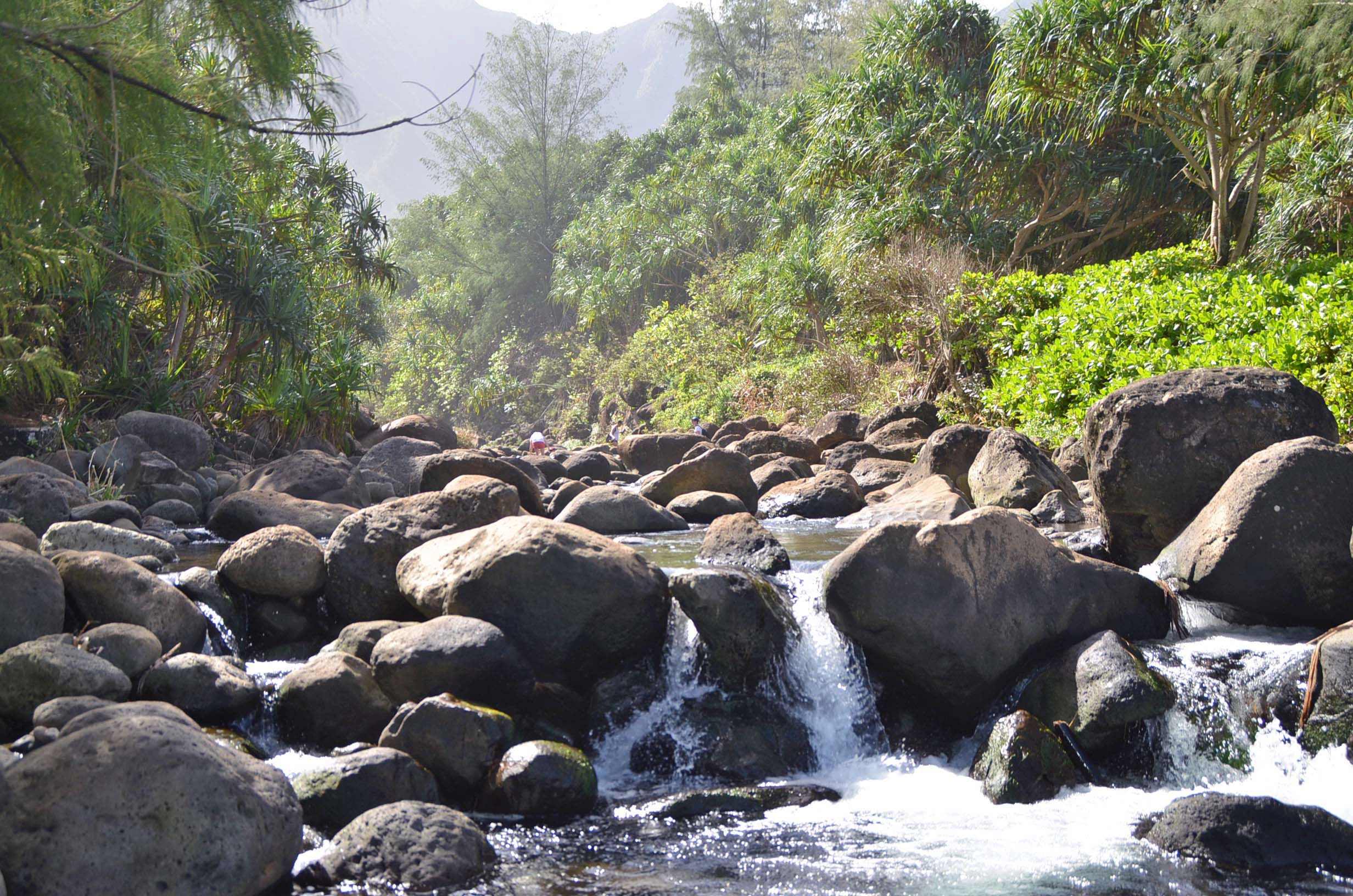 The beach at Hanakapi'ai is unlike any other we had ever seen – almost every square foot of the shoreline is covered in hundreds of inukshuk like monuments. Try as I might I am unable to determine when or why this tradition began.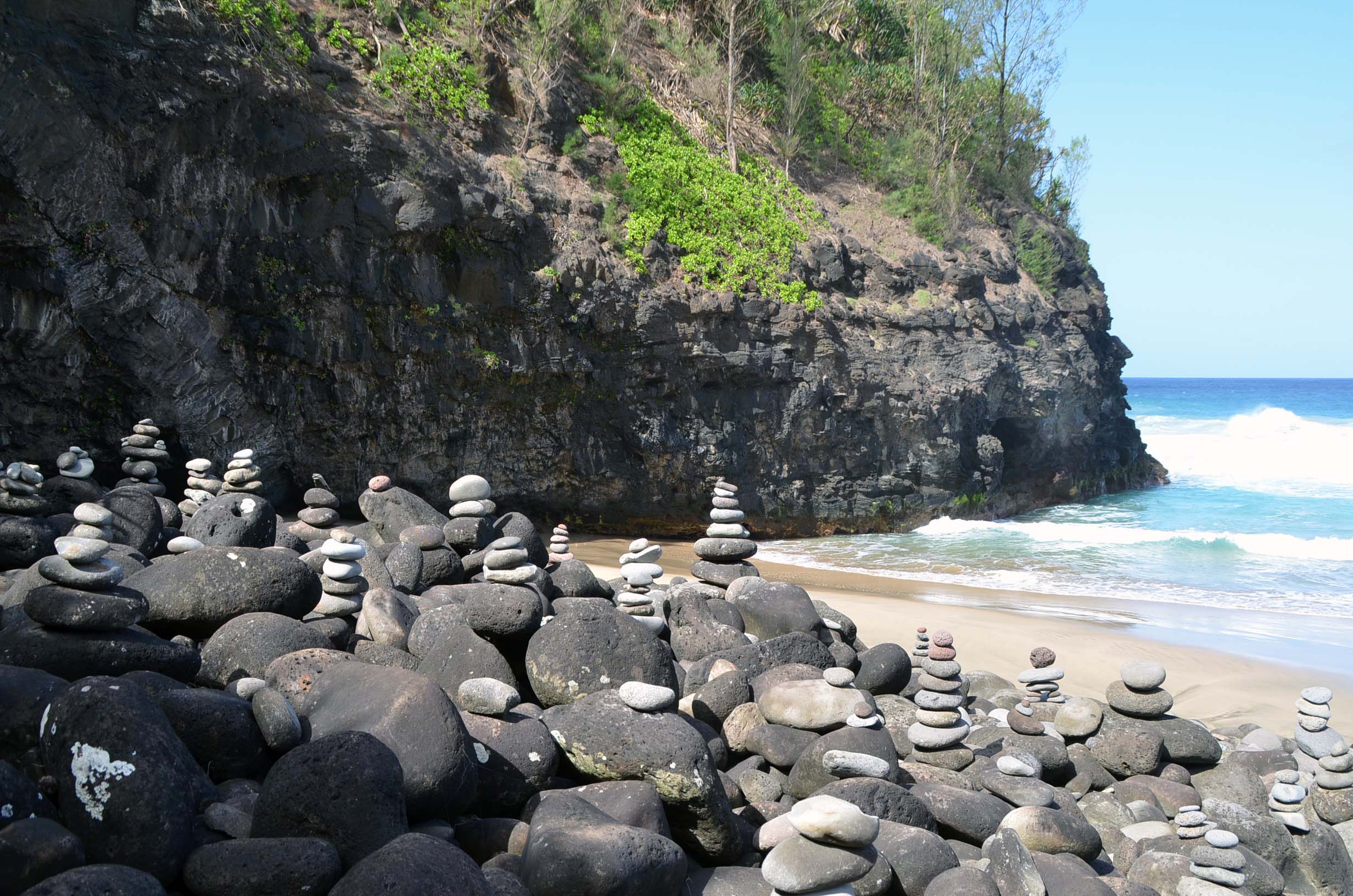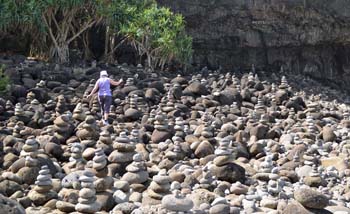 As expected there was a beautiful looking beach just beyond the shoreline, but we heeded the sign and didn't go near the water. Hanakapi'ai Beach has lots of spots to sit on the rocks or in the plentiful shade for a picnic and we did just that, trying to decide if we should go on for a further two miles to Hanakapi'ai Waterfall.  That would make the total hike about eight miles, but the next two miles were apparently rougher than the first two. Also we trying not to get flea bitten by the family of feral cats that makes this area their preferred begging area. Our decision was not to turn what was a very pleasant and moderately severe hike into an ordeal that would not get us back to the car until near sunset. We lingered for a while contemplating the waves, wildflowers and weird monuments before recrossing the stream and heading back.
As is often the case with memorable hikes, the views on the return path are completely different from those on the way our and the Kalalau Trail was no exception. This time the Na Pali coast was at our backs, but there were still fantastic views looking toward Ke'e Beach, including a number of breaching humpbacks hundreds of feet below. Knowing that we had plenty of time we stopped often to listen to and look for some of the rare native Hawaiian birds that can be found in the area. While we had fleeting glimpses of a reddish bird I suspect was an 'Apapane we never got a good enough look to be certain. We did see several White-Rumped Shama, which are very pretty, but are an import from Asia.
By this time it was the hottest part of the day and we ran into a steady stream of hikers just heading out, many of them woefully unprepared. Shirtless teenage boys with no water were common as were families with infants. One couple was packing a folded up stroller that must have weighed forty pounds – where in hell's name did they think they were going to get to use it? Hopefully not 'near the water'. The final descent on the old mule trail was much trickier going down than up and a lot harder on the knees, but before long we were back at the parking lot.
Ke'e Beach was certainly among the nicest we encountered during the entire trip with fine sand, great views and lifeguards for those brave enough to go in more than a few feet.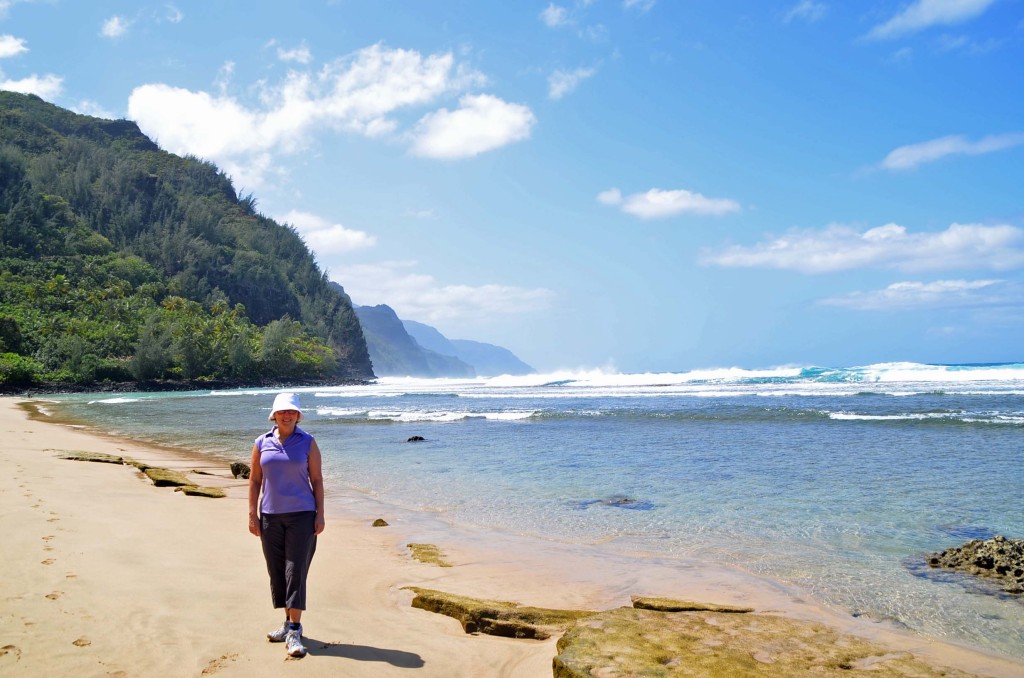 The lifeguard told us there was a monk seal lounging a ways up the beach and we headed out to find him. On the way I managed to nail a geocache that was hidden in an old log just up from the beach. At Hanakapi'ai Beach I had looked for a couple that were stashed there but there were so many muggles around I gave up. About a half mile down the beach a large lump the same shade as the sand gradually transformed into a monk seal which had the happiest look on its face that I have ever seen on an animal. I guess I'd be happy too knowing that I could spend my life lolling on a beautiful beach with the occasional time out to grab some sashimi from the ocean next door.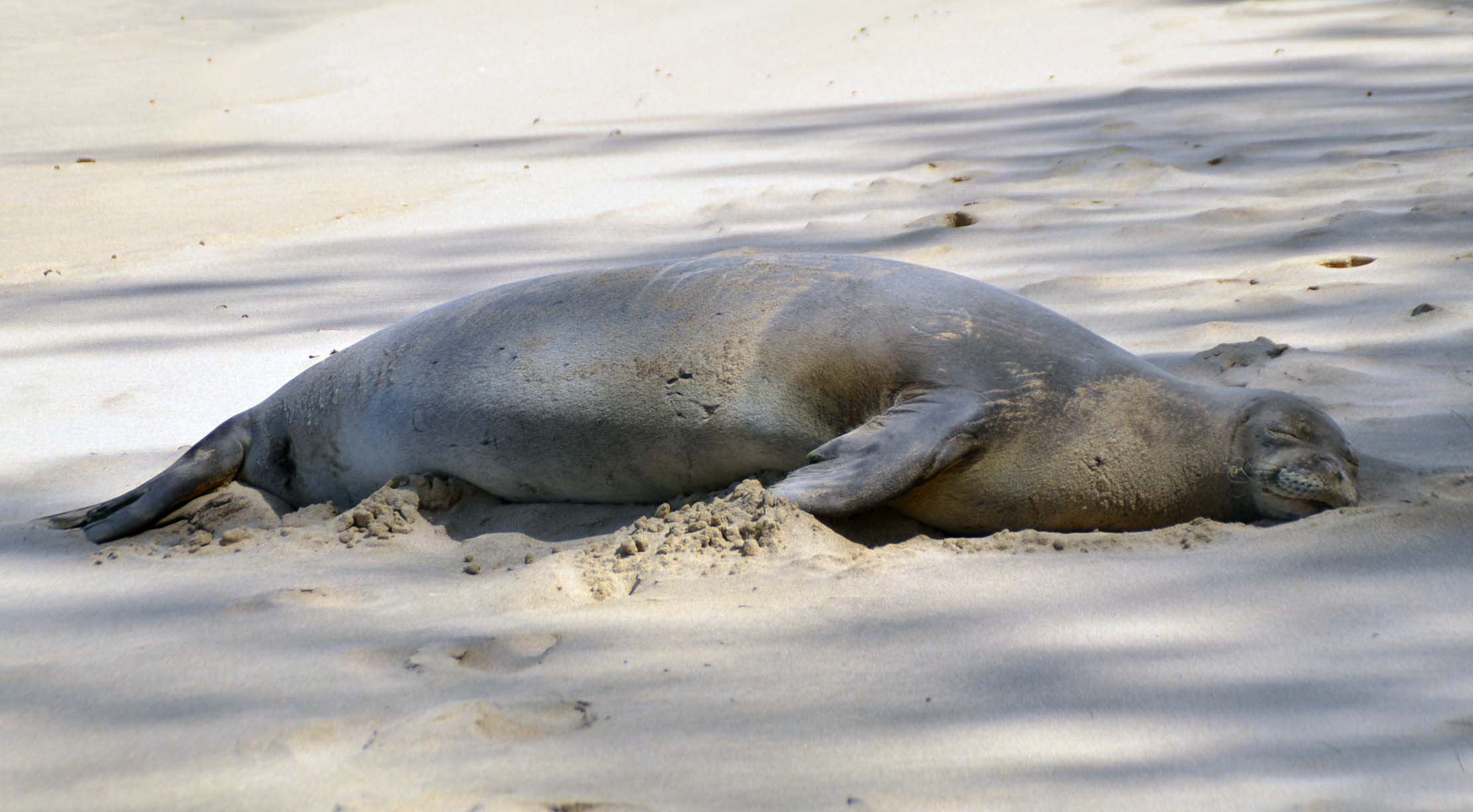 Actually the monk seal is an endangered species and we were very pleasantly surprised to get the chance to see one close up.
Returning to the car and heading back to Hanalei we noticed that the line up of parked cars along the road stretched for almost a mile from the trail head. We were very wise to get here early to hike the Kalalau trail.
Back at the hacienda Alison elected for relaxation by the pool, something I can't do for more than five minutes and I decided to try and find Queen Emma's Bath which was apparently right in the Princeville. A few false turns on residential streets revealed the fact that the albatrosses not only nested on the Makai golf course, but literally in people's front yards as well. I saw one nest not ten feet from the front door a very expensive looking home. Eventually I found the parking spot and headed down a narrow path to Queen Emma's Bath.
By way of background, Princeville stands today where in the past Hawaiian royalty would visit. Queen Emma was the mother of Albert for whom Princeville is named. The bath is actually a large lave enclosed natural swimming pool that in the calm season is completely cutoff from the ocean. Not so in the uncalm season, which was now.
The trail down to the bath is not long, but in parts it is steep and muddy. Along the way there is small waterfall that partially made up for not getting to Hanakapi'ai Falls, but not quite. Arriving just above the bath there was another ominous warning – this time a stone plaque with the words "Queens Bath Drownings" – followed by a skull and crossbones and markings indicating 28 dead at this site. It continued with the cheery warning " UNEXPECTED LARGE WAVES WILL KNOCK YOU OFF THE ROCKS & SWEEP YOU OUT TO SEA!" It was all I could do to get close enough to take a decent picture. The idea of descending into the maelstrom for a refreshing dip never entered my mind.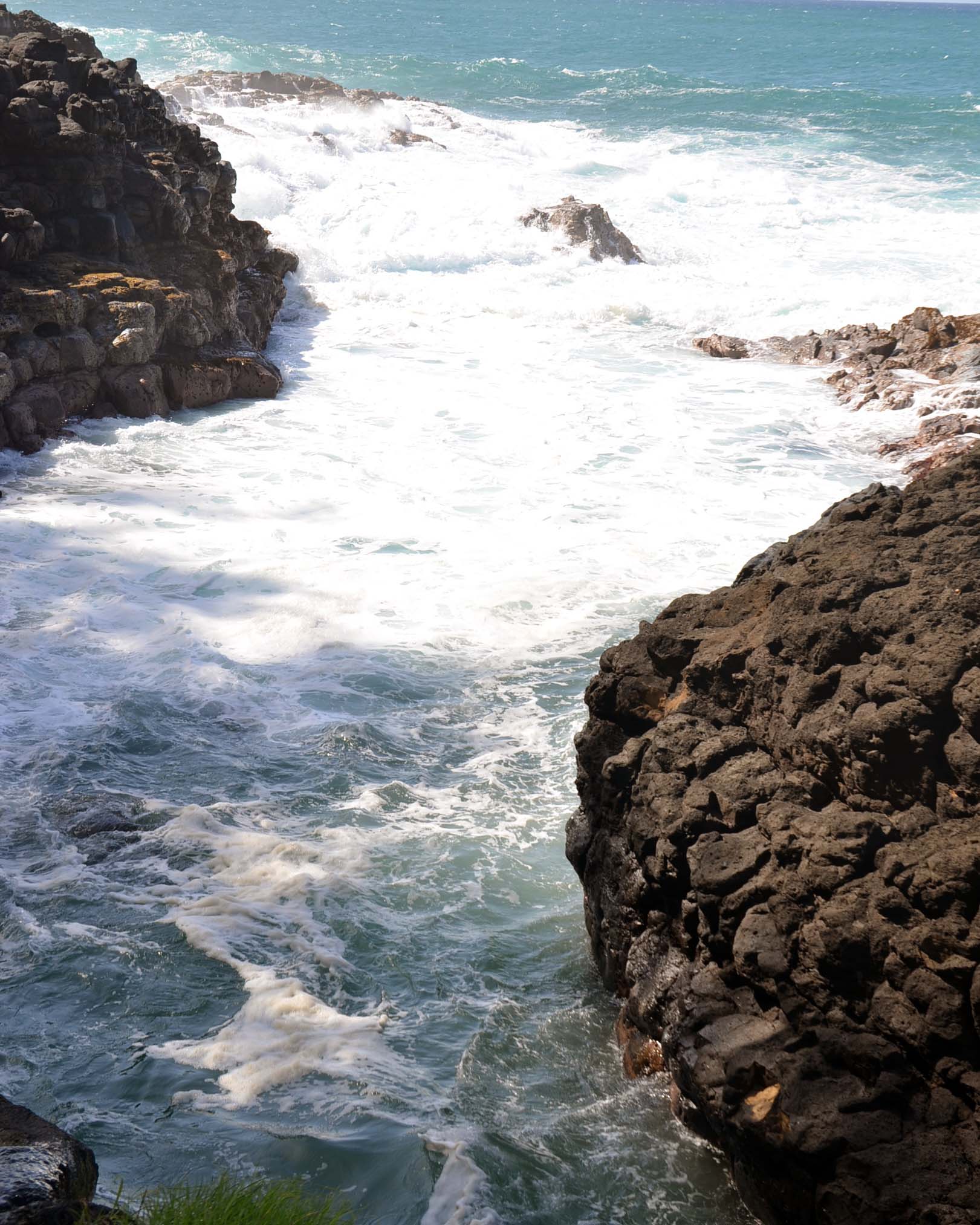 I returned to the condo where we whiled away the rest of the day doing not much of anything, just letting our joints relax and thinking of the once in a lifetime experience of hiking part of the Kalalau trail.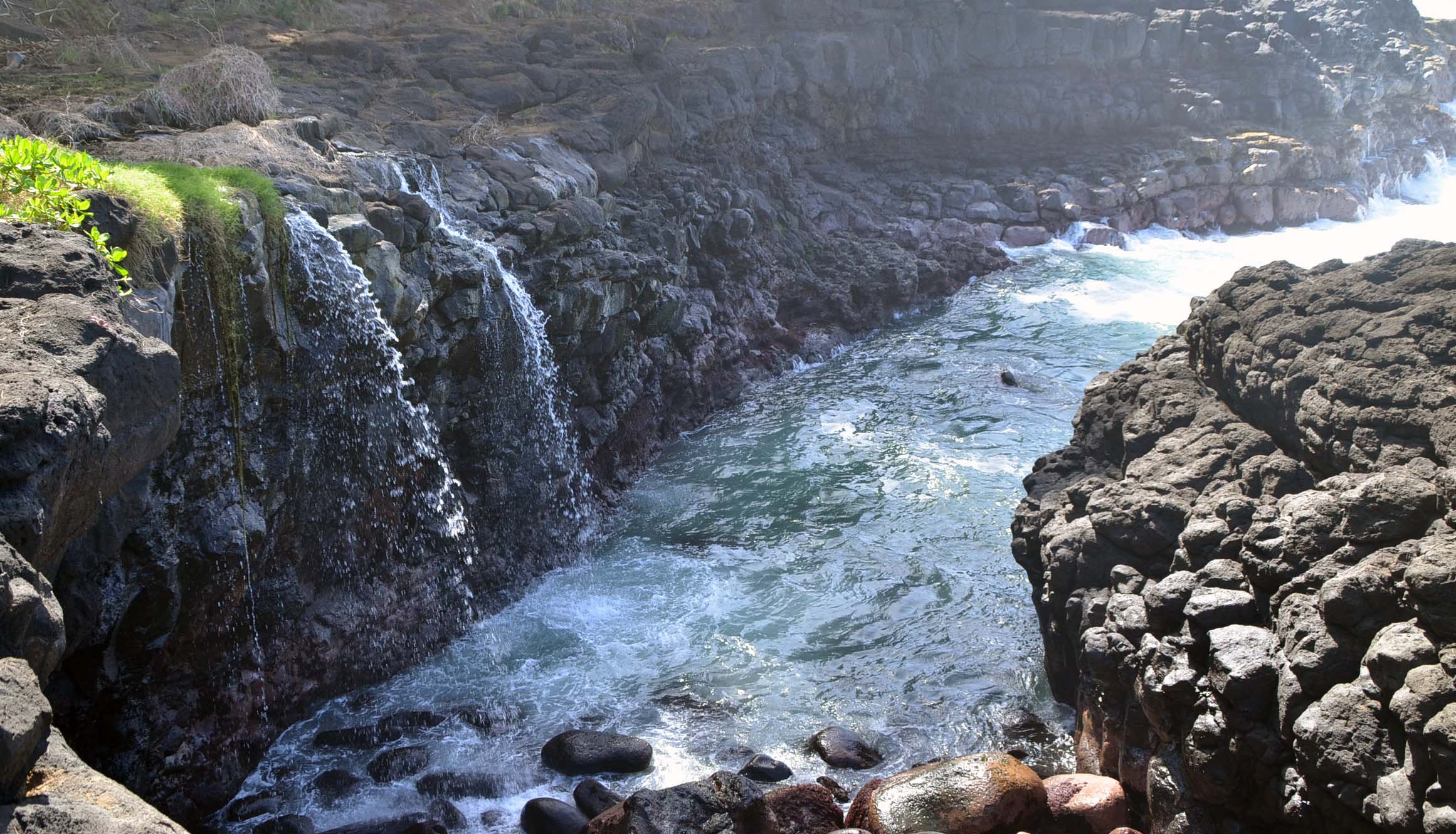 Tomorrow we return to the links to play the Prince course at Princeville Resort which Tiger Woods once bemoaned as 'unfair'. Join us and we'll find out if he was right.
Here is a link to a photo gallery of our week in Kauai.