Makai Golf Course – Playing Golf with Albatrosses and Nenes
This post on the Princeville Makai golf course is the first of nine on Hawaiian golf courses from a visit Alison and I made a few years ago. It has been updated for accuracy as of 2021.
In the last post I described how we came to stay at the Hanalei Bay Resort in the Princeville area of Kauai, a major factor being the two world class golf courses located here. This morning we have the first tee time at the nearby Princeville Makai golf course and I'm anxious to get going, but it turns out I need not have worried about sleeping in. One thing you learn right off the bat about Kauai is that it is overrun by wild chickens. They are everywhere and while the roosters are quite attractive and look like a proper cock-of-the-walk they are a damned annoyance with their constant crowing at all hours of the day and night. Years ago we were almost driven to distraction by one rogue rooster in Positano who was determined to get the entire village up by four a.m. Now here was an island where there were seemingly millions of them, all with the same determination to outdo each other. However, their ability to annoy fell well below that of the infamous Positano poulet or maybe, like chicken pox, once you've been tormented to death by a rooster it doesn't bother you the next time. In fact, we slept with the windows open all week and for the most part were able to block out their early morning salutations. Other people we talked to were not so lucky and found it really bothered their sleep – so you are forewarned if not forearmed.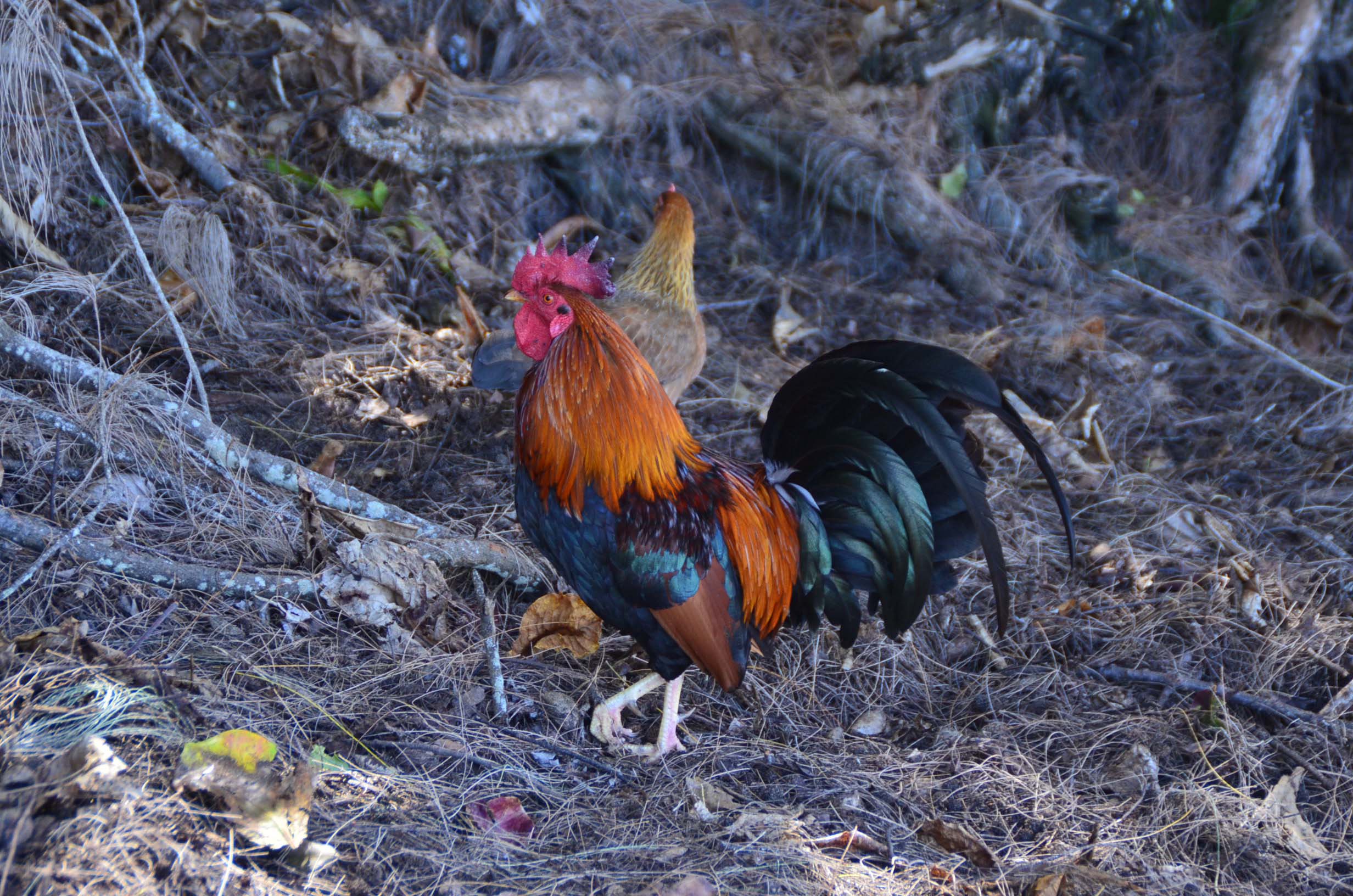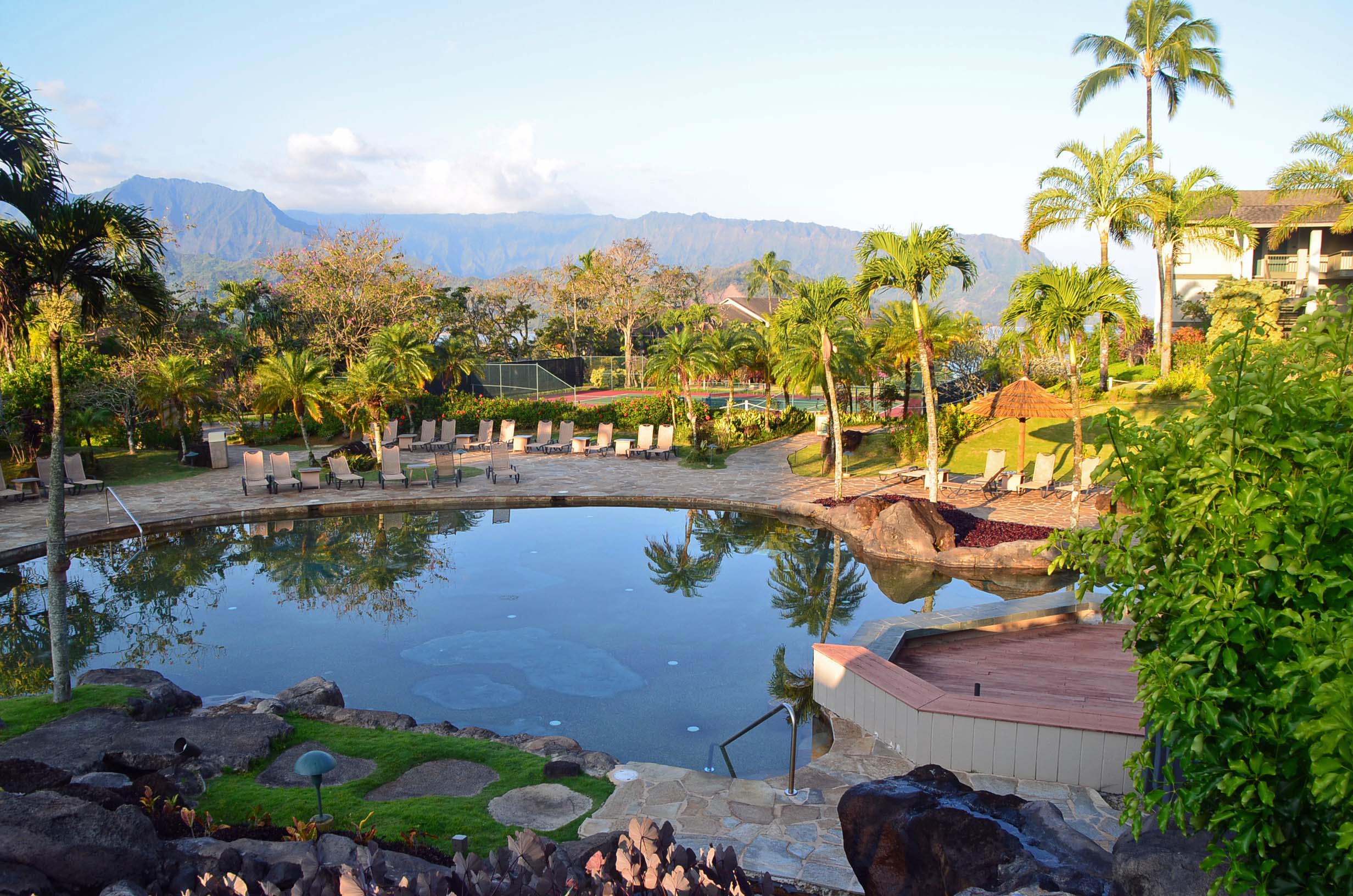 Princeville Makai Golf Course
Today's agenda involved our first game of golf which was at Makai Golf Course just a few minutes away. All three of the courses we were to play on Kauai were designed by Robert Trent Jones II, a golf architect whose work I was not overly familiar with, having only played two of his courses – the visually stunning Arrowhead Course in Colorado and the not so splendid Las Colinas in Texas where they hold the Byron Nelson PGA tournament. However, Makai was highly recommended and sits at #65 on Golf Digest's Top 100 Public Courses in the US. We had the first tee time of the day – just before a state junior tournament was to start at 8:00.
We decided not to take our clubs to Hawaii for a couple of reasons – the first was that the extra baggage charges on the inter island flights wouldn't be far off what we could rent for and the second was just the hassle of hauling them around. Rentals at Makai were $55 per set which included two sleeves of Callaway balls. The clubs were good quality Callaways. After this we arranged to rent from a private club rental service advertised in some of the Kauai tourism brochures. Not only did we save about 40% over what we would pay at the clubs, but they were delivered and picked up by the owner. The clubs were also top quality Callaways so it was a good deal.
Getting back to Makai, the staff were very friendly and clearly wanted us to enjoy the course. There were two others on the driving range plus a bunch of juniors. The starter asked if we minded this other twosome going out ahead of us, rather than playing with us. That made us very happy – no one to watch our mistakes and we could play a scramble without looking like doofuses. Also I could stop to take pictures.

Makai is probably one of the heaviest trapped courses I have ever played. Some holes seemed to have them in every conceivable place you might want to land a ball. There is simply no way to avoid getting in them so you might as well resign yourself to learning how to play out of bunkers. The upside is that the sand at Makai is very soft and forgiving so that you actually can play a decent shot out of the sand if you stay down on the ball and complete your swing. Also a great help in trying to avoid them in the first place is the GPS units on the carts. They are about the most sophisticated I have seen and the next best thing to a real caddy. It is possible to determine the exact yardage from your position to any other part of the hole. Also you can pick a landing spot that fits in with the club you prefer to use to for your second or third shot. For example, if your average distance with a pitching wedge is say 115 yards and you feel comfortable with that club you can draw a line from your current position to exactly 115 yards from the pin and try to land it there. Theoretically this helps eliminate the dreaded half shot.
We found these advanced GPS systems on all three Kauai courses that we played. Something else they all had in common was the replacement of the original Bermuda grass greens with paspalum grass which is far more golfer friendly than Bermuda. Paspalum doesn't really have a grain, is much slower and doesn't break as much as other traditional grasses. In other words you won't be terrorized by lightning fast greens with multiple breaks.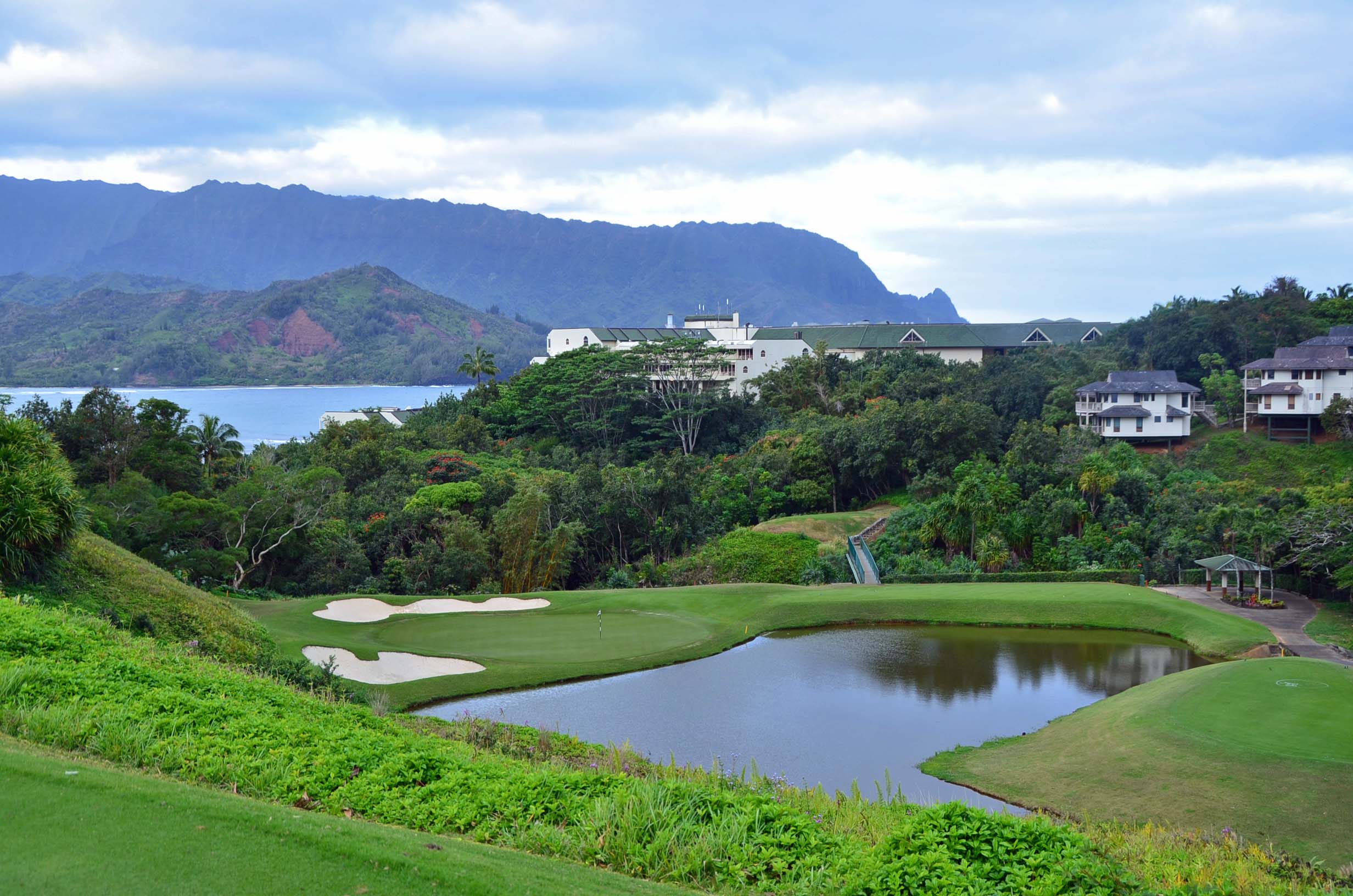 Makai is a course with some dramatic elevation changes, particularly the par 3 third hole that drops some 80 feet from tee to green followed by an equally uphill climb on four. If you do manage the carry here it is well nigh impossible to avoid the traps.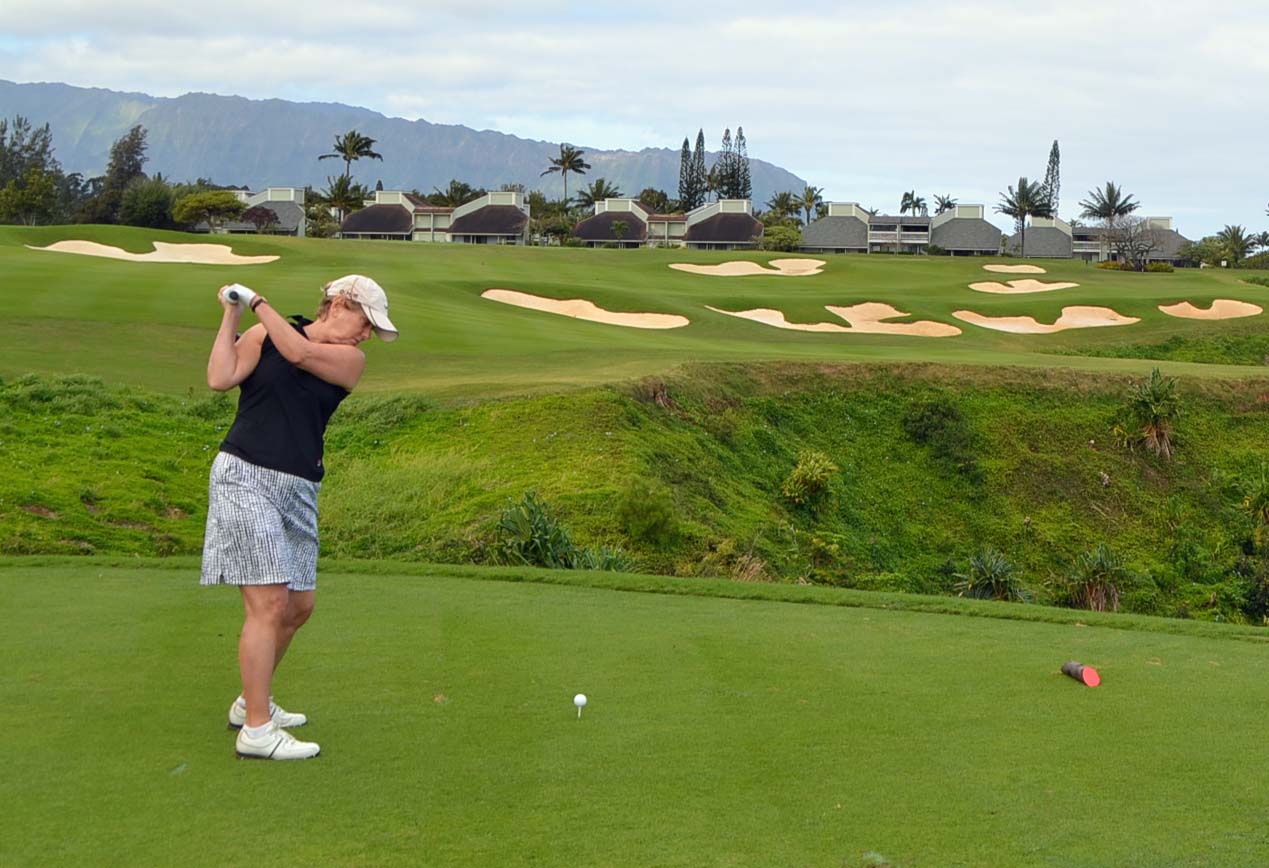 There is no question that the par 3's are the stars of Makai. Aside from 3 which is all carry across water, number 7 requires a long carry over the ocean which crashes some sixty feet below and on number 13 you need to carry a steep valley to reach the green. The obvious key to playing these holes is to chose the right tee boxes so that the carries are possible for your game. Playing from the golds or blacks is just plain stupid.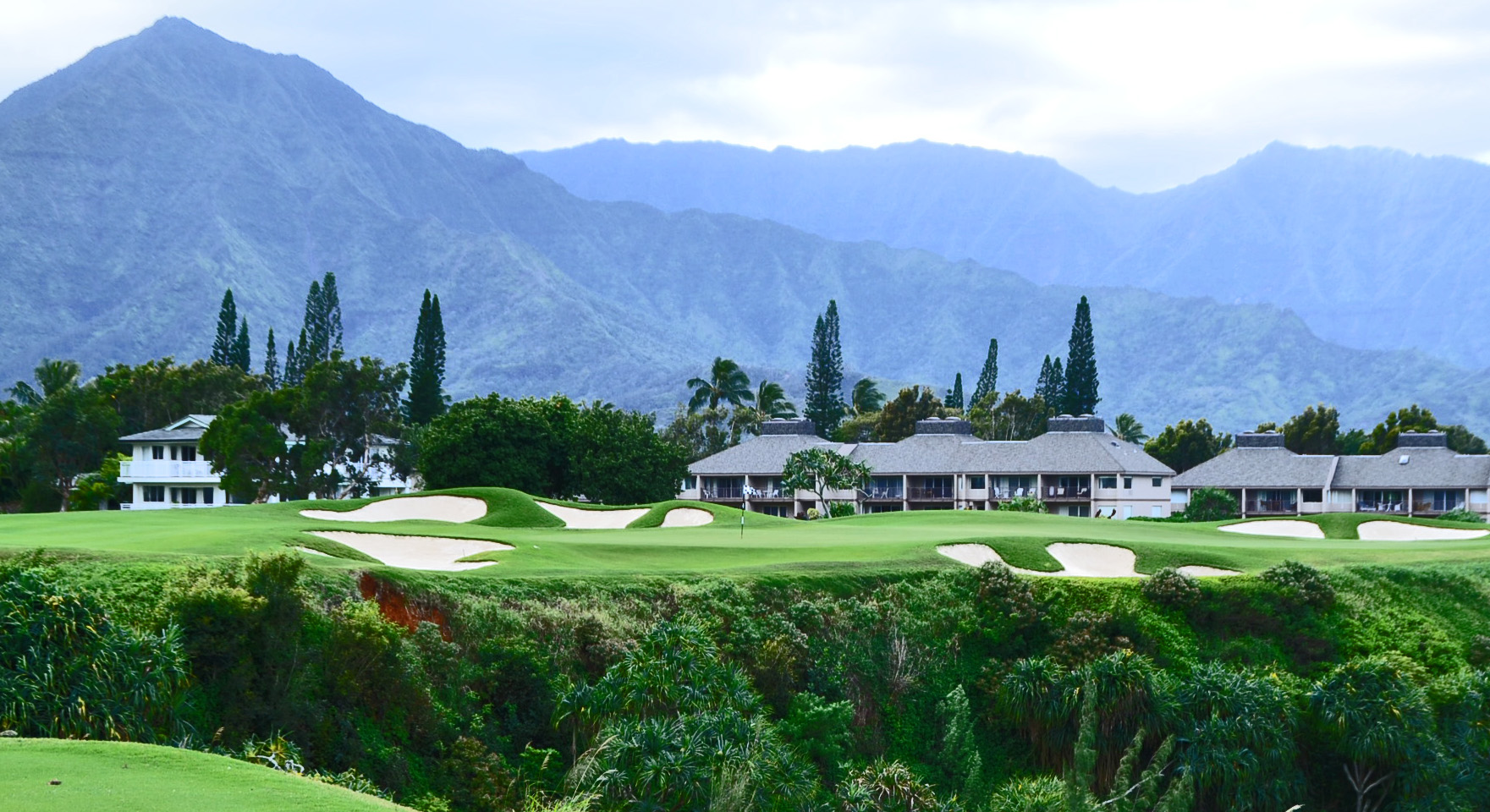 On some holes there are dramatic views of the Pacific Ocean far below the tee boxes.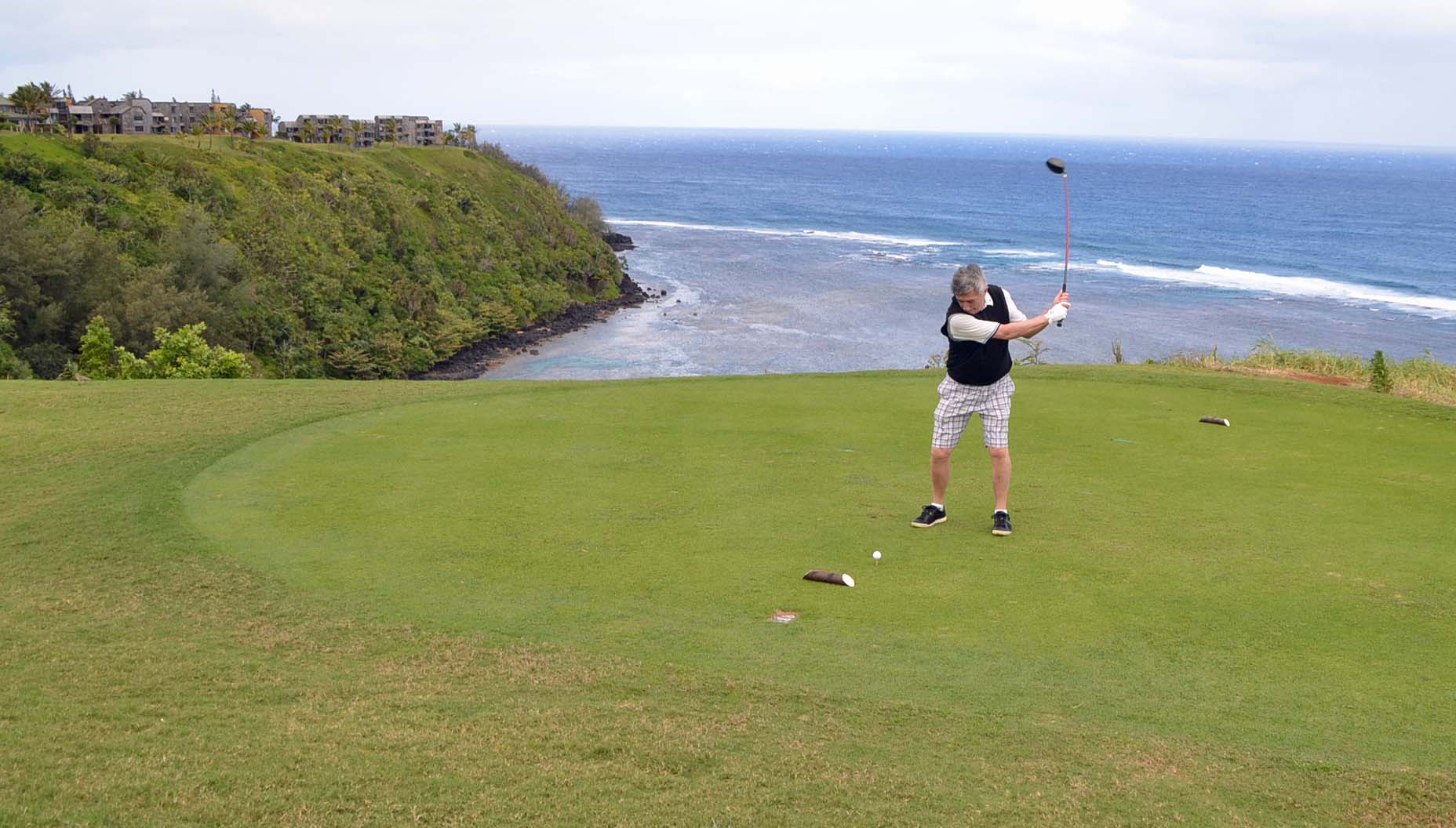 What made Makai even more enjoyable to play was the abundance of wildlife on the course. The state bird of Hawaii is the nene, a native goose that is on the endangered species list, but you wouldn't know if from this course – the nenes were everywhere. Also native stilts, a number of species of sandpipers and black-crowned night herons were readily seen, but by far the most interesting avifauna were the Layson albatrosses that actually breed and raise their chicks on the course.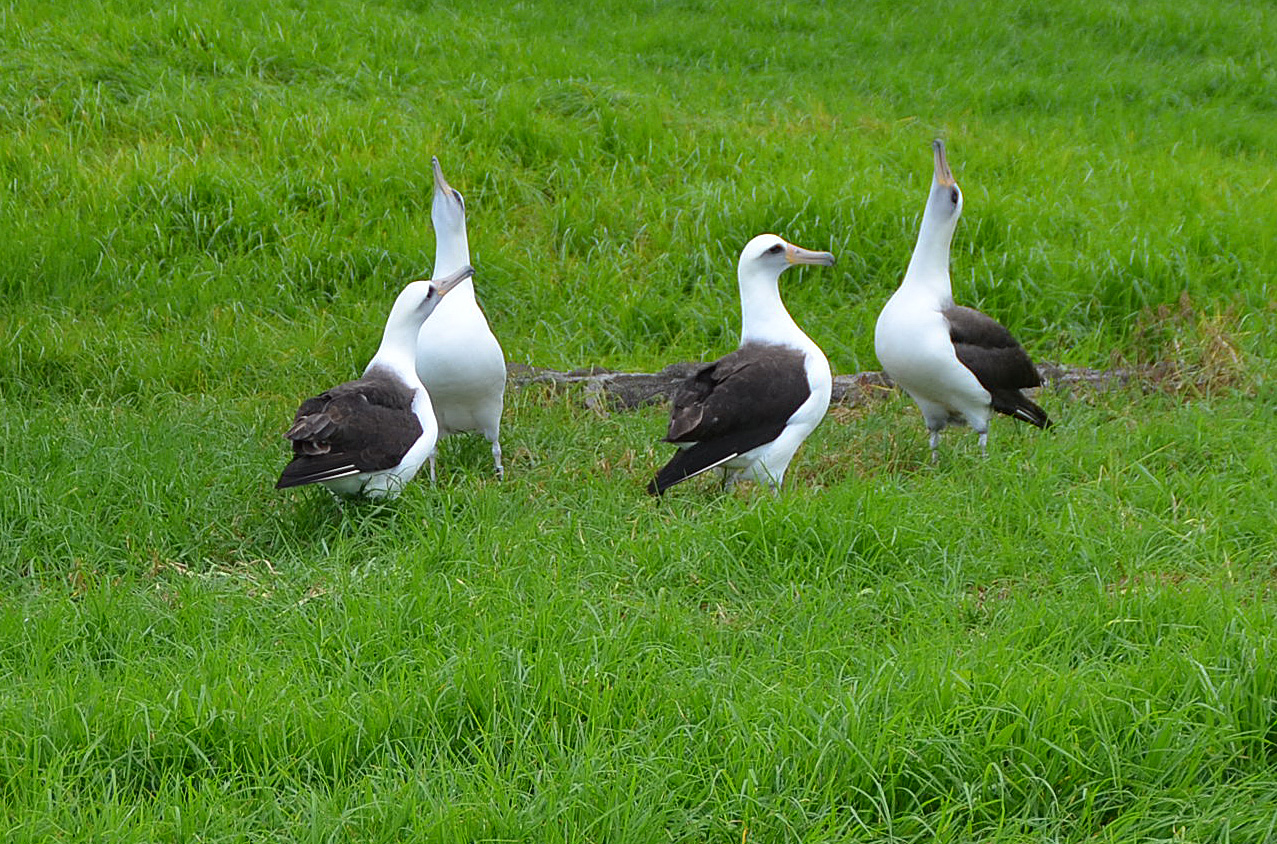 While we saw the albatrosses flying overhead from the time we teed off, it wasn't until we reached the ninth hole that we saw them on the ground doing a multi-bird mating dance that involved mutual beak clicking and much bobbing and weaving. The birds were quite oblivious to the presence of golfers which allowed us to get up close for some good shots. Later on  playing the back nine we came across some nests in deep grass with chicks that were the size of roosters.  Despite the numerous distractions we actually played quite well and were more than pleased with our introduction to Hawaiian golf. The Princeville Makai course should be on every golfer's and birder's must play list on any visit to Kauai.
Hanalei
After golf we drove into the small historic village of Hanalei only a few miles away, stopping first at a wonderful overlook of the Hanalei River valley before descending to the town.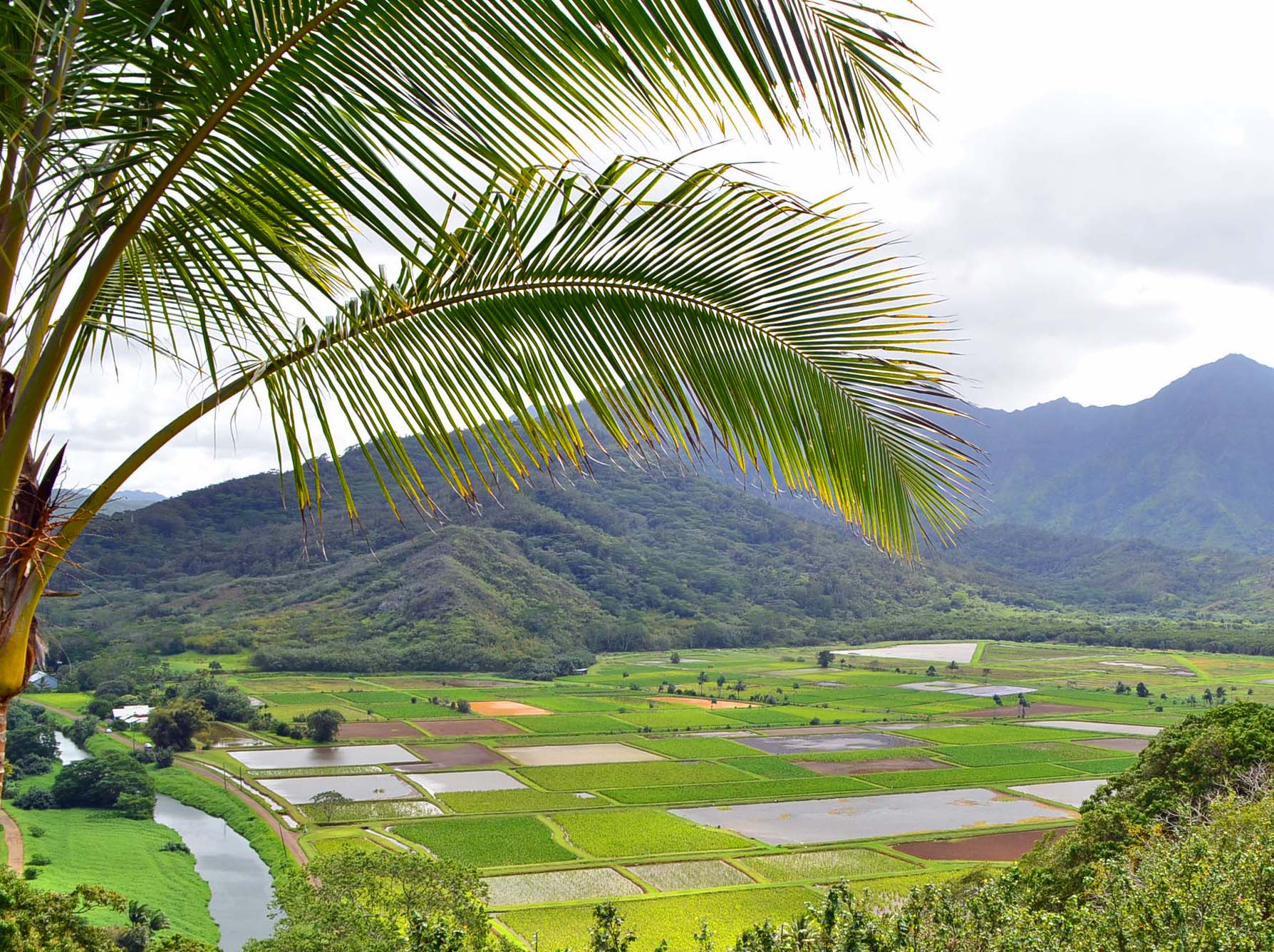 Over the next few days we visited Hanalei a number of times and always found new and interesting things to do. It definitely has an end of the road feel to it that attracts people wanting to get away from it all. The main attraction is the beautiful beach which I will describe on a later visit.
Also worth visiting was the fine looking multi-dominational church on the main street with its stained glass interior.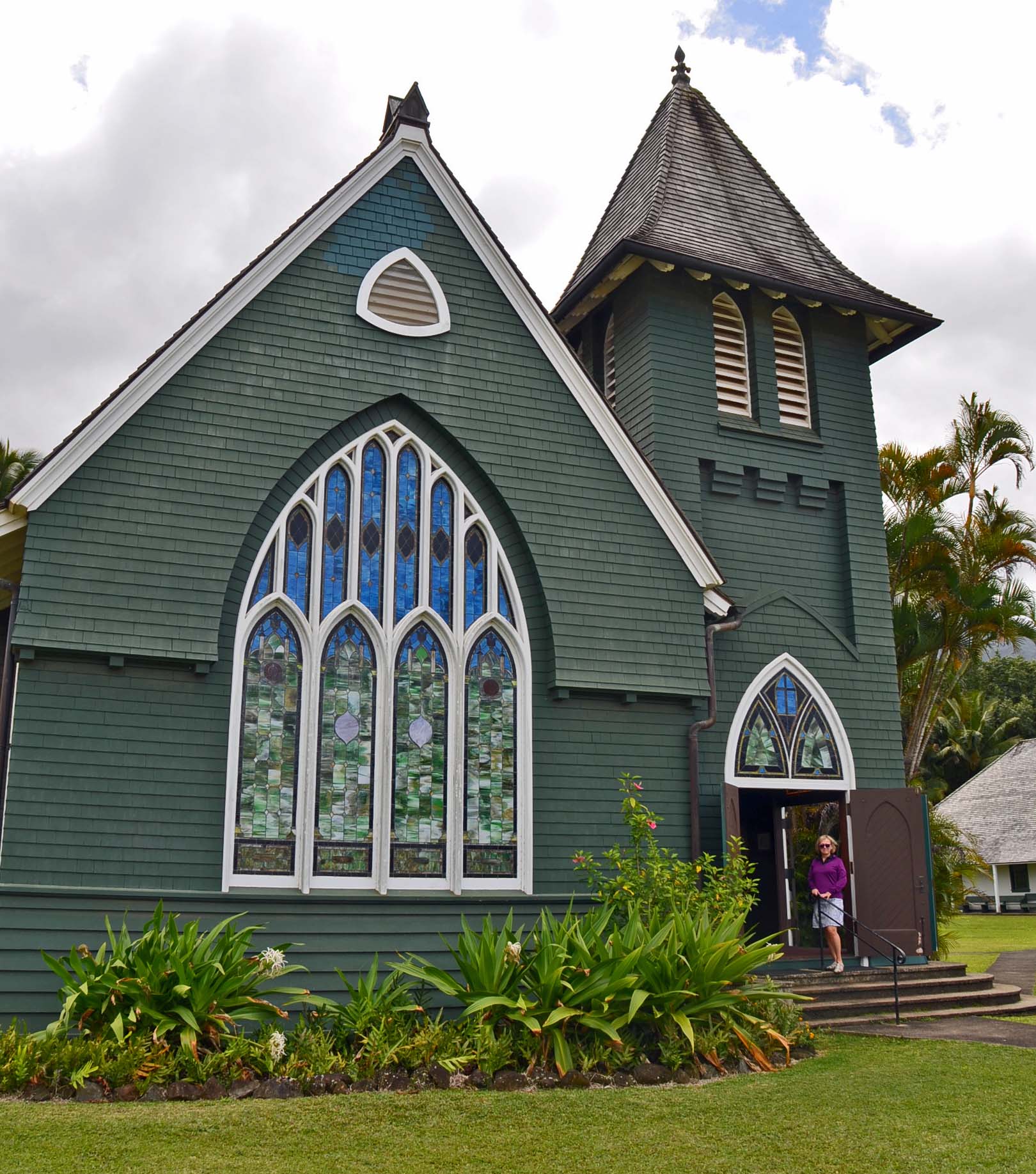 The town has enough restaurants, food trucks and coffee shops to satisfy almost any tastes, except those that have none – there are no chain restaurants. Rather than eat out we dropped into the Hanalei Dolphin which is a restaurant and a fish market and picked up some poke and ceviche. The one thing we bought almost every day, no matter what island we were on was poke, which is essentially a raw seafood salad. Our favourite varieties were those made with ahi (yellowfin tuna) and tako (octopus), but over the month we probably tried probably twenty different versions of poke and never had one we didn't like. Since our trip, poke has become much better known throughout North America and my hope at the time that it would start showing up in Nova Scotia restaurants has come true. After all, we have some of the best seafood in the world right on our doorstep.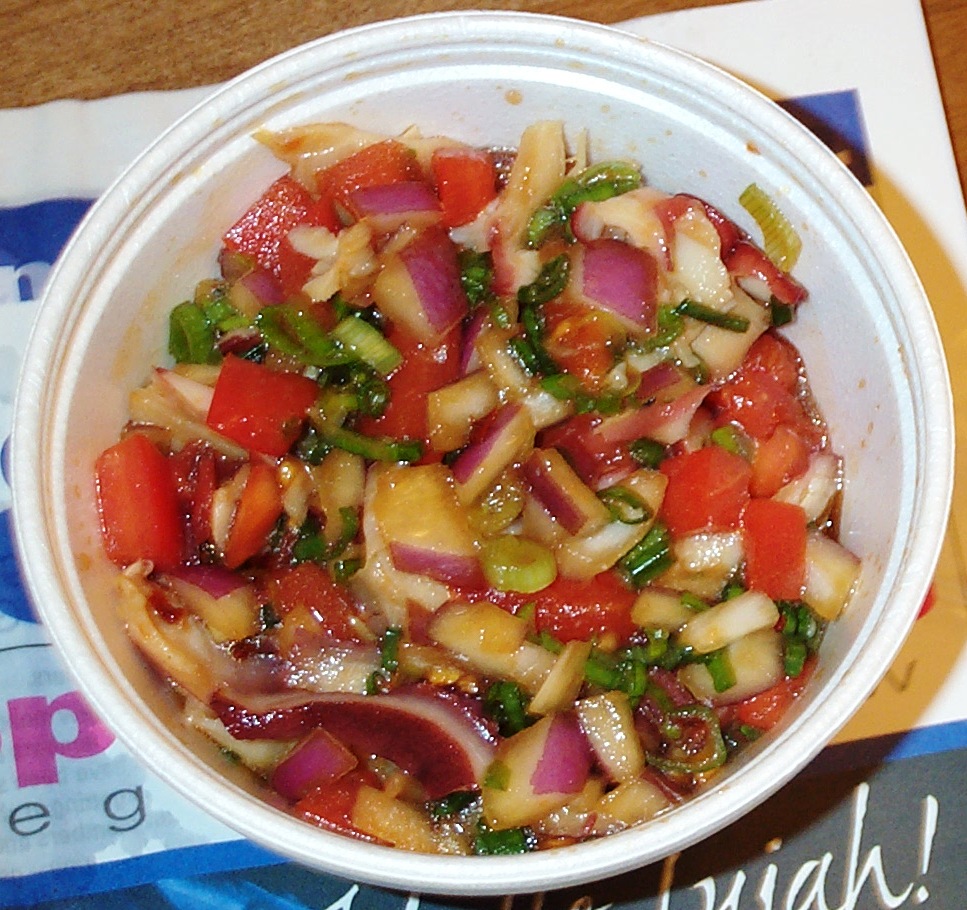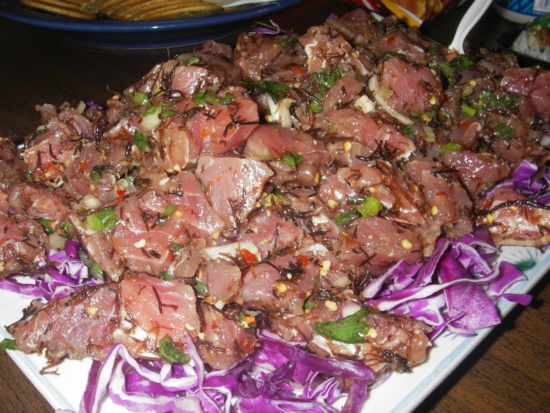 We spent the last part of the day back at Hanalei Bay Resort after stocking up on wine at the Princeville shopping centre which is at the entrance to Princeville and has just about everything you could want to buy without driving into Lihue – more expensive for sure, but would you rather be sitting on your condo deck sipping wine or fighting the traffic in and out of Lihue to save a few bucks?
Another great sunset over Bali Hai and time for bed early as tomorrow we are taking to the skies in a Kauai helicopter tour over Waimea Canyon and the Ne Pali coast. Please join us.
Here is a link to a photo gallery of our entire week in Kauai.