Kauai Helicopter Tour – Creating Memories That Will Last a Lifetime
This is one of a continuing series on a visit to the four main islands of Hawaii that Alison and I made a few years ago. The posts have been updated for accuracy as of 2021. In the last post we played our first round of golf at the beautiful Princeville Makai course, sharing it with nesting albatrosses and Hawaii's state bird, the nene. The third day in Kauai was probably the most action packed of the entire trip and created memories that will last a lifetime. It started off with a Kauai helicopter tour and ended up at the Kilauea Point National Wildlife Refuge. Please join us to relive this magical day.
All of Hawaii's major islands offer helicopter tours, but given our budget we could only afford one and a little research had convinced me that Kauai was the place to do it. Kauai has the highest waterfalls, deepest canyons and the unparalleled Ne Pali or Jurassic coast. Many movies have been made here with the beautiful backdrop of Kauai being used as the setting for South Pacific, Jurassic Park, Indiana Jones and even the TV series Fantasy Island. Having decided upon the place we now had to choose from the numerous companies operating a Kauai helicopter tour out of Lihue airport. This was solved by asking Kauai tourism who of course said they were all good, but with a little pressing came clean .
The Kauai Helicopter Tour
Jack Harter was the originator of the Kauai helicopter tour with Jack Harter Helicopters. Coming to Kauai in 1962, Jack, a sometimes stunt pilot for the movies and TV shows filmed in Hawaii, began offering helicopter tours with a focus on safety and quality. Jack died in April, 2021 and you can read about his remarkable life in this article.
We were told by Kauai tourism that although all of the companies advertised one hour tours that only Harter's actually spent an hour in the air. This was proven true as we were in the first helicopter to leave that morning as others were warming up, but by the time we landed at least three other helicopters from other companies were already back.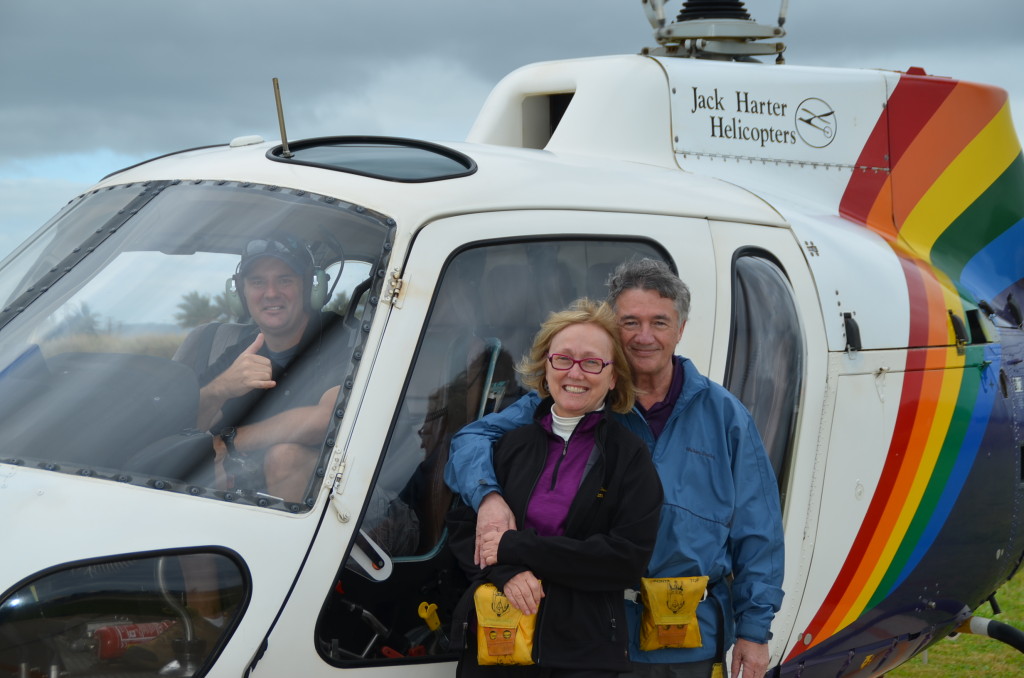 As for the logistics, there is a choice of a 60 minute or 90 minute tour and a choice of doors closed or doors off. Prices range from $270 to $400, although there are discounts if you book on the internet. We booked the one hour doors on tour which takes six people in the helicopter in the picture above. Be forewarned that there are weight limitations for all helicopter tours. The 2 front passenger seats in both helicopter types have more restrictive weight limits, so the smallest passengers on any given tour are usually seated in the front. In our case we were seated in the back with another couple and although the tour was worth every cent, next time we would definitely do the doors off so there wouldn't be glare from the glass hindering the photographs or videos that you are going to want to take. Here is a link to a doors off helicopter tour I took in the Oregon Cascades a few years later and you can definitely notice the difference in the quality of the photos.
After a quick safety demo at Harter headquarters a short distance from Lihue airport we were taken by van to the tarmac where our pilot Jason awaited. Once inside you are given noise reducing headphones that also act as a sound system. Throughout the trip we had excellent narrative from Jason along with appropriate accompanying music such as the Indiana Jones theme when we flew over the place where Indy was being chased by a mob of howling savages (see below), which was literally a minute or two after takeoff.
After the low lying coast it was a quick and somewhat bumpy ascent up into the Hanapepe Valley, predicted in advance by Jason and the only one on the Kauai helicopter tour. Here was the first of the truly almost heart stopping sights on the tour – Manawaiopuna Falls or as they have been more frequently called since the movie Jurassic Park was filmed in Kauai, Jurassic Falls. Unfortunately the picture does not do it justice and emphasizes why you want to go doors off. The beauty of these falls and others that were to come simply cannot be described in words, at least by me, and seeing them from the air gave a perspective completely different than from the ground.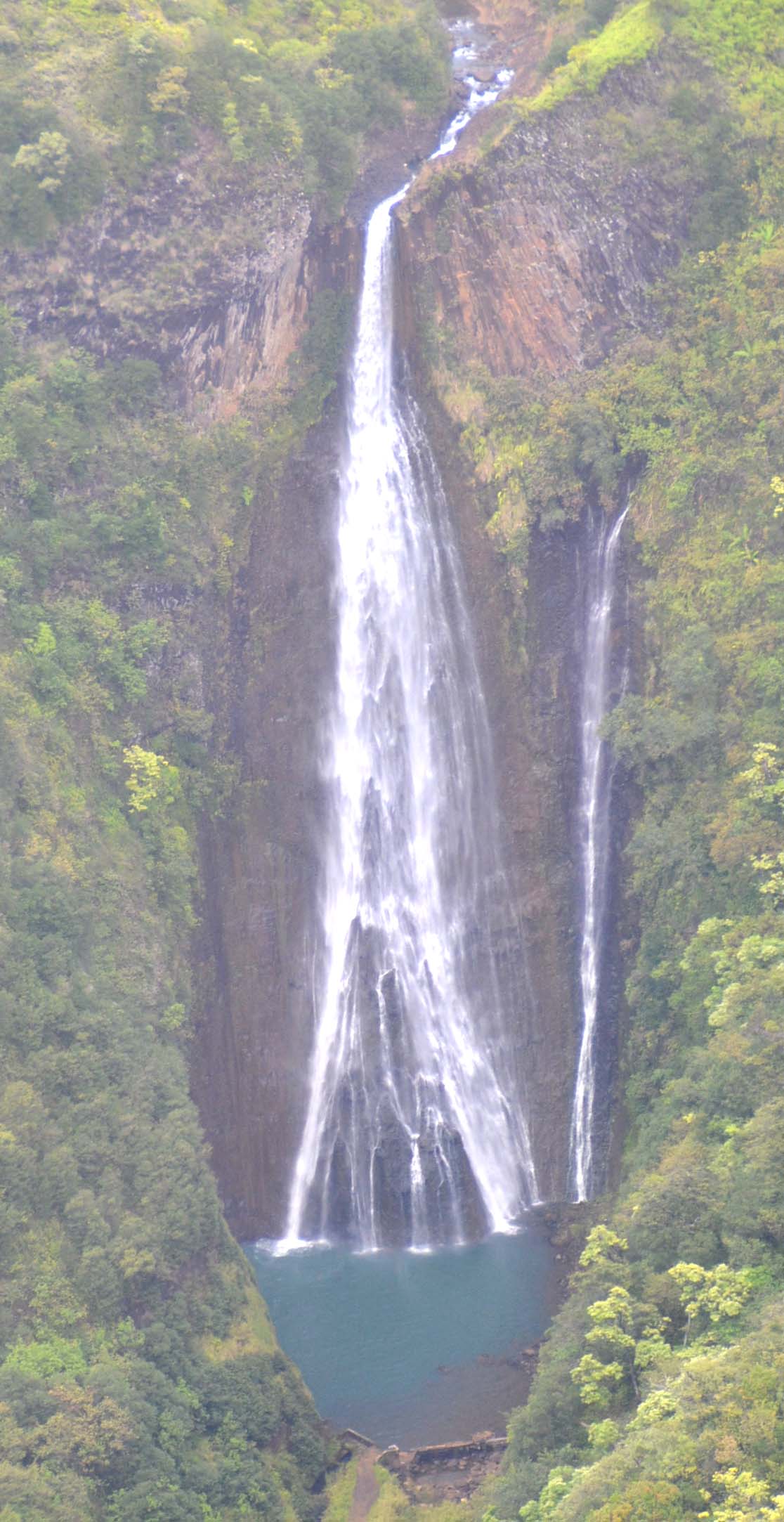 Our pilot did a great job of making it seem like we might actually fly straight into the falls at full speed until he expertly turned away at what seemed like the last possible moment. He then judiciously hovered first on one side and then the other so that people on both sides of the copter got a chance to view and take pictures, which was a process he followed at all of the other major jaw dropping sights.
Next up was Waimea Canyon, Hawaii's version of the Grand Canyon. No doubt you have seen one of those IMAX films where you are flying along and suddenly the ground just disappears as you crest a canyon and your heart skips a big beat. Well this was the IMAX film without the theatre.  Nonchalantly speeding along just above the tree line, just like that the ground was now at least a thousand feet lower and it felt like an elevator had dropped from under your feet and just like in the cartoons, you stayed put, until like Wiley Coyote… I actually did involuntarily look down to make sure the floor was still there. Waimea means 'red water' and the walls of the canyon were glowing every shade of red, brown and orange that any painter could put to canvas. Again the picture does not do justice, but it's worth more than a few dozen words. Since this was an early morning flight the sun was not high so the light was great. The one thing we vowed on the spot (in the air, maybe?) was that on our next visit to Kauai we would definitely stay on this end of the island just to get the chance to drive into and hike the trails of this great place.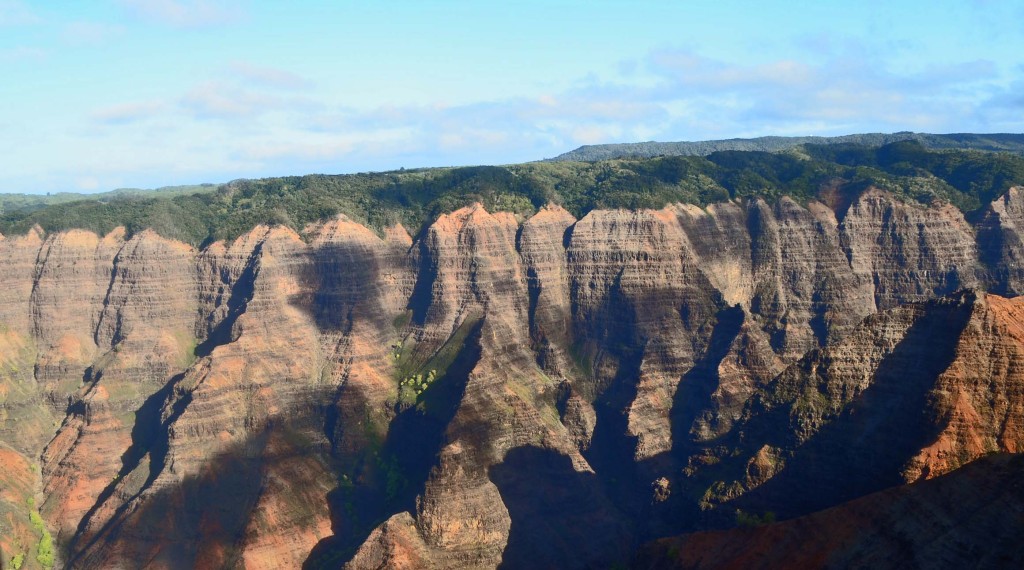 After traversing the fourteen miles of the canyon with its rich earth tones we crested the far rim and our eyeballs were plastered by an explosion of blue and green – the Na Pali coast with its 3,000 foot cliffs, dozens of feathery waterfalls and home to the first Hawaiians. Our pilot guided us into some impossibly deep and narrow canyons where he pointed out the former dwelling places of the Marquesan Islanders who were the first to reach the Hawaiian archipelago at the Na Pali coast of Kauai. Why they chose to live in such a remote and inaccessible place when there were so many better places for agriculture or fishing makes one think that they must have been hiding from something or someone – King Kong maybe? After all these valleys did sub for his home in the last remake. No matter what you have seen or read about the Na Pali coast, nothing will prepare you for the sight of it from the air.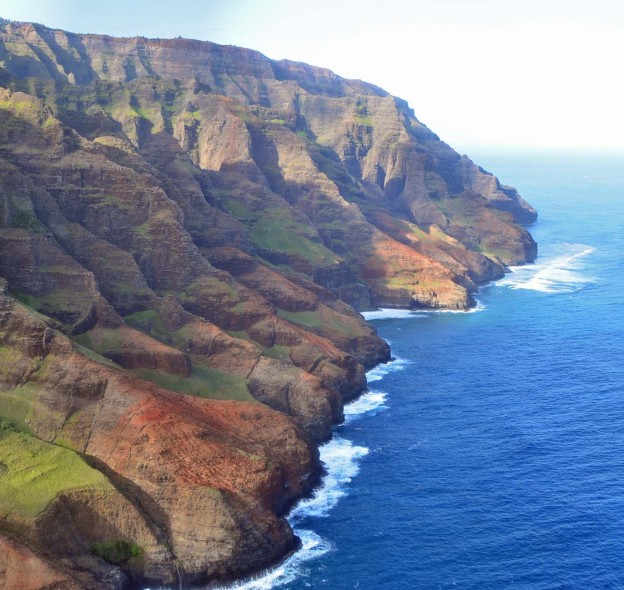 After watching hikers moving at a snail's pace along the Kalalau Trial on the one side and amorous humpback whales breaching on the other, we returned above civilization at the end of the road community of Haena where the huge homes of the rich and famous which are not visible from the road are naked for all to see from above. I waved at Julia Roberts, but I don't think she noticed me.
We were now over Hanalei Bay and I hoped we would fly over Princeville and I could get an aerial shot of our place at Hanalei Bay Resort, but instead Jason turned inward and flew up into beautiful Hanalei Valley where we looked for Puff the Magic Dragon, but he was nowhere to be seen. The same could be said for the top of Mount Wai'ale'ale which was covered in clouds, which of course is necessary if it is going to keep its title as the rainiest place on earth. During our entire week in Kauai we passed by the place many times and never once saw the top.

Alas, our Kauai helicopter tour was almost over, but there was one more surprise, Wailua Falls, made famous by its appearance in the opening shots of Fantasy Island. Given the number of helicopters flying over on any given day maybe Tattoo should have exclaimed, "Da helicopter Boss, da helicopter!" In any event it was one final inspiring sight and one that we were going to see from the ground later that day.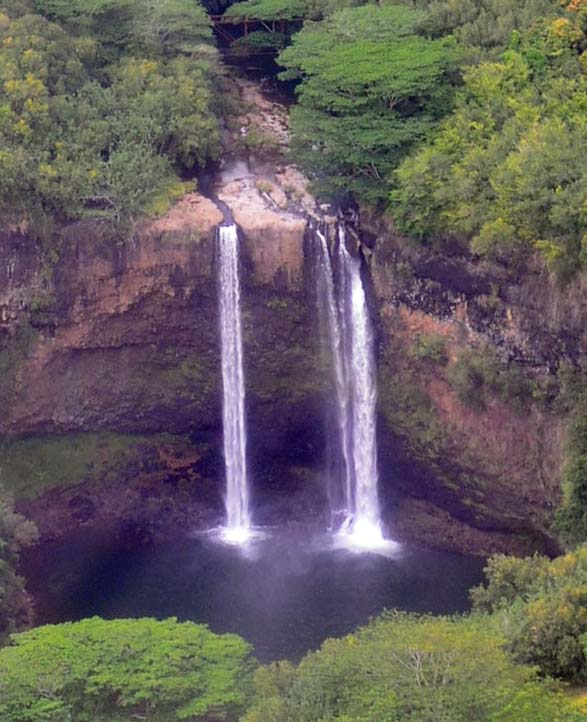 Back on the ground we needed to come down from our adrenalin high created by the Kauai helicopter tour so we dropped into a Hawaiian quilt store we passed on the way to Lihue. It was right at the turn off to Wailua Falls. The quilts were lovely and definitely had a calming effect, so much so that I needed a coffee to get restimulated. Then I noticed the place had some beautiful Hawaiian shirts and in a Homer Simpson moment I realized "Doh! I've been in Hawaii five days and haven't bought a single Hawaiian shirt." That was soon remedied – I bought a shirt, not the quilt.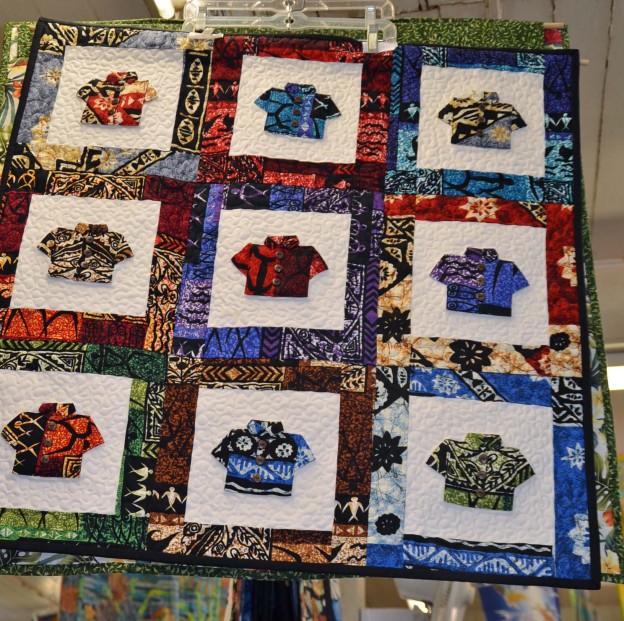 Next it was off to Wailua Falls which is at the end of a narrow paved road. It was pretty impressive from the ground as well, but not easy to get that close. There were multiple signs warning people not to try to hike to the bottom of the falls. What I found incredible is that it is an apparently true story that native Hawaiians would jump off the 80 foot high falls to prove their manhood if they lived or their idiocy if they didn't. In the picture Alison is suppressing a laugh because apparently while getting set to take the picture I was muttering, "Da plane Boss, da plane!" and some woman behind me was looking at me like I was a lunatic.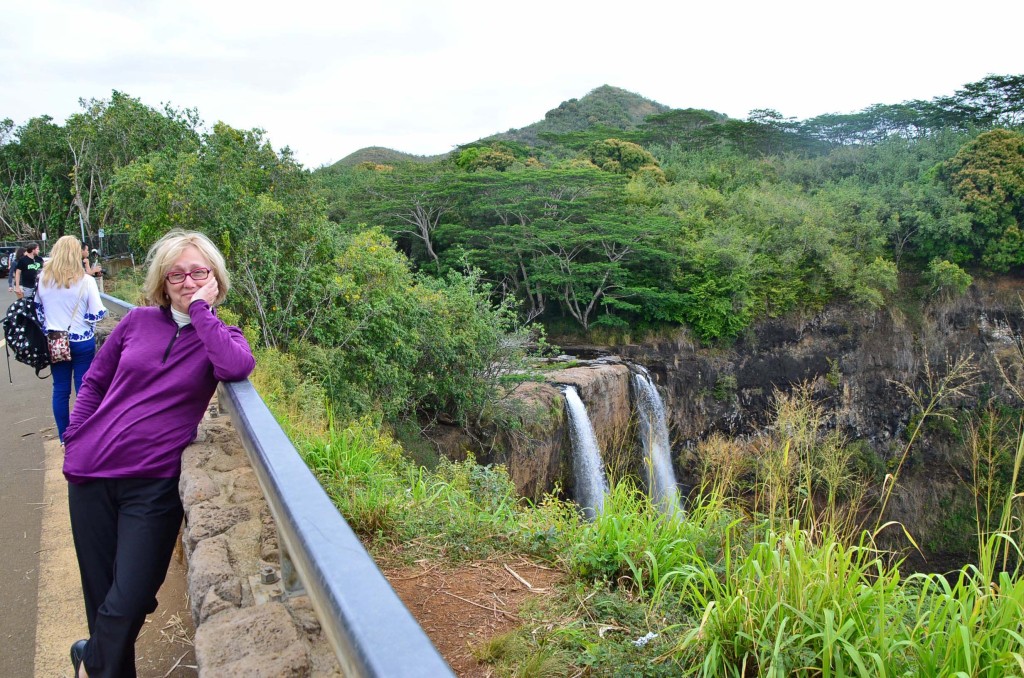 While it might have seemed like we had done enough for one day, it was actually only around noon. We drove the short distance to Kapa'a, which unlike Lihue, is an interesting small town worth spending some time in. The main street has the look of a small western town with Nounou, the Sleeping Giant, in the background and a great beach on the ocean side. Despite this it's not a real tourist destination. We had a decent lunch at Ono Family Restaurant.
There are very few places to ride bikes in Kauai without worrying about cars on narrow roads and blind curves. It was a pleasant surprise to come across a bike path that runs directly parallel to the beach in Kapa'a and for a number of miles to the north. We rented bikes from a place behind the Ono Family restaurant. At $15 for two bikes for two hours it was a good deal, even if the bikes were one speed with old-fashioned pedal brakes. The trail is mostly flat with a few very gentle inclines and wide enough not to worry about oncoming pedestrians or other bikes. The views were spectacular, the breeze refreshing and the riding quite easy. It was an unexpected adventure.
Kilauea Point National Wildlife Refuge
Our last stop of the day was at Kilauea Point National Wildlife Refuge. I had to visit it this NWR once I found out that it is one of the most visited in the USA and ranked right up there with Ding Darling NWR on our former Florida home, Sanibel Island. I'm sure glad we did. Kilauea Point has one of the most beautiful settings for a lighthouse you will find anywhere and the cliffs that surround it host the breeding colonies of numerous seabirds including several species of booby, albatross and tropicbirds.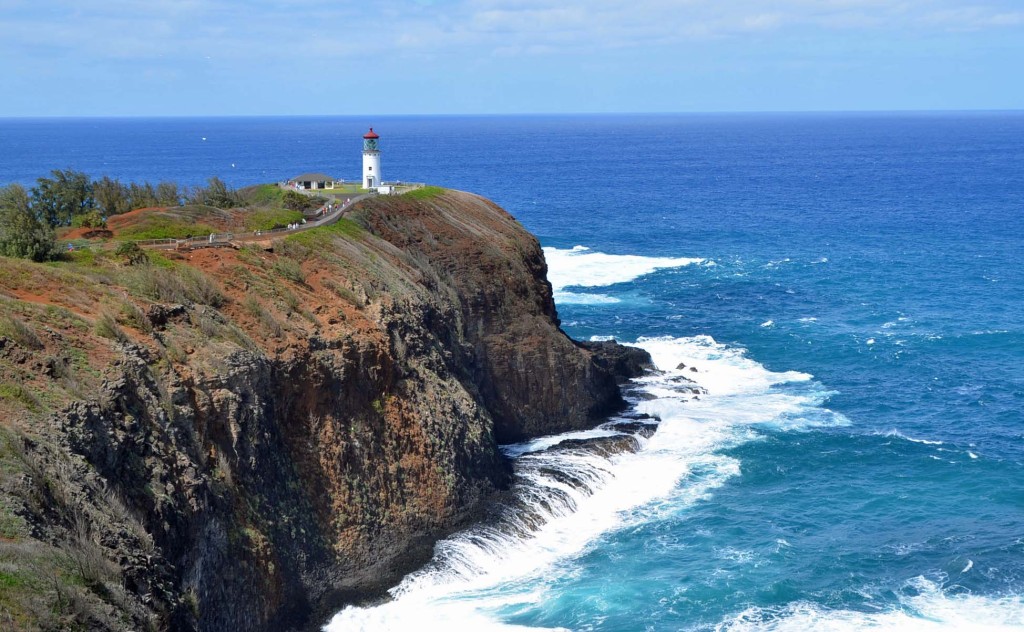 The day we visited the waves crashing into the cliffs added another dimension to an awe inspiring place. If you are a birder, as we are, standing on the point high above the ocean as some of the largest birds in the world soar up from below and sometimes hover just overhead is an experience not to be missed. The chances to photograph these birds close up is an added bonus as are the whales easily visible from the point. Even after all we had seen this day, Kilauea Point still managed to blow us away. It was also the cheapest entertainment by a good margin.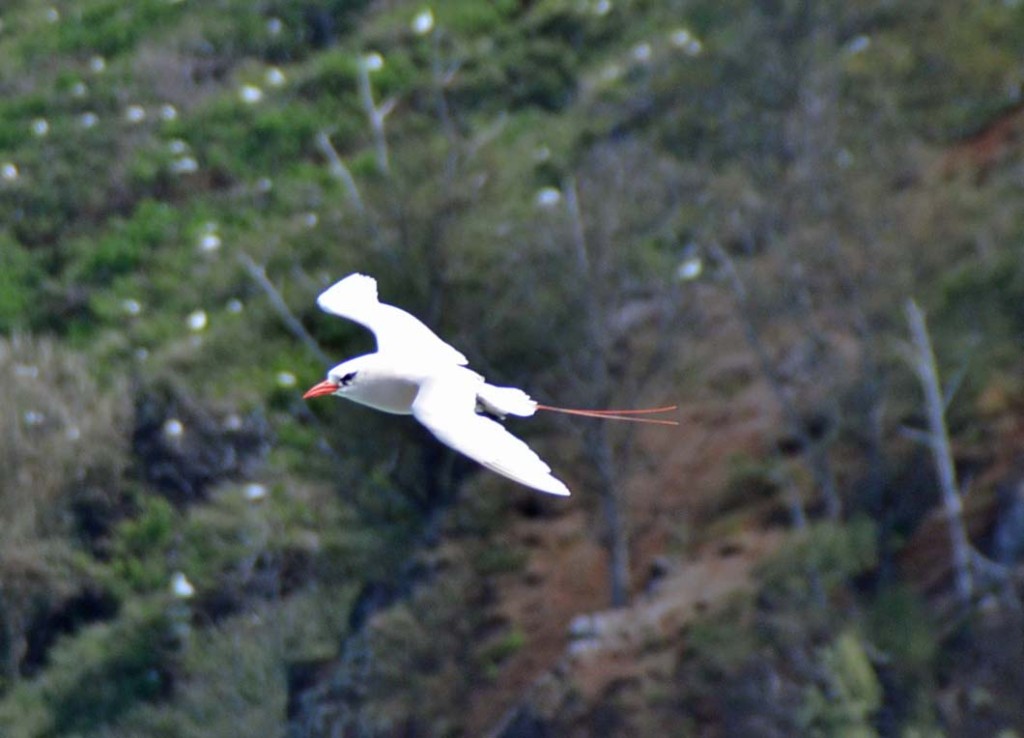 Back at Hanalei Bay Resort we really couldn't comprehend all we had seen and done in one day and I still can't some years later. Taking a Kauai helicopter tour is a must-do experience on the Garden Isle and worth every penny. Tomorrow we'll return to the golf links at
the Poipu Bay course
, former host of the PGA Grand Slam of Golf.