African Lion Safari – If You Can't Go on a Real Safari Go Here
This is the final post from my 2014 RV trip in southern Ontario with my son Dale. We have had an incredible time exploring the markets of St. Jacob's, canoeing and fishing the Grand River, fording the Conestogo River on horseback,  cycling through Mennonite country and sailing on Lake Huron. I had no idea that there was such a diversity of things to do in an area I previously thought of as too crowded and too overdeveloped to be a great tourist destination. But, hey, that's why we travel – to open our eyes and overcome stereotypes. On this final day we'll travel to Stratford and then on to the outskirts of Hamilton to visit the African Lion Safari. Please join us.
There was a fair amount of rain last night so we decided to check out the actual falls at Falls Reserve Conservation Area where we were staying just outside of Goderich before breaking camp and heading back out. The falls on the Maitland River are not overly spectacular in terms of height, but they are the type that you can get right into if you want. It was pretty chilly at 7:00 AM so even Dale decided to just admire the falls from shore. The gulls however where out in full force looking for an easy breakfast.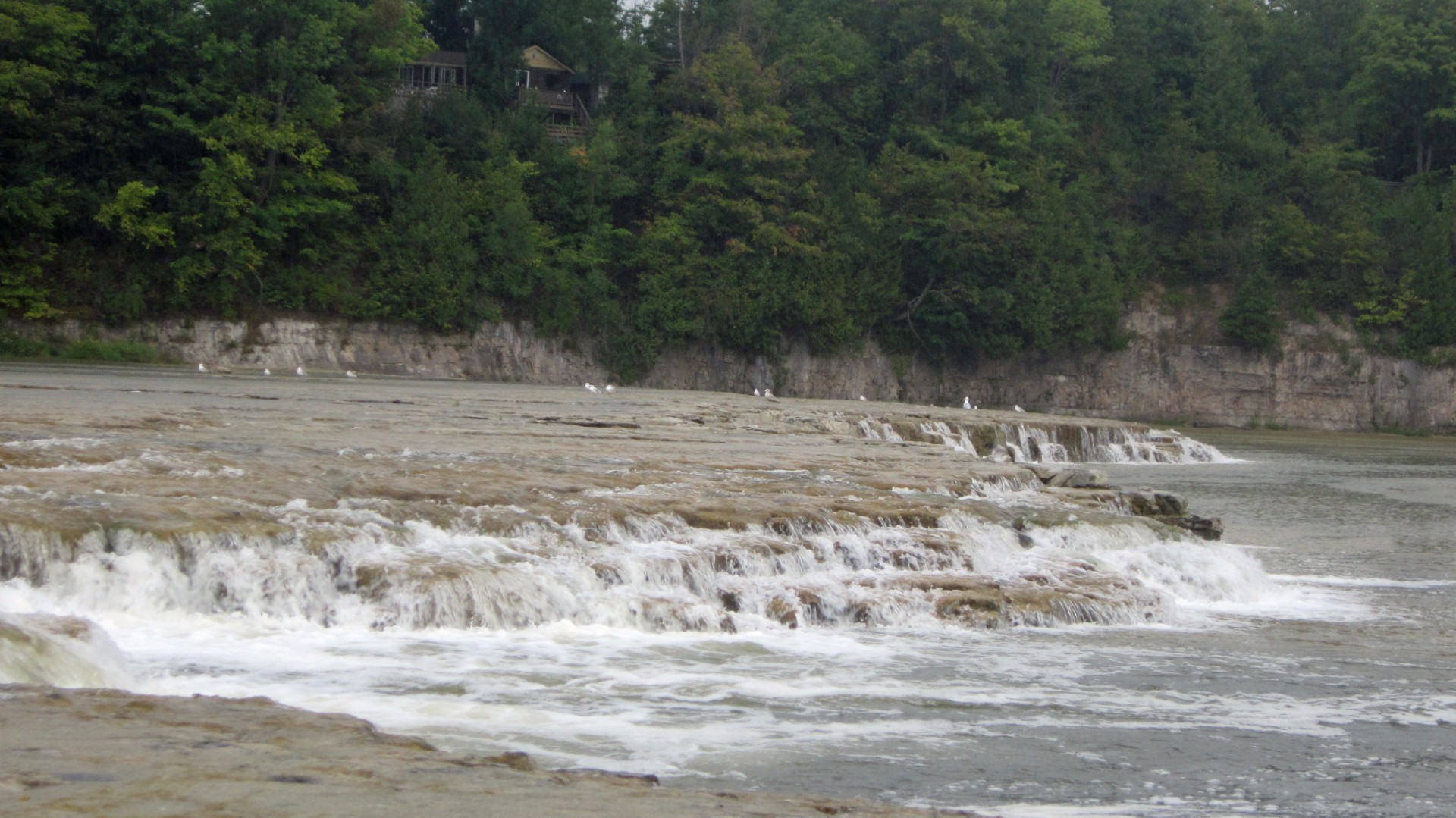 We decided to take the straight route back to Hamilton via Highway #7 which took us first through the interesting town of Clinton, which is of definite interest to true crime buffs as the place where 12 year old Lynne Harper was murdered in 1959 and 14 year old Steven Truscott, convicted of the crime, originally sentenced to hang and then exonerated 49 years later. I know if we had had the time I would have searched out the scene of the crime. I remember quite vividly as an 8 year old living in Ontario at the time what a sensational crime this was and it remains to this day one of Canada's greatest unsolved crime mysteries. The town of Seaforth definitely looked like it was worth stopping in with many well preserved buildings and a genuine old fashioned small town appearance and atmosphere, while Mitchell welcomed visitors by announcing it was the home of Montreal Canadiens hockey legend Howie Morenz, arguably the first true superstar in the NHL who died at the age of 35 from complications that arose after he broke his leg in four places. He won the Hart Trophy as the league's most valuable player three times, something no other Canadien ever did.
Next up was Stratford, a city I have wanted to visit for many a decade. It is not only renowned for its Shakespeare Festival, but also the beauty of its location on the Avon River and many fine homes and gardens. We made our way to the Tourism Bureau located right where the Avon is dammed to create a small lake. Here is the view of the Avon from the dam. The tranquility of the scene is definitely reminiscent of Stratford-on-Avon, England which I visited a few years ago. I wonder if the early settlers recognized the similarity or if they modified the landscape to resemble the original; either way it's a very attractive setting for a small city.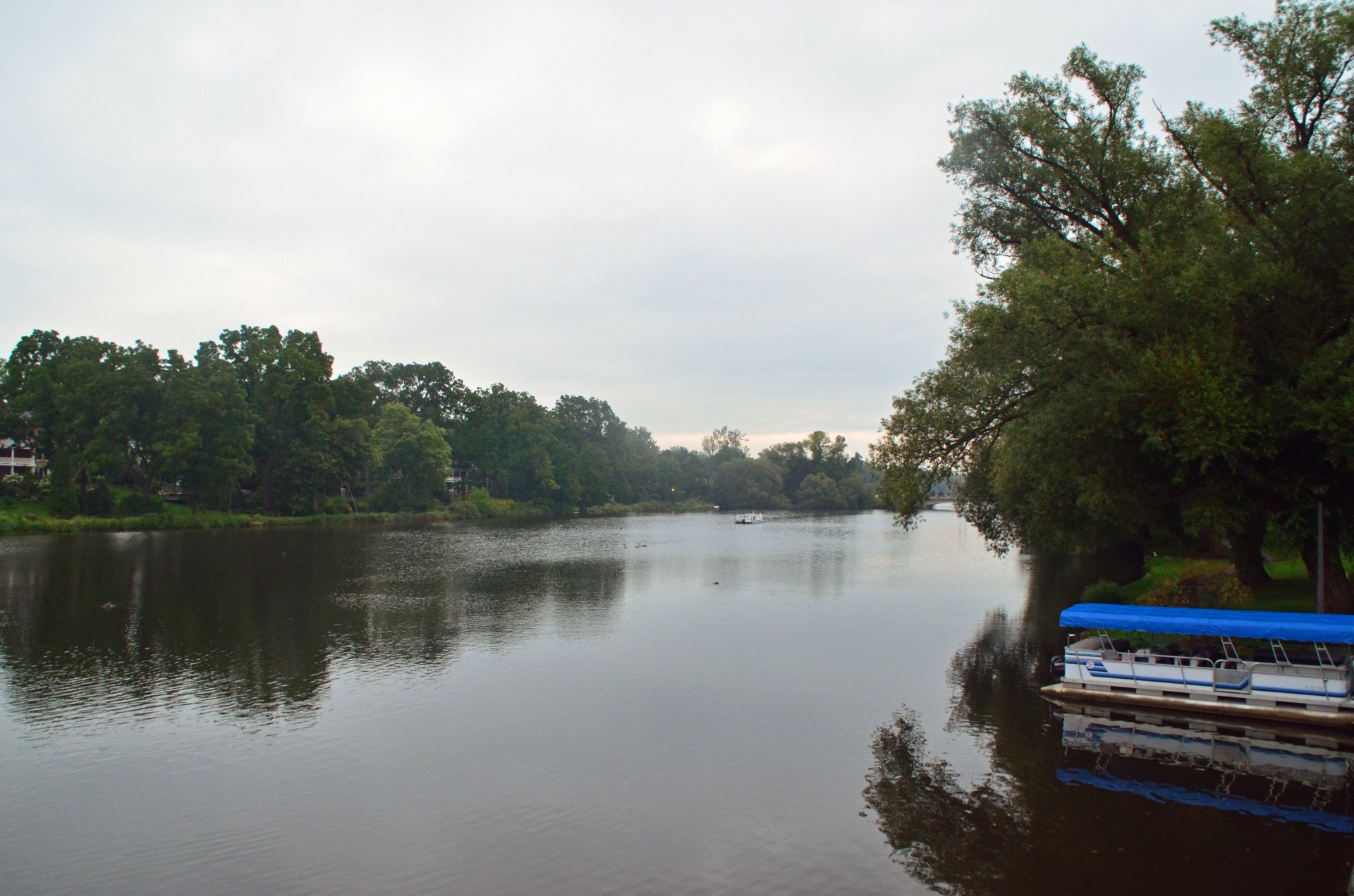 Unfortunately we did not have time to explore Stratford today as we had a ways to go to our next stop. However, we did want breakfast and after checking out a few places settled on Features which claimed that this was 'Where Stratford Meets for Breakfast'. Turns out this was a very true statement. The place was hopping and we were shown to a room at the back of the restaurant that had only a few tables. The menu had a lot of interesting choices. I settled for a Mexican skillet while Dale surprised me by foregoing the Paul Bunyan breakfast for a veggie skillet. Both were really good and as I looked around halfway through mine I noticed a very familiar face two tables away and recognized that it was the well known character actor James Cromwell. He is perhaps best remembered for his role as the gentle farmer in Babe, but I really liked him in one of my favourite HBO series, Six Feet Under where he played the widow's gentleman caller type friend. I presumed have must have been in town for something theatrical related.
As I was explaining to Dale who James Cromwell was, two enormous black guys came in and sat side by side at a table at the very back of the restaurant. I thought that was a bit weird and then about a minute later two skinny white guys with lots of tattoos came in and sat at another table. I paid them no attention until Dale whispered "That's Justin Bieber" and so it was, the black guys obviously his body guards. Stratford is Bieber's home town and he was in the news a week earlier for allegedly assaulting a paparazzi who was trying to photograph him on an ATV with a girl just outside of Stratford. We both had our cameras with us, but opted for safety of life and limb over getting a shot of Justin. During the time we were there nobody bothered him or asked for his autograph and I could see that the waitress who was serving him was apparently familiar with the routine. So, Features did live up to its boast that it was where Stratford went for breakfast, at least the most famous ones.
Our last stop of the trip was one that I had been looking forward to ever since I knew it would be on the itinerary (at my request). The idea of an open air zoo where the animals are not in cages, but roam freely in large open spaces while the humans are enclosed in a safari bus was, I think, first pioneered at Whipsnade Zoo outside of London. African Lion Safari was opened in 1969 with a similar idea – as far as possible let the animals roam free for a much better viewing experience for the people and a more humane experience for the animals. I am one of those people who believe strongly that zoos have an important role to play in the preservation of wild species and in fostering the education of young people to appreciate and respect our fellow species. Contrary to what the Bible may say, we were not given dominion over all other species and we need to recognize that they have every much the right to exist in their own natural habitat as we do in our artificially created ones. That's easy to say, but the reality is that habitat destruction has brought the need for modern progressive zoos to do what they can to preserve endangered species and from my research I understand that African Lion Safari is doing just that. The work they are doing with cheetahs and white rhinos is particularly impressive.
Dale was as psyched as I was about this visit and after what seemed like an endless trip through suburban Cambridge we were back in the country near the town of Flamborough where the zoo has three square kms. of land.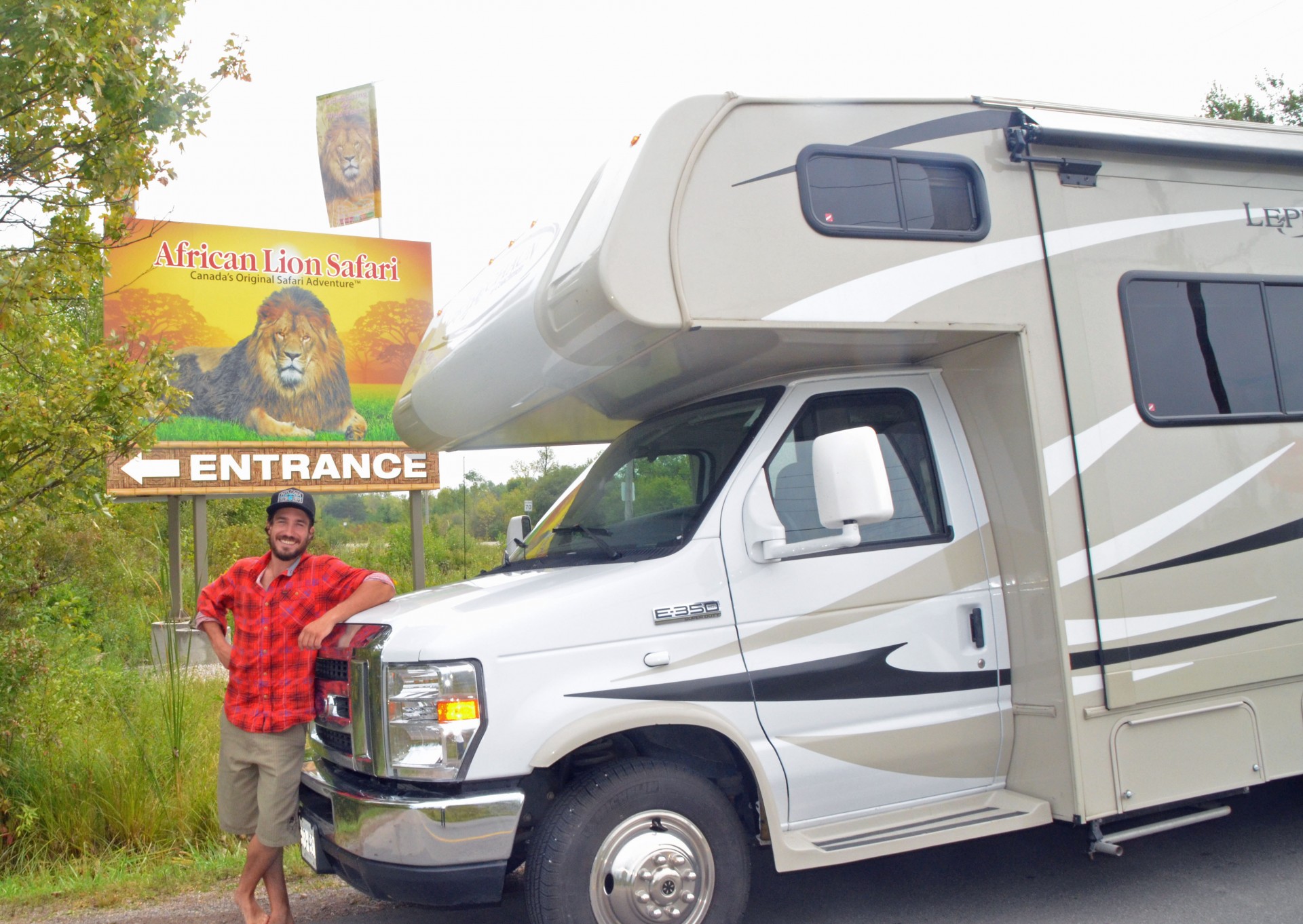 I knew in advance that we would not be permitted to drive the RV through the nine kms. of safari trail, but we got really lucky when this herd of elephants came parading by the RV, before I got a chance to park it.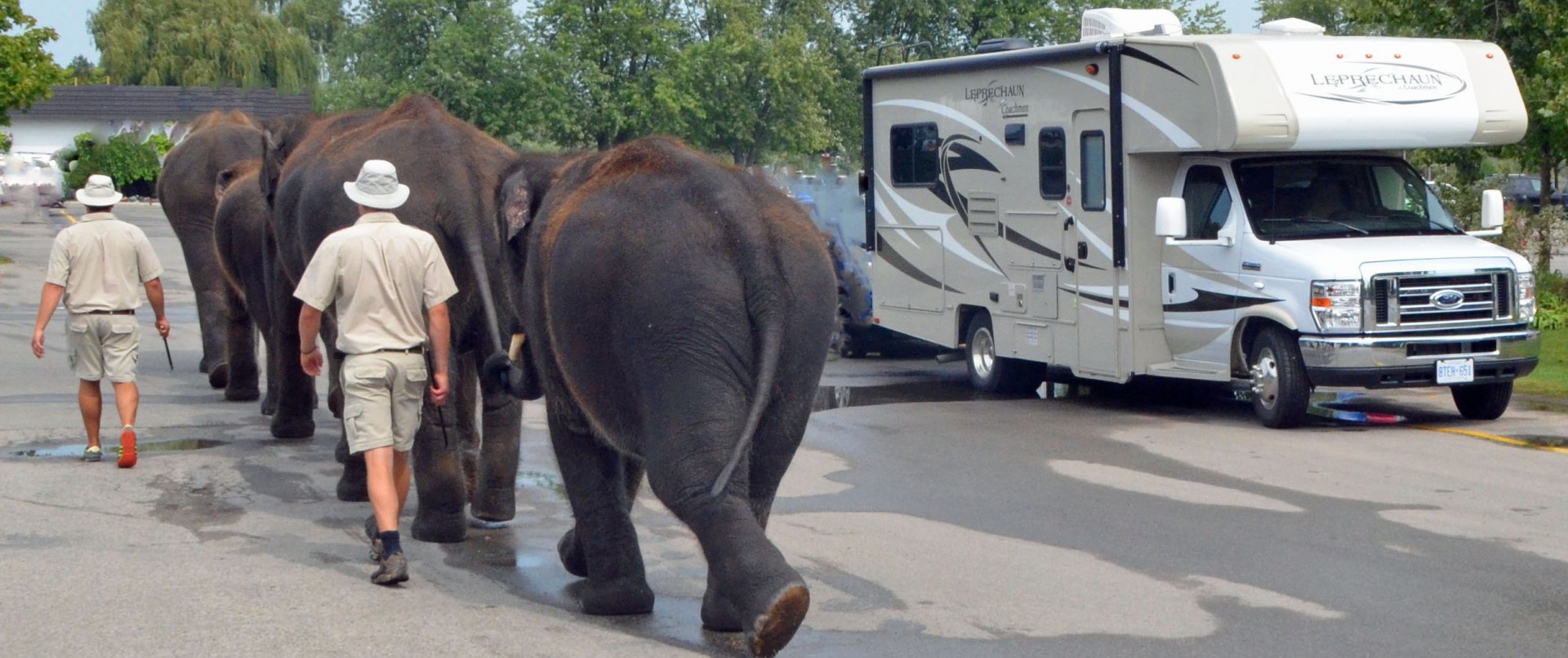 We had the option of taking the SUV through or getting on one of the tour buses and a bit unsure of what we would encounter, we opted for the bus. These buses are a great way for the elderly, disabled or children's groups to see the animals. At first you might think, as I did, that seeing the animals through a glass window would be a detraction, but the windows were spotlessly clean and did not interfere in any way with my photography. Incidentally, there are special occasions when open aired vehicles do tour the park.  The bus enters an area where two gates ensure that the animals cannot escape. There is also this warning sign that is only half joking.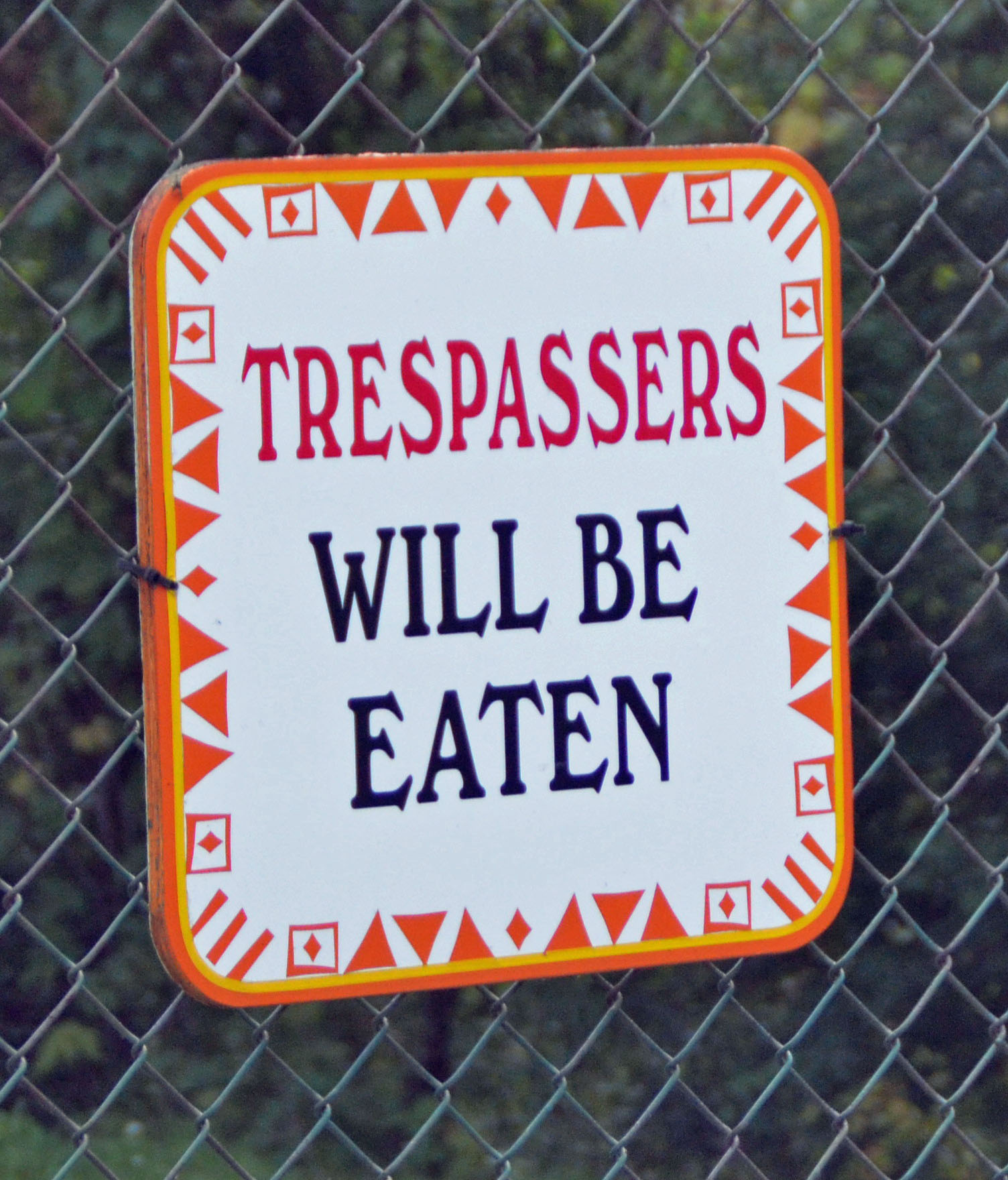 The safari bus tour lasts over an hour and makes repeated stops to view the animals. I took a lot of photographs and have posted them as a separate gallery, but here are the highlights.
Watusi cattle are native to Africa and have the largest horns in the world for any cattle species. It was just a coincidence that the day before we had come across the Texas longhorns so I was able to compare and I think these guys win out.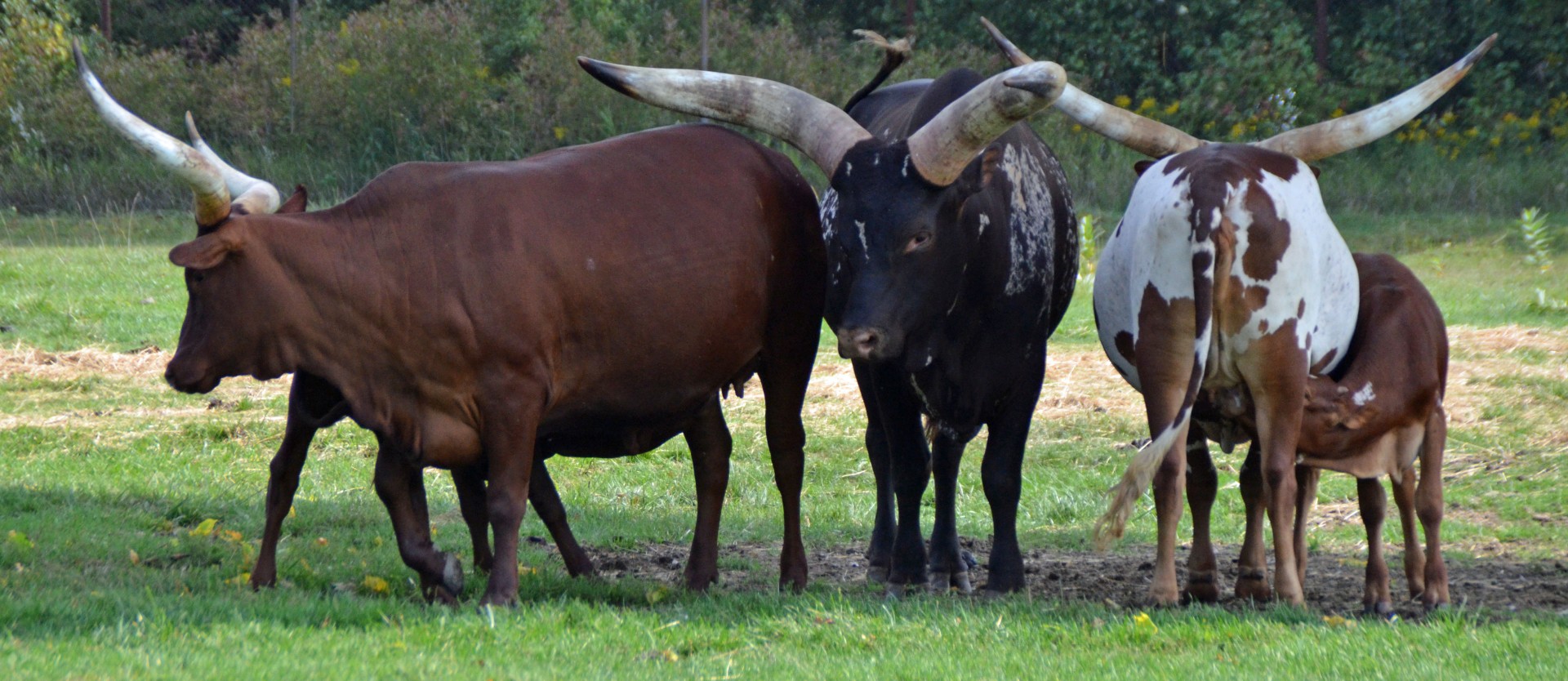 It's a well known fact that lionesses do most of the hunting for the pride, but that the dominant males get first crack at the spoils. I don't think anyone would want to tangle with this guy. Like Cassius, he has a lean and hungry look and I had no problem being in the safety of the bus as we stopped to watch the lions.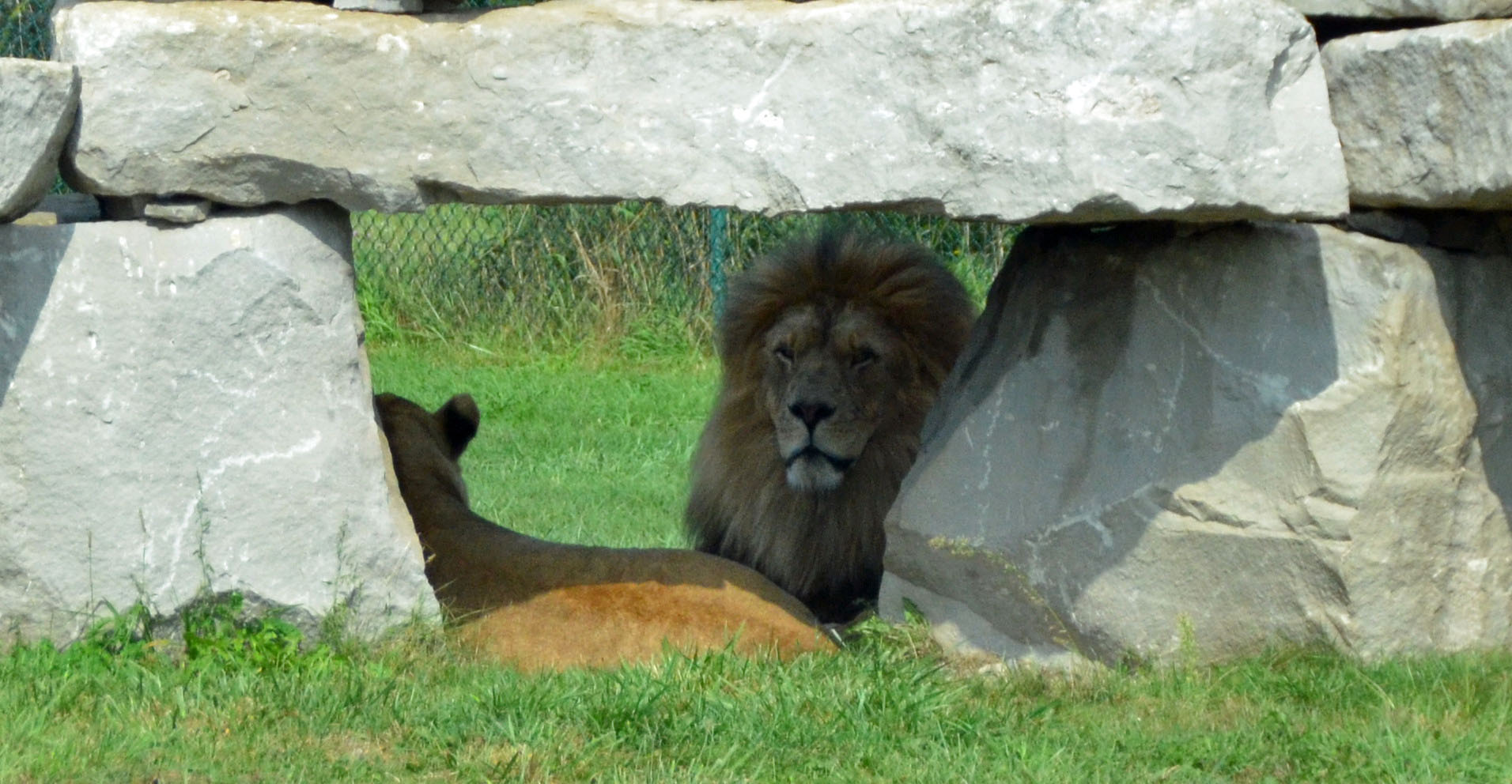 While your vehicle might not be in any danger from the lions, the same can't be said of the baboons at African Lion Safari who, actually acted like a bunch of baboons. The youngsters jumped on the the front of the bus and this little guy did all he could to detach the wiper blade. Apparently they are very good at it with smaller cars. However, I noticed a short cut that you can take to avoid the baboons if you want. What's more fun than a barrel of monkeys? A bunch of baboons. These guys were entertaining.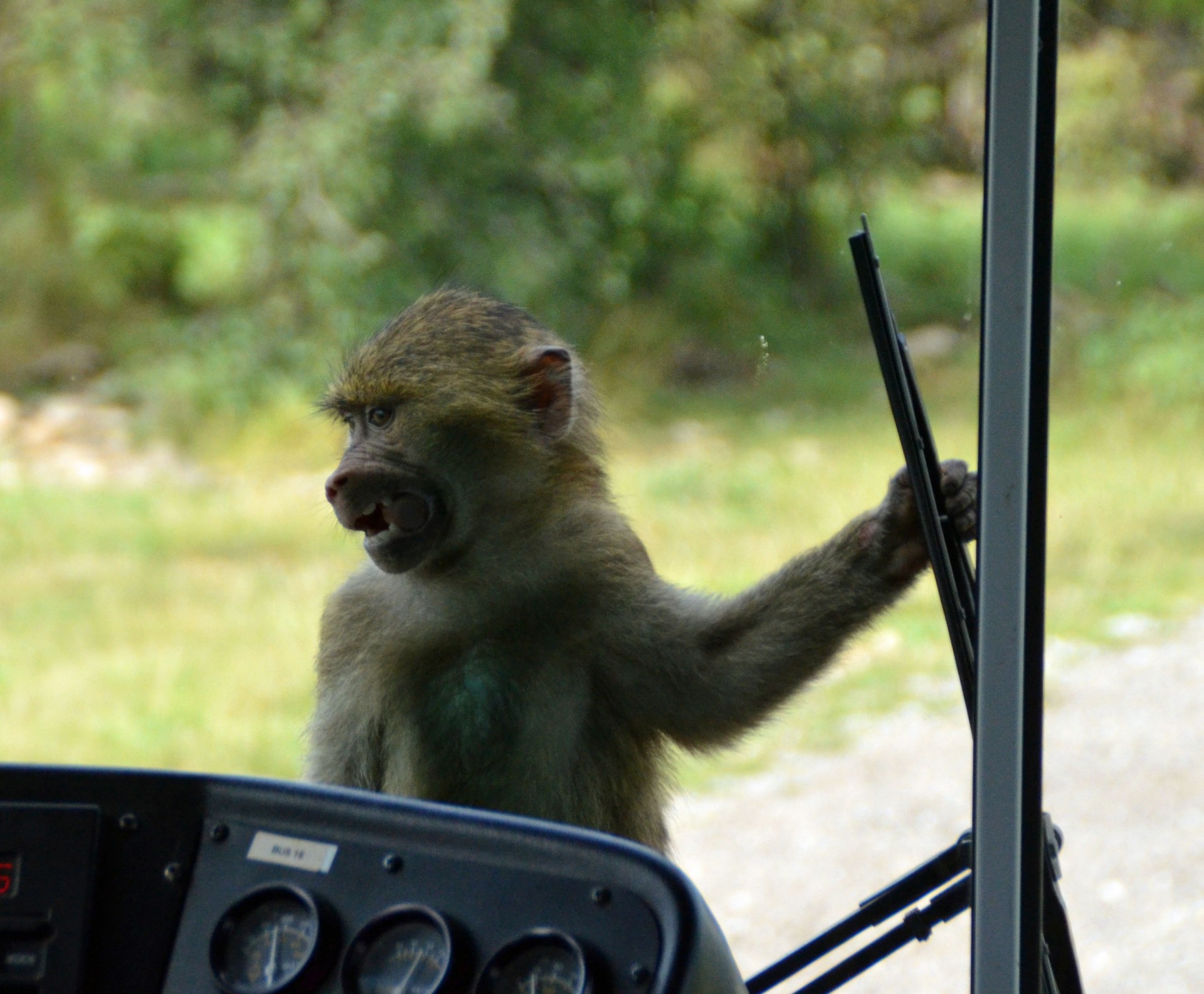 Leaving the baboon's area the bus was stopped and eyeballed for any stray hitchhikers. The next part of the tour was my favourite at African Lion Safari. It is designed to resemble the open African veldt with many species of antelope, ostriches, giraffes and rhinos all roaming freely. Doesn't this look like a scene right out of the Serengeti?
UPDATE: Since writing this post I have been to Kenya, Namibia and Botswana on safari and this scene is realistic.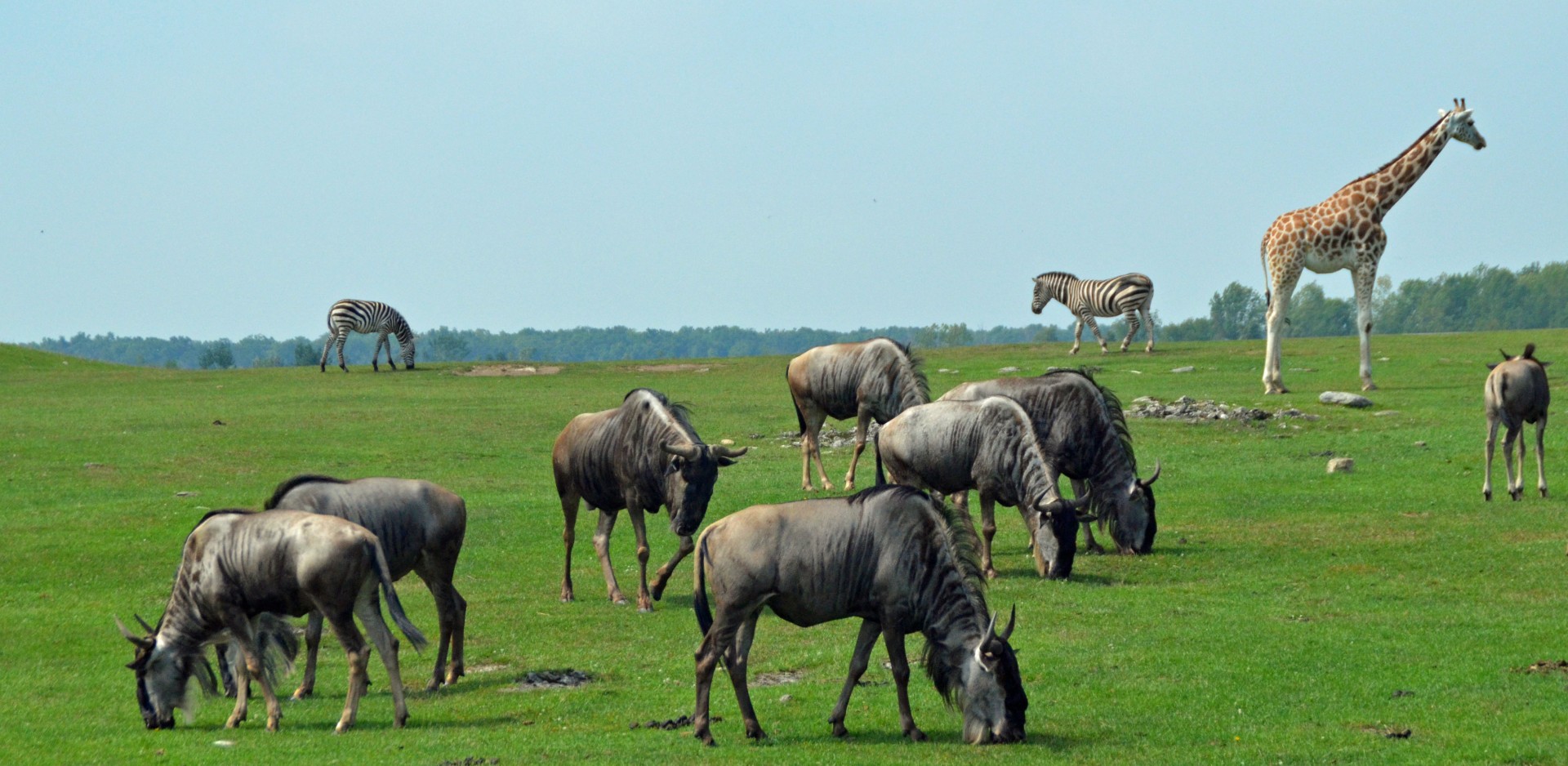 This young zebra was particularly curious, something that might get him in trouble on the veldt, but not here as the lions have their own secure area.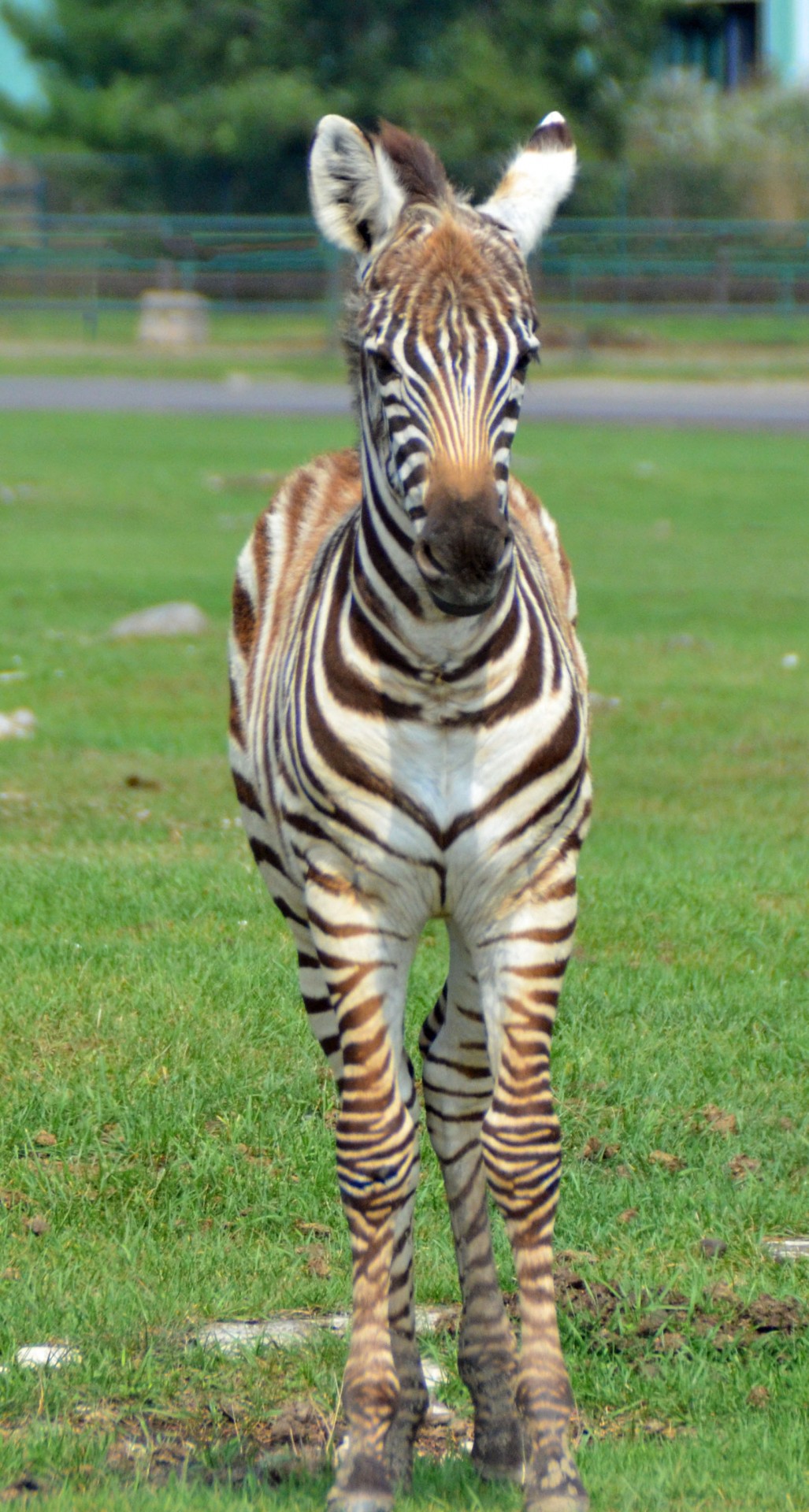 Despite appearing a bit gawky, giraffes observed in this type of environment are magnificent creatures and Dale declared them to be his favourite animal.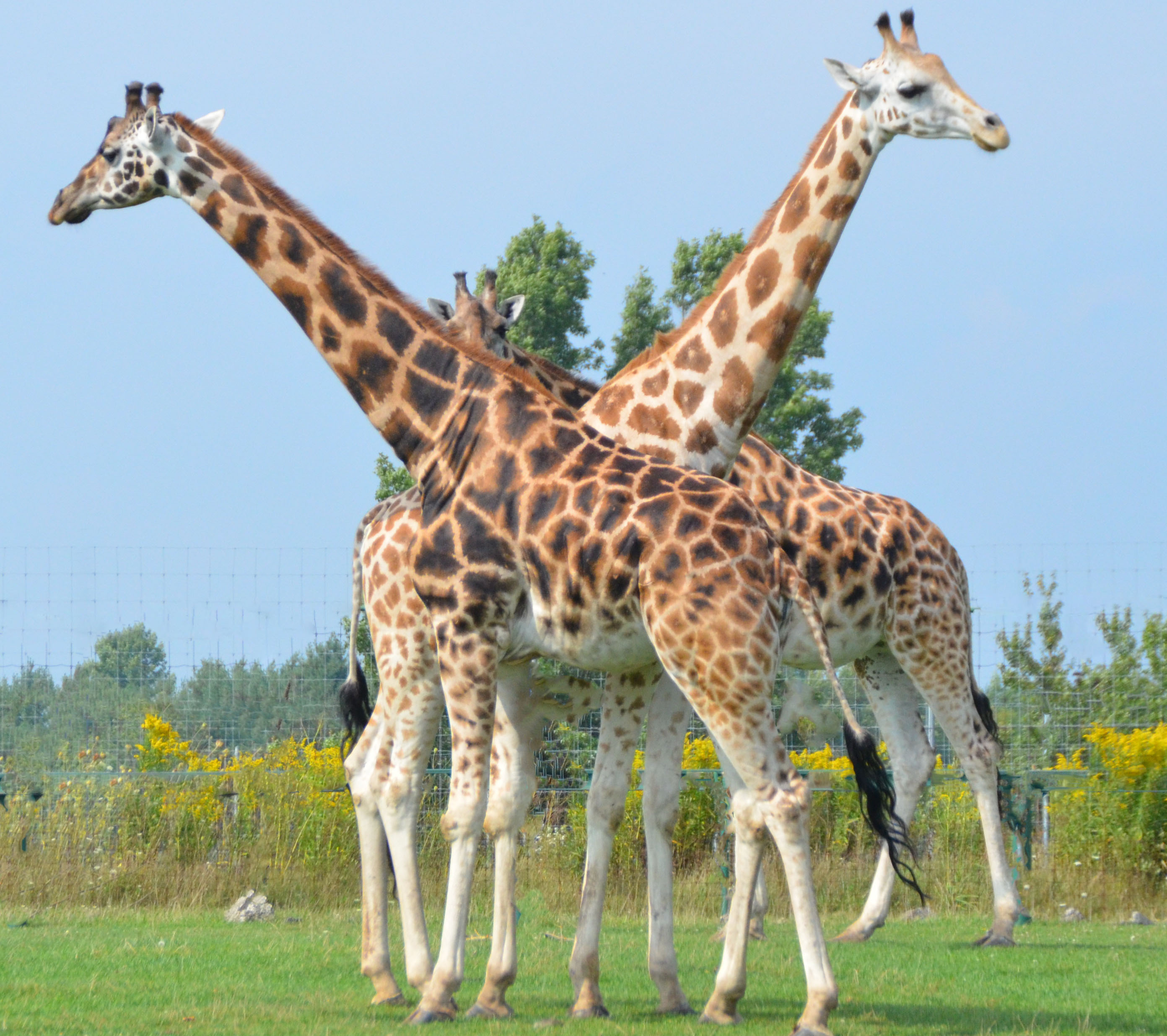 The most compelling animals to me were the white rhinos, which were doing their best to look like their black cousins by rolling in mud. Getting this close to such a huge and rare beast was worth the entire visit.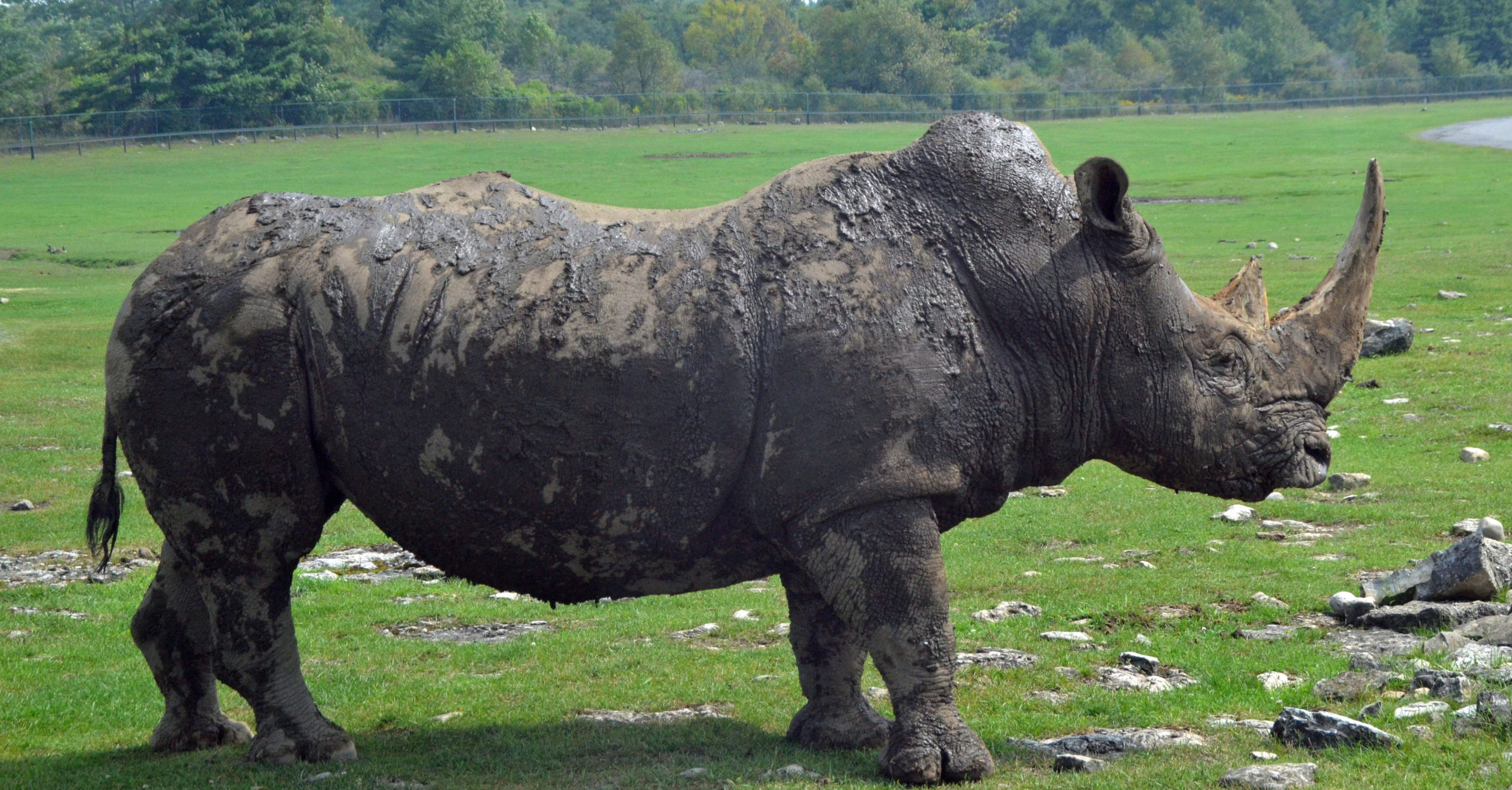 Even rarer was this Indian rhinoceros.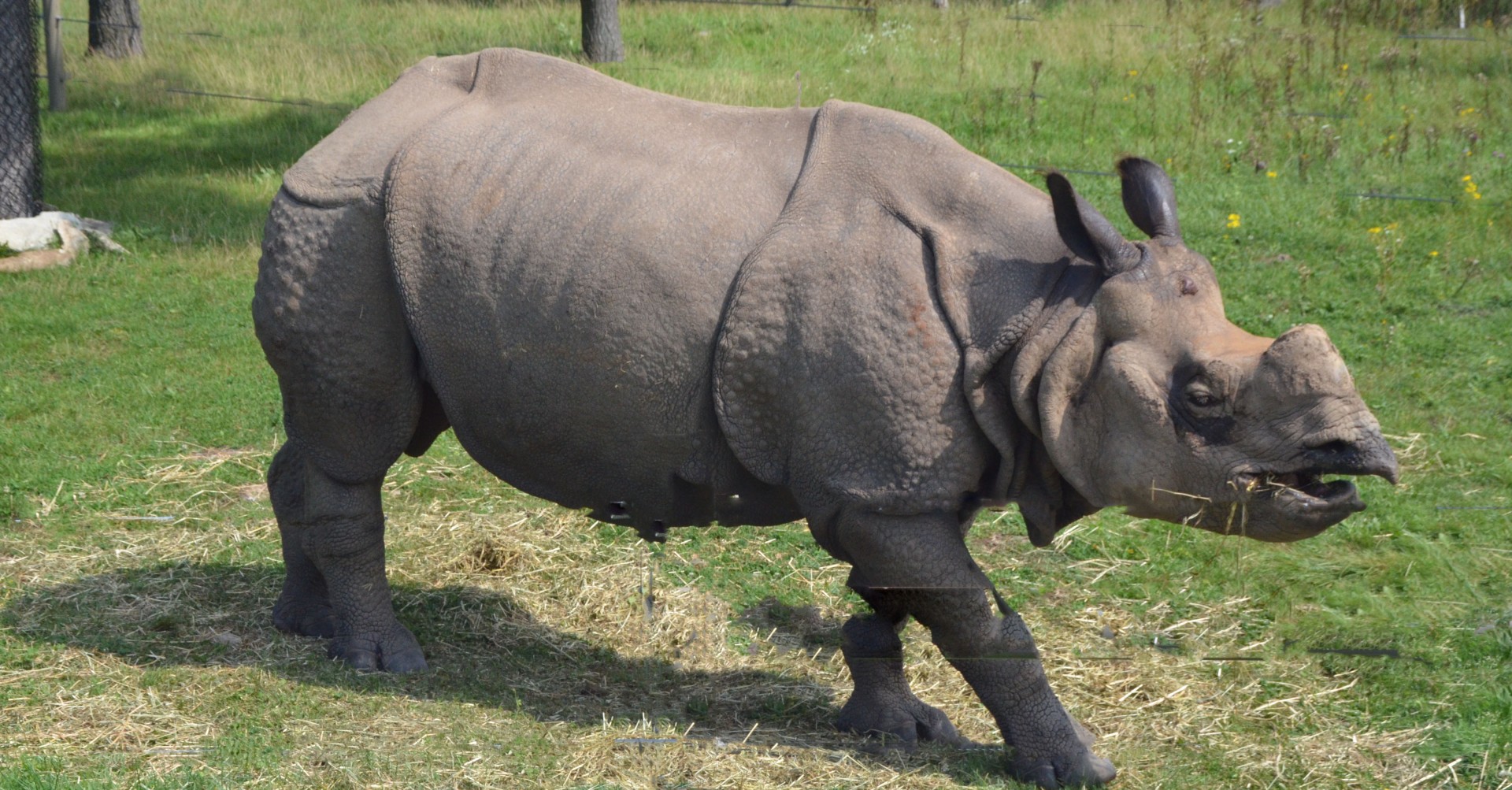 We enjoyed theAfrican Lion Safari tour so much that we immediately got in the SUV and did it again, only skipping the baboons. After that we dropped in at the parrot show which I enjoyed, but not nearly as much as the little kids in the audience. Our last stop was the Birds of Prey Demonstration which was quite informative. I had no idea that bald eagles could be trained in the manner that falcons and other birds of prey are, but this one certainly was.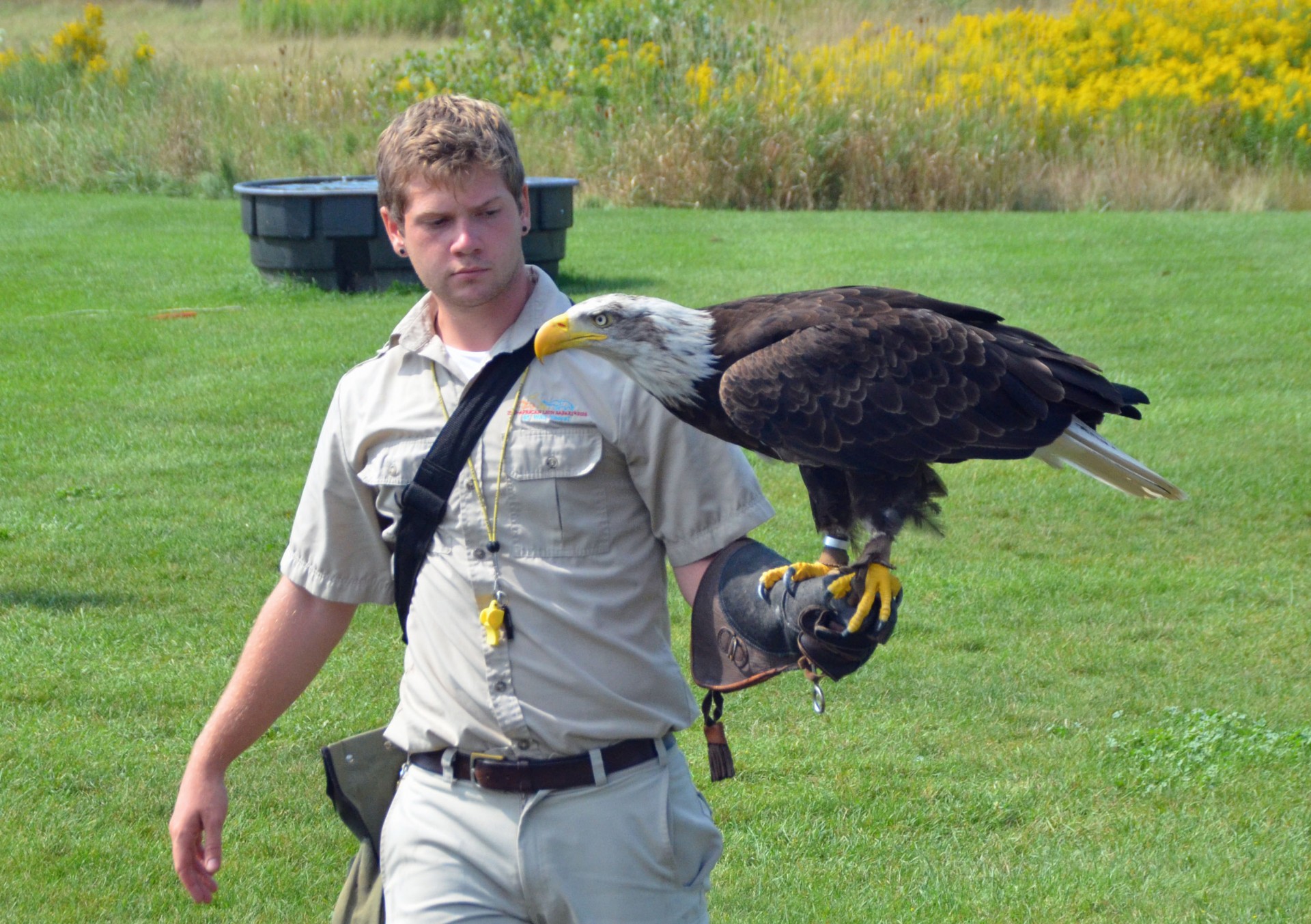 We left African Lion Safari very well satisfied with the experience and I can say that it very much lived up to expectations. Considering that this is a 100% private operation that unlike most zoos, gets no government funding they are doing a great job of combining the educational and entertainment elements of a zoo with the conservation aspect.
We threaded our way back through Cambridge to Kitchener and our final night's stop at Bingemans where we asked for a site by the river. The lower part of the campground was now deserted and we got our final chance to enjoy the Grand River just watching it as it flowed on its gentle way to Lake Erie. In the past week we had canoed it, fished it, rode on horseback through its tributary and cycled over and around it.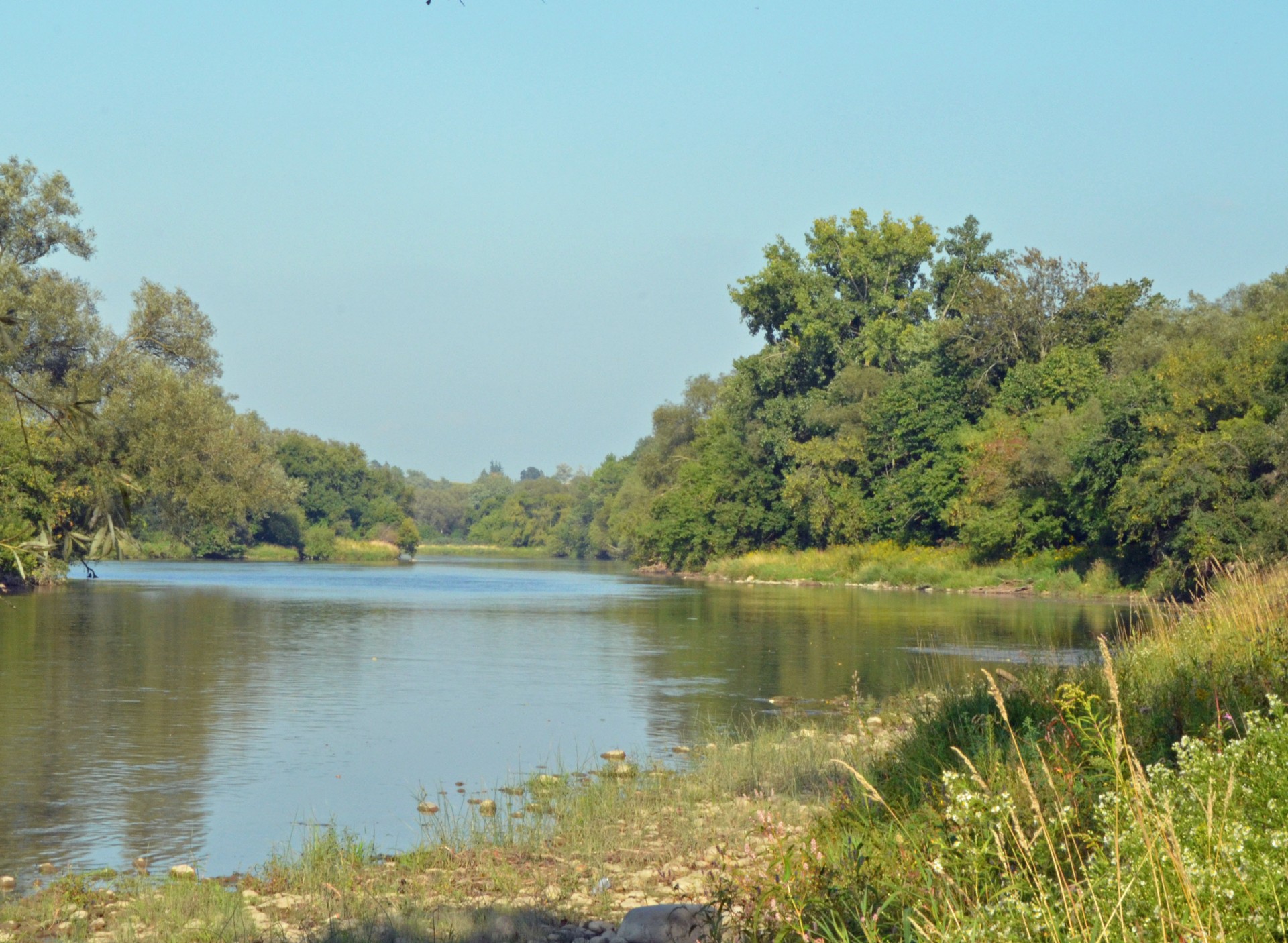 That night we had a final celebratory meal at Charcoal Steakhouse and talked about the week gone by and the many things we had seen and done. It sure opened my eyes to the tourism potential of the Waterloo and Huron regions and I thank them for giving me the opportunity to experience and write about this wonderful area. I can honestly say that I have finally met my Waterloo and it turned out a lot better for me than it did for Napoleon.
Next year we are headed for eastern Quebec on what should be another exciting RV trip. Please come along.