Dubrovnik – Where to Stay in the Pearl of the Adriatic
This post will help you decide where to stay in Dubrovnik, but first.
The Magic of Dubrovnik
Dubrovnik – just pronounce it slowly and you have the essence of a romantic name. Ever since I first read about this magical place as a young boy in, I think in one of Richard Halliburton's great adventure travel books that I was addicted to, I have wanted to get here. That's been easier said than done – first because of the difficulties of travel to a communist country from the end of WWII until the 1980's and then because of the horrible war between the various states that made up Yugoslavia. Between October 1991 and the end of May 1992 Dubrovnik was under siege by Serbian and Montenegrin forces and bombarded relentlessly, despite the fact it was of no great strategic importance. The destruction unleashed on Dubrovnik provoked world wide outrage that was instrumental in leading to a peace accord between the Croats and the Serbians. It took years to rebuild the city, parts of which are still in ruins, but things have turned around and Dubrovnik is now occupying the place it deserves as an iconic world city, being one of the first to be designated a UNESCO World Heritage Site.
As noted in the previous post, we have made our way here from Split in a private car chauffeured by our driver Darius and he is now on the phone with the person from whom we have arranged to rent an apartment for the next three days. Old Dubrovnik is a walled city and inside the walls there is no vehicular traffic permitted so Darius finds a spot to park outside and he leads us through the Pile gate, which still has a drawbridge that can be closed, and onto Stradun, the main street that bisects the city. That's the city's patron saint, St. Blaise at the entrance, blessing all those who enter his city. He's also the patron saint of people choking to death (I kid you not). I guess if you are a good Christian he intercedes and that fish bone comes flying out and if you are not then you call on Saint Heimlich for help.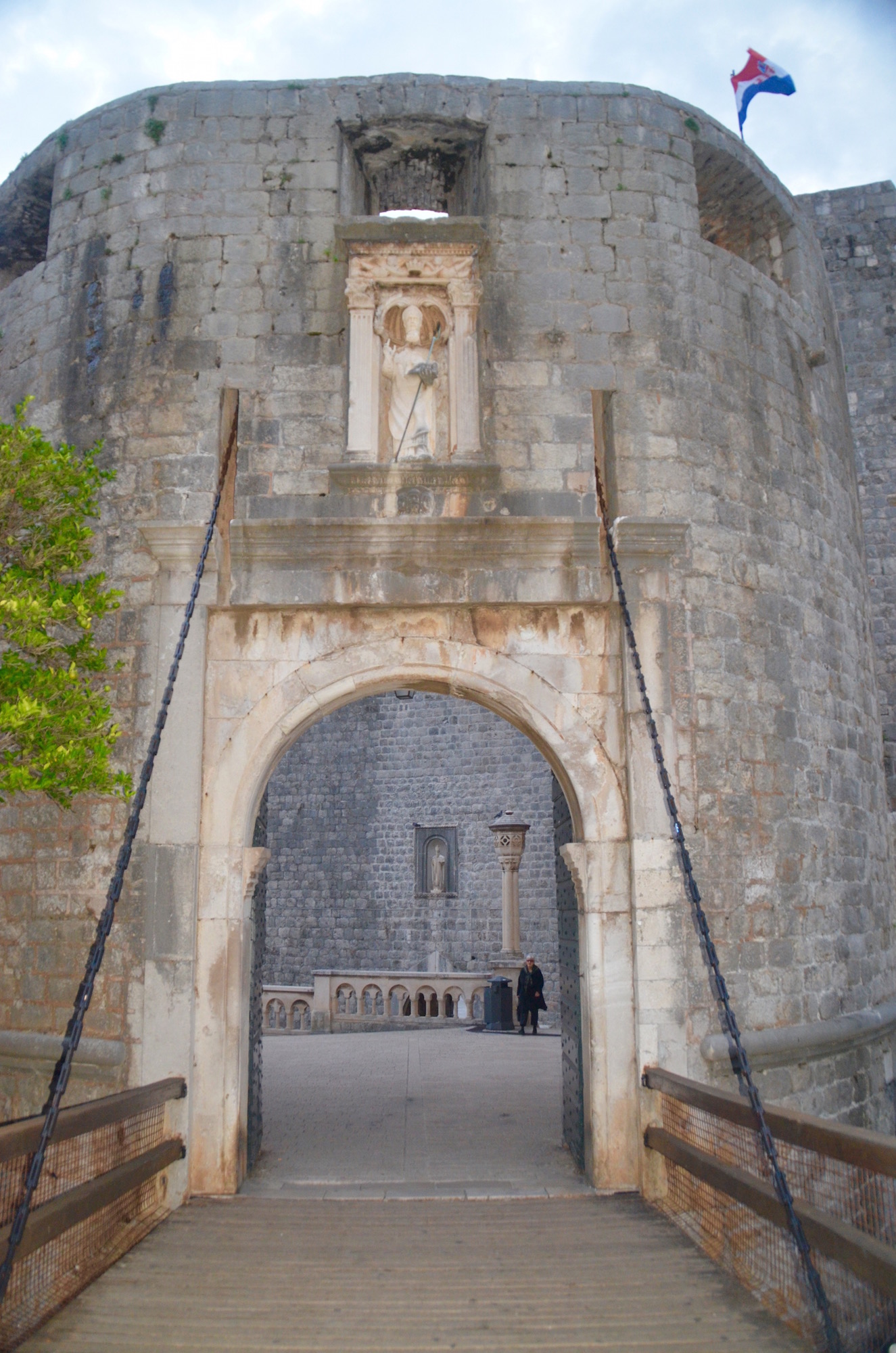 There seems to be a lot of people dressed in finery, singing, dancing and clapping and I realize they are not cheering for us, but a wedding party that is making its way in the same direction we are headed.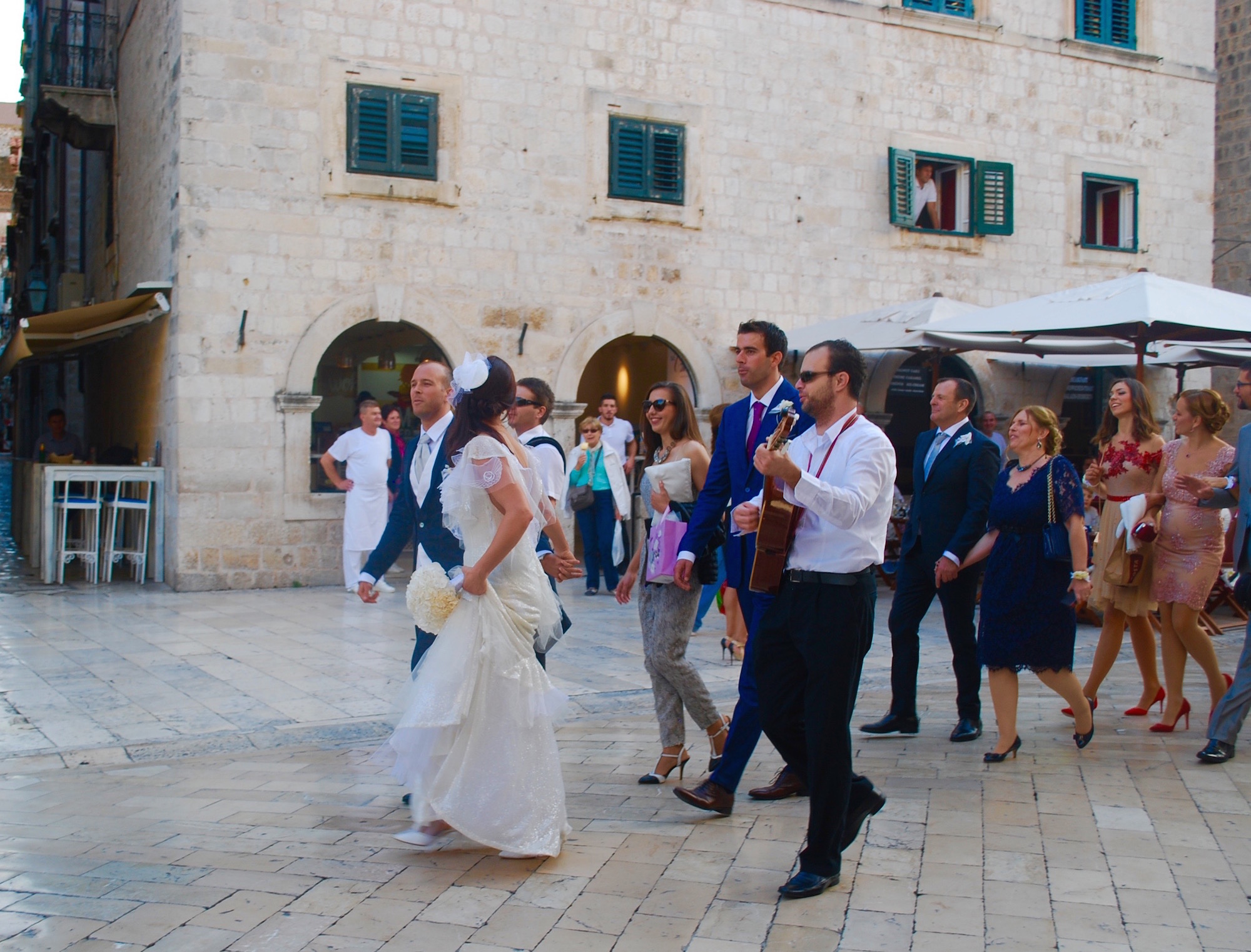 This is a lot more civilized than the wedding party we encountered outside of Split where drunken revellers were blocking the road firing off flares.
 The Secret Apartments
We meet a young lady in front of St. Blaise church and say goodbye to Darius, our indomitable and excellent driver and walk a few very short steps to an almost concealed door beside a cafe, directly across from the side of the church. Usually I do all accommodation arrangements myself, but this time I entrusted matters to our always reliable travel agent, Barry Freeman and he has found what are called the Secret Apartments which are very reasonably priced and located right in the heart of Dubrovnik. You can find them on numerous travel sites like Trip Advisor, Expedia and elsewhere. The one thing I did do was determine that staying inside the walls of Dubrovnik was the only thing that made sense. If you want to experience this place it has to be in the early morning or late at night when most of the tourists are not here yet or already gone. There are few hotels within the walls and most cost far more than an apartment, at least in the shoulder season, so an apartment makes far more sense.
We are led through the door and up two flights of stairs to a huge apartment that has everything we need and more, the more being that ridiculous portrait of a woman lying on a bed with a come hither look in her eyes.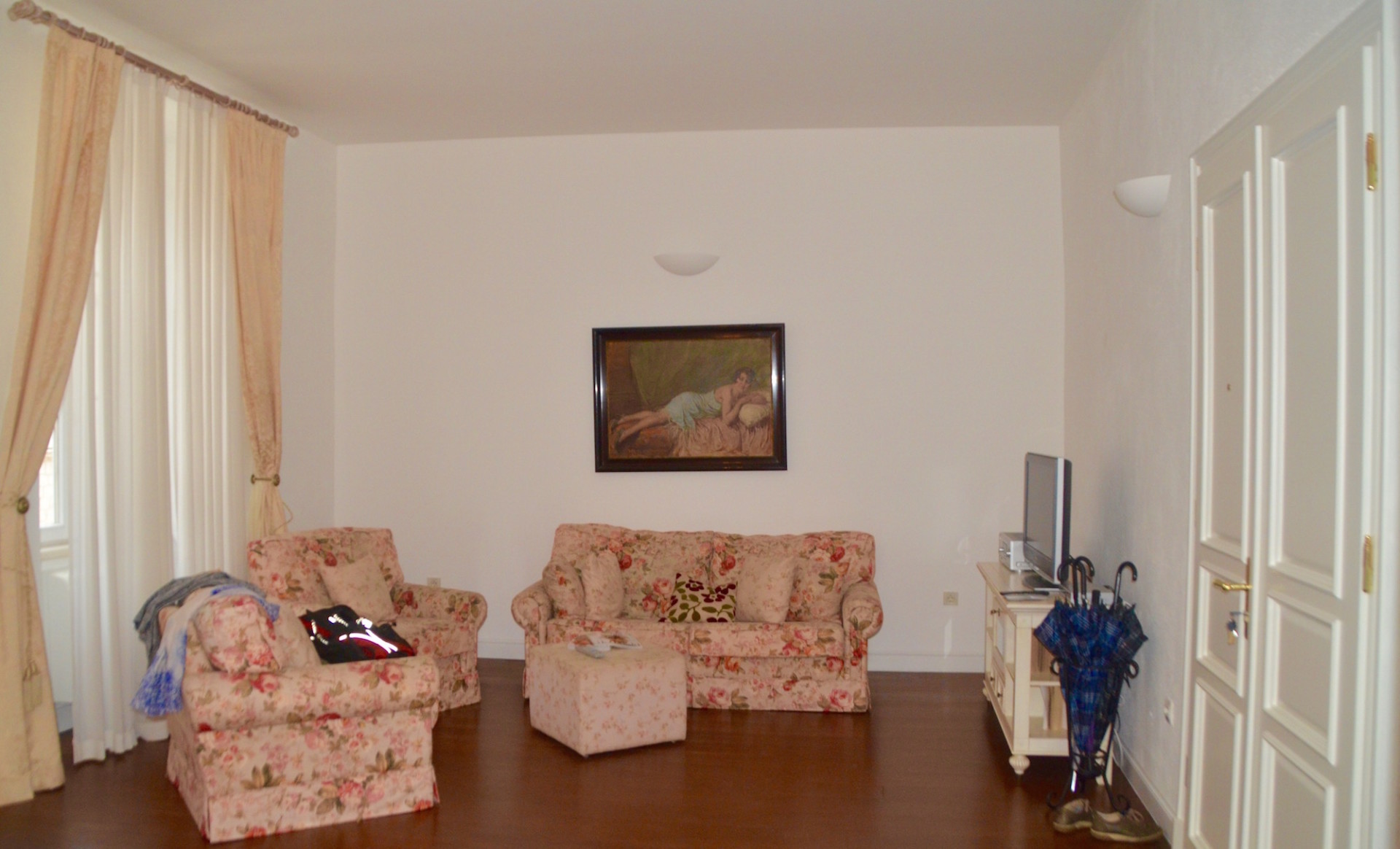 The kitchen with computers set up.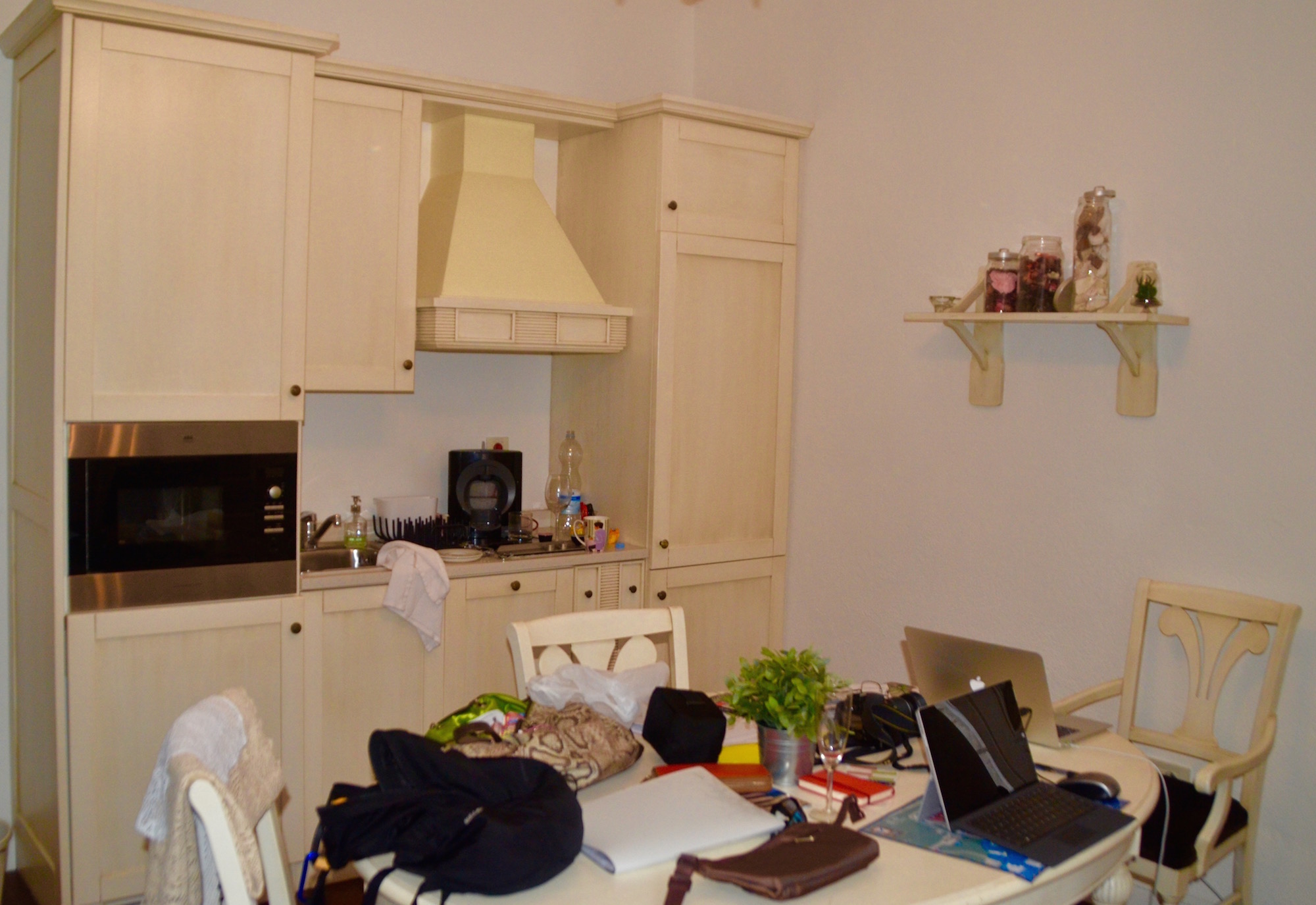 And the bedroom, excuse the mess.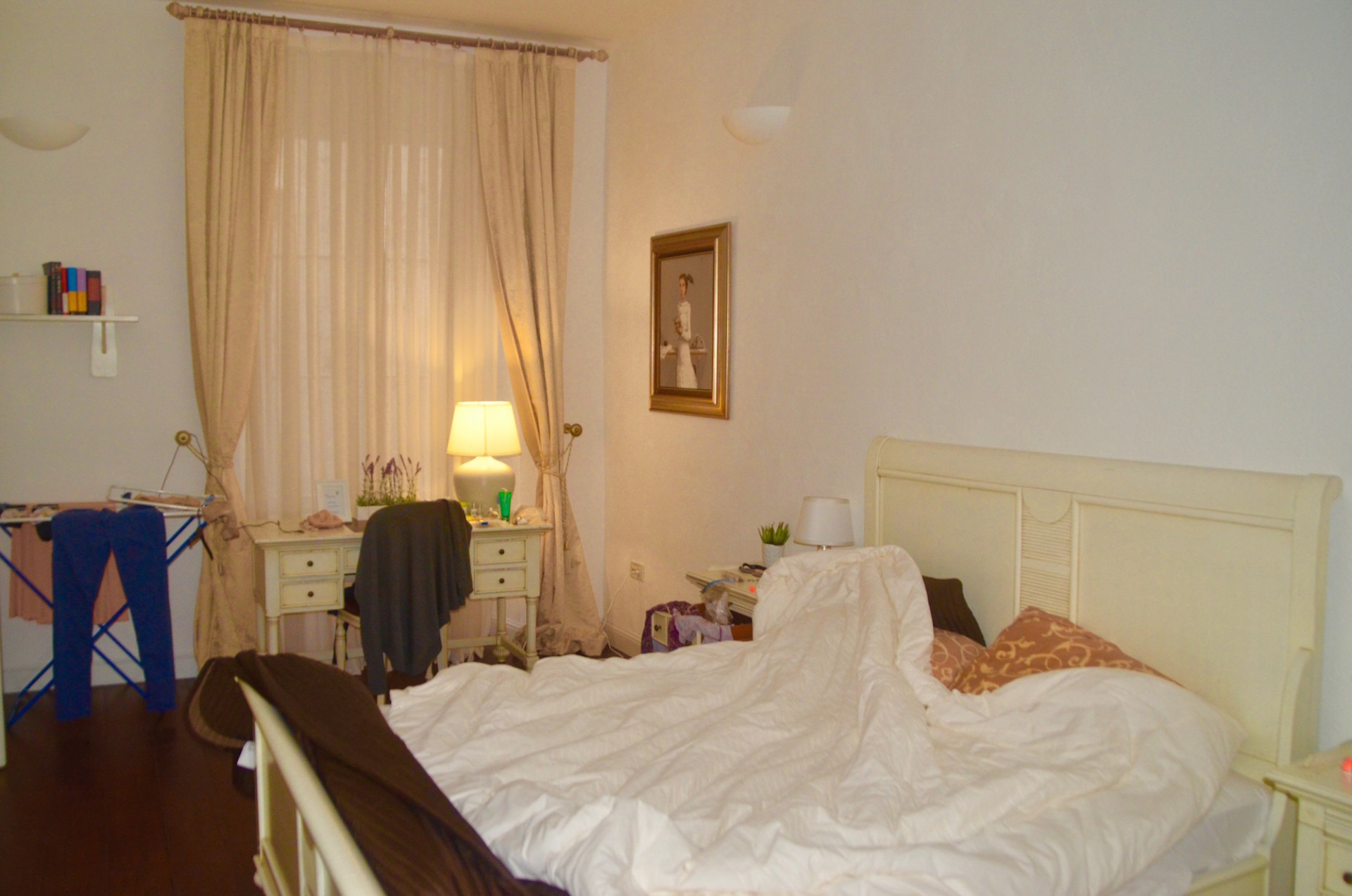 While we are getting things put away and messing up the apartment I can hear someone playing classical guitar and playing it very well. If I didn't know it was live I could imagine it was a John Williams' recording, the person is that good. I look out the window and just below sitting on the sidesteps of the church there he is, apparently serenading diners at the cafe below us. That's one of the canopies from the tables that's partially blocking the view.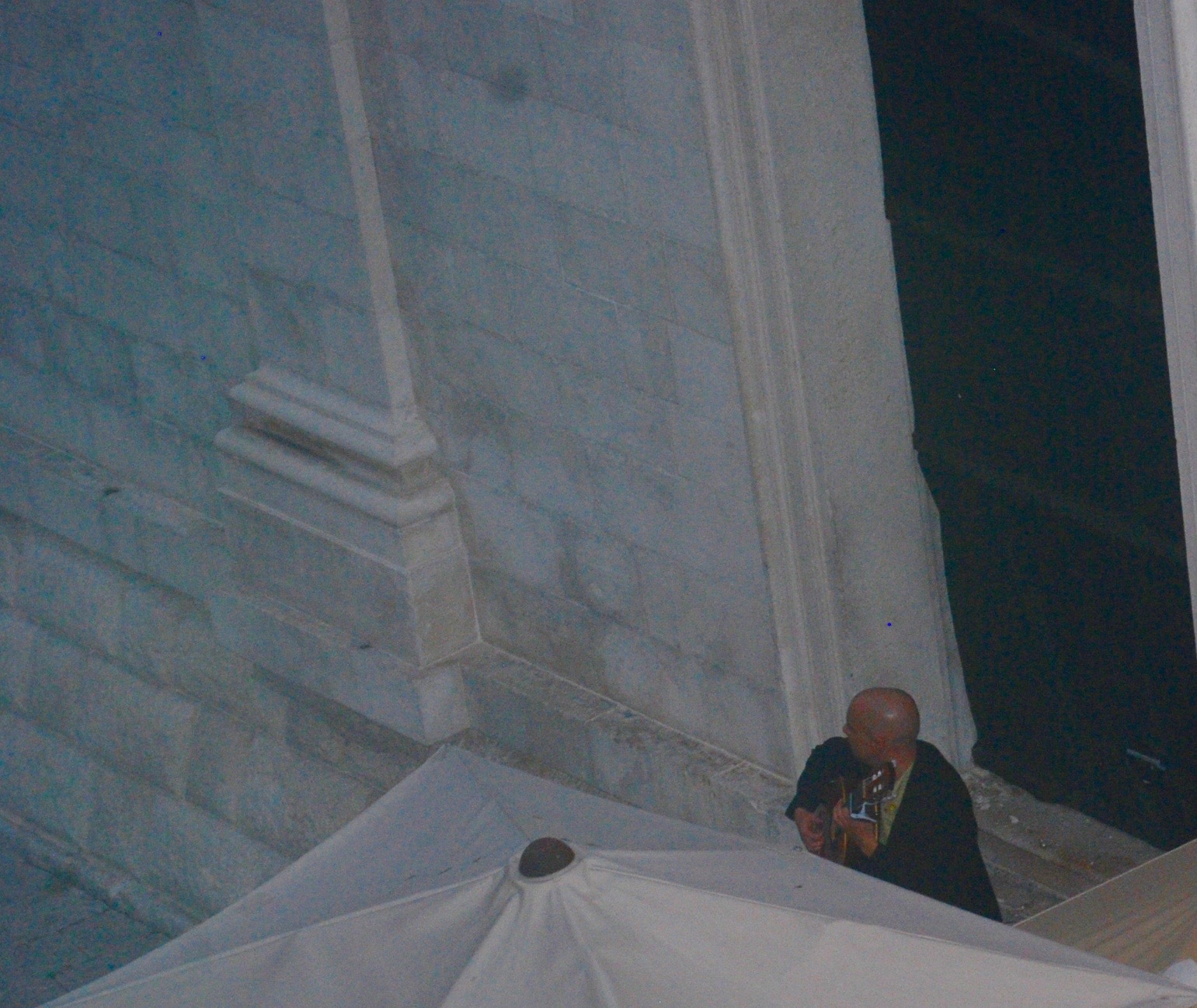 As you can see it is now evening and there is almost a glow in the air as the day trippers who make up the vast majority of visitors to Dubrovnik return to their ships and buses like bats to their roosts and the only sound is this great guitarist, the occasional chime of a church bell and the wisps of conversation drifting up from below.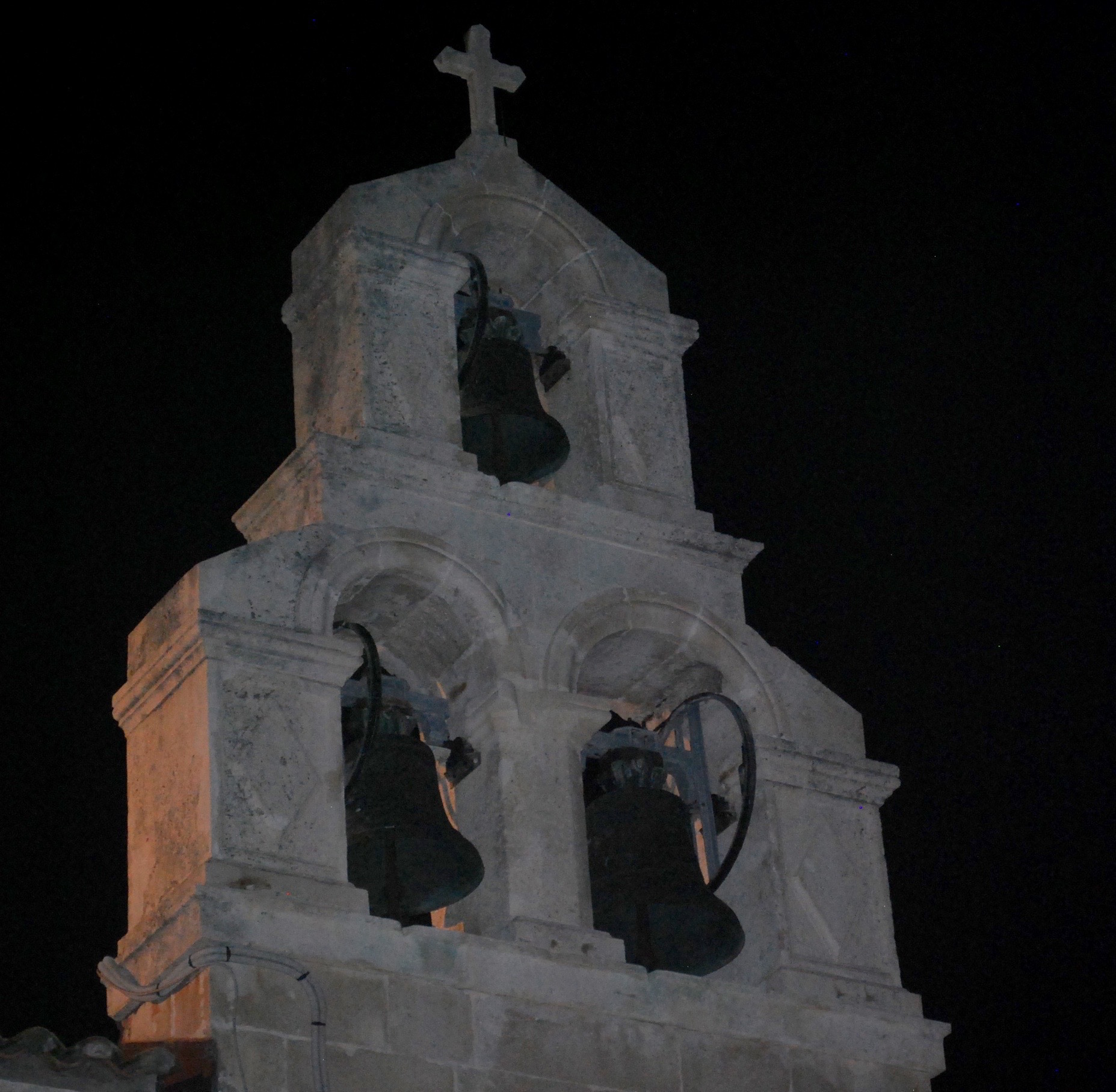 So that's my choice of where to stay in Dubrovnik.
It's been a very long and interesting day and tomorrow I'm going to get to walk the walls of Dubrovnik for the first time. What a great thought to fall asleep with.
Here is a link to the Croatia photo gallery with pics from the entire trip.