St Peters Canal & Battery Point Park
I'm on my way to the 2016 Travel Media Association of Canada (TMAC) conference in Sydney and decided to take Highway  #4 along the eastern side of Bras D'Or Lakes rather than the TCH which follows the western shore. My interest is in stopping at St Peters Canal one of the most important historic places on Cape Breton Island. It gets few visitors, most of whom speed by on their way to Louisbourg.  Courtesy of Parks Canada I will be visiting the major Cape Breton parks over the next few days. However, St Peters Canal is not on the itinerary so I thought I'd drop in today before the conference starts and file a short post on what I find there. I'll also be visiting adjacent Battery Point Provincial Park which is also historically significant. Please join me.
The pretty town of St. Peter's has a unique location in that one side of town fronts on Atlantic Ocean and the other on the Bras D'Or Lakes. Coming from the Sydney side involves a very pleasant drive south on Highway #4 that follows the shoreline of the Bras D'Or Lakes for much of the way. In a couple of places like Irish Cove Mountain the highway rises high up and there are great panoramas of the lake. You'll also pass the hamlet of Big Pond on the way, which was the home of the late Cape Breton singer Rita MacNeil where the tea shop she founded is still operating. It will take just over an hour to get to St. Peters with no stops.
History of St Peters Canal
As I mentioned above, the village of St. Peters sits on an isthmus between the Atlantic and Bras D'Or Lakes. Prior to the digging of the canal it was a popular portage for the aboriginal people for thousands of years. When the French arrived in the area in the early 1600's they too used it as a portage and Nicolas Denys, one of the important early Acadian traders, built a road to haul large vessels in 1650. There's actually a small Nicolas Denys Museum in St. Peter's if you want to learn more about this fascinating man.
St Peters Canal was built by the British from 1854 t0 1869 and is still in use today – in fact, it's a vital link for recreational sailors who want to bypass the treacherous east coast of Cape Breton to get into the much more tranquil waters of the Bras D'Or Lakes. There is a one lane swing bridge at the lake end of the canal to let sailboats get through. When I was there today they were in the process of replacing it with a two lane bridge.
Here's what St Peters Canal looks like from Battery Point.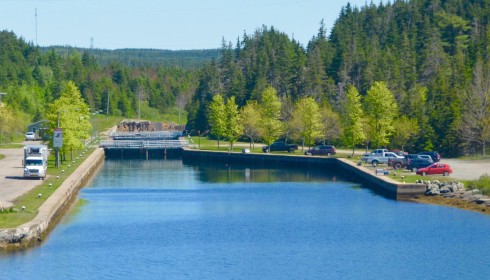 Up close you can walk along both sides of the one lock on the canal by crossing over the bridge on top of the gates at either end. Today there were a few people mackerel fishing at the Atlantic side of the canal – a Maritime spring tradition.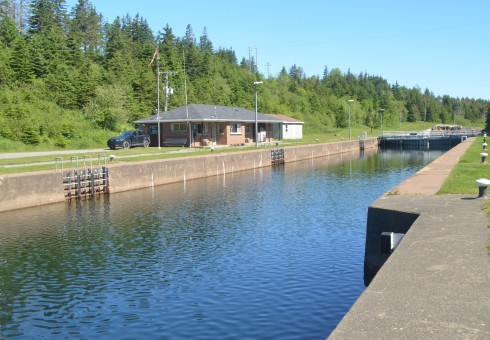 St Peters Canal was designated a National Historic Site way back in 1929 and while it's certainly interesting in its own right, I think what really makes St. Peter's a great place to visit is adjacent Battery Point Park.
History of Battery Point
Battery Point has played a significant, if overlooked, part in the history of the conflicts that wracked Cape Breton from almost the first time that Europeans set foot on it. The earliest French colonial leaders in both mainland Nova Scotia and Cape Breton were ruthless businessmen who frequently attacked each other's nascent trading posts and sometimes even murdered each other. Nicolas Denys had his base in St. Pierre (St. Peter's) overrun several times by rivals and eventually gave up and moved to Nipisguit (modern day Bathurst, New Brunswick). The story of his life reads like a not too believable historical novel, except it was true.
After the English were ceded mainland Nova Scotia by the Treaty of Utrecht in 1713, things really heated up. The French were still on Ile Royale (Cape Breton) and commenced building the mighty Fortress of Louisbourg. However, St. Peter's took on strategic importance as a potential first line of defence against any attack on Louisbourg. They built Fort Toulouse at the mouth of St.Peter's Bay and it was about as successful as Louisbourg itself. In both successful attacks in 1745 and 1758, Fort Toulouse fell first. You can learn all this and more by reading the various interpretive information at Battery Point Provincial Park.
I drove the car a short distance into the park from the canal parking lot and parked again beside the entrance to the campground. There's a short trail that leads from here to the site of Fort Toulouse. There's also this very nice small lighthouse.
Here's the sign marking the site of Fort Toulouse. It's appropriate that it's in the shape of a cross because there is nothing other than this to indicate that Fort Toulouse ever existed.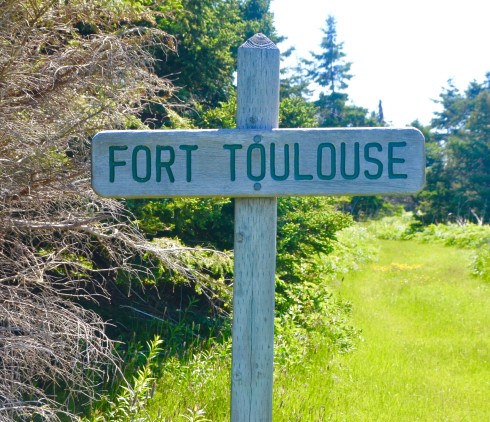 This is a view of the small point on which the fort was located.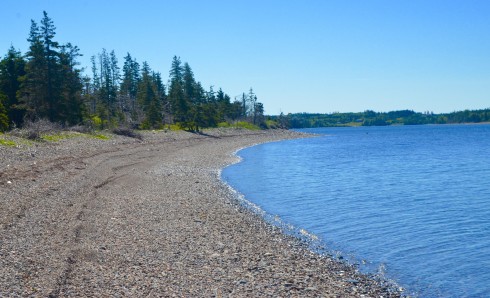 I don't know about you, but I always get an eerie feeling when I visit a place, usually by myself, that once was the site of what at the time, must have been a cataclysmic event to the players involved. A lot of people died here – twice.  And now, it's just a really nice place to pitch a tent beside the sea. Cape Breton is full of such places and not just ones with unhappy memories.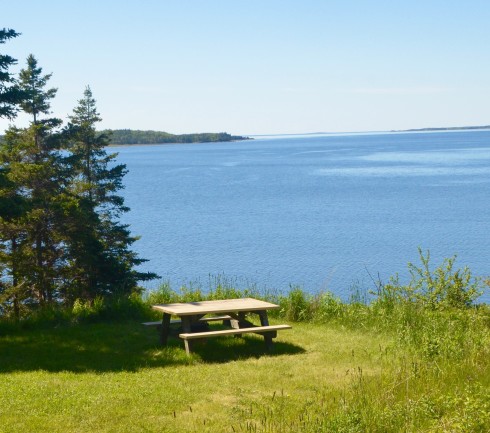 I have one more stop in Battery Park and that's the short, but quite steep climb up to the remains of Fort Dorchester on the highest point overlooking St. Peter's Bay. The park actually has a very well marked trail system and you can choose from multiple routes. Being the idiot I am, I chose the hard way up, arriving at the top heaving for breath and bent over like Basil Fawlty in one of his conniption fits. But the view over St. Peter's Bay was well worth it.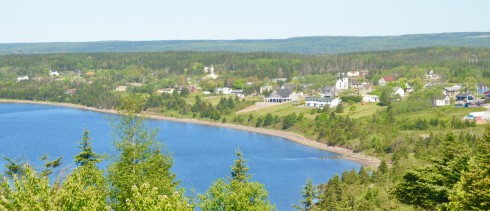 Fort Dorchester was built by the British in the late 1700's after the French Revolution provoked fears (rightly so) of yet another war with France. Unlike Fort Toulouse it was never attacked and burnt which explains why you can still clearly see the outlines of the fort underneath the undulating grass.
Finally, if this isn't enough reason to put St. Peter's on your next Cape Breton itinerary, it was the home of famed Nova Scotia photographer Wallace MacAskill and the house he grew up in is now a museum that every photographer should want to visit.
Slán from beautiful and historic Cape Breton.