TMAC 2016 – Your Heart Will Never Leave
It's been a couple of weeks since I returned home from TMAC 2016 on Cape Breton island and I'm still pinching myself about what a wonderful trip it was from beginning to end. For those not familiar with TMAC, it stands for The Travel Media Association of Canada and is an organization of writers, photographers, bloggers and tourism industry members. Every year there is an annual conference along with pre and post conference tours sponsored by the conference destination and its partners. This year Cape Breton island in my home province of Nova Scotia was the favoured destination.
So far we have visited the Bird Islands, the St. Peter's area, overnighted at Fortress Louisbourg and watched the sunset on the Skyline Trail. This last post is about the final day of the three day Walk in the Park pre-tour sponsored by Parks Canada and led by the most enthusiastic man that I know, Guy Theriault. Won't you join me for a recap of a grand day on the TMAC 2016 pre-tour?
The day began by being awakened by the sounds of a babbling brook behind the oTENTik I was staying in at the Cheticamp campground of Cape Breton Highlands National Park. In case you don't know what an oTENTik is, here is a picture of mine.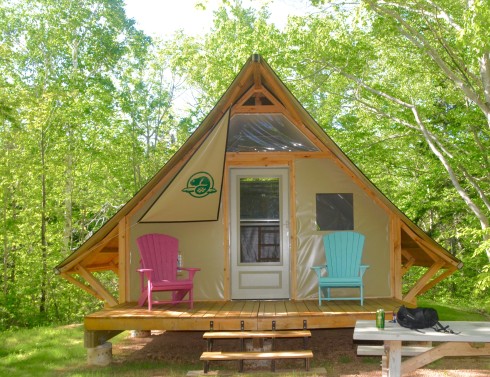 oTENTiks are a combination of a cabin and a tent and can easily accommodate four or more people. And no, I was not having a Keith's beer for breakfast (not that I haven't before) – the picture was taken the day before.
TMAC 2016 – William Roach & Sunset Art Gallery
Our first stop of the day was at the Sunset Art Gallery where legendary folk artist William Roach and his family run a gallery and coffee shop. I first came across Bill over 25 years ago when I was setting out to drive the Cape Breton Highlands N.P. portion of the Cabot Trail. You simply cannot help but notice the brilliant colours and whimsical pieces that adorn the property on the edge of Cheticamp. For example, here is Bill's dog. You have to stop.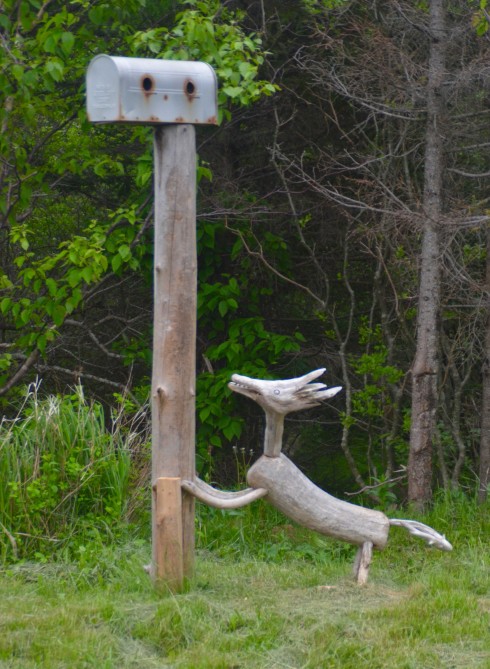 When I first saw his work way back in the 1990's, I was blown away by his imagination and humour. There are those who think folk artists are one step up from whittlers, but not me. Sure there's a lot of crap being hawked as 'folk art', probably most, but when you see the works of a true folk art genius like Bill, you know it has inherent artistic merit. Here's what his gallery looks like with the works of numerous artists on display, but mostly Bill's. Tell me that this is not wonderful to look at.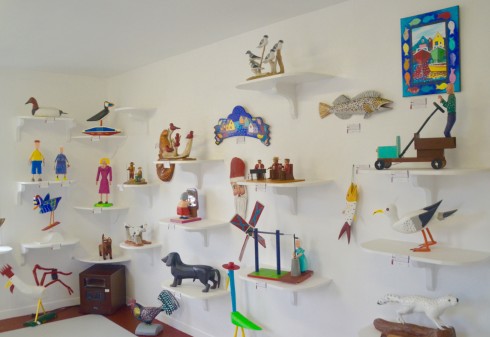 Who wouldn't want a giant folk art mosquito?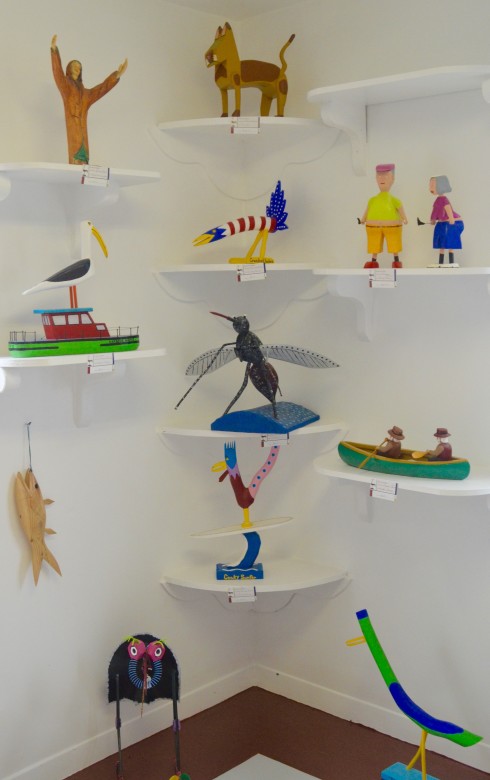 This totem pole by Bill, especially caught my eye.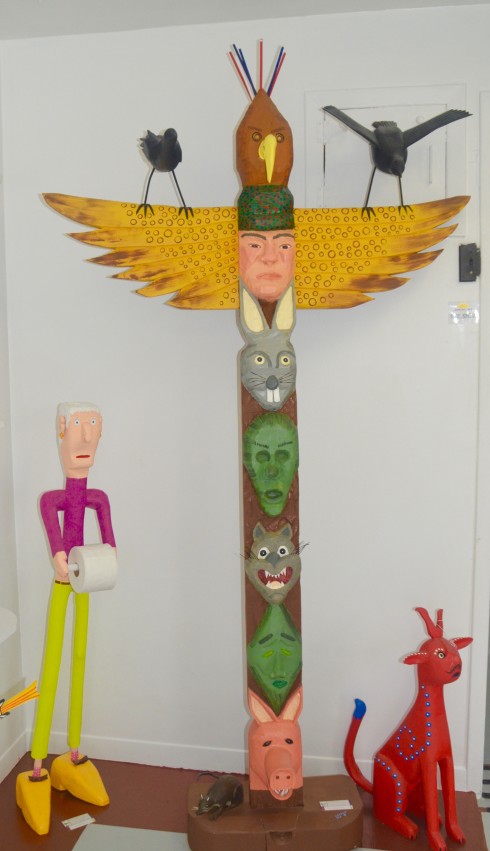 The best thing about visiting Sunset Art Gallery is that the artist has his studio on site and is more than willing to sit down and chat as he and I did this morning over coffee and fresh pastry from the Frog Pond Café. He described how disappointed his father was with him when he announced that he didn't want to work in the woods or on the water, but rather wanted to be an artist. Back then that would be received about as well as if he had said he was gay. Despite familial objections, Bill persevered and today is recognized as one of Canada's leading folk artists. He even has his own book.
Here's Bill with his cat, which apparently is a great frog catcher.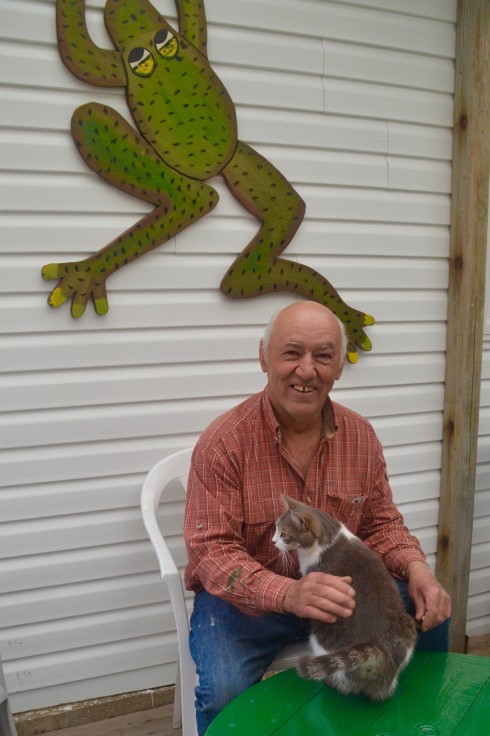 May he have many more years of productive output.
Our next stop on the TMAC 2016 pre-tour was at the very short Bog Trail which is essentially a boardwalk through a typical Cape Breton bog where the website indicates we'll see – pitcher plants, √ wild orchids,√ dragonflies,√green frogs √and moose (not today).
This green frog was in no hurry to get back into the peaty waters of the bog.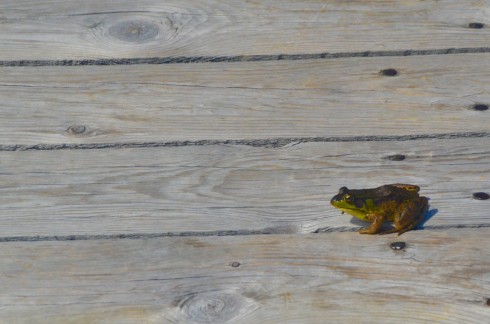 TMAC 2016 – McIntosh Brook Trail
From the Bog Trail which is on a high plateau, we descended down to the village of Pleasant Bay which lives up to its name and then ascended once again to the parking lot for the McIntosh Brook trail. We were all handed picnic baskets with a really nice red and white checkered Parks Canada tablecloth and headed into the hardwood forest toward McIntosh Brook Falls about a half mile away. The trail was a complete contrast to the Bog trail. A canopy of leaves with the sunlight peaking through made for a very pleasant walk as did the constant gurgle of McIntosh Brook.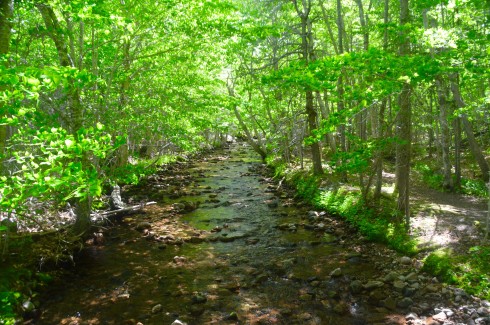 The falls turned out to be the perfect place for a picnic. We spread out the tablecloths and ate our repast at the base of it.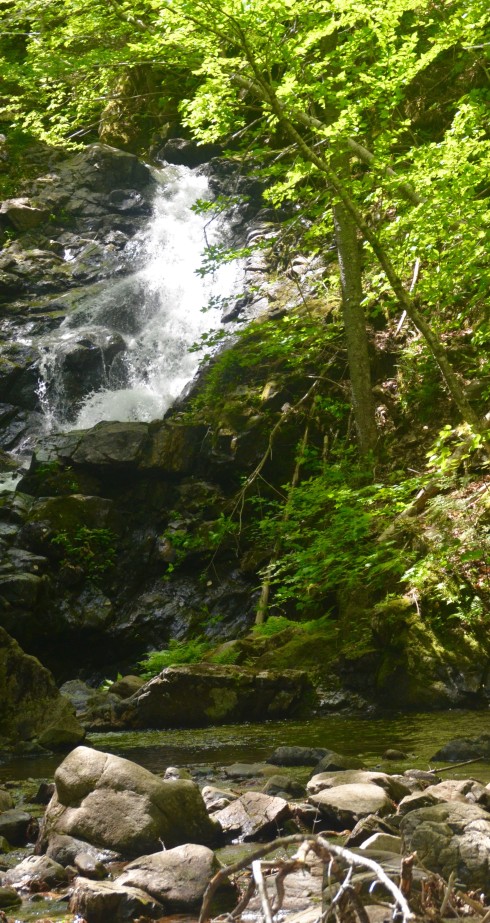 If one was ever going to introduce new Canadians to the joys of picnicking in the great outdoors, I can think of no better place than the easy trek up to McIntosh Brook Falls. In fact we came across just such an East Indian family with two small children.
 White Point
There are a lot of White Points in Nova Scotia, including the famous resort in Queen's County with its fabulous beach, but for sheer ruggedness none can compare to the one in Cape Breton. It's seldom visited because the Cabot Trail, after crossing the top of Cape North, follows the boundary of Cape Breton Highlands National Park on an inland route until it reaches the ocean again at Neil's Harbour. We opted to take the road less travelled that follows the coastline and were rewarded for it. Here is the spectacular view of White Point from the highway.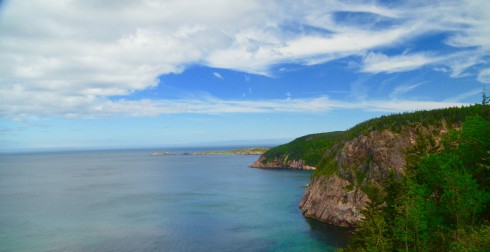 And here are our two intrepid pro photographers risking life and limb to get the shot. Trust me, one false step by Gary and he would have tumbled down a very steep embankment. David just risked getting clipped by a passing car.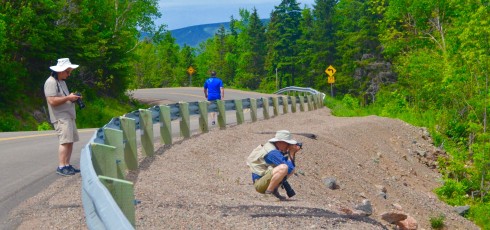 There is a road that leads into the tiny fishing and cottage community of White Point that ends at a footpath that you can follow out to the end of the peninsula, which given what a beautiful afternoon it was, we all elected to do.
You can't tell from the picture above, but the farthest point of land is actually an island which contains a nesting seabird colony, mostly gulls. Just short of it is an old graveyard with this forlorn cross.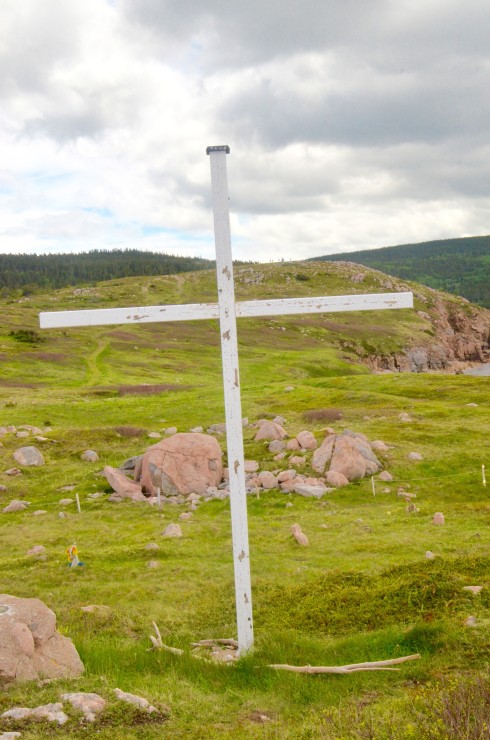 Most of the graves were marked only by native stones – you can see a view of them in the background. There were two notable exceptions. One was a recent burial with a modern granite headstone and the other was a simple wooden plank with 'The Unknown Sailor" carved on it. Both monuments raised more than a few questions. Why a recent burial here when all others appear to date back many, many years? Was there really an unknown drowned sailor who simply washed up on White Point? Given the fact that the monument is obviously fairly recent, is it still possible in this day and age to simply die an unknown death, ungrieved by anyone? With these imponderable, somewhat Poe like thoughts, I returned to the van to continue our journey of  Cape Breton discovery.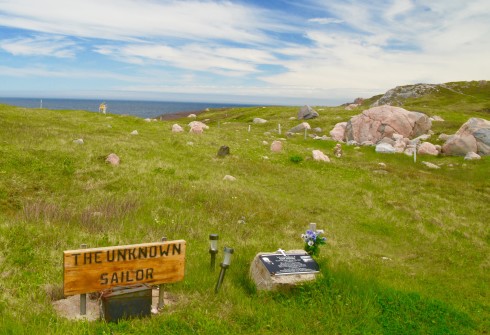 The TMAC 2016 pre-tour re-entered Cape Breton Highlands National Park at Neil's Harbour heading for the wonderful property, Keltic Lodge, where we would spend the night and have a great meal. But first, there were a couple of more stops.
The first was at Green Cove which has very much been in the news for the past few years because of the controversy surrounding the proposed Never Forgotten National Memorial or Mother Canada statue as most people know it. The idea was to erect a giant statue based on the Canada Bereft monument at Vimy Ridge. I visited Vimy in 2014 and was very impressed with the monument overall and the Canada Bereft statue in particular. This is a picture I took on my visit.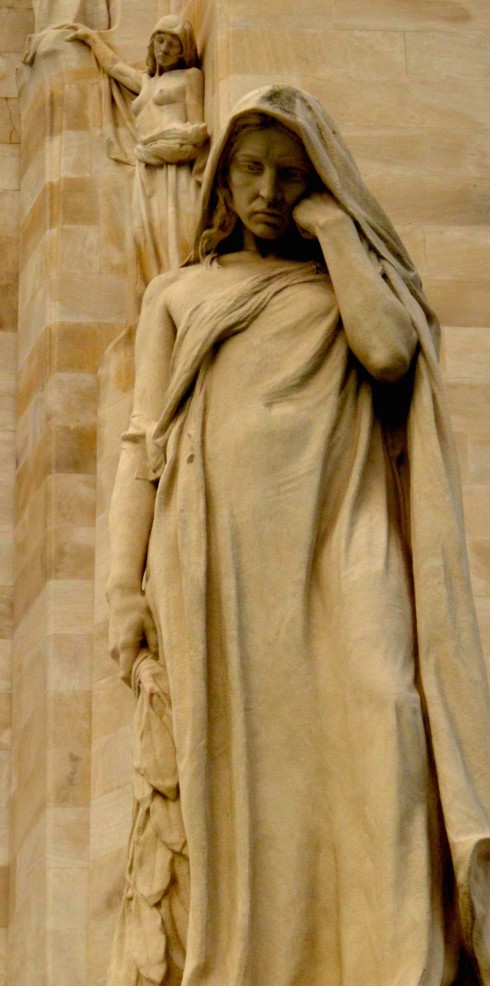 The proposal created a storm of controversy from the outset, but having seen the original and other large memorials of a similar type, I withheld judgment – that is until today. The objections to the monument were based primarily on two reasons, it shouldn't be in a national park and even if it should, Green Cove is the wrong spot. While I don't necessarily agree with the first, after visiting the site, I agree wholeheartedly with the second. I had envisaged a large high promontory where the monument would stand out much like a lighthouse, creating a beacon of hope rather than light. What I saw was really a tiny spot of land that would be overwhelmed by a huge structure. The back of the statue would be what most riders on the Cabot Trail would see, not the front. A large parking lot, concession stands and all the things that go with something like this would entail destroying a significant amount of land around the area. Now, the Liberal government killed the idea some months ago so it's no longer an issue, but I would not be surprised if the monument goes ahead in the future at another location.
Here is the view from Green Cove that will now be preserved for the foreseeable future. I think you'll agree that it's worth saving. That's Cape Smokey way in the distance.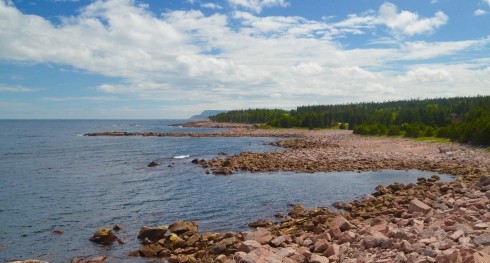 Our final stop on the TMAC 2016 pre-tour, before checking in, was to view a new Parks Canada project just up from Ingonish Beach. This strange looking object, referred to as The Cocoon, is actually a campsite in the sky which is tethered between a few large trees. It rocks almost like a cradle once you're inside. I suspect it could be a hit with couples, if you get my drift.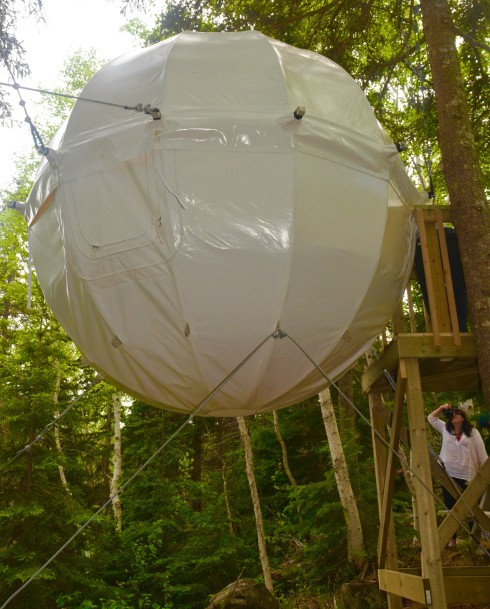 It's been an absolutely wonderful pre-tour thanks to Parks Canada. One thing I have not focused on has been the incredibly fresh and delicious meals we have been served. When I first started writing about Cape Breton, there were few decent, let alone good restaurants. Deep fried was the preferred method of cooking just about everything. There's been a 180° turn over the past number of years and I would now say that Cape Breton is a true culinary destination. I leave you with this last picture that just about sums it all up. Oh, and the craft beers are exceptional as well. My favourite is Kitchen Party Pale Ale by Big Spruce Brewing, one of only two certified organic on farm breweries in Canada.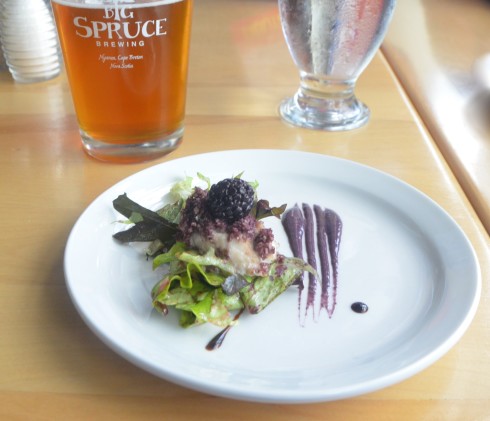 The good news is that I will be back in September to play the two courses at Cabot Links. Hard to believe that there is yet another reason to love Cape Breton Island – the best golf in Canada. No B.S. Slán!