Brunello – Halifax's Best New Course Hole By Hole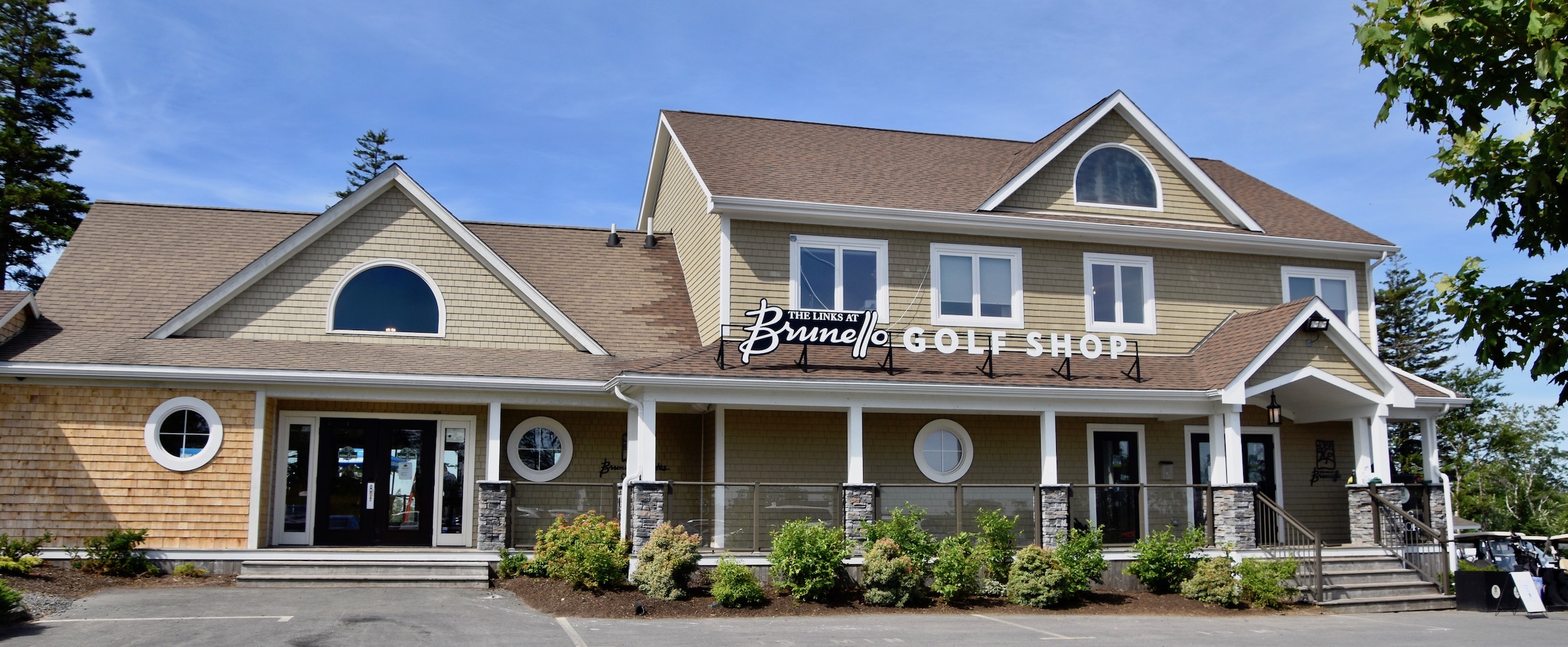 When I first heard that cousins Glen and Rob Dexter were going to build a golf course in Timberlea I was very sceptical for two reasons. Firstly, the landscape in the Timberlea area is the proverbial Canadian ' rocks and trees and rocks and trees' with a little swampland thrown in. Secondly the Dexters were not golfers. Glen is a world champion sailer and Olympian and Rob, who was a classmate of mine at law school, is an astute businessman, but I've never seen him on a golf course. Would they know what was required to build a great golf course. The answer is a definite 'yes' as I found out the first time I played Brunello a few years ago. I played it again yesterday and found that it has only gotten better with a little aging as does the brunello di Montalcino wine for which I have to assume there is some connection. Please join me and Alison as we play Brunello hole by hole.
The first thing the Dexter's did right was to hire Canadian golf architect Tom McBroom to design the course. He is responsible for some of the very best new golf courses in Canada including Oviinbyrd rated #14 in the top 100 Canadian courses by SCORE Golf and Mephremagog rated #15. These two courses are ultra private and even members of the Golf Journalists Association of Canada of which I am a member have a hard time getting on. However, you can play Tobiano in Kamloops which is rated #30 and Rocky Crest in the Muskoka region which is #35. For Maritimers, Crowbush Cove on PEI is rated #40. There are six other McBroom designs in the top 100 so you know this guy knows how to take advantage of what the Canadian landscape offers, rocks and trees and all. Currently Brunello ranks #48 in the SCORE Golf listing of the top 59 public courses in Canada. Considering that there are over 2,000 public courses in the country, that's a pretty impressive achievement in only six years from opening.
The second thing they did right was not to let the housing development overwhelm the golf course. Brunello is essentially a golf course community, but unlike many other such communities, there are very few holes where the houses are an intrusive distraction as you will see from the photos. McBroom did not try to reshape the terrain, but rather preserved the many small wetlands that are typical of the Nova Scotia south shore. Doing so, meant that the houses would need to be well back from the golf course in most cases. Playing Brunello you will not feel like you are in a suburban environment, but more like a walk in the woods, with a few exceptions which I hope remain the only ones.
OK, let's play some golf.
Brunello # 1 – 336 Yard Par Four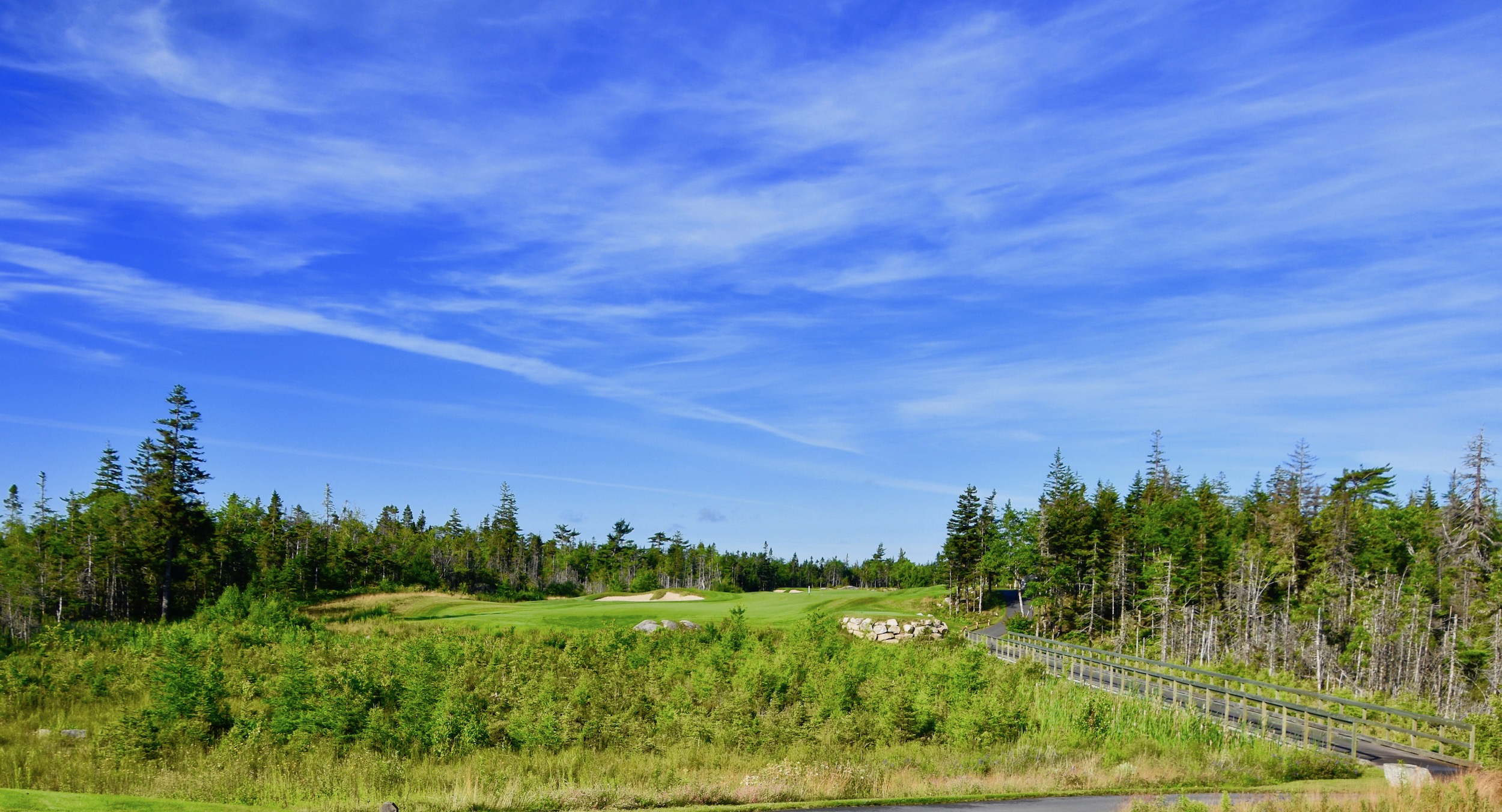 Brunello has up to six tee boxes. From the tips it's 6947 yards and from the ladies tees 4834. In between there are numerous choices. Today I am playing the whites at 5971 yards which is about right for my age and handicap.
The first hole gives you a good idea of what Brunello is all about – some decent carries off the tee and very little forgiveness if you miss both the fairway and the rough. It has a reputation as a difficult golf course, which it is, but only if you can't hit a straight drive. I have to confess that I lost five balls on the course today which is way more than usual. Some rounds at my home course of Ashburn I won't lose a ball for two or three rounds. So come prepared.
The other thing you will immediately notice is that despite being a reasonably new golf course, Brunello is in great condition, one of the best in the Maritimes. There were some issues with the tee boxes, but the fairways and greens were excellent.
If you manage the carry off the tee and are in the fairway this is a fairly benign starting hole.
#2 – 135 Yard Par Three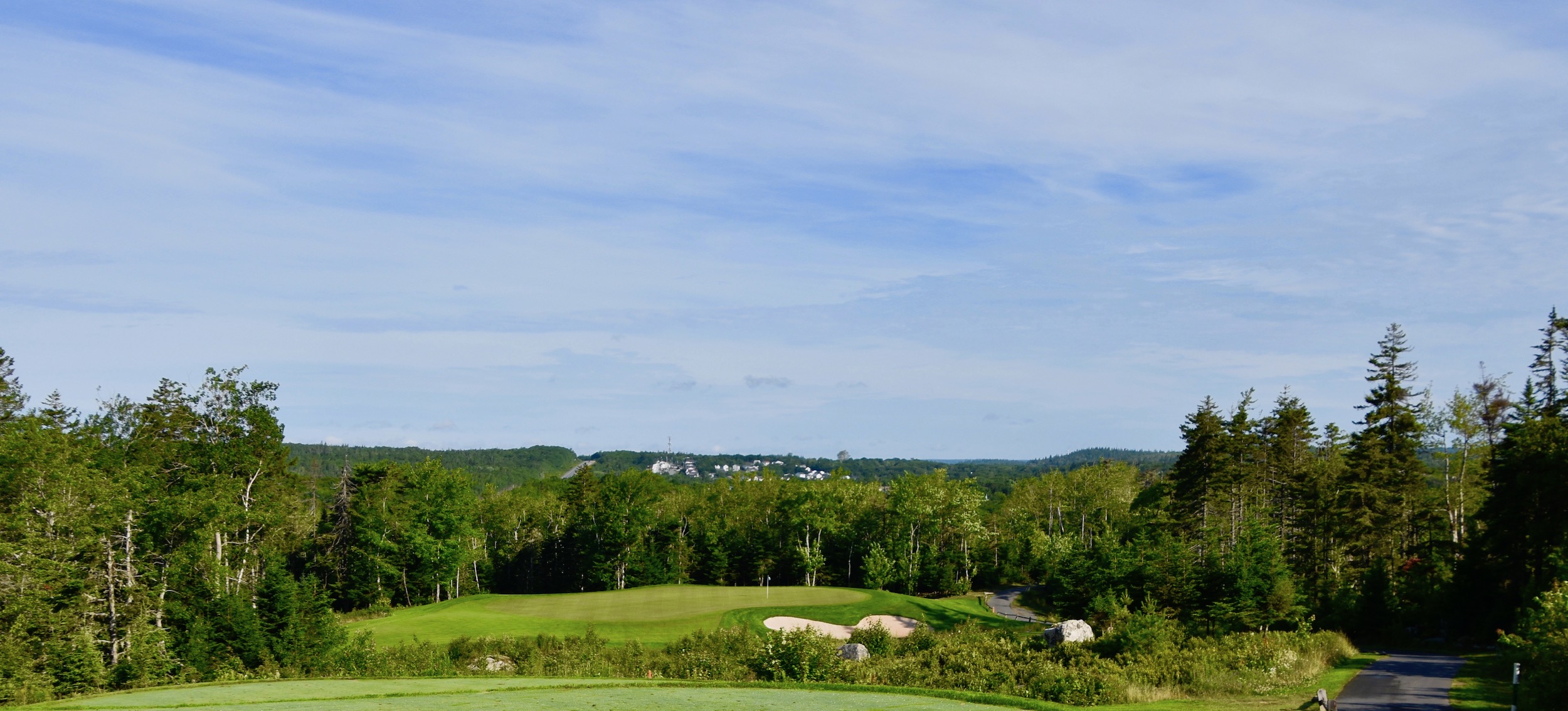 My favourite type of par three is one exactly like #2. It is easily reachable, downhill and very scenic. Today there was a tucked pin made for suckers, but an easy short iron to the centre of the green leaves a birdie putt and almost certainly a par.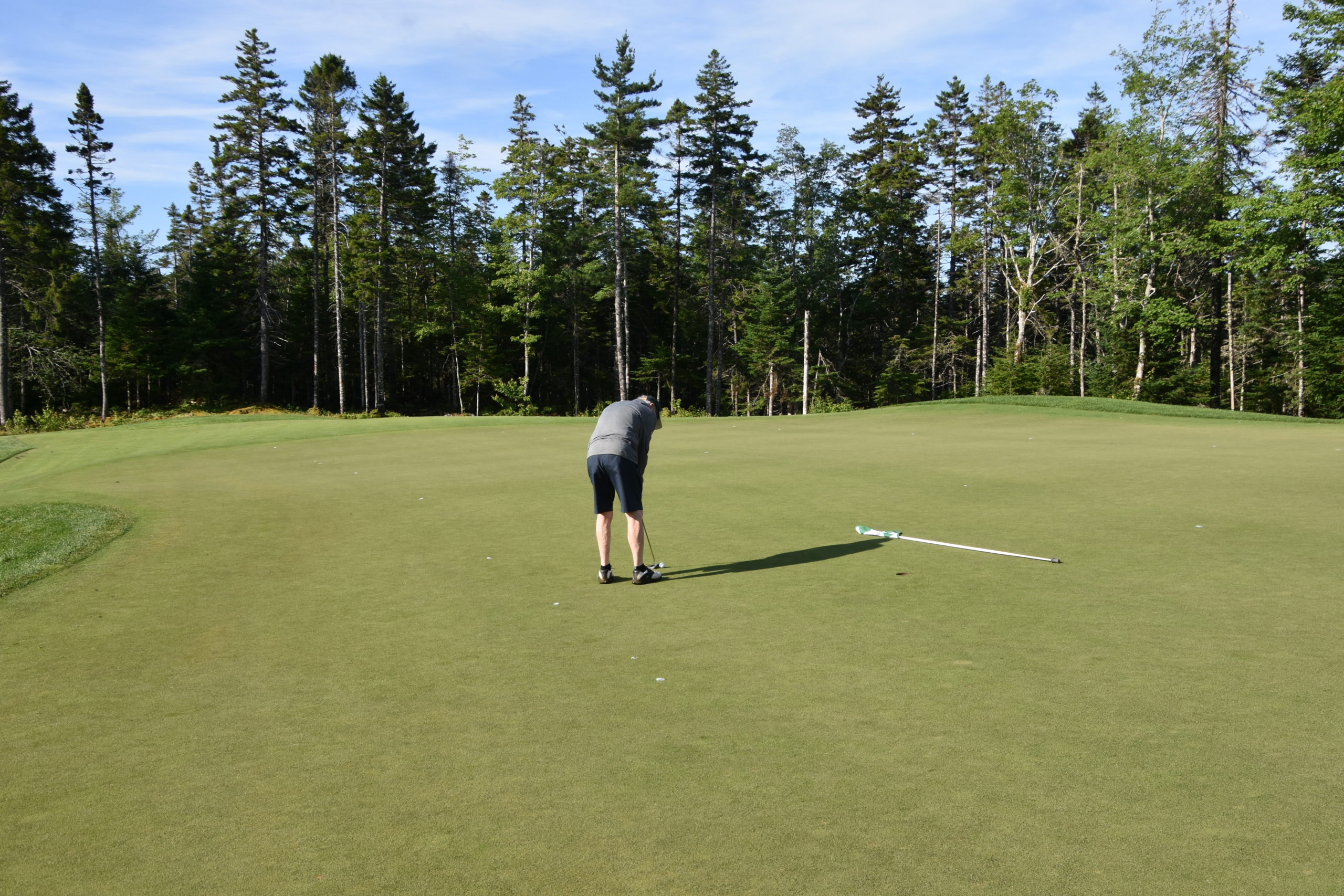 The greens at Brunello are moderately fast and McBroom has not tricked them up with unnecessary undulations that make reading them a ridiculous challenge. They are bent grass, as are the fairways, which makes them much less susceptible to winter kill than other common golf course grasses. Bent grass can also tolerate extreme cutting which means the greens keeper can make them very fast for tournament conditions. Lastly, bent grass requires less fertilization than other grasses and that is a good thing.
Brunello #3 – 538 Yard Par Five
The third hole at Brunello is simply gorgeous and one of the best par fives in Atlantic Canada. It's a three shot hole for anyone playing from the whites, but quite doable with a decent drive, wood and wedge. Here's the look you will have if you split the fairway with your drive. Brunello is not an overly trapped course and I was only in two today. It was a pleasure after being unable to use rakes for so long to actually clean up after hitting out of what are immaculately groomed bunkers with medium to fine sand.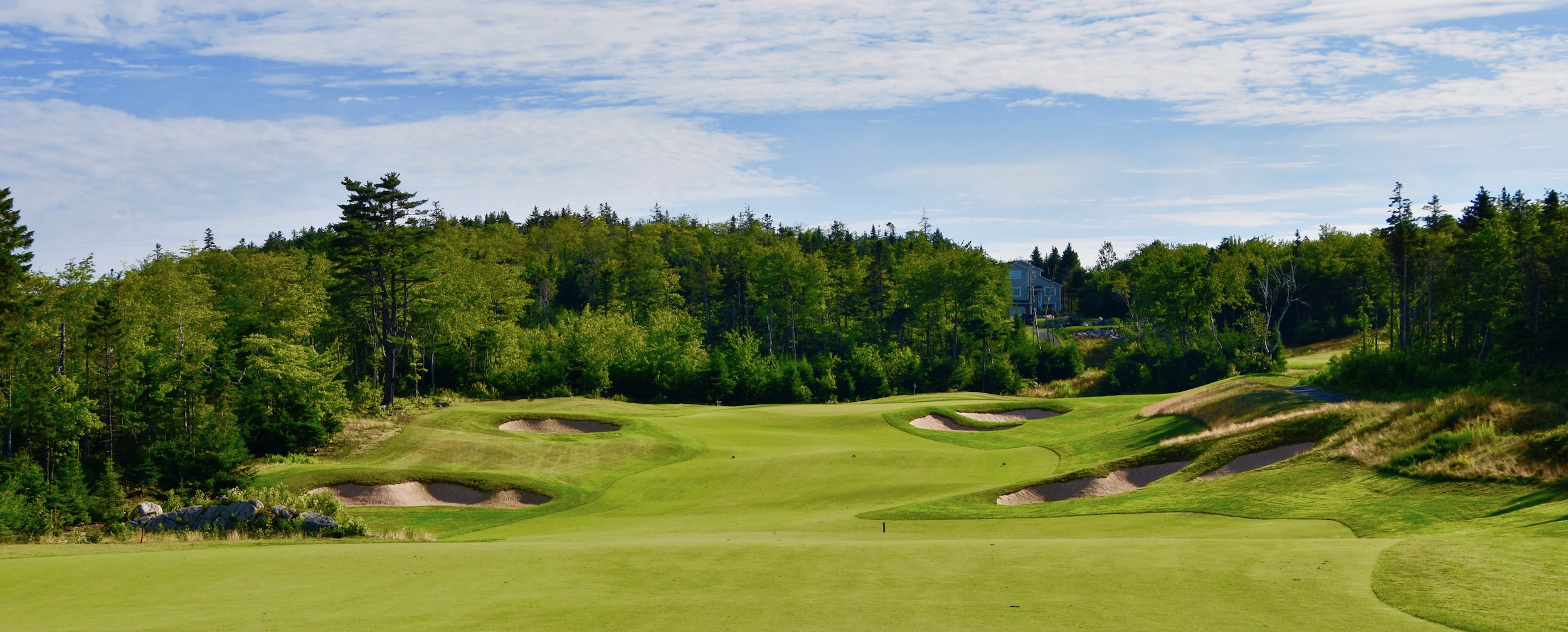 #4 – 397 Yard Par Four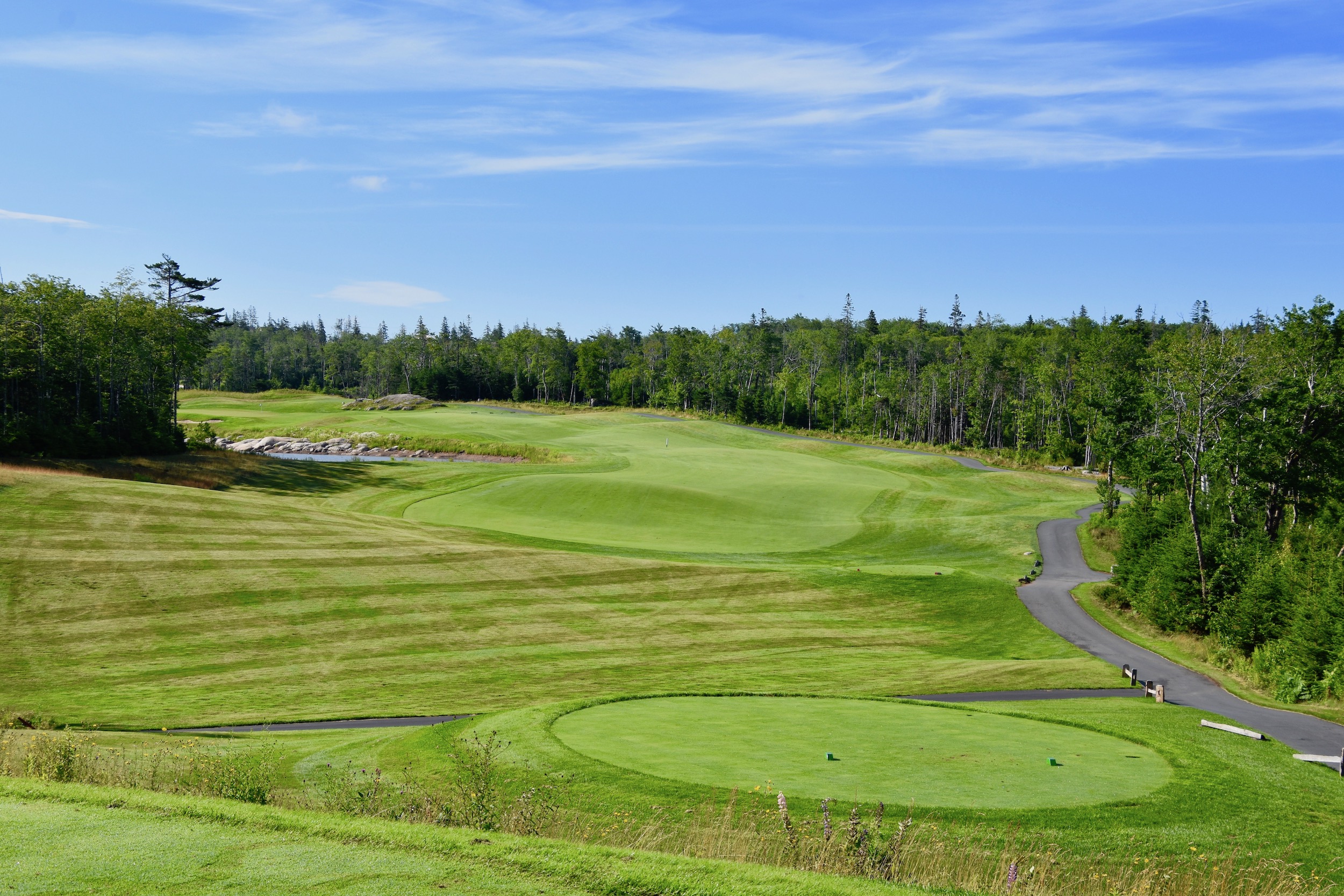 The fourth hole at Brunello is the first of a number of doglegs that present quite a challenge. Unless you hit a monster drive you will almost certainly be facing a carry like below to reach the green.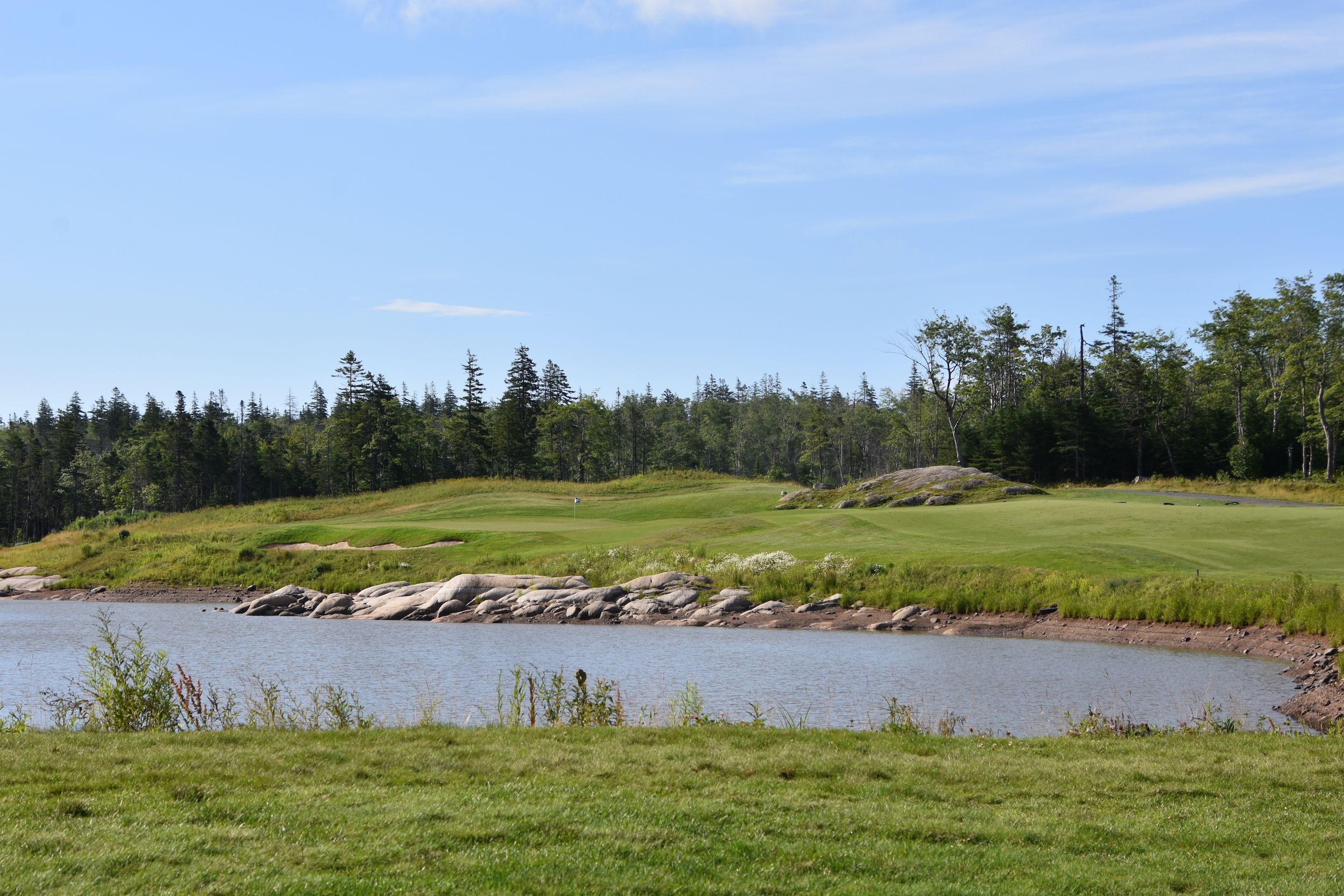 This is the hardest hole on the course so I had no problem not going for it, but laying up just short of the rock outcropping and settling for a bogey. This is a real nice do I or don't I hole.
Brunello #5 – 158 Yard Par Three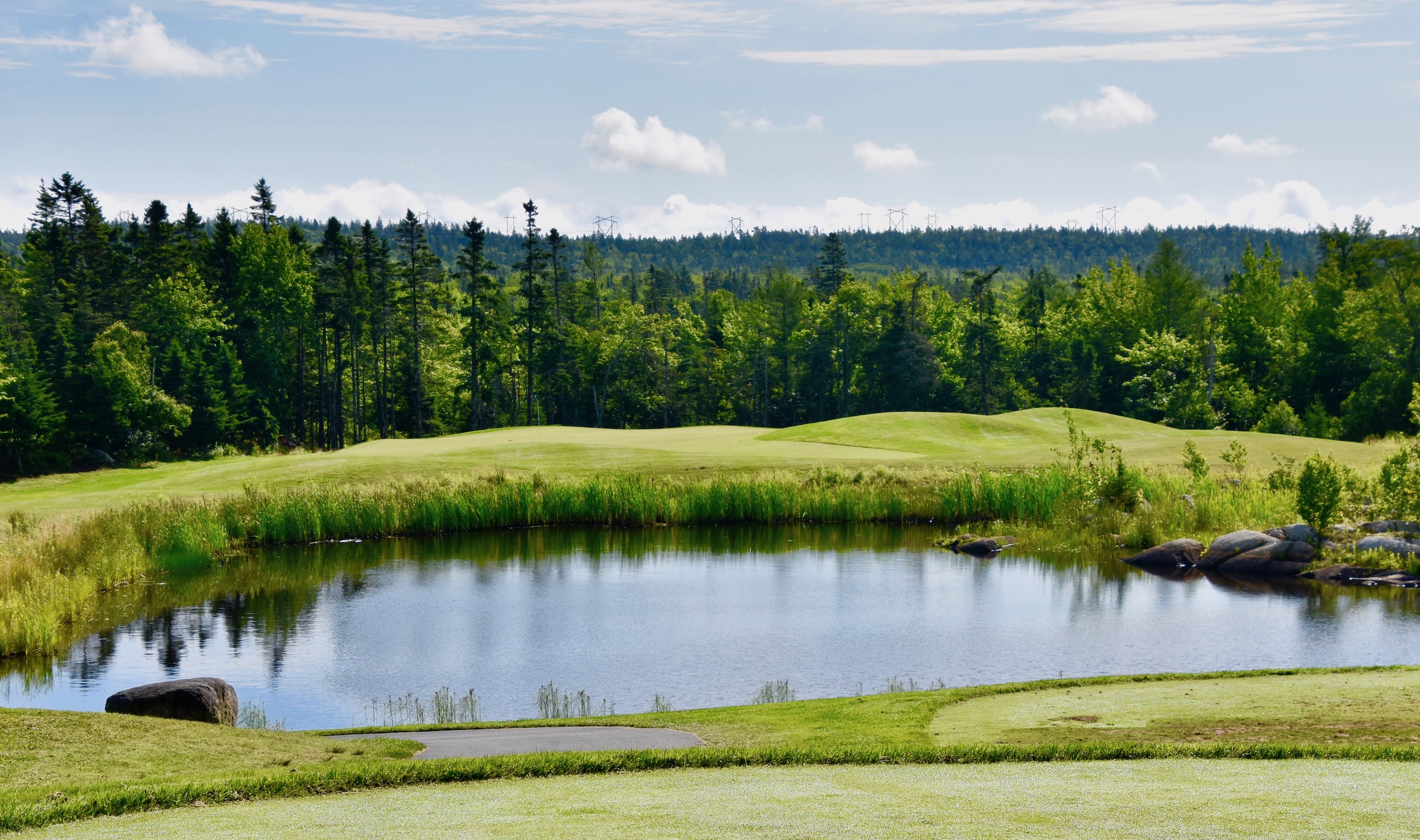 The second par three on the front nine is also very reachable and downhill. The water should not be a problem if you hit a smooth mid-iron. Just don't be long or you're looking at a double or worse.
#6 – 466 Yard Par Five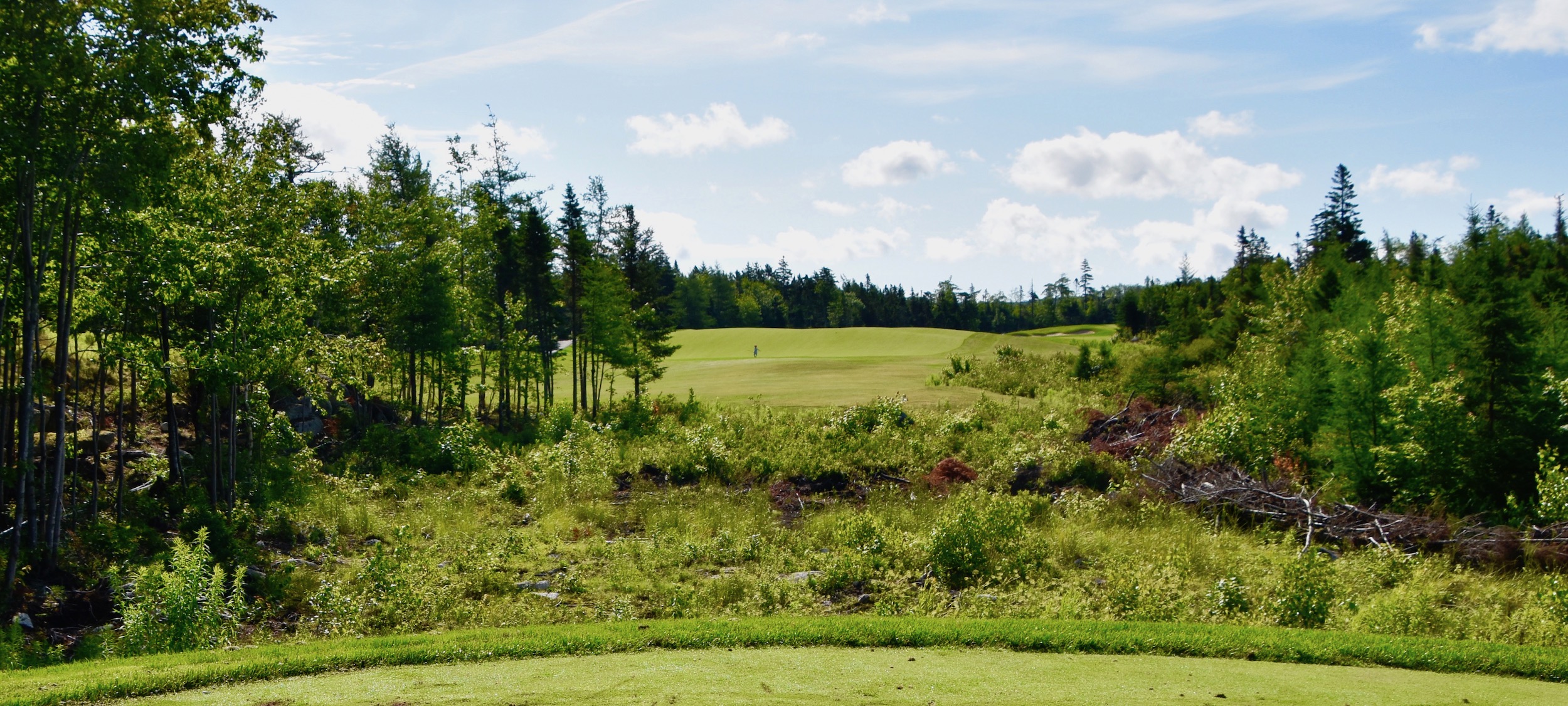 The sixth hole is a short par five, but with one of the toughest fairways to hit on the course. Anything that isn't straight down the pipe is going to be a lost ball and suddenly what looked like an easy par yardage wise is a disaster.  Don't ask me how I know that.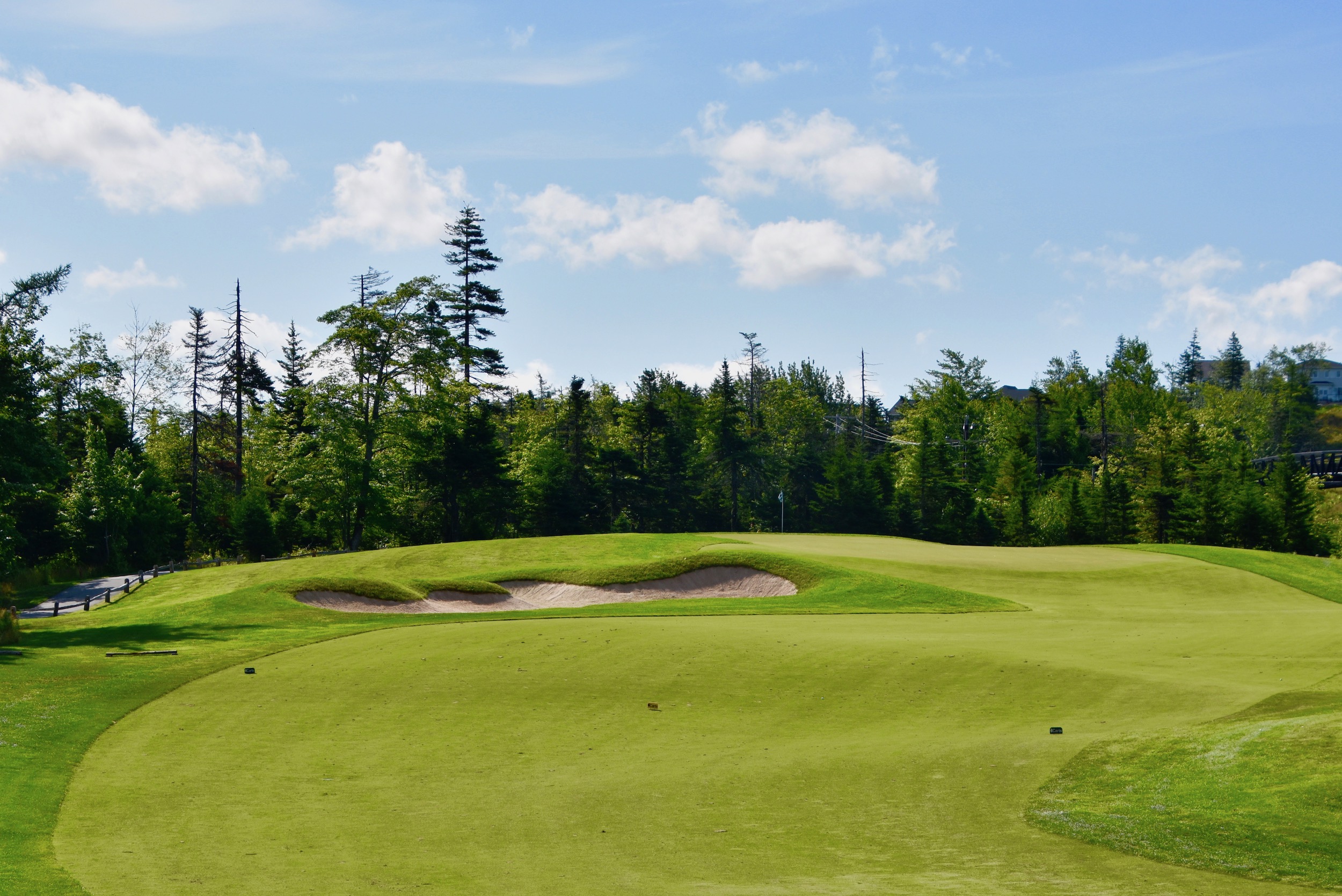 Assuming you don't lose a ball and hit a decent second shot you will have this uphill pitch to an elevated green. Note that for six holes you have seen nothing but wilderness with a number of golf holes plugged in.
Brunello # 7 – 331 Yard Par Four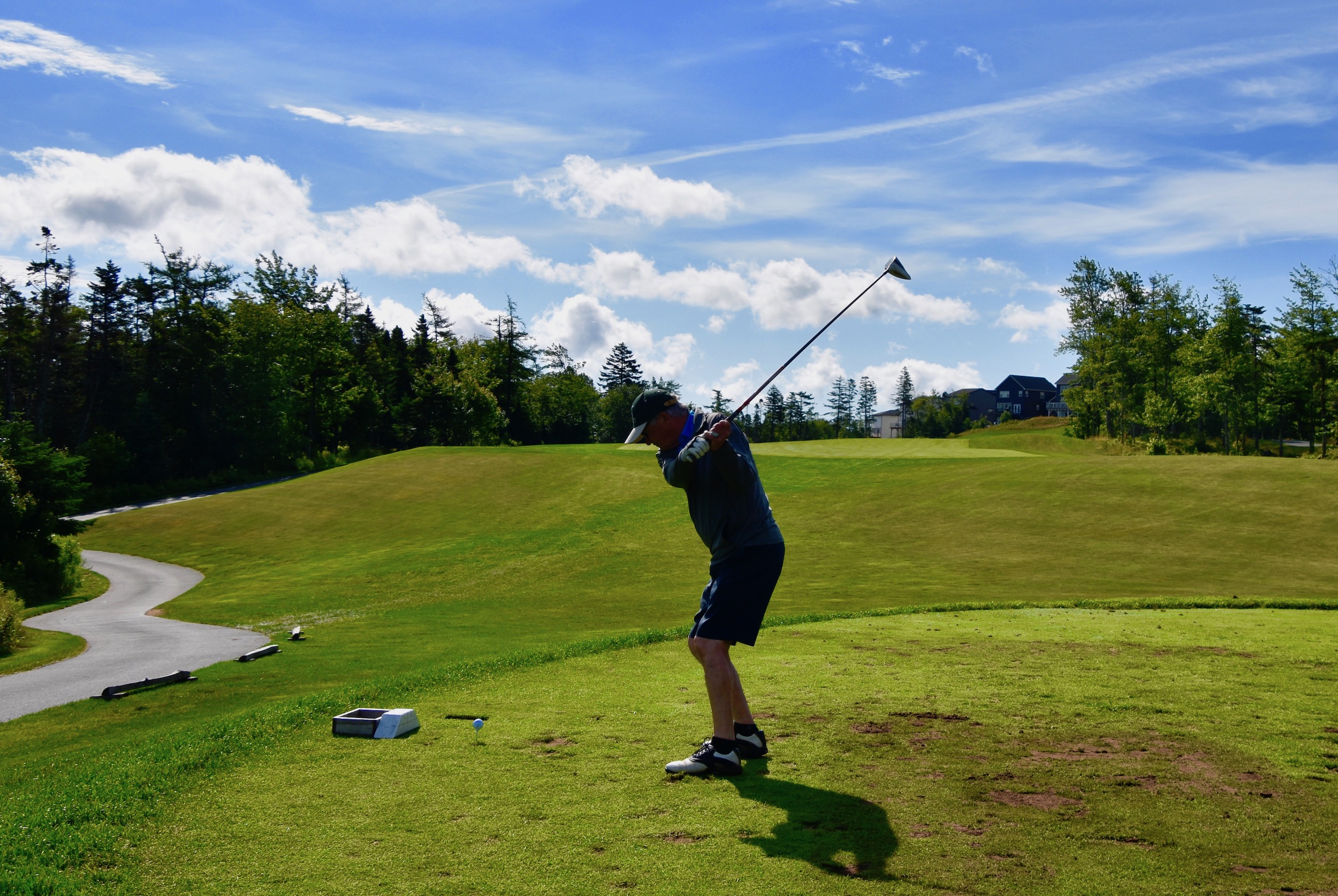 Things change a bit at #7, a short par four to a moderately elevated green. Firstly, it's a blind tee shot which I am never a fan of and secondly, houses come into the picture. Offsetting this is the approach shot which is my favourite at Brunello. Just as I like downhill par threes, I like elevated greens on par fours. There is no room to miss this green right or left and the smart play is take at least one more club than you initially think you might need.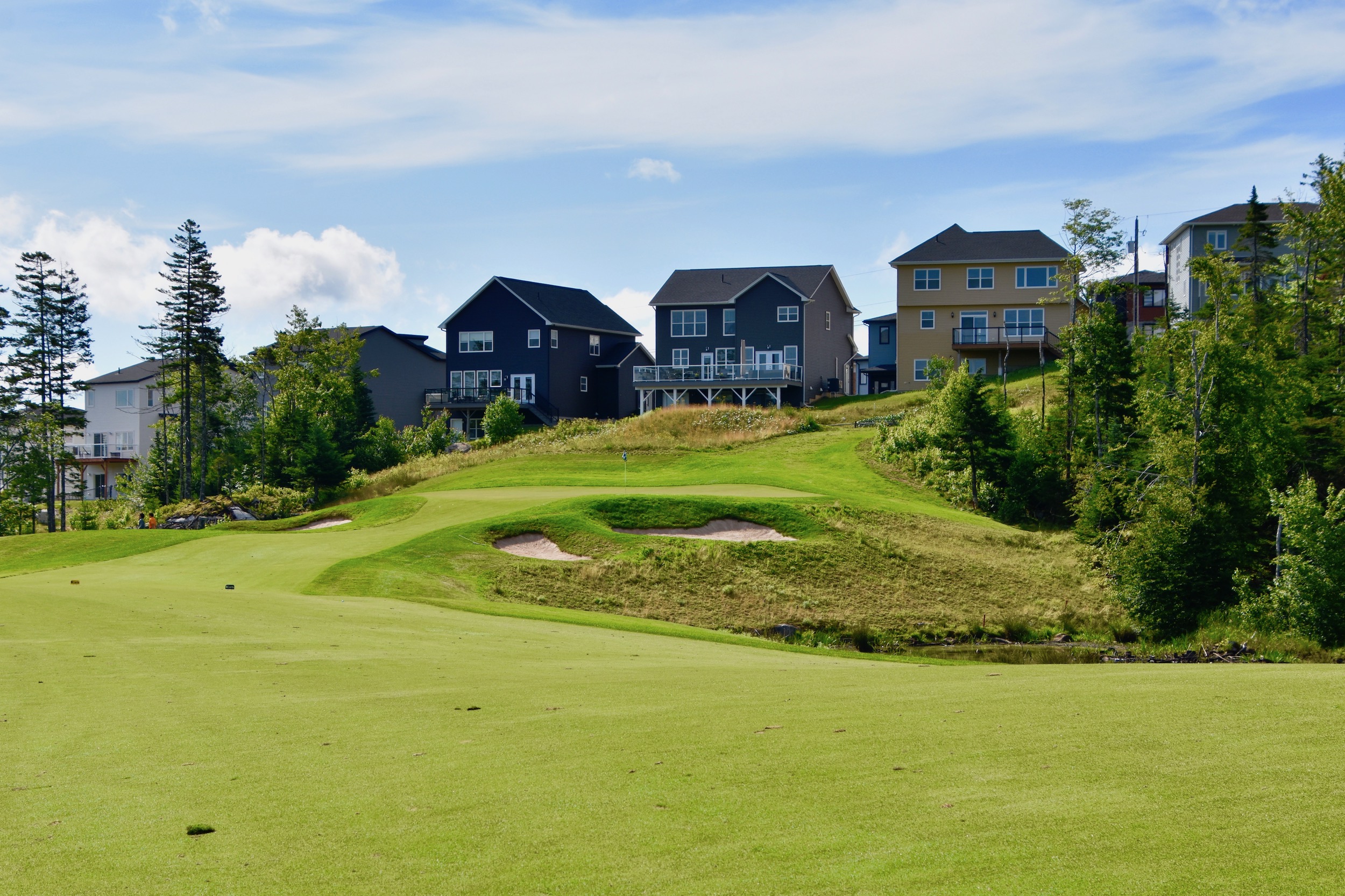 The pond you see on the right is home to a family of muskrats of which one was enjoying a grass salad in the rough.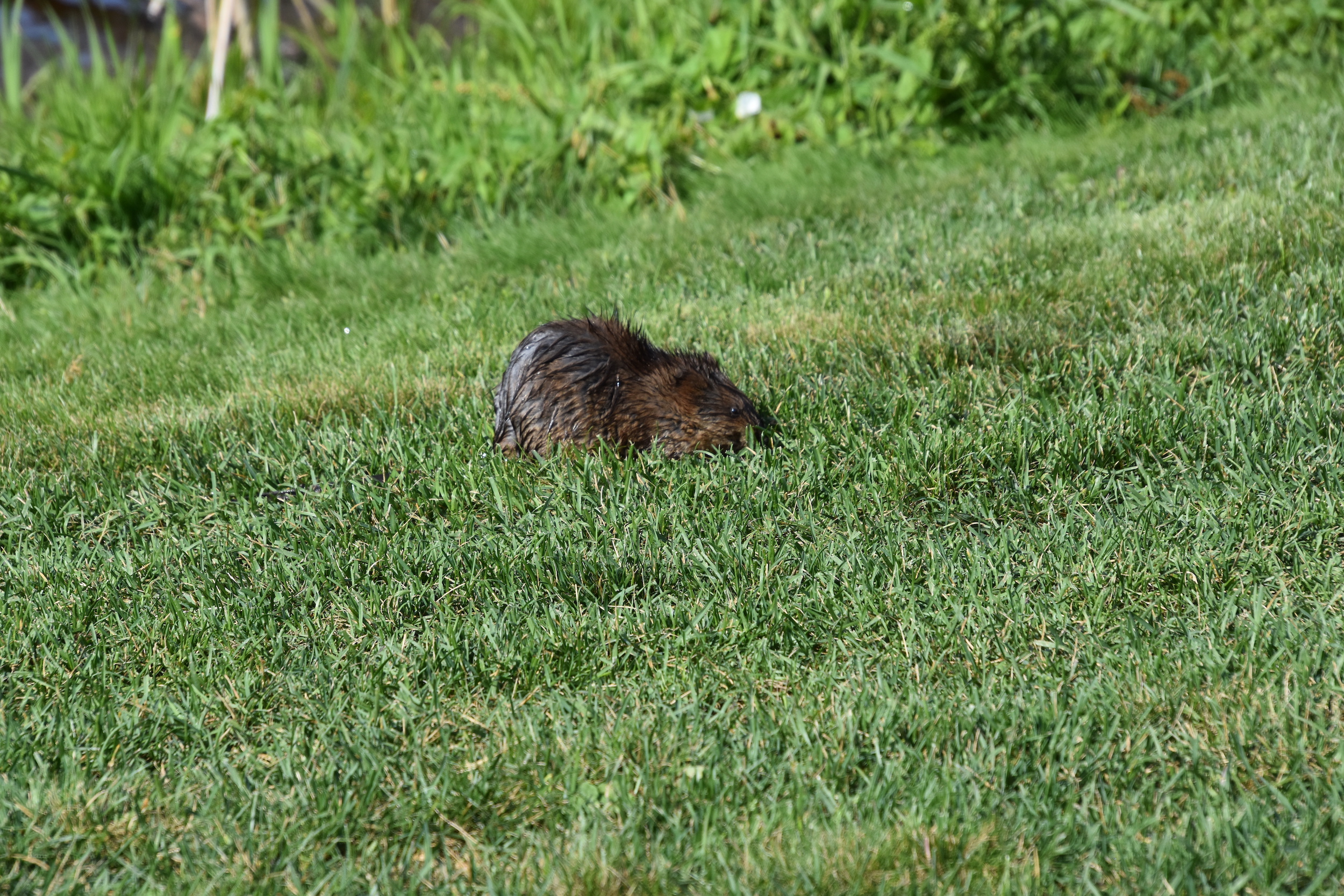 #8 – 320 Yard Par Four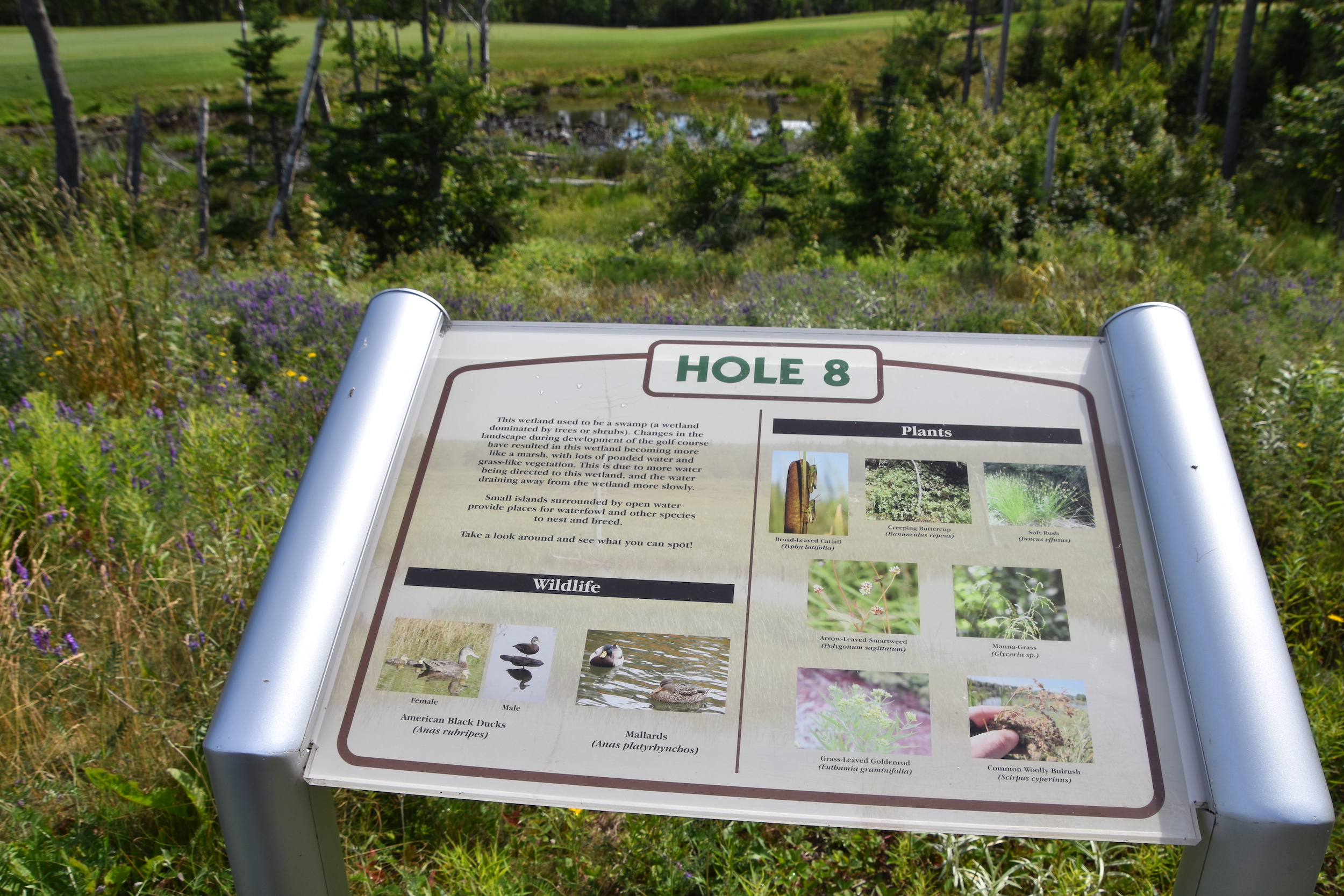 Brunello has a number of interpretive panels like the one above that point out the various natural features to be found on the golf course including plants, animals and differing types of wetlands. It makes for an interesting diversion before teeing off.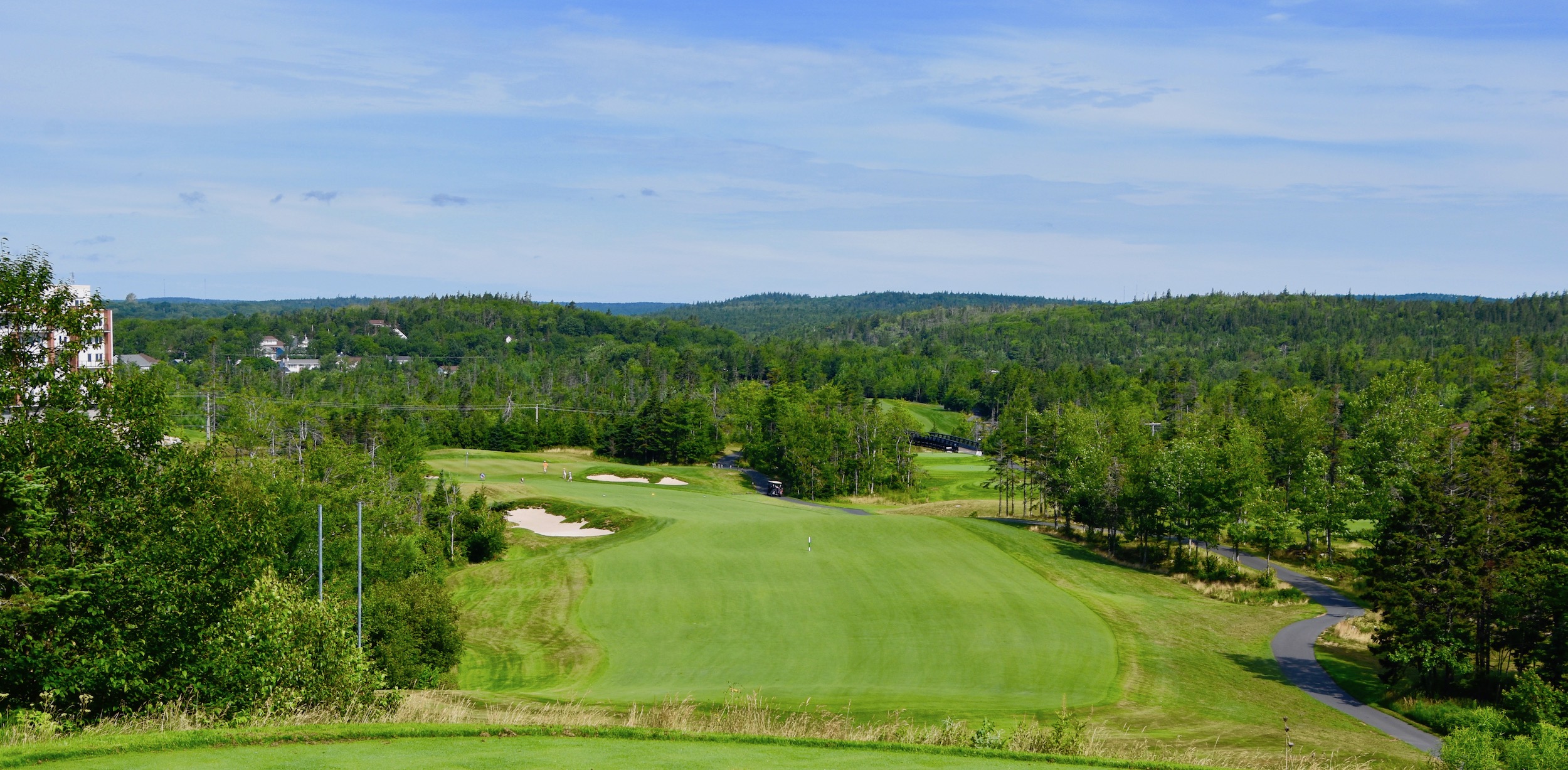 This is another wonderful looking golf hole from the tee box with a severe elevation drop that you really wouldn't think was likely in this type of landscape. A right to left dogleg perfectly suits my natural draw when it doesn't turn into a slice. Probably my favourite par four on the course.
Brunello #9 – 332 Yard Par Four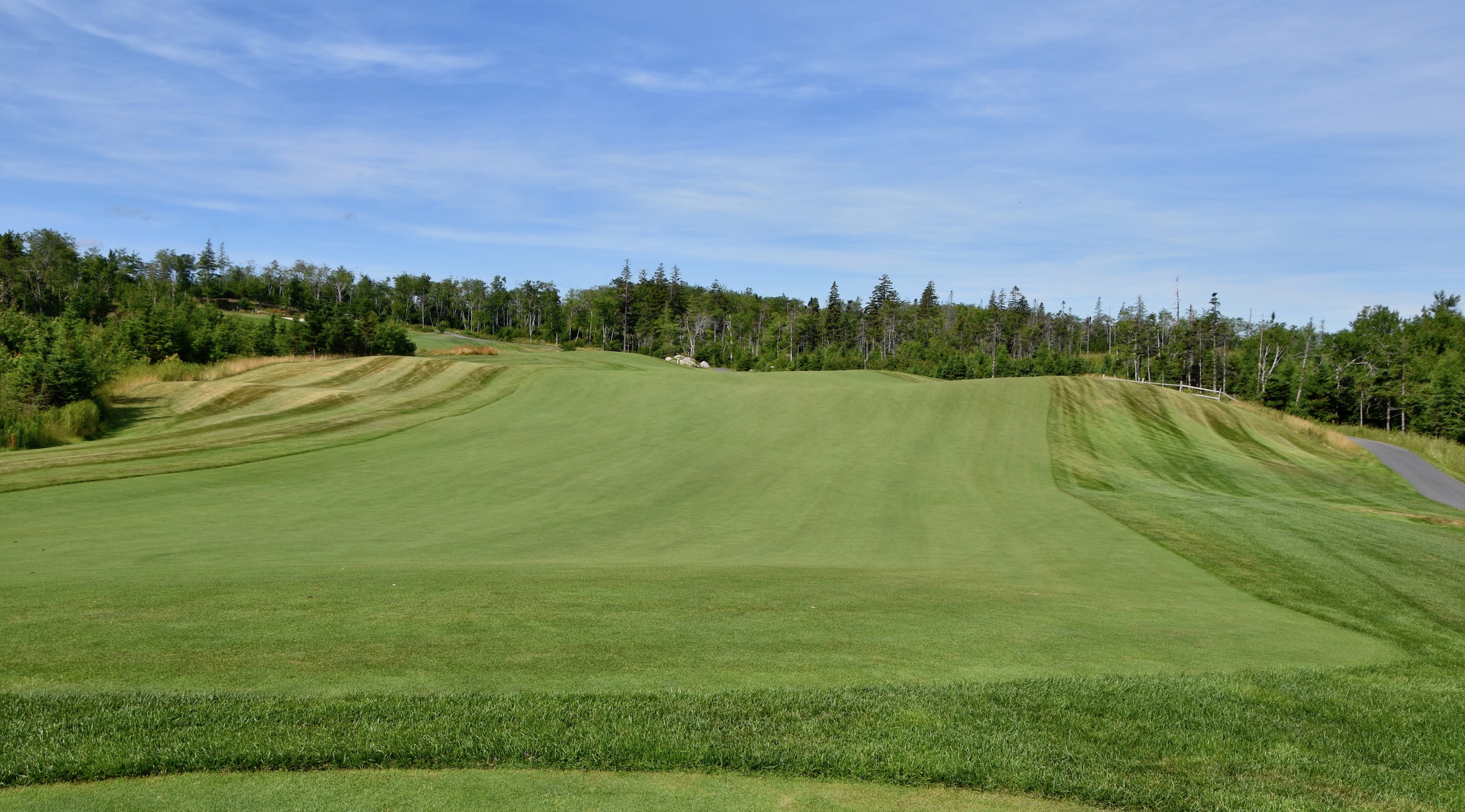 No. 9 features another blind tee shot, but with probably the easiest fairway on the course to hit. While I don't like blind tee shots on principle, there is a pleasant surprise awaiting you once you crest the hill. This is another elevated green, but without the houses, like #7.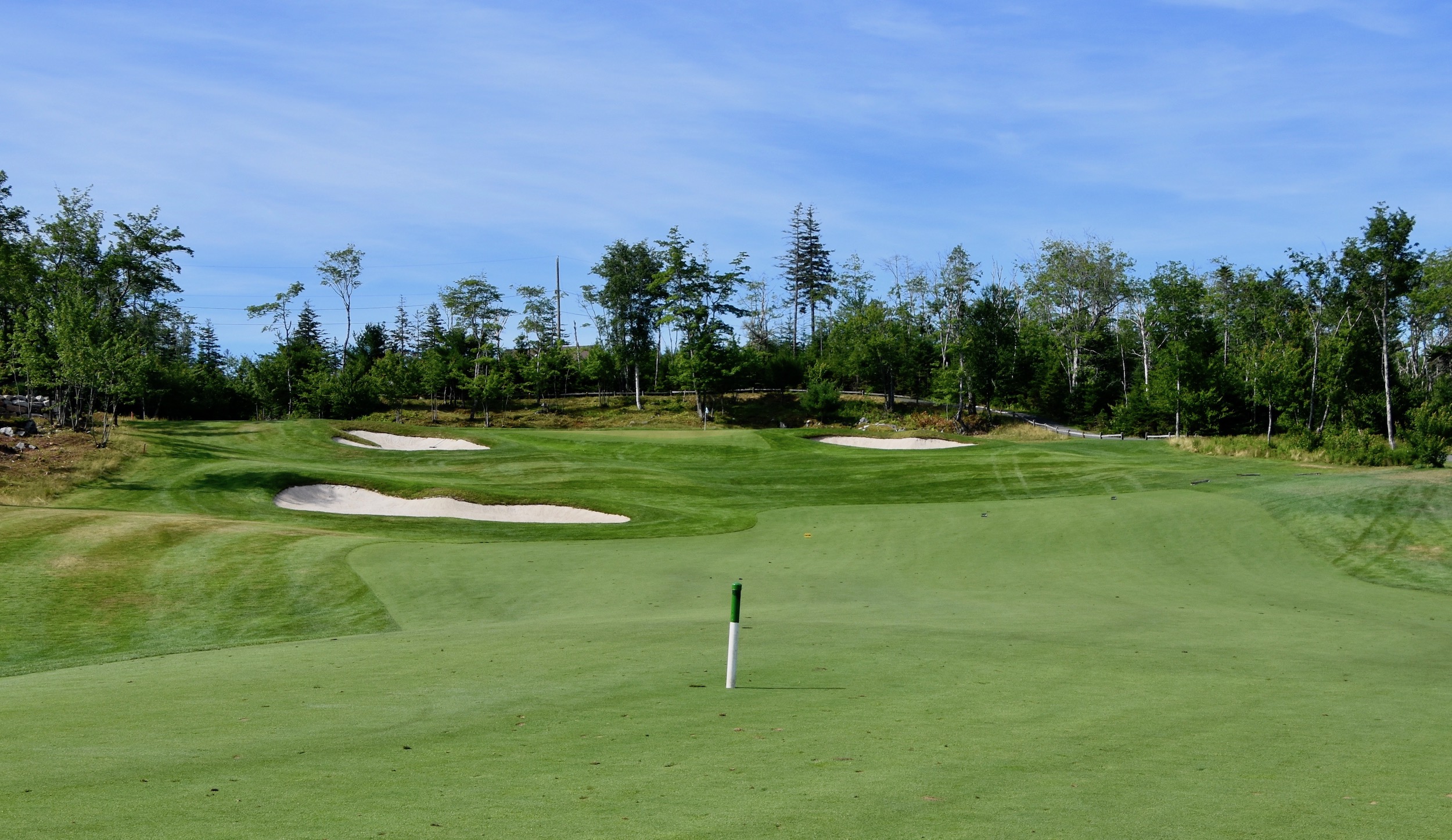 #10 – 132 Yard Par Three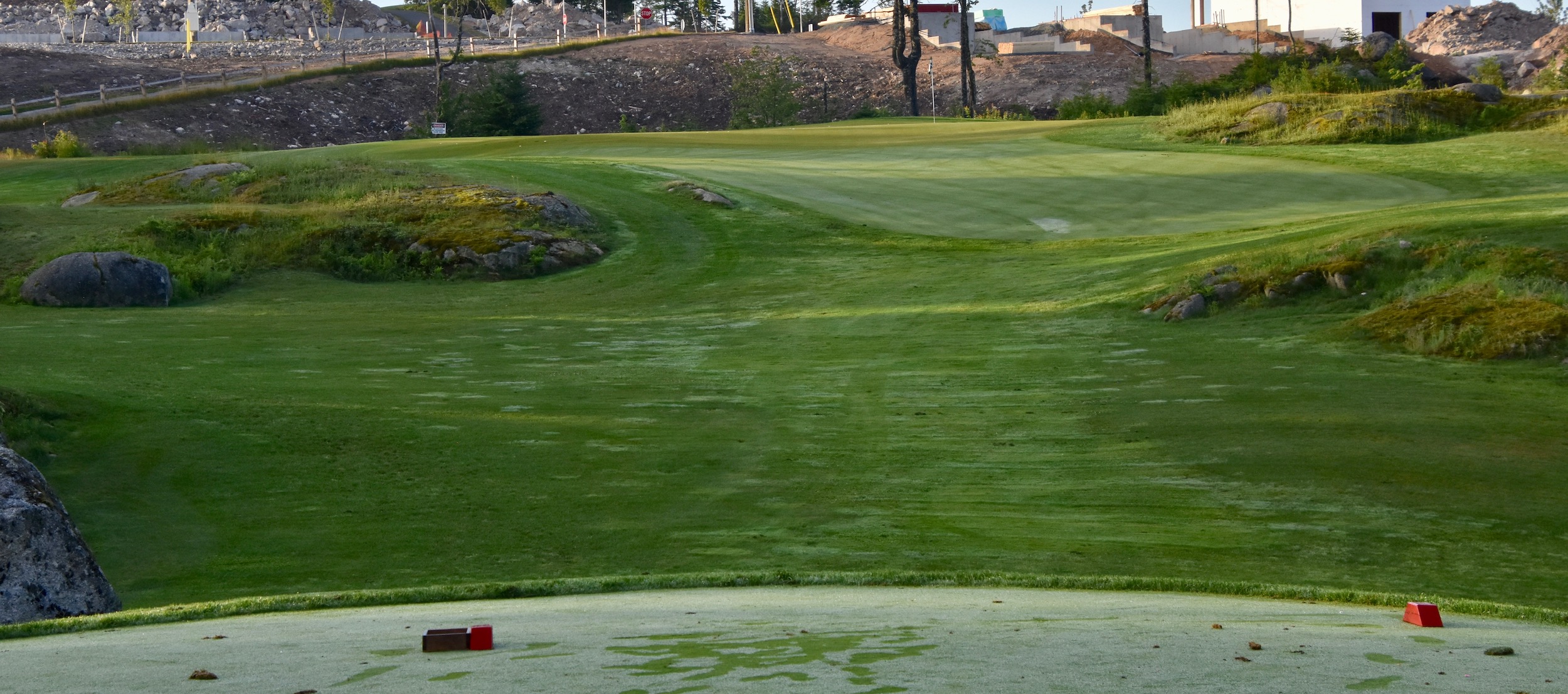 We started play on the back nine so you will see more dew on the grass than the front nine. This is another short par three which is a very easy start to the back nine. No excuses for missing this green if you choose the right club.
Brunello # 11 – 403 Yard Par Four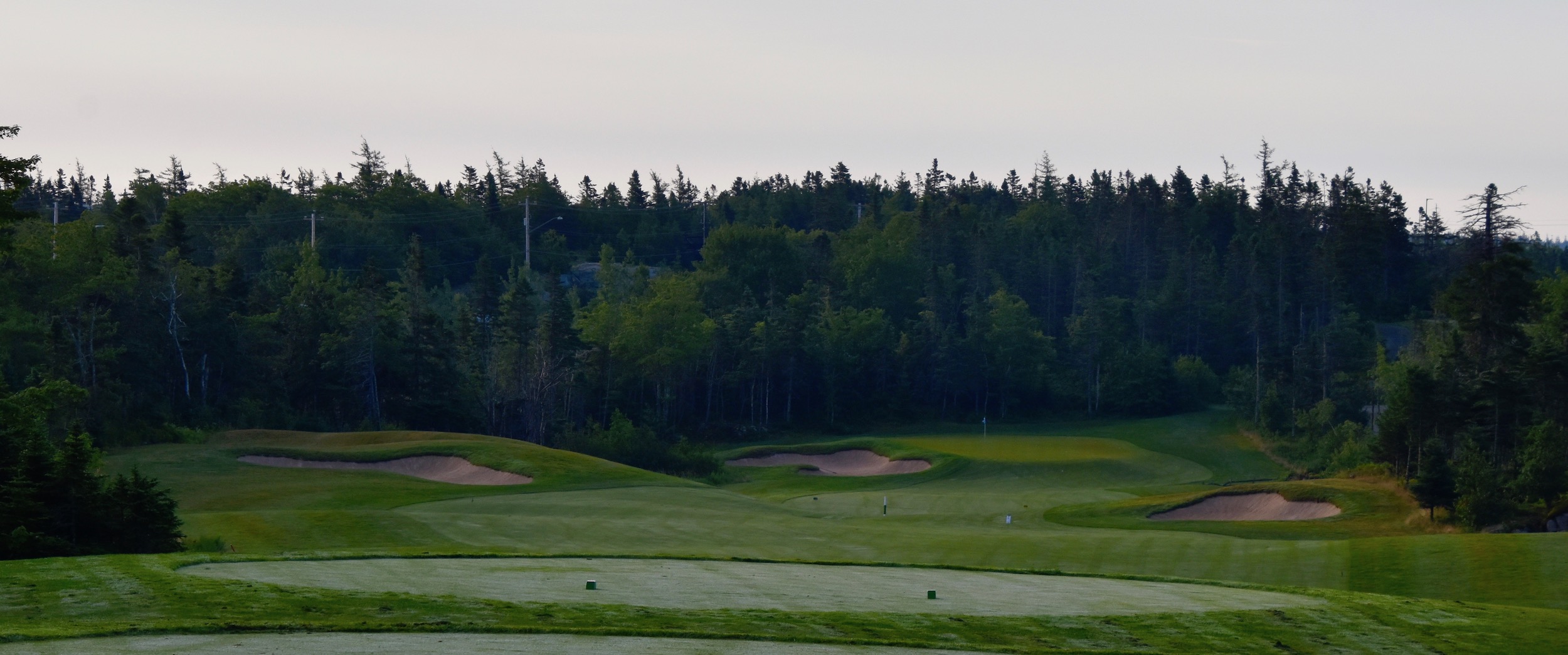 If No. 10 is a freebie, then #11 takes it all back. While it looks reasonable from the tee, this is a long and difficult par four. If you go left to avoid the reachable trap on the right, you will have to carry the greenside bunker with your second and good luck with that. Bogey is a very acceptable score on this hole.
#12 – 349 Yard Par Four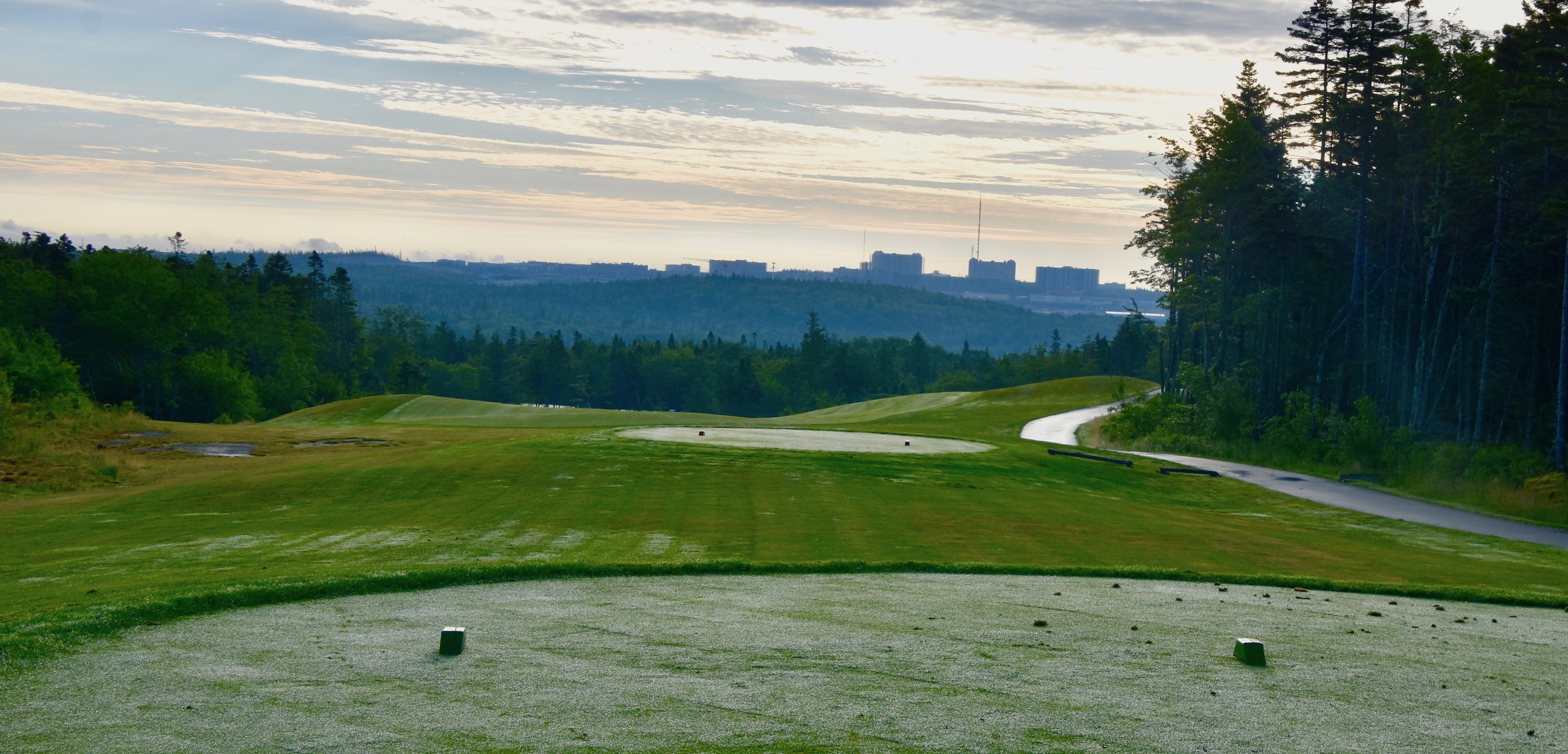 I love the look of this tee shot. It feels like you are out in the middle of nowhere, but you can see the towers of Halifax on the horizon. While it is a blind tee shot, I don't mind it so much when your ball is going downhill as you get the feeling that you're going to get more out of your drive than less on an uphill blind shot. This hole has one of the smallest greens on the course and that's the challenge on this hole. Still with a decent drive this is easily reachable with a short iron and presents one of the best chances for par at Brunello.
Brunello #13 – 454 Yard Par Five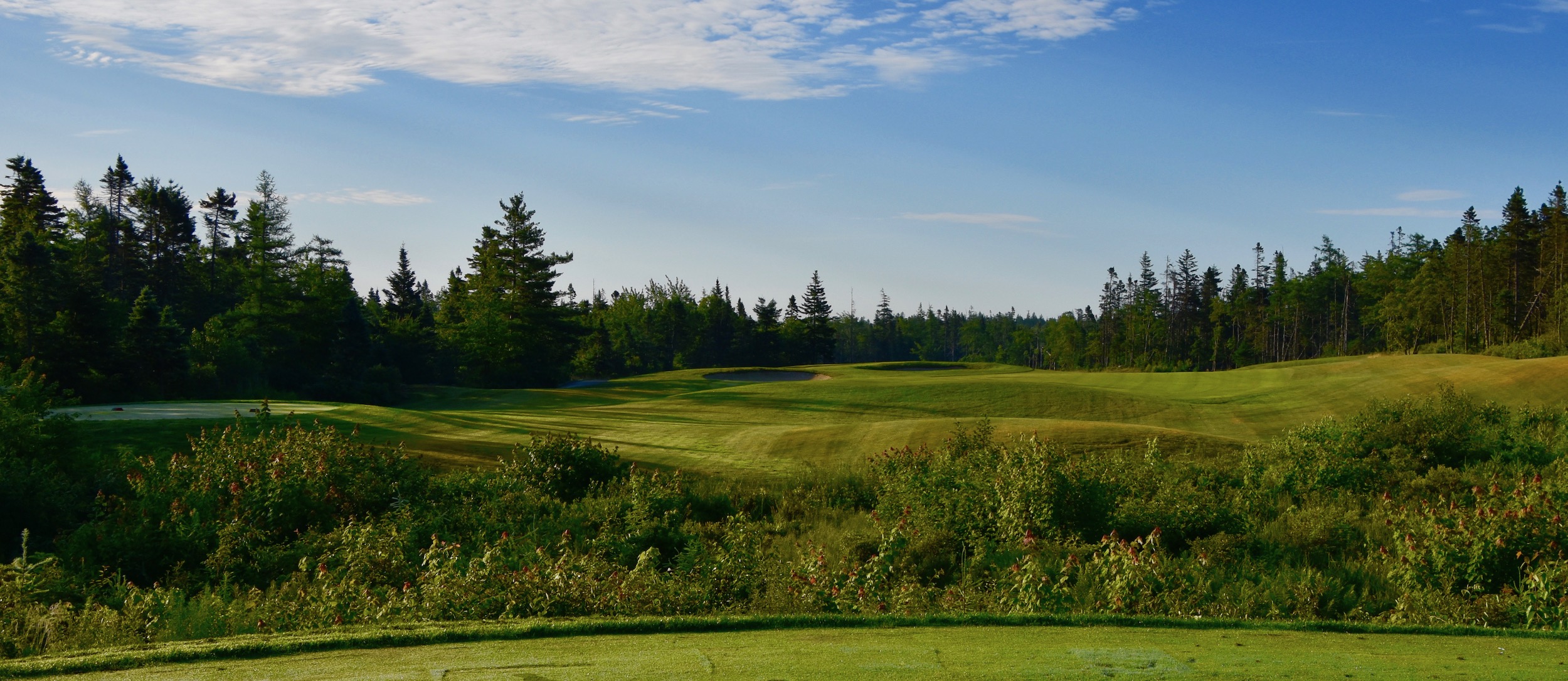 This is another short par five, but without the driving dilemma posed by #6. Probably wise to use a wood off the tee to hit the fairway and then the second shot should be just short of the green. By far the easiest par five on the course and over a stretch of four holes on the back you'll face three of them.
#14 – 138 Yard Par Three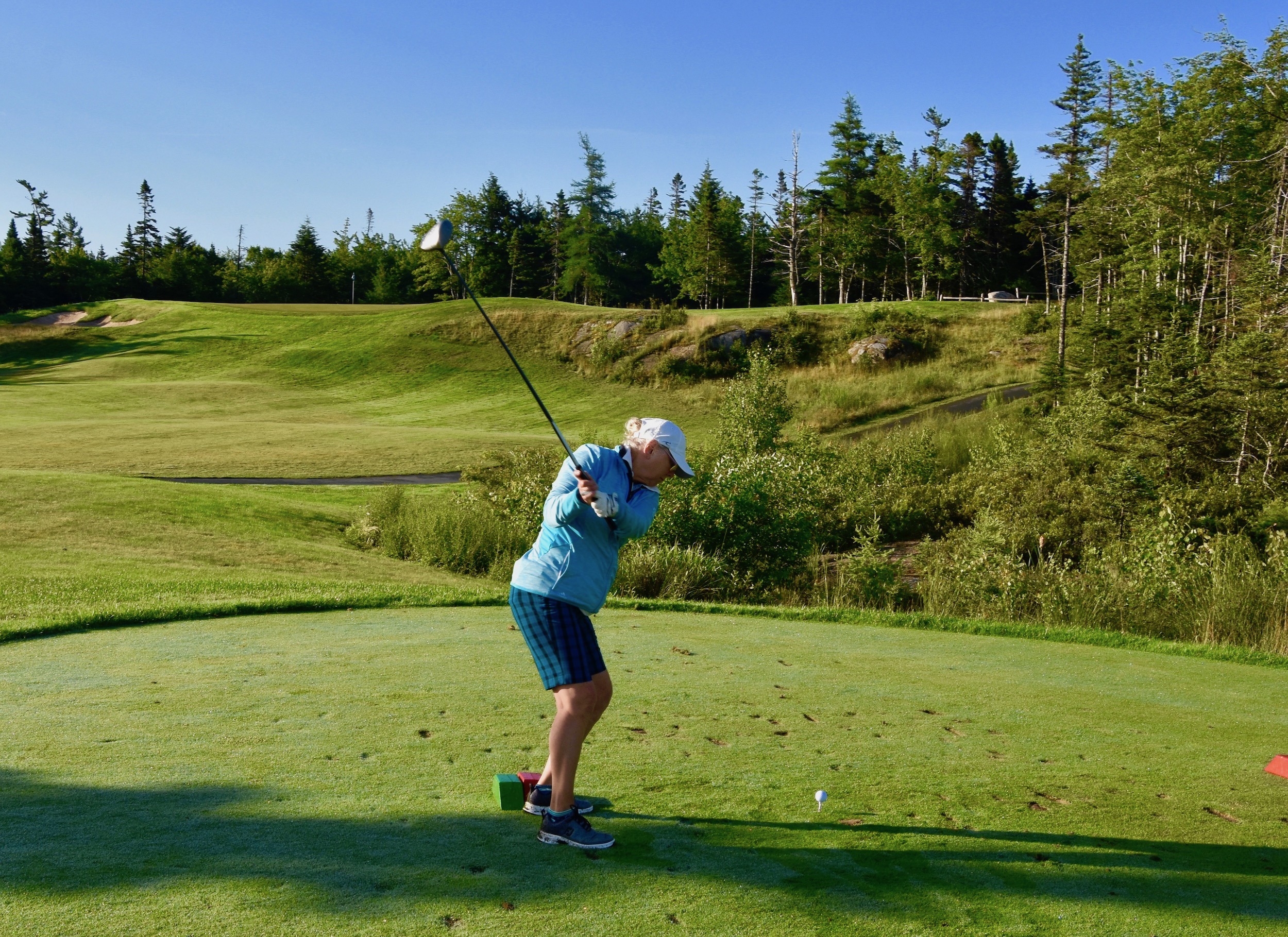 This hole plays much longer than its stated length. Under clubbing is always an issue on uphill par threes and that's the real challenge here. There's a ton of room out to the right so don't be afraid to miss in that direction. From there it's not a difficult chip.
Brunello #15 – 474 Par Five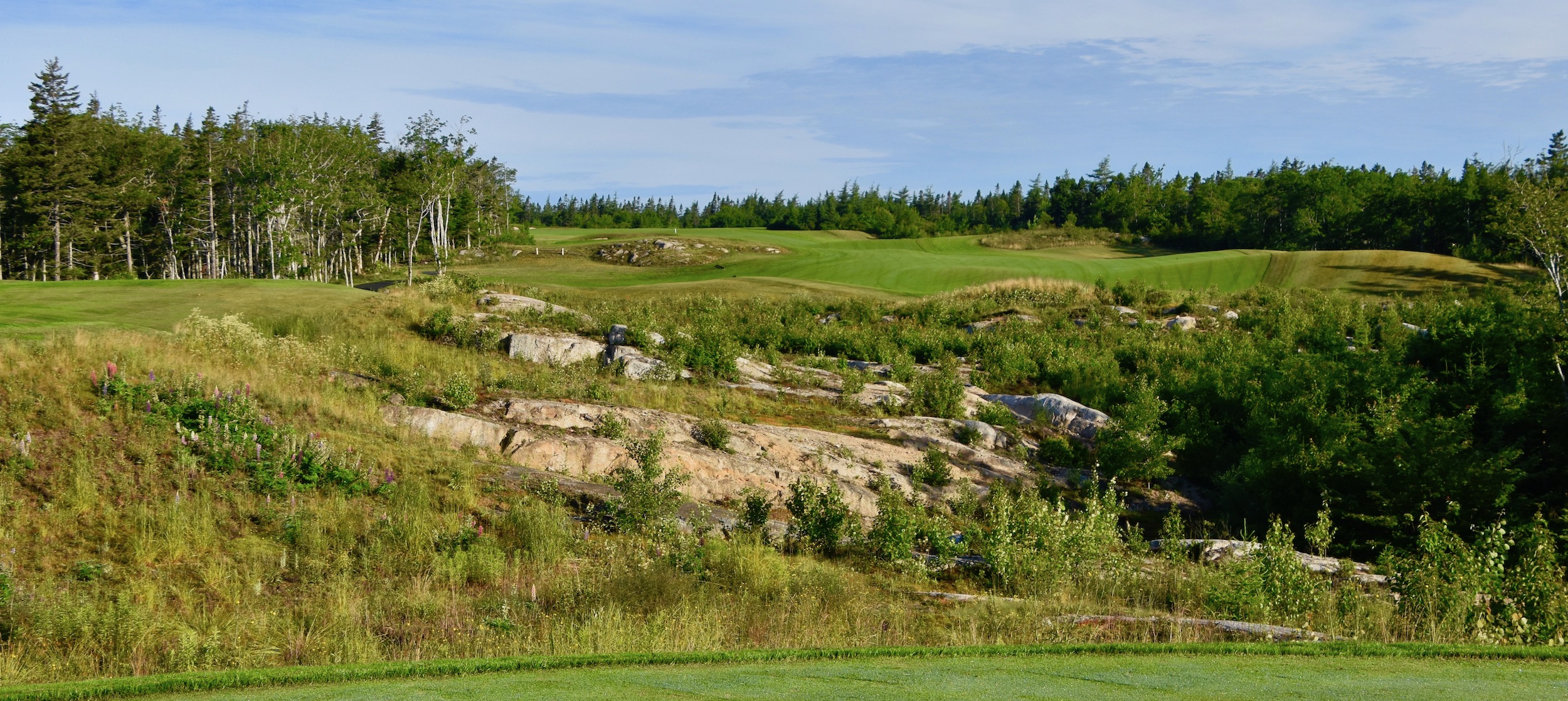 Okay, we've just had a stretch of three relatively benign holes, but don't get complacent. This is probably the toughest drive on the course with the longest carry to the fairway. The second shot is no gimme either. The toughest hole on the back nine is just that.
#16 – 446 Par Five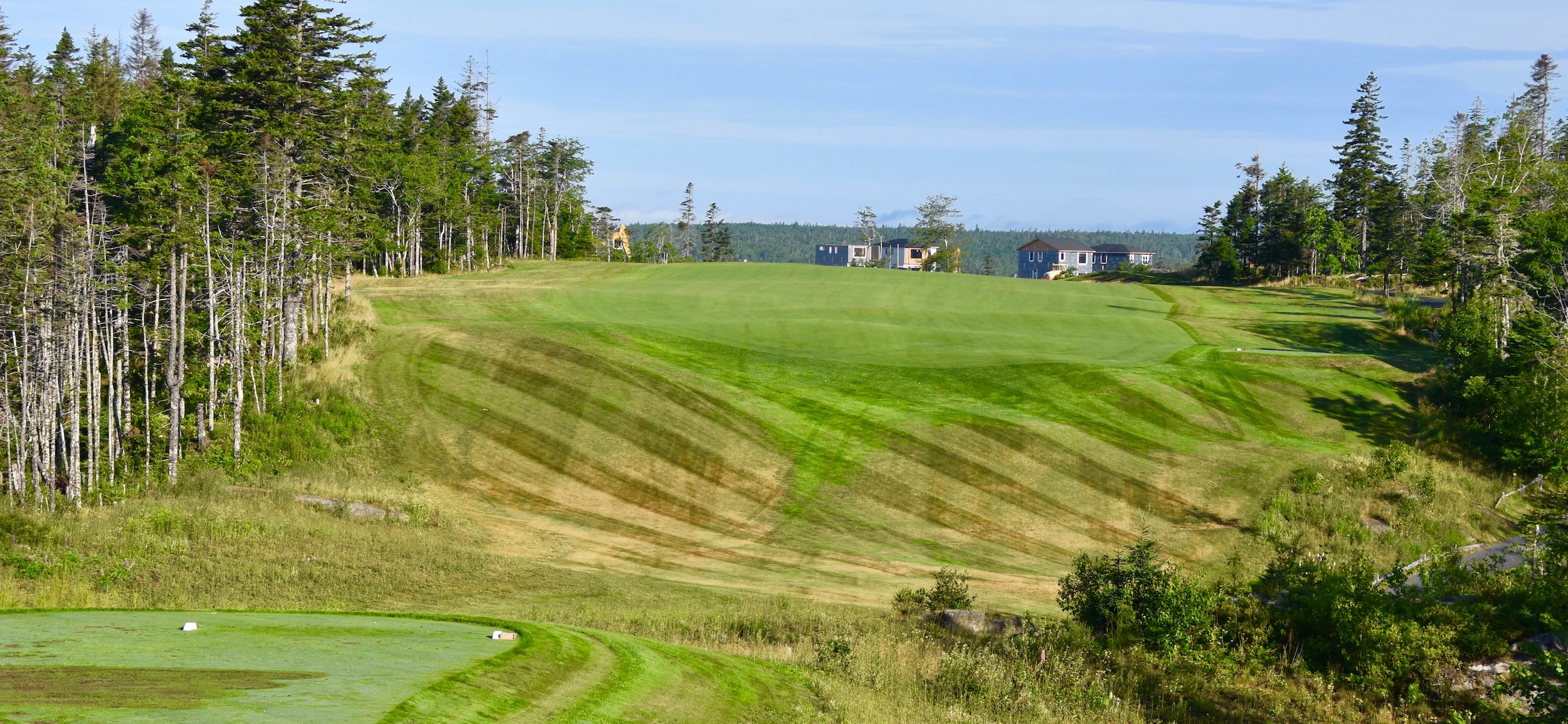 Yet another blind tee shot and with houses in the background, my least favourite hole at Brunello. The fairway looks fairly wide, but there is absolutely no room for a miss left or right. A bit of a hohum hole by McBroom standards, but that is only because almost all the others are so good.
Brunello #17 – 183 Yard Par Three
In this photo you can see some of the conditioning issues I mentioned about the tee boxes. This is by far the hardest par three on the course and requires a lot more club than any of the others. Don't be afraid to use a wood like I did if you want to reach the green.
#18 – 379 Yard Par Four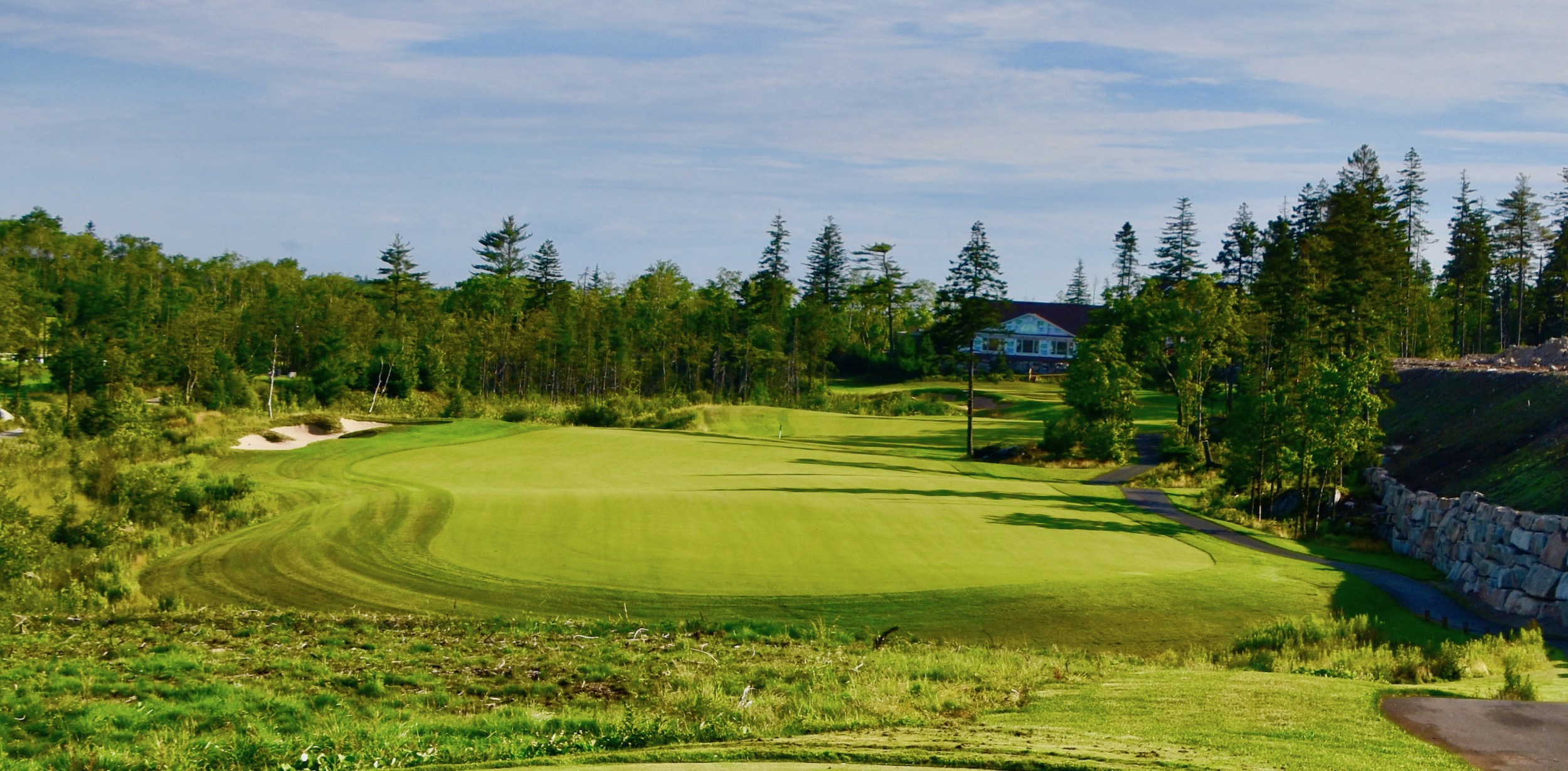 No. 18 is a very nice finishing hole with the only left to right dogleg on the course. Another tough driving hole at Brunello as the landing area is extremely narrow. It plays to an elevated green which makes it play longer than you'd think.
A few closing remarks. While Brunello is walkable, most people take carts which have excellent GPS systems. They also have something we have all been missing for over a year – ball washers. The club has a great junior's program and during our round we saw of them from ages five and up being instructed at various places around the course.
All in all Brunello is a great test of golf that all serious golfers should add to their bucket list.
For more hole by hole posts on Nova Scotia golf courses see these – Cabot Links, Cabot Cliffs, Highlands Links and Fox Harb'r.