The Quin – Modern Comfort in New York City
Finding a great hotel in New York City is a lot harder than it sounds. The choices are overwhelming – Trip Advisor lists almost 500 hotels alone. There are a number of factors that need to be taken into account, most notably value for your dollar and location. In NYC it is not always the case that you get what you pay for. Several 'big name' hotels coasted for years on their reputations and charged exorbitant rates for what were sub-standard rooms. It still happens. On top of that NYC rooms are generally all quite expensive and often smaller than at other major U.S. cities so even if avoid being ripped off, getting good value is another matter. Here's why I chose The Quin for a stay in NYC in early 2017.
For me the second most important factor after good value is location. Manhattan is a big island and if your main interest is say shopping or museum hopping, then you could spend a lot of time and money on cabs or the subway if you pick a place in the say the financial district. Staying in mid-manhattan or MidTown puts you within walking distance of the Broadway area, Times Square, 5th Avenue shopping, Central Park, the Museum Mile and God-forbid, Trump Tower. There's also a gazillion good restaurants in the area.
Small Luxury Hotels
OK, I've decided on MidTown, what next? Well this is where I turn to Small Luxury Hotels, my favourite go to site for finding great hotels. The name is quite self explanatory – SLH is a collection of over 500 hotels on six continents that are small and luxurious. Obviously you don't get luxury without paying a premium over what it might cost to stay in a standard or budget hotel, so if your chief concern is saving money then you should stop reading right now. But, if you want a consistently good experience then I recommend trying an SLH hotel.
I started staying at SLH properties just under a year ago when my wife and I visited Trout Point Lodge in my home province of Nova Scotia. We followed it up with stays in Rome, Venice and Wilmington, Delaware. You can read the reviews on this website if your interested. BTW I am not a paid shill for SLH. I pay my own way usually at the rates published on the hotel's website. The reason I like them so much is that by joining their loyalty program, The Club, you will automatically get upgraded to a better room if one is available. So far that has worked every time including our stay at The Quin. Getting a suite for the price of a room is, pardon the terrible pun, a sweet deal.
By SLH standards The Quin is fairly large with 208 guest rooms on 17 floors, but is still minuscule compared to nearby chain hotels. It's location at the corner of West 57th and 6th Avenue is just about as good as you can get. There is a subway station at the same corner, Central Park is two blocks, Carnegie Hall around the corner and the Theatre District with easy walking distance. From the outside The Quin doesn't look any different from many of the other buildings of similar age in Manhattan, many of which are being demolished to make way for much larger structures.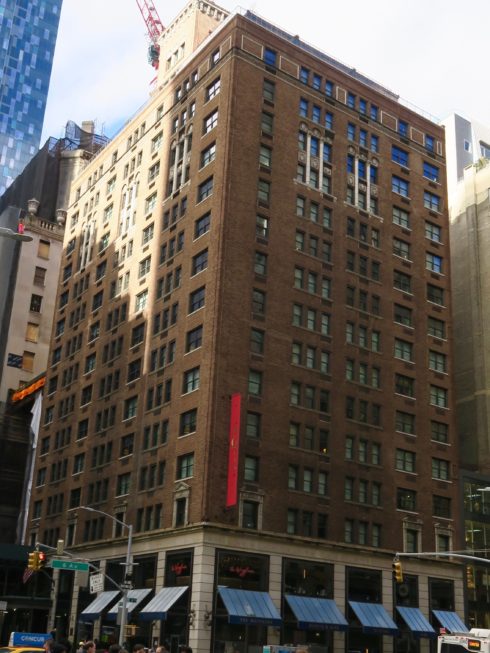 As we get out of the cab from Newark airport I notice this plaque on the side of the building.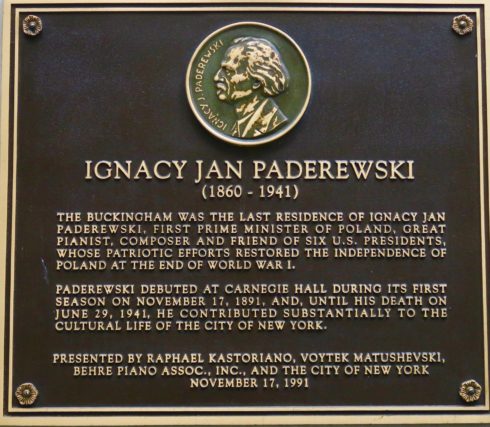 The reference to The Buckingham leads me to look it up on the internet after we check in and I find out that The Quin has a vaunted past as a hotel that was a favourite of visiting musical artists, many of whom were playing at Carnegie Hall. Paderewski was one of these. However, other regulars such as Marc Chagall and Georgia O'Keefe were apparently drawn by the Bohemian atmosphere of the place and its clientele. Eventually The Buckingham fell on hard times and by the early 2000's was virtually a flop house.
The current owners hired the design team of Perkins-Eastman to do a complete internal renovation and from the moment you walk through the doors, any doubts you might have about the modernity of the place are immediately dispelled. The musical theme that apparently started with The Buckingham has been continued, albeit in an unusual manner. Beside the lobby reception area the entire wall is a giant collage of video screens that create one image – in the case of our visit, a giant guitar, which was in keeping with the current art theme. I must say my first impression  was of the futuristic screens from Blade Runner.
On the opposite wall was this collection of guitars, each crafted by a different artist. Note the lovely liatris flowers below them.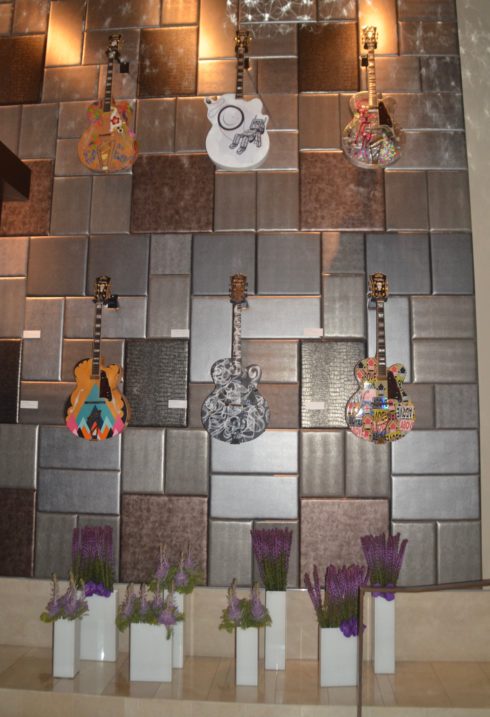 On closer inspection I found these two most intriguing.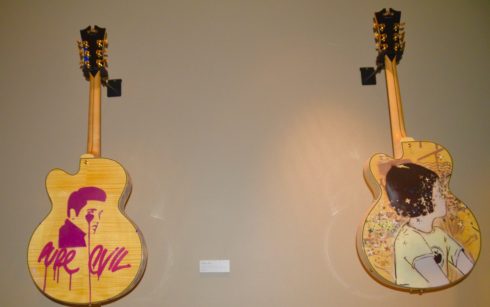 A weeping Elvis dripping 'Pure Evil' and a distracted child who could have come out of Tin Tin. Wrap your head around that, or just appreciate that this is no ordinary hotel.
The Quin – The Rooms
At check in I was pleased to find that we had indeed received an upgrade from the Premium room I had reserved to a corner room with views up both West 57th and 6th Avenue. As with every SLH room we have stayed in, this did not disappoint.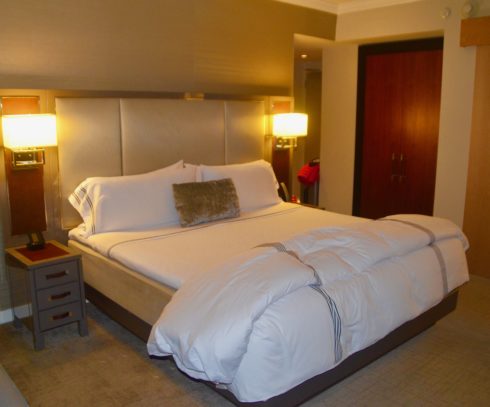 The main reason 99% of people check into a hotel is because they intend to sleep there (I'll ignore what the other 1% does because they wouldn't be staying in a place like The Quin). Therefore the quality of the mattress, pillows and linens is paramount. The Quin is equipped with Duxiana luxury beds which the company claims are the best in the world. The linens are from Sferra which, surprise, also claims are the best in the world. Whether they are right or wrong, lying on the mattress, between the sheets, is as good as we've ever experienced in a hotel.
The rooms also have nice size Samsung LED HD TV's with a zillion channels and something I hadn't seen before – a pull out room safe. Doesn't sound like much, but trying to read the infinitesimally small instructions printed on many wall safes hidden in closets with next to no lighting, can drive a person nuts. With this one you looked down at the instructions which were legible and simple. It was also a decent size. Another of my must haves in a hotel room is a fridge with enough room to accommodate my own beer and wine purchases. The Quin fridge passed this test easily. There's also a Nespresso machine, but I am not a fan of these.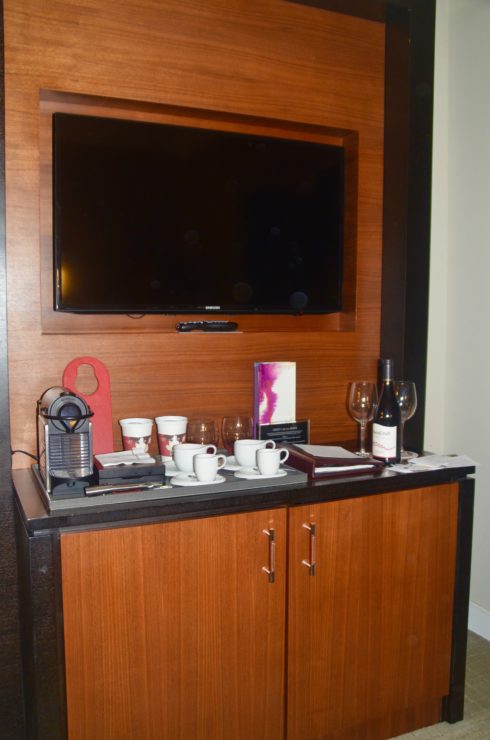 The last chance to screw up in a hotel room is the bathroom, particularly with women. It shouldn't be too much to ask that it be clean, have decent linens, decent amenities and reliable hot water. Oh, and shower and tub controls that you don't need to be an Einstein to figure out. Nothing makes a person feel more like a fool than having to call the front desk to find out how to turn on a tap.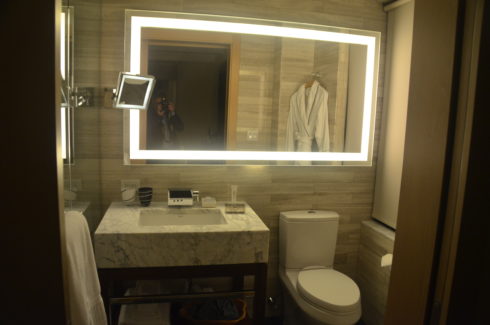 The bathrooms at The Quin are heavy on marble and passed all the requisite tests with ease.
Another room amenity of note. I love the hustle and bustle of NYC, or rather I love looking at it from a hotel room. The bright lights, big city feel is exciting like perhaps no other city in the world, but when it's time to turn in, those lights are a distraction. The Quin has an electronic system that not only controls lights, but also two layers of window screening. Have you ever been in a hotel room with manual draw strings for the curtains and you pull the wrong way and then can't get to reverse? I have – many times. Maybe I'm just a klutz, but I like the idea of electronic controls that make it simple.
The other interesting thing about The Quin rooms is The Quin herself. This is a representation of a woman that owes a great deal to Gustave Klimt. Here is what I think is one of the most sensuous images of a woman ever painted.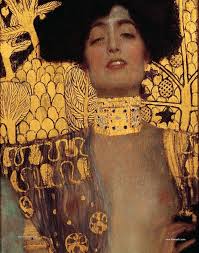 And here is The Quin. She is everywhere in the hotel and might, I suppose, be considered its 'brand'. If you're going to style yourself after someone, Klimt is a pretty good choice.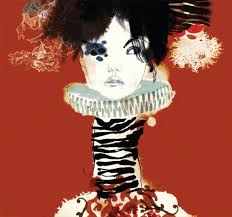 Wayfarer Restaurant
We arrived at The Quin after the usual hectic taxi ride from Newark Airport ready to just hunker down with no desire to go outside the hotel for dinner. Luckily, The Quin has an excellent restaurant attached to it. The Wayfarer is a contemporary American restaurant with a broad menu that includes sushi, a raw bar, and a wide variety of starters and mains. I can personally vouch for the oysters, bigeye tuna poke, charred octopus and burrata mushroom salad. Simply a great place to unwind before heading to the room.
A couple more things that makes The Quin a great choice – an excellent workout room with top quality equipment and a computer lounge with a lot of very interesting books.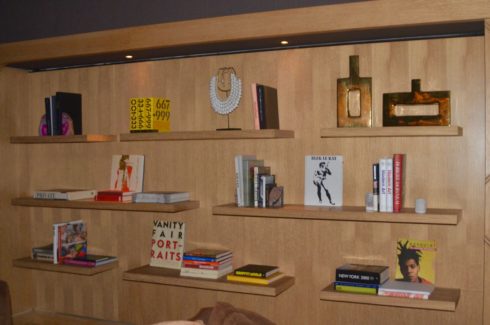 Lest the reader think I've gone overboard in my praise of The Quin, there are a couple of caveats. NYC traffic is notoriously noisy with non-stop sirens and pandemic horn honking during the morning and evening rush hours. The result is that even the best sound insulated rooms are not immune. I highly recommend getting a room as high as possible to lessen the outside intrusions. Second, there is currently construction on the building next door that is a bit inconvenient, although obviously that is a temporary problem.  However, these are minor negatives compared to the many positives for this hotel. Give it consideration on your next visit to NYC.
UPDATE:
Sadly, The Quin has become a victim of the global pandemic and is currently closed until March 2021 according to the website. Not long after staying there it was acquired by Hilton, although it has retained the name. It is now The Quin Central Park by Hilton. For an alternative consider another Small Luxury Hotel in NYC which I have also stayed at, The Iroquois which is reopening April 1, 2021.