The Iroquois – Location is Everything in NYC
I've made no secret over the years I've been writing this website that I'm a big fan of the Small Luxury Hotels brand. You'll find posts on SLH hotels in Rome, Venice, Nairobi and even my native Nova Scotia among others on this website including The Quin in New York City. Recently Alison and I made our semi-annual visit to New York City to see a Broadway show (Come From Away), attend a concert at MSG (Billy Joel's 70th birthday bash), eat some great food (Oyster Bar at Grand Central Station and Keen's Steakhouse) and tour a few museums (911 Memorial and the Natural History Museum). The one thing about The Big Apple is that it never disappoints and is the very definition of world class. With that in mind I wanted to stay at a hotel that would live up to that billing without forcing me into bankruptcy at the same time. We found it at The Iroquois. Here's why.

The Iroquois – Location, Location, Location
Manhattan is a big island with a zillion things to do and see. You can take the subway quite reasonably to get anywhere on it and we use it a lot when we are in the city, but if I have a preference it is to walk. Only by walking can you really appreciate why New York City is, like London, Paris and Rome, a city that has a unique vibe of its own. That is why my first choice is always to stay in Midtown Manhattan. That's where you'll find Times Square, the Broadway theatre district, Madison Square Garden, the famous shops of 5th Avenue, etc., etc. etc. However, the last thing I want in a hotel is to be too close to the swarming crowds that can be claustrophobic at times. The Iroquois has a perfect location on West 44th between 5th Avenue and The Avenue of the Americas, two blocks from Times Square. The street is relatively quiet, but only a few minutes walk from Broadway. I've stayed in well over a dozen different hotels in NYC and none has had a better location than The Iroquois.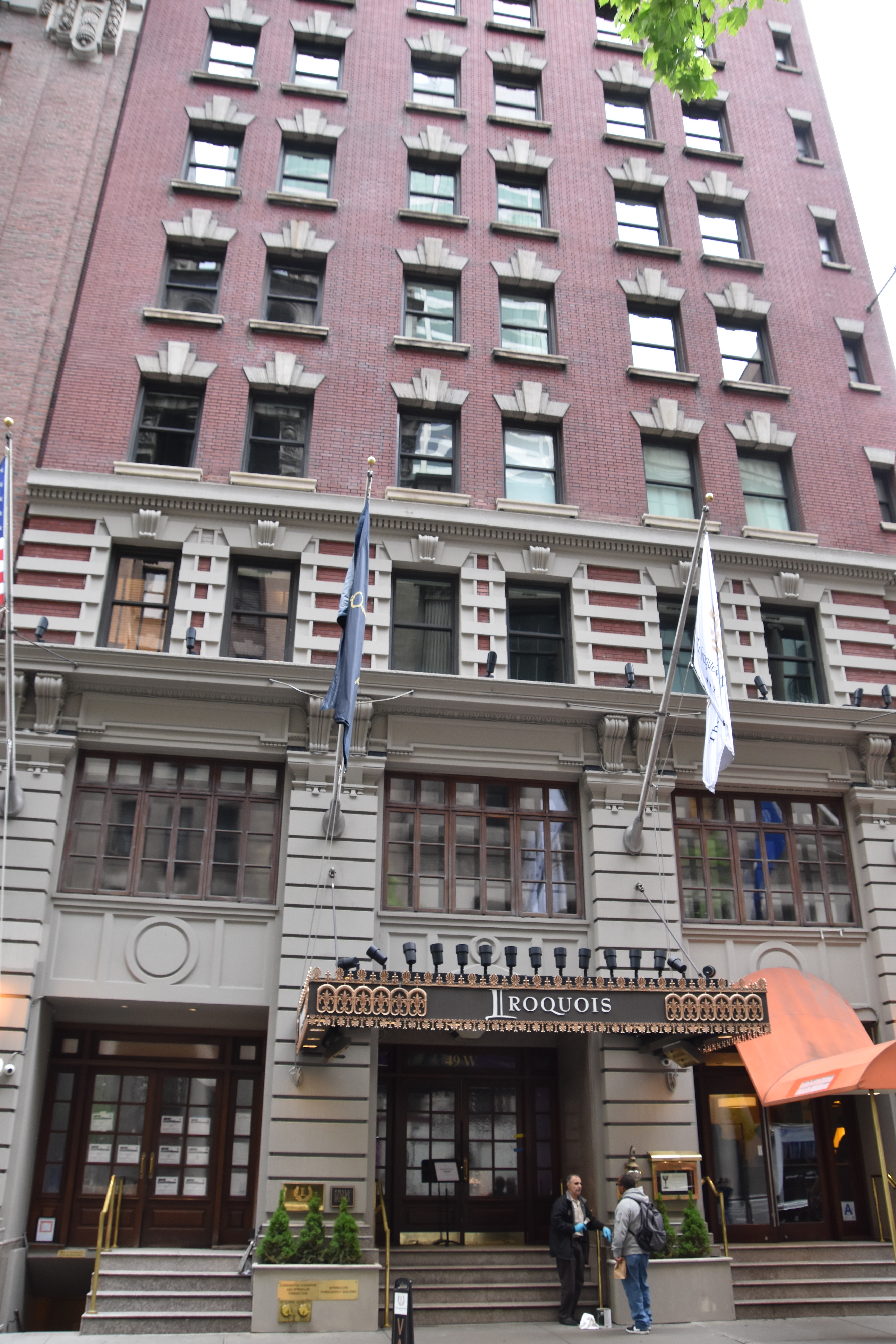 I also like a little history in my hotels and The Iroquois has that as well. It is just coming up on 120 years of age and for most of its existence doubled as an apartment/hotel with a number of luminaries as residents. James Dean lived here for two years. For a while in the 1980's it featured a cabaret restaurant run by the legendary Jan Wallman who jump started the careers of Woody Allen, Rodney Dangerfield, Barbra Streisand and Joan Rivers among many others. More recently the larger apartments were converted into what is now a 120 room boutique hotel.
The Rooms
The rooms at The Iroquois are quite typical of most New York City hotels, or at least the ones that ordinary mortals can afford. They are not large, but they are luxurious. This is our room on the top floor, 1206.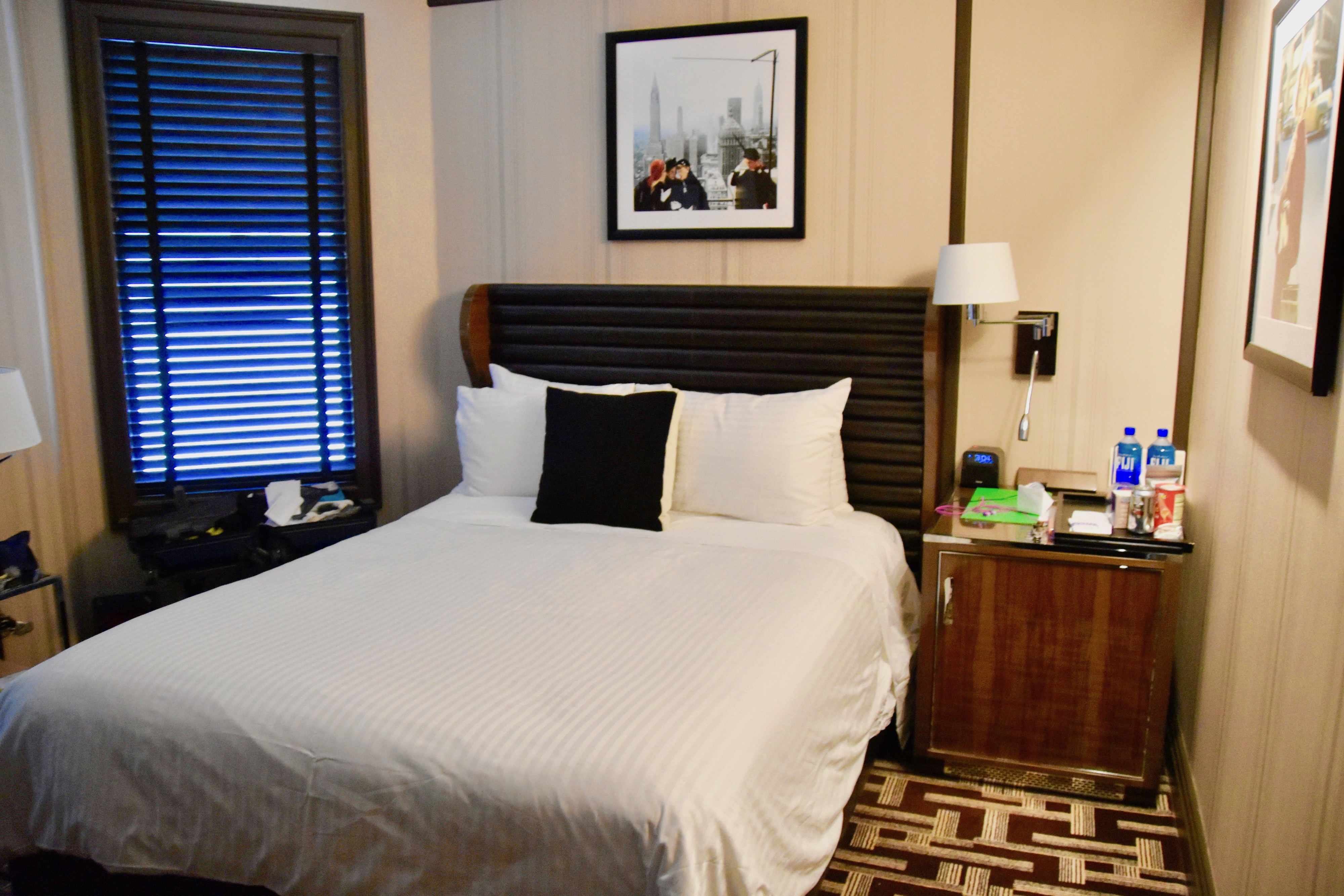 Like all SLH hotels, the mattresses, linens and toiletries were excellent. I wasn't cracked about the minibar which had virtually no room to store our own beverages, but that was easily solved by having our own mini fridge brought up at no extra charge.
The bathroom had a heated marble floor and a really good shower with a great flow of water. That should be a given in any good hotel, but believe me, it's not. Also, I liked the fact that you didn't need to be an Einstein to figure out how to work the damn thing.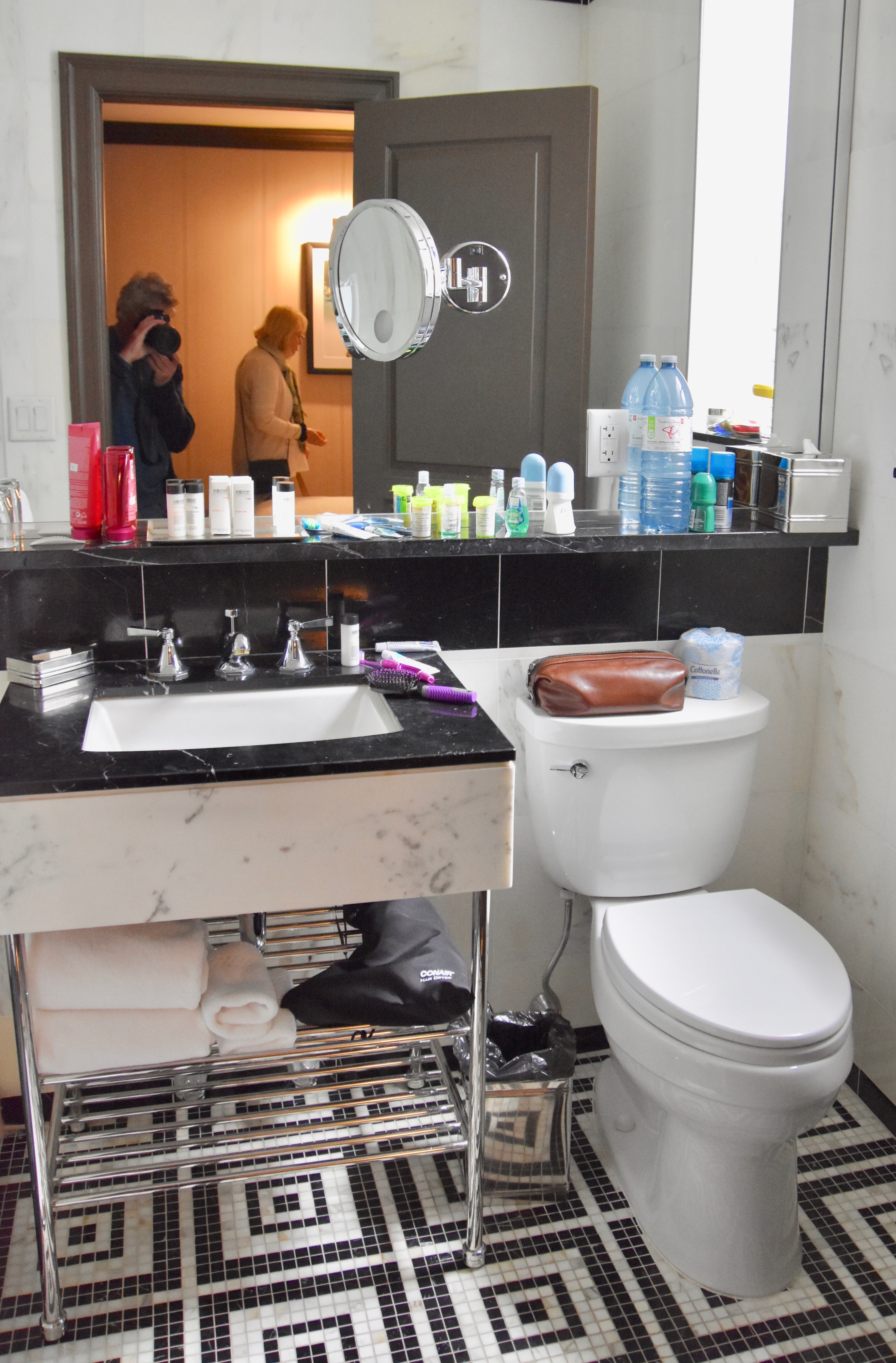 The Staff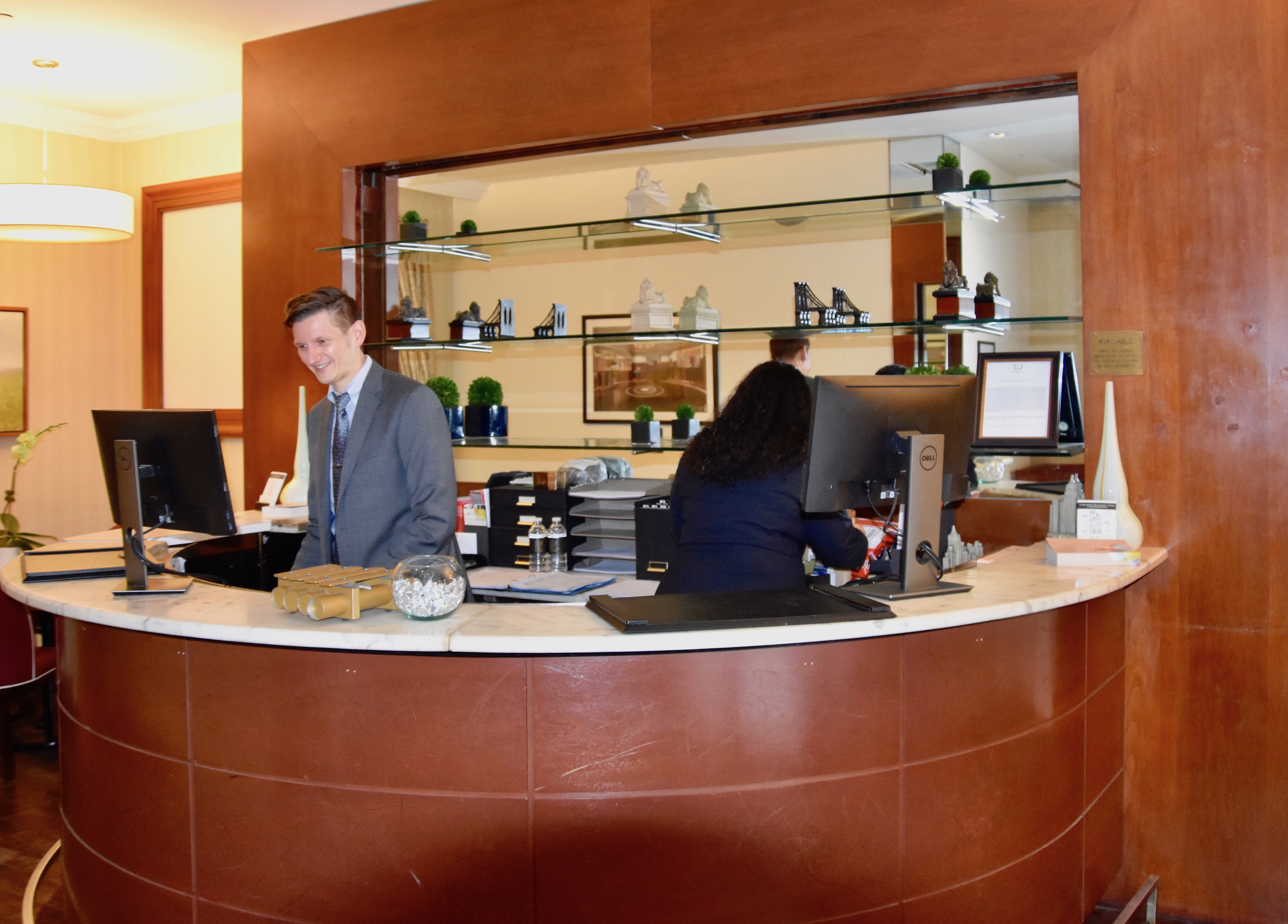 You can have the best built hotel in the world with the greatest amenities, but it doesn't mean a thing if the staff are not up to snuff. If they are surly or treat you as if you are an interloper or obviously expect huge tips for the most nominal of tasks, it will ruin the experience. The staff at The Iroquois were none of these. Many of them have worked here for decades. They were uniformly exactly what you would expect from a quality hotel – polite without being obsequious, friendly without pretense and there when you needed them. As an example, after checking in I could not locate my cell phone and figured I'd left it in the car which was now somewhere in the offsite valet parking garage. One of the guys on duty accompanied me the two blocks to the garage and we had a great chat about the city and life in general there and back.
On Tuesday's and Thursday's there is a manager's reception from five to six. These are not uncommon these days, but usually they are quite parsimonious with the spirits. Not so at The Iroquois where the glasses were refilled by the chap in the picture above as soon as they were half empty. He seemed genuinely determined to make sure everybody was having a good time and by six we definitely were.
One thing The Iroquois has that is quite unique is complimentary walking tours six days a week in conjunction with Streetwise New York that start at six different hotels in Manhattan. On Sunday's the tour starts at The Iroquois and features highlights of Midtown Manhattan including Bryant Park, Grand Central Station and the New York Public Library. On other days you can make you way to other hotels and visit TriBeCa, Hell's Kitchen, the Upper West Side, NoMad and Times Square.
One thing I should mention for anyone who might be thinking of staying at The Iroquois in the next few months is that there are renovations taking place on the ground floor. The hotel's restaurant and lounge is currently closed.  That's not a hardship because there are tons of great eating and drinking places nearby, but the hotel is also offering a food service from famed chef Daniel Boulud's db Bistro Moderne which is literally right next door. For cocktails try the Blue Bar at The Algonquin which is just two doors down. Finally, if you want more than just a coffee for breakfast go just a few steps farther to The Red Flame Diner which is as New York as you can get and could easily be mistaken for the fictional Monk's from Seinfeld.
I've stayed in many hotels that are under renovation and it can easily ruin the vacation if the noise and construction dust are not controlled. I can honestly say that if they didn't tell you that there were renovations going on, you wouldn't notice it. There was no noise and no dust. In fact, for a New York City hotel The Iroquois is extremely quiet. I now have a reason to return when the revamped restaurant and lounge open in the late summer or early fall.
So, in conclusion, The Iroquois easily lived up to my expectations as an SLH member hotel. Oh, and before I forget, here's the link to their website.
Unfortunately, The Iroquois is temporarily closed due to the pandemic, but unlike many others in NYC it is scheduled to reopen.
During this visit to NYC we took the opportunity to visit the 911 Memorial which is something every visitor to the city should do at least once.