Hemingways – Best Hotel in Africa? Maybe.
Alison and I spent most of February, 2017 in Africa. If possible, we always like to start and end our vacations at really nice hotels or resorts. At the beginning it's to get adjusted to the new destination and recover from any jet lag. We started our trip in Egypt with a three day stay at the fabulous Mena House with a room overlooking the Pyramids. At the end of a trip it's a chance to slow down from what is usually a pretty hectic pace we always seem to maintain while 'on vacation'. This time our trip ended in Nairobi, Kenya and a three day stay at Hemingways which bills itself as the Best Hotel in Africa. After our stay, I have to agree that they make a great case for it. Here's why.
As any regular readers of my posts will know, I am a big fan of the Small Luxury Hotels of the World  brand which is remarkably consistent at delivering a high quality experience whether it be in the middle of Manhattan or in the wilds of my native Nova Scotia. I also happen to be a big fan of Ernest Hemingway and have followed him from his boyhood home in Oak Park, Illinois to Paris, Spain, Key West, Venice, Ketchum, Idaho where he is buried and now Kenya where he wrote The Snows of Kilimanjaro, arguably the best short story he ever wrote. So it was a no brainer to book a place named for Hemingway and part of the Small Luxury Hotels chain.
The organized portion of our Kenya trip, by Adventures Abroad,  ended in Nairobi at the Serena Nairobi Hotel which is a fine hotel in its own right, recently completely renovated. If your purpose in visiting Nairobi is on business then staying right in the city near the financial district is probably the best option and the Serena or the Sarova Stanley, where Hemingway actually stayed, might be the best options. Hemingways is outside of Nairobi in the very upscale neighbourhood of Karen, which frankly surprised me with its obvious wealth and modernity. It is an area of lush gardens, private schools and posh restaurants, including the legendary Tamarind, reckoned by many to be the best restaurant in Kenya. More importantly, it is close to many of the top attractions in the Nairobi area, which I'll describe later in this post.
Hemingways – The Hotel
Ever since the Muslim terrorist attack on the Westgate shopping mall, all the major hotels and shopping complexes in Nairobi are super conscious about security – for example, you can't even get into the parking lot of the Galleria mall without going through a security check. The entire grounds of Hemingways is fenced in and there are raised bollards and a security gate manned by guards who do more than just a cursory check of any vehicle before permitting entry. For North Americans this might seem off putting at first, but once you are through the gates it's like entering an entirely different world – tranquil with only the sound of the many different types of birds amidst the many flowering trees and shrubs. One thing I found out very quickly about Kenyans is that they are very soft spoken and don't like noise. Hemingways is perhaps the epitome of this quiescence.
This is the back of the main building of Hemingways which features a huge atrium at the entrance with two spiral staircases that are flanked by massive photographs of African scenes that definitely creates a 'Wow' effect the first time you walk through the doors.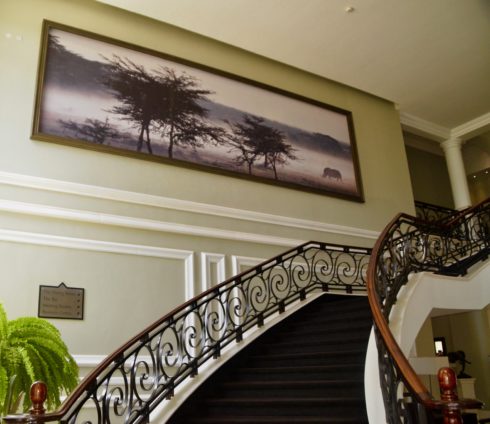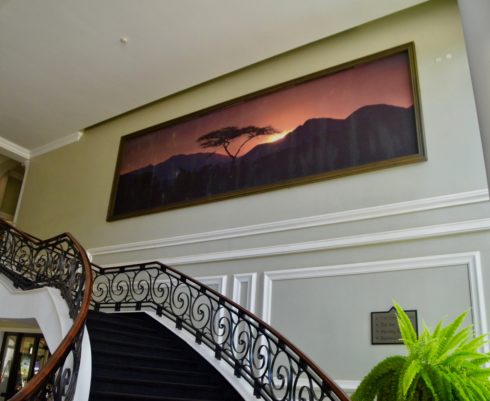 Like many of the best hotels, there is no reception area per se where you stand up to check in, but rather a desk you take a seat at and give your passport details to the manager on duty, in our case, a very sharply dressed young woman of about thirty. We had arrived well before the usual 3:00 PM check in time, but had to wait only about fifteen minutes before our room was ready. Each guest is assigned a dedicated employee, dressed in butler's livery, to see to your every needs. Ours was a tiny young woman who, despite her size, insisted on carrying our luggage to the golf cart that took us to our room. I must say that at first I was a bit uncomfortable having a butler, especially a black one, because it made me feel almost like a colonialist, but during our stay at Hemingways it soon became clear that the staff was very content and these were well paying jobs. Kenya has 42 different tribes and it was apparent that there was a goodly number of members on staff from these different tribes. They ranged from very tall and thin to very short and chubby, but the one thing that was uniform was their courtesy and politeness, as well as their quiet speech.
In terms of the guests, the majority were white, mostly Europeans and South Africans, but there were also a lot of Kenyans of East Indian descent as well not a few native Kenyans, Ugandans and Tanzanians. It seemed a very popular spot on Saturday for local multi-generational families to gather for dinner.
Hemingways – The Ryder Haggard Suite
The rooms at Hemingways are located in a series of two story building that run downhill from the main building. Each building has a specific theme with each room named after a different person that fits that theme.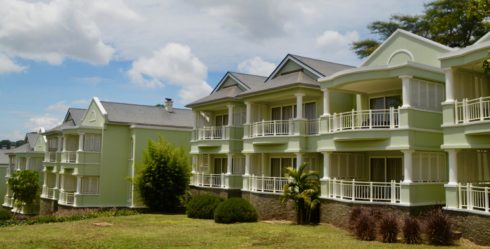 Appropriately enough, our room was in the Writer's Wing.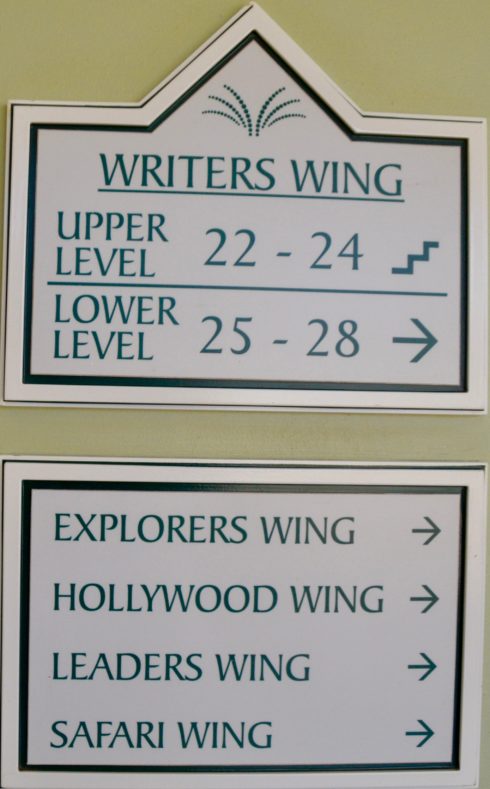 Our particular room was named for one of the great adventure writers of all time, H. Rider Haggard, author of King Solomon's Mines and the lesser known She, which was made into a 1965 movie starring the smoking hot Ursula Andress that had me drooling as a teenage boy, just looking at the movie poster.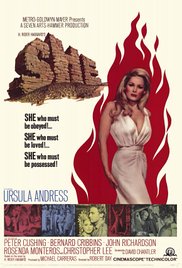 There were many things we loved about Hemingways, but I have to say it was the actual hotel room that really impressed us the most. You often hear the old cliché about not worrying what your room is like, because you won't be spending much time there anyway. Well in the case of the Rider Haggard suite, this was a room we wanted to spend time in.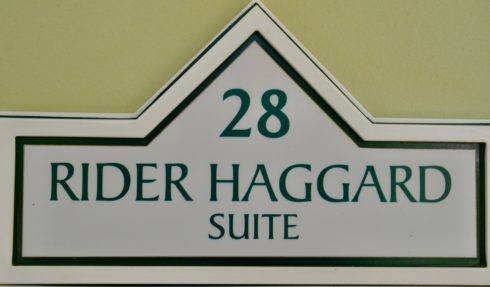 This is what you see as you open the door. It's bright, airy and somehow, so African.
Here's the king four poster bed.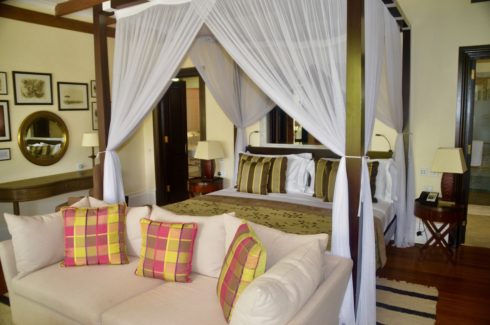 There was a picture and biography of Rider Haggard along with some very good drawings on the right wall.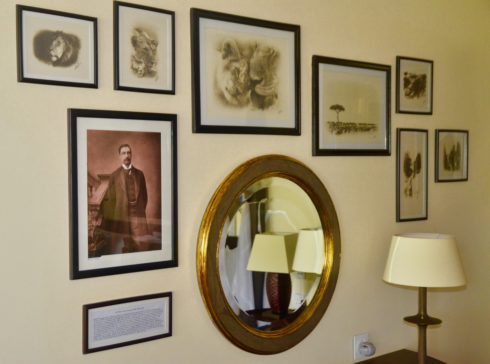 On the opposite wall was this picture of African elephants.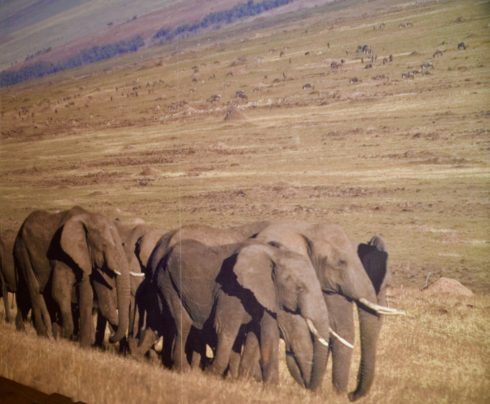 The bathroom was sparkling clean and huge, with matching sinks on the opposite walls, a large stand alone tub and a shower big enough for a party. In between the shower and the toilet stall was a large walk-in closet with safe and more than enough room to store clothes.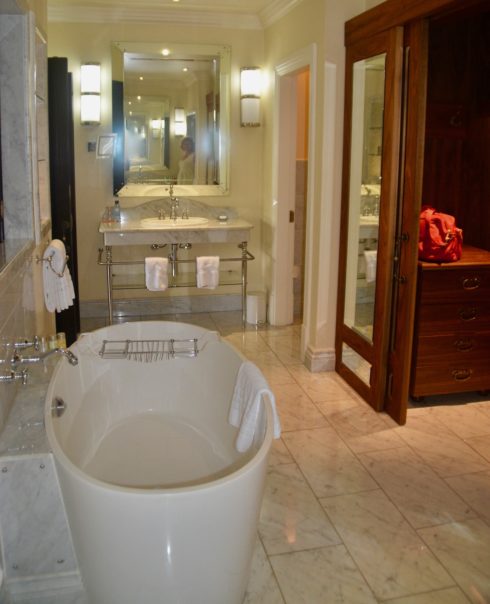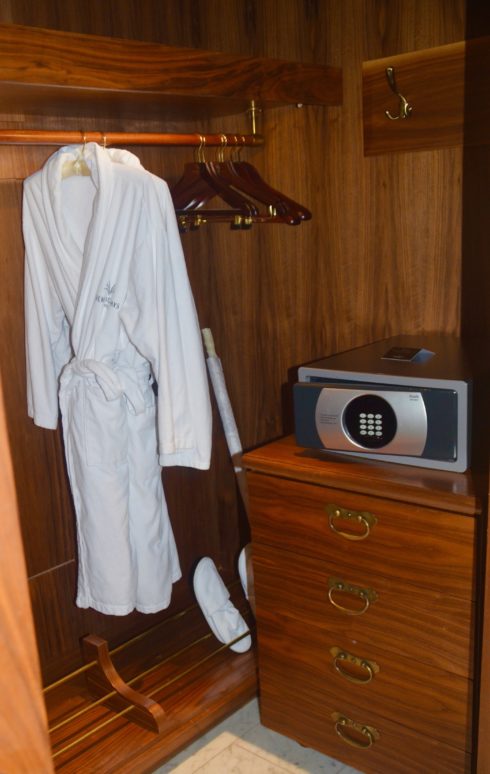 There were several quite unique touches, like the old fashioned traveler's trunk you see in the picture of the suite above. Surprise! It doubles as the TV, which pops up on command. We were so impressed that we will be getting one for our TV back home. Also note the lamp that has a surveyor's tripod as a base and the fresh flowers in a crystal vase.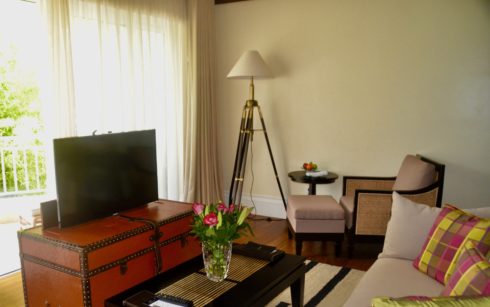 The owners of Hemingways apparently made their money in the fresh flower business and that is readily abundant as there are fresh cut flowers, particularly roses, everywhere.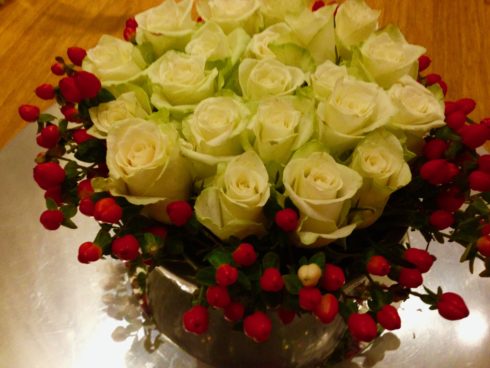 Each room has a spacious balcony where you can relax on the chaise lounge.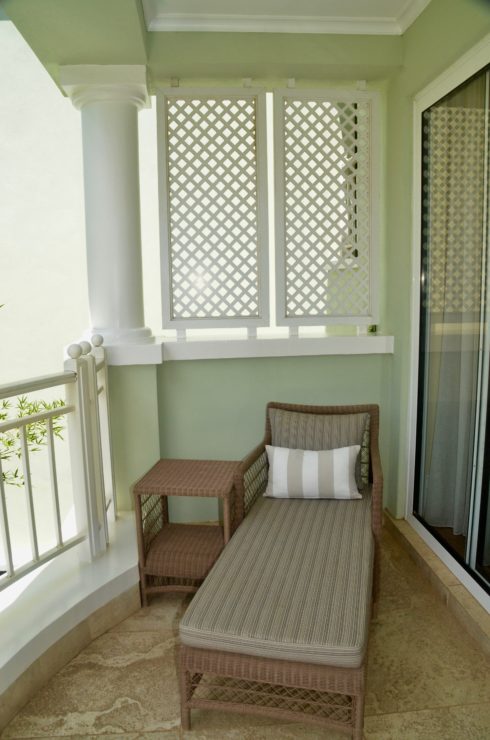 And enjoy this view of the grounds. Although it doesn't show up in this photograph you can see the Green Hills of Africa in the distance.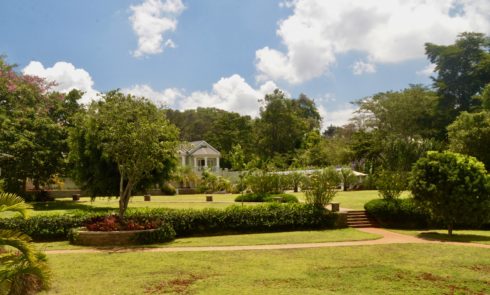 So, this was no ordinary hotel room, not by a long shot.
The Other Amenities
Hemingways is meant to be a resort and not just a hotel, so there is plenty to keep one occupied on site if you just want to stay secluded behind the fenced in grounds. These include a nice swimming pool.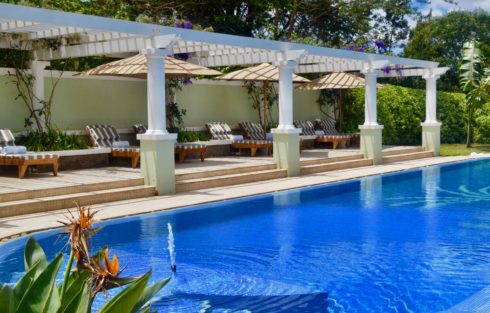 A spa, which we used on several occasions. The prices were very inexpensive compared to the cost of North American or European spas.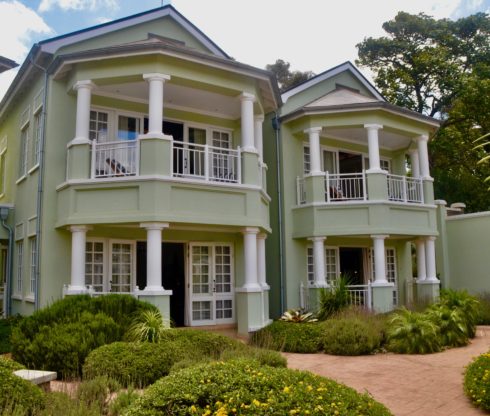 The grounds are actually nicer than they look from the photo from the room and include several fountains including this one that features water coming from the heads of the Big Five. In case you don't know, the Big Five are lion, leopard, cape buffalo, elephant and rhino. There are also some lovely specimen trees many of which were in bloom during our stay.

In terms of dining, there are several options. For lunch there is great al fresco dining on the back patio. The menu is quite European with a touch of East Indian. The prawns masala are excellent.
For dinner there is the slightly more formal Brasserie which has a wall of quotes from famous visitors to Africa, including of course, Hemingway, "Always do sober what you say you'll do drunk. That way you'll learn to keep your mouth shut."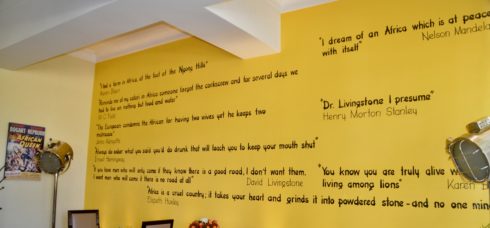 The Brasserie specializes in steaks cooked in something called a Josper oven, which is apparently the only one in Africa. Whatever it is, the steaks are bloody good.
Also, after the buffets, which are standard at most African safari camps, it was nice to be able to order from a menu. That being said, breakfast is a continental style buffet.
Things to do Outside the Resort
As I mentioned, Hemingways is in the Nairobi suburb of Karen which is in the hills west of the city centre and close to a number of attractions. The number one thing to do, no matter where you are staying in Nairobi, is to visit Nairobi National Park. Now you might think that a park that abuts a city of millions, might not have much to see in the way of wildlife. You'd be dead wrong about that. Hemingway's offers their own dedicated driver/guide who will take you on a morning game drive through the park.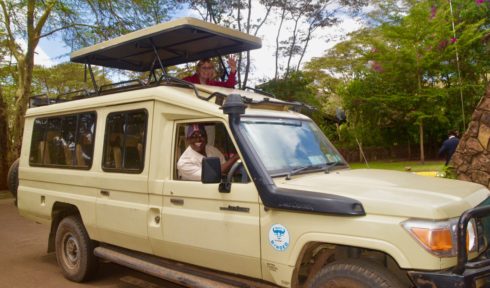 This is William and in five hours he showed us an amazing variety of wildlife including both types of rhino, lions, giraffes, hippos, hyena, zebras, hartebeests etc. as well as a great variety of birdlife. I'm going to write a separate post dedicated to this game drive, which will include pictures of the wildlife, but suffice it to say, you won't see this view from another other game park in Africa.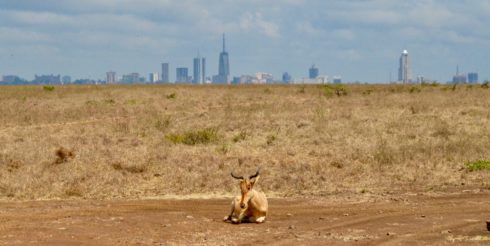 Other attractions close to Hemingways include the Karen Blixen Museum which was the home of the woman who was immortalized by Meryl Streep in Out of Africa. You can see the actual clothes Meryl wore for that movie on display.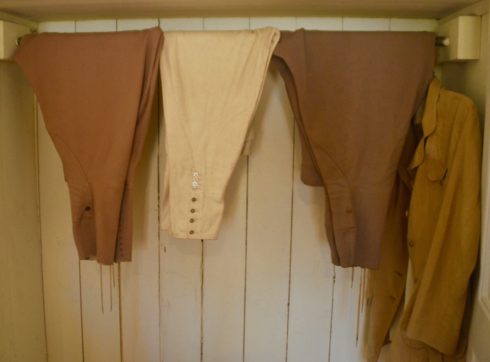 The Giraffe Centre is also a really neat place to visit where you can get up close and personal with Rothschild's giraffes.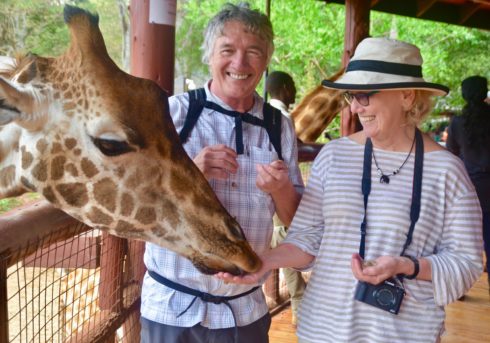 Lastly, if you're like us, you do your souvenir buying near the end of the trip so as not to have to lug around the stuff for a few weeks. Kenya has absolutely amazing things to buy that are far more than just trinkets. Outside of Nairobi we saw these at numerous stops and were impressed, but they all involve bargaining which most North Americans are averse to as well as being lousy at. Not far from Hemingway's is Utamaduri Co-operative Craft shop which has just about every possible Kenyan made item you could possibly want and all at fixed prices with no bargaining involved. Even if you buy nothing, which is impossible, the colours of the many rooms of this co-operative are spellbinding.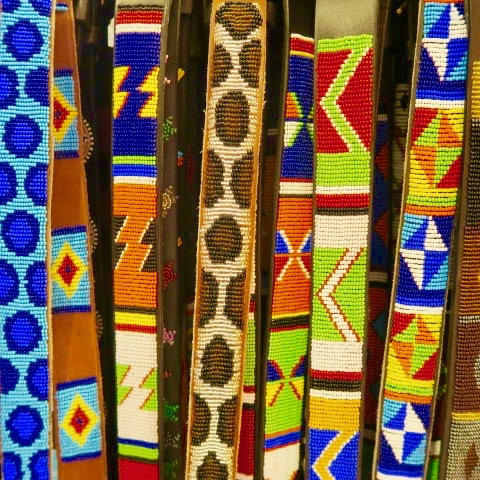 Hemingway's – One Last Thing
Sometimes the best way to judge a place is not by what they do right, but what they do wrong or more properly, how they respond to a mistake. In the case of Hemingways, admirably. Here's what happened.
We were scheduled to do the Nairobi game drive on Sunday and were dutifully up at 5:30 and waiting to be picked up out front as requested at 6:00. Nobody came. After an hour we returned to our room after explaining the situation to the on duty manager who promised to get to the bottom of what happened. Back in our room the phone rang and it was a clearly distressed person in charge of arranging the trips to the park. He explained that he somehow had written us down for Monday and not Sunday as the booking confirmation clearly stated. Luckily we would still be here on Monday and so the game trip came off a day late. However, that wasn't the end of it. A short while later the fellow was back on the line, and again after apologizing about a dozen times, offered us the services of a guide and driver for the rest of the day to go wherever we wanted at no charge. That was how we got to the Giraffe Centre where the guide paid the admission fee of 12 USD each, and to the craft co-operative as well as other parts of Nairobi we would not otherwise have seen. That night, I am sure every employee of Hemingway's knew what happened as at least six offered their apologies.
Instead of leaving Hemingway's with some doubt about their proclaimed status as the Best Hotel in Africa, we left with no doubt that is a definitely one of the best on the continent.