Suttle Lodge – Unwind in Central Oregon
This is the first of what I hope to be many posts on the great state of Oregon where I came to attend my first Society of American Travel Writers now just (SATW) in Portland, Oregon. The SATW offers great pre and post conference tours and I have signed on for one that will take me and a group of five others to central Oregon. The tour is led by journalist and ex-anthropology student Kelsey Ivey of Evergreen Escapes who can handle our Mercedes Sprinter with the ease of a veteran Greyhound driver. Our destination is Suttle Lodge on the shore of Suttle Lake in Deschutes National Forest.
We depart Portland just before noon and after a great lunch stop at Ritter's in Salem, head southeast on Highway 22 for a very scenic drive along the Santiam River through Willamette National Forest. Coming from the far east (Nova Scotia) where we have clear cut our way into the almost complete destruction of our Acadian forest,  I am blown away by the beauty of the Oregon forest with huge and stately Douglas fir and lodgepole pine trees. Occasionally we get views of majestic Mount Jefferson which rises abruptly above all other lesser peaks in this area of the Cascades.
Suttle Lodge
There have been lodges at Suttle Lake since the 1920's, but one after another burnt to the ground as is the wont of wooden structures unfortunately. The current lodge was built in an appropriate rustic style utilizing the lumber and stone readily available in the area and minimizing the razing of any more trees than necessary. In other words, it fits right into the environment and despite its relative newness, seems like it has belonged here for decades. Tell me this not exactly what you would expect in a lakeside forest lodge.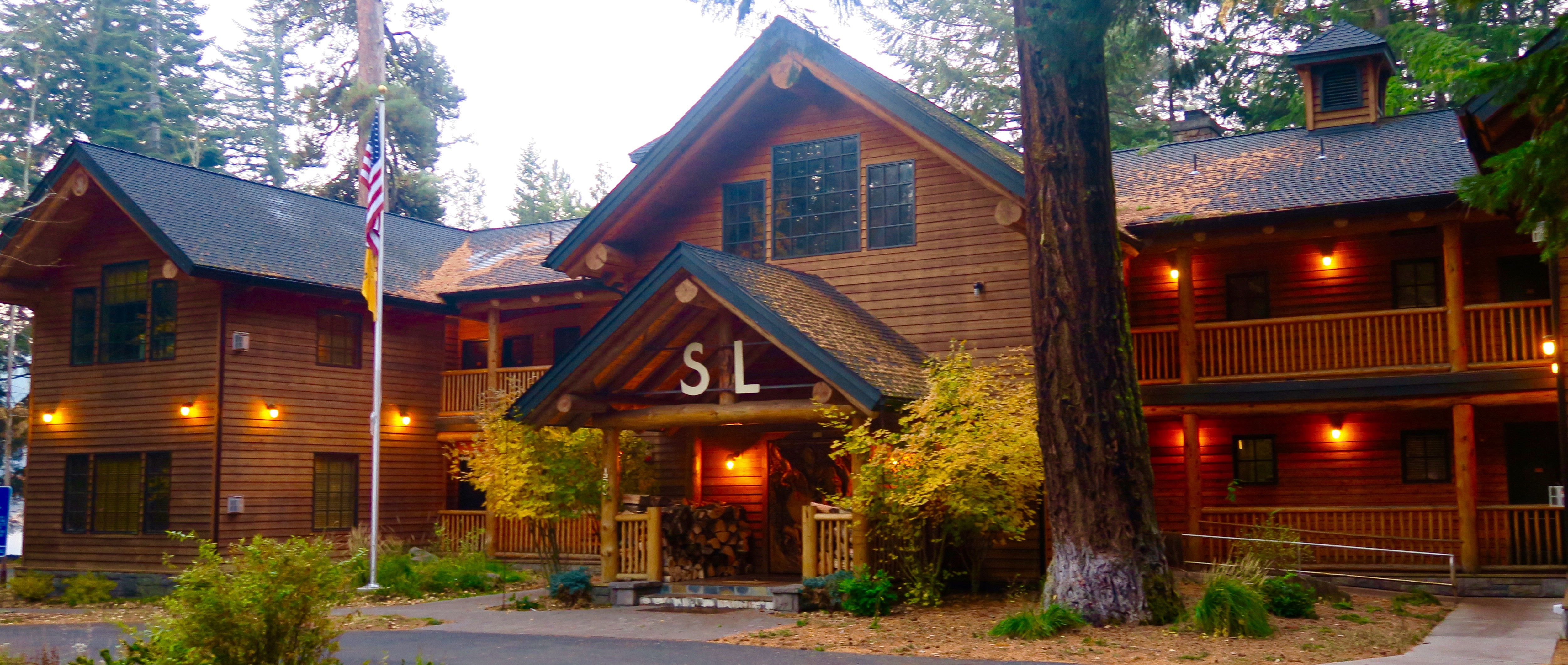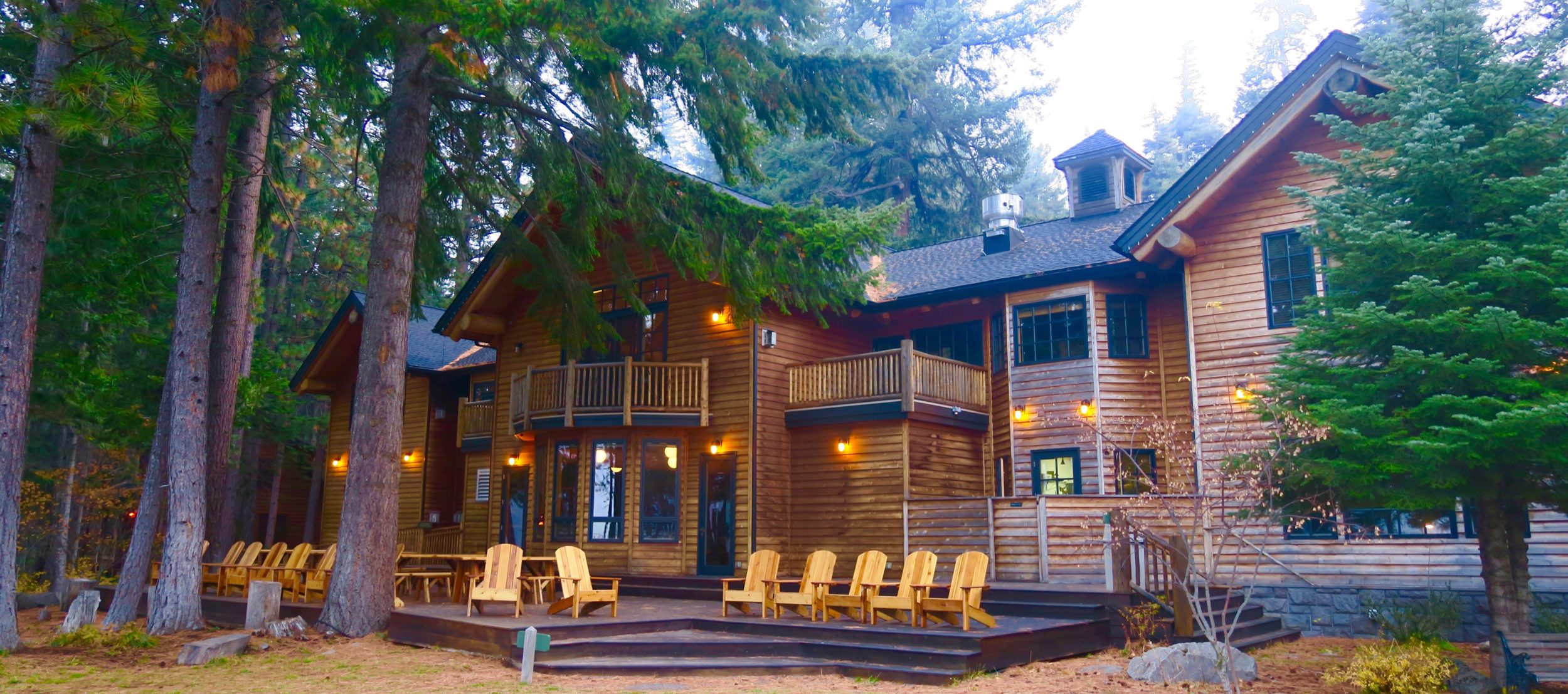 The entrance doors have this amazing carving featuring an aboriginal warrior dance, scary looking eagle and three deer, apparently unaware that a giant raptor seems about to pounce on them.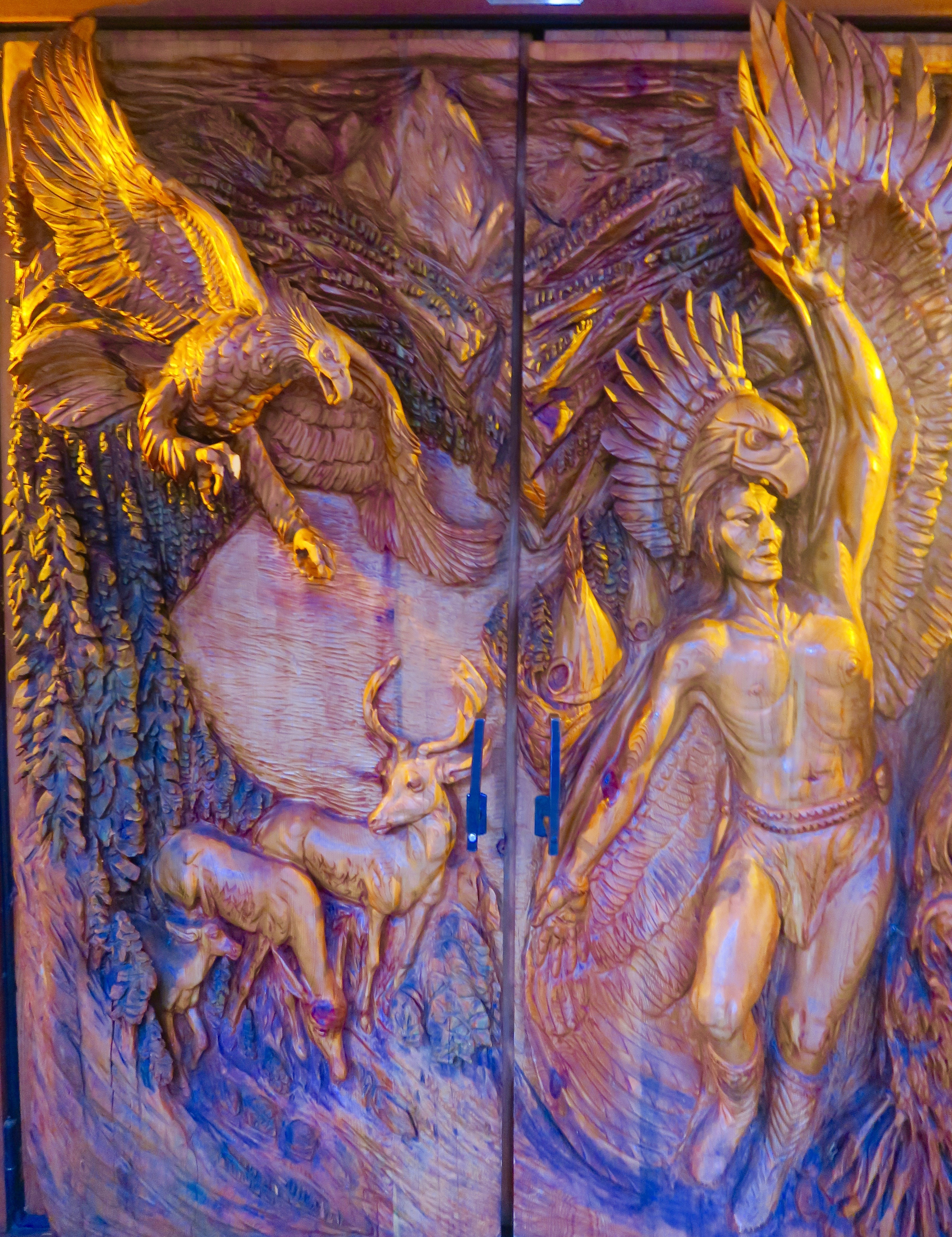 There are eleven rooms in the lodge plus two types of cabins. The first are tiny and predate the lodge. They have no facilities and guests use the bathhouse for showers.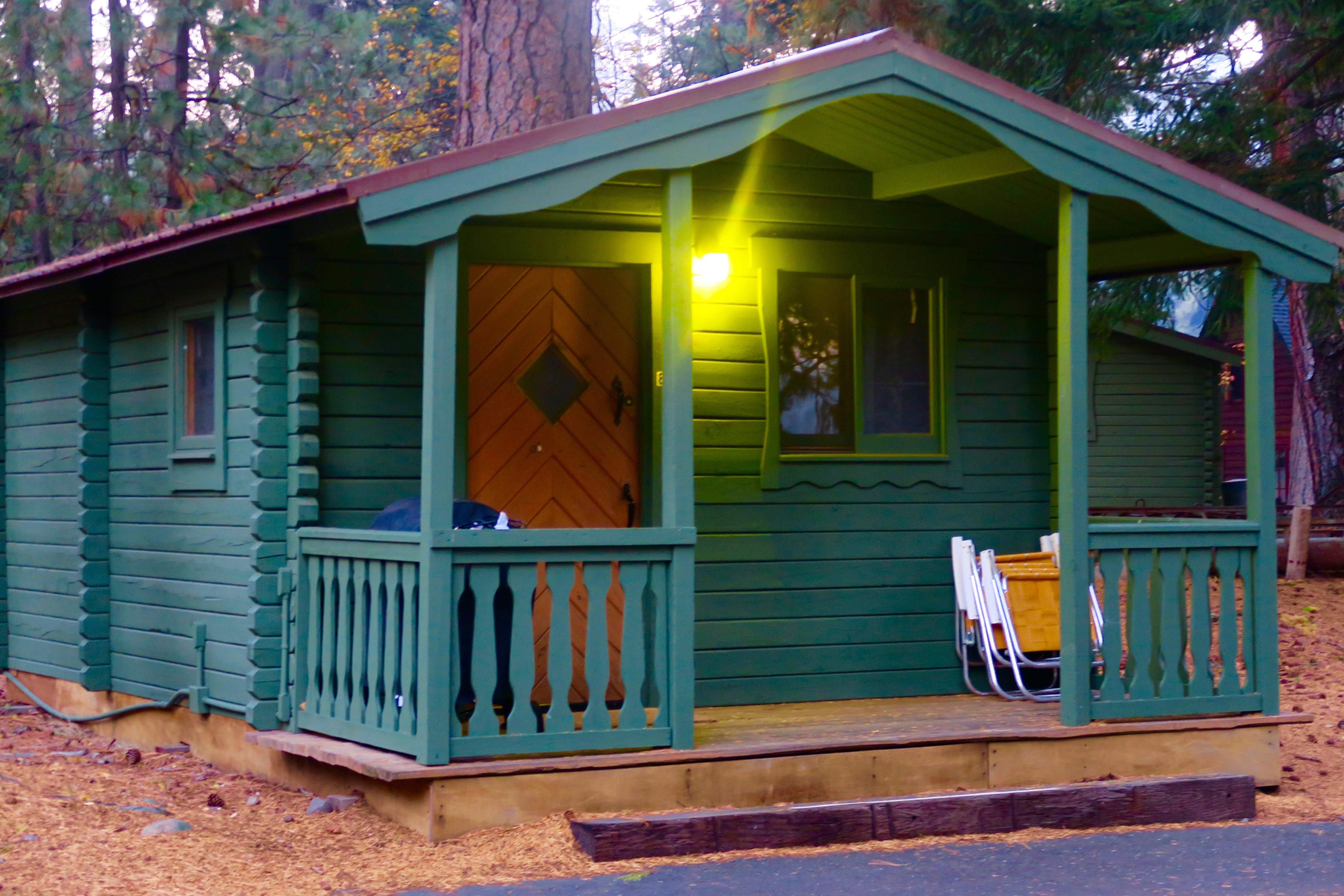 For those who require more space and modernity there are these much newer cottages.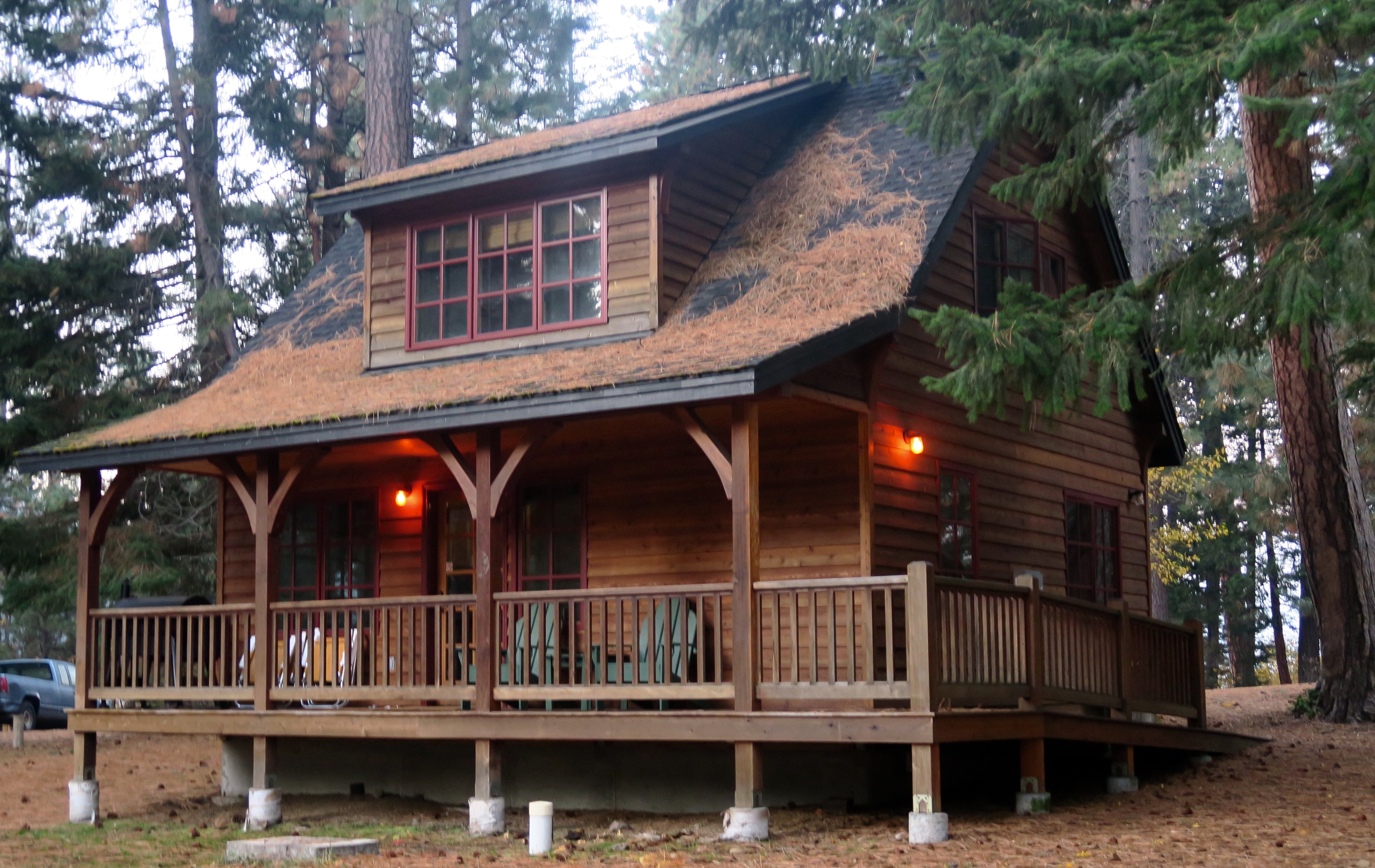 Our rooms were in the main lodge. This photo does not do justice to the size of the room, which also had a loft which could sleep four more people. The important thing to note is the light coming through the trees and providing the perfect ambience for a rustic vacation. Others in the group had rooms with a lake view.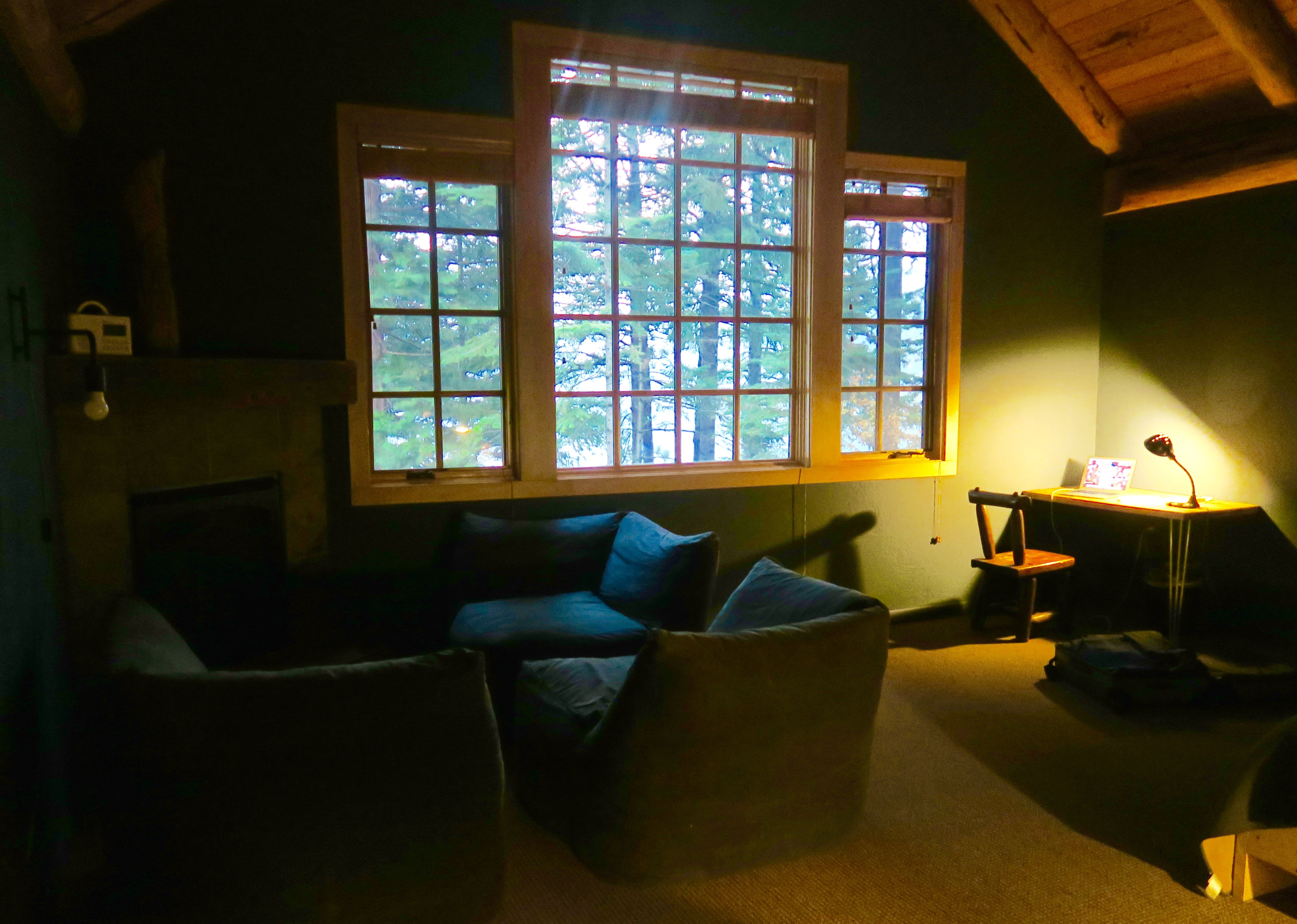 The rooms have the one thing as a  travel writer I require – wifi and doesn't have two things I can do without – a TV and cell phone reception.
Suttle Lake Loop Trail
We arrived in time to take a walk around Suttle Lake on the 3.6 mile (5.5 kms.) trail that circles the lake. It is a very easy walk with no significant elevation changes, mostly through a wonderfully fragrant Douglas fir, larch and pine forest. This is the view up the lake from a small beach at the Suttle Lodge.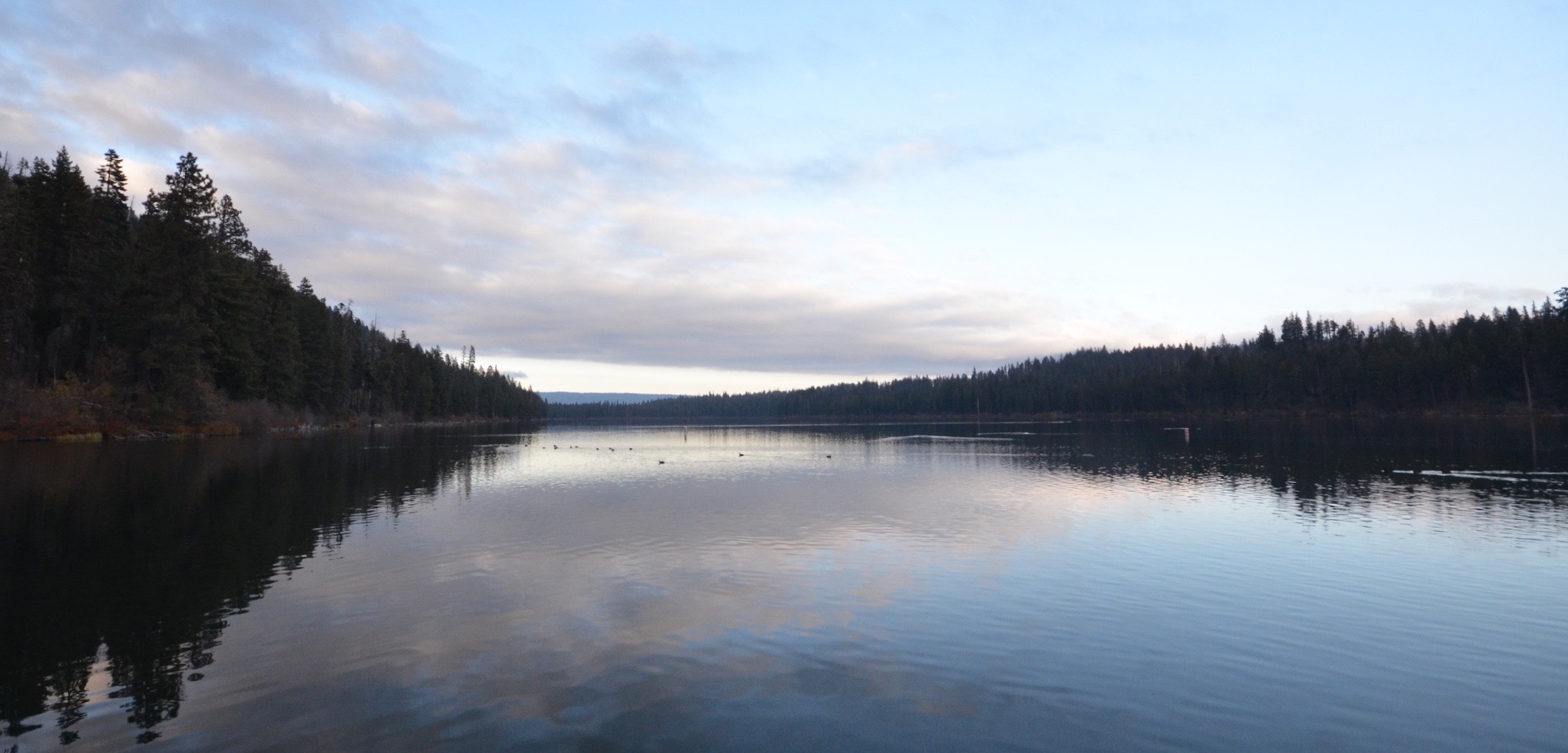 There were a surprising number of waterfowl on the lake including these mergansers resting on a sunken log.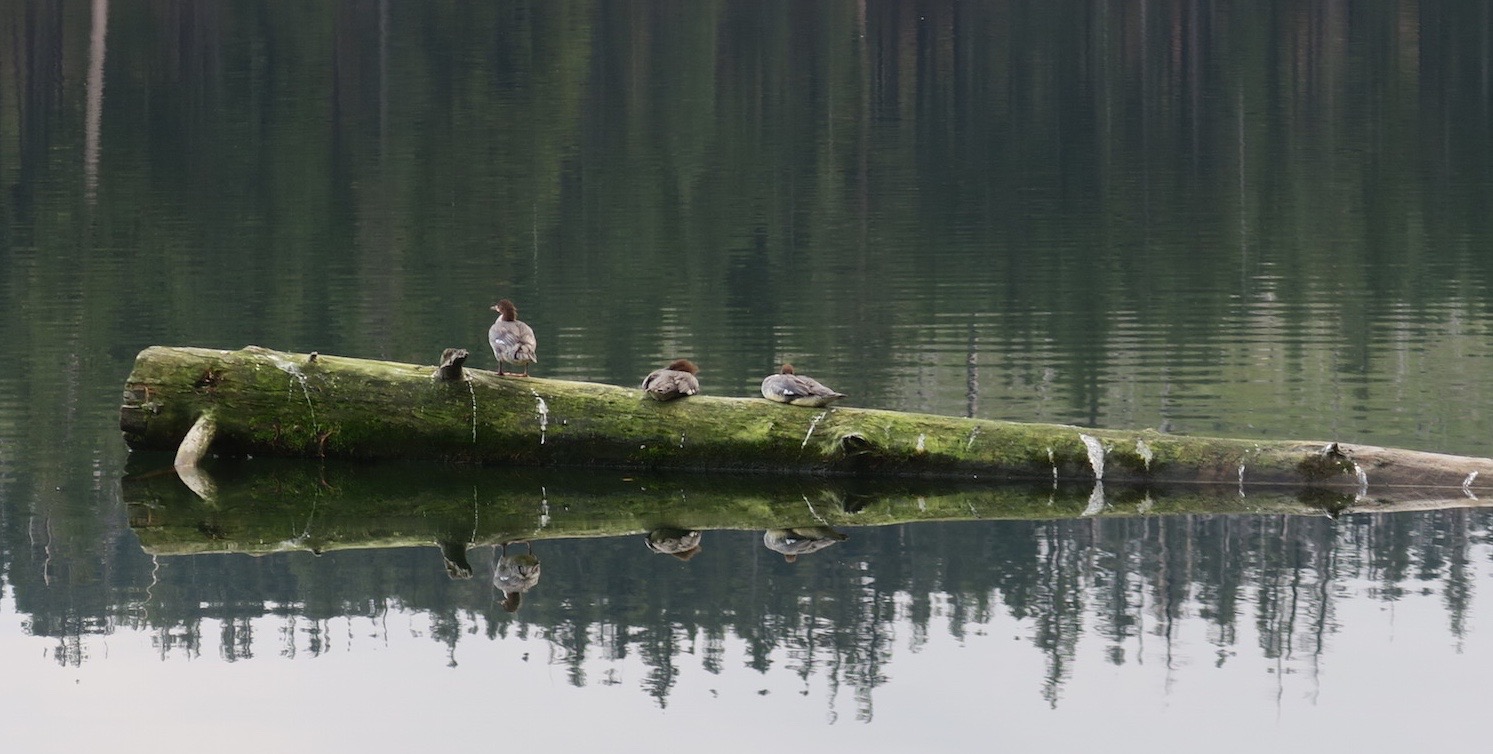 The silence around the lake was palpable and the water so still that it was hard to tell where this tree ended and its reflection began.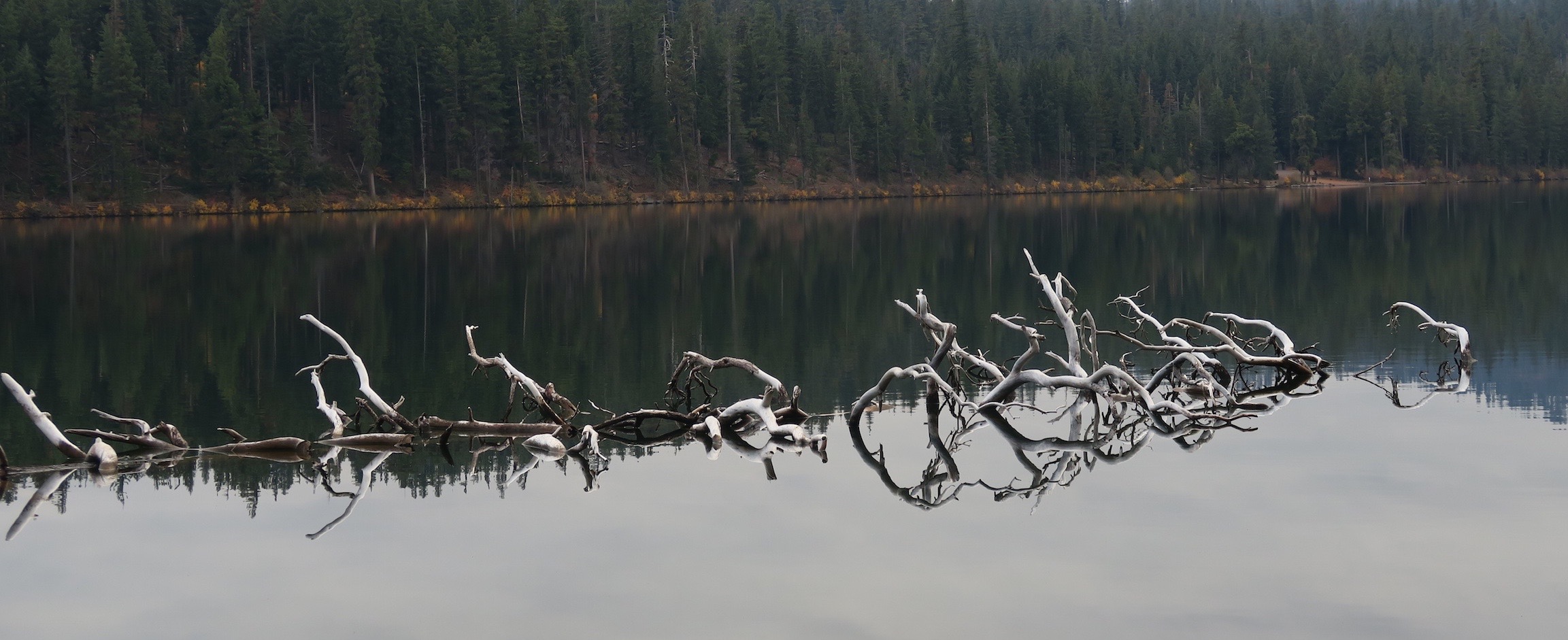 To add even further to the magic of this walk, almost as if on cue, a pair of bald eagles flew overhead.
At the head of the lake there was a very inviting looking campground with a white-tailed deer strolling nonchalantly through it. This is the view back down the lake from the dock at the campground with the water backlit by the fast declining sun.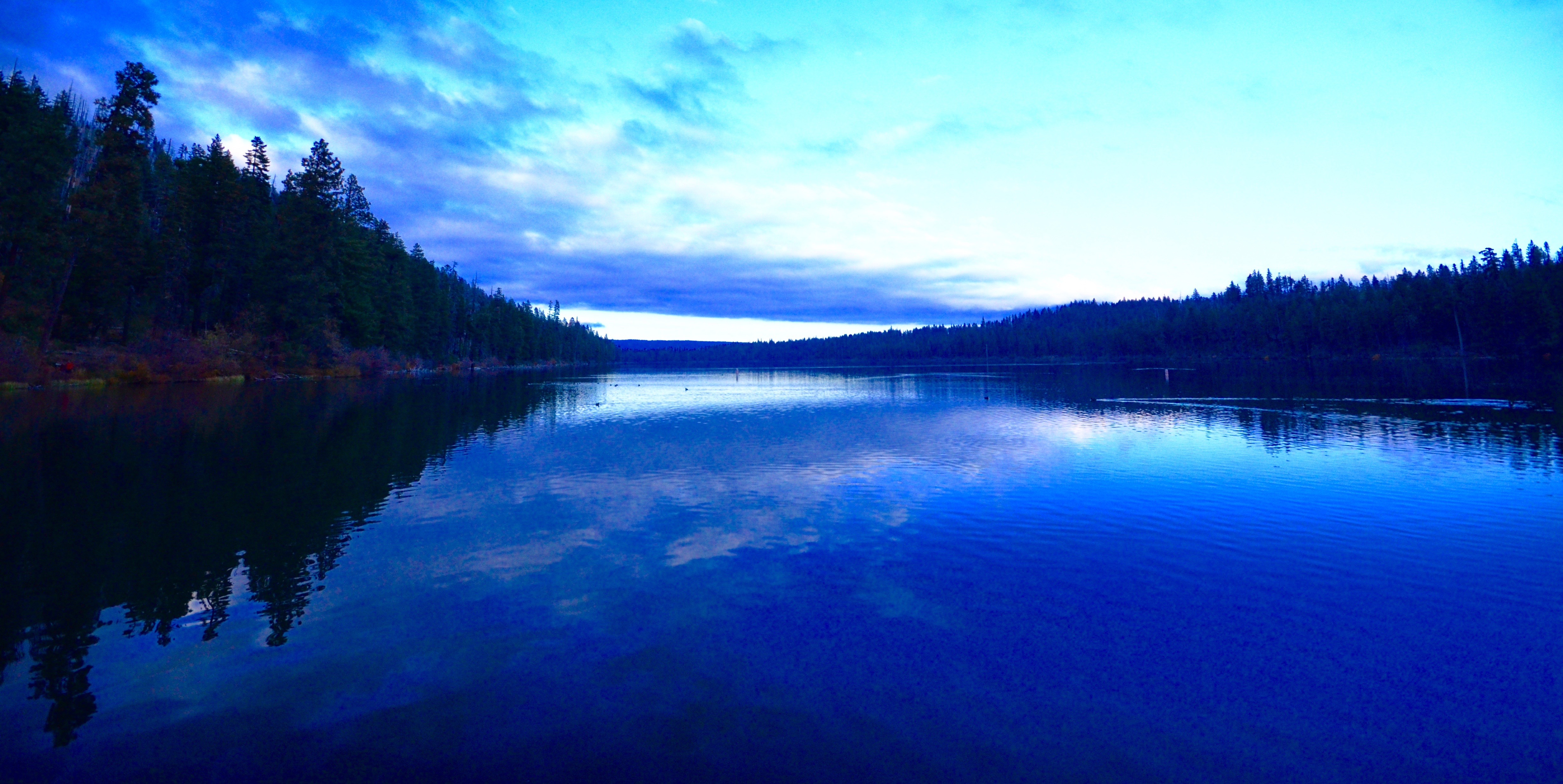 Making our way back, we could see hundreds of surface circles on the water marking the rising of trout to take freshly hatched insects. When I got back to the lodge and asked about the fishing on Suttle Lake I was directed to this stuffed brown trout weighing in at just under 20 pounds which was caught in 2003. Nice fish!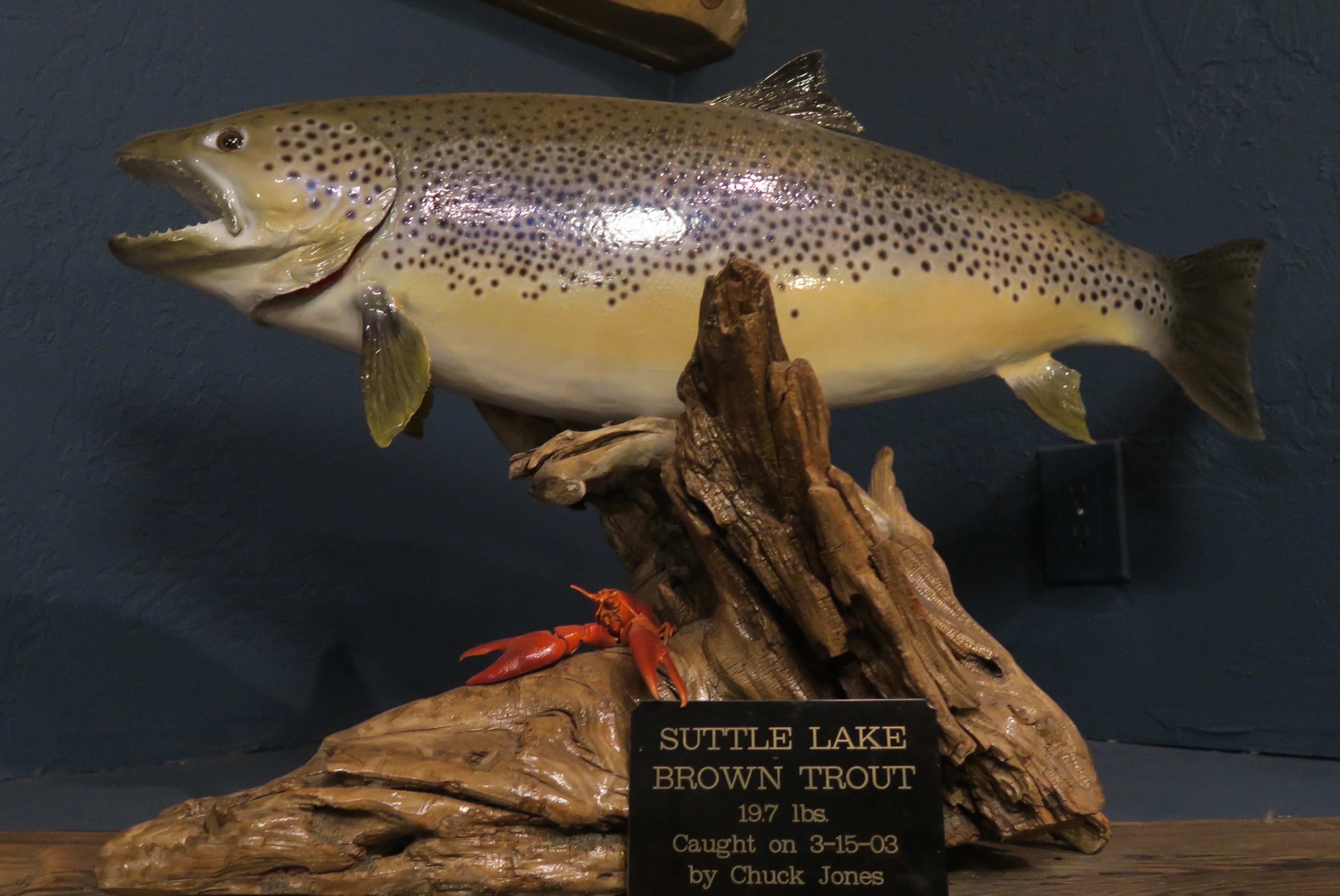 By now, the sun was really getting low and the light getting close to the magic hour so I put on a burst to get back to the lodge side of the lake to get this photo. Not quite in time, but close enough.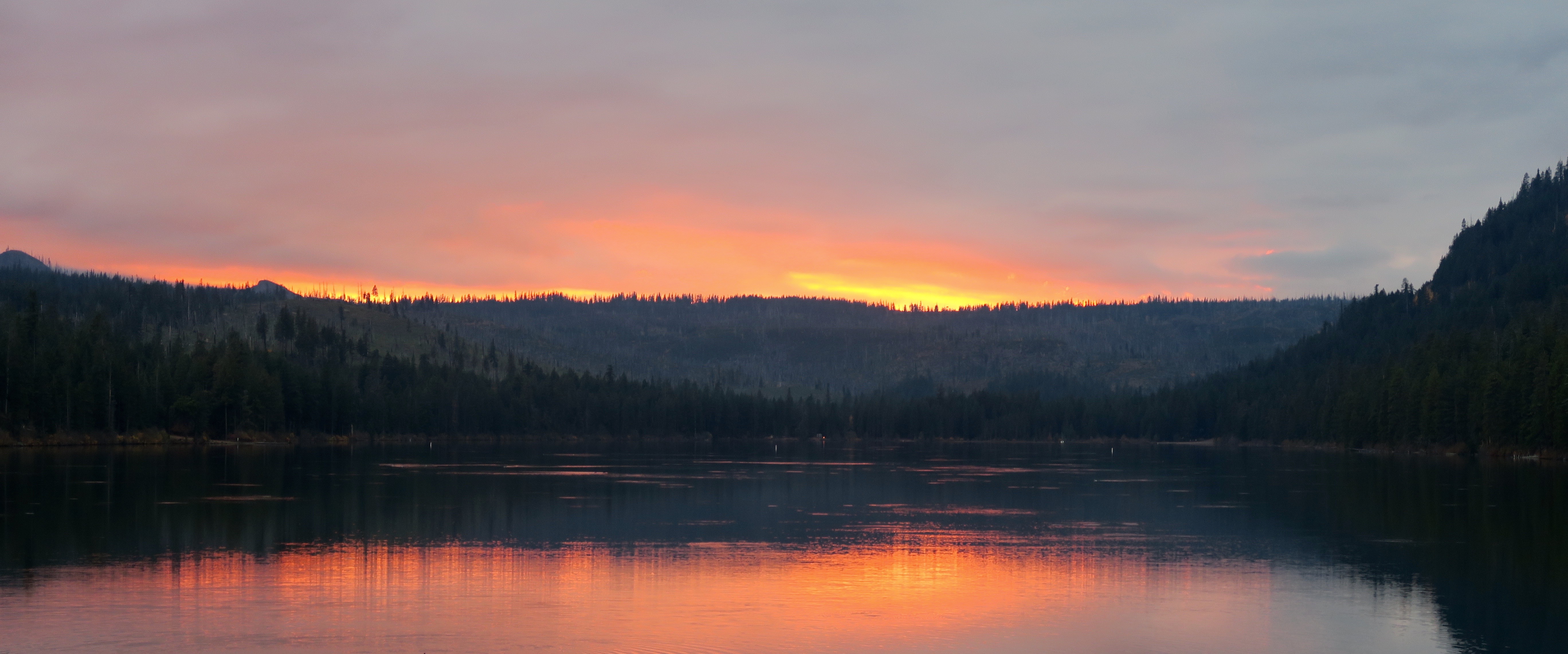 Suttle Lodge Food & Drink
Suttle Lodge has a really cute little bar, not more than 10 feet by 10 feet called The Skip where they serve a collection of 'Cocktails We've Come Up With'. I had a couple of Table Sleds – bourbon, lime, bitters and 'doug fir' – a lovely smelling as well as tasting drink, much like a bourbon sour.
While sipping our drinks we were entertained by music from an old-fashioned vinyl record player. When's the last time you saw one of these in action? There was a good collection of classic 60's and 70's albums to chose from. That's Van Morrison's 1971 country influenced Tupelo Honey playing in this photo.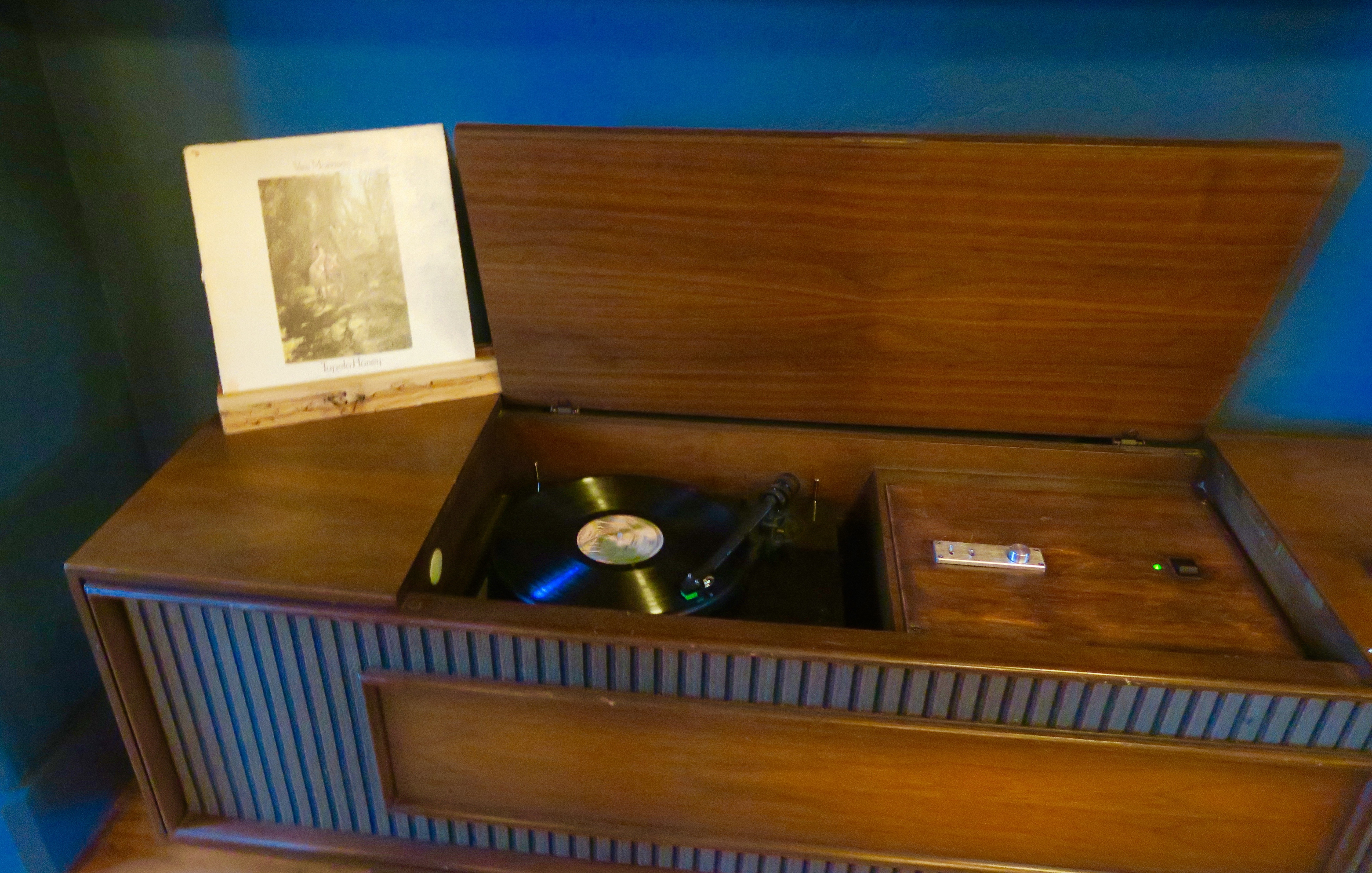 We ate at a communal table set with salads and red and rosé wines.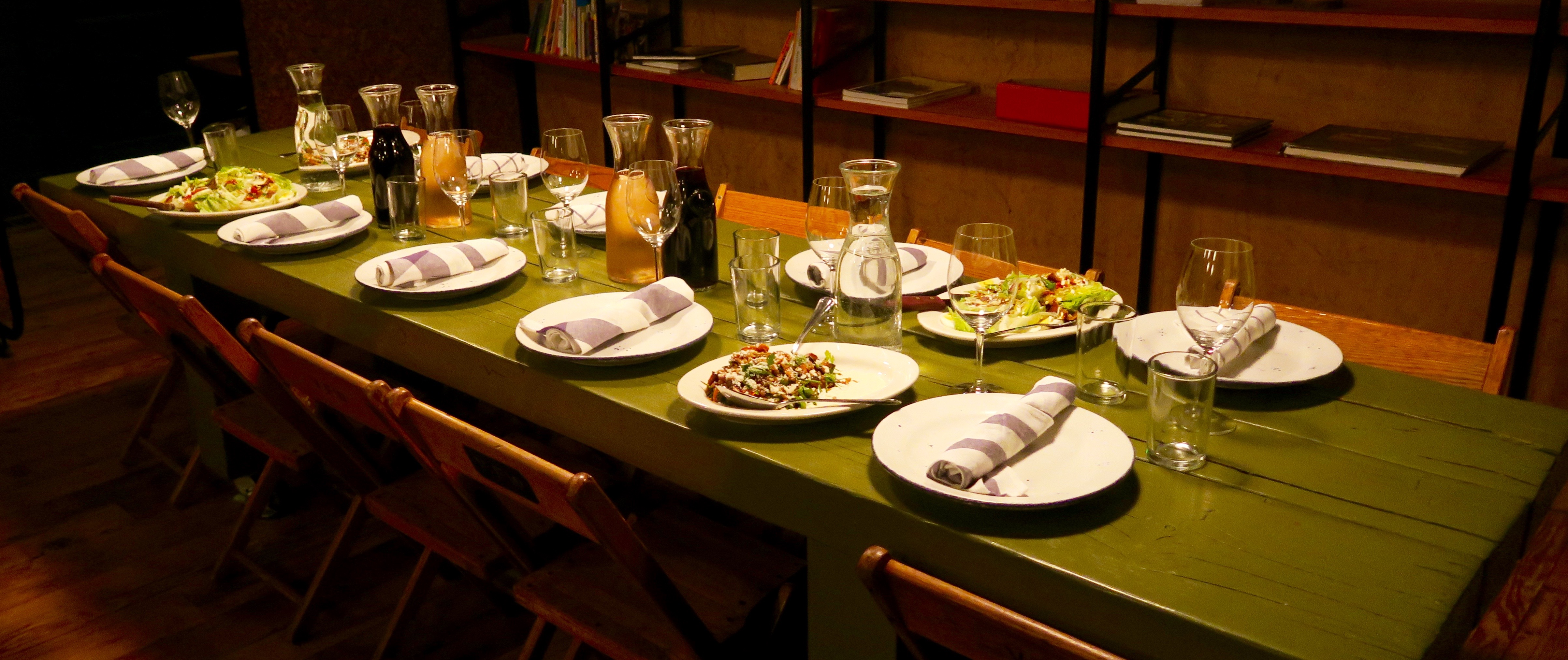 This is a view looking down at a very hungry and happy group of travellers.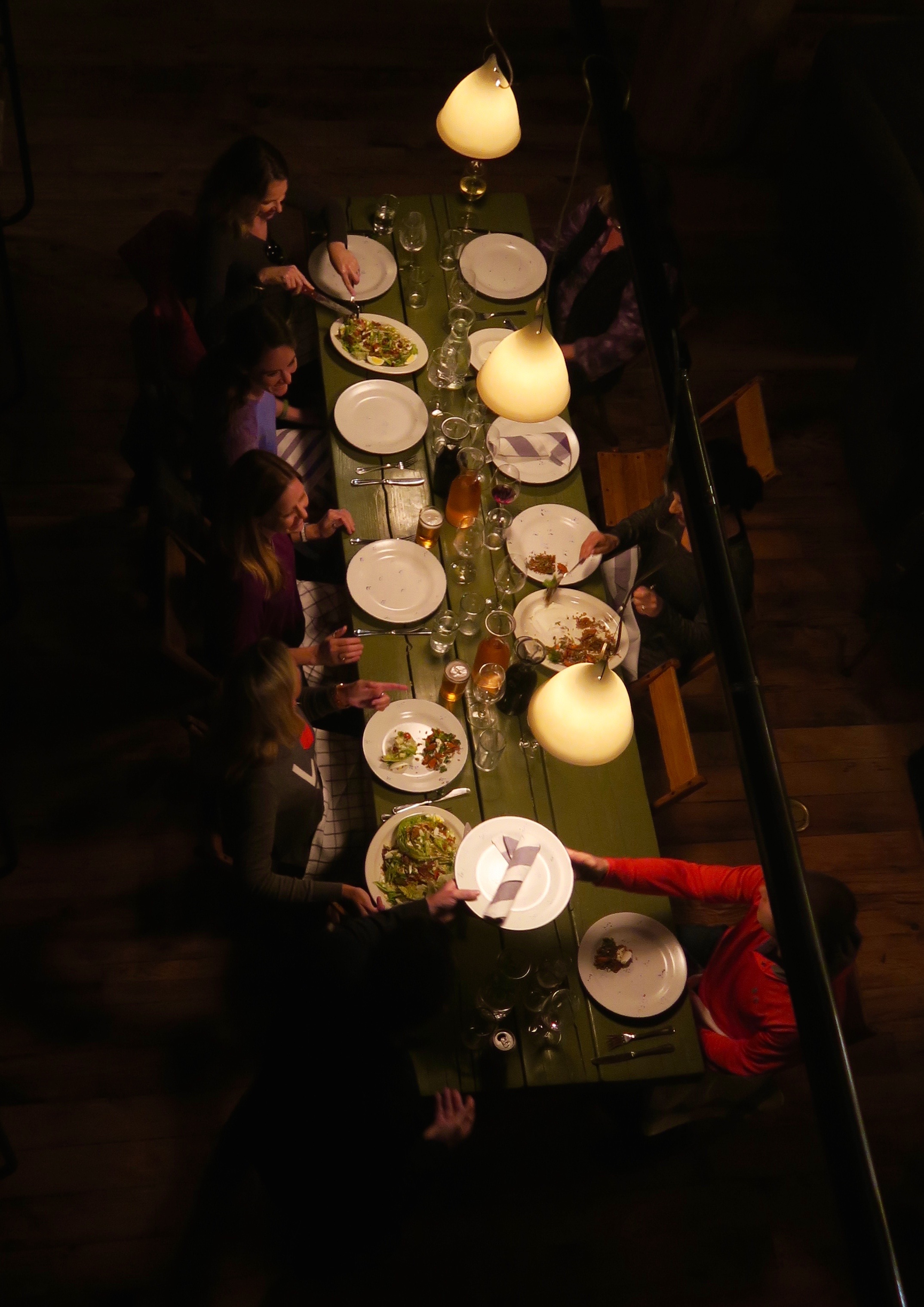 The salad was followed by Delicata Donuts which are batter fried Delicata squash rounds. I'd never had squash like this before, but it won't be the last time. These were delicious.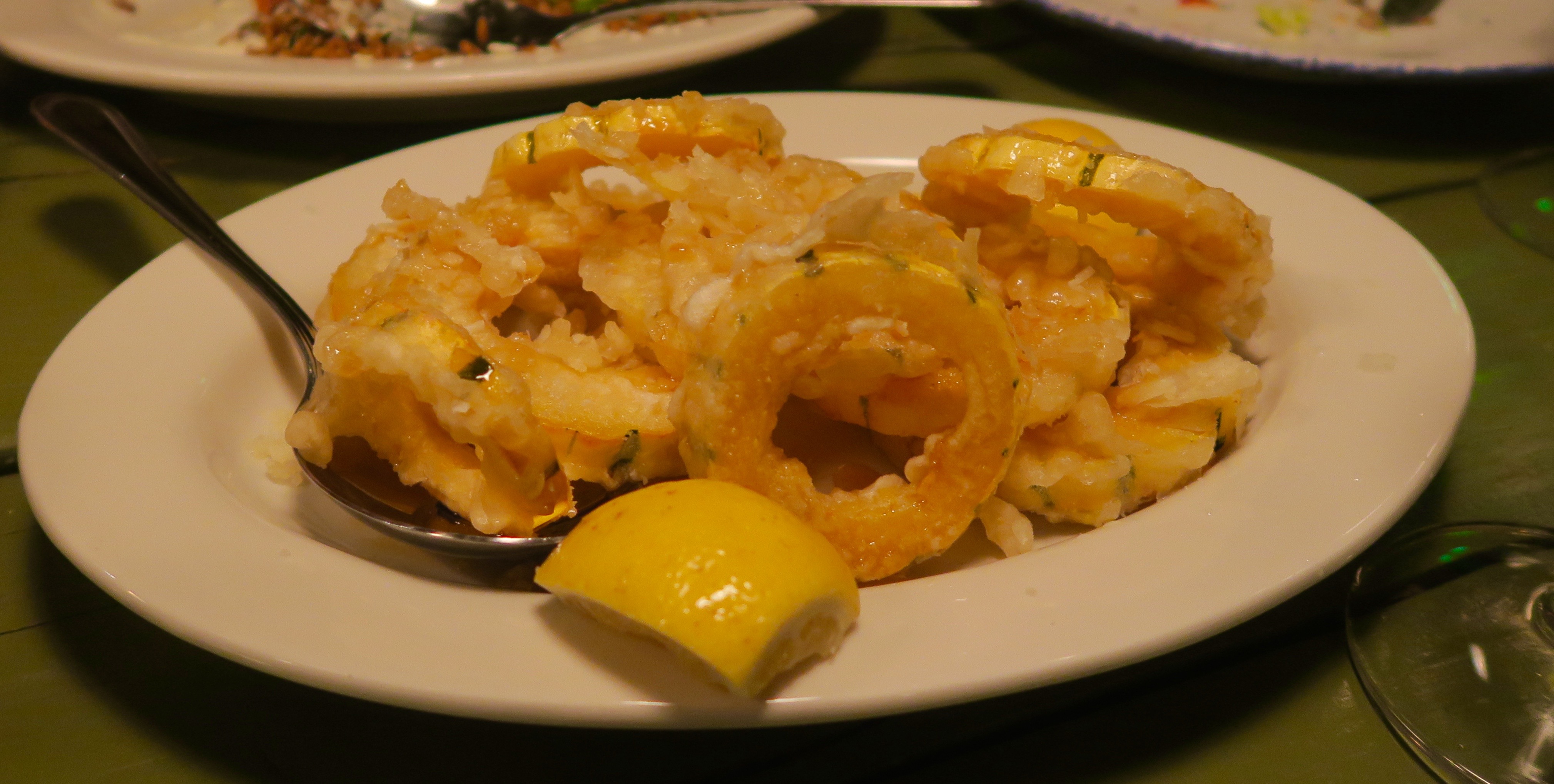 The main course was a choice of three pizzas, two of which are in this photo. The top one is a wild mushroom and burratta combination and the lower one sausage, red pepper and cheese. You would expect these to be good and they were. What I did not expect to be good was the third pizza – Hawaiian. To me a good Hawaiian pizza is an oxymoron. These horrible violations of real pizza were invented in Canada using canned pineapple and canned ham. The Suttle Lodge version was as far from this as it could possibly be.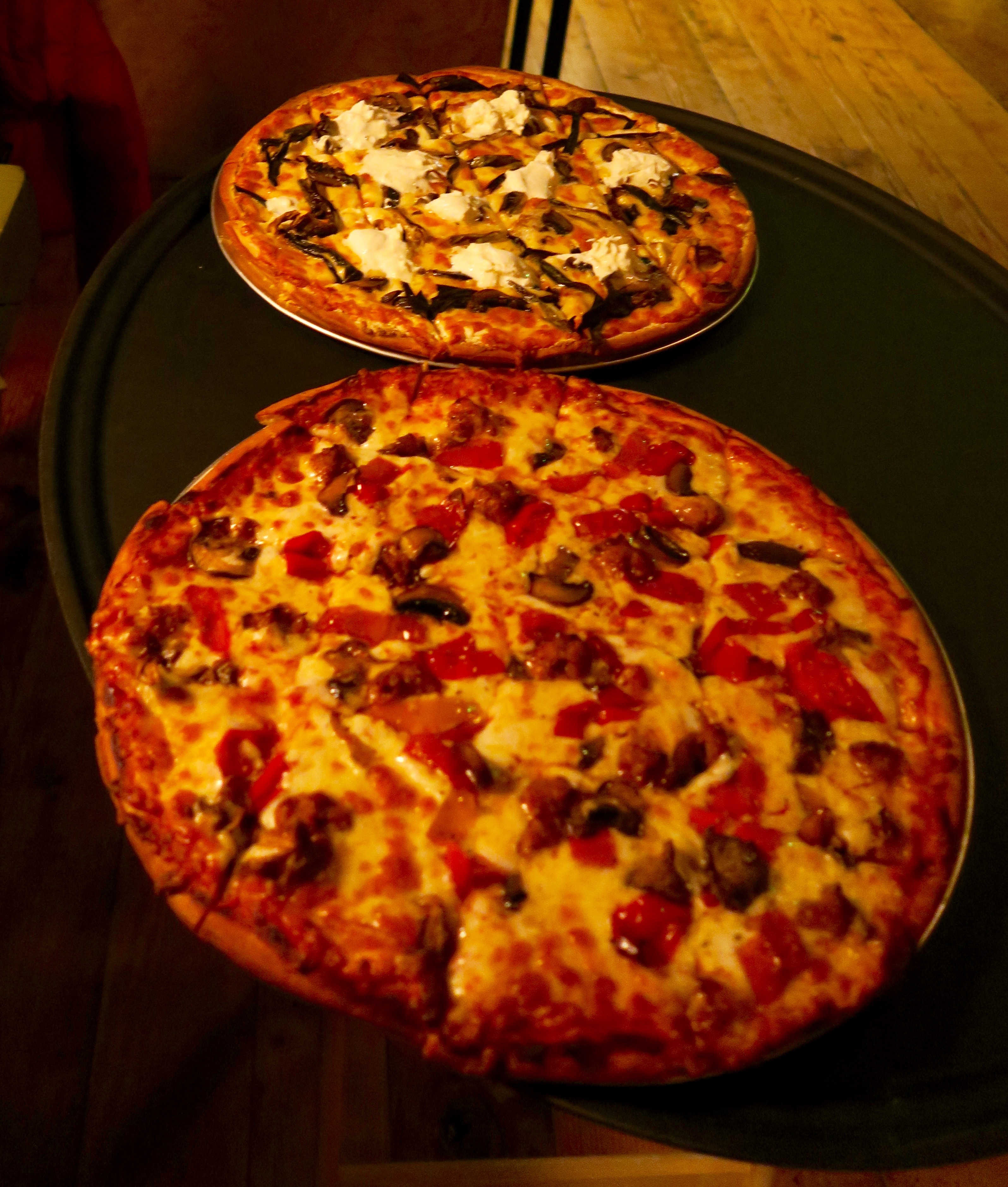 For dessert it was either ready made smores or make your own.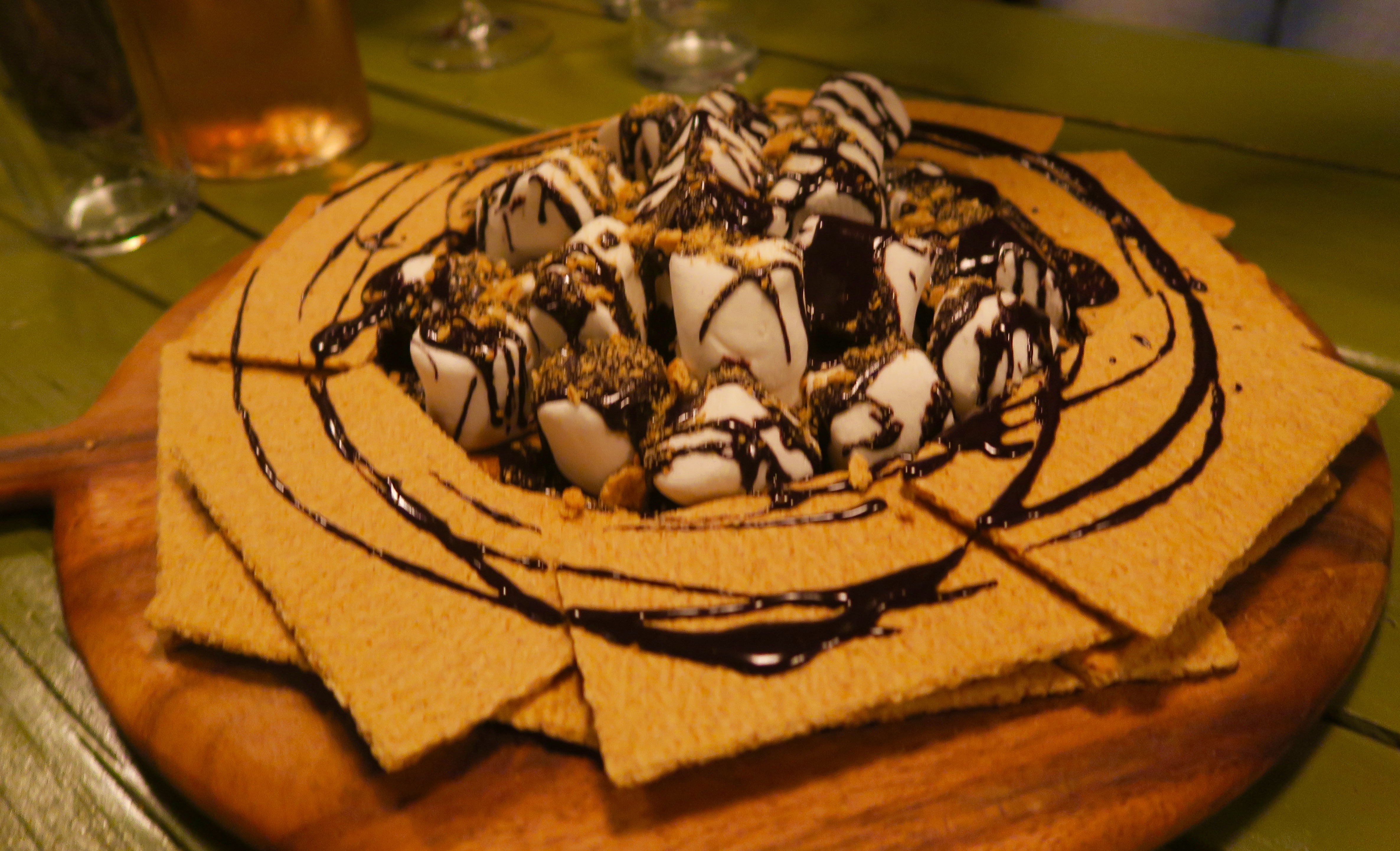 This was followed by a marshmallow roast which we shared with other guests. I do remember as a boy of about the age of this fellow in the photograph thinking I'd died and gone to heaven eating a perfectly roasted marshmallow – not so much today.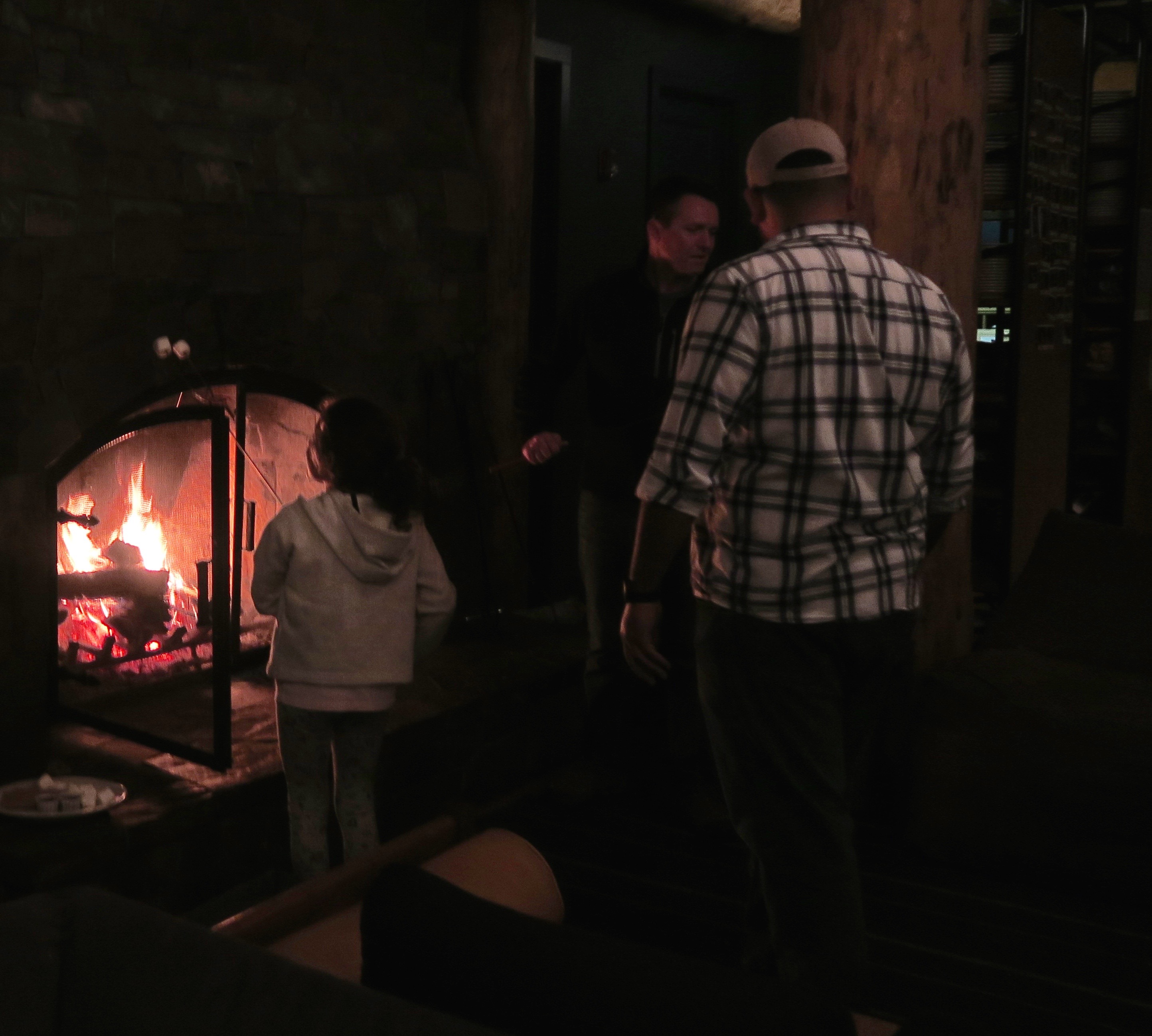 We finished the day off with a number of spirited, but friendly discussions on a wide variety off topics and as I went up to my room, I marvelled at the fact that I had only met this group today, yet they seemed like lifelong friends. The atmosphere at Suttle Lodge was certainly a part of cementing these relationships.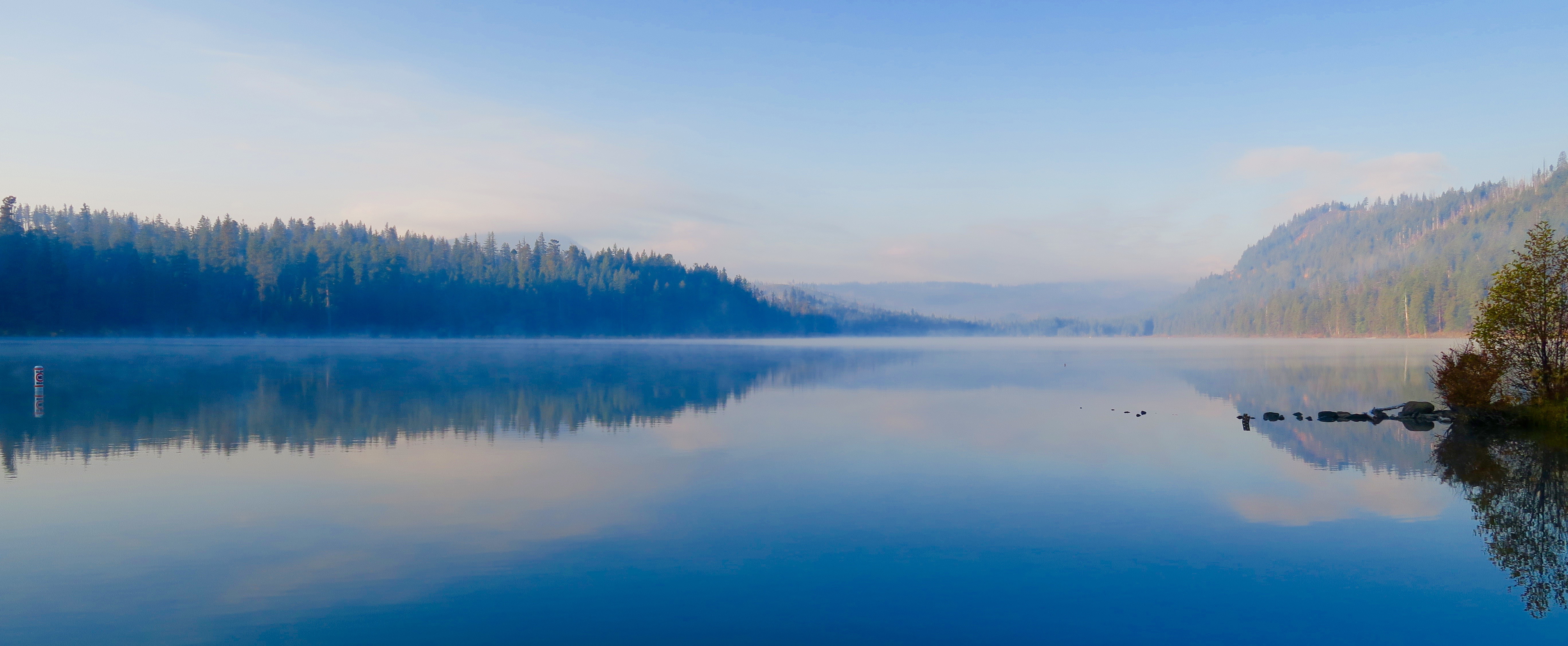 We finished off our visit to Suttle Lodge with breakfast in the boathouse and then had to hit the road. I would love to have stayed longer, but we have a helicopter to catch for a trip over the Oregon Cascades. I hope you'll come along for the ride.