Gold Museum Bogota – Colombia as El Dorado
This is my fifth post on a recent Adventures Abroad trip to the wonderful country of Colombia where I found the people extremely friendly and outgoing, the food amazingly good and the variety of things to see and do off the charts. The first four posts all deal with the city of Bogota and surrounding area. You can read them on my website. In the last post we wandered by foot into the oldest part of Bogota, La Candelaria, where the street art made me rethink everything I thought I knew about Latin Americans. In this post our group is going to visit the most famous museum in Colombia, the Gold Museum that houses over 55,000 works of which over 6,000 are on display. But first, we have some time for lunch and a quick look around the area of Bogota where the Gold Museum is situated.
While there weren't that many people in La Candelaria area (mainly because the university students who generally haunt the place were on break) the closer we got to the Gold Museum the more crowded the streets became. This is also an area that houses a lot of government offices and other businesses like the headquarters of Avianca, the Colombian national airline and second oldest in the world still in continuous operation. KLM is the oldest in case you're interested. Most of the people on the streets around noon were sharply dressed and obviously on a break from work. We found a spot on the corner of Calle 16 and Carrera 5 a block from the entrance to the Gold Museum, the Chantonner Delikatessan and ordered chorizos sandwiches and beer. This is what we got.
The sausages in Colombia are uniformly excellent, even blood sausage which I usually avoid, but this chorizo sandwich might be the best I've ever tasted. Smothered in onions, peppers and a pesto like sauce, it was sloppy to eat and more than worth the mess. Also the Tierra Santa beer on tap was the best I had in Colombia and I was able to find it nowhere else in Colombia. From what I can gather on the net, it's an artisanal brewery whose products are served on tap and much sought after by beer aficionados. So if your looking for a quick bite before touring the Gold Museum I recommend Chantonner Delikatassen.
Santander Plaza
We still had half an hour to kill before joining the rest of the group for the Gold Museum tour so I poked around Santander Plaza that fronts on the gold museum and was a beehive of activity during the noon break.
Francisco de Paula Santander was one of the principal actors in the war for the independence of Colombia and Bolivar's right hand man there. A native Colombian, unlike Bolivar who was Venezuelan, he was a lawyer by trade and referred to as "The Man of the Laws" for his insistence on due procedure and respect for the rule of law. This statue makes that clear as he holds out a written constitution while his sword remains sheathed, thus confirming that 'The pen is mightier than the sword'. Sadly, Santander was among a minority of independence fighters who genuinely believed in this principle. The history of Latin American may well have been different had there been more Santanders and fewer generalissimos.
There is an impromptu band set up on the edge of the plaza and a lot of people are enjoying the music which is pretty good.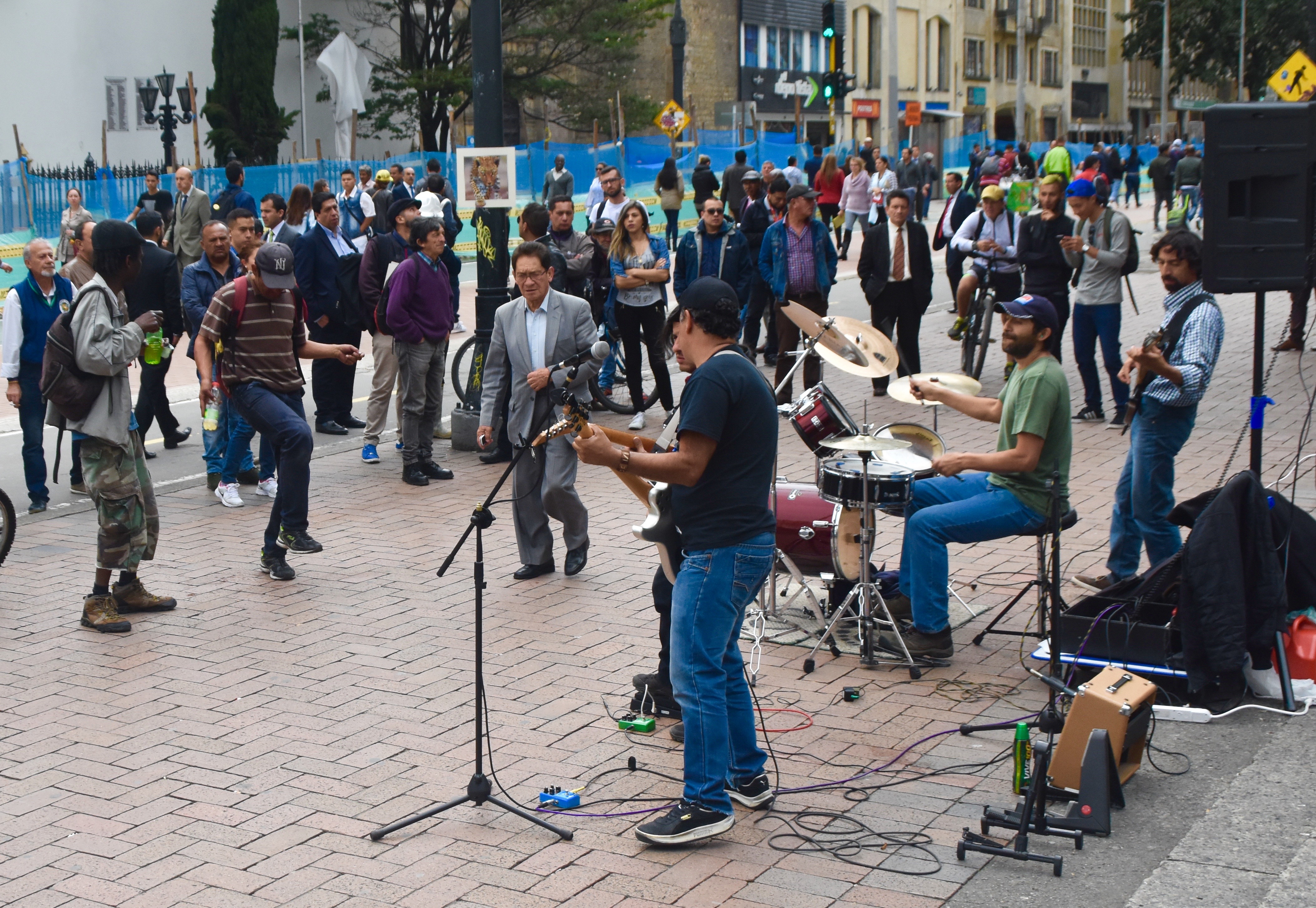 Others are playing chess.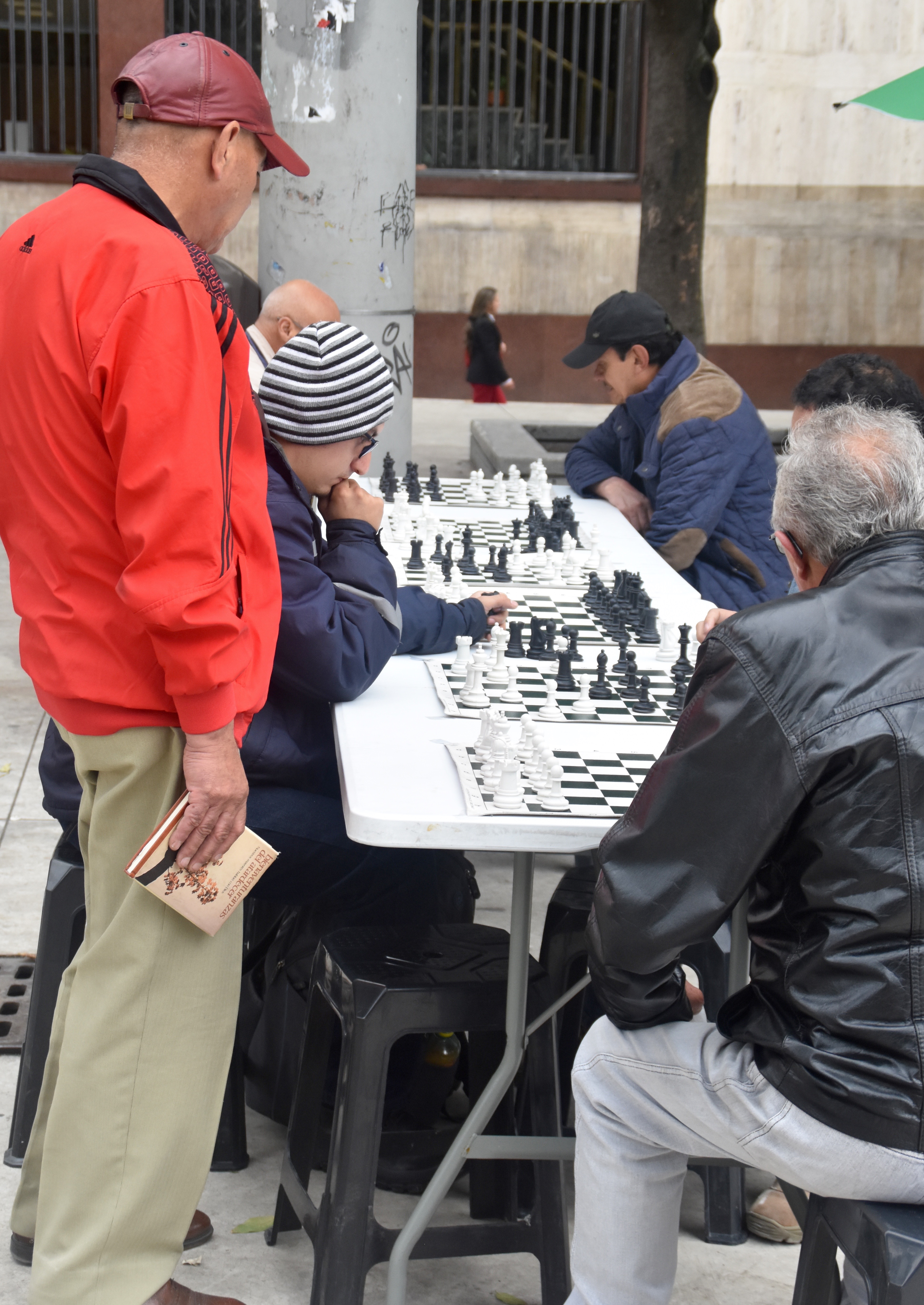 If I was still hungry I could chow down on some big-bottomed ants.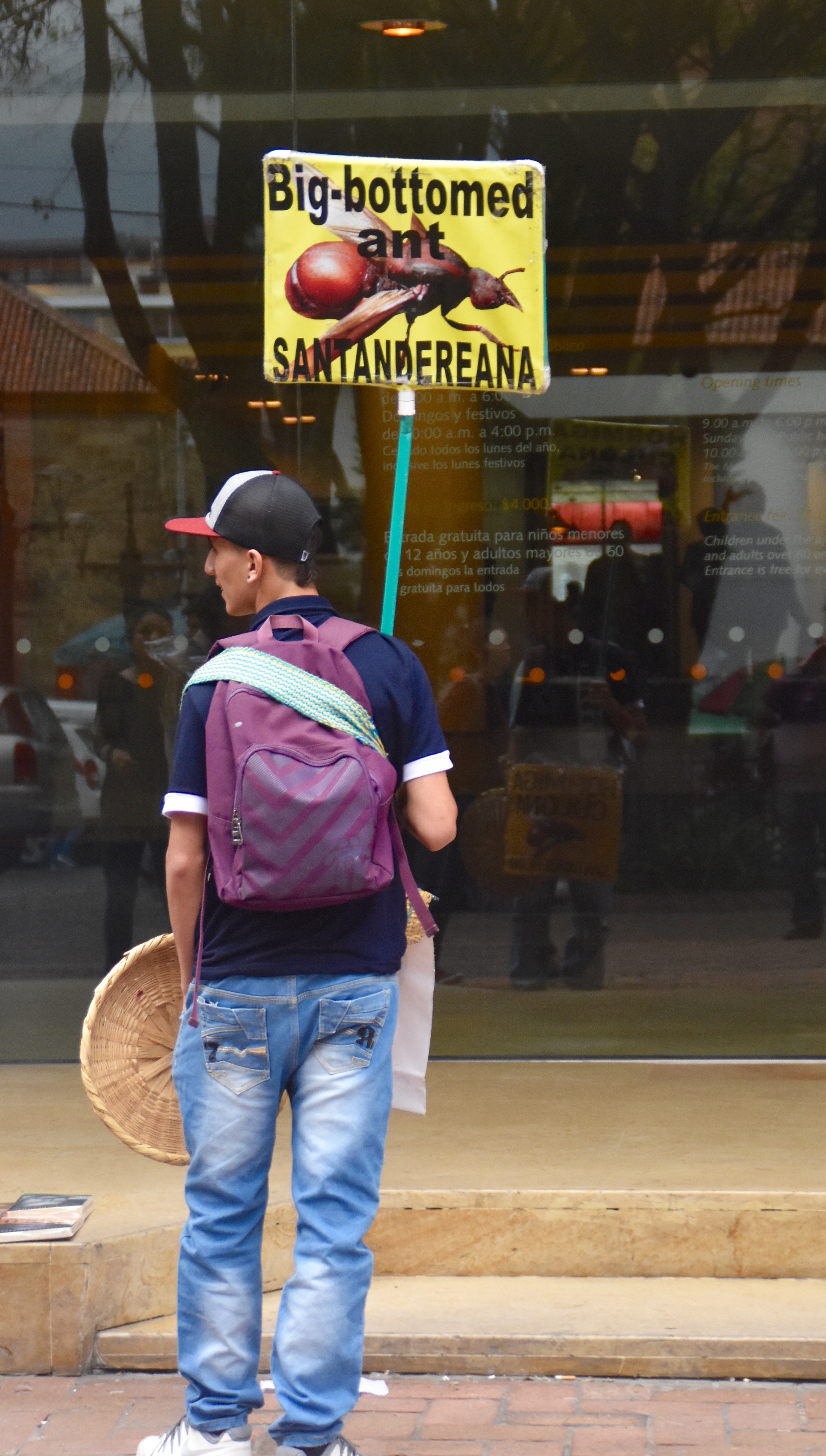 Or Alison could shop for shoes.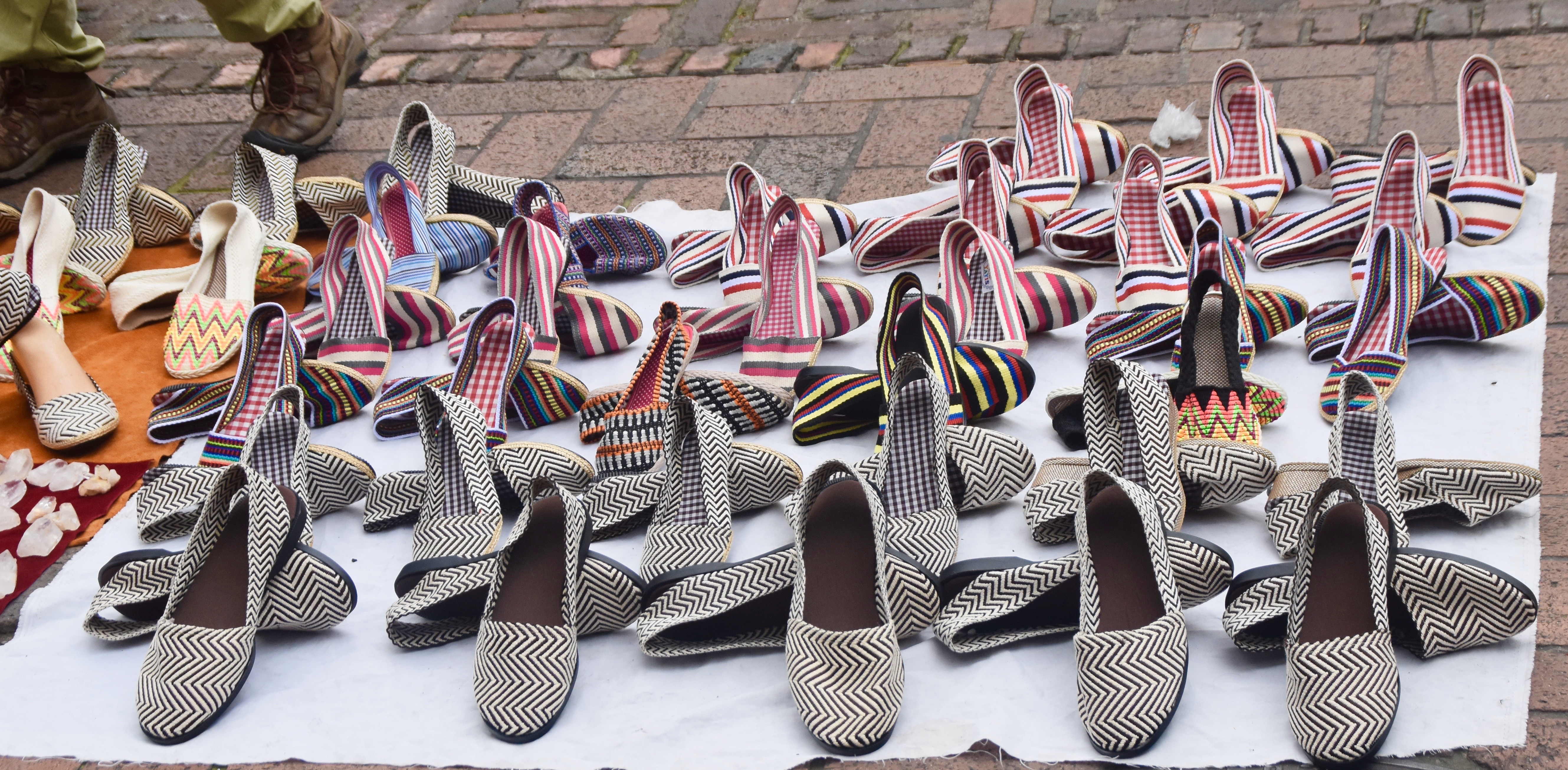 Or handmade jewelry.

Altogether, the plaza is a colourful, happening place with people going about their business in an unhurried and most important of all, unafraid manner. I'm sure Santander, looking over it all, would be pleased. It took a lot longer for Colombia to arrive than he thought it would, but maybe now it's finally here.
Visiting the Gold Museum
With those pleasant thoughts it's time to visit the Gold Museum, the entrance of which faces onto Santander Plaza.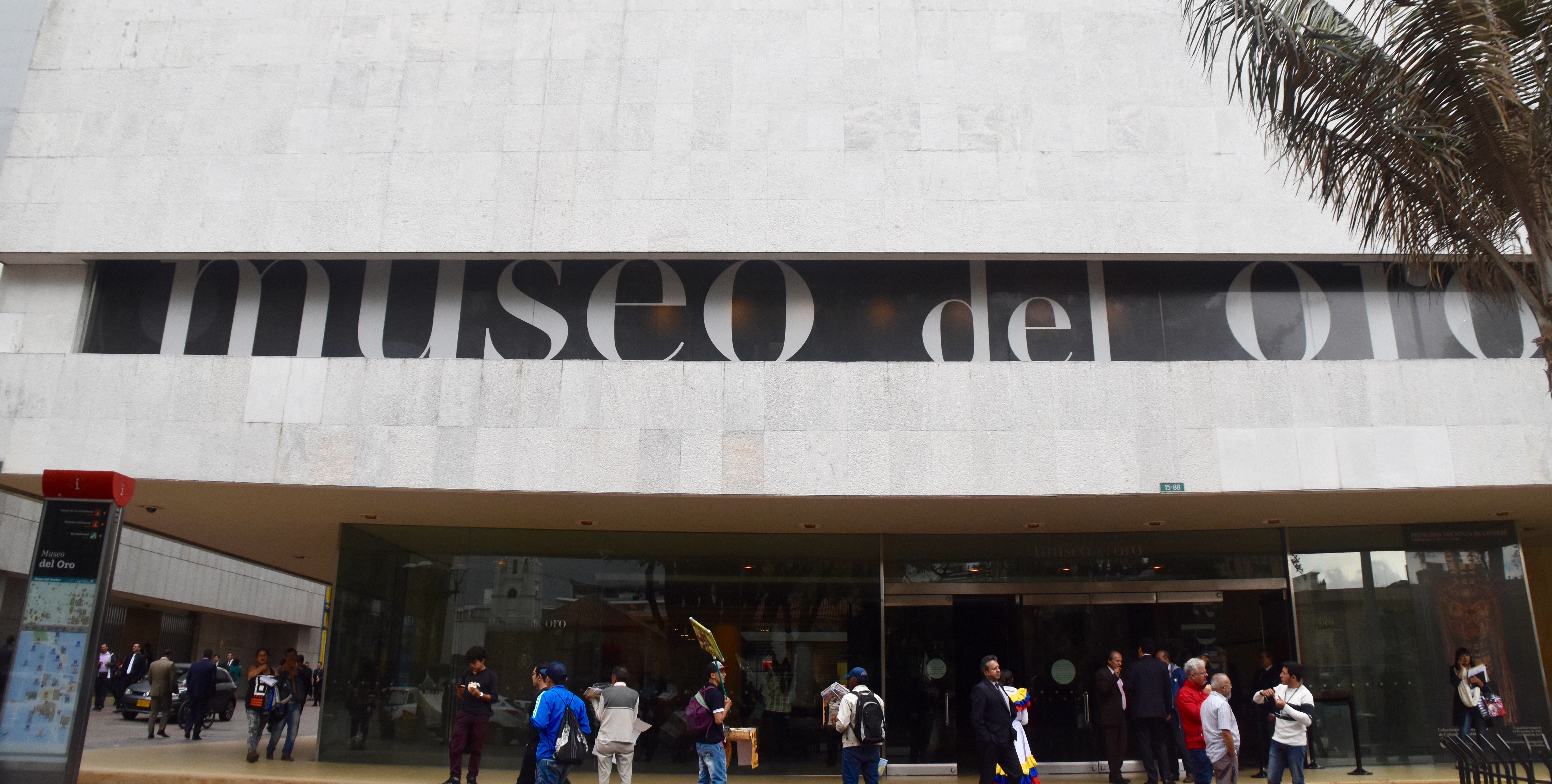 Gold Museum of Bogota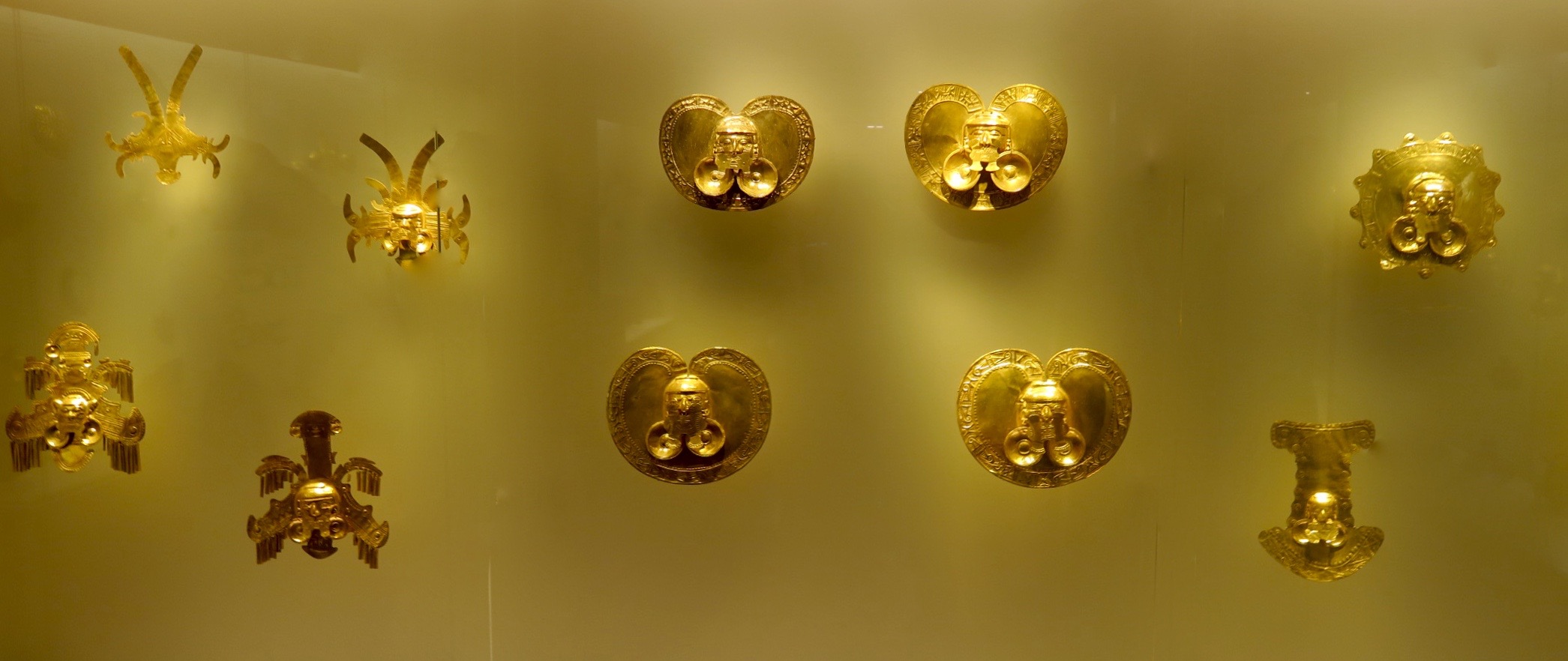 As usual my preconceptions got the better of me. I just assumed the Gold Museum would be in some musty old colonial era building with bad air conditioning, dim light and poor signage, something like the Egyptian Museum in Cairo and many others I've visited over the years. Instead it's a modern spacious building with an easy to follow route that contains some absolutely world class exhibits the like of which you cannot see anywhere else in the world. Our local guide Catalina Rincón, attempted to do her best to point out the highlights, but with a group of eighteen, it was well nigh impossible for all of us to hear so after she did a great job of explaining the basic techniques of gold working, Andres, our tour leader let us explore on our own. If you do visit the Gold Museum, and you must if in Bogota, I strongly recommend getting an English audio tour so you can see the place at your own pace. What follows are what were some of the real highlights for me and I expect just about any visitor, but first a little background on pre-Colombian gold.
This is a map of Colombia with the dark green areas representing distinct pre-Colombian cultures, all of which have examples of gold work on display at the Gold Museum. If you really want to dig deep into any particular culture or all of them you can follow this link from the museum's website that provides an exhaustive account of the history, culture and items on display from each area.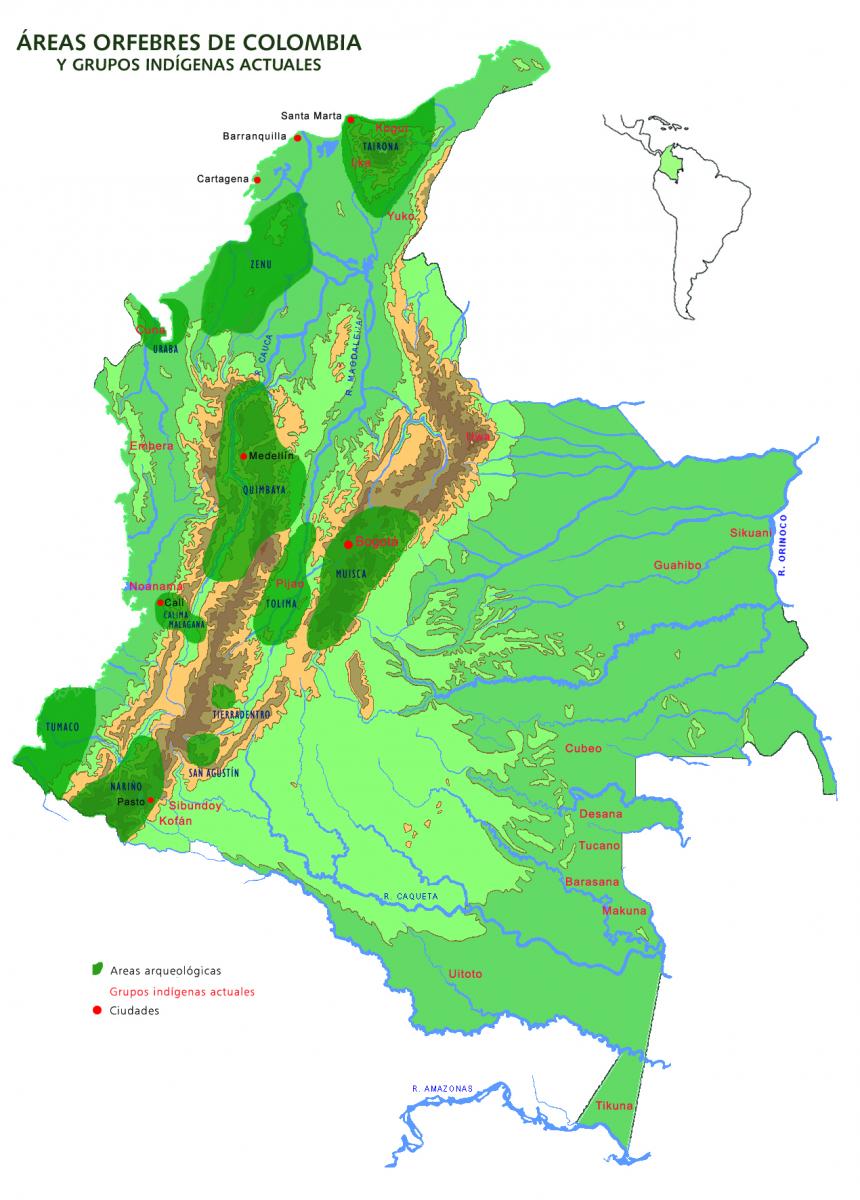 If you only want the Cole's notes version then read this link from a special exhibit of items on loan from the Gold Museum to the British Museum. In a word, gold was not currency to the pre-Colombians , but rather a mystical element that had powerful connections to the gods and otherworldly experiences, but like pretty well all cultures, it was also considered to be the best material for making jewelry and ornamental clothing.
There is plenty of space between the exhibits and a chance to examine some of them from all angles.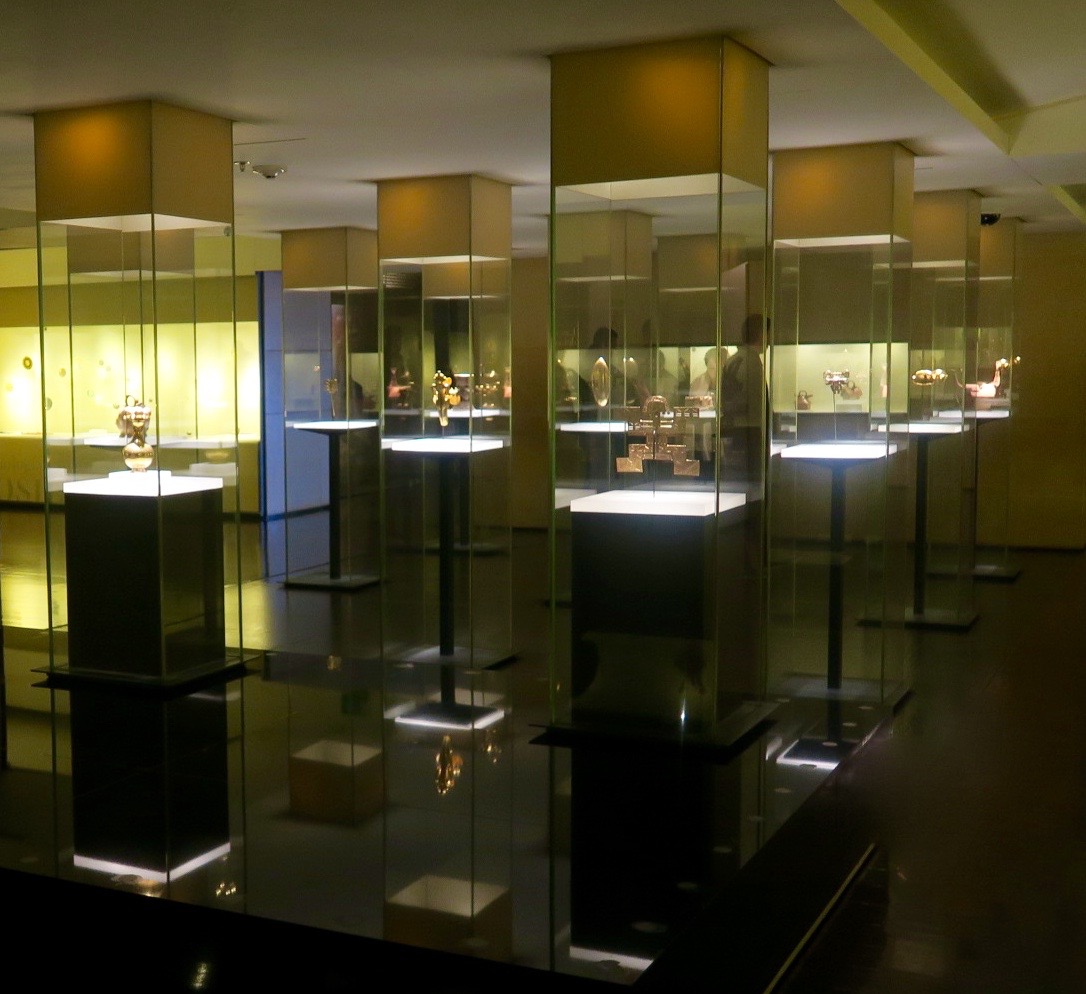 As you can see the objects on display are not crowded and each is allowed to literally shine in its own right.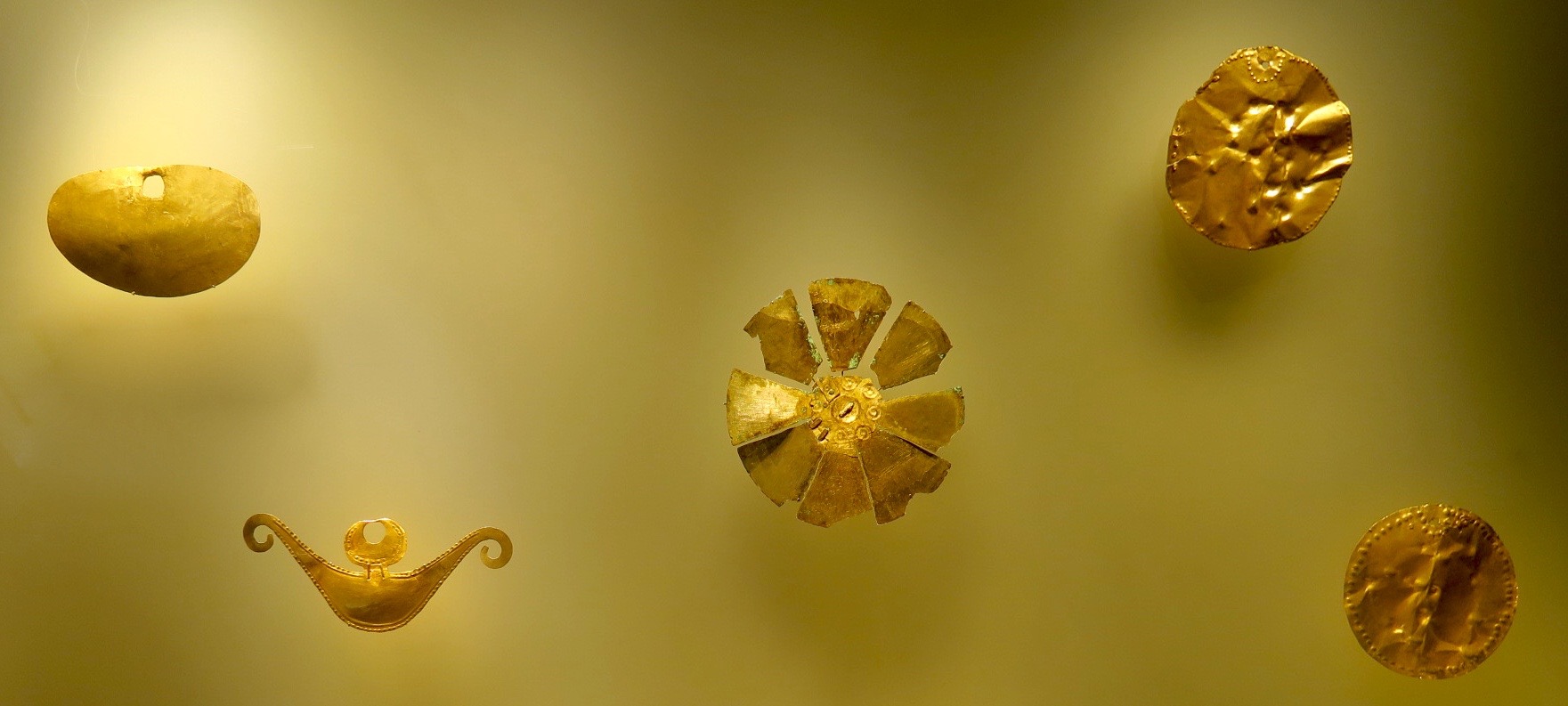 Here are just a few o the pieces on display that I thought were exceptional. This is a Quimbaya golden helmet from 500-700 A.D.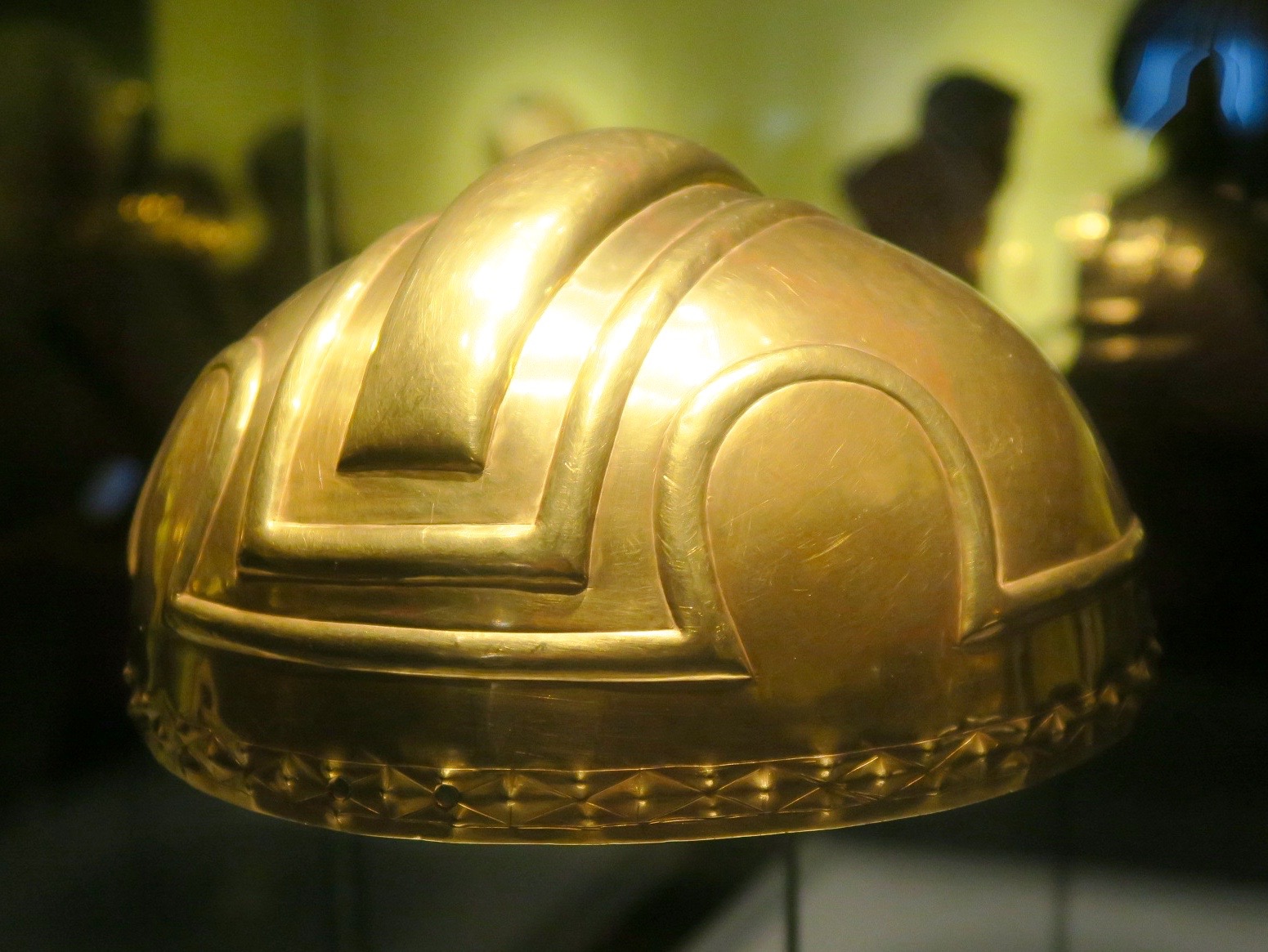 These are anthropomorphous funerary masks from 100 B.C. to 400 A.D created by the Calima culture who controlled the area around modern day Cali. They reminded me very much of the golden death mask of Agamemnon in the Athens Museum.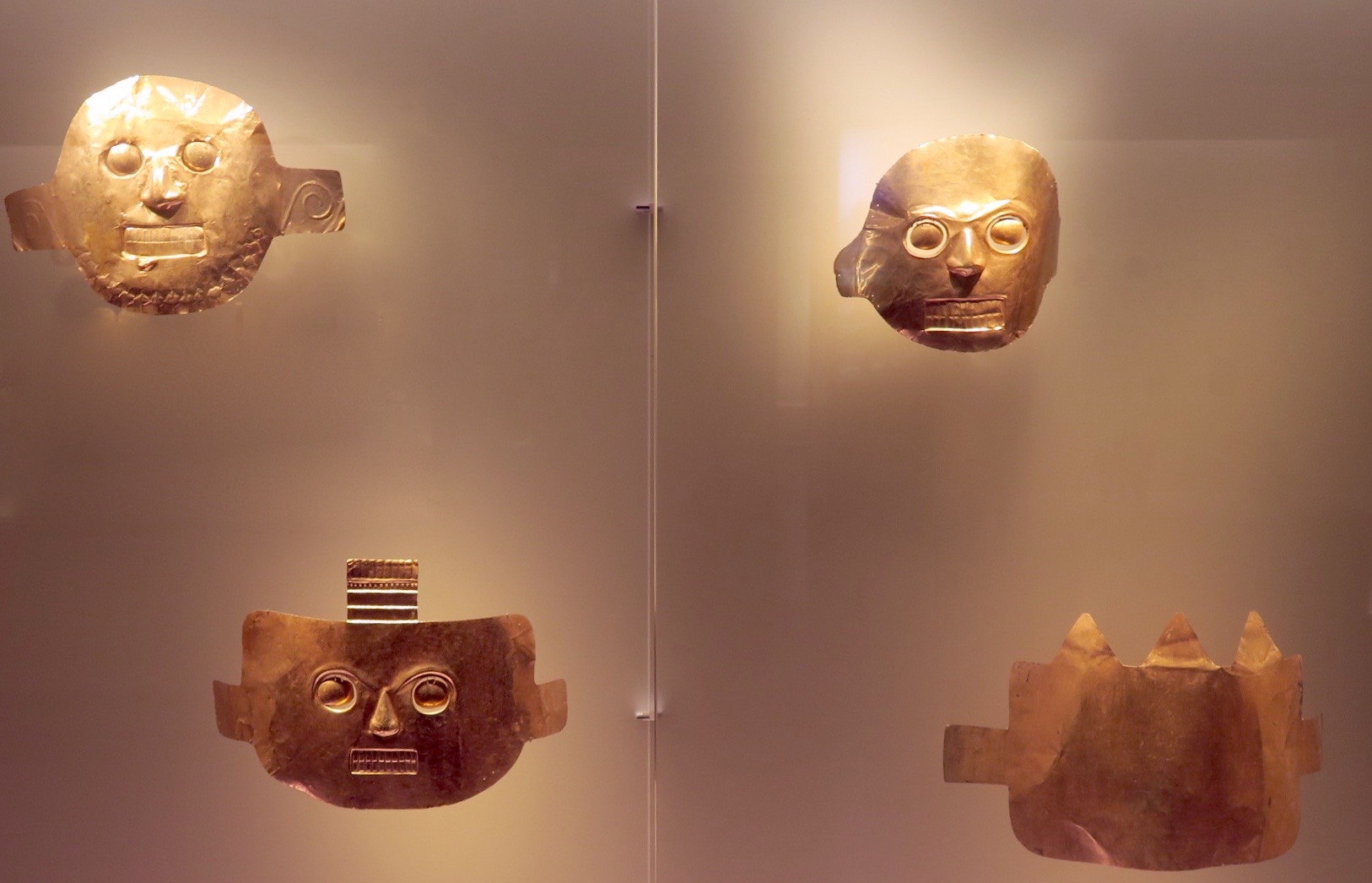 This is a Tumaco mask dating as far back as 700 B.C.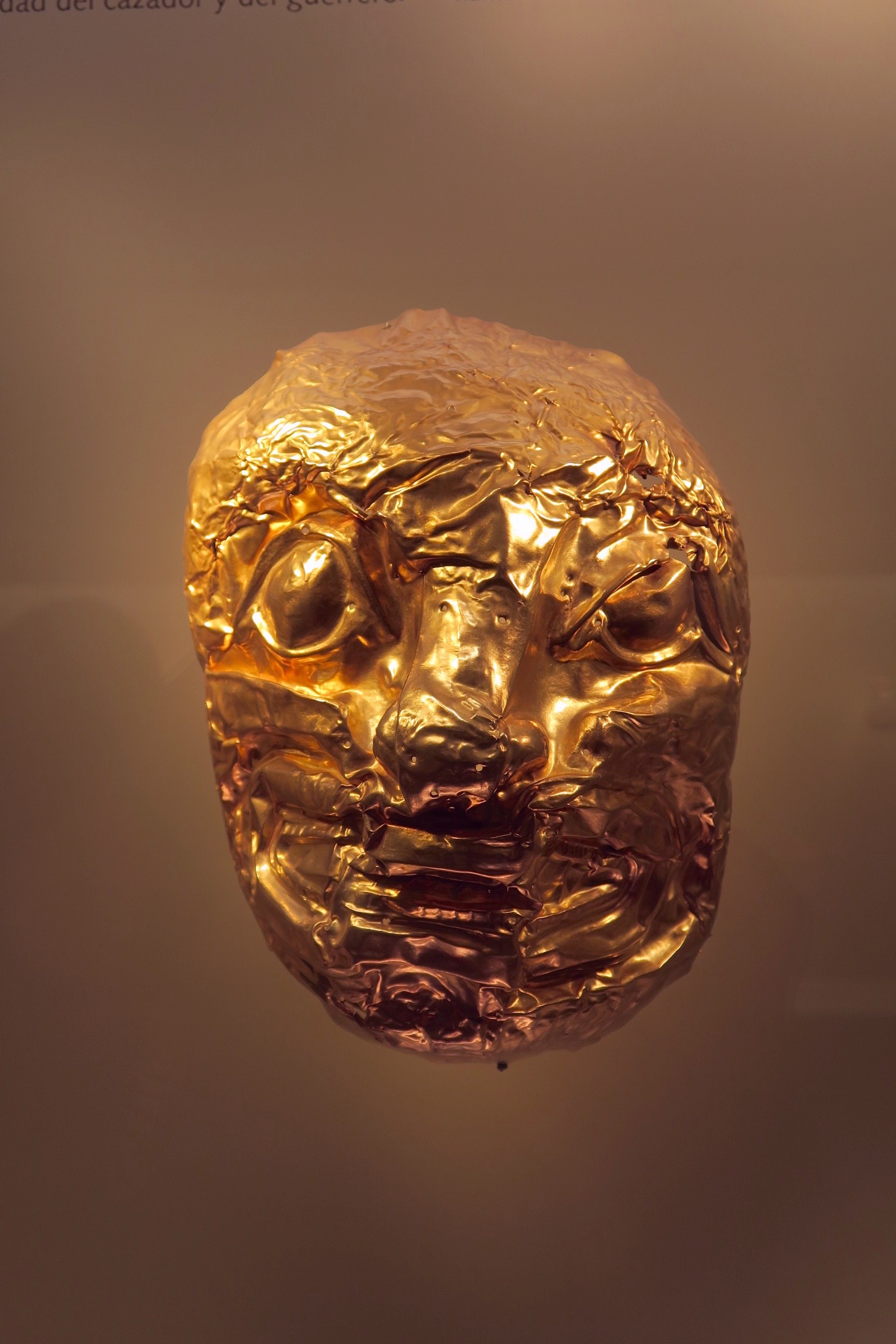 There are a number of displays such as this one below that let you know exactly how a warrior king would look decked out in all his gold. Given the weight of gold, they must have had strong bodies.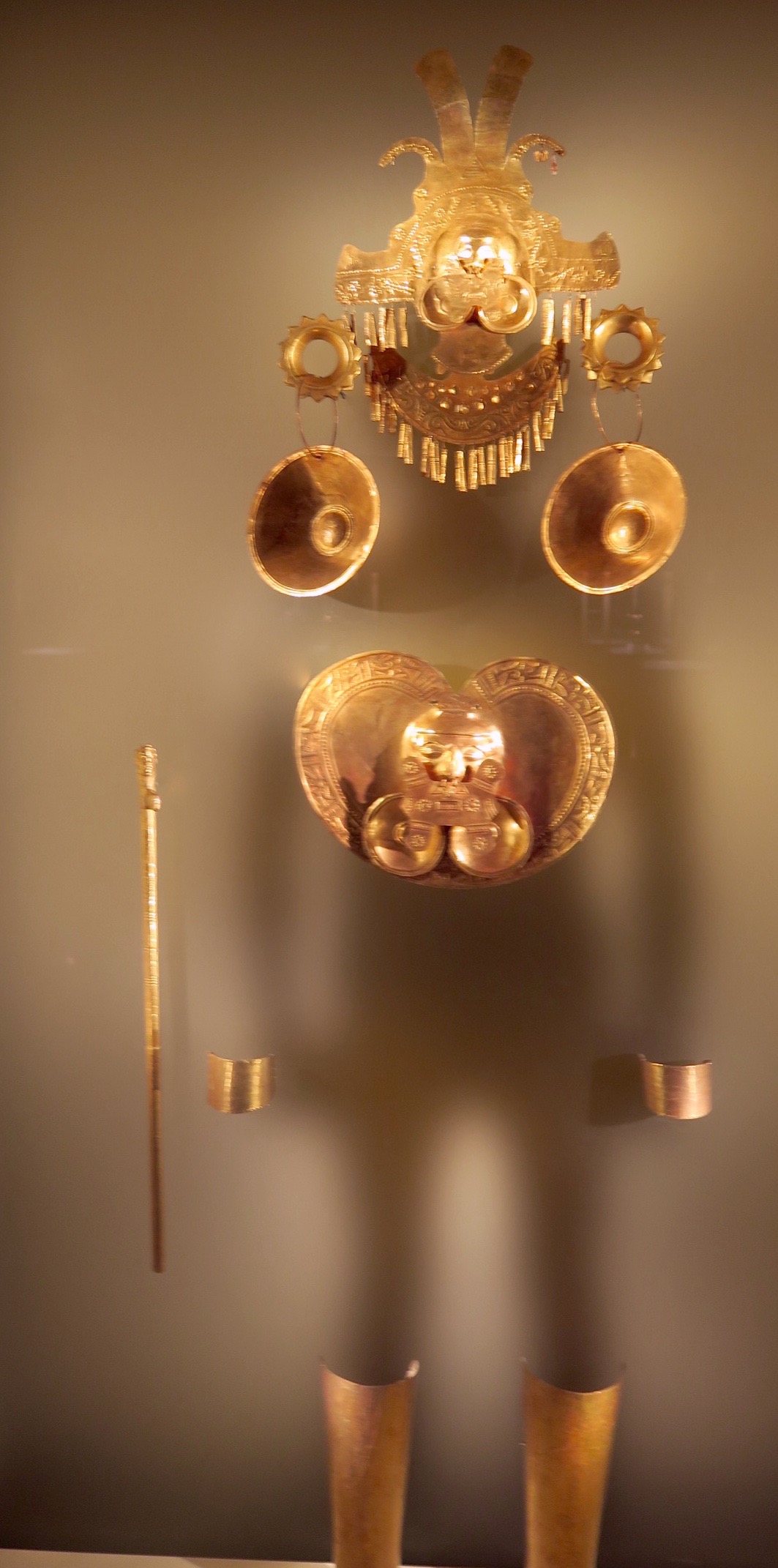 Stylized men in the shape almost of an X where a standard feature of the Tolima culture.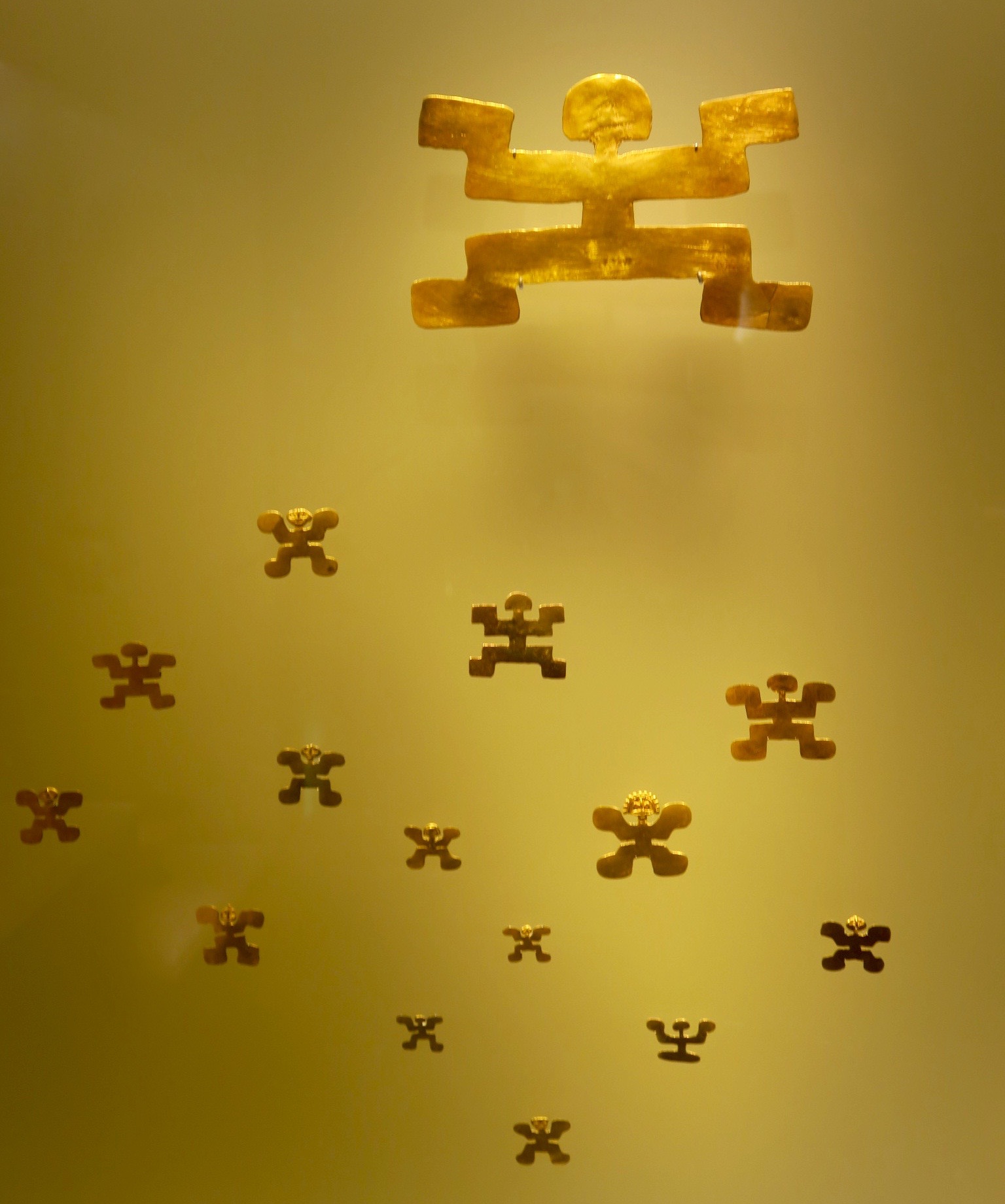 Golden objects are not the only things on display. These are grave markers from San Agustin Archaeological Park, A UNESCO World Heritage Site and the largest necropolis in South America and some claim, the world. I would have loved to include a visit to this place on the itinerary, but it is in the deep southwest of Colombia and not easy to get to. Definitely a reason to return.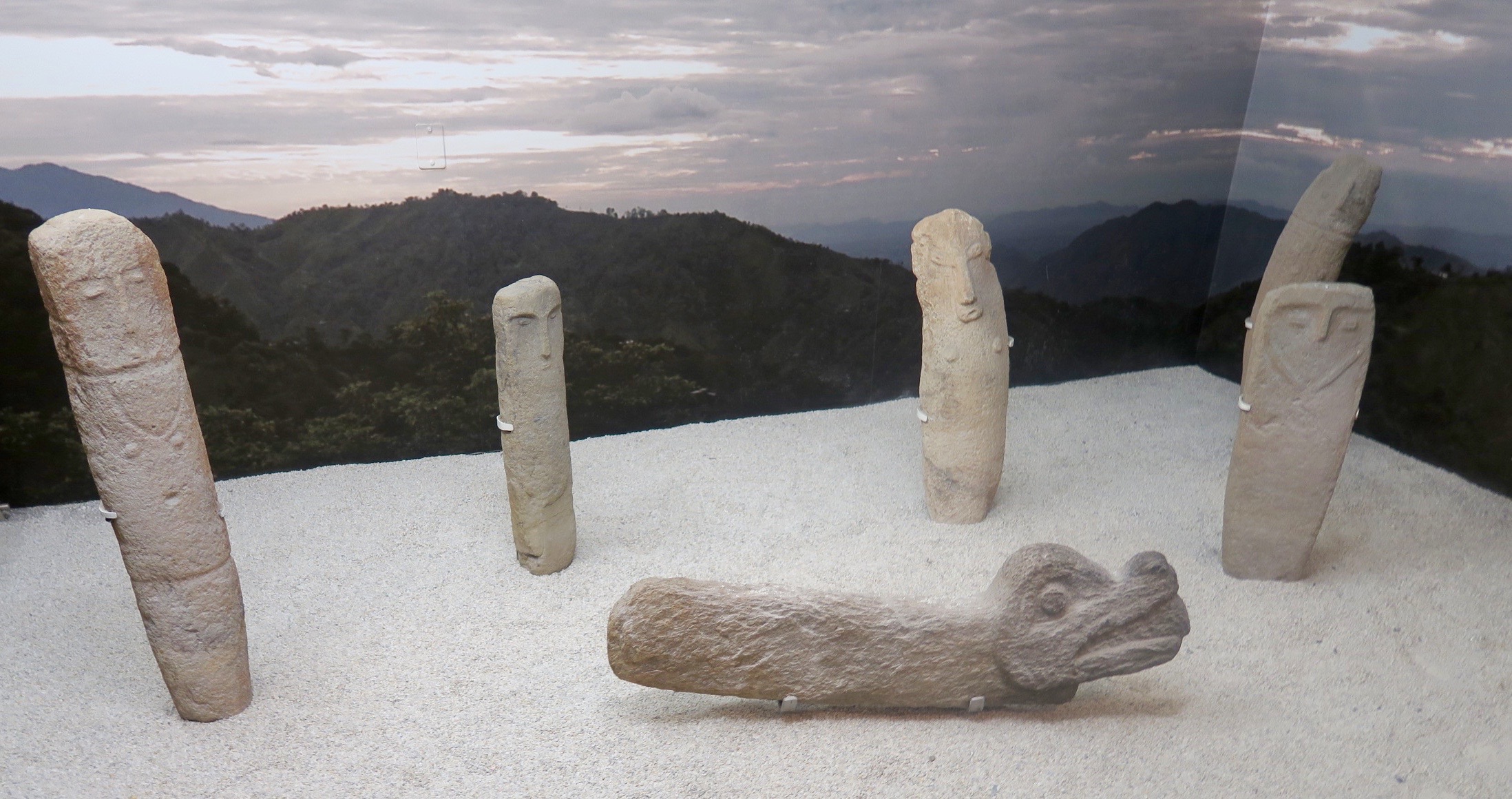 The moment I saw this figure I had to wonder if Auguste Rodin had also seen it and used it as the model for perhaps his most famous sculpture, The Thinker. What do you think? It was created by the Tumaco culture on the Pacific coast of Colombia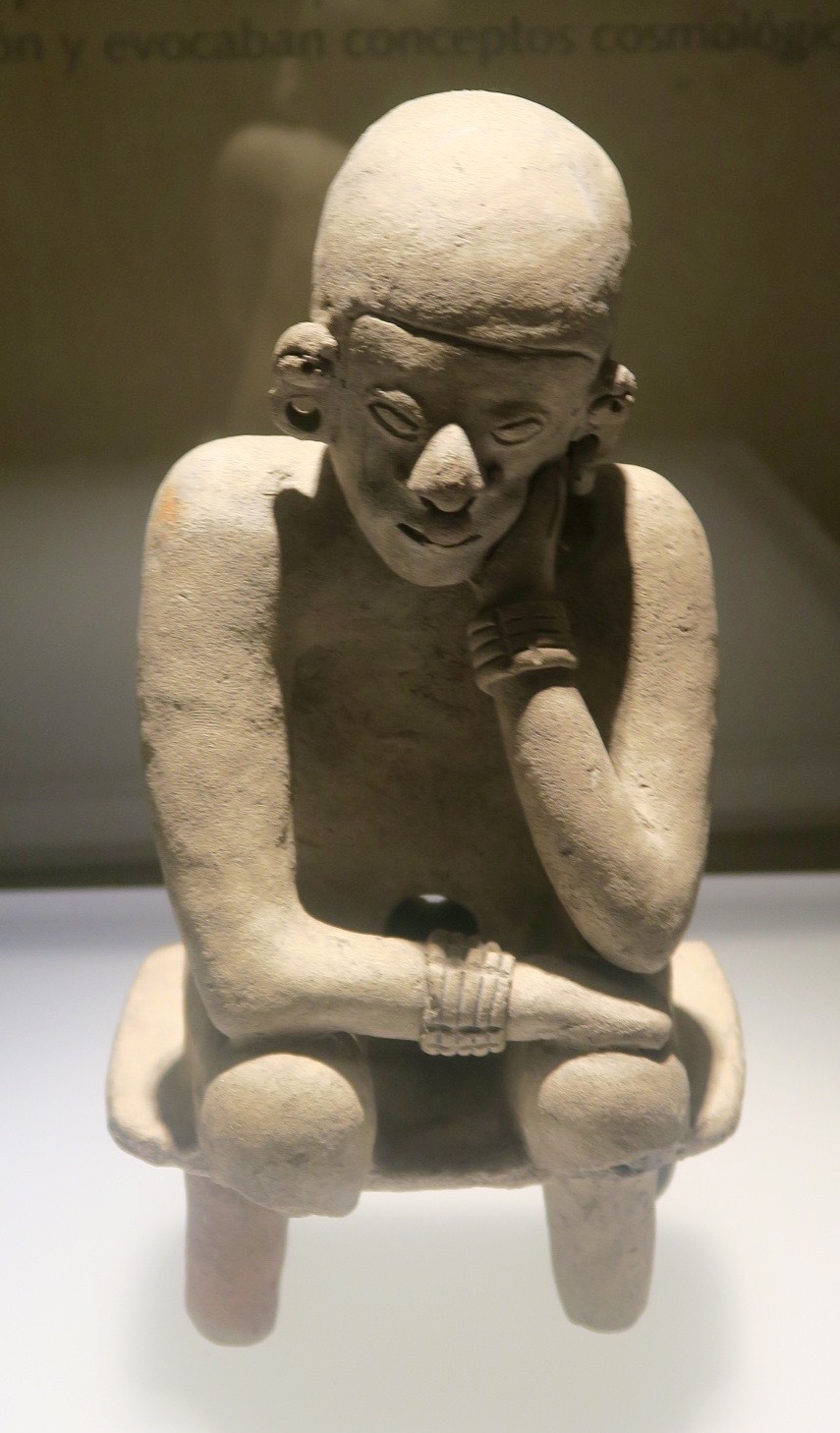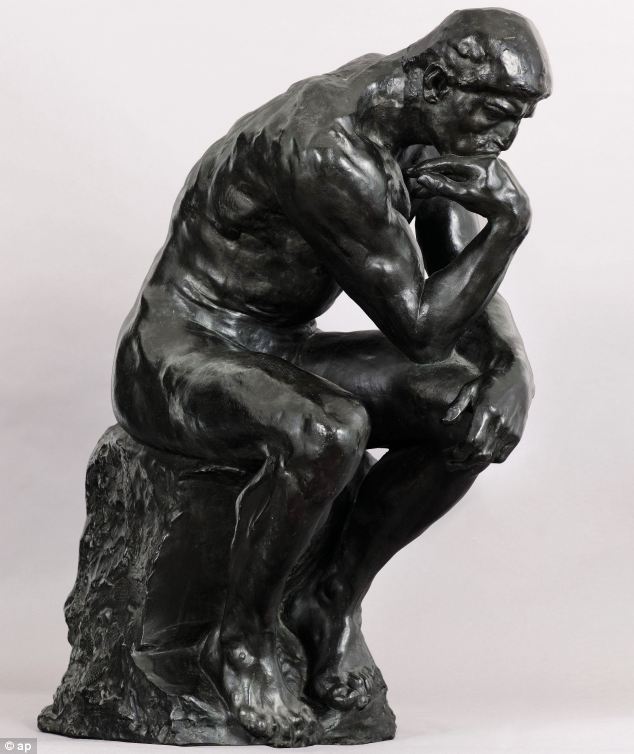 The last object I want to show came as a total surprise to me. I knew that South American cultures had a long history of mummification, but I always associated that with Peru and not Colombia. However, the Muisca people of the modern day Bogota area practised it as well. Unlike Egyptian mummies, which have their internal organs removed and placed in canopic jars, New World mummies are desiccated or dried out just like a raisin. The effect is startling. And can you believe those perfect teeth? They would cost a fortune today.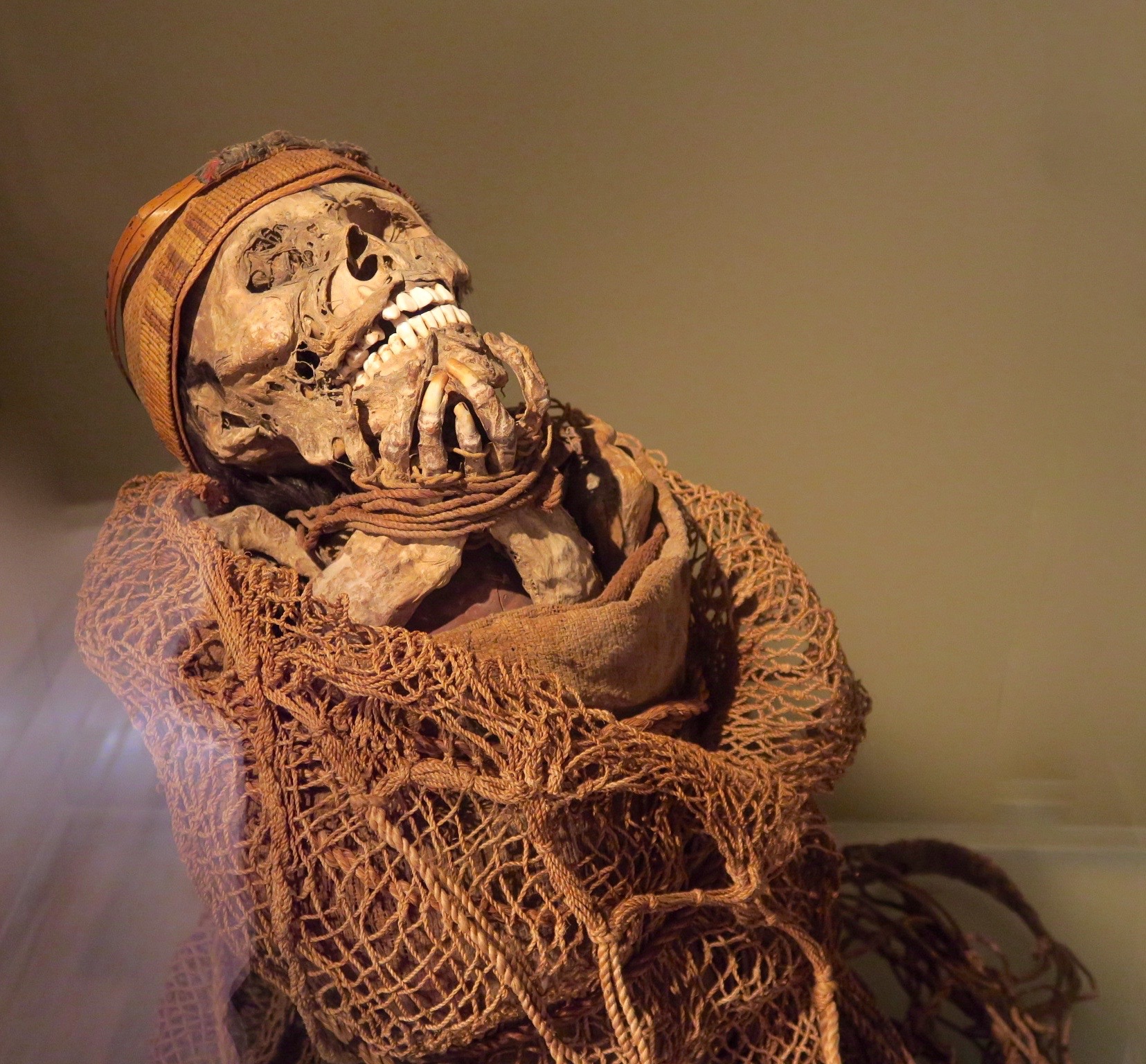 The Legend of El Dorado
We've all heard of the legend of El Dorado, which most of us mistakenly believe refers to a mystical city of gold, when it translates literally to The Golden Man, although the legend did in fact get twisted into meaning a fabled lost city of gold. When the Spaniards arrived in the new world they had an insatiable greed for gold and kept on hearing stories about a golden king who would ride a raft onto a lake covered in gold and then dive in, the gold falling to the bottom along with thousands of other golden offerings. Incredibly, these stories were true and took place at Lake Guatavita not far from modern day Bogota. The selection of a new Muisca king took place only when the potential candidate, attired entirely in gold, road a raft to the centre of  the small lake and jumped in. Presumably, if he didn't drown with all that gold on, he was fit to be king. One of the most famous pieces in the Gold Museum is this golden replica of the raft used to transport the king.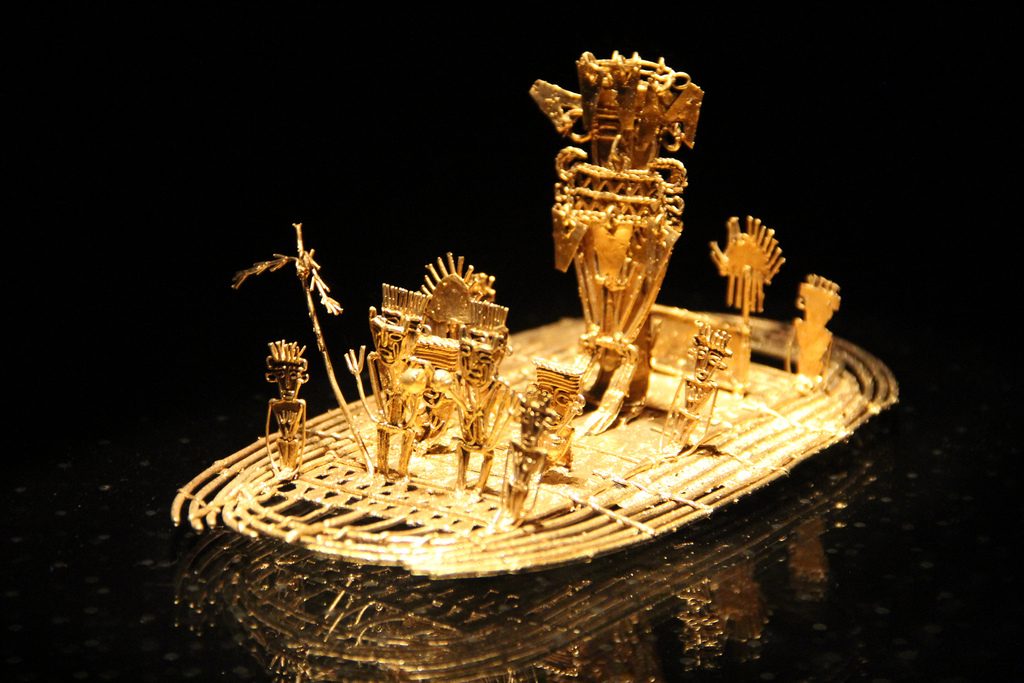 When the Spaniards learned about this they did everything in their power to drain the lake, but never succeeded, although there are other reports that do say they recovered gold and jewels from the lake. Thankfully now the Muisca people are in charge of Lake Guatavita and there will be no further efforts to reclaim treasure from the lake.
The last stop on the Gold Museum tour is to a small circular room that is completely dark. Gradually it begins to lighten and the walls and floor are covered in images of the golden objects. A small circle in the middle of the floor then lightens up and is clearly meant to be the depths of Lake Guatavita. It looks like this. Note the one huge uncut emerald stone.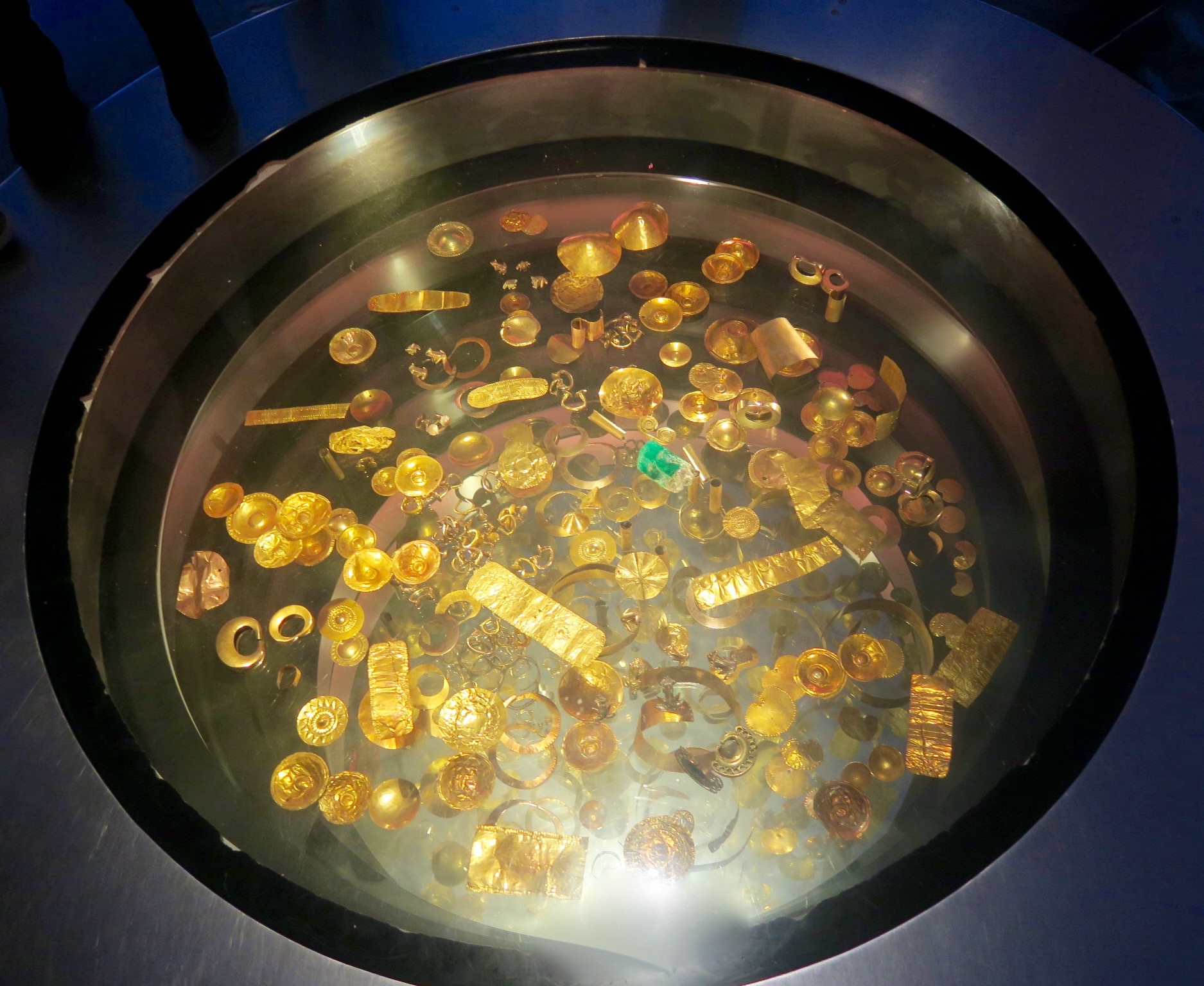 It's a good way to end the tour, although you shouldn't pass up at least browsing in the gift shop which has a great selection of items made in Colombia for sale.
I'll end this post with Edgar Allan Poe's El Dorado which was my father's favourite poem. It perfectly reflects the futility of always seeking and never finding that elusive thing that will make life so much easier. Just doesn't happen.
Eldorado
Gaily bedight,
   A gallant knight,
In sunshine and in shadow,
   Had journeyed long,
   Singing a song,
In search of Eldorado.
   But he grew old—
   This knight so bold—
And o'er his heart a shadow—
   Fell as he found
   No spot of ground
That looked like Eldorado.
   And, as his strength
   Failed him at length,
He met a pilgrim shadow—
   'Shadow,' said he,
   'Where can it be—
This land of Eldorado?'
   'Over the Mountains
   Of the Moon,
Down the Valley of the Shadow,
   Ride, boldly ride,'
   The shade replied,—
'If you seek for Eldorado!'
In the next post I will end out time in the wonderful city of Bogota with a visit to an entirely different type of museum dedicated to the art of Fernando Botero. Hope you'll join us.