Botero Museum – Love it or Hate It – You Decide
This is my final post from the great city of Bogota, Colombia, an underrated and under appreciated South American capitol that is undergoing a renaissance ever since the end of the drug cartel wars over a decade ago. Alison and I are in Colombia on a tour with Canadian travel company Adventures Abroad and the first two days have been an eye opener for both of us. Colombians are very friendly, open minded and inviting towards the few tourists that have ventured back to their country after decades of internal strife made it unsafe for travel. In the last post we visited the incredible Gold Museum, of which I doubt anyone could quibble about its status as a great tourist attraction. The next one on the list is definitely in the "You either love it or you hate it" category. We are headed on foot through central Bogota to the Botero Museum which features the works of Colombia's self-proclaimed greatest living artist, Fernando Botero. Come along and find out if you are in the love it or hate it camp of this controversial artist.
On the way we head down Bogota's largest pedestrian only street which leads to the largest plaza on the city, Plaza de Bolivar which is surrounded on all sides by important public buildings. That's the Congress building on the left where the Colombian politicians convene. Notice the hordes of pigeons, reminiscent of St. Mark's square in Venice. Despite clearly earning the title of 'flying rats', some idiots are buying feed from a vendor (who should be forcibly removed) and having pictures taken of themselves covered with these vermin. Hope they enjoy their chances of getting histoplasmosis, candidiasis or maybe even cryptococcosis.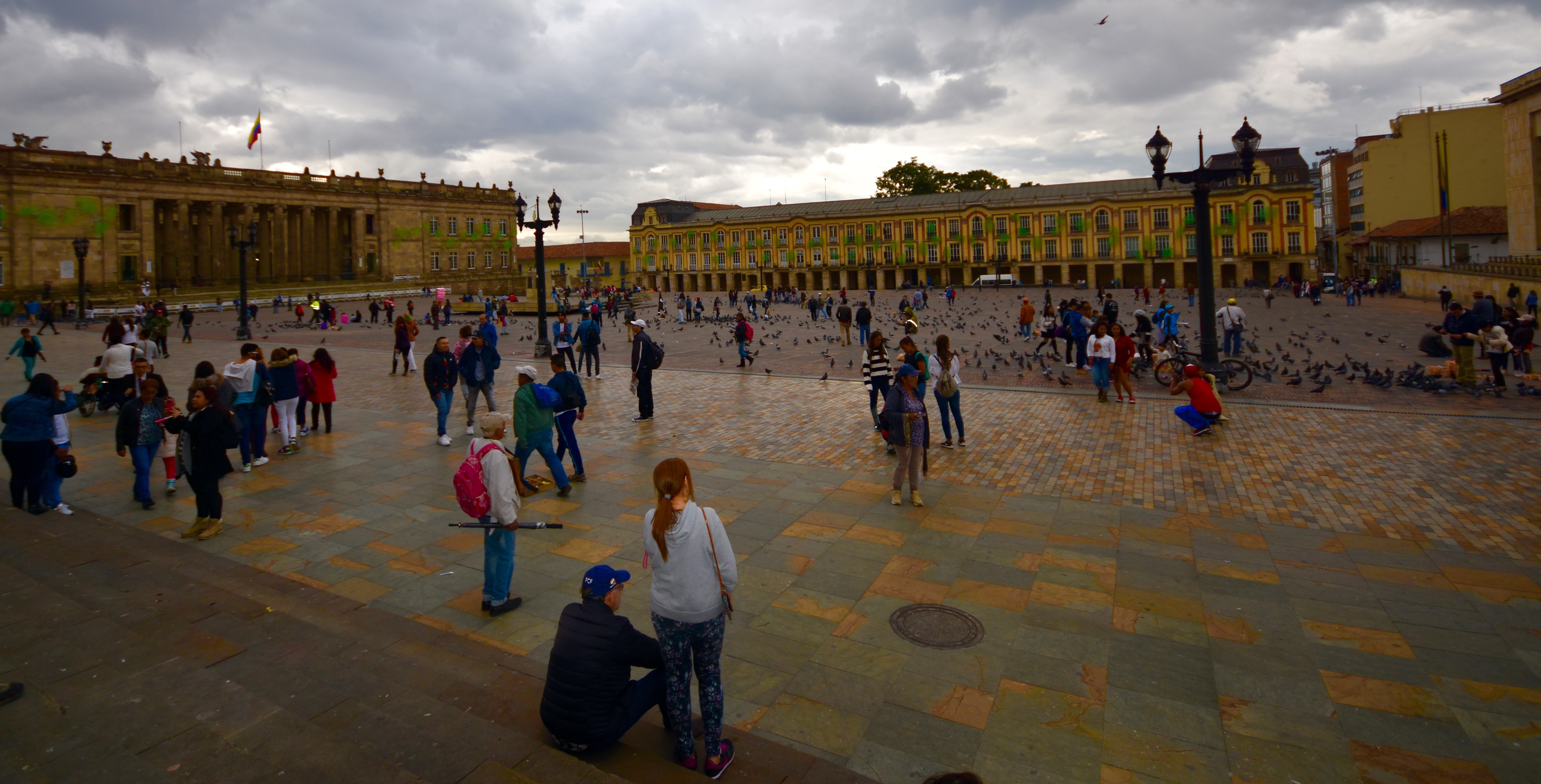 The Primatial Cathedral of Bogota also fronts on Plaza de Bolivar. Dating from the early 1800's it's an imposing edifice and contributes to the sense of grandeur in this large public space.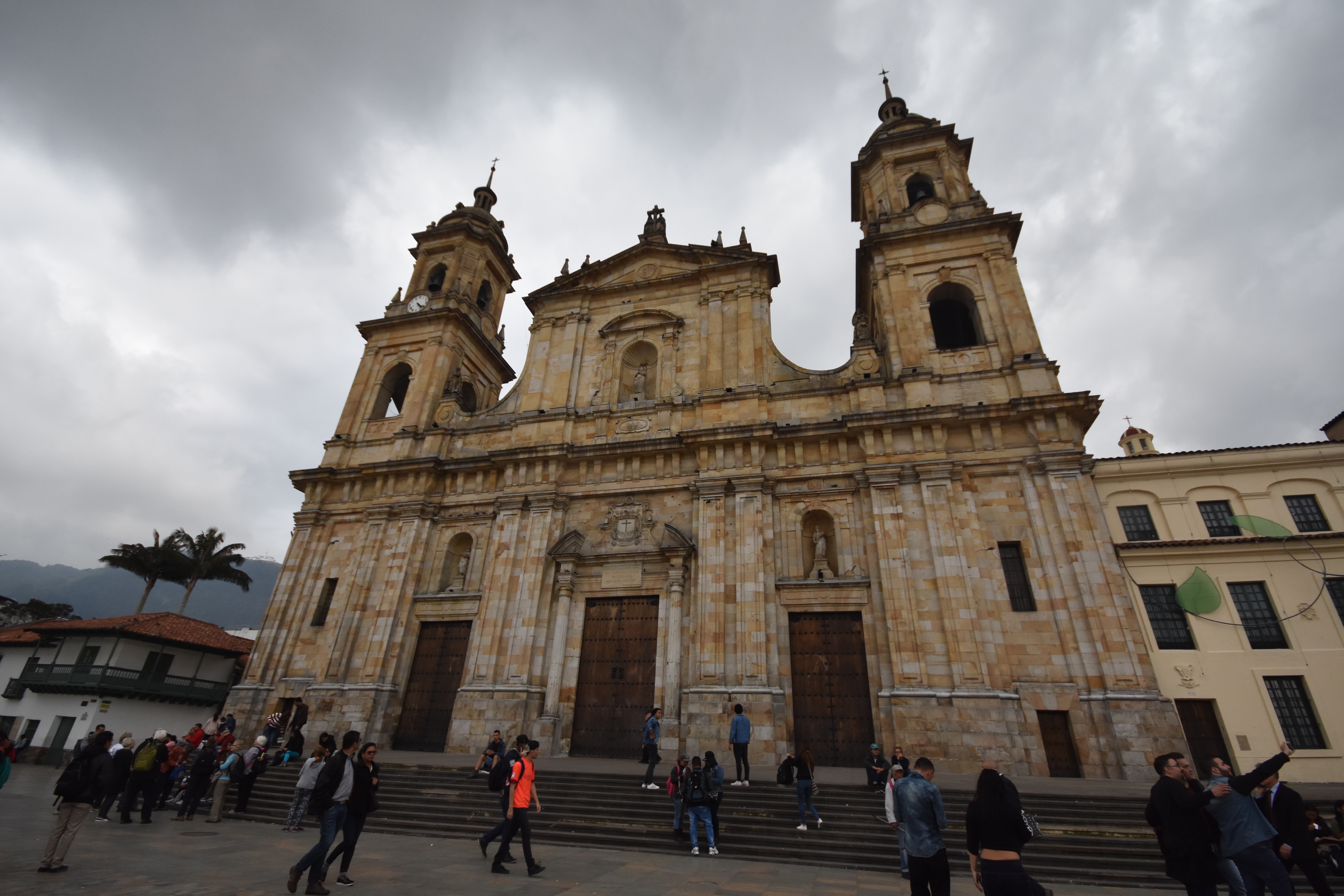 But everything here is not on a gargantuan scale. There's a human element as well, as personified by this bicycling balloon salesman.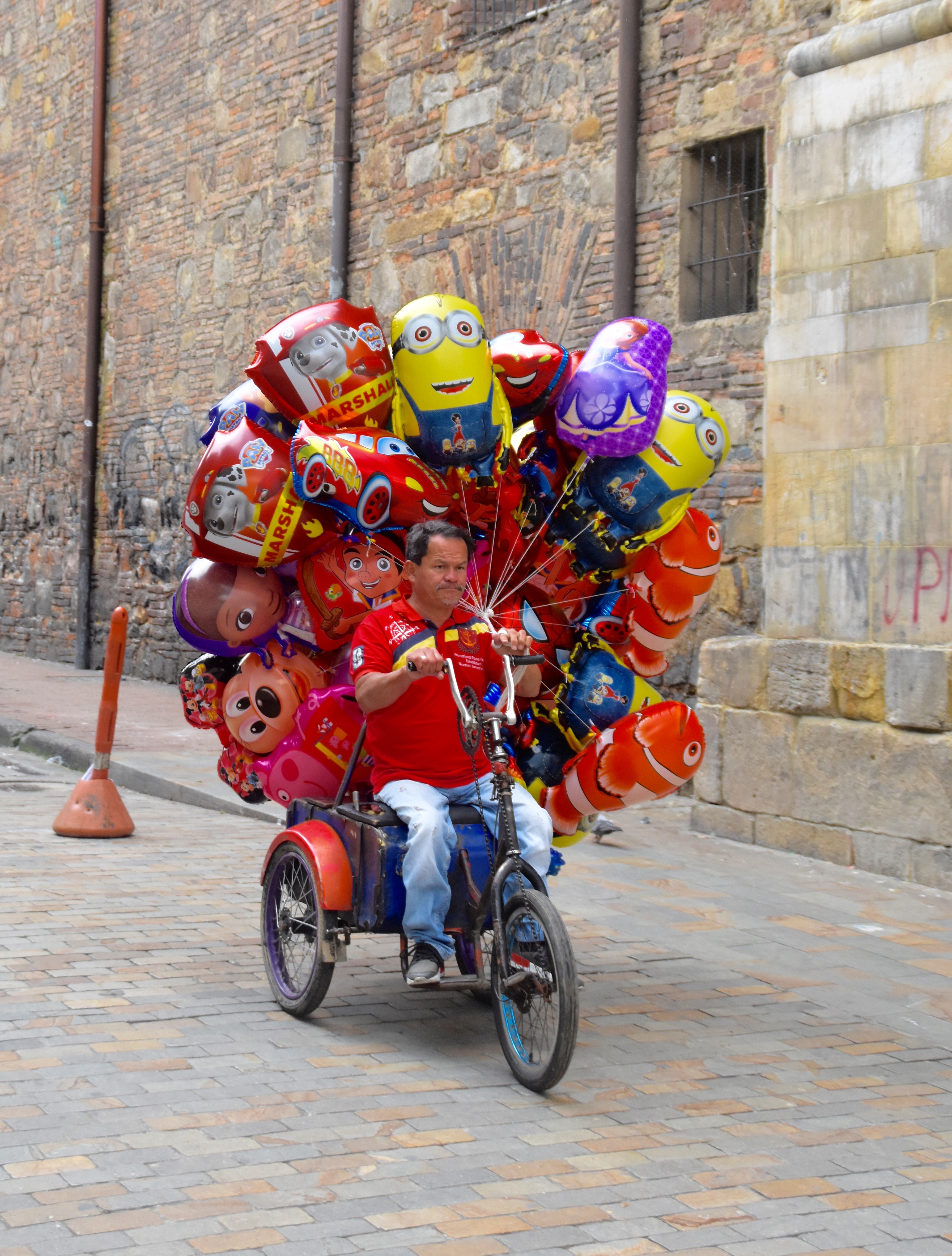 Or this obleas stand, which claims Mick Jagger as a patron and Jesus as an overseer. How could you go wrong?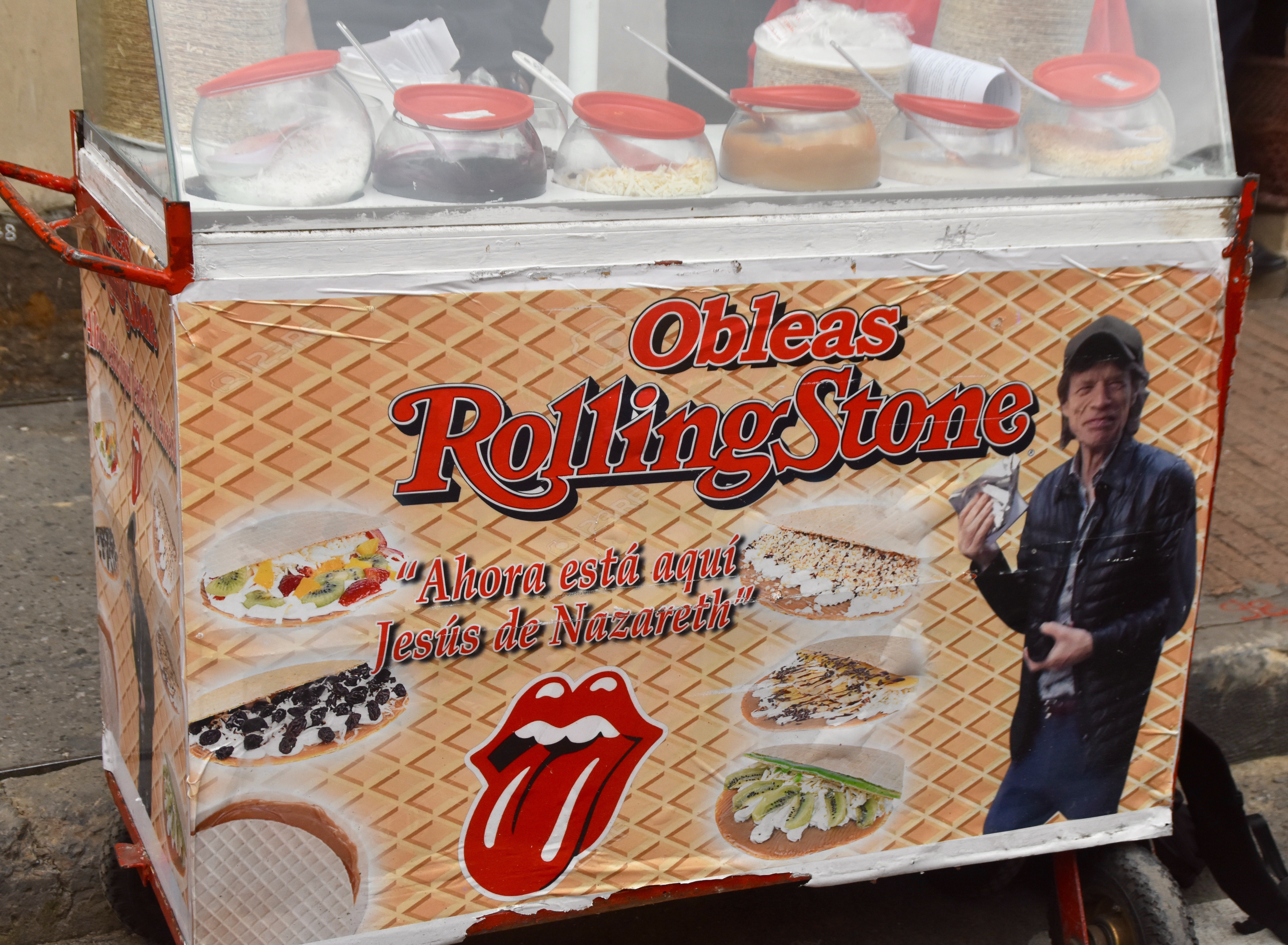 Fernando Botero and the Botero Museum
I first encountered the works of Fernando Botero in Venice a few years back. His sculptures of enormously obese people and animals where scattered along the Grand Canal in a display sponsored by the Peggy Guggenheim Museum. At first sight I found them ridiculous and still do to this day. Fernando Botero is Colombia's greatest living artist and has created a style of painting and sculpture so unique it is referred to a Boteroism. Famous since he was 18 years old, Botero has donated a significant number of both his works and his personal art collection to the Colombian people which is now housed in a former colonial palace not far off Plaza de Bolivar. As the title of this post implies, you either like Botero's works or you think, like me, that he's pulled off one colossal practical joke on all of us and laughed all the way to the bank. You be the judge.
Actually I'll start off with one of the few Botero pieces I do like – this giant hand greets one at the entrance to the museum and makes for a great photo op.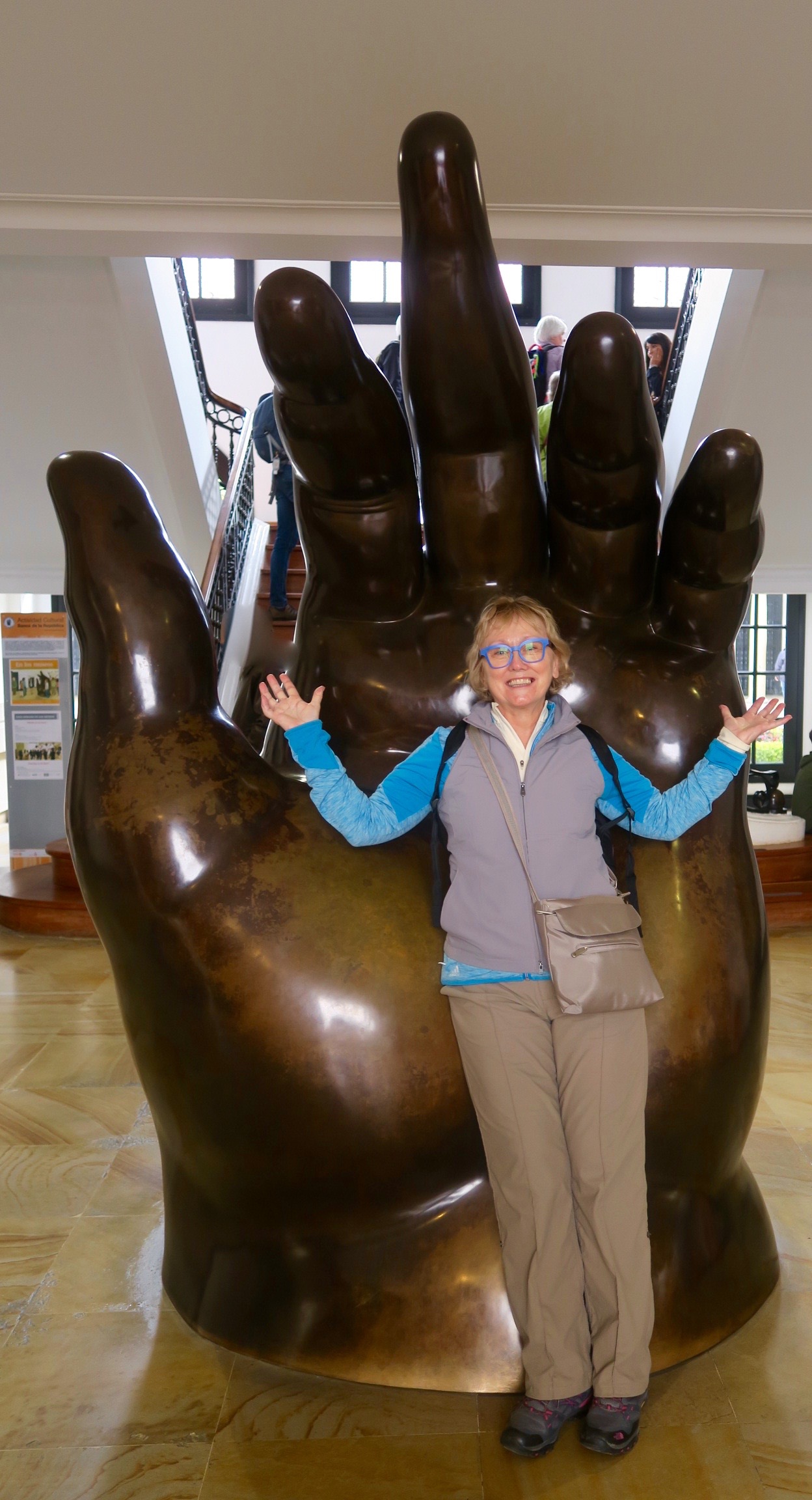 While most people probably associate Botero with sculptures, he is also a prolific painter and most of the works in the Botero Museum are paintings.
Here's Botero's take on the Mona Lisa. What a darling. Not!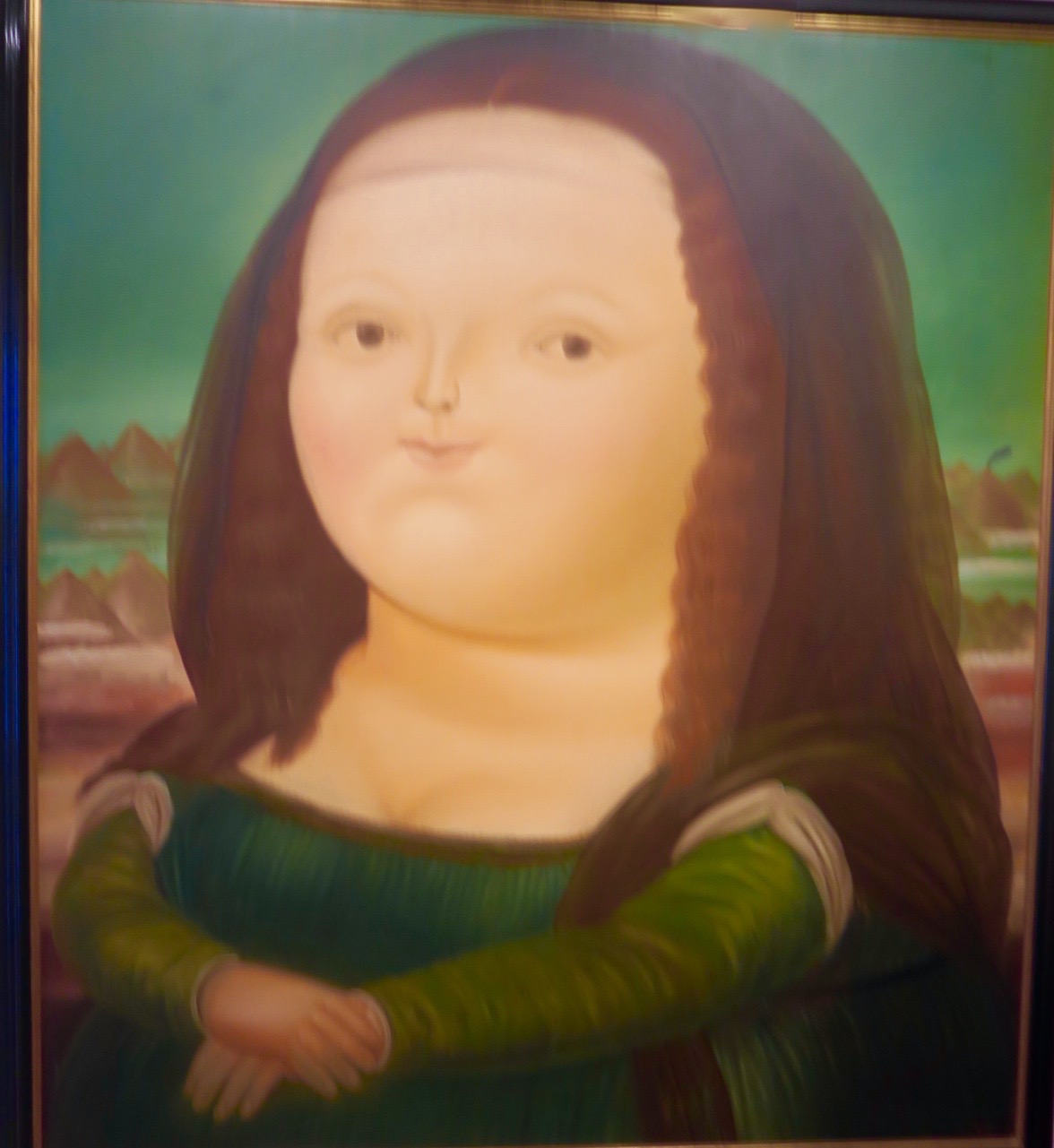 A picture of his family with definite undertones of Henri Rousseau. Notice the snake coming down from the tree and the falling apples. Paradise is definitely about to be lost.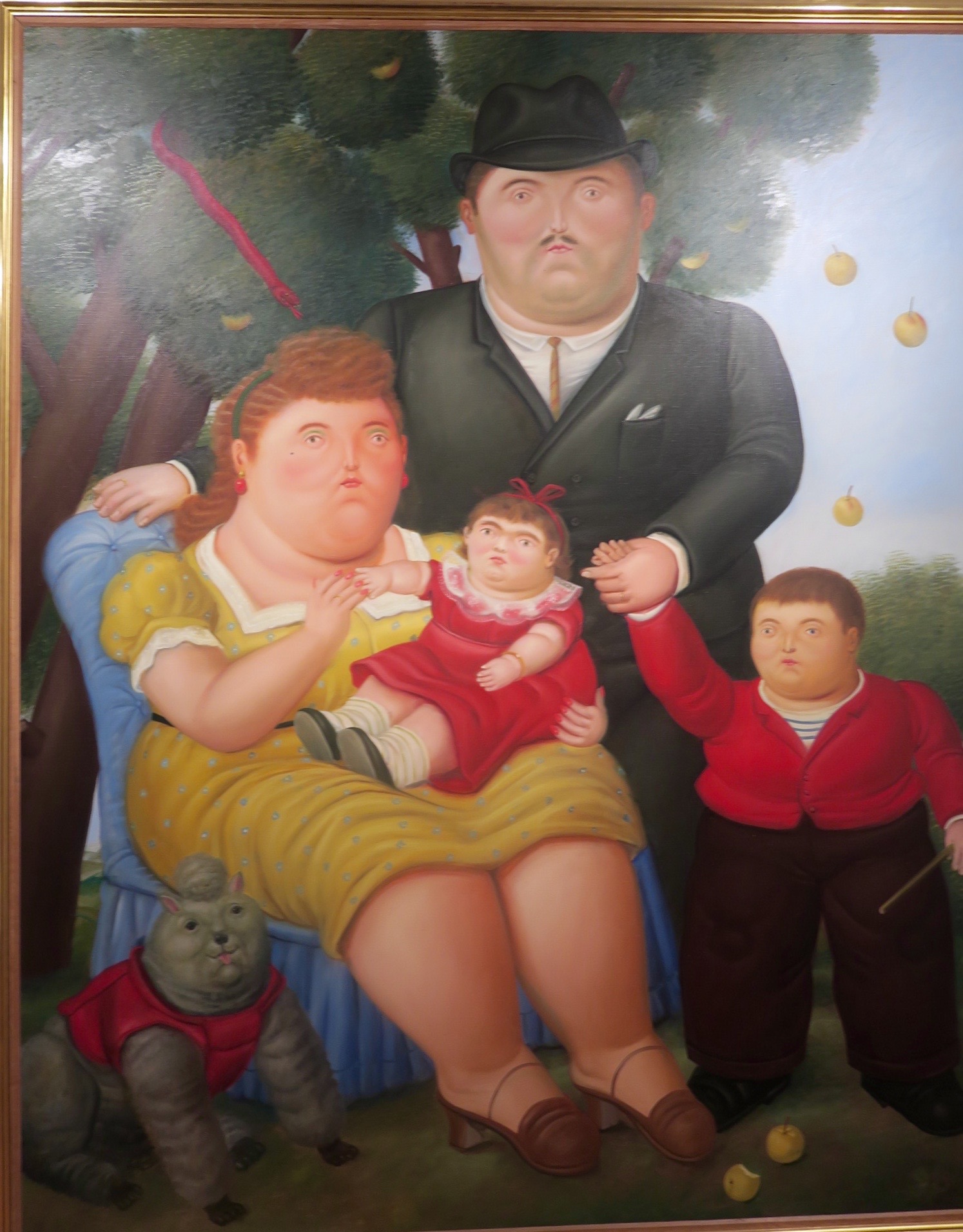 If you were ever fascinated by Velasquez's fascination with dwarfs, Botero's take might cure you.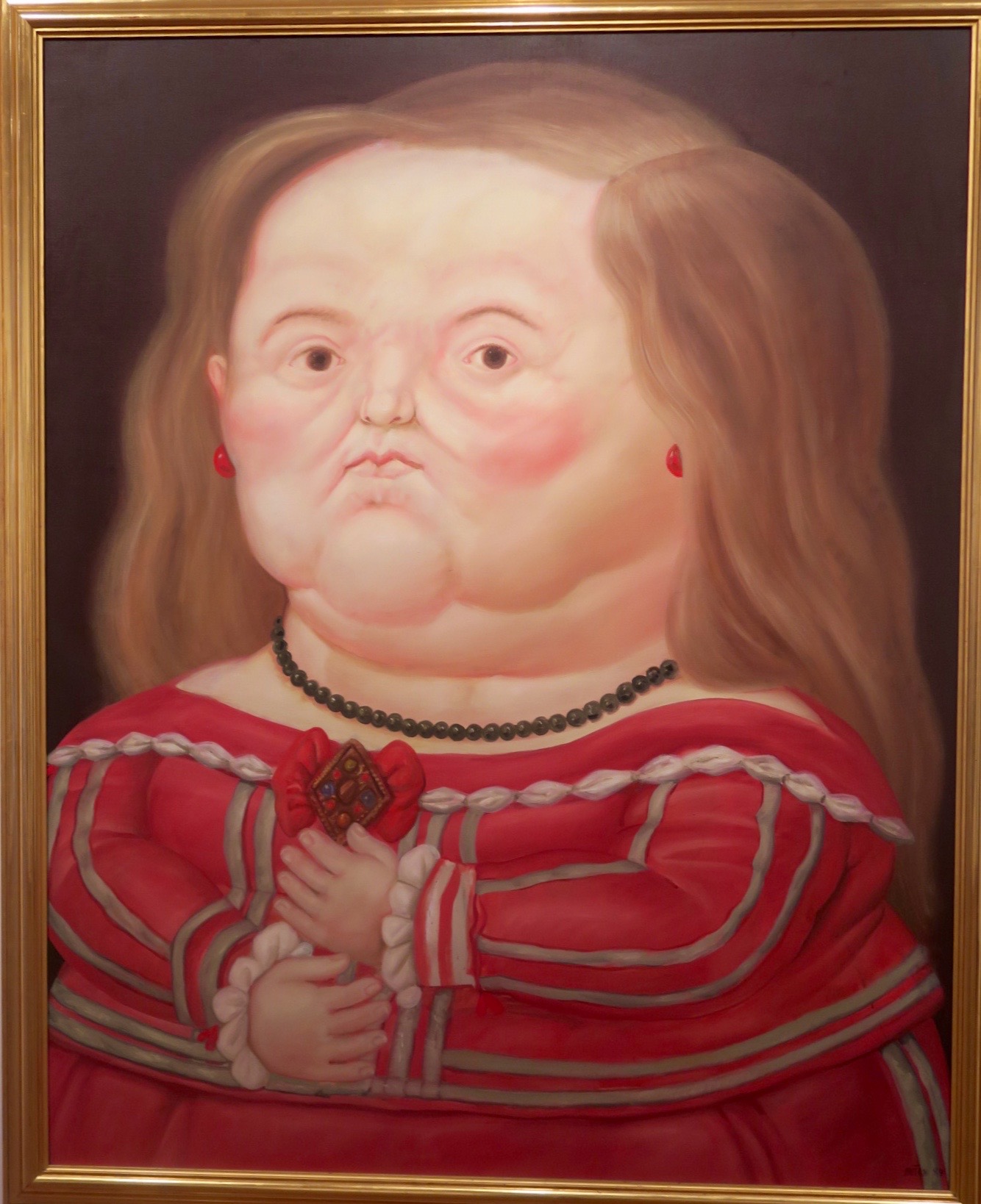 How about this look behind the scenes. Sadly, I know a number of couples who could have stood as models for this piece.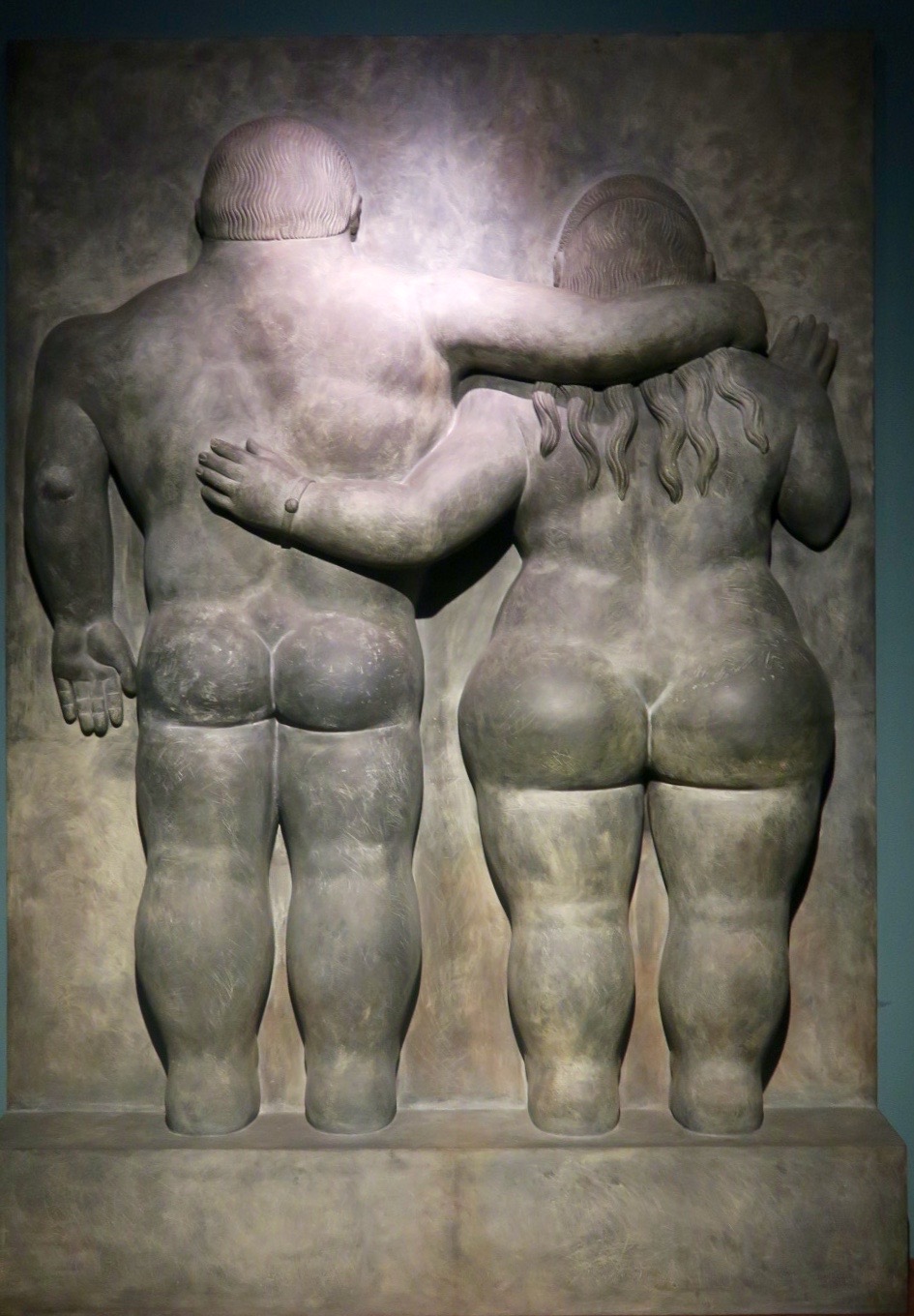 OK, I guess you've got the picture. Altogether there are 123 works by Botero in the Botero Museum so I'll spare you the other 118. Now comes the surprise part and to my mind a reason to visit the Botero Museum even if you don't fancy Botero's works.
I don't know what Botero's works would fetch on the open market, but I do know that the 85 works of other major artists which are also part of the Botero Musuem, would, collectively, easily surpass the billion dollar mark. Somehow, Botero managed to amass works by almost every major painter and sculptor of the late 19th and early 20th century. How's this for a who's who of artists from this period – Renoir, Corot, Pissaro, Degas, Picasso, Boudin, Chagall, Ernst (two really good sculptures) and many more.
While many of these works might not be in the 'very best of' category, they are still pretty darn impressive. My two favourites are this Head of Christ by Georges Rouault, who I greatly admire despite his being a devoted Catholic. The simplicity of his religious paintings belies their depth of meaning. Rouault is one of those artists whose works come across way better seeing it in person than in a book or picture.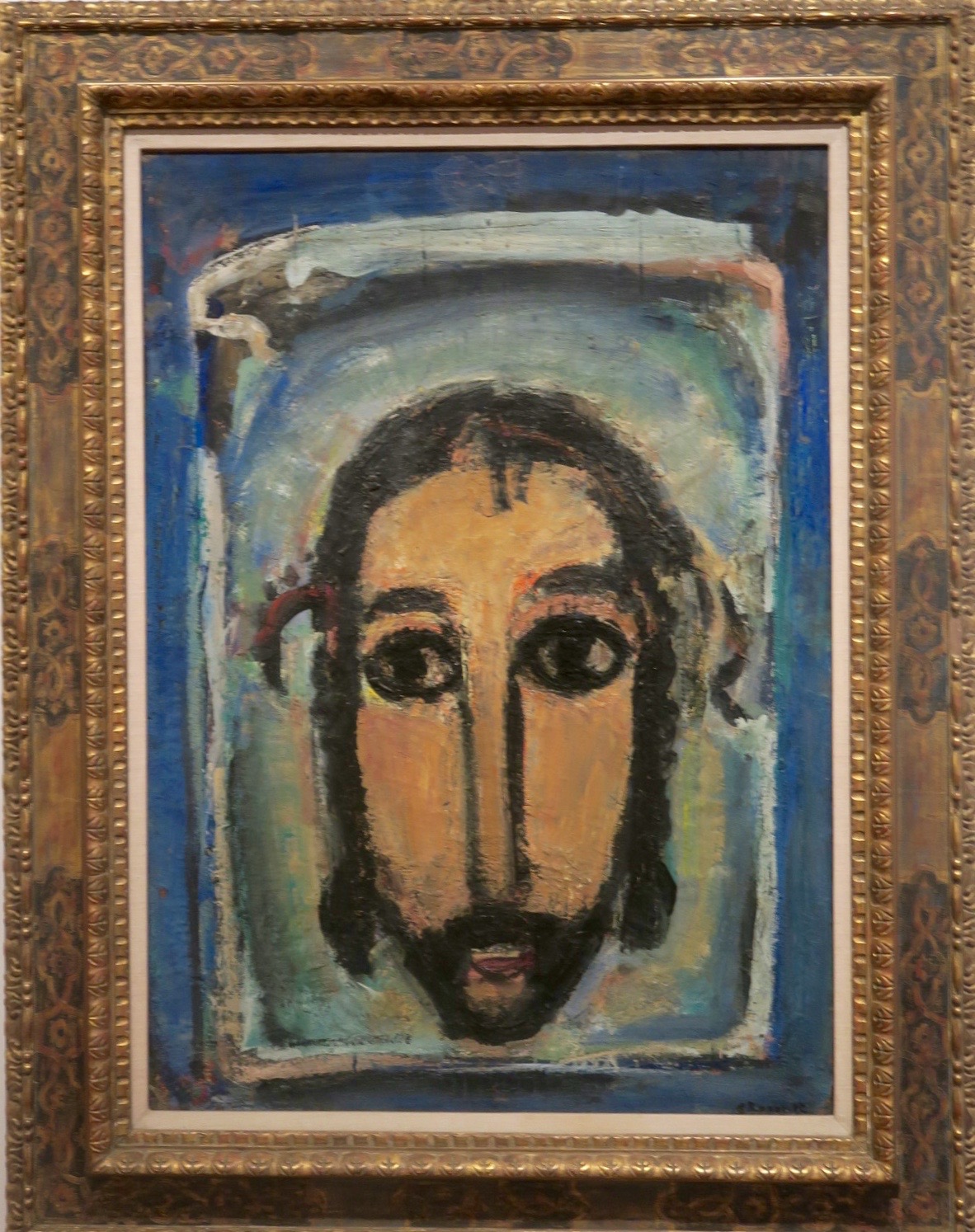 The other is this very unusual work by Salvador Dali, another of my favourites and about as far away in temperament from Rouault as two artists and personalities could possibly be. What does it mean or signify? I don't have a clue, but it gets you thinking.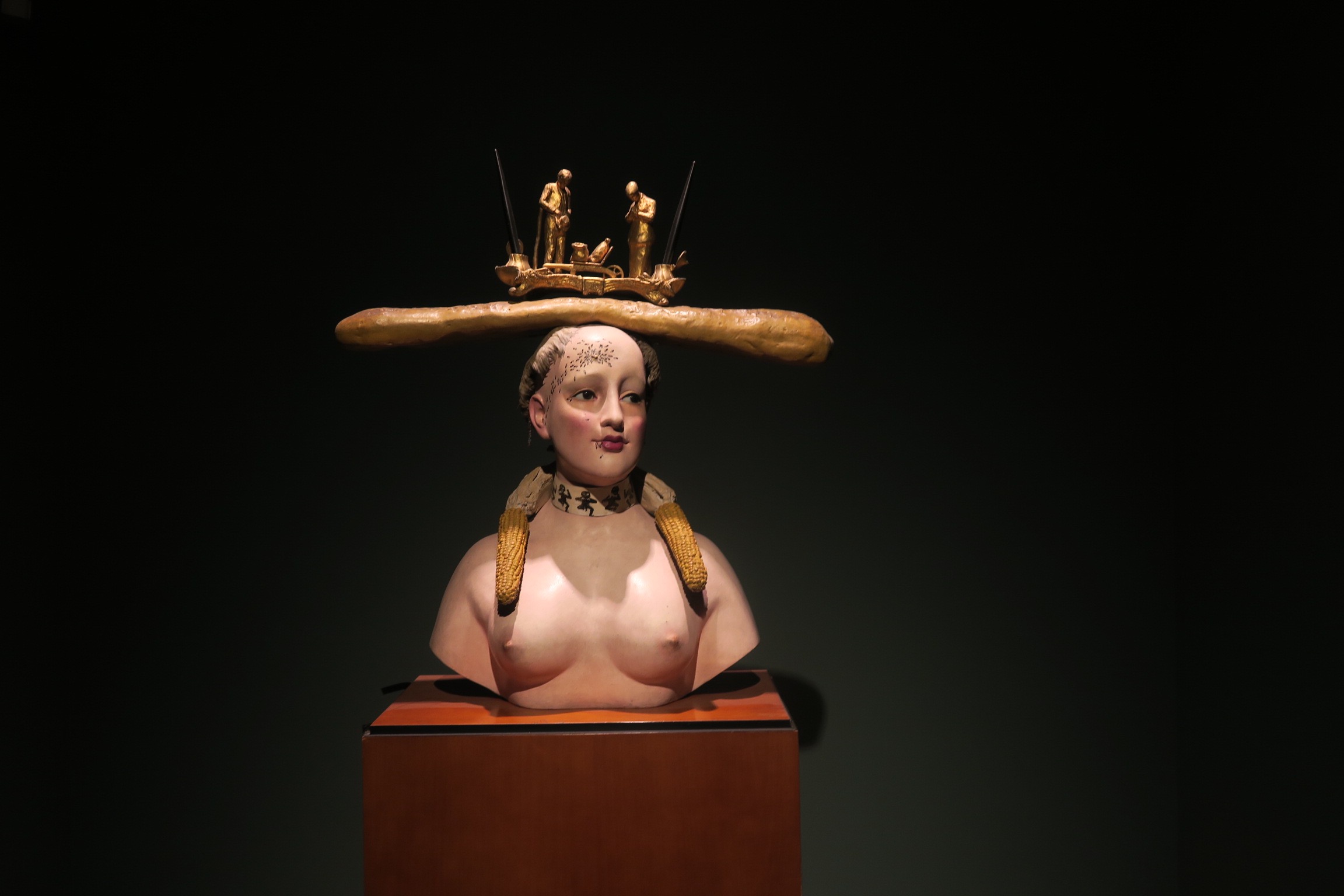 Also impressive is the sculpture room which, thankfully, is barren of Boteros.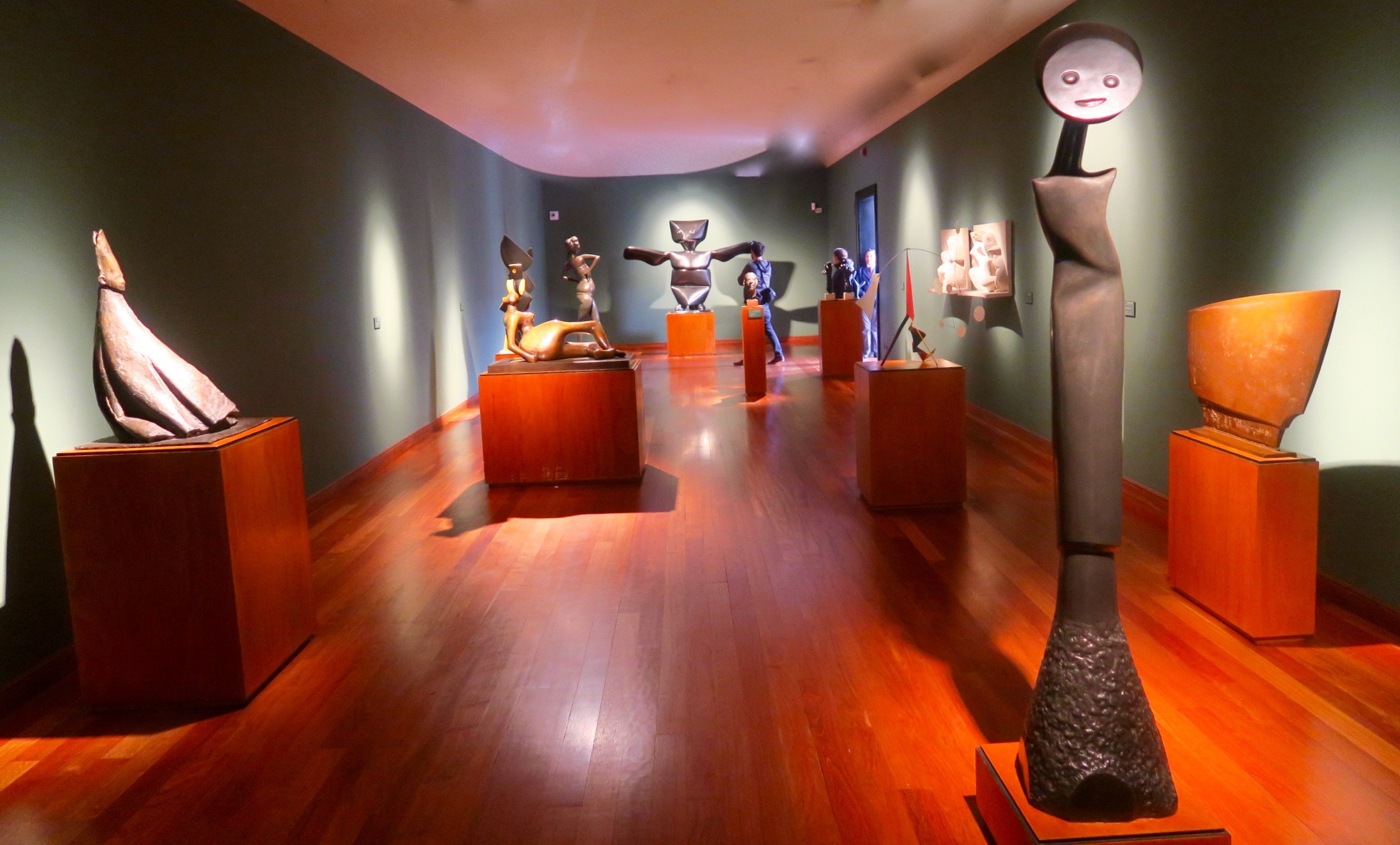 From the Botero Museum it was a short walk back to the Hotel de la Opera where we were staying. Directly across from the entrance is this window and historical marker.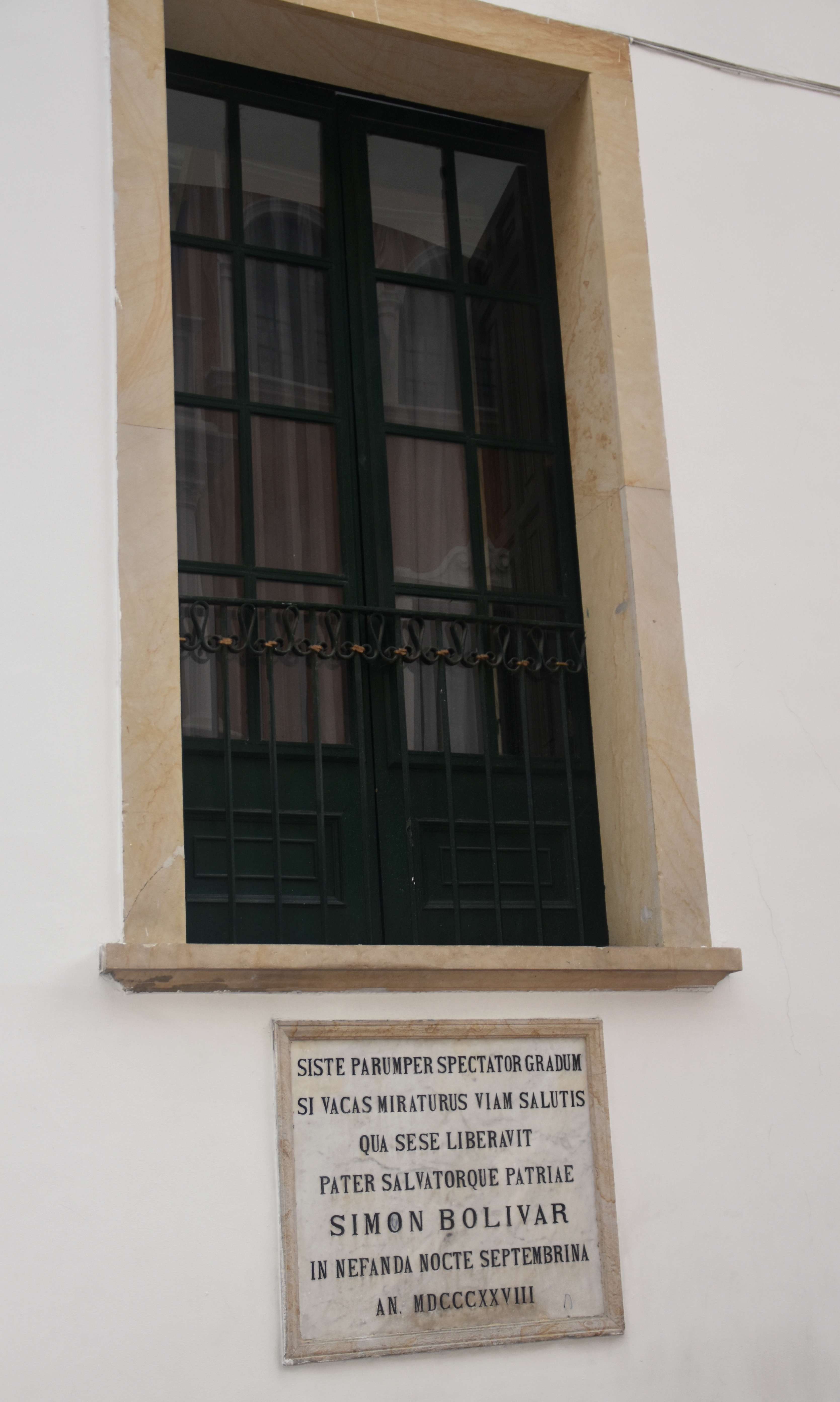 While Simon Bolivar is known throughout Latin America as The Liberator, he was also pretty well known in his time as The Great Seducer. He had umpteen affairs with women, married or not and in the case of this window, it almost certainly saved his life. In this grand house he was in bed with his married mistress when her husband sent a band of assassins to kill him. He leapt through this window which, at the time, overlooked the San Francisco River and made his escape down the stream.
So that's almost the end of the second day in Bogota with Adventures Abroad. It started with a trip up Montserrat by funicular railcar, followed by a walk through the La Candelaria district to see the great street art. After lunch we visited the Gold Museum, the main plaza of Bogota and lastly the Botero Museum. By any standards, a pretty full day, but it wasn't over yet.
Prudencia
For dinner Andres took us up a few blocks from the hotel to a plain wooden door with no indication of what was behind it. He knocked and we were greeted by this open kitchen scene.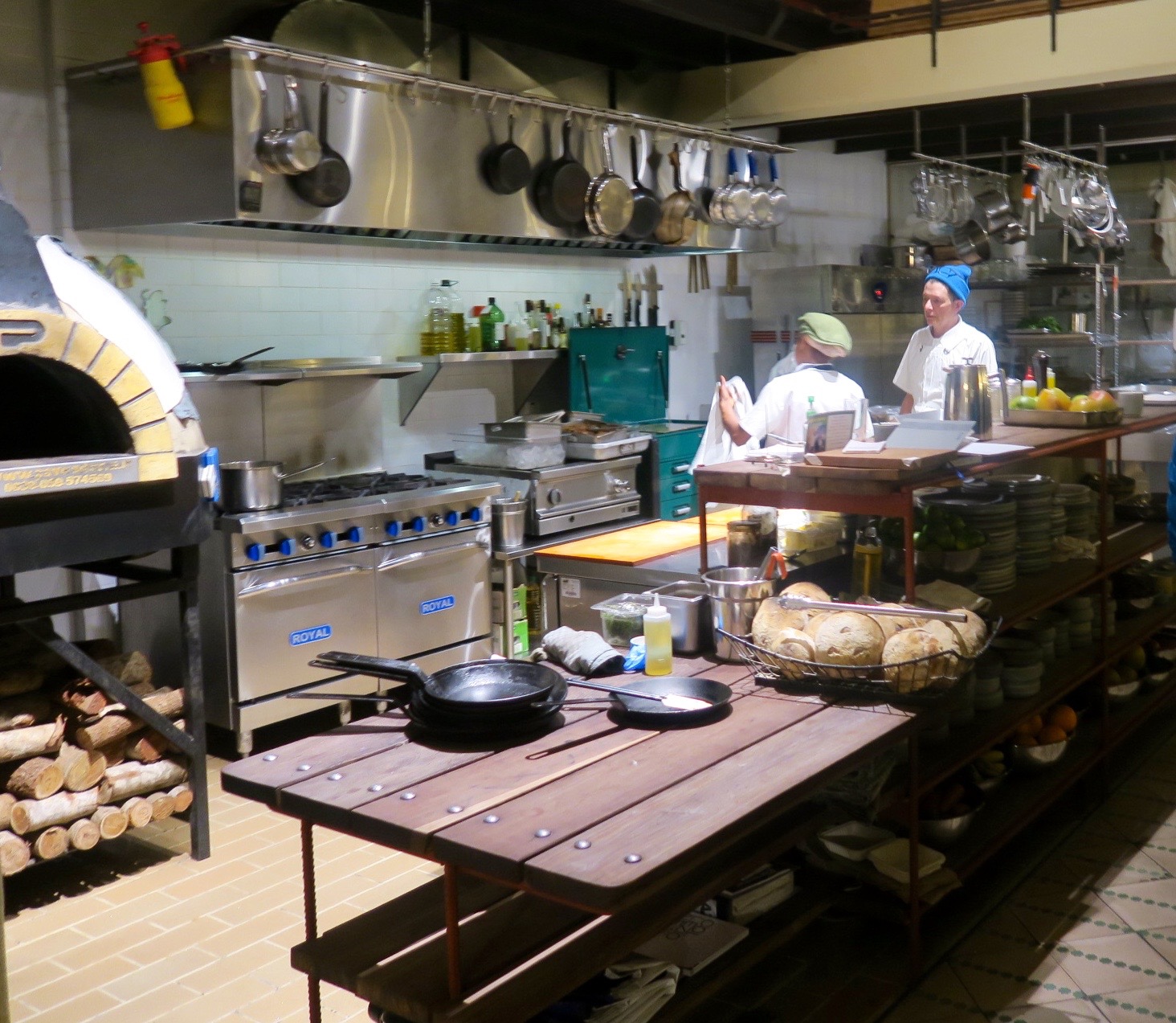 Mark and Meghan Flanigan are Bogotanos who were trained in the U.S. and wanted to return to the neighbourhood they grew up in to create something special. Working with friend and local architect Simon Velez they have quickly established Prudencia as one of the top restaurants in Bogota. The best part is that the restaurant is usually opened only for lunch, but somehow Andres has arranged an evening opening just for us with a menu prepared just for this meal.
That's our group settled in for a great meal.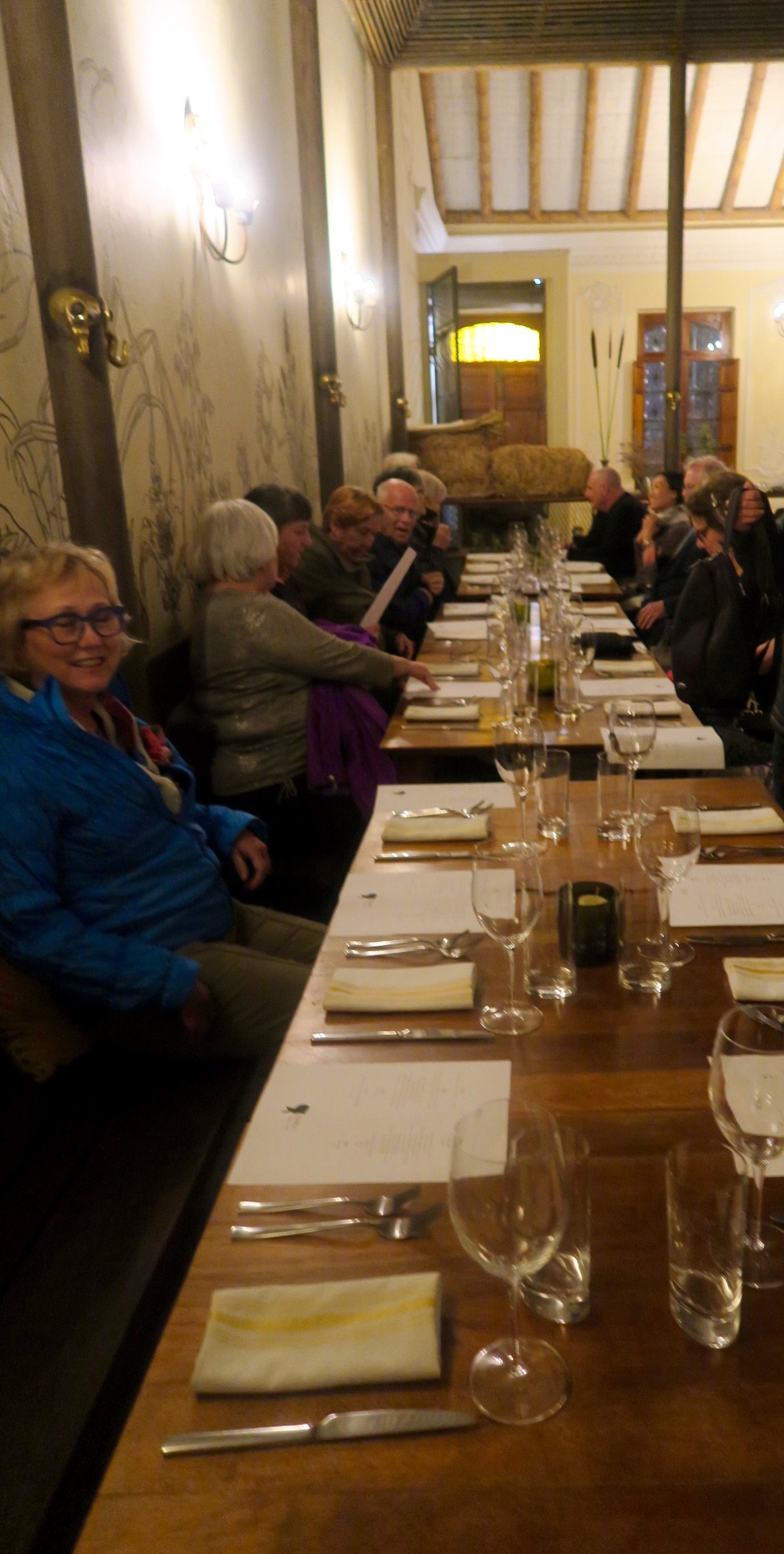 We started off with this amuse bouche on a sourdough pancake. Scrumptious.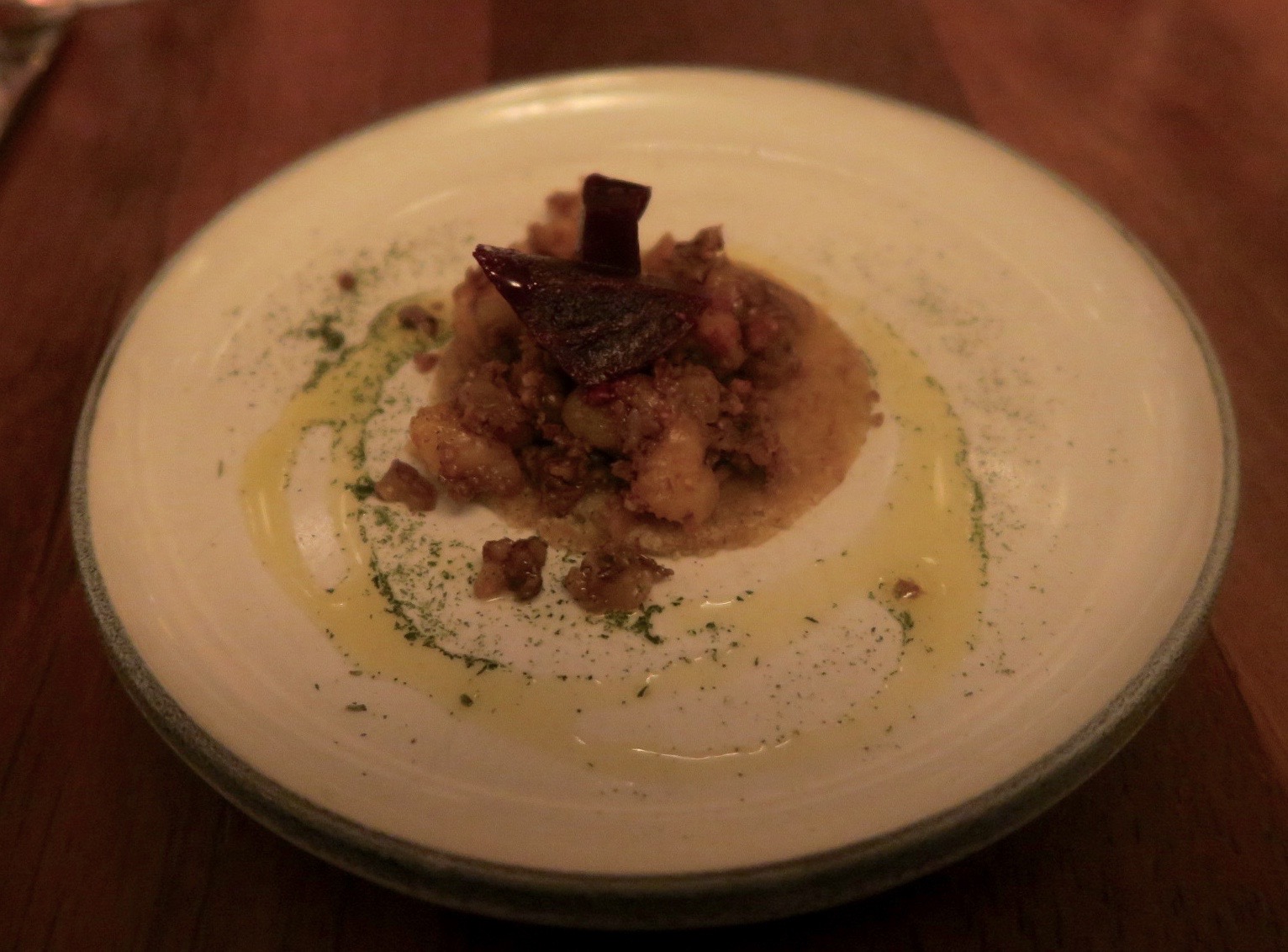 For wine Alison and I ordered an astonishingly good Sancerre Rosé, a first for both of us, and good match for both beef and chicken.
This is my deliciously rare Beef Bavette smoked with oregano and saffron.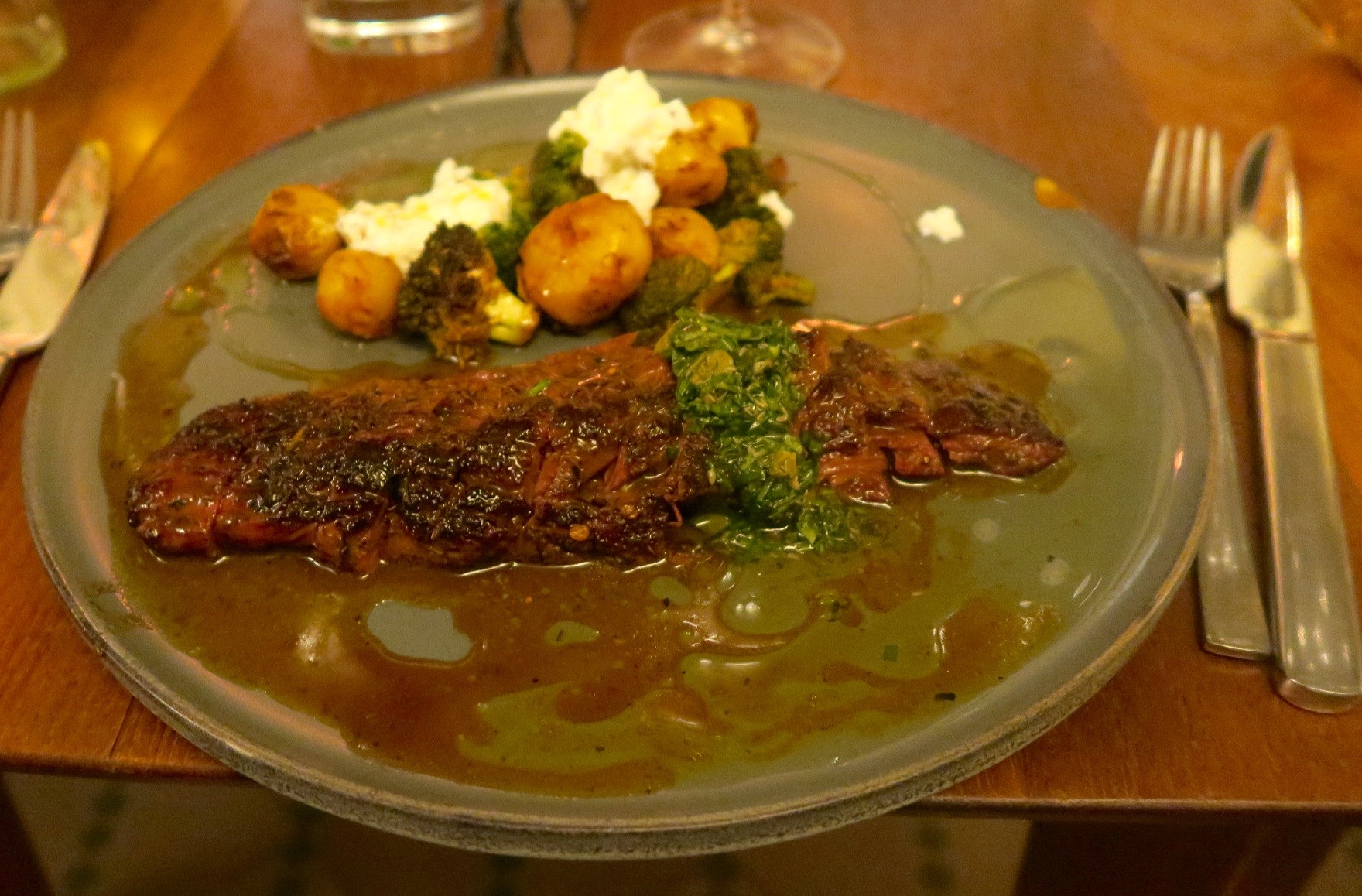 Alison dined on wood-roasted chicken with thyme, white pepper and cayenne.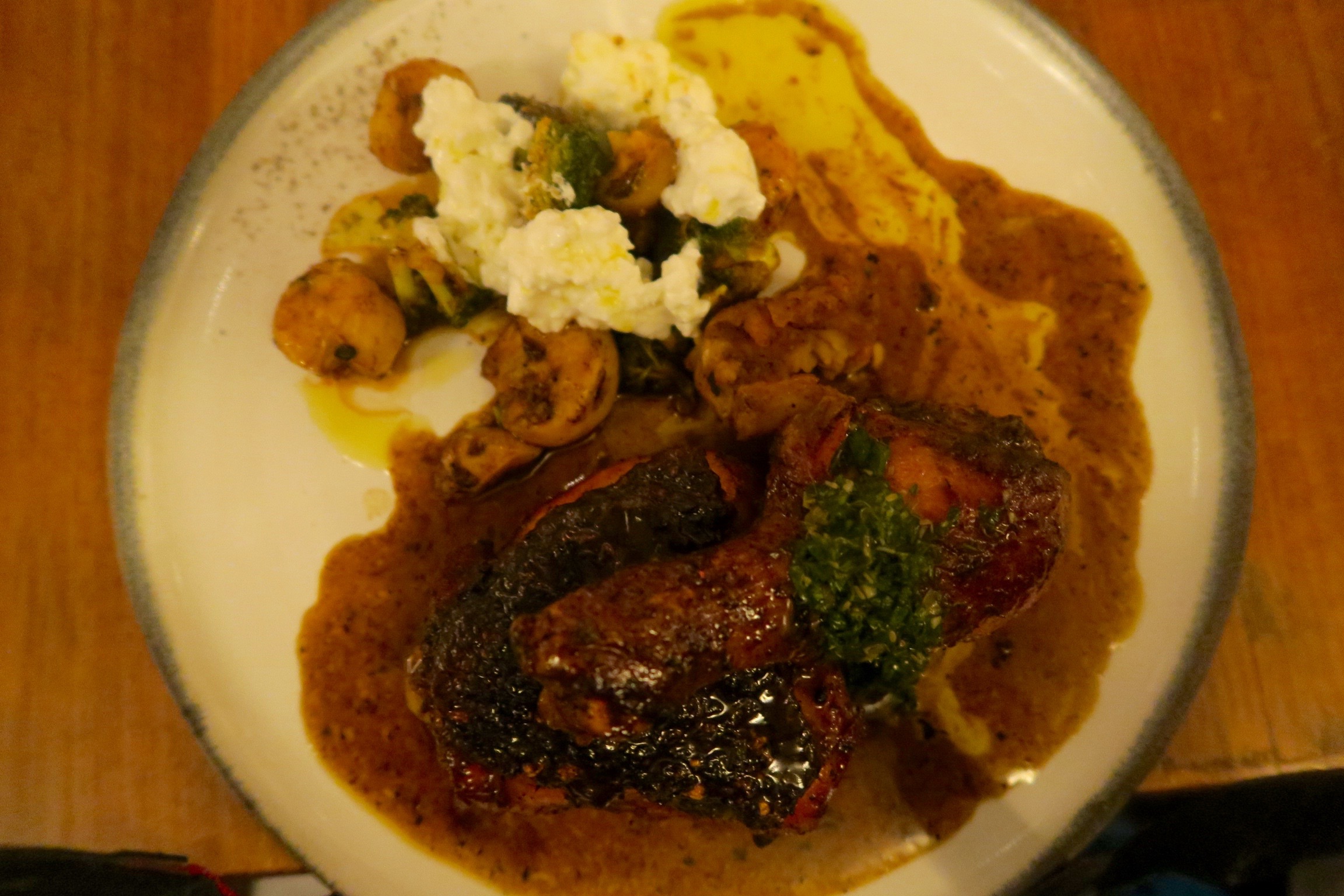 The vegetables were roasted broccoli and creole potatoes. The sauce was a Mexican siracha.
Dessert was a pistachio custard on shredded phyllo.
Lest you think that because Adventures Abroad is not one of those $1,000.00 a day luxe touring companies, you will not eat well, the first two days meals in Bogota have completely dispelled that notion.
Tomorrow we fly out to Colombian coffee country. I hope you'll join us.