The Cape of Good Hope – A Must Do Tour
In my last post I described why Cape Town is Africa's most beautiful city and how to visit in safety including the Victoria and Arthur waterfront district and fabled Table Mountain. In this post Alison and I will take a day tour to some of the most interesting sights close to Cape Town including the Cape of Good Hope, one of Africa's few penguin colonies and visit a small island completely covered with fur seals. Why don't you come along?
There are a number ways you can get to the Cape of Good Hope from Cape Town; rent a car and drive yourself, take an organized bus tour or hire a private guide with his own vehicle. Renting a car means handling Cape Town traffic which actually is not that bad and navigating around on your own without a guide. It is probably the cheapest option, unless you use public transportation, but we always find that paying for a guide is almost always more than worth it. There are many companies offering larger group bus tour to the Cape and that's not a bad option, but you will be limited to their schedule and itinerary. Hiring a private guide in Cape Town is surprisingly affordable and using TripAdvisor I quickly found Kabura Tours and arranged for a 9:00 pick up at the One and Only Hotel the next day. Our driver arrived on time in a late model Mercedes van and asked us what we wanted to see. We replied with a tour of the Cape of Good Hope and anything else he could recommend. He suggested taking a route up one side of the cape and back the other side with stops at Hout Bay, the Cape of Good Hope, Cape Point and lastly Boulders penguin colony outside Simonstown.
Below is an interactive map with the four stops indicated on it.
It didn't take long to get on the coastal route that skirts Table Mountain and the Twelve Apostles and has great scenery in every direction. Our guide had suggested taking a 45 minute cruise out to Seal Island to which we readily agreed and he phoned ahead to make the reservation. Hout Bay is technically a suburb of Cape Town, but it feels like a completely different community. The name means Wood Bay in Afrikaans and at one time the area supplied most of the timber needed for the early Dutch settlers in the Cape Town colony. The forests are long gone and Hout Bay is now home to a large fishing fleet as well as being a popular tourist destination.

This is where we got our first taste of the infamous Cape of Good Hope weather. We left Cape Town under sunny skies, but after crossing over a pass and descending into Hout Bay it was completely cloudy and morose looking. I was not optimistic about the rest of the day.
There are several tour boat operators at the wharf in Hout Bay, but they all ply the same route out to Seal Island and back so I don't think it matters much which one you take. We were booked on the Calypso run by Circe Launches and we had a few minutes to poke around before having to board. I soon noticed that you don't need to go to Seal Island to see fur seals. They were all over the harbour including right on the wharf.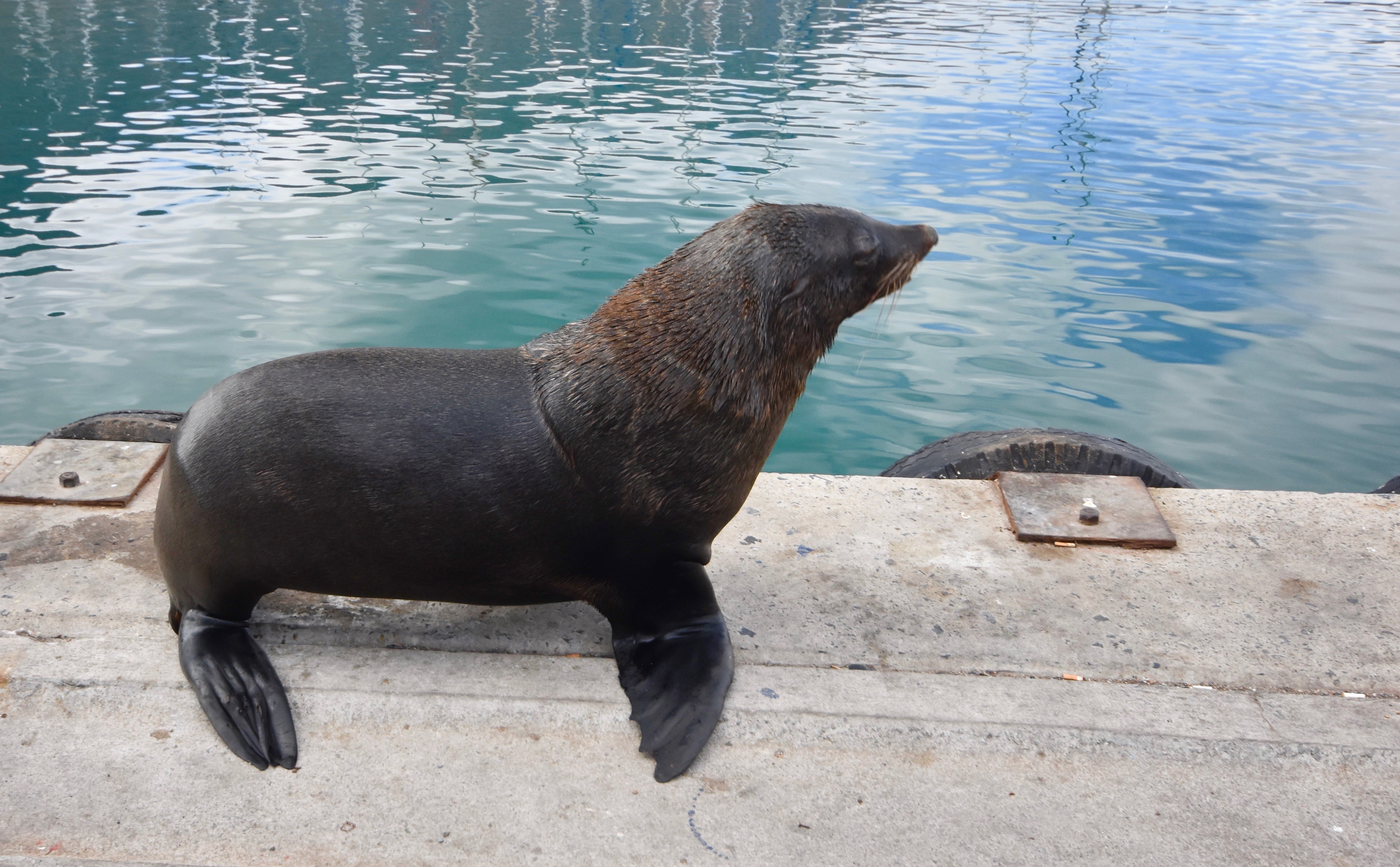 This is a large South African fur seal.
In doing a little research I learned that the commercial killing of these seals, especially the pups, in Namibia is still going on. It has generated the same controversy as the killing of grey seal pups did in Canada, until the bad publicity it brought to the country virtually assured its end. In Canada the seals were killed for their pelts, but in Namibia one of the main reasons is to harvest the male genitals which, guess what, is a supposed aphrodisiac in the Far Eastern trade. I get so pissed off at this absolutely unscientific nonsense that it makes my blood boil. I'm glad I didn't know it at the time, because most of the tourists on the boat were from the Far East.
By now the weather was even more miserable with the wind howling and large waves cresting as we exited the harbour and most of the passengers stayed below, but I don't mind rough seas and enjoyed the twenty minute voyage to Duiker Island aka Seal Island which lies just beyond the mouth of Hout Bay. And the seals where there by the hundreds.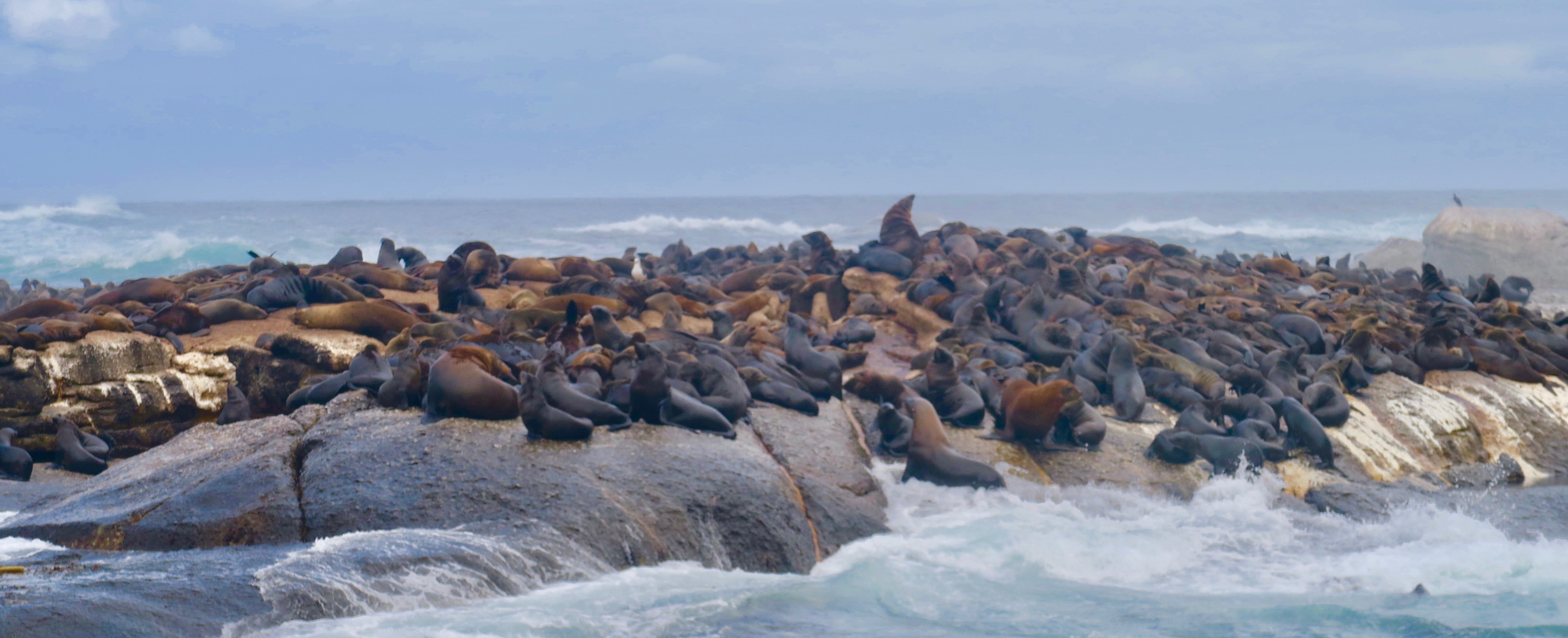 Here is a short video that gives a better idea of what you'll see on a visit to this amazing place.
So, taking the short marine detour to Duiker Island is definitely a great way to start your tour of the Cape of Good Hope.
Next up was what for self-drivers might be a pretty harrowing experience, but for us was a chance to enjoy what the BBC has described as "The world's most beautiful road".
Chapman's Peak Drive is only 9kms.(5½ miles) long, but in that short distance you need to navigate 114 turns as well as climb up and down the side of Chapman's Peak from Hout Bay to Noordhoek. First chiselled literally out of the side of Chapman's Peak and opened in 1922 the road was considered an engineering marvel at the time, but over the last almost century there have been numerous closures due to landslides, including from 2000 to 2003. Today it is operated as a toll road and our driver said you could never tell when it might be open or closed, even in good weather. If we had not been able to drive Chapman Peak Drive it would have meant substantial backtracking and missing one of the most scenic parts of the itinerary, but luck was with us and it was open.
The view of Hout Bay from the lookout point on the drive is quite as spectacular as advertised. The weather also seemed to clearing rather than worsening as I had feared.

Here's a photo that gives an idea of what driving this road entails.
Coming back down to sea level at Noordhoek and then Fish Hoek we made a right turn onto M65 so that we could continue down the east side of the Cape of Good Hope which was now gradually getting a lot narrower. The weather was now completely different than that in Hout Bay. We were back to sunny skies and light winds, something I was not expecting at this place that is famous for its unpredictable weather. Bartholomew Dias, the first European to round in 1488 it called it the Cape of Storms, but when Drake got here in 1580 on his circumnavigation of the world he found it, "The fairest cape in all the world". Apparently we are here on a Drake day and not a Dias one.
The tip of the Cape of Good Hope is actually part of Table Mountain National Park.We stopped at the entry point and our driver paid the daily fee and we entered what was a completely different environment from the settlements we had passed through to get here. There were now no signs of settlement or agriculture, just mediterranean scrub brush and plenty of wildflowers. The driver advised that we might see zebras or a number of antelope species including elands and hartebeests, but we didn't. However we did see this.
We've all heard the old adage about ostriches sticking their head in the sand when facing danger, but it's apparently completely untrue. Just google it, if you don't believe me. However, nobody ever said anything about them stick their heads into the middle of asphalt roads like this guy. He completely ignores us and blocked traffic until he decided to move off and give us a profile by the sea.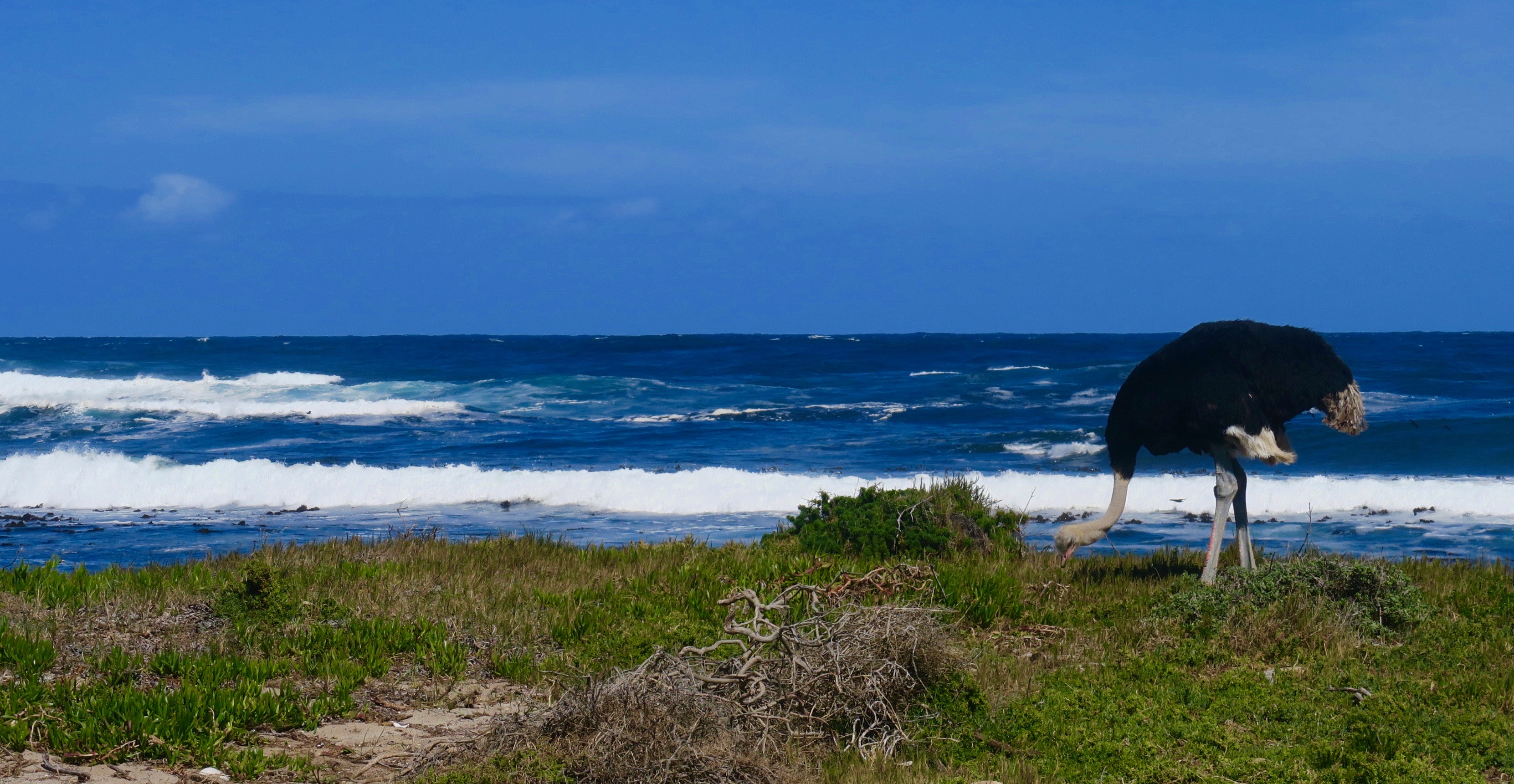 The delay did give me a chance to shoot this video of the supposed treacherous waters around the Cape of Good Hope. Doesn't look too scary today.
Now is where I get a lesson in geography, even though I fancy myself an expert in the field. We arrive at the Cape of Good Hope and I know that because, well there's a sign telling me that. In fact, everyone arriving here gets there picture taken behind the sign and Alison and I are no exception.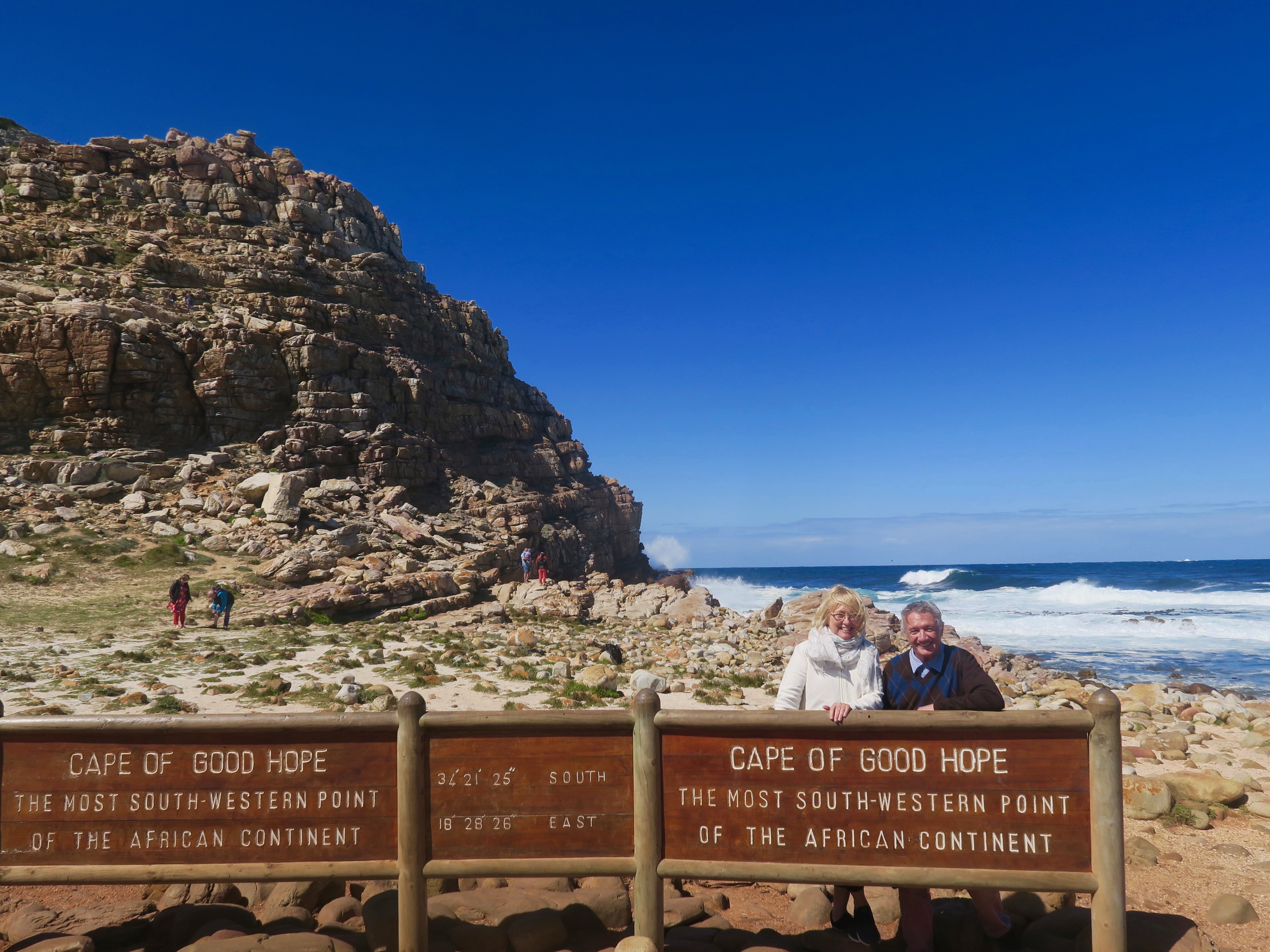 Ok, but where's the bloody cape? You need to go back to the map above and zero in on the end of the cape. You will see a little bump that is the southernmost point on the peninsula and that's the Cape of Good Hope. Here's a shot of it taken further down towards the end of the road and from this angle it looks like a cape, but not a particularly impressive one.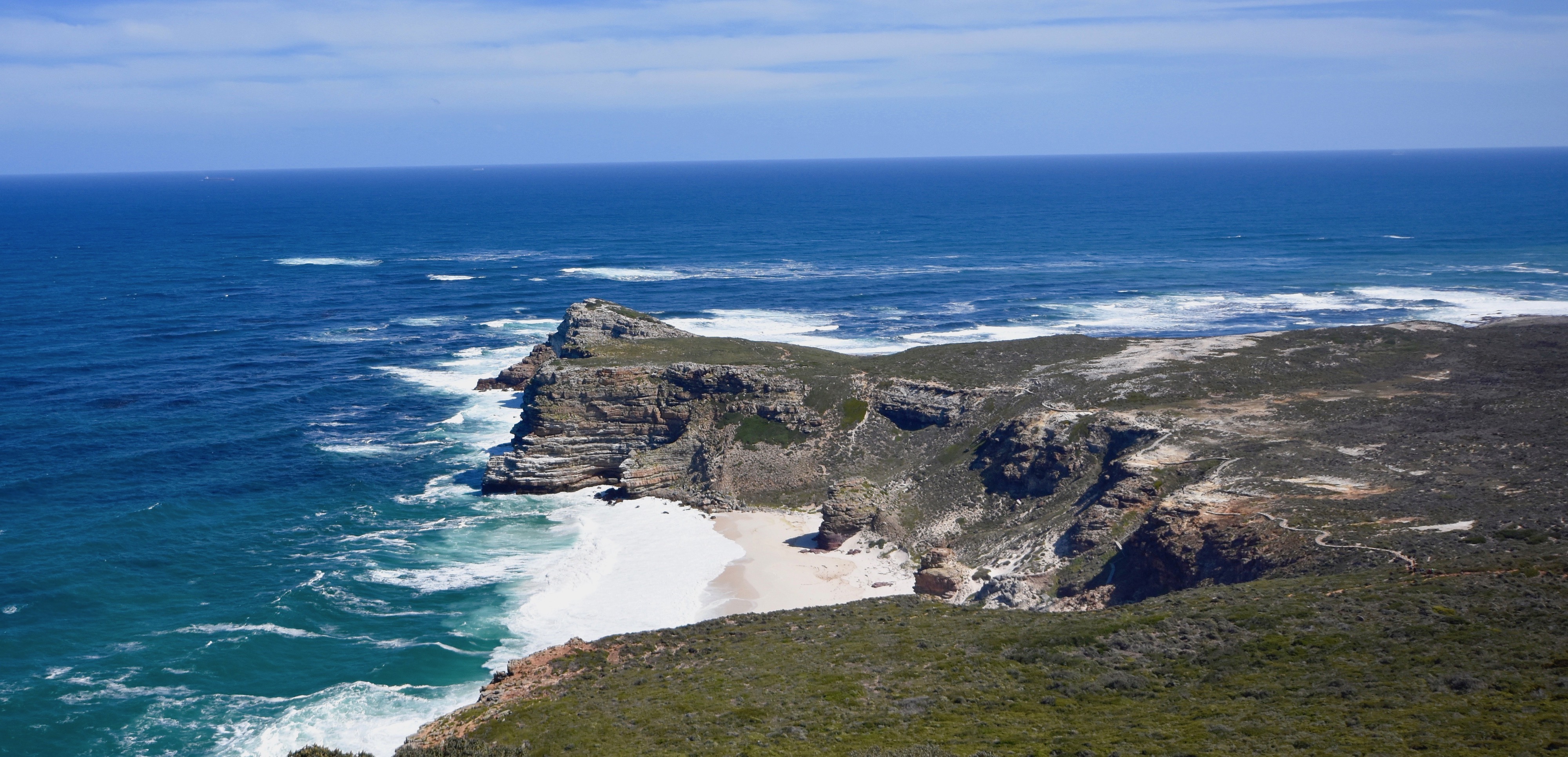 The real stunner, from a geomorphological point of view and from the stance of appearing to be more dangerous is Cape Point, which is actually at the tip of the Cape of Good Hope peninsula. And, I am willing to bet, the place that most people think is the real Cape of Good Hope. It sticks out like a dagger pointed out to sea ready to rip the guts out of any ship that comes too close. This aerial shot shows that it is way higher than its little brother the Cape of Good Hope which is to the left.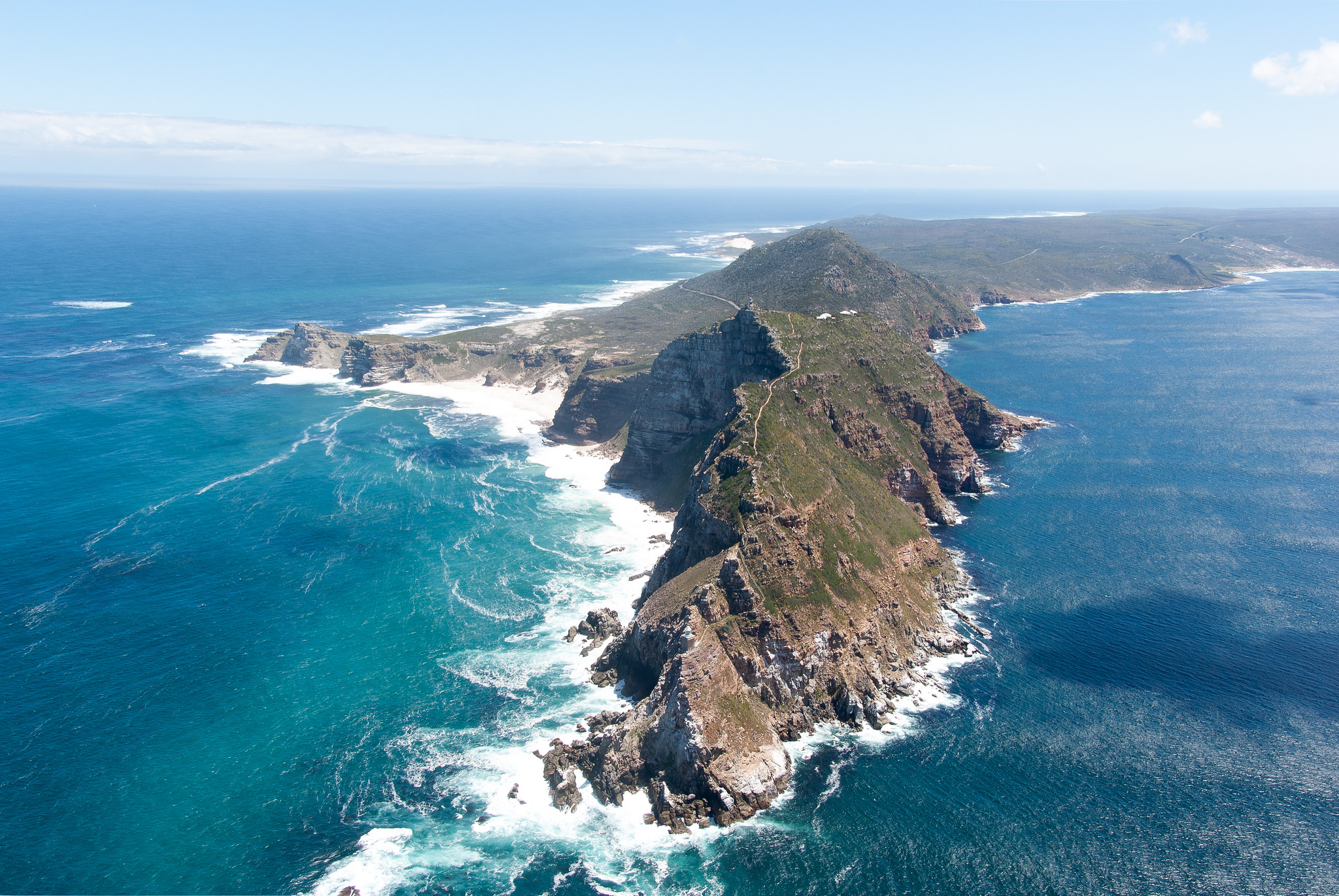 We pull up into the car park at Cape Point where there is an array of tourist shops, a restaurant, a funicular and a whole bunch of thieving chacma baboons just waiting to get inside any vehicle where the driver has left the windows open and wreak havoc. Alison and I decide to forego the funicular and walk up to the lighthouse and look off there. By the time we are three quarters of the way up I am rethinking that decision as the funicular crawls by and my thighs scream for a rest. My lungs ain't doing so well either.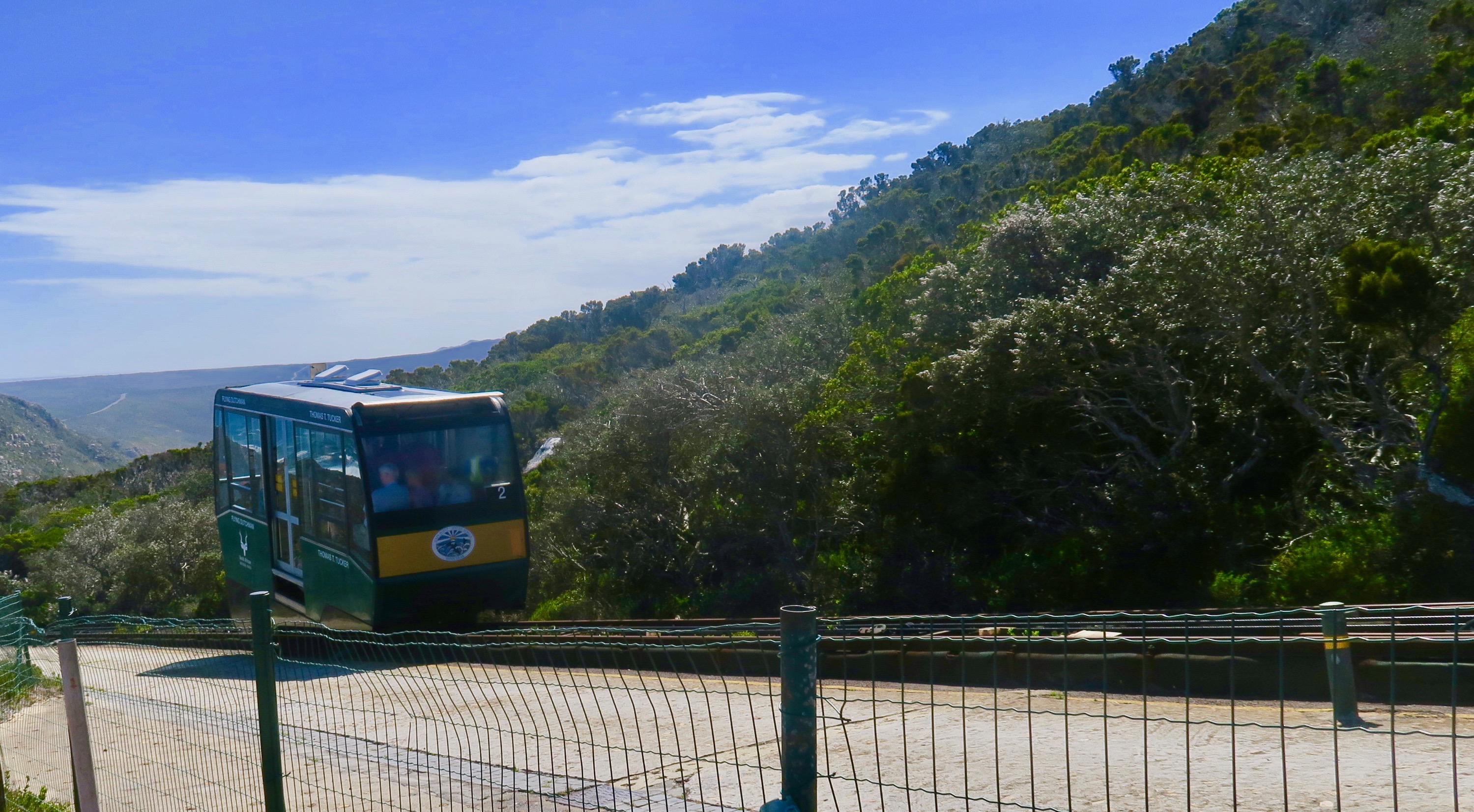 At last I get close enough to the top to see the final destination and that inspires me to go on. Alison is way behind taking pictures of the many wildflowers that grow alongside the steps. I just want to get the climb over with.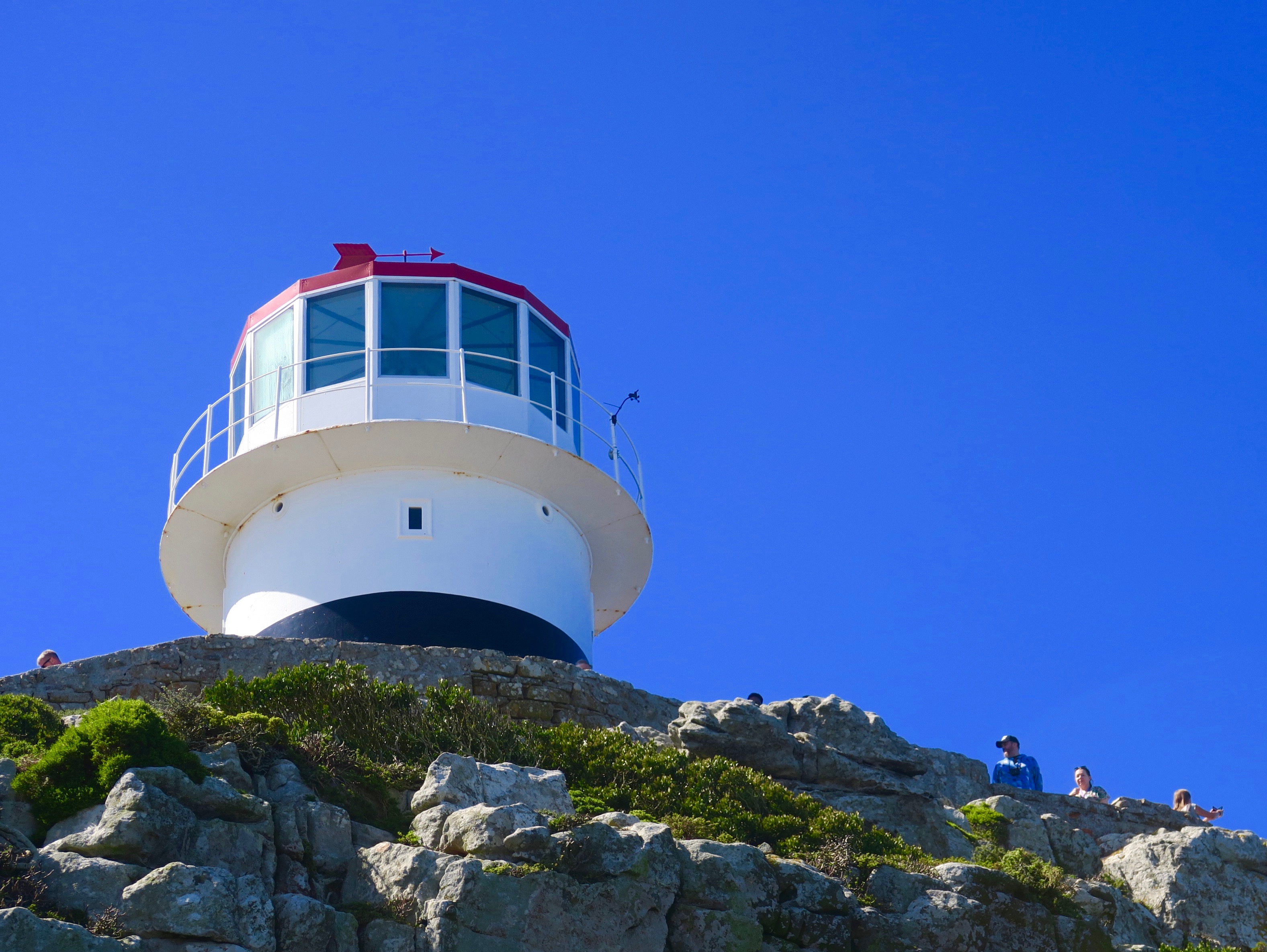 The view from the top is amazing. Did you know that before the famous Lusitania was sunk by a German U-boat off Ireland in 1915, there was another famous Lusitania wreck? I didn't, but this is Bellows Rock aka Lusitania Rock where in 1911 the SS Lusitania ran aground. However unlike the passenger line where 1,198 people lost their lives, only eight perished off this rock and that's because a lifeboat overturned. Still, looking at it from above it sends chills down my spine as the waves completely cover and then expose the teeth of this killer rock. By an interesting coincidence, within a few days of posting this I will be standing at the end of the Head of Kinsale in Ireland where I will be able to see where the more famous Lusitania was torpedoed.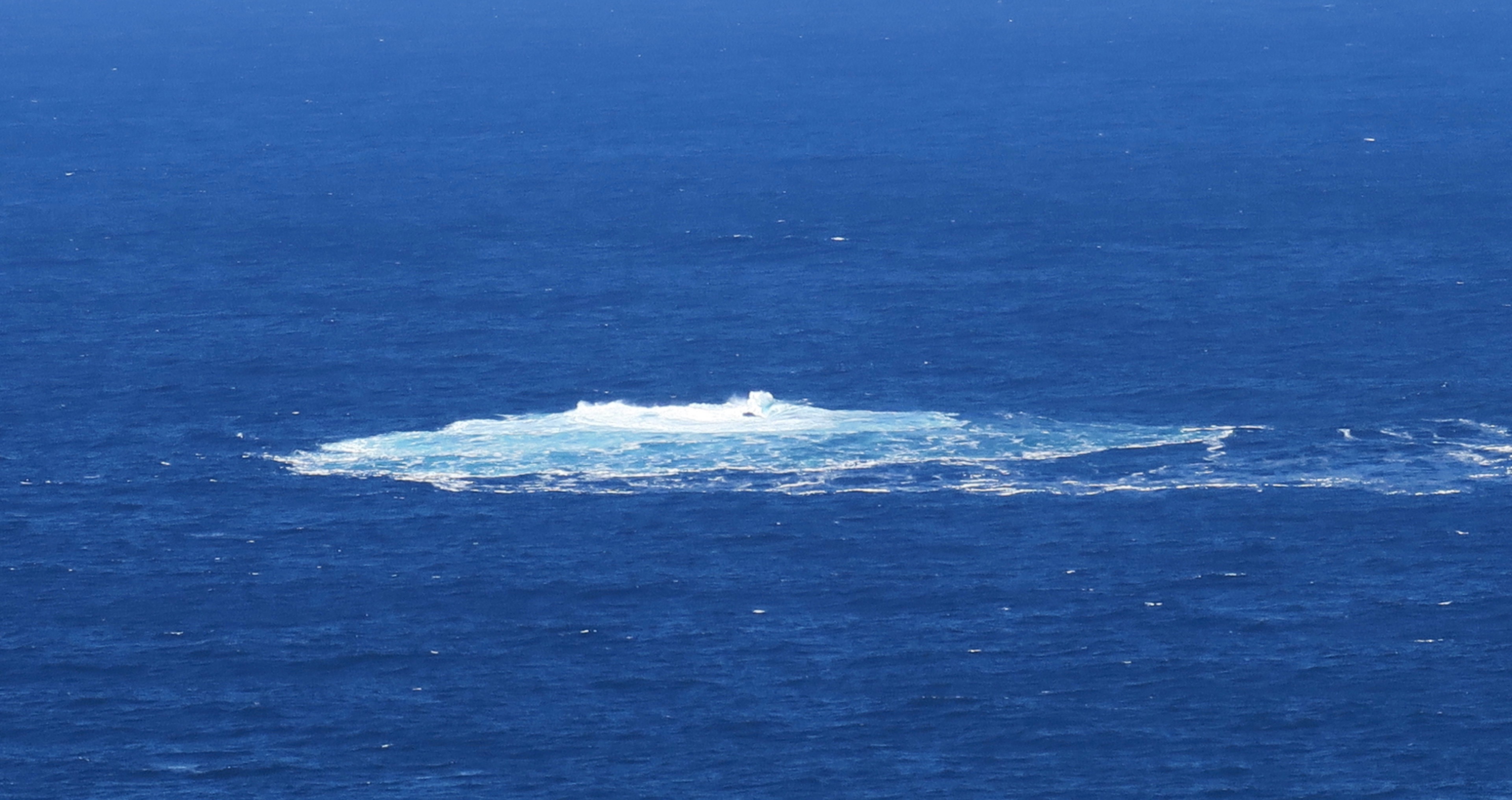 Looking straight down there is a sea stack and pounding waves that provide more evidence that Cape Point is a dangerous place for seamen. And we're here on a calm day!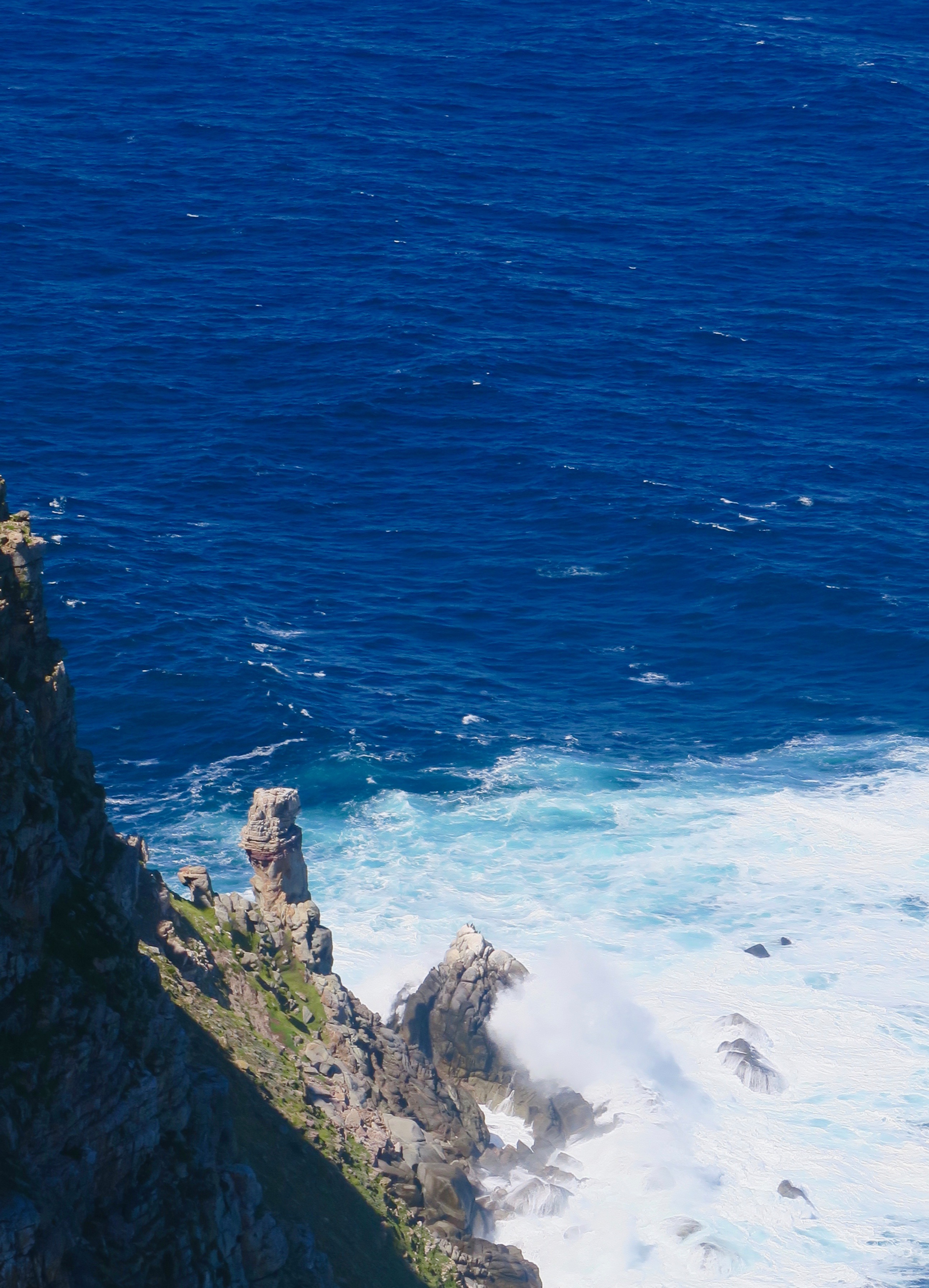 I have another bubble burst in my feigned knowledge of all things Cape of Good Hope. I had always been told that from the cape, in this case really Cape Point, you could sea both the Atlantic and Indian Oceans. Here is a photo I took that seems to prove it. That's the Atlantic on the left and Indian Ocean on the right.

After all I've seen that image on Two Oceans wine labels for decades. The restaurant here is also called Two Oceans. They wouldn't lie about it would they? Apparently they would.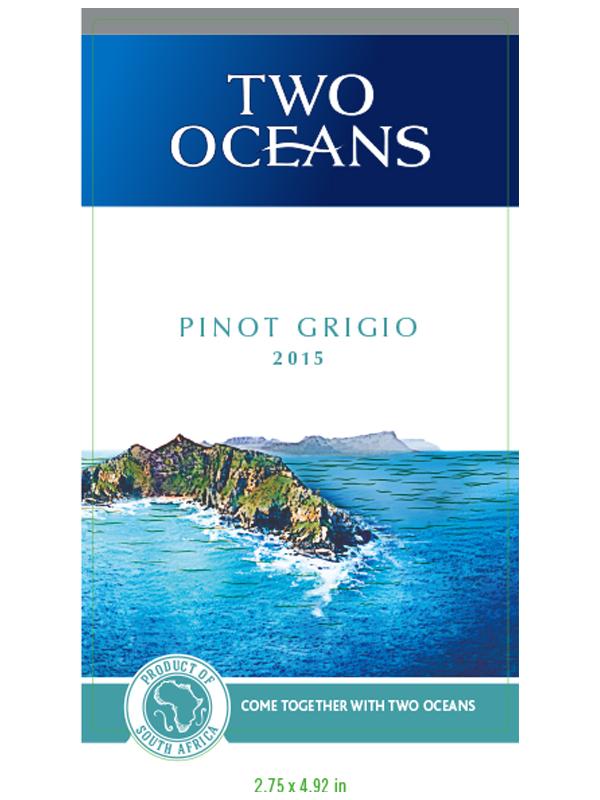 Just how do you decide where one ocean ends and another begins? In the case of these oceans it's where the two currents, the cold Benguela of the Atlantic and the warm Agulhas of the Indian most usually come together. Although it does fluctuate the most common meeting place is Cape Agulhas which is 150 kms. (93 miles) further east down the coast. However, on rare occasions the Agulhas current will meet the Benguela near Cape Point and so the claim to see two oceans is true, once in a while, but not often.  To add insult to injury Cape Agulhas is the southern most point on the African continent and not the Cape of Good Hope as most people think. However, the real aggrieved party is Cape Agulhas that gets only a small plaque to mark the meeting spot while the Cape of Good Hope and Cape Point get all the tourists and the dollars they bring with them.
After picking up a take out lunch from the restaurant we journeyed on, this time along the western side of the peninsula with views of False Bay, so named because sailors often confused it with Table Bay which is around the other side of Cape Point. I prefer to think that it's false because it pretends to be part of the Indian Ocean when it's not.
Our final destination of the day is also part of Table Mountain national Park, but its actually in a totally built up urban area. Only the rocks and sand around the shore are part of the park. This is the Boulders colony of the African penguin which is found all along the South African and Namibian coastlines, but only spends a lot of time on land during breeding season, so we are fortunate to be here at the right time. After parking in the smallish lot there is an easy walk down a lane and then a pathway to the penguin colony.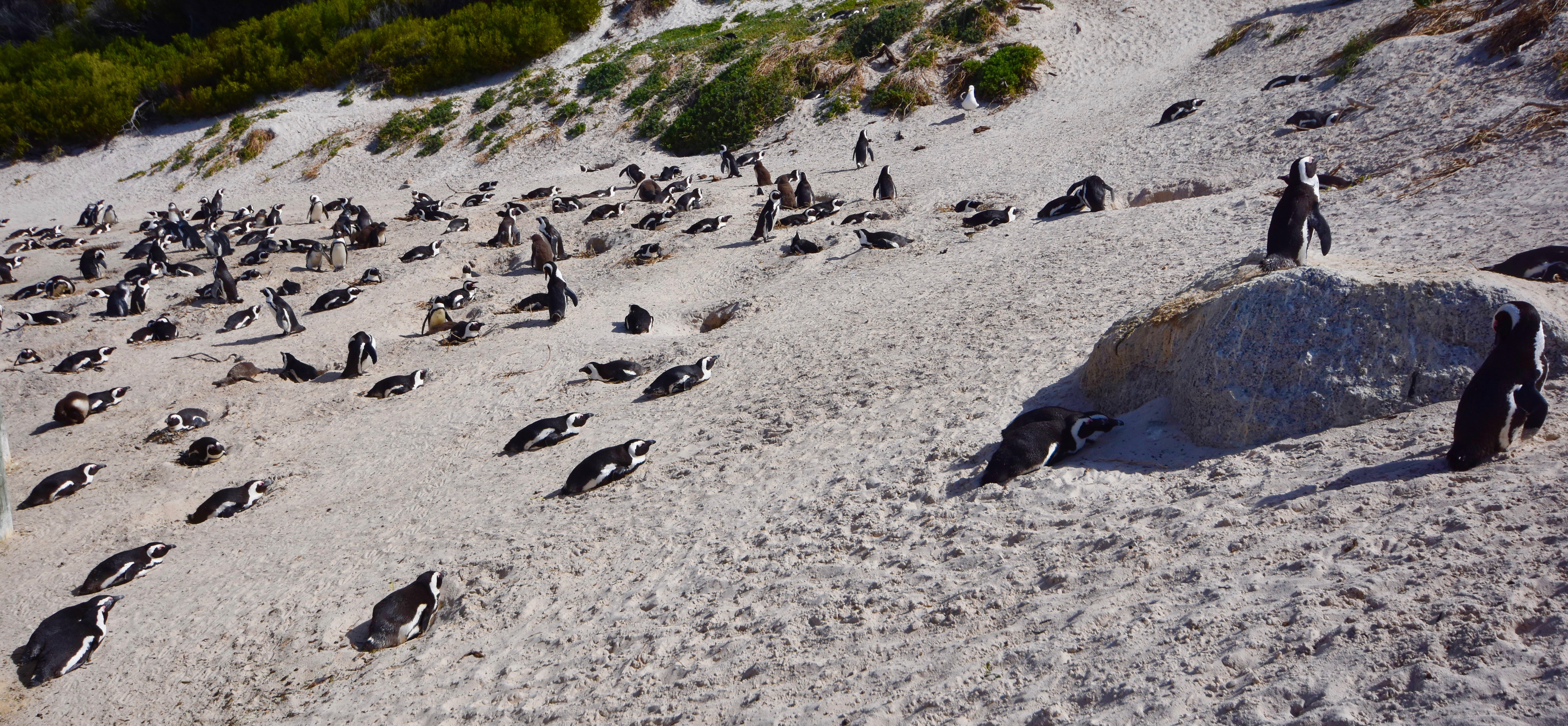 You aren't allowed to get right into the colony, but the penguins are so close you don't need to. These penguins are monogamous and it is easy to identify the married couples among them as they tap their beaks together and make cooing sounds.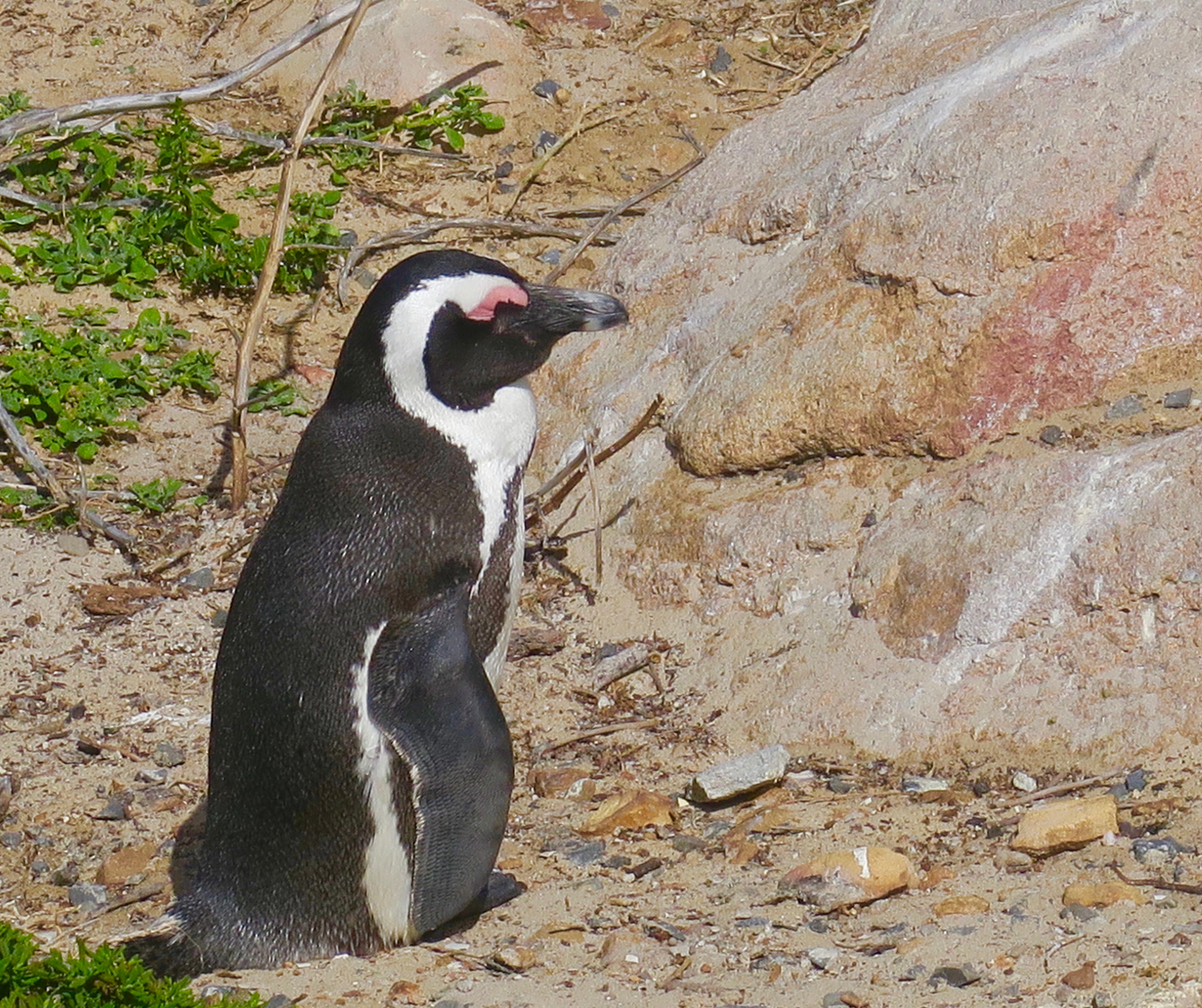 Most are sitting quite contentedly on their makeshift nests, although a few do have chicks that have hatched. As far as bird colonies go this one seems quite harmonious and there seem to be no obvious predators lurking about. No reason to think about moving to Antarctica to join their larger brothers.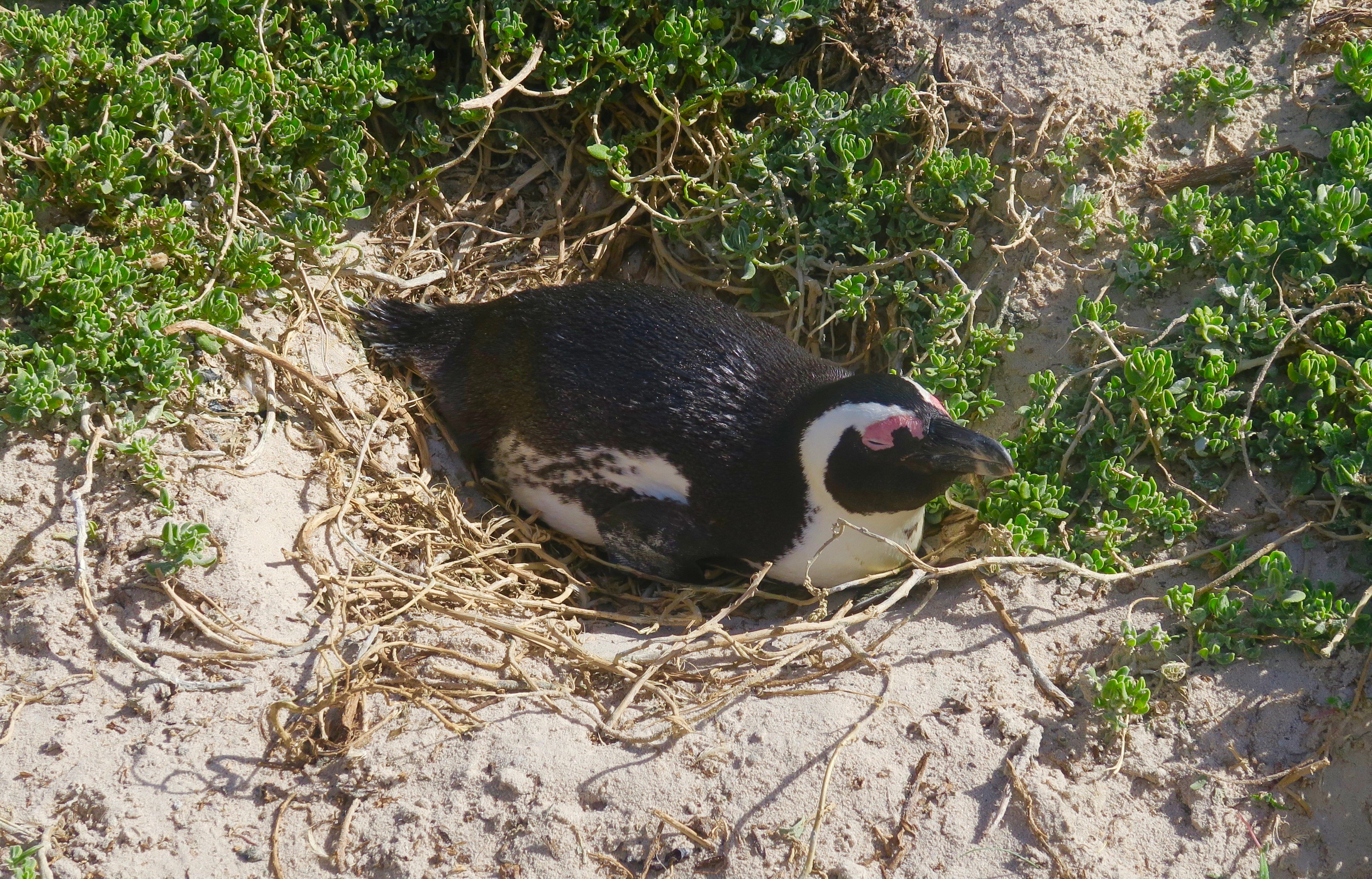 That concludes our journey around the Cape of Good Hope and this trip to Africa. We will be back, this time to Tanzania and Uganda in early 2020. Hope you'll join us.