Cape Town – Africa's Magical Coastal City
Of all the coastal cities in the world that are famed for their great natural locations, think Rio, Sydney, Athens, San Francisco, Istanbul etc., Cape Town, South Africa might be at the top of the list. It certainly was very high on my list of must see destinations and after having spent three magical days there, I can now say without equivocation that it exceeded all my expectations. However, it's no secret that Cape Town has a dark side and a reputation as being dangerous. In this post I'll tell you how to maximize your enjoyment during a short visit and minimize your risks to the point of being almost negligible.
Alison and I had just concluded a fabulous 19 day trip through Namibia and Botswana with a stop in Victoria Falls with our favourite travel company, Vancouver based Adventures Abroad, but we weren't ready to head home just yet. Transitioning from the heat and incredible wildlife of the Okavango to the inevitably cold and drab Canadian winter was too much to do without a little decompression and Cape Town seemed like the natural place from which to do it. Starting the day in Camp Xakanaxa on the Kwhai River we were driven to a dusty airstrip and flown by bush plane to the small city of Maun from where we caught a South African Airways flight to Johannesburg. After a few hours in the really excellent Star Alliance lounge we took our third flight of the day to Cape Town.
Once we had decided to go to Cape Town I asked our friend Martin Charlton from Adventures Abroad about suggestions as to where to stay and he was adamant that we avoid the business district and stay somewhere on the Victoria and Alfred waterfront. He gave us a number of recommendations and after checking them out we rented a condo in Atlantic Marina which turned out to be the best decision we could have made. Atlantic Marina is a huge complex with a number of buildings spread in a U-shape around a series of canals that lead into Cape Town harbour. Most of these are personal residences, but there are over forty that are rented out to visitors. While they are quite accurately described as luxury apartments, the price was actually cheaper than the nearby hotels like the Victoria and Alfred and the One and Only to which the Atlantic Marina connects. The latter is a beautiful hotel, but comes in at triple the price of a one bedroom condo in Atlantic Marina. You can enjoy the amenities like the great bar without paying the steep price to stay there.
At the same time I made the booking for the Atlantic Marina I also reserved a driver to pick us up at the airport and deliver us to the place. If possible, I always book these drivers through the website where I am staying so that there is little likelihood of getting ripped off or worse. In a new city you should always have a driver waiting for you and not take a chance on whatever you might find at the airport. Our driver was dutifully waiting for us and it was not a long drive to get to downtown Cape Town and the waterfront district. The traffic was light and the drivers obeyed the rules. Another good sign.
A fellow was waiting for us at one of the gated entrances where security guards were posted. We paid the driver and followed our guide to the Juliette building and up to unit 307. All I can say is that we were blown away by what we were getting for what we were paying. This is a view of some of the buildings in Atlantic Marina, including ours in the middle.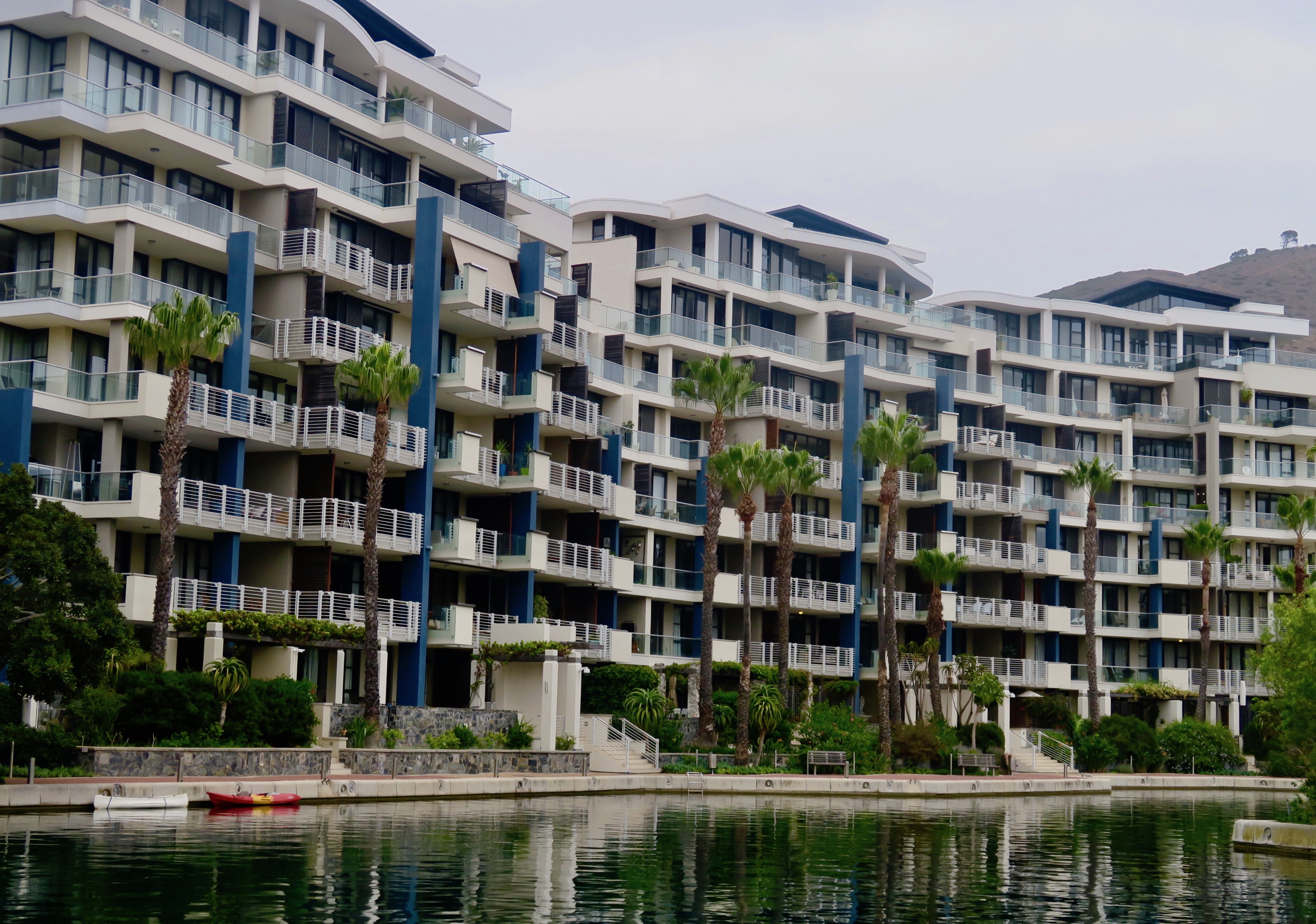 However, the view from the balcony is a much better indicator of what you are getting. Here is a short video I shot from that balcony. It was hard to believe that waking up in this ultra urban setting the first morning, that the previous morning we were in a tented camp in the Okavango. That is one of the wonders of modern travel, impossible to imagine even fifty years ago.
The Atlantic Marina complex has a number of pedestrian entrances that were opened by entering a code which we were given by the chap we met the night before. As noted above, one of these came out on the grounds of the One and Only hotel where people were having breakfast on the terrace. We elected to do some exploring and walked toward the Victoria and Alfred waterfront which is actually a massive urban redevelopment that is now the beating heart of Cape Town, at least in terms of what most tourists want to see. There are actually nine distinct precincts within this area, including the Quays district, Clock Tower district, the Dry Dock district and the Marina district where we are located. Overall the Victoria and Alfred waterfront is a combination of modern structures like the Victoria Wharf Shopping Centre, historic structures like the Clock Tower, the Time Ball Tower and the Old Port Captain's buildings and a series of warehouses that now hold food markets, galleries and more. Throw in the Two Oceans Aquarium, the Cape Wheel, boat tours and a number of museums along with every possible type of restaurant and you've got a recipe for one of the most vibrants places in Africa.
In terms of the people you encounter while touring the waterfront I was reminded of the old children's song that begins, "Red and yellow, black and white" as the area was filled with people of all races, all ages, all genders (considering some African nations views on homosexuality this place was openly gay friendly) and everybody just seemed happy on this glorious sunny morning. We did not for one second feel unsafe or out of place.
When you're in a place that is centred around the waterfront it's easy to forget what's behind you. Almost both at the same time Alison and I turned around and said something along the lines of "Holy s***". Somehow we had completely overlooked Table Mountain, the dominant geographical feature that makes Cape Town's setting so marvellous and marvellous it truly is. The people in charge have put up a giant picture frame which is perfect for getting a photo of Table Mountain and its one of the neatest we have ever taken.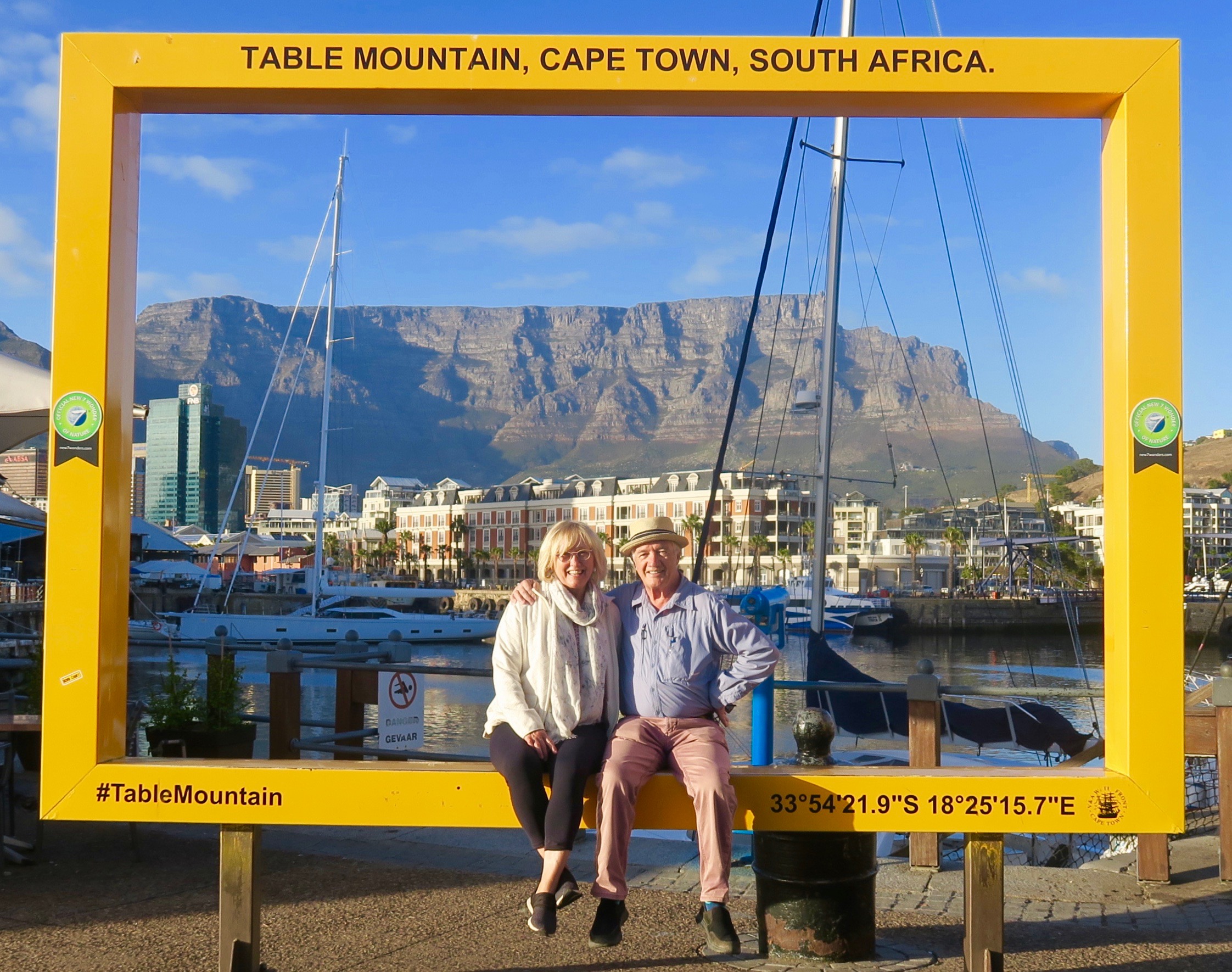 Once we were captivated by the sight of Table Mountain we knew we had to go at once. The reason for the urgency was that you cannot be guaranteed that Table Mountain will be accessible at any given time. The only way to get there, besides climbing, is by cable car and often high winds and fog cause it to be closed for days on end. Several of the people we had travelled with in Namibia had come from an Adventures Abroad tour of South Africa and despite being in Cape Town three days, never got up to Table Mountain. The Hop on Hop Off Bus starting location was right beside the aquarium and not more than five minutes from Atlantic Marina. We bought tickets and we were off to Table Mountain passing though the older part of Cape Town on the way.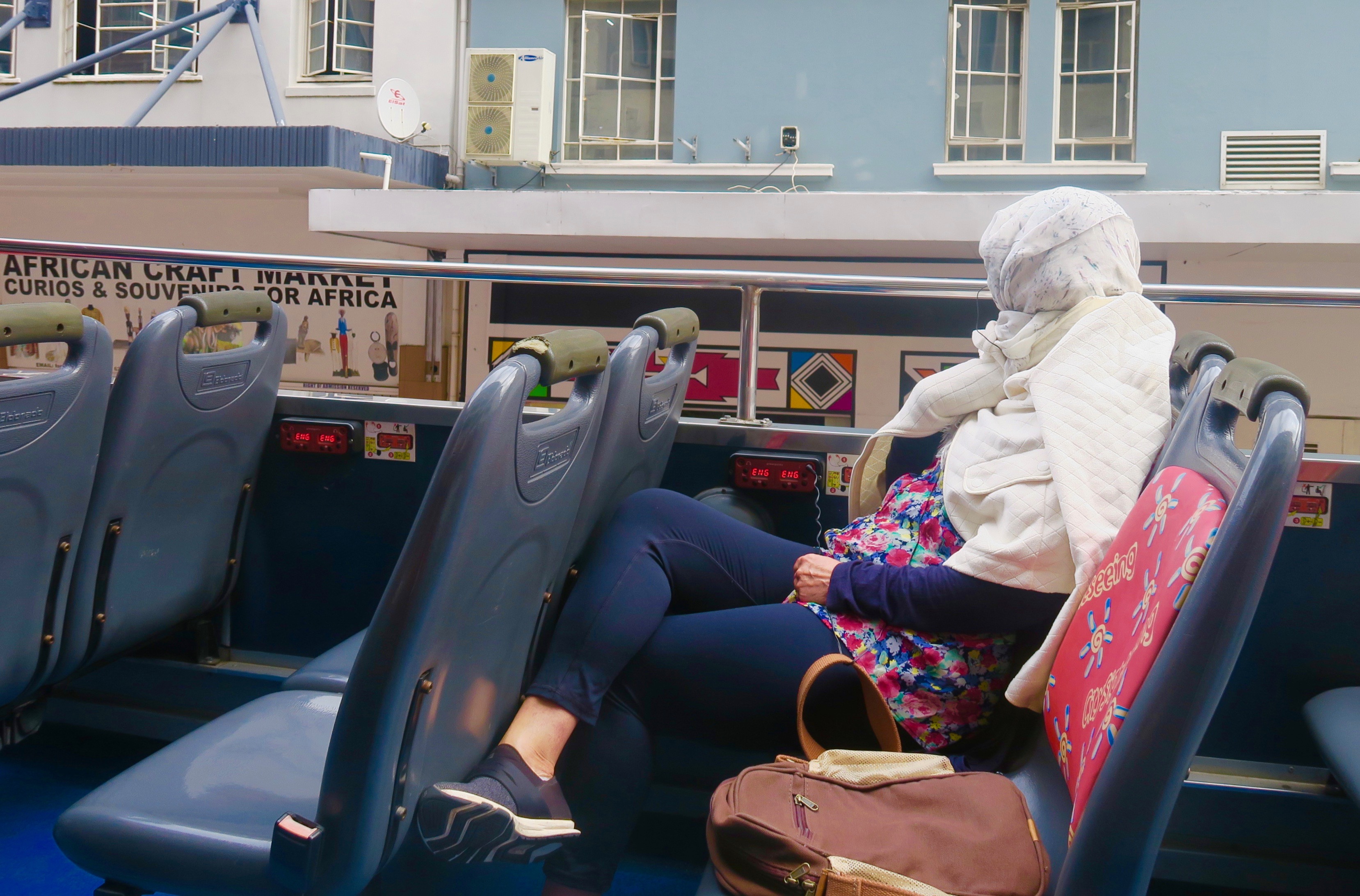 Table Mountain is not the only notable natural landmark in Cape Town – there's also Lion's Head which actually has a road going a good way up.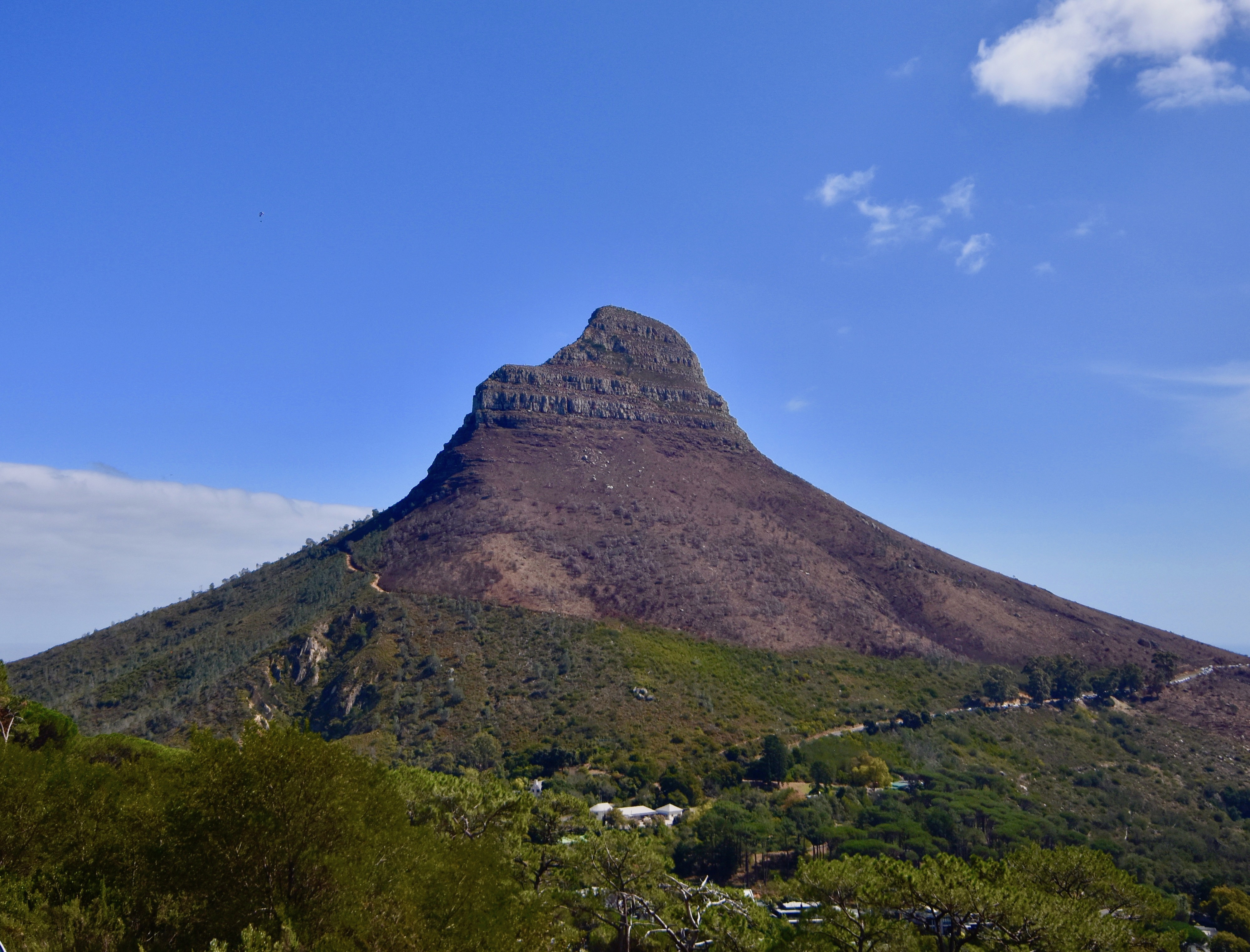 The bus parked to let passengers off at the Table Mountain Tram where for 330 Rand or about $22.30 USD ($29.30 Cdn.) you get a round trip ticket although seniors pay less than a third of that. It pays to be old.
This is a view of the tram going up to the concrete receiving end at the top. As trams go, it's a pretty steep one.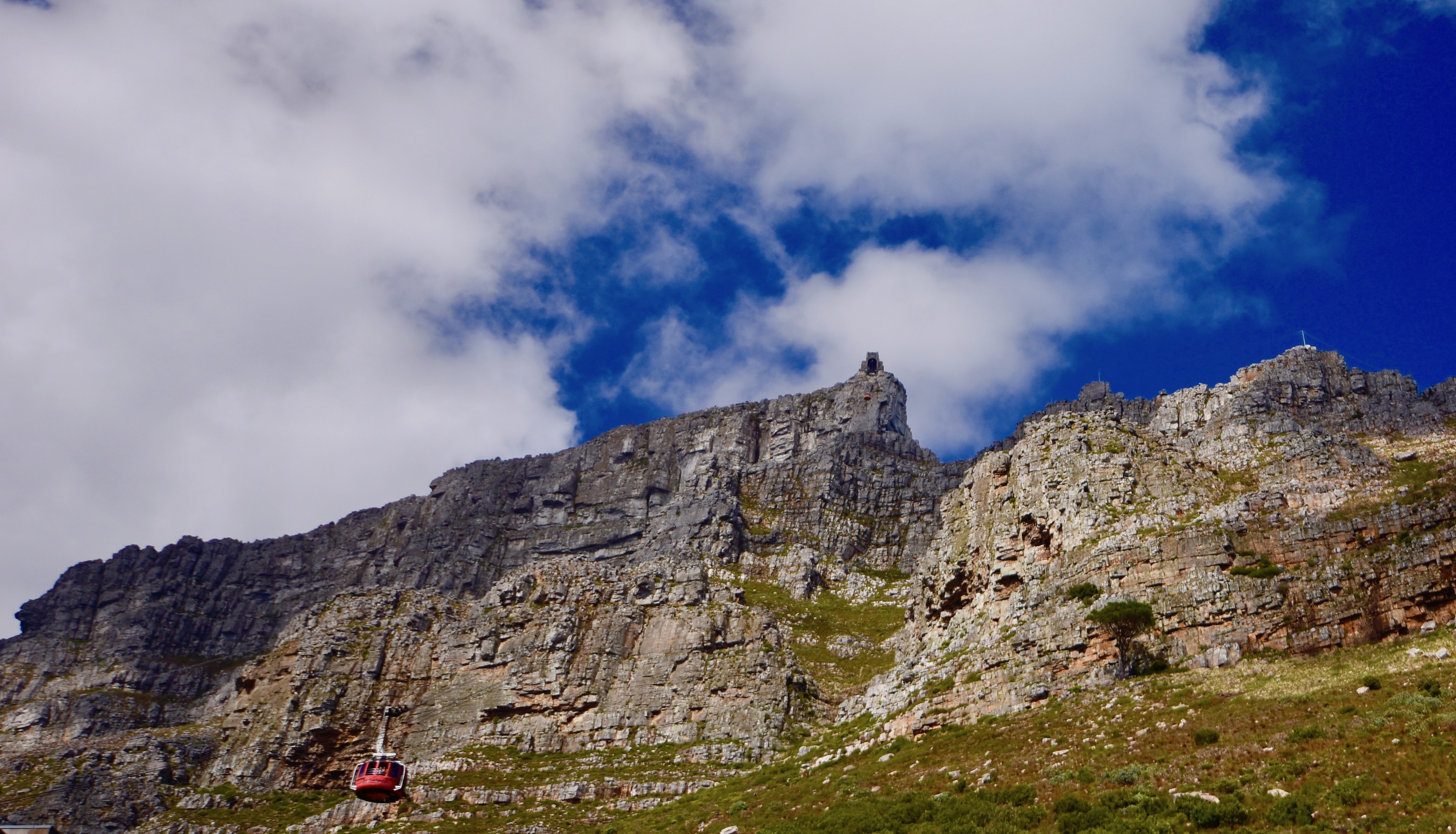 The trip to the top takes five minutes and a first for us, the tram car rotates as it rises so no matter where you stand you will get a panoramic view at some point on the way up and down.
Table Mountain has a number of distinctions including being a South African National Park, a UNESCO World Heritage Site and one of the New 7 Wonders of Nature.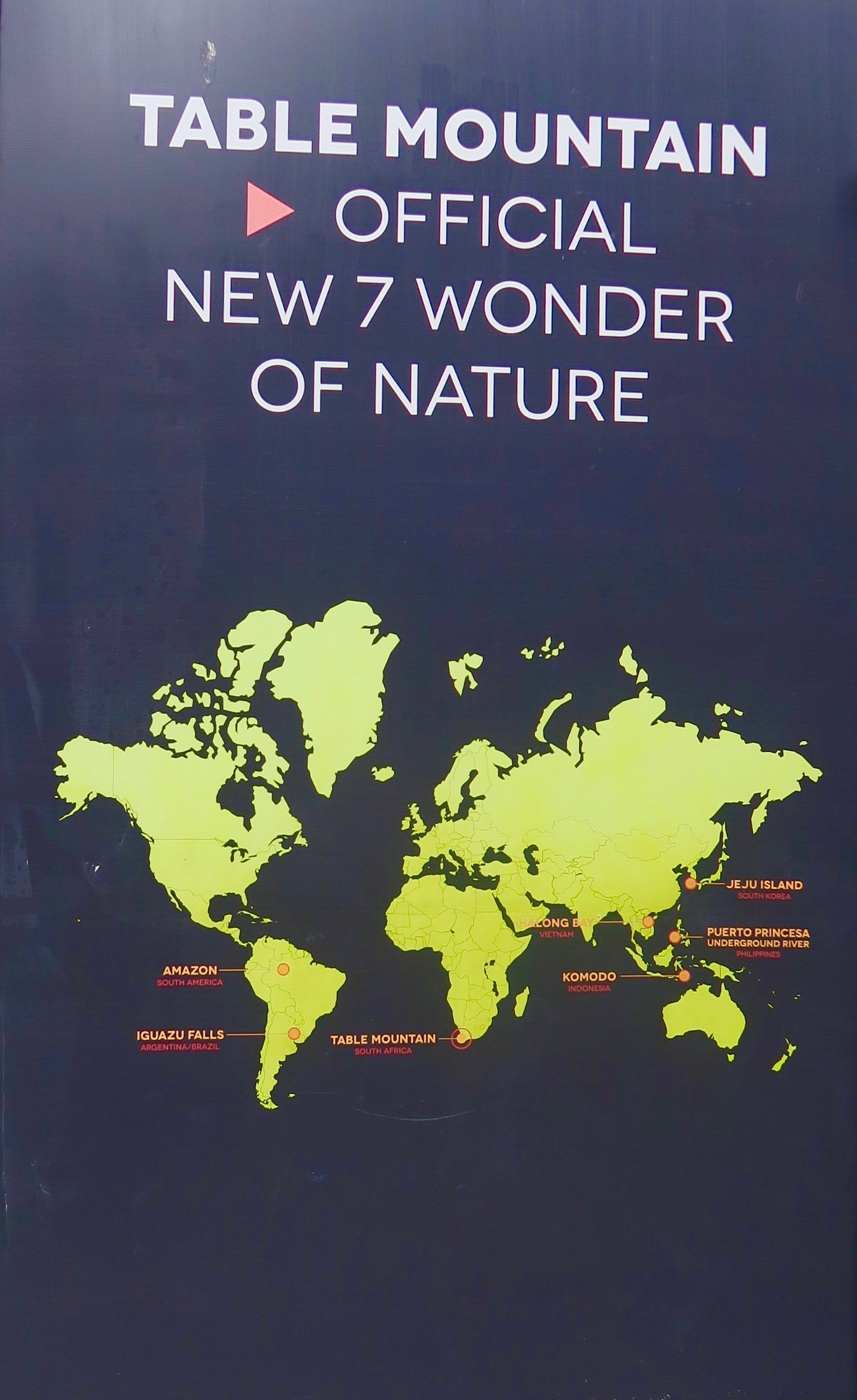 Once at the top the first thing you want to do is look down at the city spread out below.

And at Lion's Head, now far below. You can also see Robben Island in the upper right corner where it's infamous prison held Nelson Mandela and other anti-apartheid protesters for decades. It must have been extra torture to be able to see Table Mountain every day and the city of Cape Town while imprisoned only a few miles away.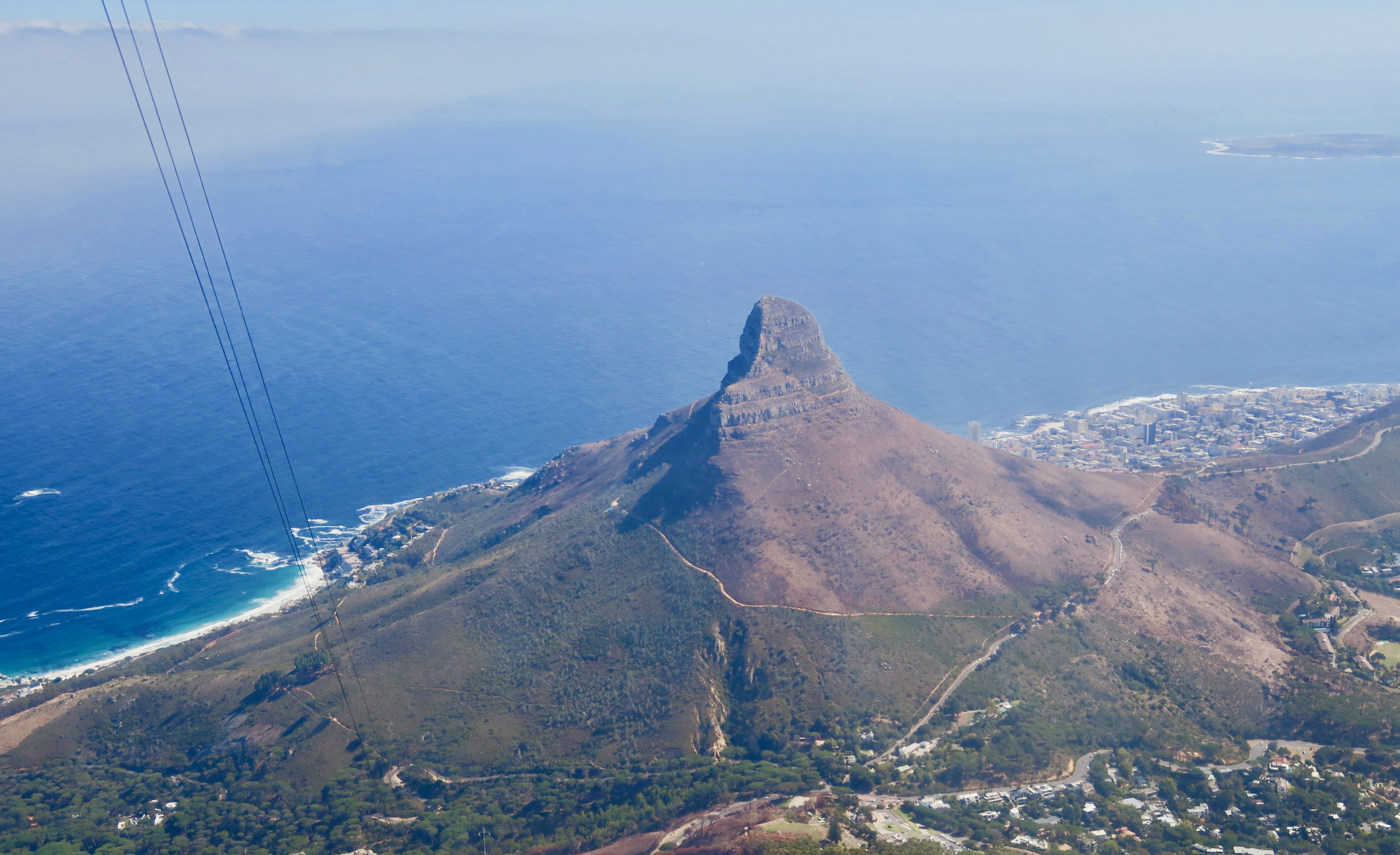 As I mentioned, the only way to get to the top of Table Mountain is by tram or by foot. As I looked down from one vantage point a head popped up and a climber emerged from the sheer rock face below the tram line. It seemed tp pass within inches of his head as it came in to dock.
There are three trails that can be walked near the tram stop, Agama, Dassie and Klipspringer, named for three types of animals you might see up here. All are easy to navigate and provide great views of other landmarks that can be seen from Table Mountain such as the 12 Apostles rock formation that juts out into the South Atlantic. and supposedly has a dozen different rock ridges. I wonder which one is the Judas ridge?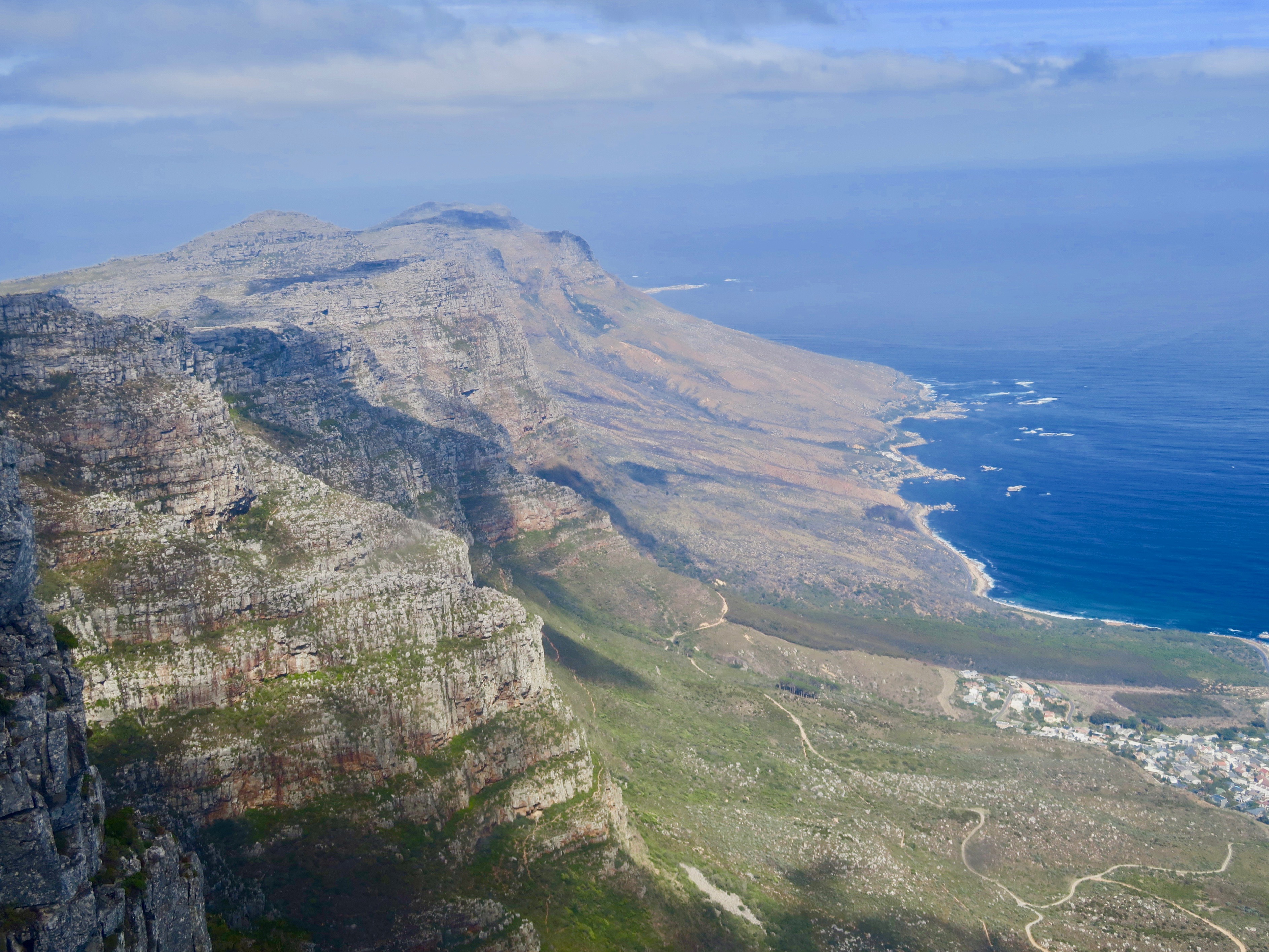 This is the suburb of Camp's Bay with a beautiful crescent beach where we will make a stop after getting back on the bus.

The rock hyrax or dassie as South African's usually call them, are quite common on Table Mountain and you will almost certainly get a good shot of one or two. Their legs look ridiculously undersized compared to the size of their bodies.
We spent about an hour up top before descending again and heading from the top of Table Mountain to the sea shore at Camp's Bay an affluent and overwhelmingly white suburb of Cape Town. This area is one of the few in the world with a genuinely Mediterranean climate and if you didn't know where you were, the Camp's Bay area could easily be mistaken for California or southern France. It's main street is lined with upscale restaurants, galleries and clothing stores. We had a late lunch at one of them accompanied by a glass of chenin blanc which  South Africa is rapidly turning into its most popular wine variety. I never cared much for it until I came to this part of the world and discovered that it can be made into a remarkably crisp dry wine.
We shared a table that looked out over the beach where a fair number of people were congregated, sun bathing, but few were actually in the water. Anyone who watches Shark Week will know that the waters off the tip of South Africa are home to large numbers of great white sharks so maybe that was keeping people close to dry land.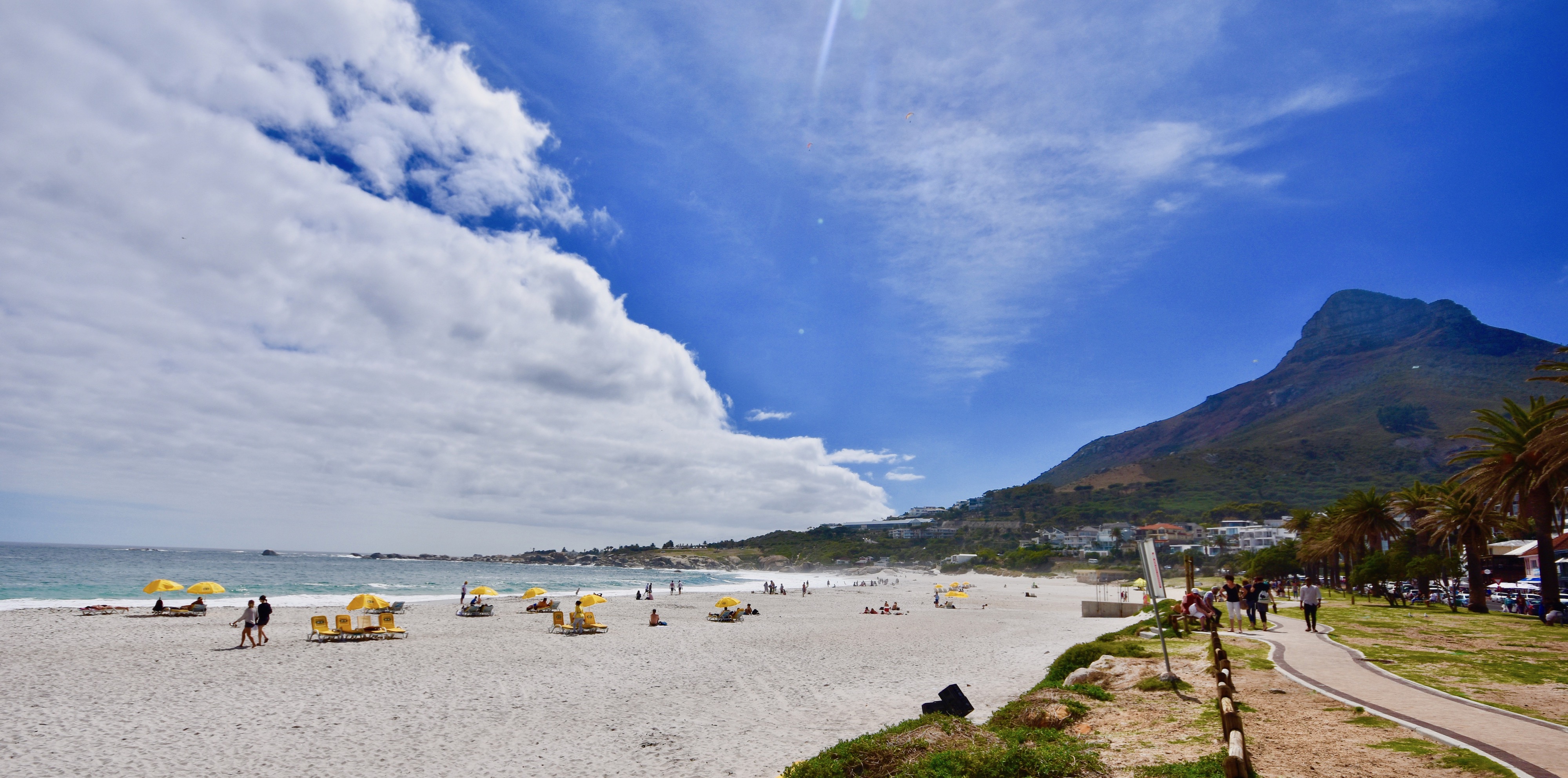 This is the view of the 12 Apostles from Camp's Bay Beach.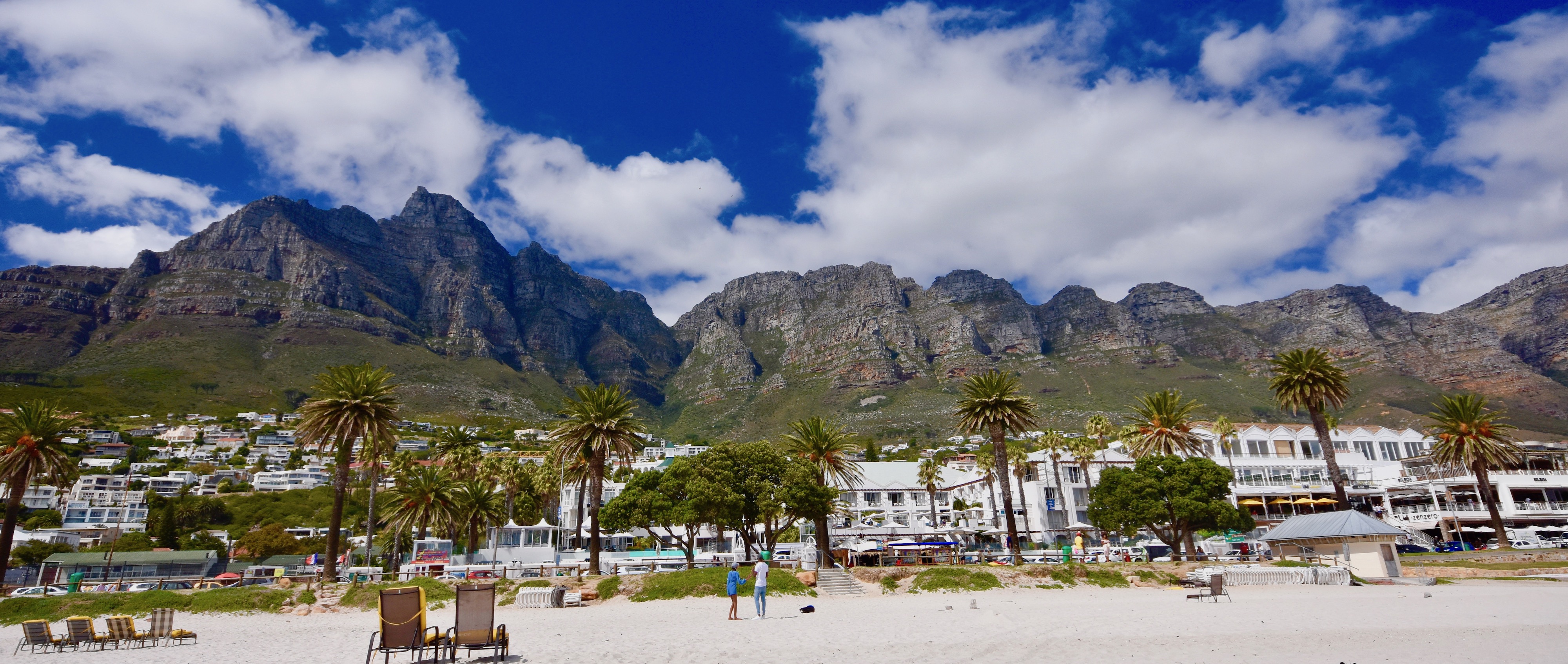 Getting back on the hop on hop off bus we got off once again in a few stops at Sea Point because I could see from the map that we could walk all the way back to Atlantic Marina along the waterfront from this point on.
It was a lovely walk with many families out with kids in strollers, dog walkers, old men just sitting on park benches looking out to sea and lots of cyclists and in line skaters as well. It was hard to believe the turbulent history of this country based on the seemingly easy way blacks and whites interacted, at least in this part of Cape Town.
This is the Green Point Lighthouse the oldest operational one in South Africa, dating back to 1824.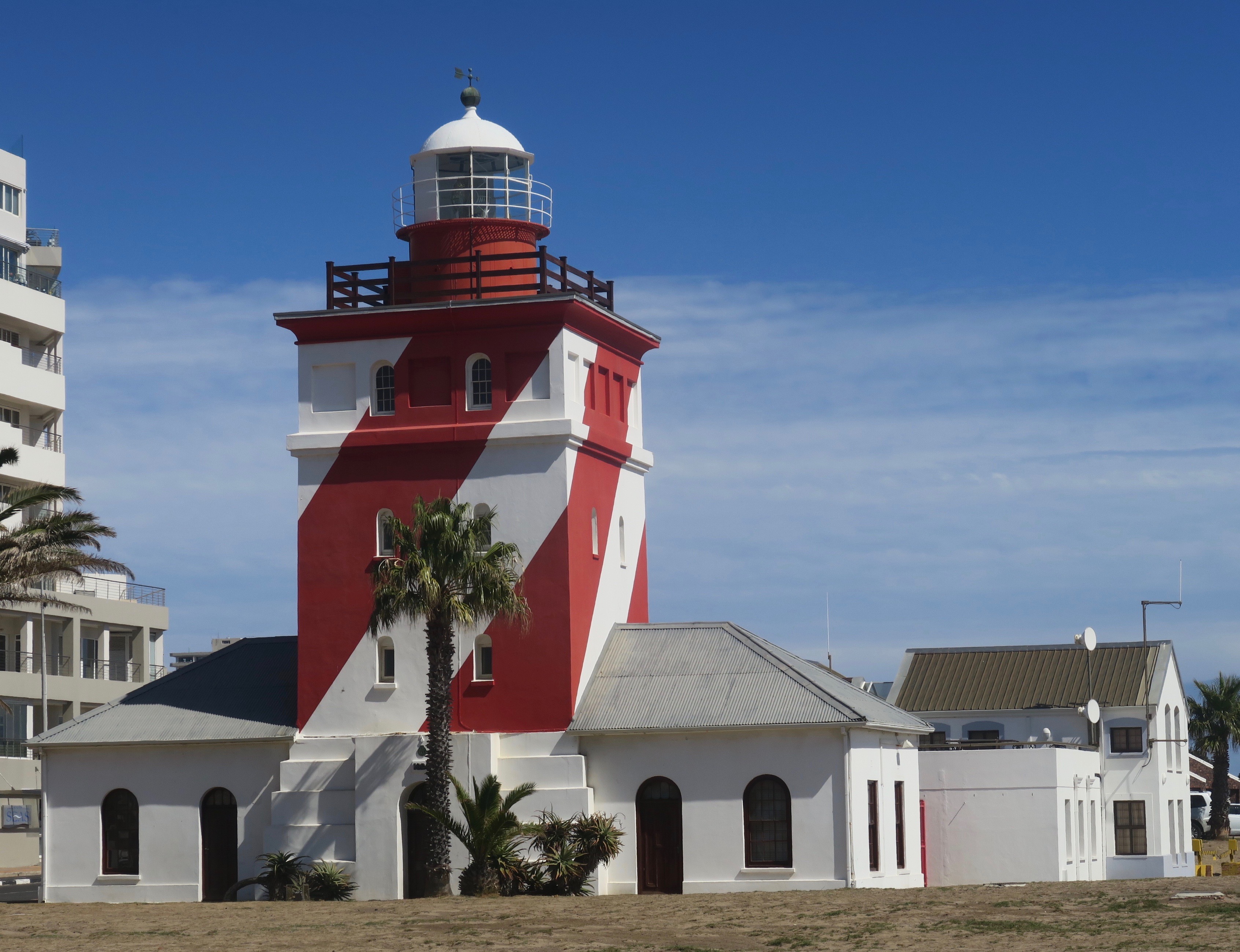 We arrived back at our condo both tired and excited at the same time. Another thing we had always wanted to do – see Table Mountain from above and below was now a memory and not an expectation.
That night we had great seafood at Baia one of the many seafood restaurants within easy walking distance of Atlantic Marina.
In the next post I'll describe an easy way to visit the Cape of Good Hope and see the only species of penguins in Africa.